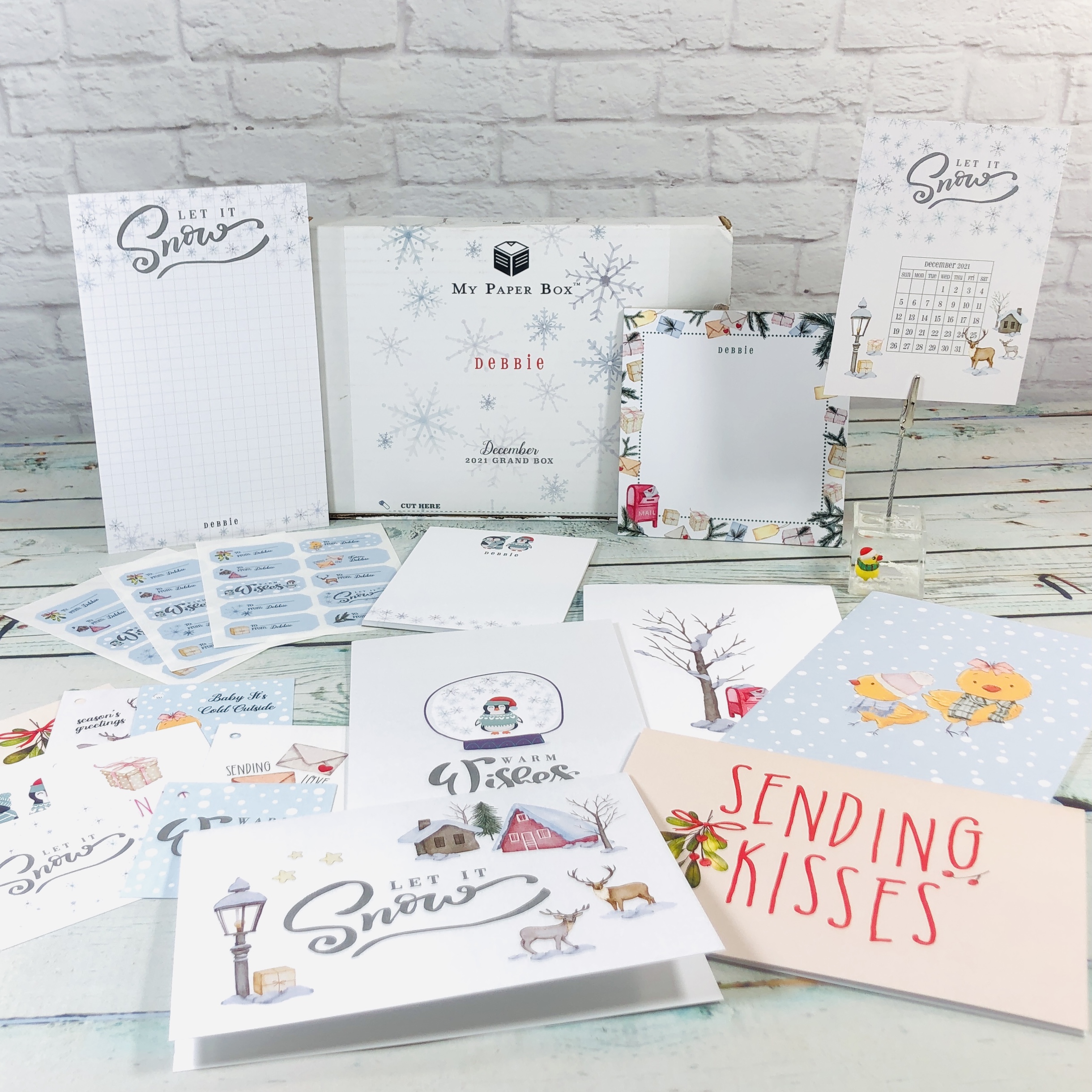 My Paper Box is a monthly personalized subscription box filled with personalized stationery! Imagine my surprise when I saw this cute, cheery box in the mail and it had my name on it! Each box will be curated to a theme and you can choose from two different levels and price points. The Mini Subscription is a collection of 3 personalized notepads and is $10 a month; The Grand Subscription comes with a Personalized Paper Box and a selection of items such as personalized notepads, cards, planners, and more and is $28 a month. Each month there will be a new theme and you receive the order for the Grand Subscription the month before so you will have everything ready to go when the calendar changes.
Make your notes a little more special with Personalized Stationery! One of a kind Stationery Subscription that puts YOU at the center of everything we do. Every box includes freshly designed, themed stationery products inscribed with your name. My Paper Box makes an excellent gift for stationery lovers. All guaranteed to bring a smile to your face.
DEAL: Get $5 off your first box. Use the coupon code 5OFFMYBOX.
The presentation was cool, with the items wrapped in tissue paper that was sealed with a sticker. The striped tissue paper is pretty cool looking and the sticker had my name! I am reviewing the Grand Subscription Box. You can personalize the boxes however you choose, and I prefer my first name alone, but maybe you want Ms. Smith or Mama April on the items instead, it's up to you.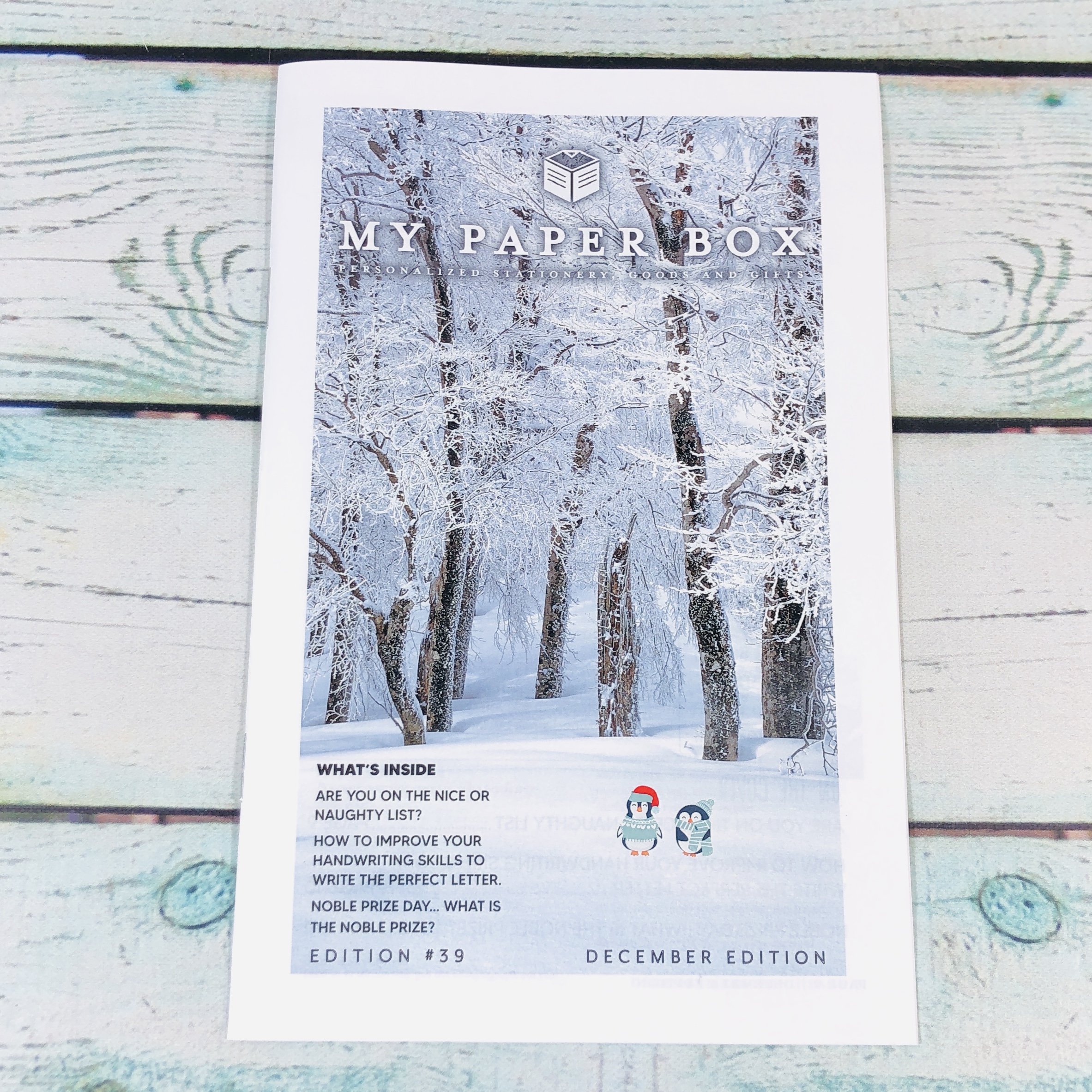 The booklet is very informative and has lots of unusual holidays inside.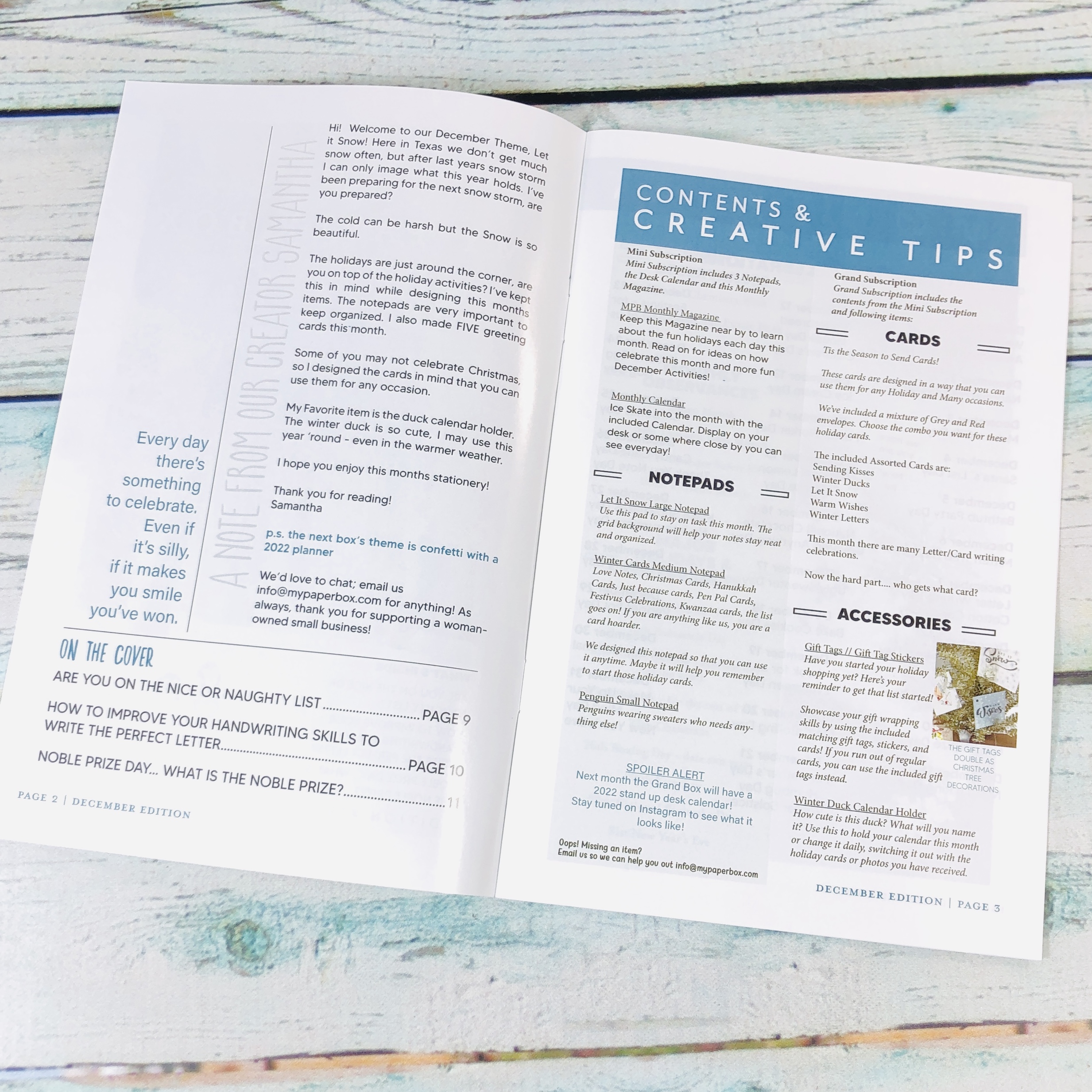 The inside described what I received in my box. It is broken down into what comes in the Mini Subscription listed first, and then the whole page is what you will find in the Grand Subscription. Psst: I spy a spoiler alert for January's box!
There are tons of holidays I didn't even know existed.
There were also ideas on how to celebrate those dates too! There are 15 pages in all in this booklet.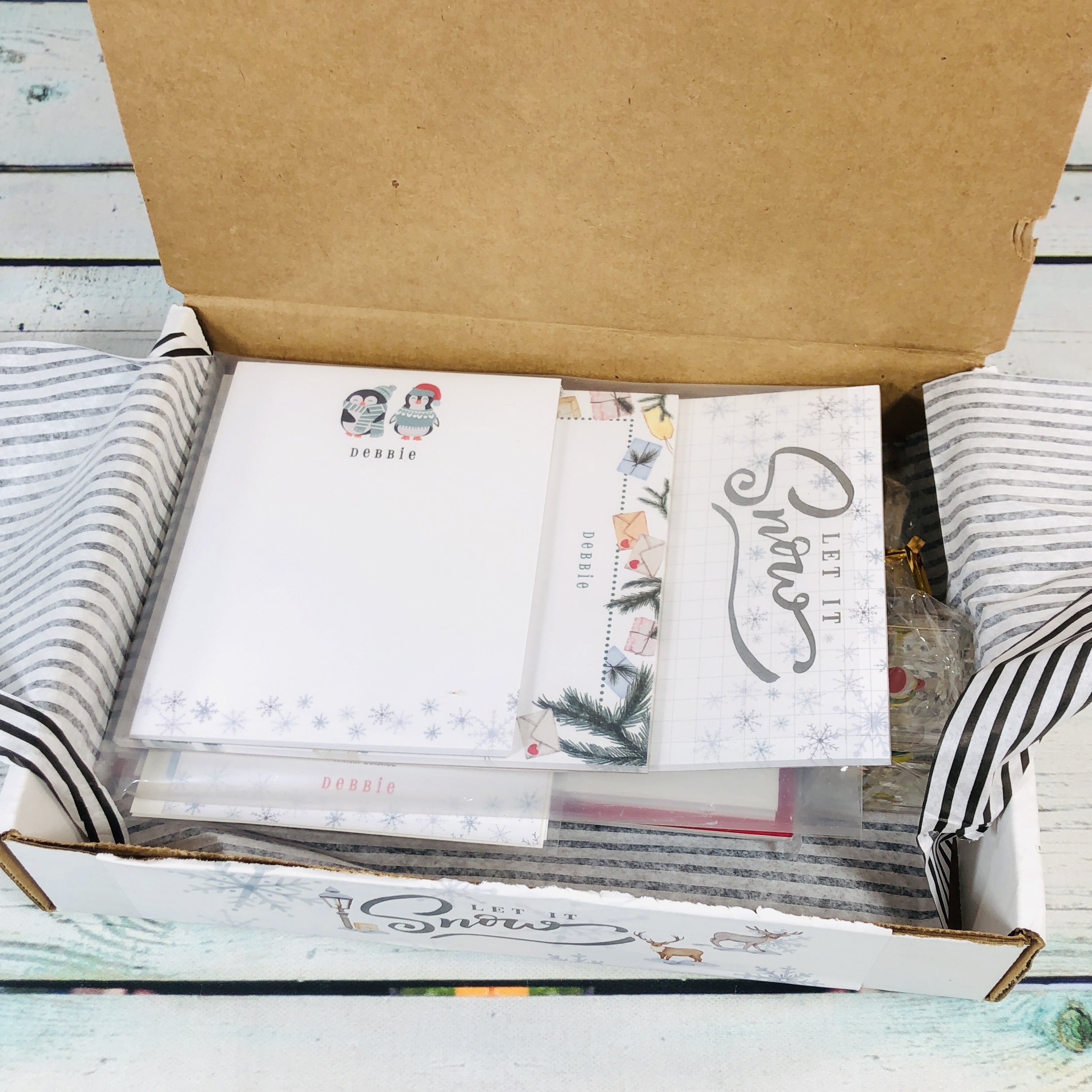 Most items are wrapped in plastic for protection.
Three sheets of Gift Tag Stickers already have my name on them, I just need to write the recipient on the first line.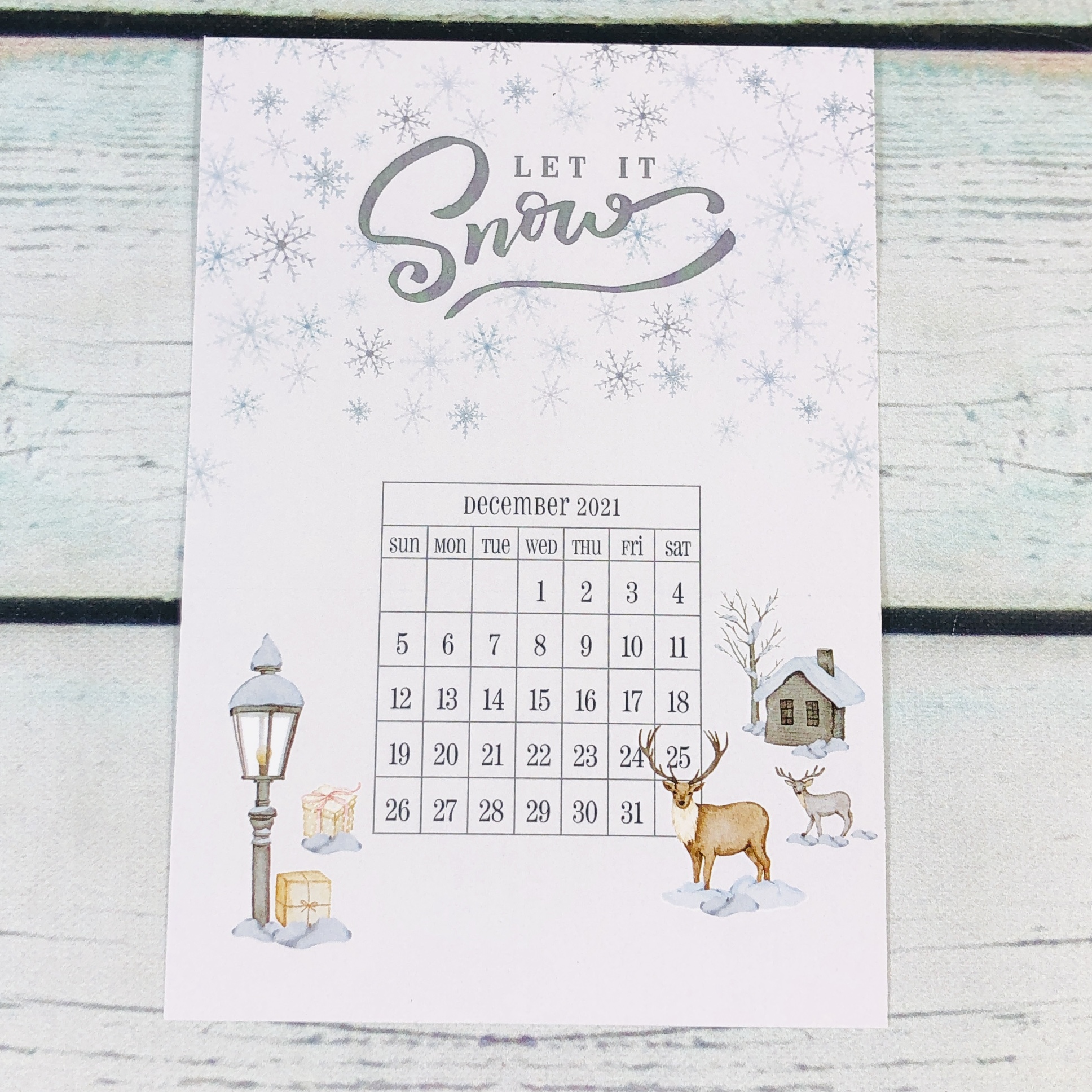 Monthly Calendar I keep the calendar on my desk next to my computer and that makes it easy to check at a glance.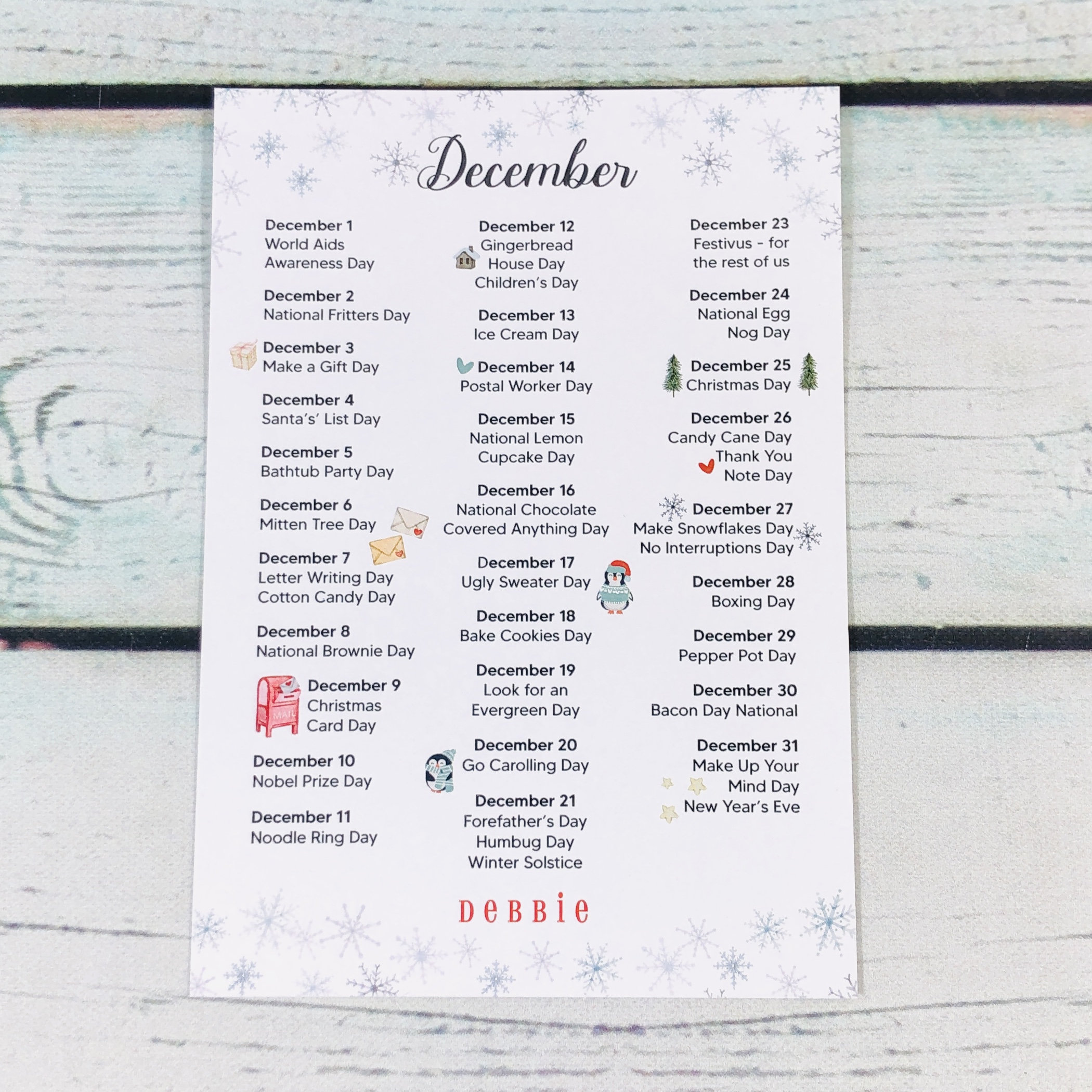 The back of the calendar has some of those special days listed, including Festivus!
Let It Snow is the larger of the three notepads for this month. It has a grid background which can help when making boxes or illustrations.
Winter Cards, the medium notepad, has letters, boxes, and greenery around the edges but can be used year round.
Penguins decorate the small notepad, aren't they the sweetest?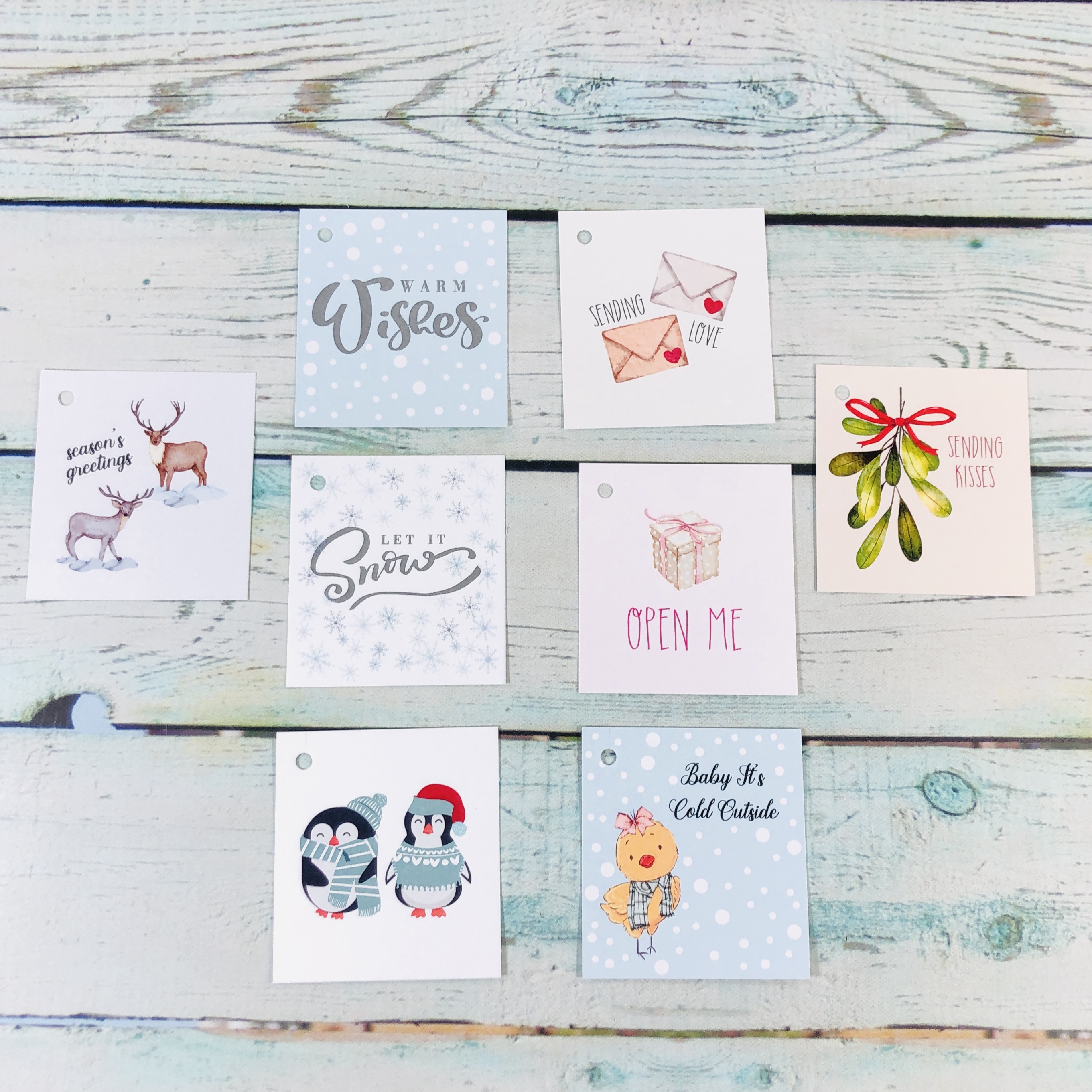 Gift Tags There was a set of 8 gift tags that already have a hole punched in the corner so they can be attached to gifts.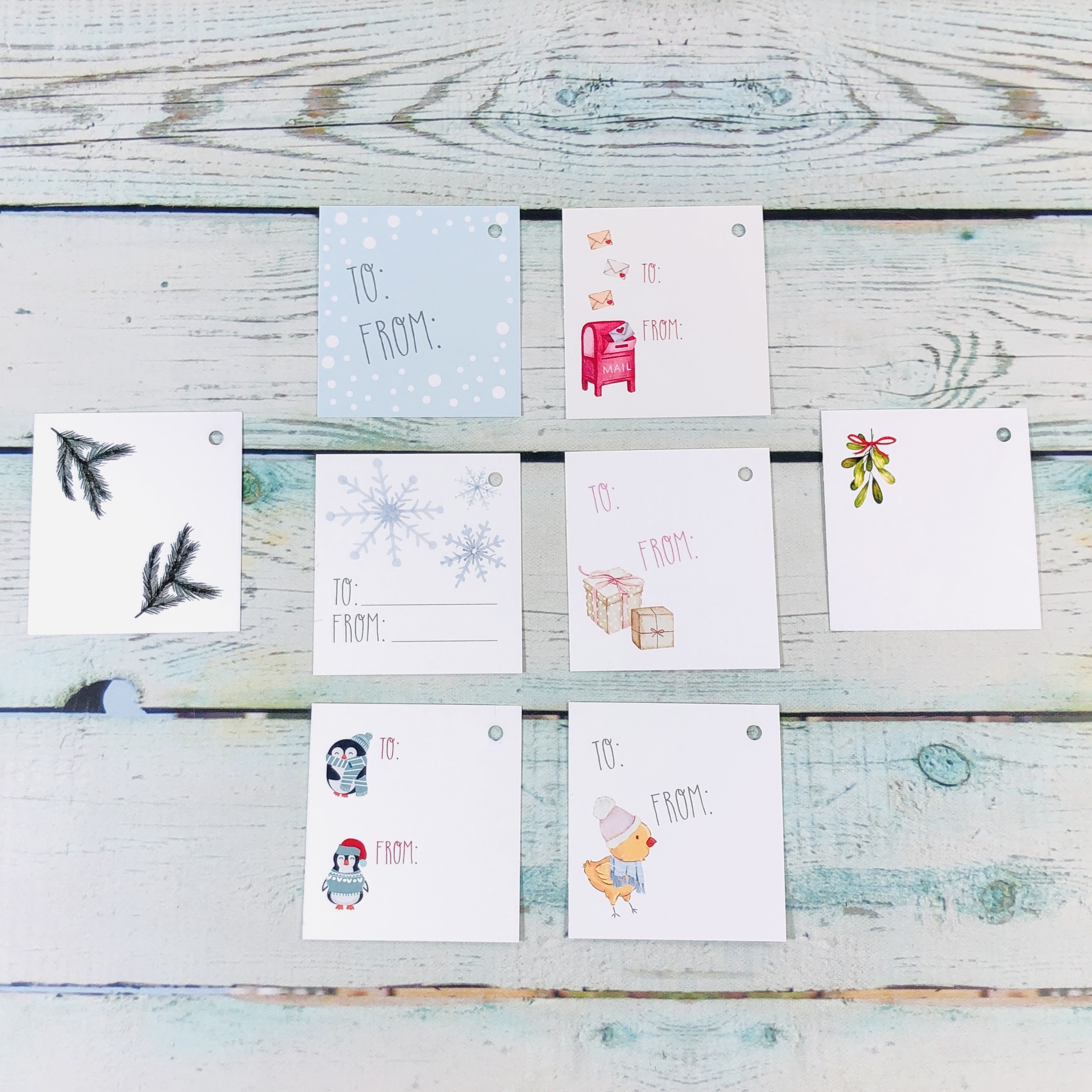 Even the backs are adorably illustrated.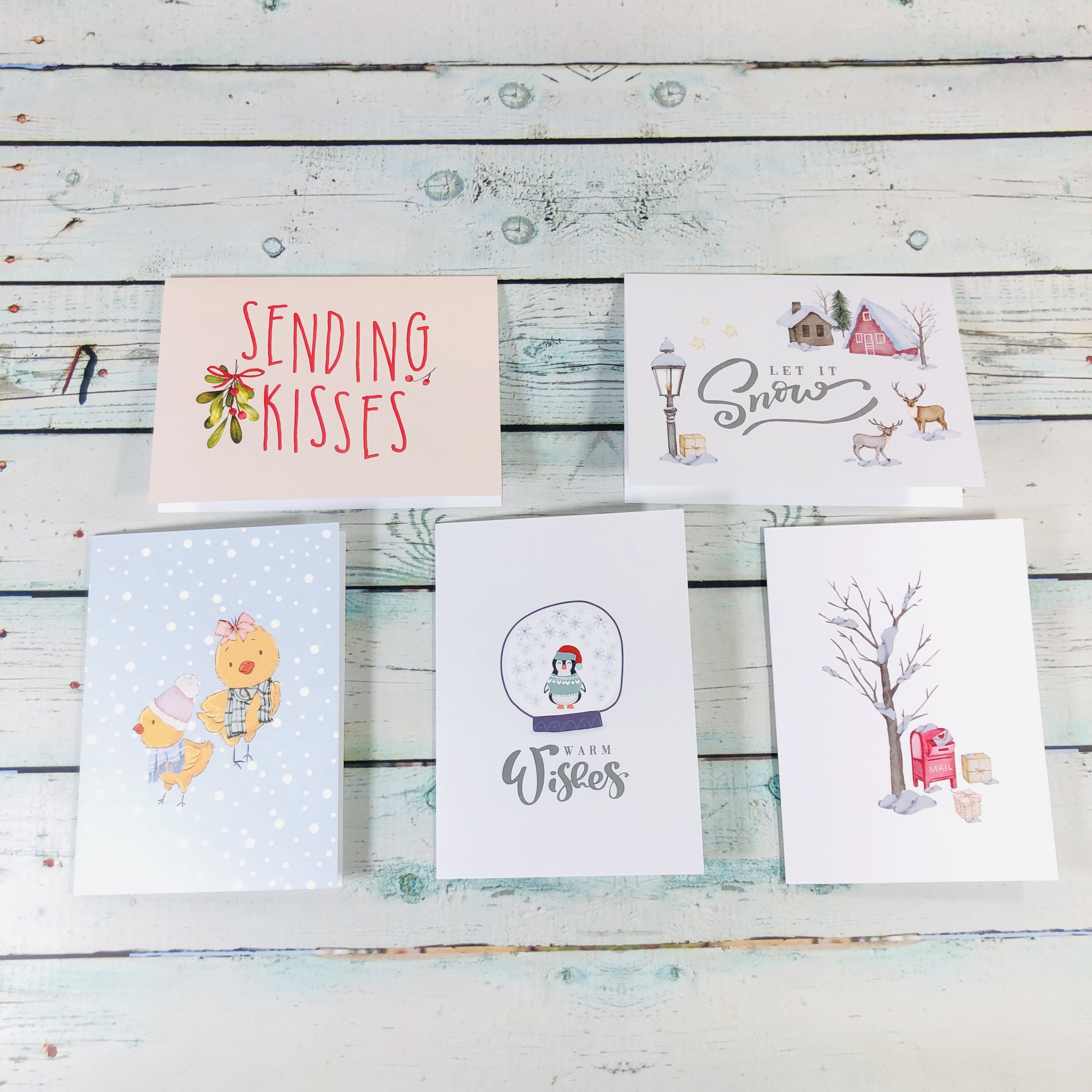 Assorted Cards Five non-secular holiday cards (approximately 7″ x 5″) came with red and silver envelopes so you can mix and match however you like. Two of the cards have a brief message inside and the rest are blank.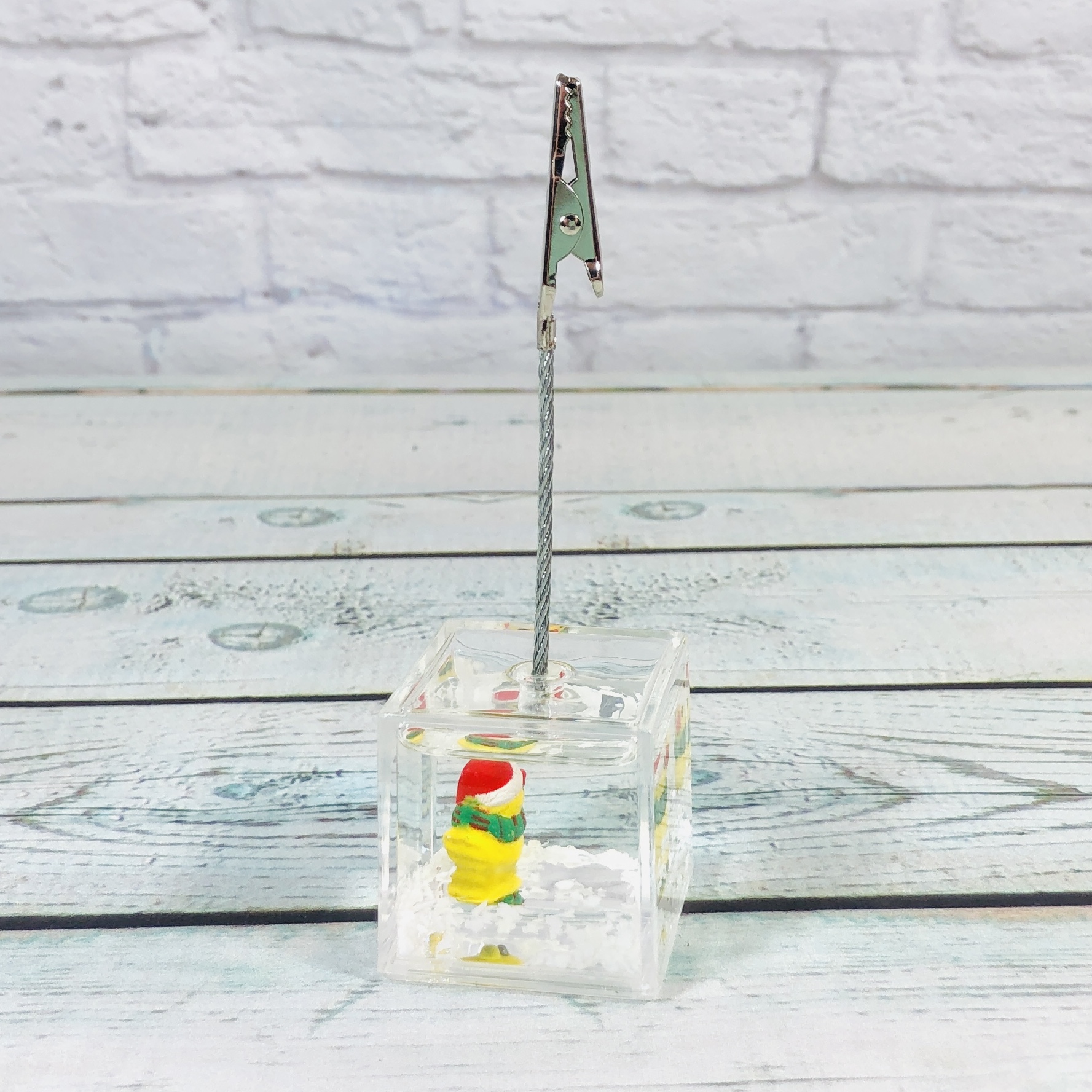 Winter Duck Calendar Holder Occasionally we will receive a themed calendar holder and this month it is duck dressed for winter inside his mini snow globe (snow cube?). Give it a shake and the snow falls and the duck floats!
The December shipment from My Paper Box had adorable illustrations and I liked the color story, with blues and hints of red and green. It's nice to have some holiday cards on hand to send and some of the items will be used as I wrap presents. I am always thrilled with the paper pads in the box, and I have them all over the house to jot down notes before I forget whatever is on my mind and it's fun to have them in seasonal colors and illustrations.
What do you think of this month's box?