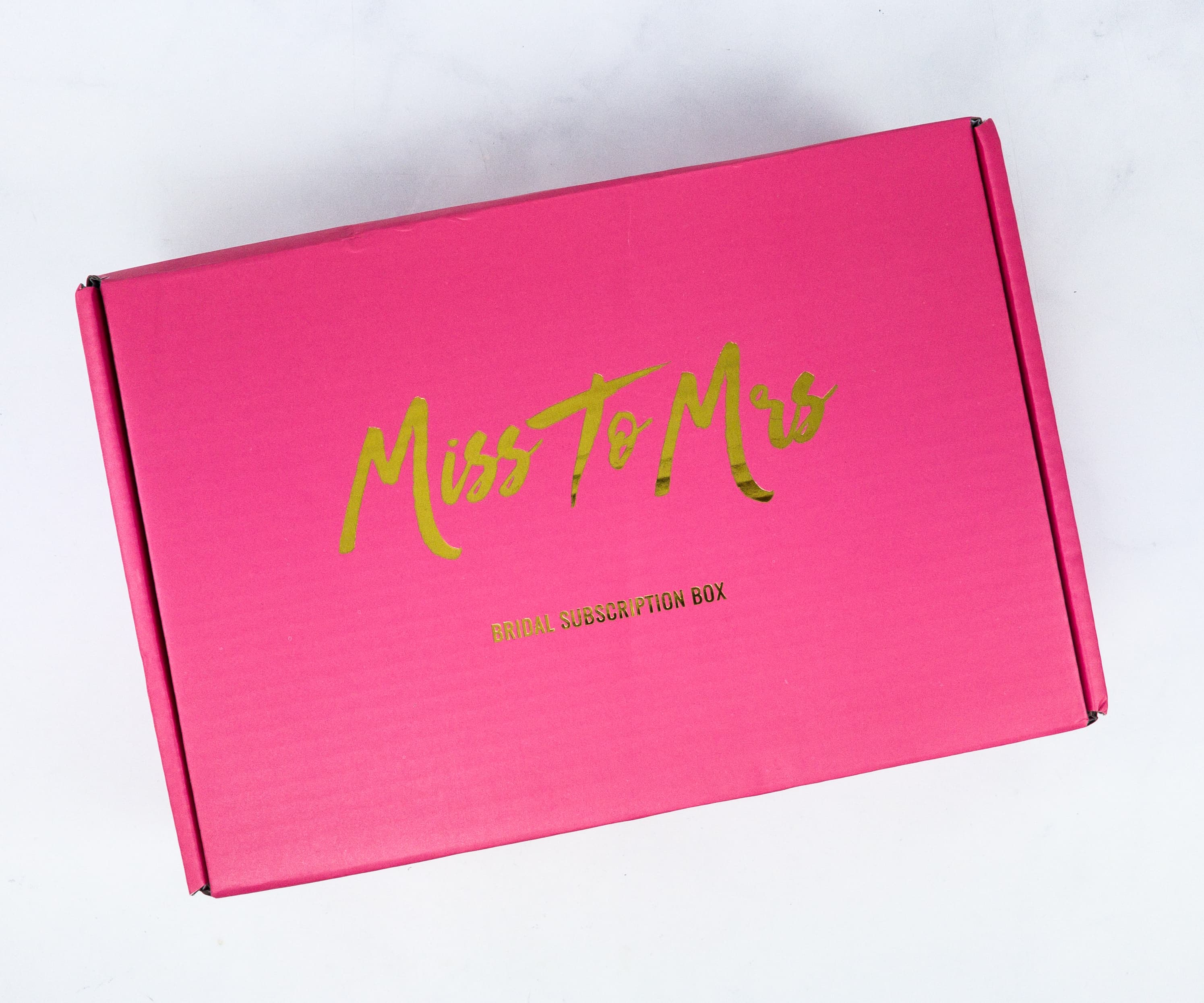 You're engaged, but how do you celebrate it all the way to the wedding? With a bridal subscription box, you can pamper and excite yourself.
There's cute bridal apparel, wedding day essentials, decor, and even bridal-centered beauty products in these boxes – everything for a fun planning experience. Use this link to subscribe now and get $30 credit to spend at the Miss to Mrs Box shop – just pick the promo during checkout! Valid for new subscribers only.
Get $30 shop credit at Miss to Mrs Box!
Not sure what to get with your credit? You can grab the The Ultimate Bride Box ($199) or The Groom Box ($95) to complete the whole wedding experience. Check out what we think of The Ultimate Bride Box here.
Why get a wedding subscription box?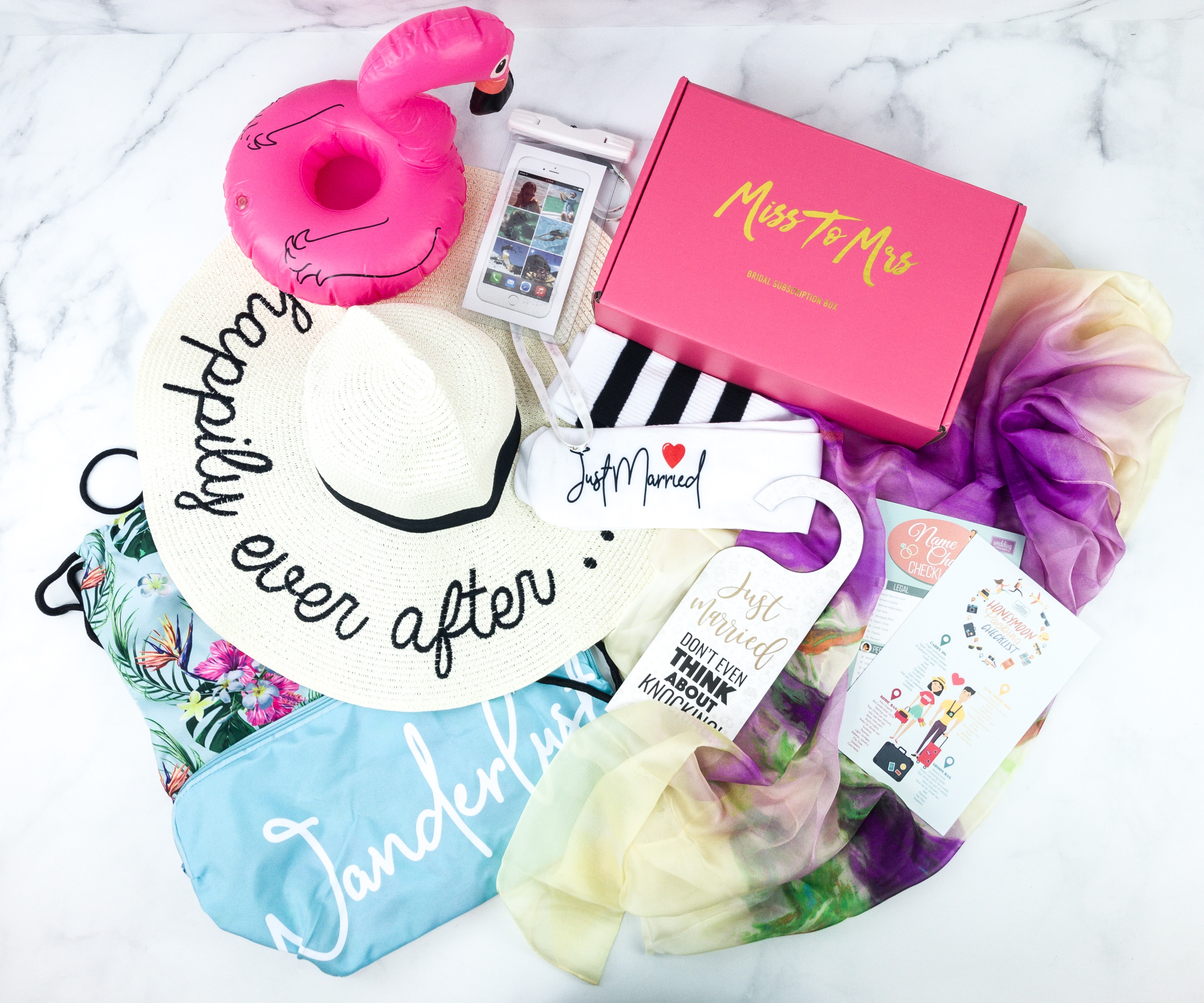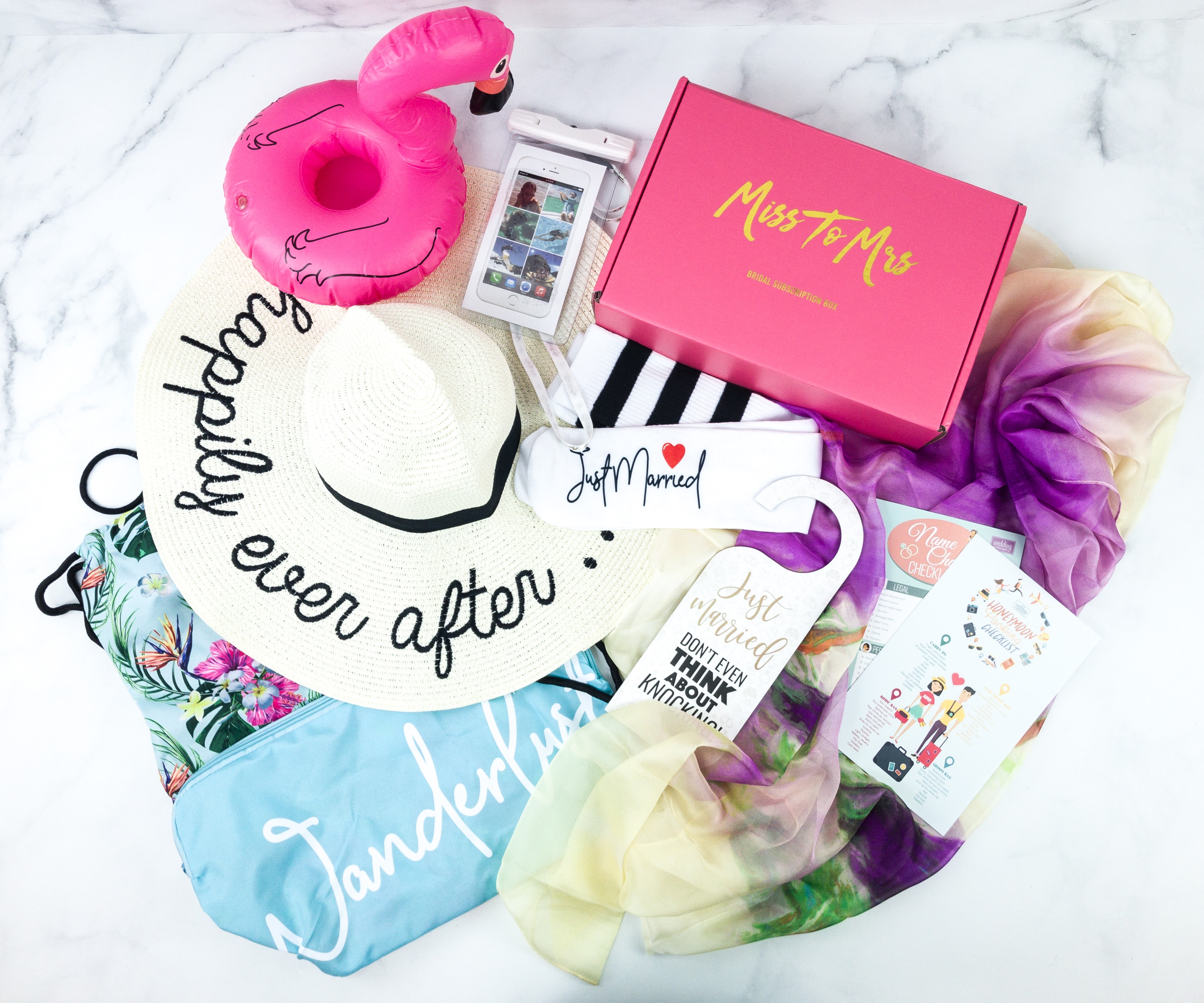 Bridal subscription boxes are full of wedding-themed products that you get delivered while you're engaged to make planning easier and fun. Brides usually subscribe themselves or get it from their bridesmaids, fiance, or families as a gift. It's a fun way for you to discover products and keep the excitement alive, as you get closer to your wedding.
When you're planning a wedding on your own, it can be stressful. It's easy to get tunnel vision and lose sight of what you really want from your engagement, wedding, and honeymoon.
Bridal subscription boxes make the bride-to-be feel special! There aren't just helpful tools for the big day – but pampering products too, so she feels and looks her finest.
See all our Miss to Mrs Box reviews to find out more!
Price: The cost of every box is $39 + shipping.
Subscriptions: available in either a monthly box or a two-month box. For any plan, you will receive a total of nine boxes. First box ships in 2 business days!
Cancel any time, no cancellation fee.
Get over wedding planning help ($200 value)
Join thousands with rave reviews with Miss to Mrs. wedding subscription box
Here are some of the Miss to Mrs Box Themes:
Ultimate Bridal Swag. You'll be treated to the best bridal-themed items.
Sweating For The Wedding, Stay focused on your pre-wedding fitness plan and eat healthily with this box.
Keep Calm & Plan On, a box of planning and pampering.
It's Party Time, all the party essentials.
Classy & Fabulous, to help you discover your ultimate bridal look. Wedding Day Essentials, must-have items for every bride.
Maximum Romance for romantic breaks while planning.
Honeymooners with travel-related items to plan the getaway!
Plus, you'll get access to exclusive membership benefits with Miss to Mrs like the Boss Method Wedding Planning System. Boss Method comprises the organization system & planning tools used by pro planners and includes weekly *LIVE* Q&A and a private Facebook group!
Are you getting the Miss To Mrs Box?