Merkaela is a quarterly box that sends natural bath, beauty, and meditation products curated to the season. Merkaela's items are made in-house although they may occasionally send a product from high-quality collaborators. All of the items are cruelty-free and there is a vegan option that you can choose at sign up. The ingredients are clean and in some cases organic. You can feel good about putting these items on your skin! Our readers agree – they voted it as one of the best bath and body subscription boxes for 2021!
In our Deluxe box, you will receive 6-9 products (Essential box includes 3-5) built on the theme of the season. In addition, you will gain access to our thought-provoking content and a playlist that pairs with the products for that season. Our goal is to provide you with everything you need to be on your way to a holistic approach to a clear mind, body and spirit.
DEAL: Use code NEWMOON to save 22% on all subscription plans.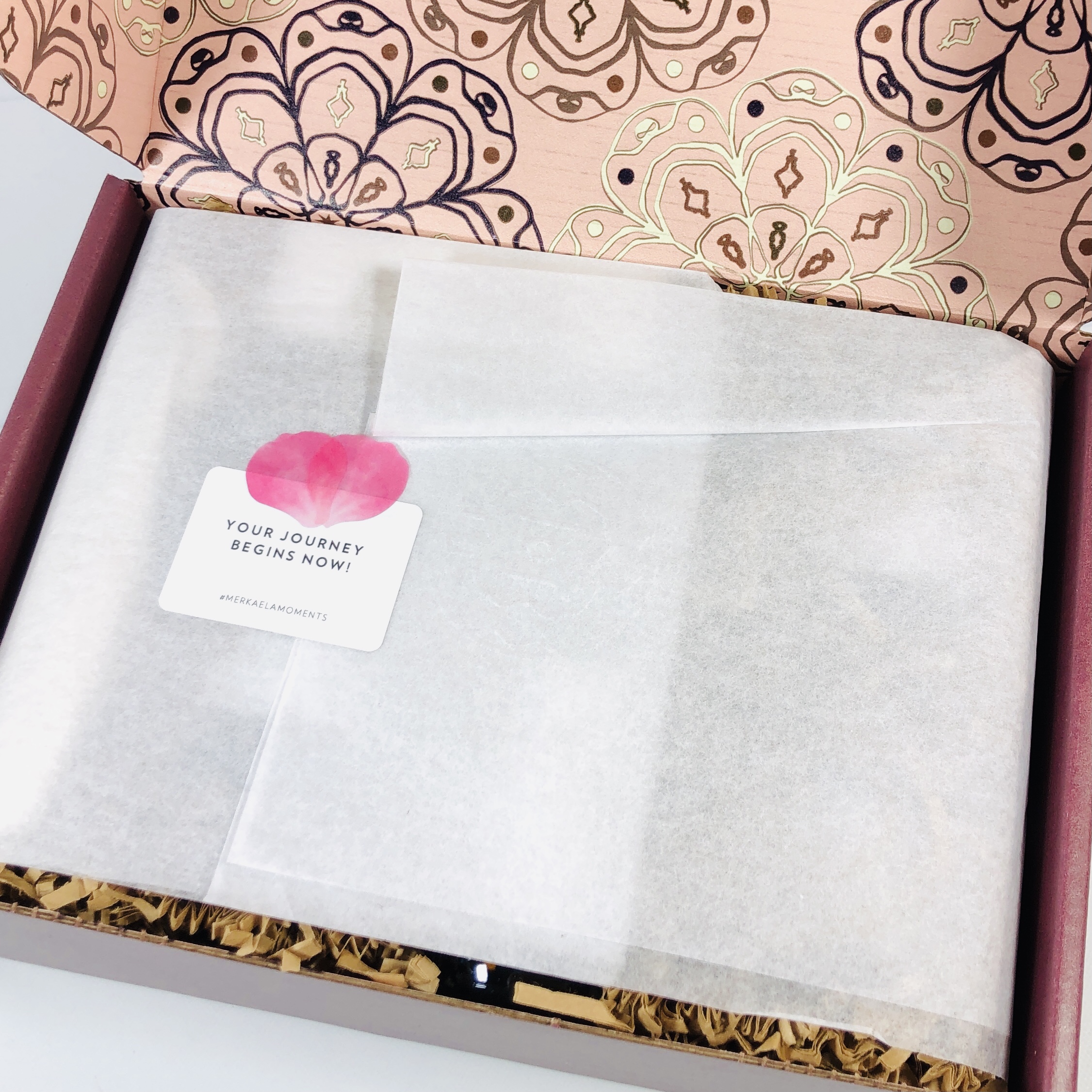 Merkaela has two different subscription levels. One is the "Essential" box ($48), which mainly has the meditation products, while the "Deluxe" box ($96) includes both the meditation products and self-care items. I am reviewing the "Deluxe" box. Keep in mind that shipping is extra. They also offer a quarterly Soap Subscription, which is $28, and a Body Butter/Oil Subscription, which is $30. Now they even have a Smudge Stick Box ($20). Prices drop for longer subscription terms.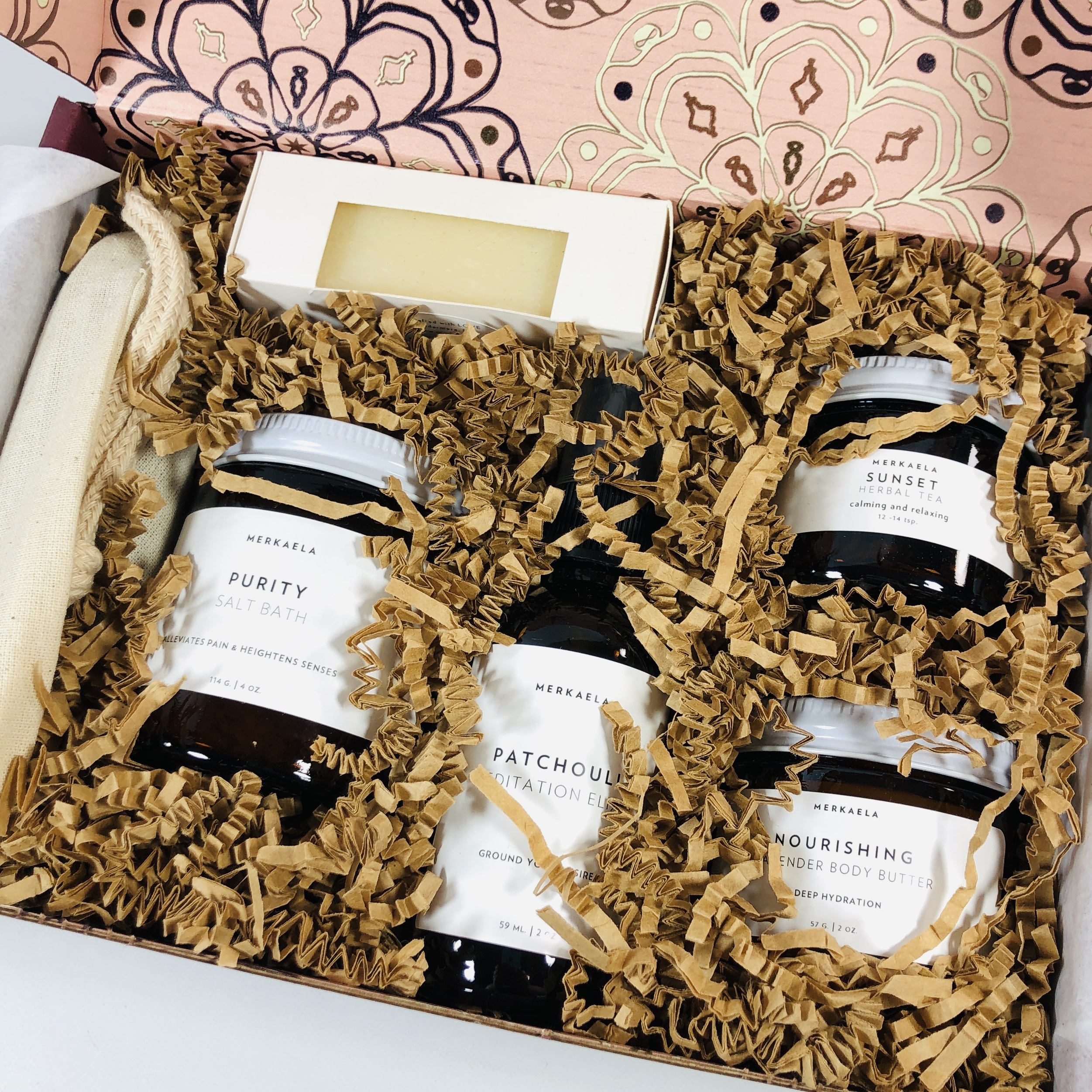 My items were tucked into shredded paper squiggles. The products come in glass containers and when you open the box, it smells relaxing, like I stepped into a luxurious spa.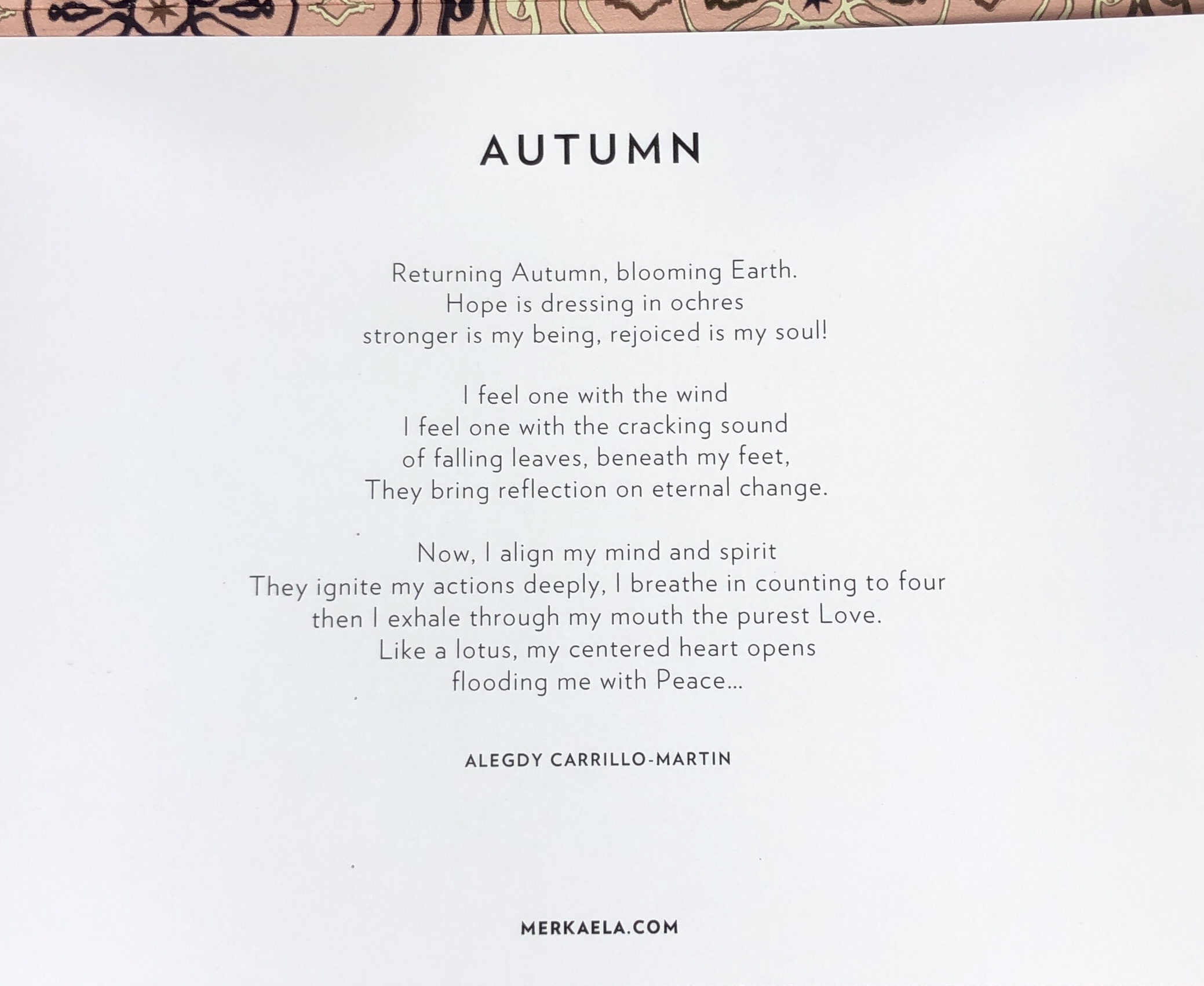 Here's a poem to the time of year I especially love, Autumn.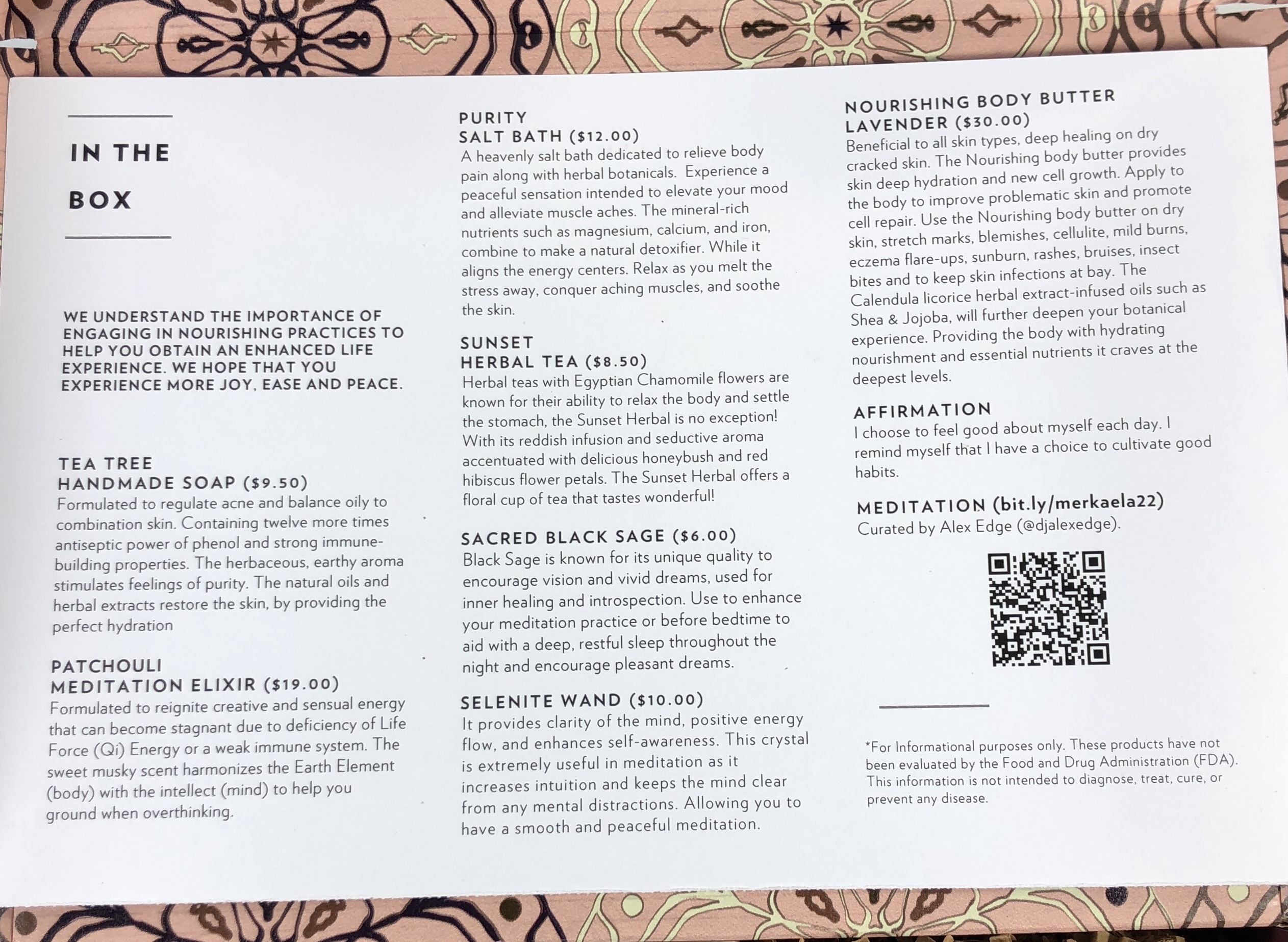 A list of the items plus their MSRP's was on the back of the card. A brief description was also noted.
Another card had an affirmation, to be placed where you can see it often.
There was a QR code to scan to play the Meditation Playlist on Spotify, or follow the address listed on the info card.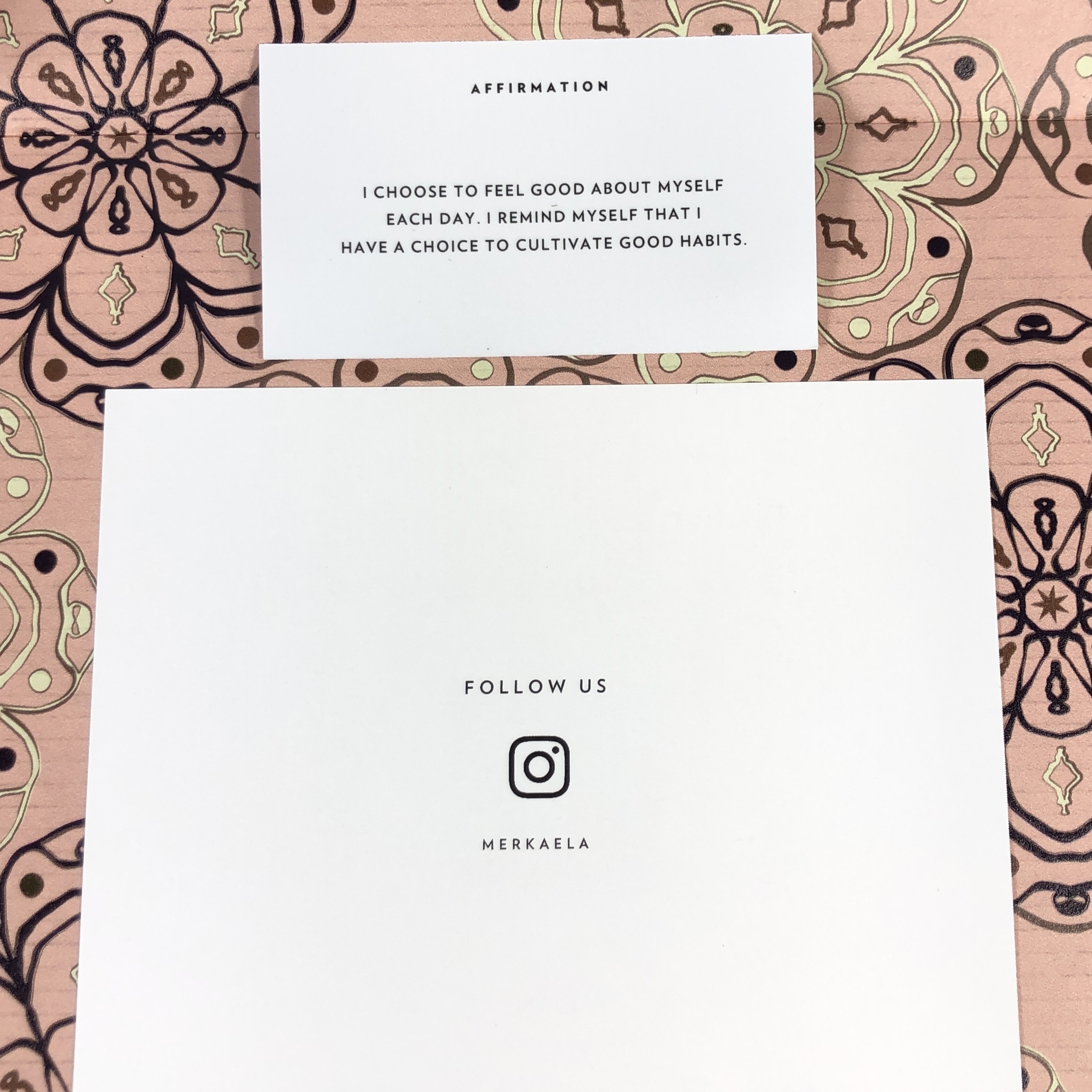 Here's the backs of those cards.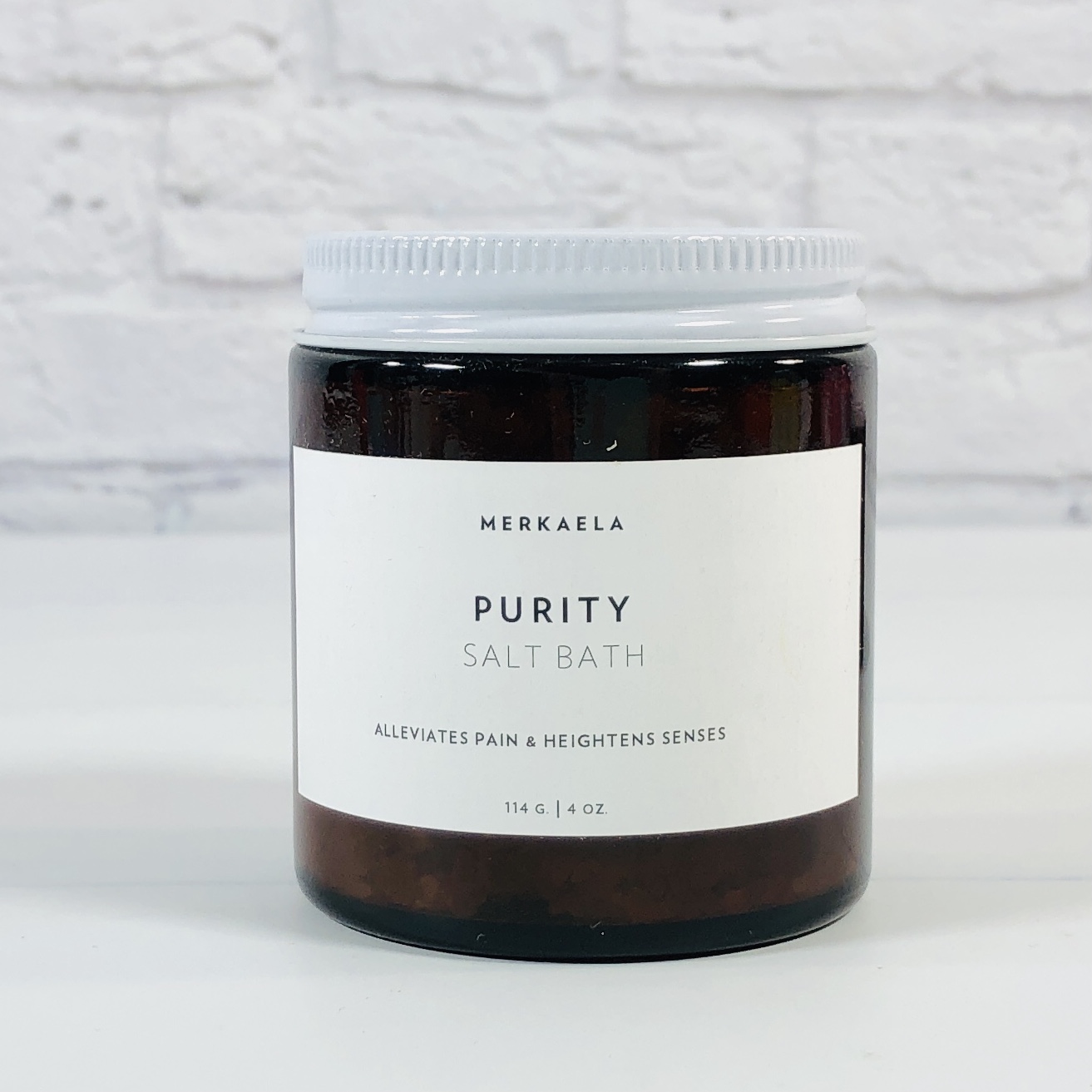 Purity Salt Bath ($12) Merkaela says this may help purify the body and spirit and it certainly smells uplifting!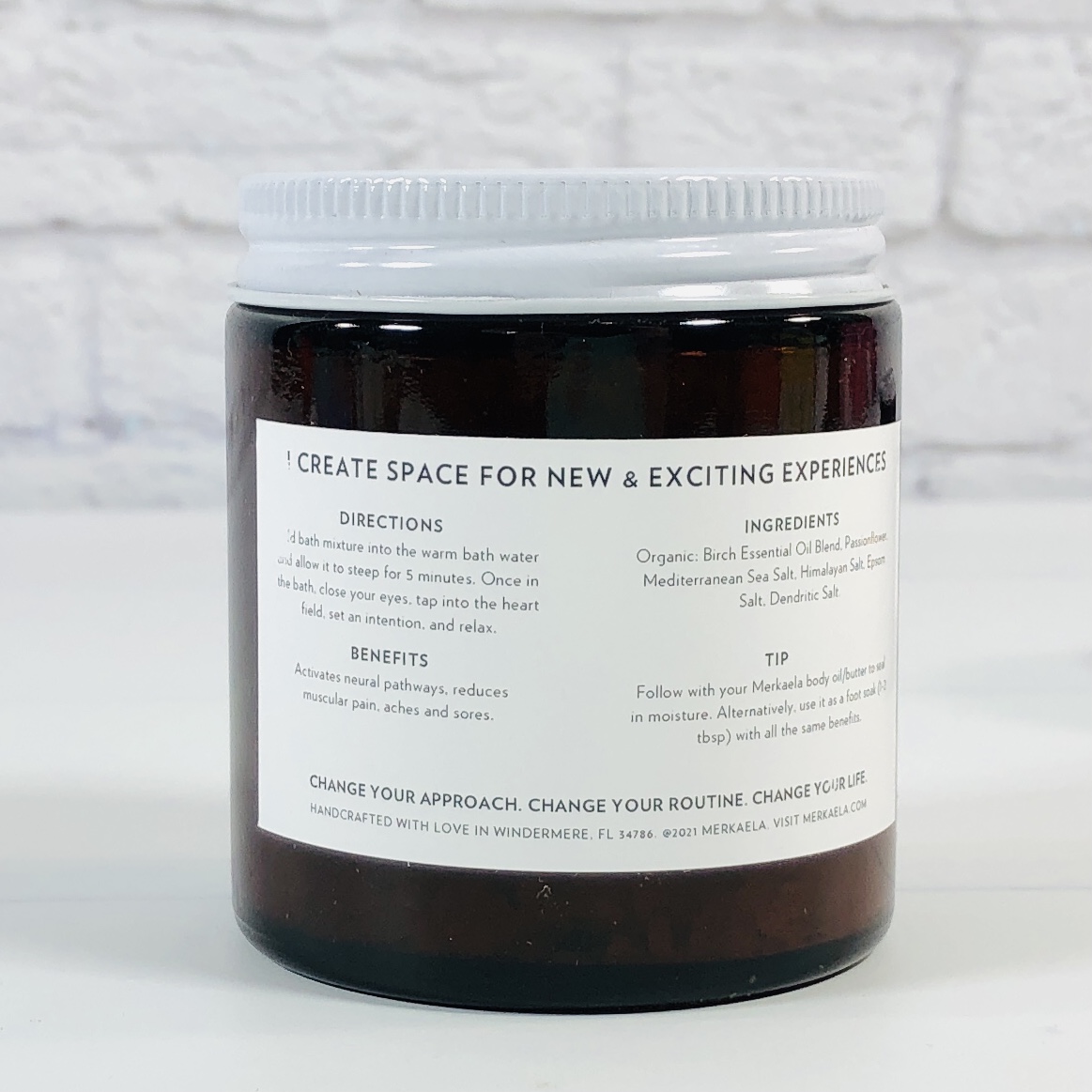 It is made with four different sea salts plus it has a birch essential oil blend that includes either wintergreen or menthol crystals, it has a sharp minty scent that wakes up my nose.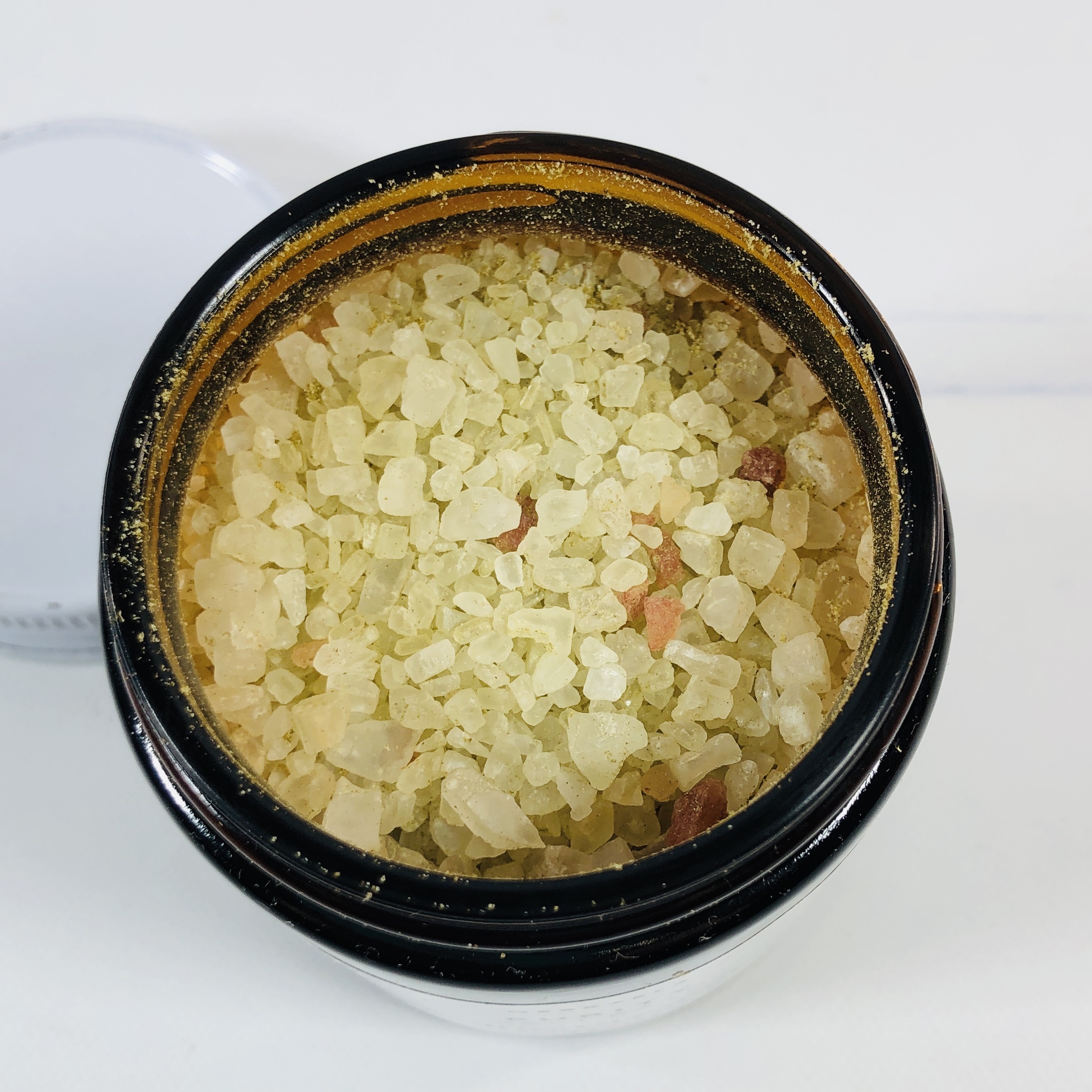 Doesn't it look pretty? You can soak in the tub or add a handful to a footbath to refresh the feet.
Patchouli Meditation Elixir ($19 listed value) Patchouli is a favorite scent of mine so I welcome it in any and all subscription boxes. This spray may help deepen your meditation practice or you can simply spray it in your immediate area and take deep breaths to help calm your body down.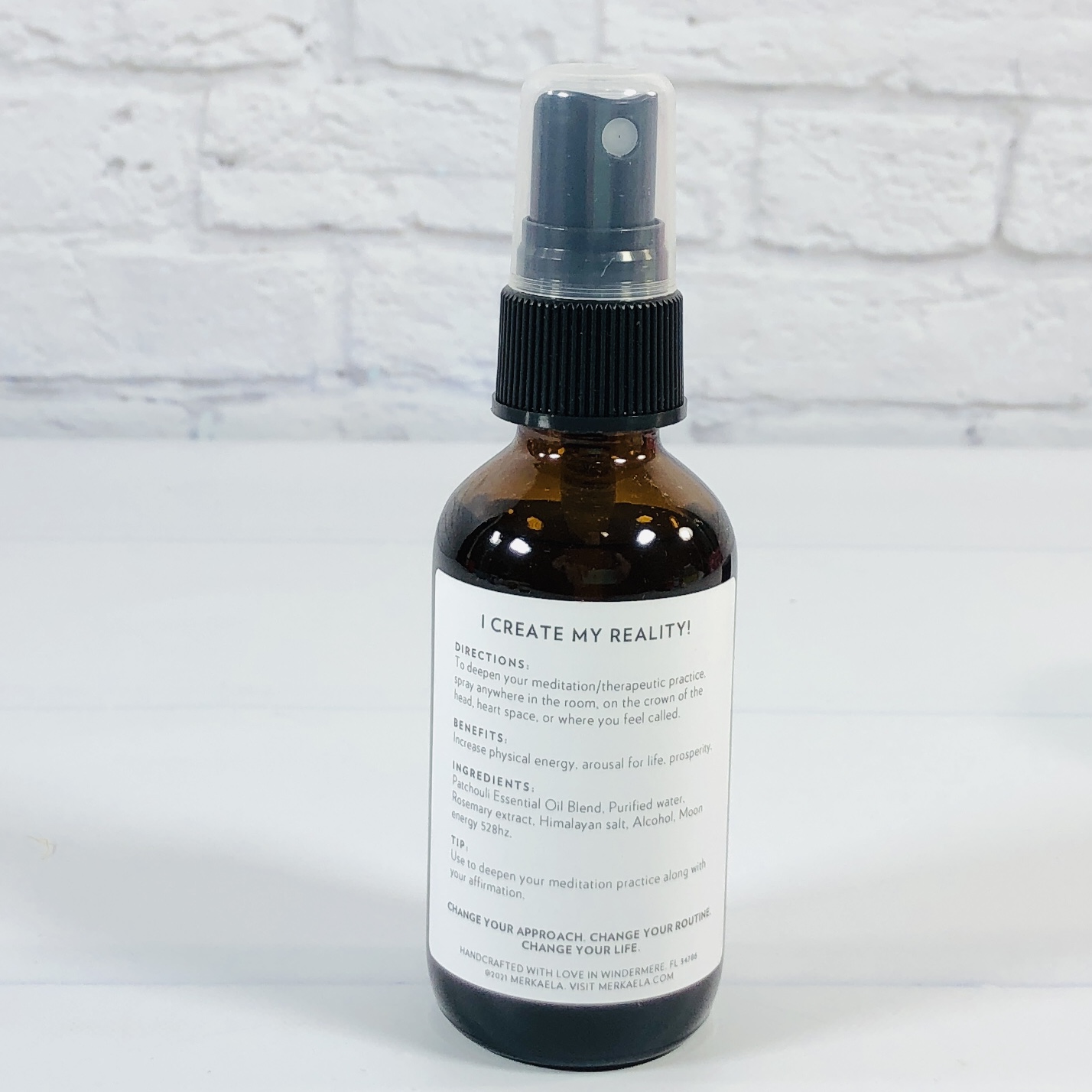 The bottle holds water, rosemary extract, salt, alcohol, and a patchouli essential oil blend. The scent fades incredibly quickly but then so does my stress when I spritz this in my zone.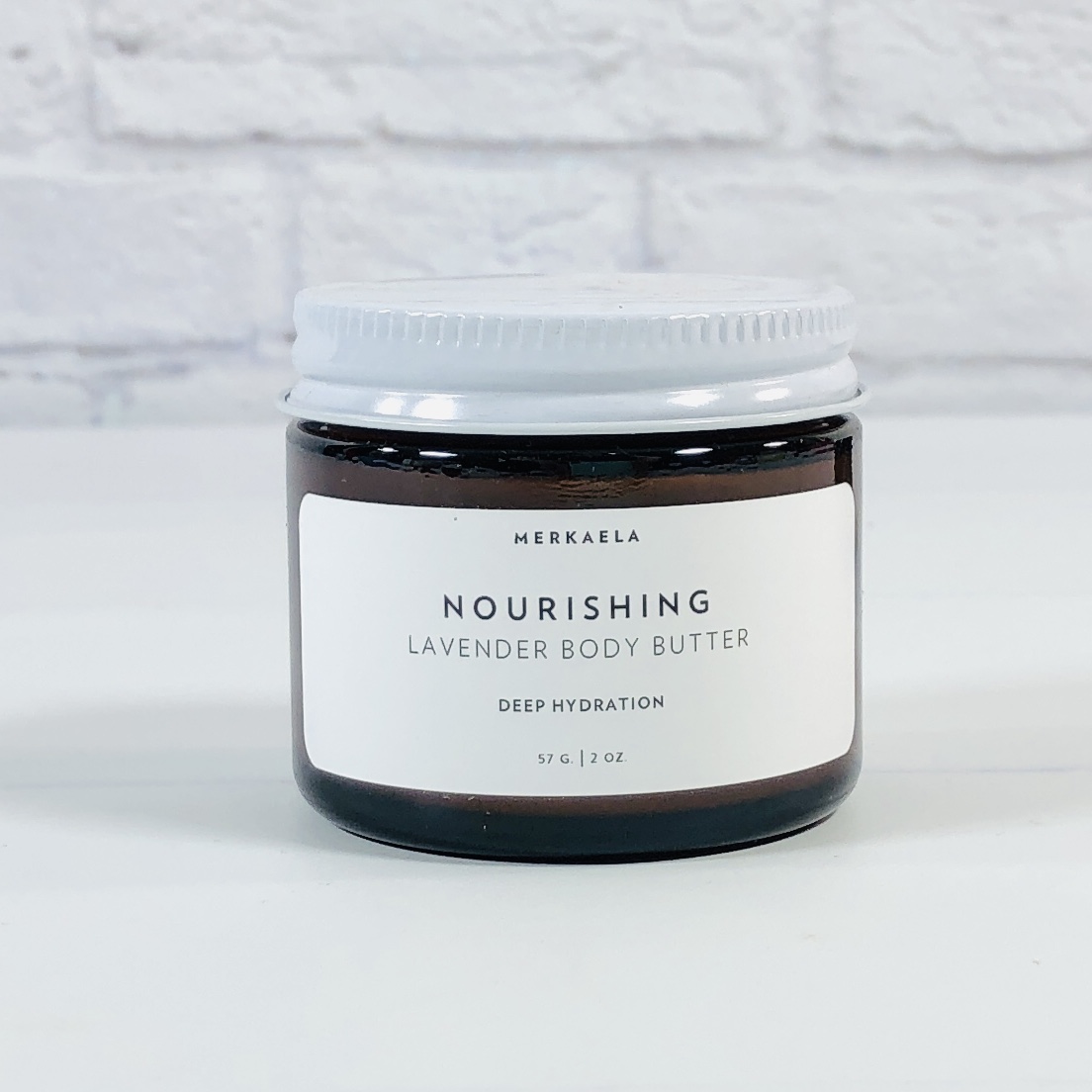 Nourishing Lavender Body Butter ($30) Two of my all-time favorite products from Merkaela are their soaps and their body butters! The body butter is super luxurious and feels so good on my skin.
The thick product is made with shea butter and an assortment of oils such as jojoba and hemp. It is scented with essential oils including lavender.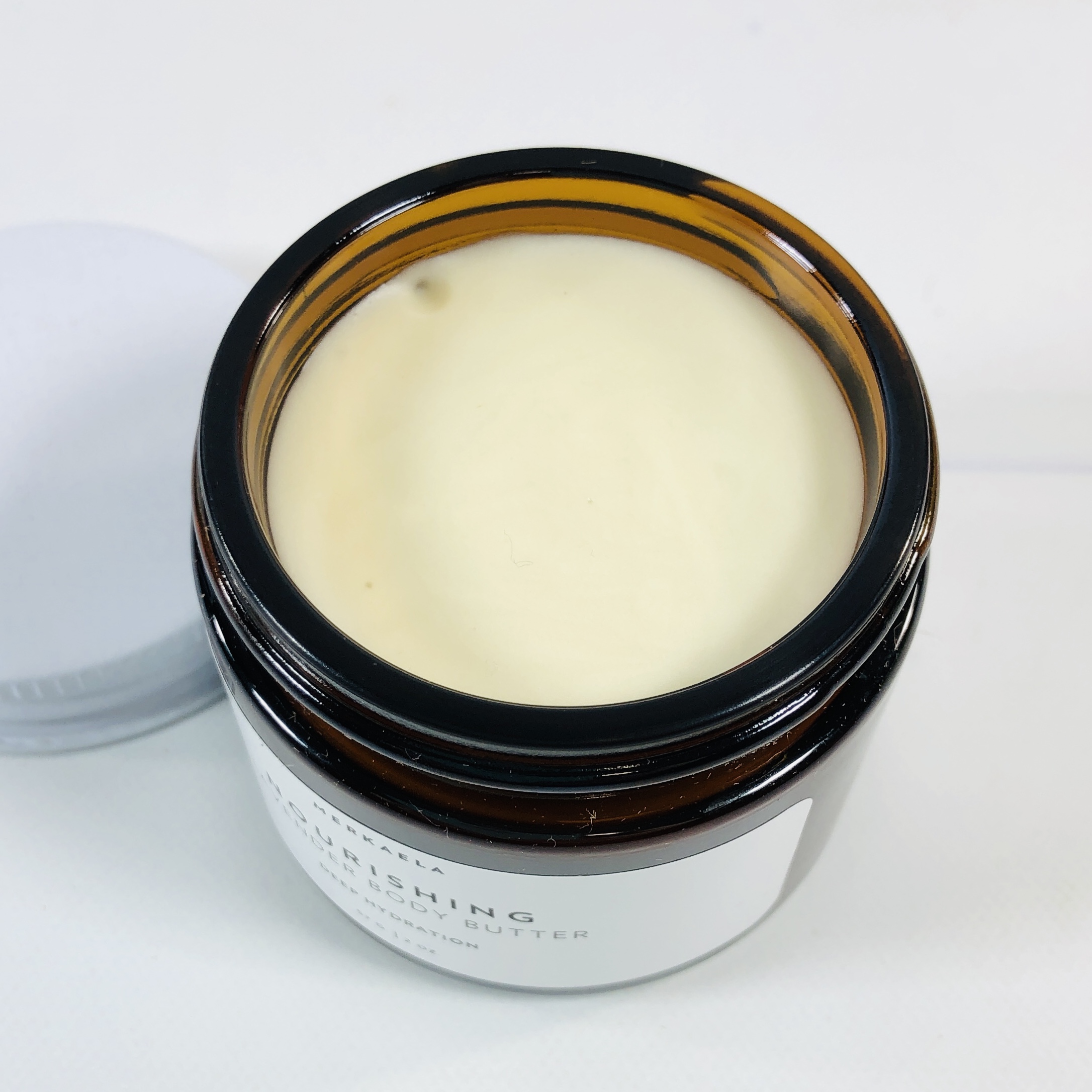 I like to apply this right after taking a shower, while my skin is still damp (but not wet, I towel off first). It can be used all over or as needed on extra rough spots such as heels and elbows. This is a warm take on lavender and in fact, I don't think it smells much like lavender at all, but it still smells good.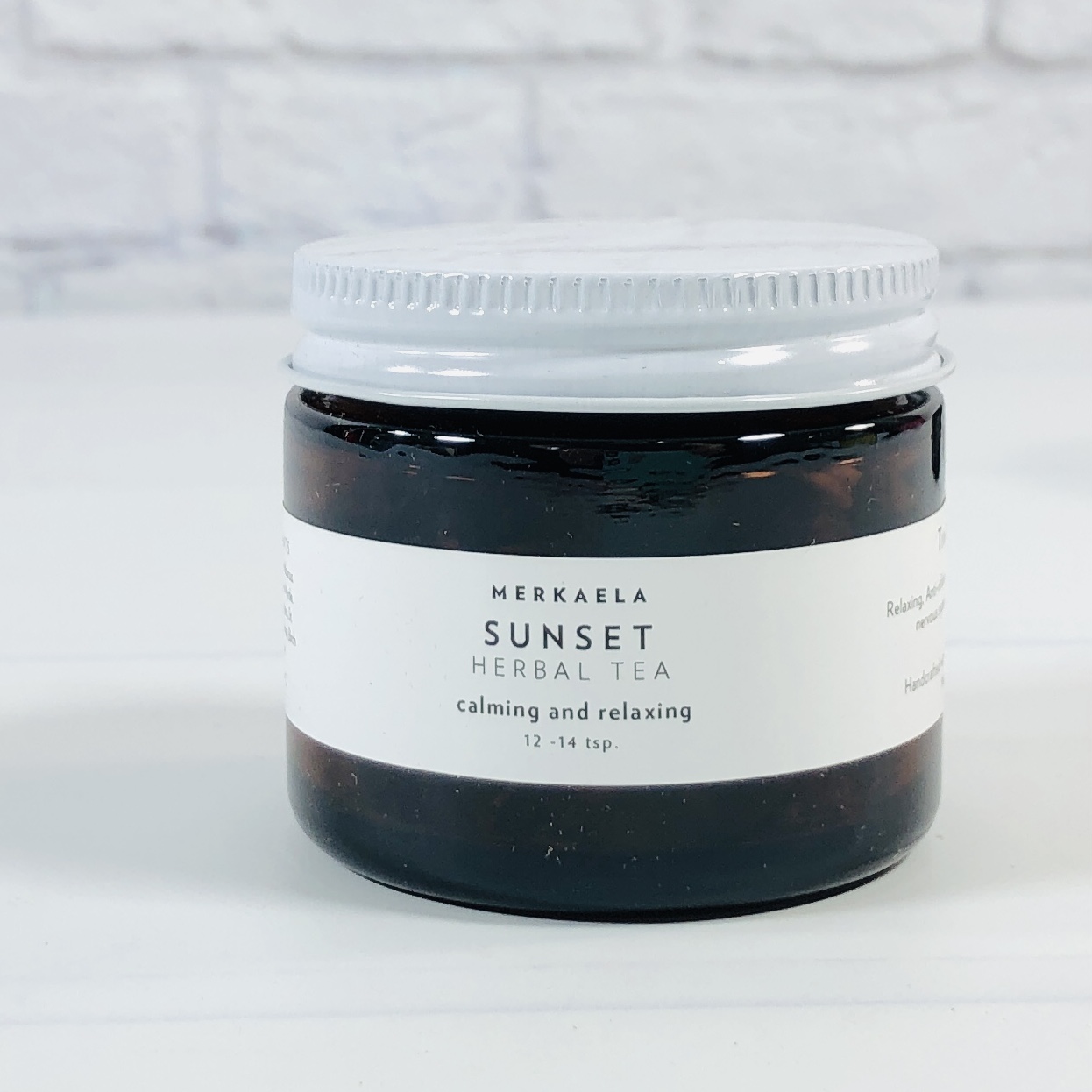 Sunset Herbal Tea ($8.50) A calming, fruity tea is a great end to a long day. This one is caffeine-free.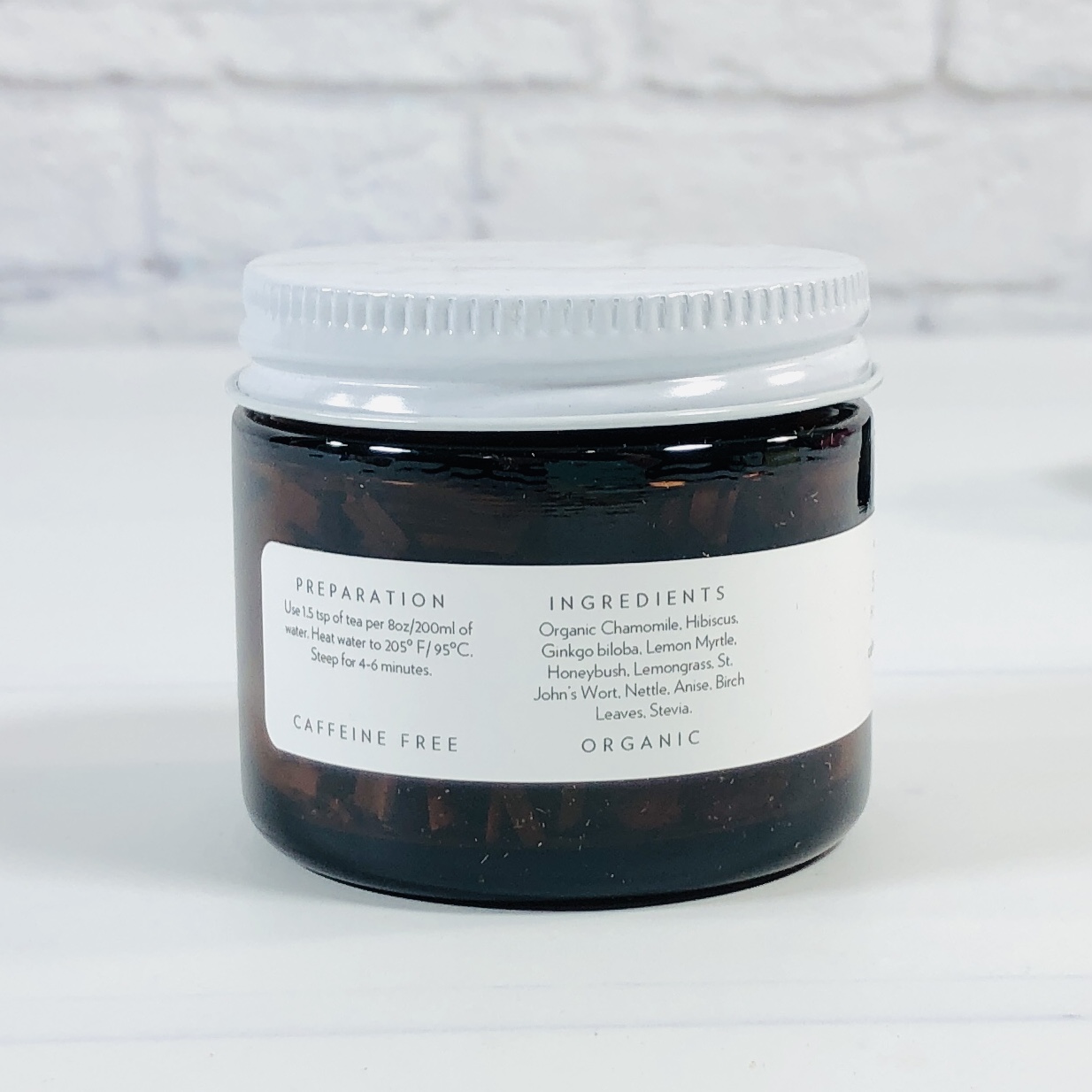 Chamomile, hibiscus, rooibos, and more are in here and while I am usually against stevia, I didn't notice any weird aftertaste in this blend.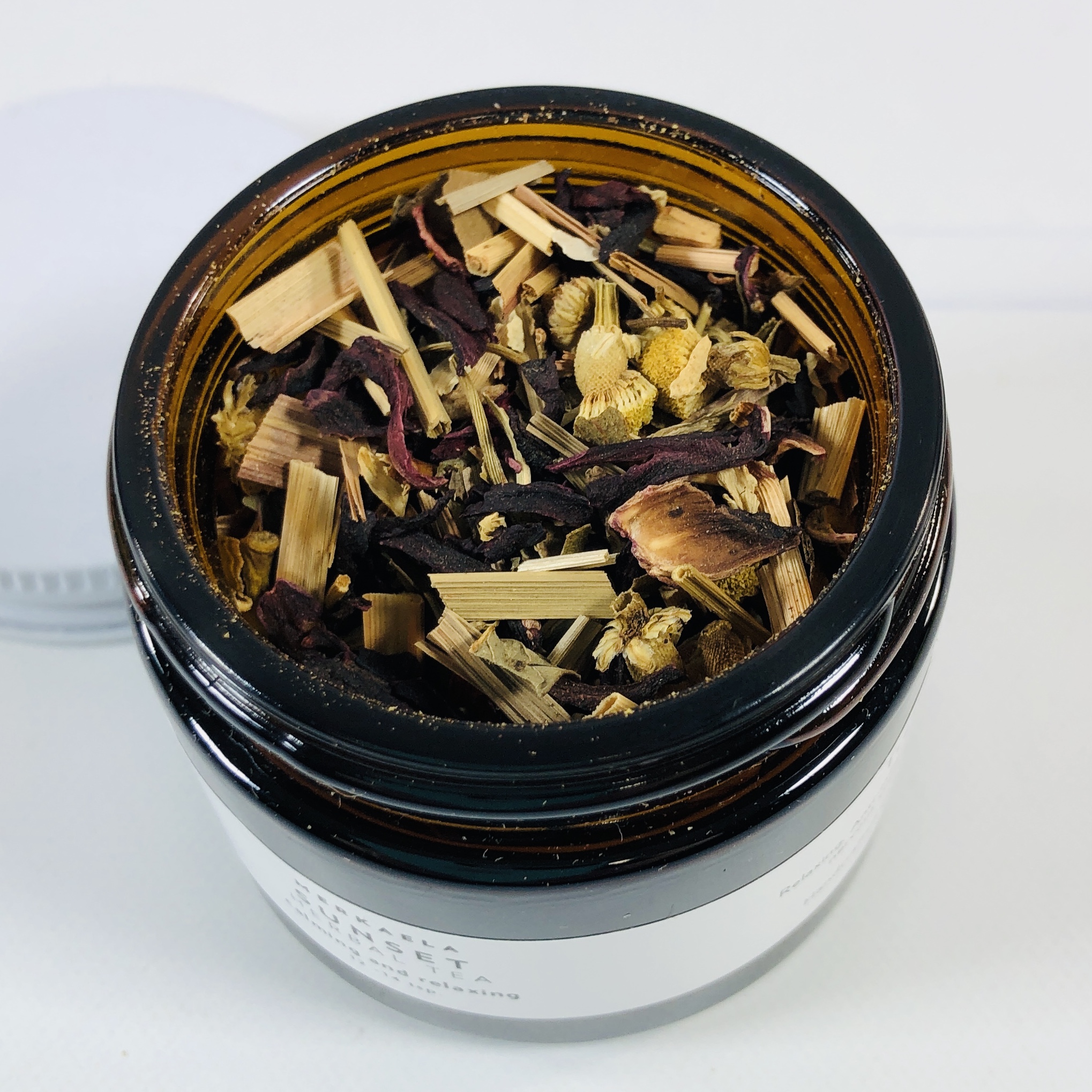 Make sure to breathe deeply when you open the jar, this smells amazing, like a chocolate-covered strawberry to my nose! Hibiscus makes for a juicy tea and there were hints of lemon and something like mint. I added sugar because it was quite tart but it steeped into a lovely rose colored cup of herbal goodness.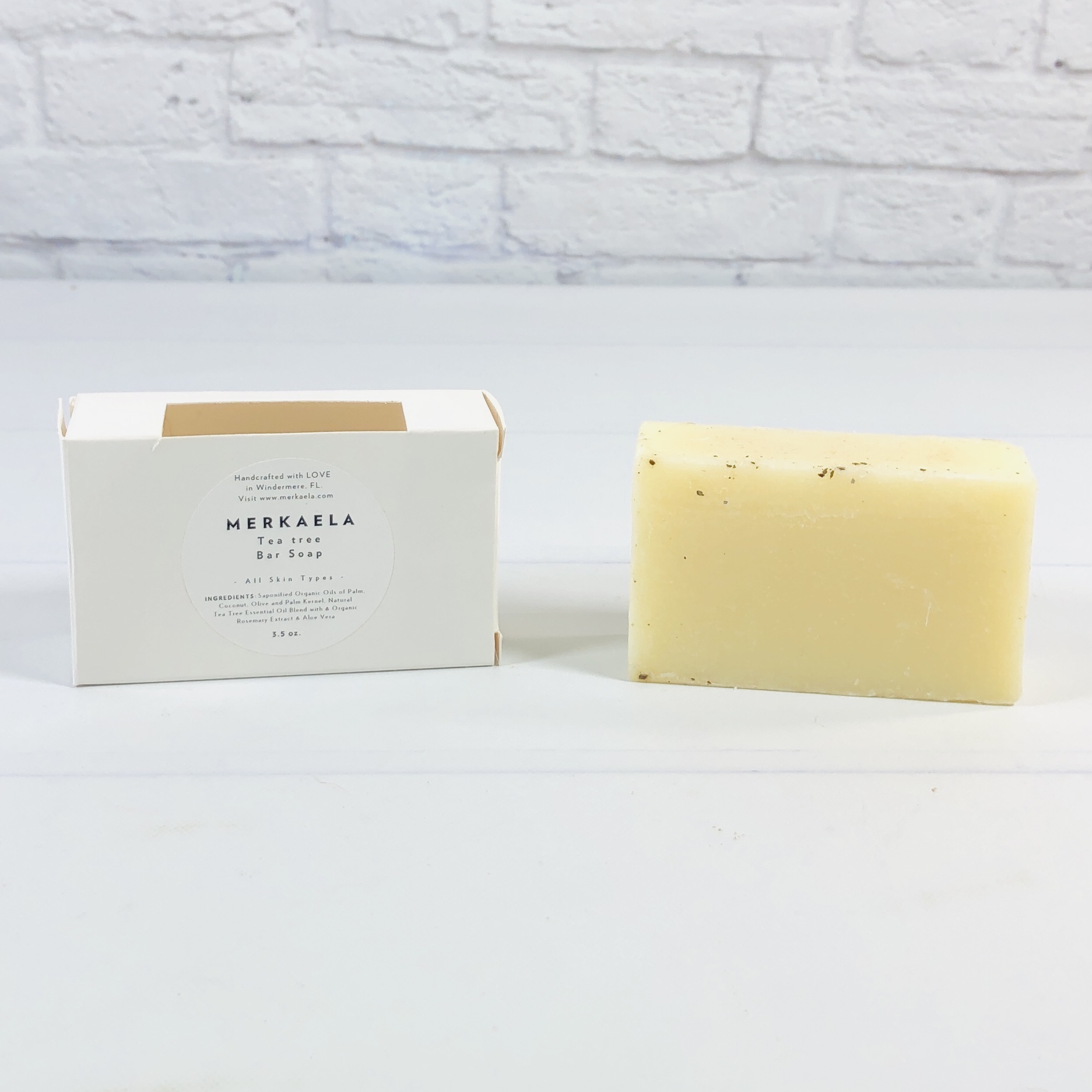 Tea Tree Bar Soap ($9.50) Here is another product that I especially love from the Merkaela brand! The soap is made with saponified plant oils plus a tea tree essential oil blend. I know this is a body soap but Merkaela soaps are almost always found on a pretty plate near my kitchen sink — the scents are subdued and natural, just what I want when I'm preparing food!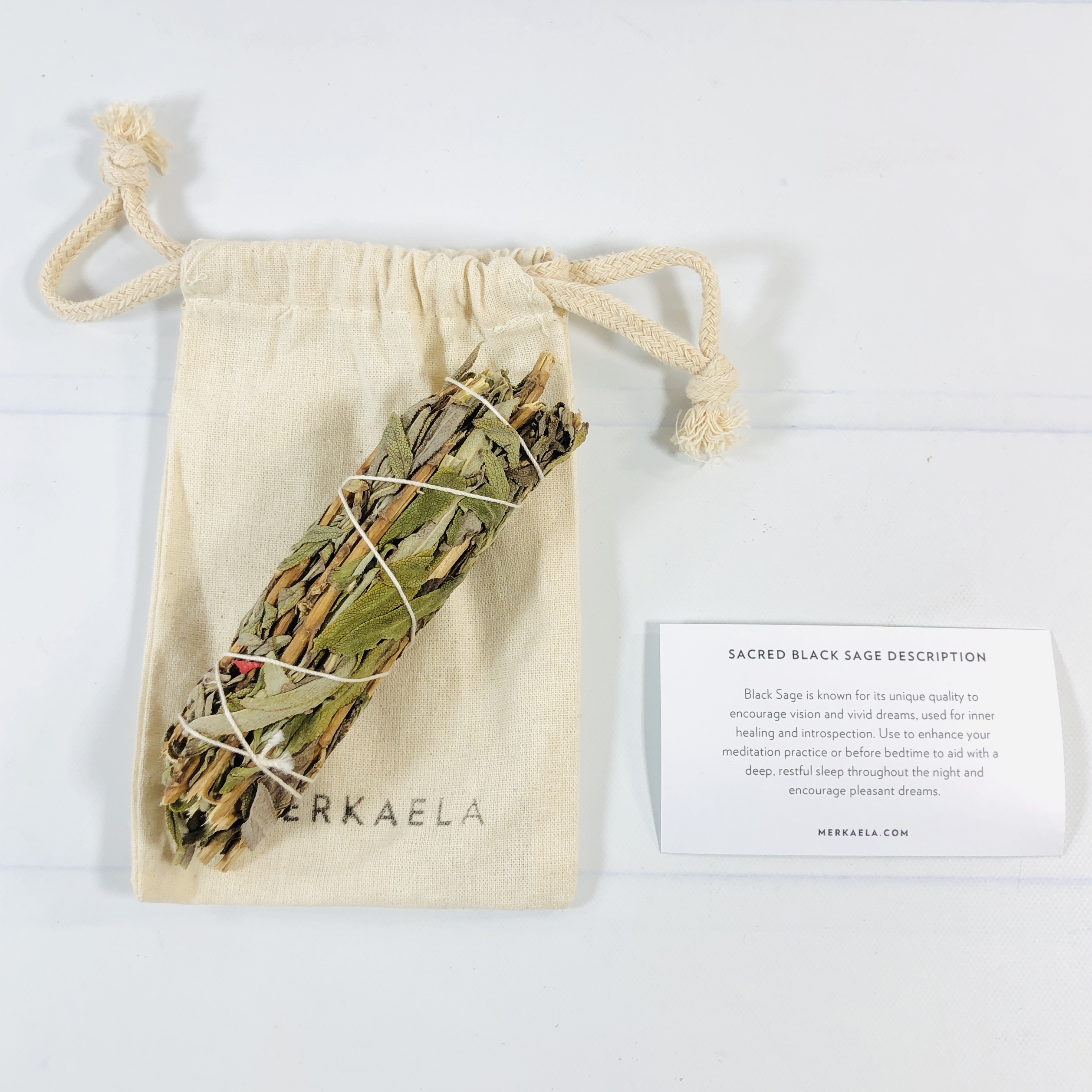 Sacred Black Sage ($6) We usually receive some type of burnable item in this box and this time around it is black sage. It came with an instruction card (on the back side of the description card shown above) and may help encourage vivid dreams. I think it smells good, like I had a campfire in my home.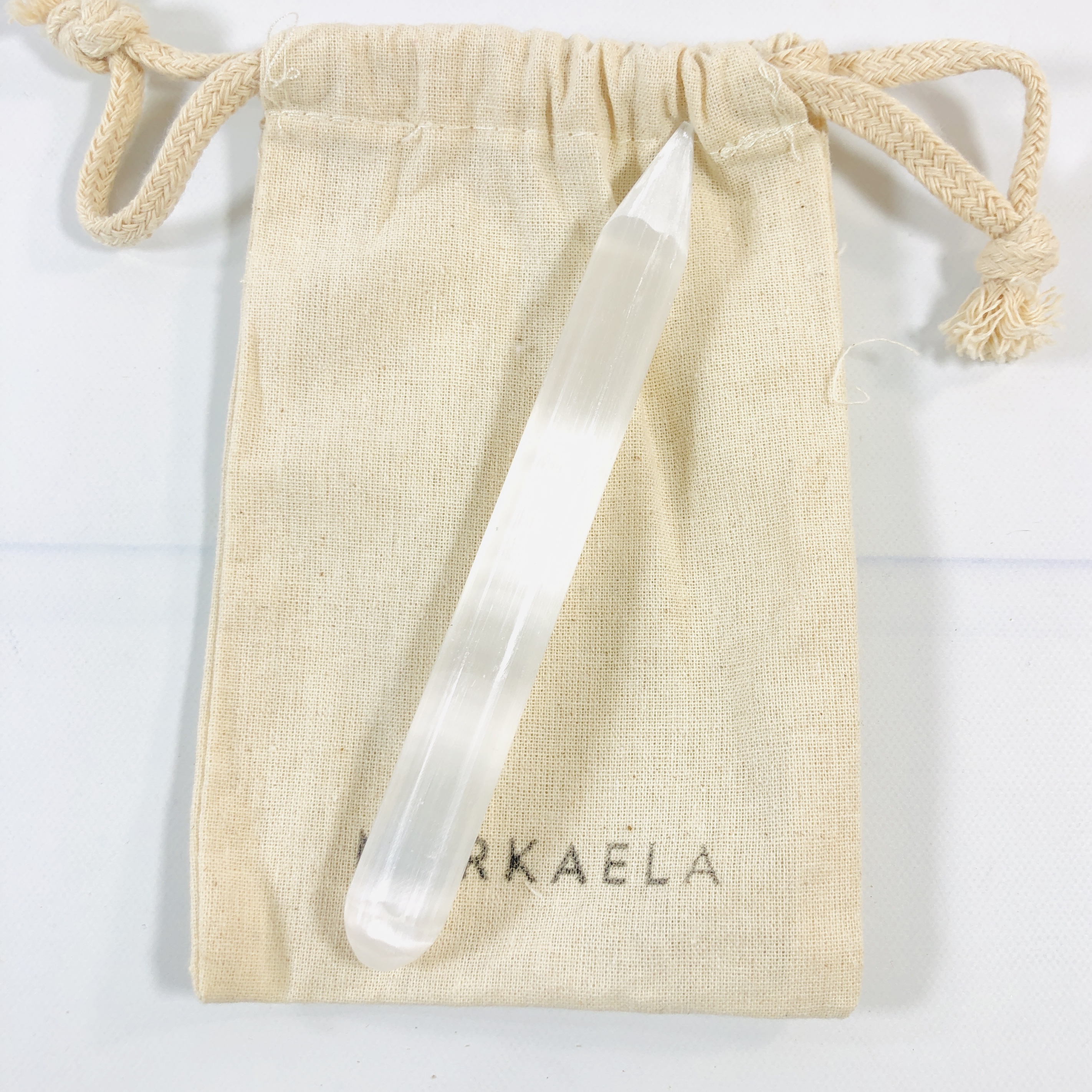 Selenite Wand ($10) Selenite is supposed to clean the energy in the body, much like the sage may clean the energy in the home.
It's a fascinating piece and about the length of pen. Hold in your hand while meditating or just gaze at its prettiness, it feels really smooth to the touch.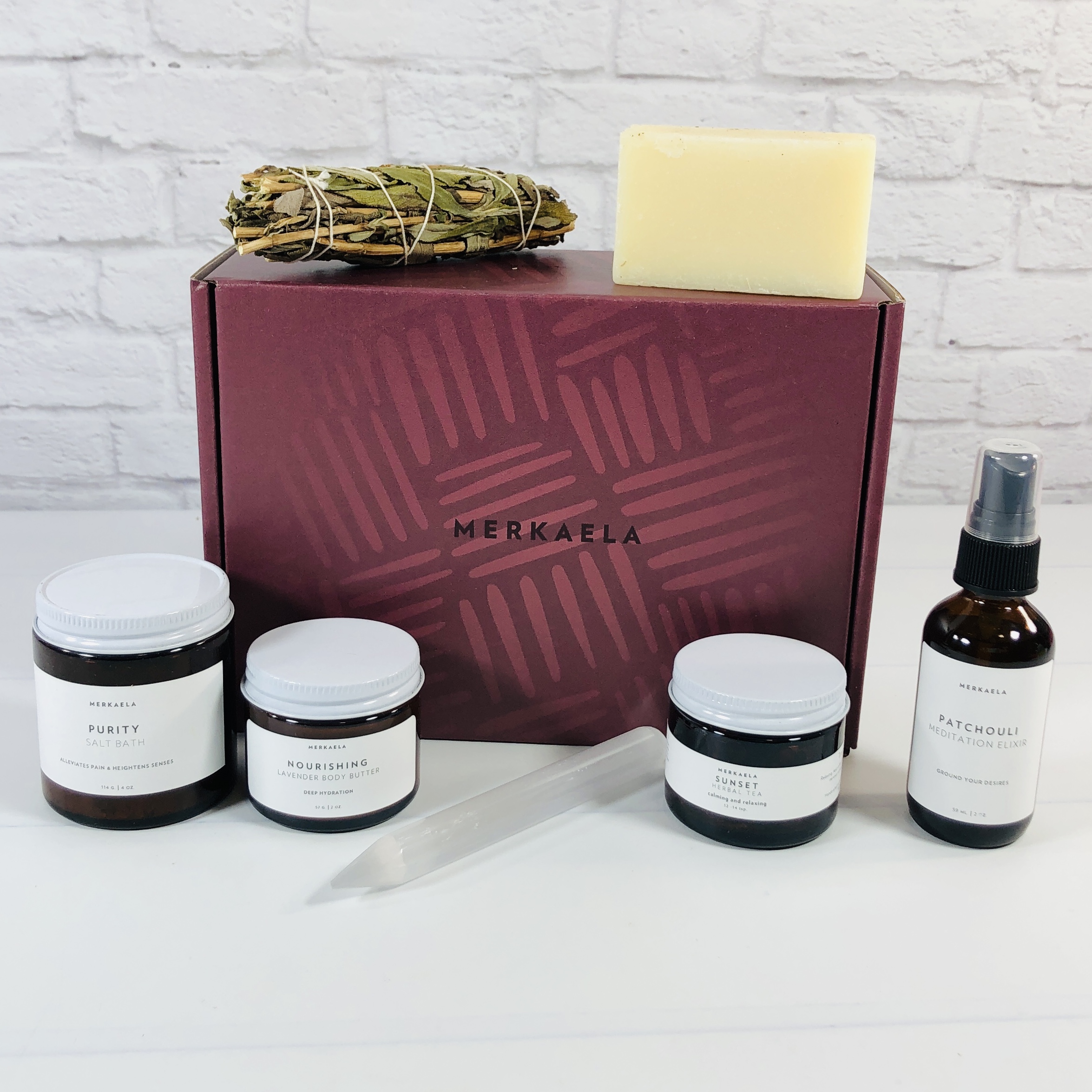 If indulging in self-care sends you to your happy place, then Merkaela will delight you with their luxurious products and minimalist designs. The containers were all glass and look and feel upscale compared to products in plastic. The scents are wonderful and not full of chemicals, so they may not last a long time on your skin but that's ok with me, I take plenty of deep, relaxing breaths while using them to make the most of their natural scents. This is the perfect box for those who may also want to take care of their spiritual side, since it comes with a crystal of some sort and an item to burn and these can be used in home blessing rituals if you like.
What do you think of the Merkaela Autumn Box? Let me know if it helps you connect your mind, body, and soul in the comments!