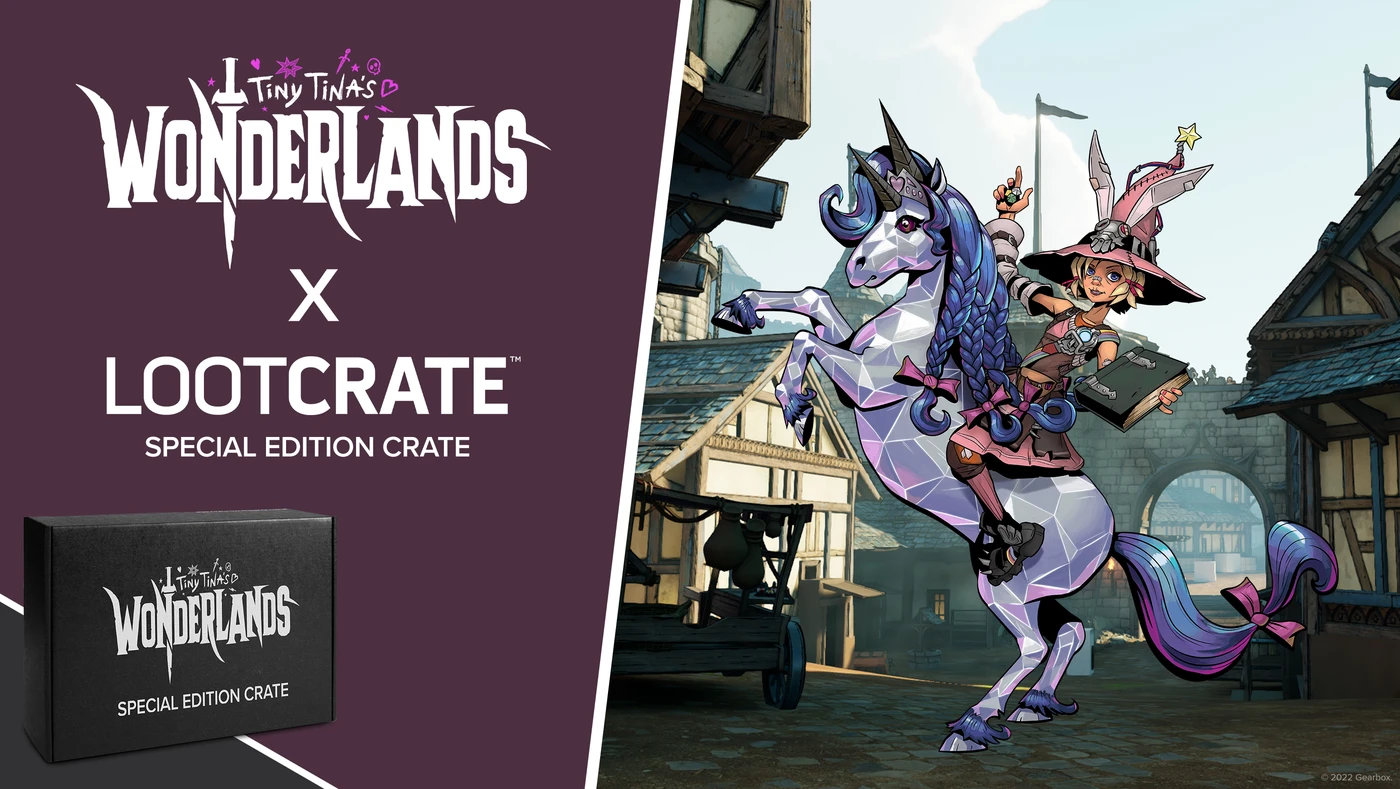 Loot Crate has announced the new Tiny Tina's Wonderlands Special Edition Crate – now available for pre-order!
You say chaos like it's a bad thing. Become a hero, join a party, and embark on an epic adventure! Celebrate the release of Tiny Tina's Wonderlands with this special edition crate packed full of officially licensed collectibles and gear inspired by the game!
Tiny Tina's Wonderlands Special Edition Crate ($49.99 + Shipping)
Unbox a premium mix of officially licensed Bleach lifestyle goods and apparel delivered to your door! Don't miss out on this one-time-only premium and limited edition crate.

Includes Dice Tower & Controller Stand!
You can also add an Paladin Mike Tech Lightweight Hoodie for an additional $30!
Want more goods in your arsenal? Add on the premium bonus item: Paladin Mike Tech Lightweight Hoodie for only $30!
How it works:
ORDER Place your order for this special edition crate
SHIP Crate will ship to your door starting in March 2022
ENJOY Show off your loot on social media with #LootCrate
FAQs from Loot Crate:
IS THIS A RECURRING SUBSCRIPTION?
No. This is a one-time-only, non-recurring special edition crate.
WHAT FORMS OF PAYMENT DO YOU ACCEPT?
We accept Visa, Mastercard, American Express, Discover, Paypal and Amazon Pay (U.S. Only).
WHERE DO CRATES SHIP TO?
We ship to all U.S. or APO/FPO addresses. We also ship internationally to the following countries: Argentina, Australia, Austria, Belgium, Canada, Czech Republic, Denmark, Finland, France, Germany, Hungary, Iceland, Ireland, Israel, Italy, Japan, Luxembourg, Netherlands, New Zealand, Norway, Poland, Portugal, South Africa, South Korea, Spain, Switzerland, Turkey, and the United Kingdom.
Are you going to get a Limited Edition Tiny Tina's Wonderlands Special Edition Crate?