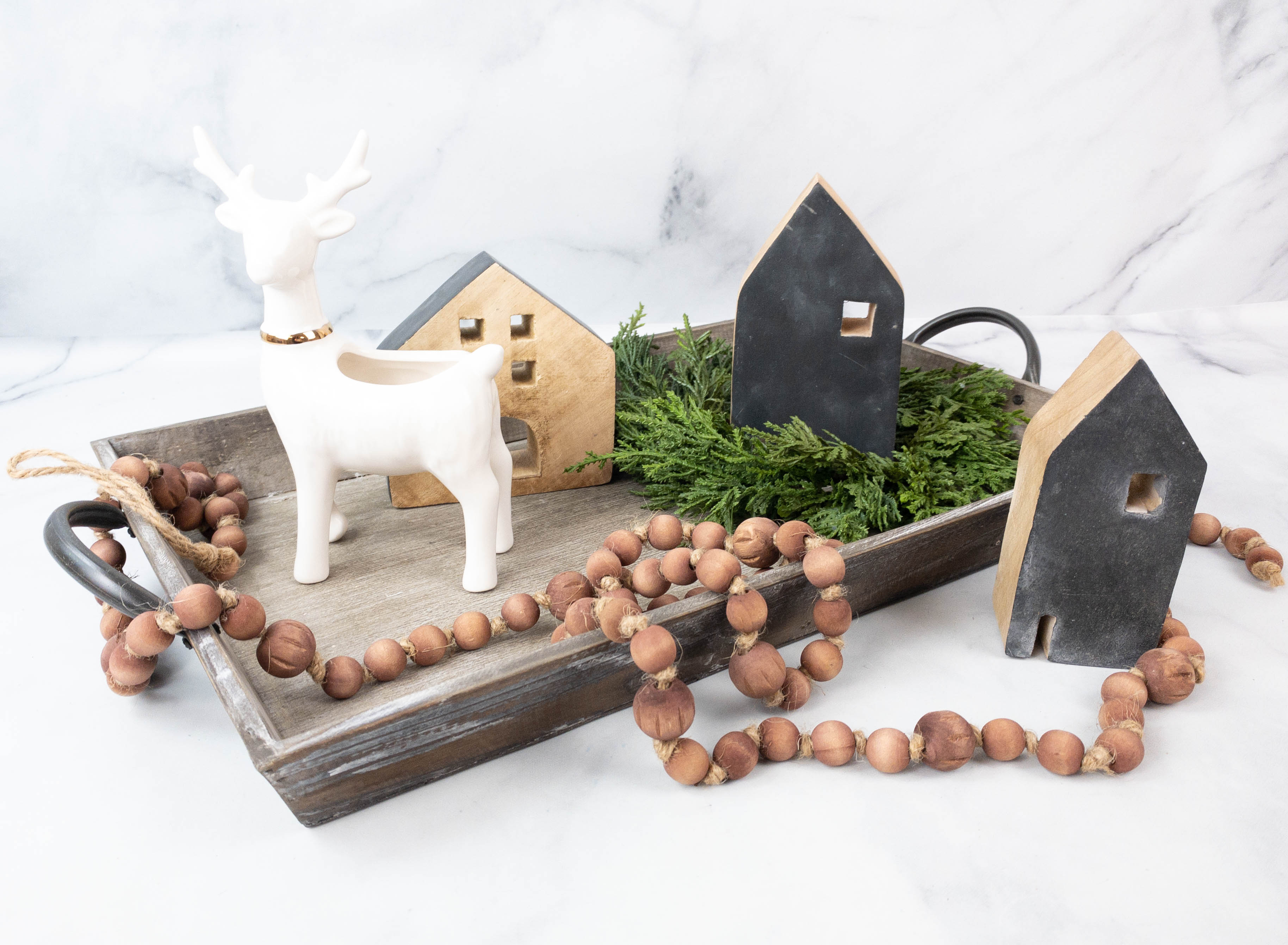 Can you feel the holiday vibes already? If not, maybe this Just Deco Winter 2021 box can help you set the mood! This home decor subscription never fails to curate season-appropriate pieces, and for winter, the box includes holiday ornaments with a touch of coziness to set up a Christmassy vibe!
DEAL: Get 15% off subscriptions! Use coupon code HELLOSUBSCRIPTION. And, take 10% off shop orders with coupon code HELLOSUBSCRIPTIONSHOP.
With 4-5 decor accents sent straight to your door, it's an easy way to refresh your home minus the hassle!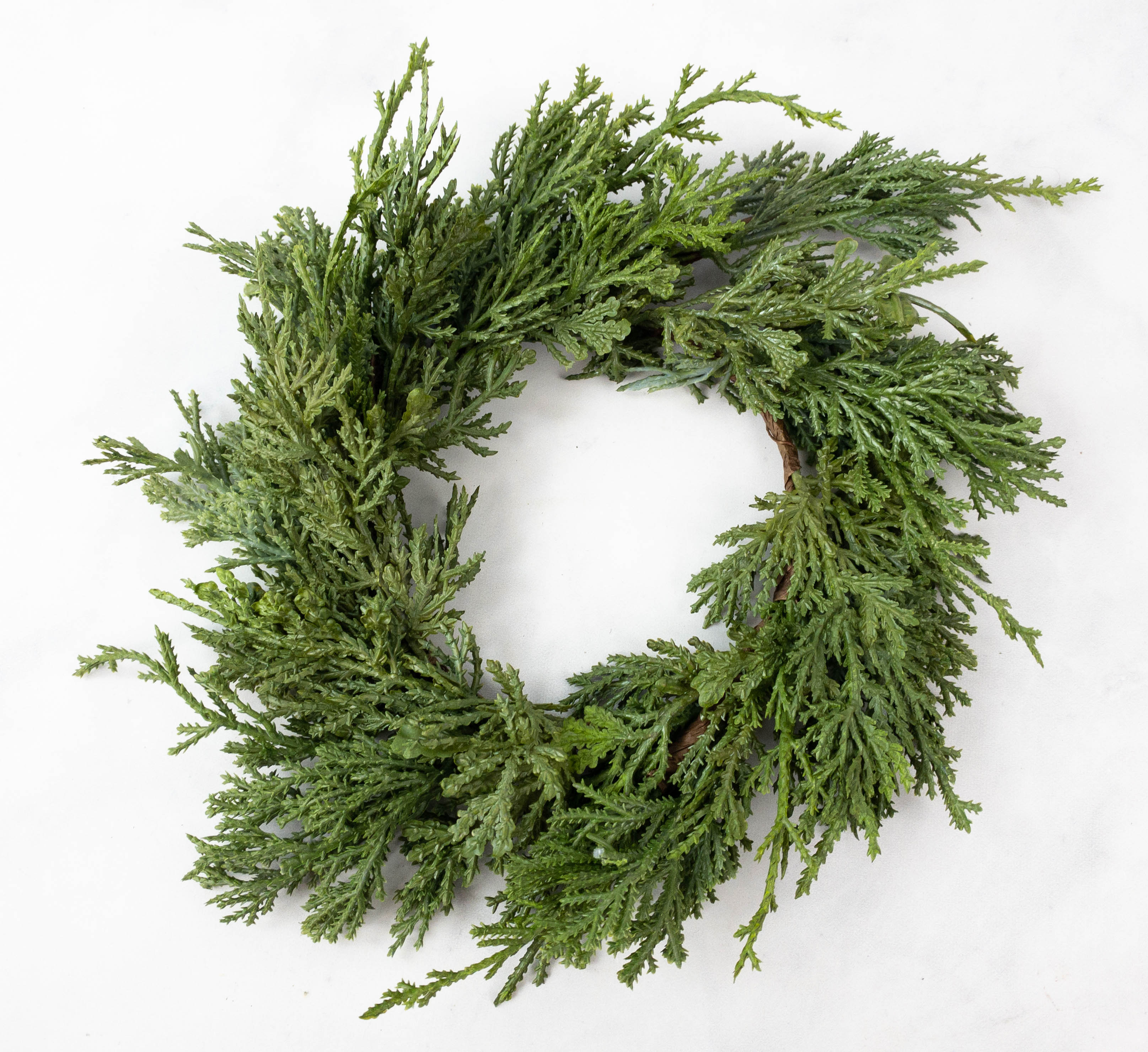 The Wreath. Adding flair to our Christmas home decor is this evergreen wreath. I doubted my eyes the first time I looked at it because it's just like the real one! Just add little ornaments like holly and red berries for accent, and you can earn yourself an aesthetically-pleasing holiday decor. Hang it or let it sit atop a counter with candles for a warm ambiance during the winter. I like mine decorated with candles!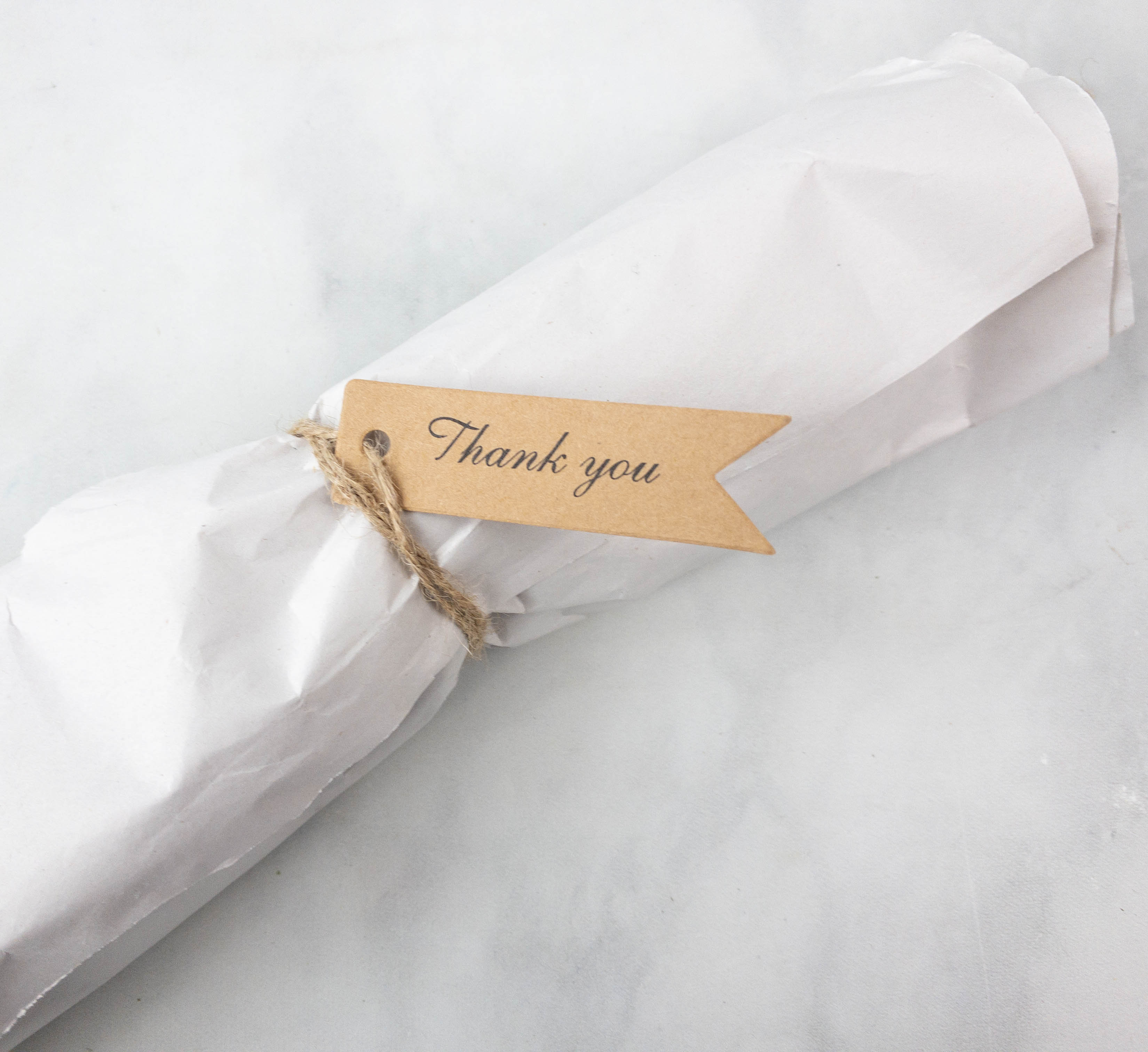 The Garland. The beautiful garland came wrapped in paper, tied with twine, and finished with a thank you tag! The amount of work they put into curating the package really impressed me.
This wooden garland exudes a farmhouse vibe! It's a decorative piece that can sit perfectly with other tabletop decors I have at home, or it can be a lovely addition to a Christmas tree. There's even jute in between beads and a loop at the other end.
The Village. Another holiday-themed decorative item in the box is a set of winter village houses. They come in three different sizes.
I like the Nordic/Scandinavian feel. It's also great that they didn't paint the blocks solidly, which leaves them more unique, with some texture.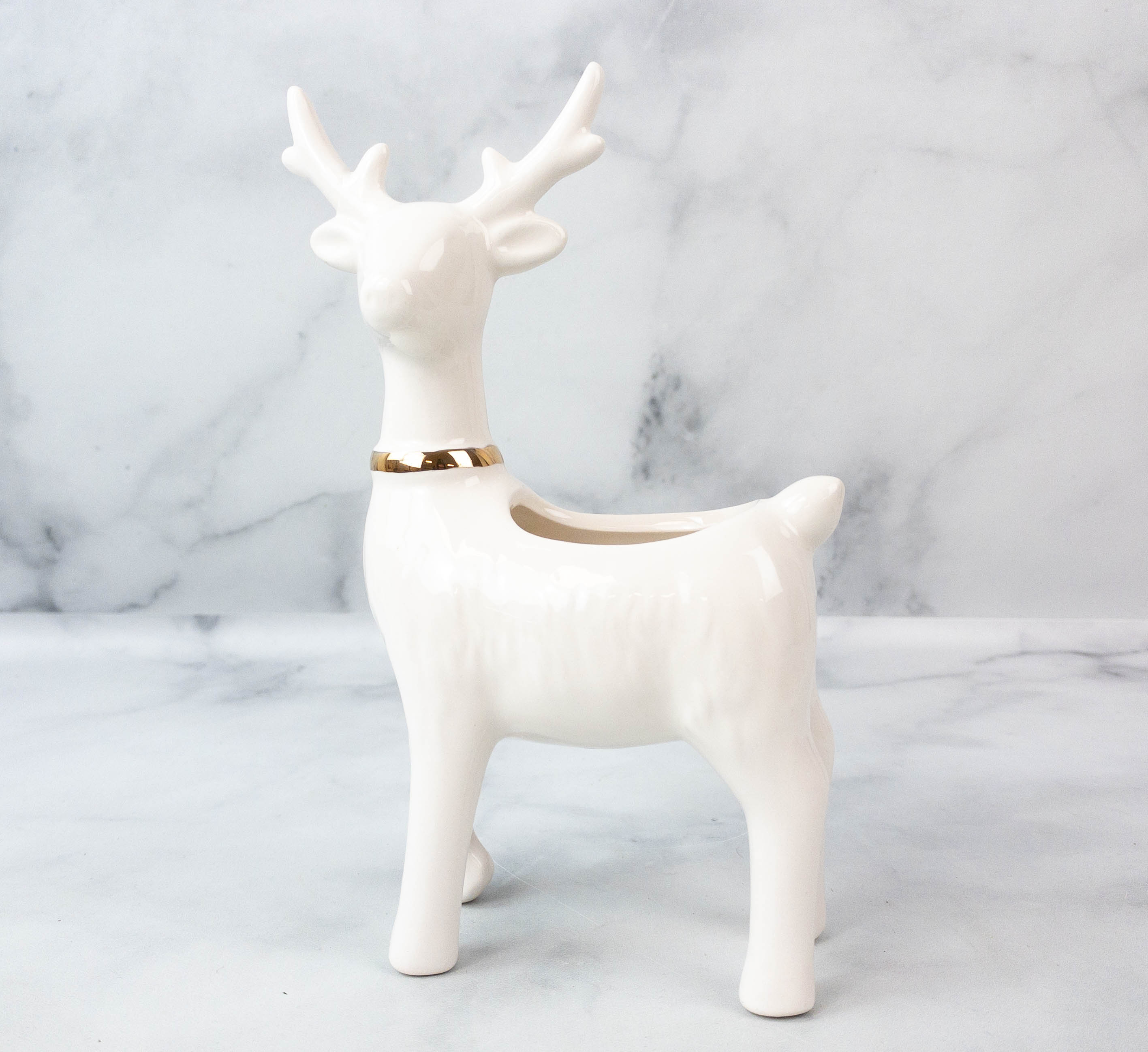 Reindeer Planter. This ceramic decor looks very elegant! For a minimalistic look, I'm thinking of using succulents or artificial plants, most likely brush trees, like the card (which I showed excitedly to my daughter, it was such a good styling tip!). Also, I like that there's texture on its body. It's utterly beautiful, and it'd make a lovely coffee table centerpiece!
The Tray. I was excited about this statement piece, a lovely tray with a rustic, barn house feel. Made of wood with two metal handles attached to its side, this is pretty sturdy. You can also add every single item in the winter box on it as a beautiful Christmas decor collection. This gave me the idea for a candy or coffee (or tea or hot chocolate) corner at home as well!
The Just Deco Winter Box has a nice rustic farmhouse appeal! This package got me excited about adding more holiday decorations to our existing ones at home. From the wreath to the tray, everything is high-quality. Also, even if you're a newbie to decorating or interior designing, it's pretty easy to put the pieces together to transform your space. If you want to decorate your home with the best seasonal decor, this quarterly subscription is for you!
To take a good grasp of what's in the box, they also included an info card with the color palette and product details. See them here: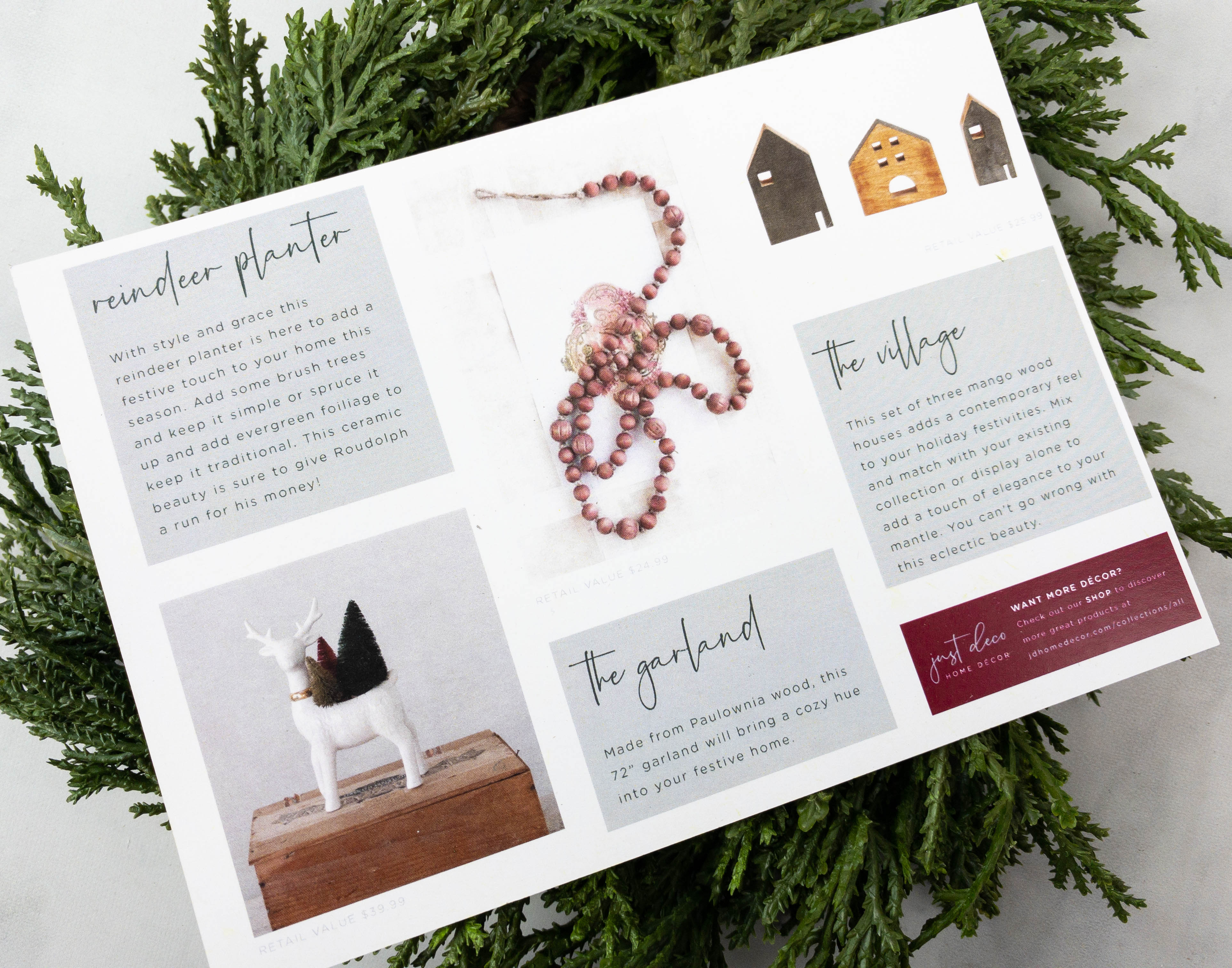 Just Deco is a quarterly home decor subscription box. Each box will include 4-5 home decor accents centered around the current season to refresh your space. It's $59.99 per quarter, with a shipping flat rate of $9.99.
What do you think of this quarter's box?