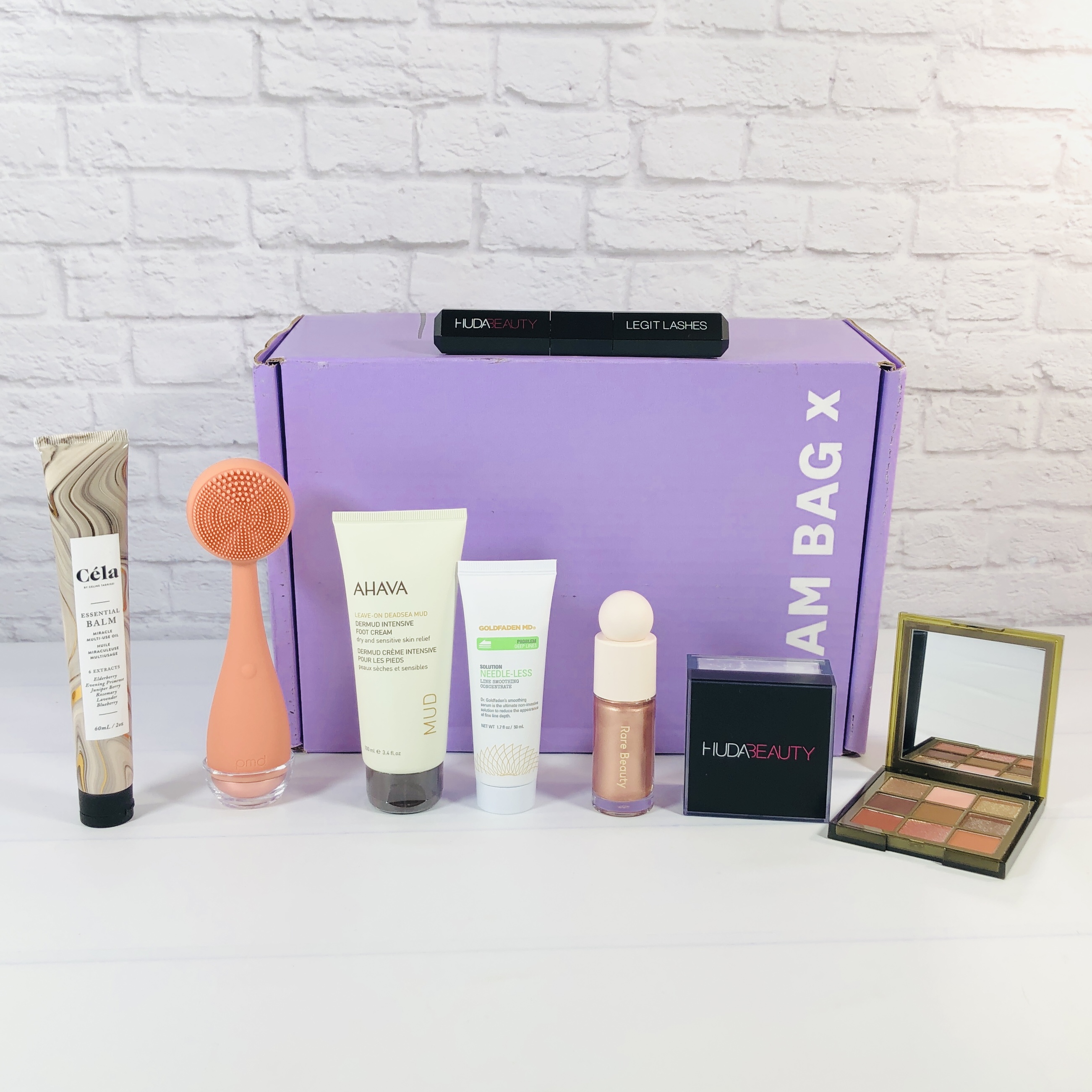 Ipsy Glam Bag X is the upgraded version of the monthly Ipsy Glam Bag! If you subscribe to the regular $13 Glam Bag, you would pay $42 extra and this will replace your usual bag for the month ($55 total). If you are a Glam Bag Plus only member, then this will replace that bag for a $27 upcharge (again, $55 total). If you subscribe to both of those bags, this will replace the Plus bag and you will also get the $13 bag, unless you skip. This will ship in the months of February, May, August, and November.
Think of it as your all-access pass to the most-coveted brands, hottest launches, and need-to-try products in beauty. Your Glam Bag X includes seven to eight full-size products (worth up to $350) specially curated by beauty's biggest tastemakers and celebs, and you'll even get to choose three from a personalized assortment—which, BTW, includes dibs on exclusive product drops you won't find anywhere else.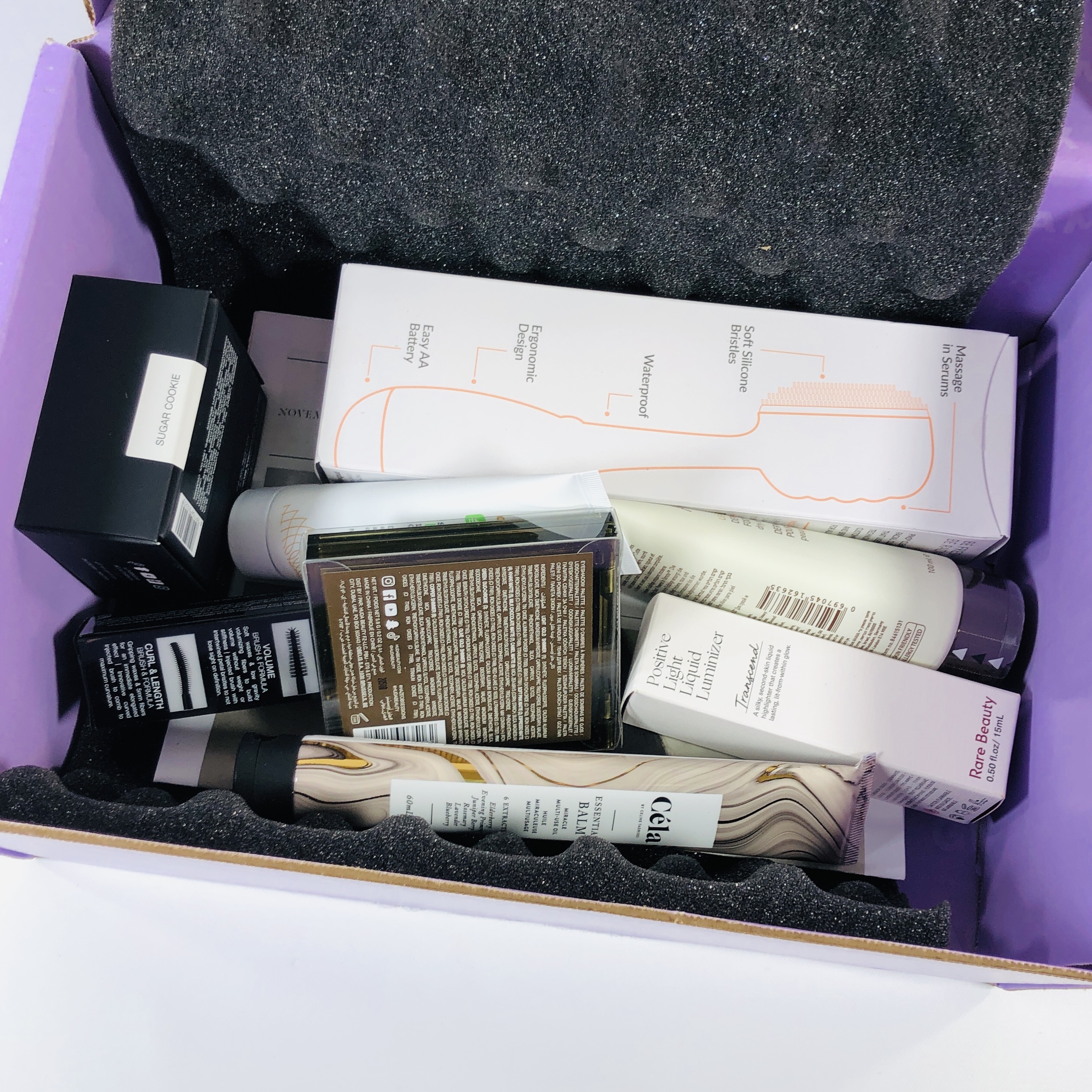 The presentation is simple, just egg crate for cushioning.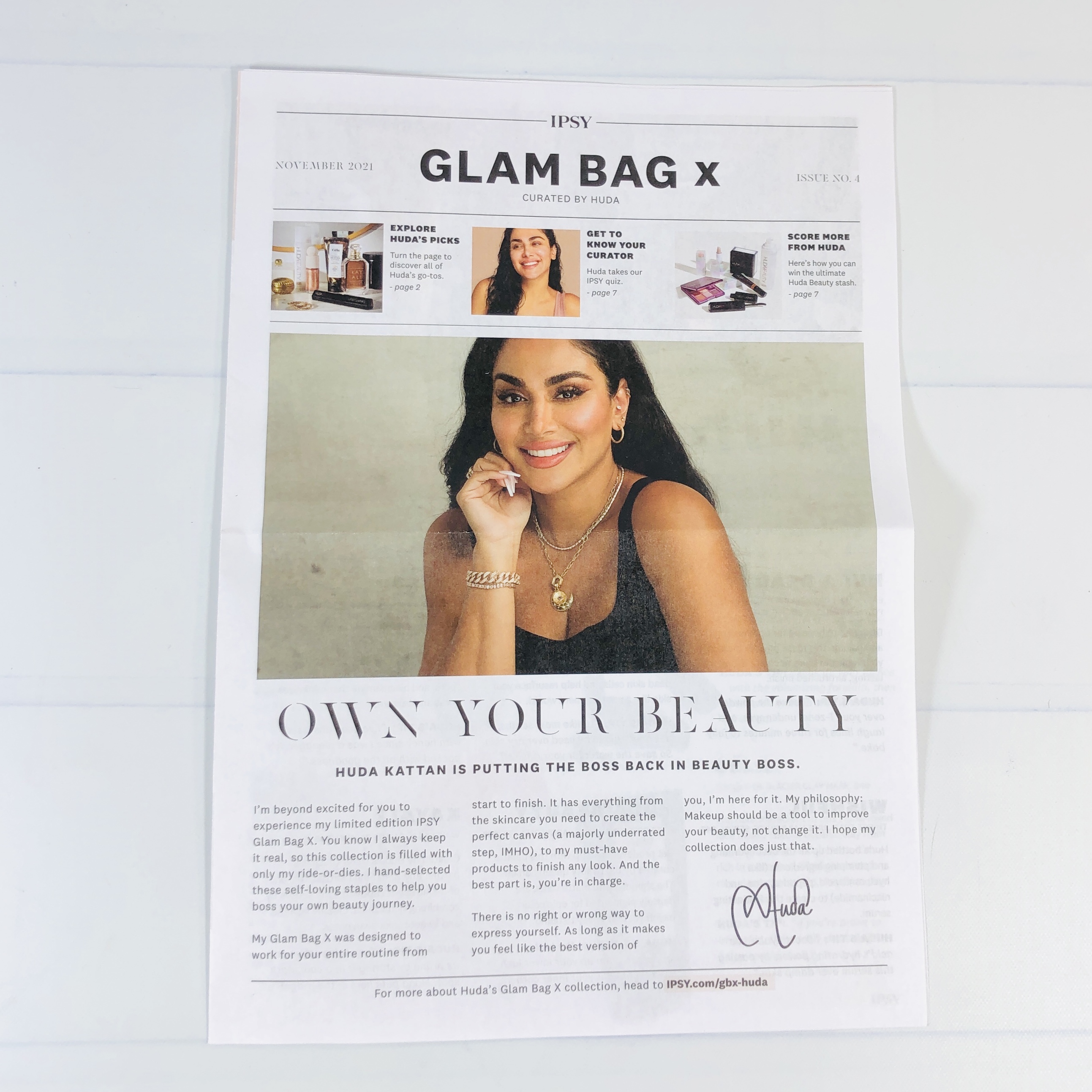 Glam Bag X comes with a newspaper-style insert. November's bag was curated with the help of makeup artist Huda Kattan. Please note that this is different from a takeover box — this box has some Huda products, but not all Huda products.
Inside there were Huda's Picks plus her tips. Please note that subscribers receive 8 products total, and these are some of the products that were sent. I was especially hoping for the Kayali fragrance, did anyone actually receive it in their box?
Here's the rest of the products that Ipsy may have sent.
More about Huda could be found on this page.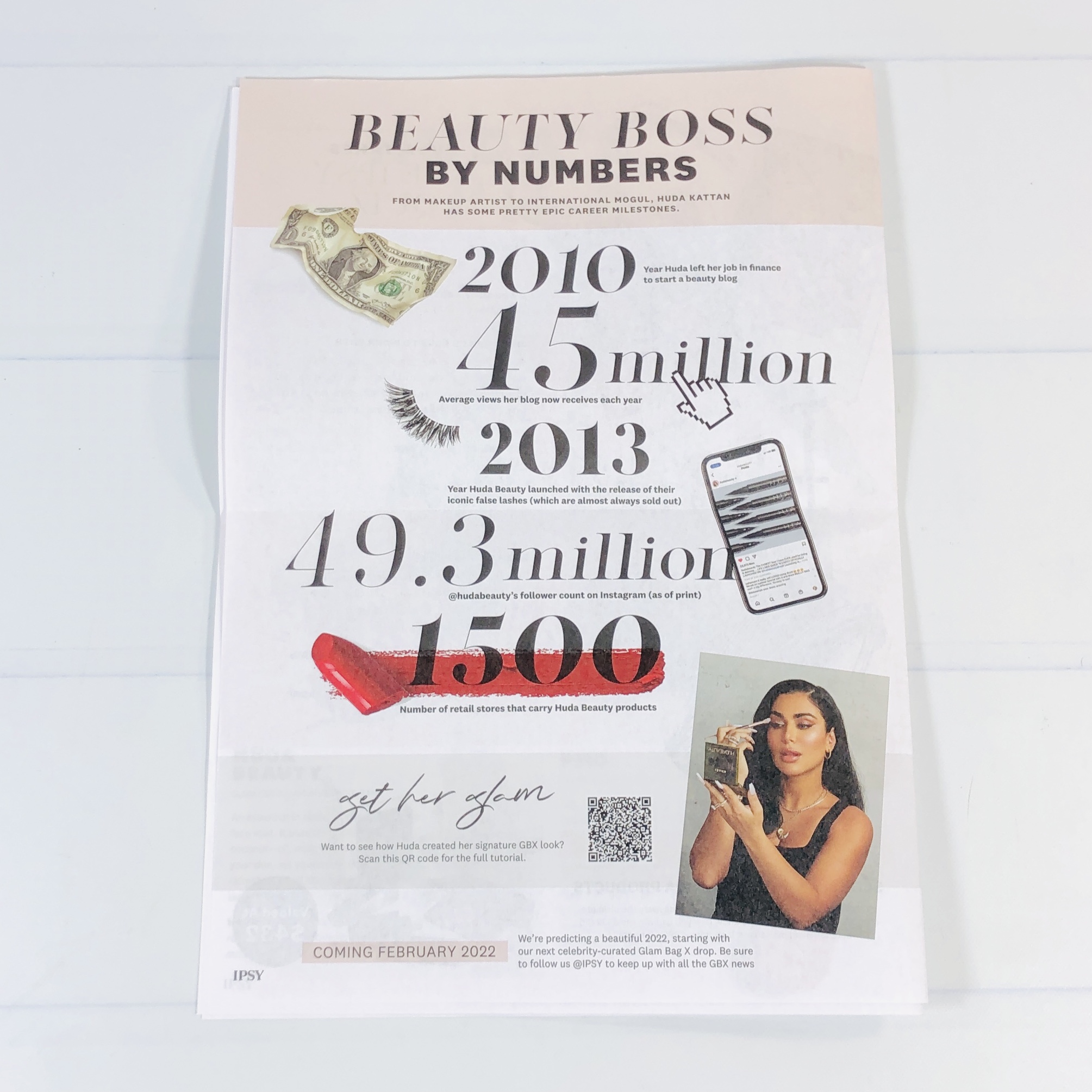 Here's Huda by the numbers.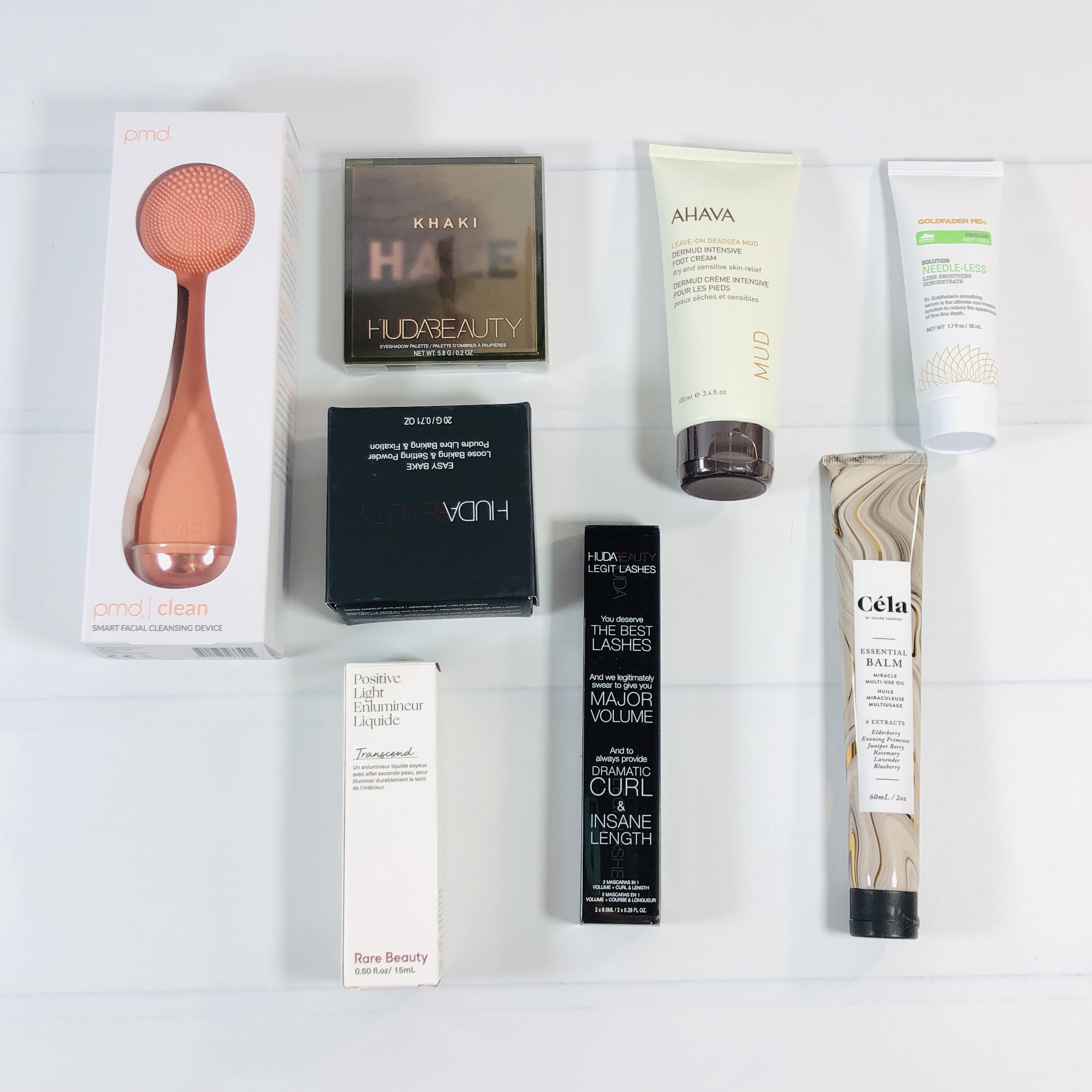 Some of the items came in their original boxes.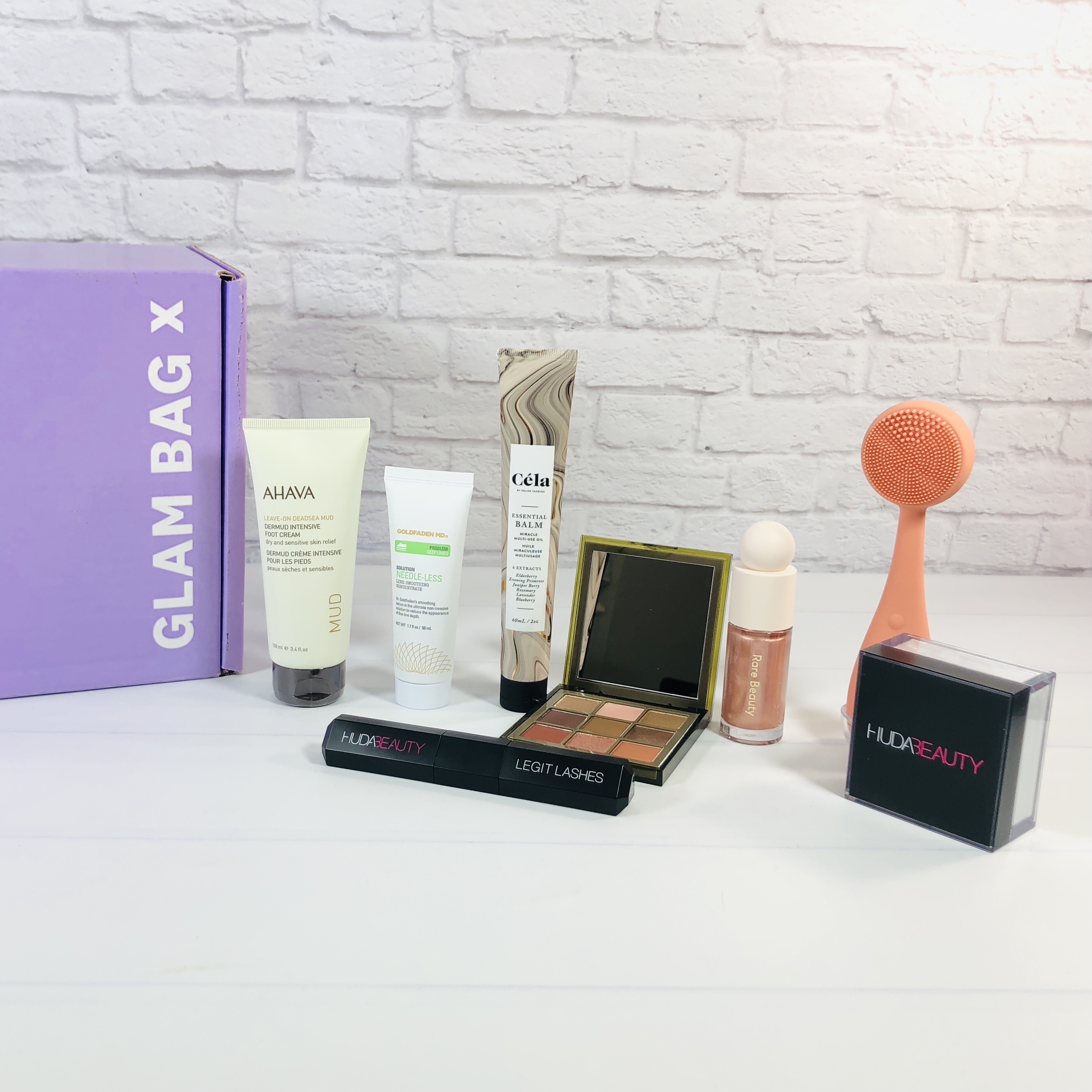 Everything in my box!
PMD Beauty Smart Facial Cleansing Device in Warmth ($99, Ipsy picked) I think everyone got this product for November. One year I bought a battery-operated brush with the hopes that I would age backwards but it turns out it doesn't work that way. This is a rubbery/silicone double-sided device that is antibacterial and that came with a battery and stand. It has four different modes, two for cleansing and two for massaging/applying moisturizer.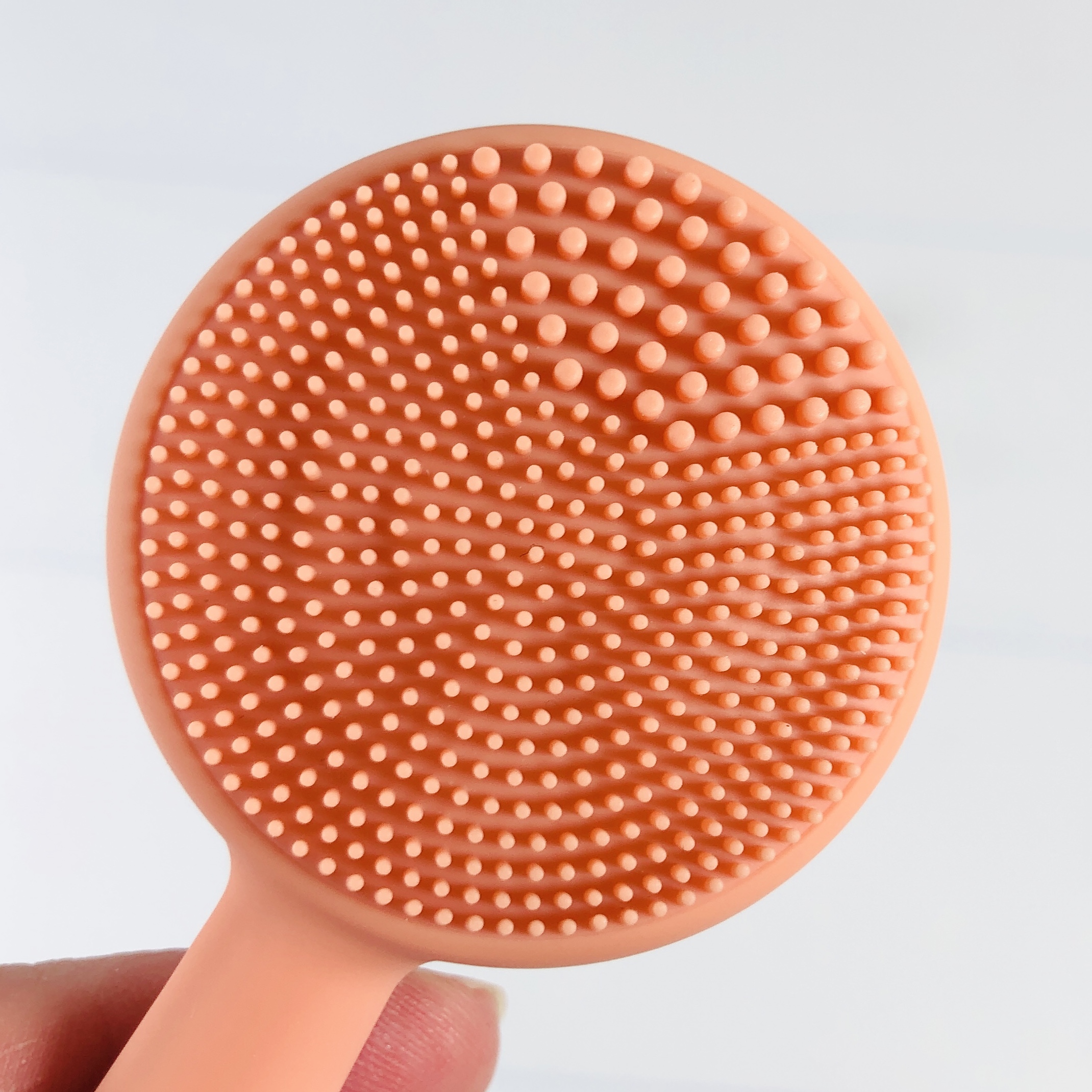 Here's the cleansing side. I applied cleanser to the brush and then used it on my damp face and knew immediately that this isn't for me. I have suffered my entire life from motion sickness and the vibrating brush set it off. I felt it most while using on my cheeks and around my nose. My cheek looked red and irritated afterward so this is also not good for my sensitive skin. I didn't even try to use it to apply moisturizer. I didn't feel nausea when using my previous Olay brush but I think it's because this tool comes in close contact with my skin, literally shaking my skin/head, not a fun feeling.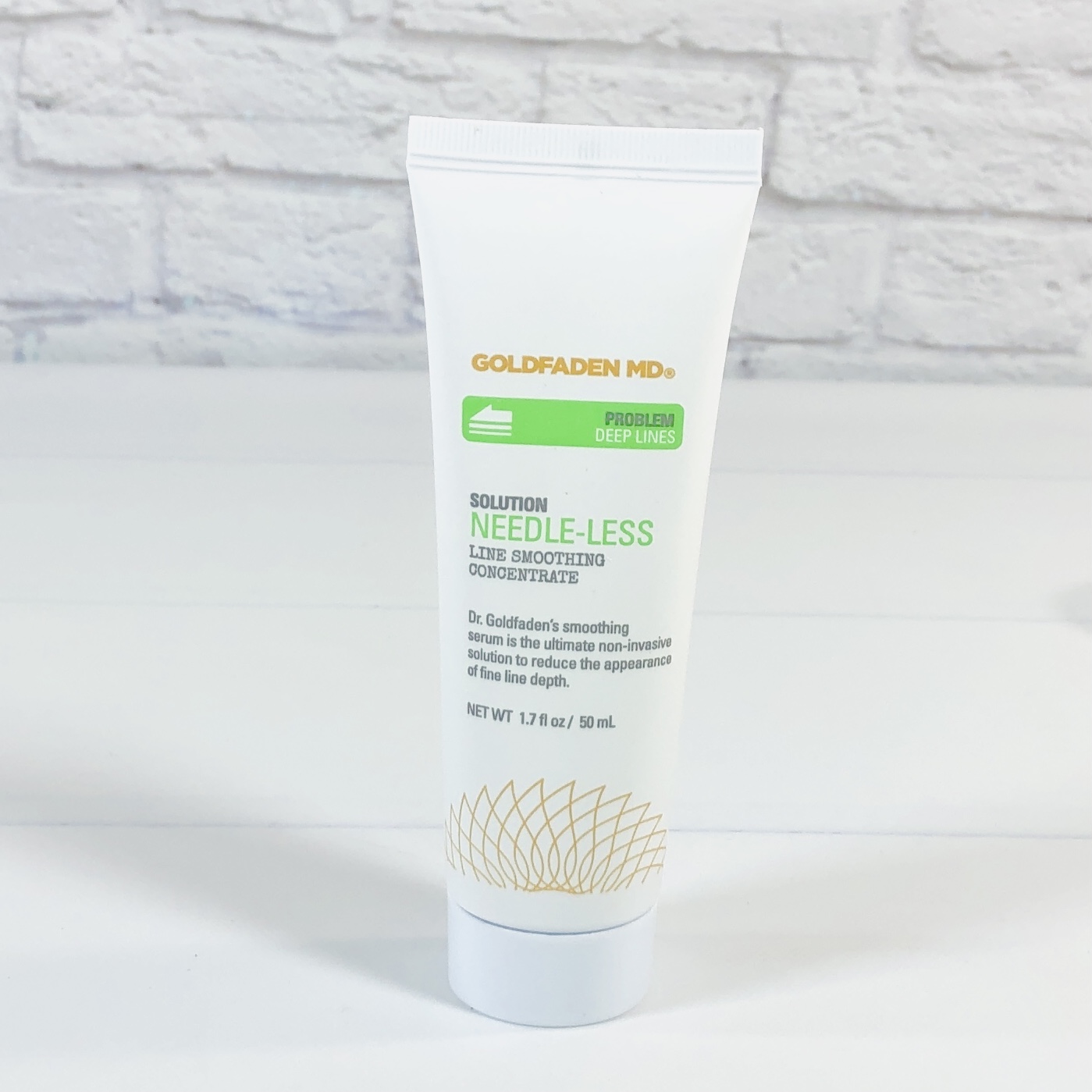 Goldfaden MD Needle-Less Line Smoothing Concentrate ($165, Ipsy picked) Personally, I don't think there's much that can be done about the lines on my face unless it comes from the doctor's office so I concentrate on using sunscreen every day, but I might use this for an extended period and see if it helps reduce the look of fine lines as they promise.
Be careful when squeezing the tube, I accidentally squeezed out 1/8 teaspoon or so and thought, there's $5 worth down the drain. It is a gel and dried to a non-sticky finish. The main ingredients are hyaluronic acid, seaweed extract, water, a peptide, and red tea extract, and the other two ingredients are preservatives. There's no scent at all.
Cela Essential Balm ($45, I picked) Cela makes some of the best smelling body lotion that I've ever owned so I grabbed this when I saw it offered. It's a balm that melts as soon as you put it on, and you can put it on hands, feet, body, lips, and hair.
It has sunflower and jojoba oils, beeswax, shea butter, coconut oil, and the list goes on. It is scented with lavender and bergamot essential oils and smells most like lavender. I thought it felt great on my hands and a little goes a long way. This was my favorite item from the box!
Ahava Dermud Intensive Foot Cream ($29, I picked) I chose a foot cream because I really need help in that area. I tend to use foot cream just before bed to let it soak in all night long.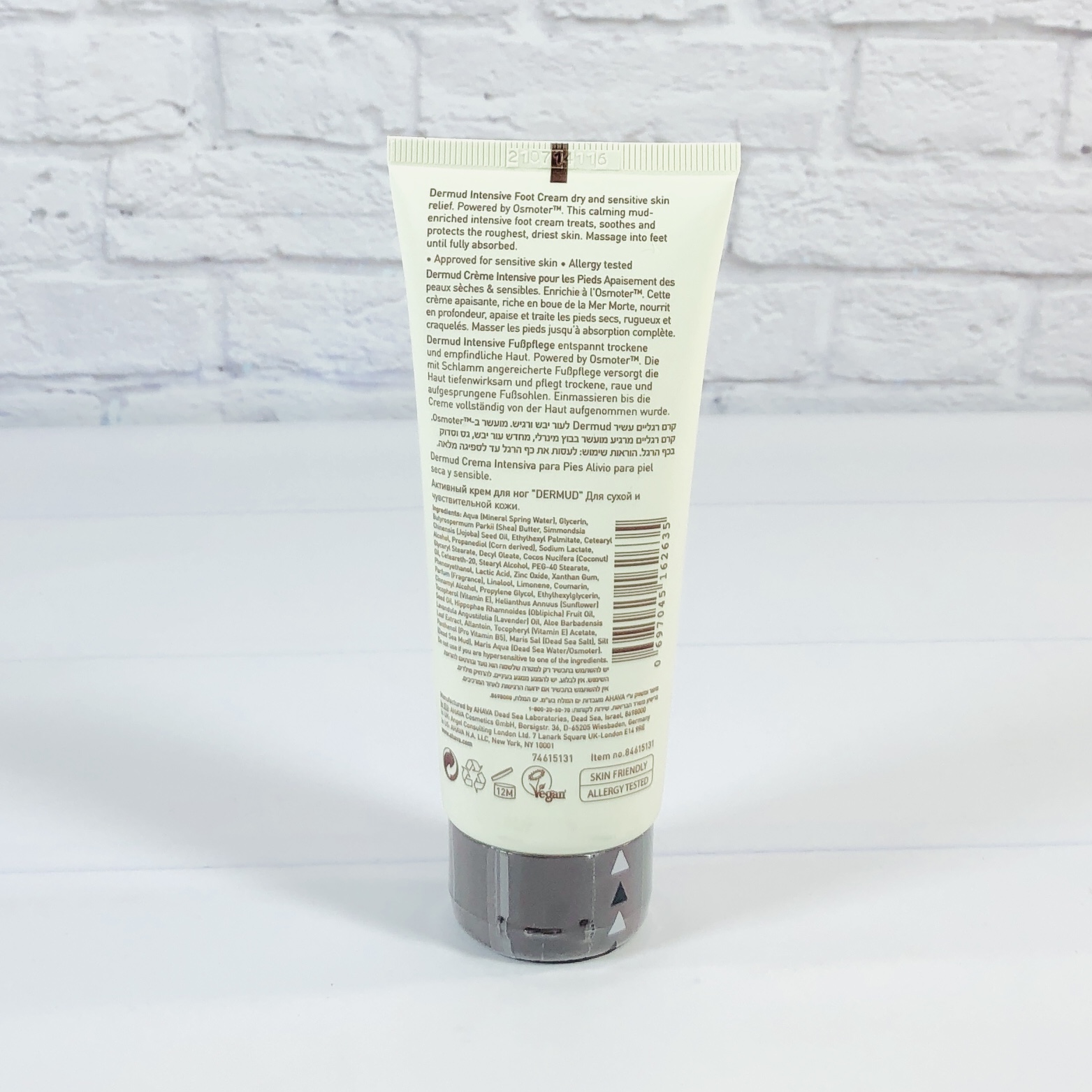 This rich cream is made with glycerin, shea butter, jojoba oil, coconut oil, aloe, Dead Sea water and silt, and all kinds of other stuff and it has essential oils and fragrance. I'm not a fan of the scents of Ahava products but I didn't think it would bother my nose if I used it on my feet and I was correct (it kind of smells like green tea perfume to me). Be careful after applying, feet will be slippery. My feet felt soft in the morning!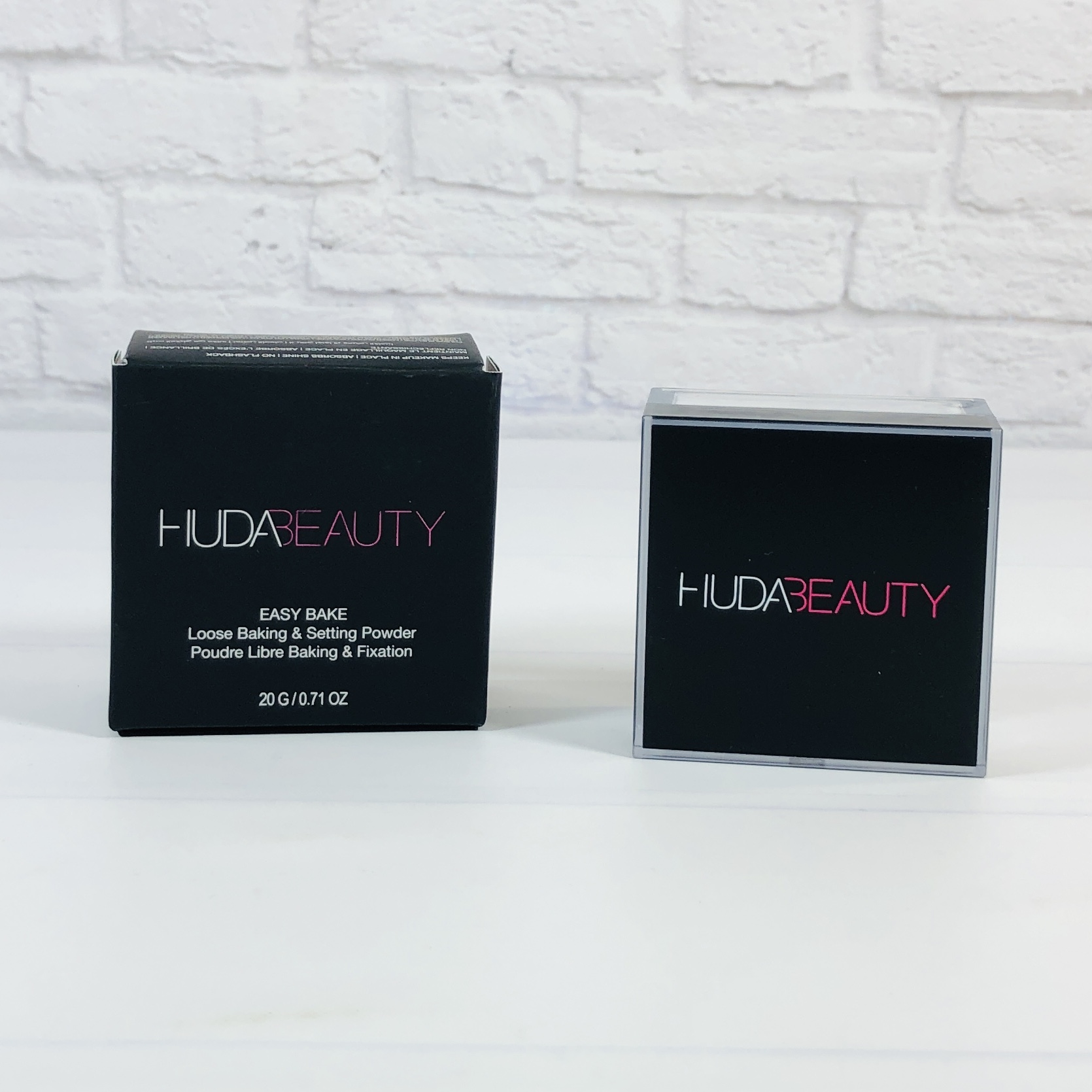 Huda Beauty Easy Bake Loose Baking & Setting Powder ($34, Ipsy picked) Ipsy picked a baking powder for me but I usually use a powder foundation and no setting powder but I found a CC cream sample to pair with it to try it out.
Here's the ingredients.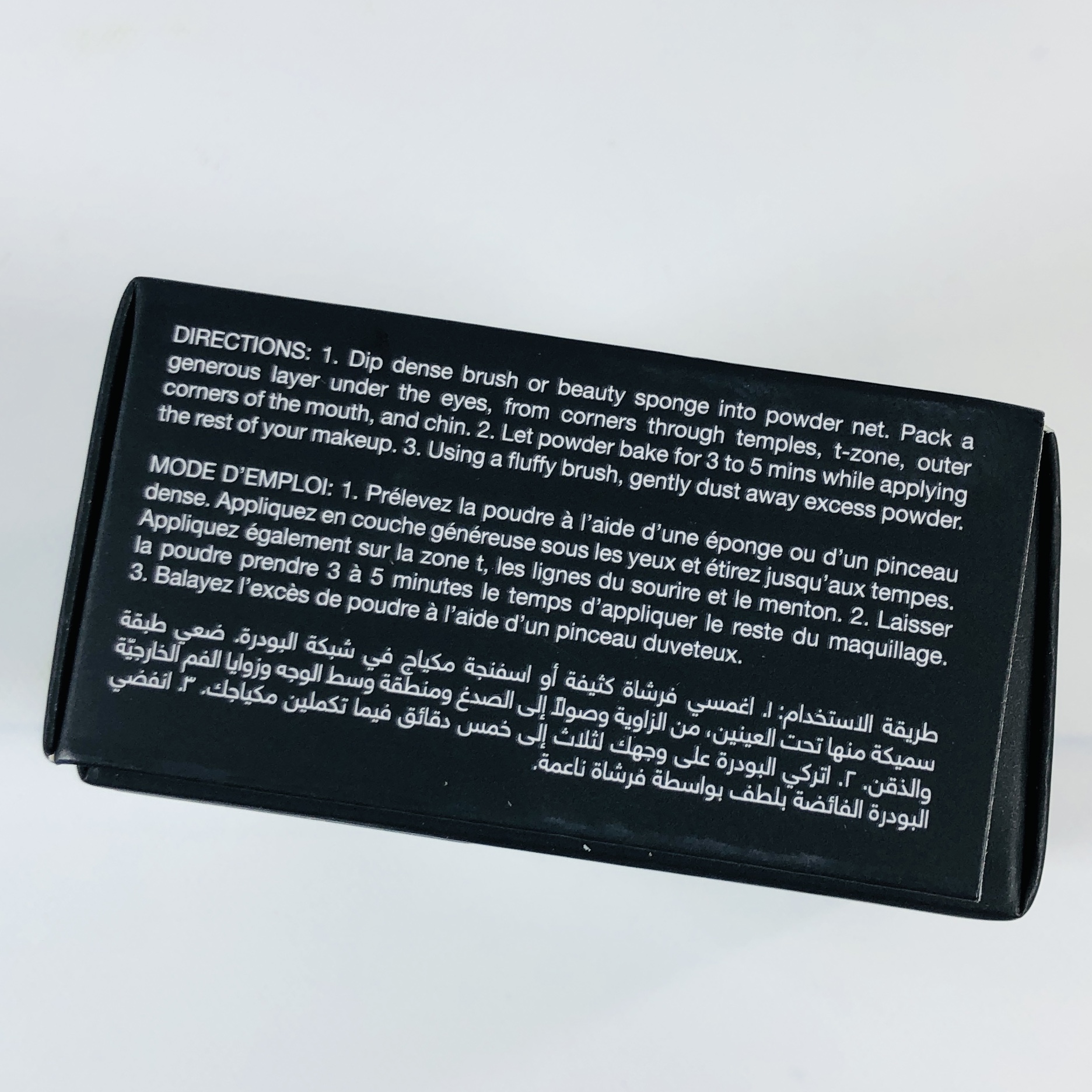 There is a netting inside the container and so Huda says to turn it upside down, tap 2-3 times, and then open the box and powder will sift out on top of the net.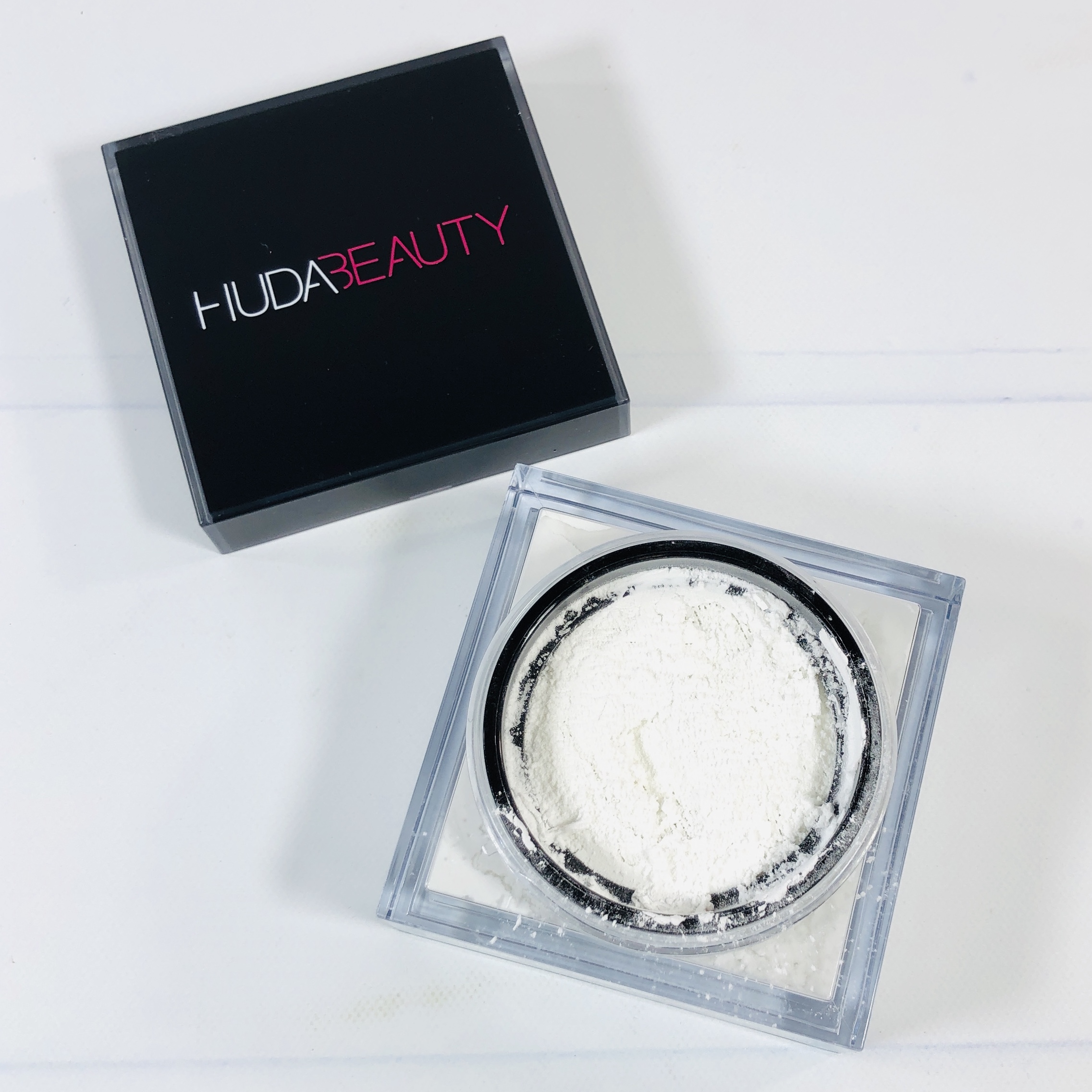 Dip brush in and pack it on under the eyes and other spots and in fact, when you turn the container over, you will see an illustration of other places to use it as well. I received the shade Sugar Cookie and I watched a tutorial from Huda herself to get the most out of it but didn't get quite the same results. I have fair skin and even after brushing the powder away the area under my eyes was much lighter than the rest of my face. The CC cream still settled into my face lines. The only benefit I received was that it made it easier to wipe off the fall out from the Huda palette shown below, and for some reason this product has a fruity floral scent which I wasn't a fan off, I prefer fragrance-free products for my face and especially near my eyes.
Huda Beauty Legit Lashes ($27, Ipsy picked) My daughters are always looking for mascara when they visit so if this doesn't work for me then I know one of them will probably love it.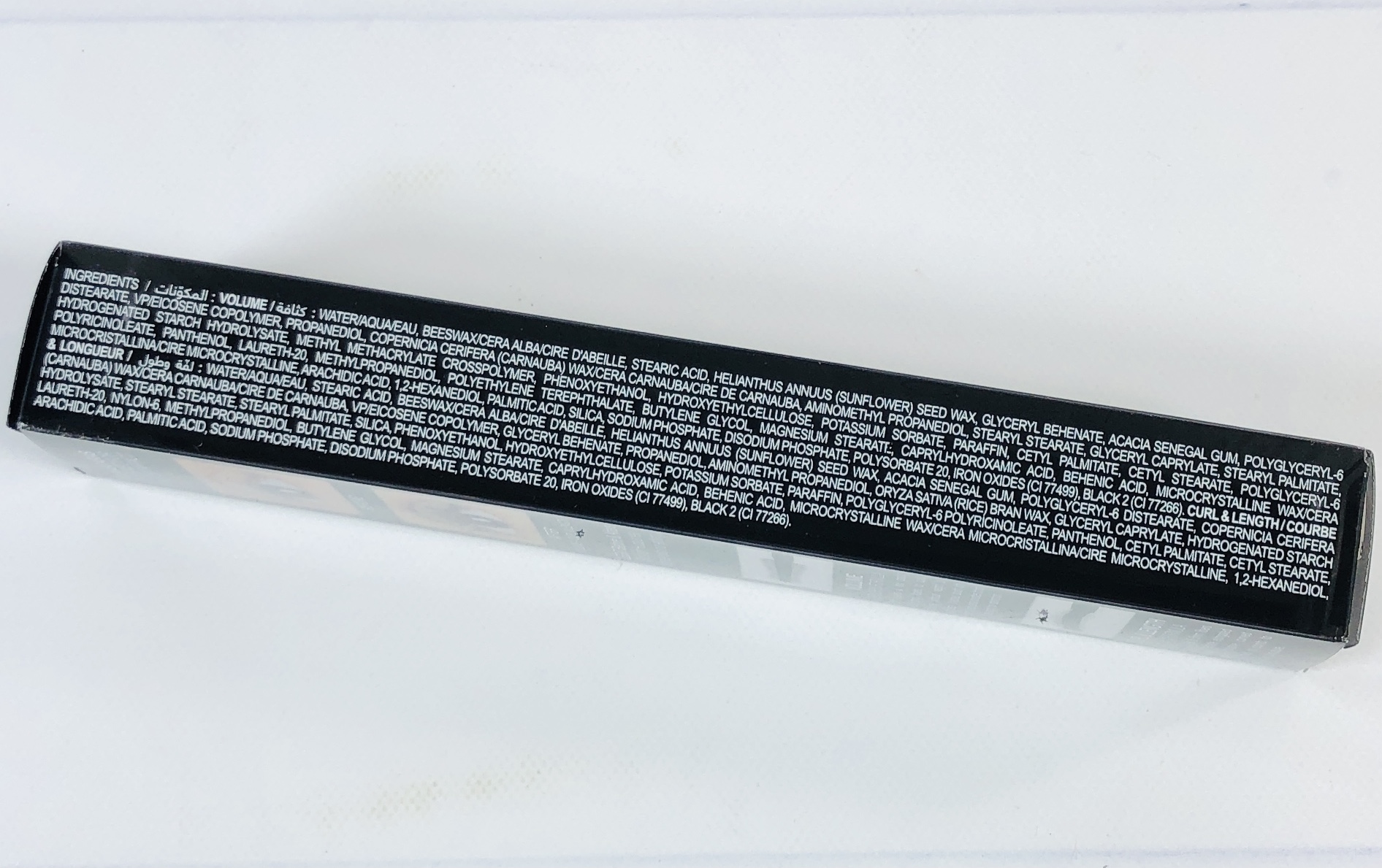 Here's those ingredients.
It has two sides, one to volumize and one to lengthen and curl. I watched a tutorial and again, Huda makes it look so effortless while I pray I don't end up poking my eye.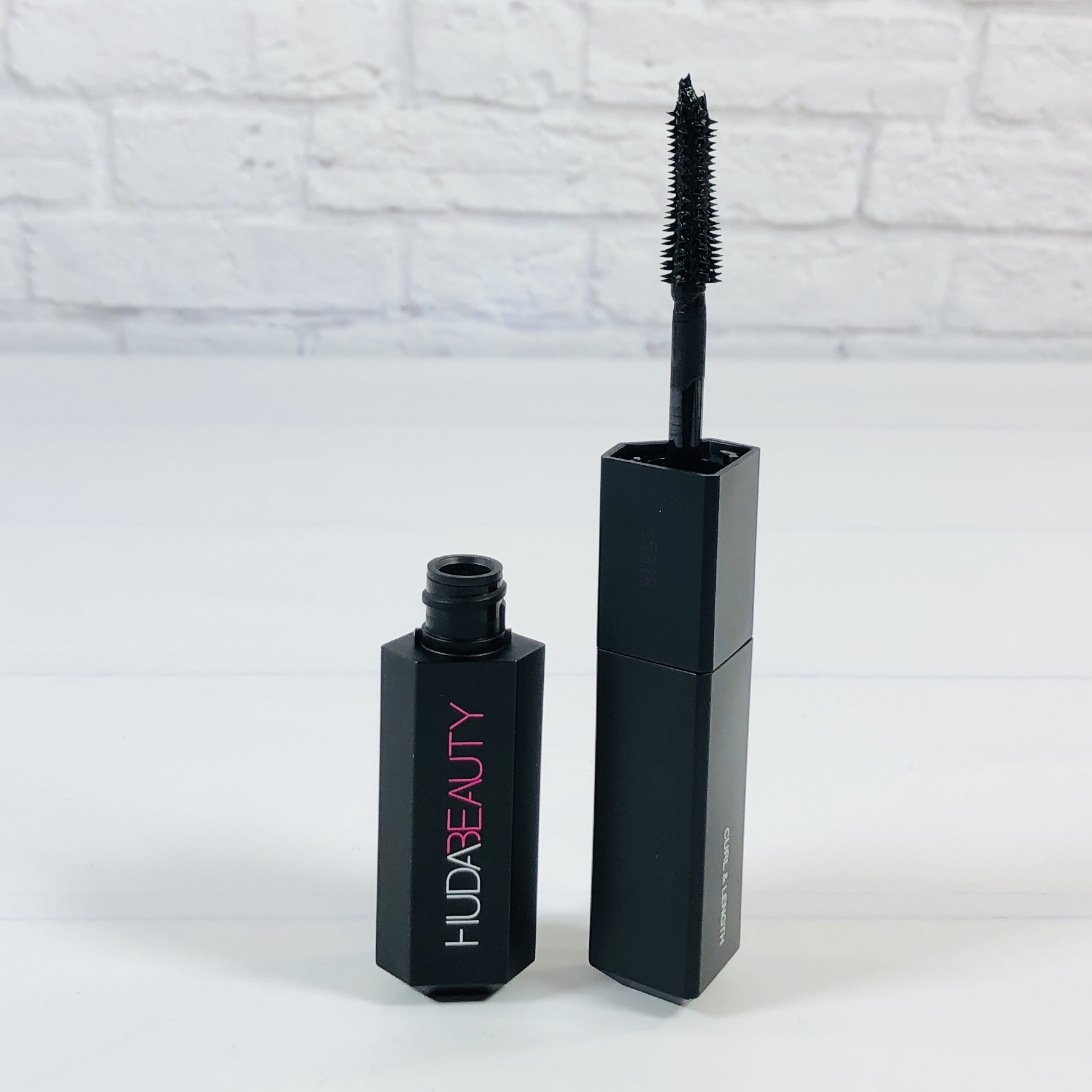 Start with the volumizing side first. I don't know if my lashes are just extremely short or I have hooded eyes, but most mascaras don't do much for my lashes.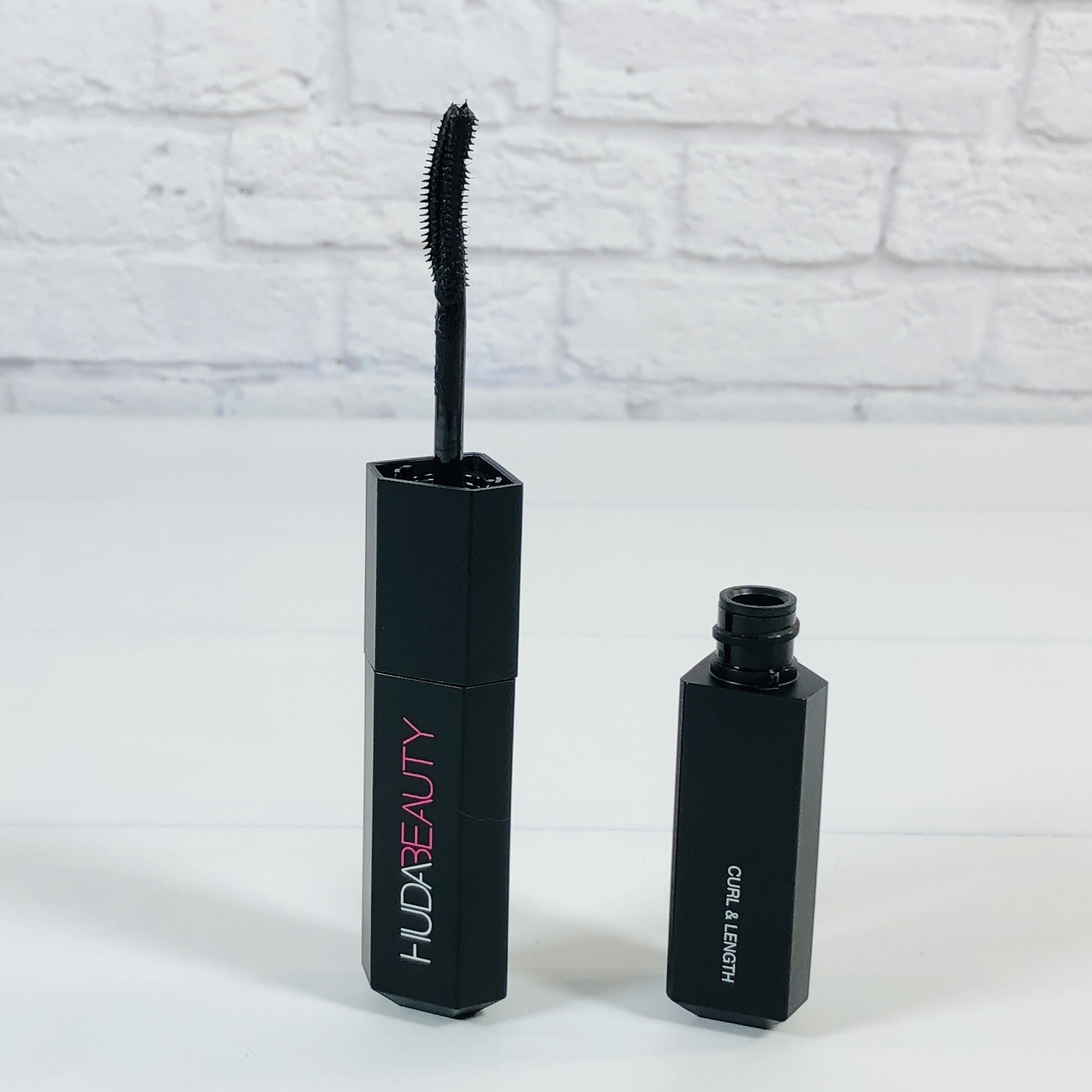 I followed with the curl & lengthen side and you could definitely tell a difference, but I'm not sure that it was a difference I would be willing to pay $27 for in the future.
Rare Beauty Positive Light Liquid Luminizer in Transcend ($22, Ipsy picked) Rare Beauty is from Selena Gomez, and speaking of her, did you watch Only Murders in the Building on Netflix? Hurry up and bring me Season 2!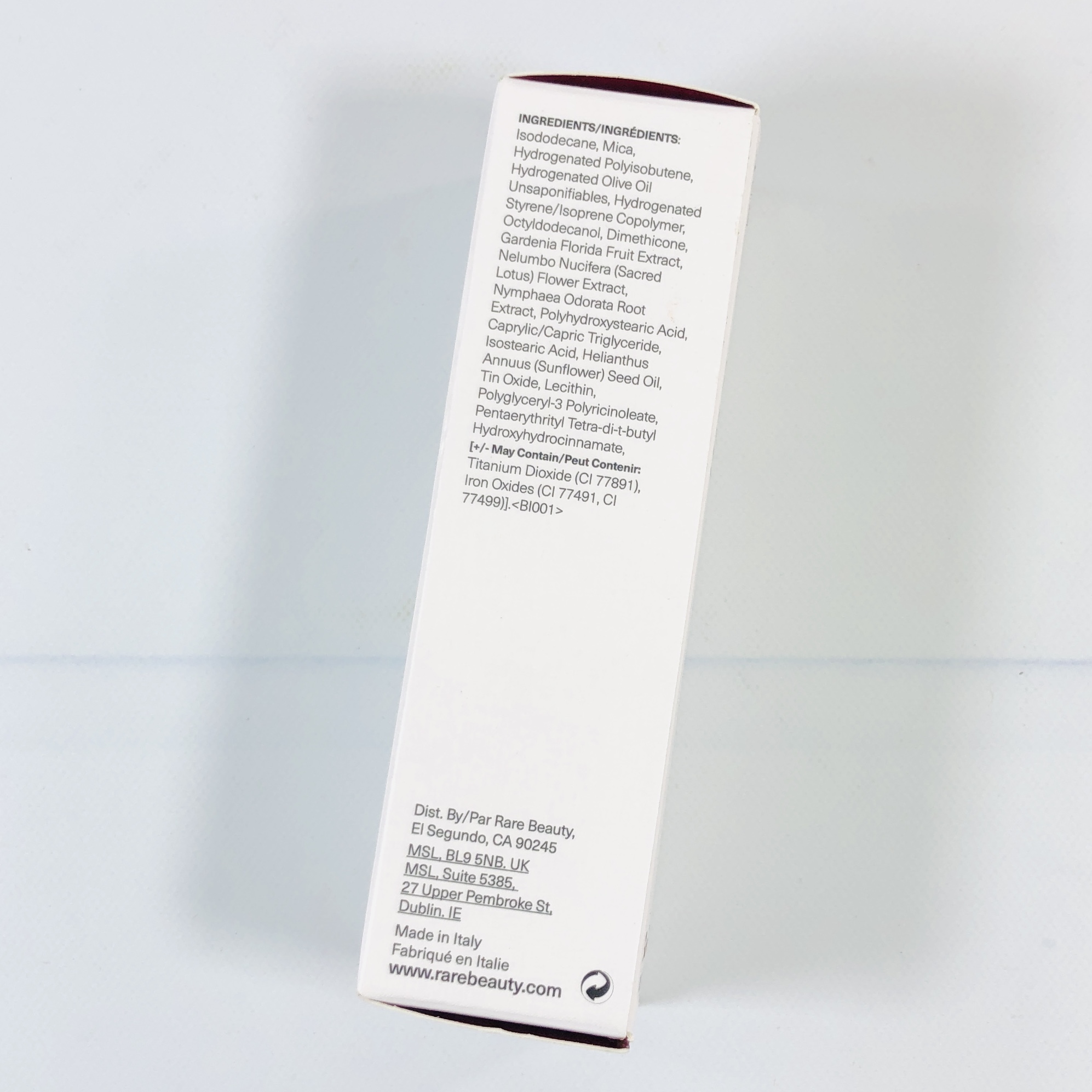 Here's those ingredients.
It has a chubby doe-foot applicator than you can dot along your cheekbones or wherever you like to use highlighter. There are a few beauty items that I'm not into, like liquid liner and liquid highlighter, it's so much easier to just brush on a powder. This one dried very quickly. I used my finger and a dampened sponge to apply and dotted it, smeared it, etc. It was just ok, but then again, I'm a powder highlighter fan.
Here it is swatched and obviously I applied way too much but it sure looks pretty. I bet it would look great mixed into a moisturizer or oil for an overall glow.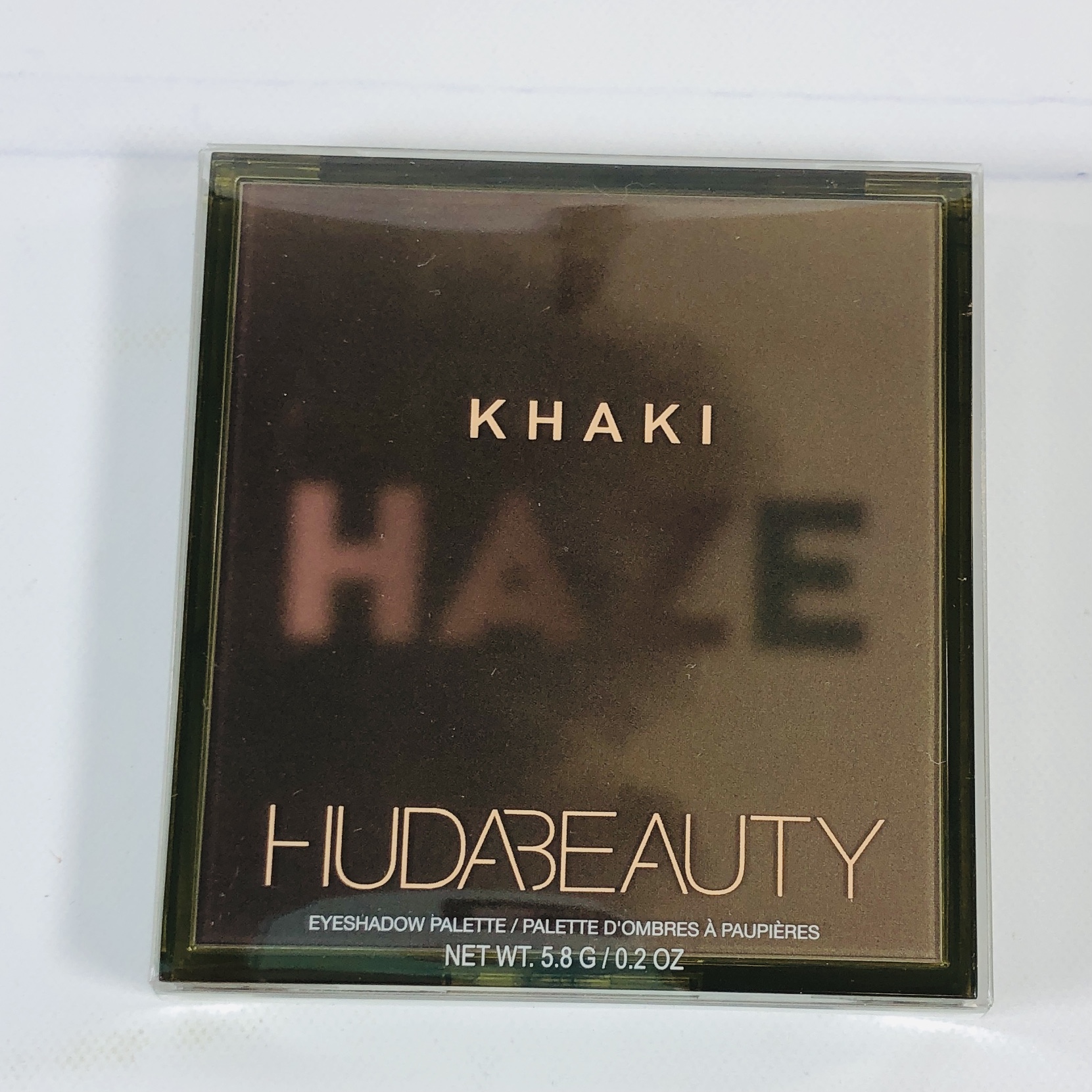 Huda Beauty Khaki Haze Eyeshadow Palette ($29, I picked) I grabbed a Huda palette in seasonal shades perfect for autumn.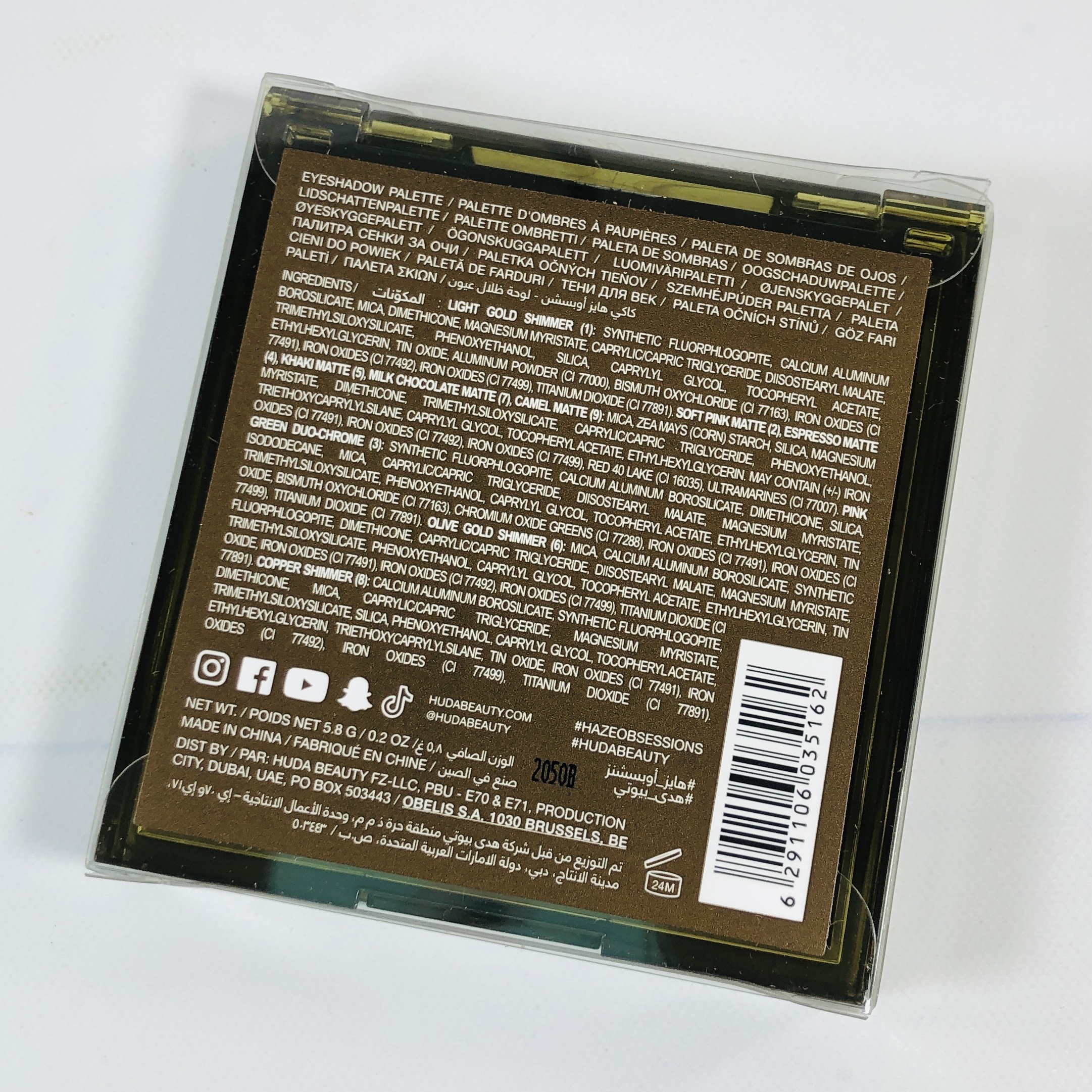 Here's the ingredients.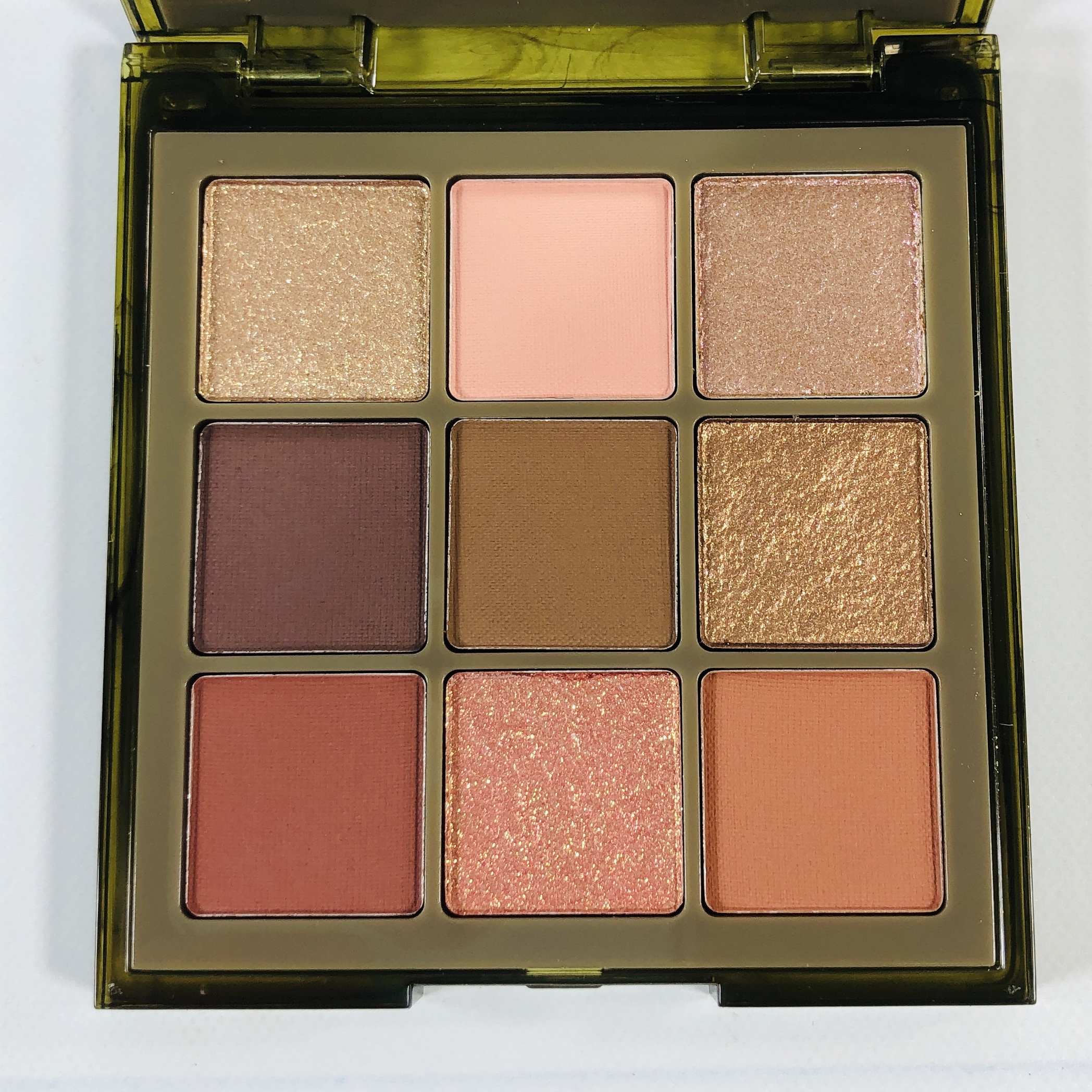 There are mattes, shimmer, and metallics. I used a primer first and then swept one of the lighter matte shades as a base and a darker matte in the crease. I tried applying the shimmers and metallics to the middle of my lid and used a variety of techniques — plain brush, finger, and brush with setting spray spritzed on the bristles. Some of them didn't apply easily or stay on no matter what, which is disappointing. For the colors that worked, they stayed on all day but there was a lot of fallout that luckily wasn't hard to wipe away with a fluffy brush.
Here's the swatches!
Overall there were two items in my Ipsy Glam Bag X that were big hits with me, two items that I didn't care for at all, and four that worked well and will get used up. The two misses for me were the face powder and the pulsating brush, while the two items I was most excited about are the foot cream and multiuse balm. I'm willing to use the anti-aging gel as long as it doesn't bother my skin and the makeup items (palette, highlighter, and mascara) are staples and I'm sure to use them over the next few months. The value for my collection was around $450 and several of the products were available at Sephora which is one of my favorite stores.
What do you think of this month's Ipsy Glam Bag X?