Holiday Dinner, Delivered! Gobble's Holiday Box is now available to order! This one-time box is $189.99 + FREE Shipping, and will include a complete meal for 4-6 (with leftovers!). Must order by 12/15 at 11:59PM PST, and shipping starts from 12/20-12/22.
Love the holidays, but not loving the amount of planning and cooking? We've got a gift for you! Simplify your holiday dinner with The Holiday Box from Gobble, featuring 4 lbs. of Prime Rib Roast, and delicious sides of Yukon Mashed Potatoes, Gruyere & Cheddar Spinach, and Roasted Carrots & Cipollini Onions. No commitment needed, it's a one-time special delivery with everything you need for a perfect holiday meal. Warning, these boxes sell out fast!
This holiday spread for 4-6 includes: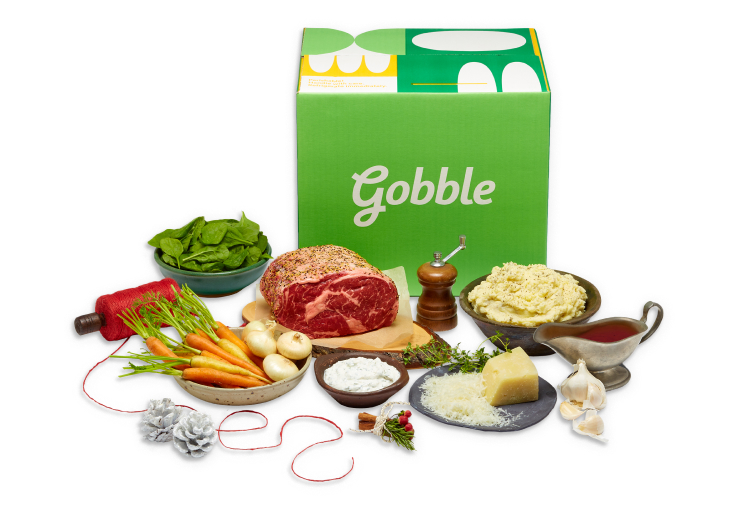 Prime Rib Roast (4lb) – Complete With Beef Au Jus and Horseradish Cream Sauce (Contains: Milk)
Yukon Gold Mashed Potatoes (Contains: Milk)
Gruyere & Cheddar Creamed Spinach (Contains: Milk)
Roasted Carrots with Cipollini Onions
FAQs:
When will my order arrive?
Orders will be delivered between Monday, December 20th, and Wednesday, December 22nd. Actual delivery date will depend on your zip code and can be confirmed after purchase. Orders must be placed by Wednesday, December 15th, 11:59 PM Local Time.
Can I receive this order with my regular Gobble delivery?
No, our Holiday Box is only available as a one-off order.
Will my food stay fresh if I'm not home when my delivery arrives?
Yes, our refrigerated boxes are packed with ice and are designed to keep your food safe and cool. Once you receive your box, unpack and place the kits in the fridge!
Where do you deliver?
Our holiday boxes deliver to the contiguous U.S. with the exception of Alaska, Hawaii, Montana, and with limited services in Nebraska, New Mexico, and Kansas.
Can I still order a Holiday Box if I'm not a Gobble member?
Yes! You don't have to be a Gobble member to order a Holiday Box. If you're interested in becoming a Gobble member, sign up at gobble.com.
Are you getting Gobble this Holiday?