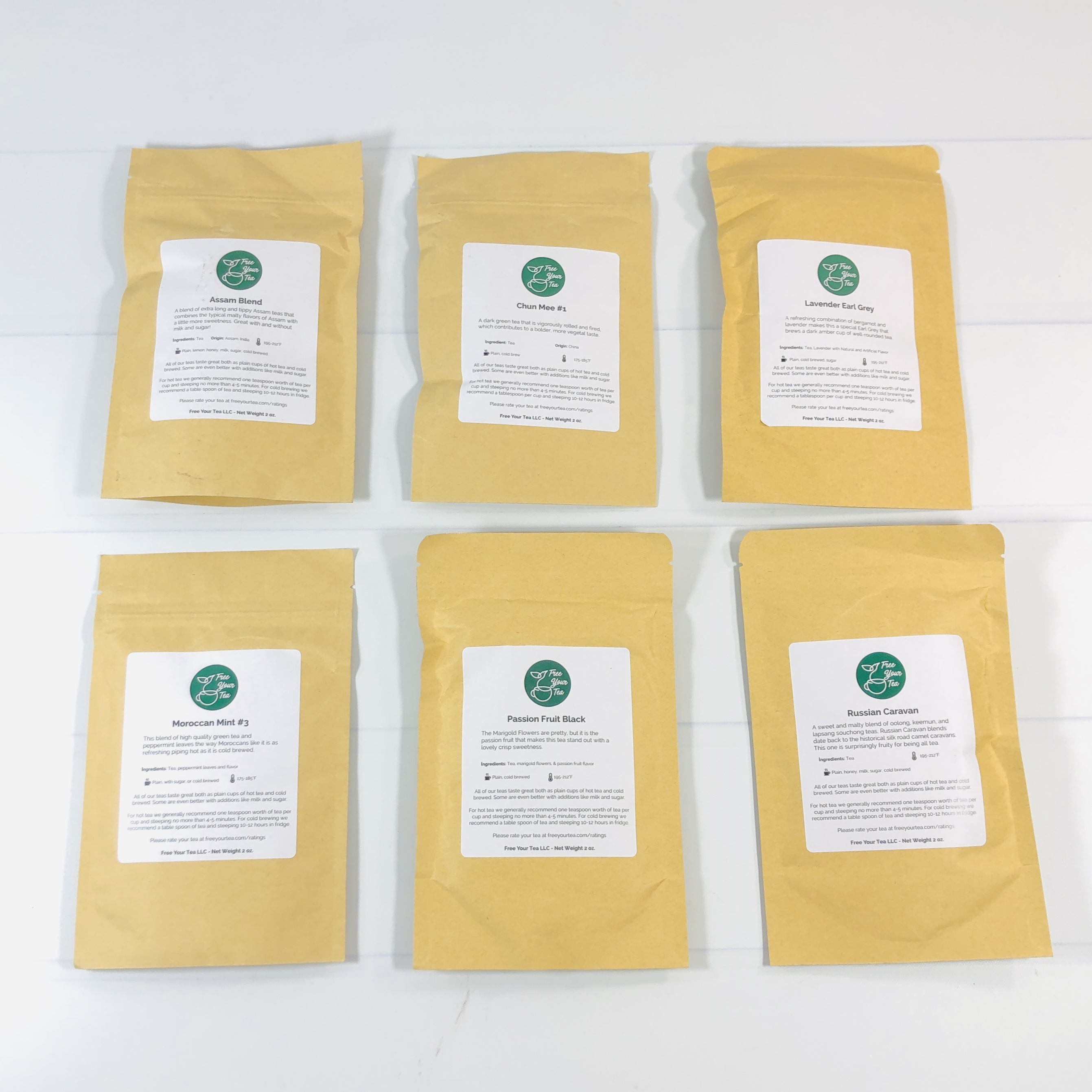 Free Your Tea is a tea discovery service that sends samples to you in your first month based on answers you give to their tea survey. You try those samples and then rate them on the Free Your Tea website, and the next month they will send you 2 large bags of tea (2 ounces each). They also offer a caffeine-free option for those who prefer less stimulation from their beverage. Free Your Tea is $20 a month, or sign up for longer terms and the price drops, as low as $13.25 a month for the 4-quarter plan. Want to gift a subscription? They make it super easy to do so, just enter the recipient's name and email and they will handle the rest!
Free Your Tea Discovers + Delivers Teas Tailored To Your Taste! We combine your tea-ratings and preferences with our expertise and data to discover teas you'll love. New subscribers first get an initial sampler of teas, then two or three 2 oz teas tailored to them monthly, or six quarterly. A great gift for tea lovers! Now also with caffeine-free and iced tea options.
DEAL: Subscribe to Free Your Tea and save! 30% Off First Month when you prepay 3 with code 30OFF3, 40% Off First Month when you prepay 6 with code 40OFF6, and 50% Off First Month when you prepay a year with code 50OFF12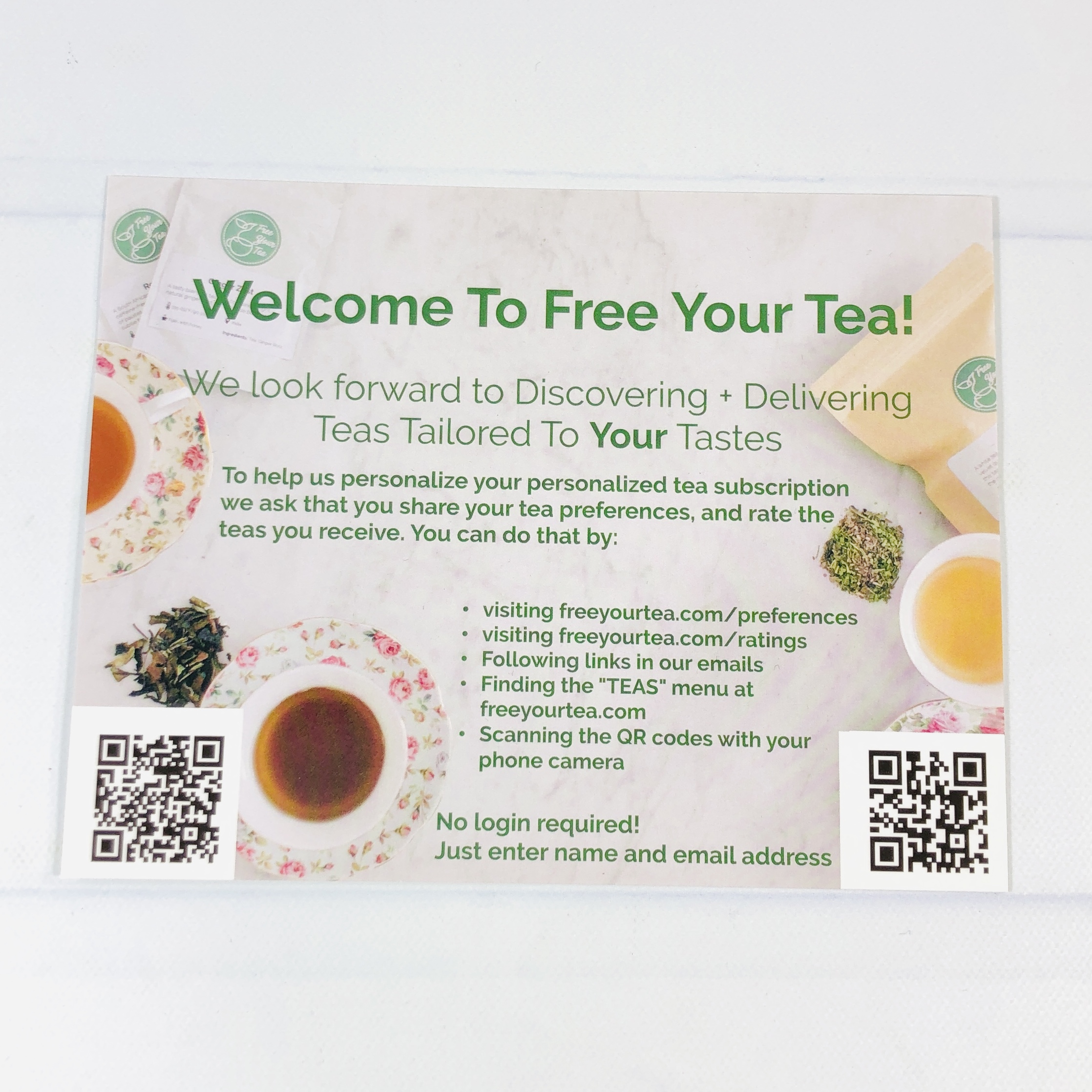 I received a card welcoming me to the club! The best way to get your tea tailored to your tastes is to take the quiz, and scanning this QR code with your phone makes it super easy.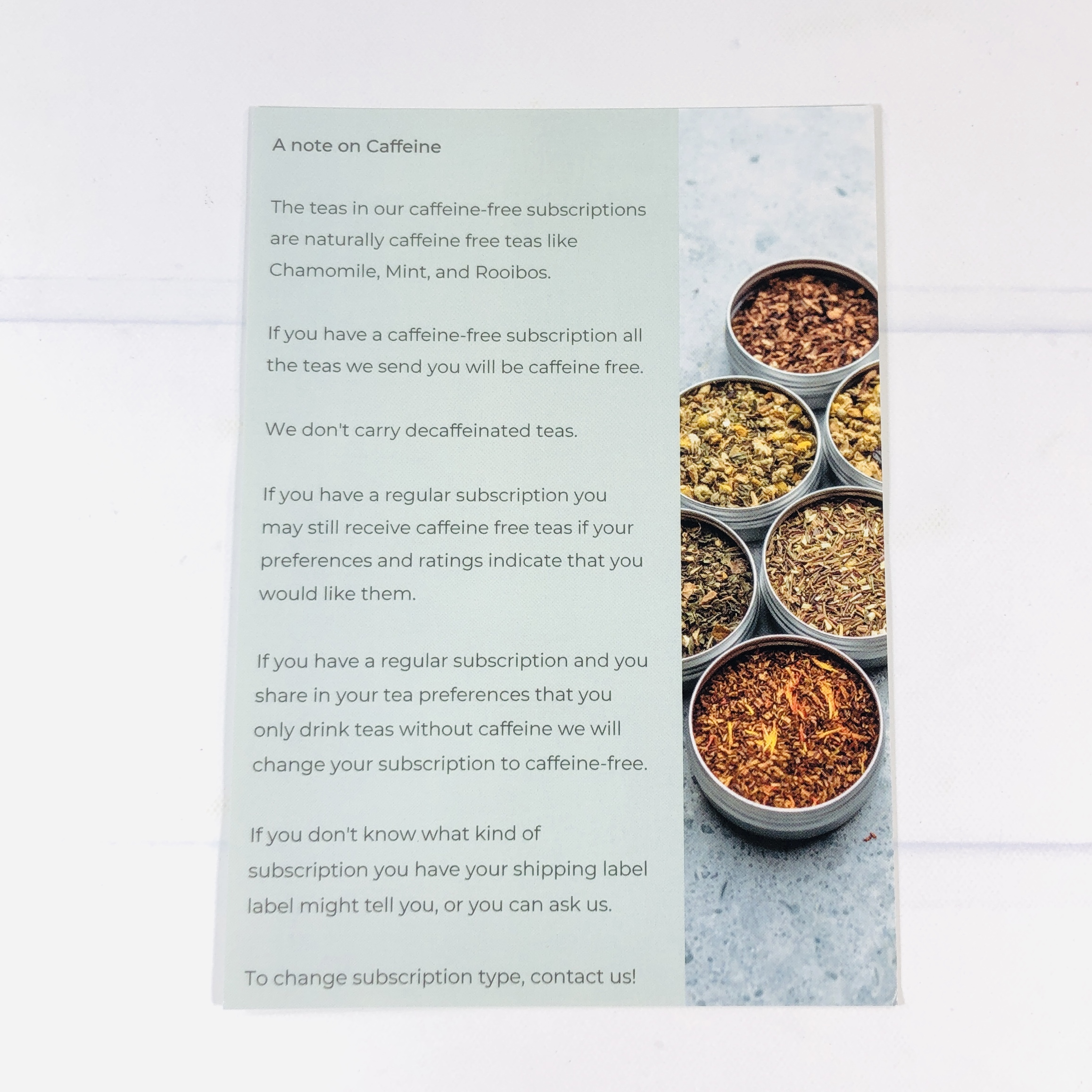 Free Your Tea offers a regular subscription option (featuring teas with and possibly without caffeine) or a caffeine-free version (no caffeine at all). They don't send decaffeinated teas.
Steeping instructions were included, make sure to check the front of the bag for specifics to your tea type.
Here's a guide to how to get the most from your subscription.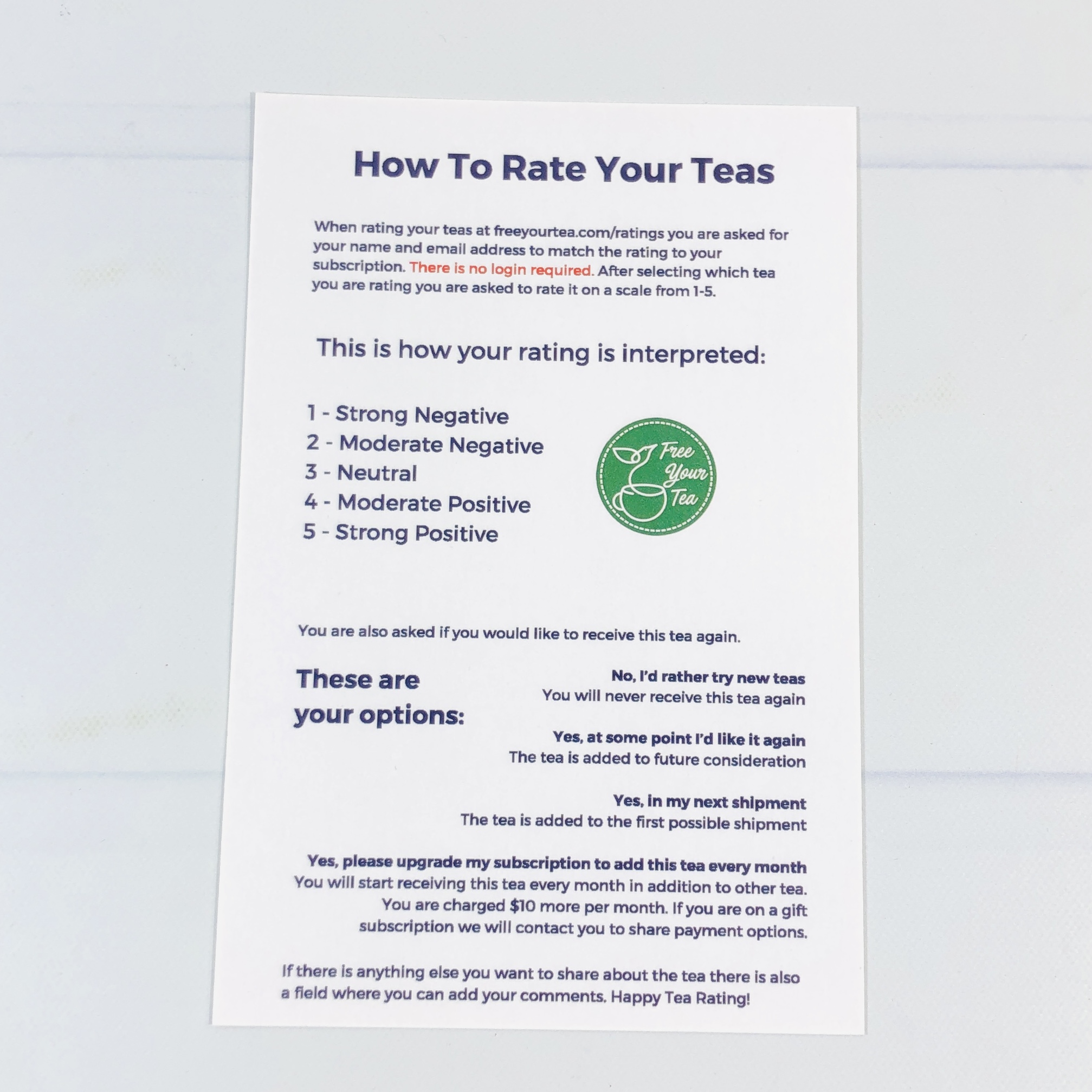 The back gives further details on how you can rate your teas. They REALLY want to help you discover teas you will love!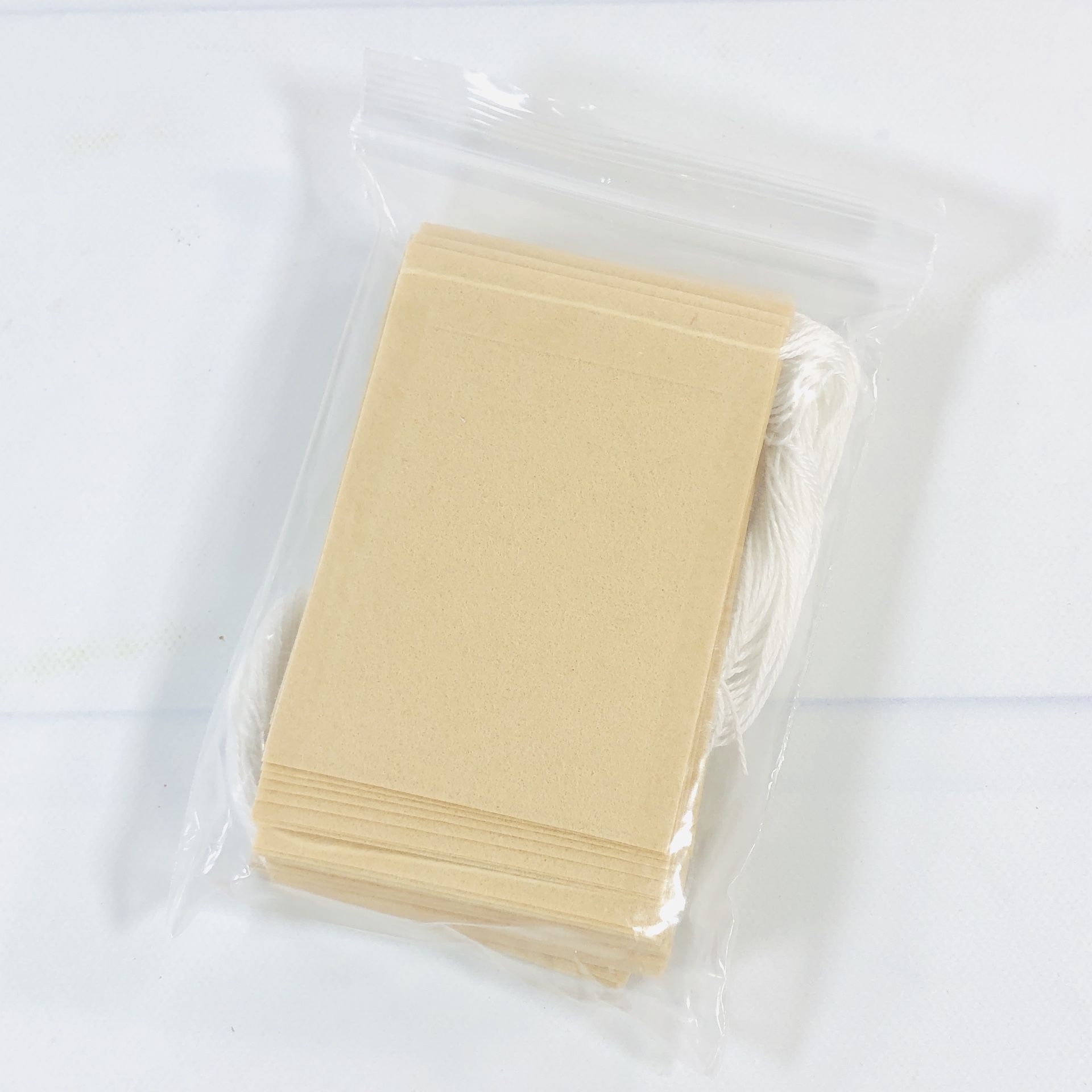 Teabags This is a loose-leaf tea subscription, so you will need a way to steep those leaves and a DIY teabag is easy and eco-friendly, just compost when finished. You could also use a tea making system, a strainer, tea ball, or French press.
Just spoon in the required amount of leaves and place in a cup. These are drawstring to keep leaves from coming out of the bag and into the cup.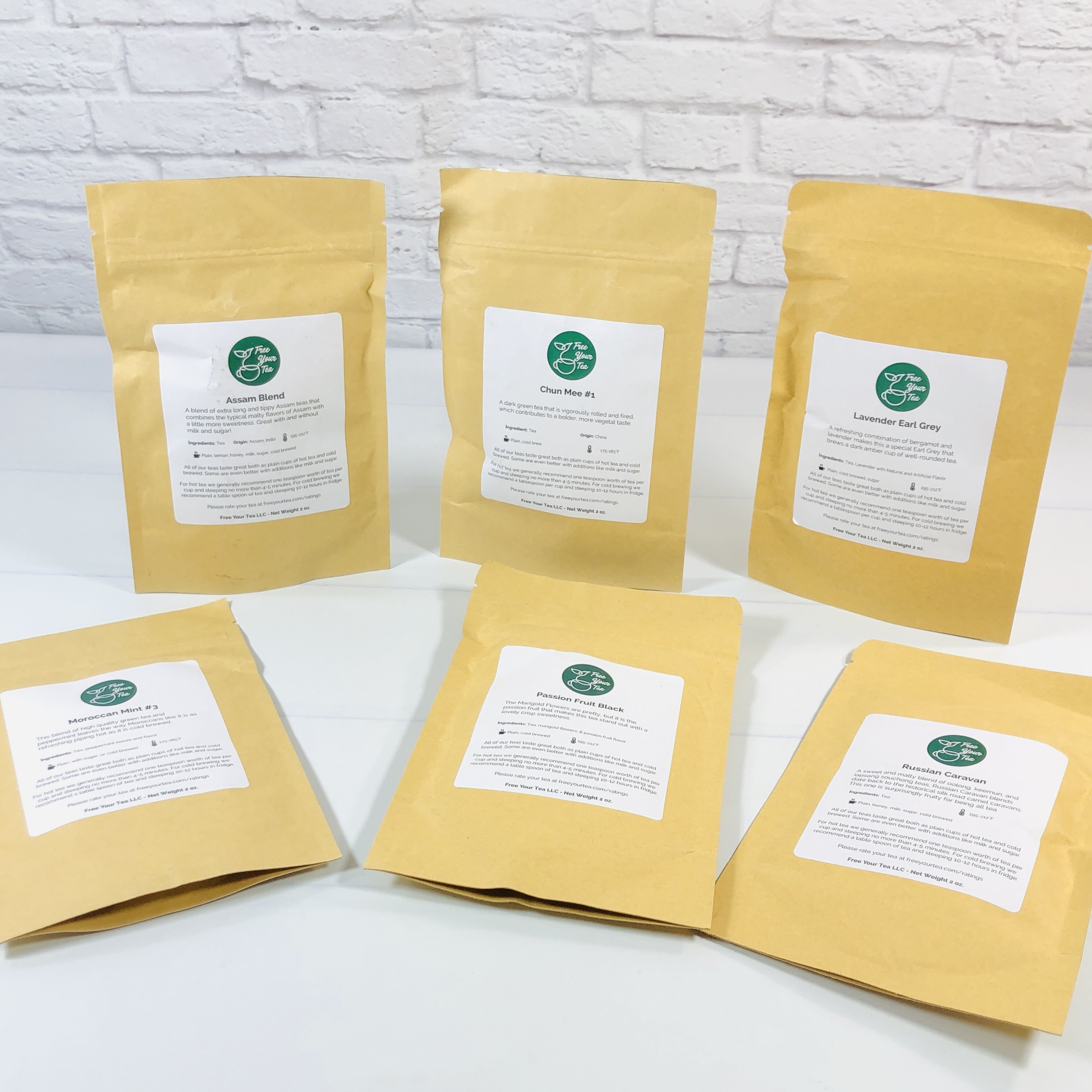 I am reviewing what could fall into either the 12-month/4-quarters Personal subscription or the 4-quarters/12-month Gift subscription. Both come with 6 full-sized bags of tea and drawstring bags. Some of the subscriptions come with 5 samples, which may come in smaller bags. These flavors were sent based on the answers I gave on my initial questionnaire. After tasting each tea, I will scan the QR code shown earlier to rate my teas, and future shipments should be even more tuned to my tastes! I want to let you know that I used a "perfect teaspoon" to measure my tea, which is more like 1.5 teaspoons, and I used boiling water for the black teas and water just under the boil for green. You can see what the tea leaves look like in my final picture at the end of this review.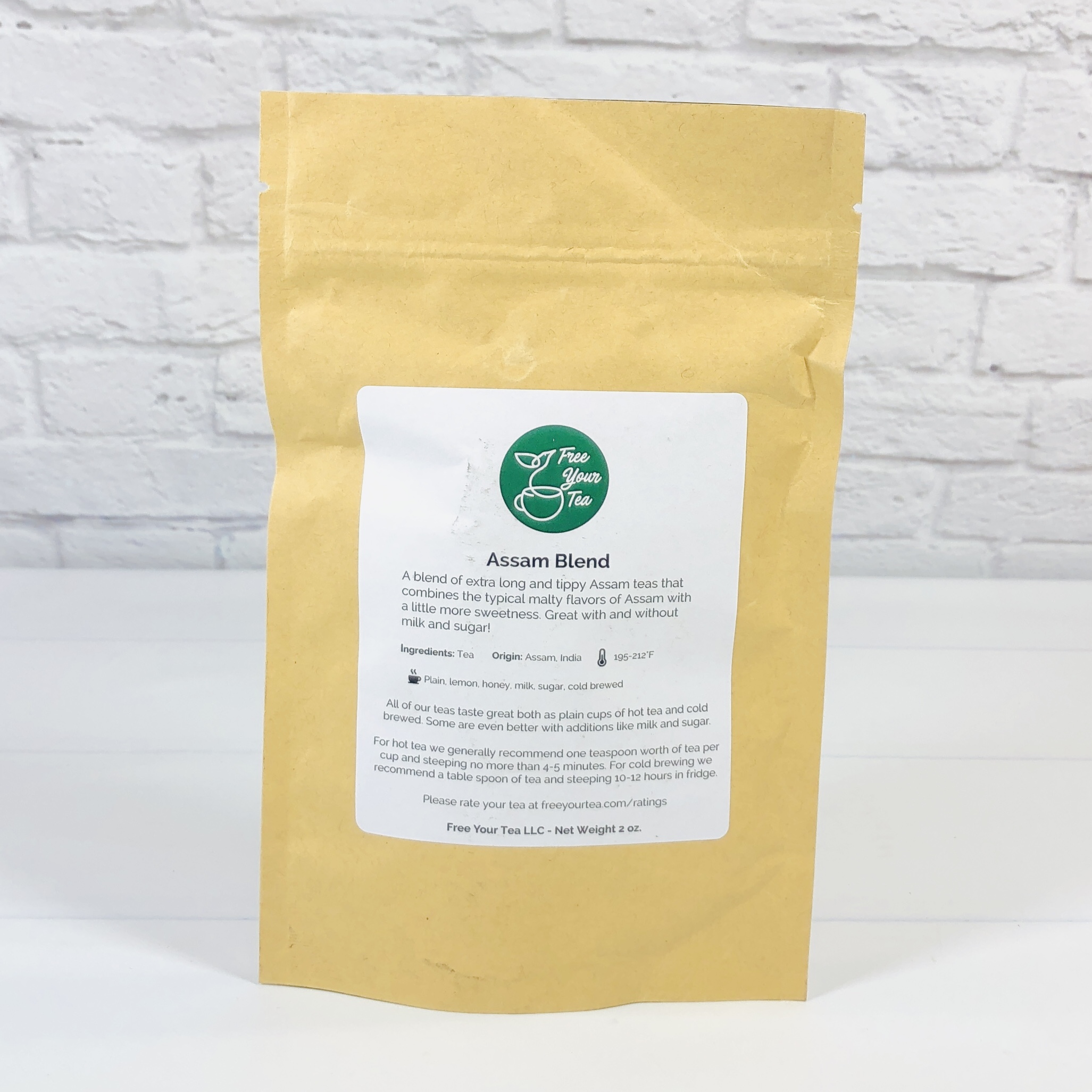 Assam Blend If you are looking for something peppy in your cup to get you going in the morning, then this is your tea. It has a classic tea flavor with a floral note that was perfectly delightful. I added milk and sugar, which is how I like my black teas, but I think just a splash of milk is needed otherwise it blunts the flavor a bit.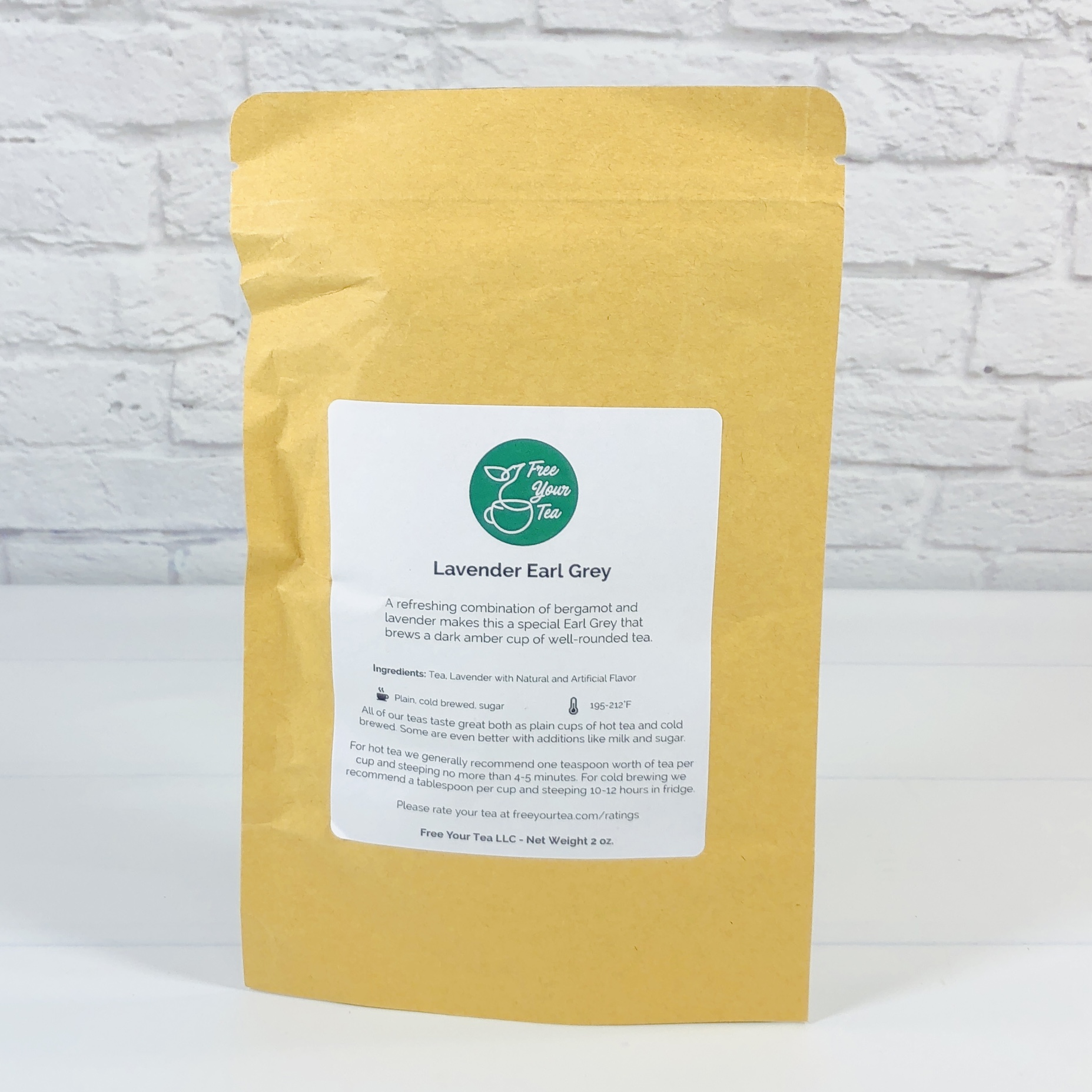 Lavender Earl Grey Earl Grey is a classic black tea flavored with bergamot, a type of small, bitter citrus fruit. This version has an additional element of flavor in the form of lavender. I love a cozy cup of Earl Grey in the afternoon, although this version was strong enough to reach for in the early morning too. The flavors enhance the tea with a lightly perfumed aroma that elevates tea time to an elegant experience.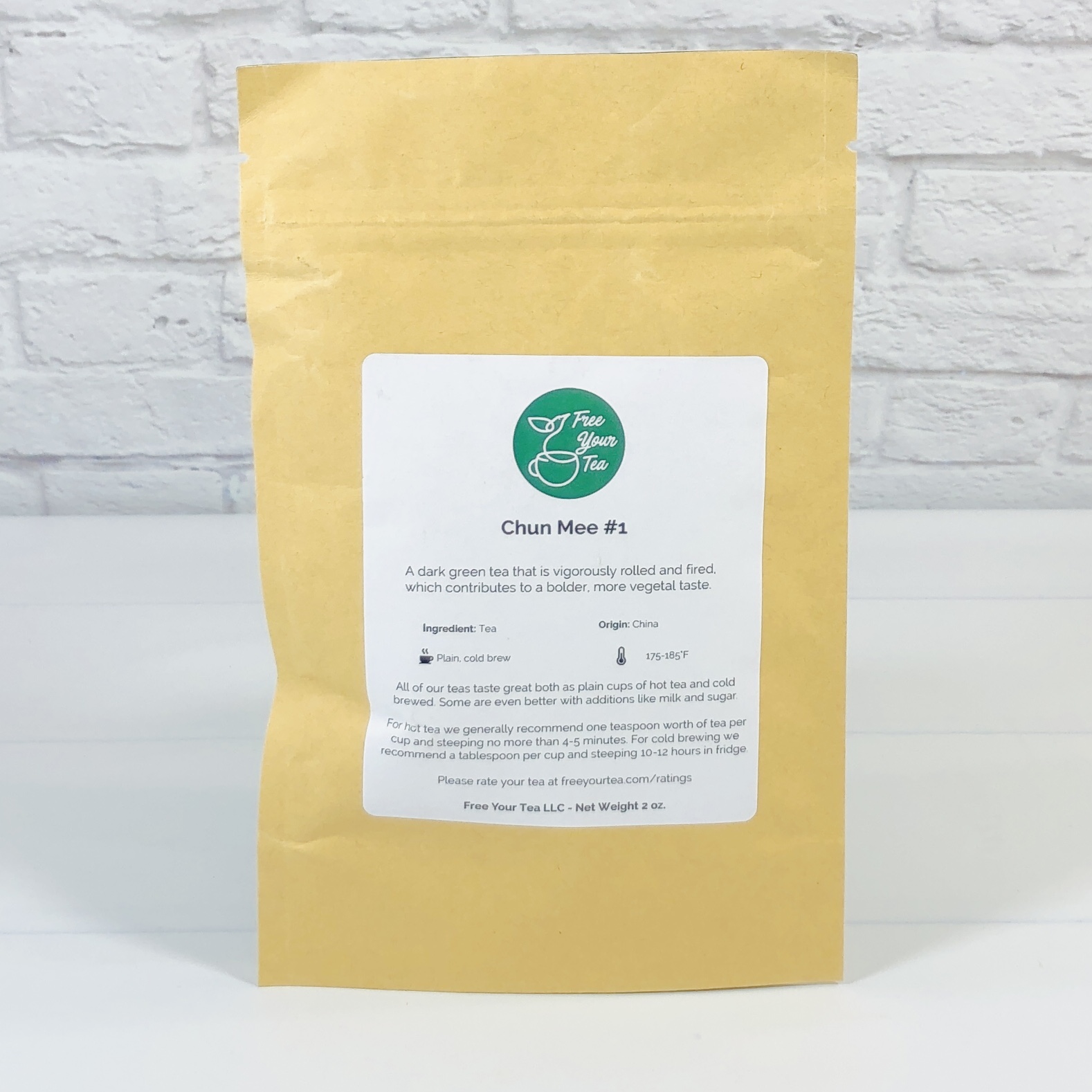 Chun Mee #1 I primarily drink black tea but every once in a while I find a green tea that I like, such as jasmine or genmaicha. I'm not a fan of sencha so when I saw the description on the bag said this has a vegetal taste, I was worried I was in for a cup of spinach water (because that's what sencha is to my palate). Luckily, it didn't taste like that at all, and in fact I was surprised to find it had a light, smoky note that was amazing and it was bold but not bitter, although I think the tannins left behind a feeling on my tongue similar to the way citric acid candies might, right along the sour receptors.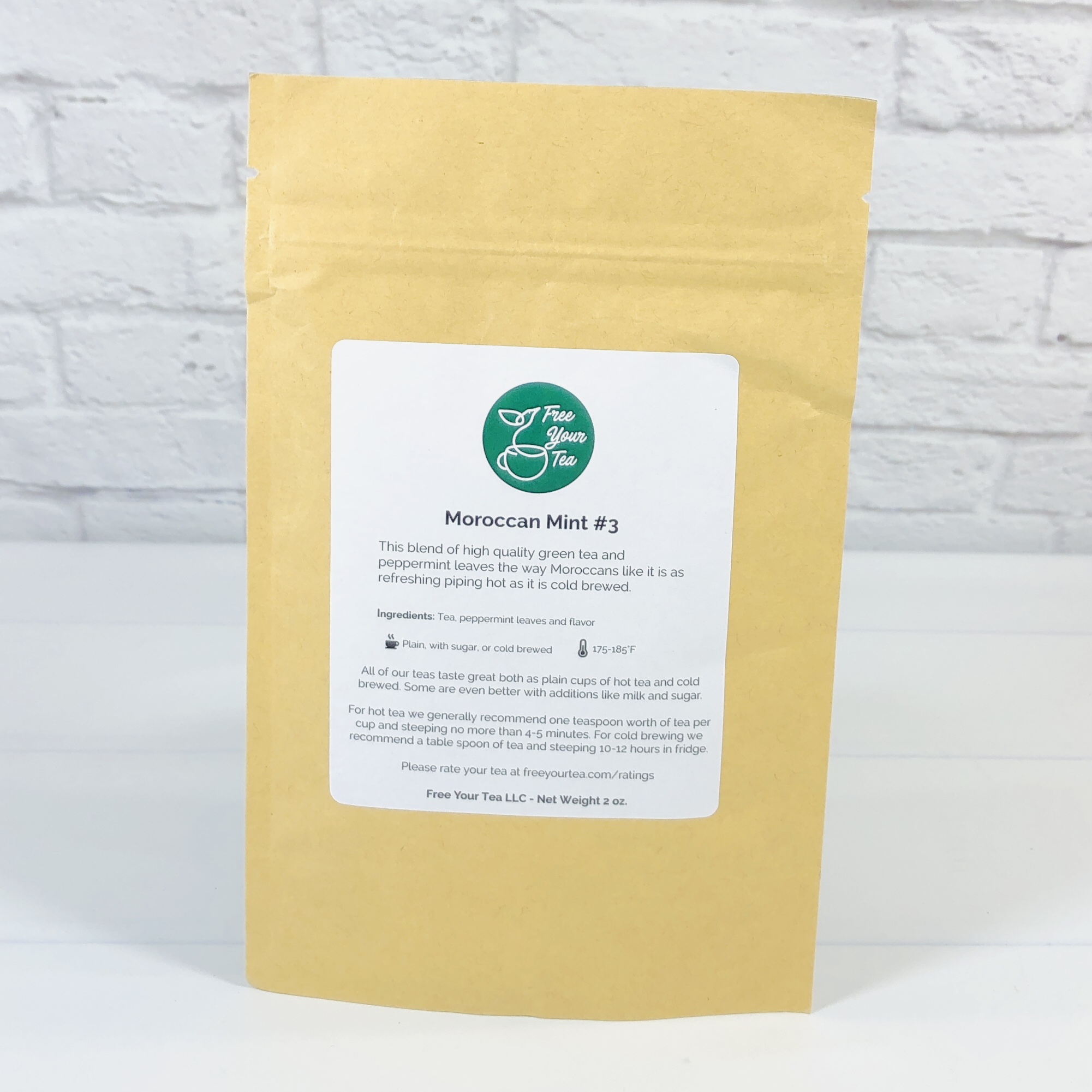 Moroccan Mint #3 I love peppermint tea, and this has the added pep and antioxidants of green tea, but otherwise I thought it tasted like beautiful, pure peppermint! It's a green tea I can enjoy in the months ahead or iced during the summer heat.
Passion Fruit Black It's currently 80 degrees here in Central Texas so I will make a pitcher of iced tea and I think this tropical fruity flavor would be perfect for that use. Right now I'm sipping it hot with milk and sugar, it's practically dessert in a cup, but I think when I make this iced, it will transport me (in my head at least) beachside, under a palm tree. It's especially perfect for summer!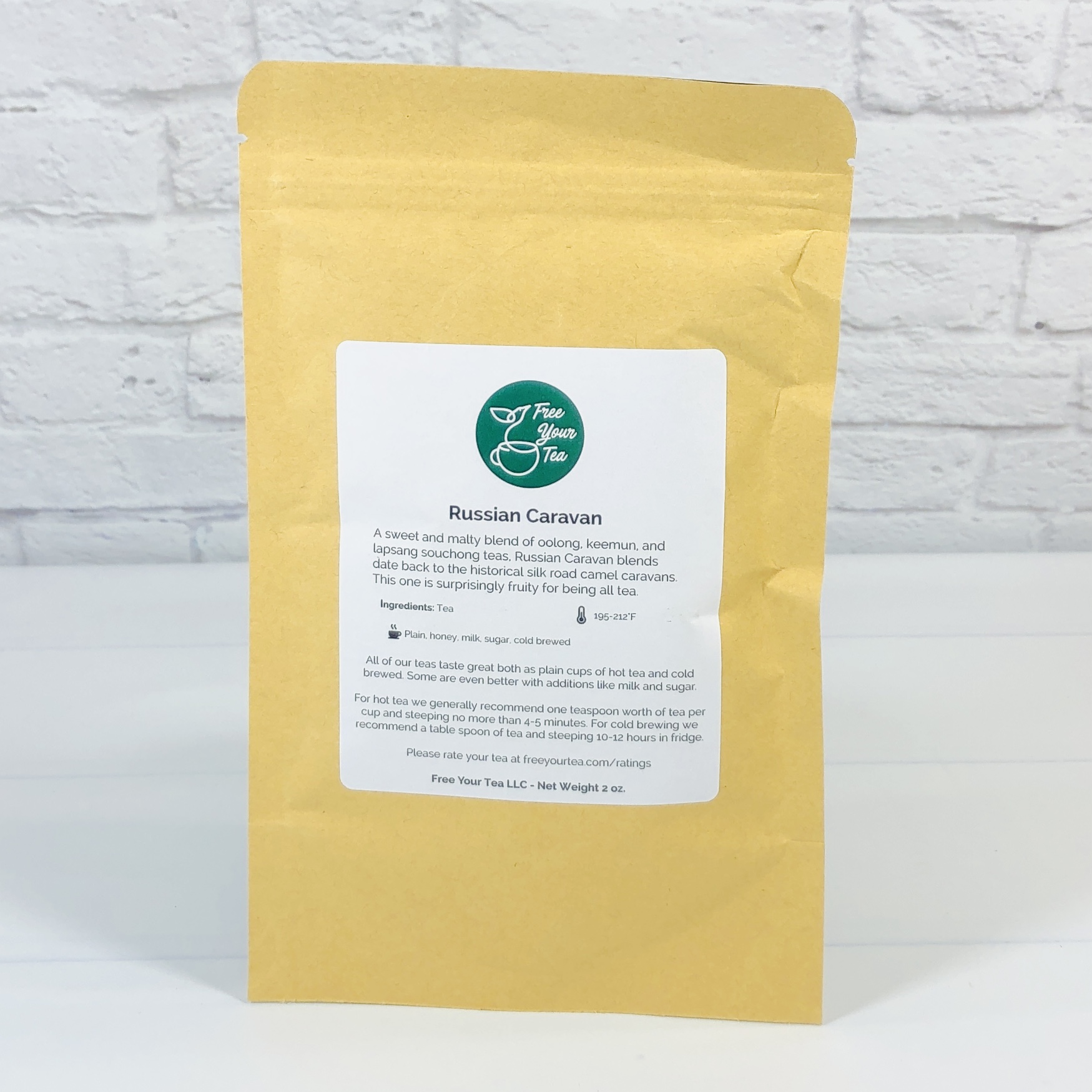 Russian Caravan This tea is a blend of three different types of tea — oolong, keemun, and lapsong souchong. It has a smoky note and wasn't bitter but was strong. I detected a hint of dried rose in the scent and flavor, it's an interesting floral touch and purely from the teas!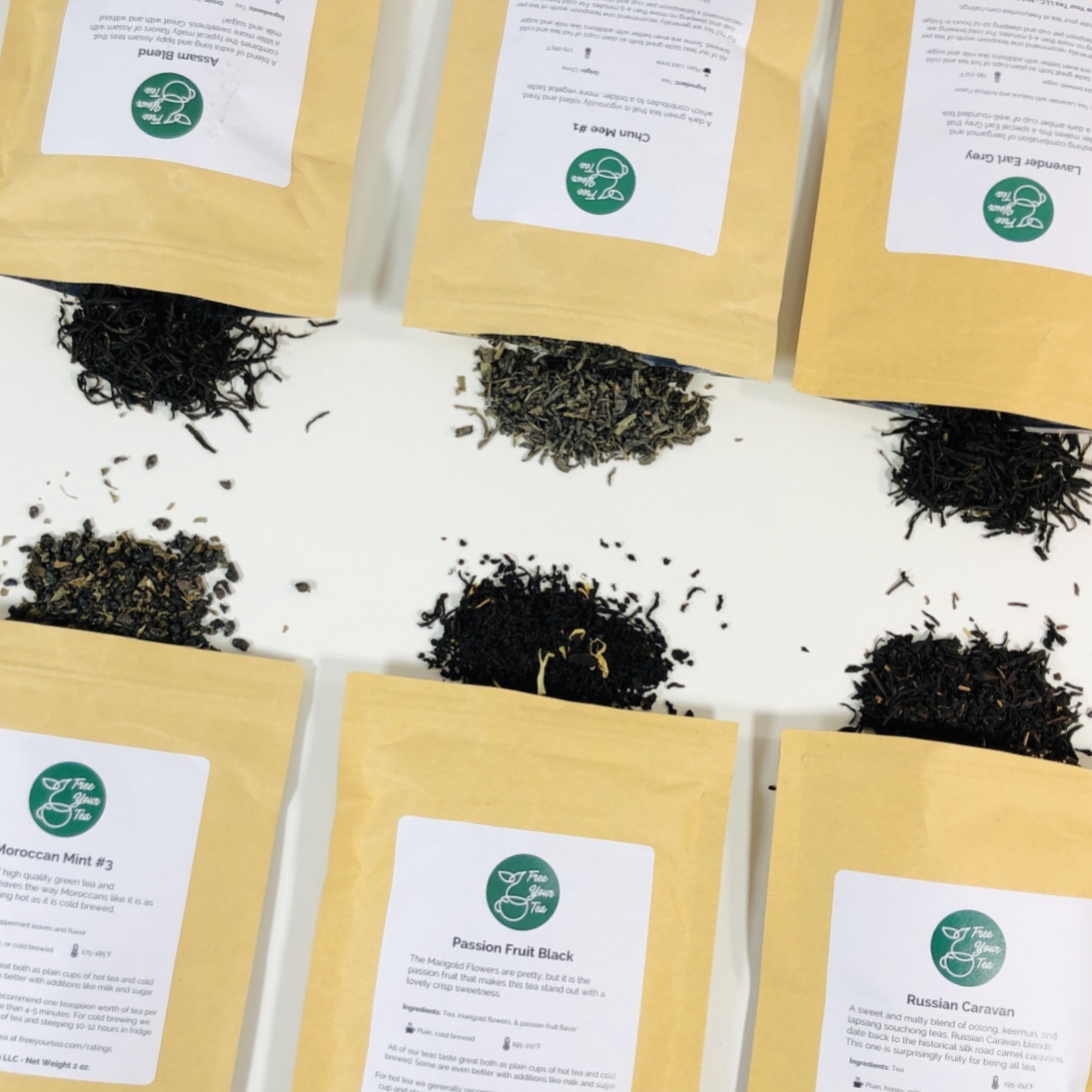 I absolutely love tea, it's my favorite drink, and Free Your Tea sends such high-quality teas that are minimally processed to let the true flavor of the tea shine through. I happen to like adding sugar to my teas (and milk in black tea) but not all of the teas from this subscription need such additions. I have a lot of tea left to keep me steeping for the next month or two, and I think I will hide Passion Fruit Black tea in the back of my tea drawer until summer returns, I know it will be awesome iced (and come to think of it, there is an iced tea subscription option available). For a person who isn't particularly into green tea, both of the green teas sent were wonderful, I guess I need to branch out more often. Looking for a last minute gift or something for the tea enthusiast? Free Your Tea makes it especially easy to gift, it only takes a few clicks!
What do you think of this month's box?