Étoile Box is a monthly boutique lifestyle, beauty and wellness box with a new theme and style each month! The products sent come from women run businesses and all beauty and body products are organic, eco-friendly, and all natural. Not only does this box want you to feel happy when you open it up, they want you to know you are supporting small businesses. Étoile Box is $39.99 a month.
 DEAL: Get 20% off on your first box! Use coupon code HELLO20.
I received my items in a festive red box that is perfect for either storing items in my closet or for packing up a holiday gift! The tissue paper coordinated beautifully.
Everything in the box!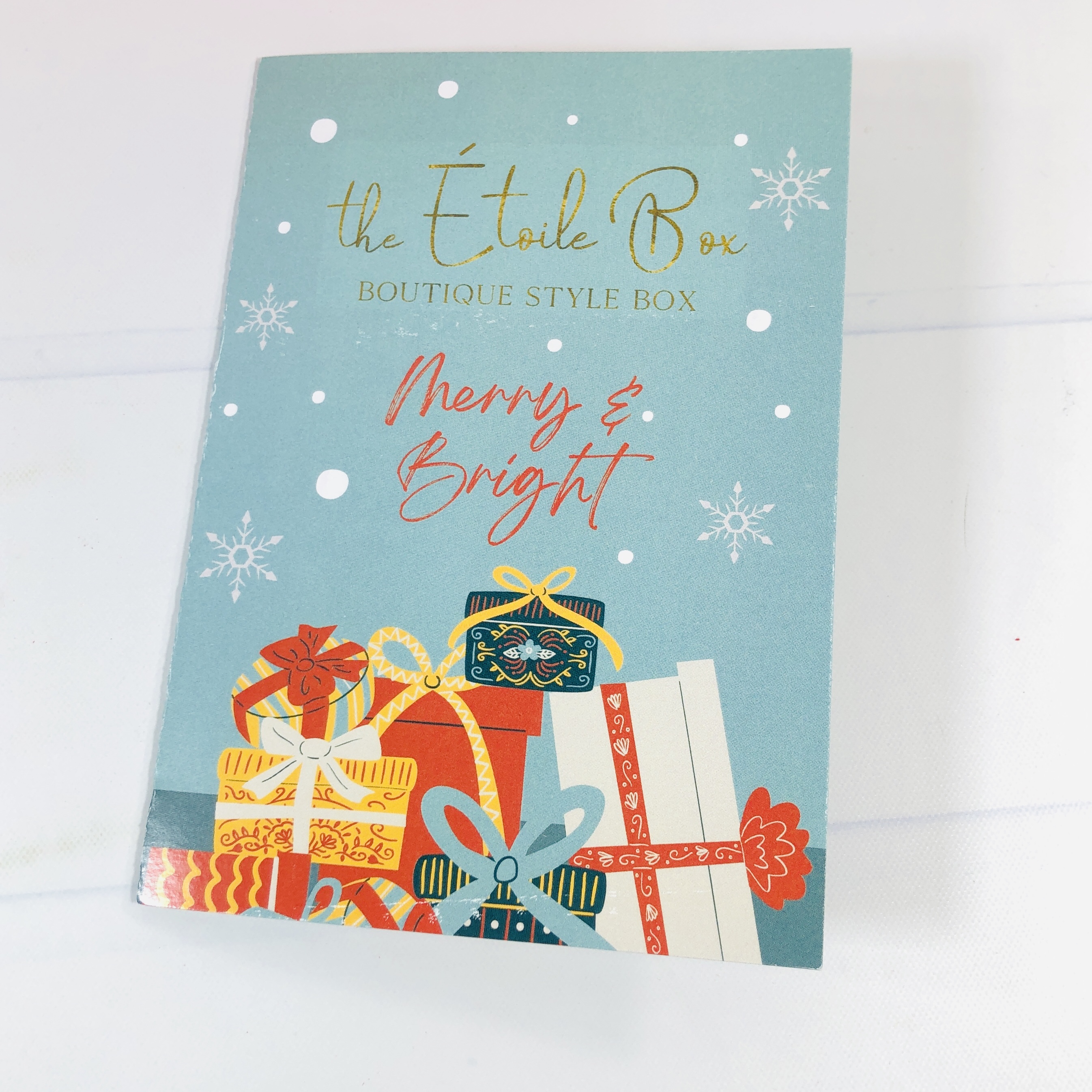 Inside I found a product info card with descriptions of the items in the Merry & Bright box.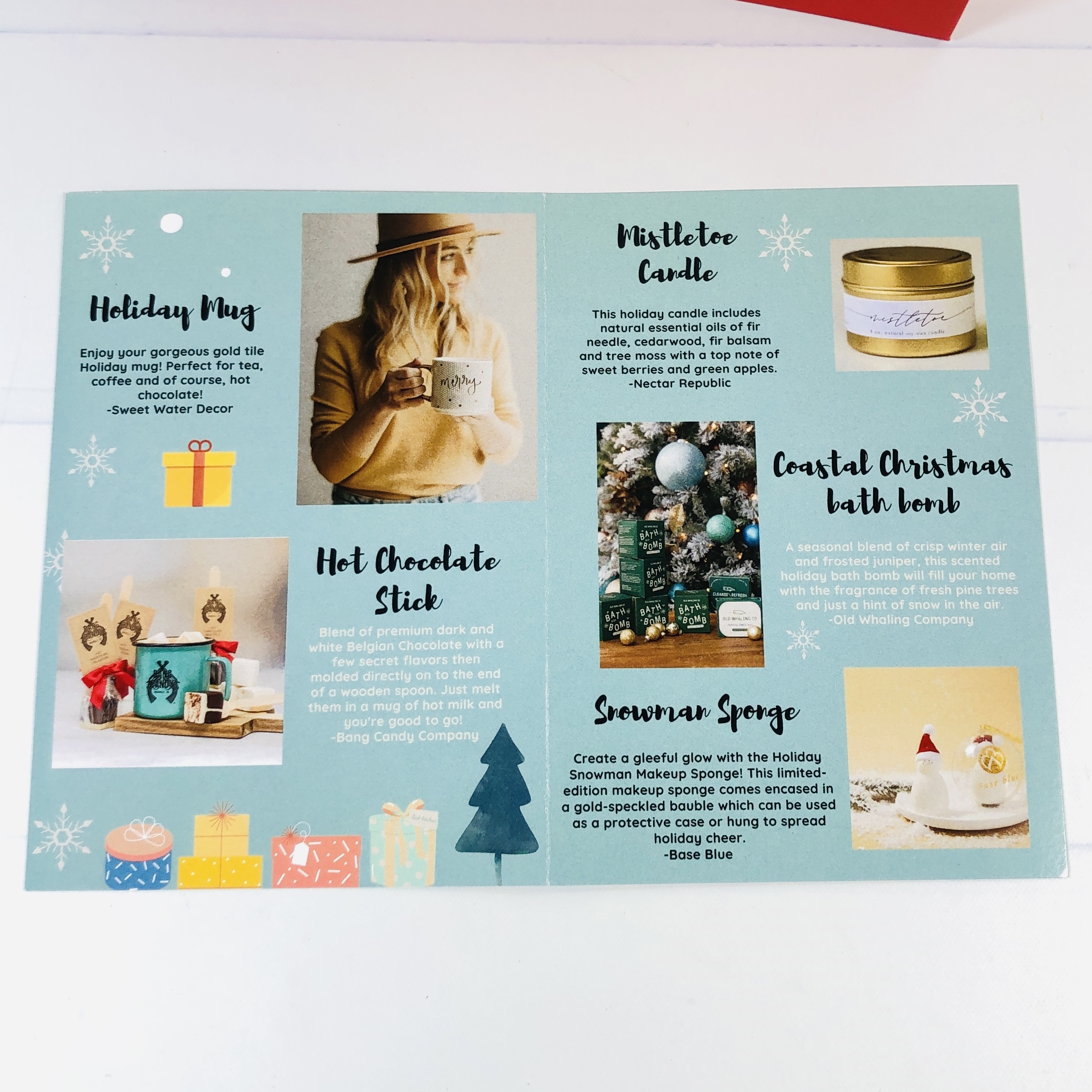 The inside listed the products, gave a description, and named the maker.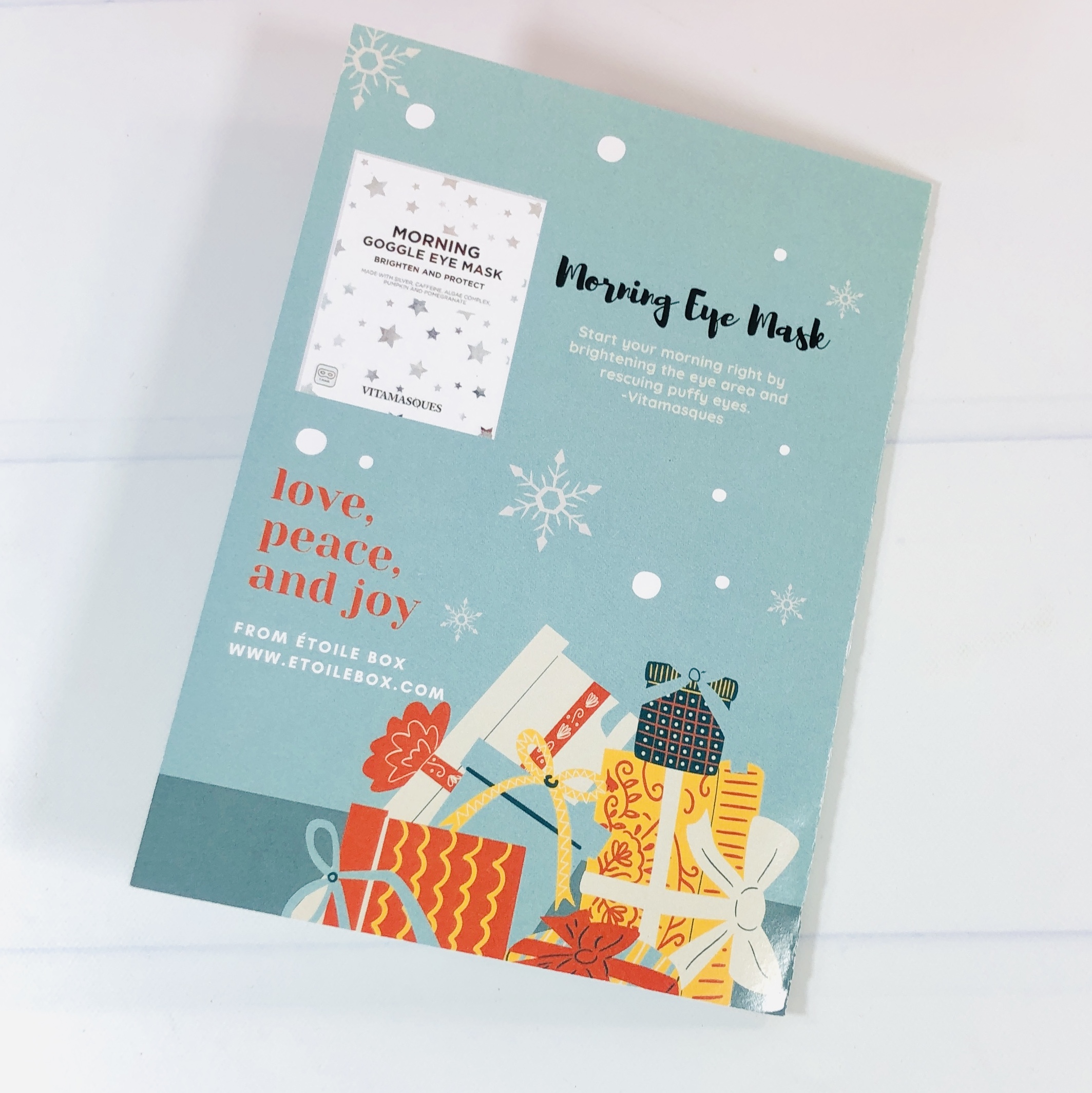 The back of the card had one more product.
Vitamasques Morning Goggle Mask Eye Mask ($4.99) I think this is my first goggle-shaped mask ever! It's supposed to hydrate the under-eye area and reduce puffiness. It has caffeine, glycerin, colloidal silver, and sodium hyaluronate plus some plant extracts.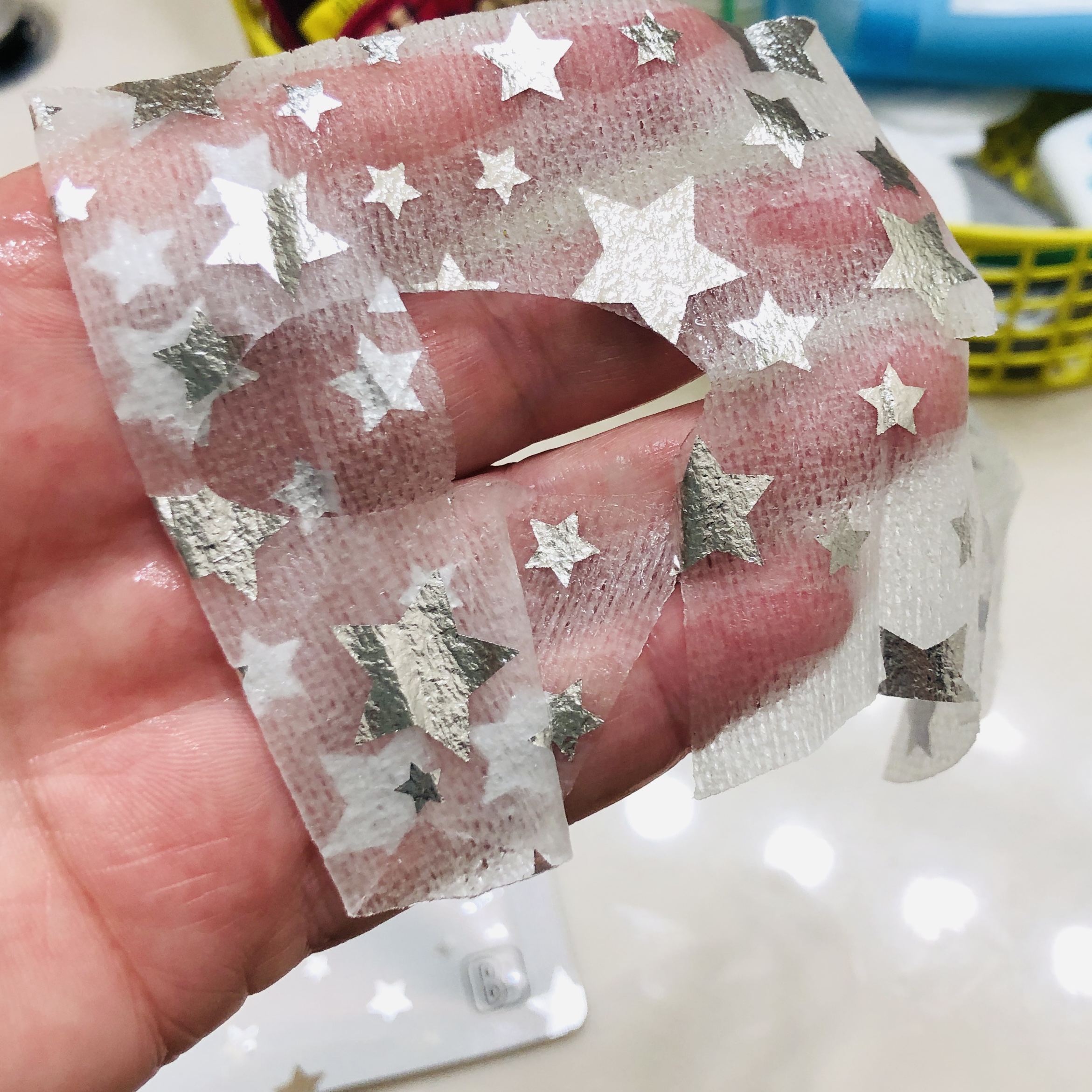 It was really cute, and I applied it with the shiny stars facing out. The very light scent reminded me of those cleansing towelettes that smell like lemon!
Old Whaling Co Bath Bomb Coastal Christmas ($5) Soaking in a tub with a bath bomb is a wonderful way to relax during this busy time of year!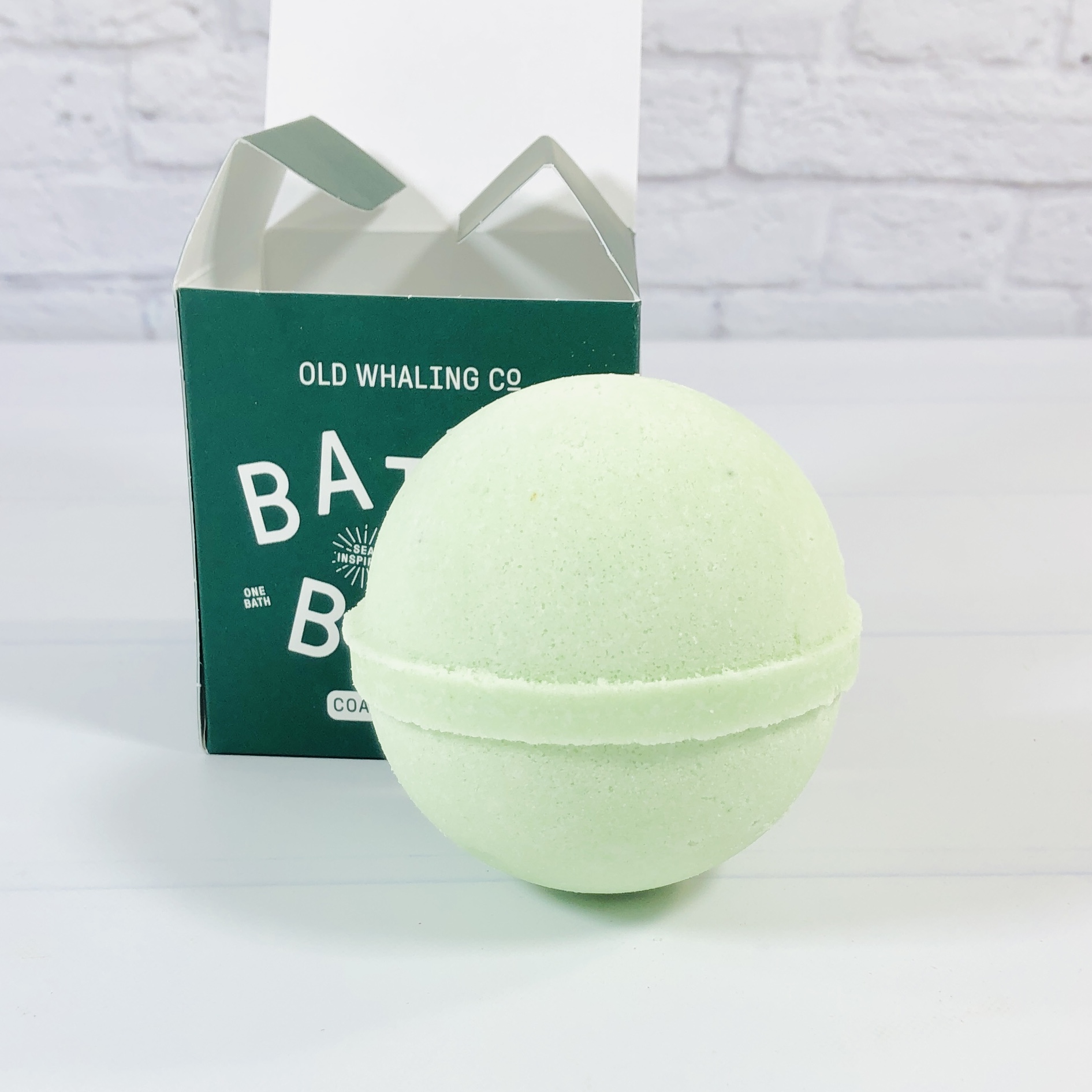 This huge bath bomb smells like "crisp winter air & frosted juniper". I think it smells a lot like lime and fir trees. Just pop that baby into a tub and be careful when entering and exiting as it may leave the tub slick thanks to its moisturizing oils.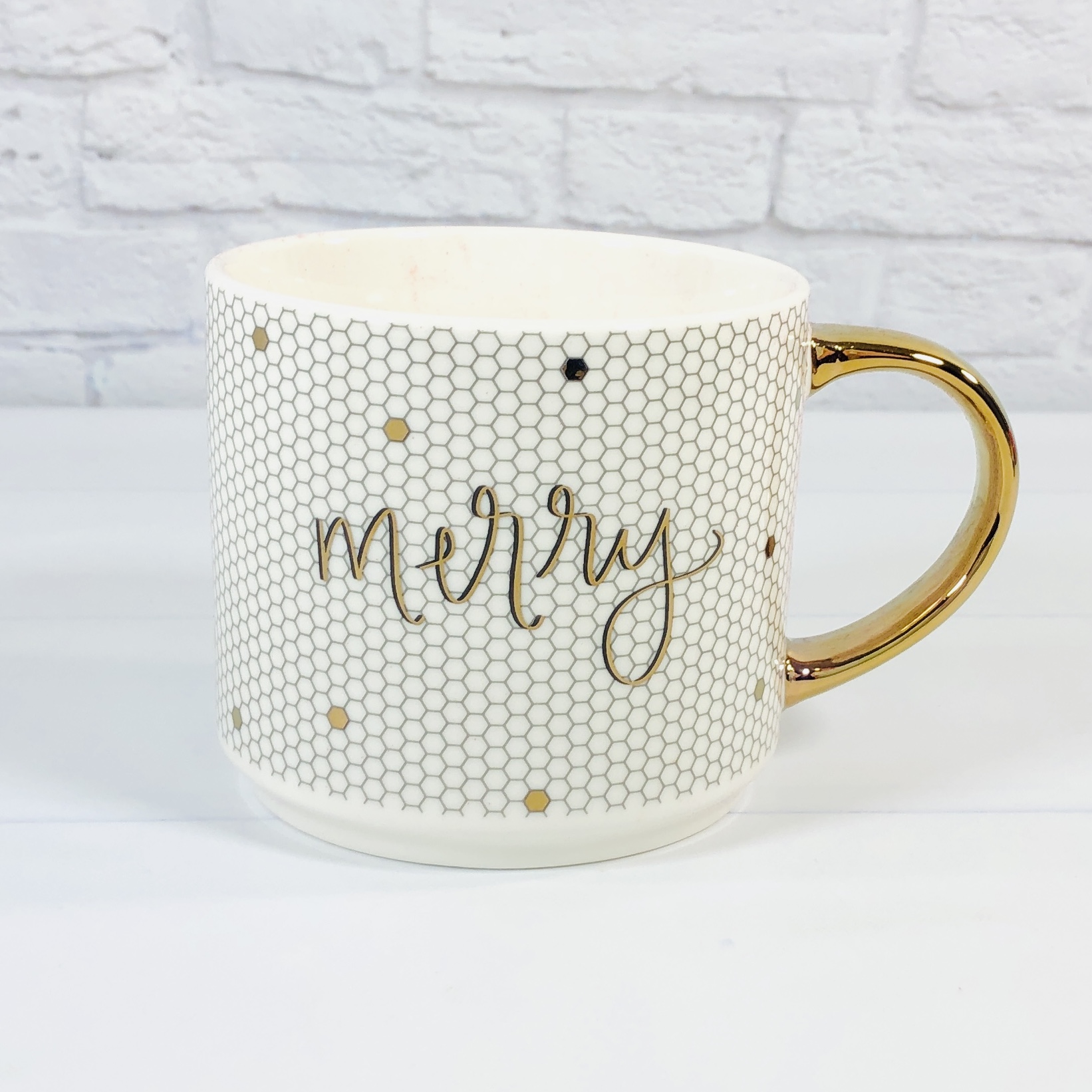 Sweet Water Decor Holiday Mug (similar mugs are $20 and wording may vary) While I couldn't find this exact mug, similar gold-handled tile mugs from the brand are $20. The honeycomb pattern and sentiment are on both sides and the handle and lettering are in gold metallic. It holds 17 ounces and the instructions say to hand wash and to microwave at your own risk (if it sparks, turn it off!). I will use it for hot cocoa because there's plenty of room for whipped cream at the top.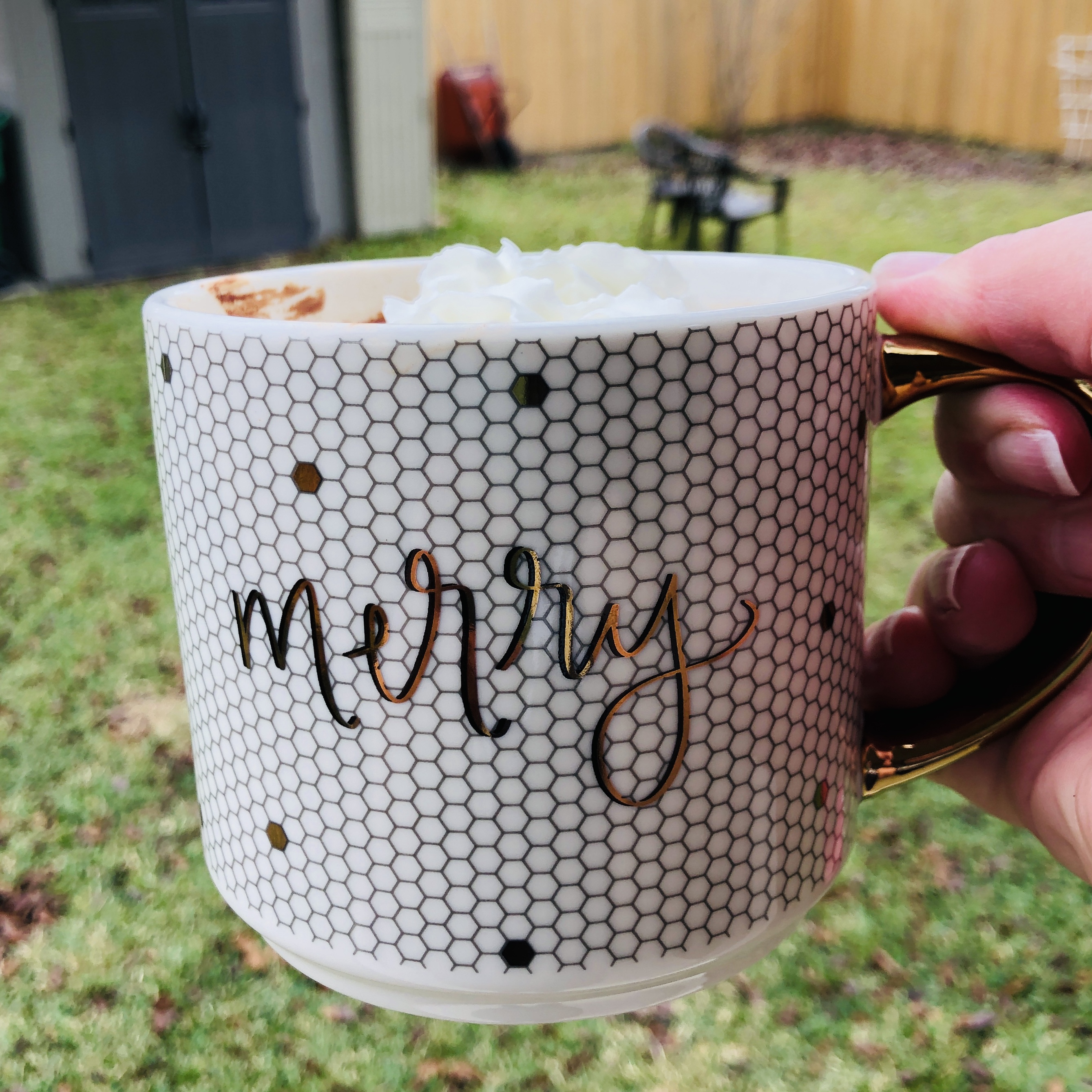 So adorable!
Nectar Republic Mistletoe Candle ($10) There was a candle and I must say a flickering candle is always especially welcome during the darkest months of the year.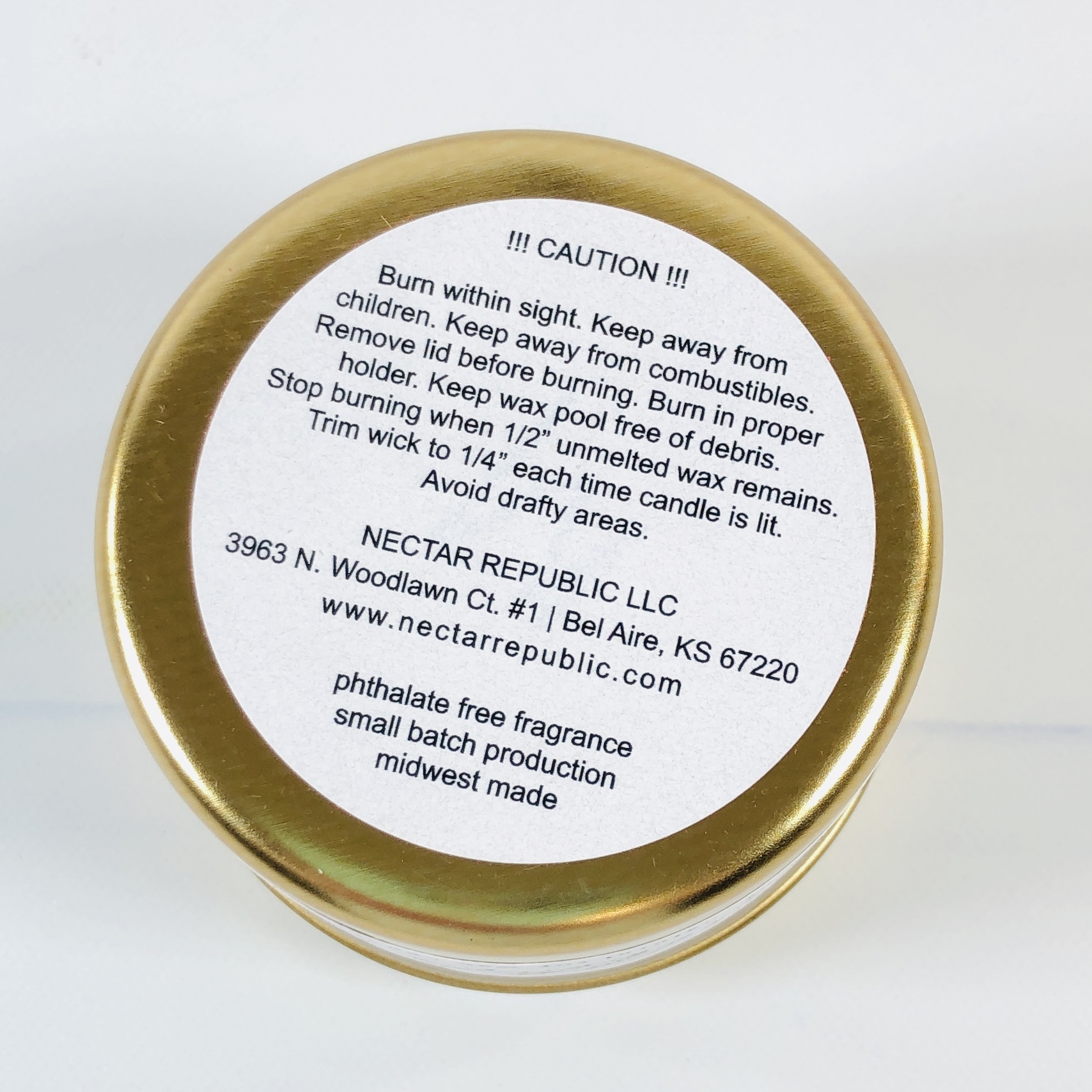 Be careful when burning! I always chuckle when I see these are called travel tins. I don't think you are supposed to burn them in hotels but maybe some people have a vacation home or they can burn it while visiting family. I just burn them on my living room table.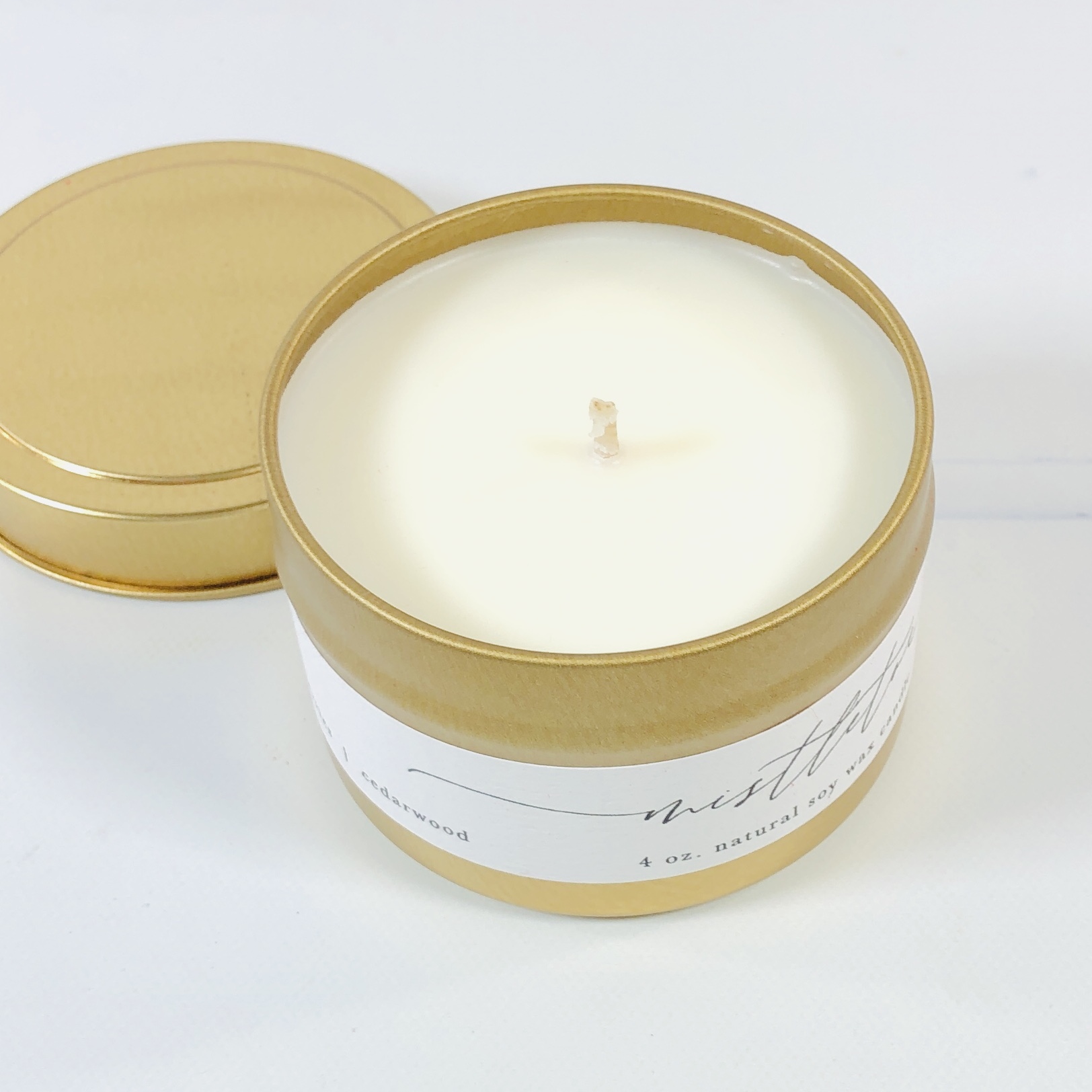 The scent notes for Mistletoe includes balsam fir, sweet berries, and cedarwood. It smells like a classic holiday tree kind of scent with sweet nuances.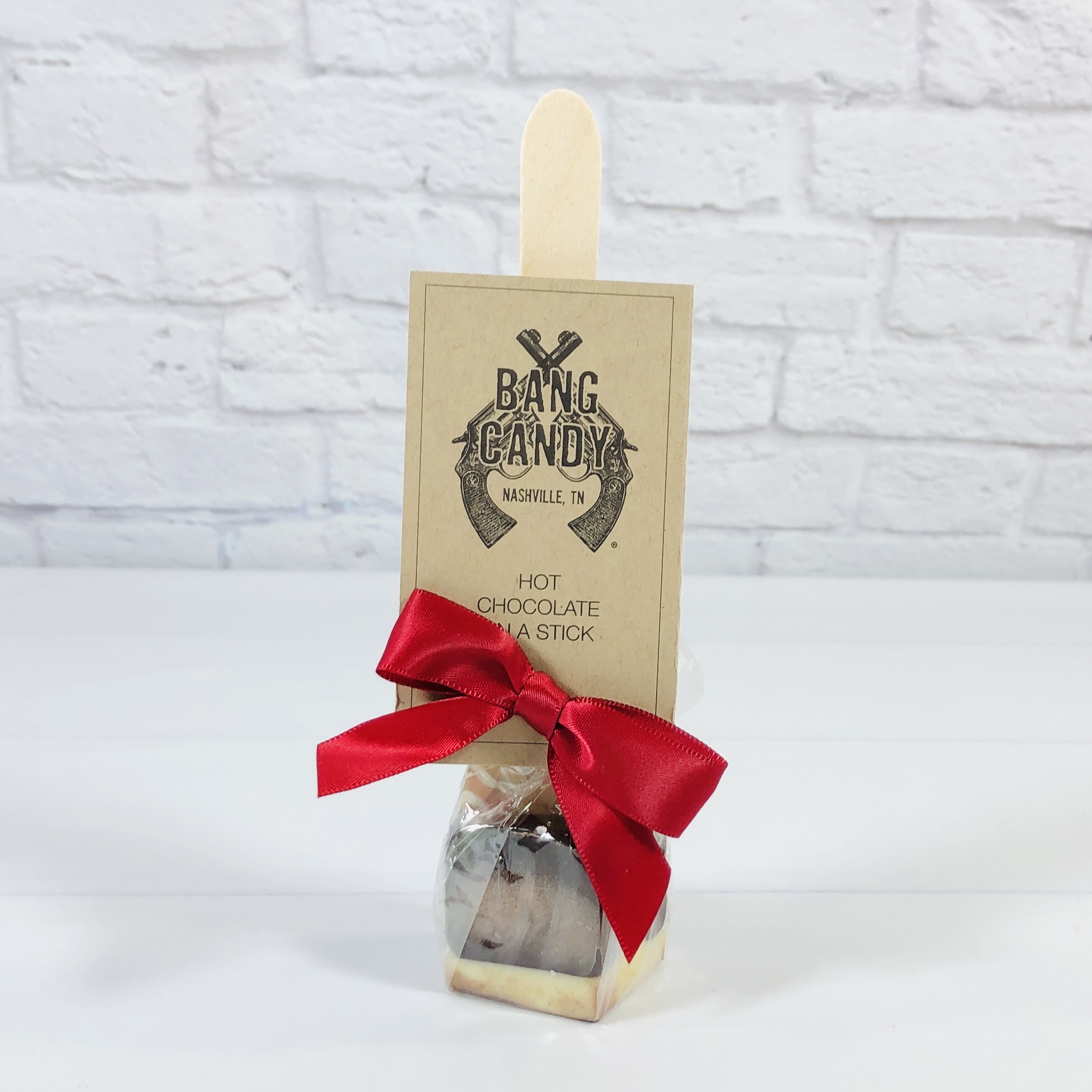 Bang Candy Hot Chocolate Stick ($5) Ooh, time to put my new mug to use!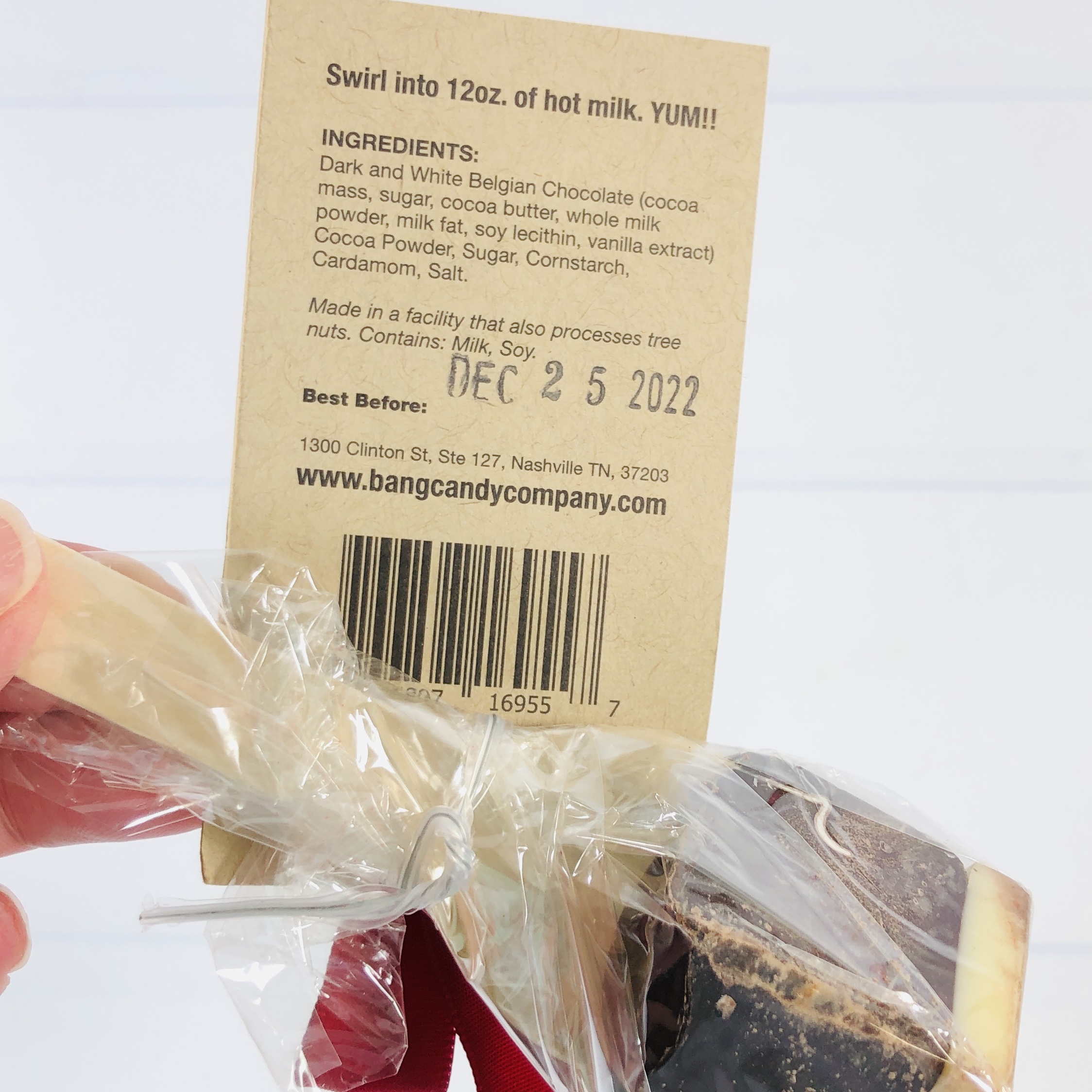 Just heat up 12 ounces of milk, pour into a mug, and stick this in until it melts and there you have it, some hot chocolate! I made it in the mug above and ended up using a hand-held frother to get it all combined and it was a wonderfully rich, classic hot cocoa.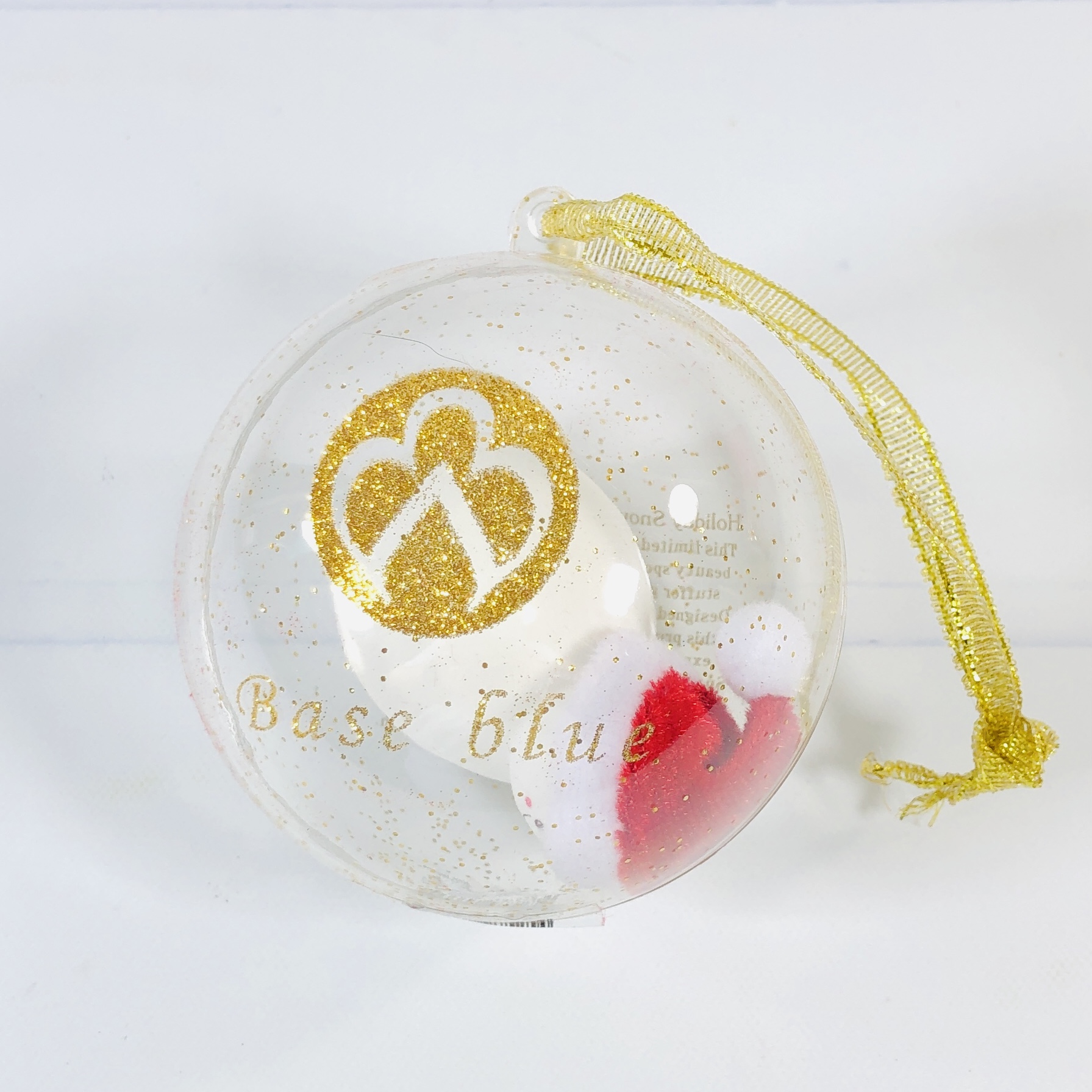 Base Blue Snowman Sponge ($13) Ha, this is a cute stocking stuffer or tree ornament/gift!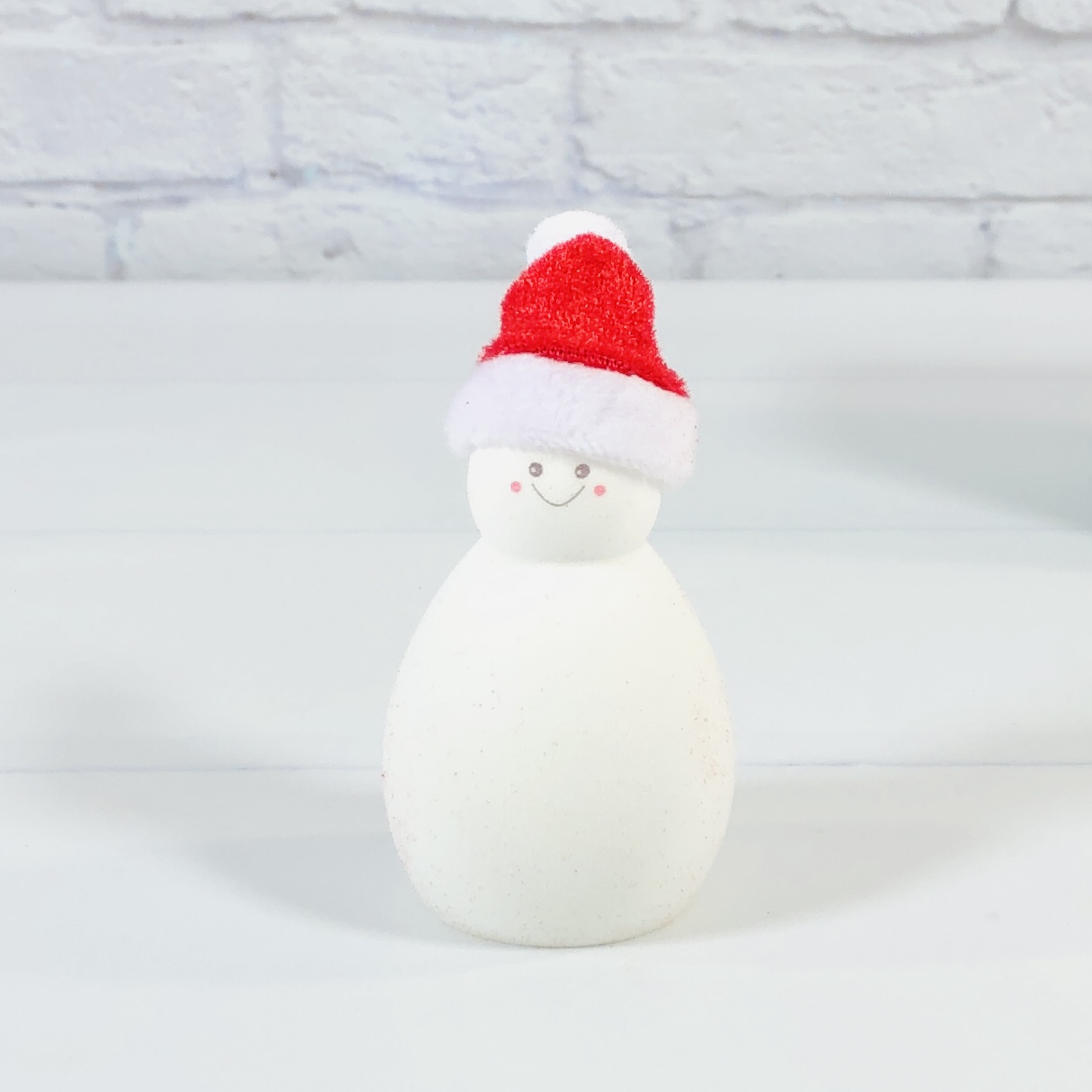 It's a makeup sponge, the kind that expands when wet, but it is shaped like a snowman! It has a removable hat and the different parts of the snowman work for different areas of the face. Use the head around the eyes and nose and its body can be used to apply foundation or other products. Cute!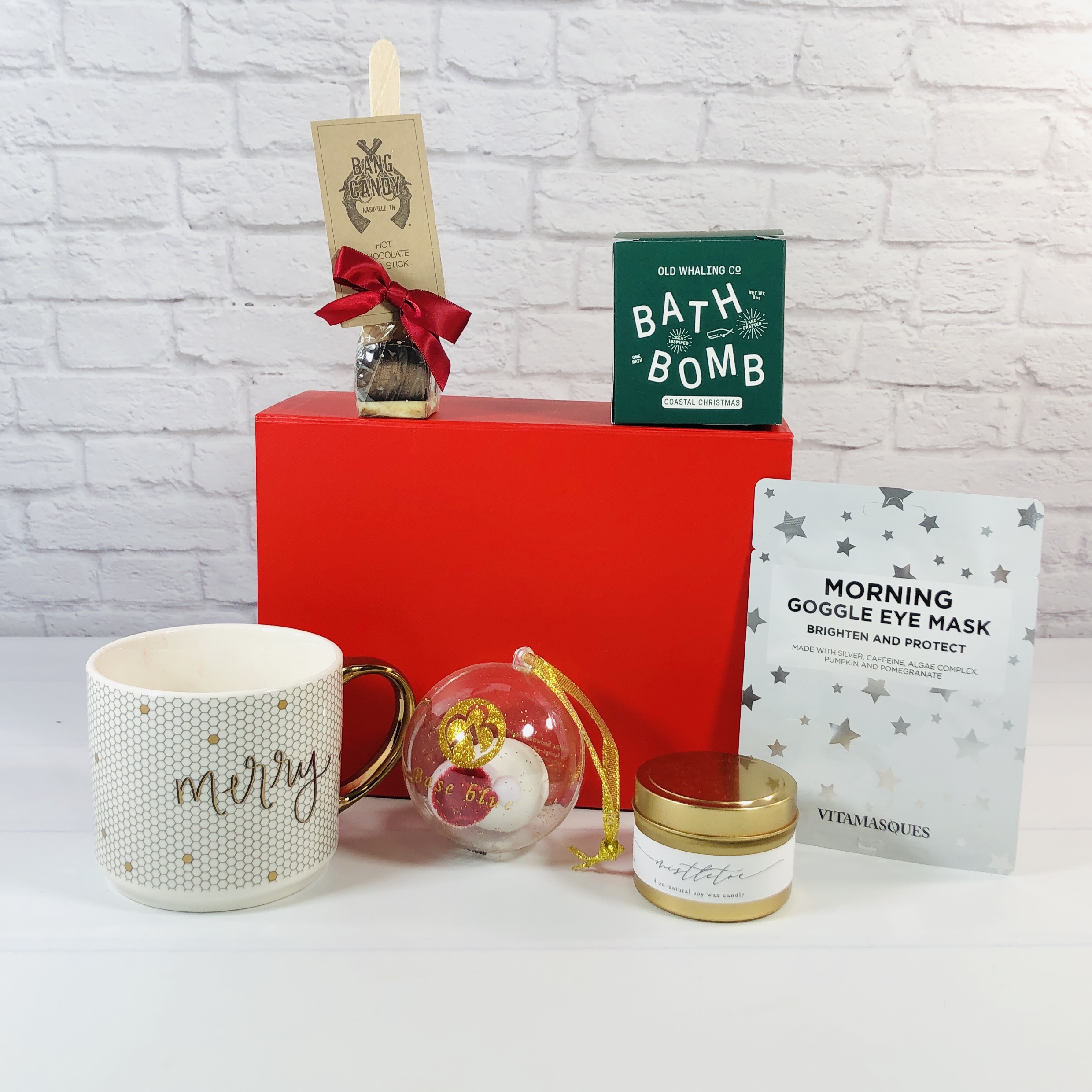 The December Étoile Box was not only stunning to look at, it was fun and full of items perfect for this time of year — it was certainly festive! Even the box can be reused, either for storage or for gifting. With the exception of the adorable snowman sponge, I think these items are perfect for relaxing and enjoying some cozy time on the couch during this busy time of year, it's giving me hygge vibes for sure. Of course, the bath, mask, and makeup sponge can also help you get ready if you happen to be participating in parties and get-togethers, whether IRL or through Zoom.
What do you think of this box?