With two resident tea fanatics, we couldn't share this box with just one of our reviewers! Both Deb & Valerie wrote this review – Deb is more of a David's newbie, and Valerie is a decade+ fanatic!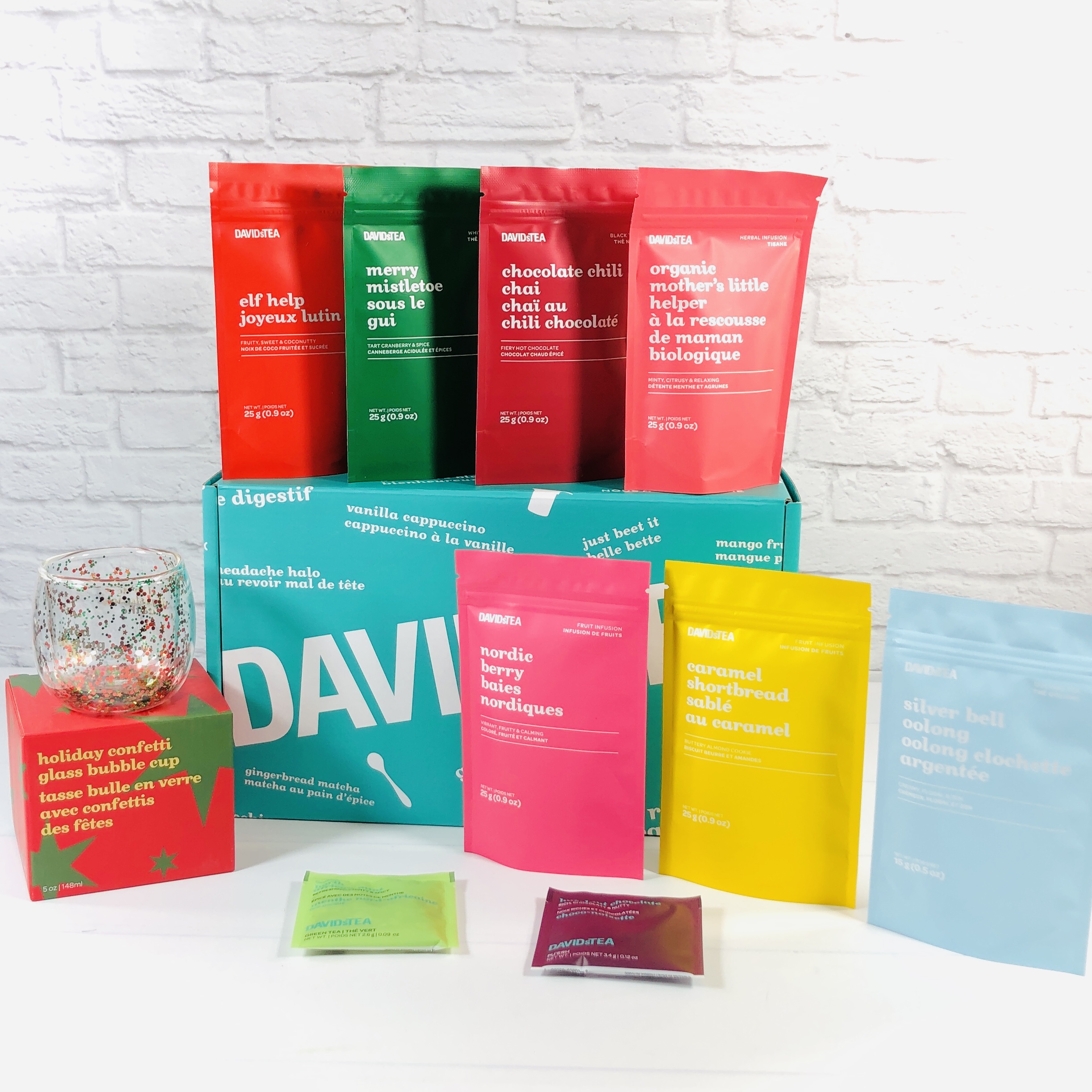 Valerie: David's Tea is one of Canada's most well-known tea houses, with a huge catalog of every kind of tea. From black tea, to mate, to traditional matcha, I have been a loyal customer for over a decade and a half. Their teas are sourced from all over the world and many are given a unique twist or taste. My cupboards at home are full of their colourful tins, steepers, and their beautiful mugs! So when I read they were doing a quarterly subscription, I knew this was the perfect tea subscription for me. The box is $35 CAD quarterly.
Debbie: This is my last box from a year-long subscription that sent the same box to everyone. Based on feedback from their Facebook group, there is now an option to choose from four different boxes and in the future I will be reviewing the Organic version, while Val will continue reviewing David's Picks. Here are the four options you can choose from, and please note that from here on out boxes will be shipped in a compostable envelop and they will no longer include a bonus item. If you are looking for regular tea with no additions such as stevia, then Garden to Cup is your best bet, but it will come with less tea overall (currently 7 bags for the other three subs, 5 bags for GTC):
David's Picks: David's favourite tea blends of the season. Please note: If you signed up before October 7th, 2021, you are automatically enrolled to receive this edition.

Organic: Soothing teas made from natural and organic ingredients.

Caffeine-free: Bedtime teas to help you relax and sleep.

Garden to Cup: Premium, single-origin teas selected exclusively by our tea experts.
Valerie: The box is the traditional David's Tea teal, and inside are colourful packets of tea. The interior of the box includes a guide to steeping for all of their tea types, including ideal temperature and steeping time.
Debbie: The items were simply placed in the box, no special fanfare or extraneous wrapping. The box itself had all kinds of notes on steeping on the inside, even a crossword puzzle was printed inside the bottom of the box! Please note that in future the items will ship in a compostable bag.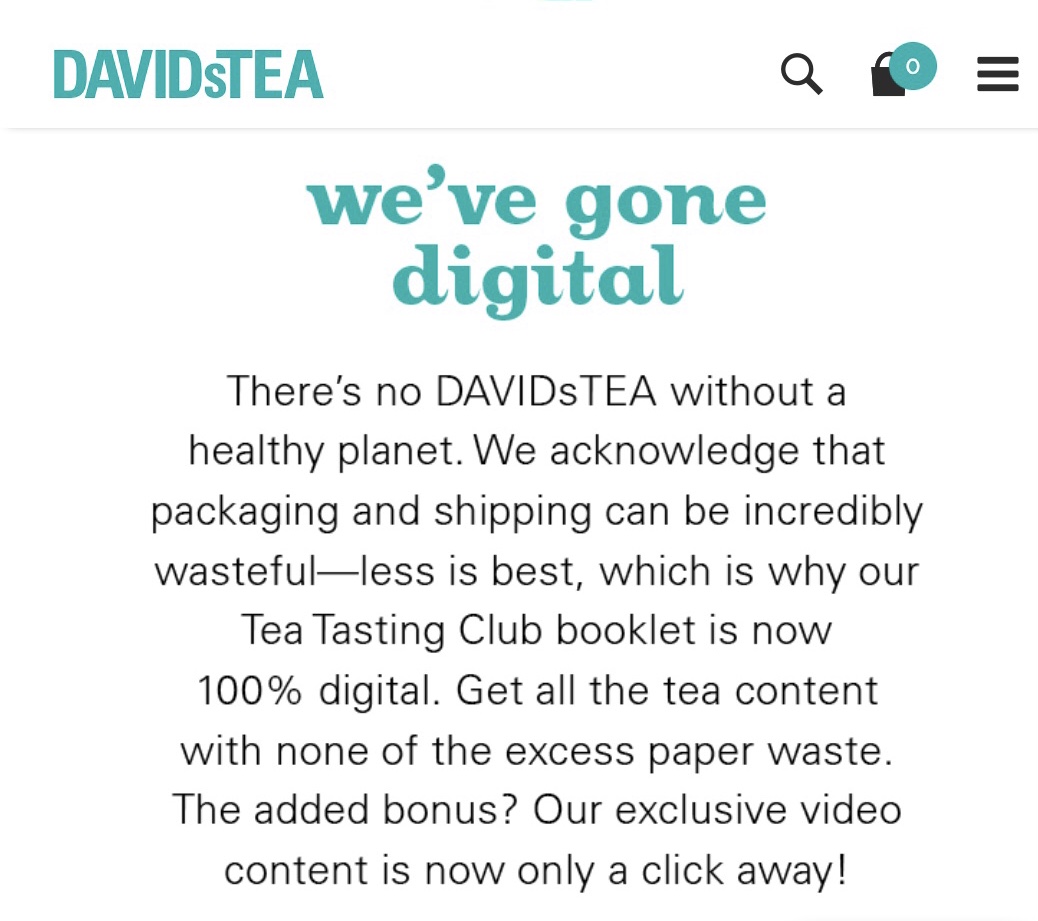 Info about the teas included in the box can be found online.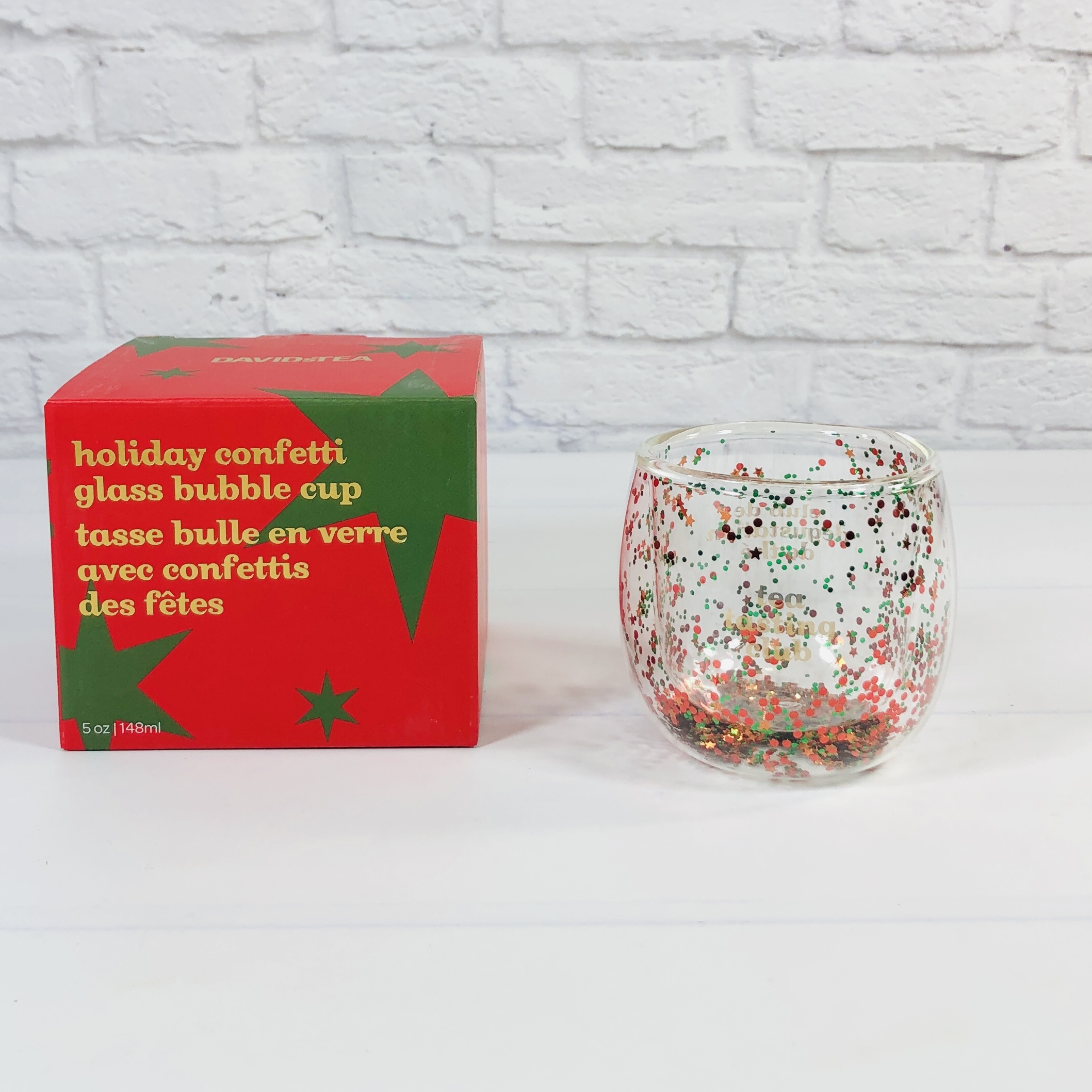 DAVIDsTEA Holiday Confetti Glass Bubble Cup When this subscription debuted a year ago we were told every box would come with an exclusive item. This is the last exclusive item.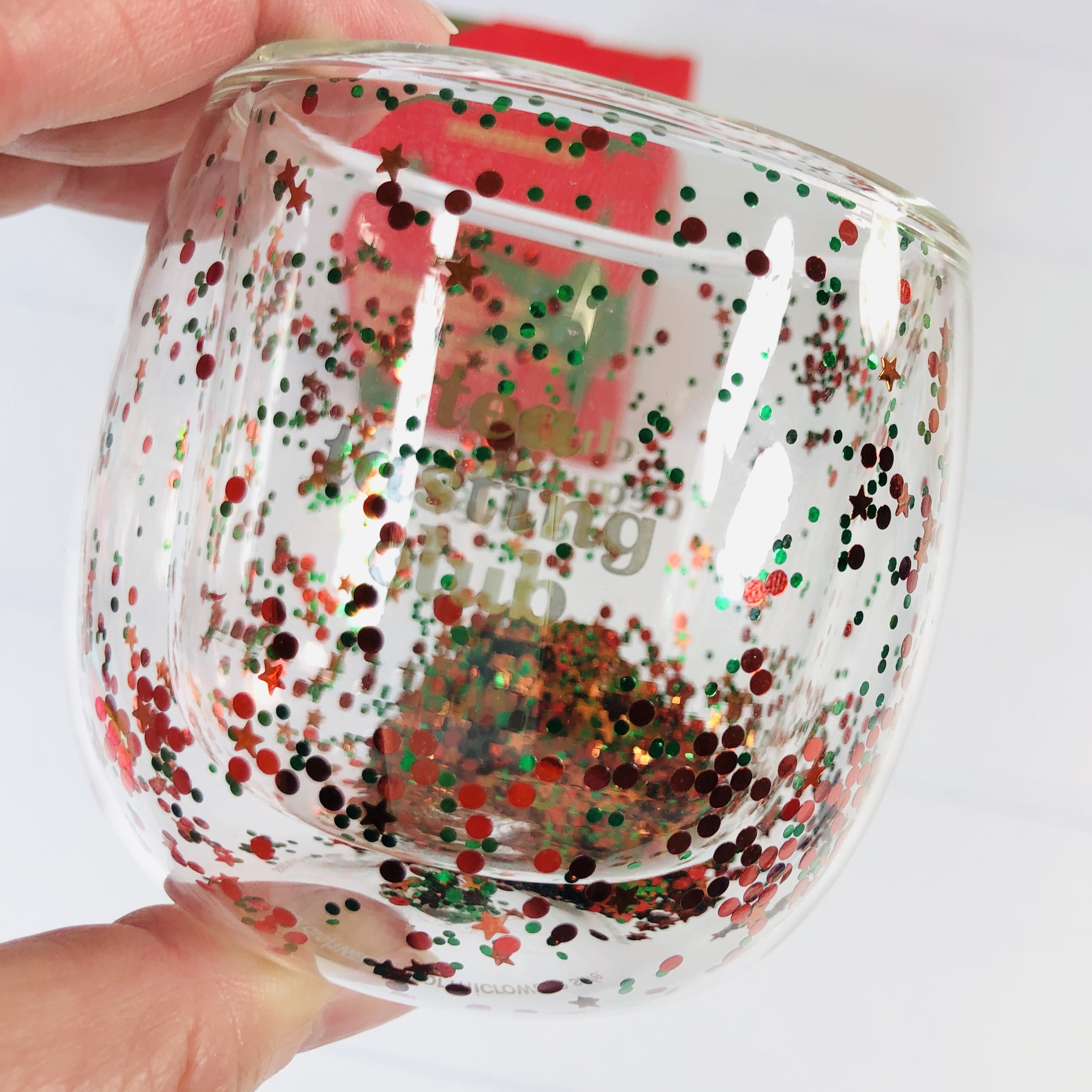 It's a borosilicate glass that can be used to hold 5 ounces of tea or other beverage and it has festive red and green confetti encased in the walls. The confetti will move however it pleases and a sticker on the bottom says this isn't microwave or dishwasher safe. It says "tea tasting club" in gold metallic lettering on one side and the French translation "club de dégustation de thé" on the other. I usually drink 8 ounces of tea at a time but this is perfect for holding my eggnog!
David's Tea Hazelnut Chocolate Tea ($0.52) and David's Tea North African Mint Tea Two single-use bags were included, one is green tea and the other pu-erh. When this subscription started they stated they would send "up to 8 bags of tea" and I think with the last box they switched to 7 bags and two teabags.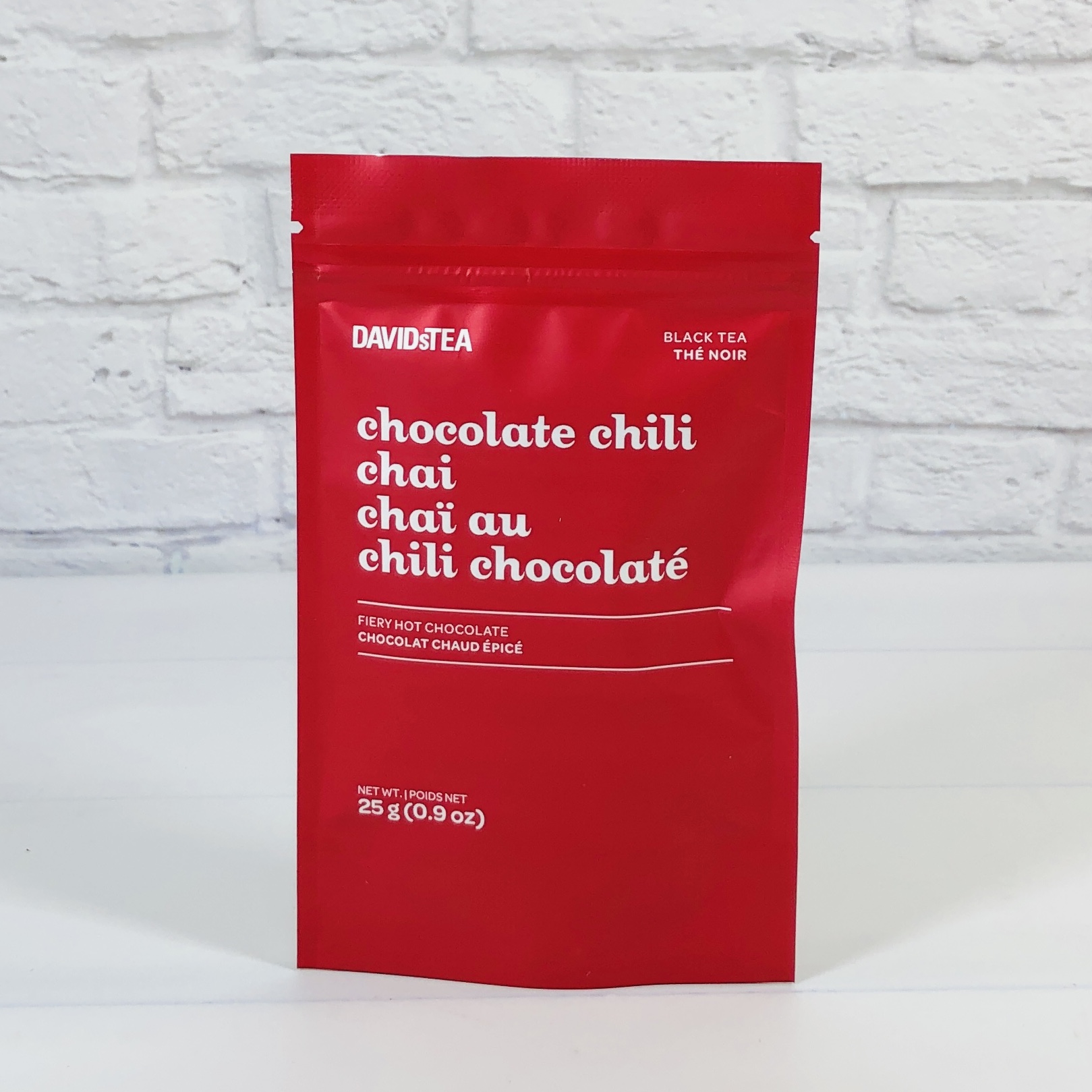 David's Tea Chocolate Chili Chai Tea ($4.99) Let me start by saying I don't like chocolate flavor in tea, it always has an artificial flavor and it's not something I enjoy, but that's a personal thing and you may love it but here goes anyways. It has a weak black tea base and I wouldn't call the flavor chai at all, as it's flavored with peppers and not traditional chai spices. Despite having spices it has no heat, and the black tea is weak. Did I mention it's weak?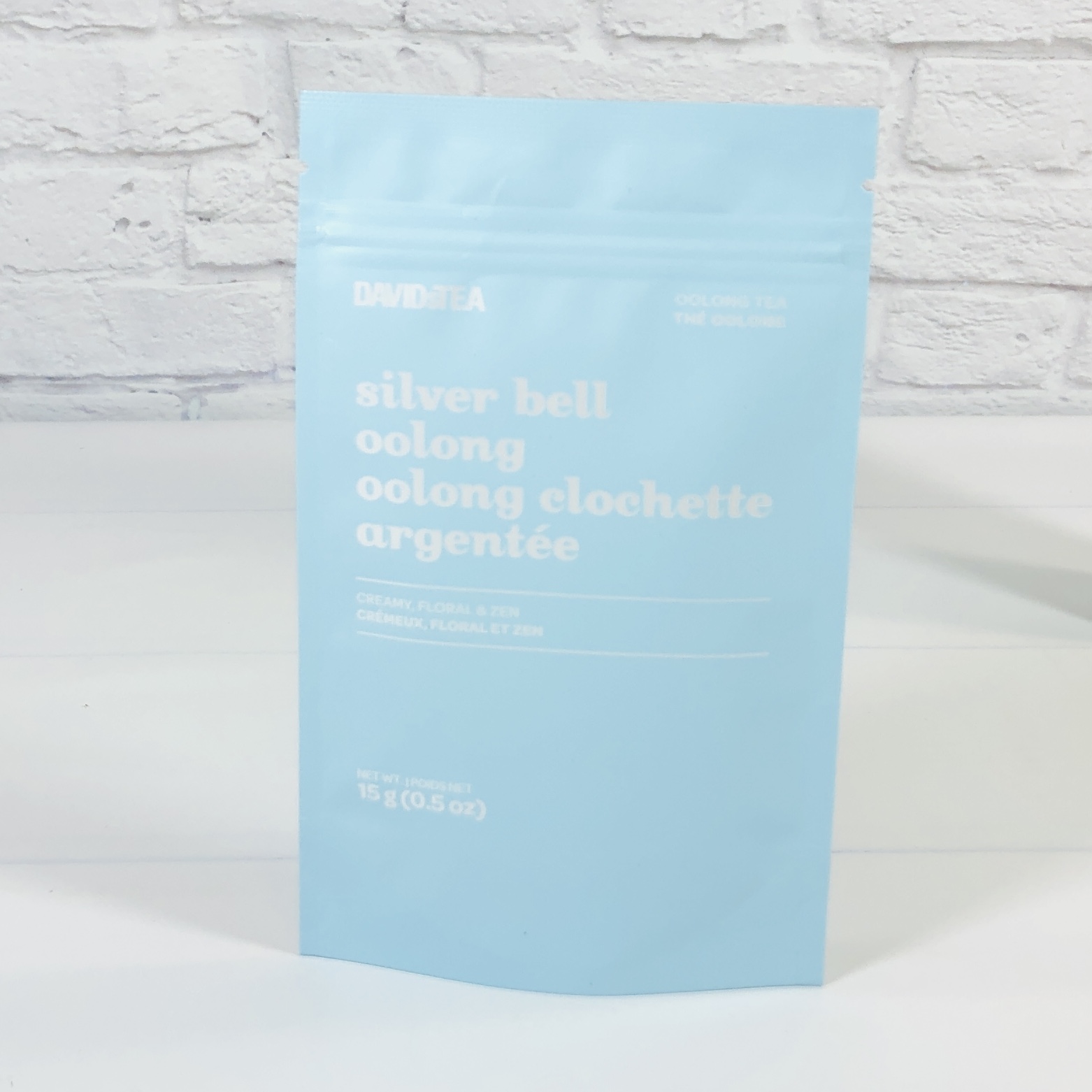 David's Tea Silver Bell Oolong Tea ($3.89) According to the back of this package, this tea contains white tea, milk oolong tea with natural milk flavoring, and jasmine green tea pearls. I usually think of oolong as having a smoky note which wasn't present here, and I didn't feel like this had "milk flavoring" either, and it simply reminded me of a very tasty jasmine green tea, which is one of my favorite flavors of green tea.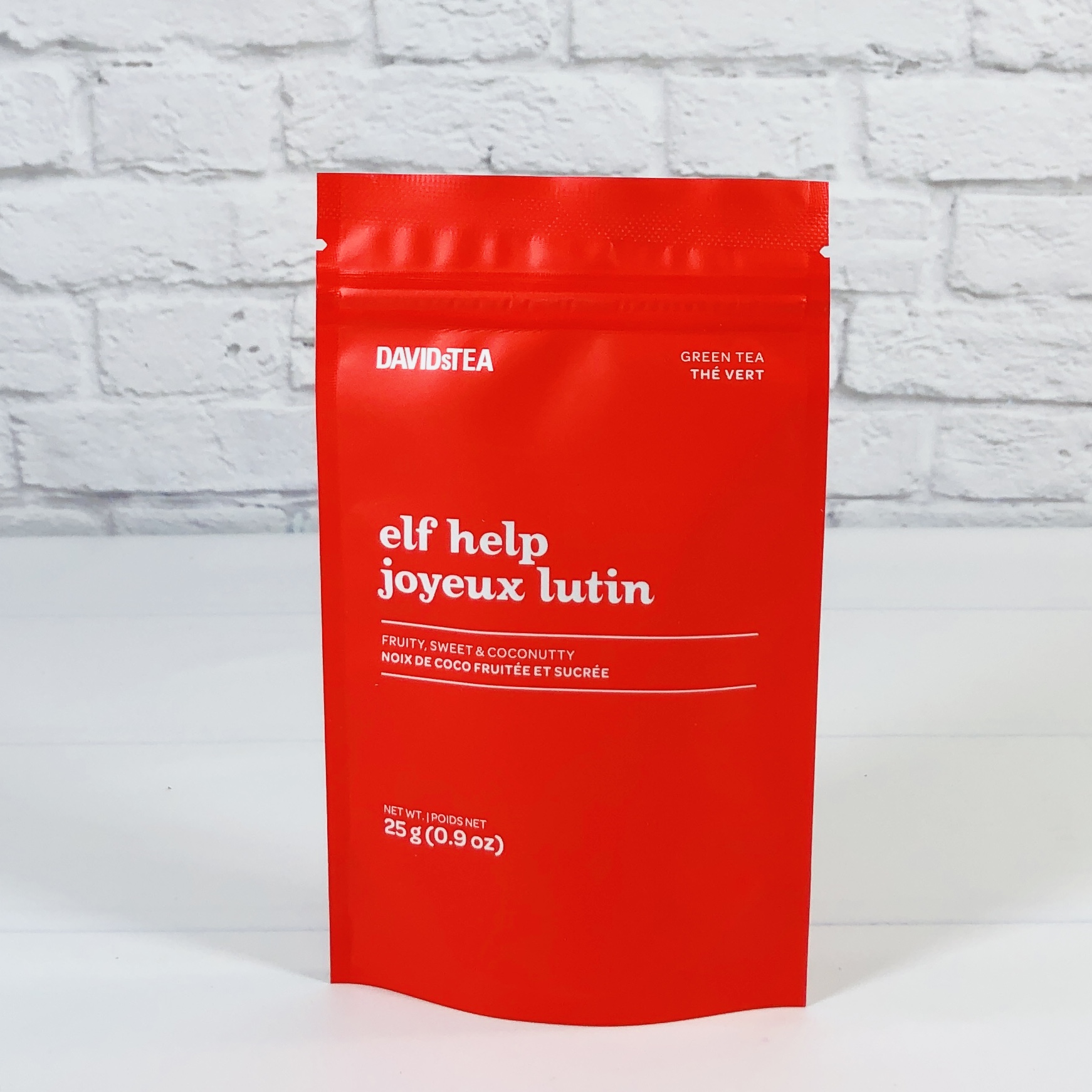 David's Tea Elf Help Tea ($4.49) I thought Elf Help was a delightful cup of tea with a hint of orange. It starts with a green tea base and also has dried cranberry slices and black currants. I didn't taste coconut or macadamia nuts but that's ok, maybe that will happen next time I steep it. The idea is that this is supposed to taste like an unstuffy fruitcake!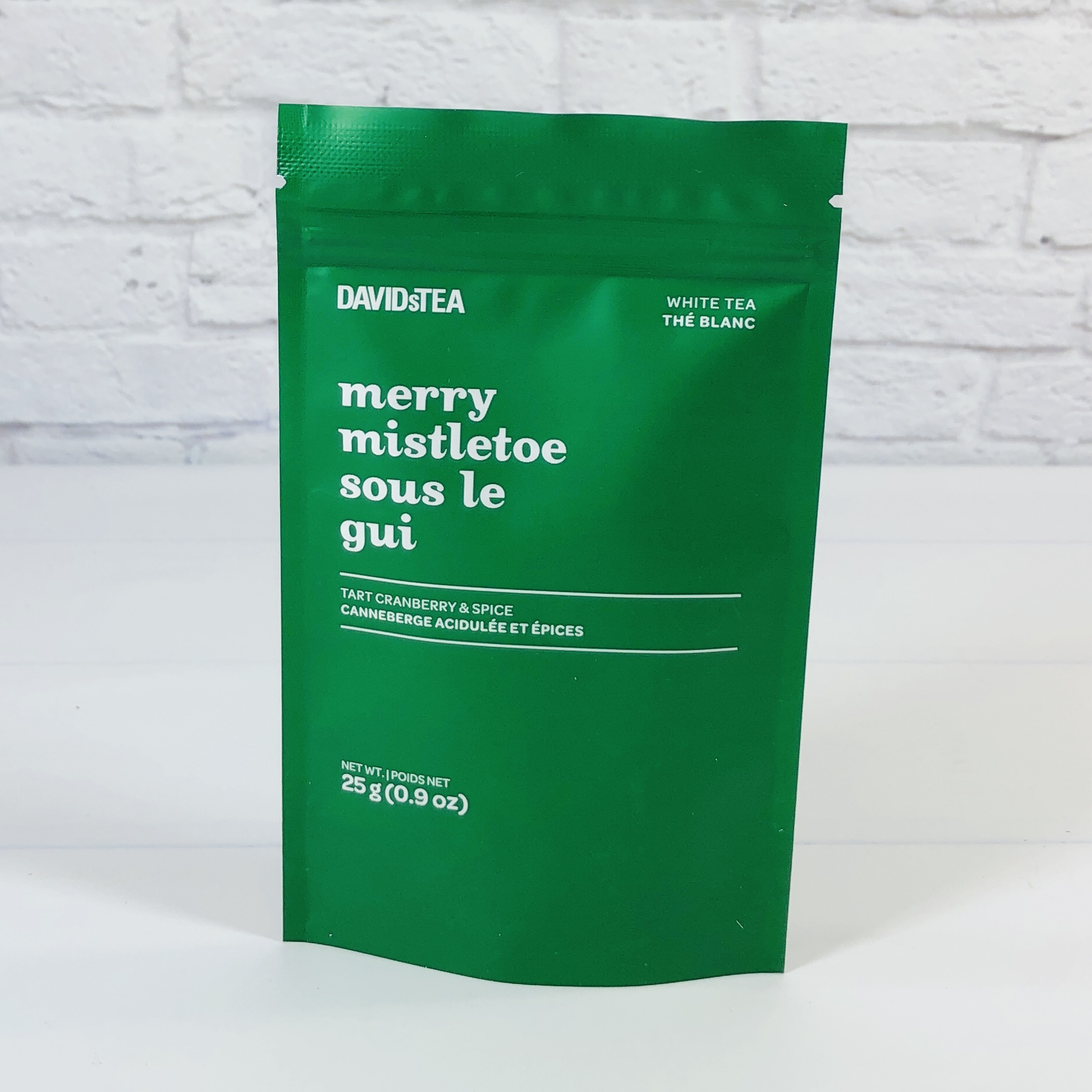 David's Tea Merry Mistletoe Tea ($5.49) I was a little wary of trying this because it has actual mistletoe in the ingredients, and I've always been told to STAY AWAY from that, but apparently a little is ok if it's in tea. It also has stevia, apples, cranberries, hibiscus, spices, and white tea. It was sour and fruity with a hint of spice and overall I felt like I was drinking a Sour Patch beverage, maybe spiced apple cider version, but that's not really a bad thing.
David's Tea Organic Mother's Little Helper Tea ($4.99) DAVIDsTEA sometimes adds "wellness" ingredients to their teas and this one has valerian, which may help induce relaxation and encourage restful sleep. I'm sure the amounts used in this tea are small but if you are on certain medications, have liver disease, or are pregnant or nursing, please check with your doctor before drinking. Some of the other ingredients in here are peppermint, hibiscus, and lemongrass and pretty much every tea with hibiscus tastes like cranberry juice to me but this one is minty cranberry juice.
David's Tea Caramel Shortbread Tea ($4.49) Here is another tea with a wellness ingredient, willow bark, which is related to aspirin and may not be safe for children and others. It also has stevia, apples, and artificial caramel flavor. The scent is very strong and buttery, and there is an aftertaste. It's sour like gummy candies and I think you will either love it or hate it, there is no in-between. I think it's supposed to taste like a buttery shortbread cookie with extra caramel flavor but it also reminds me of popcorn.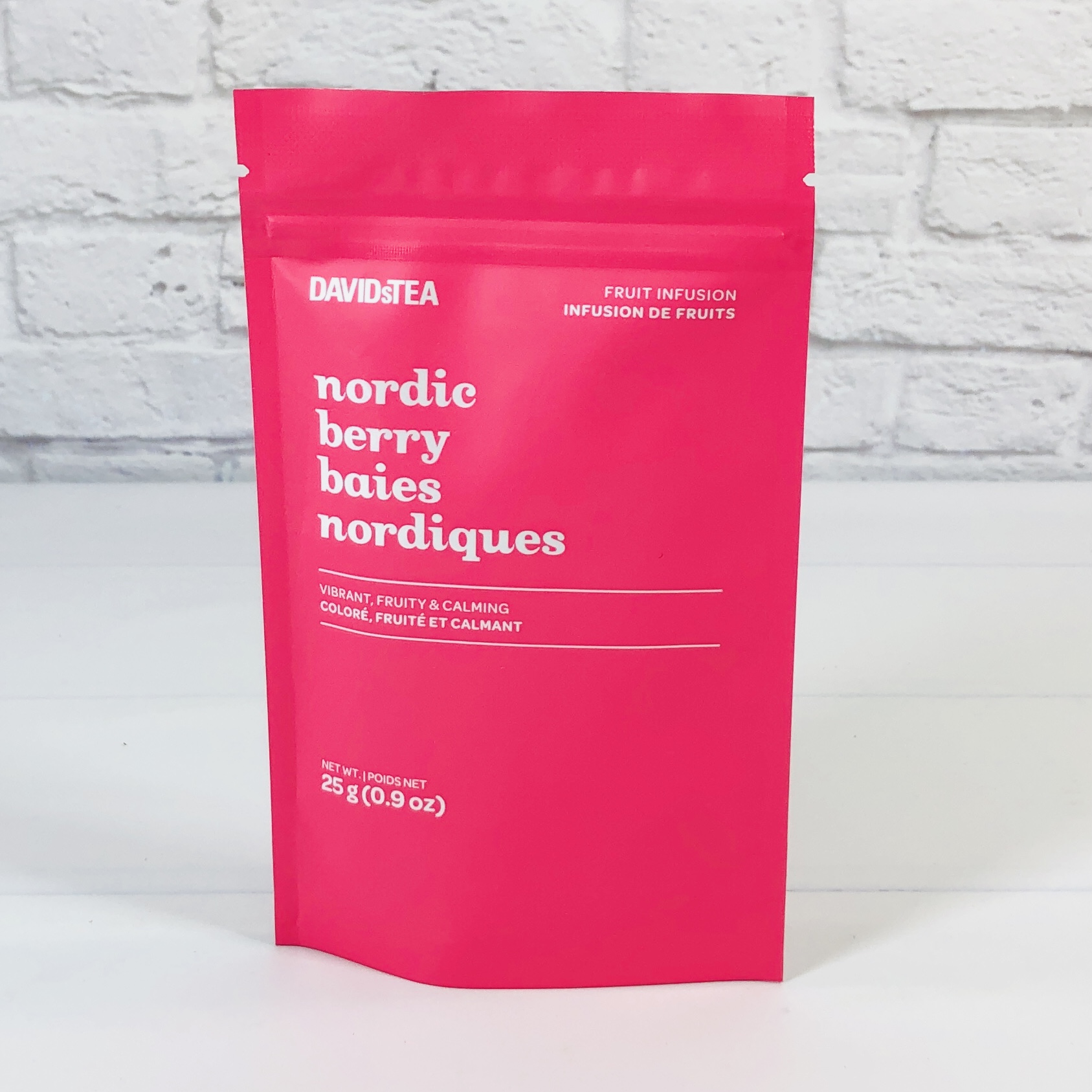 David's Tea Nordic Berry Tea ($4.49) Ohh, more hibiscus tea that tastes like cranberry, and funnily enough there's dried slices of cranberries in the tea! There's also lingonberry, which is popular in Nordic countries and is a relative of cranberry, plus apple, carrot, and lemon verbena. This one tastes like fruity cranberry fruit punch.
This was my last shipment of what is now known as David's Picks, and I am looking forward to seeing what the Organic box has to offer. If you like lots of additions to your teas then David's Picks is probably the box for you, but if you prefer less additions to your drinks, then Garden to Cup might be a better fit. I'm thinking Organic will be a mix of the two, and hopefully with less stevia. Finally, a Caffeine-Free option is best for those trying to reduce the amount of caffeine that they consume. I like the taste of actual tea, but 3 out of 4 of the teas in this box have no actual tea, they are fruit and herb blends. They certainly were festive and fun to try!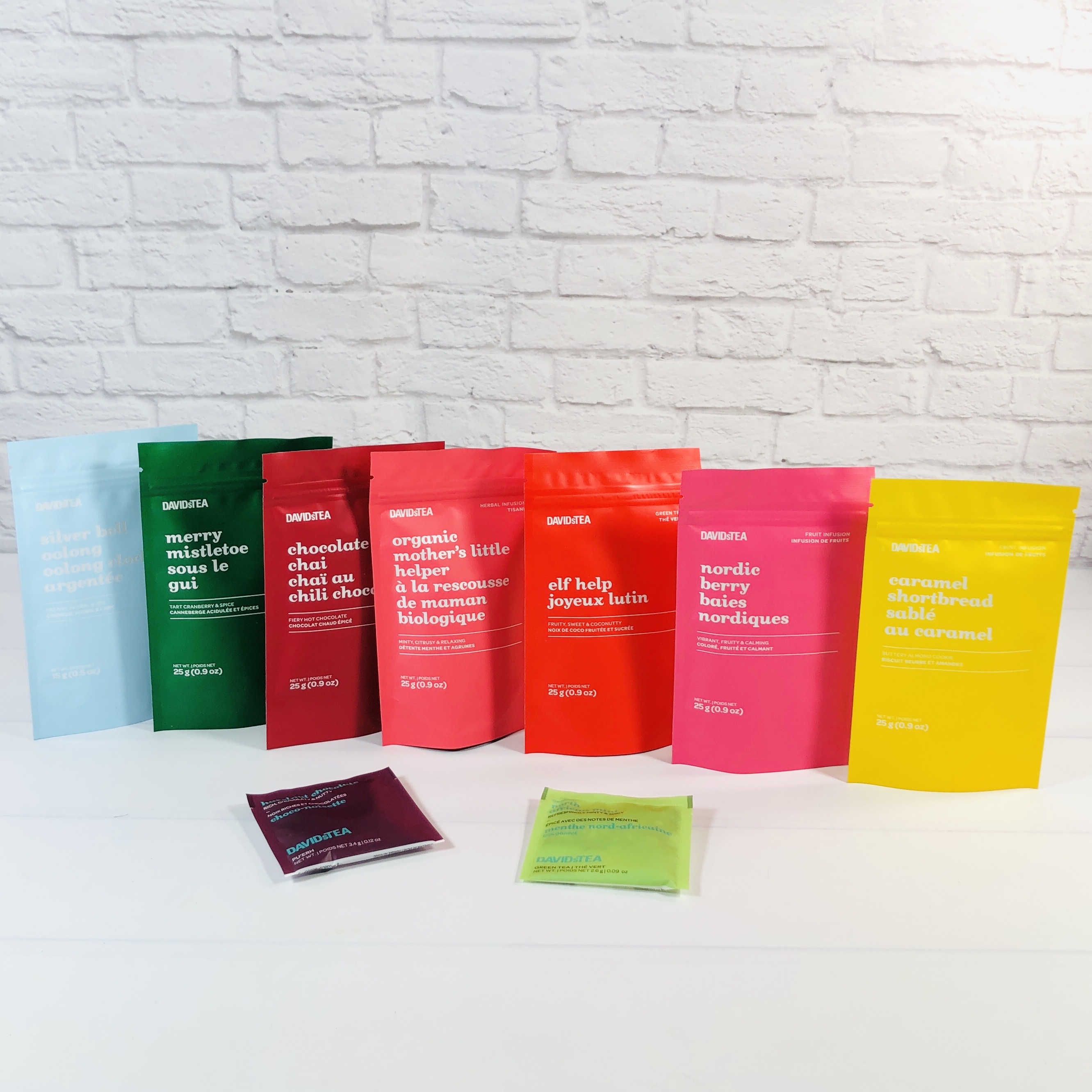 DAVIDsTEA Tea Tasting Club is a tea seasonal subscription from a Canadian brand known for their blends and shops. This subscription is $35 a quarter and there are 4 different boxes to choose from so you will receive teas and blends you are sure to enjoy.
What do you think of DAVIDsTEA Tasting Club?