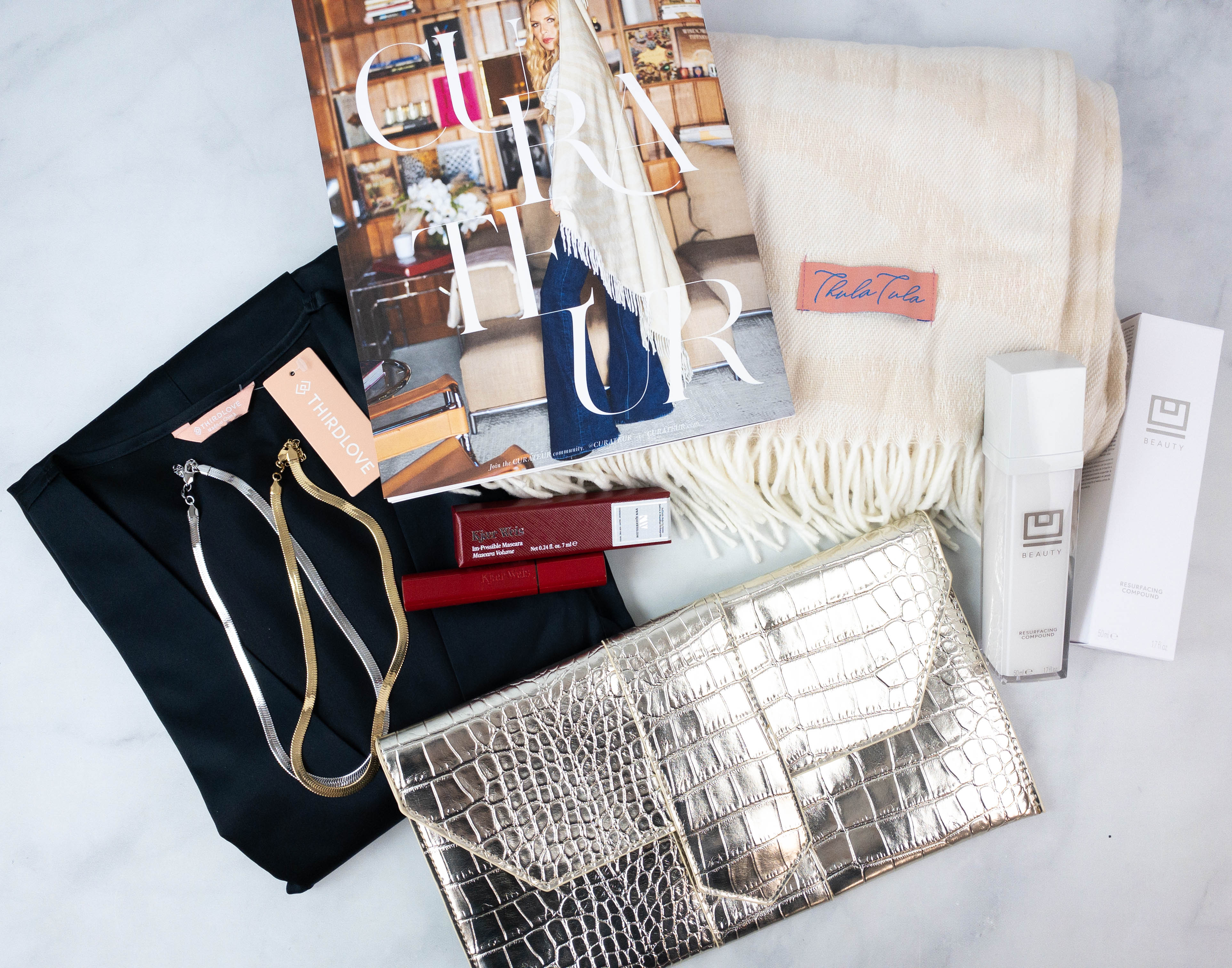 The Winter 2021 CURATEUR features luxury fashion pieces to amp up our style this season—with a touch of coziness, items for layering, and of course, some added sparkle. It arrived just in time for the celebrations, with 5 style essentials valued at $400+. Unfortunately, it's sold out!
DEAL: Save $25 on your first box when you use this link and coupon code WINTER25.
ICYMI, Curateur has a new offering – the Shoppe Membership! It's $40 per quarter, and members will get access to an exclusive marketplace featuring selected products from Rachel Zoe-approved luxury brands, with up to 60% off retail. Another member perk is earning $50 in rewards when you sign up and with every 3-month renewal!
U Beauty Resurfacing Compound (50mL) ($228) Who doesn't love a good multi-tasking skincare product? This resurfacing product makes a great addition to a busy person's skincare routine as it helps resurface, brighten, renew, tighten, balance, and even protect the skin in one formula. It's ideal for reducing the appearance of pores, signs of aging, and even dark spots. It's ideally used after you cleanse your skin! Get one to two pumps and massage all over your face. The formula is gel-like and gentle, plus it easily gets absorbed by the skin!
Kjaer Weis Im-Possible Mascara ($32) A glamorous makeup look for the holidays won't be complete with a high-quality mascara. This one is made with organic and sustainably sourced beeswax, carnauba wax, and acacia gum. It's also packed with nourishing ingredients such as raspberry fruit, sunflower seed oil, and marula oil.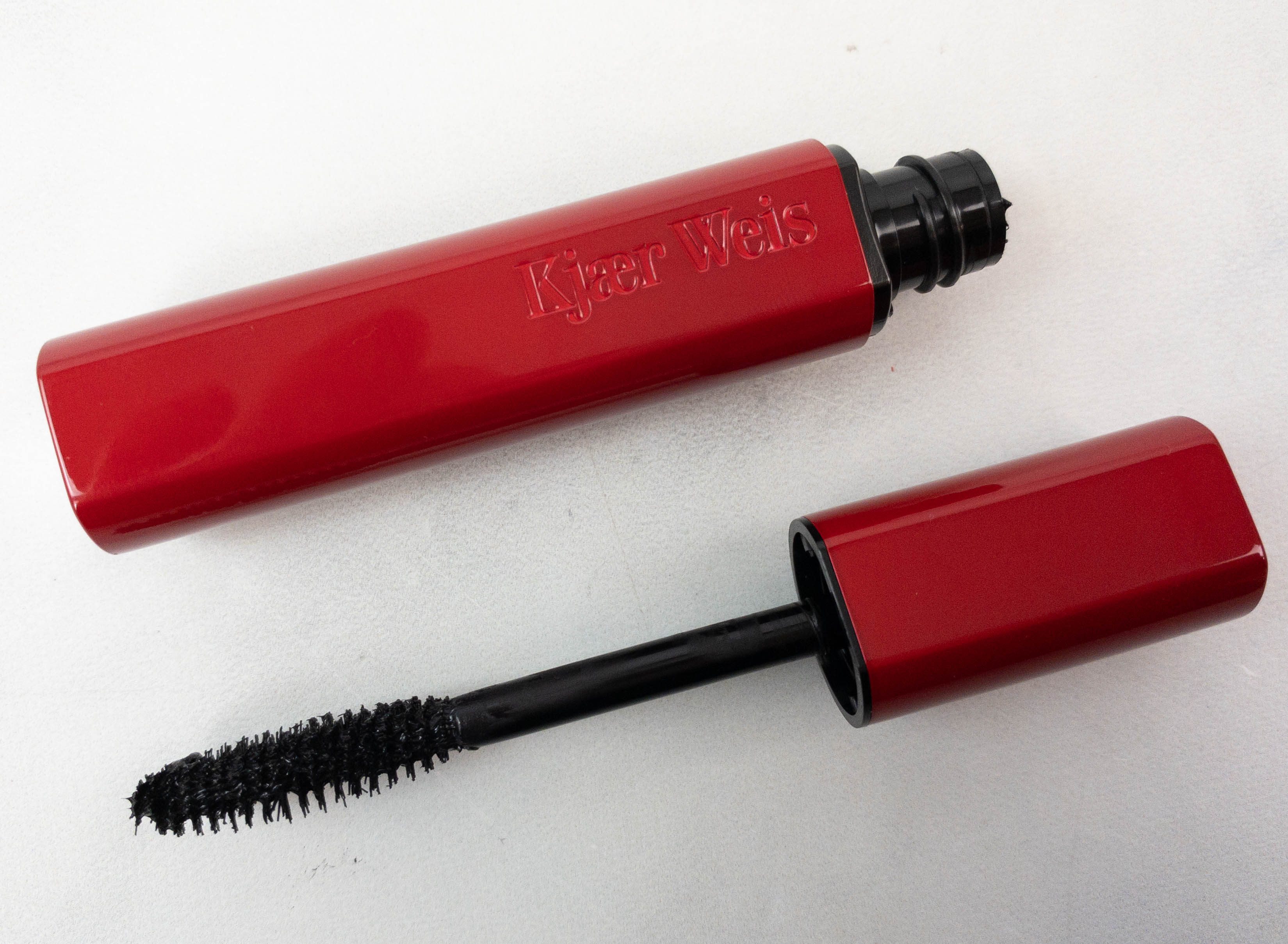 Unlike regular mascaras, it has a creamy texture and it doesn't clump, so achieving volumized lashes is effortless. It also holds up pretty well, so you don't have to worry about it wearing down as you enjoy the celebrations. Another thing to love about this mascara is its red case made from 50% recycled plastic and recyclable aluminum, so when you run out, all you have to do is to refill it.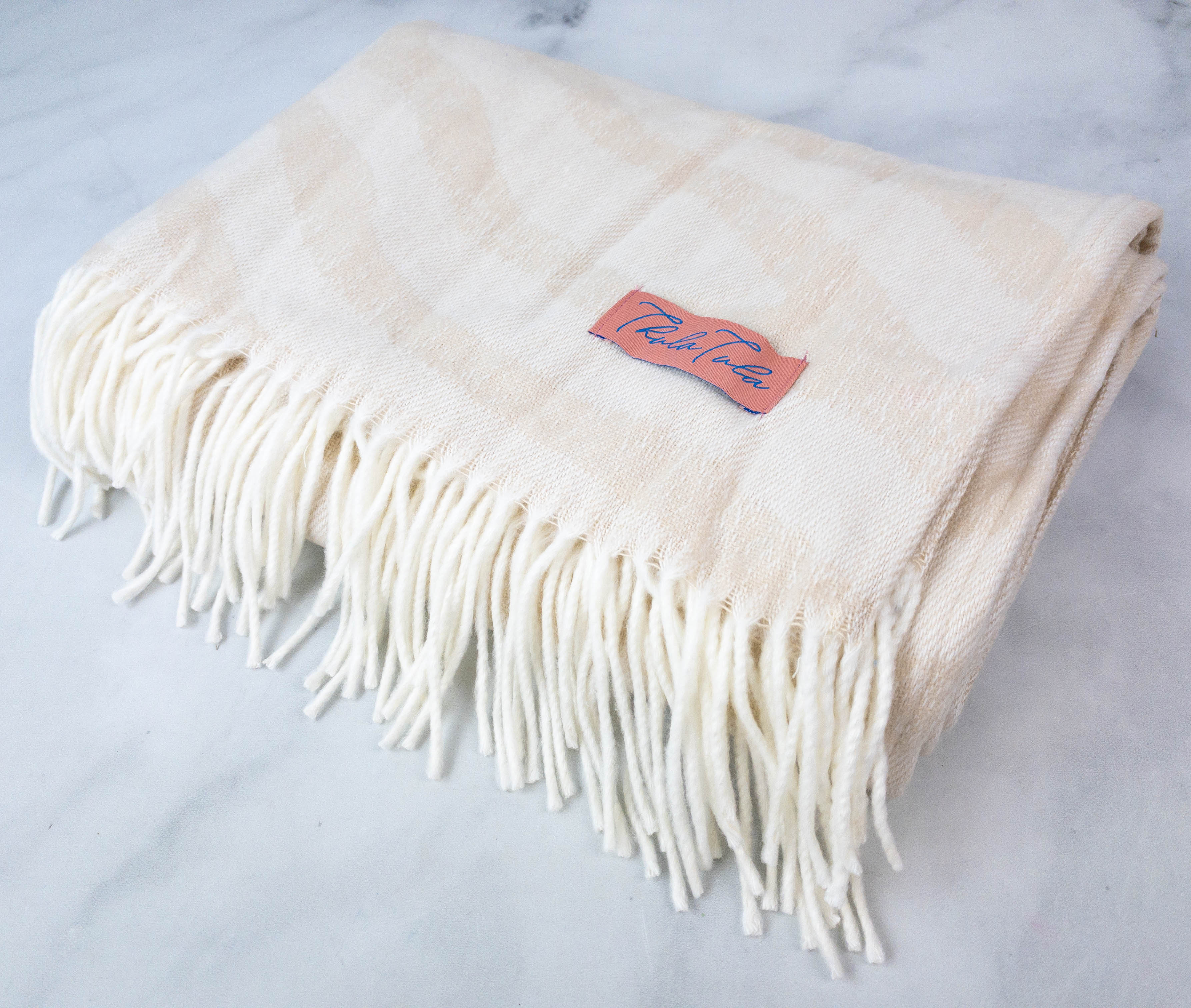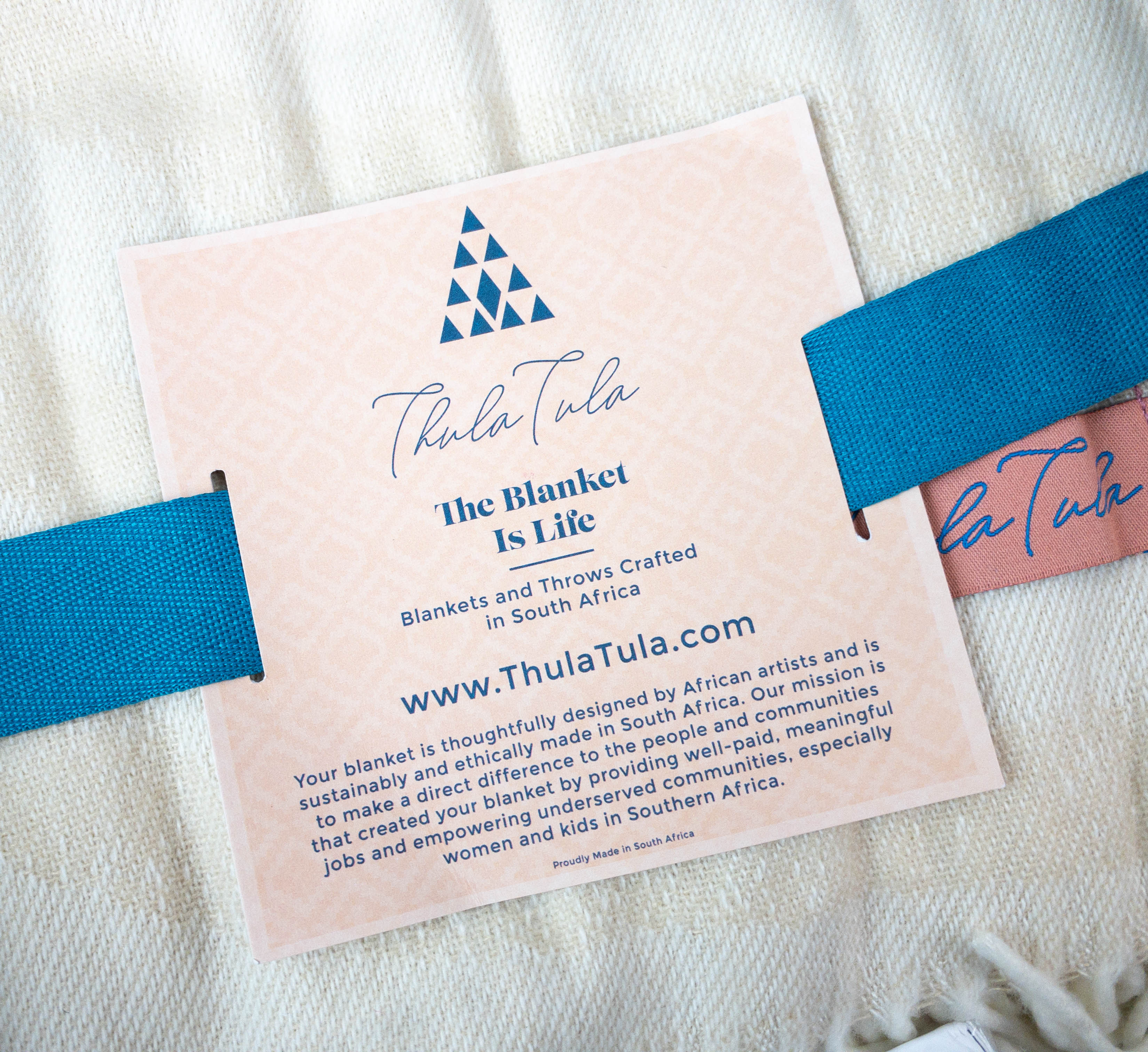 Thula Tula Ivory African Zebra Blanket ($110) Winter is the time to bring out the coziest blankets! This throw is ethically made in South Africa, without any toxic dyes or chemicals which means it's hypoallergenic. It's also versatile enough to be used both indoors and outdoors!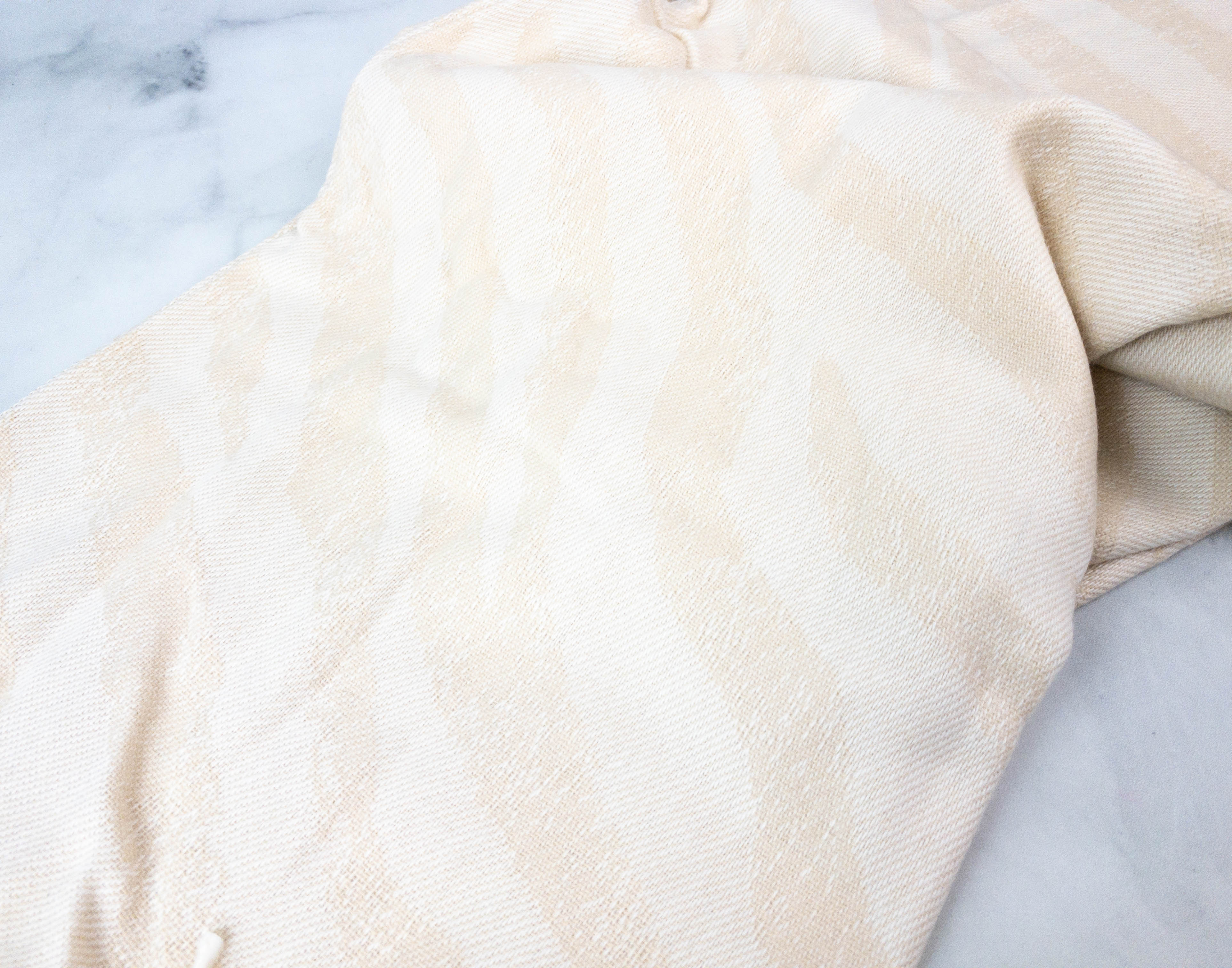 When you look closely, it actually has an African Zebra print throw and it looks really nice. This blanket is also fully machine washable. They recommend washing it in a cool, gentle cycle and to line-dry it to help preserve the fibers. You can also style this as a wrap!
CHOICE ITEM 1: Jennifer Zeuner Allie Necklace – Silver $187 OR Jennifer Zeuner Allie Necklace – Gold $187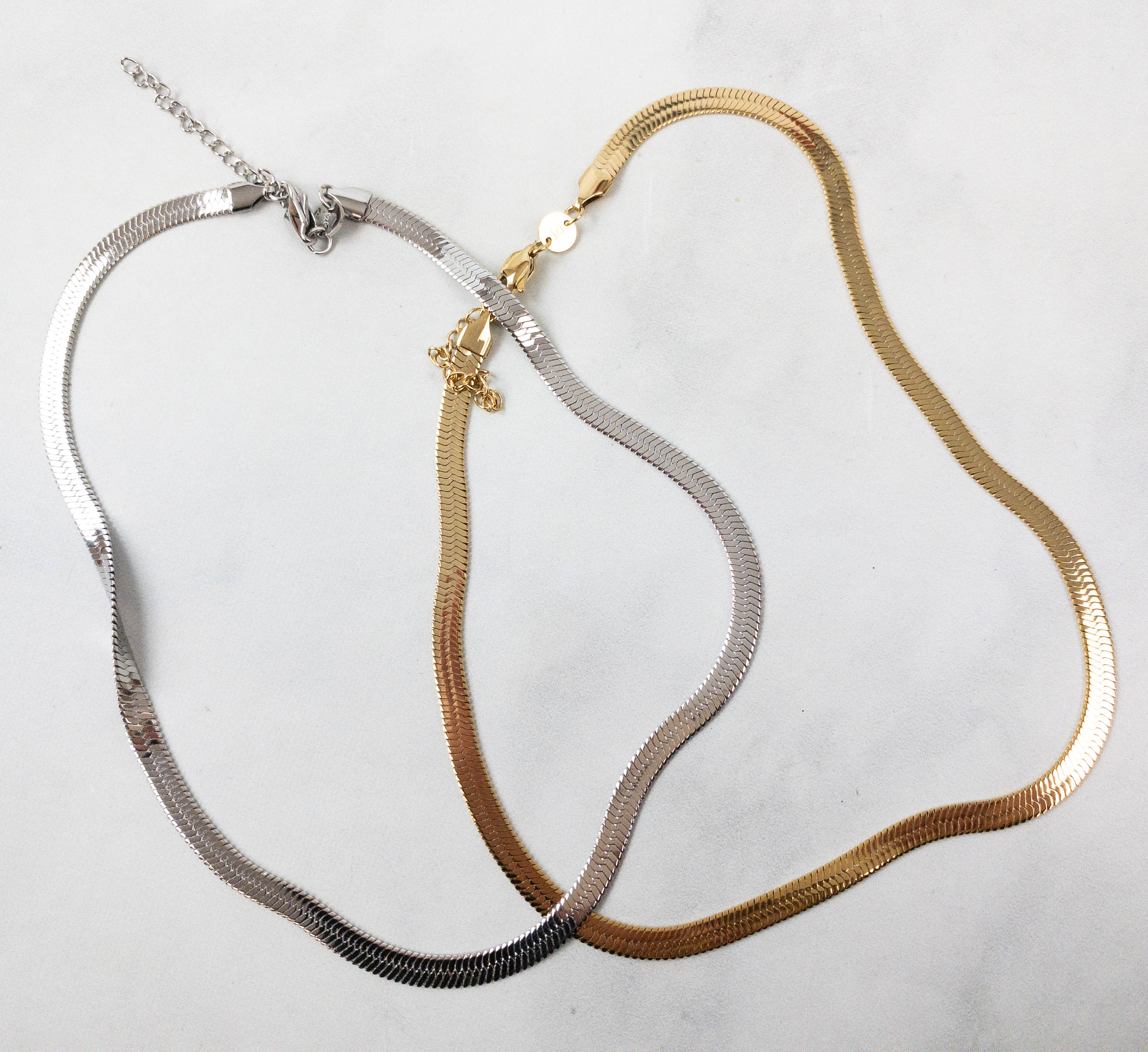 Whether in silver or in gold, this gorgeous necklace with a herringbone pattern can easily add a touch of elegance to winter outfits. It lays flat above the collarbone when worn, so it's perfect to wear with open-neck dresses or blouses. The chain measures 11″ with a 4″ extender and a lobster clasp closure.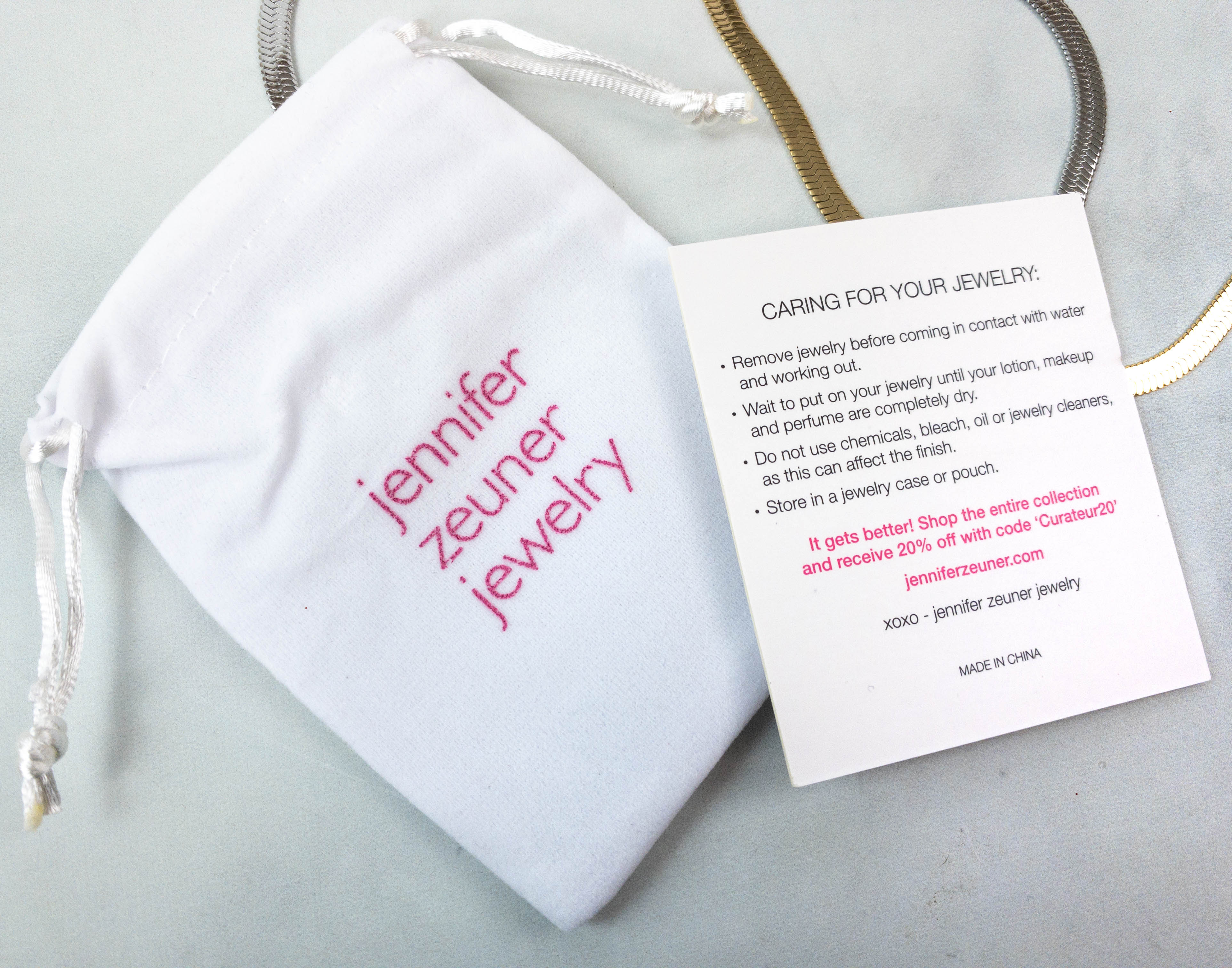 The necklace comes in a drawstring bag to keep it safe and secure. There's also a card that includes instructions on how to properly care for the jewelry.
CHOICE ITEM 2: ThirdLove Satin Robe – Black $65 OR JJ Winters Nikki Clutch $195 ASSORTMENT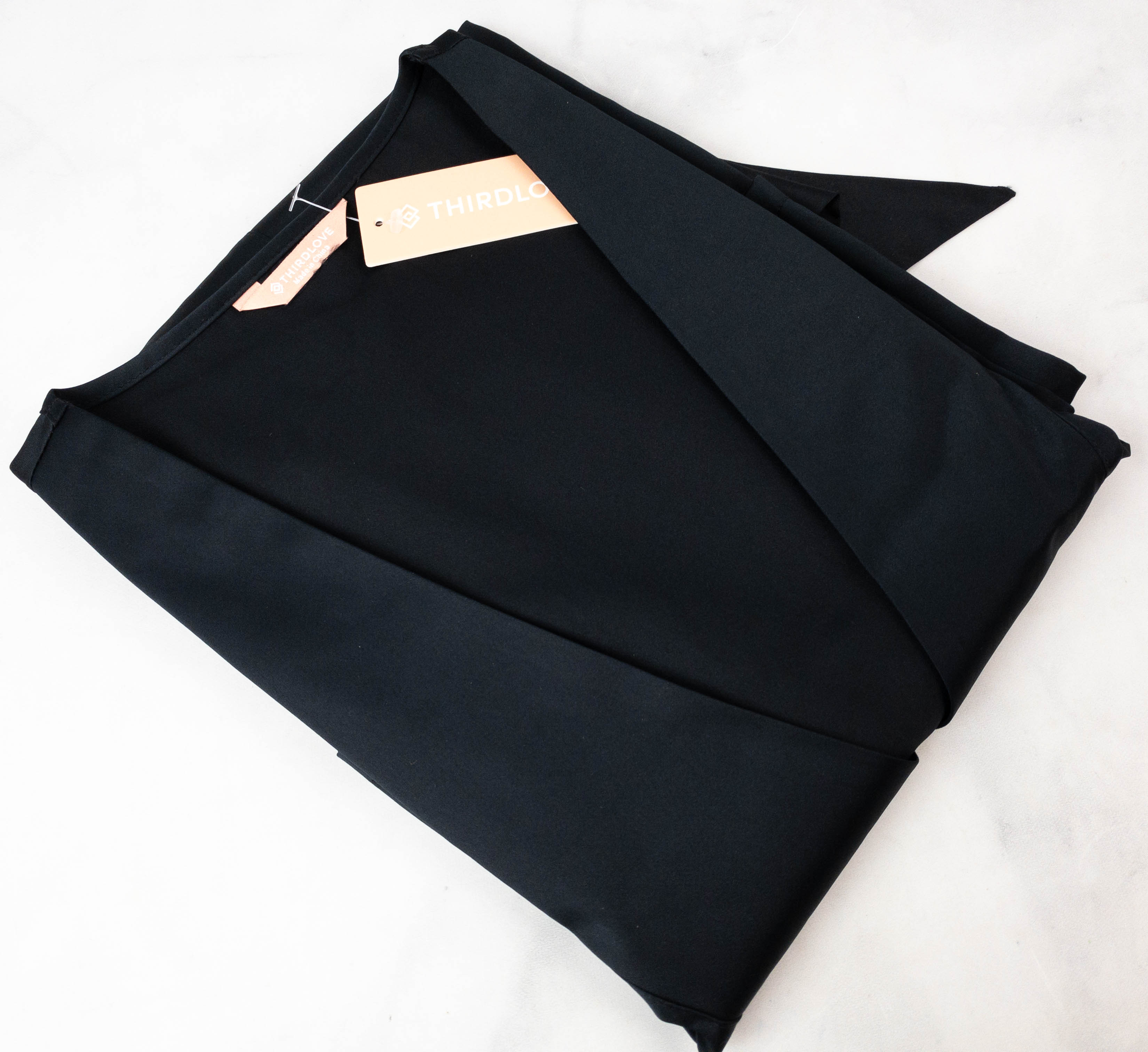 This robe is made with polyester but it's just as elegant and comfortable for lounging around as a silk robe.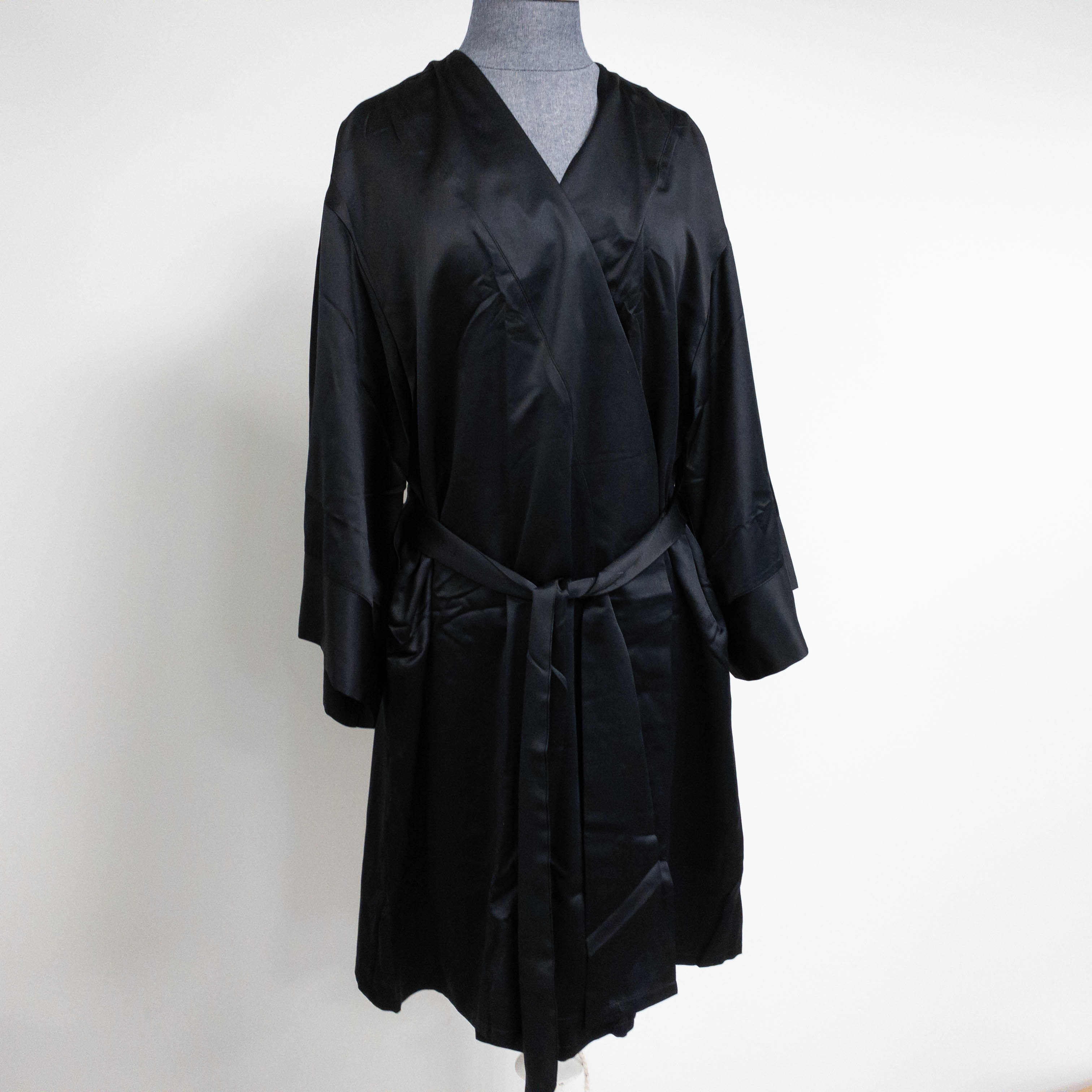 It's not too long, so you can use it even in the warmer months. It also provides a perfect amount of comfort with its loose fit and kimono-inspired sleeves! The satin robe was a one-size option and will fit some plus sizes, but not all of them. If I had to choose, I'd probably pick the clutch anyways, I love it.
This metallic gold clutch is another great way to add a touch of glam to your holiday ensemble. It features a magnetic snap closure and an interior card pocket. This bag is made in the USA, but the leather used is from Italy. It's so classy and unlike some of my smaller clutches, will easily fit a cell phone without shoving it in.
I can definitely feel the winter vibes from this Curateur box! From the skincare and makeup to the robe and blanket, this cohesive curation is really a great way to get one excited for the season. The necklace is a standout in this box! The herringbone pattern is really gorgeous and you can easily dress it up or down depending on the occasion. The resurfacing treatment is also a pretty promising item. It's multi-tasking so it saves me time in applying other skincare products, perfect for this busy holiday season. Value and content-wise, the Winter box is definitely a win!
Every Curateur box includes a magazine! There are lots of good photos and style inspirations on these pages. Here's a peek:
I was pretty excited to see a feature on Iris Apfel.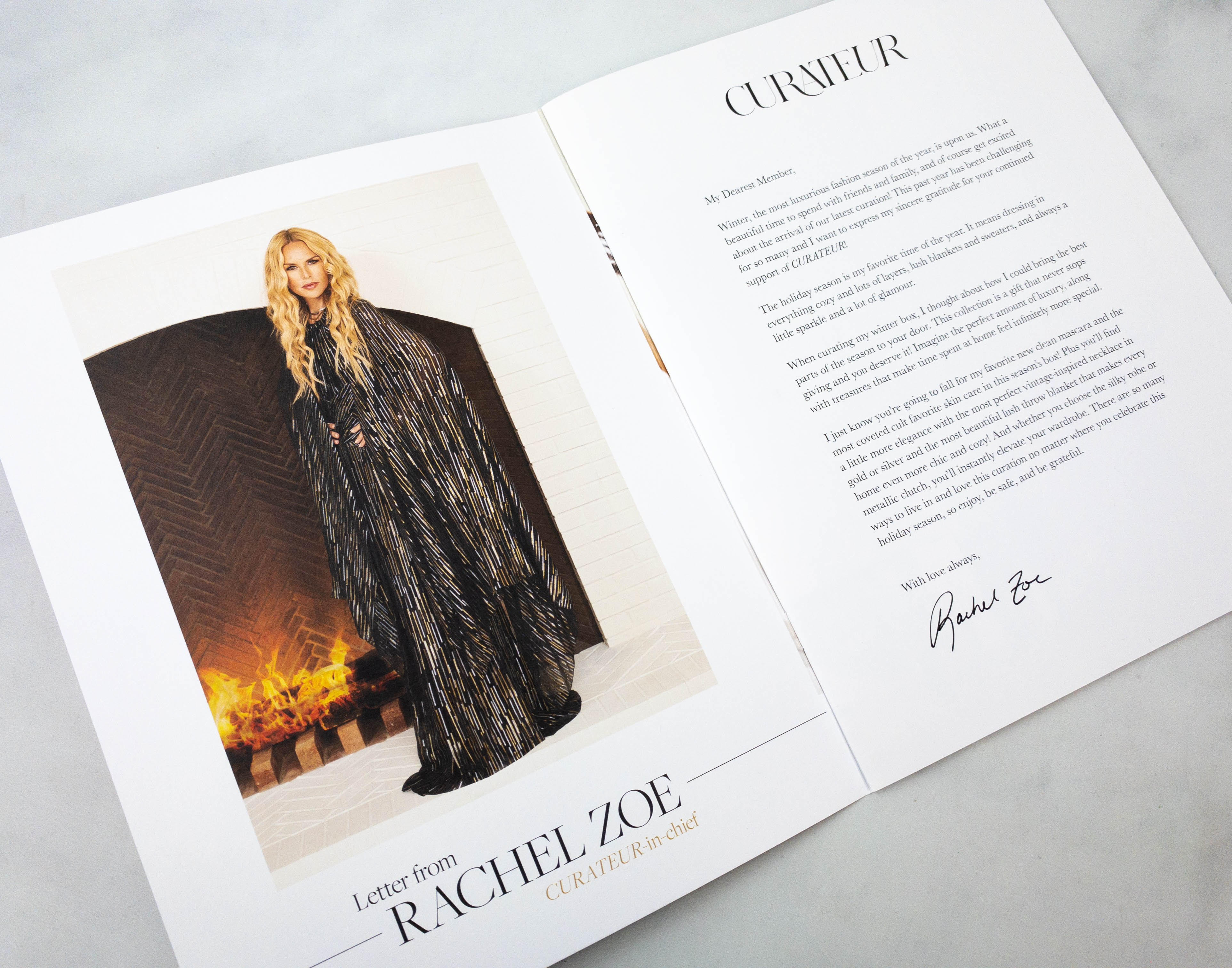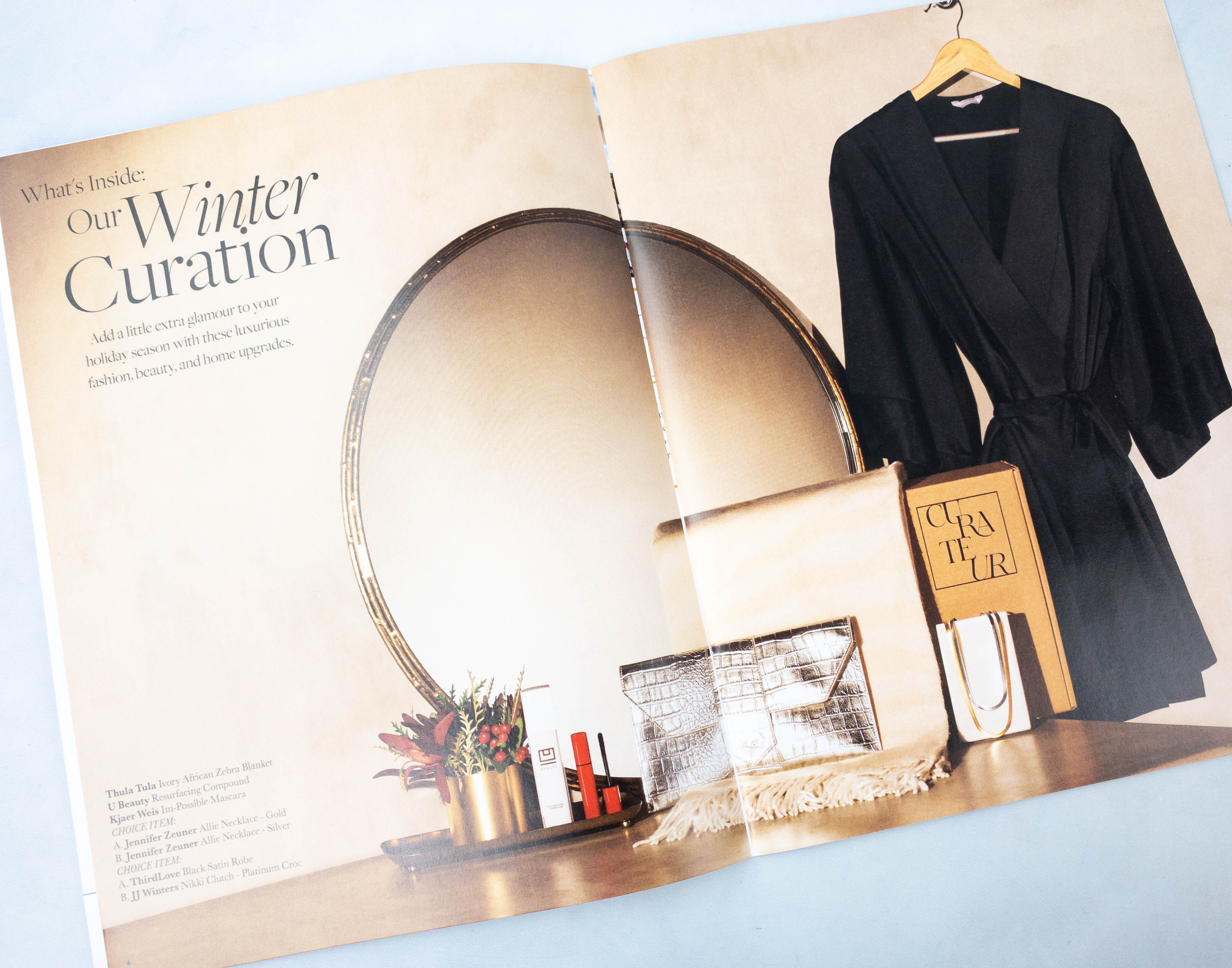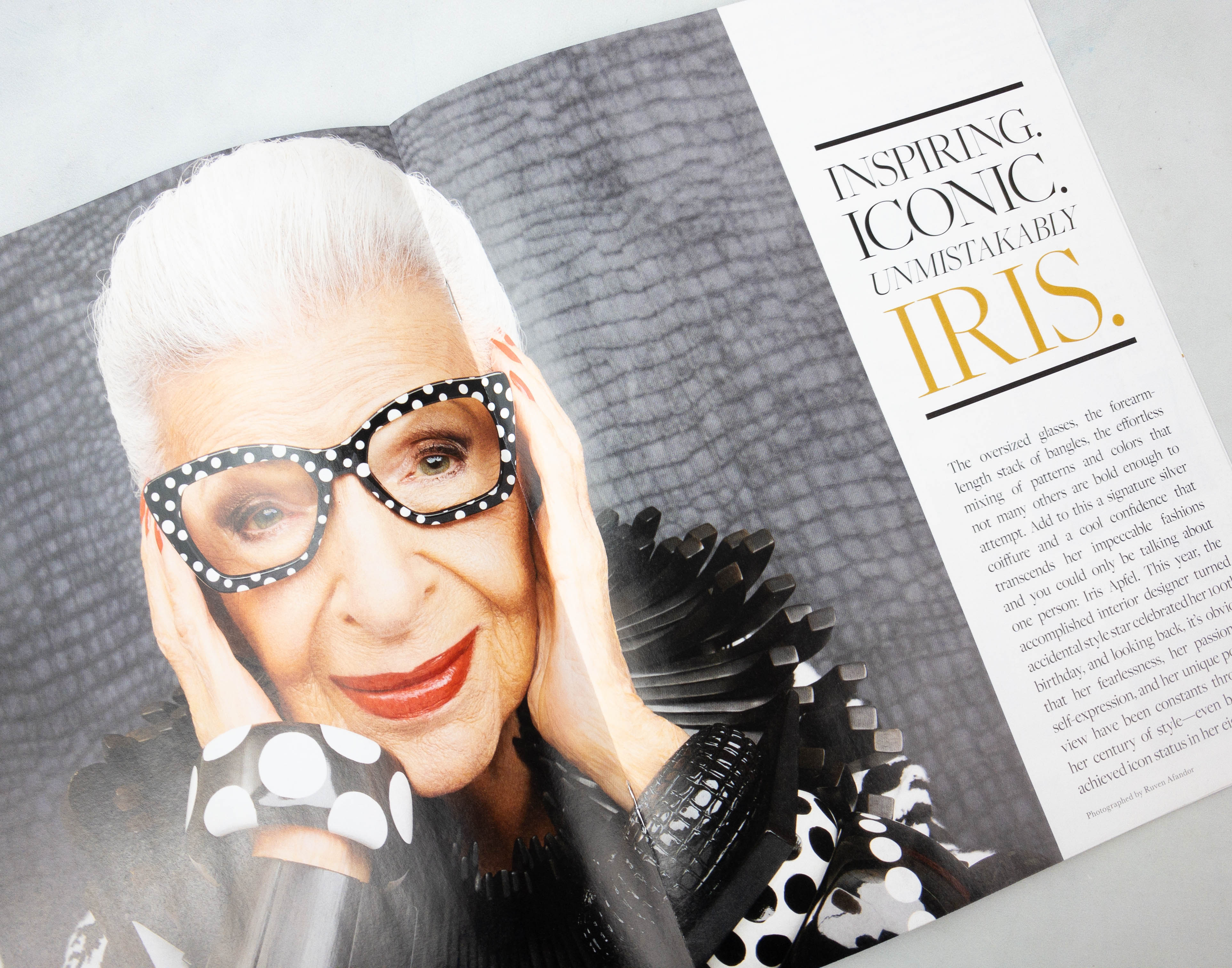 Curateur, formerly known as Rachel Zoe Box of Style, offers a membership that delivers luxurious fashion, beauty, and home items to your door every season. They promise to feature both establish brands and up-and-coming ones, curated by fashion designer Rachel Zoe herself. Choose between Icon, $349.99 for an annual prepaid membership, or Star, a pay-per-season plan for $99.99 per quarter. Members also get year-round access to exclusive benefits like a members-only Shoppe, rewards program, and insider content. Shipping is free in the US. This stylish subscription is a reader favorite, making the list in multiple awards categories this year, including best subscription boxes for women and best fashion and style subscriptions!
What do you think of this box?