A monthly book surprise, BookCase Club never fails to send the best reads from different genres. For November 2021, we have two BookCase Club boxes: Popular Romance and Surprise-Me-Fiction!
DEAL: Save 50% on your first month! Use coupon code HELLOSUB501M. OR Get 10% off your entire order! Use coupon code HELLOSUB10.
Surprise-Me Fiction
Tomorrow by Damian Dibben ($17.33) This book is a fascinating read since it follows the life of a dog who is on the search for the man who granted him immortality. It is yet another touching story of the relationship between a dog and a human, but this time it's mixed with a little bit of history. The story has exquisite details, and I am deeply engrossed in it. If you're a dog lover, this will surely capture your heart. It will make you look after your dog way more. A page-turner story about loyalty, I must say!
The Opposite Of Everyone by Joshilyn Jackson ($15.45) An engrossing read, this novel is about how the choices we make shape our lives. It's centered on Paula Vauss, an independent divorce lawyer, and her mom, Kai. Trying to find answers to the message her estranged mother left her, she sets off on a journey. I was initially confused, but after I began to take reading seriously, I couldn't put the book down. It will keep you intrigued from start to finish. It really is a bittersweet novel about life.
Popular Romance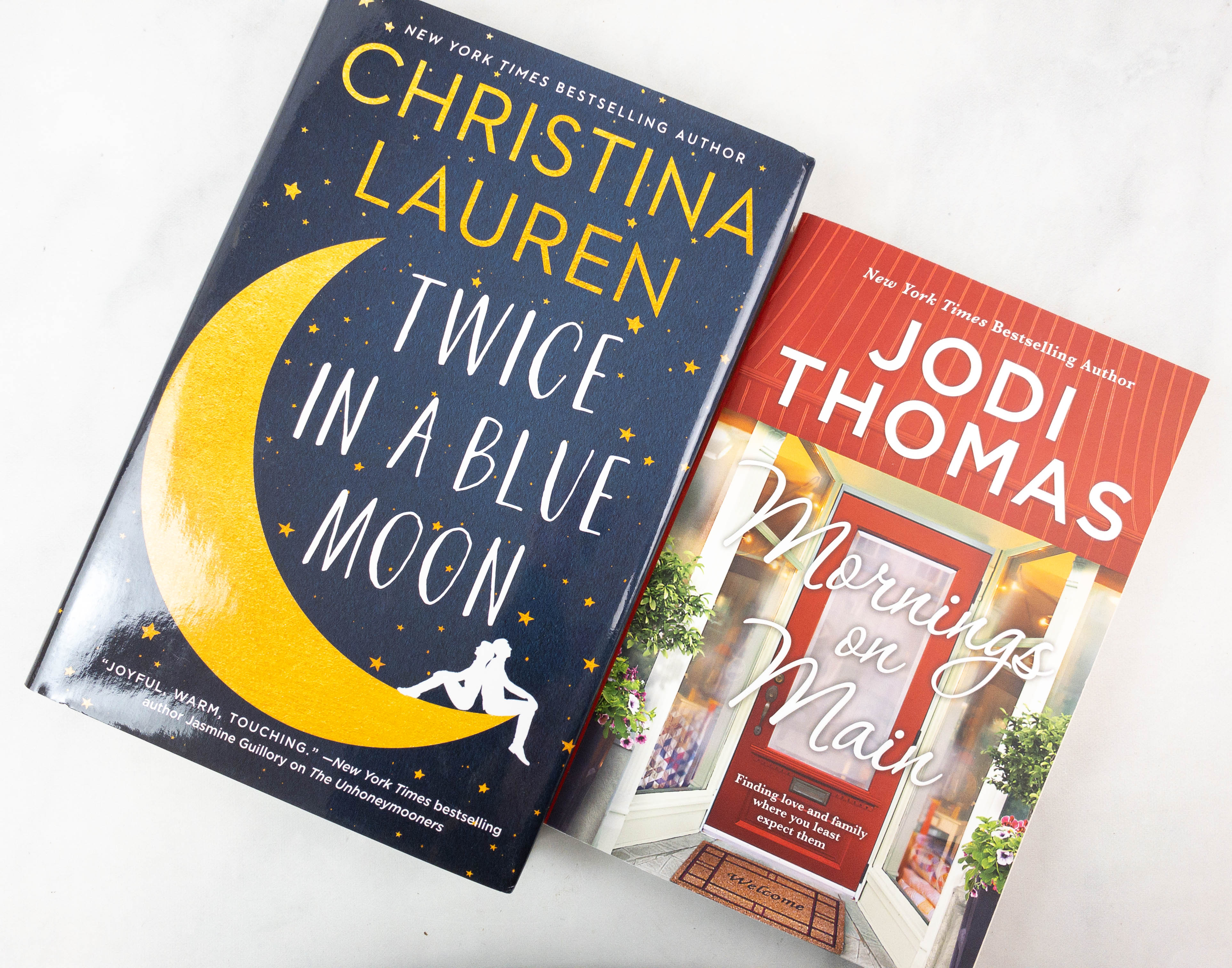 Twice In A Blue Moon by Christina Lauren ($4.69) For romance novel lovers, here's a novel about two people who fell in love while on vacation in another country. If you like reading about characters having a second chance at love and a lot of swoon-worthy moments, this story has it all. There are some heartbreaking parts as well, but overall, it was a great read!
Mornings on Main by Jodi Thomas ($8.86) A heartfelt novel about family and romance, this story depicts the ordinary, everyday lives of people in their hometowns. I found the story to be both entertaining and inspiring, and I think it is nicely written. If you like family sagas coupled with realistic romance, you'll appreciate this book.
I'm always thrilled to receive new books each month to spend my free time on! This month's picks are amazing, from fiction to romance novels. All of them are page-turners, and some of them have such well-written characters that I've come to adore. Overall, this book subscription is one of the best ways to satisfy bookworms. Also, they send great books from your preferred genre so you don't have to spend too much time finding your next read!
BookCase.Club is a monthly book subscription box offering different genres: Children's, Young Adult, Mystery/Thriller, Sci-Fi/Fantasy, Romance, and Historical/New Age/Contemporary Fiction. Each box contains 2 hand-picked books, except for the Children's box, which includes 3 books. It costs $9.99 per month, making it one of the most inexpensive book subscriptions out there. The BookCase.Club book subscription box made the list in our 2021 readers' choice picks of best book subscription boxes!
Have you tried BookCase.Club? What are you currently reading?