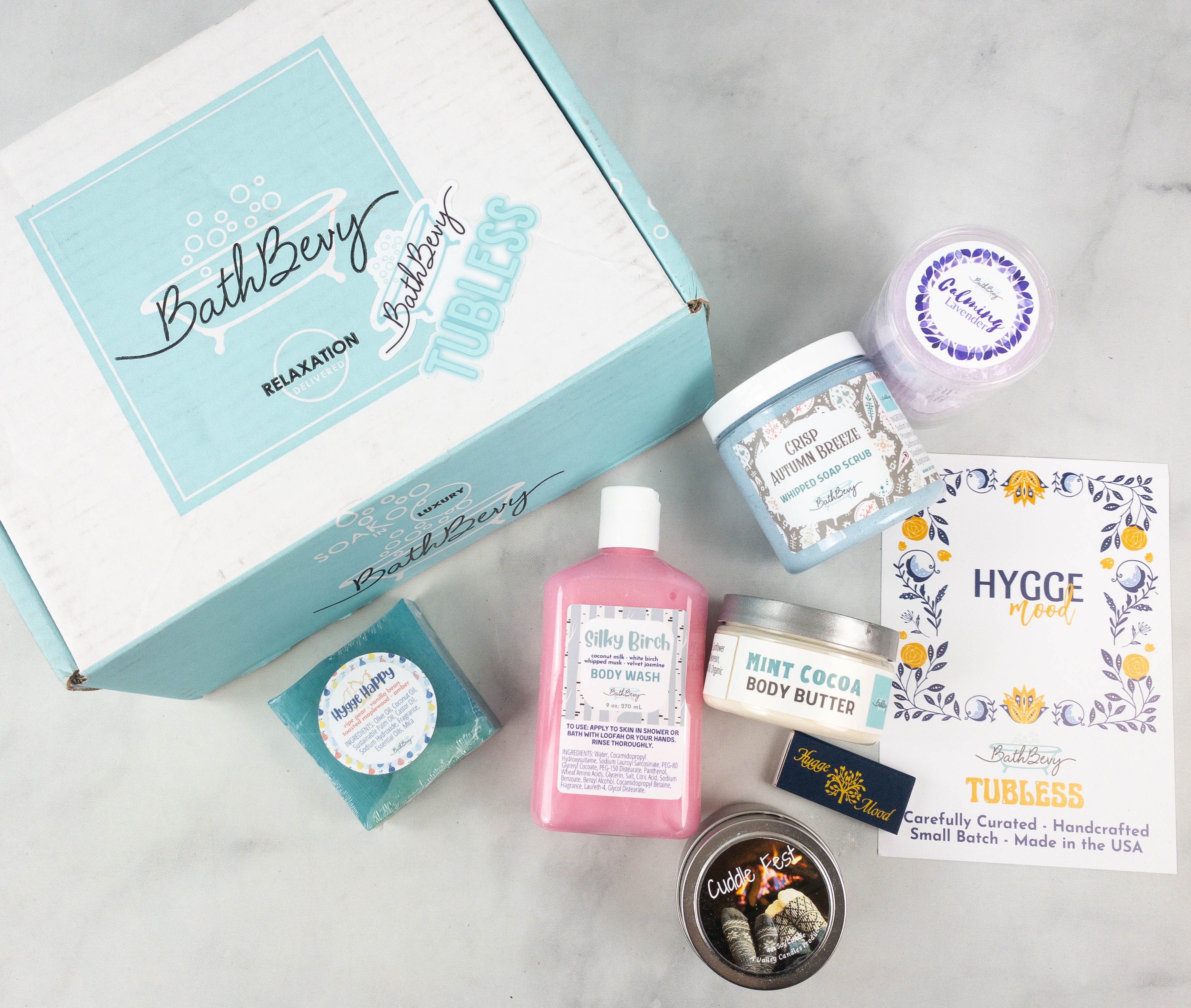 It's time to get the rest and relaxation we deserve! The Hygge Mood themed Bath Bevy TUBLESS BOX for November 2021 is packed with bath and body products to help us get cozy this season. Expect pleasantly-scented items that can be enjoyed without a tub, from a candle to a nourishing body butter and other goodies to keep you smelling fresh off the shower.
DEAL: Save $4 on your first box!. Use coupon code HELLO10.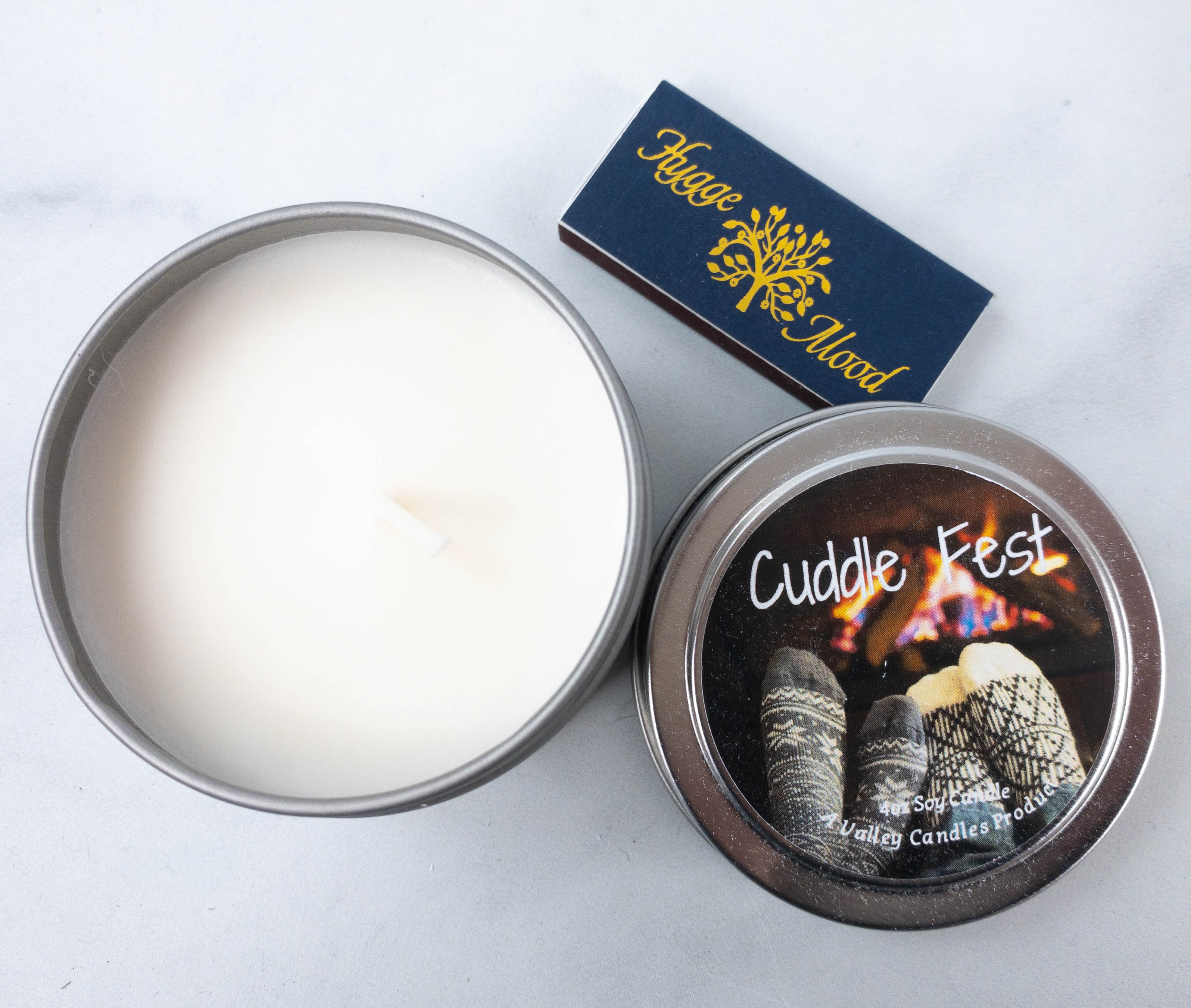 Valley Candles Cuddle Fest Candle. This candle in a tin smells warm and comforting, which is really apt for the name Cuddle Fest. It has scent notes of fig, orchid, brown sugar, and sandalwood, wrapped up perfectly by maple and vanilla. Another thing to love about this scented candle is that it's made with soy wax. It lasts longer than your average candle and it also burns clean. Of course, they included matchsticks so the candle is ready to use anytime!
Whipped Soap Scrub. Gentle and fluffy, this soap scrub cleanses the skin and exfoliates without the dryness or redness afterward. Since the formula is whipped, it's very lightweight and it feels luxurious when applied to the skin. I received it in Crisp Autumn Breeze, a fresh citrusy scent with notes of lime, lemon, bergamot, and ozone. Other scent possibilities for this whipped soap scrub are Pumpkin Apple Butter, Silky Birch, Cozy in Cashmere, and Cider.
Calming Lavender Shower Steamers. Another staple item in the box are shower steamers! Everybody gets it in Calming Lavender which fits the hygge theme really well. Lavender is known to have soothing and calming properties, so you can look forward to using it to relax after your jampacked holiday schedule. These steamers are easy to use! Just place it on the shower floor away from the direct flow of the water and it will transform your shower room into a therapeutic steam room.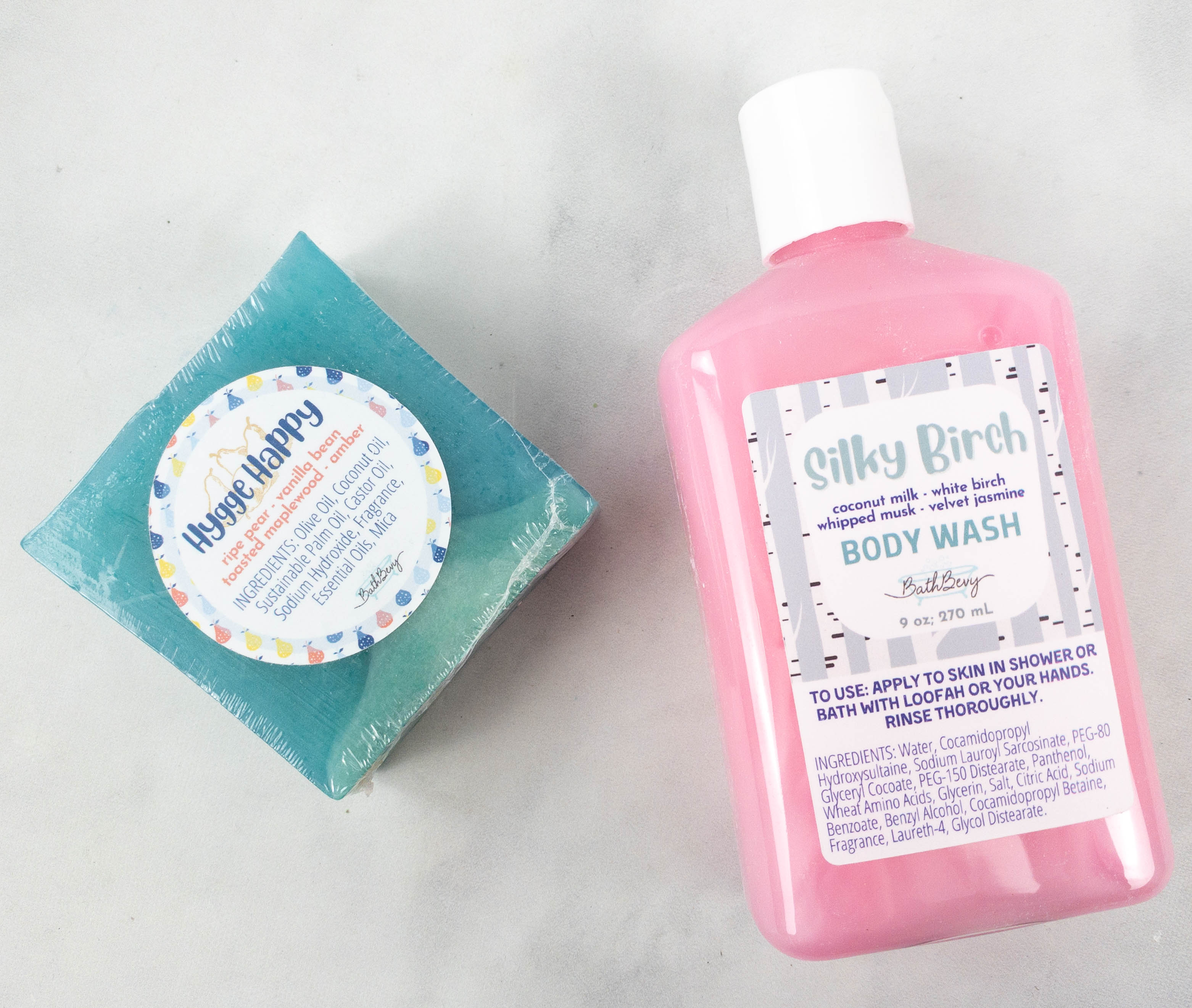 Hygge Happy Soap. Not a fan of whipped soap? This soap bar is for you. It's just as gentle and nourishing and it even contains moisturizing oils that produce a rich and luxurious lather. It can be used either for the face or for the body, or even as a shaving soap. The Hygge Happy scent indeed invokes happy feelings, thanks to a blend of ripe pear, vanilla bean, toasted maplewood, and amber.
Body Wash. Another pleasant-smelling option for cleansing without stripping moisture is this body wash! This month, there are two scent possibilities: Silky Birch or Cider. I received Silky Birch, which has scent notes of coconut milk and white birch blended with whipped musk and velvet jasmine. The formula creates a rich lather, but unlike other body washes, it doesn't leave my skin heavy or sticky.
Mint Cocoa Body Butter. After a relaxing shower, you can apply this body butter to make sure that your skin stays hydrated all day. The thick and creamy formula applies smoothly, and the best thing is that it has menthol crystals that help soothe and calm the skin. Other ingredients include cocoa butter and organic arnica extract.
This month's Tubless curation proved that bath and body items can be used to create relaxing rituals to put you in a hygge mood. Everything definitely helped me feel relaxed, especially the scented candle and the shower steamers. The featured scents also fit the season well, like lavender, vanilla, and mint. Who says you need a tub to reward yourself with some cozy me-time? You still can have the pampering session you deserve and this BathBevy Tubless box will do the trick!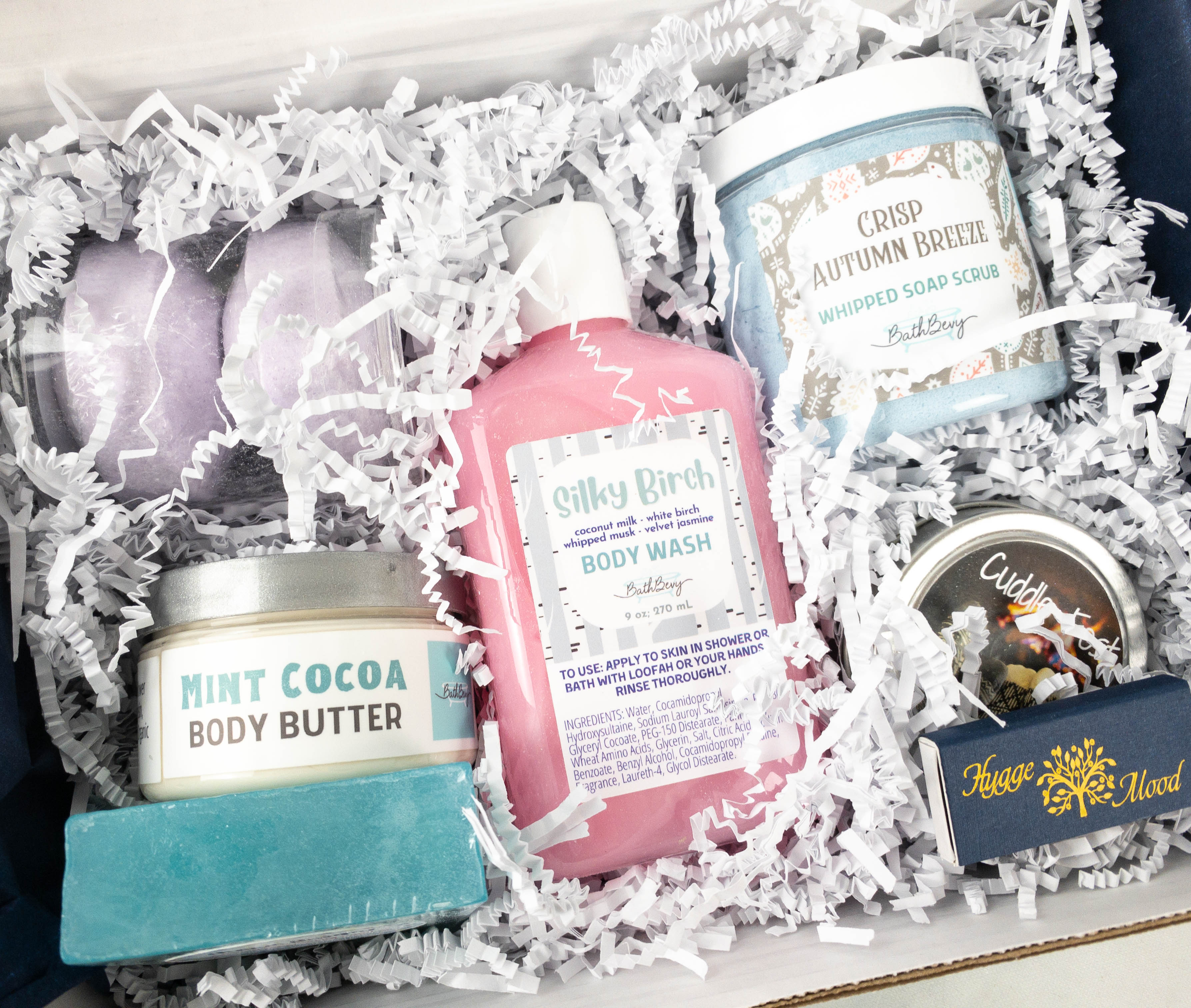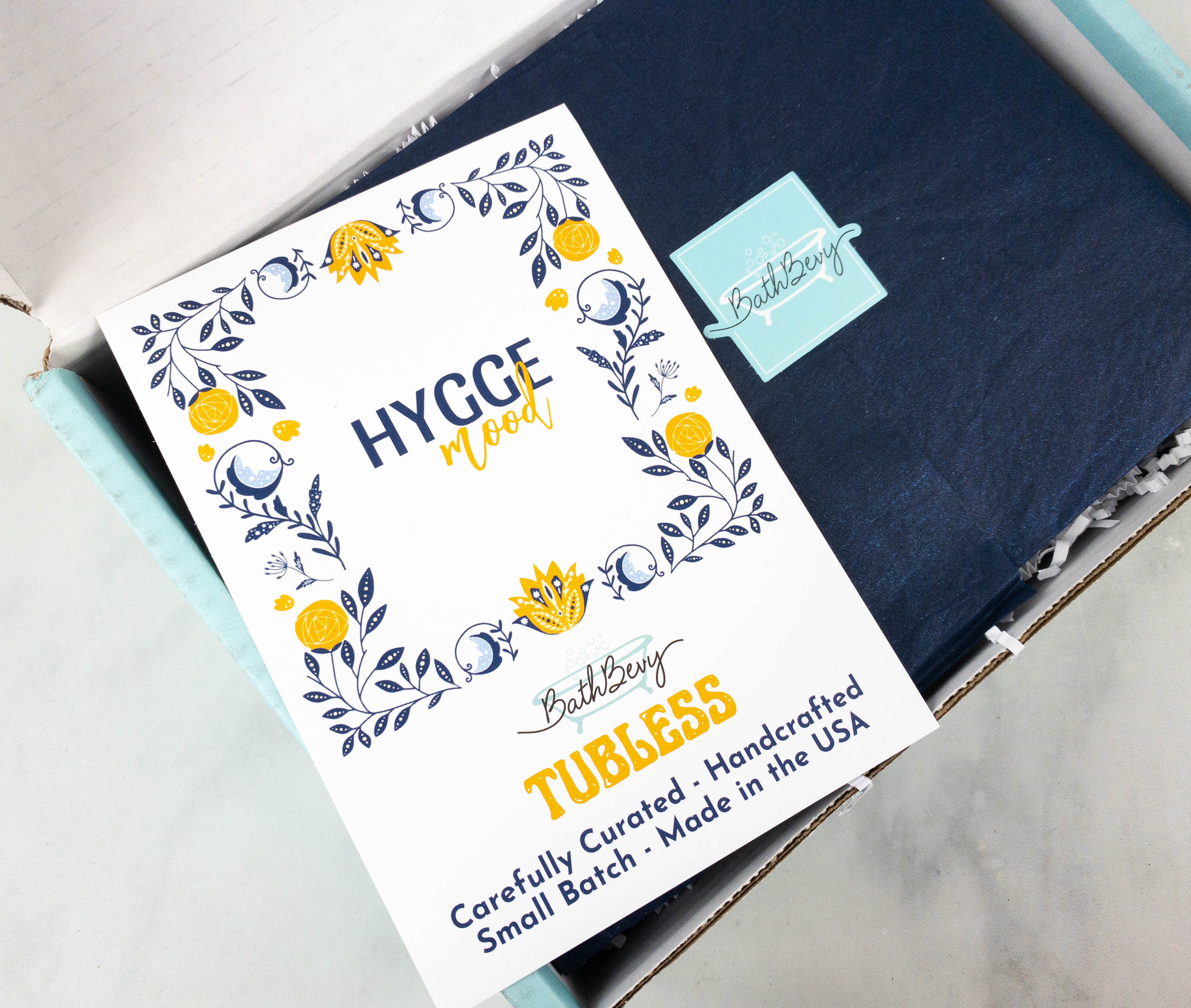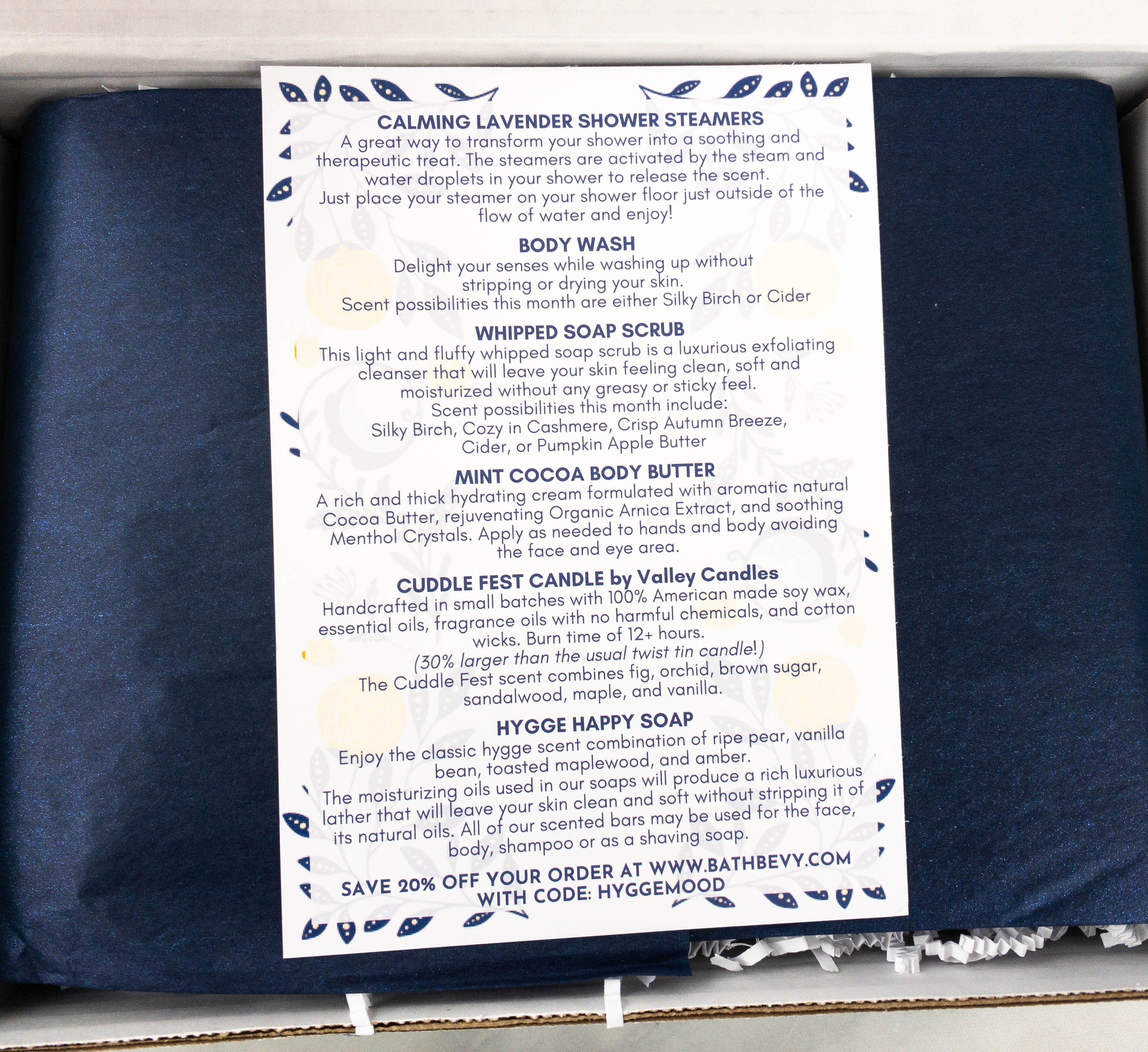 Bath Bevy is a bath and body subscription. They now offer a TUBLESS box for those who enjoy bath and body products but don't have a tub! Instead of bath bombs or bath salts, this box includes body washes, whipped soaps, sugar scrubs, lotions, shower steamers, and other products that don't require a tub. The items are curated around a theme and they are mostly from indie bath and body brands. A monthly subscription is $37.50 per box.
Bath Bevy's bath subscription box topped the list in our 2021 readers' choice picks of best bath subscription boxes! This box is called Tubless because it is especially curated for homes that don't have tubs or people that just prefer to shower!
Did you love this month's Tubless box by Bath Bevy?