Filled with cozy holiday scents, the December 2021 Bath Bevy Tubless Box is HOME FOR THE HOLIDAYS themed. It includes a range of products that don't require a tub to be enjoyed, such as shower steamers, body scrub, body lotion, and other scented items to keep us in a good mood all holiday long!
DEAL: Save $4 on your first box!. Use coupon code HELLO10.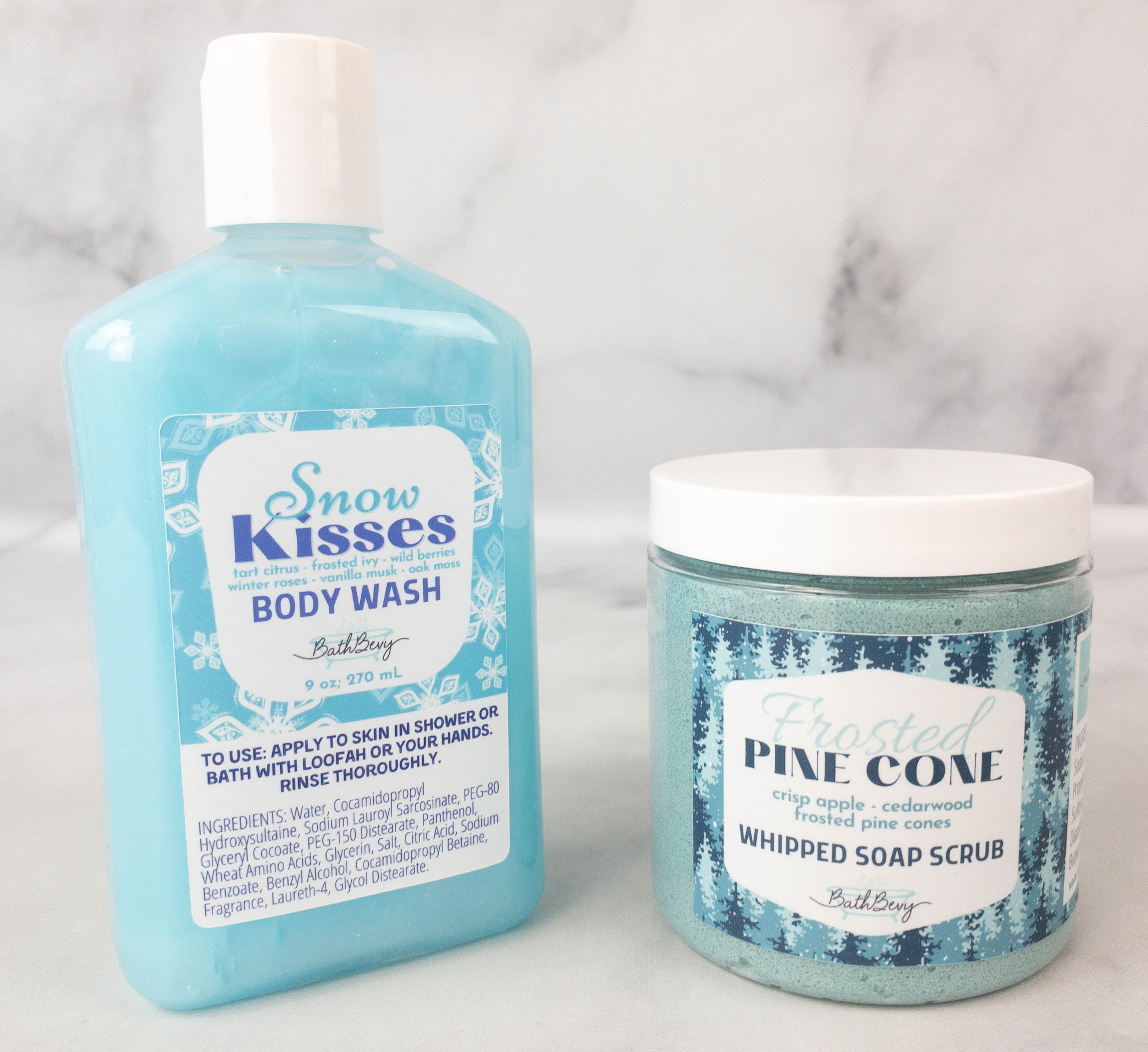 Snow Kisses Body Wash. This aromatic body wash that makes morning showers better! There are four scents available, all inspired by the winter season: Sugar Cookie, Winter Stroll, Frosted Winter Berry, and the one I received, Snow Kisses. Having scent notes of tart citrus and frosted ivy, as well as wild berries winter roses, vanilla musk, and oat moss, this became one of my instant favorites! It can be used alone or with a loofah. I love the creamy lather it creates, which leaves my skin feeling smooth without stripping moisture!
Frosted Pine Cone Whipped Soap Scrub. This soap scrub is one of the best bath products to include in your daily routine. Light and fluffy, it leaves the skin clean without the sticky feeling. I received the Frosted Pine Cone variant, which has notes of crisp apple, cedarwood, and of course, frosted pine cones. Other scent possibilities include Pink Evergreen, Cozy Vanilla, and Hygge Happy.

Candy Cane and Tree Farm Shower Steamers. Another batch of shower items to use in the shower: a couple of shower steamers! Candy Cane is scented with fresh peppermint essential oils, while Tree Farm is scented with fresh-cut evergreens, juicy apples, and sprigs of holly berry. These steamers smell ridiculously amazing and they are also easy to use. Just place one on the shower floor, away from the direct flow of the water, and you can already enjoy the aroma!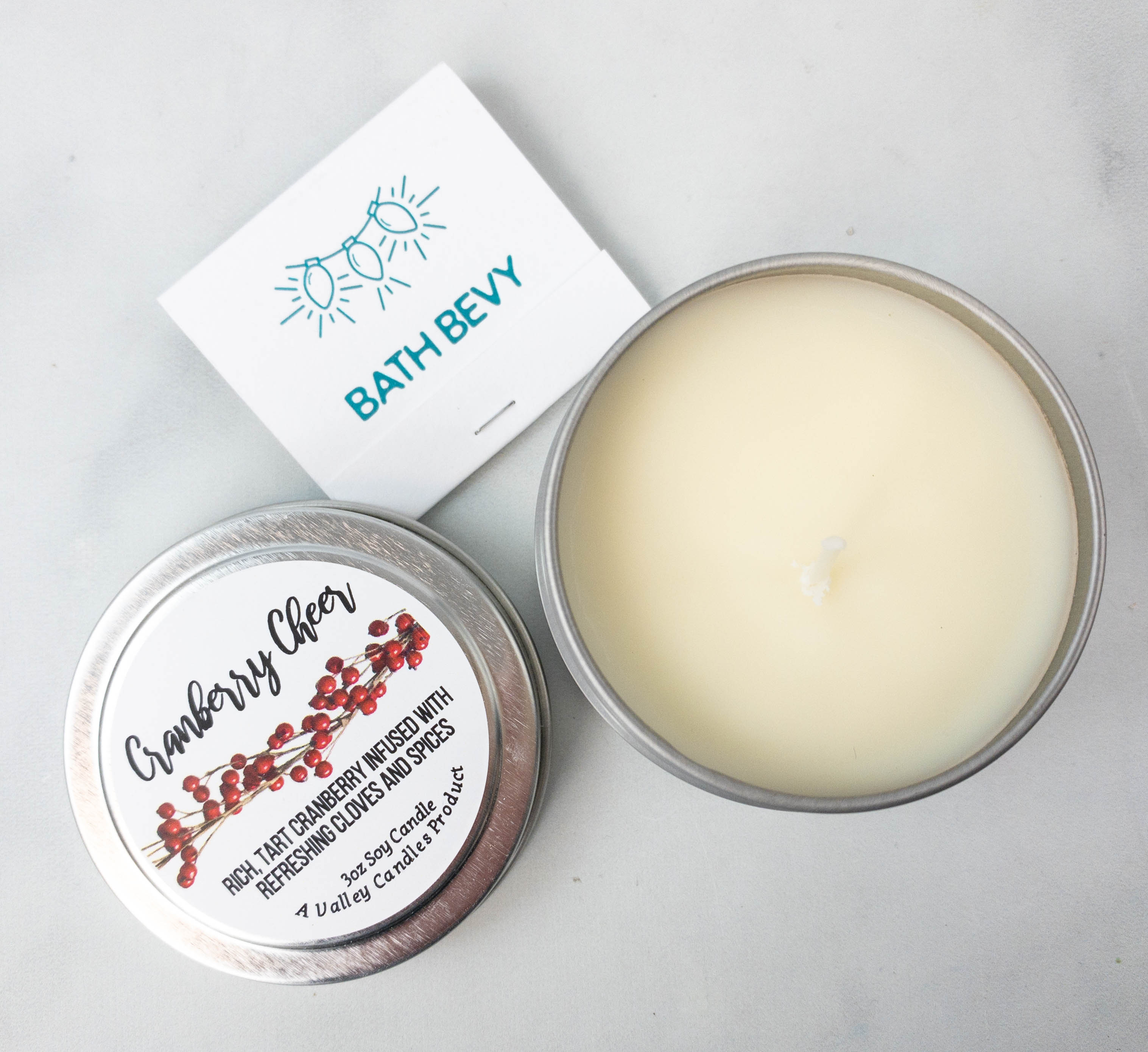 Cranberry Cheer Candle. Made in small batches with soy wax and mixed with tart cranberry scent and refreshing cloves and spices, this candle helps set the mood for self-care time! This tin candle's burn time is about 12 hours, which is 30% longer than average ones. With a cotton wick, it sure burns clean and smells fantastic. They even include matchsticks, so you can light up the candle whenever you feel like it!
Peppermint Twist Body Lotion. After a relaxing shower, it's time to apply this body lotion to keep your skin smooth and plump all day! Peppermint Twist has a cool aroma of mint with white sugar and a slight hint of vanilla. The formula doesn't feel heavy on the skin and it isn't sticky either.
Everything in this month's Bath Bevy box helps create a delightful shower experience! From the body wash to the body lotion, I love that the scents are all inspired by the festive season. They make me feel so cozy and relaxed! The Tubless Box is ideal for you whether you want to enjoy Bath Bevy products that don't require a tub, or you simply want to reward yourself with the relaxation that you deserve. Their themes usually fit the season well, which adds so much excitement to the whole box!
Here's a look at the festive packaging of the Home For The Holidays box: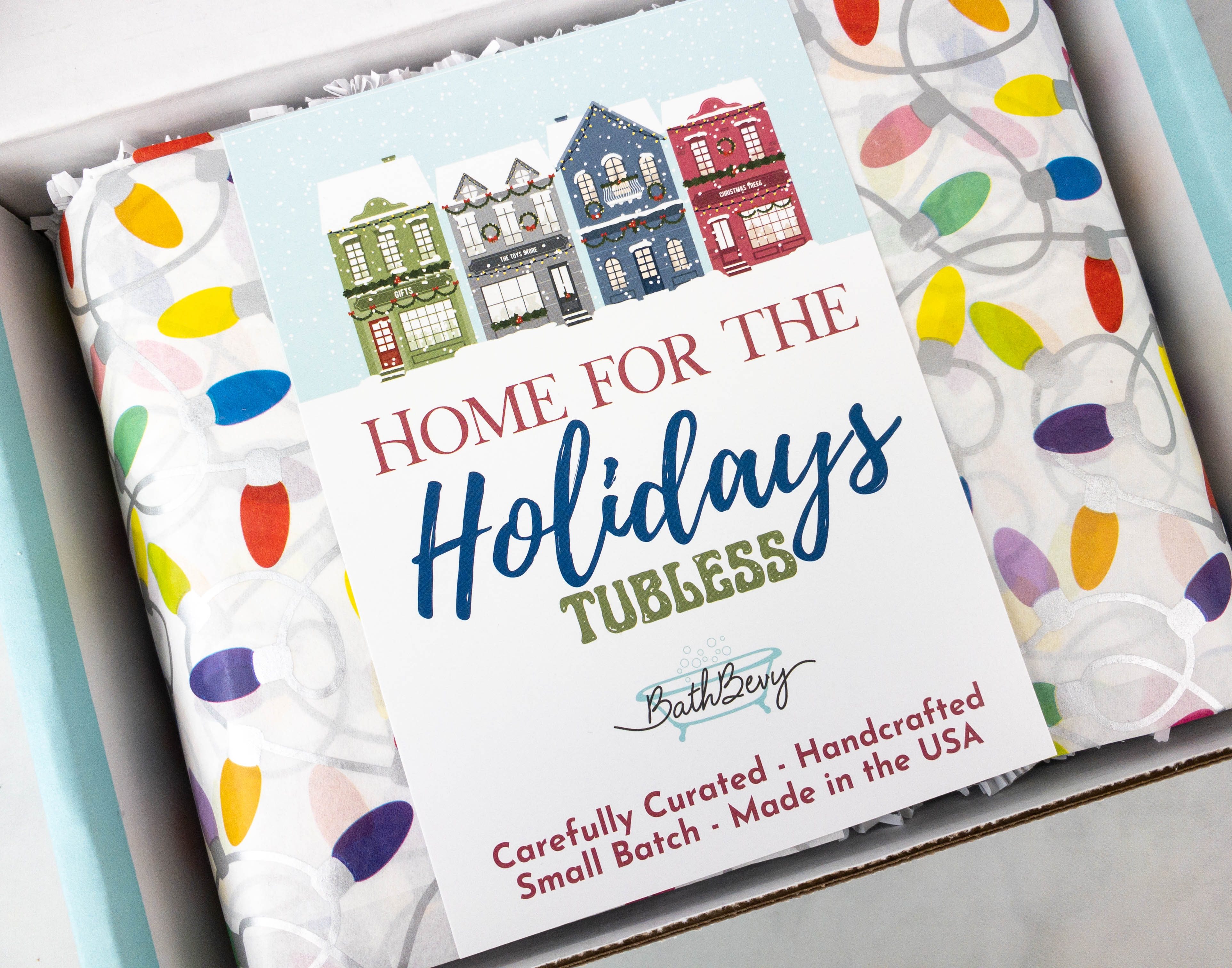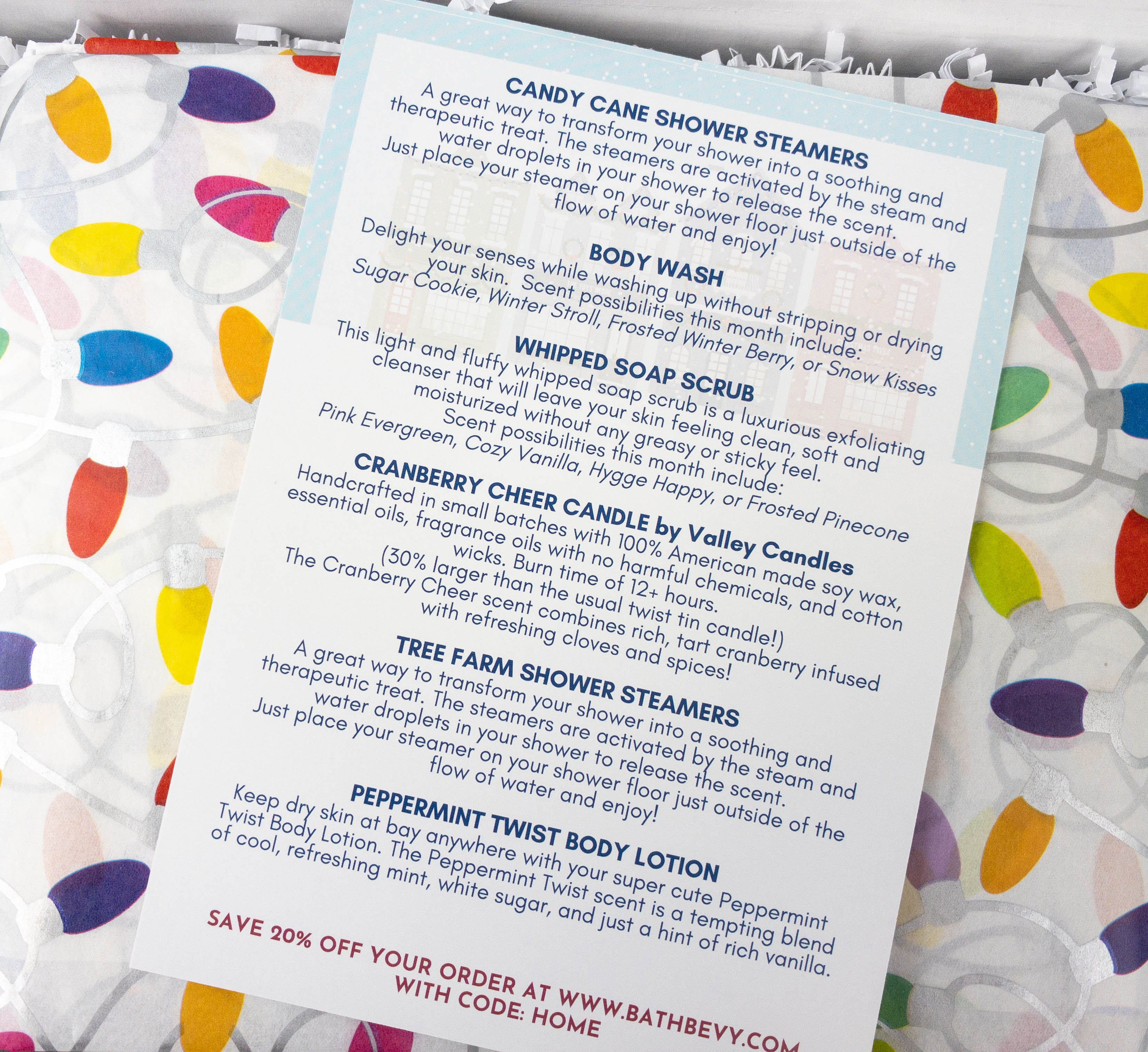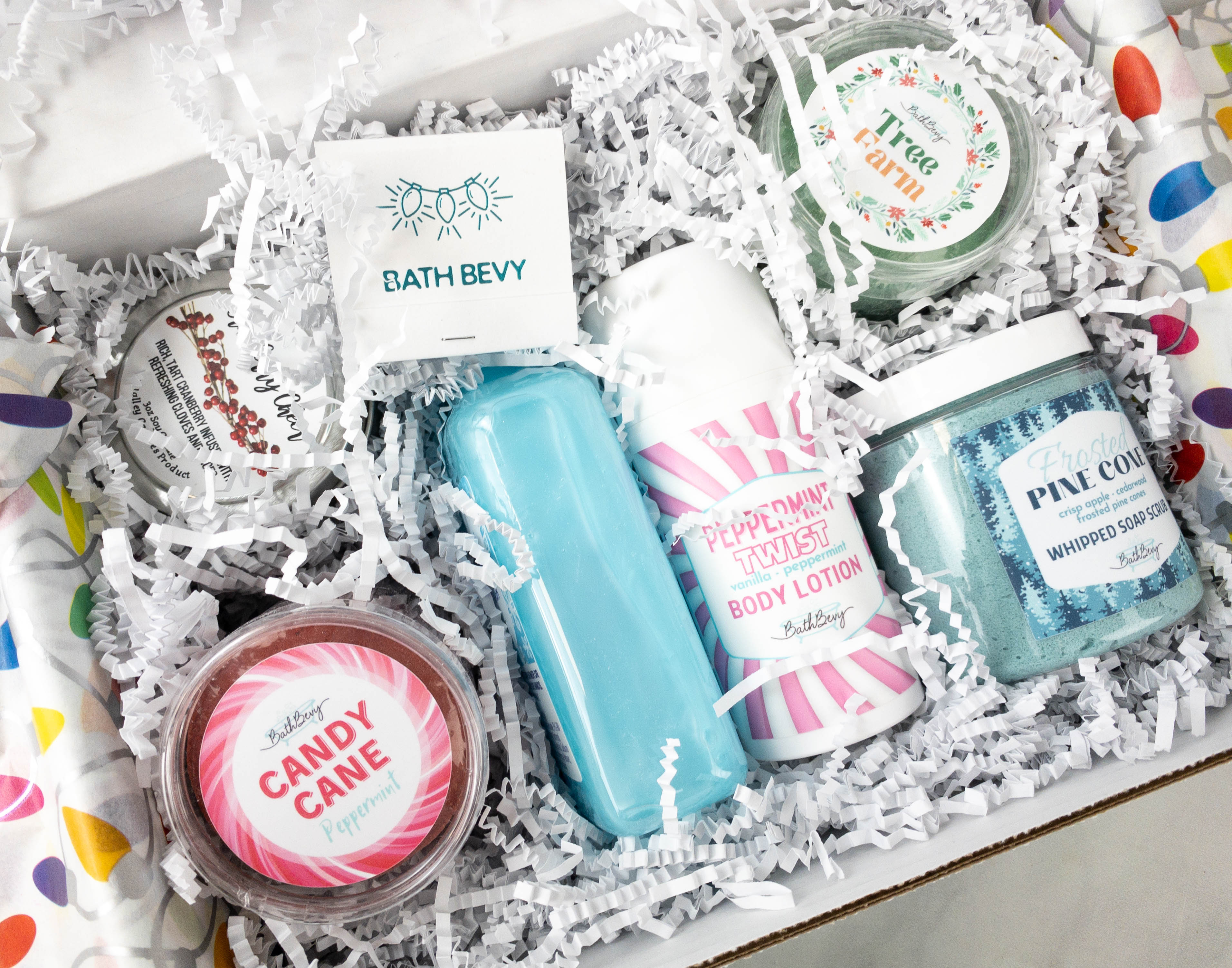 Bath Bevy is a bath and body subscription. They now offer a TUBLESS box for those who enjoy bath and body products but don't have a tub! Instead of bath bombs or bath salts, this box includes body washes, whipped soaps, sugar scrubs, lotions, shower steamers, and other products that don't require a tub. The items are curated around a theme and they are mostly from indie bath and body brands. A monthly subscription is $37.50 per box.
Bath Bevy's bath subscription box topped the list in our 2021 readers' choice picks of best bath subscription boxes! This box is called Tubless because it is specially curated for homes that don't have tubs or people that just prefer to shower!
Did you love this month's Tubless box by Bath Bevy?