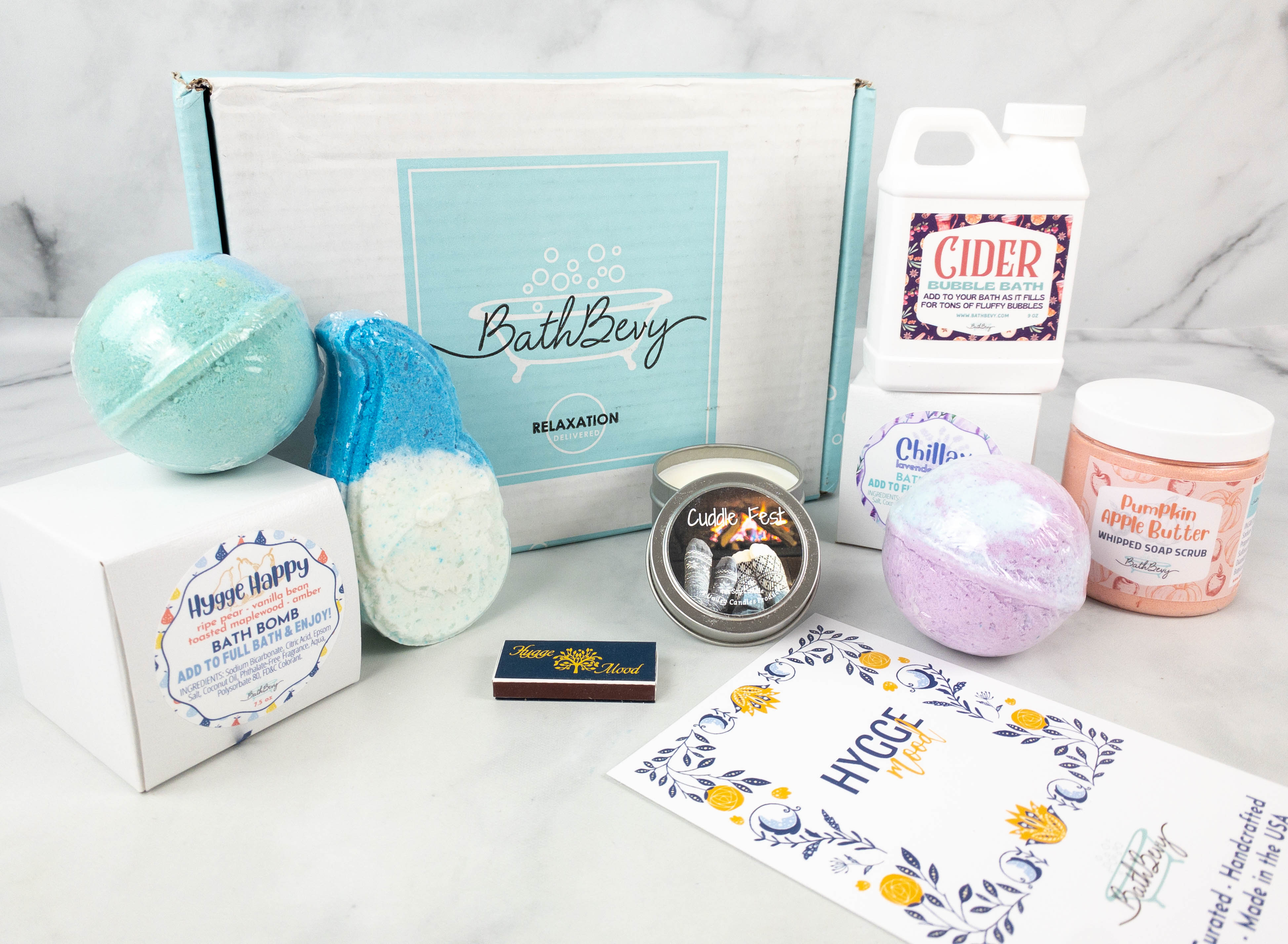 Curated to put us in a Hygge Mood, Bath Bevy November 2021 box includes bath products with a relaxing appeal. This is the perfect time to get all cozy in the bath and to pamper ourselves before or after all the family gatherings and festivities!
DEAL: Save $4 on your first box! Use coupon code HELLO10.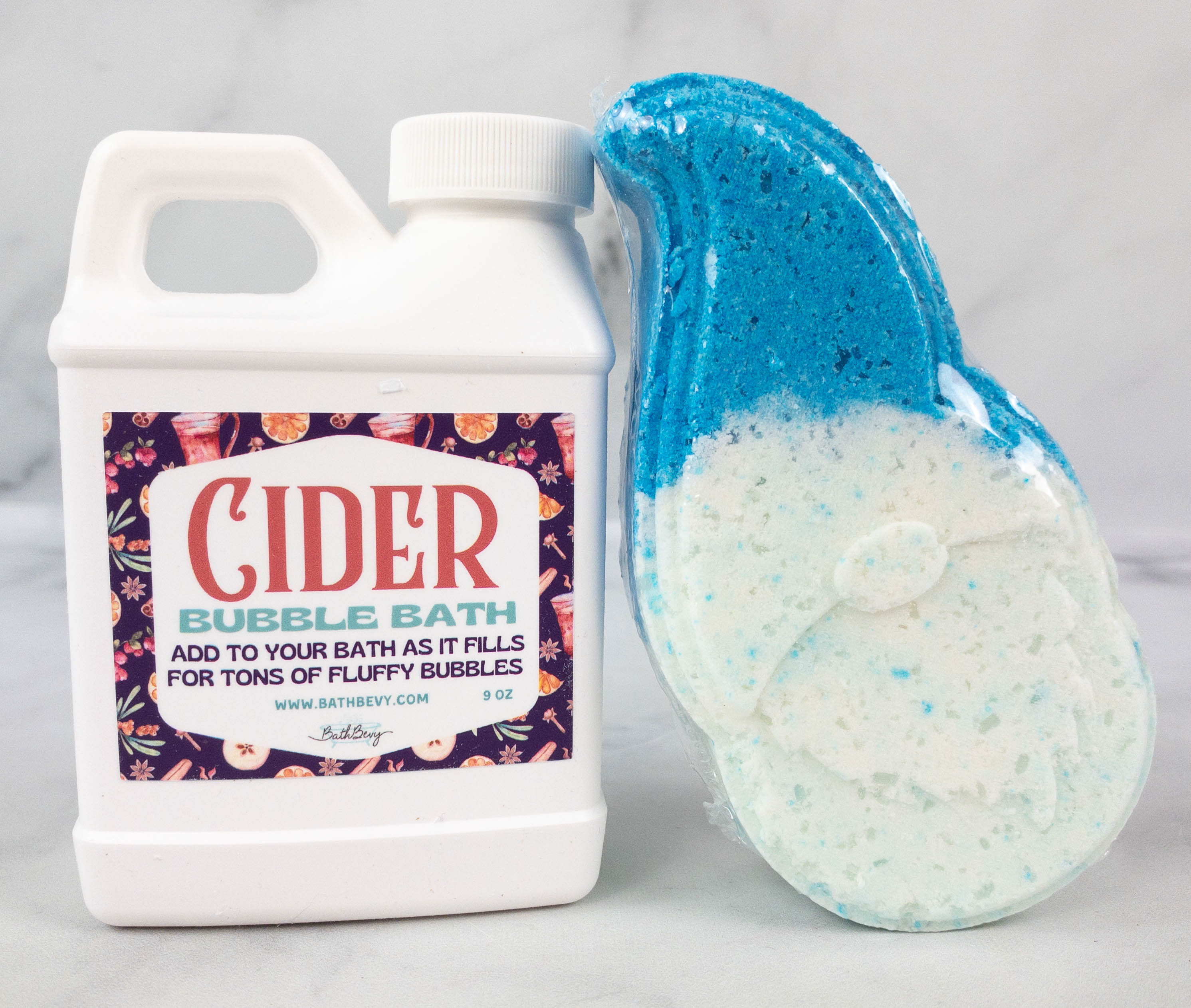 Bubble Bath Jug. To add fluffy bubbles and lots of excitement to bath time, here's a small jug of bubble bath formula in Cider! It's composed of an aromatic blend of Bartlett pear and golden apricot, as well as a hint of oak brandied currant. A small amount goes a long way, so each jug can last up to 9 baths. Subscribers may also receive this bubble bath jug in Silky Birch.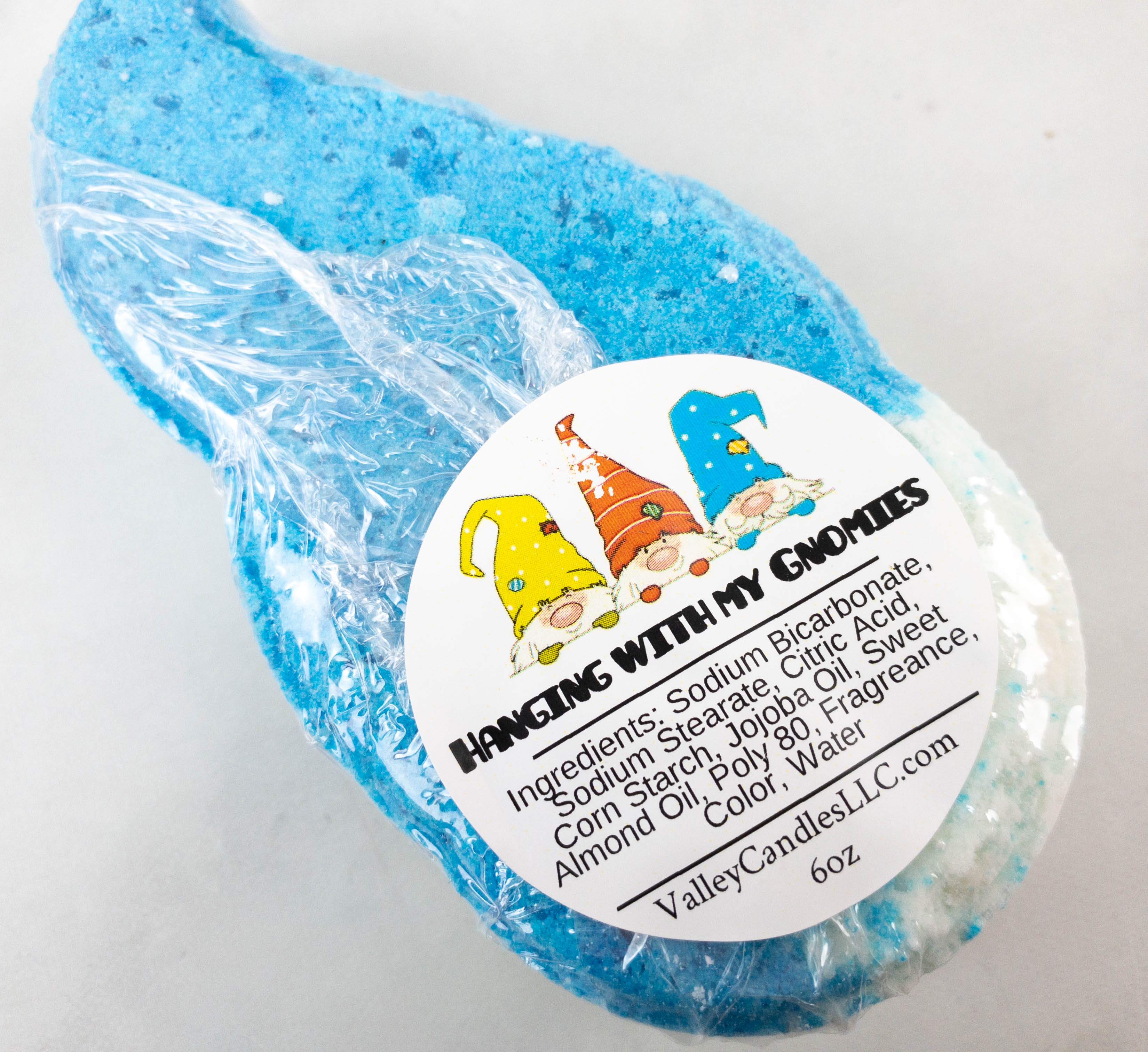 Hanging With My Gnomies Bath Bomb. This bath bomb is shaped like the head of a gnome, complete with its big, pointy hat! It has a combination of blue and white colors, so it looks really pretty in the tub. The sweet floral scent also makes for a nice and relaxing bath. It has notes of fig, orchid, brown sugar, sandalwood, maple, and vanilla.
Valley Candles Cuddle Fest Candle. The candle in a tin can is made from soy wax so it burns cleaner and longer than regular candles. I received it in Cuddle Fest which is a sweet and warm scent with notes of fig, orchid, brown sugar, sandalwood, maple, and vanilla. It's perfect to light up on a quiet night filled with cuddles! It even comes with a set of candles, so you can use it as soon as you want to give your room a hygge mood.
Whipped Soap Scrub. There are five scent possibilities for this whipped soap scrub: Pumpkin Apple Butter, Silky Birch, Cozy in Cashmere, Crisp Autumn Breeze, or Cider. I received Pumpkin Apple Butter, which is perfect for the holidays! It has fruity notes including orange, apple, and pear, as well as warm notes of pumpkin, cinnamon, nutmeg, and clove, tied together by warm vanilla. I like using this because aside from leaving my skin smelling great, it also cleanses really well and provides gentle exfoliation that gets rids of my dead and dry skin cells. The formula is light and airy. It doesn't leave a sticky residue after washing off either!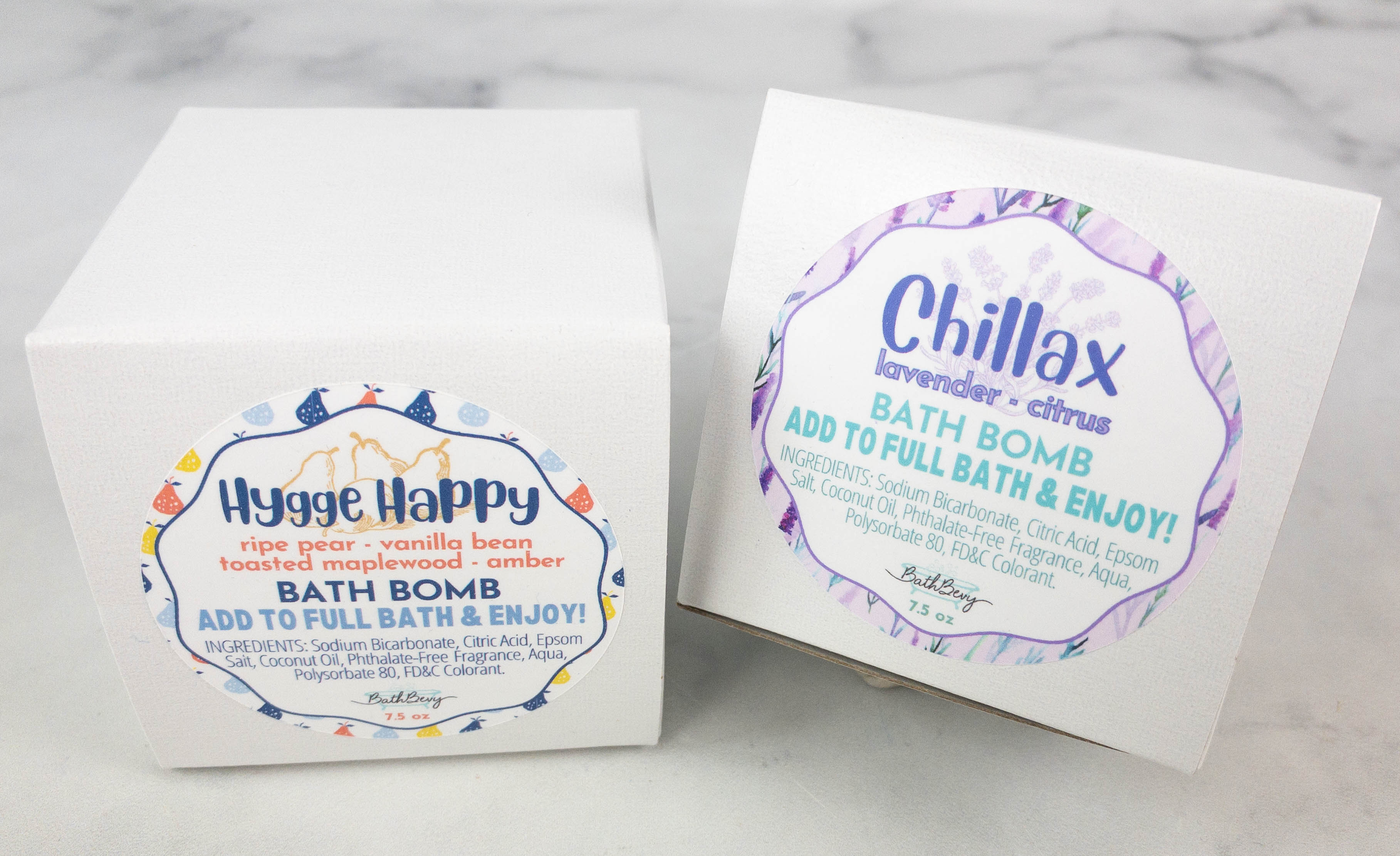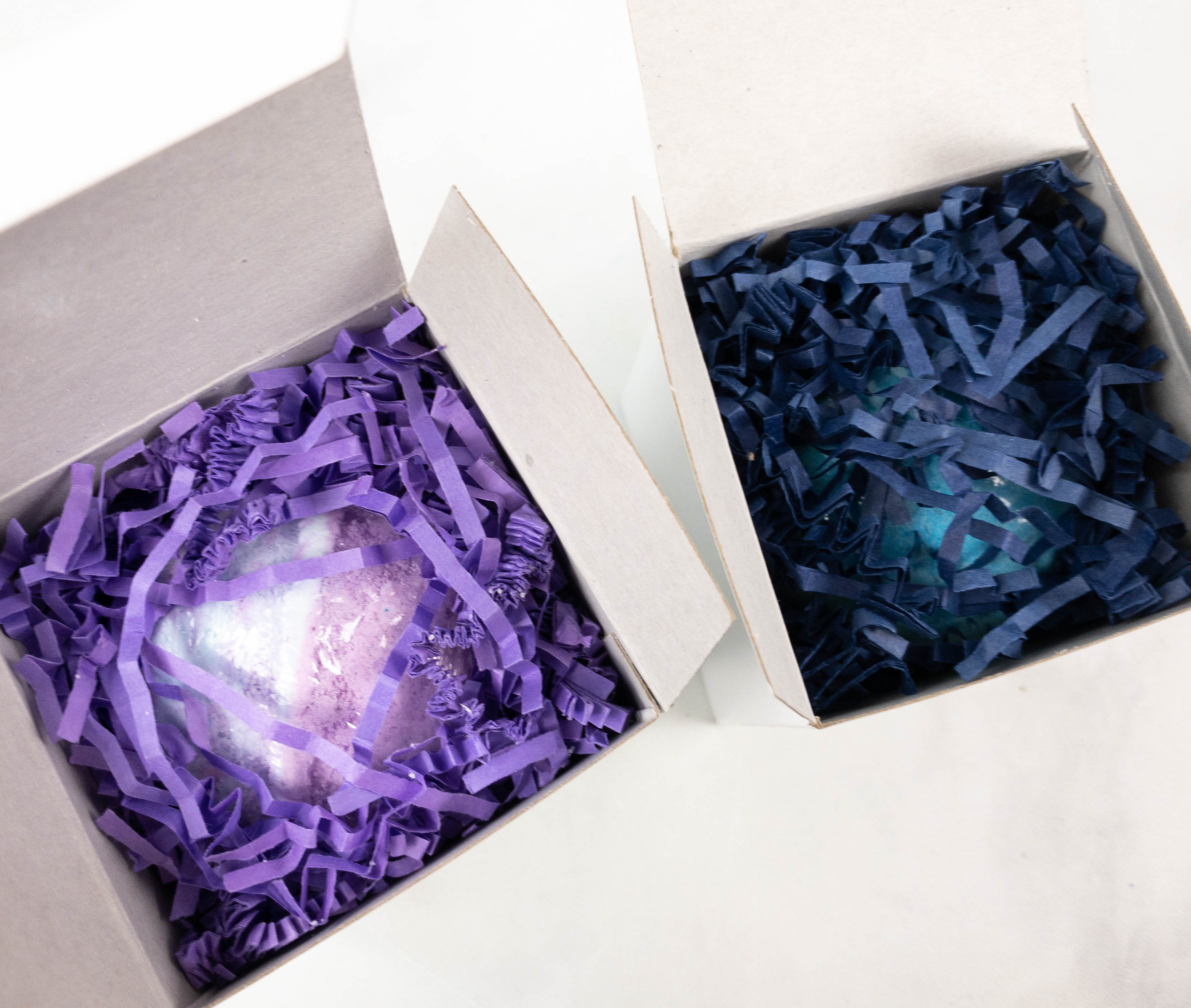 I received two more bath bombs in the box! They came in individual boxes and they were cushioned with squiggles for extra protection during shipping.
Hygge Bath Bomb. Aptly named as Hygge, this bath bomb has a cozy and comfortable scent, with notes of ripe pears, vanilla bean, toasted maplewood, and amber. It also looks so cute in pink and white!
Relax Bath Bomb. The other bath bomb named Relax is a perfect self reward after a long day of work. It smells soothing because of lavender and a tiny hint of citrus. I also like its color, which is a combination of green and blue.
With all these pleasant smelling bath products from Bath Bevy, getting cozy is an easy thing! There's a scented candle to help set the mood, as well as bath bombs and a whipped soap scrub with skin-friendly formulas. Another lovely inclusion in the box is the bubble bath jug that adds not just an addicting scent but also lots of bubbles in my bath! If you're looking for ways to make bath time cozy and enjoyable, this subscription is the answer! If you don't have a tub at home, you don't need to worry because you can still enjoy Bath Bevy goodies since they have a Tubless option too!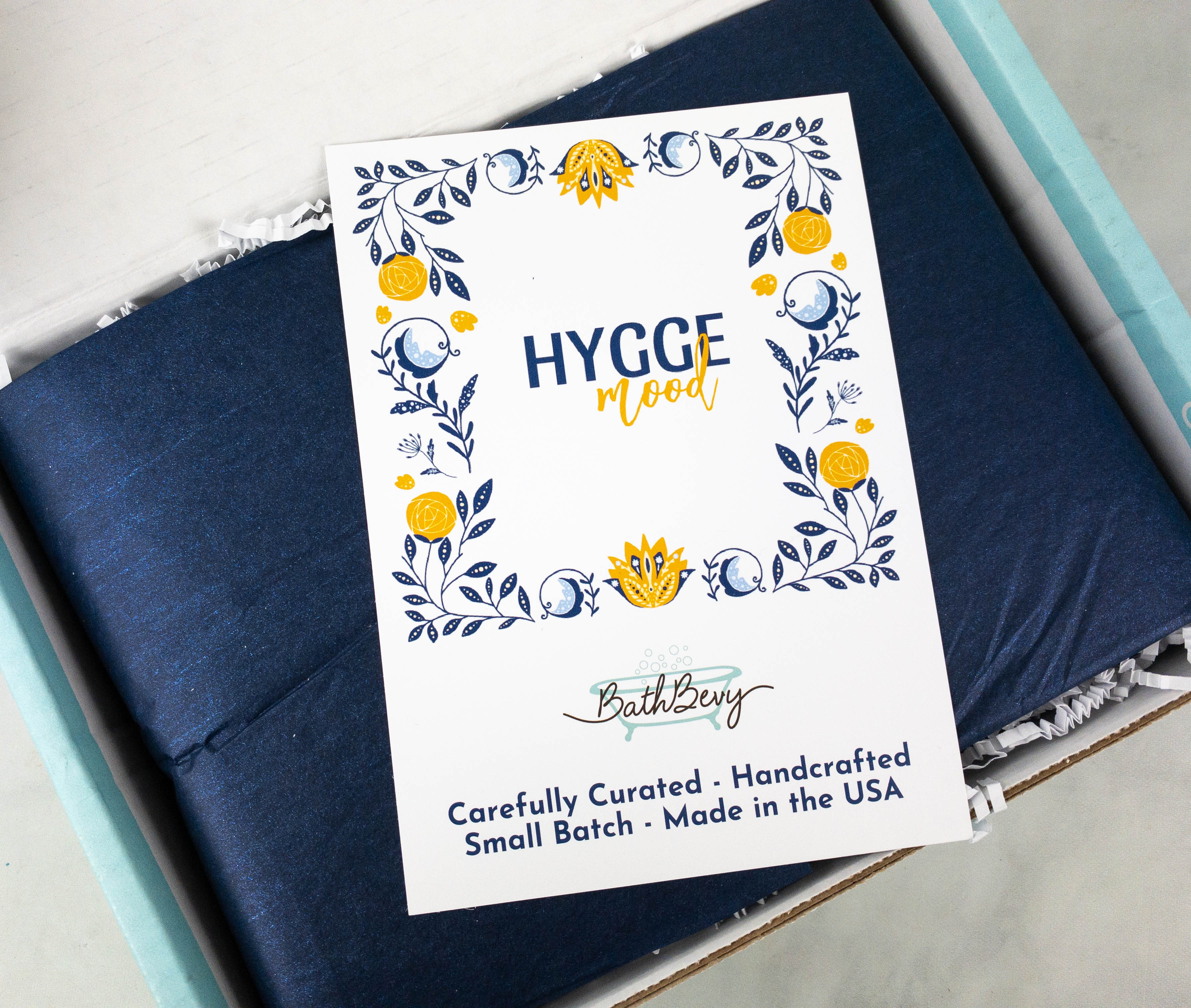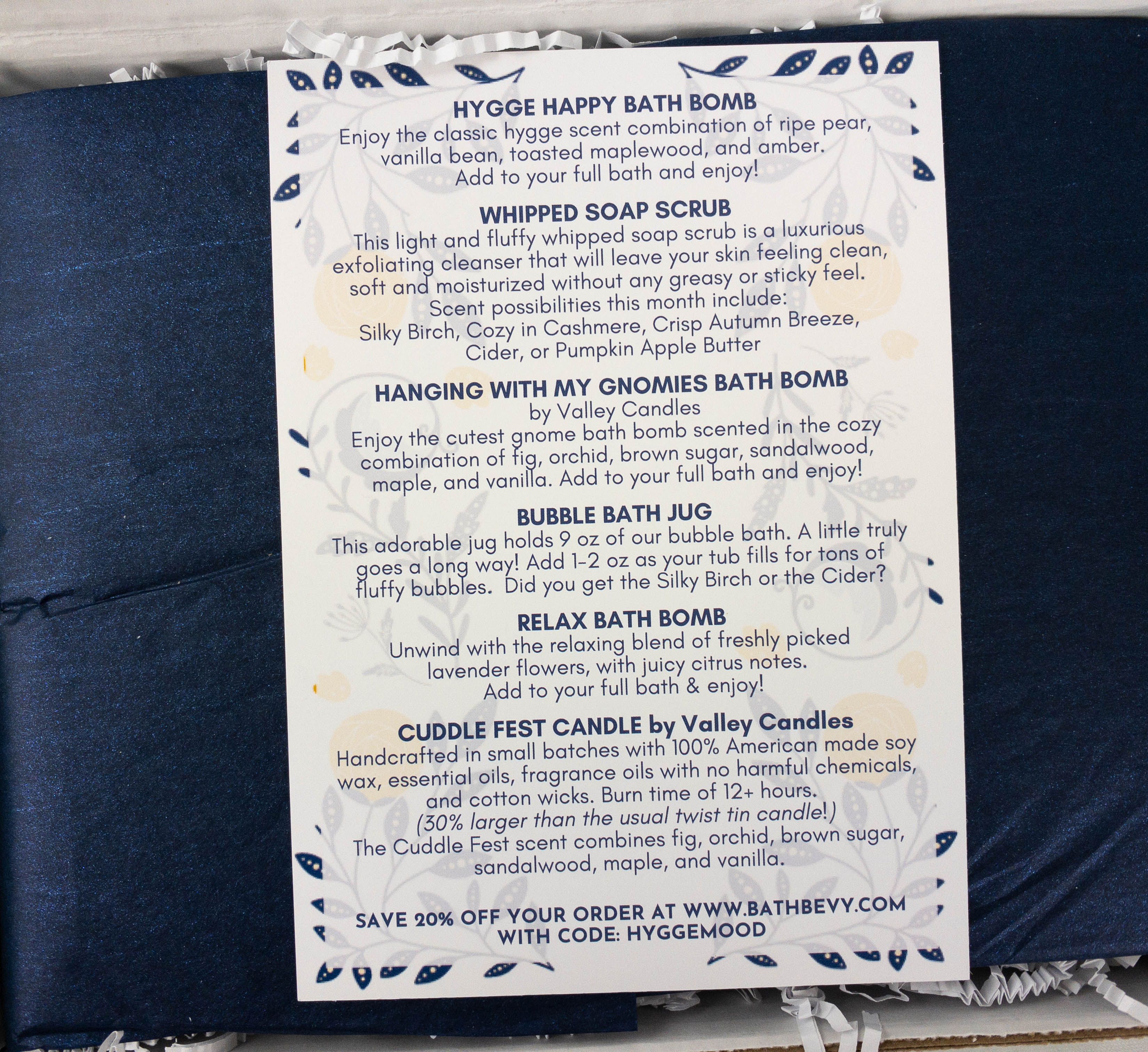 Bath Bevy curates boxes for bath lovers! Each themed box has 6-10 bath items, which may include bath bombs, bubble bars, bath salts, body scrubs, handmade soaps, and more! Most of these items are from indie bath and body brands. A monthly subscription is $34.95 per box and a quarterly subscription is $36.95 per box. A new option is the Tubless subscription which sends bath and body products but no items for the bathtub like bath bombs and bath soaks. It's $37.50 per month. Some of the items you can expect from this option are body washes, whipped soaps, sugar scrubs, lotions, and shower steamers.
Bath Bevy's bath subscription box topped the list in our 2021 readers' choice picks of best bath subscription boxes!
What do you think of this month's Bath Bevy box?