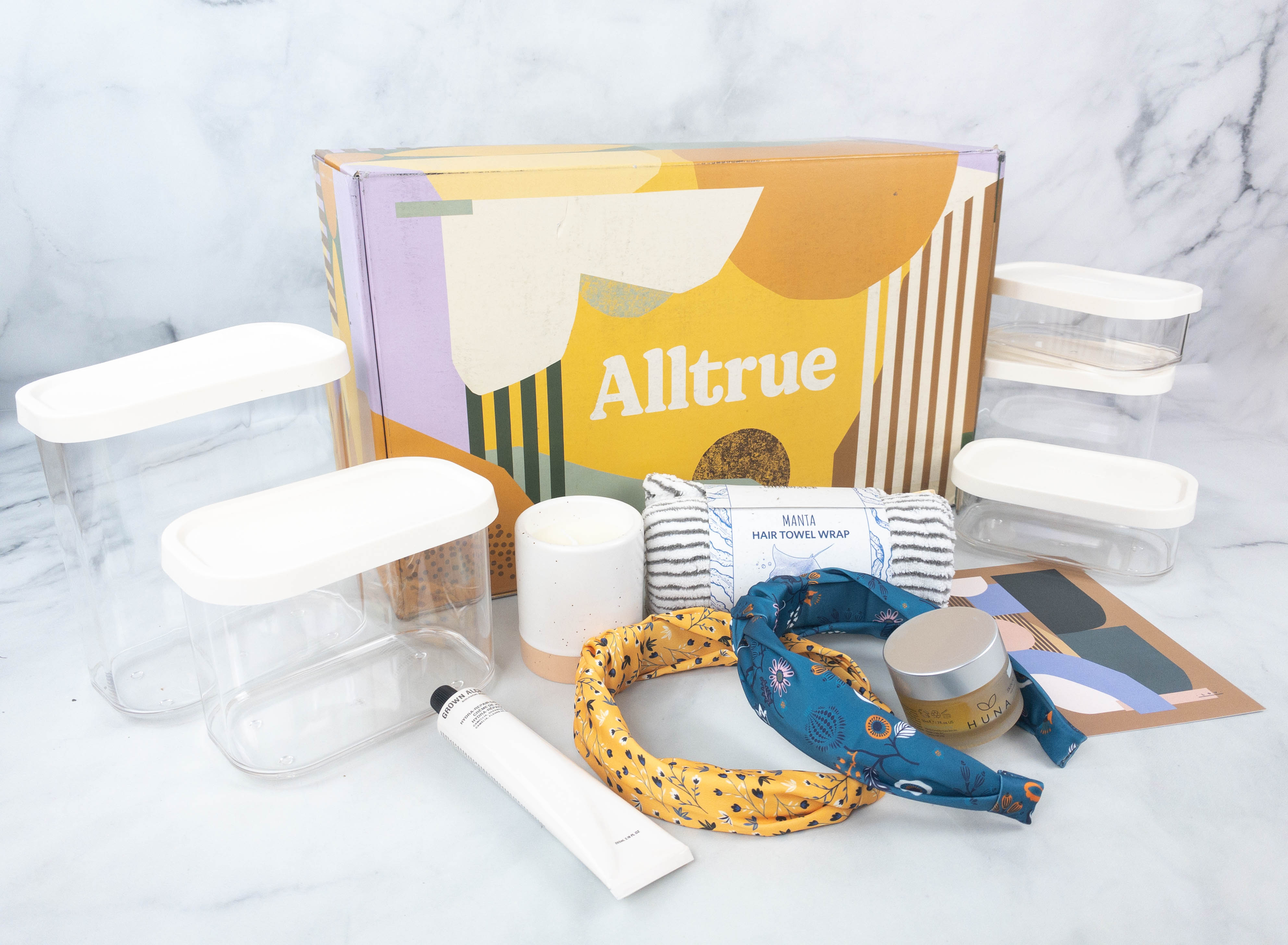 Alltrue curated a box full of clean beauty and sustainable swaps for Fall 2021! The sustainable, ethical, and full-size products are worth up to $250+ and packed in a giftable box designed by Mexico-based artist Hola Lou. The abstract artwork is inspired by minimalism and modernism, as well as the changing landscape, textures, and textiles of fall. From the burnt hues and the sun emerging from behind clouds, it definitely exudes the beauty of fall!
DEAL: Save 20% ($10.99) on your first box when you use this link and coupon code WI20!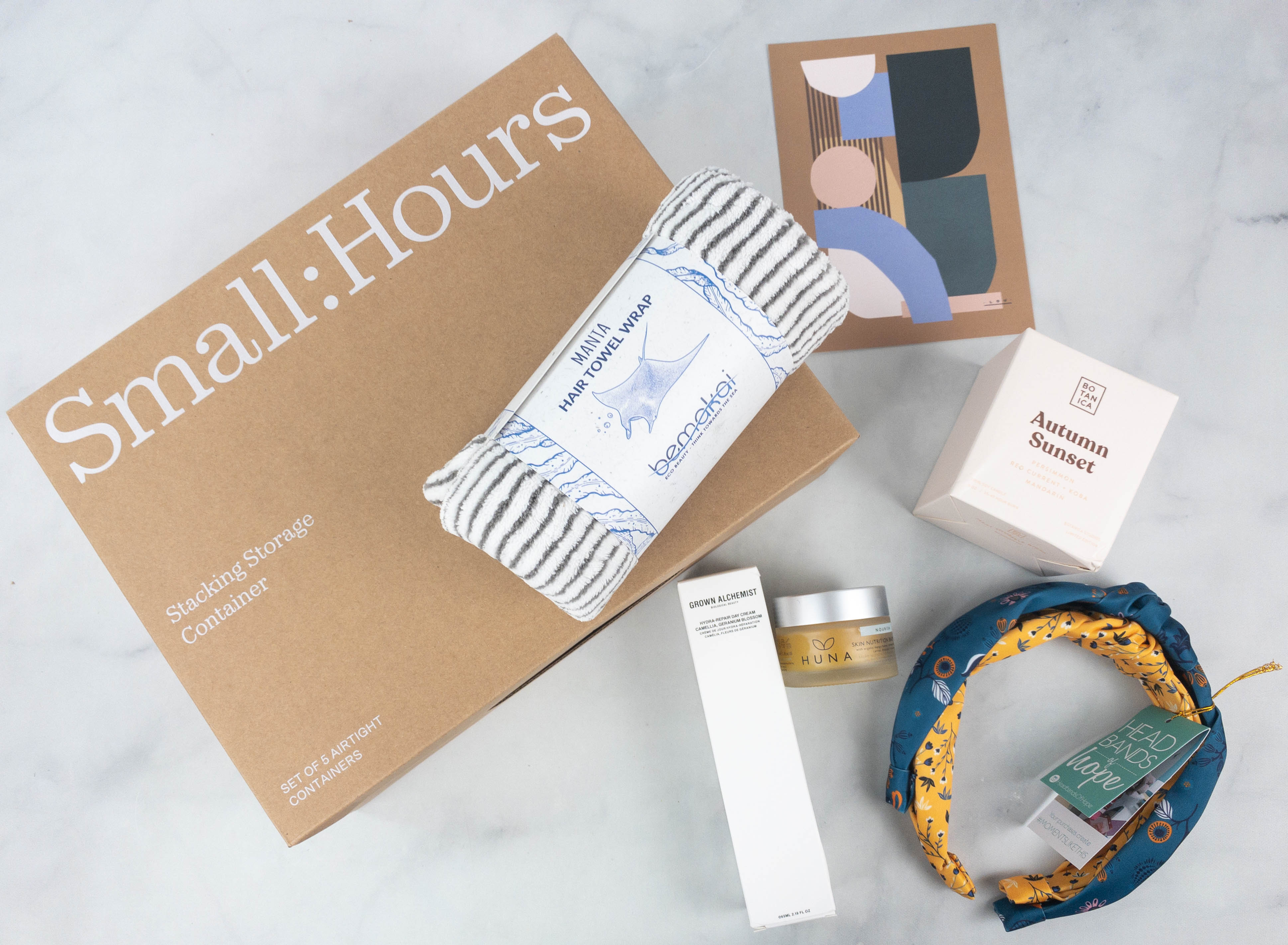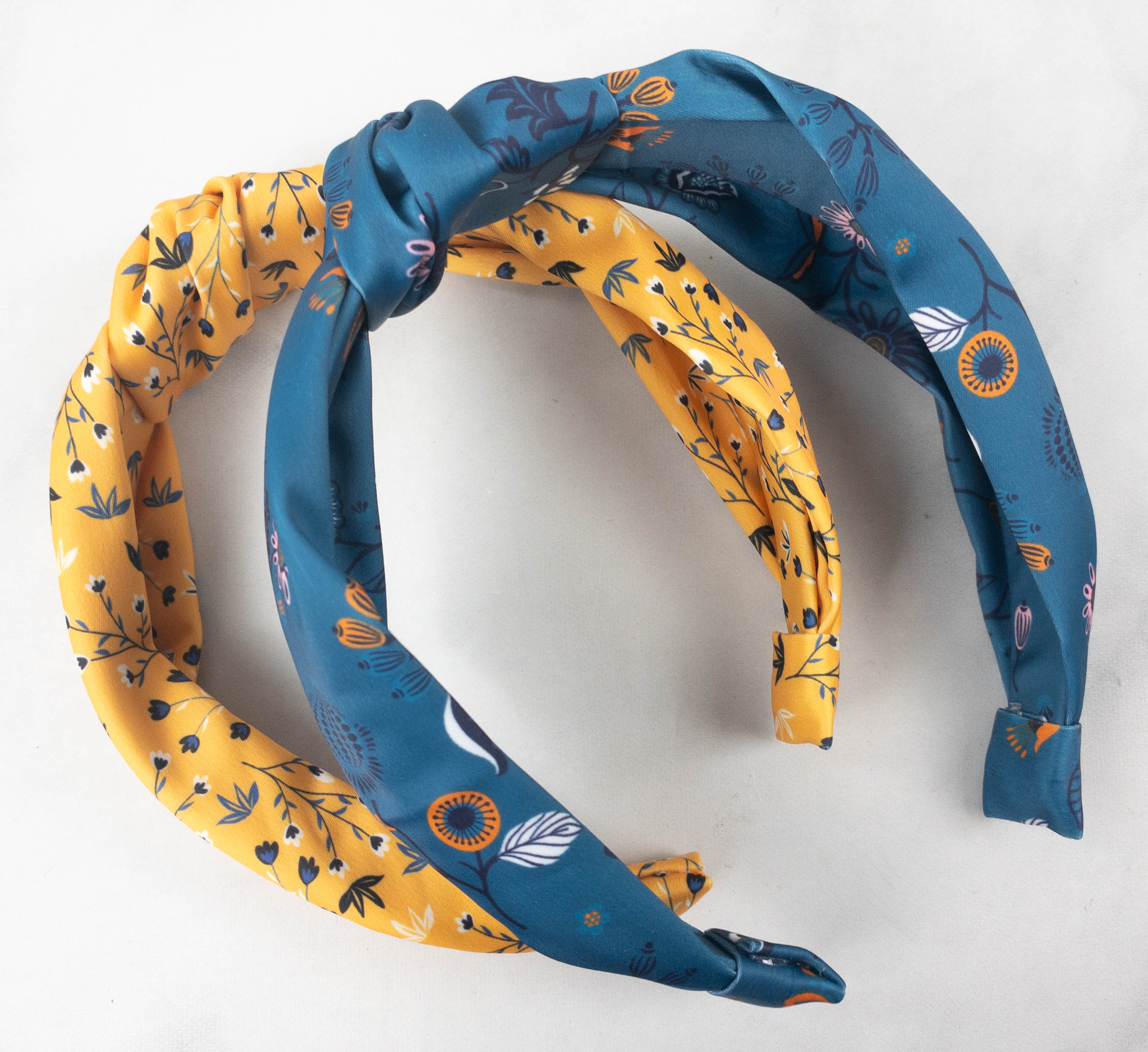 Annual subscribers were able to choose among the following items: Headbands of Hope Set of 2 Knotted Headbands, EACH Jewels Layering Necklace Set, and Aloette Winkable Lift & Lengthen Vegan Mascara.
I chose Headbands of Hope Set of 2 Knotted Headbands! They look so pretty in yellow and in blue, with floral patterns all over. They add a touch of cuteness to everyday outfits and different fall looks. These headbands are also comfortable to wear because they have padding behind the ears.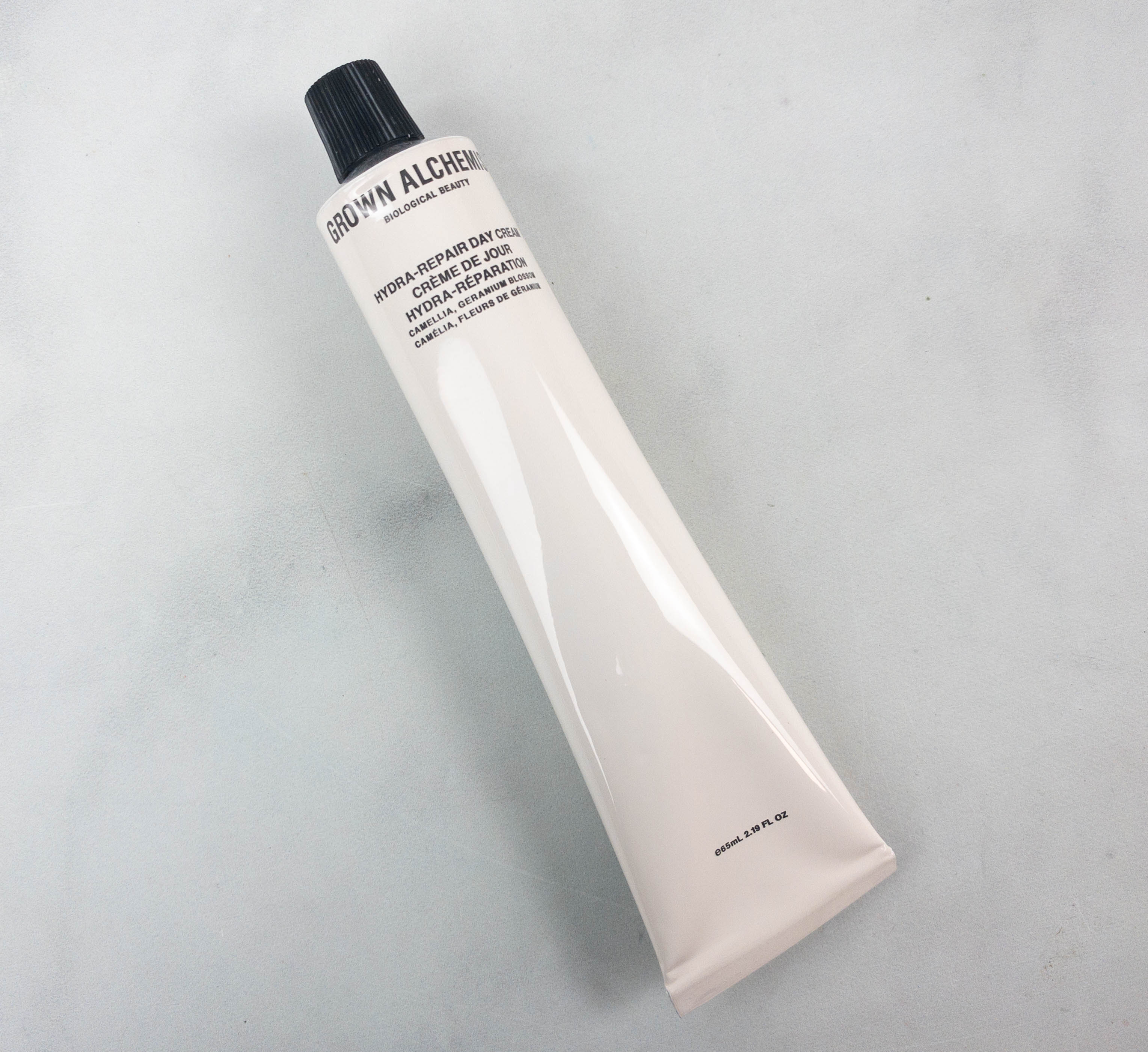 Annual subscribers chose between one of the following items: Earth Harbor Seas the Day Luxury Skincare Bundle, Kitchen Innovations Silicone & Beechwood Measuring Spoon Set, Molly's Suds Natural Wool Dryer Balls, or Grown Alchemist Hydra Repair Day Cream.
My choice is Grown Alchemist Hydra Repair Day Cream ($49)! It's a lightweight and velvety moisturizer that leaves the skin soft, well-hydrated, and ready for makeup application. Key ingredients include camellia and rosehip oil for hydration, plus polysaccharides from Aloe Vera that help revitalize the skin.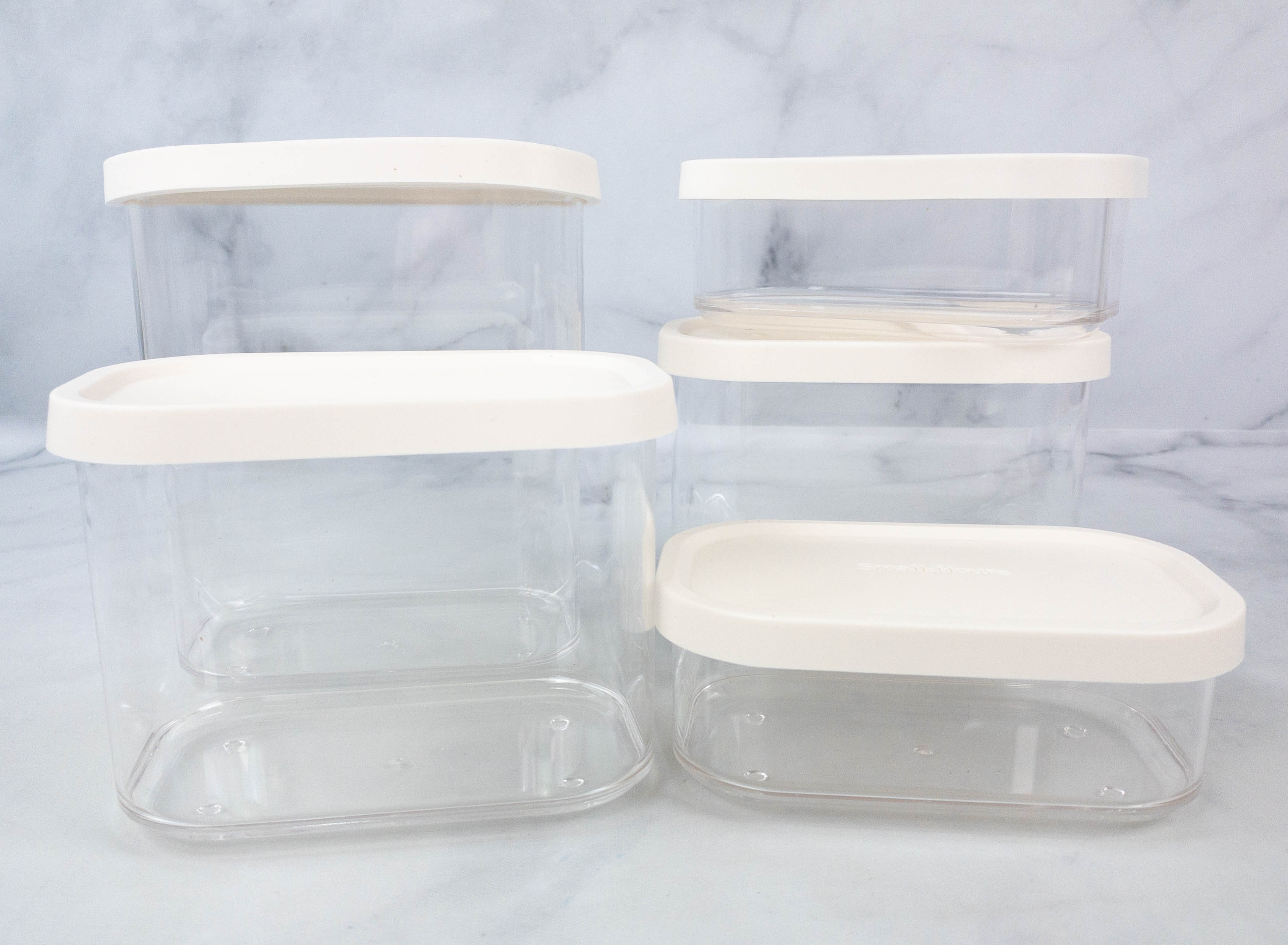 Annual subscribers picked between one of the following items: Small: Hours Set of 5 Stackable Pantry Containers, Henny + Lev Vegan Leather 2-in-1 Everyday Tote, Tease Smart Heated Mug, LSTN Wanderlust Portable Speaker, or Earth Harbor Seas the Day Luxury Skincare Bundle.
My choice is Small: Hours Set of 5 Stackable Pantry Containers. Arranging the pantry is easier with these clear containers, and you can also help eliminate plastic waste by using them when bulk shopping.
The containers come with a lid, keeping everything in them fresh. From oats and grains to cookies and other small snacks, these are perfect for stocking up the pantry no matter what season. Do I love them as much as my OXO Pop containers? Not really? Was it an amazing affordable choice to get these for the little things in my box? Absolutely!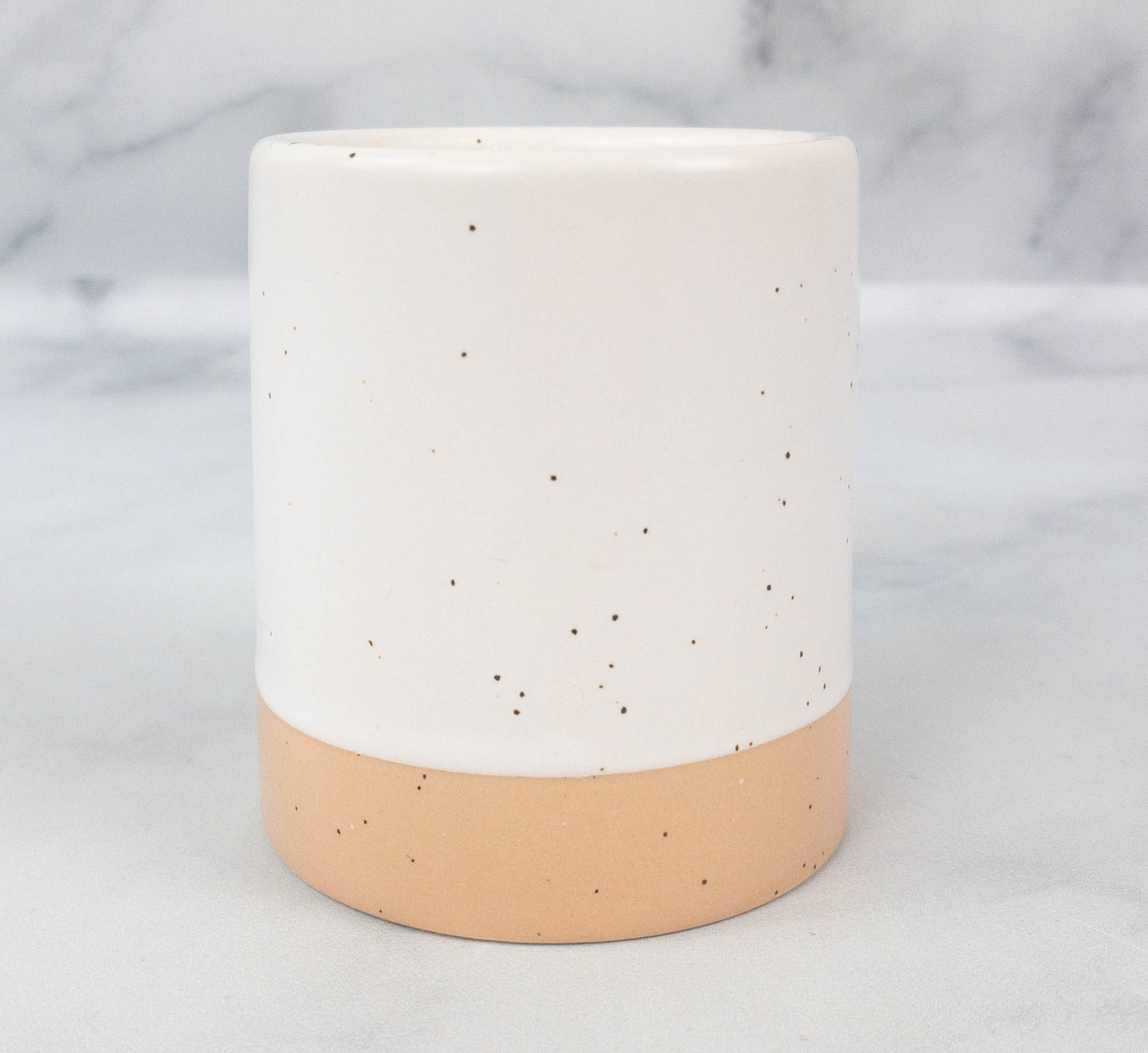 Annual subscribers chose among Botanica Speckled Ceramic Candle, Serene House Ion Fan Diffuser + Inspire Essential Oil, or Accompany Jute Welcome Mat.
To add a cozy vibe to our home, I chose the Botanica Speckled Ceramic Candle! It's a soy wax candle with notes of persimmon, red currant + koba, and mandarin, which give off such calming vibes.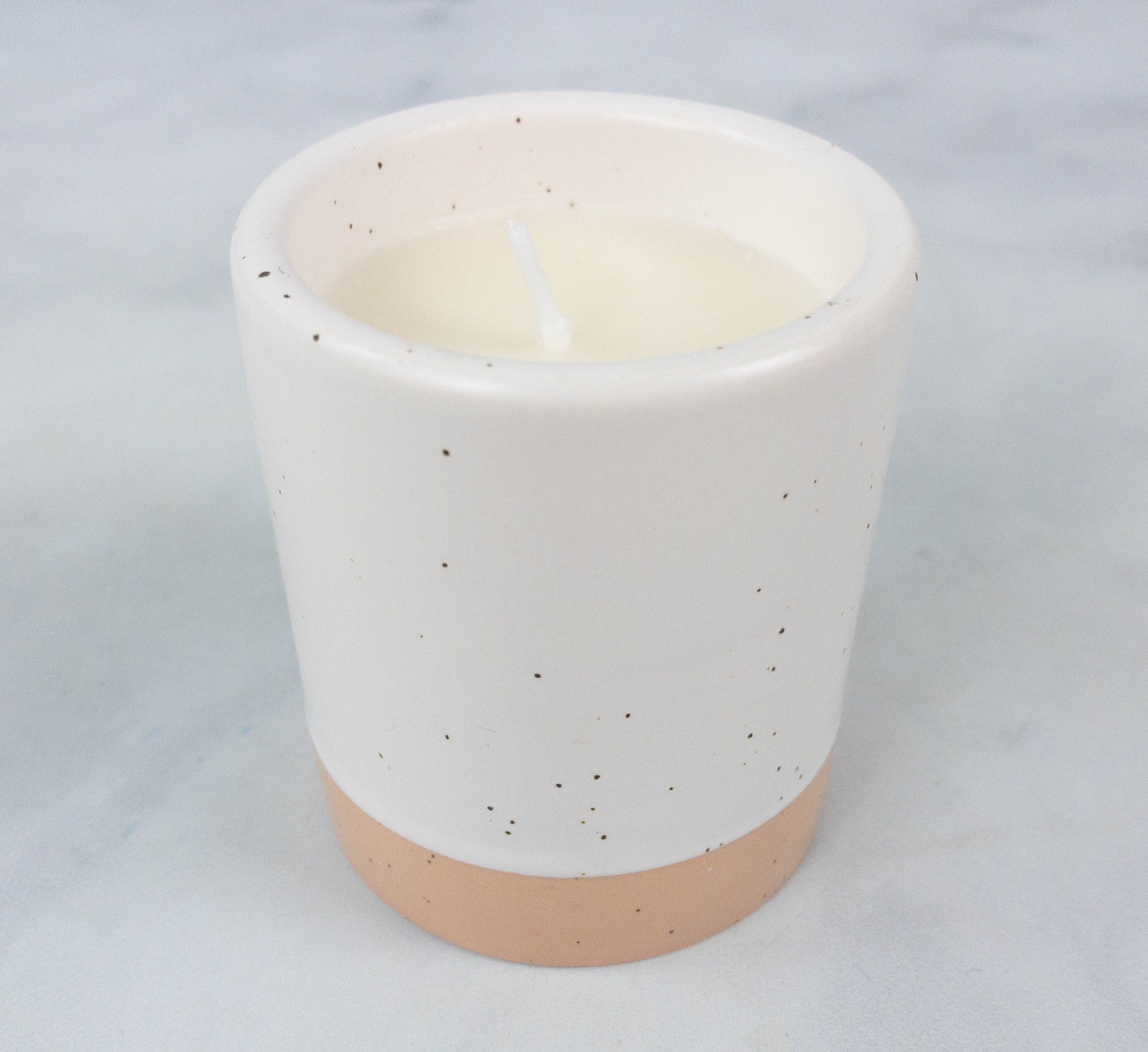 It has 35-45 hours of burn time, and after you use it up, you can repurpose the ceramic container, whether as a pencil holder, a planter, or simply a home decor.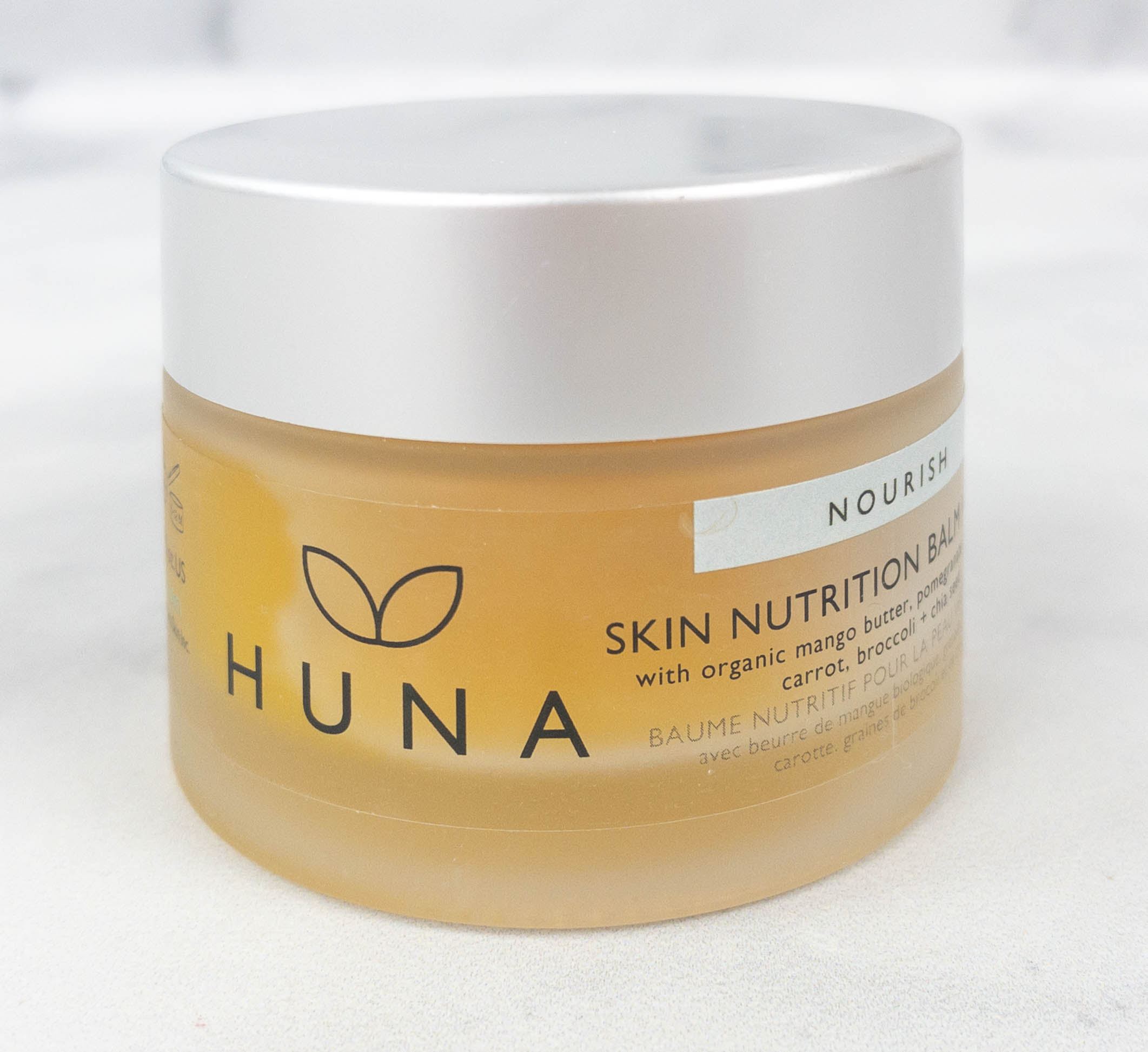 All subscribers received Huna Skincare Nourish Skin Nutrition Balm Vegan ($90)! To protect the skin and prevent it from drying as the weather gets colder, they included a vegan balm made with mango butter, pomegranate, avocado, carrot, broccoli, and chia seed. The formula is deeply nourishing and it's ideal to use whether as a night treatment, lip treatment, or even for soothing flaky and cracked skin. It's also GMO-free, gluten-free, cruelty-free, and biodegradable.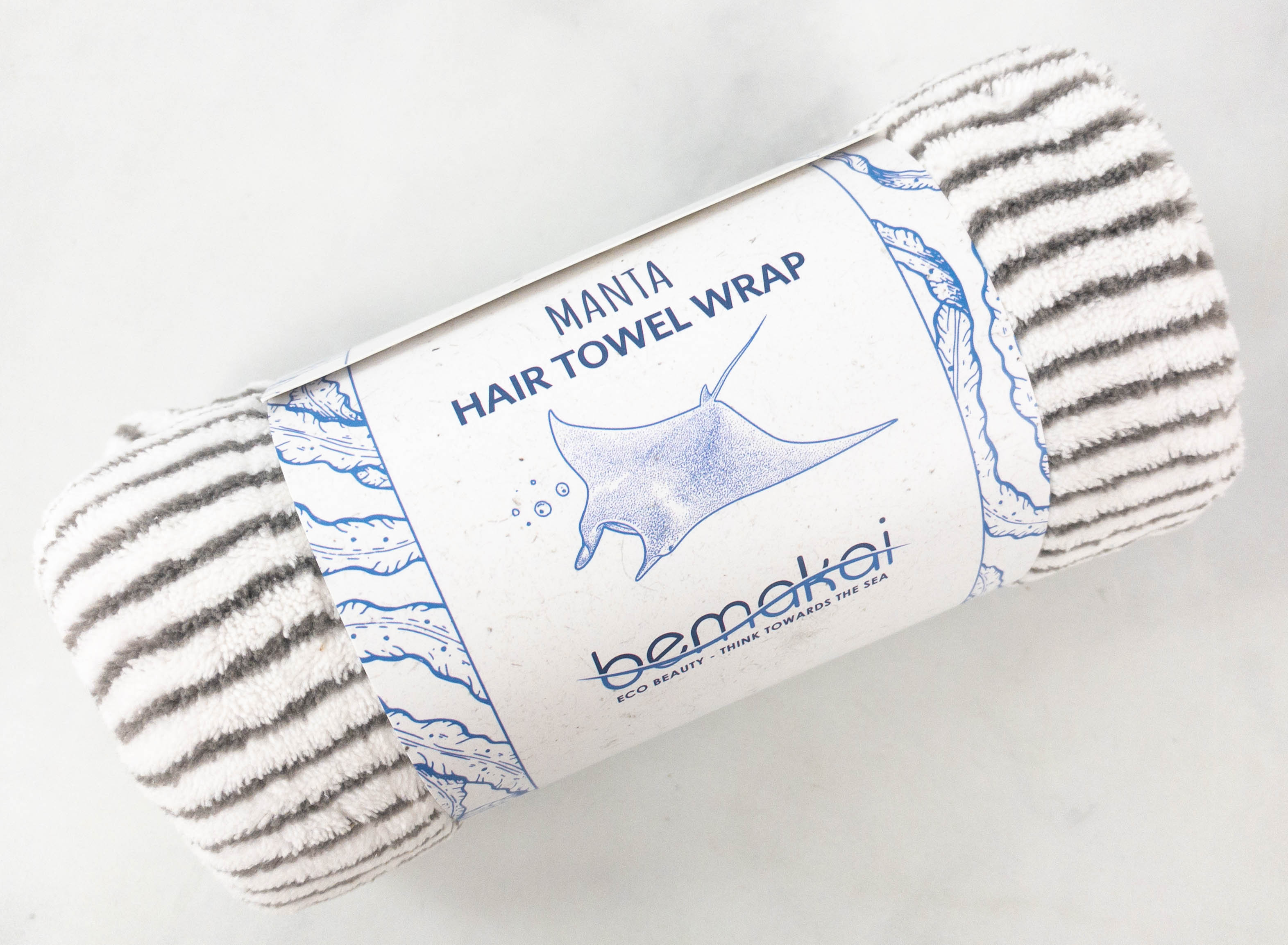 Annual subscribers selected between one of the following items: The Bemakai Manta Hair Towel Wrap or The Mintbiology Seaweed Collagen Gold Eye Masks.
I chose The Bemakai Manta Hair Towel Wrap ($11.30 approx.) and it didn't disappoint! Highly absorbent, it's made with natural bamboo charcoal fibers with recycled polyester. It helps me dry my hair faster, so there's no need to rub it to dry. It can even be used with leave-in conditioners and hair masks, just use the wooden button to keep it in place.
Just like the Summer box, the Fall 2021 Alltrue box has great items for personal use and for the home! I love the stackable containers, they are perfect for organizing the pantry and they also help eliminate the use of single-use plastics. The rest of my choice items didn't disappoint either! Alltrue's pick, the vegan balm, is another impressive item in the box. It has multiple uses and the formula is really luxurious. If you want to make more sustainable choices, getting the Alltrue box is a great way to do that at a discount.
Alltrue hasn't yet resolved their shipping issues: this box came really late, in December or perhaps late November.
Here's a closer look at the box design and the mini-magazine with more information about the products: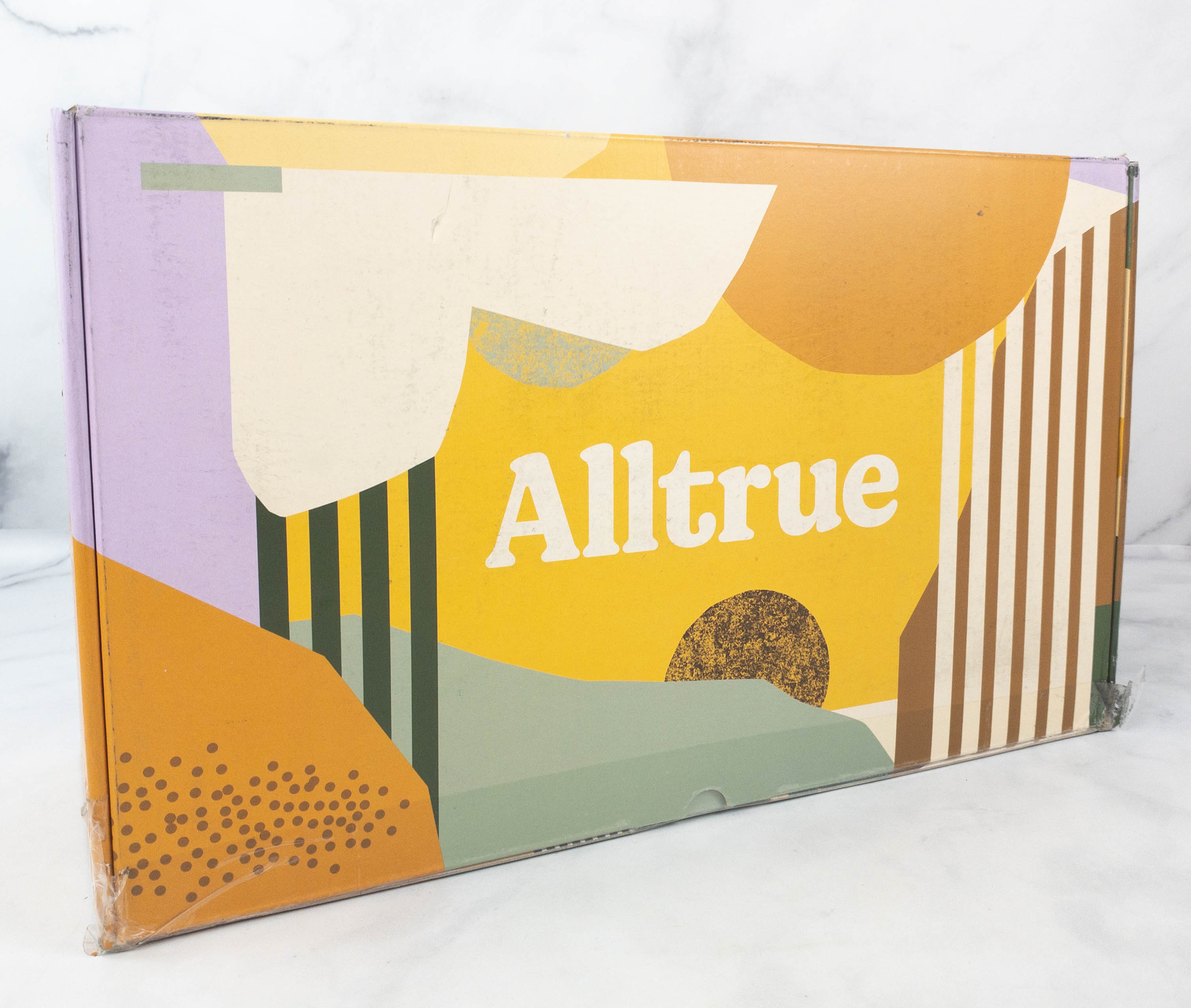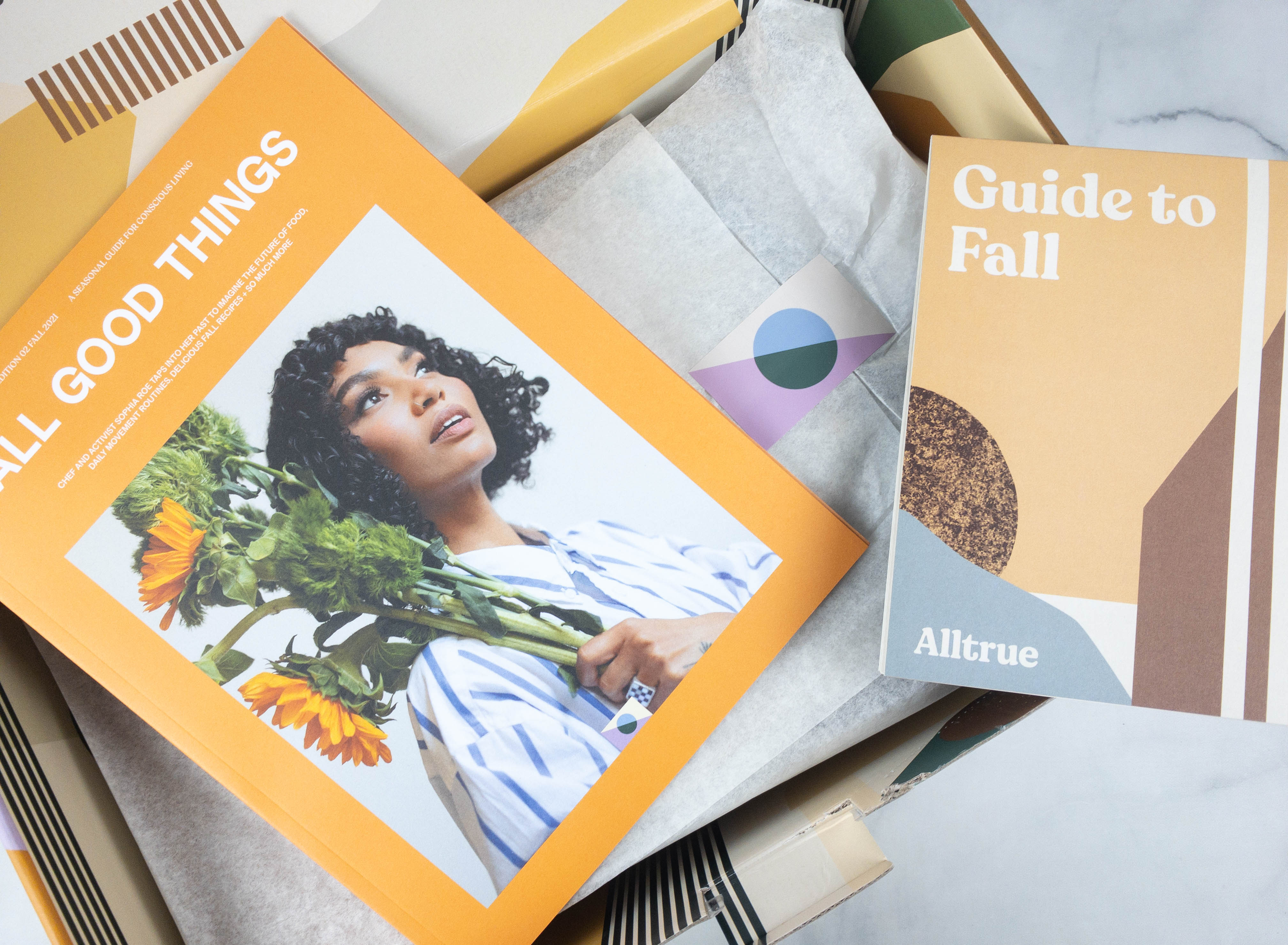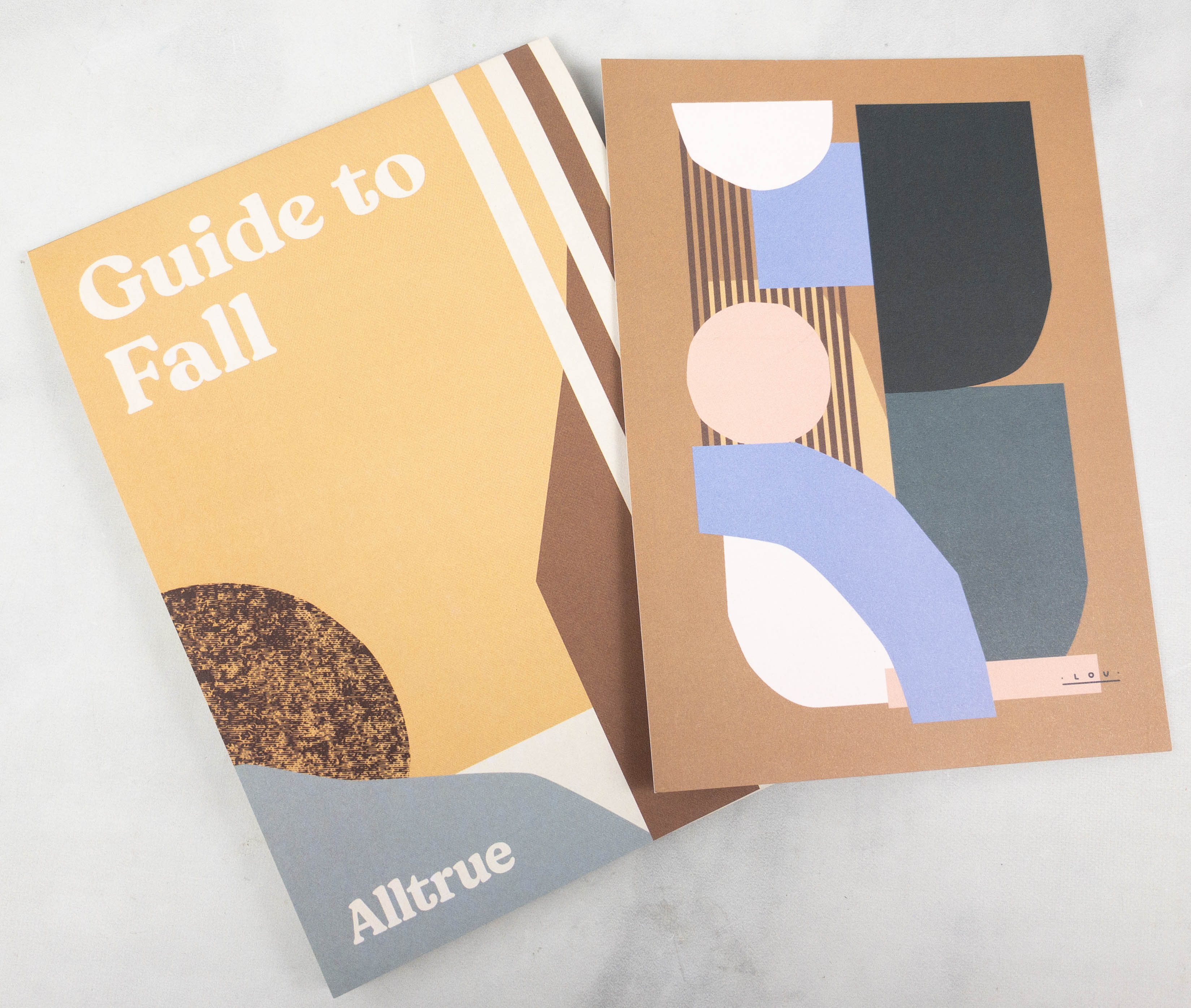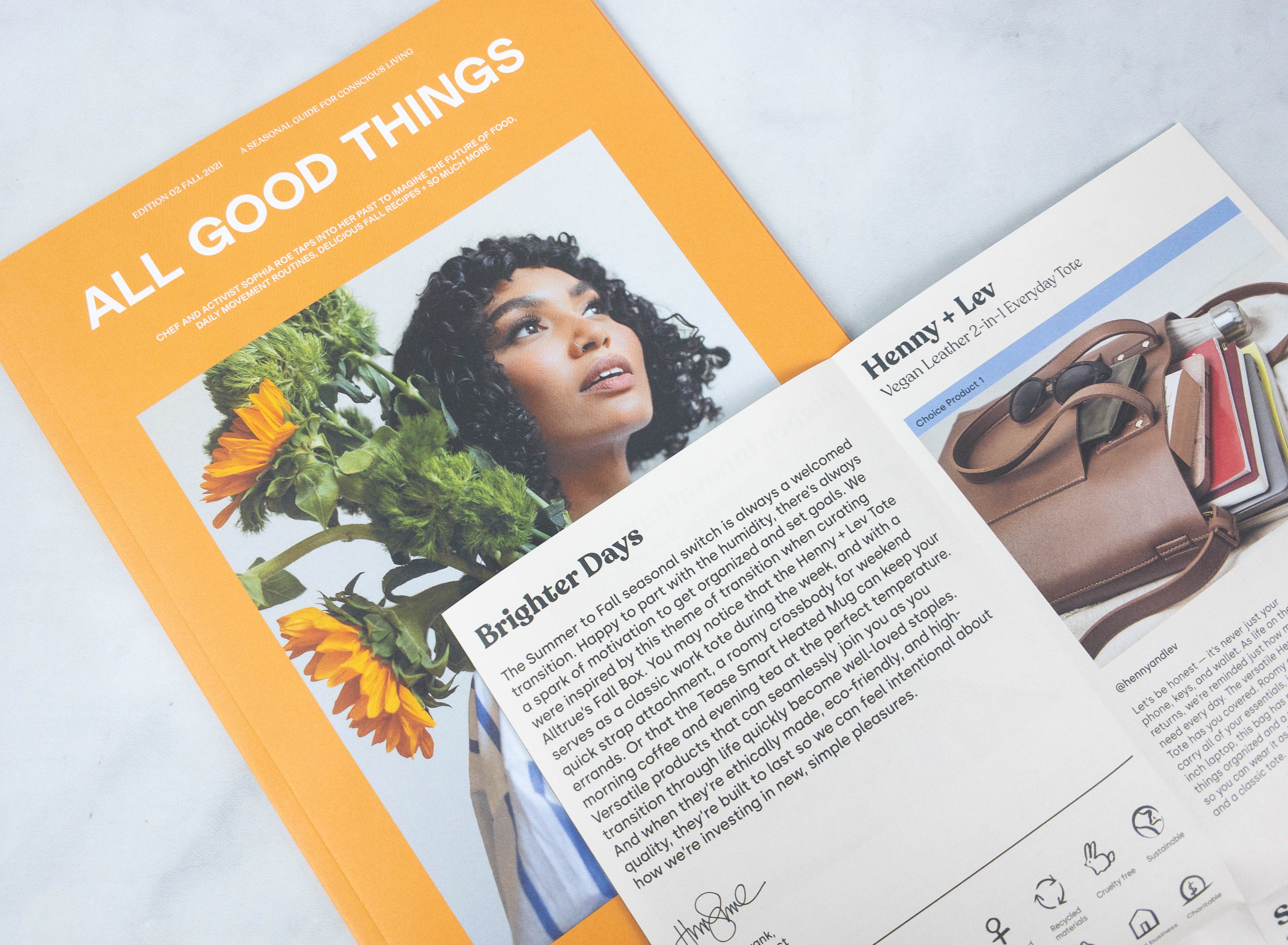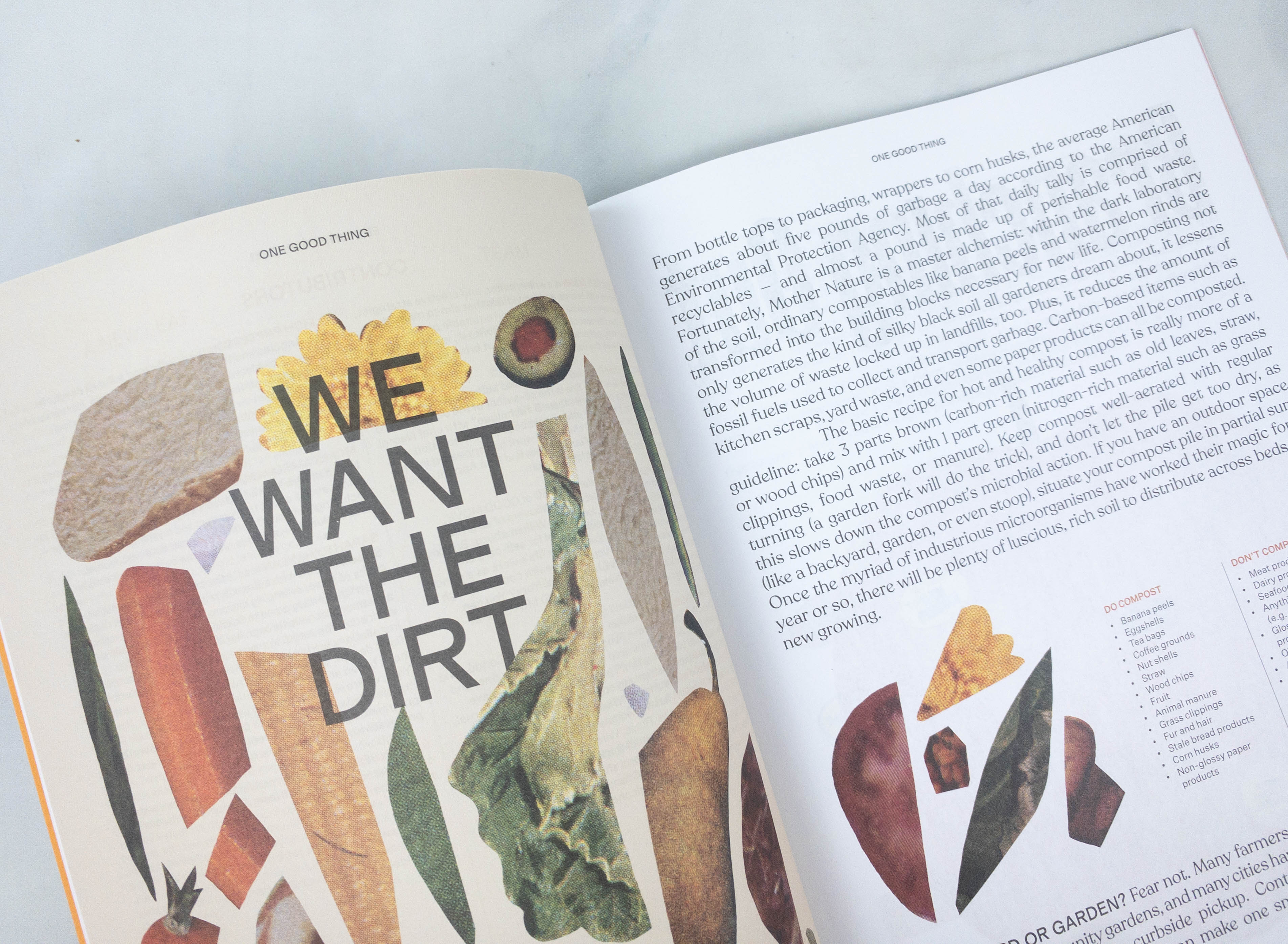 Alltrue, formerly known as CAUSEBOX, offers a "membership that matters" with a quarterly subscription box curated with full-size socially conscious products for women. In each box, you'll receive 5-8 seasonal lifestyle products that are focused on ethical and sustainable production, donate a percentage of profits to charity, or aim to inspire and empower others. They also offer "seasonal markets, inspiration for intentional living, and a community that cares." Starting with the Summer box (Fall, if you're joining with the intro box), you can upgrade your subscription box to include Alltrue's editorial print magazine All Good Things for $7.95/quarter. You can also upgrade to a carbon-neutral shipping option for $1/quarter. This subscription is a reader favorite and made it on your list for best subscription box for women!
What do you think of the Alltrue box?