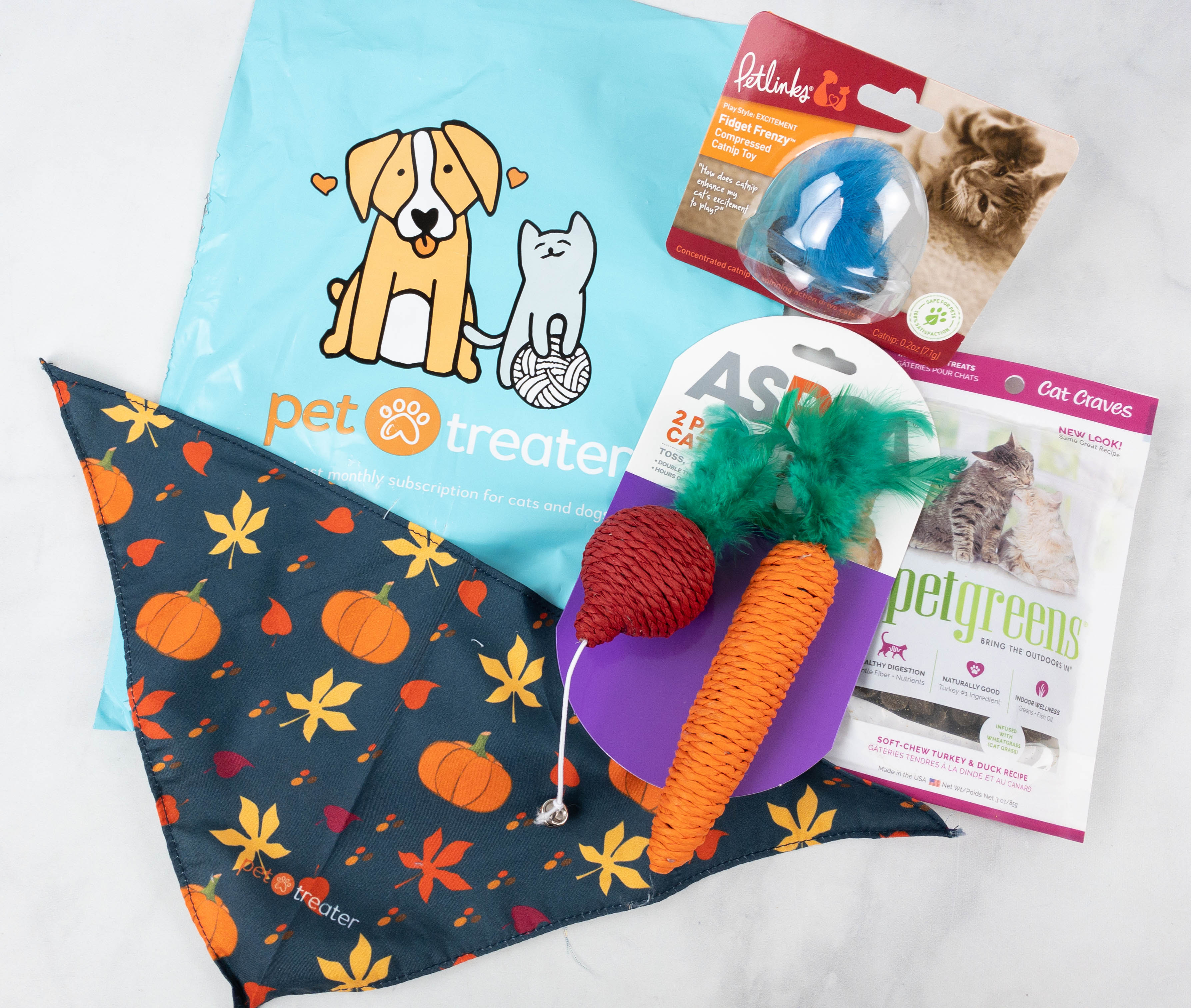 Don't you just love it when your pets are also a part of festivities and celebrations at home, like Thanksgiving? With everything in Pet Treater Cat Pack November 2021, felines surely won't feel excluded as they have a new bandana to wear to Thanksgiving dinner and toys to play around with while waiting for the treats to be served!
DEAL: Get 50% off your first month! Use coupon code CATPACK50.
Here's everything inside the Cat Pack:
Bandana. Pet Treater sends the most adorable bandanas for pets! Their designs are exclusive, and the bandana itself is made with soft and lightweight fabric. This month's featured design fits the season well, as it includes pumpkins, spices, and leaves all over!
Petlinks Fidget Frenzy Toy. It's a fidget-shaped toy for cats that contains organic catnip. It even has feathers that keeps cats excited and engaged!
ASPCA Veggie Market Toy. This set of cat toys are also infused with catnip! The toys resemble a raddish and a carrot, and they're great for engaging a cat's natural instincts like pawing and scratching.
Petgreens Soft-Chew Turkey & Duck Recipe Treats. Of course, there are also soft chew treats and in line with the Thanksgiving theme, they come in delicious turkey and duck flavors. These cat treats are packed with fiber and essential nutrients that promote healthy digestion.
Every feline deserves love, fun toys, and yummy treats, which is exactly what this subscription sends every month. This is also a good way to explore if you're not yet sure which kinds of toys and treats your cat will love!
Pet Treater is a subscription program for pets, delivering quality items like toys and treats. They offer 2 options for cats: a Cat Pack with 3-4 items ($15 a month) and a Multi-Cat Pack with 5-8 items ($25 a month). Your first pack will be filled with the most popular fan favorites!
Pet Treater's cat subscription box made the list in our 2021 readers' choice picks of best subscription boxes for cats!
What do you think of this month's Pet Treater Cat Pack?