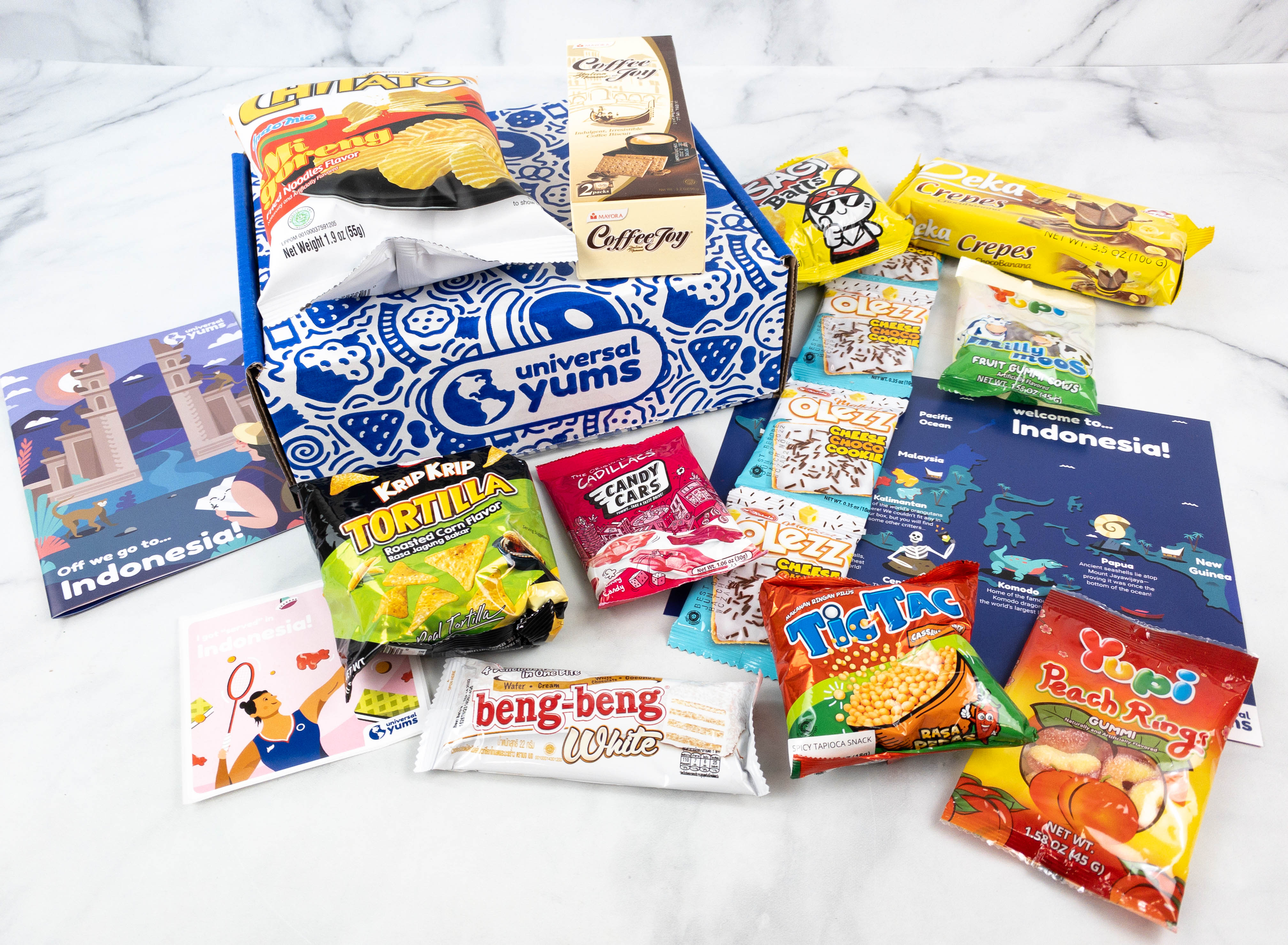 Universal Yums is an international snack subscription! Featuring a new country each month, the box contains unique and delicious snacks that are either difficult or impossible to find in US stores. They promise to always include a variety of sweet and savory snacks, all with the featured country's distinct flavors and spices. Each box also comes with an interactive guidebook containing an explanation of why they chose each snack, as well as trivia, games, recipes, and other cultural features! This monthly snack subscription is a reader favorite – it's taken top honors 2 years in a row in our reader's selections for best snack subscription box!
There are three available box sizes:
Yum Box – 5-7 snacks plus a 12-page booklet for $16 a month
Yum Yum – 10-12 snacks plus a 16-page booklet and other bonus content for $27 a month
Super Yum Box – 19-20 snacks plus a 16-page booklet and other bonus content for $41 a month
DEAL: Save 10% on a 6+months Universal Yums subscription!! No coupon code needed, just use this link to sign up!
This is the review of the Yum Yum box!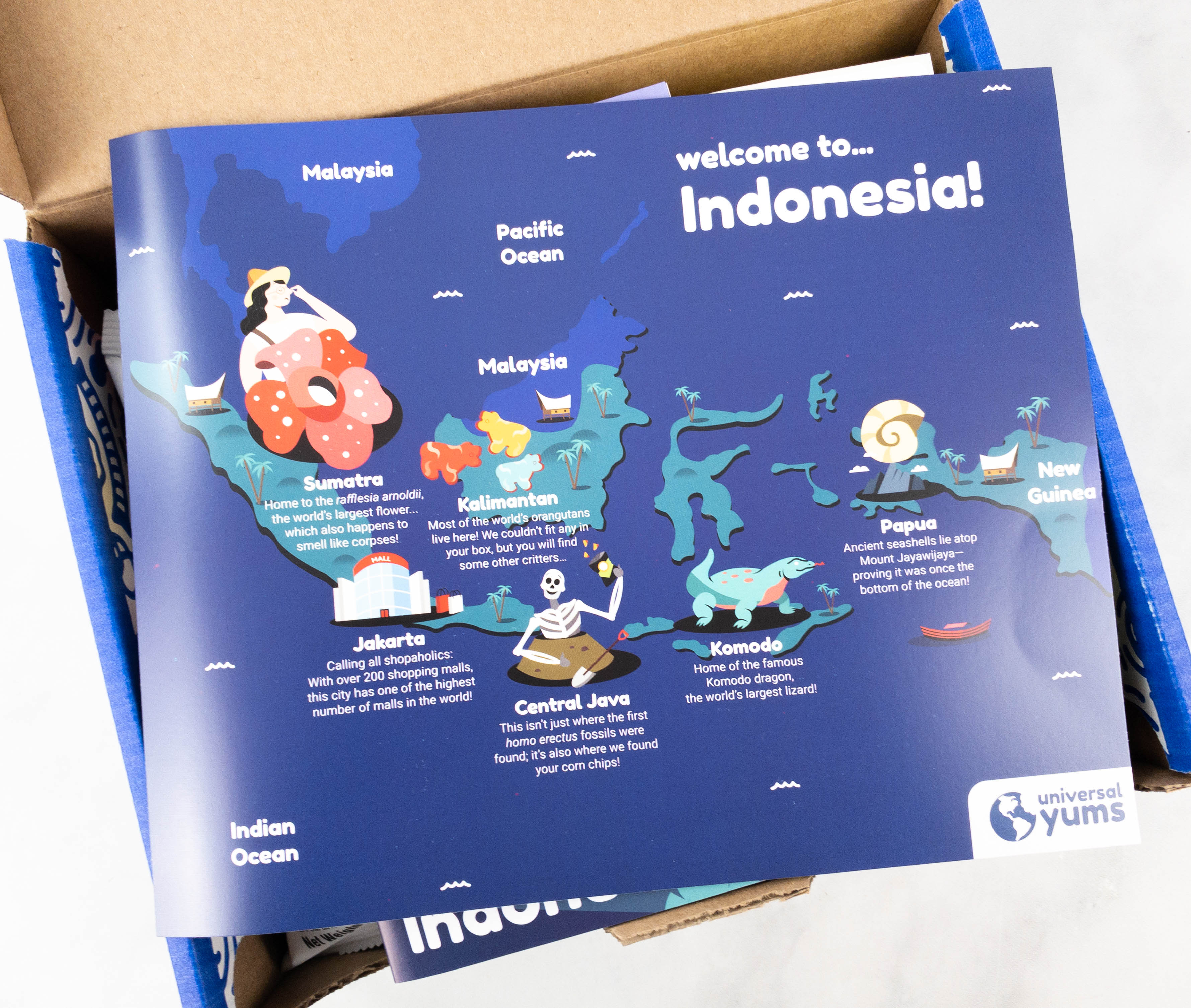 This month's featured place is INDONESIA!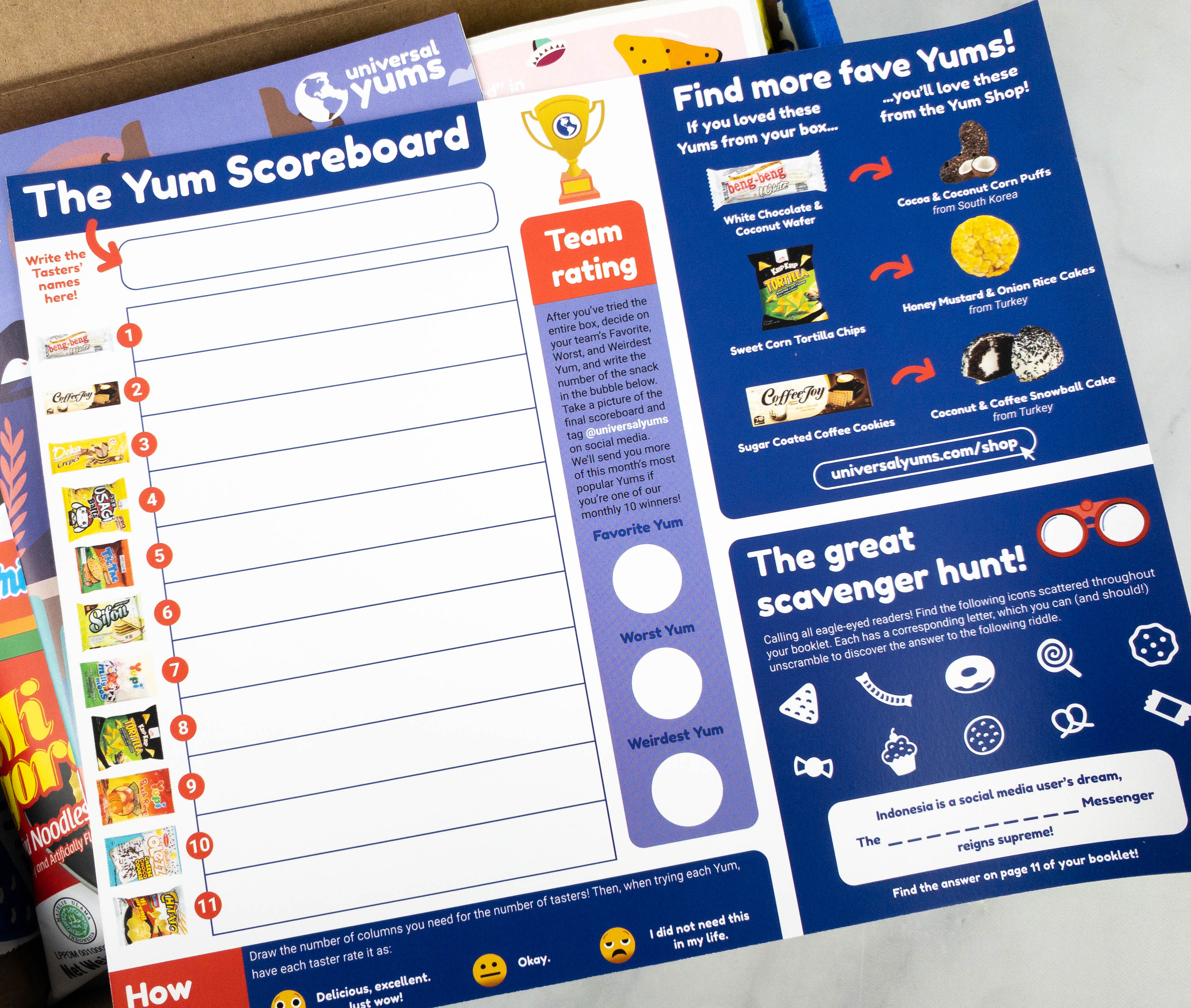 At the back is The Yum Scoreboard where you can rate all the snacks. You can also vote on an upcoming box!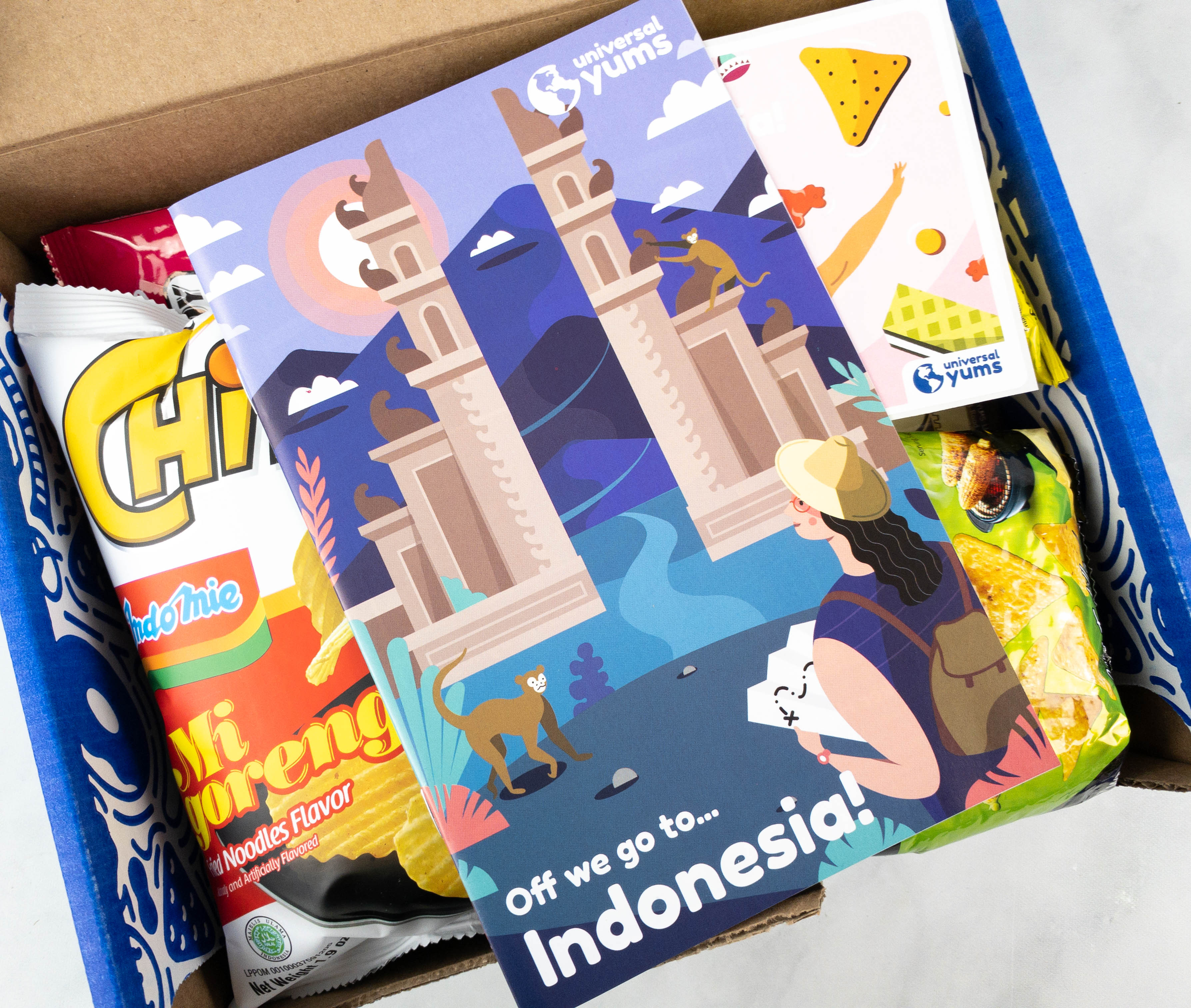 Aside from the card, the box includes an information booklet.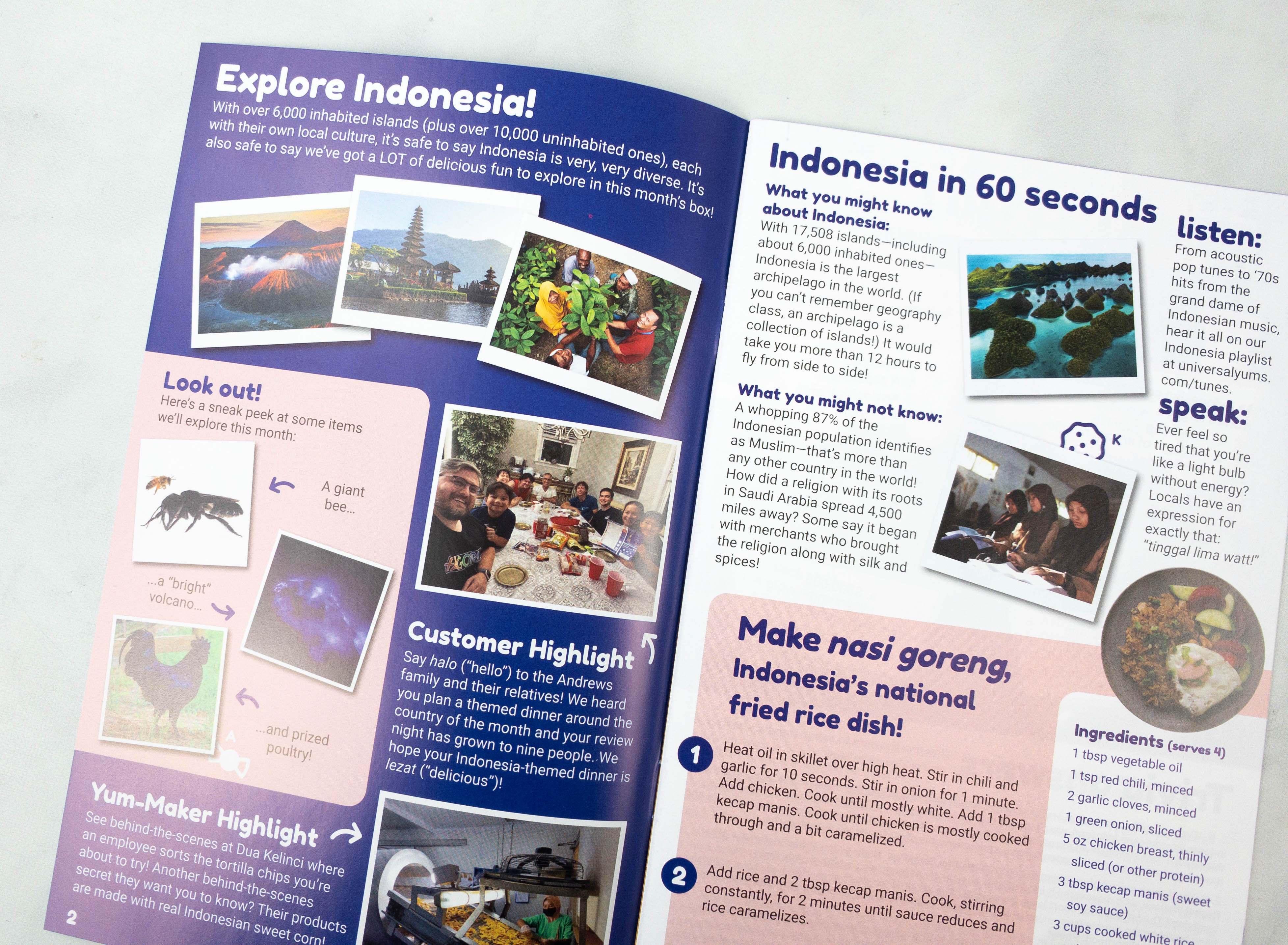 Inside the booklet, there are more fun facts about Indonesia, and some sneak peeks of the country's rich culture and destinations. There's even a recipe for nasi goreng, Indonesia's national fried rice dish!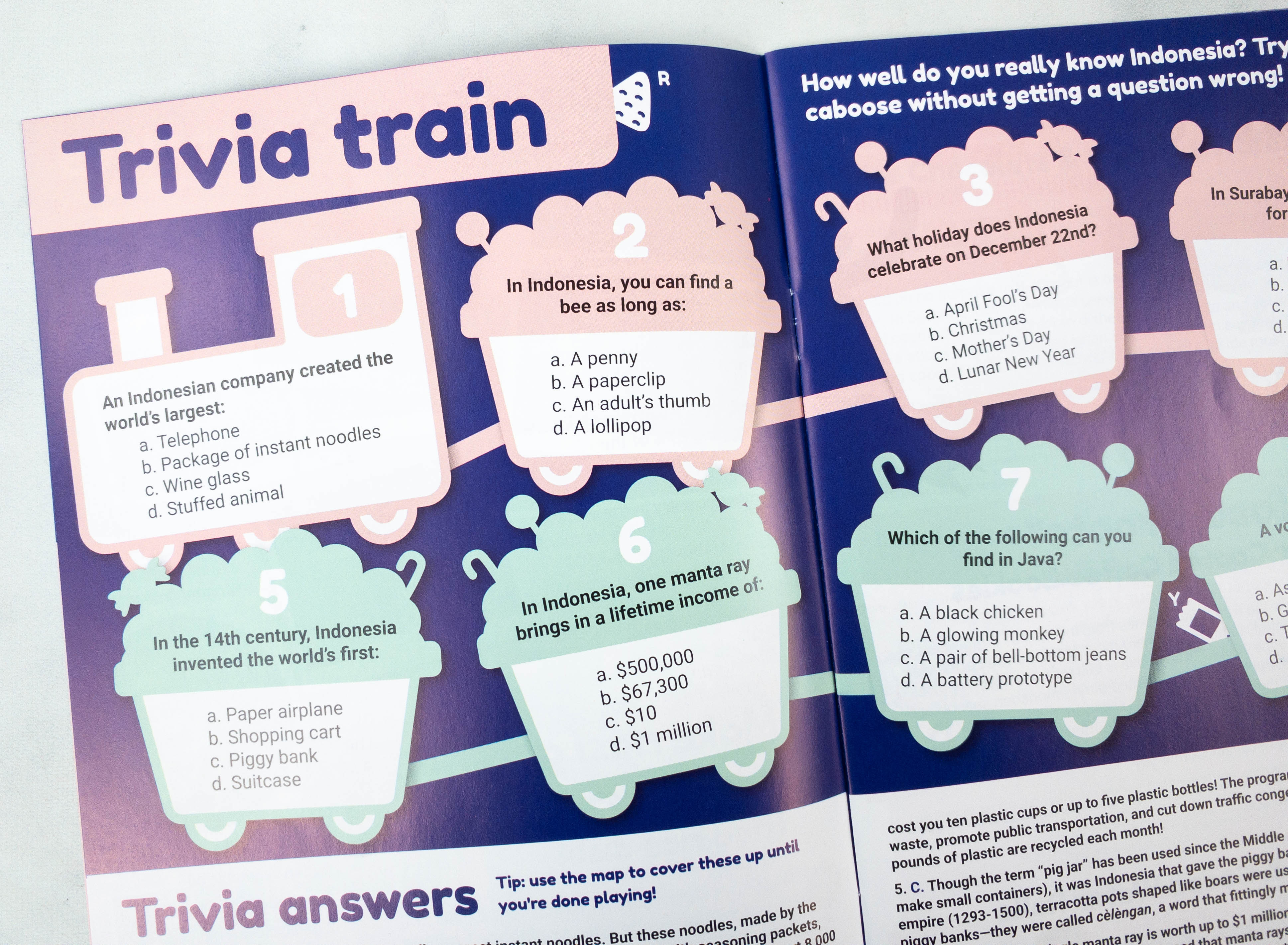 Here's a trivia page where you can test your knowledge about this wonderful country!
This booklet also lists all the snacks inside this box.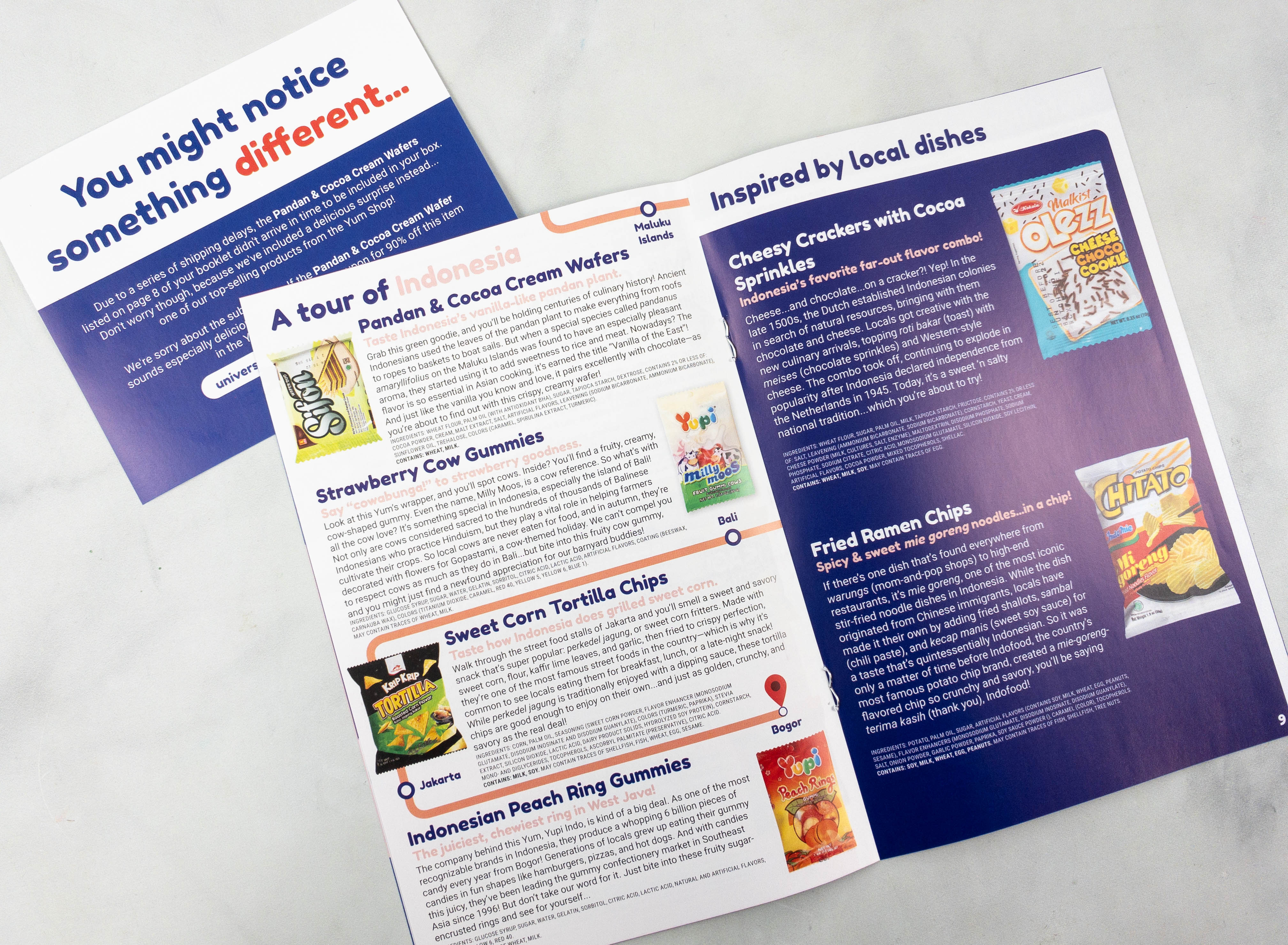 Each snack comes with a photo and a long description in the booklet! There's also a note about a missing snack in the Indonesia box.
Due to a series of shipping delays, the Pandan & Cocoa Cream Wafers listed on page 8 of your booklet didn't arrive in time to be included in your box. Don't worry though, because we've included a delicious surprise instead… one of our top-selling products from the Yum Shop!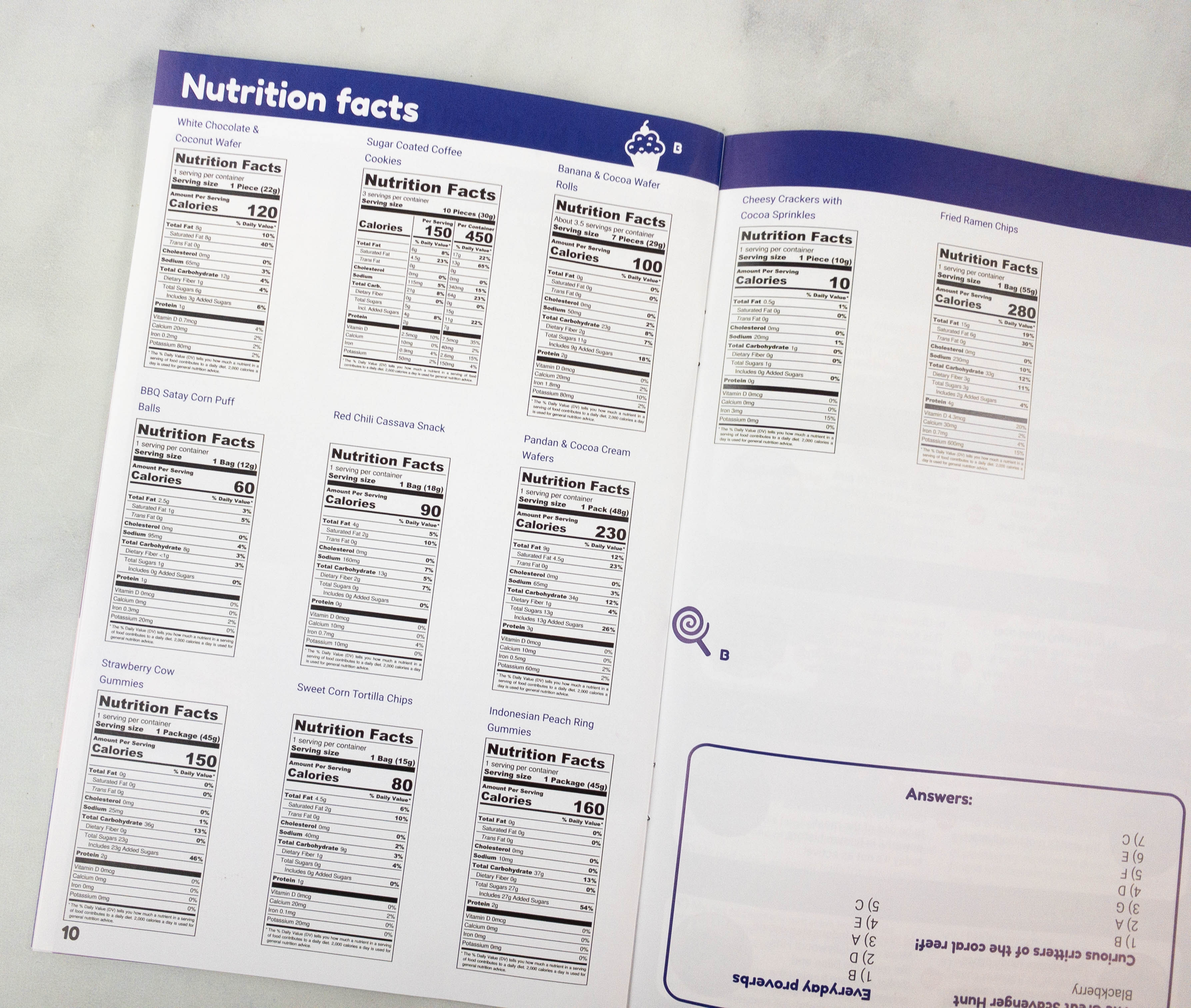 They also included the Nutrition Facts of each item this month.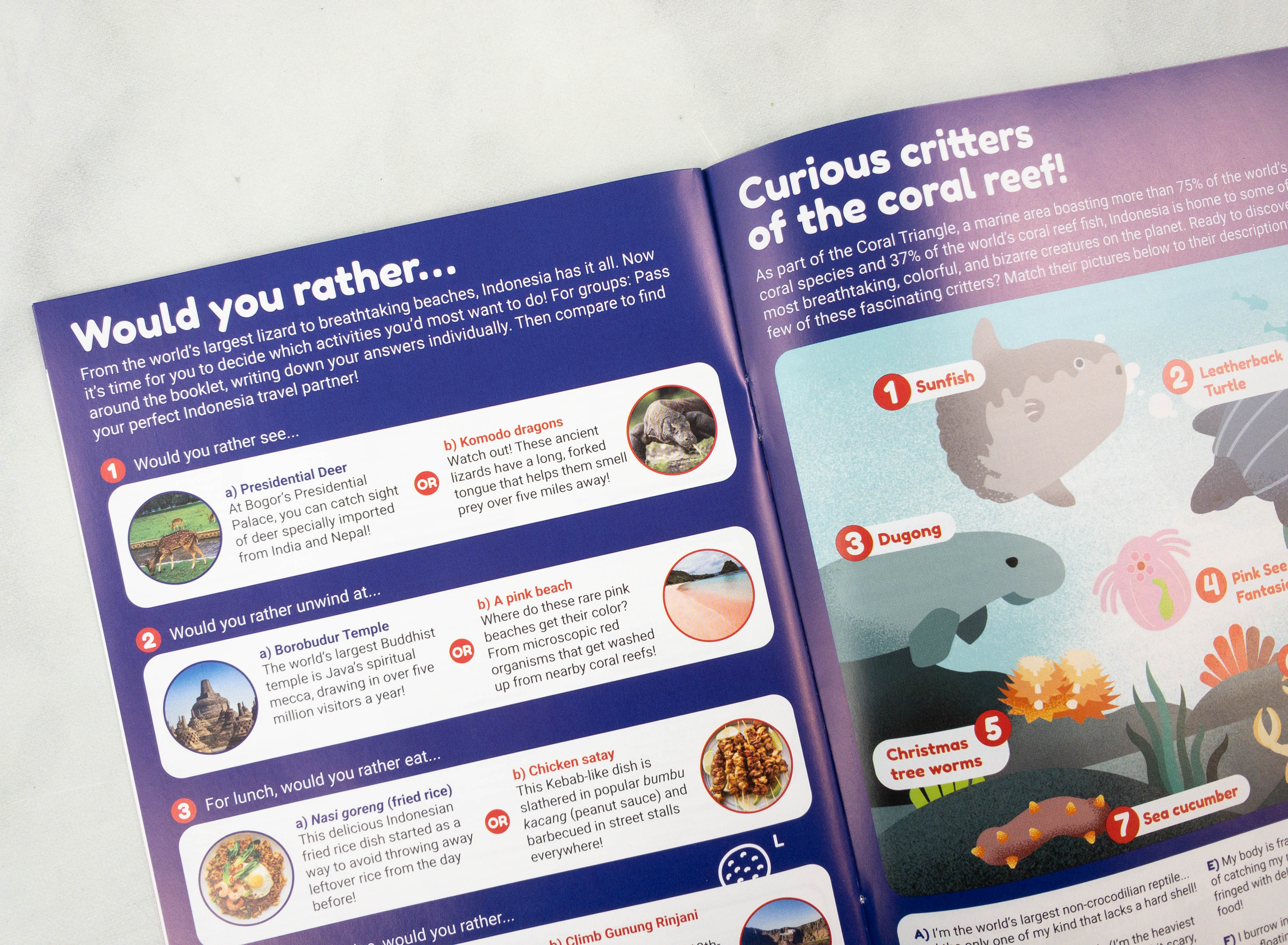 It also discussed a variety of corals and sea creatures that can be found in the country's marine area.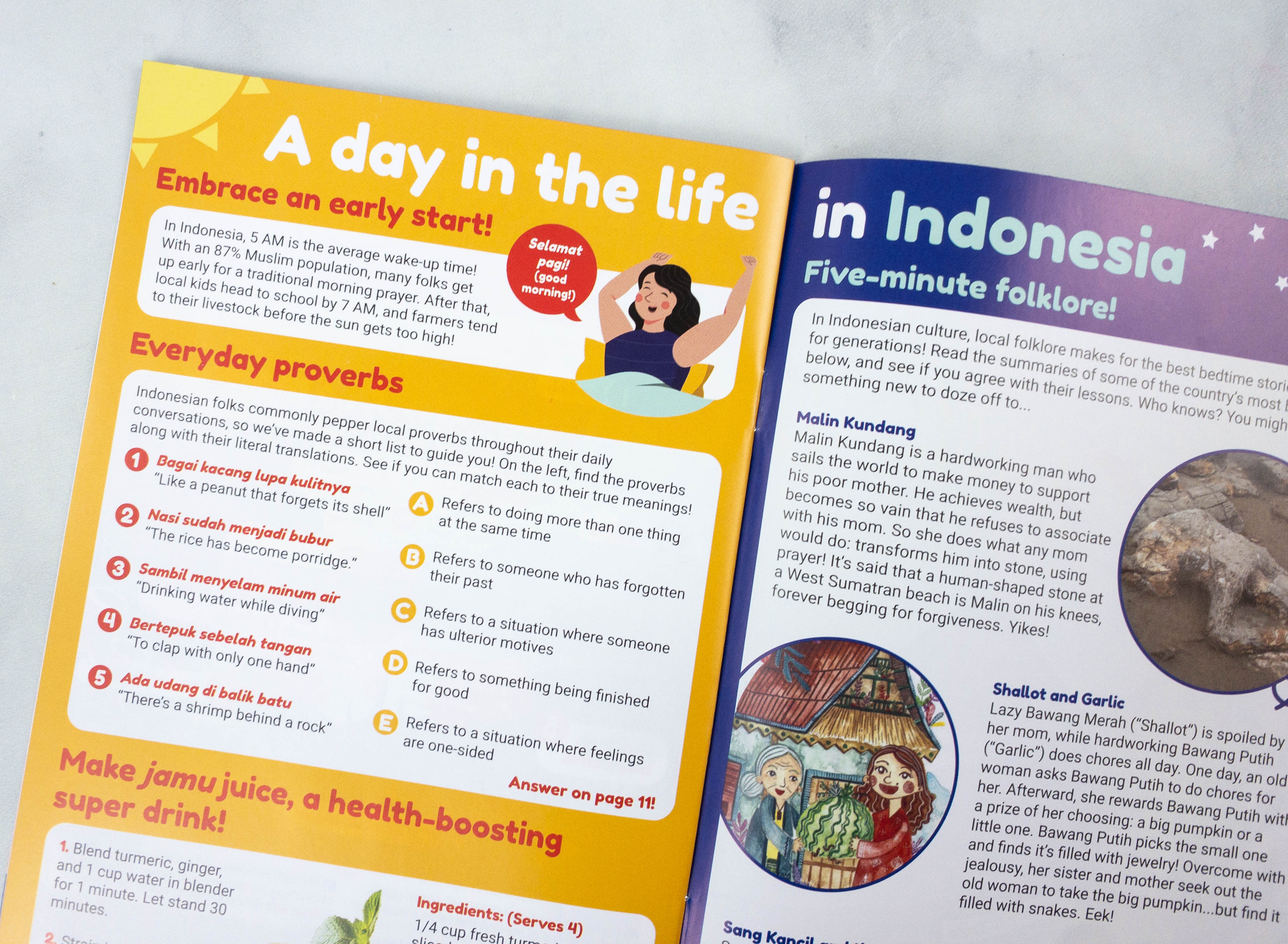 This part of the booklet also featured a five minute folklore from Indonesia and a short list of the country's common conversations.
There's also a sticker showing Indonesia's popular snacks and sport!
Here's everything in my October 2021 box: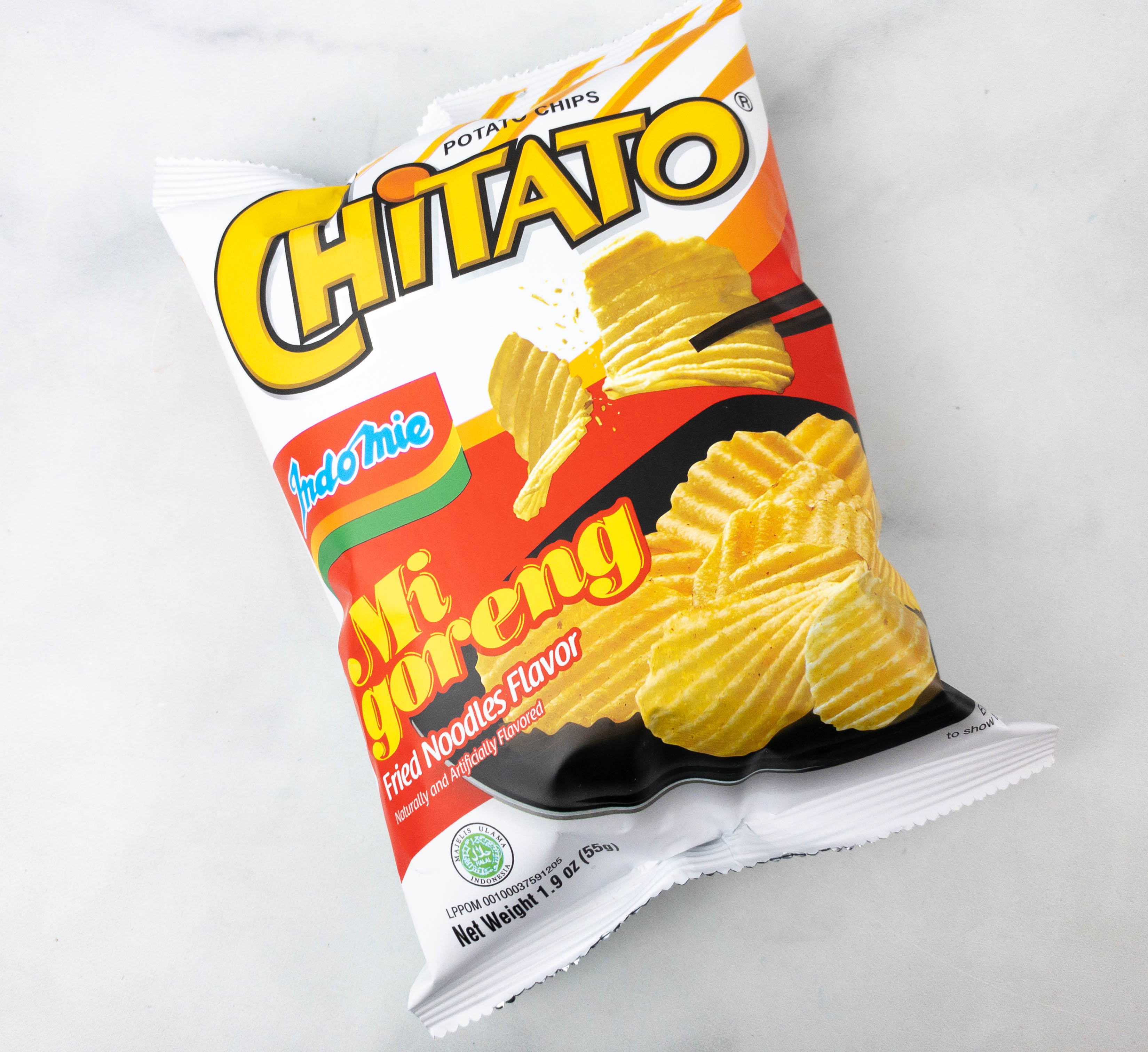 Fried Ramen Chips. First up is a pack of chips inspired by the iconic stir-fried noodle dish from Indonesia, mie goreng.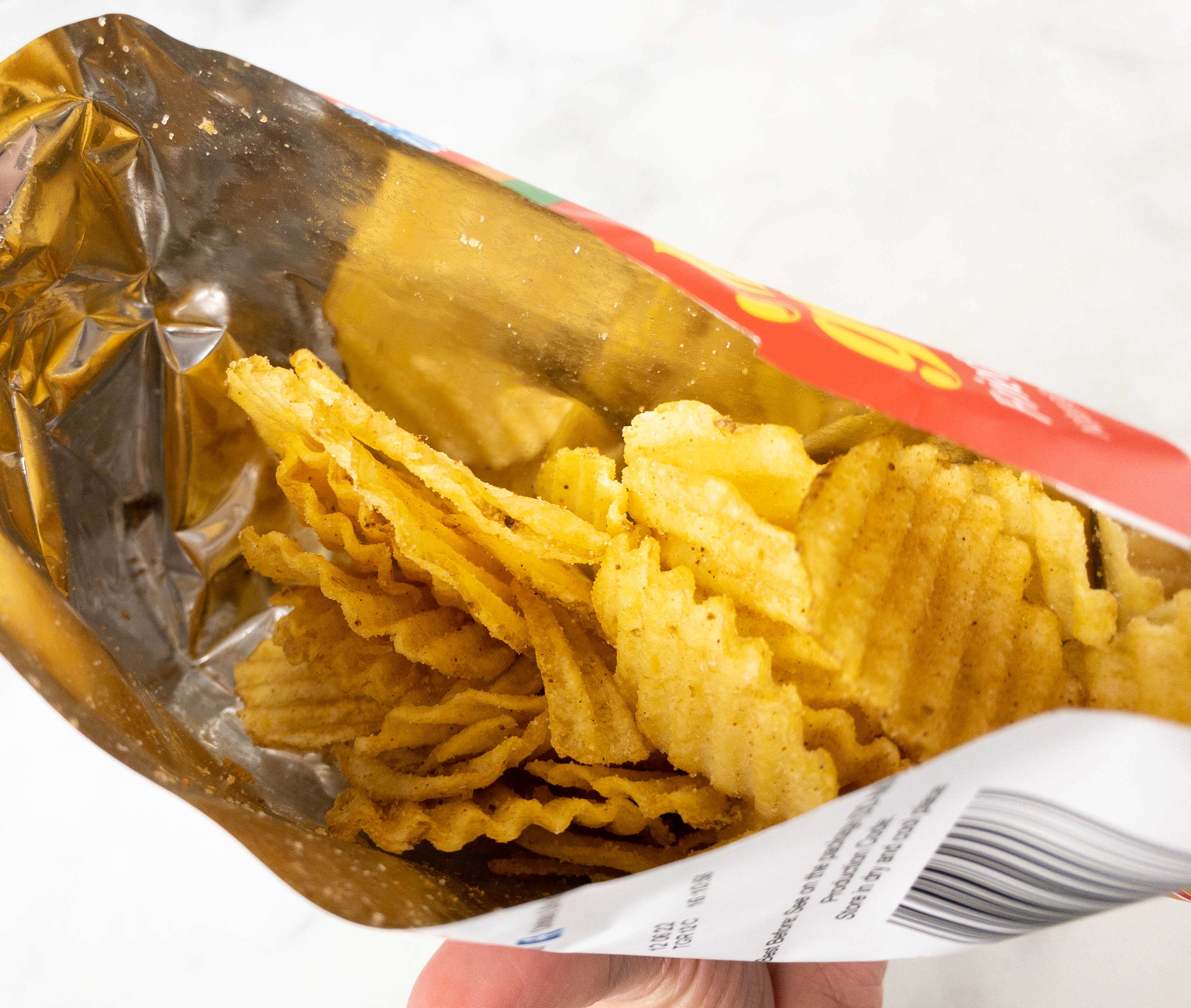 I love the combination of spicy and sweet flavors in each crunchy chip!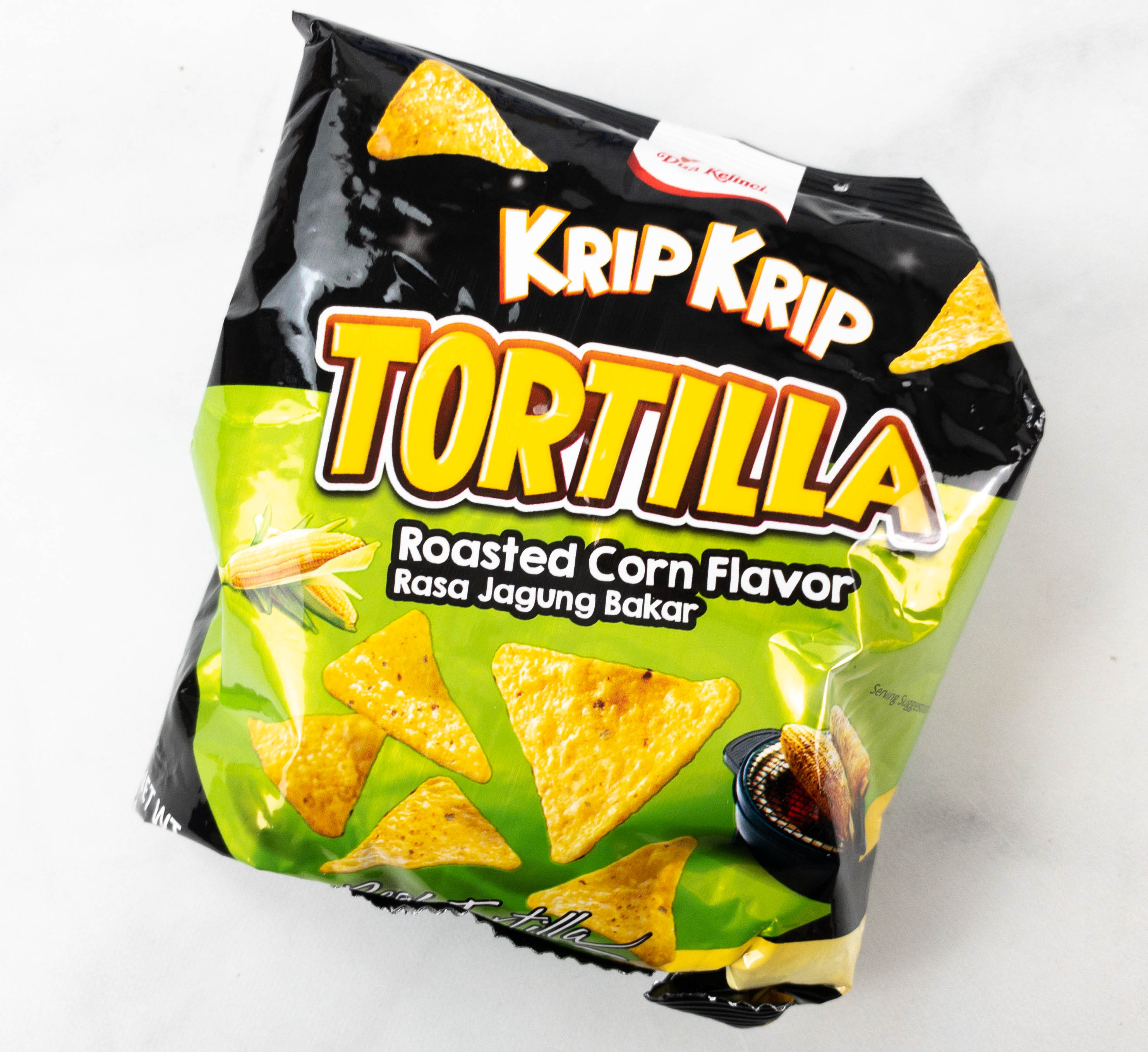 Sweet Corn Tortilla Chips. I also received a pack of roasted corn flavored tortilla chips, the next best thing to Indonesian grilled sweet corn. It can be enjoyed with a dip, but it already tastes good on its own!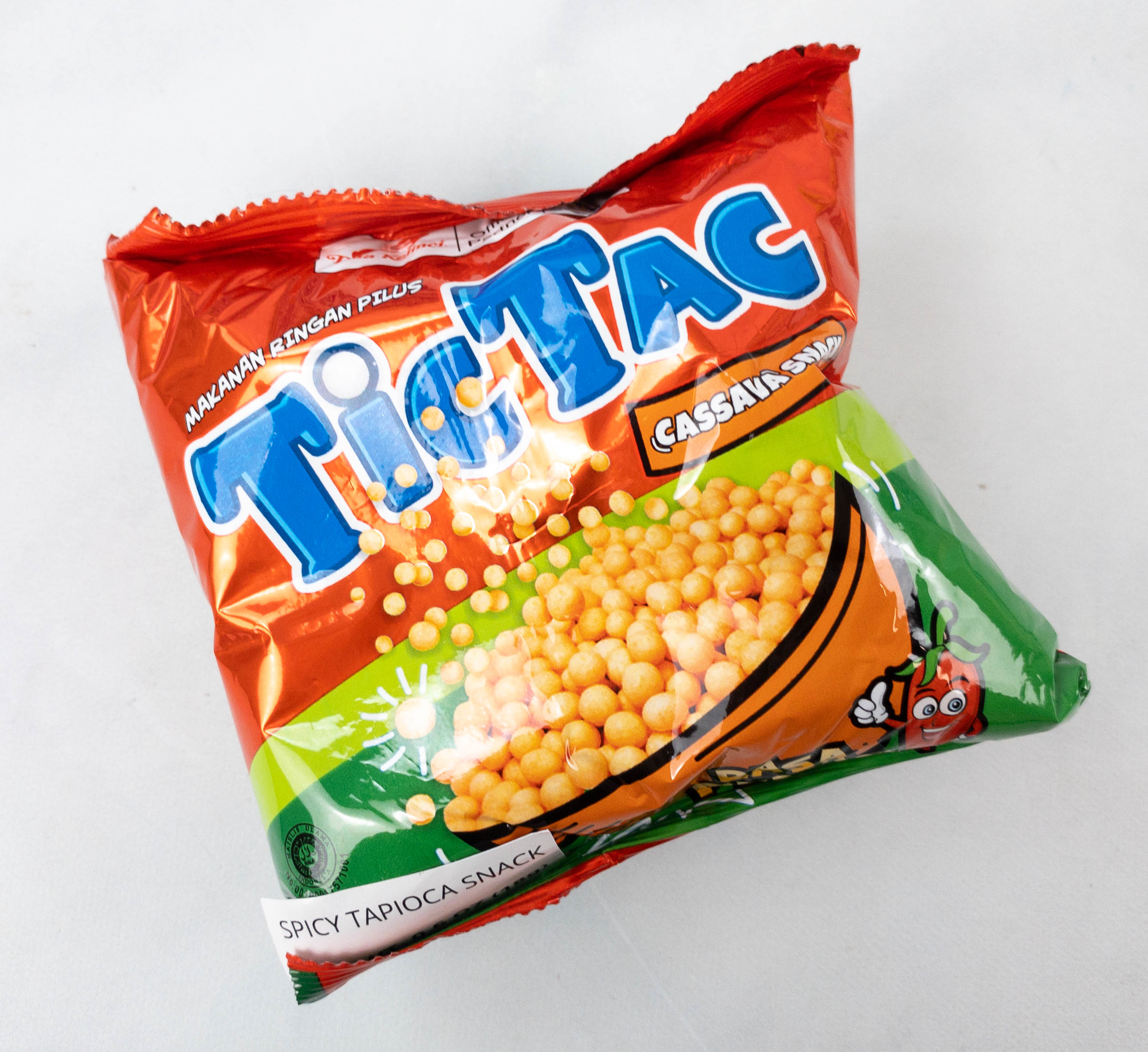 Red Chili Cassava Snack. These little white balls may look like regular cereals but don't be fooled! Each ball is made from tapioca starch and infused with a spicy blend of onion, salt, sugar, sesame, garlic, and chili powder, making it spicy and salty at the same time.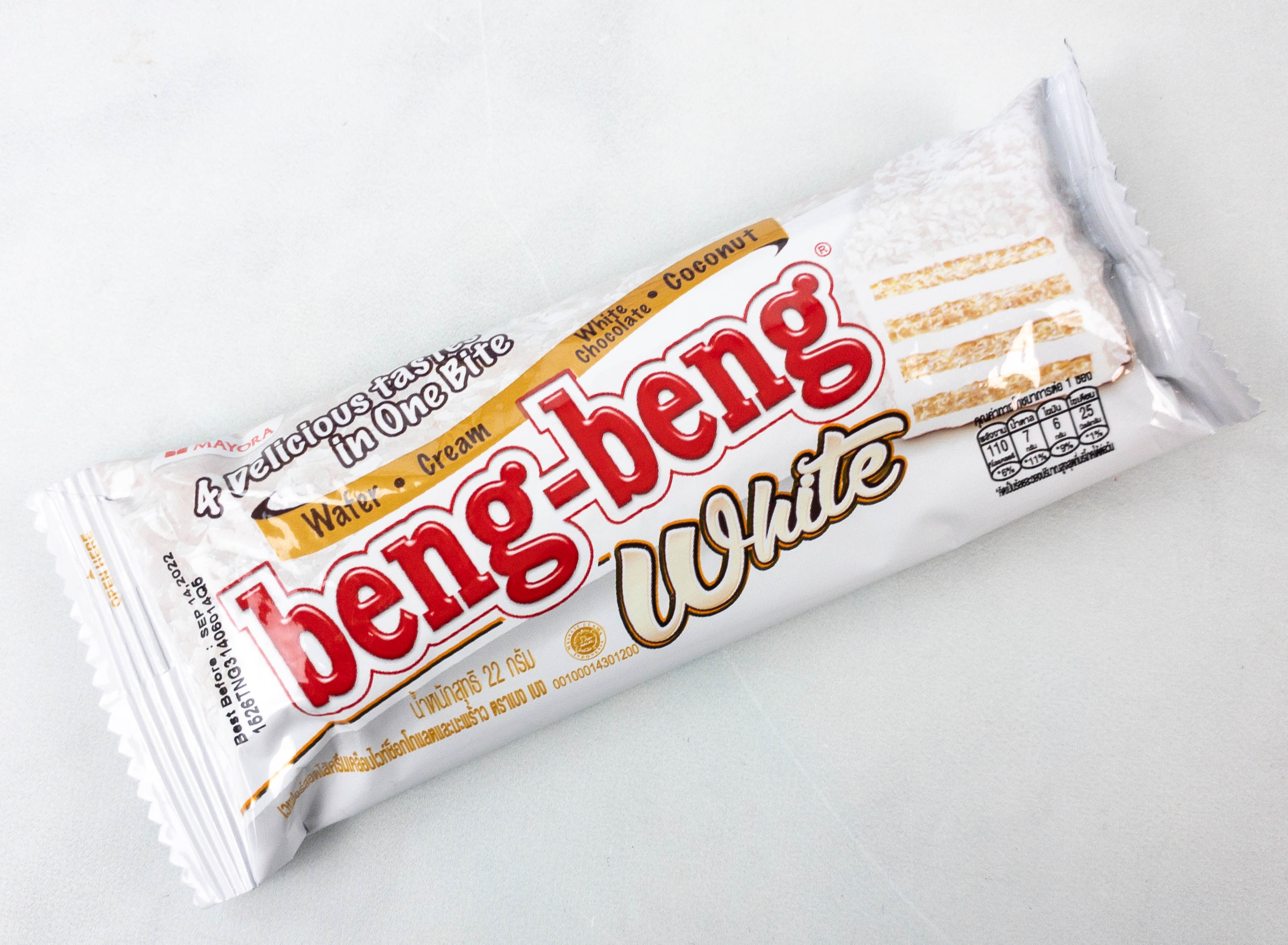 White Chocolate & Coconut Wafer. This coconut wafer is a great snack for all ages. It's coated with white chocolate, and it's perfectly sweet and crunchy! It's a perfect dessert treat or an on-the-go snack!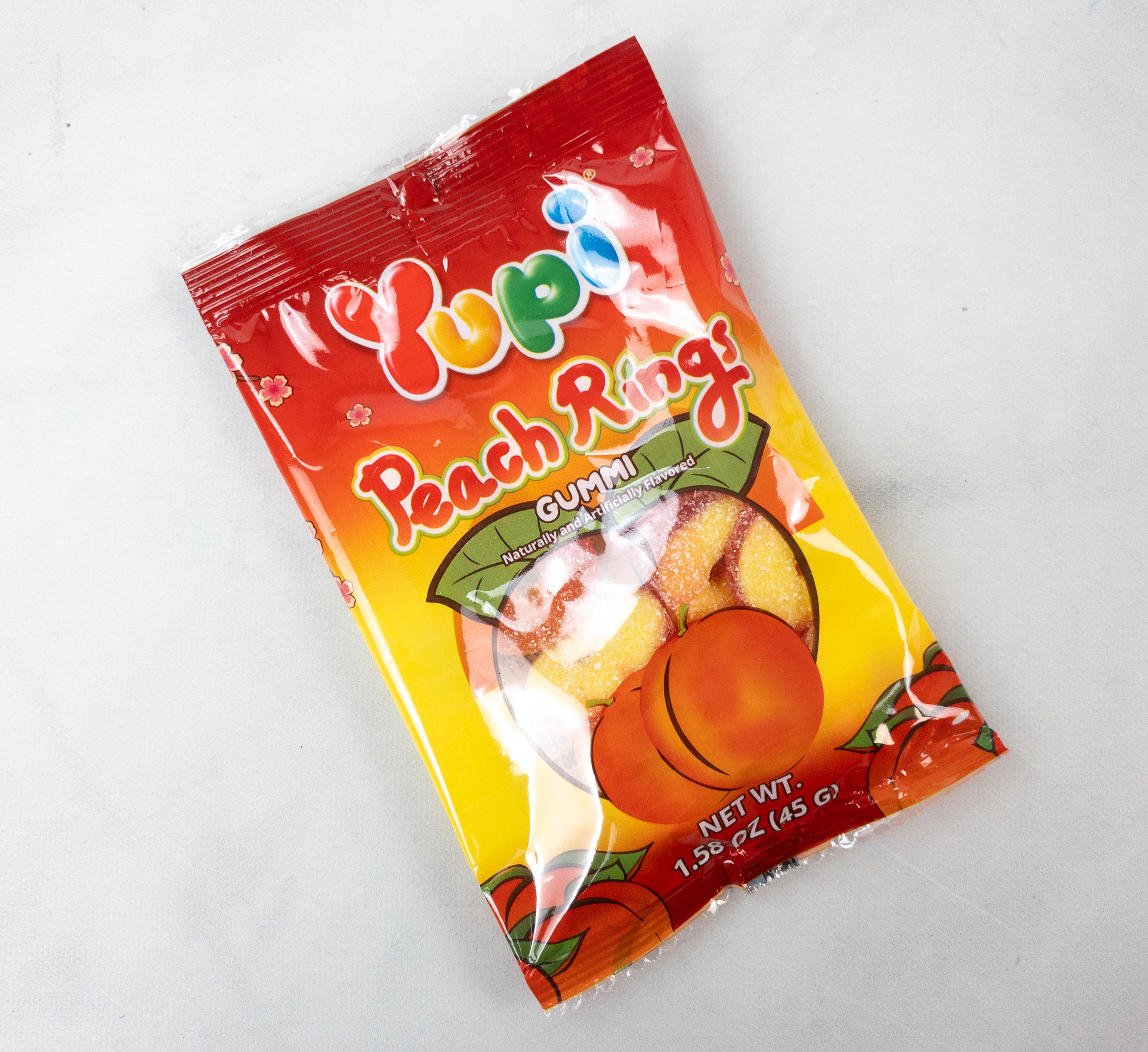 Indonesian Peach Ring Gummies. This pack of ring-shaped gummies is bursting with peach flavor! They have a chewy texture, and they are also coated with sugar to balance the tart flavor.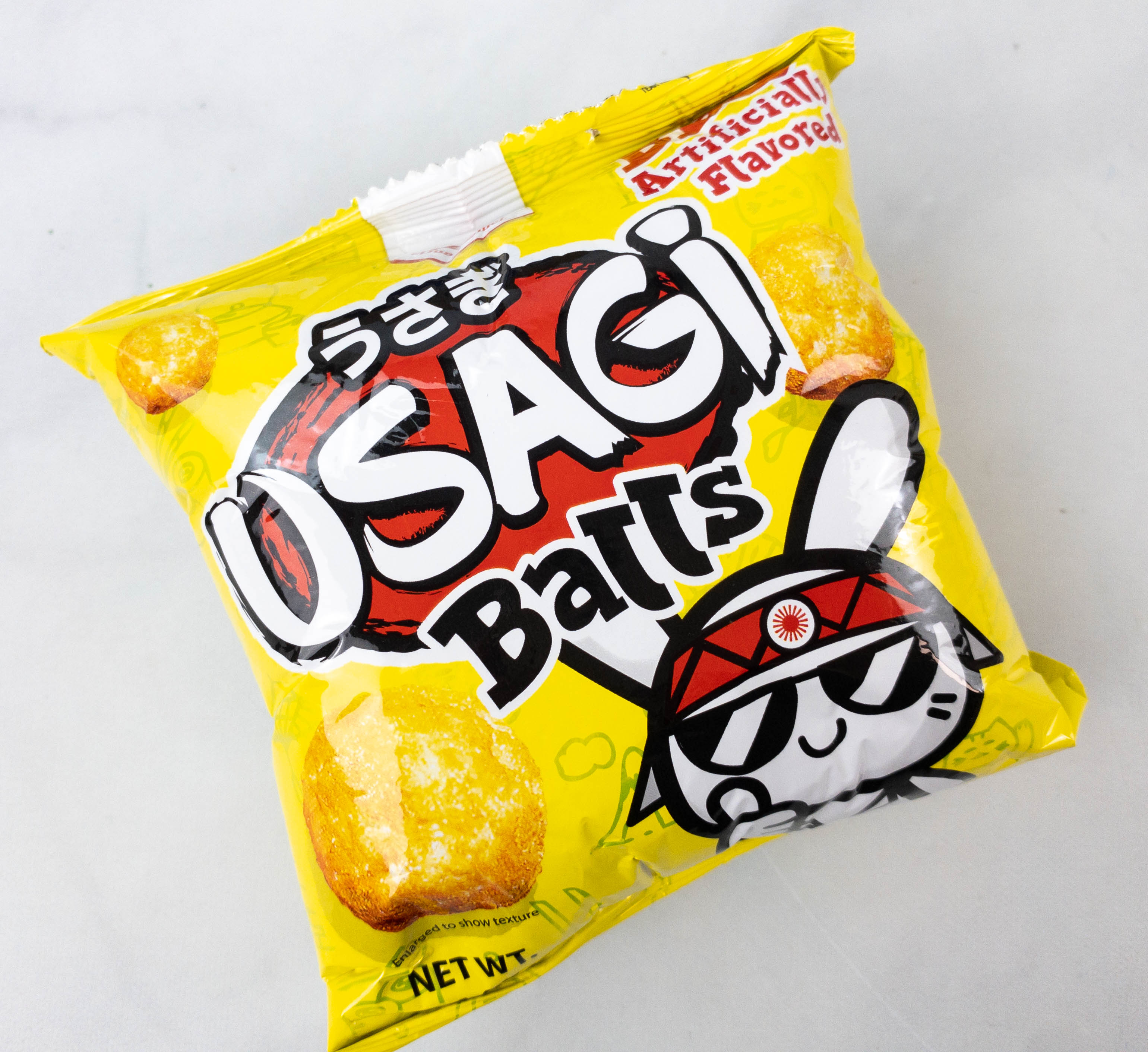 BBQ Satay Corn Puff Balls. These puff balls are inspired by satay, an Indonesian dish made with seasoned, skewered, and grilled meat. I can't believe how savory this snack is! Each piece is light and airy as well.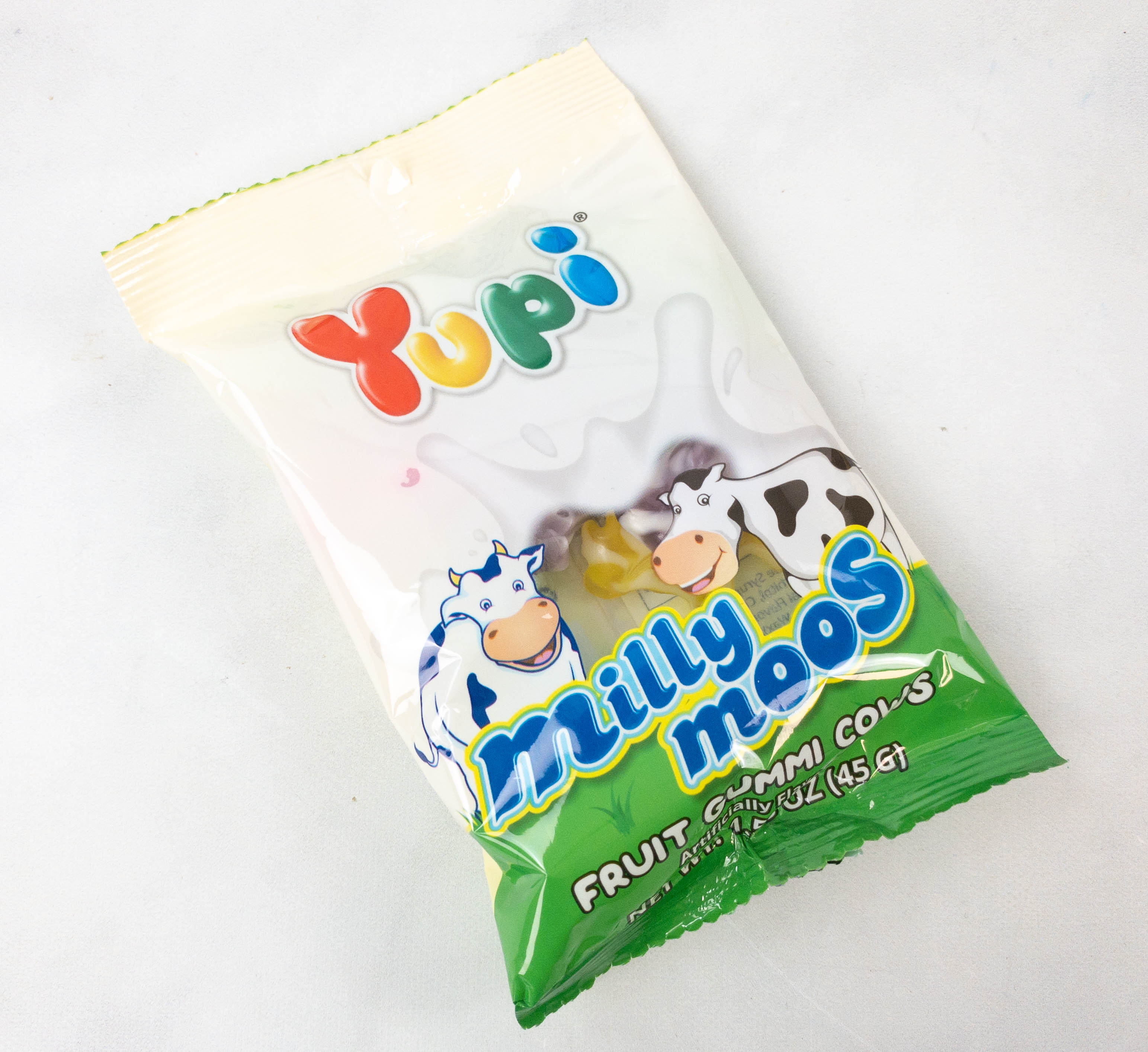 Strawberry Cow Gummies. Animal shaped snacks are always a hit with my kids and these cow shaped gummies from Indonesia are not an exception. They are strawberry flavored and they are perfectly chewy and creamy!
Cheesy Crackers with Cocoa Sprinkles. Combining cheese and chocolate in this cracker is such an excellent idea!
The box includes 5 individually wrapped crackers, which make a great treat any time of the day. The cocoa sprinkles on top of the crackers make them extra tasty! I didn't find the cheese to be odd at all – this is a very tasty and unique flavor combo!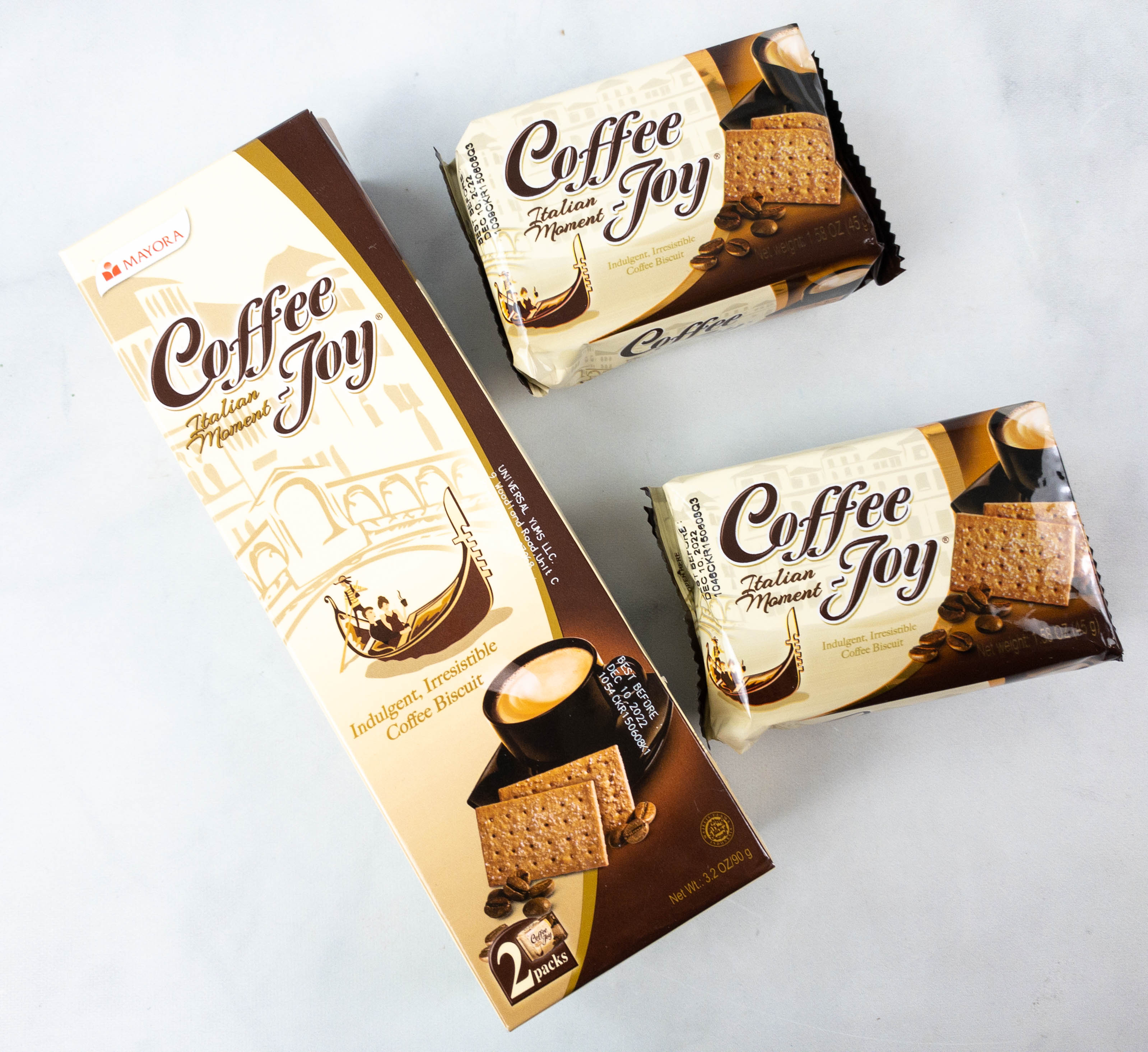 Sugar Coated Coffee Cookies. For coffee lovers, here's a unique Indonesian snack: coffee-infused cookies!
The taste of coffee is really noticeable in each bite and the sugar coating added just the right amount of sweetness!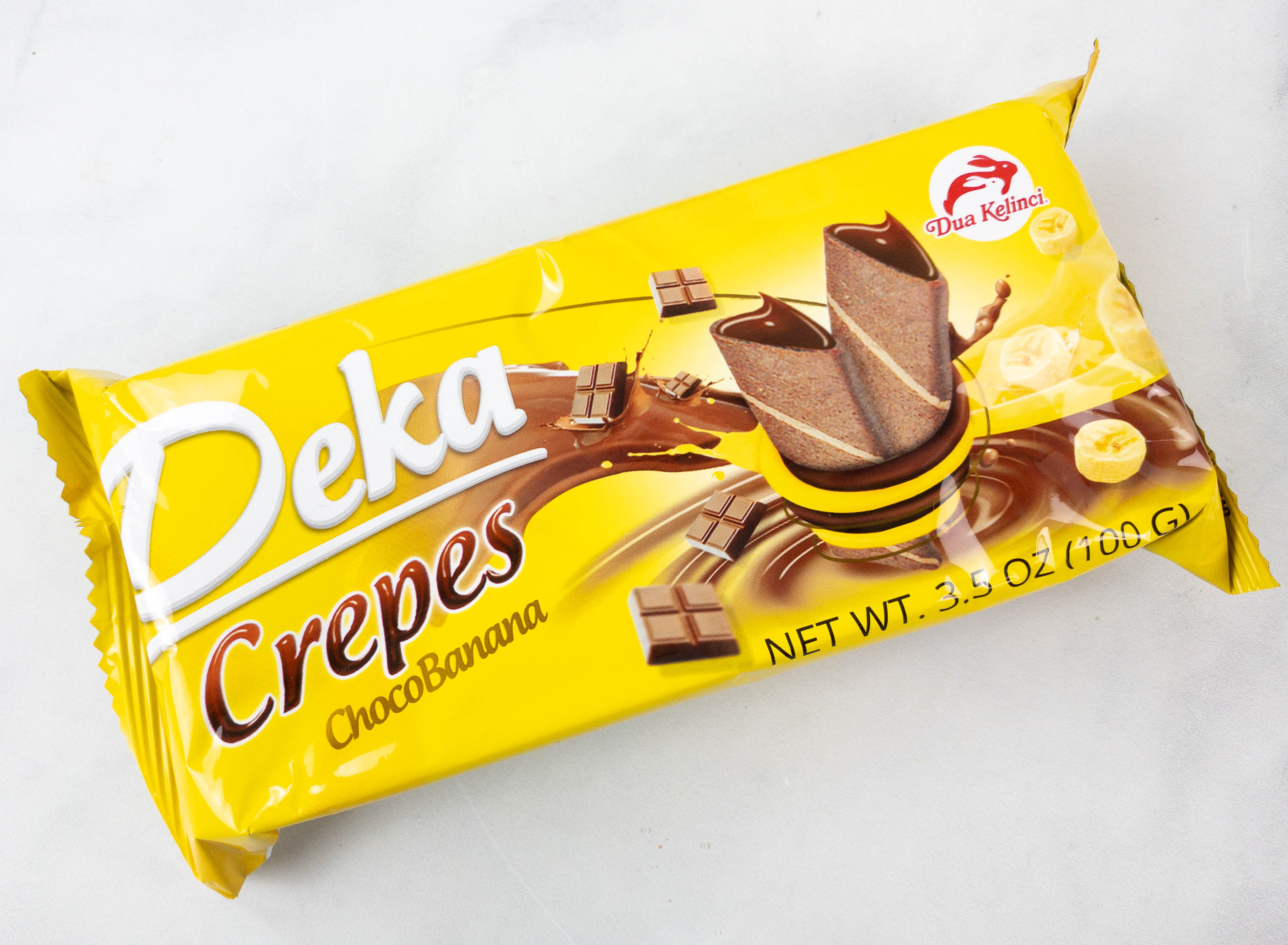 Banana & Cocoa Wafer Rolls. Lastly, here's a pack of wafer rolls made with cocoa and yummy banana cream!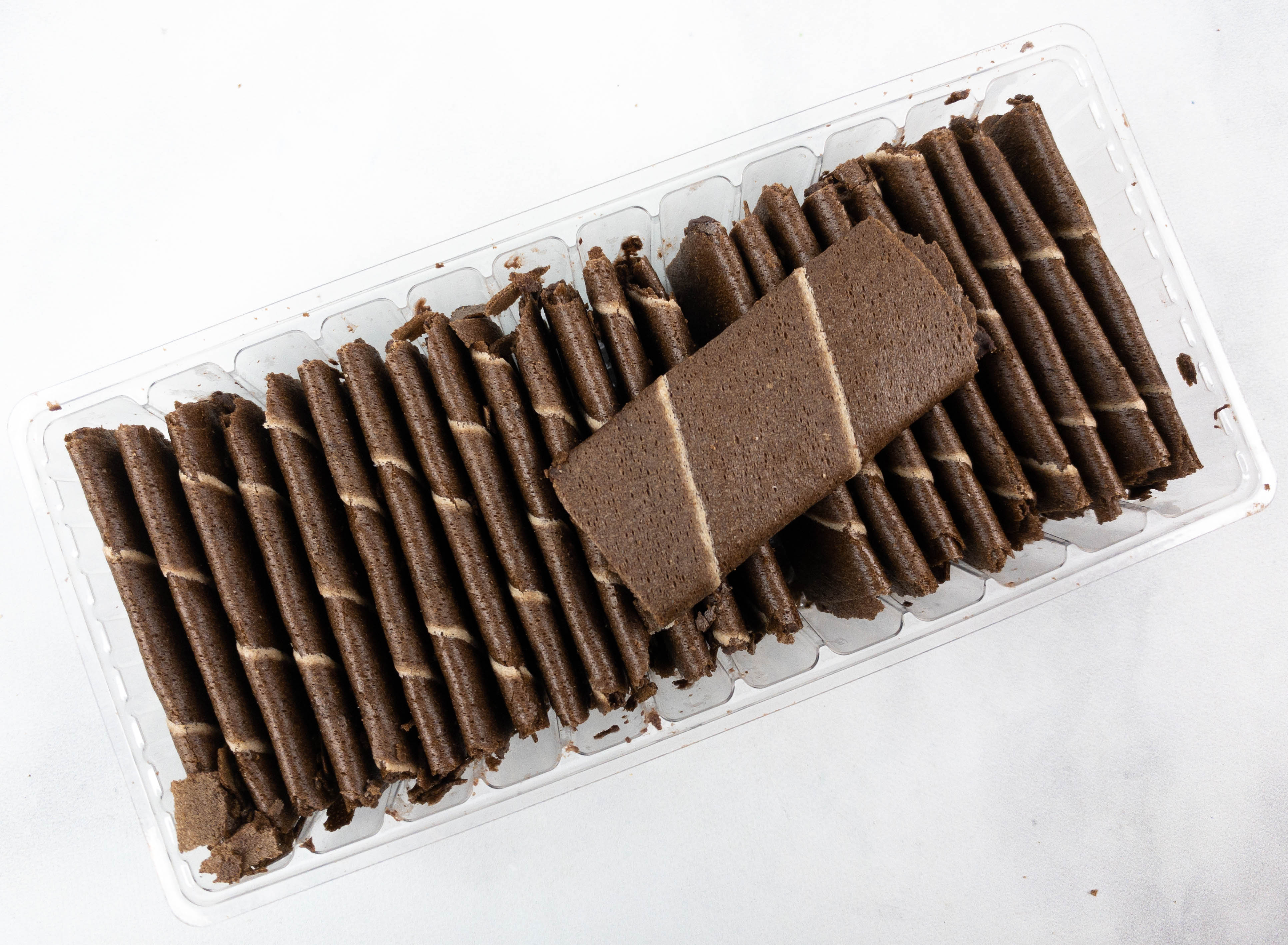 The banana cream filling makes each bite perfectly sweet. This delicate and flaky wafer snack also goes well with a hot beverage!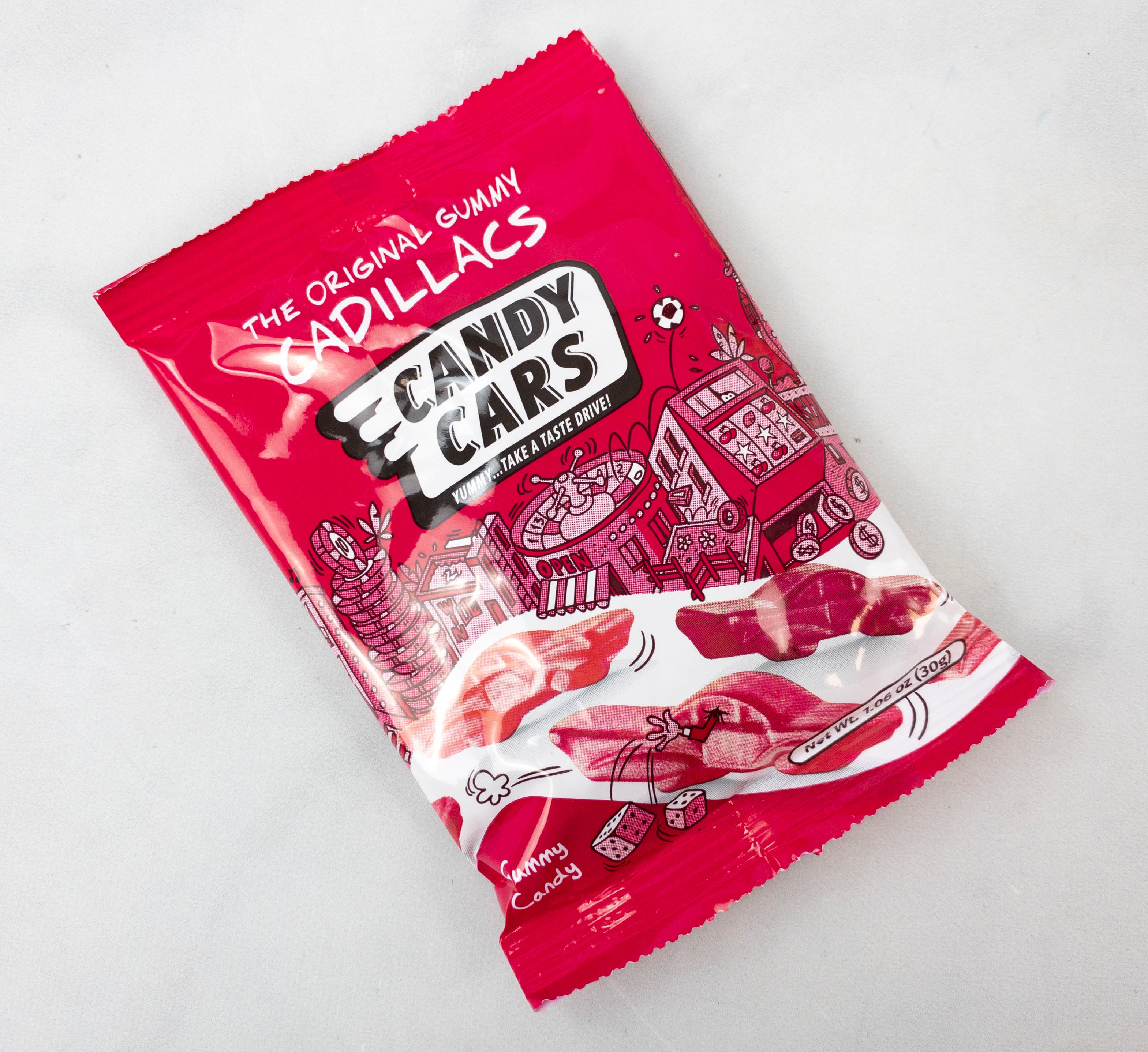 Gummy Car Candies. This pack of Dutch Cadillac gummy candies is the replacement for the pandan wafers that didn't make it to the box. I would've loved to try the wafers but these are also pretty good. The gummies come in juicy strawberry, blackcurrant, and cherry flavors!
Universal Yums has once again proved that the world is full of snacks that need to be discovered. This month, it features the beautiful place of Indonesia and the highlighted snacks were as interesting as the Southeast Asian country. There are snacks inspired by iconic local food like the satay corn puffs and mi goreng chips. I also loved the sweets in this box, especially the banana cocoa wafers. I'm sad because I wasn't able to try the pandan wafers but at least they sent a replacement snack. Trying all the snacks in this box is a good way to be introduced to a country's rich culture, history, and resources. Our family really enjoyed the box and as always, our taste buds are satisfied. If your family loves snacks from all over the world, this subscription is a must have!
Have you tried Universal Yums? What do you think?