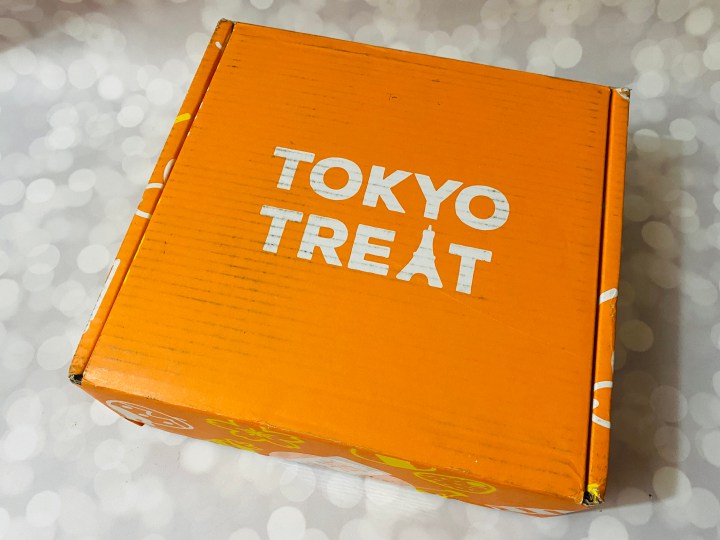 Tokyo Treat is a monthly Japanese snack and candy subscription box that is shipped directly from Japan. Tokyo Treat's Japanese snack and candy subscription box is a reader fave and made the list in our 2021 readers' choice picks of best snack and candy subscription boxes!
There are two box sizes — Classic ($25) and Premium ($35). Shipping is $12.50 to the US, and is about the same for other countries.
The Classic box includes 12 items altogether — 4 popular snacks, 4 share packs (new), 2 dagashi snacks, 1 DIY candy kit, and 1 kinosei (quirky) snack.
The Premium box includes 17 items — 5 popular snacks, 1 party pack (new), 4 share packs (new), 3 dagashi snacks, 1 anime snack (new), 1 DIY candy kit, 1 kinosei snack, 1 drink.
This is a review of the Premium box.
BLACK FRIDAY DEAL: Use this link and use the coupon code BF2021 to get a bonus Japan-exclusive gift! Ends 11/28 MIDNIGHT JST.
This month's box theme is CHRISTMAS CRUNCH!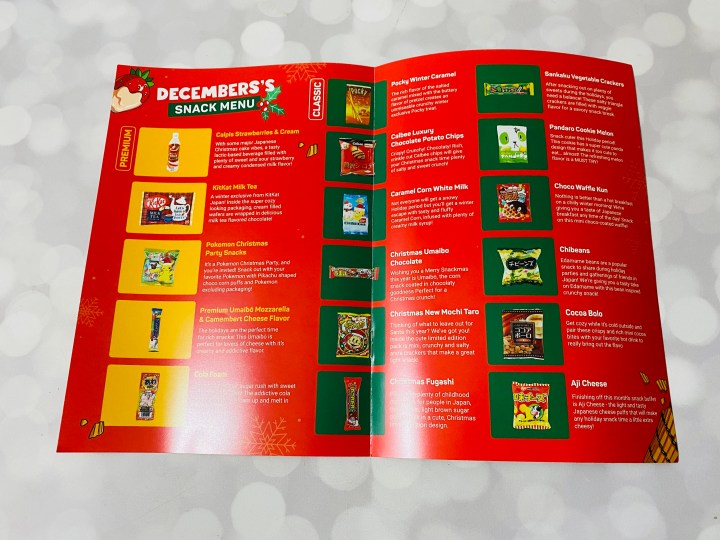 The December snack menu!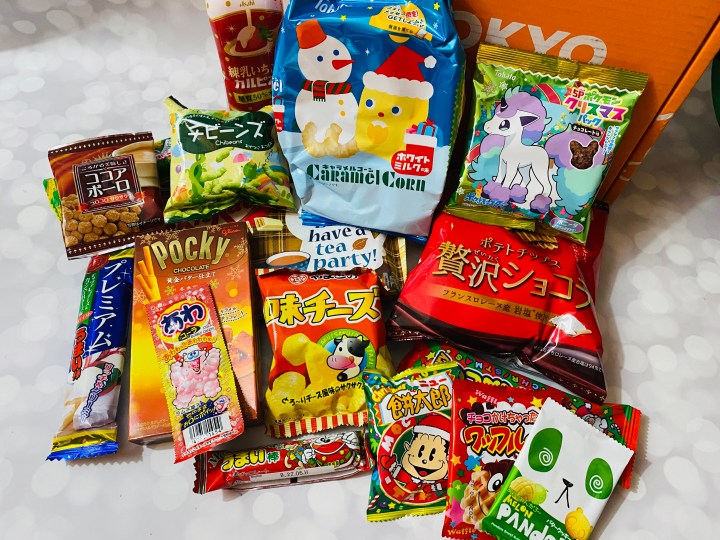 Everything in my box!
Caramel Pocky. Everyone loves Pocky! The December selection is a pretzel style Pocky with a rich caramel coating. The salty-sweet combination is absolutely amazing and addicting!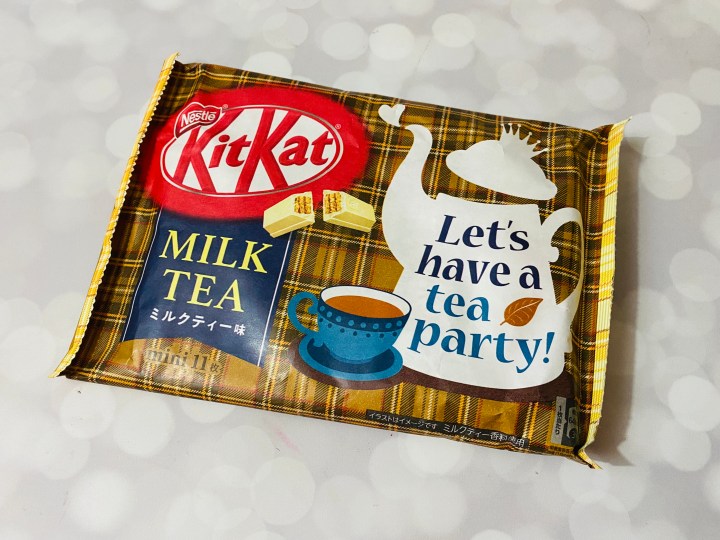 Milk Tea KitKat. Every month we get a selection of special KitKats and this month we got a delicious milk tea flavour! The tea flavour goes so well with the white chocolate. It's a great winter treat!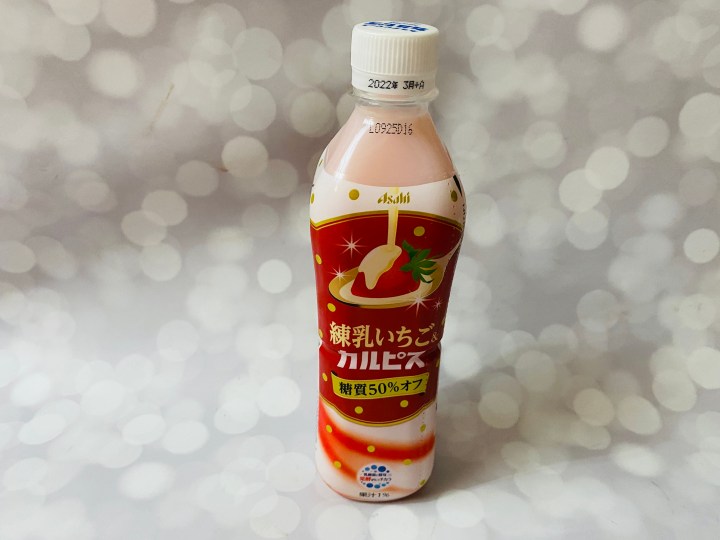 Strawberry and Cream Calpis. Calpis is hands down my favourite drink from Japan. It's hard to explain but it's a milky, carbonated beverage made with yoghurt. So it's kind of like lefir in a way but much thinner and with some bubbles. The original Calpis is a mild lemon flavour but I love this sweet strawberries and cream limited edition flavour!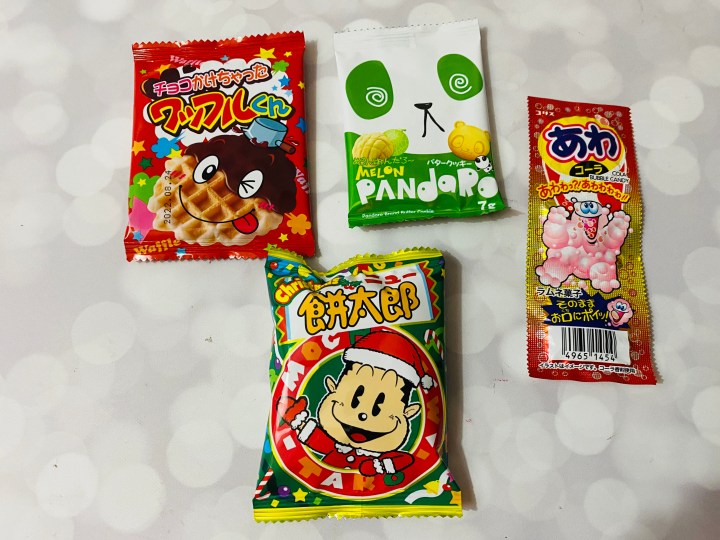 Mini Choco Waffle. A mini waffle cone cookie coated in creamy chocolate. I thought this wasn't very sweet, which is what I prefer, but the waffle cone was super crunchy!
Cookie Melon. A cute panda head shaped cookie with a melon flavoured glaze. I don't normally like melon unless it's watermelon, but Japan always has great melon snacks and I thought this was really tasty!
Christmas Mochi Taro. Super cute arare crackers with a savoury sweet glaze. These aren't as strongly flavoured as many other kinds I've tried but they were so delicious. I'm a huge fan as they're so addicting.
Cola Foam Candies. These cola flavoured candies begin to bubble and foam as soon as you taste them! They melt in your mouth easily and taste like real soda.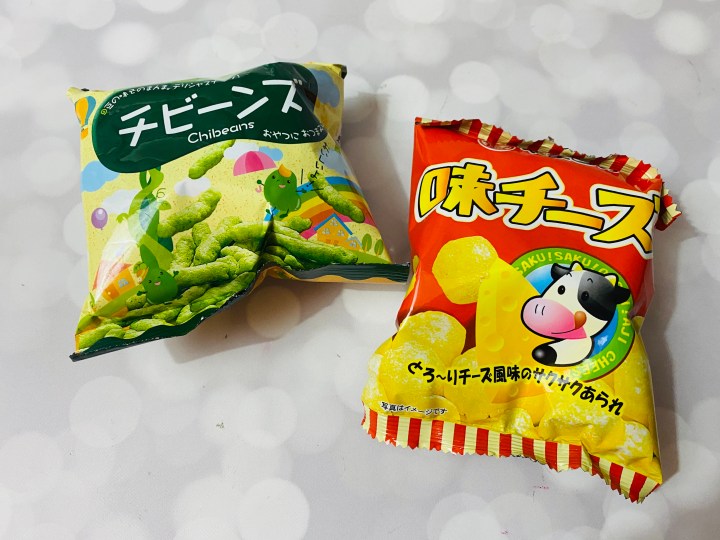 Chibeans. These are baked edamame beans that have puffed up and softened with the process. They're sooo delicious. They remind me a lot of the similar snap pea snacks but the bean variety is more dense and crunchu.
Cheese Puffs. These little puffed corn snacks have been in previous Tokyo Treat boxes and I think they're great. The cheese flavour isn't very strong, much more mild, but they are light and airy.
Sankaku Vegetable Crackers. Delicious veggie seasoned crackers. These are addicting!
Christmas Cocoa Puff. Similar to the smaller choco umaibo in this box is a puffed corn snack with a cocoa flavour.
Mozzarella and Camembert Umaibo. A luxury umaibo with a premium cheese flavour. The depth of this is so much more intense than normal umaibo!
Chocolate Umaibo. A delicious chocolate umaibo.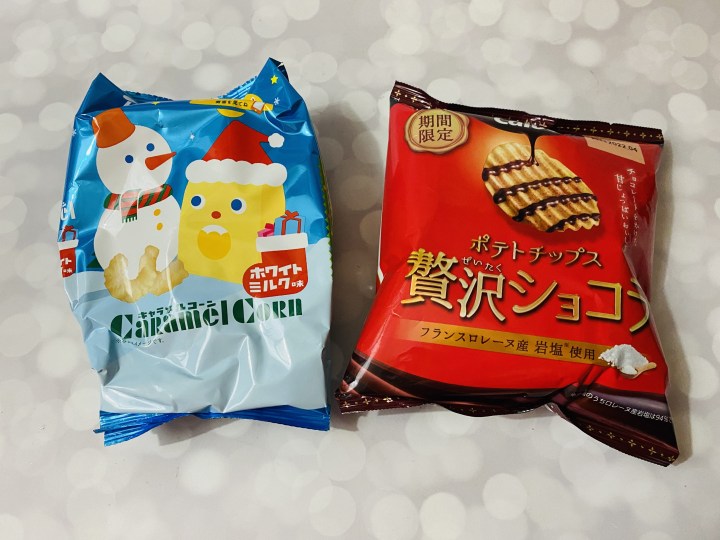 White Chocolate Caramel Corn. This isn't popcorn but rather puffed corn snacks with a very sweet white chocolate flavour. It's addicting!
Chocolate Potato Chips. I never would have tried something like this before, but it's delicious! The salty-sweet combo is again something I love so this was really enjoyable.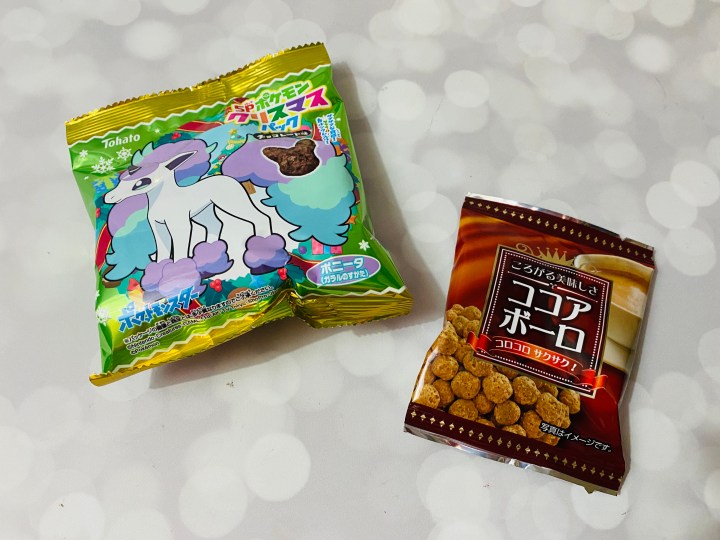 Pokémon Cocoa Puffs. Wow, this month has a lot of chocolatey snacks! These adorable Pokémon snacks are in the shape of Pikachu's head!
Cocoa Bolo. And rounding off the box with one final cocoa snack. These ones have a stronger flavour and I think I prefer them out of all of them!
This month's box was heavy on the chocolate snacks but I think the standout items are definitely the Calpis and the Pocky for me. I also loved getting to try one of the fancier Umaibo kinds! This box always hasa great balance of sweet and savoury, and the bonus drink and unique KitKats set Tokyo Treat apart from other snack boxes for sure!
What did you think of this month's Tokyo Treat?