We have December 2021 spoilers for Stickii's sticker subscription clubs! Join by 5PM Pacific on the 7th!
December is on its way – if you listen carefully, you can almost hear bells jing-jingling in the distance! Our packs for December are looking into the future too; check out your sneak peek at next month's packs: our Cute theme "Floofs!" 🧸 takes you to the near future, where chilly days have got you snuggling up with your favorite soft and fluffy friends, our Vintage theme "Au Plein Air" 🌬️, takes you to warmer times, where you can't get enough of being outside, around nature, having adventures with your lungs full of fresh air and our Pop theme "Under the Rainbow" 🌈🖤 takes you to a strange far future, where thanks to the intrepid Major Tomcat, a new chaotic and colorful world has been discovered in the most unexpected of places!
We challenge you to find a single sticker in this pack that you don't want to immediately wrap up in a big, cozy, fuzzy hug! Cuddle up with your favorite floof with the December Cute pack! 🧸 💤 Snuggle in for a cat nap with everyone's favorite softie @pusheen ! She and her friends never pass up the chance to cuddle or take a snooze in the sun. ♨️ Take a trip to the relaxing hot springs with @tokyoshojo 's fuzzy friends! So many ways to stay warm, from a dip in the tub to a scarf and a cup of matcha, but our fav is definitely hugs! 😍 One of the cutest and most expressive little cuties you could have scuttling around at your feet – ferrets! @yuhuirustudio 's ferrets are giving you personality, they're giving you color, they're giving you soft adorable. We almost want to run out and adopt one right now. 🦊 Time for adventure! Backpack? Packed. Scarf? Tied. Floof? Fluffed! These foxes from @paolucci.art are ready to discover new places and see new things! 🦋 Bunnyflies? Butterbunnies? Whatever you call them, these colorful winged cuties from @heatherskecheroos are coming to steal your heart. 🍰 Did someone say alpaca café? No? Well you're getting it anyway! And trust us, it's one of those things you never knew you needed. Café de Paca from @pacamerch is open for business and serving up alpaca pancakes, donuts, and other fun goodies to their soft, pink clientele!
Grab your BAO and your other stationery supplies, head outside, and enjoy this December Vintage pack with lungs full of fresh air! 🌬️🌳 🐿️ What if woodpeckers are just trying to find out if their besties are at home? Spend some time venturing up into the highest branches with @_beccotti_ and observe the society of woodland creatures no one ever sees. 🐦 We always knew the crows knew more than they let on. Join @gracemerewoods for a primer on the wise winged ones and the divine beauty of nature. 🐈 Take to the skies with @dacachifujino 's adventure cats and their Fabergé egg-inspired hot air balloons! There's excitement to be found within these fantastical balloons as well as in the new lands you'll travel to. ☕ Is it us or do coffee pot light houses just make sense? @artpetry 's meditation on form has got us thinking about cold & misty mornings spent listening to waves crash on the rocks with a steaming mug of coffee in our hands. 🌊 As often as we try to get outside, so many of our favorite views end up being glimpsed through windows. @thetinymc 's window vistas remind us how beautiful the world can be, and that beauty is often only a few steps away. 🌎 Let's get [meta] physical, physical… What would you do if you could touch the moon, the stars, and all the planets? @at_illustration takes us WAY outside, and we can't help but wonder what life might be like au plein air elsewhere in the universe.
Check out the December Pop pack! If there are scarecrows and witches and cities of emerald over the rainbow, what's underneath is loud and strange and an explosion of darkness and color 🌈🖤 🌙 Space cats? Space cats! Follow @yonil 's Major Tomcat as he purrfectly completes his missions for the interstellar space program and inadvertently discovers the world under the rainbow on these two sheets done in dark rainbow holo. 🌽 Mealtime is no ordinary affair under the rainbow: colors are brighter, tastes are sharper, and food shimmies, shakes, and twists its way from kitchen to plate to table! @amysefforts gives you a taste of what to expect on your journey. 🦄 Rainbow creatures look a lot different than anyone expected! @thingsby_diana 's creatures of darkness are literally bursting with inner light and color, dangerous and mesmerizingly beautiful at the same time. 🎨 The art museums here hold expertly done abstract constructions of their world's vibrant ordered chaos. You're lucky, the citizens Under the Rainbow would do anything for prints of @jaimederringer 's renowned works! 👭 Under the Rainbow is also the exclusive domain of women, as far as you can tell from your trip. Appearances are fluid here, features changing from moment to moment, and what defines a person instead is their energy. Portraits are rare, but always necessitate being done as a series, like these by @0073.uv POP PACK "UNDER THE RAINBOW"
Stickii Club is $10 per month, and has 3 subscription themes you can choose from – Cute, Pop, and Vintage!
Check our Stickii Club reviews to find out more!
About Stickii Club: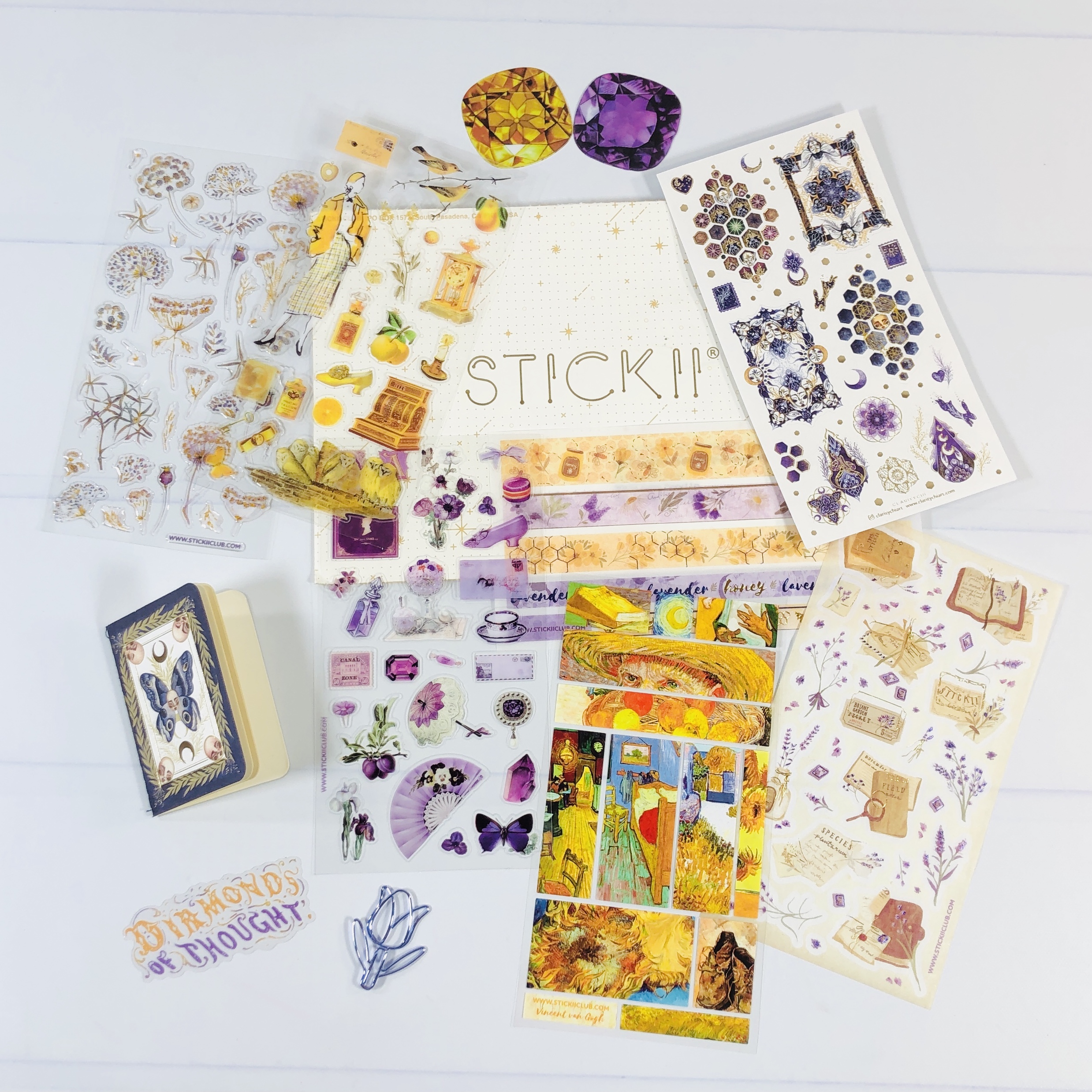 At STICKII, we're all about creating beautiful stickers for you to love that are more like miniature works of art. We have different subscription options so you can choose your packs based on which theme you like and get a cohesive set of stickers and stationery that is perfect for decorating your journals, cards, planners and anything else!