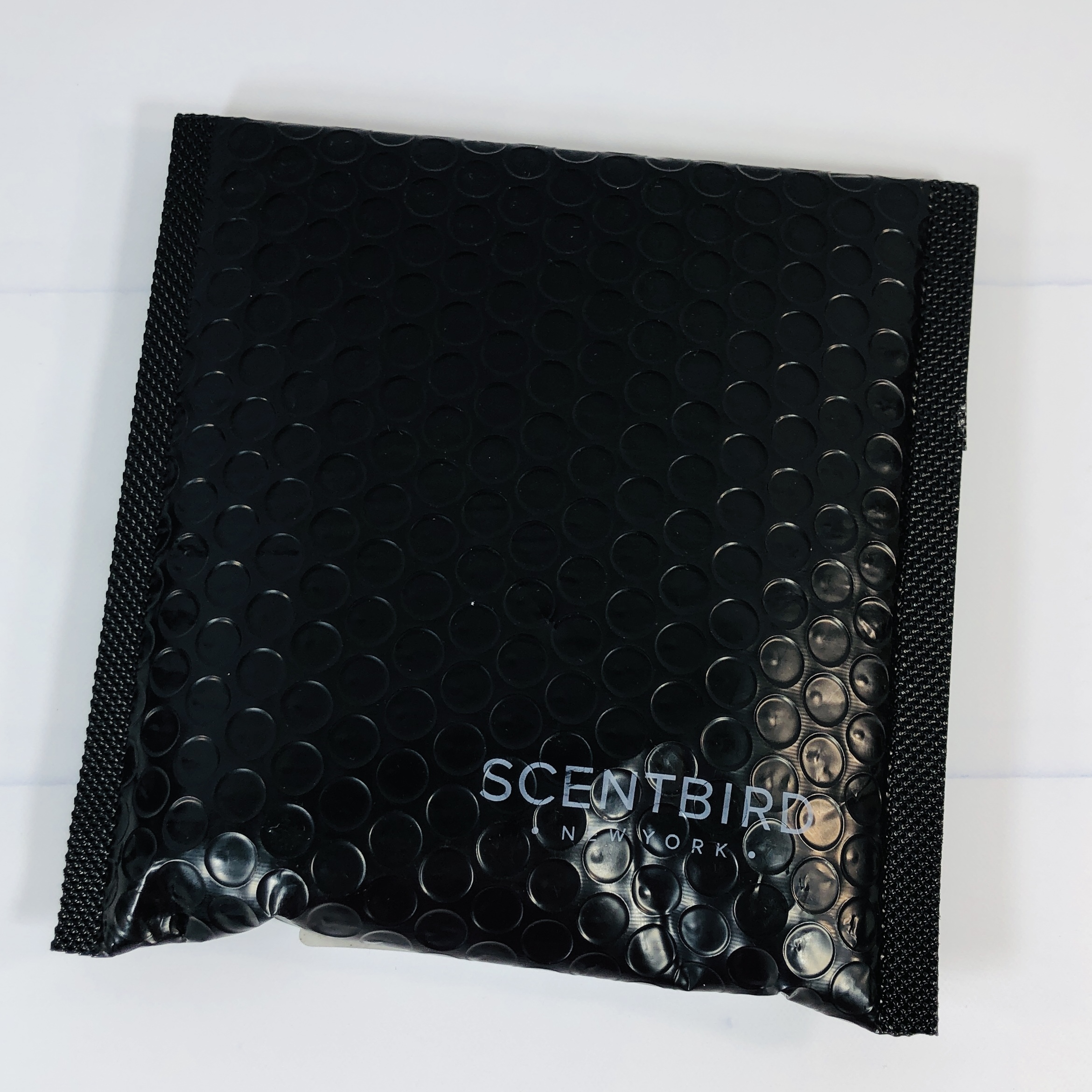 Scentbird is a monthly perfume and fragrance decanting subscription that has branched out into skincare, makeup, and even candles. With Scentbird, you get a thirty-day supply of perfume every month – Scentbird takes authentic perfumes and decants them into travel sprayers. There are over 450 fragrances to choose from and Scentbird adds new ones every month! The plan is $15.95 a month but you can save when you purchase a multi-month subscription, or even arrange to receive perfume every other month. Keep in mind that some fragrances and other items may have an upcharge of up to $15 in addition to the subscription cost. 
DEAL: Get 50% off your first month! No coupon needed, just use this link to subscribe.
Scentbird is about the fun and magic of fragrance. We designed Scentbird for the pickiest girl- or boy- to let you date luxury perfumes before marrying them.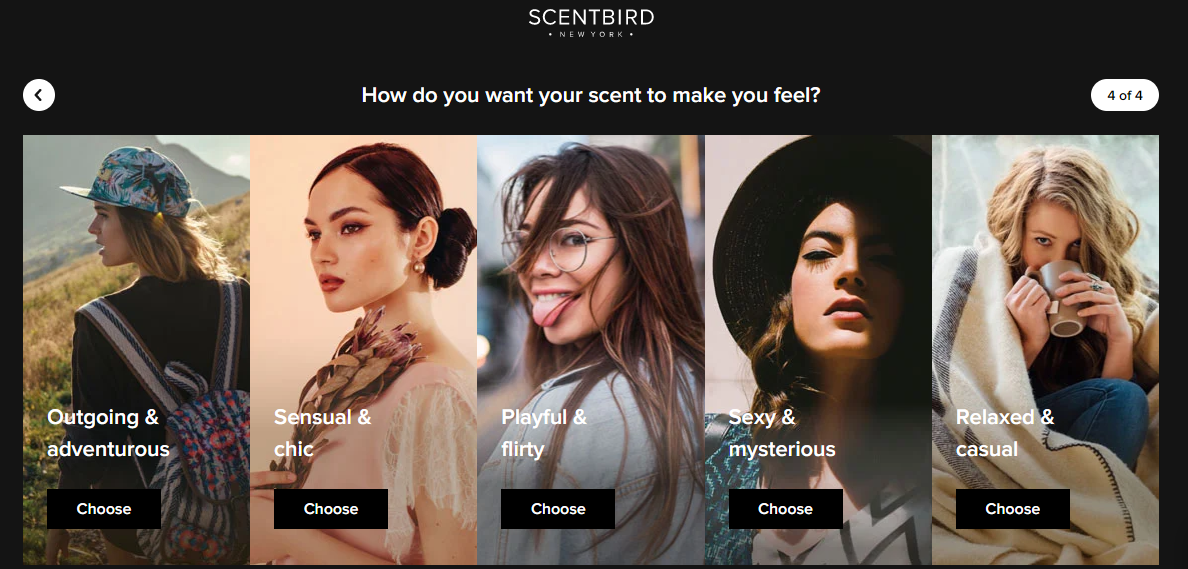 When you sign up, you can take a quiz so Scentbird can provide you with some suggestions. You can take the quiz as often as you like. You can place both men's and women's scents in your queue too and of course there are lots of unisex scents available. You can also fill the queue with whichever fragrances you prefer and keep in mind that if your queue is empty, you will receive the Fragrance of the Month. The Perfume of the Month for November is Goodhabit by Align:
Only light goes in, and only light comes out. Filter out all the external noise with this uplifting blend of blackcurrant and pear, brightened with a twist of bergamot. Freesia and rose oil create a lush floral heart, while base notes of musk, patchouli, and white amber elevate the richer elements and keep the positive vibes flowing.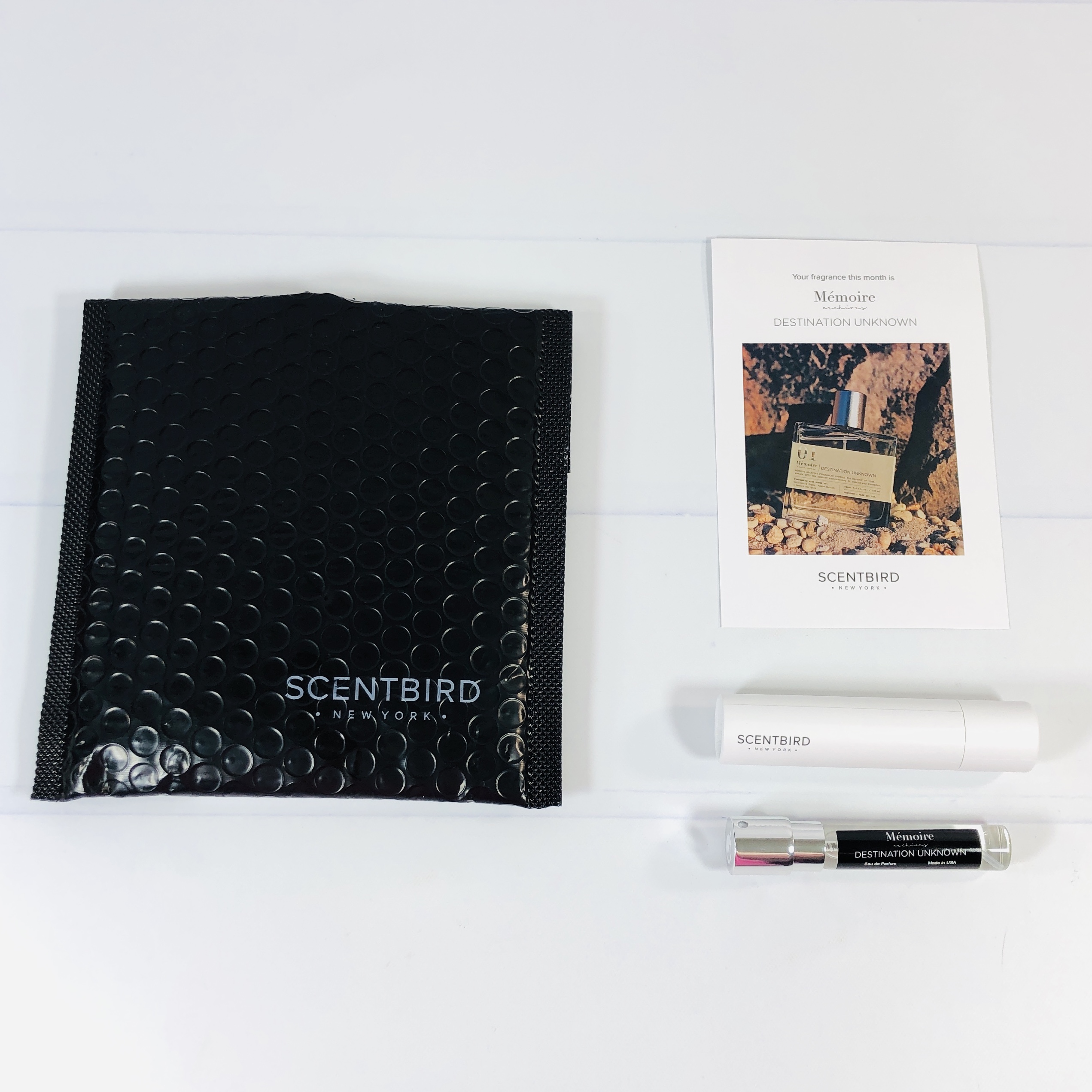 Everything in my box!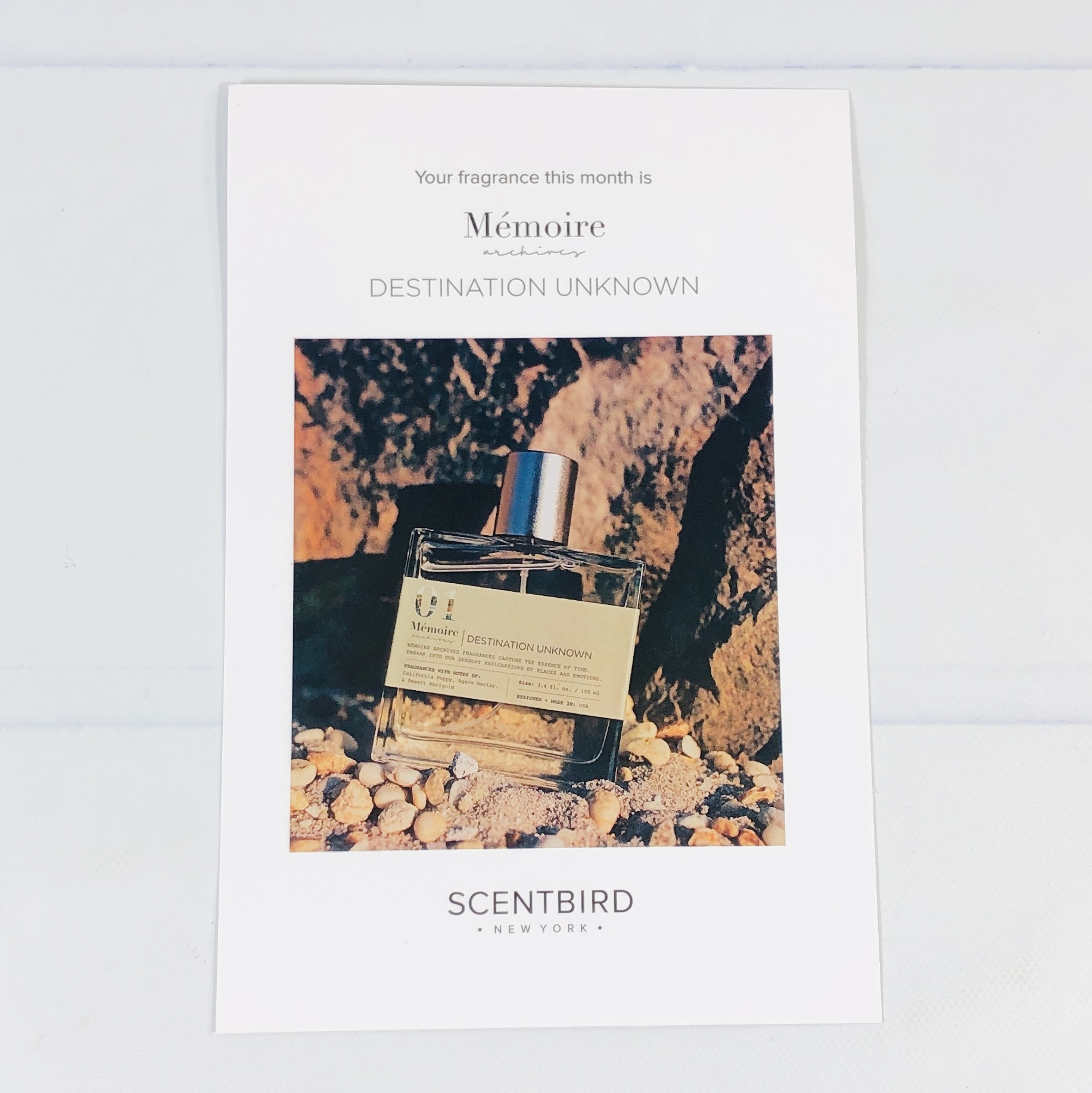 I received a card that named my chosen scent for the month.
The back listed the main scent notes and ingredients.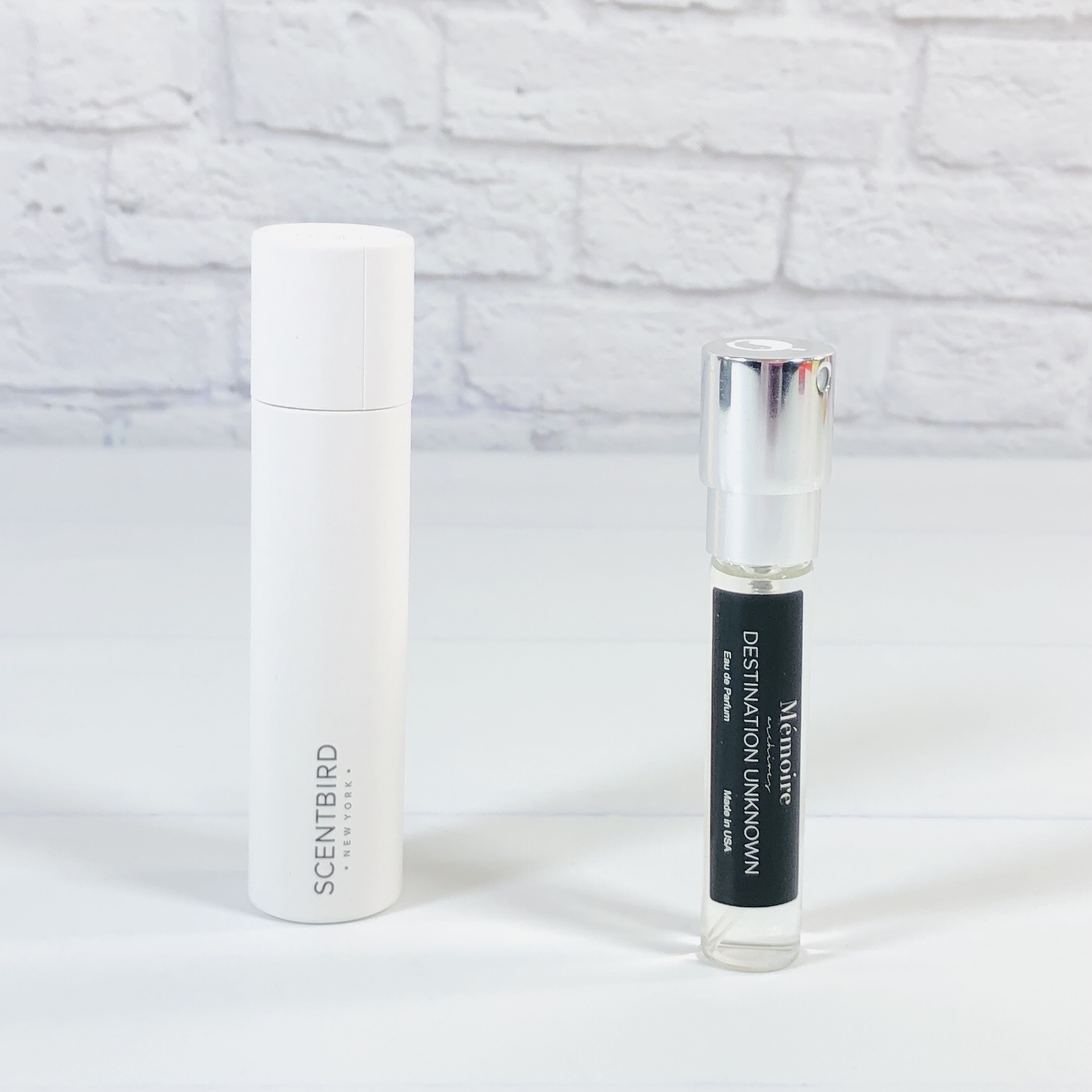 Mémoire Archives Destination Unknown Eau De Parfum (Normally $60 for 3.4 ounces but selling for $25 on the day I checked) I went with a blind buy this month, a scent I've never smelled before but that has the California poppy, the state flower of my birthplace, as a leading note. The other notes are agave nectar and desert marigold and the only one of these I might recall ever smelling is a marigold. According to Scentbird this is a woody fruity fragrance.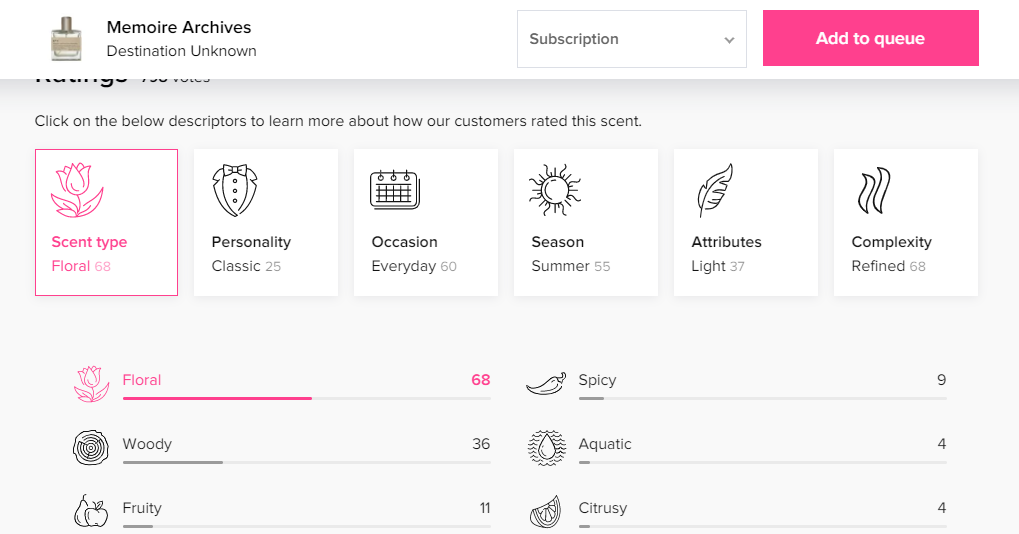 Scentbird wants you to rate your fragrance and let other subscribers know what to expect. Most thought this scent was floral, classic, perfect for everyday wear, and great for summer. I think it smells floral and not particularly exciting or unique, but not overwhelming or offensive either. It starts off kind of strong but fades quickly to a wearable scent and I could still smell a musky base by midday.
Your first shipment will come with a carrying case to haul your new scent around, and you can order snazzy cases like this red one from your account.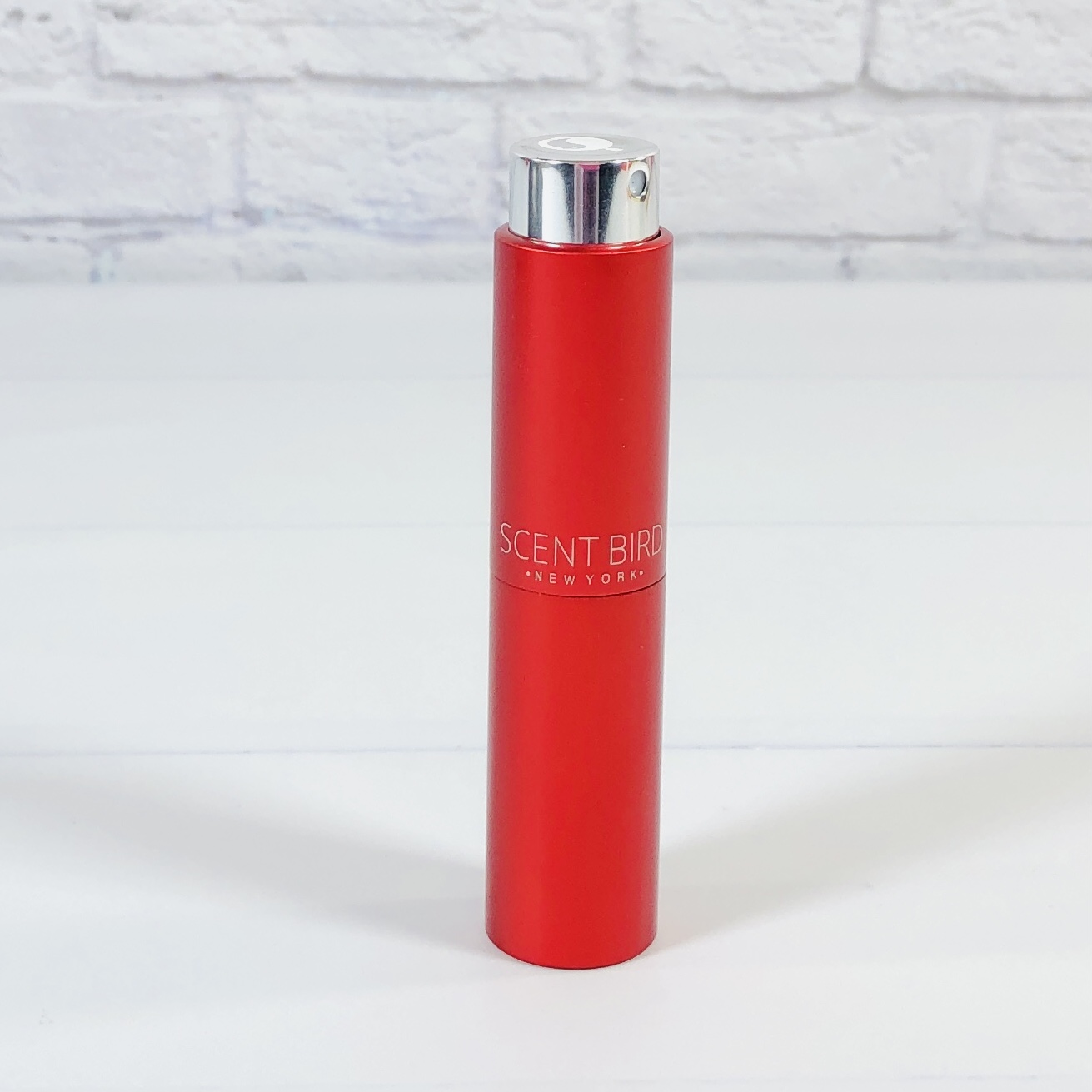 Place the scent vial in the holder…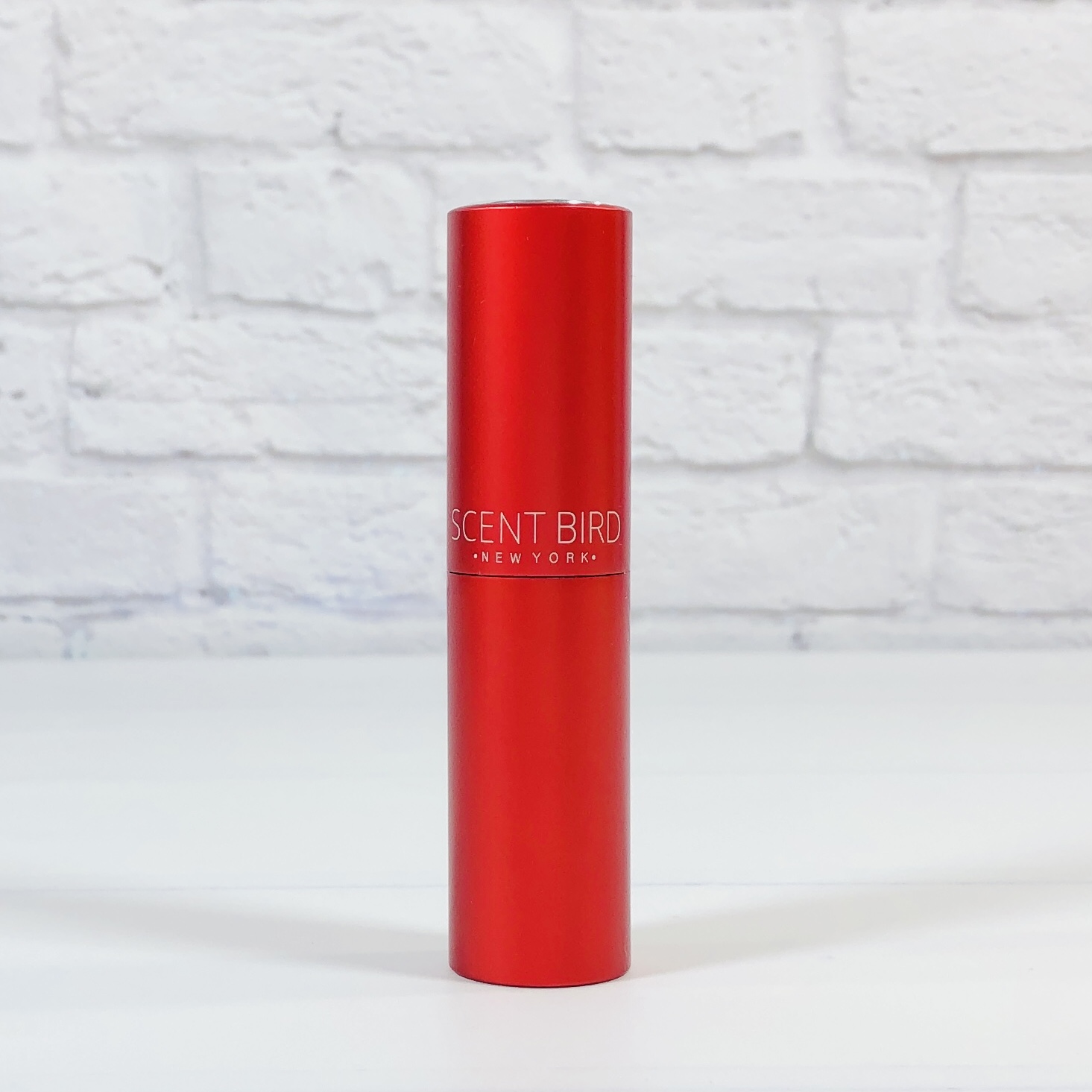 …then push down while twisting to hide the nozzle. Twist it back up to expose the sprayer and enjoy around 4 sprays a day for the entire month.
My October Scentbird pick wasn't super flashy but it wasn't bad either, just a little run of the mill for me. I don't know that I would wear it in summer as some Scentbirdies suggested but it's not bad for early fall. The value wasn't great for this one, considering a whole bottle is either $60 or even as low as $25, making my value around $4.80 when the product isn't on sale, or around $2 at the current sale price. I wouldn't have minded if I loved the scent, but live and learn and next month I will get something else and move on — my choice for November is much pricier.
What's in your Scentbird queue? Let me know what scent you're wearing now in the comments!