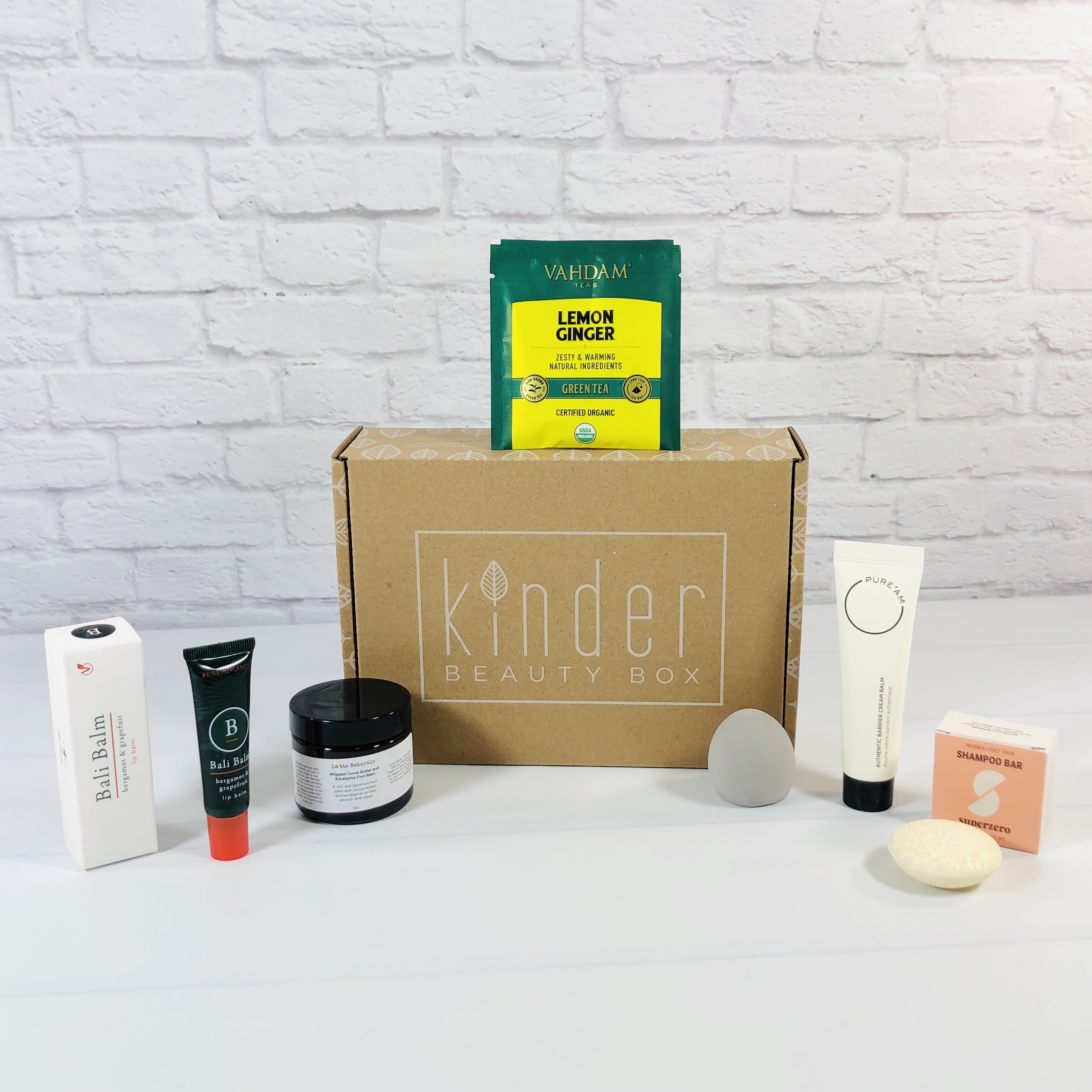 Kinder Beauty Box is a vegan and cruelty-free subscription box that sends skincare, hair care, makeup, and accessories. Each month you will receive more than $85 worth of products. The items are compassionately curated by Daniella Monet and Evanna Lynch. All Kinder Beauty Box products are guaranteed to be 100% vegan and cruelty-free. Kinder Beauty Box is $26 a month, with free shipping to the US, $5.95 elsewhere. Price drops to as low as $23 a box with a prepaid 6-month plan. Those who order a 3-month plan will receive a bonus box and those with a 6-month plan will receive a bonus box and be able to choose which box they prefer (after the first box). A portion of all sales will go towards benefiting the founders favorite animal rights and environmental causes.
Every product that goes into a Kinder Beauty box is 100% vegan, and every brand we work with is completely cruelty-free. This means the products and ingredients are never tested on animals, the products aren't sold in China or any other countries that mandate animal testing, and the brands aren't owned by any parent companies that test on animals.
DEAL: Use coupon code HELLO5 for $5 off your first order!
Kinder Beauty's subscription box made the list in our 2021 readers' choice picks of best skincare subscription boxes!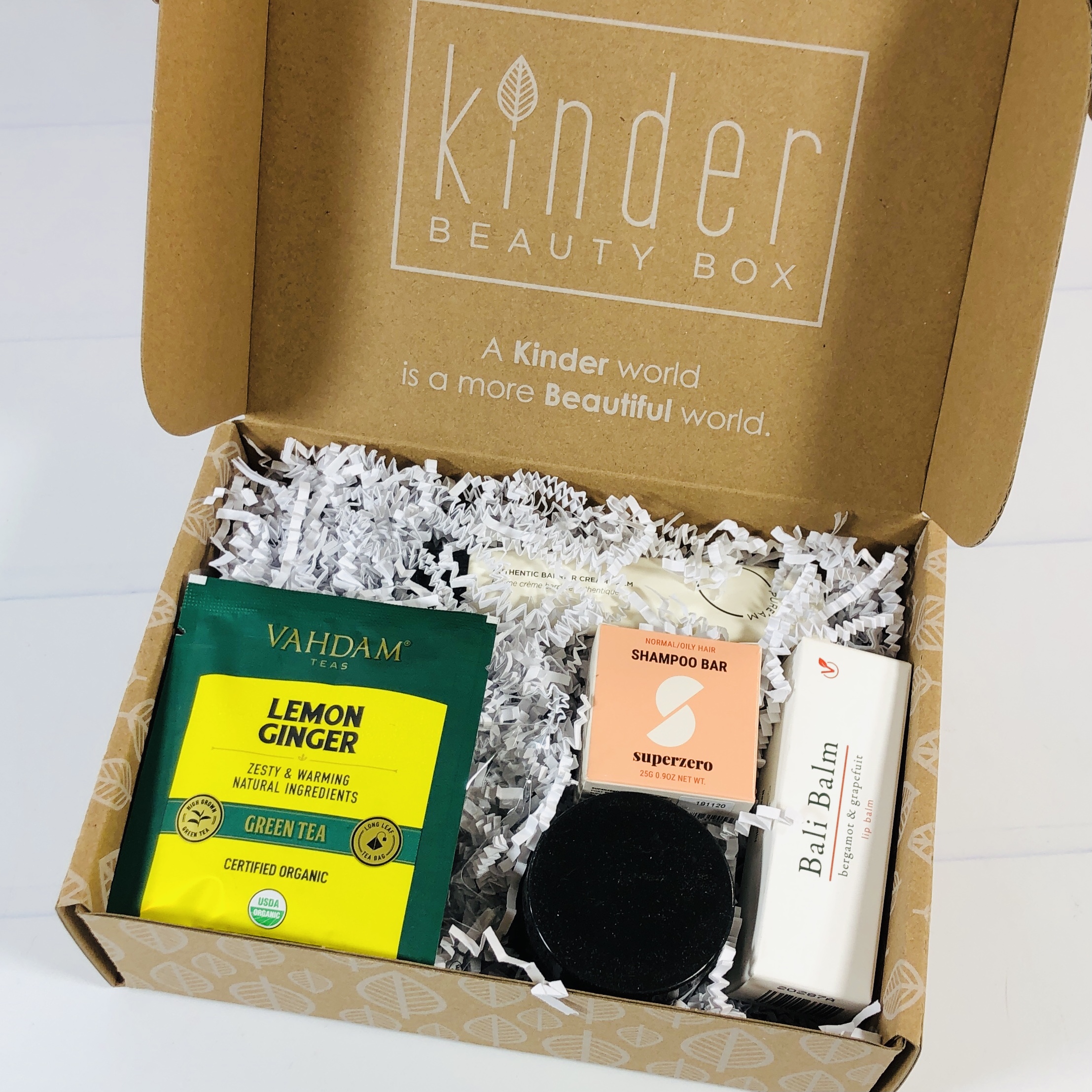 First look! Kinder Beauty Box sends out two box variations each month.
Each month, it will be a surprise which of the two boxes you'll be receiving, but you can rest assured knowing that they are always each going to be incredible in their own ways.

Wondering what happens if you really, really, really want one of the monthly collections in particular, but you receive the other? Got FOMO on your brain? We feel you.

No worries! At the end of the month, if we have any boxes remaining, we'll offer them to members only at a special price in our exclusive monthly Add-On Shop. This way, you won't miss out.
NOTE: Subscribers who have a 6-month pre-paid subscription can now choose their box by logging into their account and doing the following: manage subscriptions, edit, product, then choose the box you want. This is only available if it is your second or later box, because the first box is always the Kinder Favorites.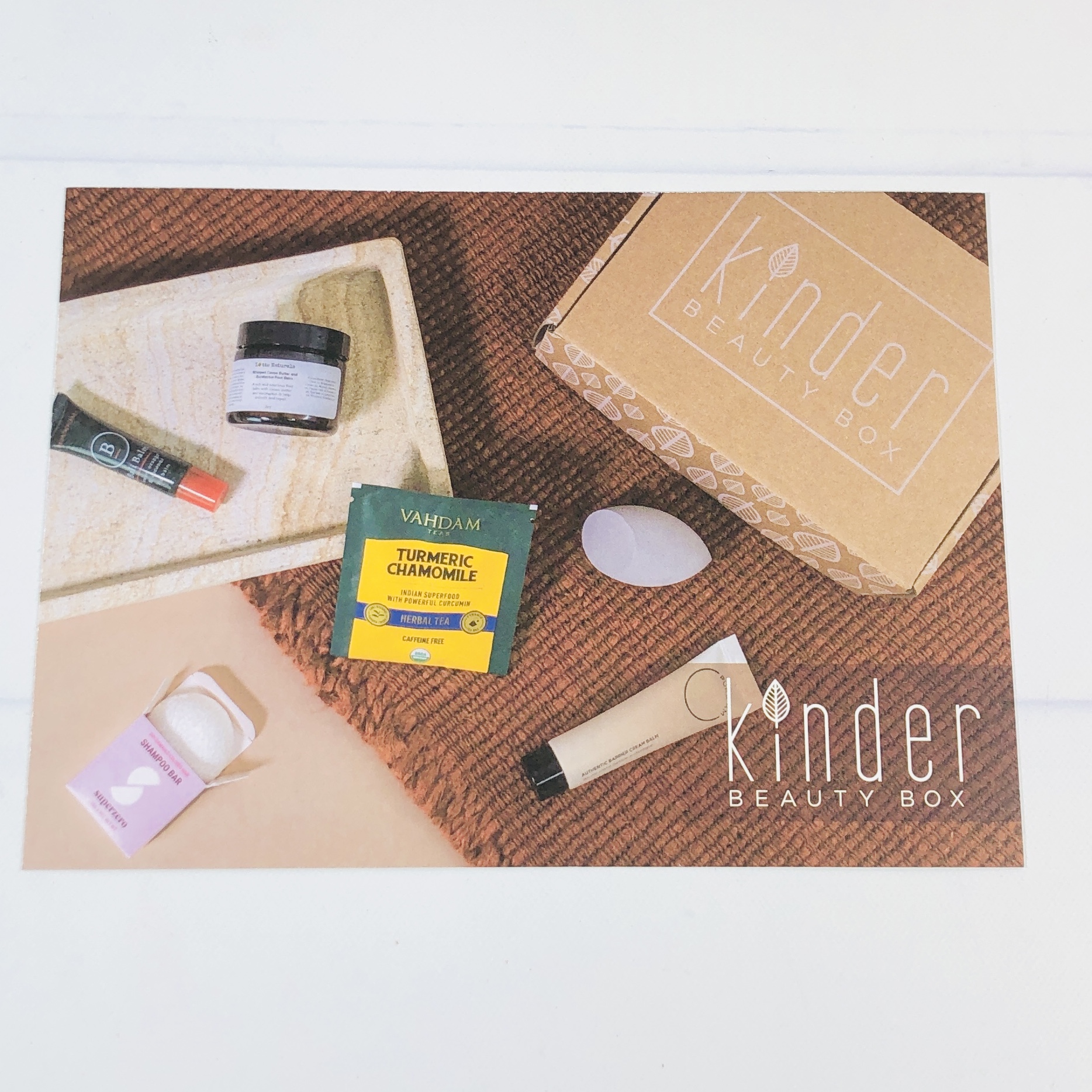 Here's the front of my information card.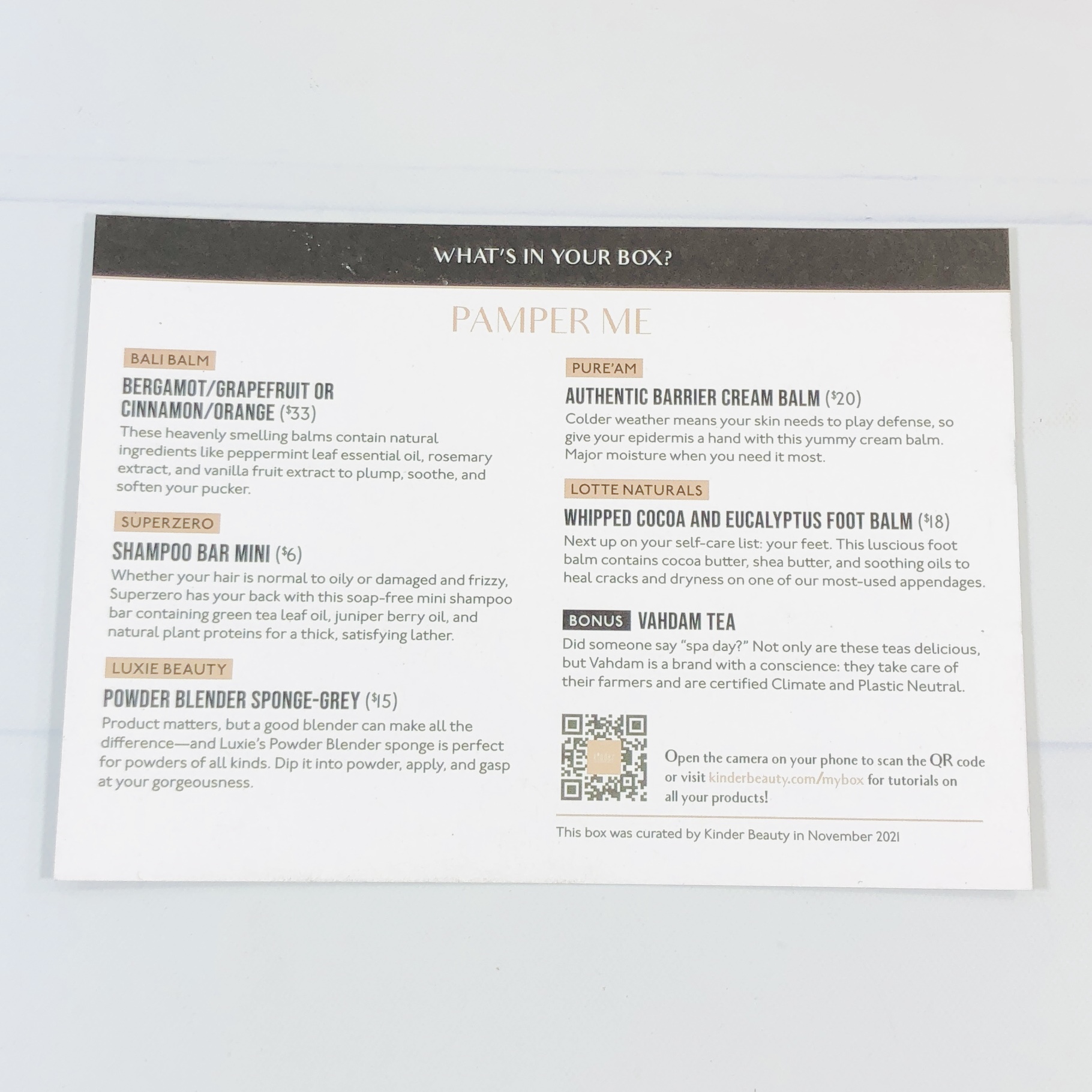 The back of the card had all of the items in my box. The November collections were called the SPA DAY Collection OR the PAMPER ME Collection. I received the PAMPER ME Collection. It is important to know that when you sign up, your first box will be a Kinder Favorites box, which is shown on their main page and is different from what is in this review.
Get everything you need for head-to-toe self-care. Inside you'll find a shampoo mini bar, a hand and face cream duo, a soothing lip balm, a blender sponge for your favorite powder-based makeup products, and a healing foot balm to complete your Pamper Me routine. This month's box also features a bonus item: Vahdam Tea. Experience an exceptional cup of tea with premium and handpicked ingredients from a brand with a conscience.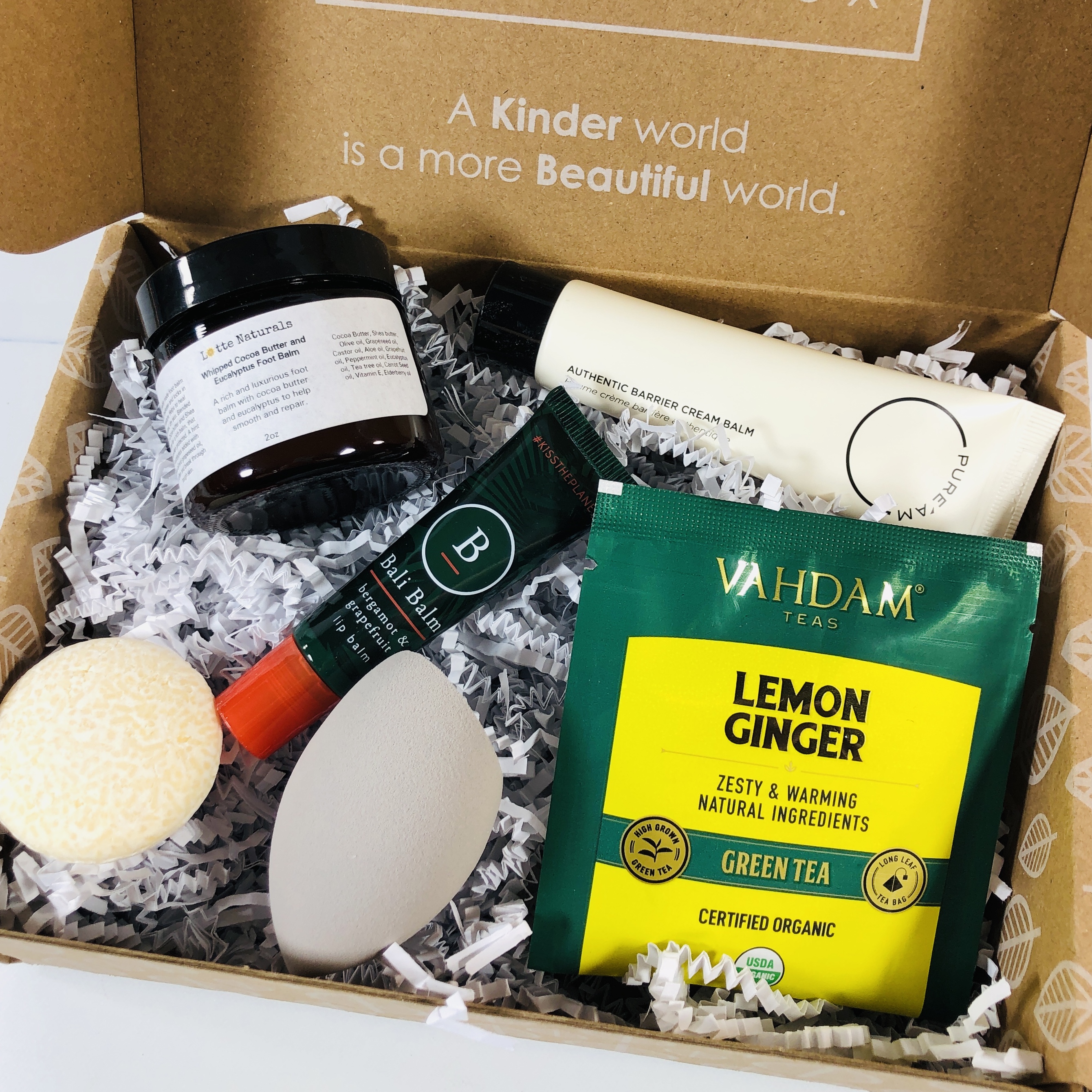 Looking good!
Everything in my November PAMPER ME Collection! You can watch videos of Kellie, who looks like Emma Stone's twin, trying all of the products at the Kinder Beauty website.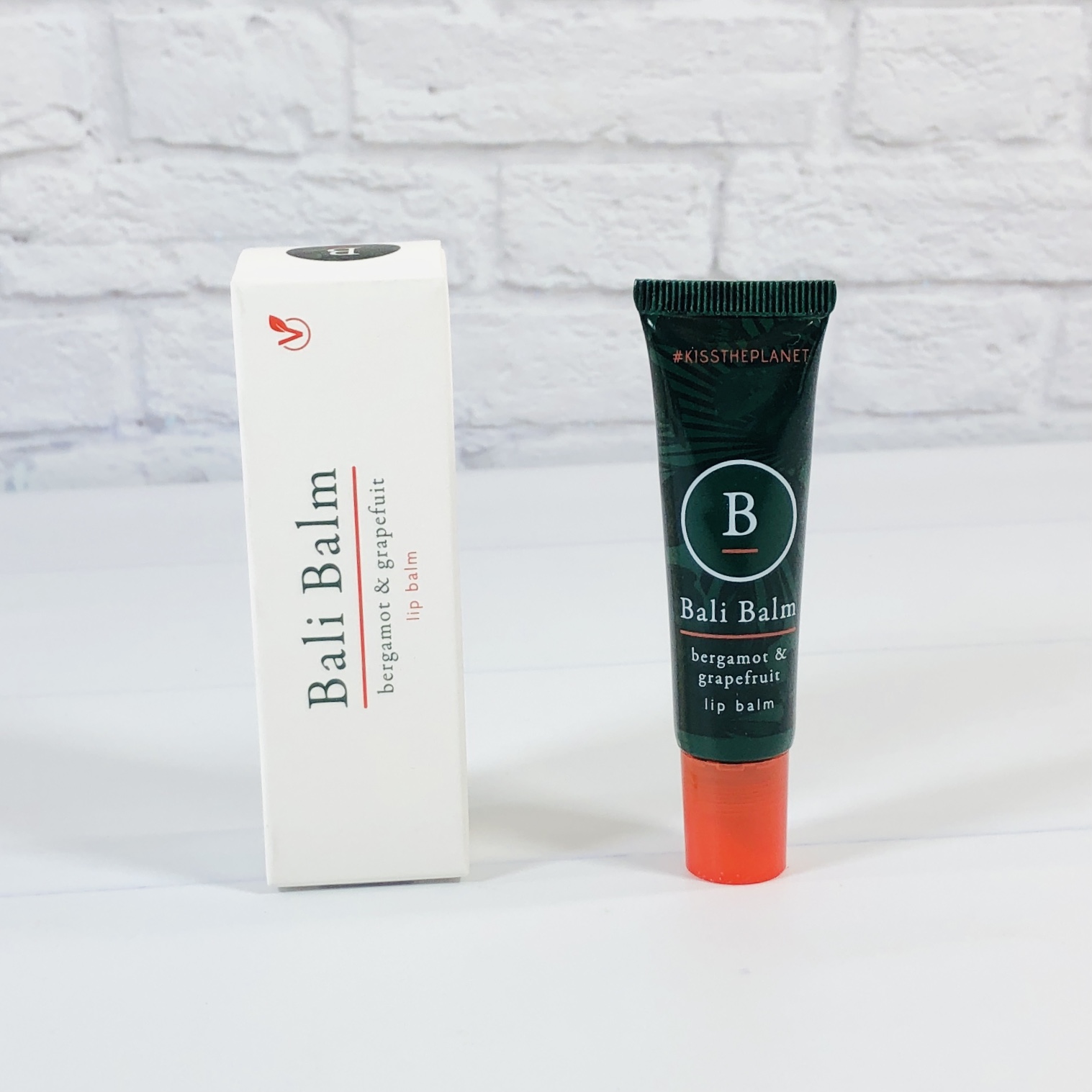 Bali Balm Lip Balm in Bergamot/Grapefruit ($33, or use code and get it for $13.20) There was an Ipsy discount code when I looked this up so if you want to get this for a lower price just enter the code that is at the Bali Balm website when you click the link above.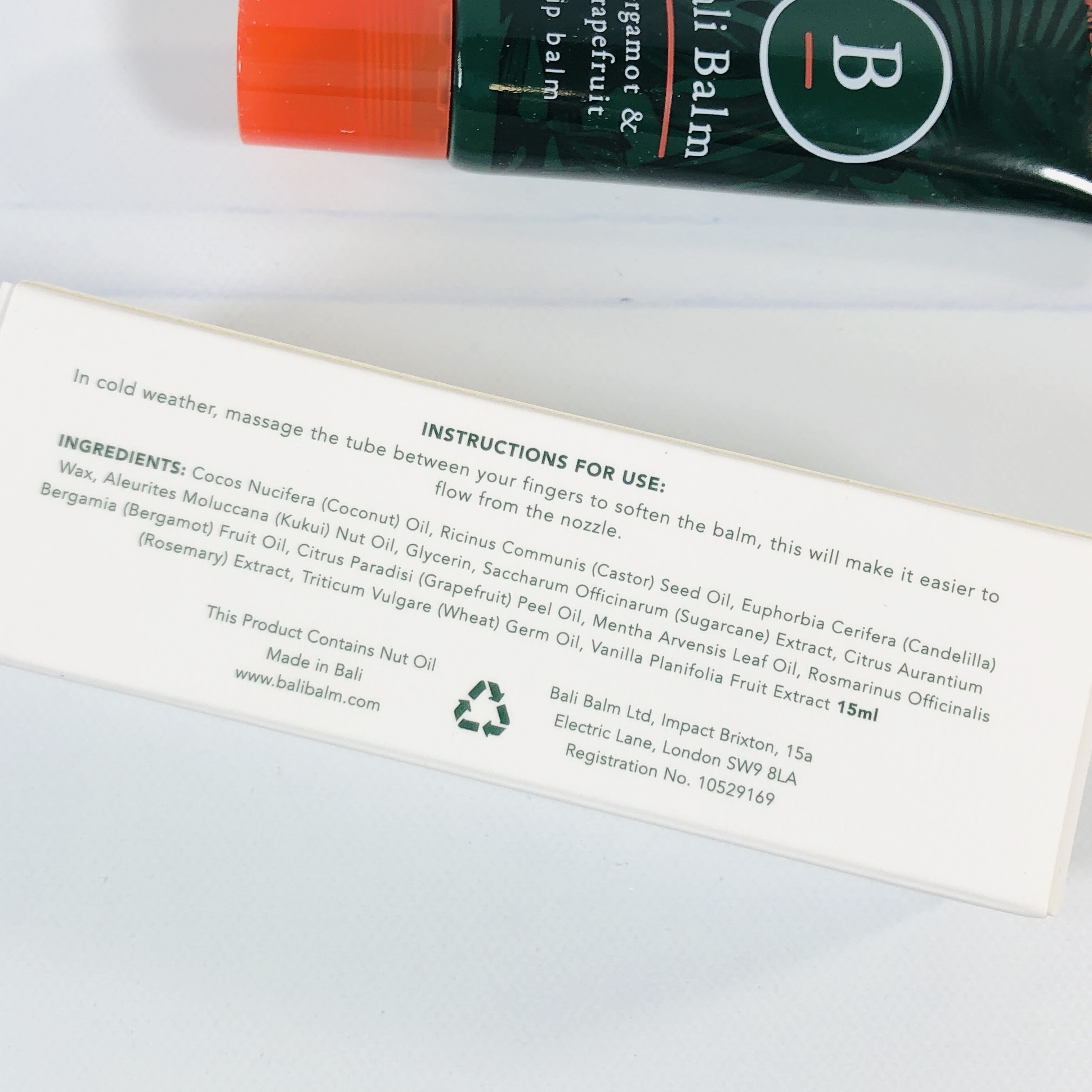 The balm is made in Bali of ingredients such as coconut and castor seed oils plus glycerin, sugarcane extract, and essential oils for flavor (and the mint leaves a tingly feeling too). Some subscribers may receive a different flavor (Sweet Orange/Coconut).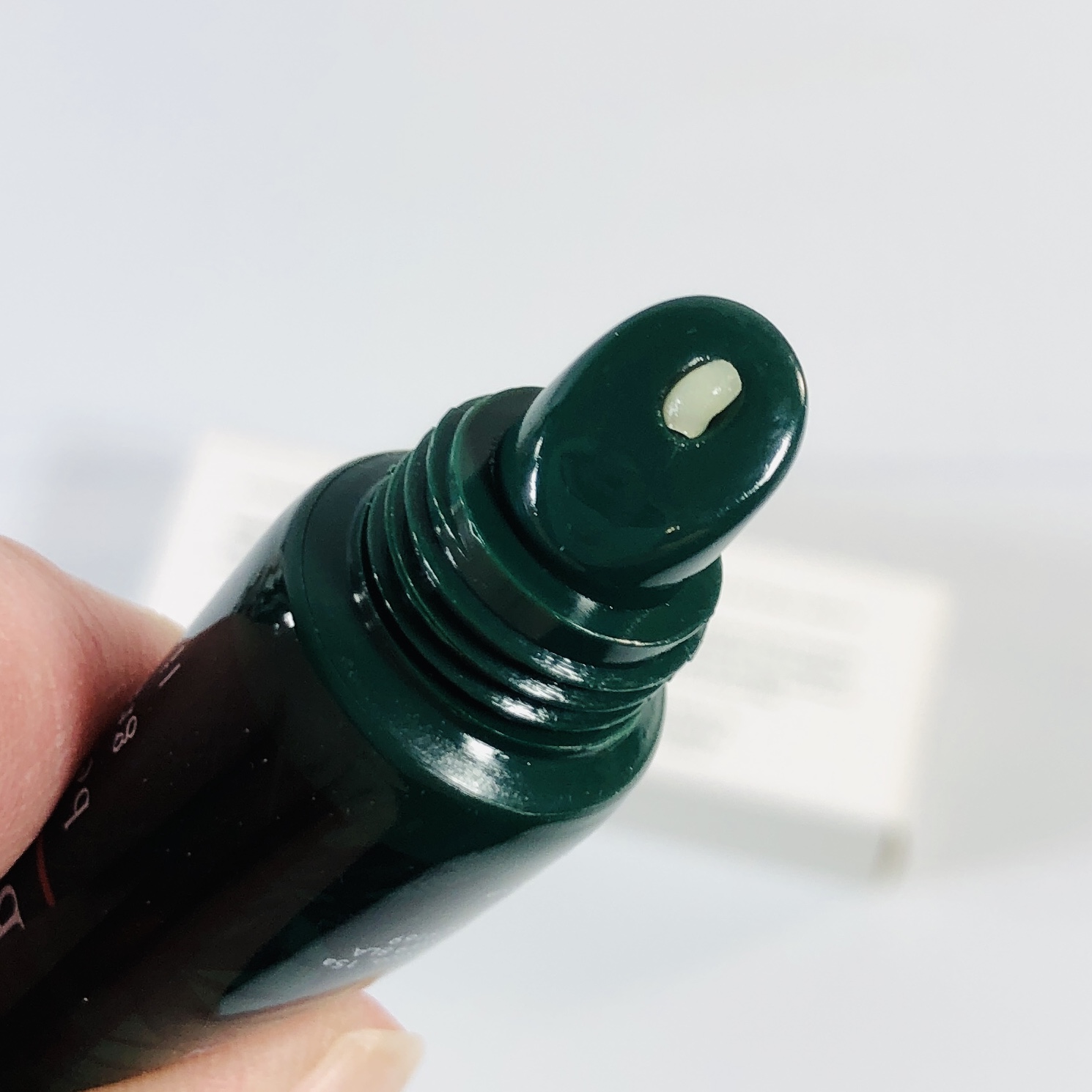 It takes some pressure to get this stuff to squeeze out but it feels tingly on my lips and left them soft and moisturized. It tastes like citrus and this will be a before bed lip balm for me since citrus oils can cause a reaction when hit with rays from the sun.
Superzero Shampoo Bar Mini in Normal/Oily ($7) I've tried this before and loved it, it lathers way better than I expected it to and it lasts for a while. It also doubles as a makeup brush cleanser in a pinch.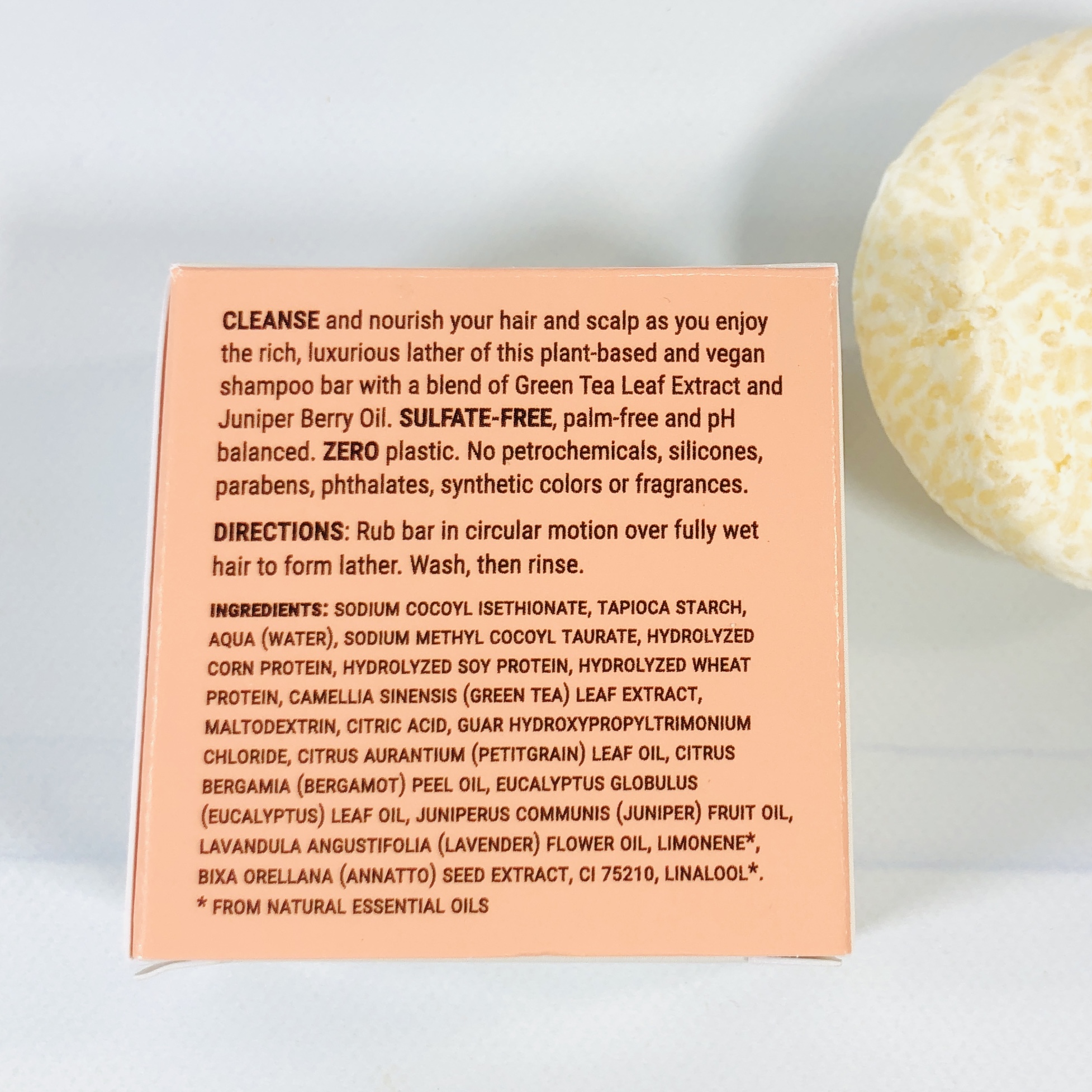 Some of the ingredients are green tea extract, essential oils, plus wheat and soy proteins. Wet hair and the bar and then rub the bar over the hair for a few seconds and you should start to feel some suds forming. Massage the suds into the scalp, rinse, and follow with a conditioner. I thought this made my hair feel really clean and there wasn't much scent to it. Some subscribers may receive a version for Dry/Curly hair.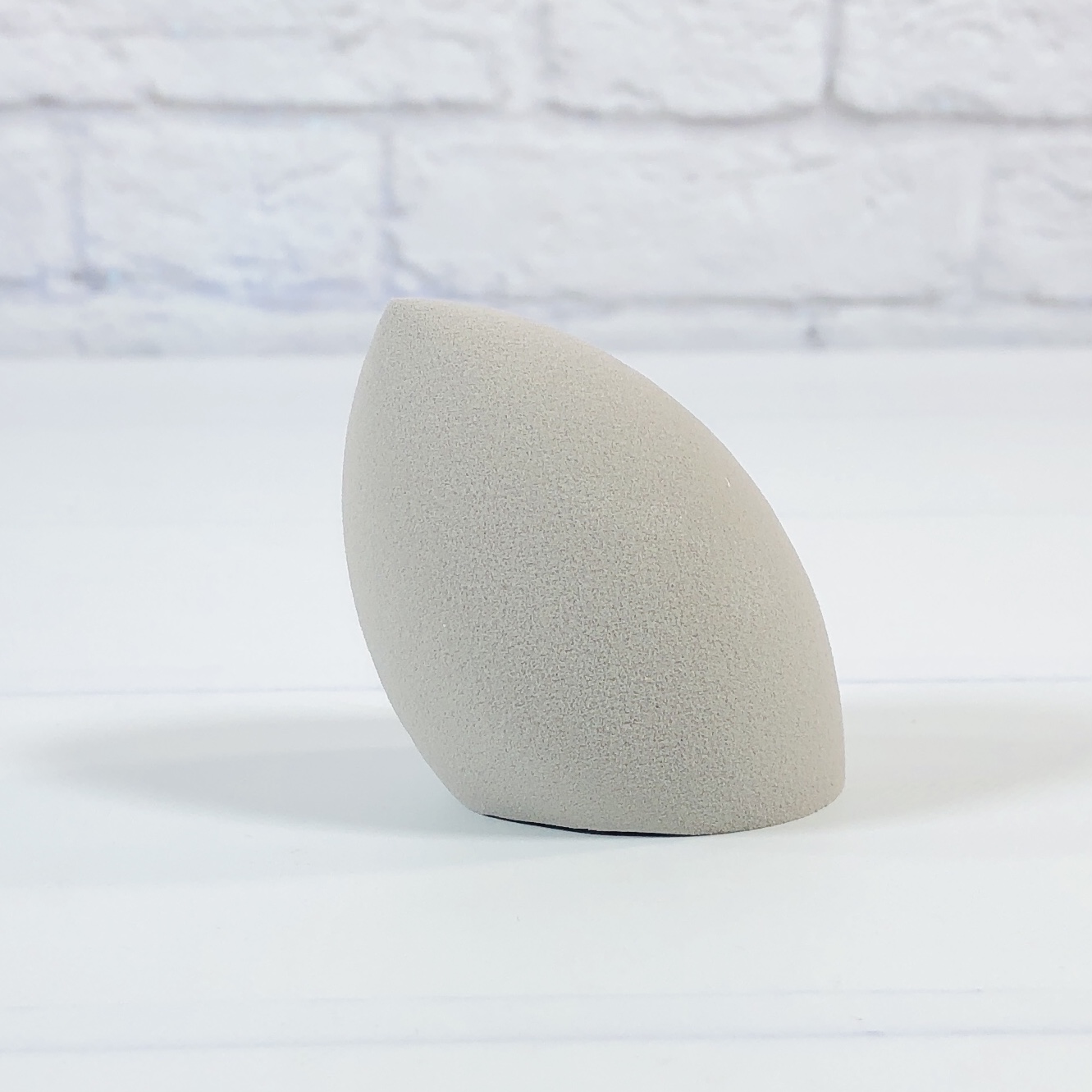 Luxie Beauty Powder Blender Sponge ($15) This blender sponge is shaped to fit into powder containers in case you like to "bake" your makeup. I received some baking powder (the makeup kind) in another subscription box this month so I used this to help apply the powder under my eyes and around my smile lines. I also used it to blend in liquid highlighter, dotting it around until the product was diffused.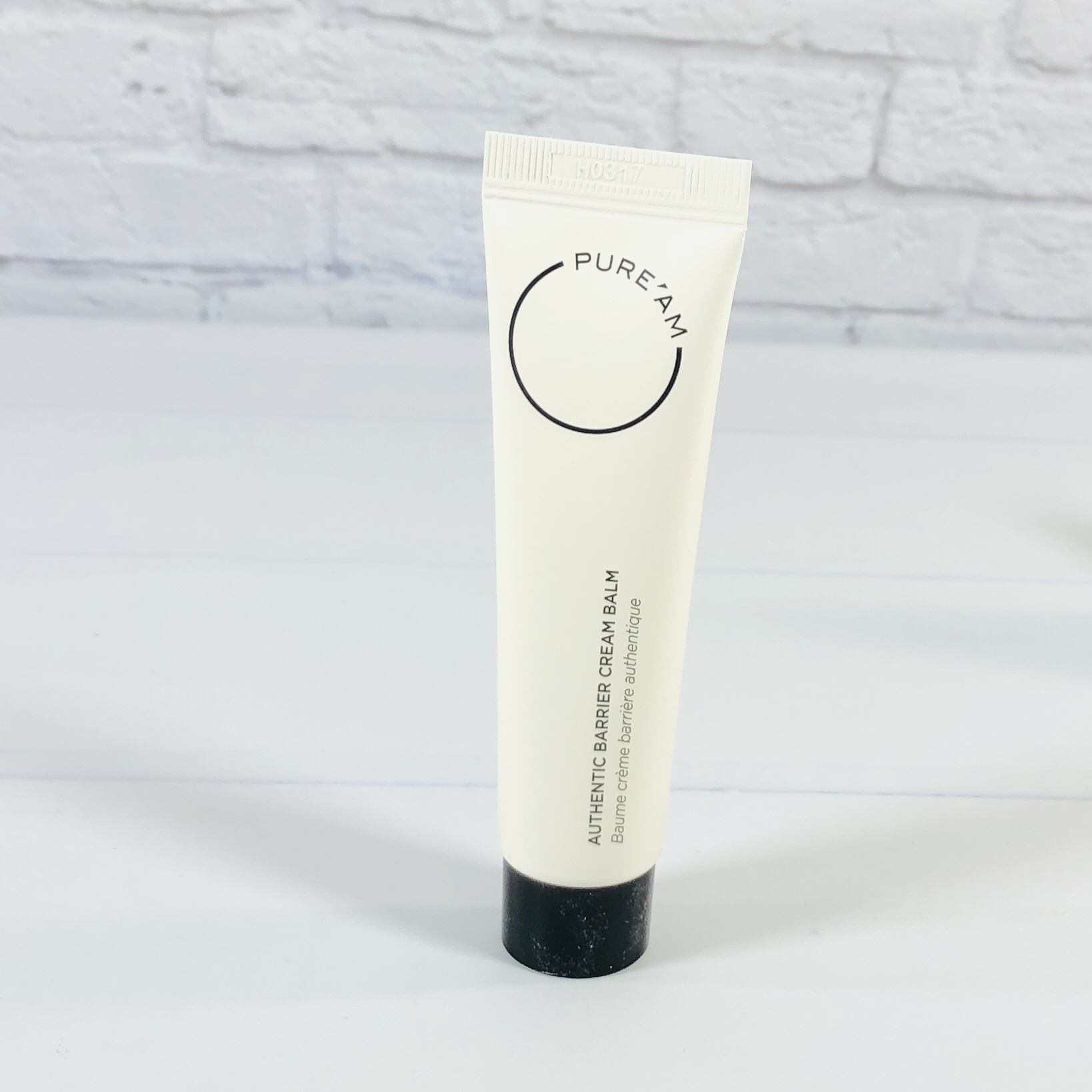 Pure'Am Authentic Barrier Cream Balm ($17) is a creamy lotion that's not quite as thick as a balm but that leaves behind a moisturized feeling without being greasy. It's meant for all skin types and is supposed to hydrate and nourish skin with ceramides and liposomes.
You can find the ingredients at the brand's website but some of them include shea butter, yuzu water, glycerin, jojoba oil, and three different types of hyaluronic acid (to target the different layers of the skin). There is no scent that I can detect but it sure feels good on my skin.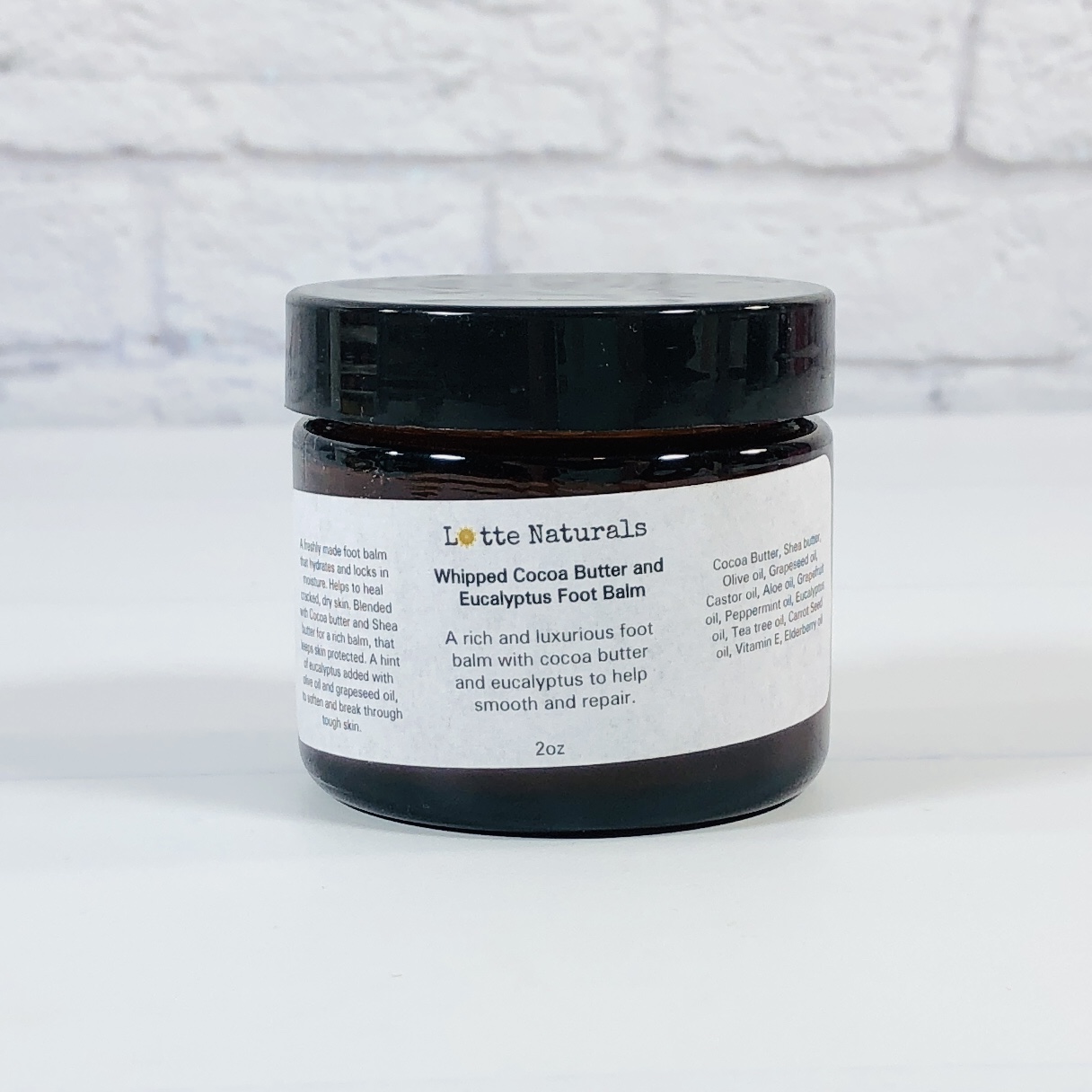 Lotte Naturals Whipped Cocoa and Eucalyptus Foot Balm ($18) I love foot balms and oils and whatever else I can use to help keep this neglected body part from looking totally awful.
This version is made with cocoa butter, shea butter, some oils, and some essential oils, like tea tree and peppermint.
This balm melts instantly as soon as you start to rub it in. It smells like mint, tea tree, and chocolate! Please be careful when wearing as this can make the feet slide like on ice so if you get up at all at night, maybe wear some socks to bed to keep from slipping.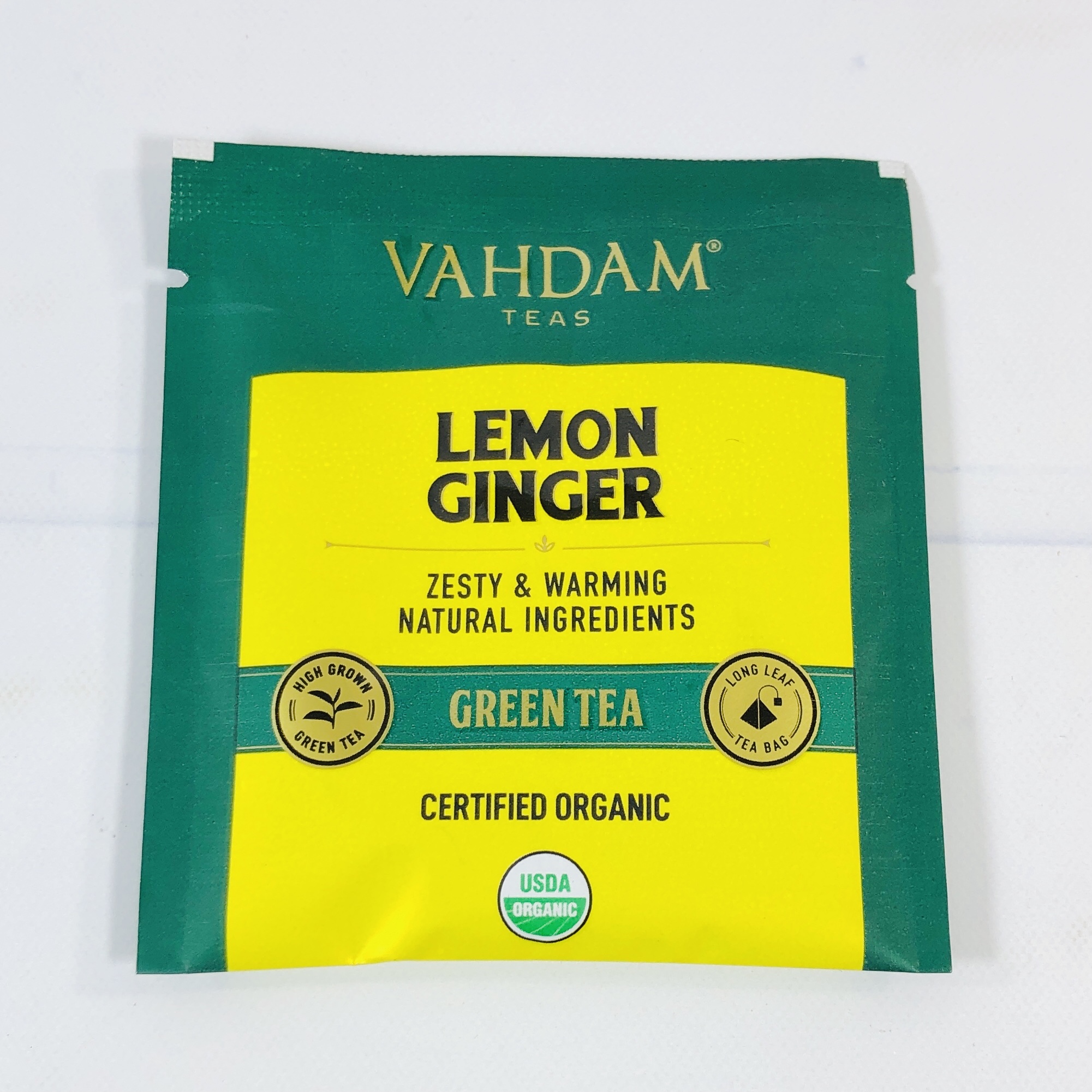 Vahdam Tea Lemon Ginger ($0.28) I received a bonus sample of a green tea with aromatics but please note that assorted flavors were sent to subscribers. I like Vahdam teas so I can't wait to enjoy this tea on a chilly afternoon.
I am ready to feel pampered in between all of the busy activities I have going on at this time of year. Kinder Beauty Box sent some soothing products for November, including face cream, lip balm, and foot balm. I received a shampoo bar that just so happens to match my hair type and I like it a lot, it's so easy to use. I use powder beauty products and I'm looking forward to using my new beauty sponge for an extended period to apply my standbys like powder foundation, blush, highlighter, and bronzer. Finally, I received a tea and plan on saving it for a cool afternoon (it's been unseasonably warm here in Austin). Keep in mind that some of your items may differ slightly (if you received the Pamper Me box too) and if you received the Spa Day box, then 3 of your items will be completely different (and 3 others should be the same).
What do you think of Kinder Beauty Box?