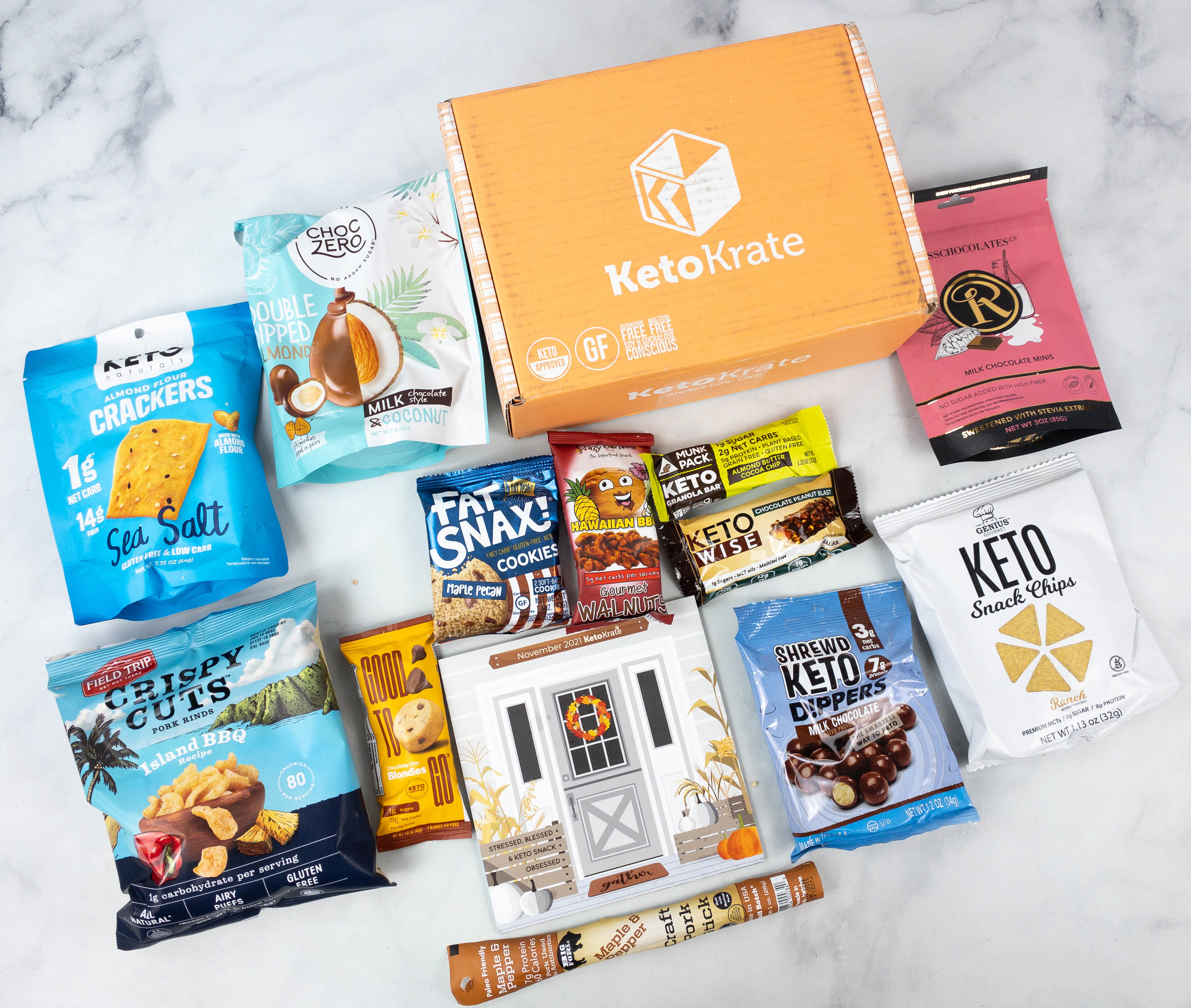 Keto Krate offers a keto subscription box for those who love keto snacks! Every month, members receive 10+ full-sized keto snacks with less than 5g net carbs per serving, as well as printed insert including keto tips, keto recipes, keto advice, member case studies, and other information to keep you inspired with your keto journey. Members also get VIP access to the members-only KetoShop and Krate.Club. KetoShop is where you can discover and purchase more keto-friendly goodies including past Krates and one-off items. Krate.Club is where you'll find more useful information, discounts, recipes, and more for the current month's KetoKrate! The subscription costs $39.99 a month, plus free shipping.
Keto Krate's keto snack and food subscription made the list in our 2021 readers' choice best health and wellness subscription box list!
DEAL: Get $10 off your first Krate! Use coupon code HELLO100FF.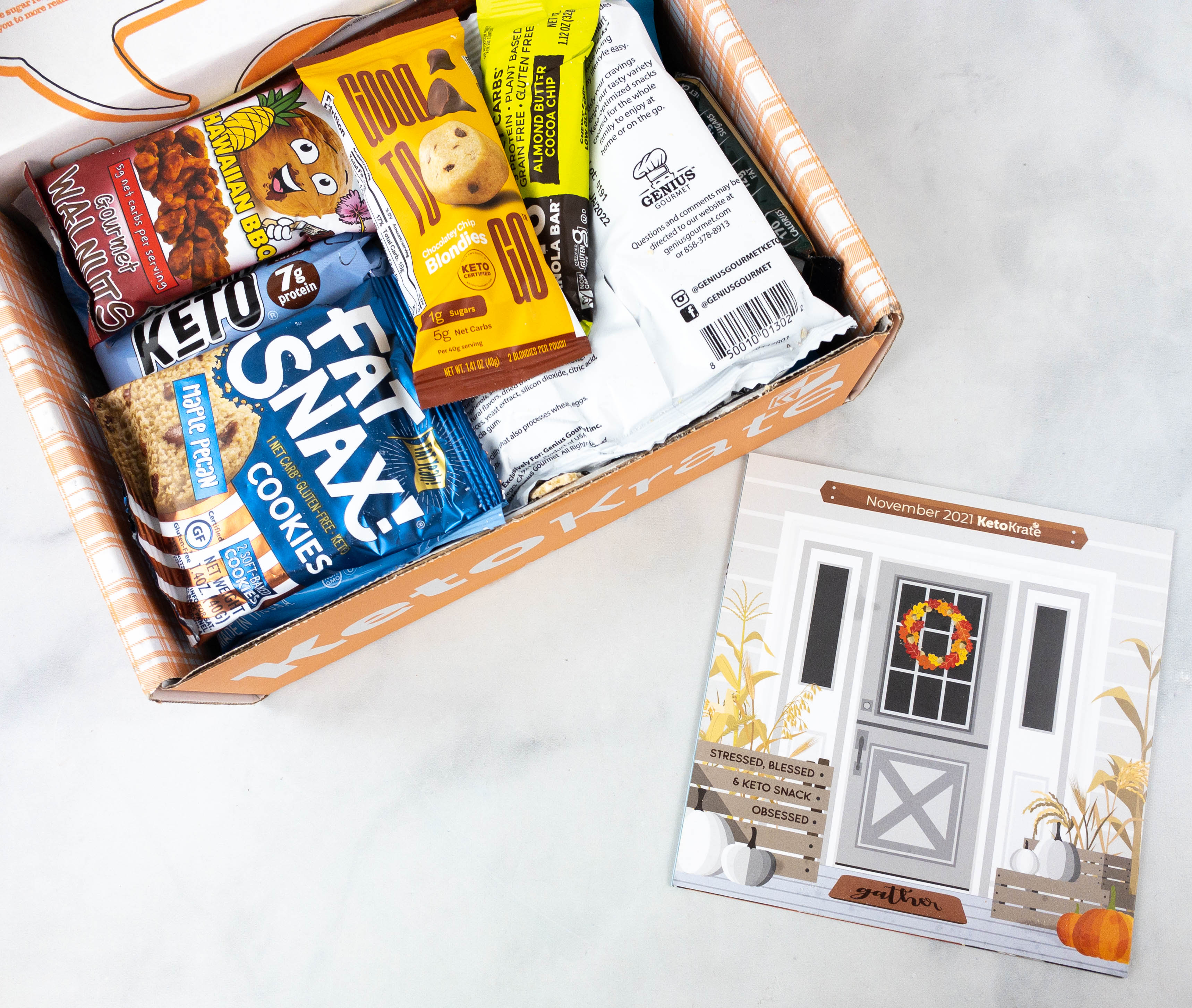 Every box includes a booklet! This month's theme is Stressed, Blessed & Keto Snack Obsessed!
Inside, there's a keto-friendly recipe for Ross Chocolates Fall Fudge!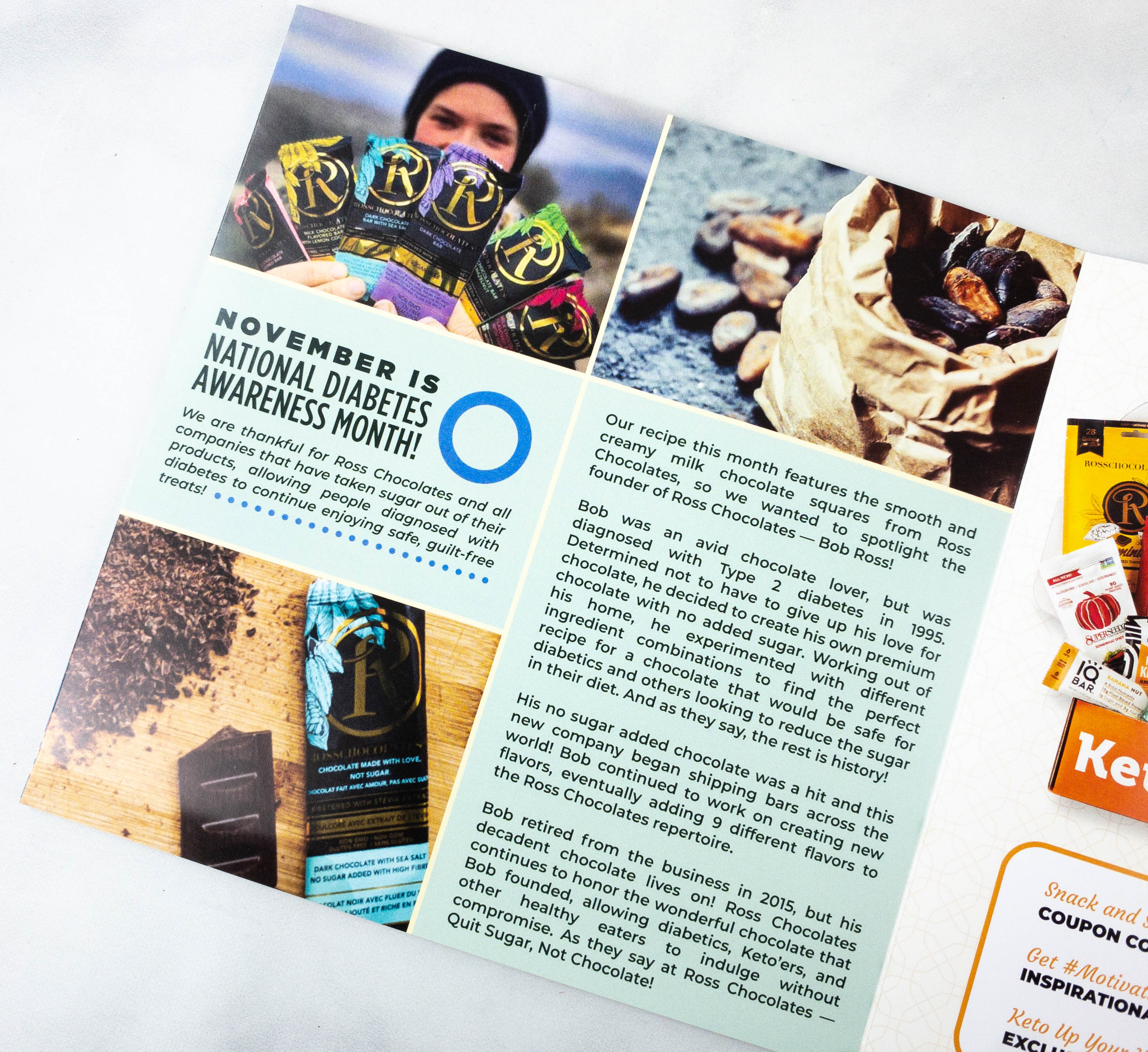 This part of the booklet has an article about National Diabetes Awareness Month, which is celebrated every November.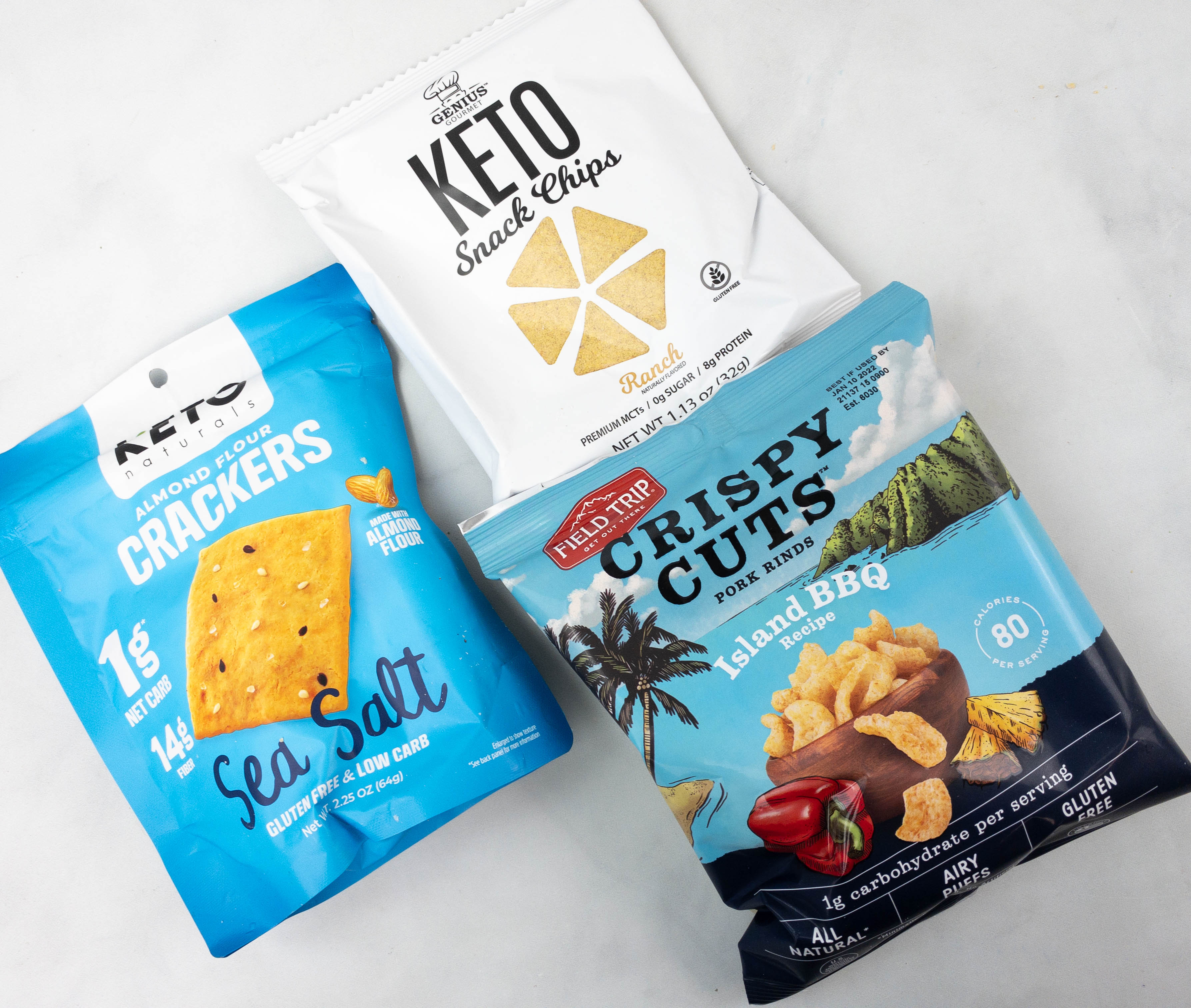 Now, let's dive into this month's keto snacks!
If you often crave for chips, it's nice to have keto-friendly alternatives in the pantry, like Keto Naturals Almond Flour Crackers Sea Salt, Genius Gourmet Snack Keto Chips ($2.50), and Field Trip Crispy Cuts Pork Rinds in Island BBQ ($2.50). All of them are crunchy and flavorful. Aside from being low-carb, they are gluten-free as well!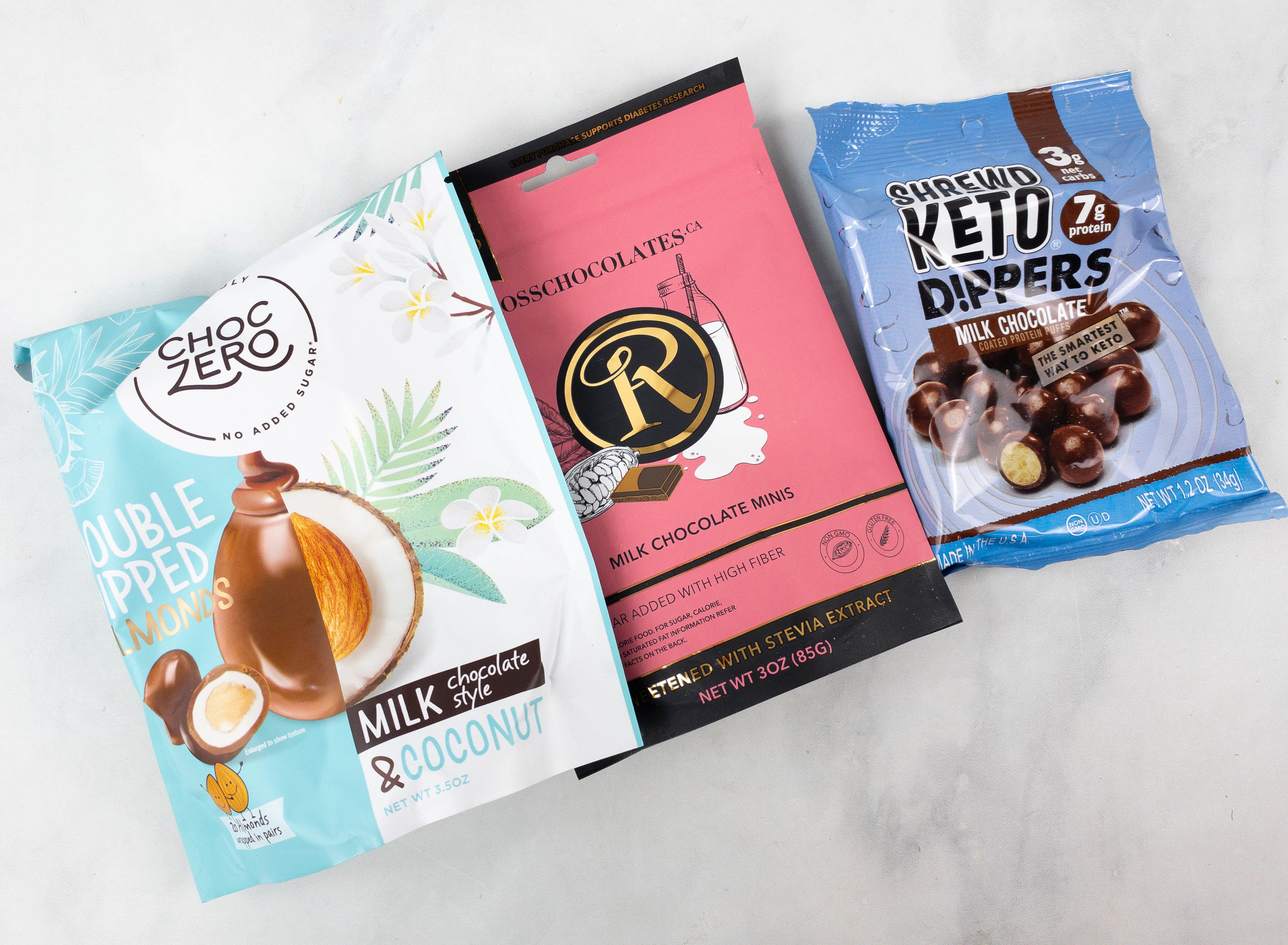 Keto chocolates make a great, guilt-free dessert! In this box, we have Choc Zero Double Dipped Almonds ($5.99) which has no added sugar, Ross Chocolates Milk Chocolate Minis ($4.01) which is sweetened using stevia, and Shrewd Keto Dippers Milk Chocolate Coated Protein Puffs ($2.50) that contains erythritol. Stevia and erythritol are both great alternatives for sugar!
Here's a look at the milk chocolate minis, which come in squares! They are smooth and creamy, plus they don't have a bitter aftertaste.
Lastly, here are grab-and-go keto bars and other keto snacks you can easily pack in your bag: Good To Go Chocolate Chip Blondies, Fat Snax! Maple Pecan Cookies ($2.92), Big Fork Maple & Pepper Craft Pork Stick ($2.66), Munk Pack Keto Granola Bar ($2.08), Keto Wise Chocolate Peanut Blast ($1.69), and Crazy Go Nuts Hawaiian BBQ Walnut Snacks ($2). They help keep you fueled on your outdoor adventures, during commutes, or even after workouts!
It's another jampacked box with keto snacks to enjoy wherever you are! Ranging from savory to sweet, all the featured low carb goodies this month did not disappoint. There are keto chocolates, keto snack bars, and keto chips, which are less than 5g net carbs per serving! This is such a fun way to discover keto-friendly alternatives for regular snacks, and other keto goodies that are not usually found in groceries. If you can't get enough of your favorites, you can get more from the subscriber-only Keto Shop!
What do you think of the KetoKrate box?