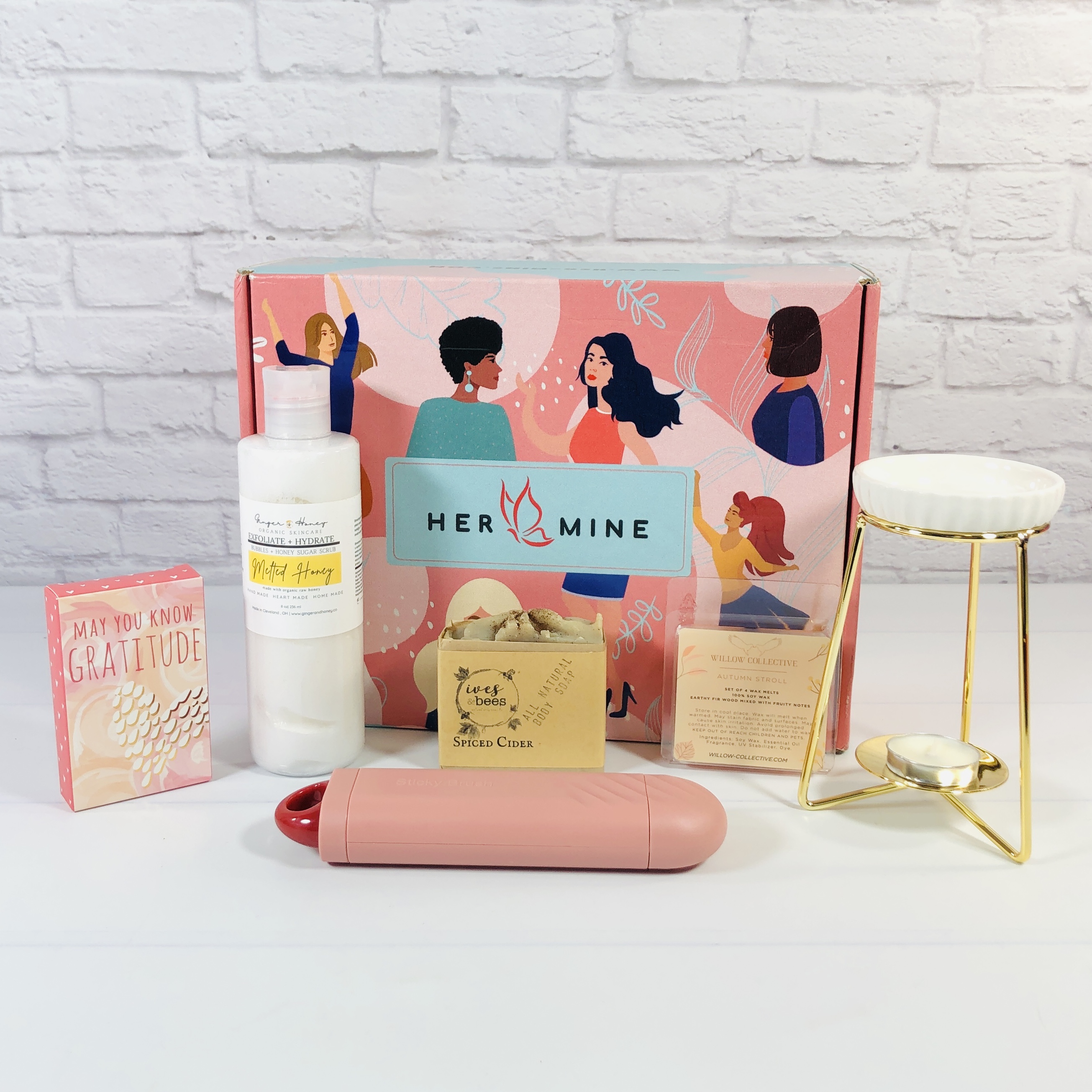 HER-MINE Self-Care Box is an aromatherapy, beauty, wellness, and lifestyle subscription box that sends items that are from women-owned companies. Her-Mine is a box for those who like to relax with pampering products, and who knows that self-care is important. The Deluxe Box is $49.95+ FREE US Shipping and comes with 5-8 products. Products will be both full and deluxe sample sized.
HER-MINE Box is a monthly self-care subscription focused on pampering and empowering women. Each box incorporates 5-8 wellness products sourced primarily from female vendor partners that produce natural, organic, or feel-good products ranging from aromatherapy, clean beauty/skincare, and unique lifestyle goodies. Themes and items change each month so it's always a delightful surprise!
DEAL: Get 10% off on any order! Use coupon code HERTEN.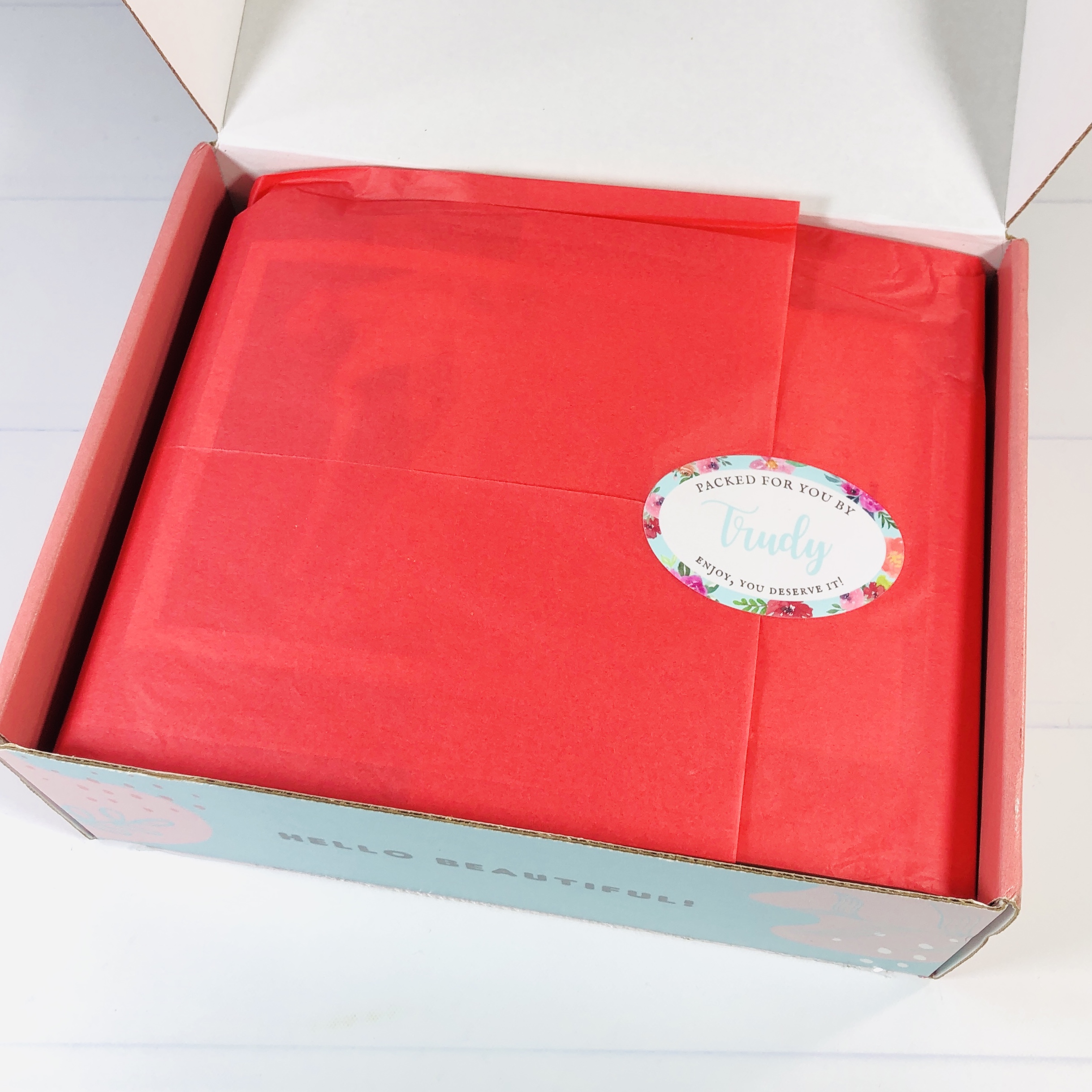 My items were wrapped in red tissue paper that was sealed with a sticker. My box was packed by Trudy, one half of the team behind HER-MINE (the other is Pam, her mom!).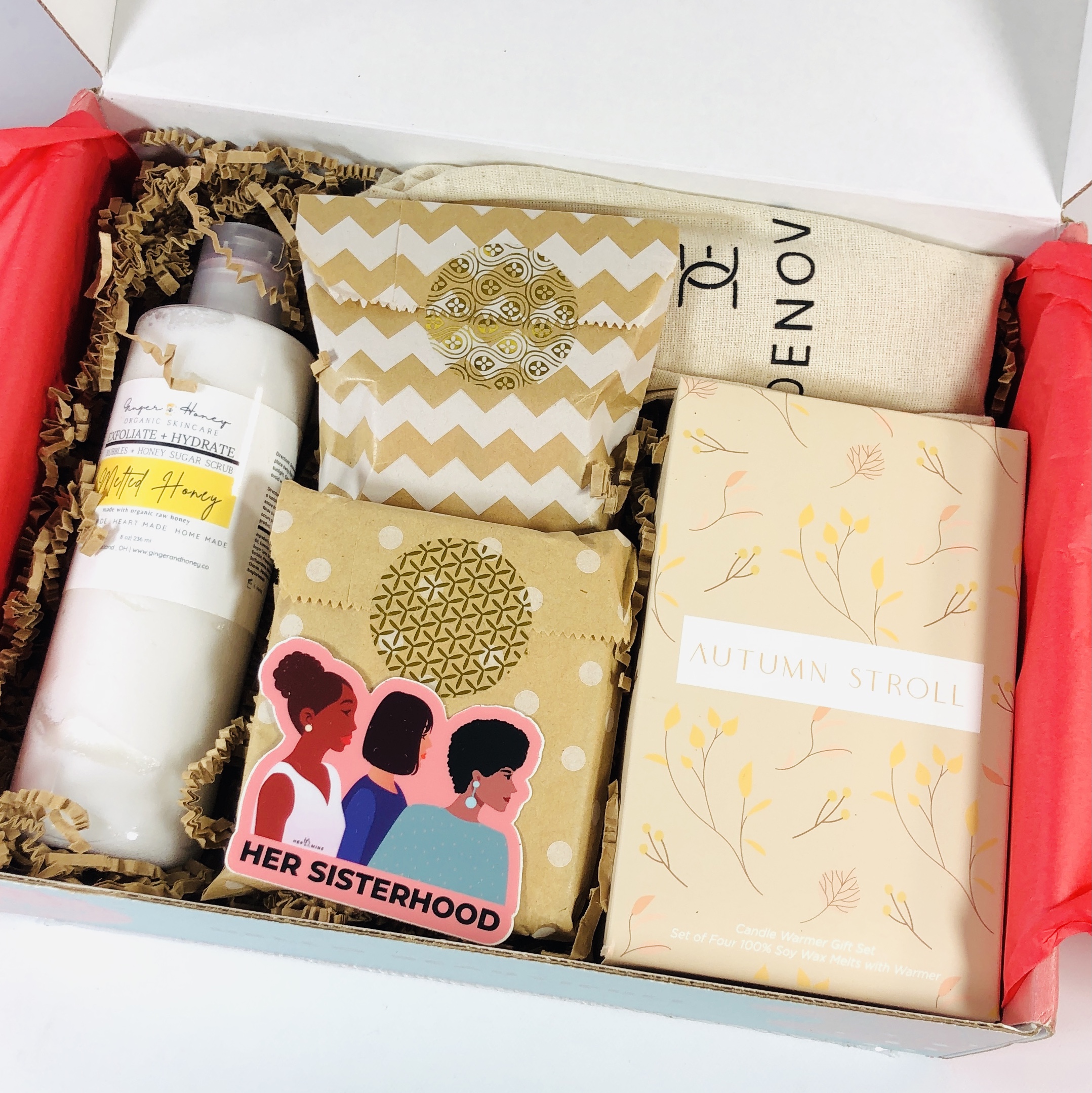 The items were snuggled in shredded paper squiggles. Some of the items were wrapped like presents. What a beautiful presentation!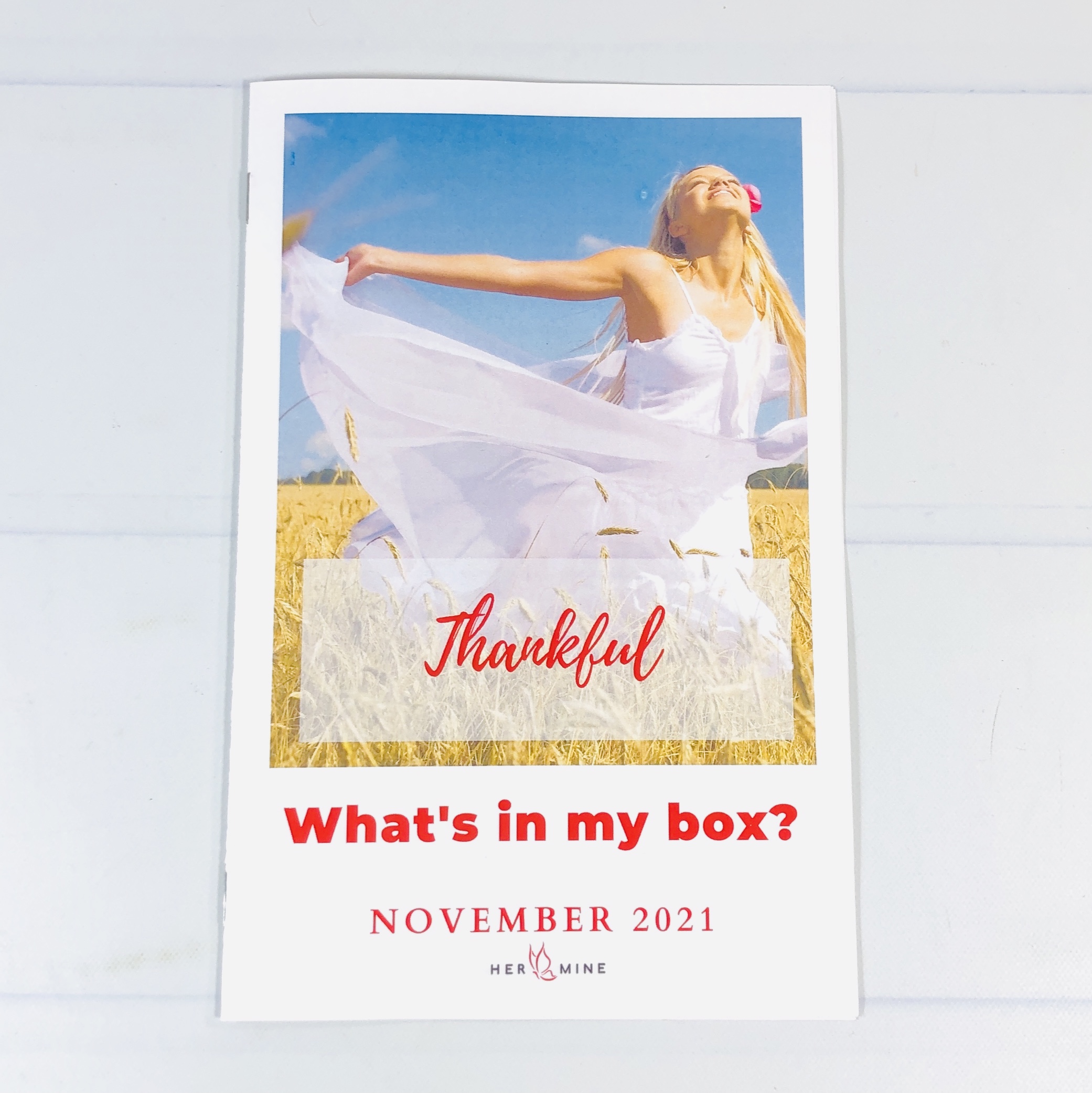 A lovely pamphlet was included. The theme for November was Thankful!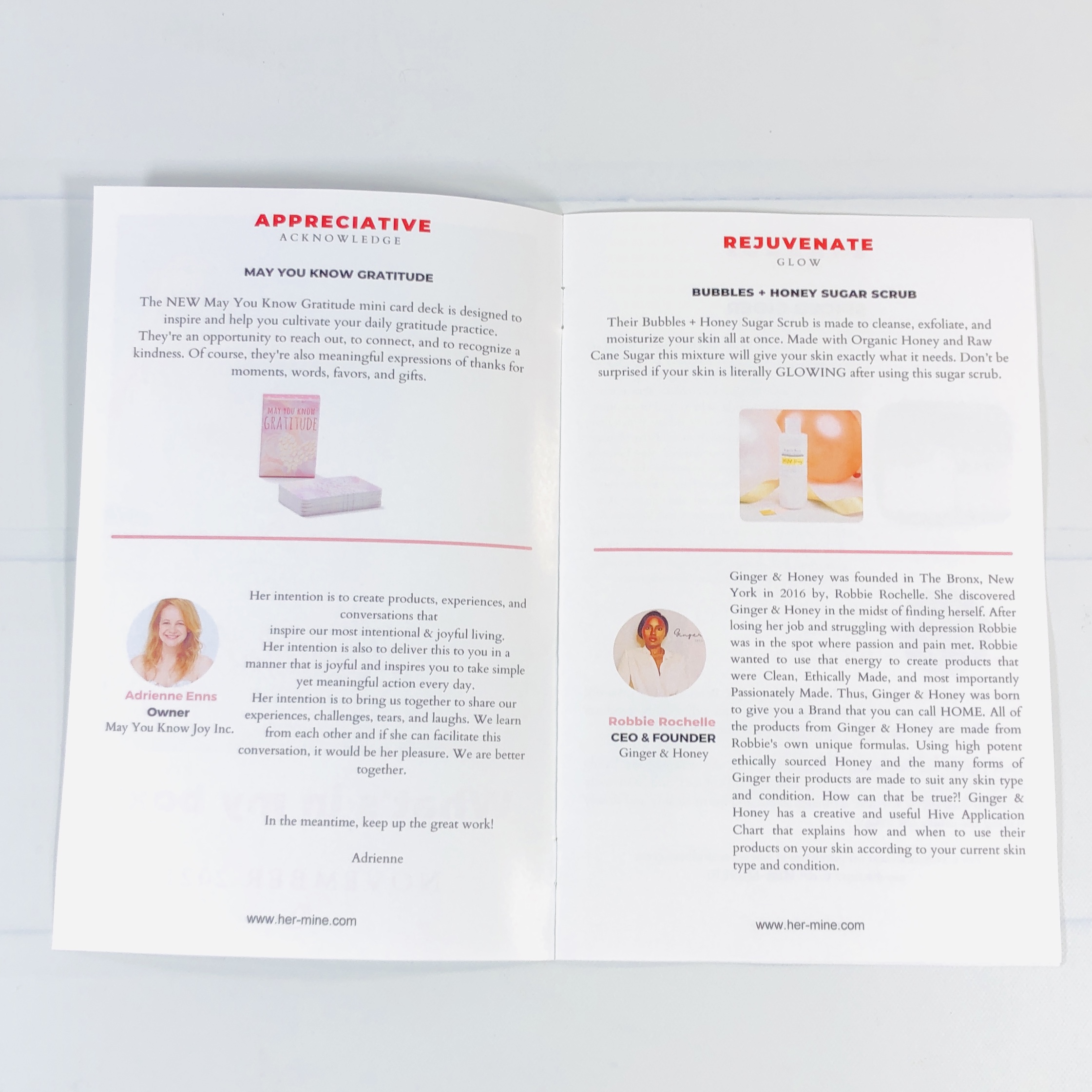 Each product in the box was shown along with its creator.
It looks like a great curation, as always!
There was even a journal page at the back.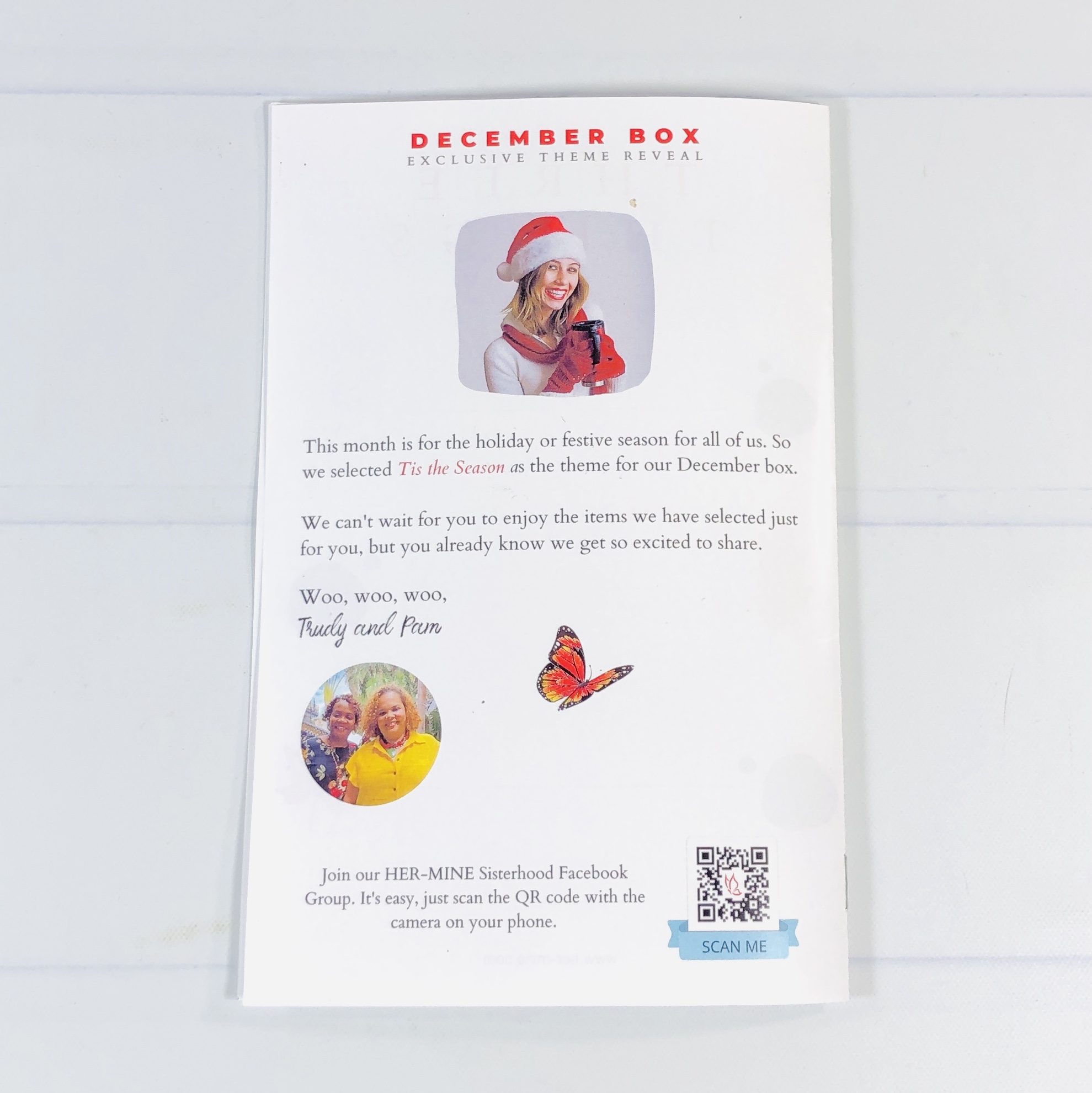 The back of the pamphlet gave us a peek at the December theme.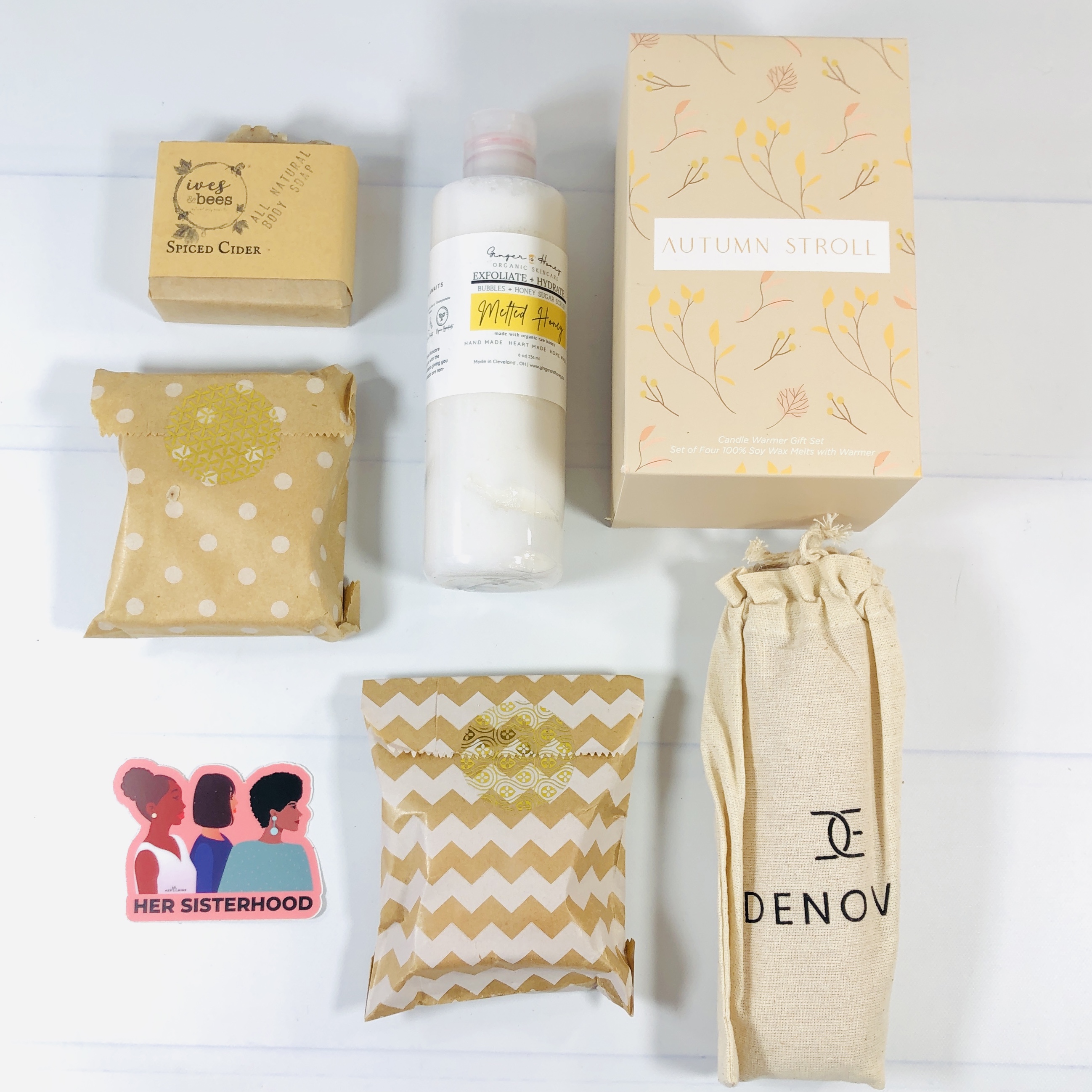 Some items came in boxes and others in bags.
Willow Collective Autumn Stroll Candle Warmer Gift Set ($30) I haven't used an oil warmer in a long time, but this one sure looks snazzy. It has a golden stand and a ceramic dish. You place a wax melt in the dish and then light the candle underneath and it will eventually melt the wax melt, which will then release its scent. There were suggested spaces where one might put this but I disagree with placing it in a baby's room — please keep away from pets and children.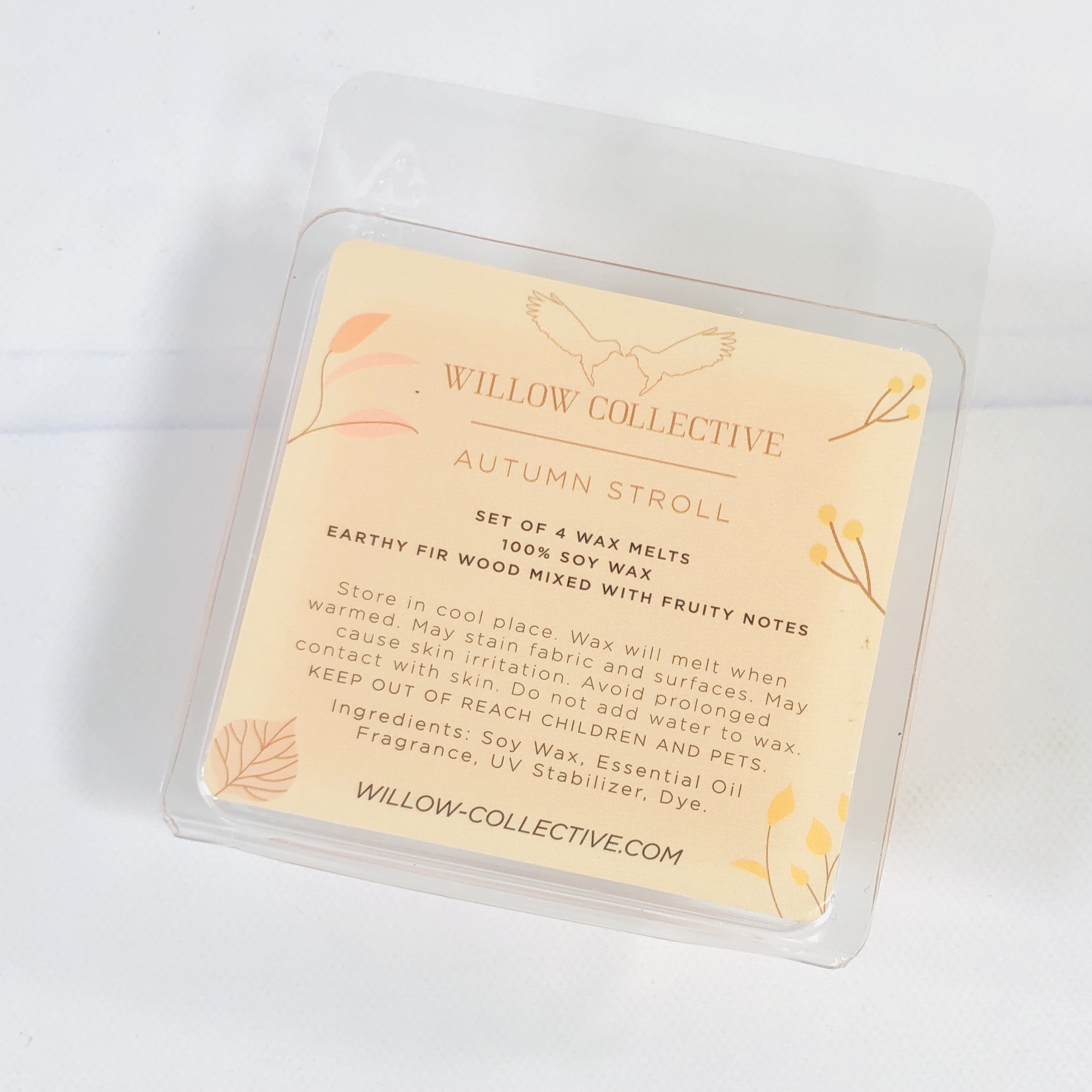 It came with 4 wax melts inside this container, and a box with 4 tealight candles was also included. I don't think this smells like a traditional autumn scent, but it is floral. Scentsy has a scent with this same name but they don't smell the same, there's no spice in this fragrance.
Ginger + Honey Organic Skincare Bubbles + Honey Sugar Scrub ($17) It looks like the container has changed recently, or at least looks different than the one I've linked to. This is a hybrid sugar scrub and shower gel, it's creamy and a little bit gritty.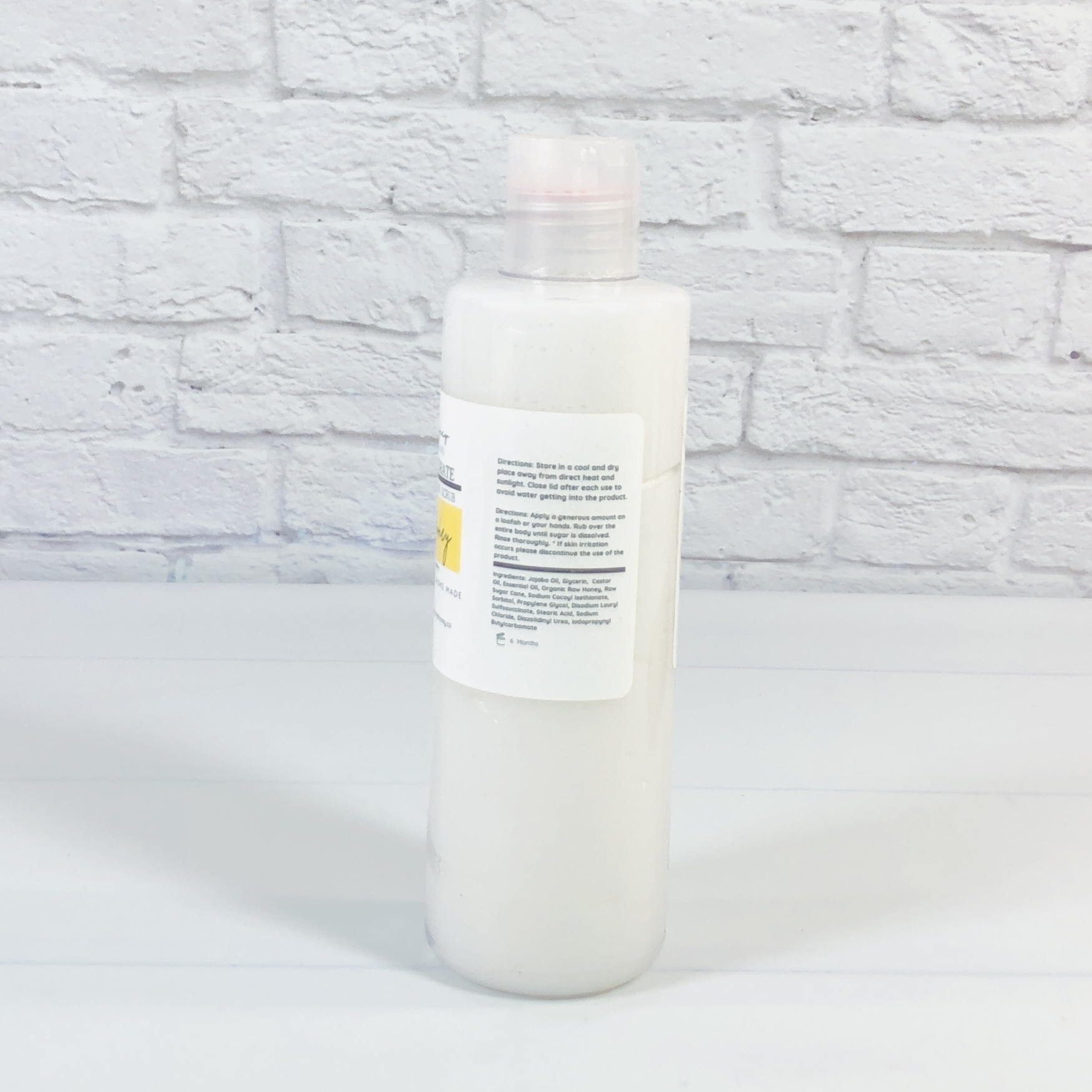 It has sugar, honey, and jojoba oil in the ingredients. I found essential oil listed but I didn't see parfum or fragrance on there and I feel like this has a scent that is floral and sweet. I placed it on a shower pouf and it had a decent amount of foam and rinsed off easily.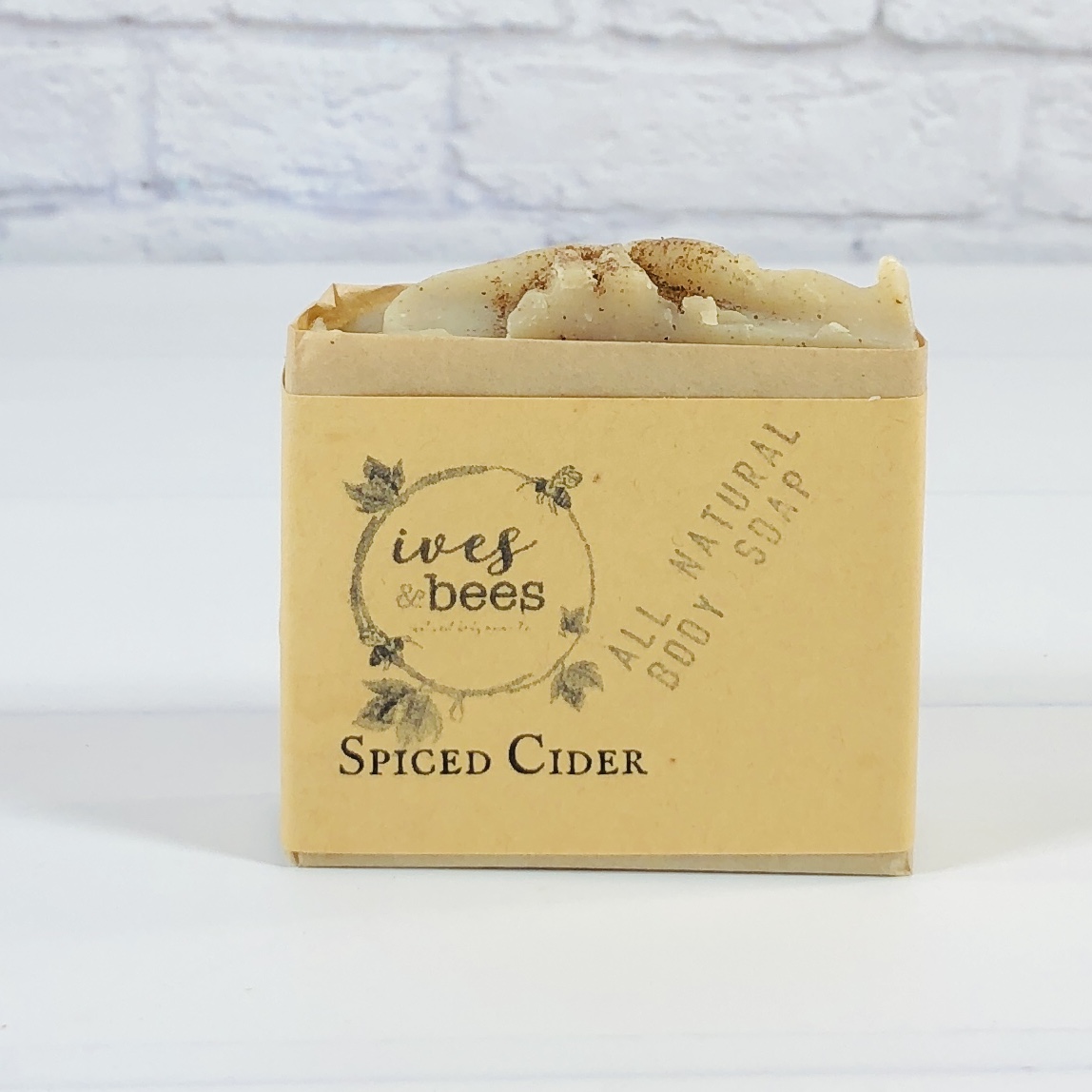 Ives & Bees Spiced Cider Vegan Soap ($7) I adore getting natural bar soaps in subscription boxes and especially like to us them in my kitchen, since the mild scent doesn't interfere when I am cooking meals. Who wants to use highly fragranced hand soap while cooking chicken?
This is made with saponified plant oils, a couple of plant butters, and is scented with essential oils.
Looks at how pretty it is, it is even sprinkled with spices!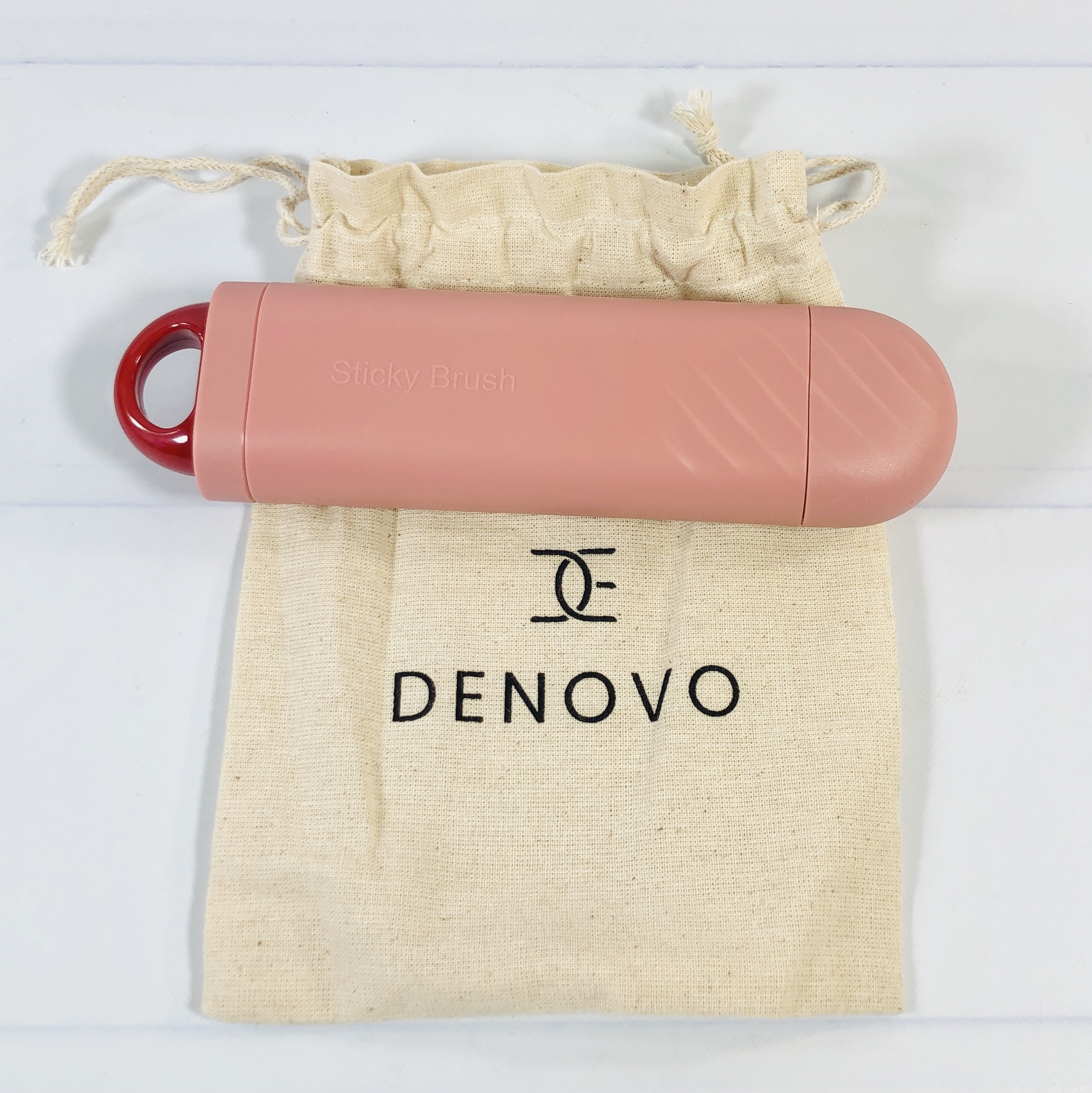 Denovo Pocket Lint Brush ($15) As a cat lady, you would think I would own about 20 of these but nope, this is the only one in my home!
Ooh, this is different than my previous rollers — this isn't sticky paper, it is some kind of fabric. I guess it doesn't come all of the way out of the holder, and supposedly the lint and cat hair will be dislodged into the receptacle at the other end. Pretty cool!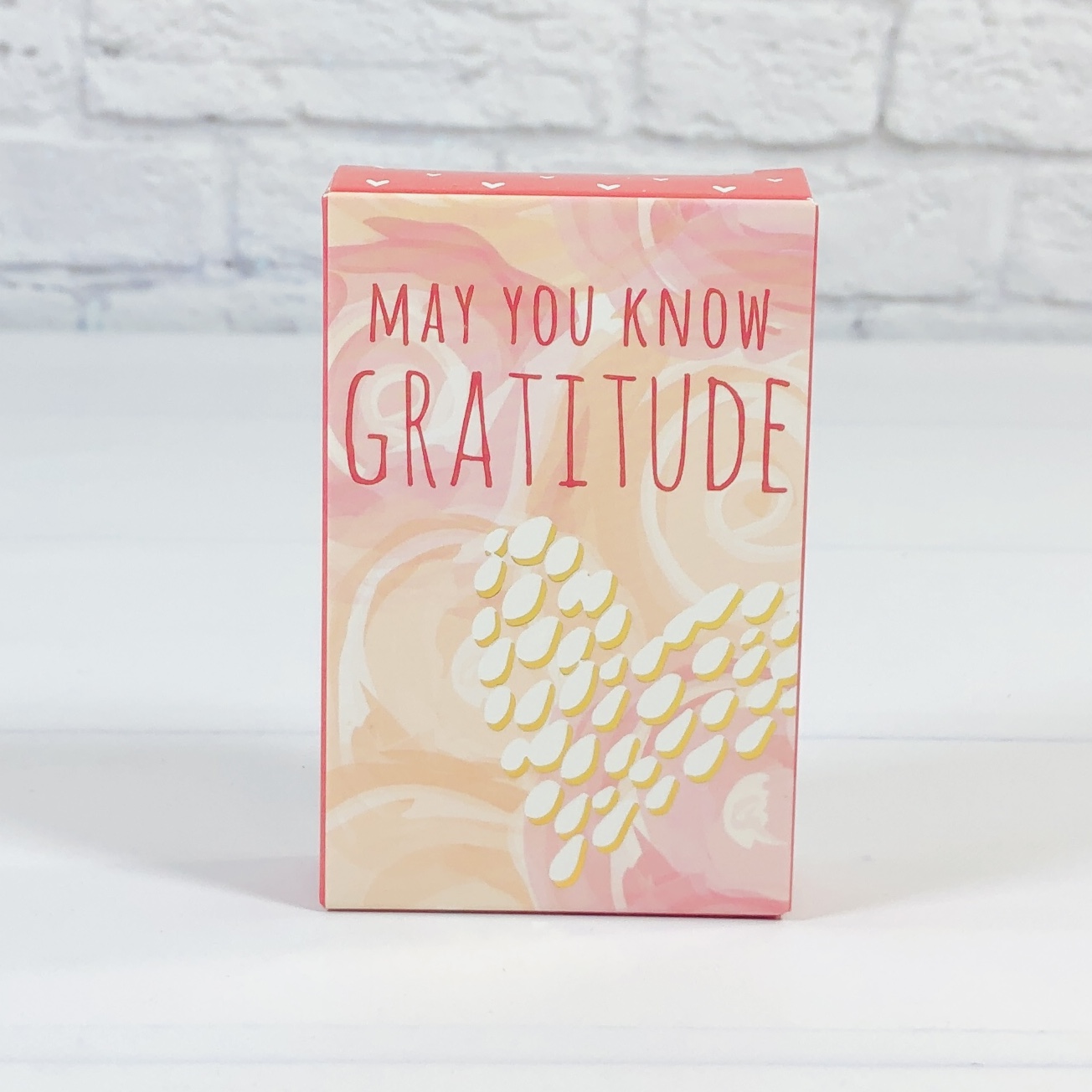 May You Know Gratitude Cards ($12.99) We are in a month where many are feeling especially thankful for their blessings and wonderful things in their lives. This is a card deck that may help encourage thankful thoughts.
Choose a different card each day (or once a week) and then be reminded about what you are thankful for.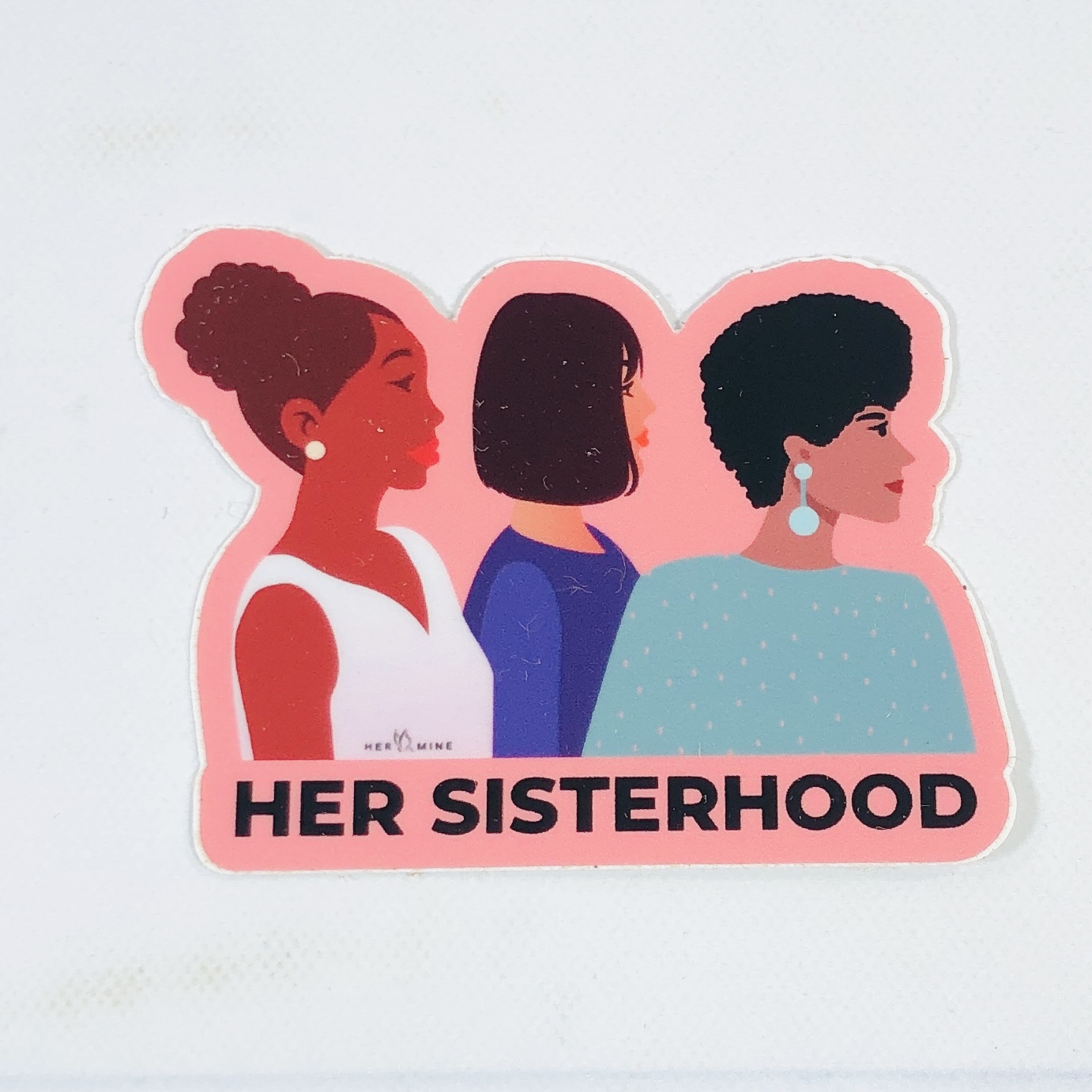 I also received a vinyl sticker that measures about 2″ x 3″.
The HER-MINE November box theme was Thankful and reminds me to be thankful for all I have in my life. I enjoyed using the shower gel and soap, I am thankful to have running water every morning when I wakeup. The wax burner is so elegant, and the wax melt smells floral to my nose. I'm excited to have a lint brush, I haven't tried it out yet but can't wait to see if it works well, even though I've sort of given up caring, my cats shed while they are just lying there doing absolutely nothing. Finally, the gratitude cards remind me of all of the other things I sometimes forget to be grateful for.
What do you think of this box?