GLOSSYBOX Black Friday deals for 2021 are here!
Exclusive Deals for Hello Subscription Readers:
Get a 3-month subscription to Glossybox for $30 (originally $58.50) HELLO35
Get a 35% off a 12-month subscription to Glossybox (was $210 now $137) HELLO35
And the rest of the GLOSSYBOX Black Friday sales:
Get an extra box FREE when you sign up for a monthly GlossyBox subscription! Use the coupon code EXTRAFRIDAY at checkout.
Get 20% off on eGift subscriptions! Use this link and use the coupon code CYBERGIFT20 at checkout.
Grab the Black Friday and Skincare Edit Limited Edition Boxes, starting at Midnight EST for subscribers and 7am EST for non-subscribers!
Shop the Hall of Fame Box Sale, starting at 7pm EST, Glossies will be able to shop past favorite boxes for a limited time. Bundles include: 1 box for $12; 2 boxes for $20; 3 boxes for $25!
Get the GLOSSYBOX Black Friday deals!
The 2021 GLOSSYBOX Black Friday Limited Edition Box is $25 – $20 for subscribers and will include:
Authentic Beauty Concept | Replenish Cleanser & Conditioner | Deluxe
Solinotes Eau de Parfum | Cherry, Musk, Fig or Jasmine | Full
Deco Miami Nail Polish | Spiritual, Bubble Tea or Frenchie | Full
Sally Hansen | Airbrush Tanning Water | Full
Merci Handy | Glitter Fever Hand Sanitizer | Full
Kitsch | Stargazer 4-pack Hair Coils | Full
Kniepp Valerian & Hops | Mineral Bath Salt – Dream Away | Packet
Naobay Freedom | Low pH Hemp & Green Tea Cleanser | Full
Purlisse Beauty | Blue Lotus + Seaweed Treatment Sheet Mask | Single
The 2021 GLOSSYBOX Black Friday Skincare Box is $30 – $28.50 for subscribers and will include: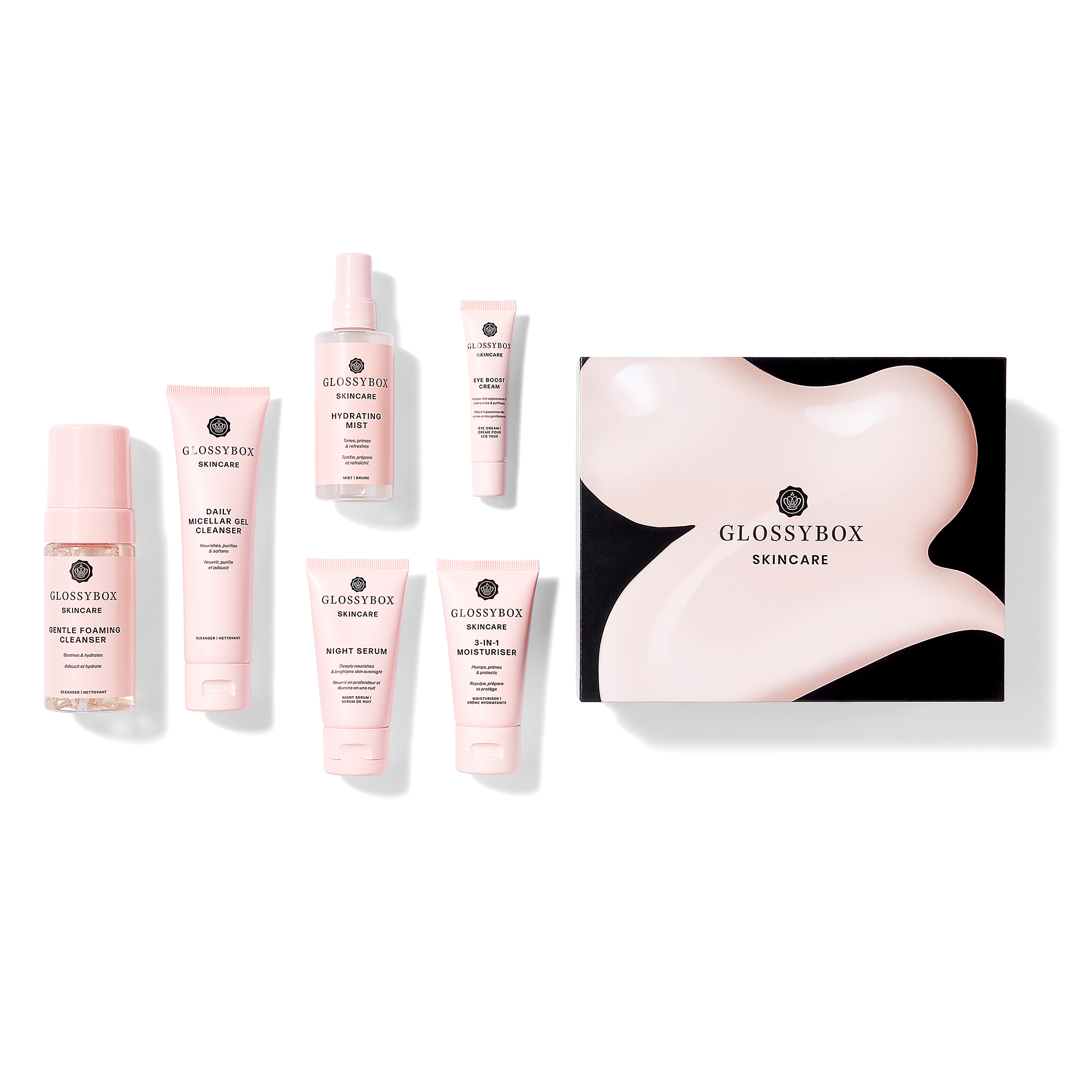 Eye Boost Cream | Full
Night Serum | Full
Hydrating Mist | Full
3-in-1 Moisturiser | Full
*SUBSCRIBER'S CHOICE* Gentle Foaming Cleanser OR Daily Micellar Gel Cleanser | Full
About GLOSSYBOX:
GLOSSYBOX provides its subscribers with at least 5 beauty products each month worth over $60, delivered in iconic collectable pink boxes and a hand-tied bow. They're the largest beauty box subscription business in Europe and constantly growing in the US.GLOSSYBOX partners with beauty brands including Rodial, Elemis, and First Aid Beauty and specializes in finding niche, innovative brands from around the globe. With a mix of full-size and deluxe-sample size products, it's perfect for those looking for a monthly treat while discovering new, indie beauty brands alongside fan favorites. Glossies receive exclusive tutorials and how-to videos from GLOSSYBOX's dedicated editors. Glossies have VIP access and prices to Limited Editions which appear throughout the year.
Use this link to activate the deal!