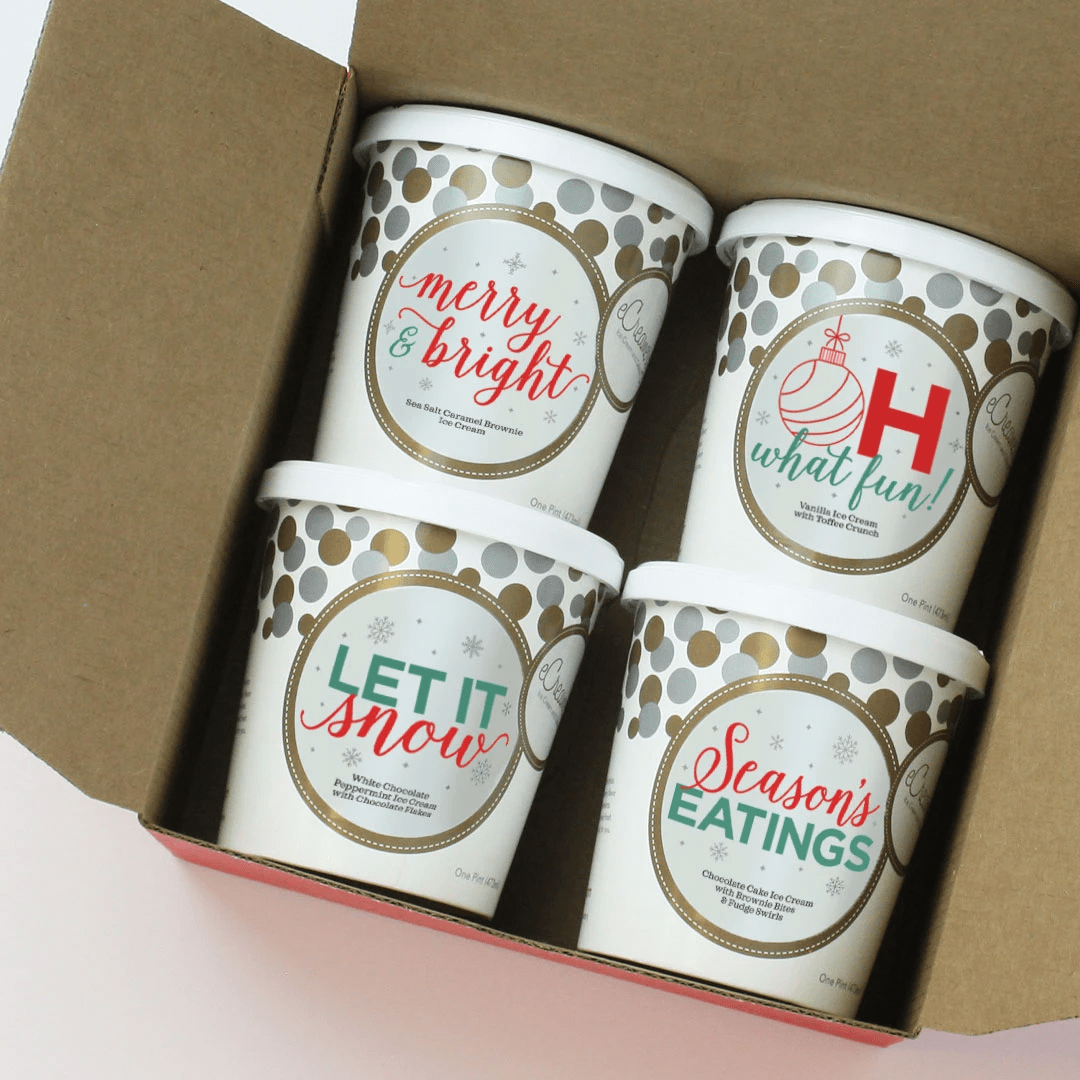 The eCreamery Ice Cream Advent Calendar is available now! This calendar is $129.99 + FREE Shipping, and includes 12 pints of holiday ice cream to dip into a new seasonal flavor every day!
Why settle for one piece of candy each day when you can countdown to Christmas by enjoying a delicious pint of holiday ice cream everyday for 12 days! WOW!! Just think of the memories you will make with your family as you start a new tradition of enjoying a sweet bowl of the season's sweetest ice cream together every day on the big countdown. Each pint is labeled with a number to keep you on track. Celebrating the season with a daily bowl of delicious holiday ice cream is sure to receive the "Santa Seal of Approval."
Here are all the flavors:
White Chocolate Peppermint: White Chocolate Peppermint Ice Cream with Peppermint Flakes and Chocolate Chunks
Sea Salt Caramel Brownie: Sea Salt Caramel Ice Cream with Brownie Bites
Chocolate S'mores: Chocolate Marshmallow Ice Cream with Marshmallows, Graham Crunch & Chocolate Chunks
Peppermint Bliss: Peppermint Ice Cream with Swirls of Peppermint Frosting & Red Velvet Cake Pieces

Chocolate Chunk: Chocolate Ice Cream with Chocolate Chunks

Cookies & Cream: Sweet Cream Ice Cream with Oreo Cookie Pieces
Sea Salt Caramel: Sea Salt Caramel Ice Cream
Chocolate Cake: Chocolate Cake Ice Cream with Brownie Bites & Fudge Swirls
Snickerdoodle: Cinnamon Ice Cream with Snickerdoodle Cookies
Butter Brickle: Vanilla Ice Cream with Toffee Crunch
Butter Pecan: Butter Pecan Ice Cream with Praline Pecans & Caramel Swirls
Mint Chip: Mint Chip Ice Cream
What do you think of the 12 Days of Ice Cream from eCreamery?
Looking for even more advent calendars? Check out all our posts on Advent Calendars or find more on Amazon, or see the list of Advent Calendars in the directory!