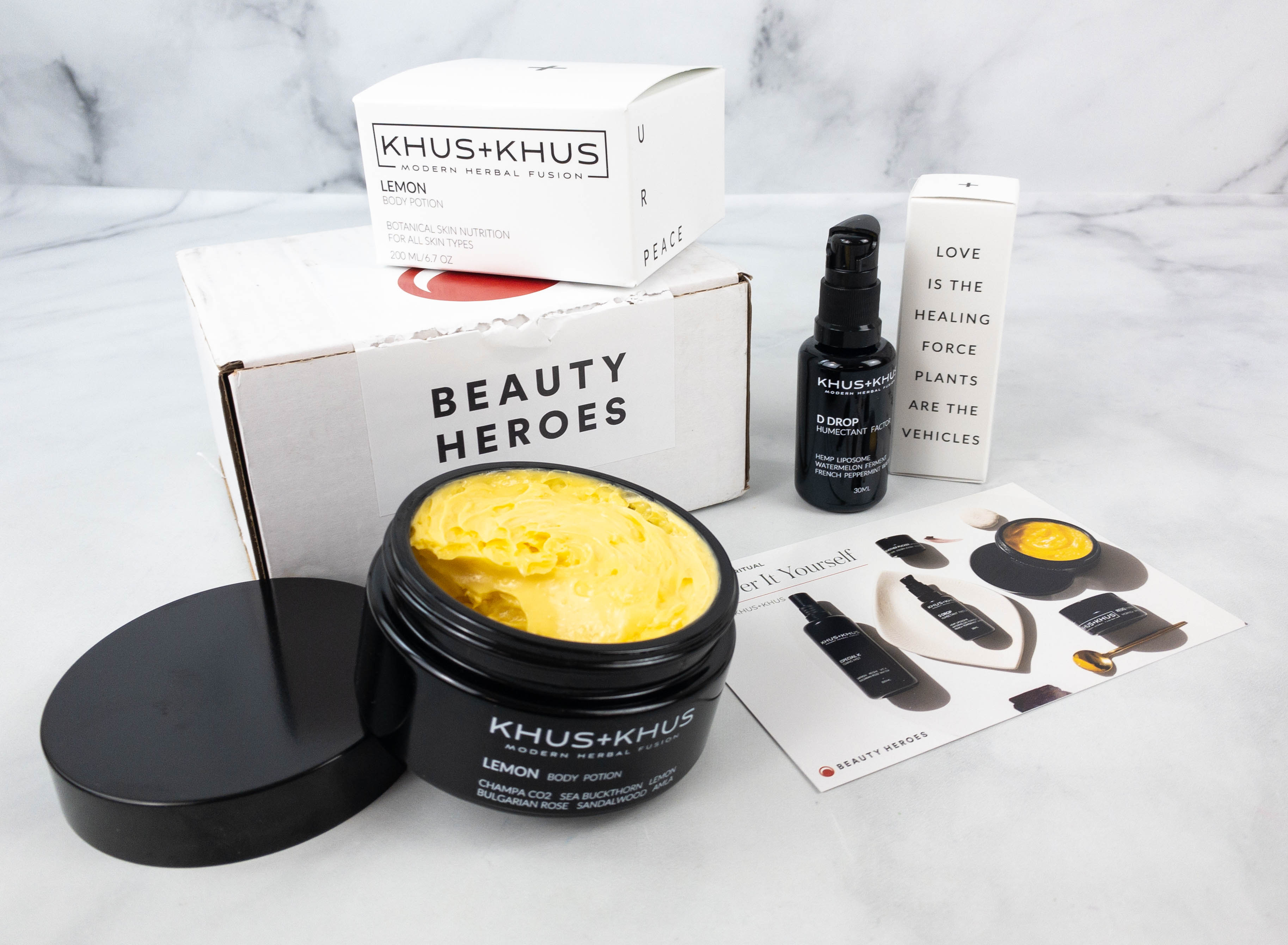 Beauty Heroes is a healthy beauty discovery service featuring one clean beauty brand each month. They send a full-size Hero product in every box, plus a deluxe size Sidekick. Sometimes, they send more than one Hero or Sidekick, depending on the featured brand. Boxes are always $100+ in total value. Beauty Heroes members also receive a 15% discount in the Beauty Heroes Beauty Store, insider exclusives, and early access to new product launches. They currently offer 1-, 3-, 6-, and 12-month membership subscriptions. Here are the prices: 1-month – $58.95 ($58.95/month), 3-months – $137.85 ($45.95/month), 6-months – $251.70 ($41.95/month), 12-months – $479.40 ($39.95/month).
This month's featured brand is Khus+Khus!
Usually, Beauty Heroes incorporates products from previous months to provide a customized beauty ritual. Your ritual can change monthly with the seasons and with new products – I absolutely love this feature.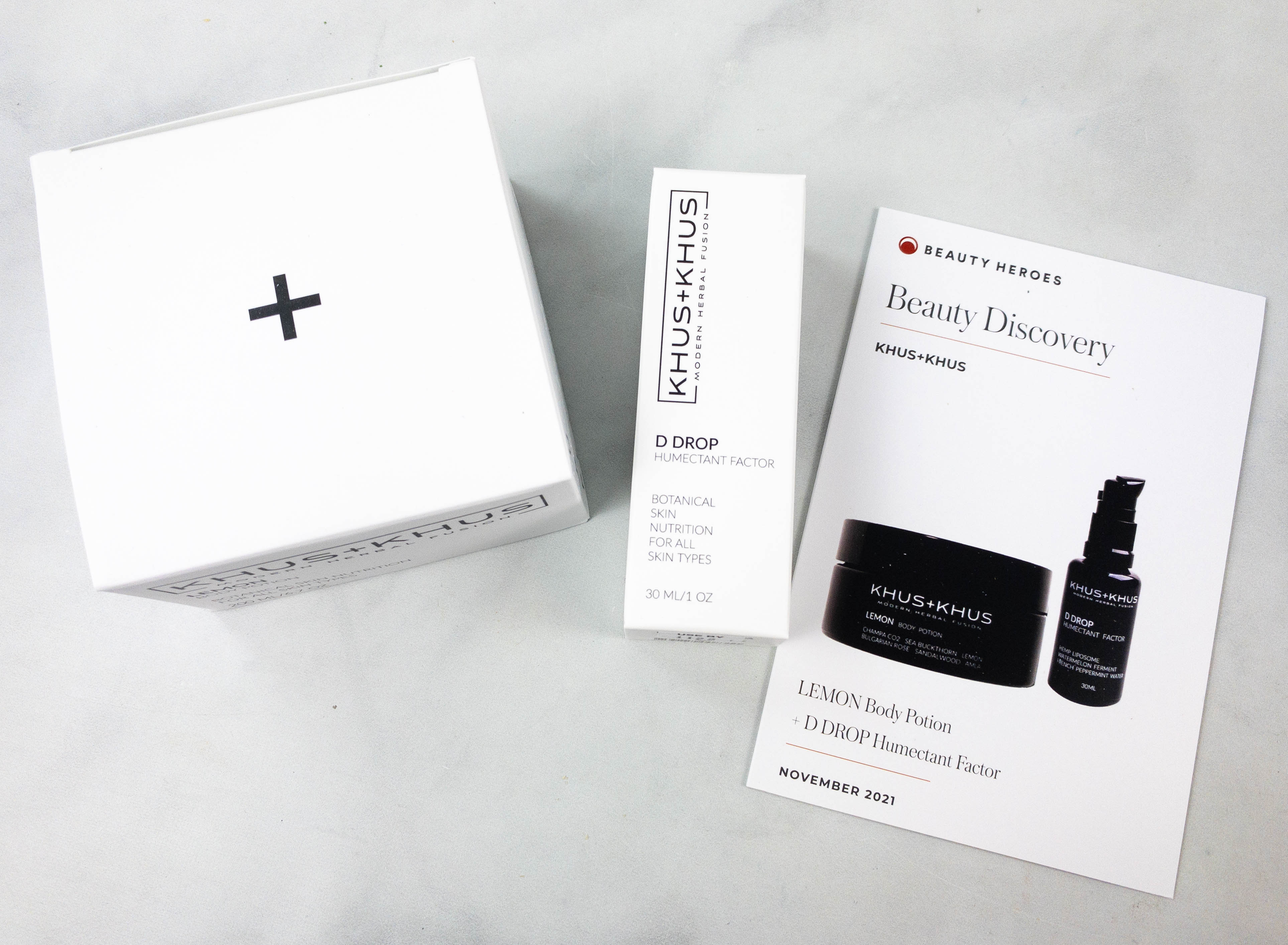 The box also includes a mini booklet. Inside, it contains more information about each product.
This month's Hero product is Lemon Body Potion, and the Sidekick is D Drop Humectant Factor.
Of course, there's also a feature that focuses on this month's brand! Khus+Khus is a plant-based skincare brand founded by a master herbalist, yoga teacher, and Ayurvedic health practitioner. The ingredients they use are sourced from small producers and independent farms, and everything is made by hand in Colorado. They even use renewable energy in their lab!
Khus+Khus D Drop Humectant Factor ($38) A humectant draws moisture to the skin, keeping it well hydrated and nourished. This one from Khus+Khus is even better as it has a cooling and soothing effect, perfect for those who have dry and inflamed skin. Also, it contains hemp liposomes sourced from whole hemp plants. According to Khus+Khus, liposomes are like vehicles that transport nutrients to the cells, which enhances the delivery of active ingredients.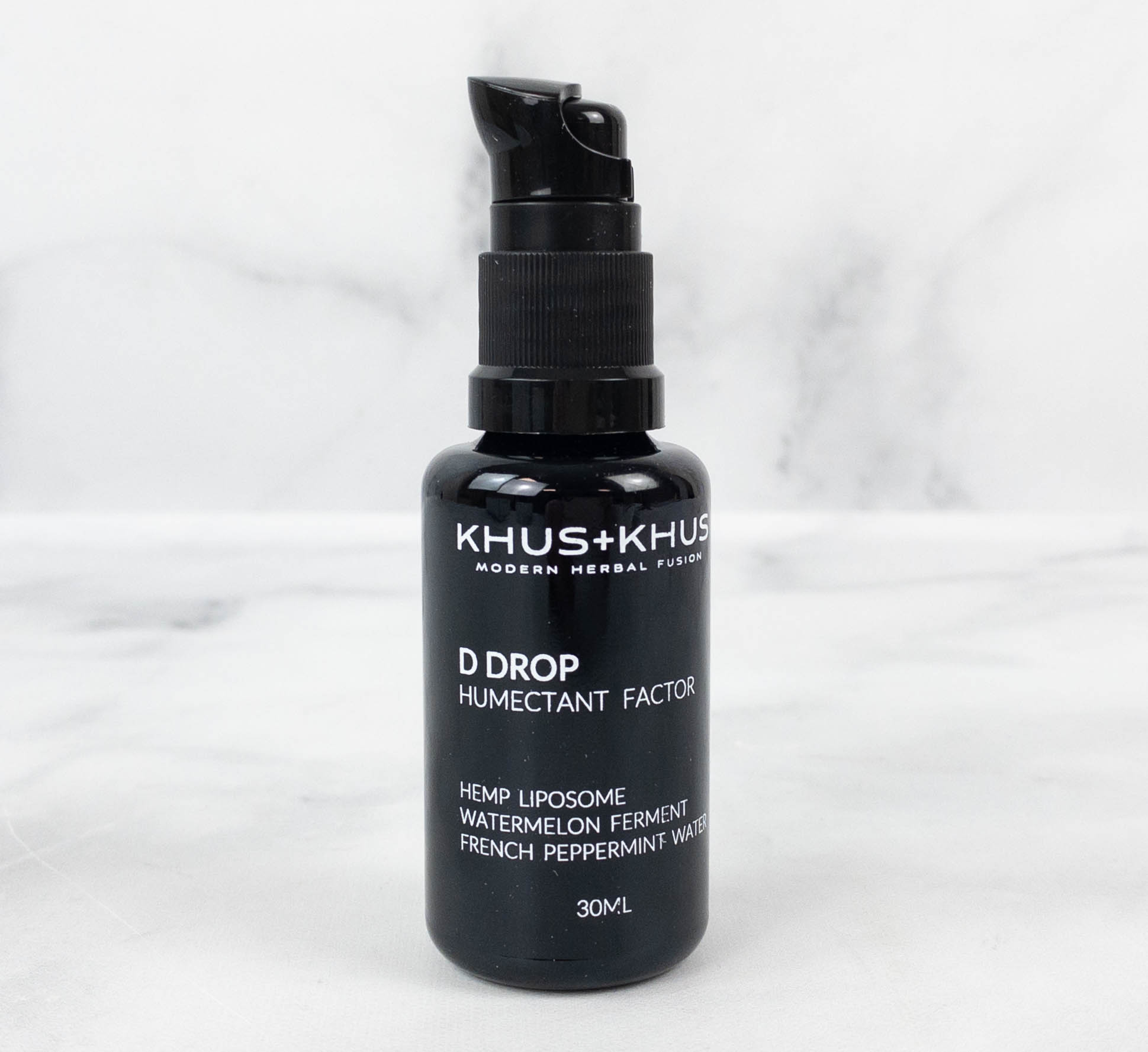 Khus+Khus uses miron violet glass bottles to keep their products fresh. The pump makes it easier to dispense the product as well.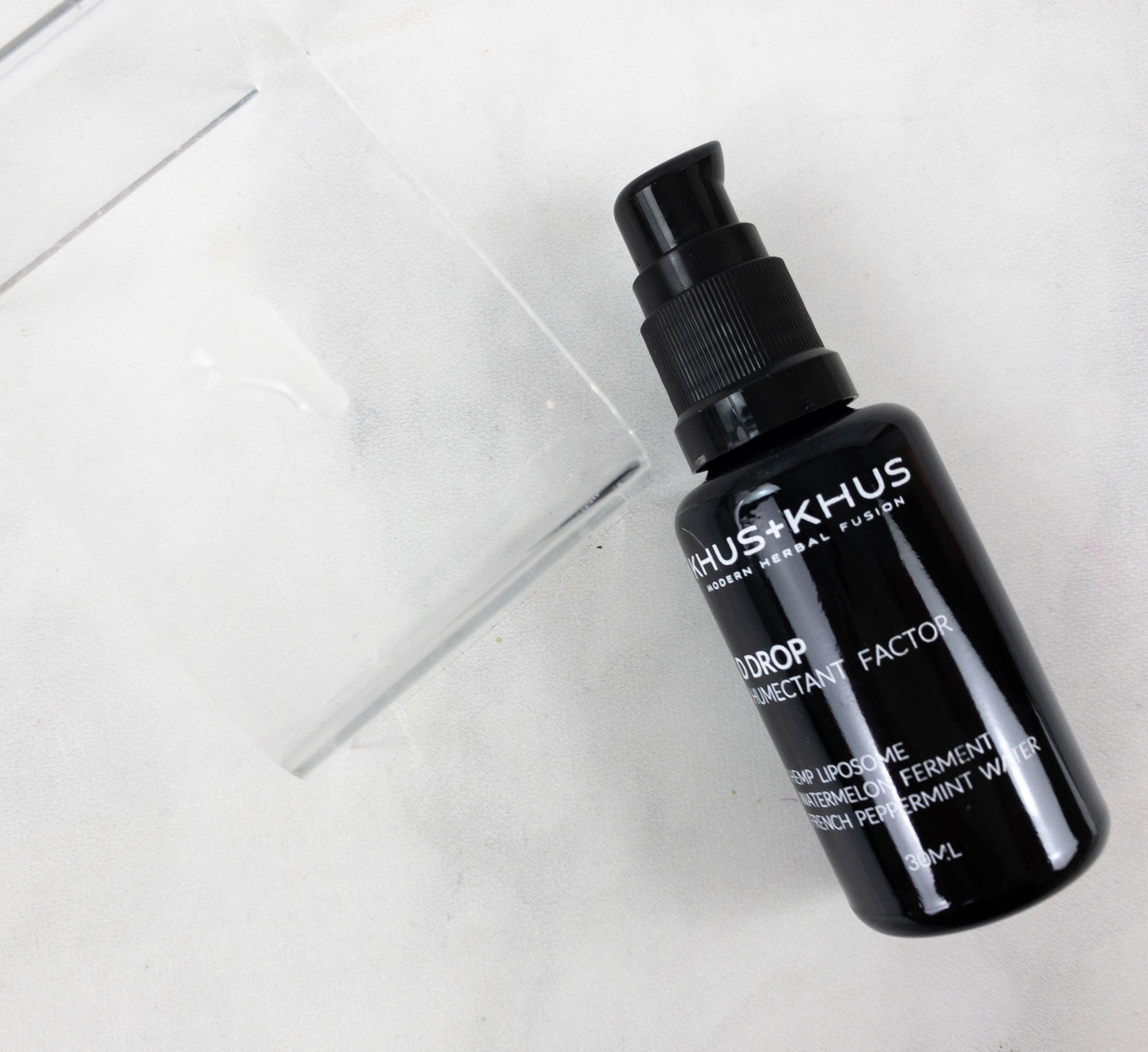 Aside from hemp liposomes, the formula also contains French peppermint with anti-inflammatory properties and watermelon ferment that is rich with vitamins A and C. To use, just get 1-2 pumps and apply to the desired area. It's ideally applied before your favorite moisturizer or serum!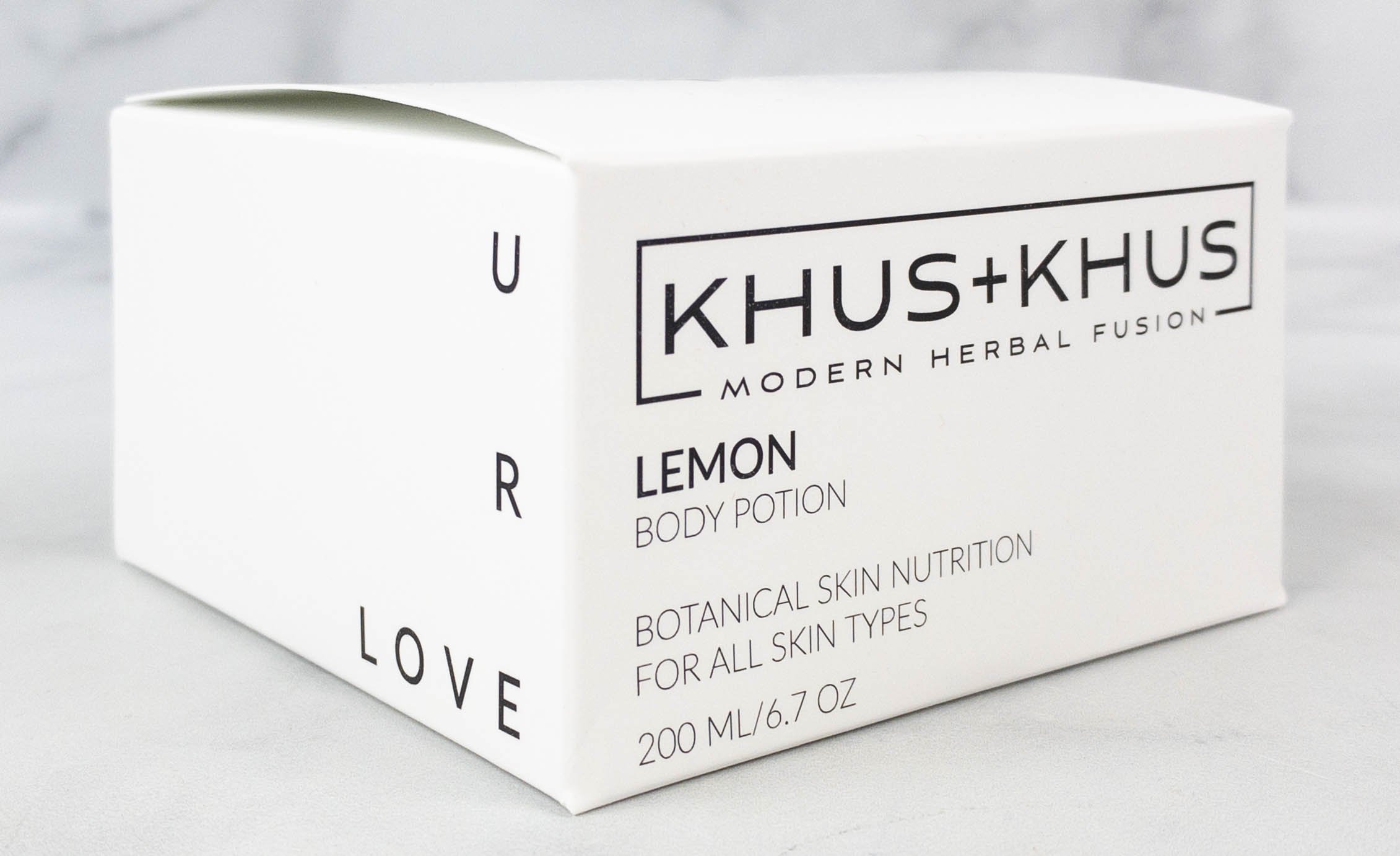 Khus+Khus Lemon Body Potion ($88) The Hero product is a hydrating body potion that contains a powerhouse of botanical ingredients, including champa flower, sea buckthorn, and amalaki. Just like the the Sidekick, it's made for dry and dehydrated skin, as well as those who have sensitive skin conditions.
It's more than just your regular body butter, as it's aroma-based! This means each application of the body potion is also a dose of aromatherapy, which can help you calm and relax. It smells so good because of the combination of lemon and sandalwood!
Aside from its moisturizing properties, champa flower is also known to have grounding effects on the mind and body. Another key ingredient is the antioxidant-rich moringa oil, which is good for acne and inflamed skin when used topically. This body potion has a rich texture, but it applies smoothly on the skin. It can be reapplied any time of the day as needed.
This beauty loot showcases two hydrating skincare products, which can both help us combat dryness caused by harsh weather conditions. The Hero product is a body potion and an aromatherapy in one, which soothes my skin and helps me relax at the same time. The Sidekick item is also a promising one as it contains liposomes that ensures deep hydration. Since these products are plant-based, they are gentle on the skin and they don't contain any harmful chemicals. It's also a plus that the brand uses eco-friendly containers for their packaging. Beauty Heroes is a great way to discover natural beauty brands, and even if you simply want to give yourself the gift of self-care!
What do you think of this month's Beauty Heroes box?