The Beachly Winter 2021 full spoilers are here! This winter box is Beachy's biggest box ever, packed with over $300 of retail value to bring the beach to your doorstep at a huge discount.
This season's box is inspired by the ultimate Winter getaway. Get cozy with a sweater, beanie, and slippers, along with a special way to bring some coastal flair indoors. We've partnered with Craig Conover to bring Southern Charm to the season! The Winter Box includes an Exclusive Sewing Down South Pierside Pillow in one of two custom prints. Whether your season is spent snowed-in or seaside, these new finds are sure to add a splash of sunshine.
DEAL: Save 30% off your first box ($29.70 off!)! Use the coupon code WINTER30 at checkout! You can also choose one of these codes: get a FREE Beauty Bonus Box ($100 worth of extra goodies) when you use the coupon code BEACHLYBEAUTY at checkout, get a FREE BONUS BOX ($100+ value) with your Box! Use the coupon code BONUSBOX at checkout! or, get a FREE Salt & Stone SPF 30 Sunscreen Lotion (worth $18) with your first box! Use the coupon code SPF at checkout!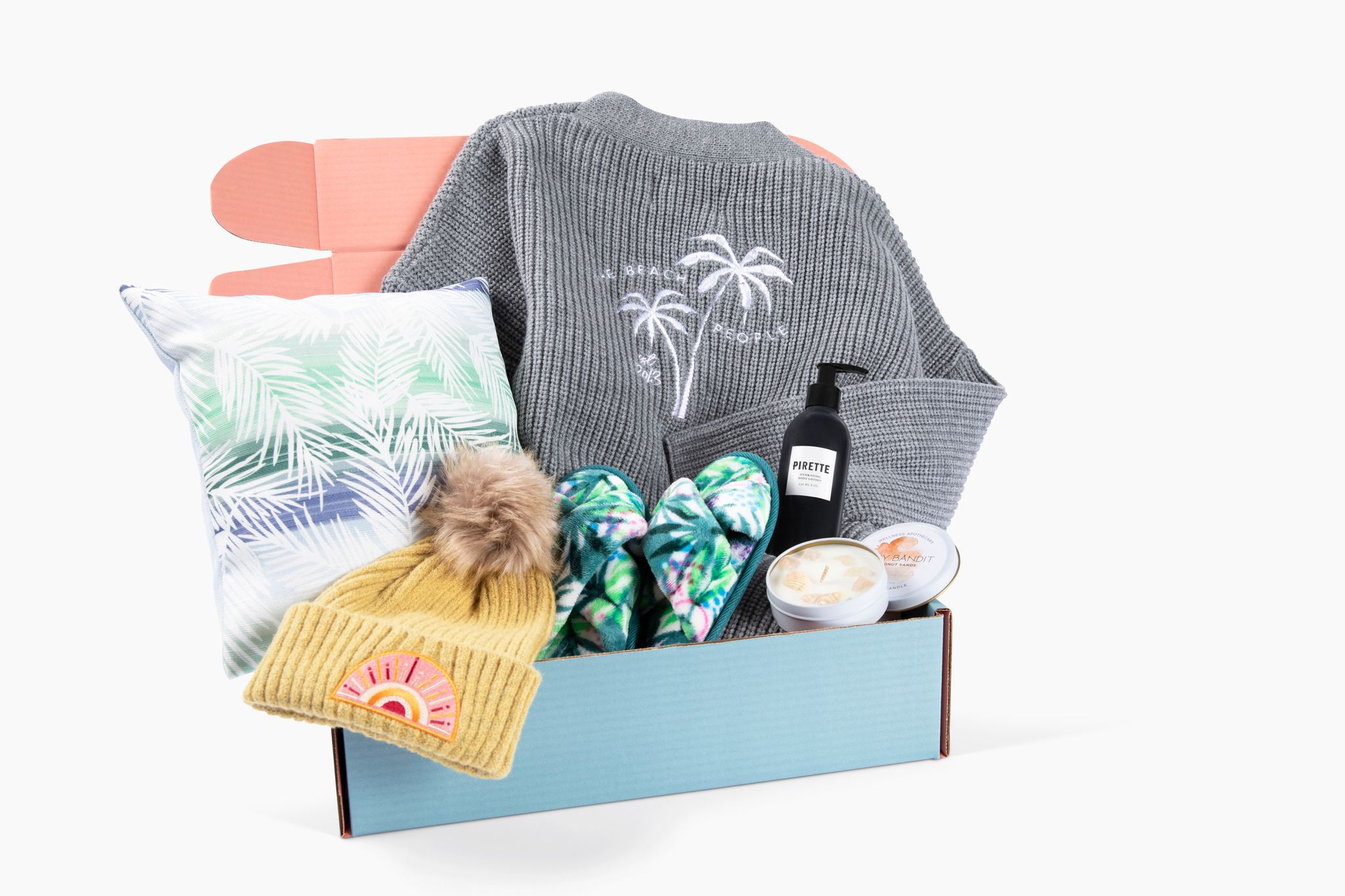 The Twin Palms Cardigan By: The Beach People  Retail Price: $119
The Island Time Slippers By: Island Haus Co.  Retail Price: $49
The Pierside Pillow in Palm or Sea Urchin By: Sewing Down South Retail Price: $49
The Sunray Beanie By: Virginia Wolf  Retail Price: $25
Hydrating Body Lotion By: Pirette Retail Price: $38
The Coconut Sands Shell Candle By: Tiny Bandit  Retail Price: $20
Here's all the details on every item and brand featured in this quarter's ultra giftable box.
The Twin Palms Cardigan By: The Beach People  Retail Price: $119
Details – When feeling warm and snuggly is key, look no further than the Twin Palms Cardigan. This cool-weather companion is made with a premium blend of plush acrylic fabrics, offering a regular fit with an open front neckline and embroidered palm detail on the back. It's soft, it's embroidered, and it's your new favorite essential for daydreams of life by the shore and beyond.
About the Brand – Makers of luxe essentials for the land and sea, The Beach People are the ultimate Australian beach brand. Slow living and precious time with family by the seaside is at the heart of everything they do. The Beach People invite you to join their journey as they bask in the sun, take carefree dips in the ocean, and create unforgettable memories with the ones we all love the most – with the perfect beach accessories by your side, of course.
The Island Time Slippers By: Island Haus Co.  Retail Price: $49
Details – Slide into something cozy and keep it beachy from head to toe. Crafted from super soft flannel fabric, The Island Time Slippers will keep your feet warm and toasty all Winter long. They're so cute and comfy, you're never gonna want to take 'em off!
About the Brand – Island Haus Co. started as a creative haven to design coastal prints that could fill the owner's home. It has since become a true labor of love – mixing a passion for watercolor print design along with the makings for any house to become a coastal bungalow. With inspiration drawn from beaches, golf courses, and fantastic Charleston, South Carolina roots, you'll find the perfect coastal flair at Island Haus Co.
The Pierside Pillow in Palm or Sea Urchin By: Sewing Down South Retail Price: $49
Details – We are SEW excited to bring you one of our most requested items, with a Beachly twist of course! Introducing a custom throw pillow to bring a little beachy flair to any home, any where. The palm print offers a pop of color and West Coast vibes while the sea urchin design showcases classic East Coast nautical style.
About the Brand – Does Sewing Down South sound familiar? If you are a Bravoholic like our Head Buyer, it may be because the brand was started and is run by Craig Conover of Southern Charm. With carefully handpicked patterns and designs, Sewing Down South is the perfect mix of classic coastal style to brighten up your home in the most unexpected ways!
The Sunray Beanie By: Virginia Wolf  Retail Price: $25
Details – Staying warm never looked so good in The Sunray Beanie. This seasonal staple is updated with a rich gold color, vibrant sun patch, and removable snap-on pom – allowing you to get perfectly cozy and chic for the Winter months to come. With a splash of sunshine, of course!
About the Brand: Virginia Wolf was founded in 2015 by two sisters, Marcy and Kari. After being boutique owners for over a decade, their dream of starting their own brand came to life. Virginia Wolf is designed with love, to send positive vibes out to anyone who wears their pieces.  After designing the Virginia Wolf Multi Wear Wrap collection, bloggers and fashionistas alike quickly noticed how unique their pieces were and they haven't looked back since. Virginia Wolf is designed with positive energy and made to be worn with love.
Hydrating Body Lotion By: Pirette Retail Price: $38
Details – This Hydrating Body Lotion is lightweight, fast absorbing, and rich with antioxidants to help moisturize and nurture your skin. Composed of Coconut Oil, Macadamia Oil, Shea Butter and infused with the PIRETTE flagship scent, your skin will be left feeling soft and refreshed for the cold Winter months.
How To – Apply to the skin after the shower, at night, before getting dressed, or when your skin is feeling extra dry and in need of some TLC.
About the Brand – The PIRETTE mission is to create high quality beauty products infused with an authentic beach scent. That's why their products transport you to those perfect days filled with sun and sand. Pirette products are never crafted in a boardroom – for them, inspiration is found right at the beach. They use the highest quality ingredients and unlike your ex, are non-toxic. Each item in the PIRETTE collection features their flagship scent which consists of notes of fresh coconut, surf wax, and sunscreen for a dose of vitamin sea. It's a little refined and a little salty (just like us all).
The Coconut Sands Shell Candle By: Tiny Bandit  Retail Price: $20
Details – This cozy yet coastal candle features hand-poured coconut wax, a cotton wick, and tropical notes that will transport you to a surf-lined beach. It's lightly sprinkled with crystals and shells from the sea, welcome to your dream paradise.About the Brand – Growing up, founder Heather Beaudoin was immersed in a culture that was all about crystals, creativity, and spirituality. Bohemian wasn't simply a trend, it's always been her way of life. With almost ten years of experience under her belt designing for others, one inspirational day Heather had a lucid vision of what her own collection would look like and created Tiny Bandit. The line boasts personal nuances including hand drawn fonts, hand painted watercolors for the labels, and custom blended fragrances. Every item is organically one of a kind. The Tiny Bandit Collection was created to shine light on your path and inspire your daily wellness rituals.
About Beachly:
Beachly box is a seasonal subscription box of beach-inspired apparel and accessories delivered 4x per year with $250+ retail value inside each box! Proceeds from each box sold fund beach cleanups hosted by Heal the Bay. Every box includes full size, premium products with a minimum of 50% off the retail prices. Membership includes access to the Beachly members market for even more savings! Beachly offers two lifestyle subscriptions – the Men's and Women's surf subscription box!
And ICYMI, Beachly has just launched the Beachly Beauty Box! Beachly's Beauty Box includes 4-6 carefully curated, beach-inspired cruelty-free, clean beauty products to add a dose of vitamin sea to your regimen. The Beauty Box is $29 per month, with a promised $75+ retail value in every box. The first box ships free; thereafter, future boxes have a $2.99 shipping charge.
See all our Beachly reviews to find out more!
Are you getting Beachly?