We have the spoilers for the October 2021 Vellabox candle subscription box! Vellabox has 3 subscriptions – you can choose from The Lucerna Box ($10) which includes a 4 oz candle monthly, The Ignis Box ($20) with an 8 oz candle monthly, and The Vivere Box ($30) with an 8oz + a 4 oz candle monthly. Each level receives the bonus lifestyle gift, and the biggest box includes free shipping. Check our Vellabox reviews to find out more about this subscription!
DEAL: Get $5 off any purchase when you use this link and the coupon code HELLOSUB5 at checkout.
The October Vivere Vellabox includes: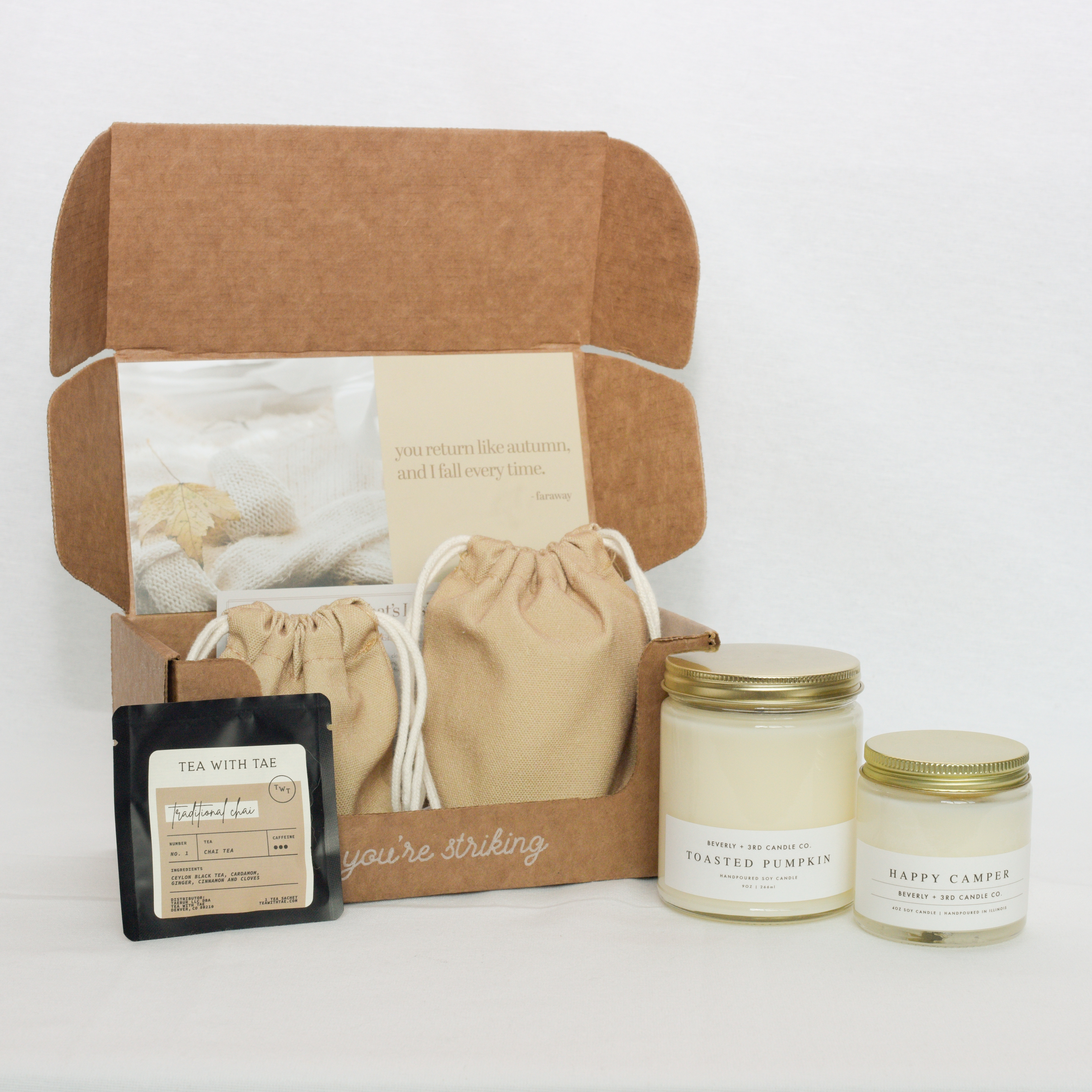 Beverly & 3rd Toasted Pumpkin (primary scent) – notes of pumpkin, nutmeg, cinnamon and smoke (smells like fresh baked pumpkin bread)
Beverly & 3rd Happy Camper (vivere subscribers only) – notes of apple, caramel, raspberry and cedar (sophisticated mix of everything that reminds you of camping in fall)
Bonus Gift: Chai Tea – black tea sachet with notes of cardamom, ginger, cinnamon and cloves. From Tea with Tae: woman-owned tea company with biodegradable and plastic free packaging!
This month's Lucerna Box features a 4-oz Beverly & 3rd Toasted Pumpkin candle. The Ignis Box also features Beverly & 3rd Toasted Pumpkin candle in the 8-oz size. Both boxes include the bonus lifestyle gift.
More about the Vellabox candle partner this month, Beverly & 3rd:
Beverly & 3rd is from Plainfield, IL. Melissa's products are meant to remind you of life's best memories and pure joy; it was inspired by the founder's grandmother!

Vellabox curates a seasonal selection of all-natural candles and sends them to your door every month. They work with different brands, but choose only the candles that are non-toxic, lead-free and hand-poured. No beeswax in order to stay as vegan as possible. Most of what you'll find in the box are soy, coconut, and vegetable based waxes. A surprise gift is also included in every package.
Here's how it works:
PICK THE PERFECT BOX Choose from 3 different sizes – starting at $10 per month
RECEIVE CANDLES MONTHLY Your first box ships immediately & following boxes ship on the 5th
SET THE MOOD Experience new scents perfectly curated to the season
Here's what you'll get:
Delight your nose Expertly curated scents that pass the smell test
Love your space The perfect ambiance for cozy living year round
Breathe easy Clean burning candles, made from natural ingredients
Discover new brands The finest American artisans featured each month