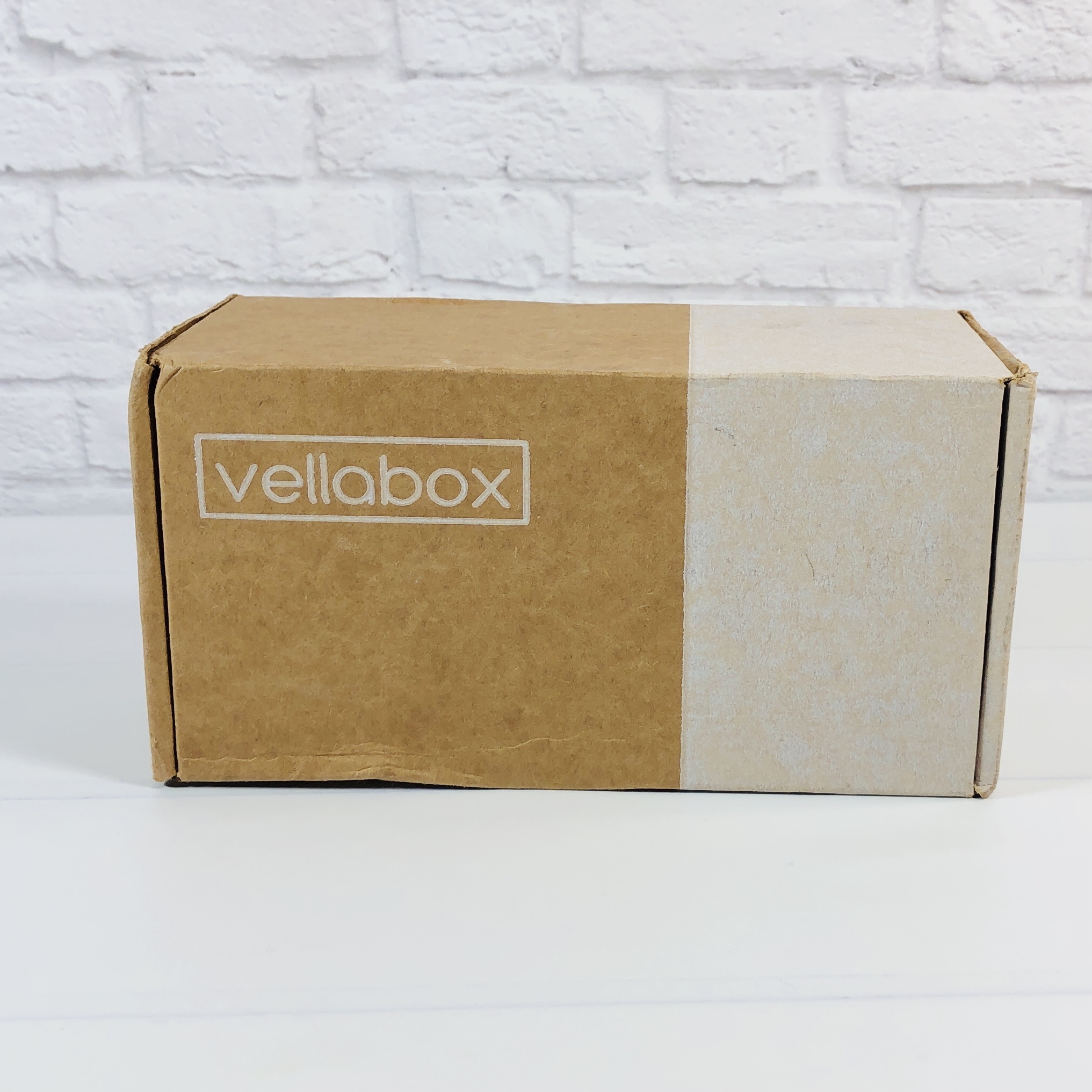 Vellabox is a monthly natural candle subscription box. The candles are always in seasonally inspired scents and are created by the finest American artisans. Each box features a different candle brand. The candles are from small businesses and are made of all-natural wax, cotton braided wicks, and premium fragrance oils. Vellabox also includes a surprise lifestyle gift in every box.
Our Vellabox Candle Curator handpicks the candles and guarantees that they are always all-natural, seasonally relevant and bound to bring warmth and joy to any space. The surprise gift in your box each month is chosen carefully to align with our team's health-centric values.
The Vellabox candle subscription box made the list in our 2021 readers' choice picks of best home and decor subscription boxes and as a favorite affordable subscription!
DEAL: Save 50% on your first box! Use coupon code HELLOSUB50.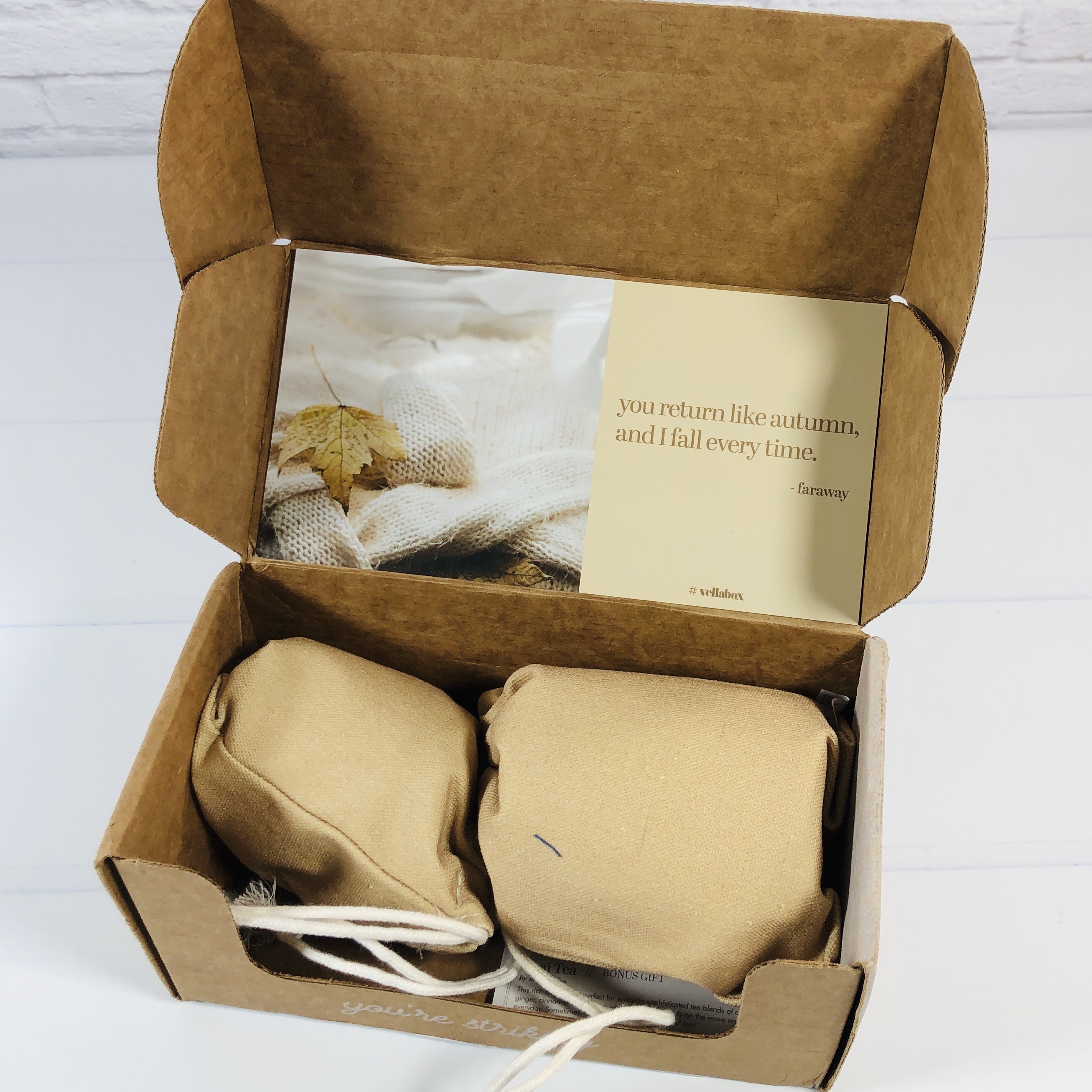 The first thing you need to do is decide which level you prefer. You can choose from The Lucerna Box ($10) which includes a 4 oz candle monthly, The Ignis Box ($20) with an 8 oz candle monthly, and The Vivere Box ($30) with an 8oz + a 4 oz candle monthly. Each level receives the bonus lifestyle gift. Shipping is $3 per month for Lucerna and Ignis to the US, and free for Vivere. Vellabox now ships to Canada for $8 per box. I am reviewing The Lucerna Box.
The candles were in reusable drawstring canvas bags. The bags can hold items like jewelry or other trinkets.
Looking good!
There was a card with info on the featured candle brand, Beverly & 3rd. 
Beverly and 3rd Candle Co. is a small batch, handmade candle company located in Plainfield, Illinois. Our mission is to create high-quality products at an affordable price, allowing the power of scent to fill your home for any occasion.

Each candle is handcrafted with all natural, American grown soy wax, cotton or wood wicks and high quality fragrance oils.

Beverly and 3rd proudly donates 10% of proceeds to Trio Animal Foundation on a quarterly basis. They are an amazing organization that helps thousands of homeless pets every year.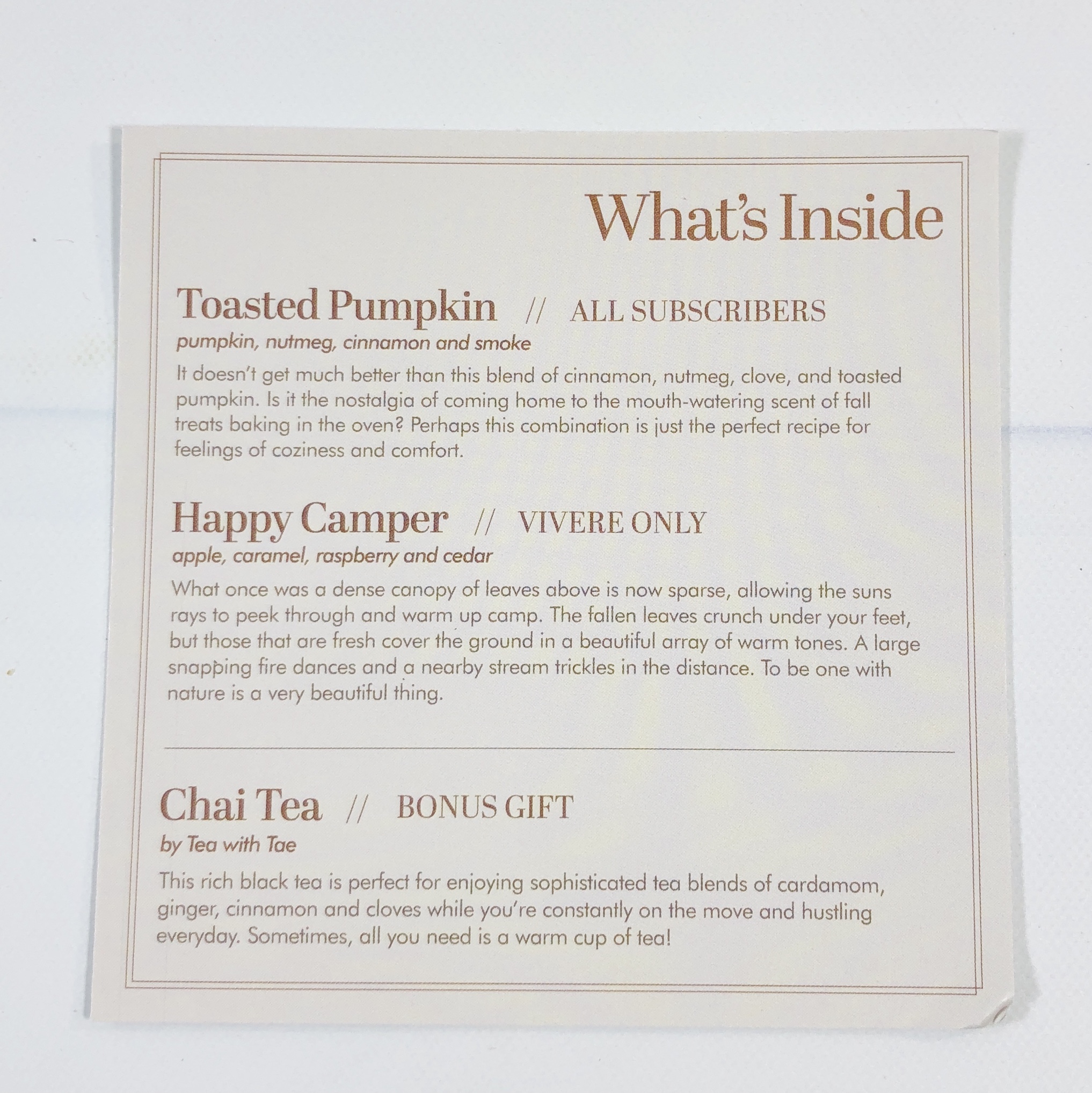 The back of the card listed the scent notes and description for the featured candles. It also listed the bonus item for the box.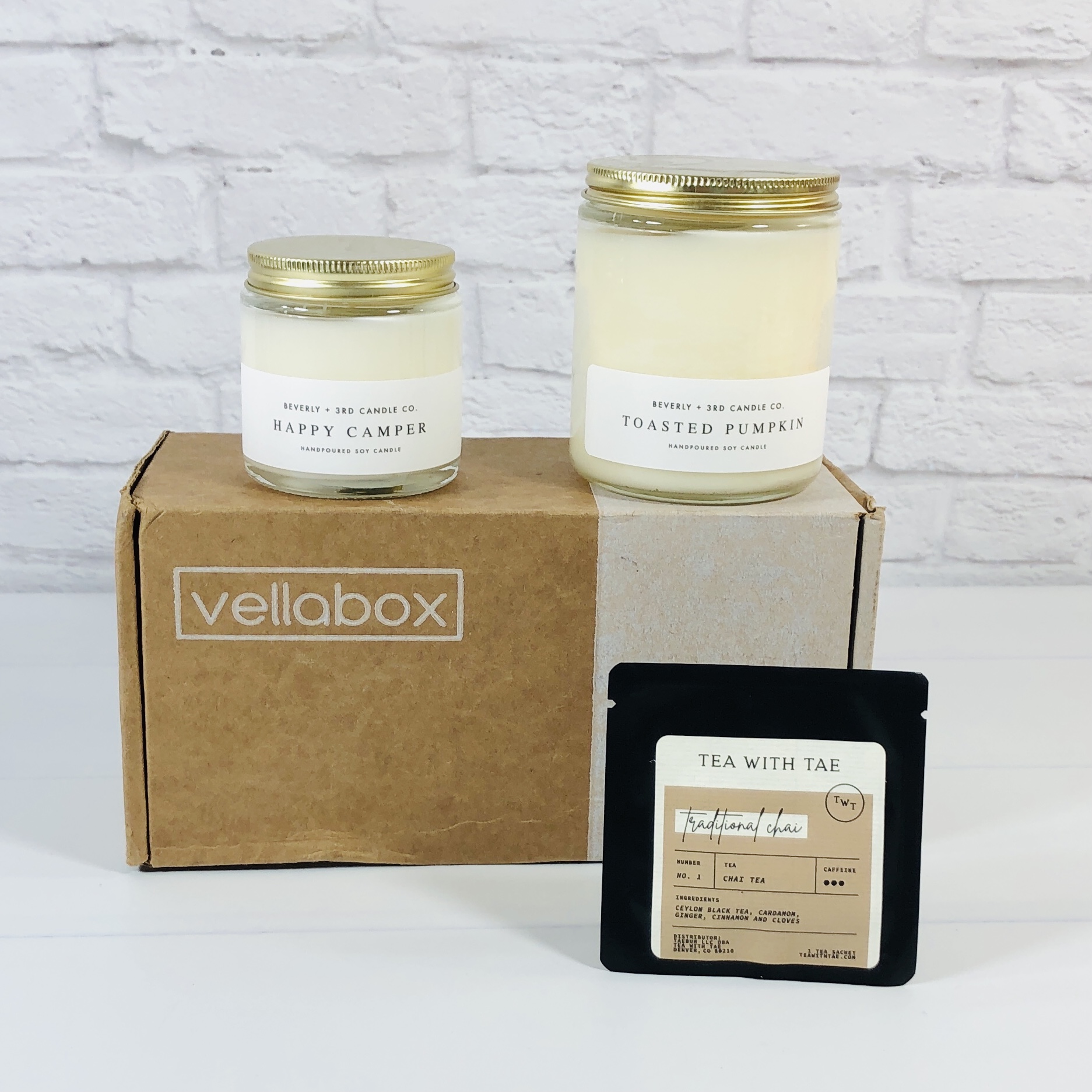 Here's everything in the box!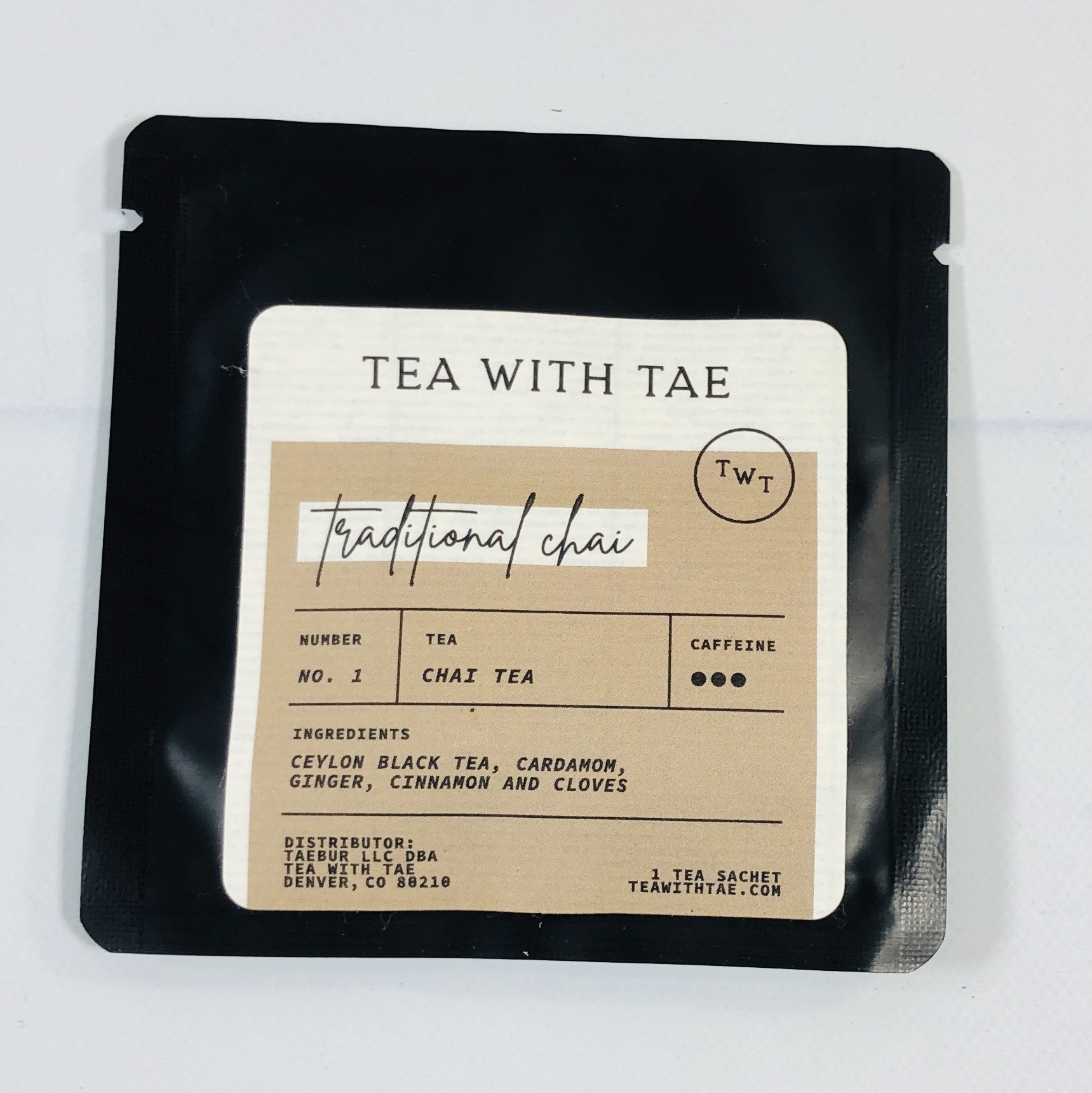 Bonus Gift: Tea With Tae Chai Tea ($12.99 for 20 tea sachets) I received a single tea sachet in a plastic-free biodegradable pyramid bag. I love tea and this was a tasty one for sure!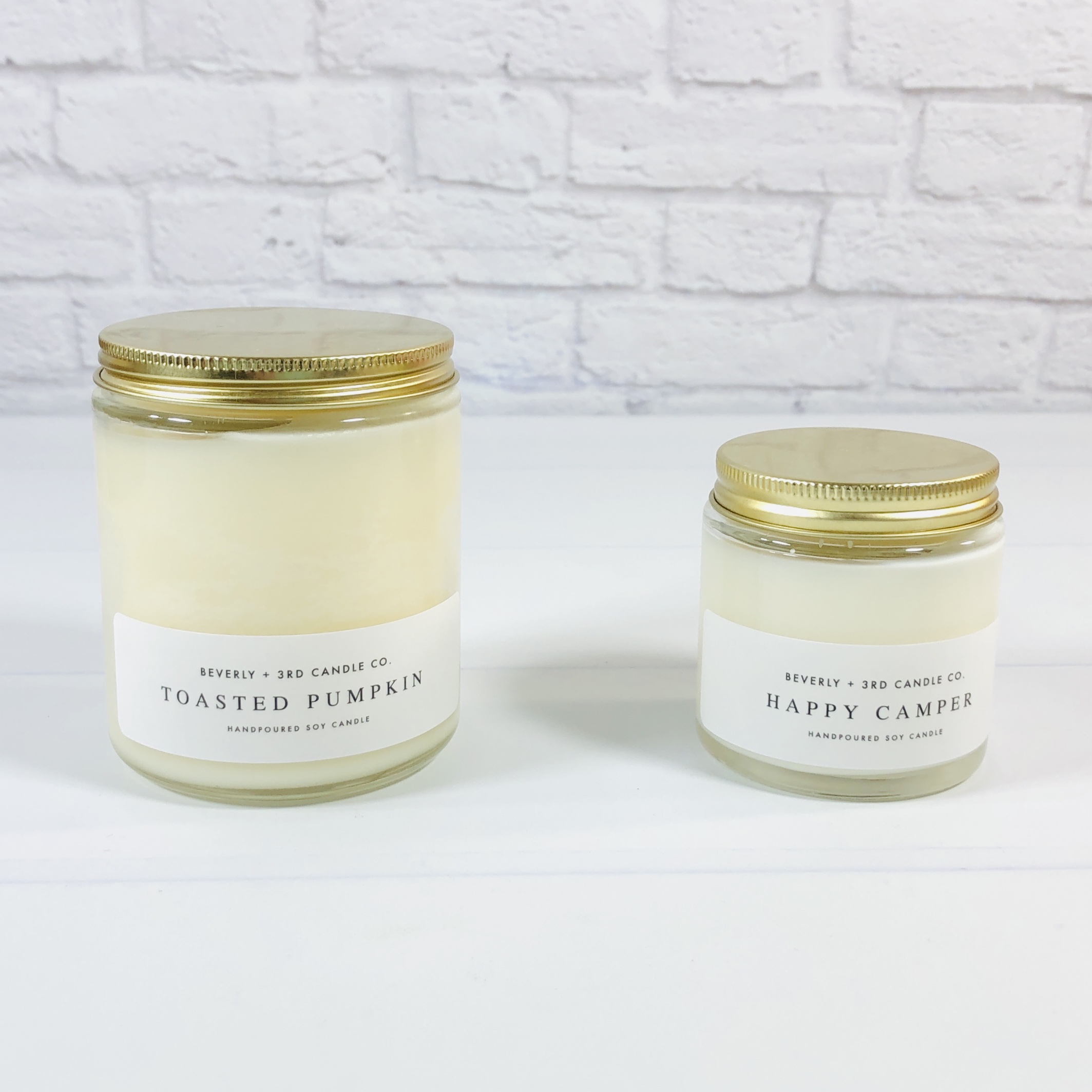 The candles came in clear glass jars with gold-tone lids. The labels are simple and they should fit into a variety of decor styles.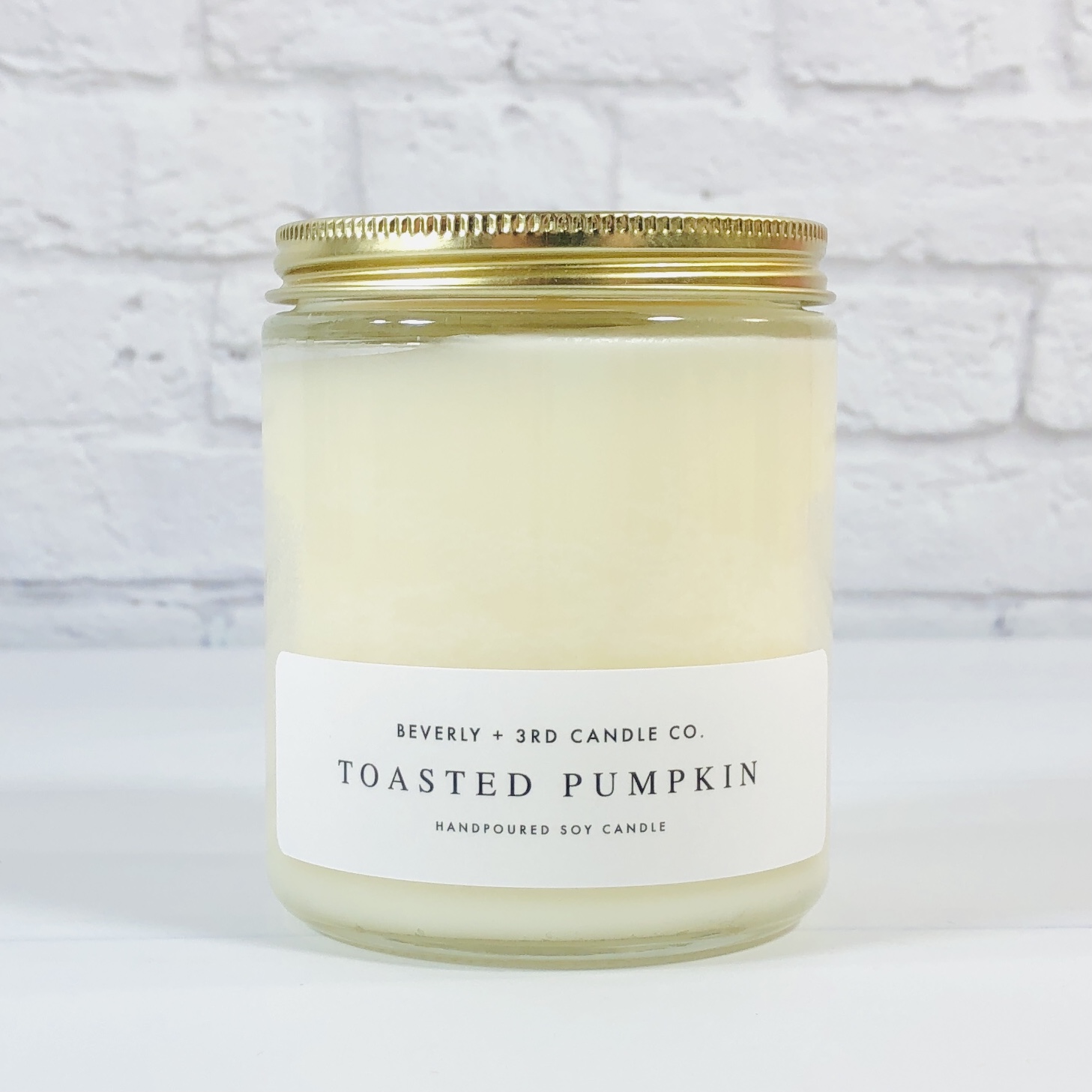 Beverly & 3rd Toasted Pumpkin ($18 for a 9 ounce candle) It is time for pumpkin spice EVERYTHING and this is a wonderful scent to get me in the mood for fall. Scent notes include cinnamon, nutmeg, and cloves plus pumpkin of course.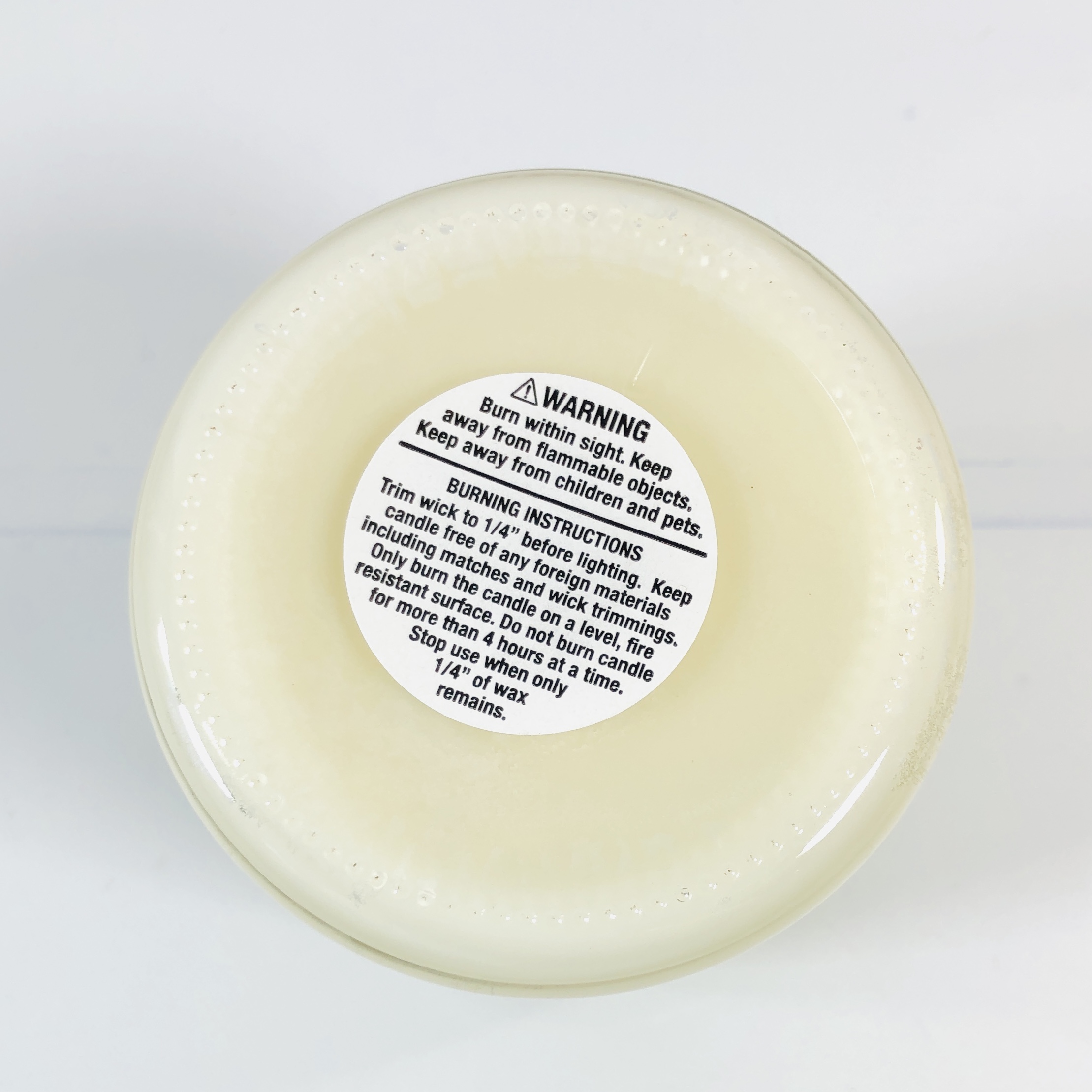 Keep an eye out while burning the candle and keep clear of kids, pets, breezy curtains, etc.
I thought this candle was strongly scented and could smell it from the other room. I blew it out before going to to dinner and running errands and when I got home the scent still lingered. It smelled like maybe I had baked pumpkin bread or pie topped with caramelized nuts, it's a sugary sweet and mildly spicy scent.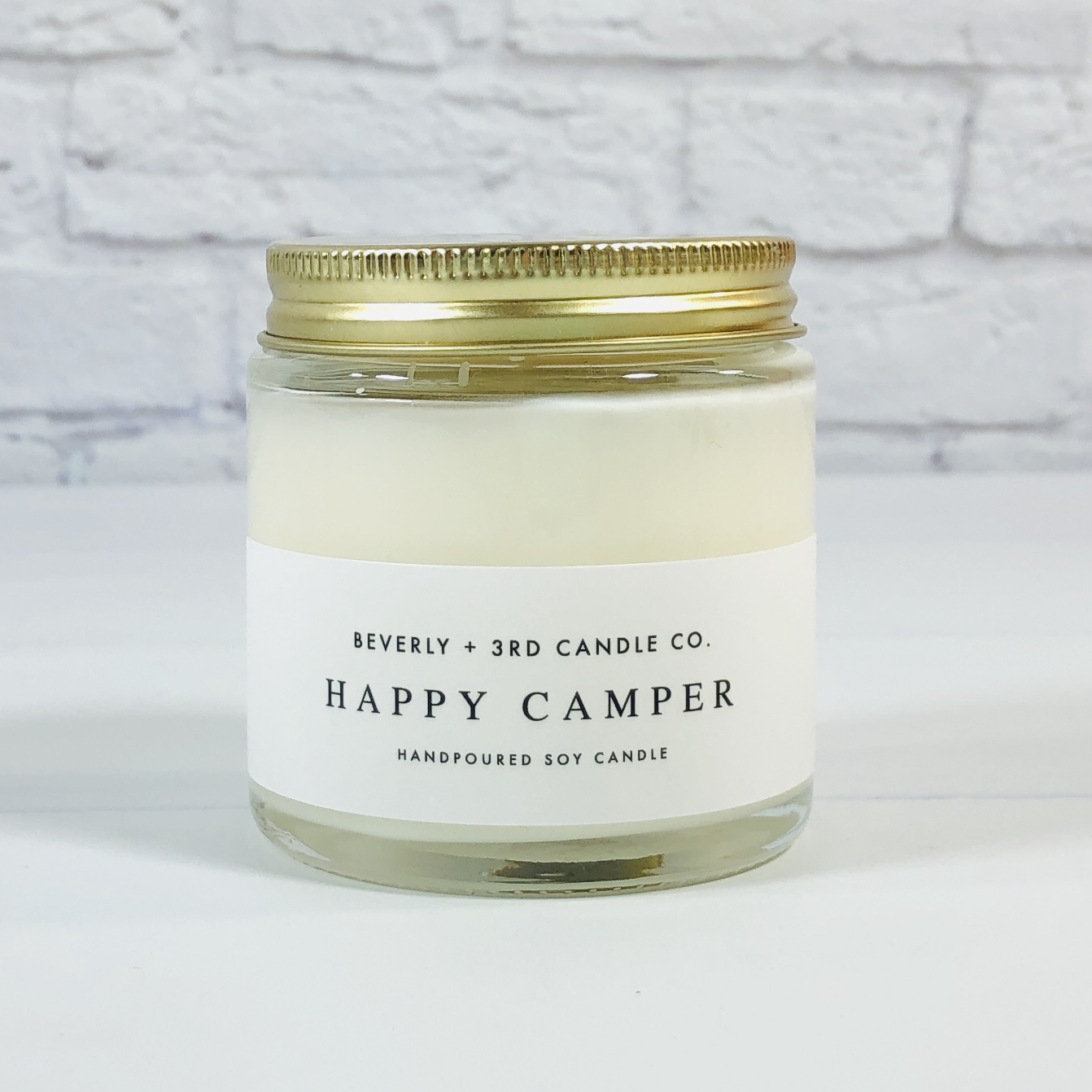 Beverly & 3rd Happy Camper ($18 for a 9 ounce candle, or buy a 4-ounce travel candle for $10) The scent notes here sound great — apple, caramel, raspberry, and cedar, but on the Beverly & 3rd website they list guava, apple, patchouli, and cedar. The fragrance oil used probably lists all of the above.
I can really only smell evergreen trees mixed with sugar and it certainly reminds me of a Christmas tree, but I didn't pick up any other notes. I couldn't smell this one at all while it was burning or after, so it may be good for someone who is sensitive to strong candles.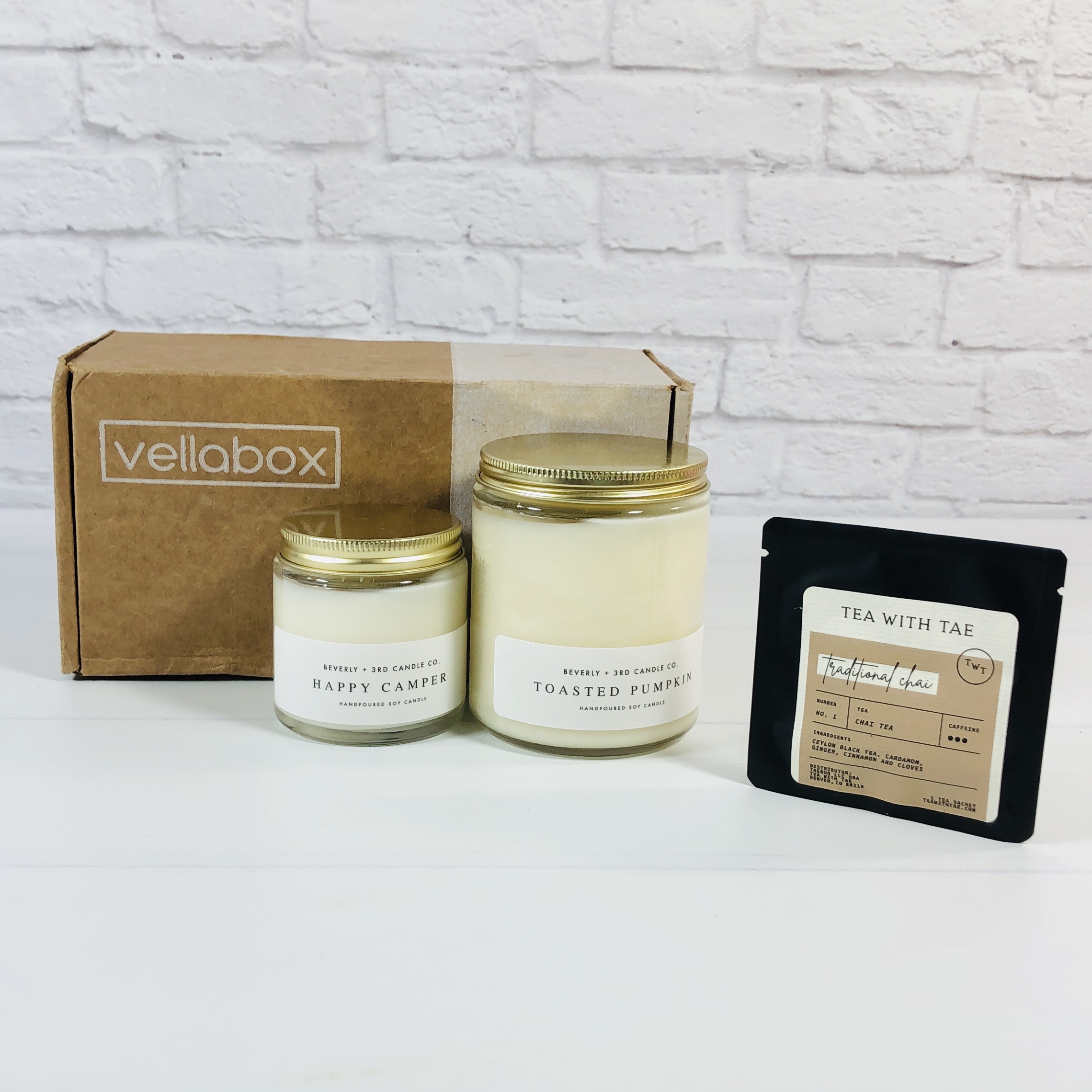 Vellabox is perfect for those who prefer a lightly scented candle that looks lovely and that provides a charming glow while burning. Toasted Pumpkin had a sweet, gourmand scent both while burning and when cold, while I could only smell Happy Camper when it was cold (and I've already burned it on two different occasions). Toasted Pumpkin also carried while burning, something that I don't always encounter with the candles in this subscription. I would suggest a Vellabox subscription to those who prefer lightly scented candles — these are not as fragranced as those found at Bath and Body Works or Yankee Candle Company. I really enjoyed the tea sample too, and the flavor was spot on for the season.
What do you think of this box?