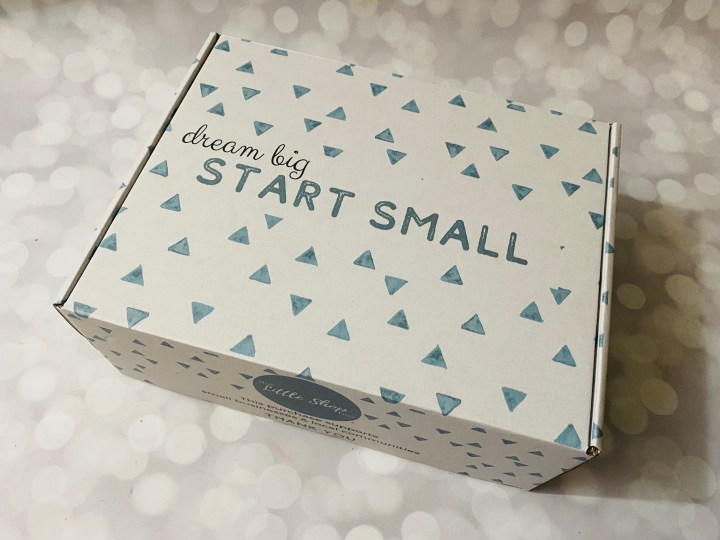 The Little Shop Box is a quarterly subscription featuring Canadian small businesses and artisans. Subscribers can choose to pay quarterly ($87.99), annually (for a reduced price at $79.99 per box) and can also purchase the boxes for one-time only ($87.99). Little Shop Box donates 5% of all profits to organizations providing relief and support to communities for important issues.
This is a review of their Fall 2021 box!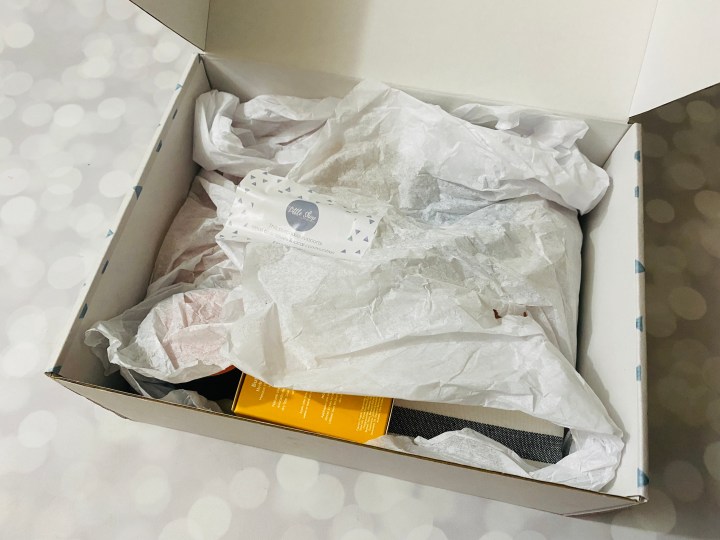 First peek! Everything arrived safely, despite clearly having quite the journey to my front door!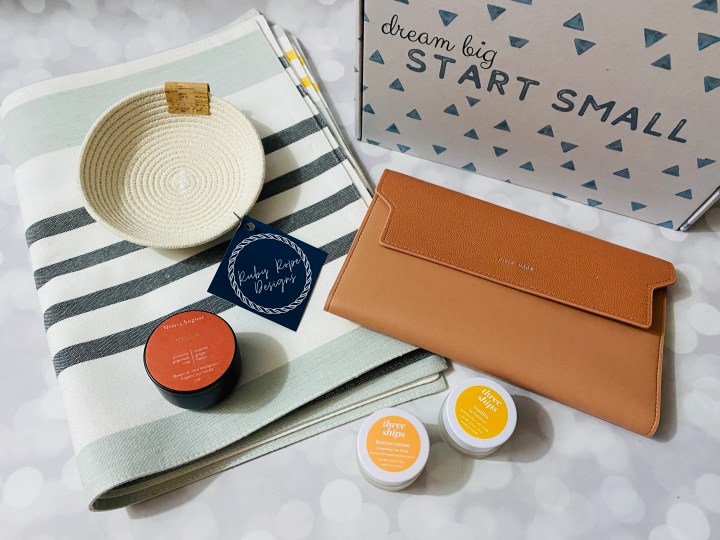 Everything in my box!
Mimi & August Villa Candle ($3.94 USD) Mimi & August is based out of Quebec. Their candles are all made of soy wax and this small 2oz size should burn for about 8-10 hours. The Villa scent invokes feelings of a warm summer evening, with notes of peony, ginger, and honey. It is not an incredibly strong scent but has a nice throw.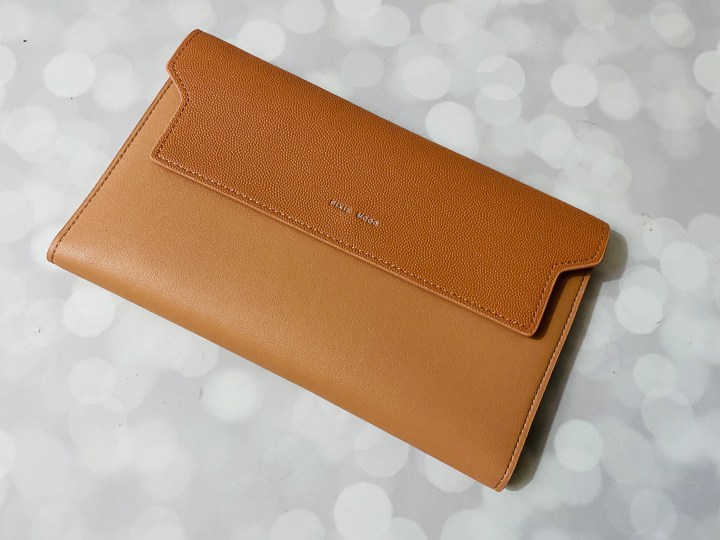 Pixie Mood Biance Travel Wallet ($41 USD) Pixie Mood is a Canadian designer that makes super functional, cute, and affordable vegan bags and accessories. The Bianca style has been discontinued but originally retailed for $52,50 CAD. It is the perfect slim size to tuck into your carry-on bag for easy access to your passport, boarding pass, cards, pen, and other important bits.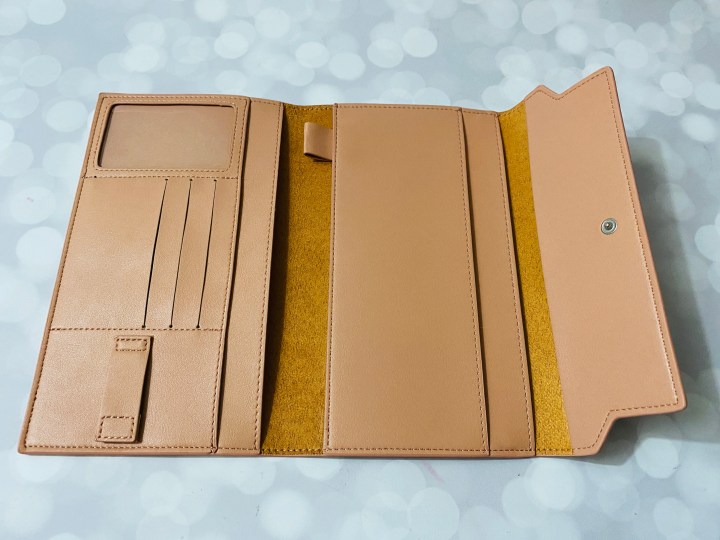 The vegan leather is soft and smooth, and is contrasted with cork accents. The wallet is also RFID protected, so your ID, passport, and cards are safe from anything that may be secretly scanning the information held inside.
Rope Catchall Dish. I am obsessed with this little rope catchall! The neutral colour means it will match any decor and the size is perfect for catching your loose change or other small objects. I am using mine to store all my little perfume samples and decants in my bedroom on my vanity.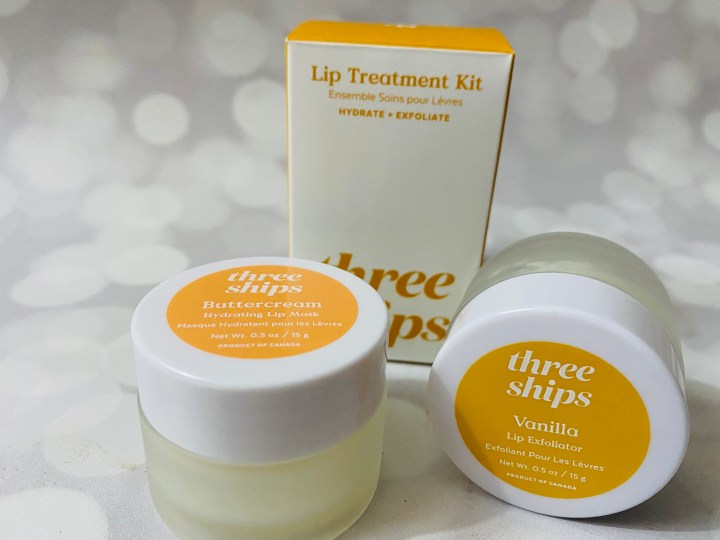 Three Ships Lip Treatment Kit ($40 USD) Just in time for cooler weather and chapped lips is this delicious lip treatment kit by Canadian skincare company Three Ships. I've already been a fan of them for a while now so I was super excited to see their logo! This is a vanilla-themed duo with a lip scrub and moisturizing balm in a coordinating flavour. I am addicted to the buttercream mask which leaves my lips feeling so soft and smooth. It is comfortable to wear everyday as a balm and you can apply it on extra thick at night to use as an overnight treatment.
Placemats. This set of four placemats from ADV Imports have a cheerful striped pattern. I have had the same placemats since I bought my place ten years ago so I was more than happy to swap them out for something new and fresh. I love the bright pop of yellow that sneaks into a couple of them.
This was my first time reviewing the Little Shop Box and I was really happy with the items that were included! Supporting small Canadian businesses and artists is so important to me. I loved seeing familiar favourites like Pixie Mood and Three Ships as well as discovering new artists like Ruby Rope! My one comment would be the lack of information/product card, because I find them invaluable in terms of insight on why these particular items resonated with the curators of the boxes. It also offers transparent retail prices, especially the placemats which aren't available for the everyday consumer to purchase directly. Overall, this box was truly a joy to open!
Are you getting this subscription?