We have November 2021 spoilers for Stickii's sticker subscription clubs! Join by 5PM Pacific on the 7th!
Hello friends! Our Cute theme for November is "Holly Jolly"! Think snow days and cookies, presents and fuzzy friends, all wrapped up in one holly jolly holiday package! 🐶🎄

🐰 It doesn't get much cuter than these puppy, kitty, and bunny pals from @pocket.peaches ! Hang out with them on a snowy day and go ice skating, build snow bunnies, and trim the tree!

🍬 On the first day of @pusheen -mas, Stickii gave to me: all our fuzzy friends, gathered around the tree! When she's not giving gifts or waiting for Santa Claws, Pusheen loves spending holiday time with her bestest friends.

🎅 Holicats… Catlidays… We can't come up with a good one, but these playful balls of fur from @loststreetkat are enjoying the holidays anyways! And they're eager to help you create some holiday magic of your own.

⛄ One snow day coming up, special delivery! Stamp all your winter gifts with these cold and cozy cuties from @_katepaints

🍪 Can't have winter without cookies! Snuggle up in front of the fire and let these yummy pals by @bunnycreams make your holiday crafts even sweeter.

🐧 Have a holly jolly penguin holiday! Use @imaginstation 's festive cutie to bring some extra holiday cheer to your letter, journals, and planners!

🎁 …and lots more surprises, for pack subscribers' eyes only!
Vintage Pack – And Winter Comes…
  It's time for another spoiler reveal! Say hello to "And Winter Comes…" our Vintage pack for November! Bundle up in your puffiest jacket and venture out into the ice and snow… ❄️⛄

🧥 These sophisticated cats from @phoenix7472 know how to bundle up in style! These decorative stamps* will brighten any winter morning. (*not valid postage)

❄️ In winter, there's nothing better than curling up with a warm, steamy drink and watching the snow flurries fall outside. Live that magic any time with this sheet from @lele_melele!

🦊 Foxes are an underrated winter friend! Let @yuhuirustudio help you spread the winter fox love to everyone you know.

🧣It's an old-fashioned winter with @arctic.selkie 's knitting, hot drinks, and books by candlelight. We love a good pair of chunky knit mittens!

🐧 The birds of winter are here! Icy blue penguins, blue jays, snowy owls, and more, courtesy of @erika_paja

🌠 The woods are lovely, dark and deep, but I have promises to keep… What's going on inside @little_paper_witch's cottage, deep in the winter woods of this bookmark?

🎁 …and lots more surprises, for pack subscribers' eyes only!
"In the Moment" is our Pop theme for November! This is your reminder to sit up straight, stretch your neck, and take a break if you need it. Take a deep breath and think about what you want to accomplish today. Now go do it! (After you read these spoilers, obvs)

🛼 You gotta work hard, you gotta play hard, you gotta hang out with your friends! Sometimes we get super caught up in our own lives, but this sheet from @yanyancandyng will help remind you to recharge and take some much needed rest.

📖 So you don't forget, even after your stickers run out, we've also got a stamp from @yanyancandyng to remind you to treat yourself!

🧶 Indulge your many hobbies! Follow the example of @ratladyart's moth girl and remember to always make time to follow your passions, whether they be art, video games, cooking, or something else entirely!

👟 Remember that you're not your job – who you are is so much deeper than that. These inspiring folks by @loafi_doodles are all about their passions for astronomy, animals, art, and more, not their 9-5s.

🔮 Sometimes self care feels like witchcraft – a few minutes watering the plants, painting, or reading a favorite book can be a curative stronger than any potion. @tex.art_ captures the magic of self care perfectly, for witches and non-witches alike!

🍡 Go get a snack! In moderation, sweets can totally lift your spirits and release that sweet, sweet serotonin so you're ready to face whatever the world throws at you. @artpetry has provided a delectable selection of treats that are a feast for the eyes as well as the tummy.

🎁 …and lots more surprises, for pack subscribers' eyes only!
Stickii Club is $10 per month, and has 3 subscription themes you can choose from – Cute, Pop, and Vintage!
Check our Stickii Club reviews to find out more!
About Stickii Club: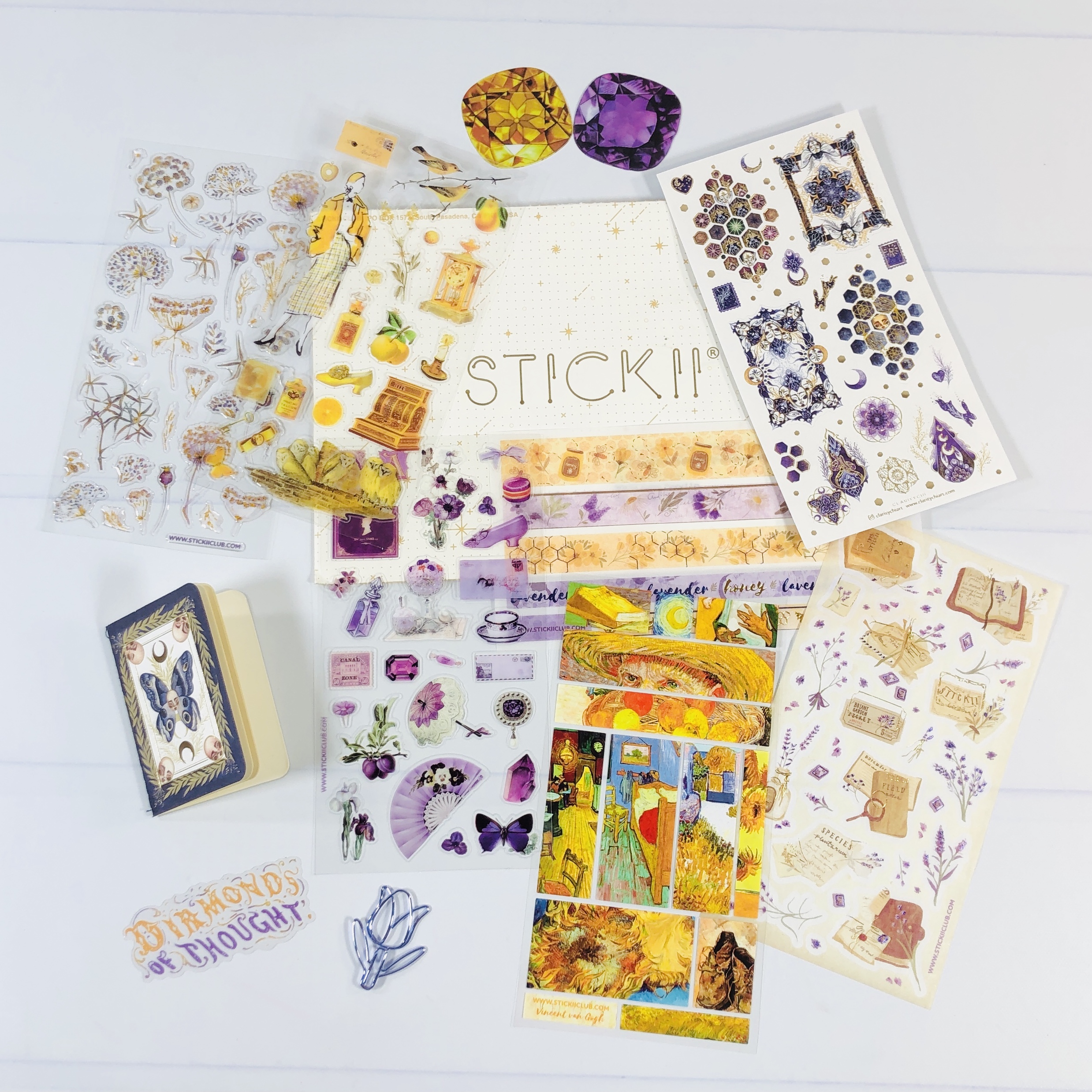 At STICKII, we're all about creating beautiful stickers for you to love that are more like miniature works of art. We have different subscription options so you can choose your packs based on which theme you like and get a cohesive set of stickers and stationery that is perfect for decorating your journals, cards, planners and anything else!