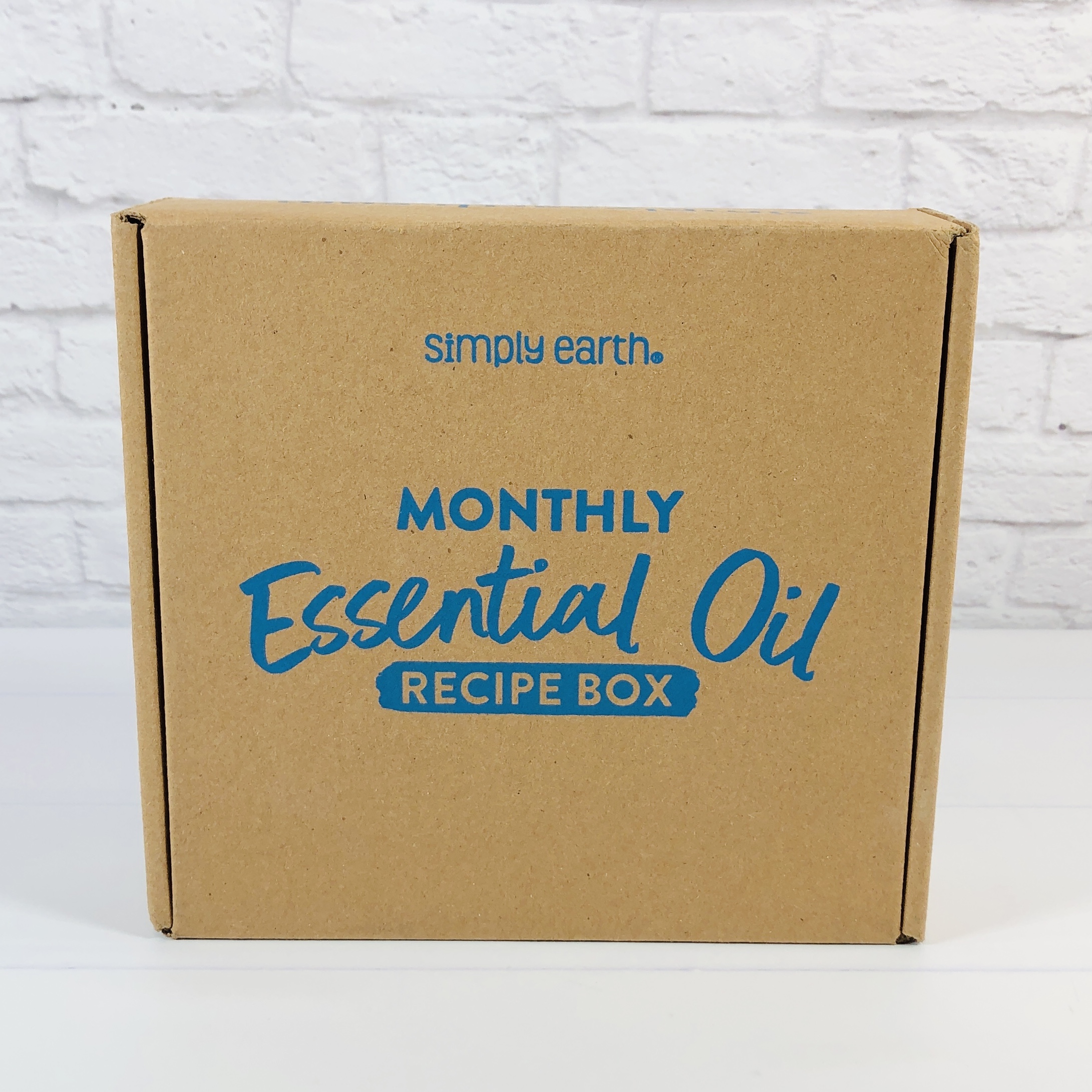 Simply Earth is a monthly subscription that sends high-quality essential oils along with recipes and ingredients to make natural beauty and home products! Each box comes with 4 essential oils, containers, extra ingredients to make the recipes, and 5 – 7 recipes on recipe cards. When you sign up (and every 6 months thereafter) you will receive a free Big Bonus Box full of extra containers and ingredients needed for the recipes, such as carrier oils and containers. Simply Earth is $39 a month. They feel strongly about giving back and donate 13% of all profits to help end human trafficking.
Every month is designed around a new theme with ingredients, containers, and extras you need to make 6 natural recipes (this includes 4 full-sized bottles of essential oils!) … delivered right to your doorstep.

We loved making our own natural products and knowing what was in them, so we created. With the essential oil recipe box, you get everything you need to make your home natural; easy and fun recipes to follow, honest prices, and products that work. It puts you in charge and you can enjoy time together making natural recipes with friends and family.
DEALS: Receive a FREE Big Bonus Box with your first box. Deal applies automatically, just VISIT AND SUBSCRIBE. Plus, get a $40 gift card you can use for your next box or future purchases!
Simply Earth's essential oil subscription made the list in our 2021 readers' choice best green & eco-friendly subscription list!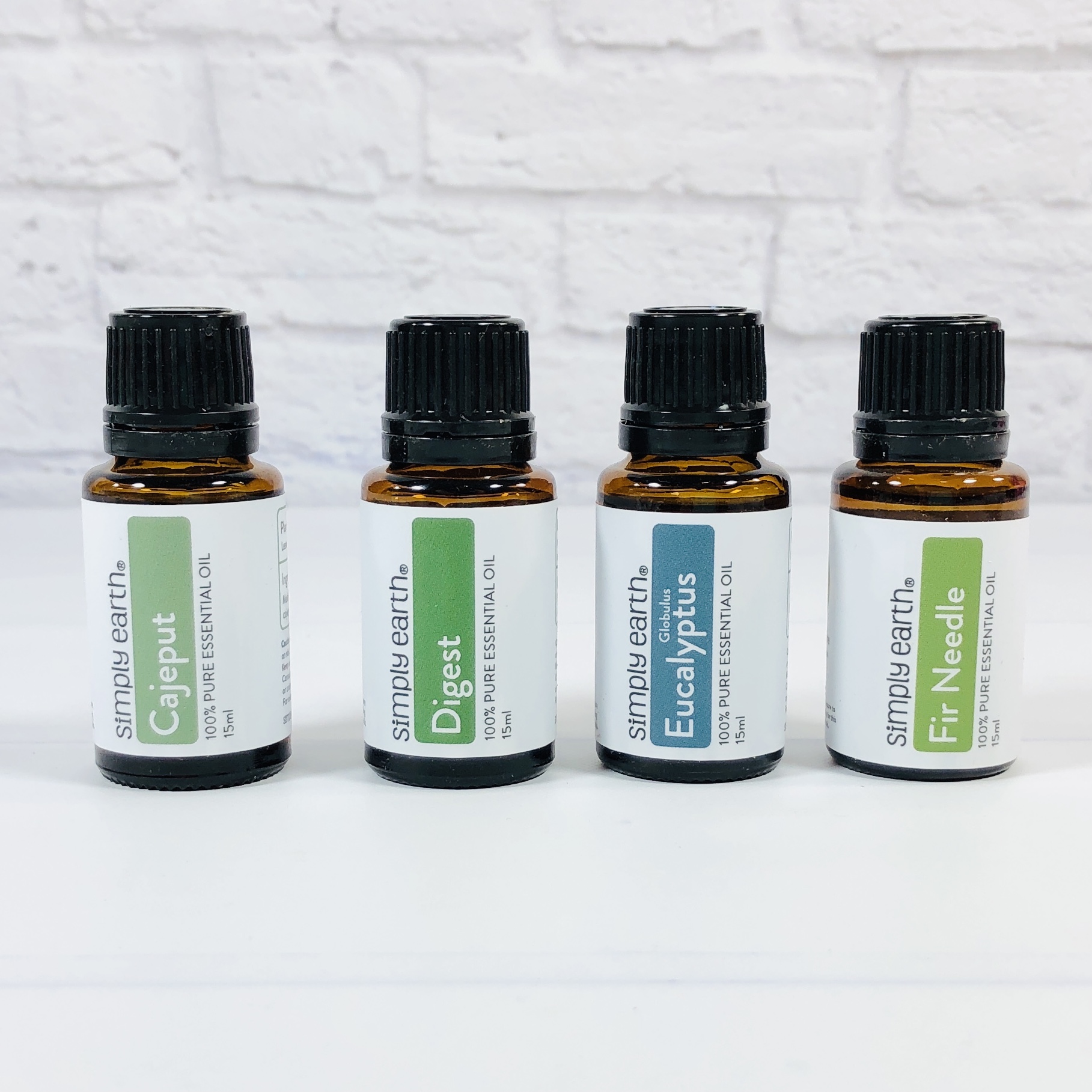 Looks like we received three single oils and a blend!
Everything in my box! Subscribers also receive free access to the online Essential Oil Hero Course to learn even more about how to use the products. Plus, Simply Earth will be launching a Toxin-Free Skin Care Formulation Course soon, so if you are especially into natural beauty products, go to their website and enter your email for more info!
There were six recipe cards inside. Some of the cards have the recipe continue on the other side, others have some important info, so read on below to see what they are saying.
A note from Katie, lead aromatherapist, tells us we are making items to help relieve minor health issues and she reminds us that this doesn't replace seeing a doctor or seeking their advice when needed. On that note, I'm going to remind everyone that they shouldn't use these oils if they are pregnant or nursing and be careful when using around children and pets. The second card tells us the theme is Immunity Support and lists the oils and extras from this box.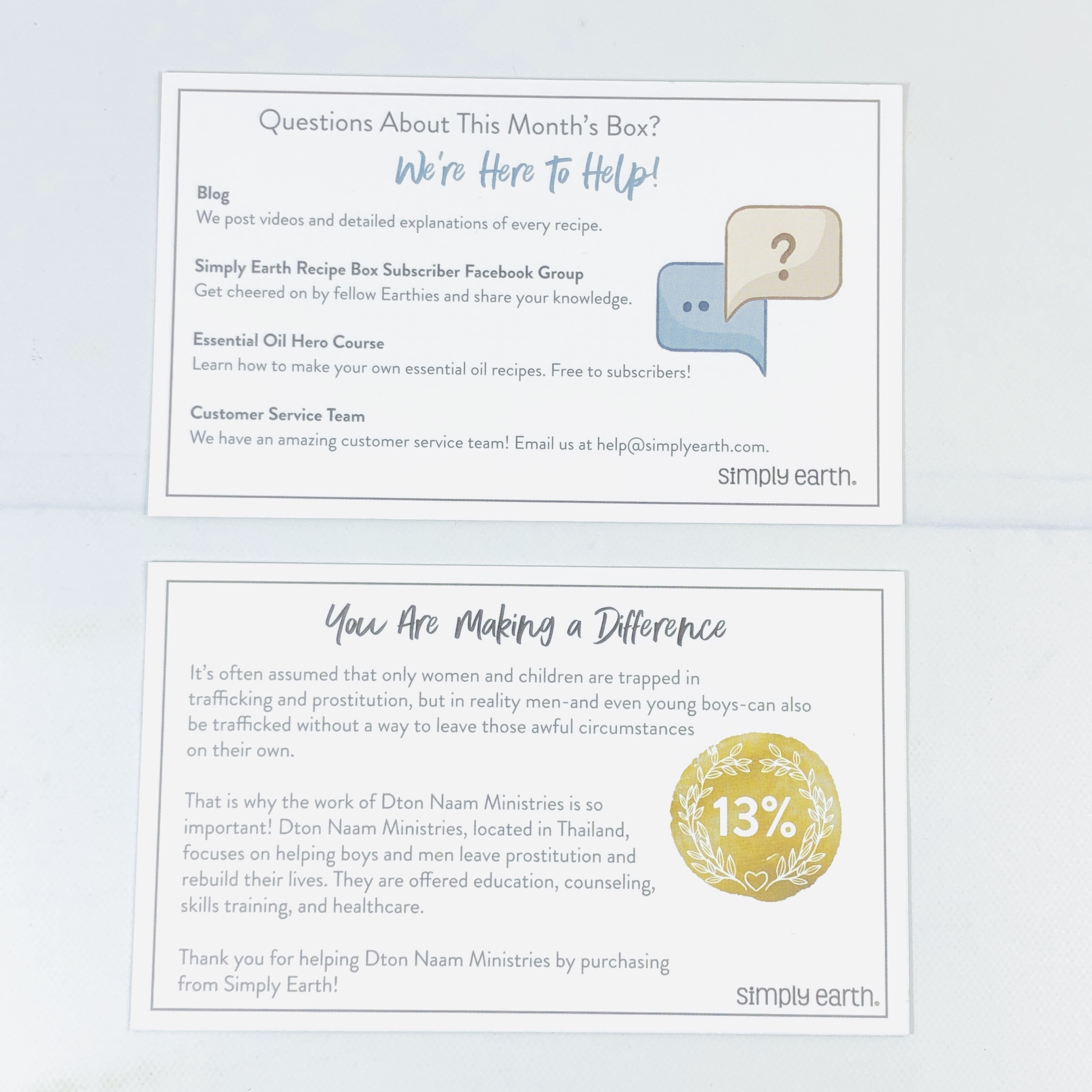 The top card here discusses some other ways to connect with Simply Earth. The bottom card informs us that Simply Earth donates a portion of proceeds to help fight human trafficking.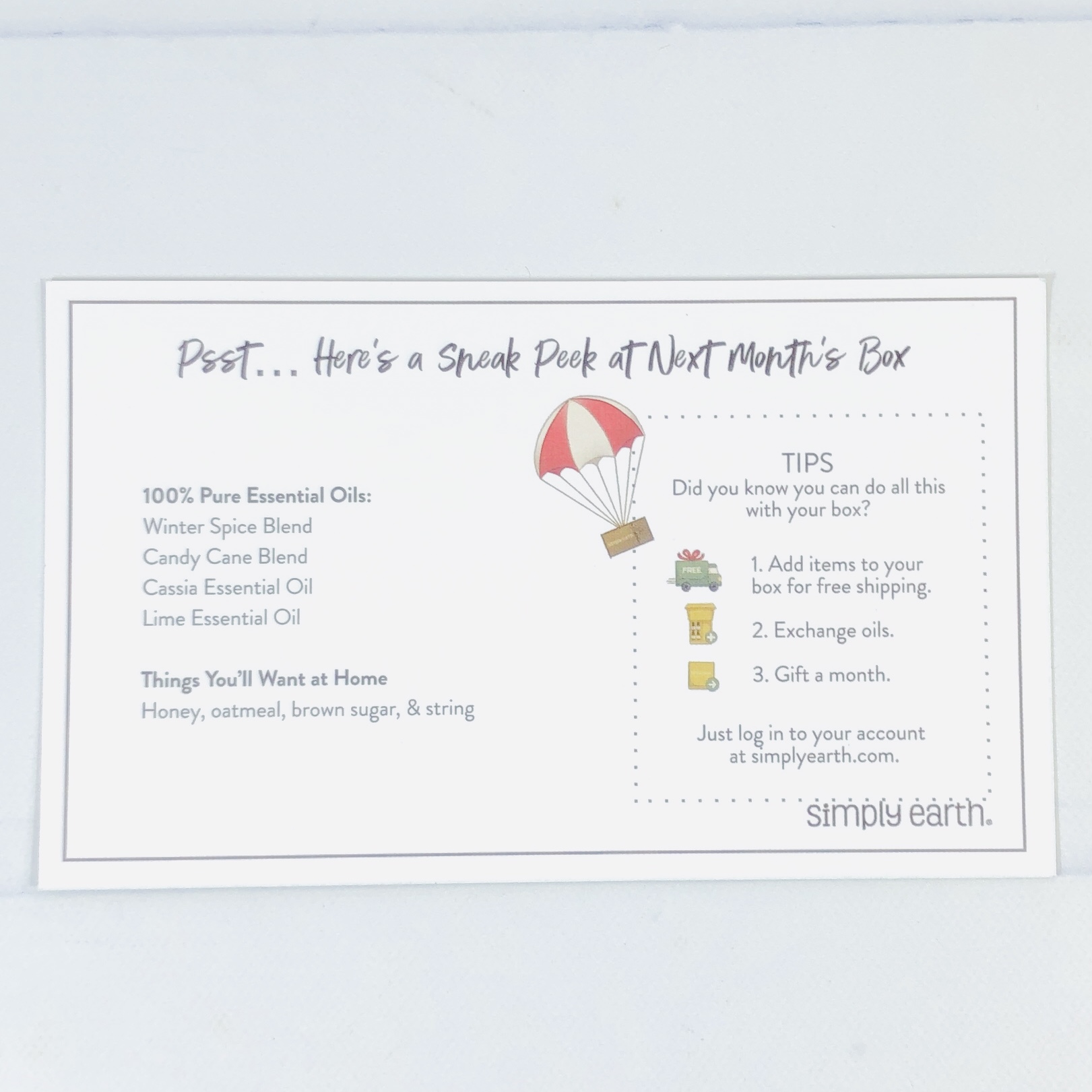 Here's a sneak peek at what we will be receiving next month, along with a list of supplies we should have handy. Ohh, it looks like we'll be getting two blends and I am very excited to add cassia to my collection, as I've needed that one!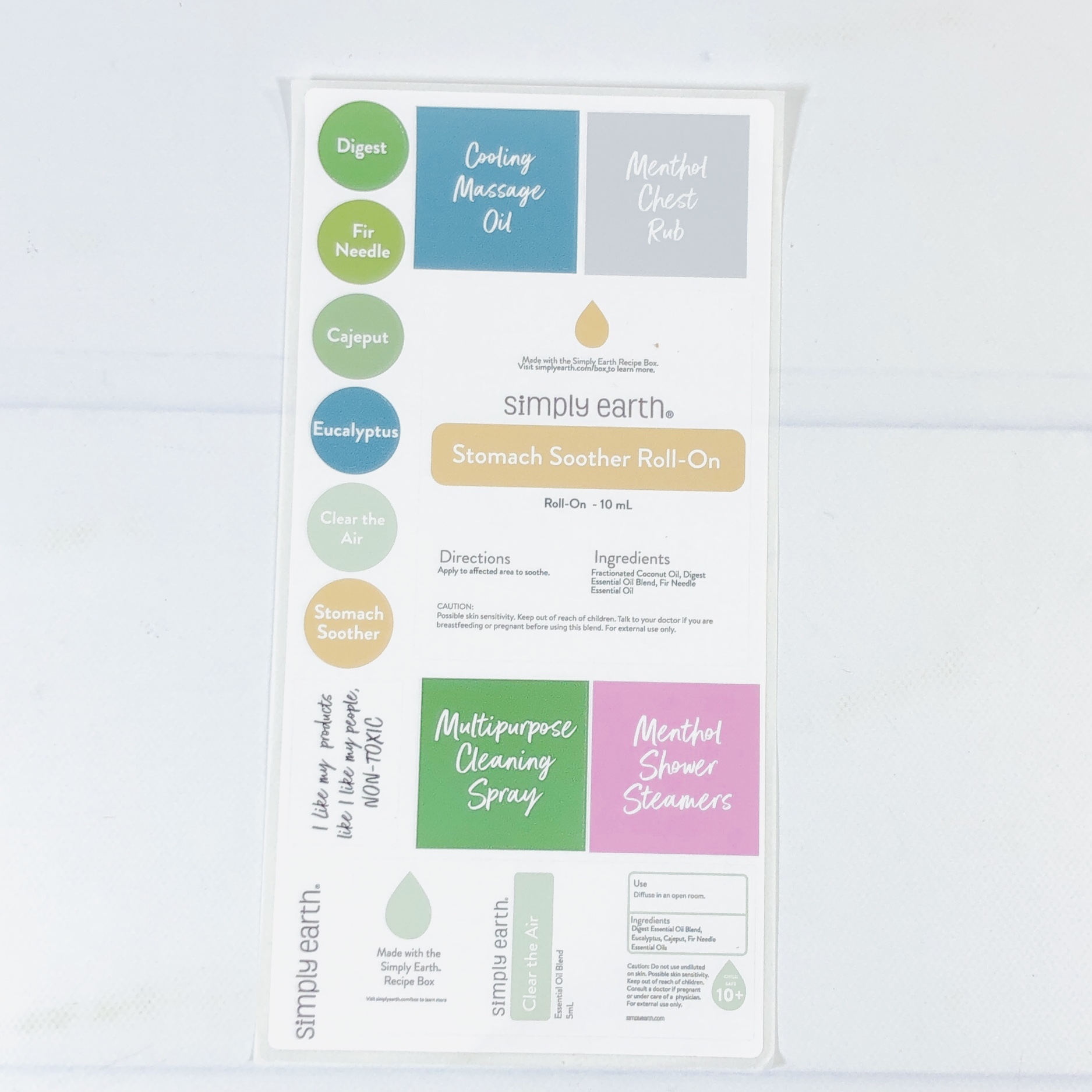 Here's a sheet of pre-scored stickers to put on our containers as we complete our projects.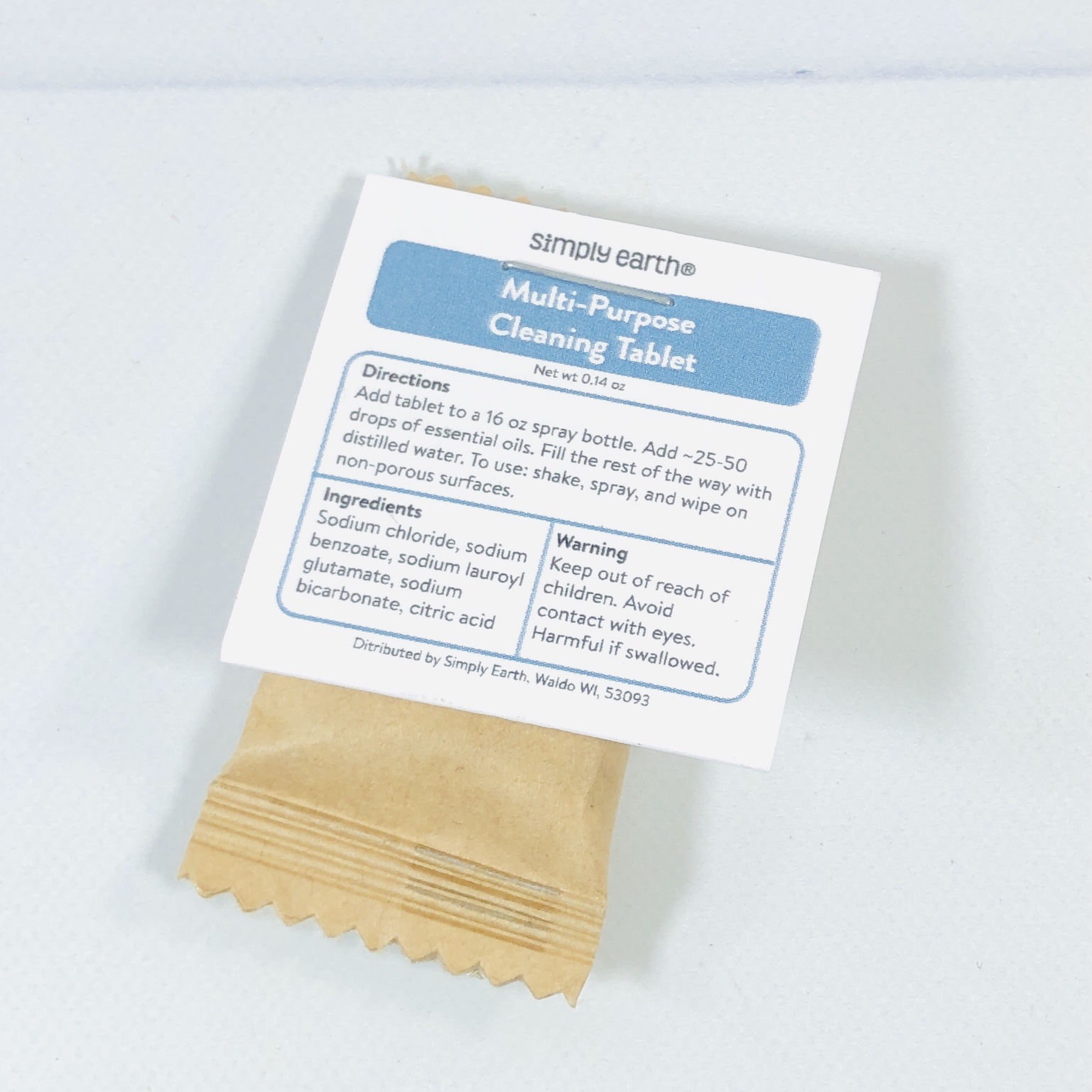 Multi Purpose Cleaning Tablet These tablets aren't on the Simply Earth website yet, but may be coming soon if they prove to be a popular item. The instructions are on the attached tag.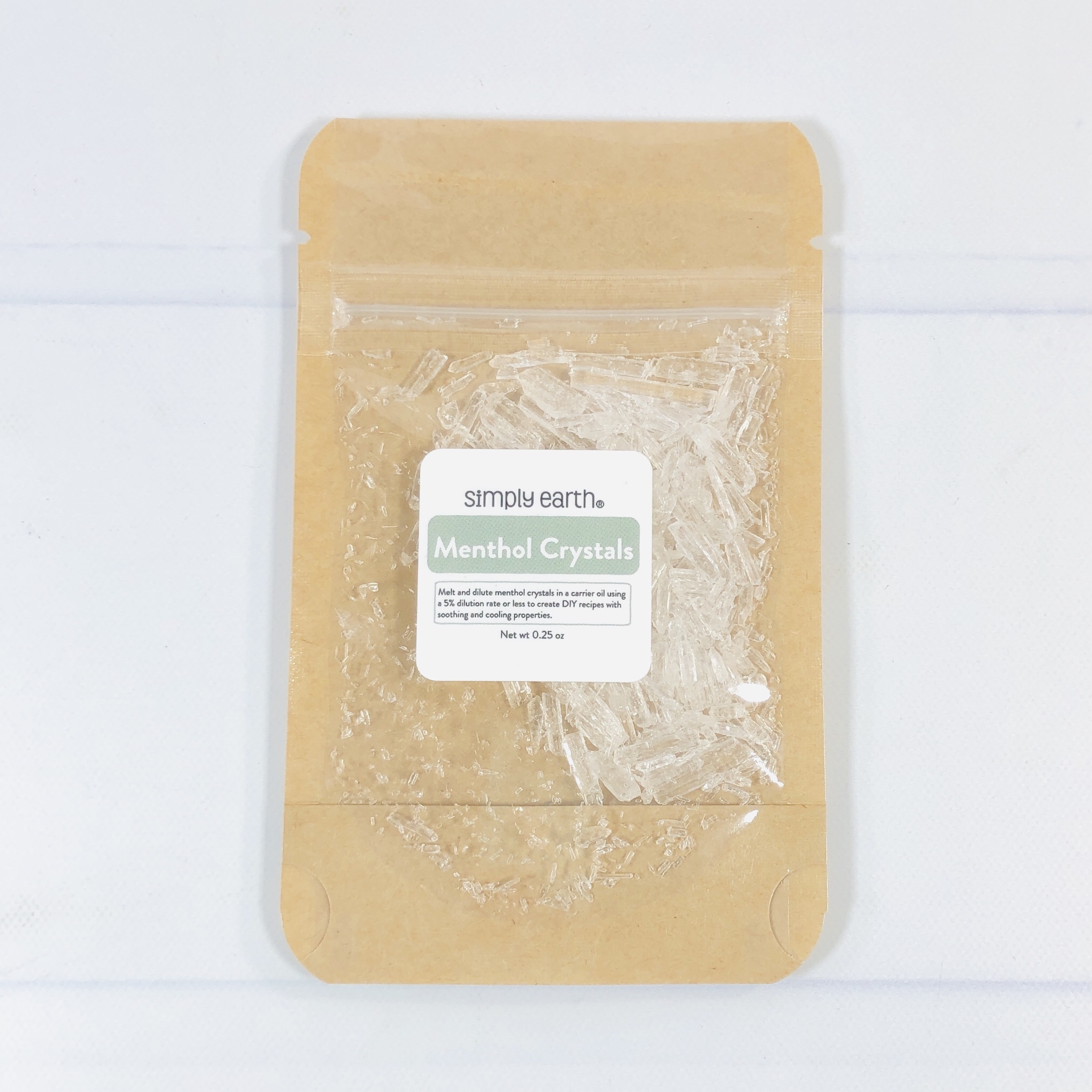 Menthol Crystals I have never heard of menthol crystals but from what I can gather, it's peppermint essential oil, but in crystal form.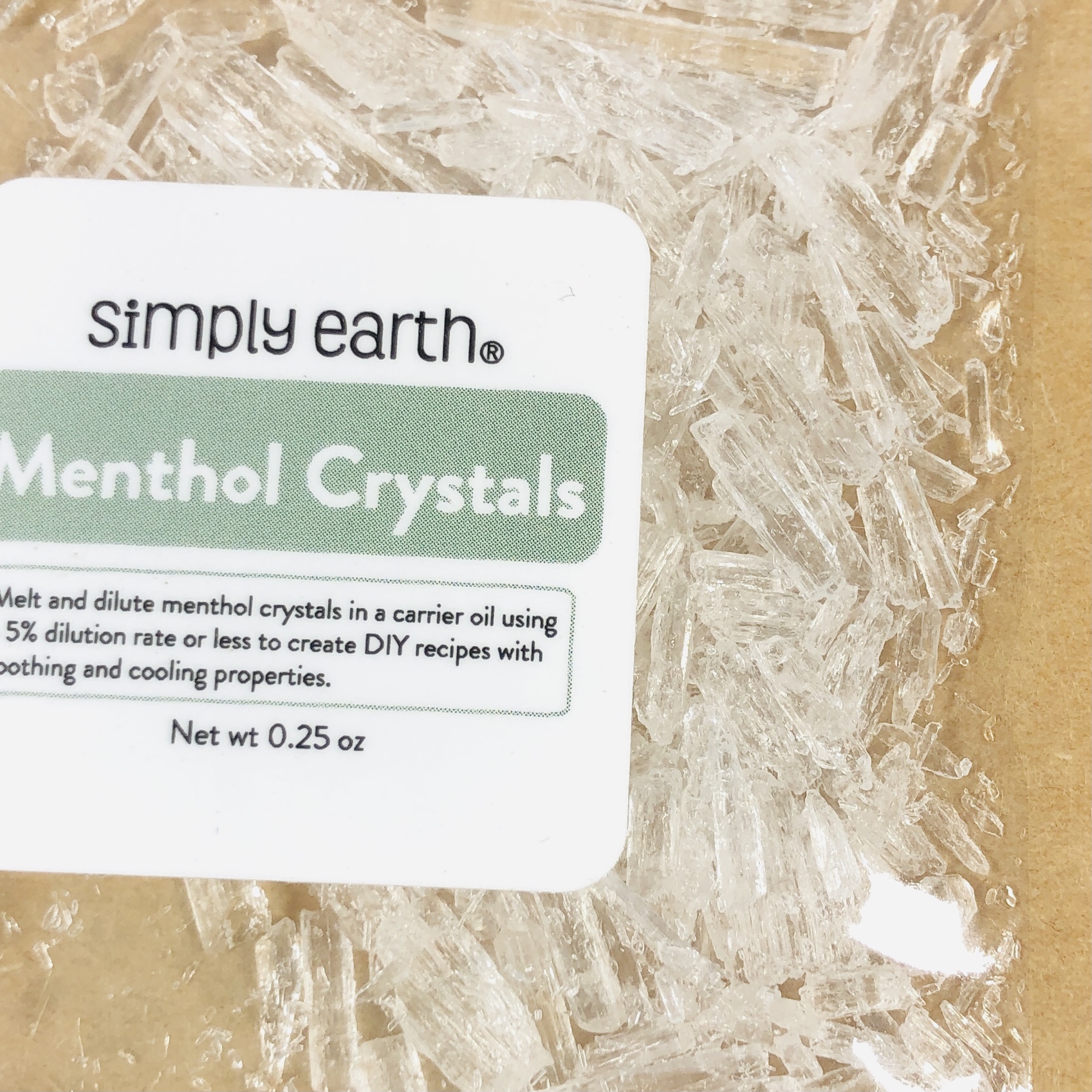 They really are mini crystals!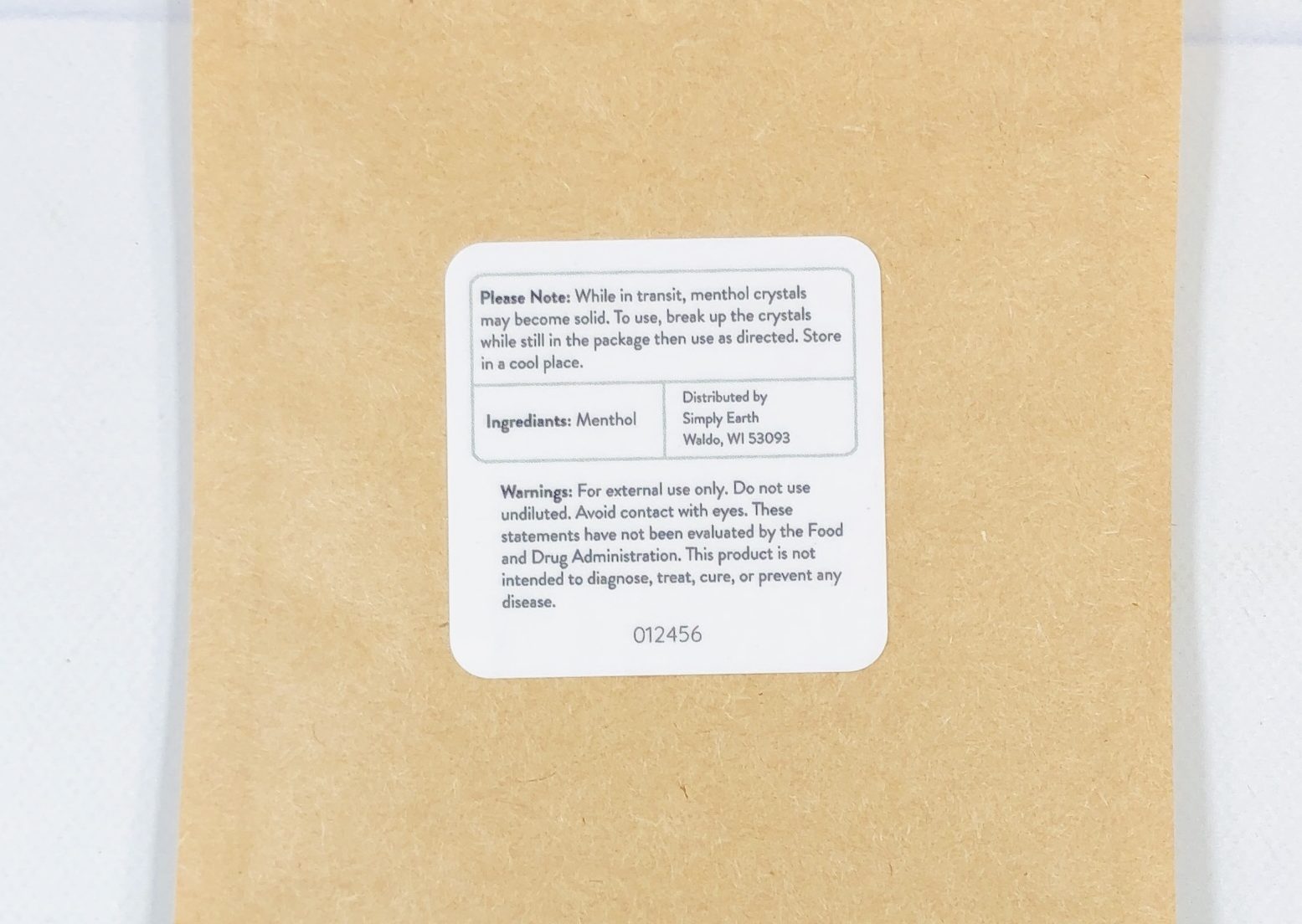 They need to be melted and diluted before using.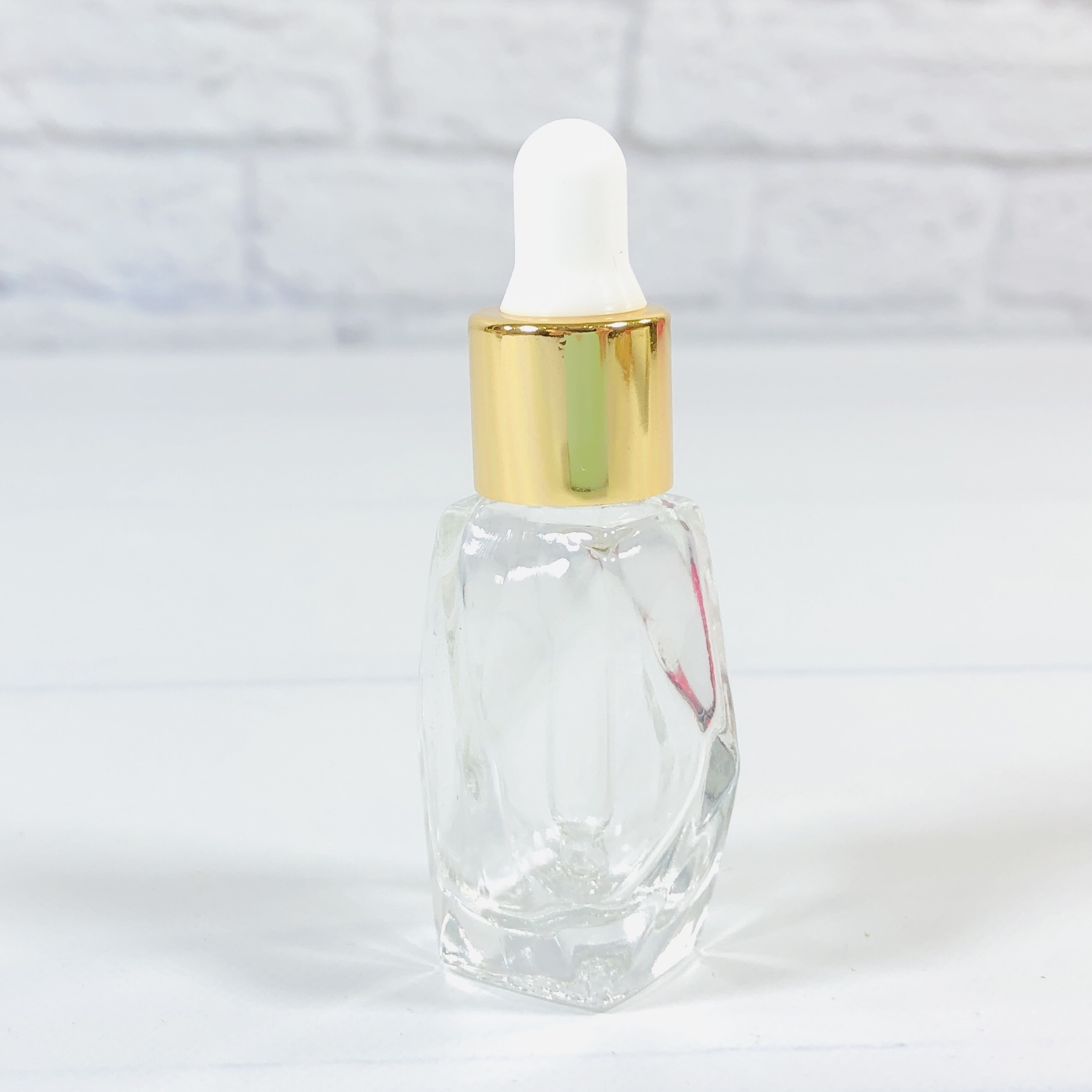 Serum Bottle A mini applicator bottle will help us easily dispense the right amount of Cooling Massage Oil.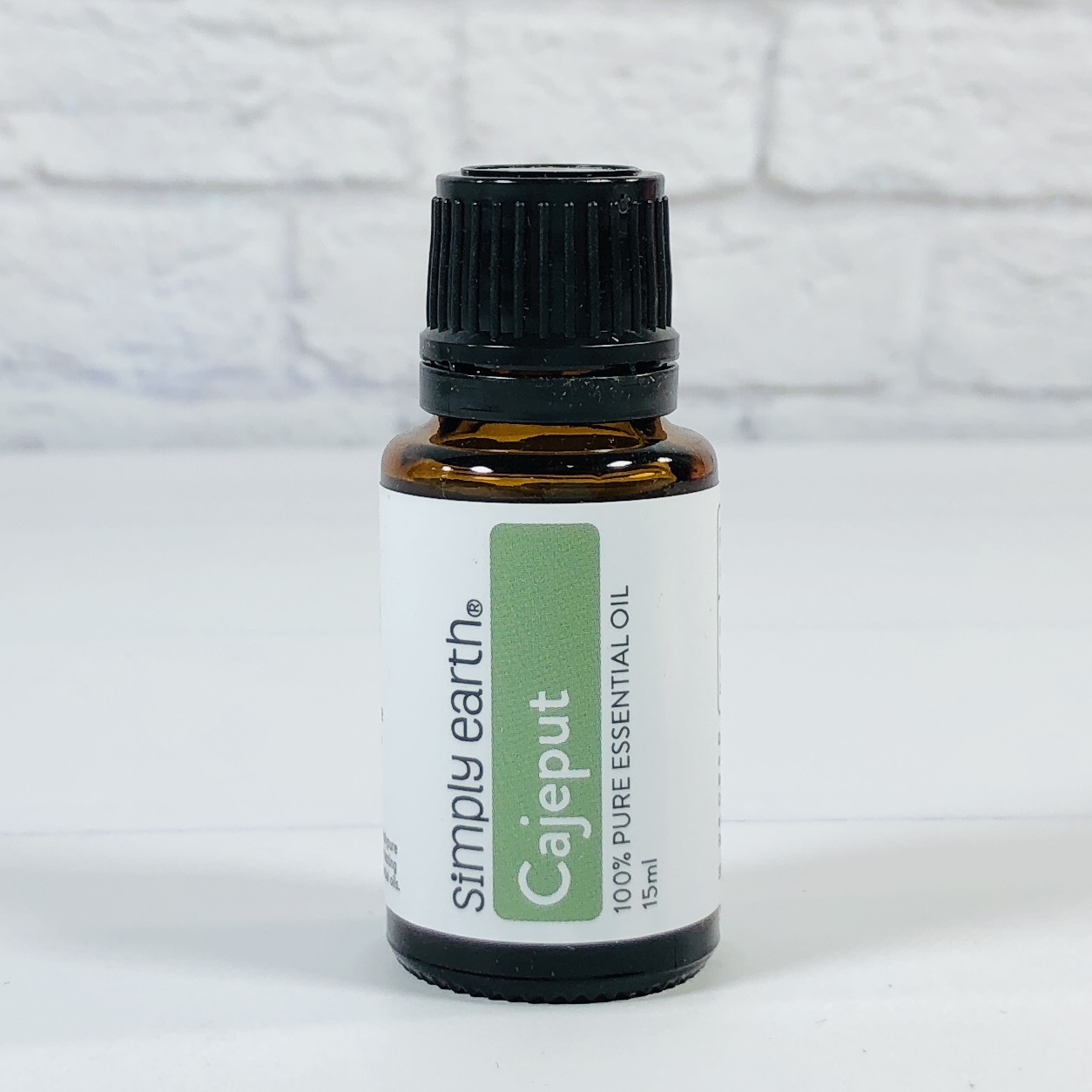 Simply Earth Cajeput Essential Oil ($10.00) This was a new-to-me oil, I'm not even sure how to pronounce it! According to Simply Earth it is related to clove, eucalyptus, and tea tree. It is used to ease sore muscles and upper respiratory infections/colds.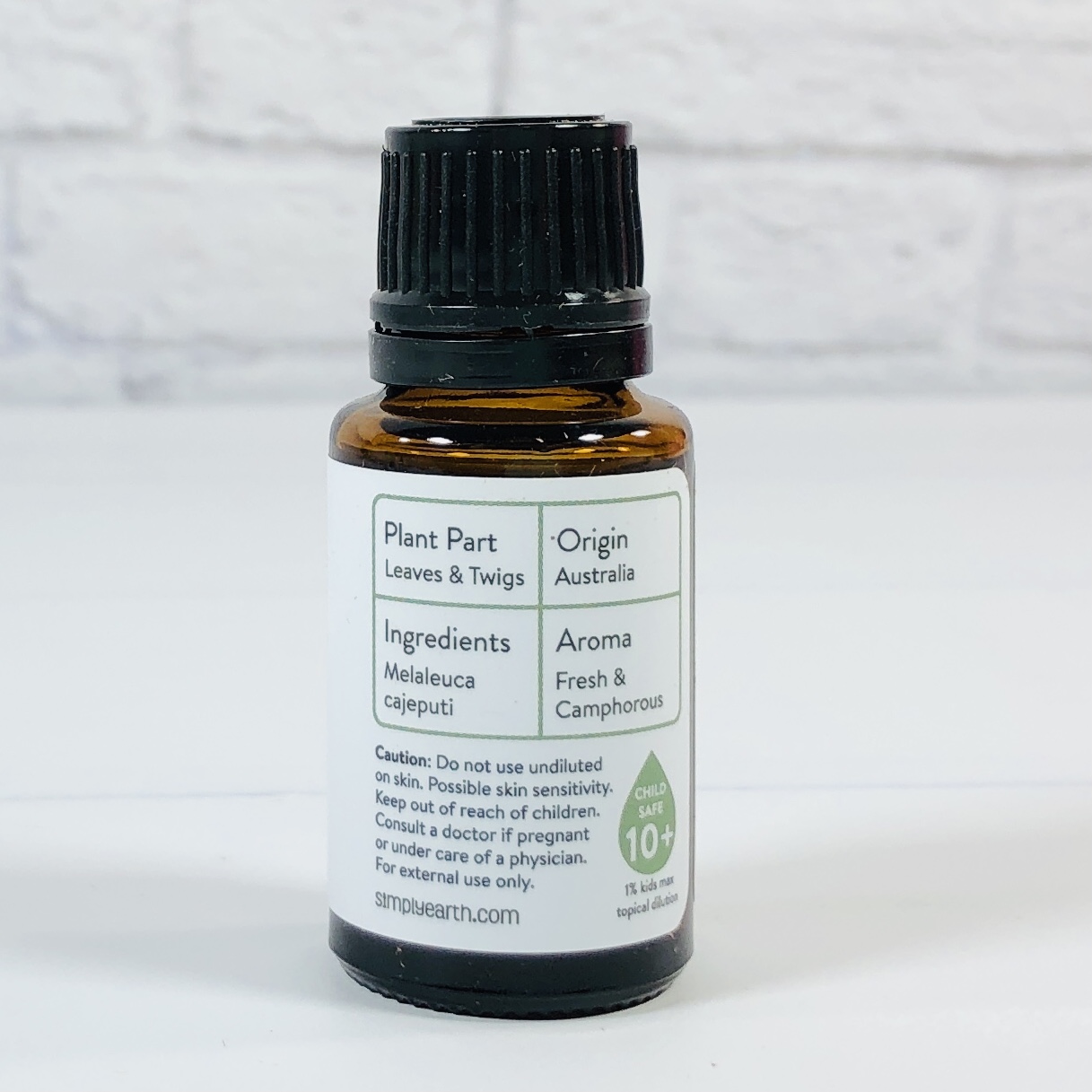 It comes from Australia and smells camphorous, like a mix of herbs and menthol, or maybe tea tree.
Each of these bottles comes with a special dropper that keeps oils from flowing too quickly.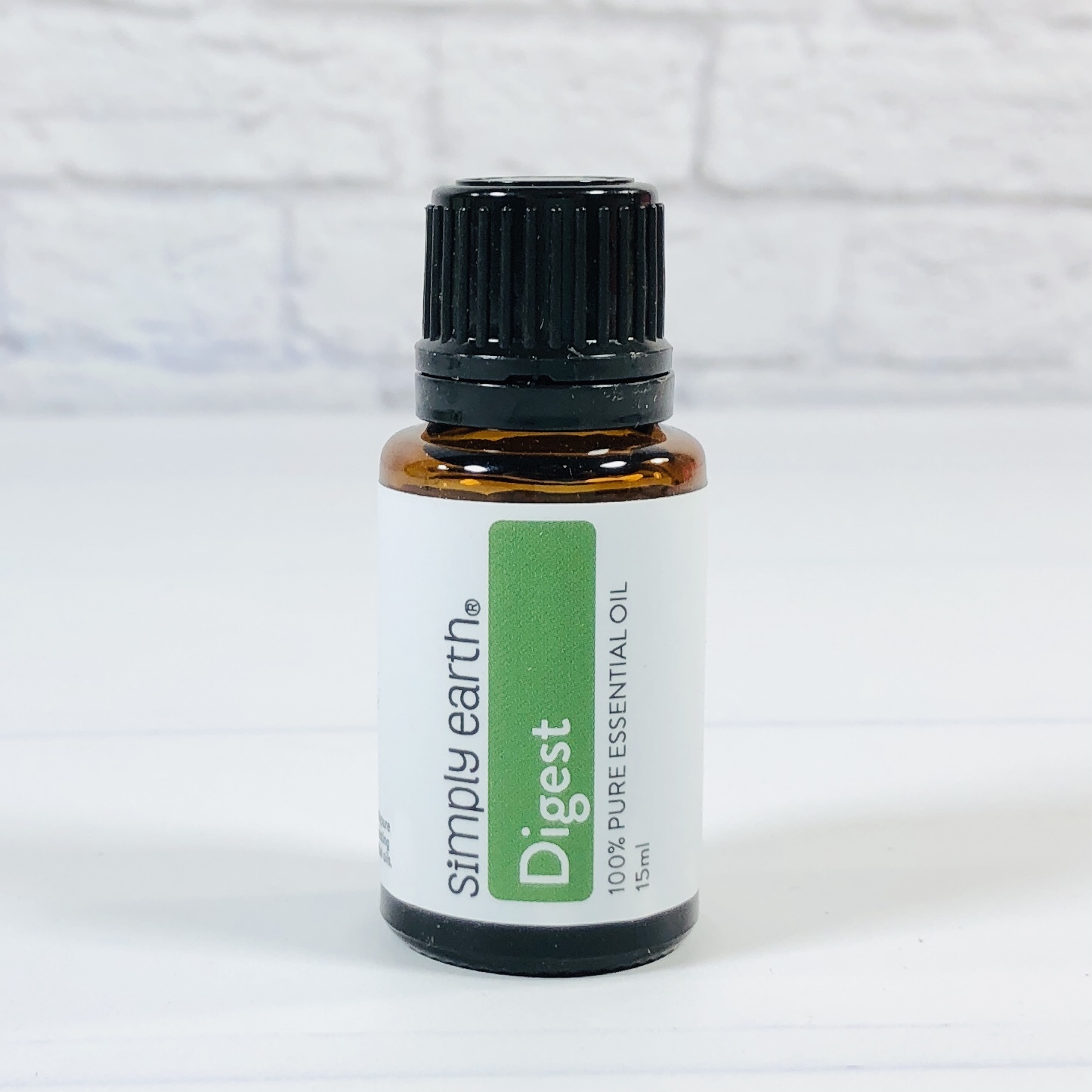 Simply Earth Digest Essential Oil ($14.99) Here is our only blend for the month. It is supposed to ease stomach woes when applied as a rub (diluted with a carrier oil of course).
The component oils are aniseed, bergamot, German chamomile, and sweet orange. It smells like a blend of orange and aniseed.
Simply Earth Eucalyptus Essential Oil ($10.99) Eucalyptus has a classic scent that can open up the nostrils and ease sinus congestion.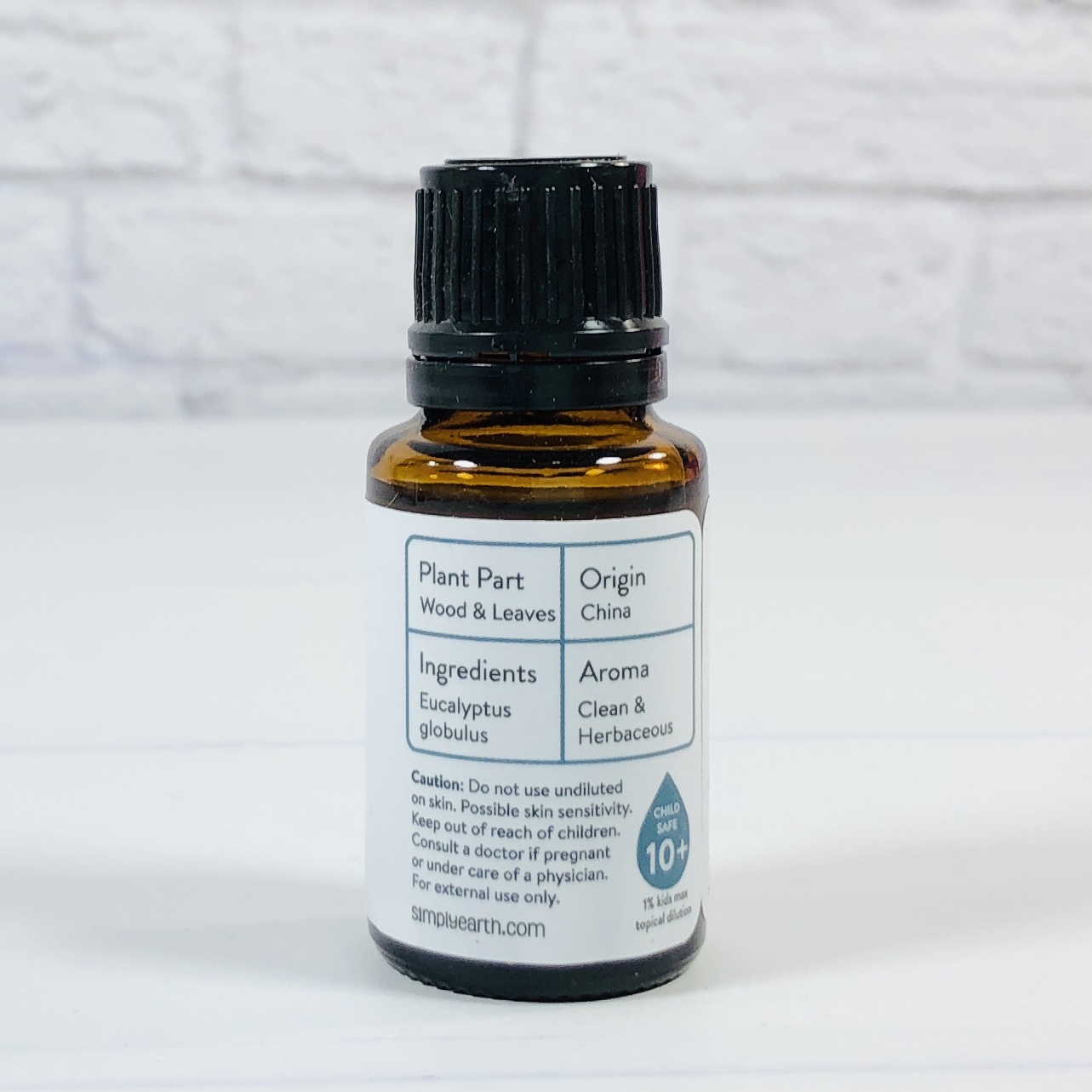 This is specifically Eucalyptus globulus in case you need that particular tree type.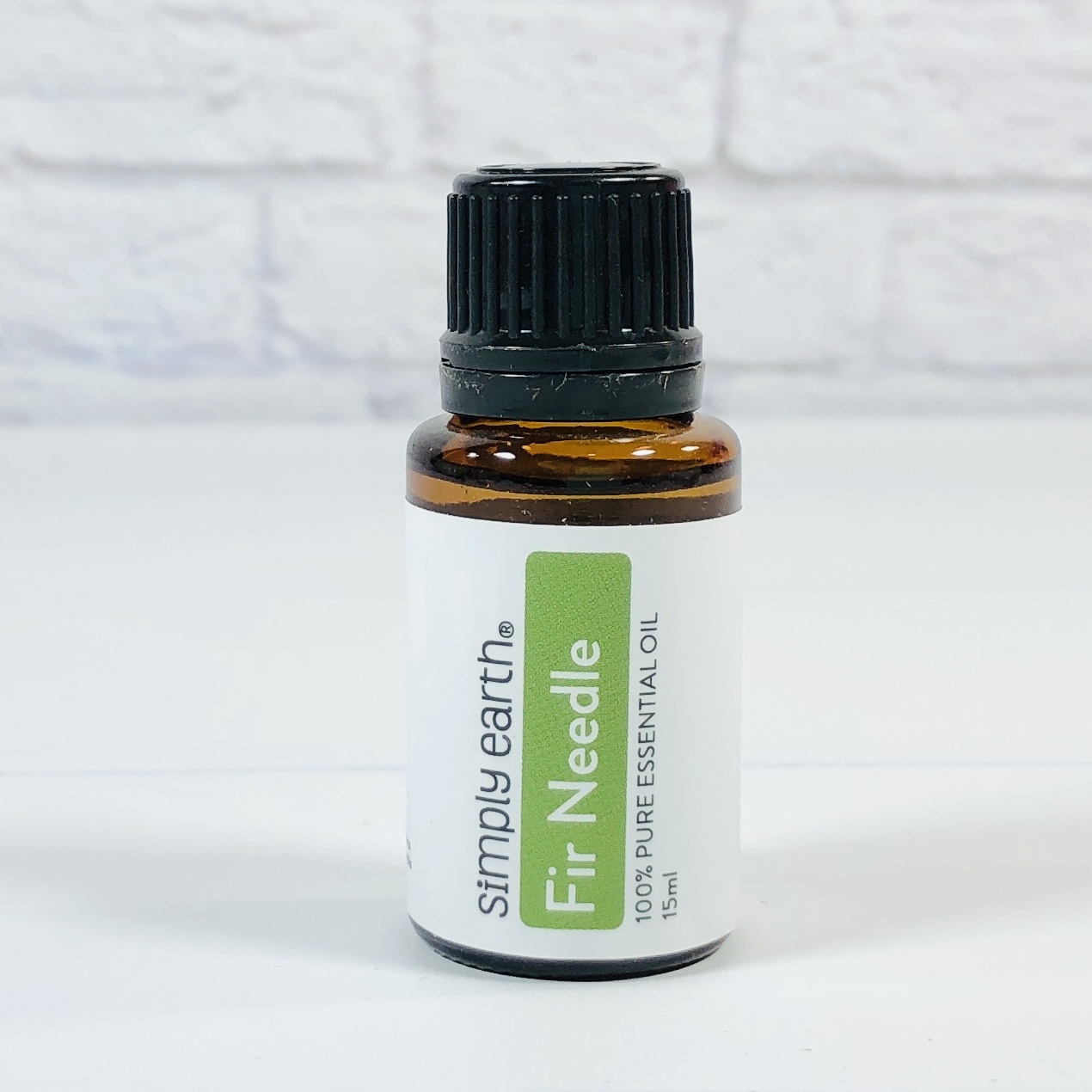 Simply Earth Fir Needle Essential Oil ($11.99) Fir needle smells just like you would expect, like you just bent a few pine needles and inhaled their evergreen scent. It can be used in an uplifting diffuser blend.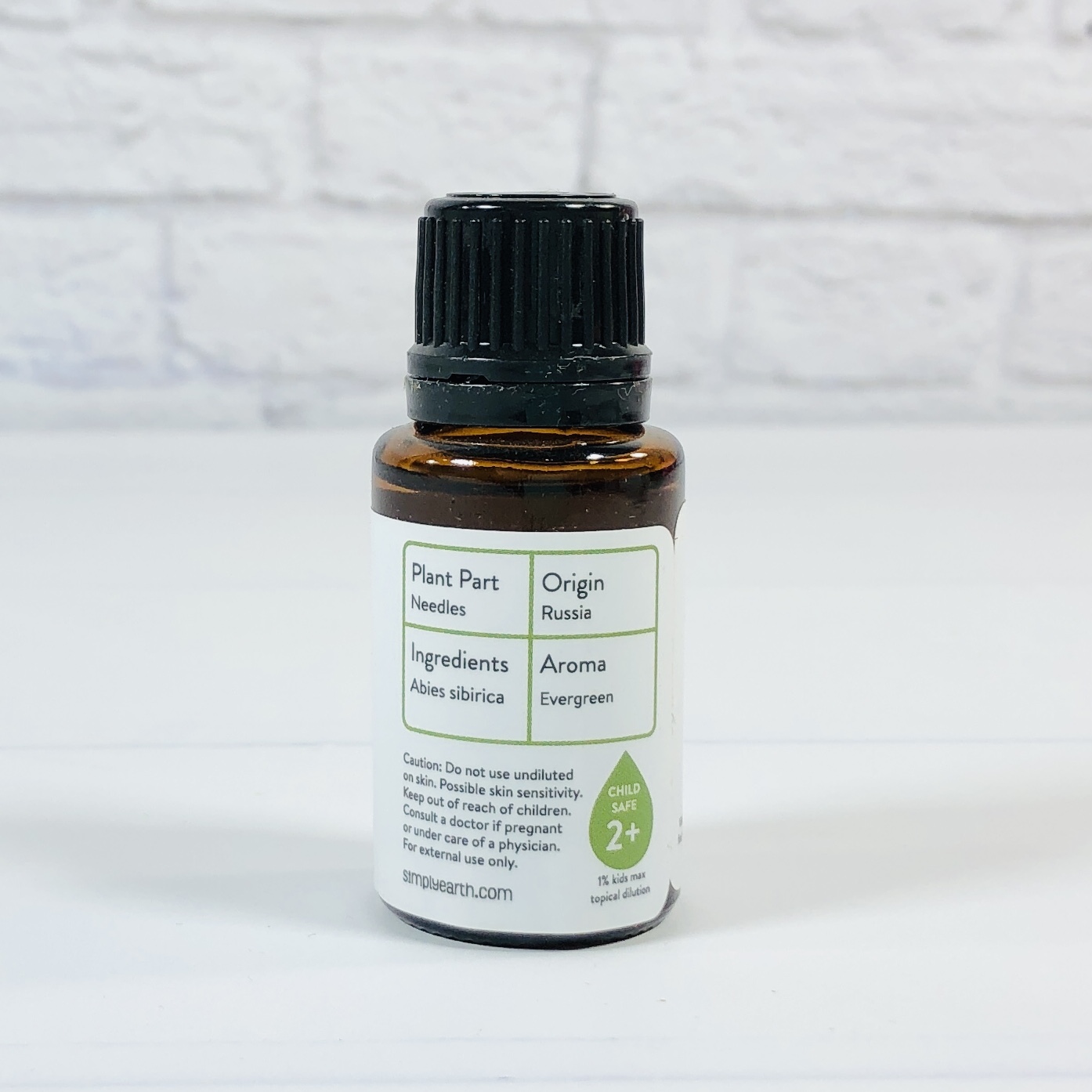 This oil comes from Russian trees.
Now on to some of the recipes!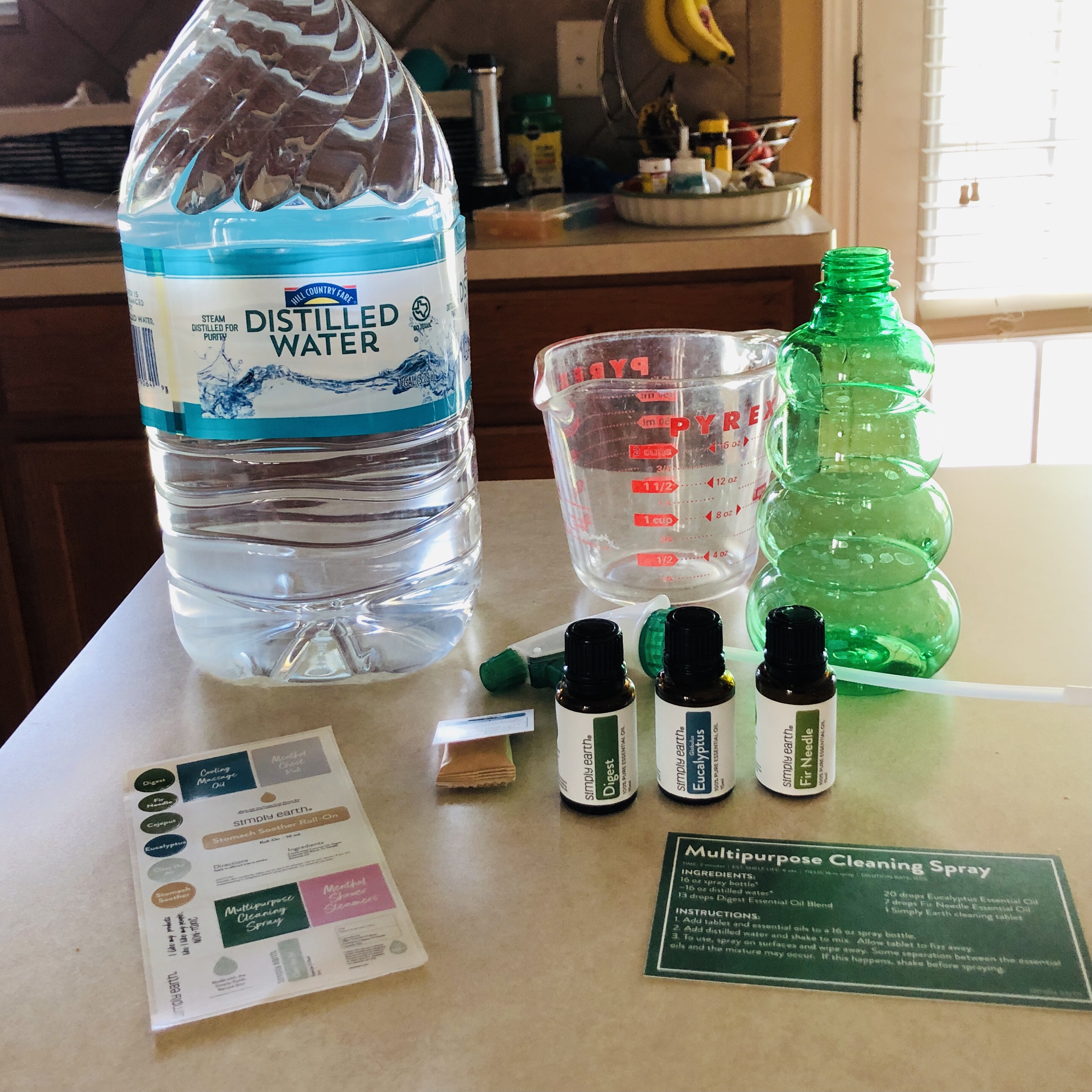 I needed distilled water and a 16 ounce spray bottle to make the cleaning spray. The bottle wasn't marked when I bought it so I filled it up with water and then poured it back into a measuring cup and it held a little over 16 ounces.
I poured the required number of essential oil drops in the bottom of the bottle and then gave them a swirl. Then I was supposed to drop the cleaning tablet in but it got stuck.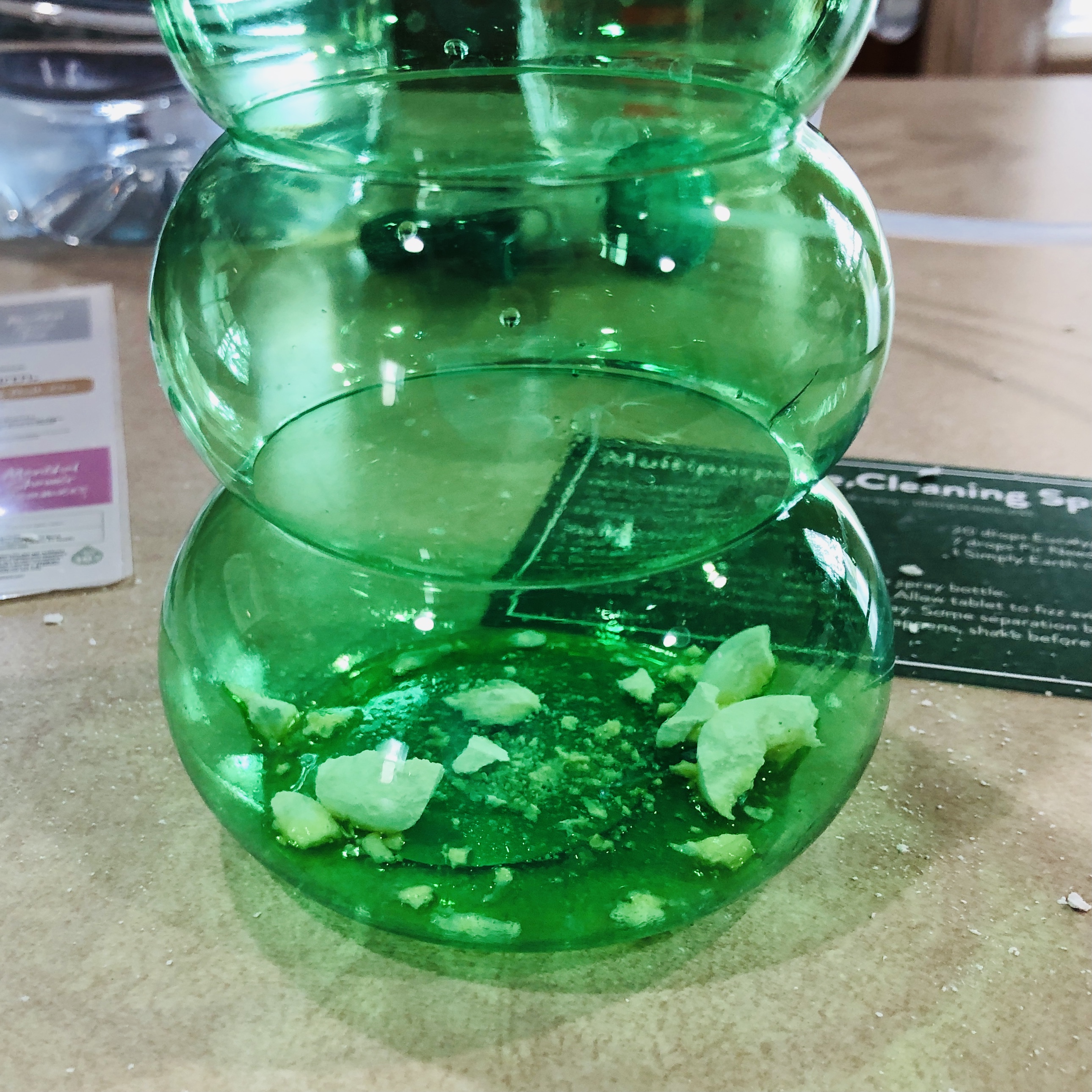 I kept poking at it with a not-too-sharp knife until it broke into pieces, although some of it ended up on my counter.
Next I poured in the water, gave it a good shake, and then placed the label on the outside. Maybe I should have gone with the pink or yellow bottle, then the label would have stuck out better. I thought this smelled great and the aniseed from the Digest blend was the most prevalent scent.
The diffuser blend is the easiest of all — just drop in the required amount of oils, add water, and turn on the machine. This blend smells clean, the strongest scents to my nose are the aniseed and orange. It helps my living room smell like a clean spa.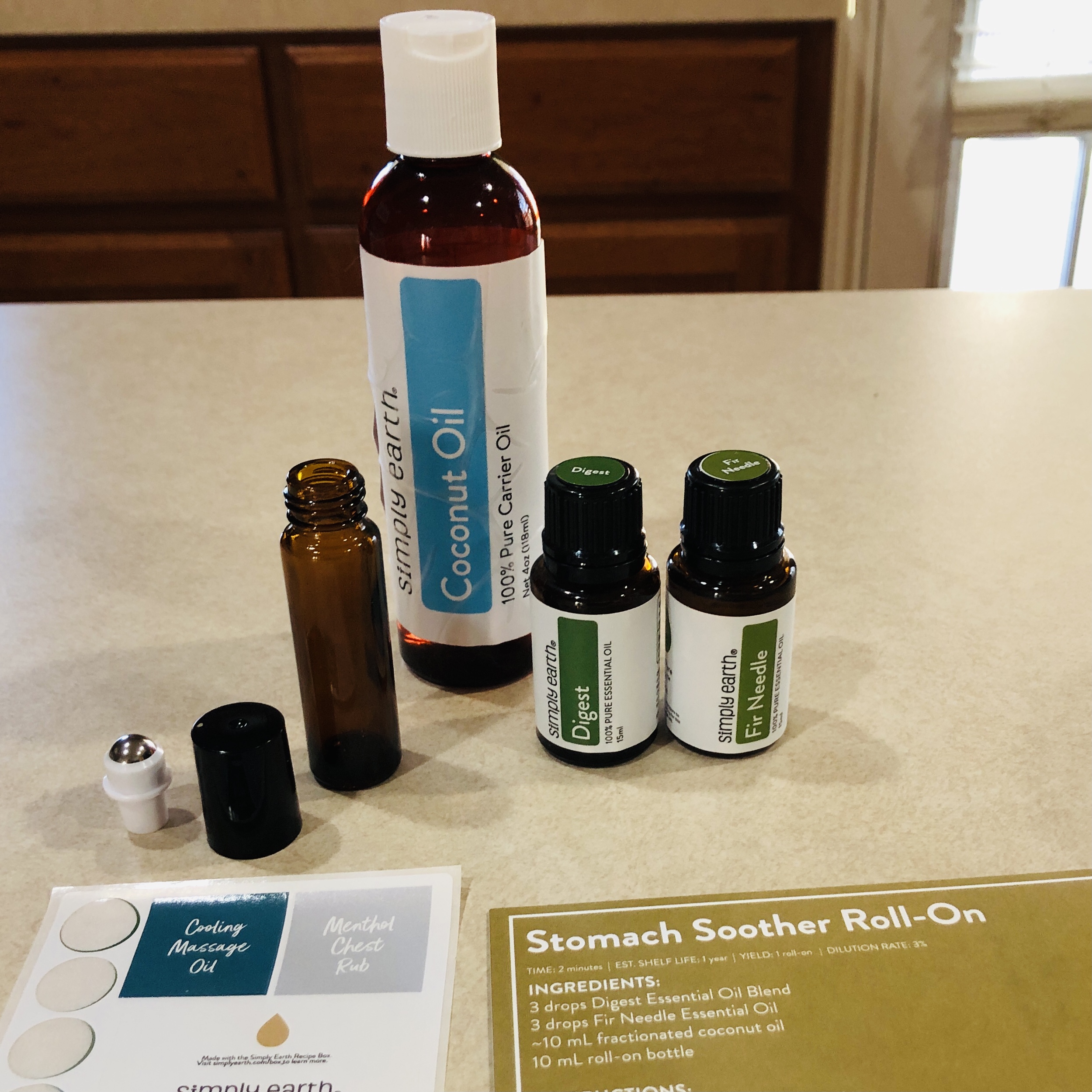 Making a rollerball blend is also easy. Just place the required number of drops into a roller ball bottle (from the Big Bonus Box), top with carrier oil (also from the BBB), and place the ball on top. Roll over the stomach to help relieve tension: massage it in and hopefully it will help dispel some gas.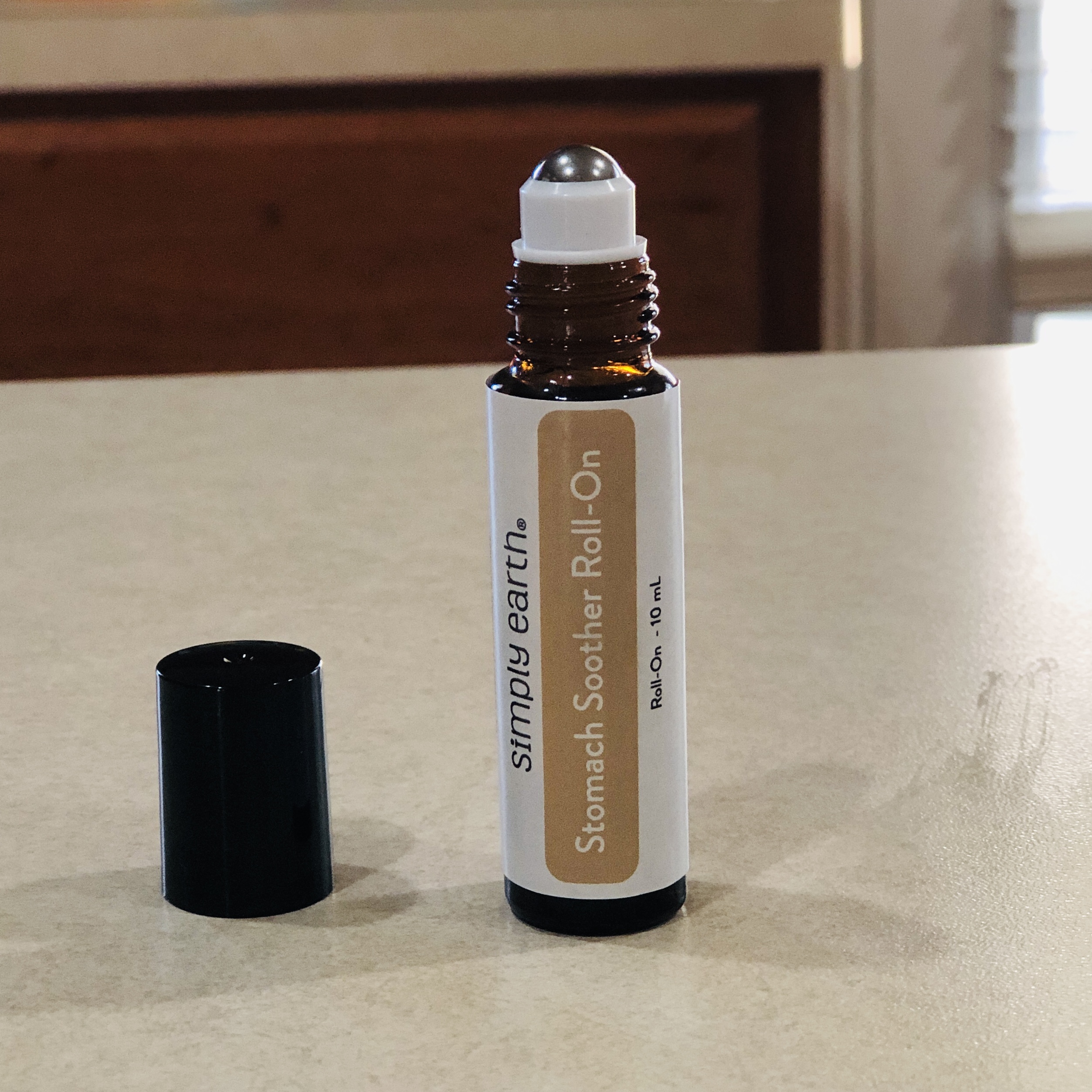 I love the fir needle smell in this blend.
Next up was a massage oil. A special dropper serum bottle was sent in the monthly Recipe Box but I needed fractionated coconut oil from the Big Bonus Box.
I heated the coconut oil and then stirred in the menthol crystals. Then I added the essential oils and gave it all a good mixing.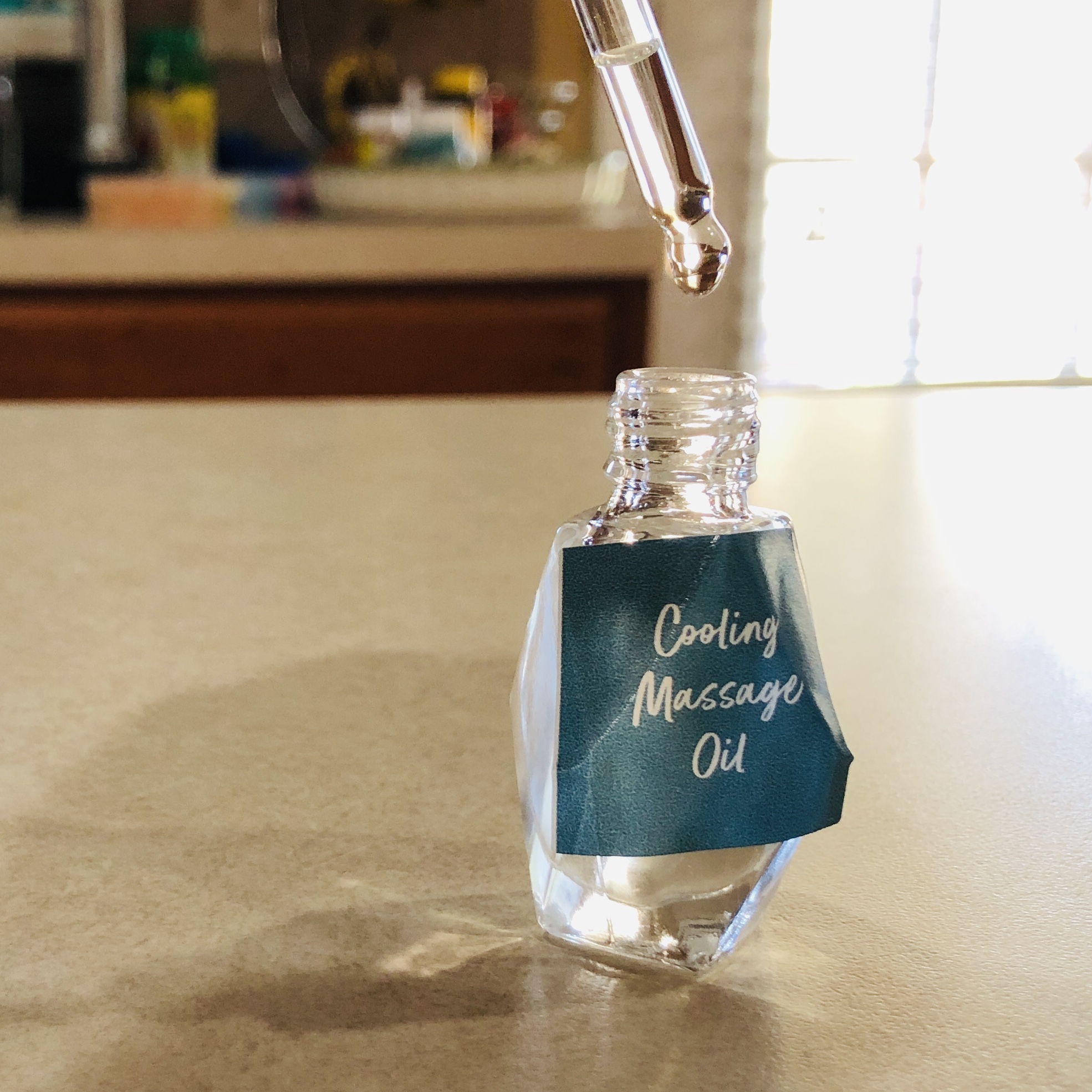 Oh my, this stuff cleared up my sinuses and I LOVE it, it is so minty and bold.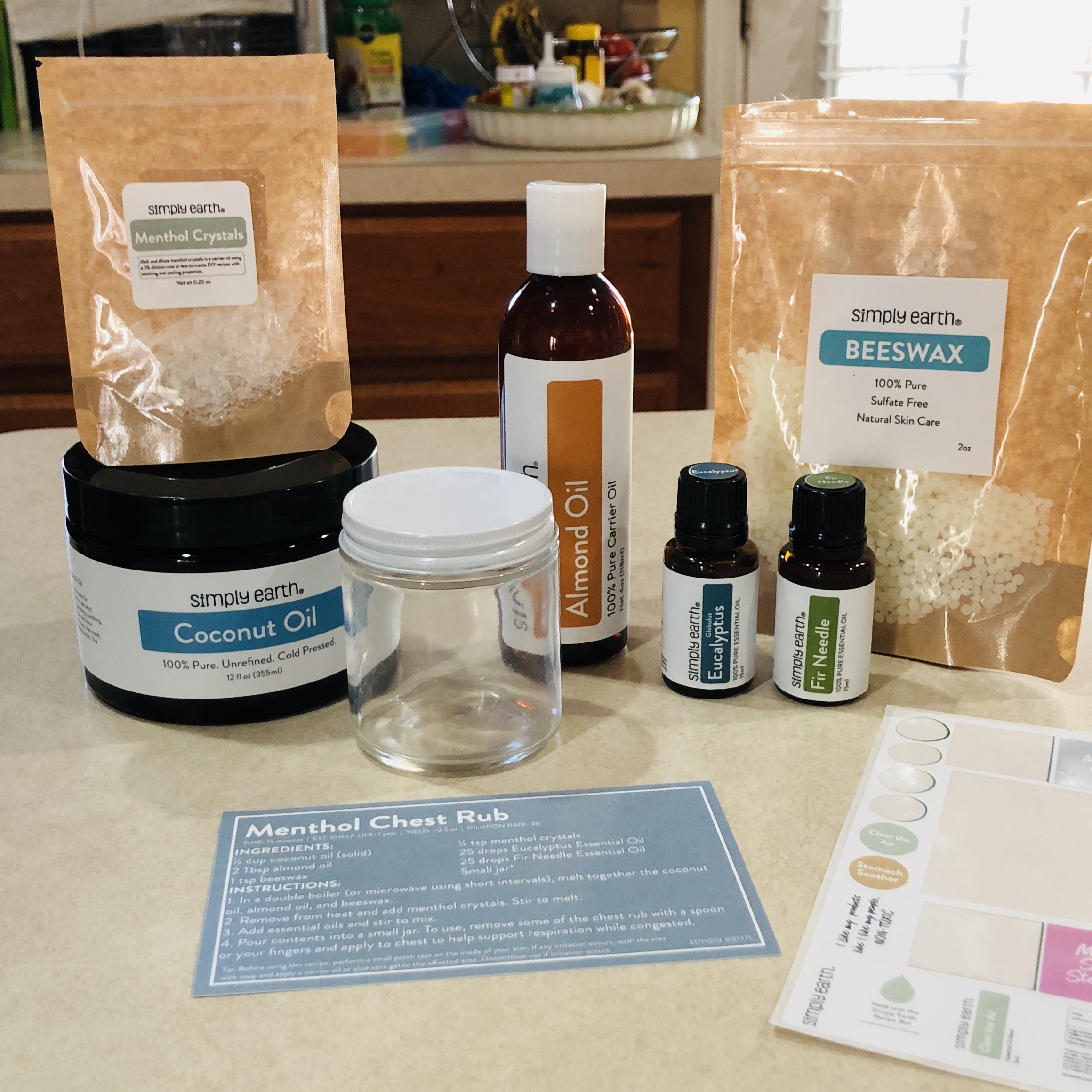 The final recipe I made was mentholated chest rub. I needed solid coconut oil, almond oil, and beeswax from my Big Bonus Box, plus a storage container for the rub.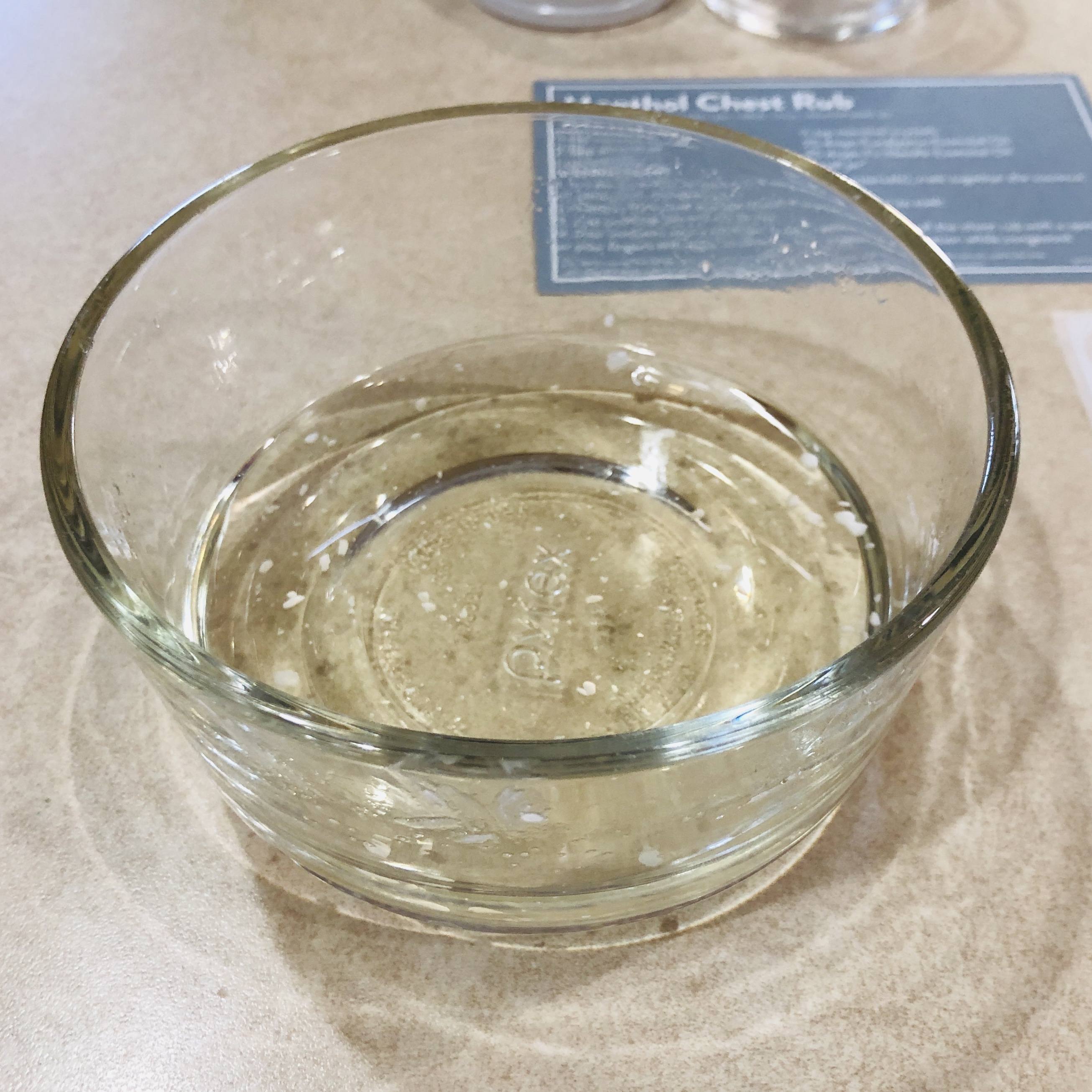 I melted the oils and beeswax together — it might take a lot of stirring to get the beeswax to melt all the way. Then I stirred in the menthol crystals and finally the essential oils.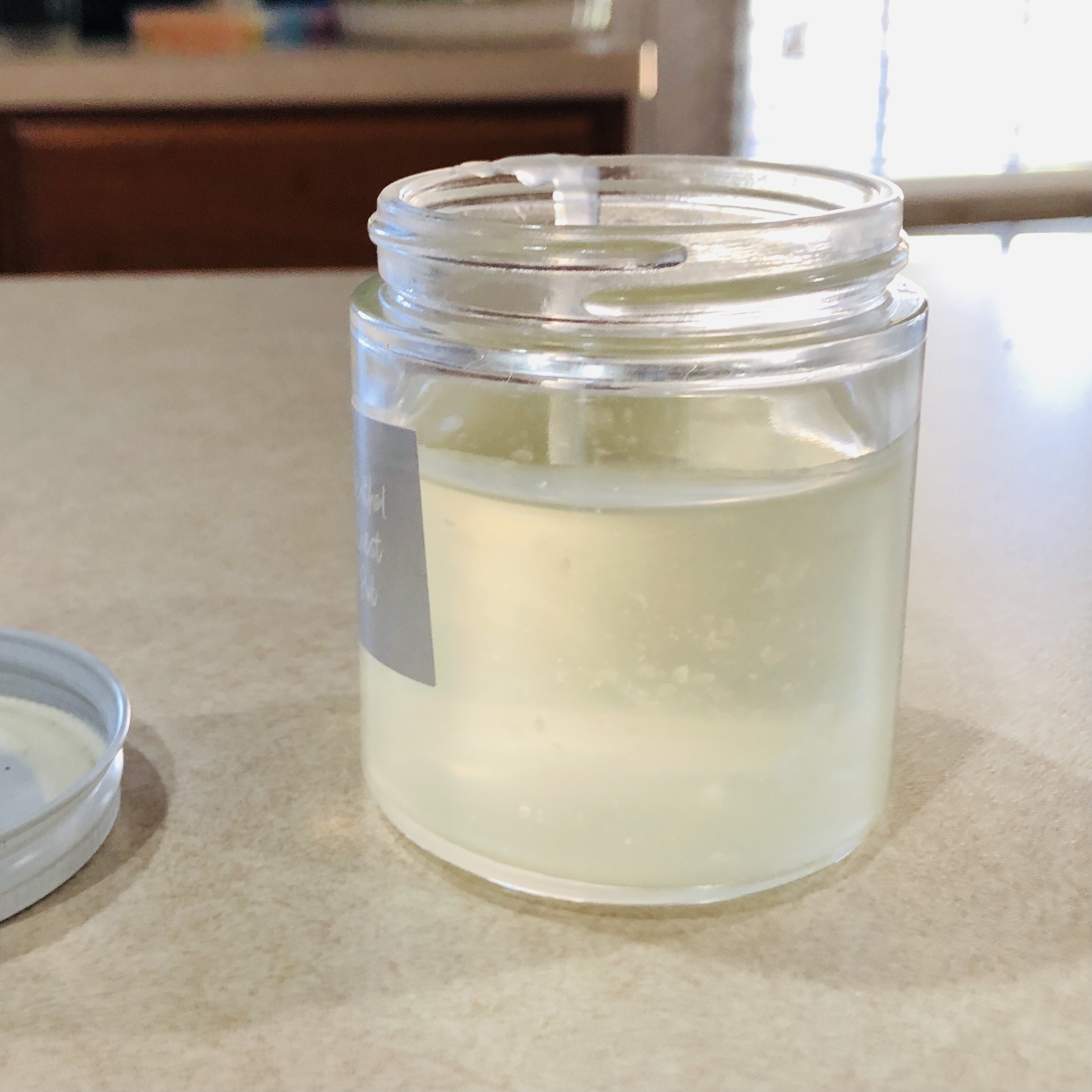 I quickly poured the mix into a glass jar, it sets up in a jiffy.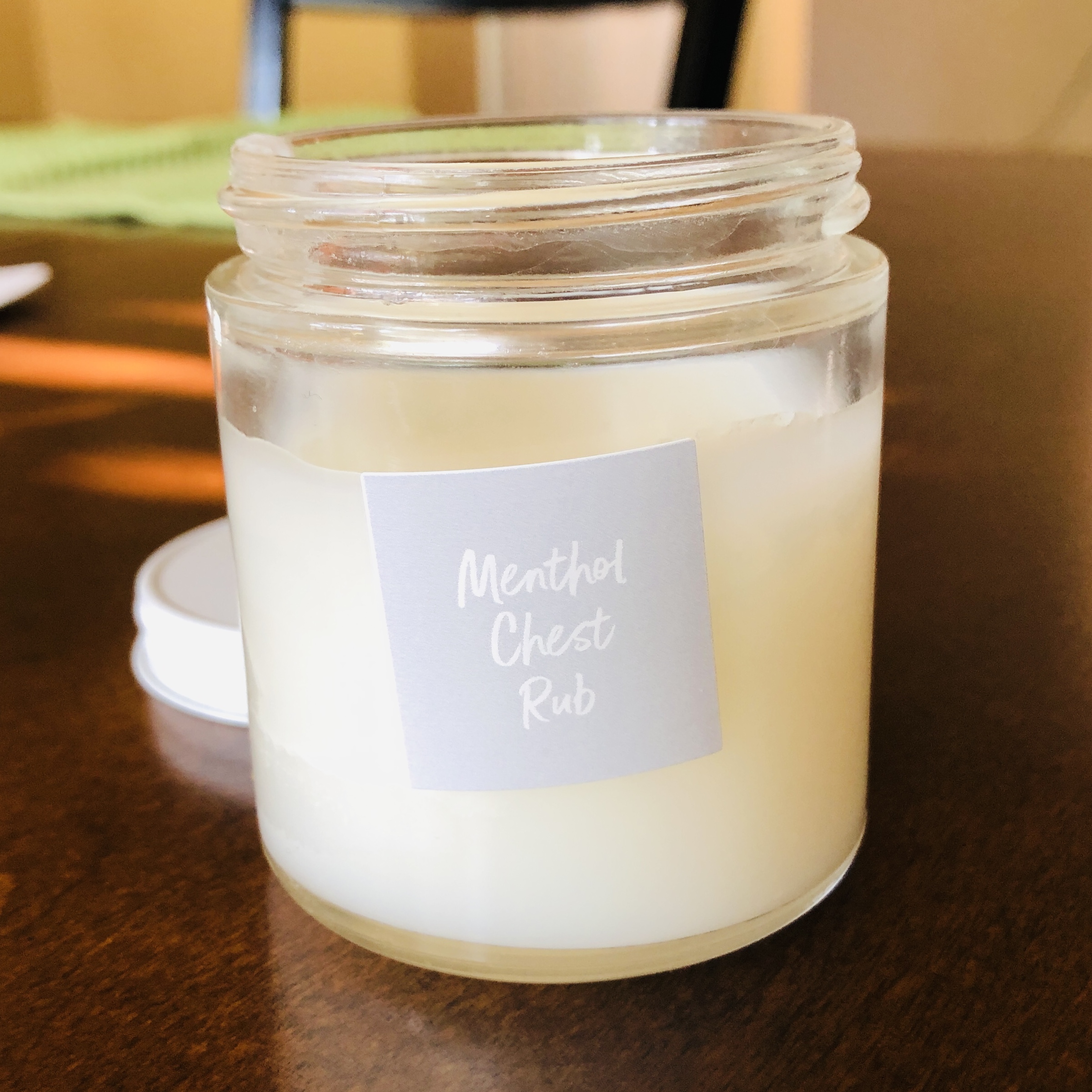 I placed the sticker on my jar and now I have mentholated chest rub!
I was really pleased and excited about the projects I made with the help of my October 2021 Simply Earth Recipe Box! I was happy to add new oils to my collection but most of all, I was thrilled to learn about and use menthol crystals! I had no idea that menthol came from peppermint (I assumed it was a blend of mints, eucalyptus, and other herbs like thyme) but I won't be fooled again. The diffuser blend left my home smelling like a spa and while I probably won't use the cleaning spray after working with chicken and stuff like that, I think it's perfect for a daily wipe down of the countertops in the bathroom and leaves behind a refreshing scent. All of my other projects will go into my first aid cabinet until needed. I still need to make the shower steamers but couldn't find a mold for that project but I have the rest of the supplies ready to go!
What do you think of the Simply Earth box?