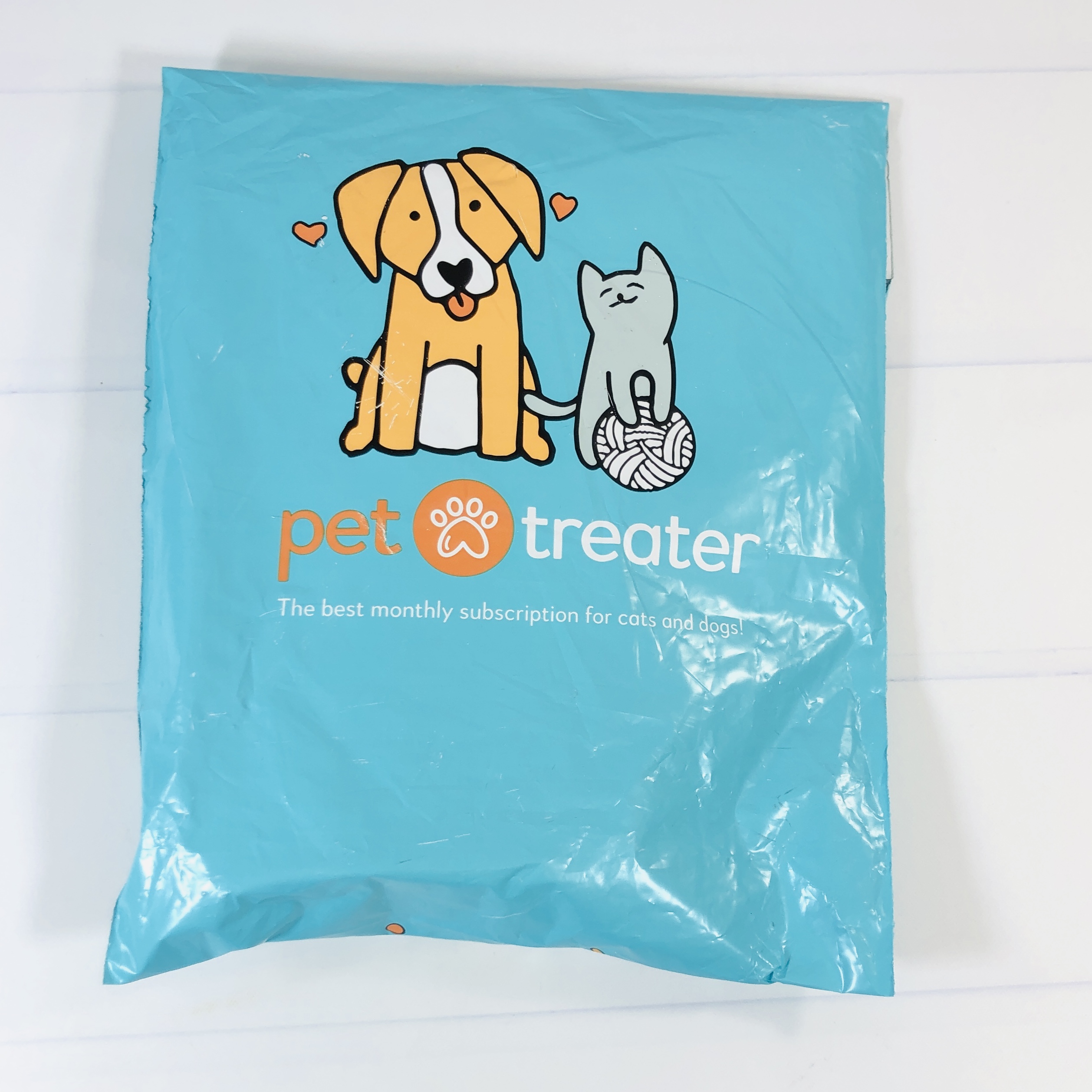 Pet Treater is a subscription program for pets, delivering quality items like toys and treats. They offer 2 options for cats: a Cat Pack with 3-4 items ($15 a month) and a Multi-Cat Pack with 5-8 items ($25 a month). Your first pack will be filled with the most popular fan favorites!
Pet Treater is a subscription program that treats your pet every month with quality items that won't break your wallet. Our pets deserve the best that we can possibly afford. At Pet Treater, you can afford so much more because we carefully select products with the best pricing so we can make sure your box is full of the items your pet will love.
DEAL: Get 50% off your first month with coupon code CATPACK50.
Pet Treater's cat subscription box made the list in our 2021 readers' choice picks of best subscription boxes for cats!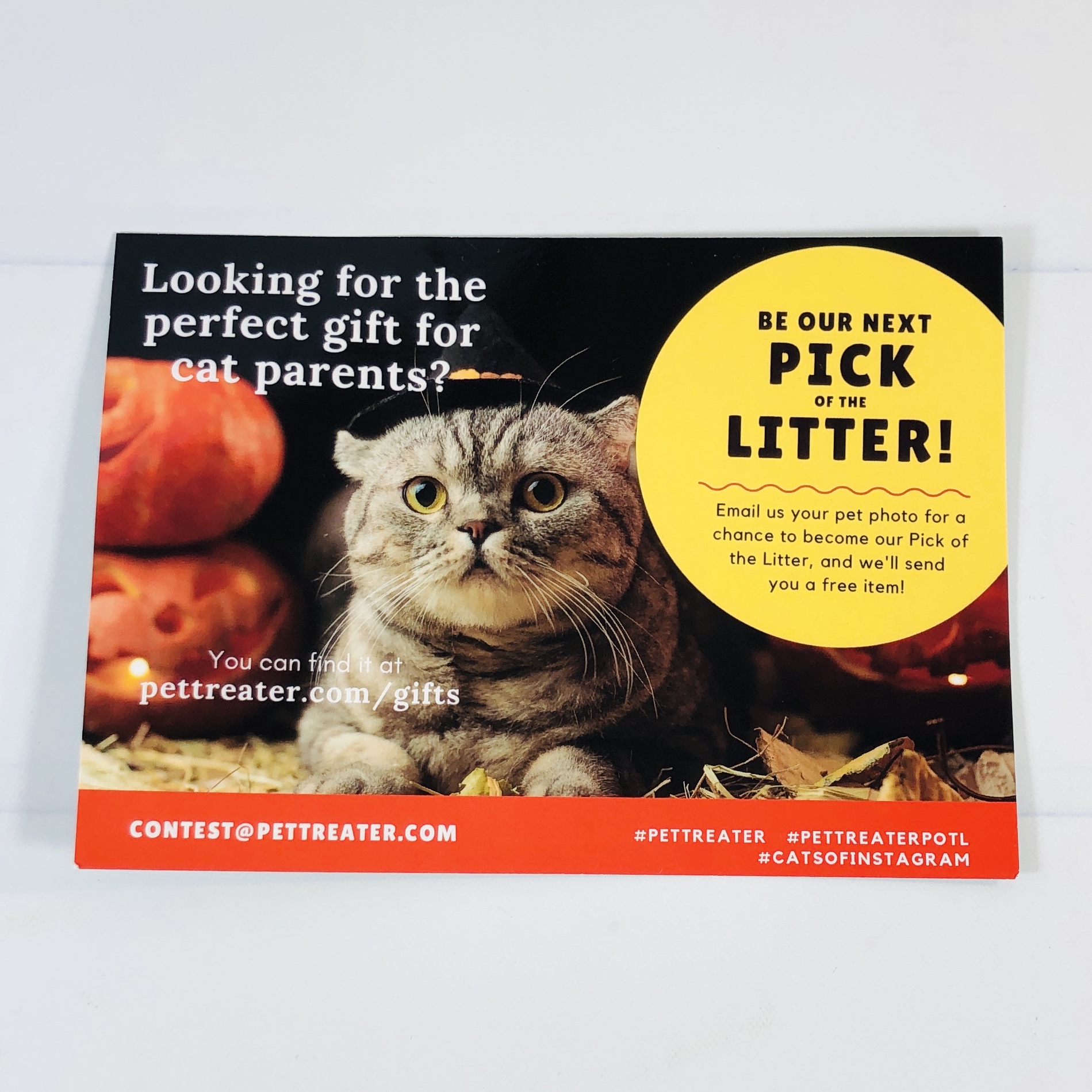 If you want your cat to be the next Pick of the Litter, you can submit their photo and follow the instructions indicated on the card.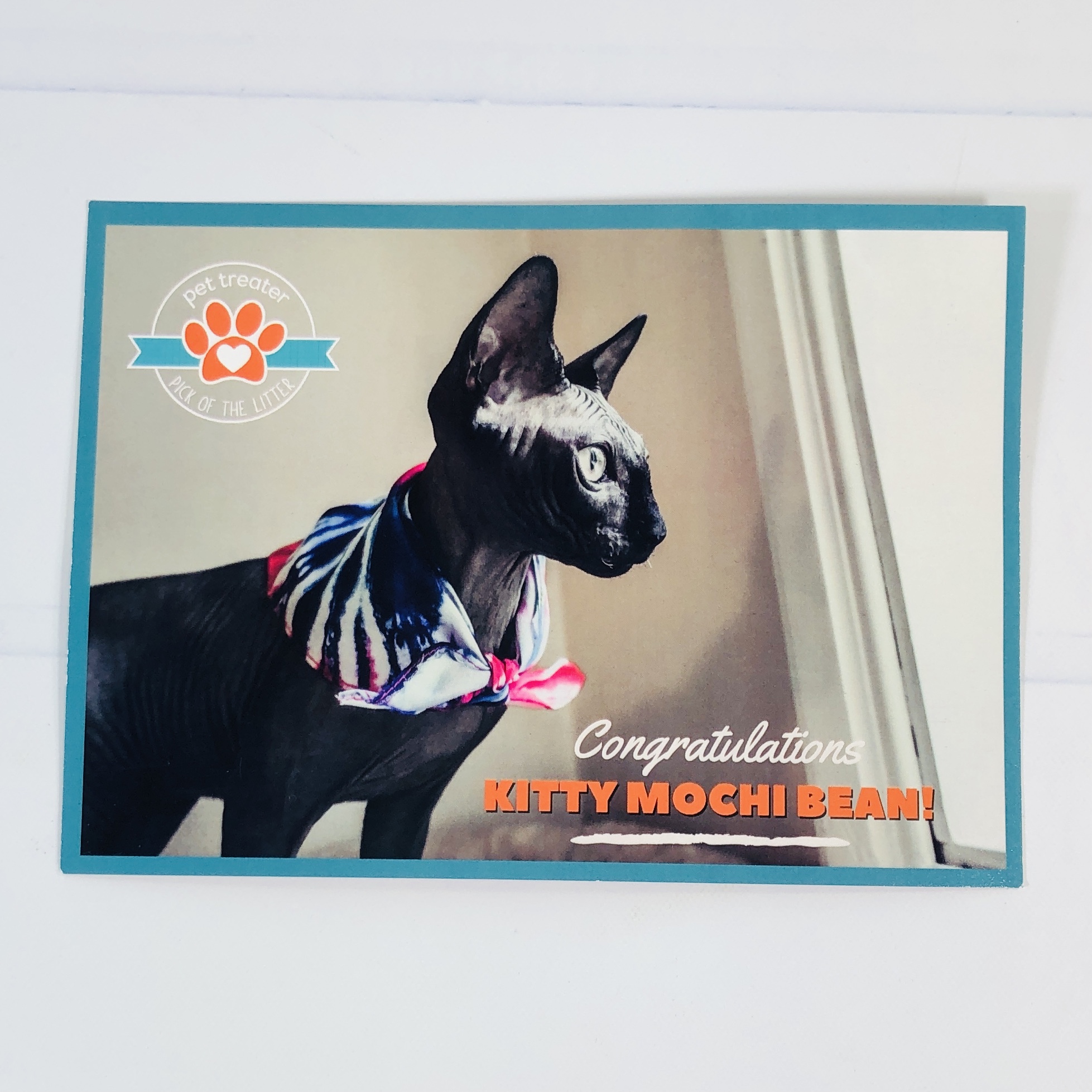 The latest winner was Kitty Mochi Bean!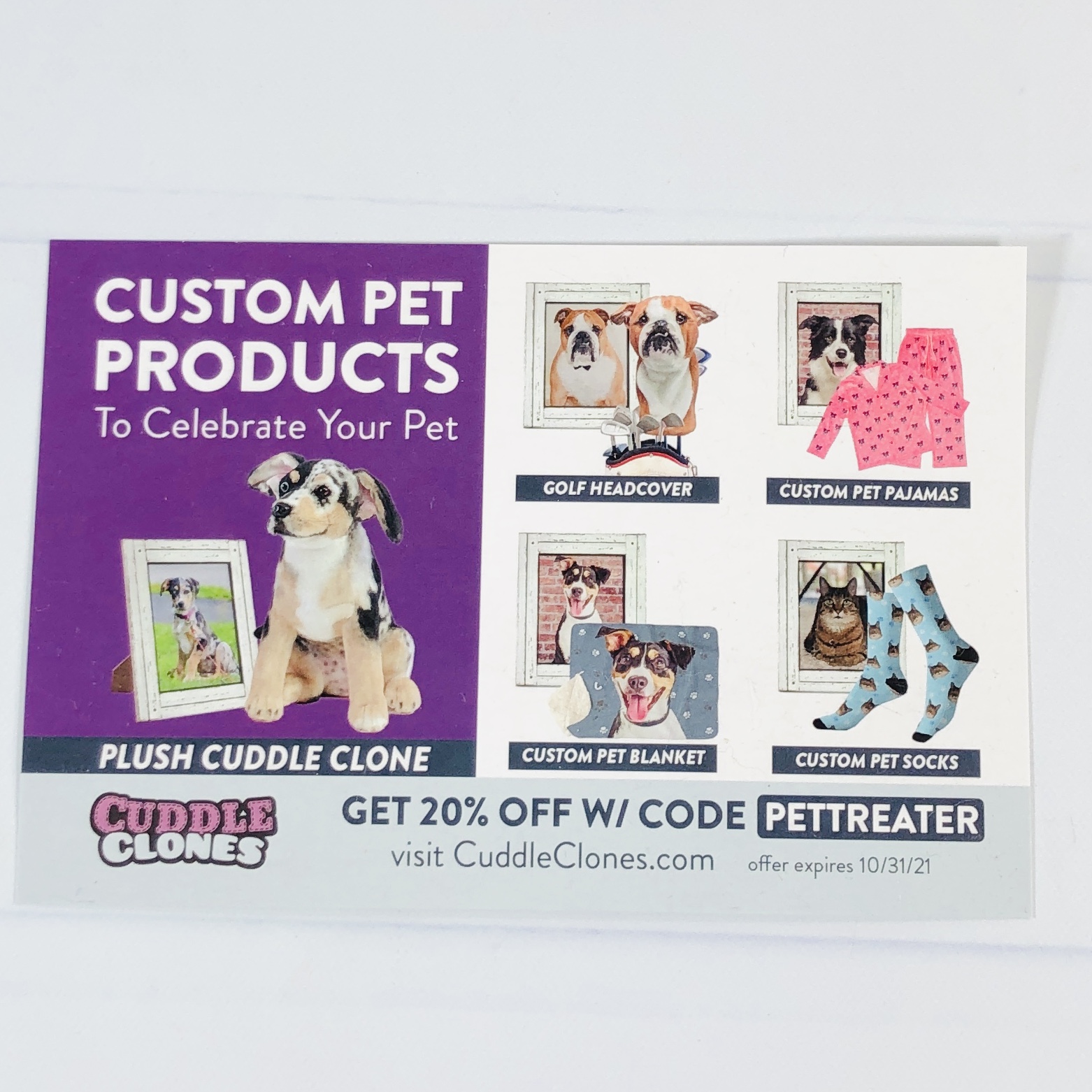 There was a discount card for custom pet products. Get your cat's face on a blanket or pajamas!
Everything in my September 2021 box!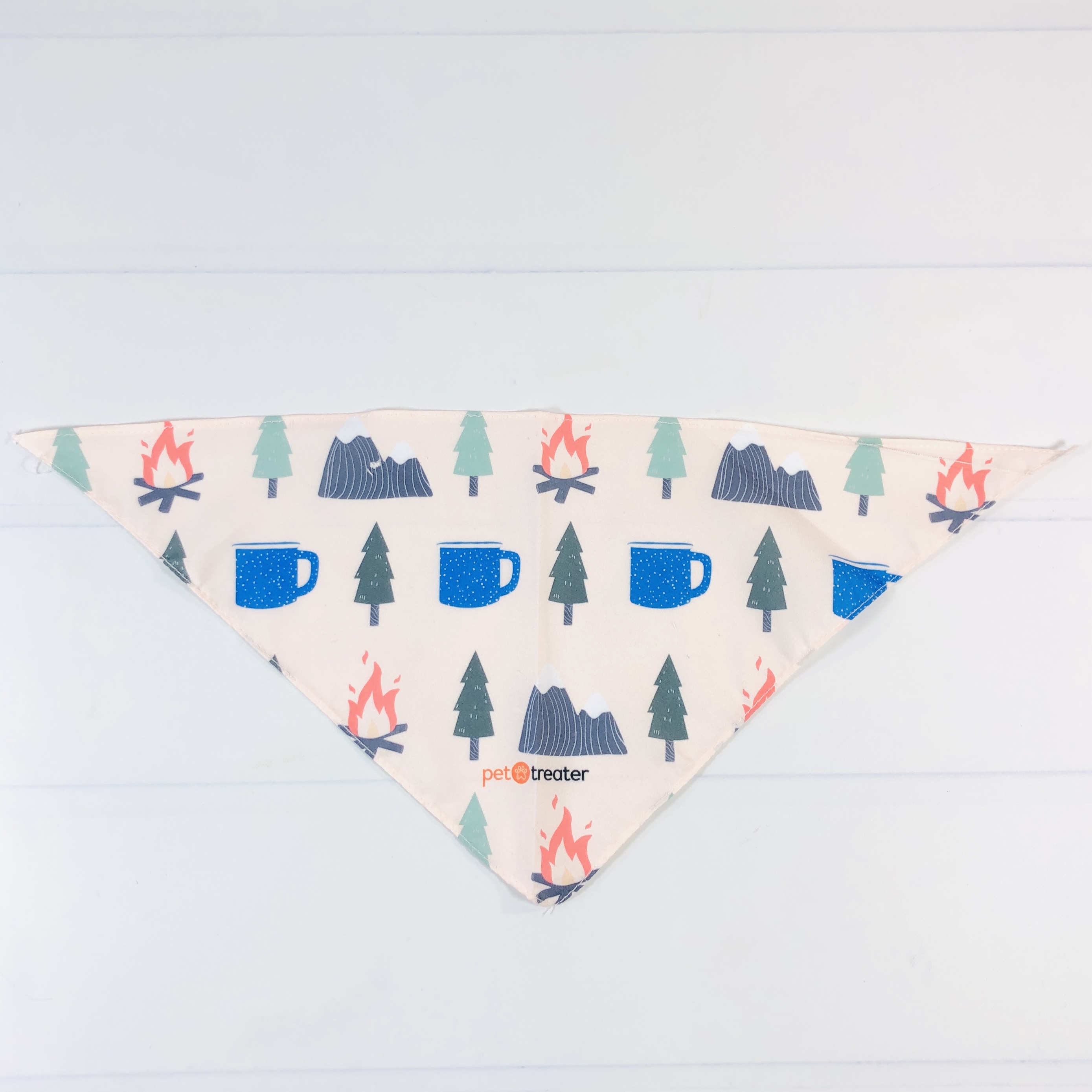 Bandana We always receive a bandana in this box and while my cats won't wear it, it makes for cute photo ops. It looks like this month's theme is camping or the great outdoors.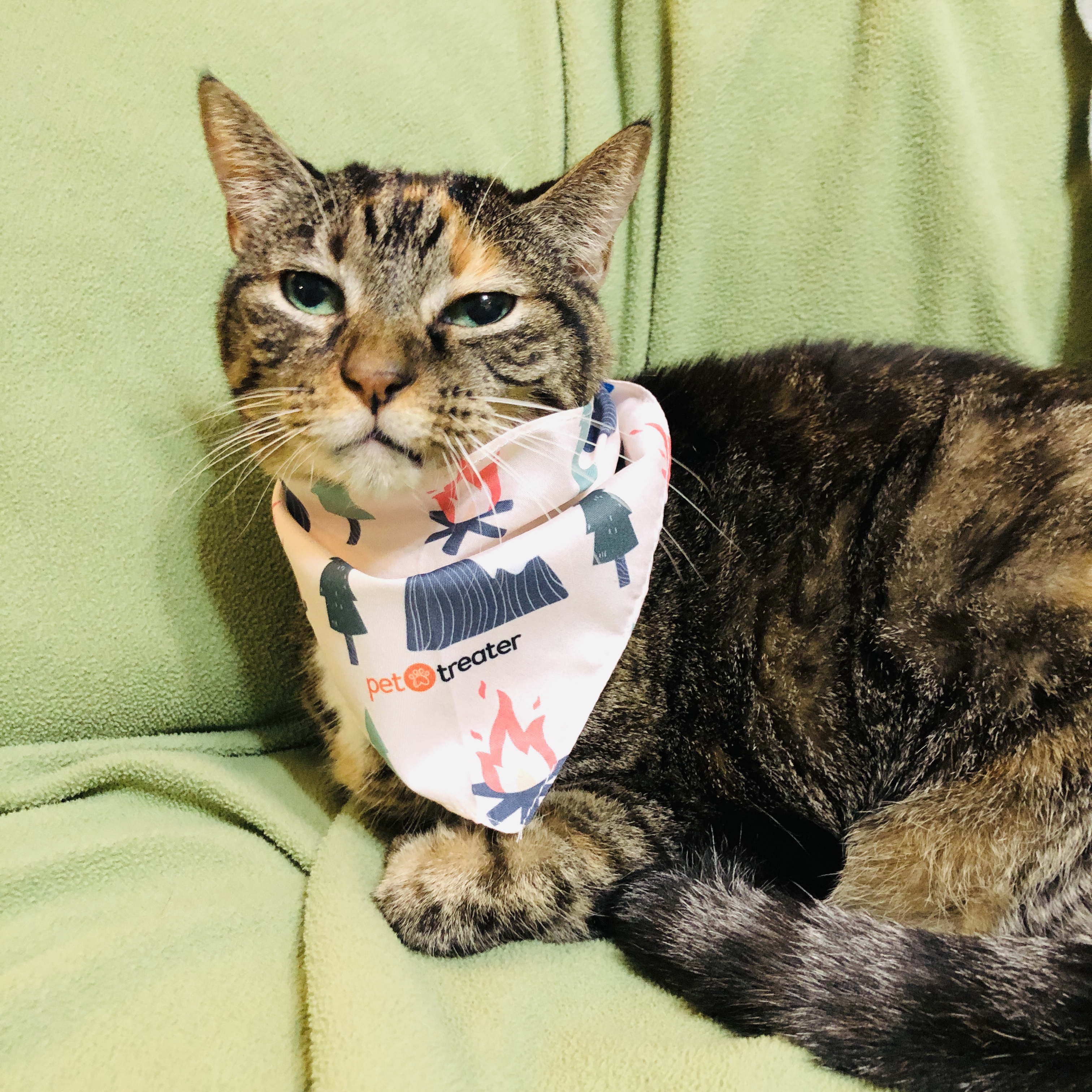 Here's Zoey modeling the neckwear. I can barely tie it around her neck!
Sunny wasn't excited about the prospect of wearing clothes.
Our Pets Plush Frog ($7.99) I'm pretty sure I've had this in my house at some point in the past few years. It's a frog toy that ribbits!
He even has a crown!
He also makes that sound any time there is the slightest amount of movement near him.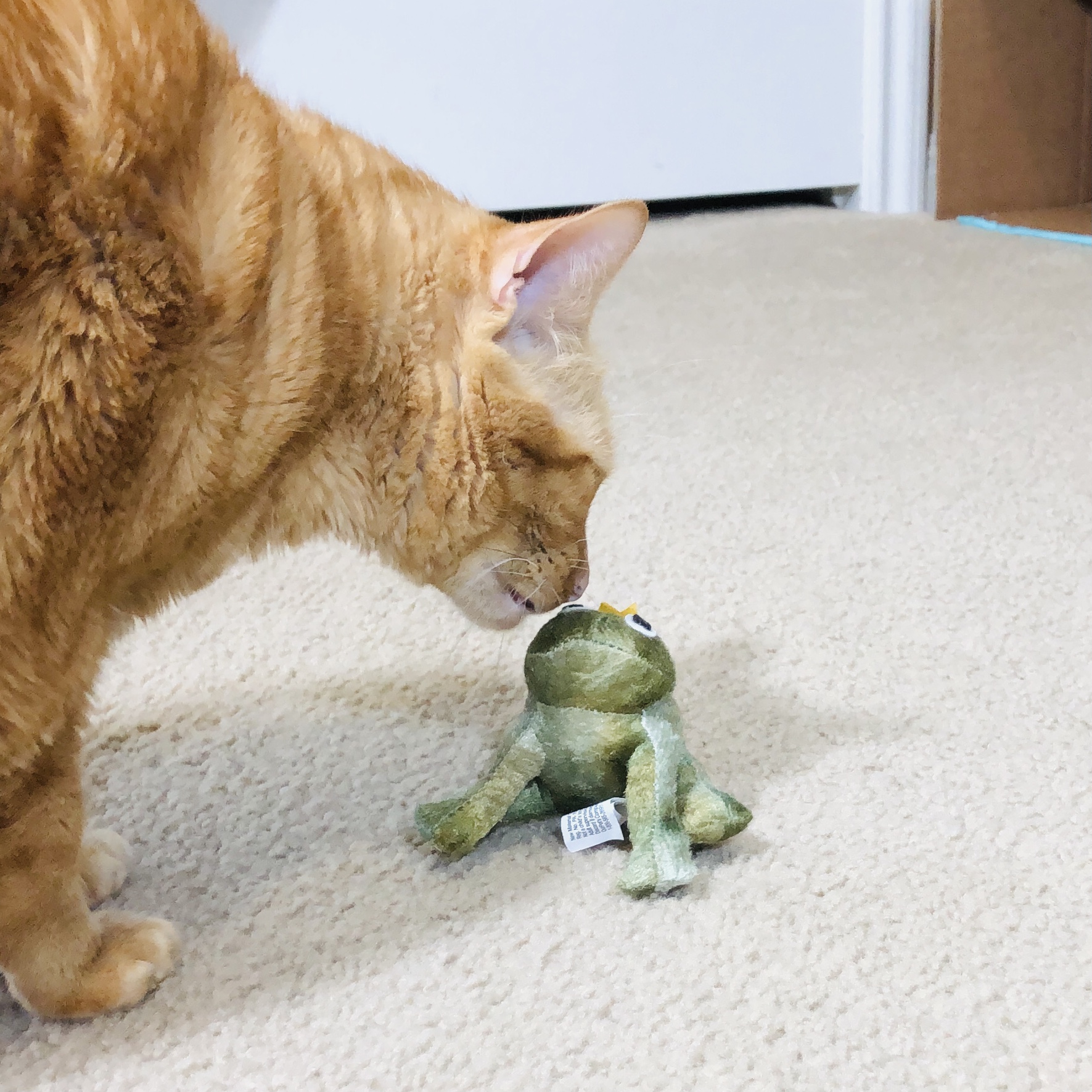 This was about as much action as he received from Sunny. Not interested today.
Pet Inc. Ferret Cat Toy According to the blurb on the front of this card, this ferret squeaks, but you really have to squeeze it to get it to make any noise, it's like a plastic bladder on the inside.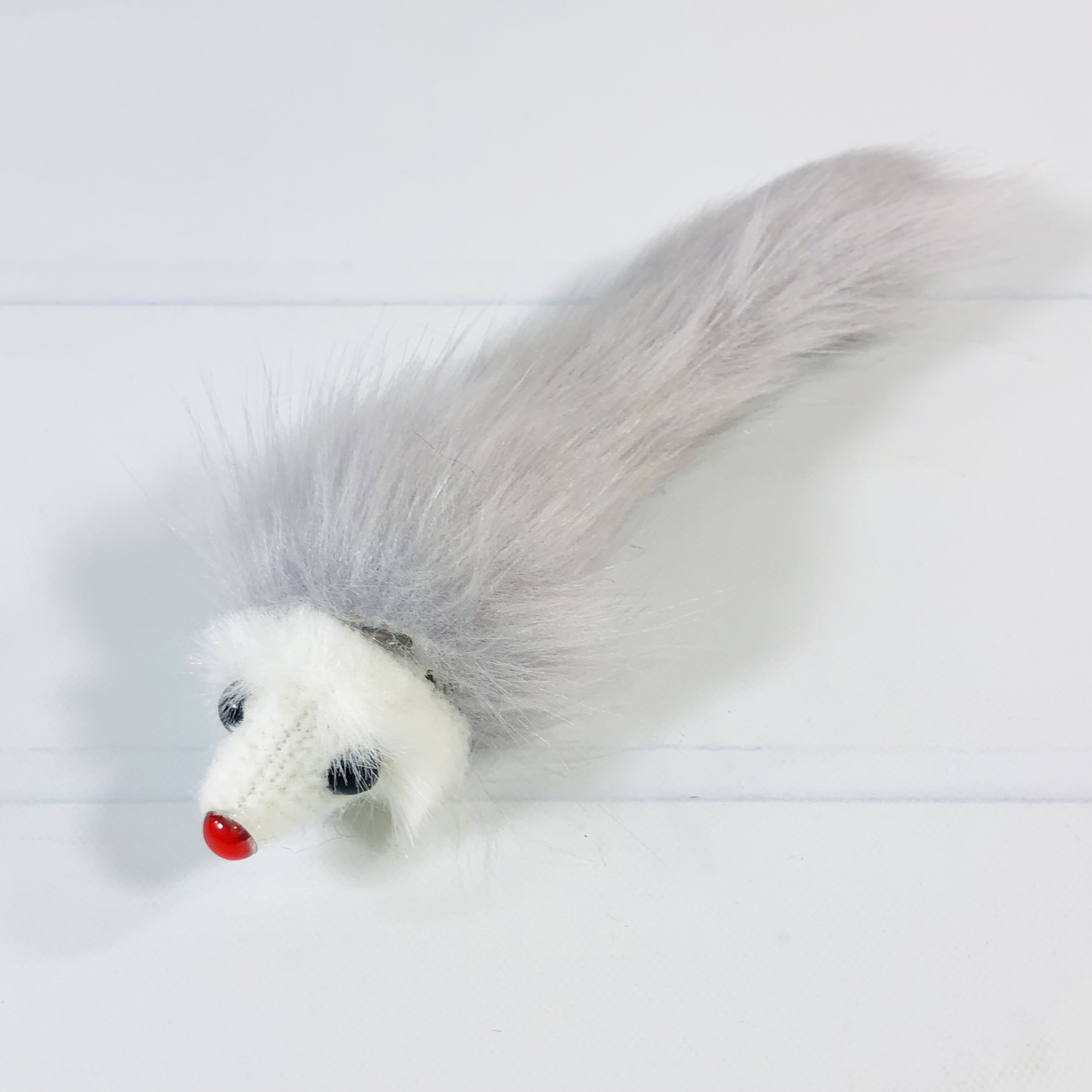 It is very weaselly, isn't it?
Hey Sunny, ya gonna play with those toys?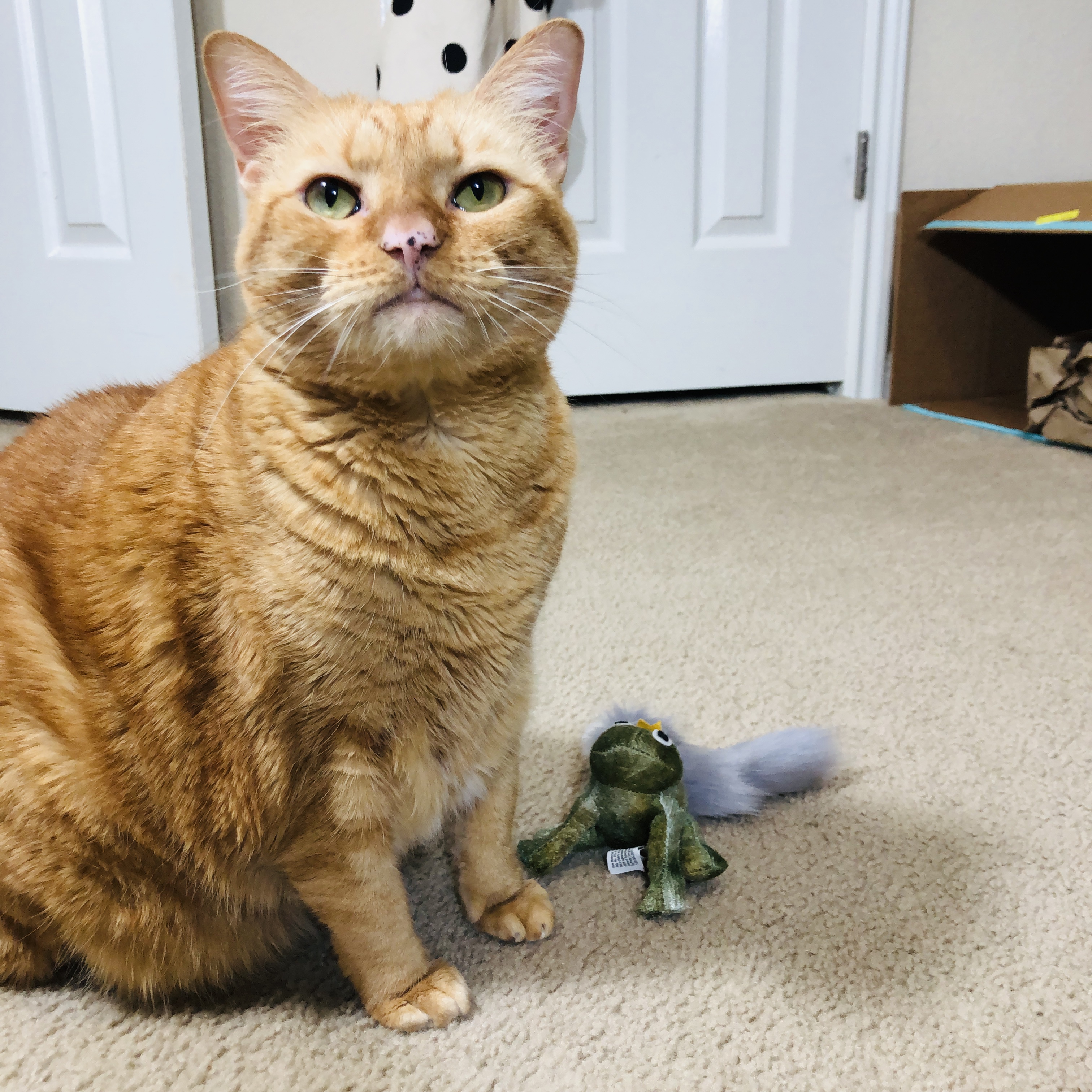 Well???
Dang cat, no need for that! Actually, I was surprised when late at night I heard her playing with something in the next room, and then I turned around and found her throwing the ferret in the air and catching it, then she carried it in her mouth into the living room!
Sassy Cat Freeze Dried Salmon Cat Treats ($3.40 value) Sunny loves treats but she can be picky and hasn't really taken to freeze-dried foods in the past. Would these pass the test?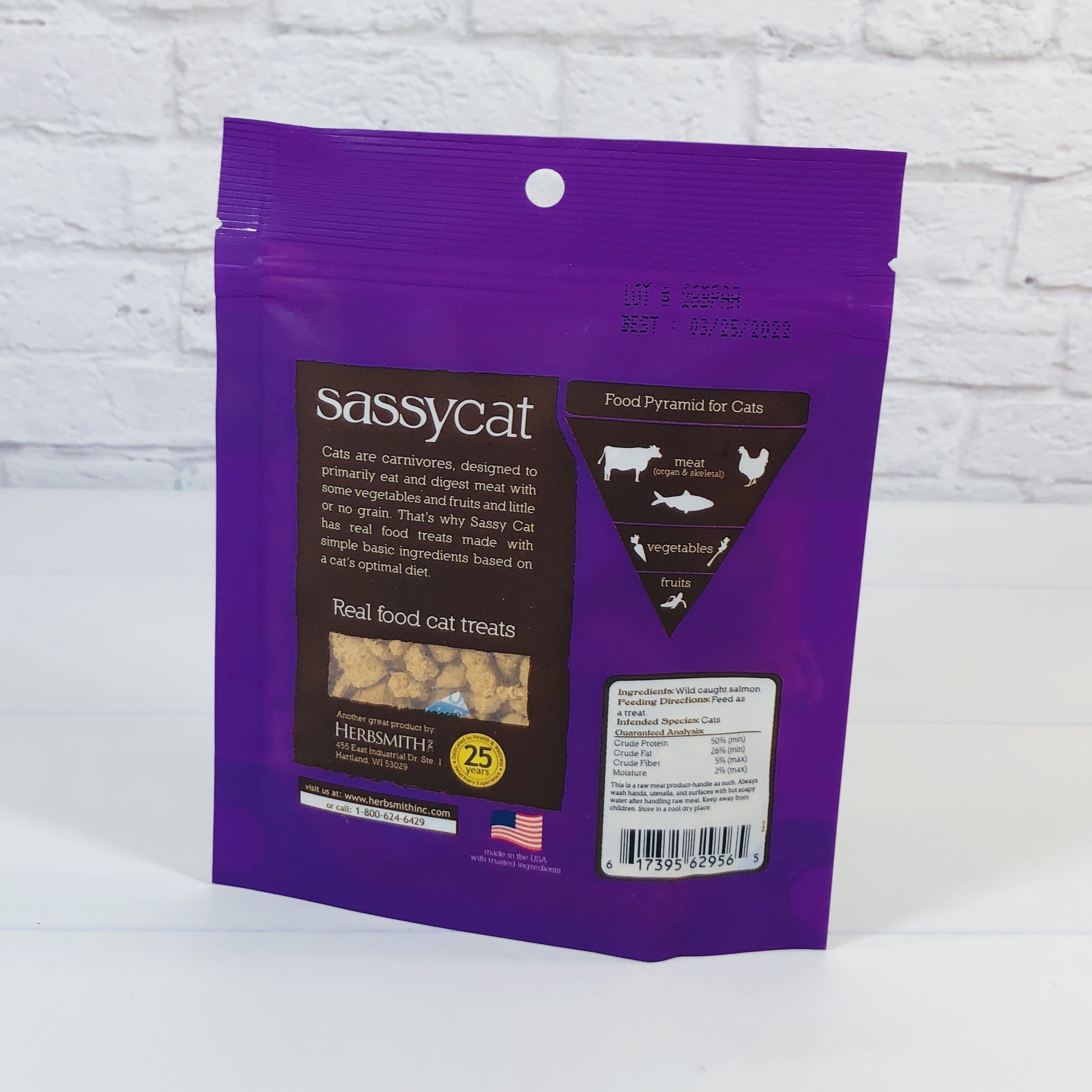 The only ingredient in here is wild-caught salmon.
Here kitty kitty!
I think she wants some.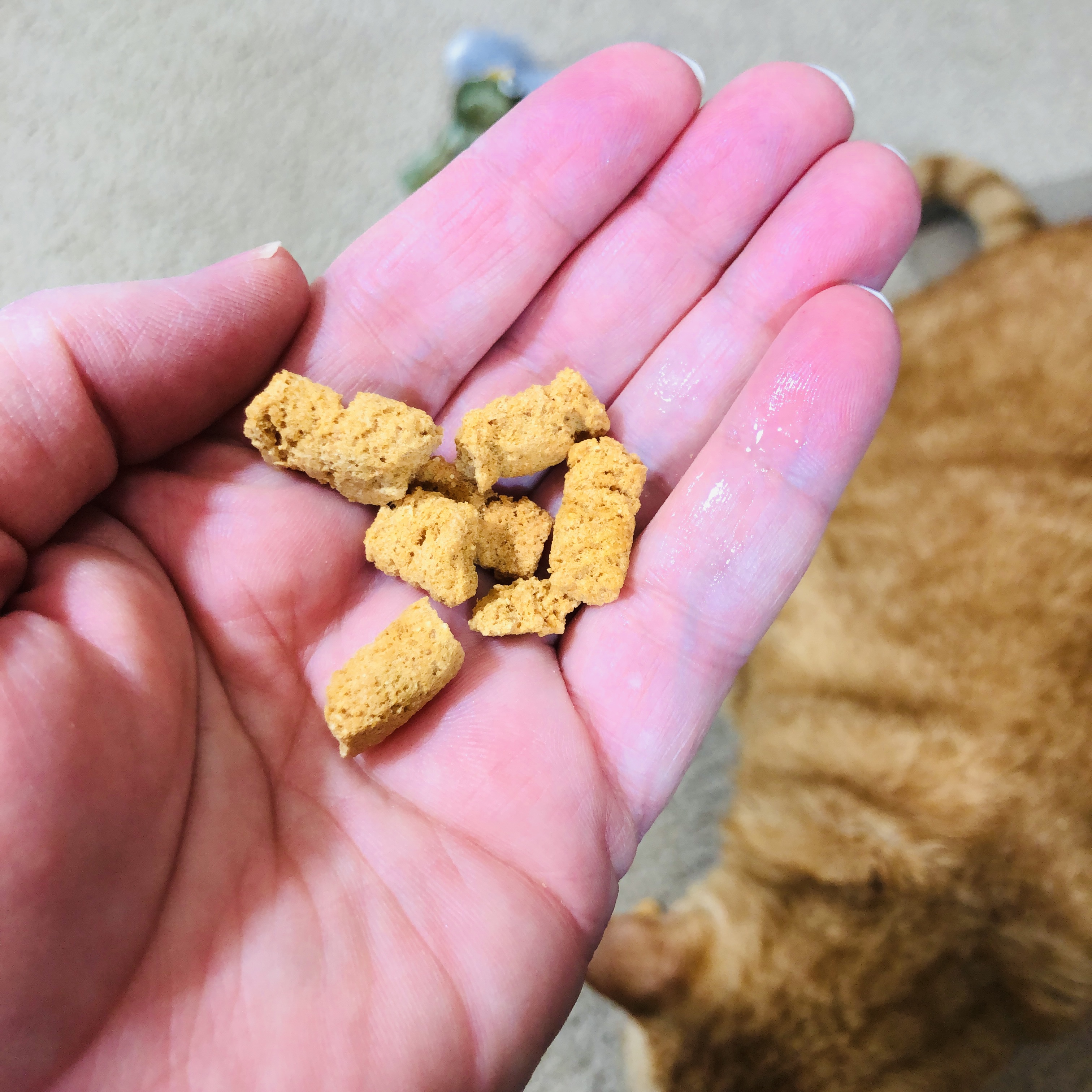 Here's what the pieces look like.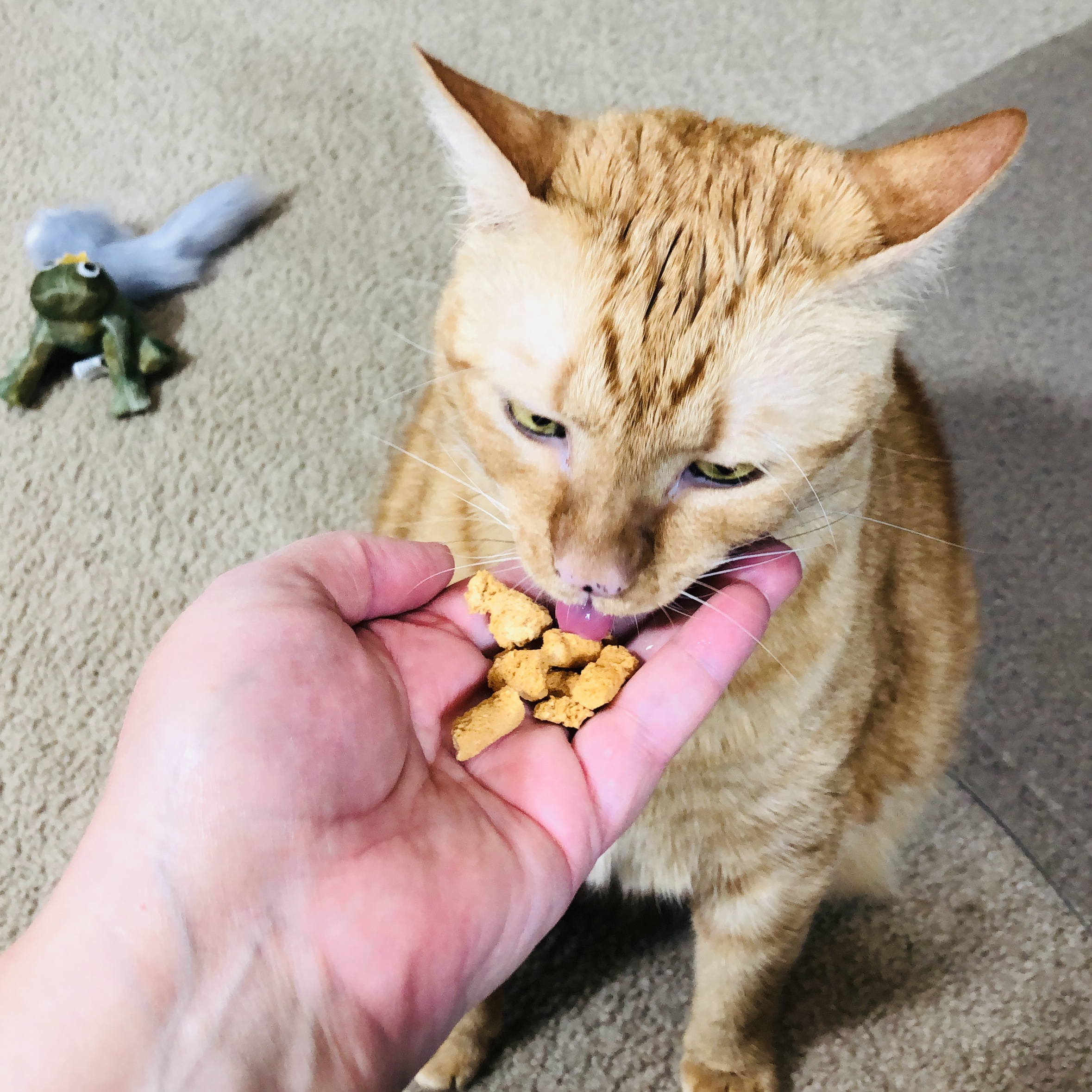 First Sunny licked them.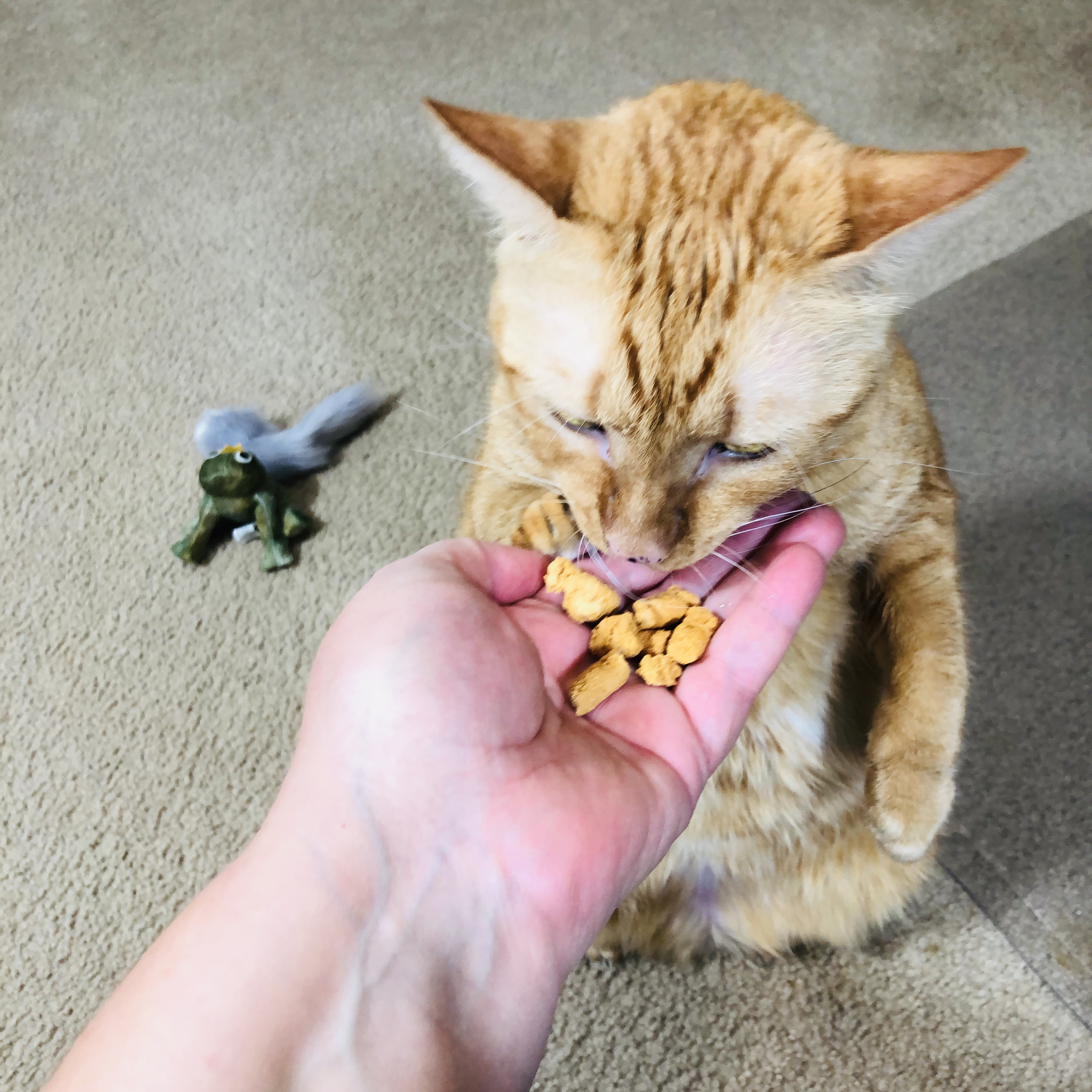 I think she likes them! She actually sat up!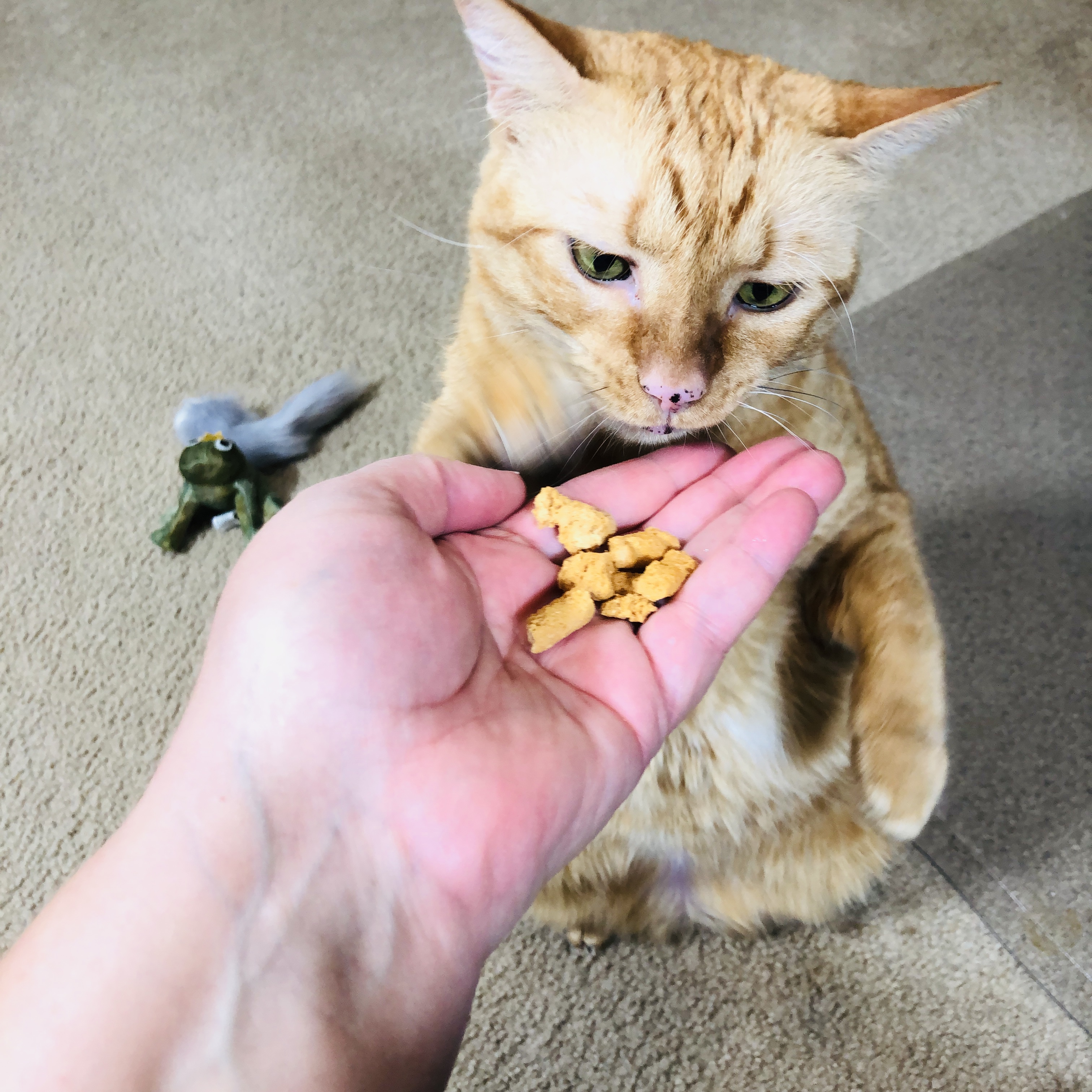 They are a hit!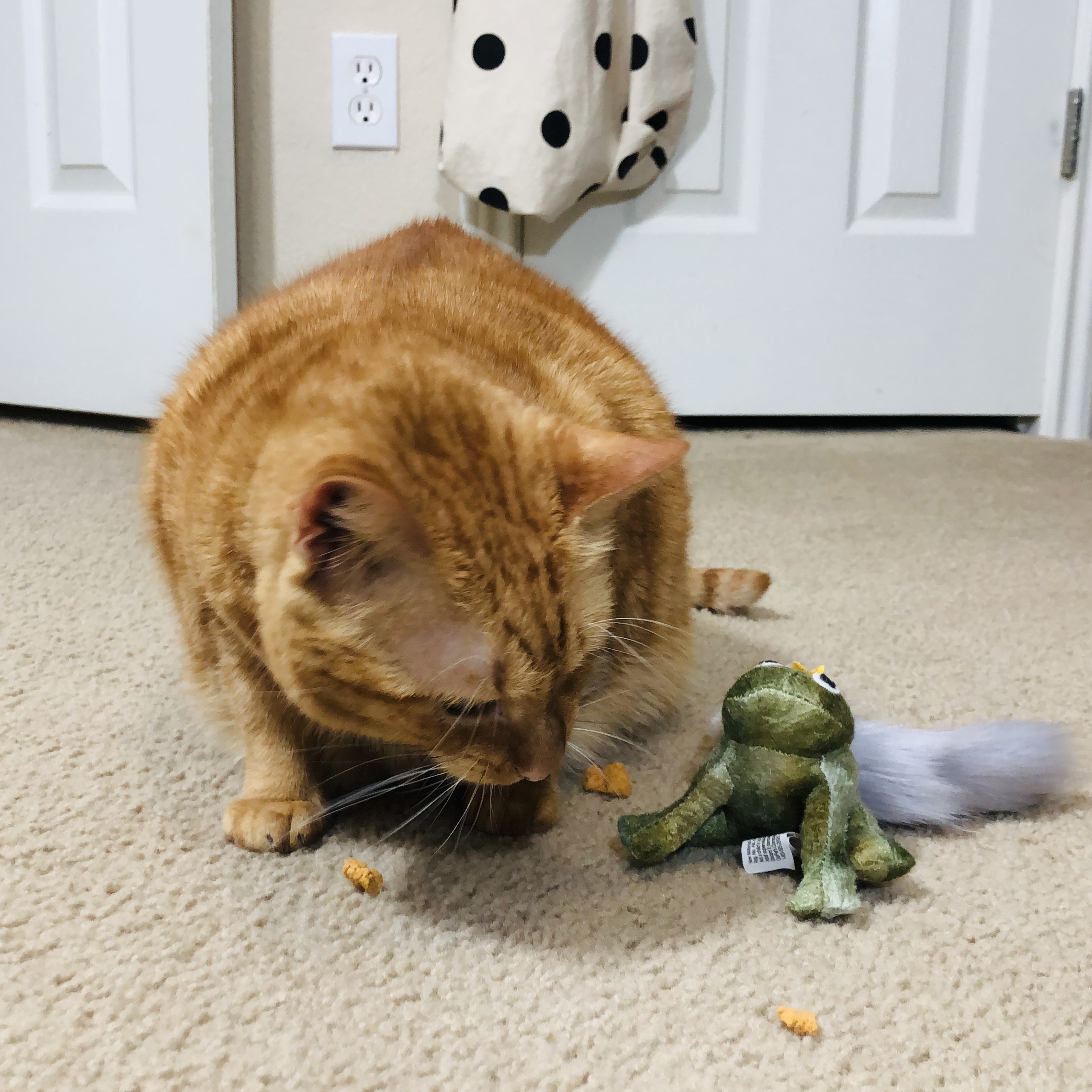 Hey, you gonna eat that?
The latest Pet Treater Cat Pack had some hits and misses. My cats have no use for a bandana, although my daughter gives them to her friend to be used by her dog. The frog was another miss. The ferret and the salmon snacks saved the day, Sunny was intrigued by both. She had fun playing with the ferret and I had fun feeding her a snack. I'm sorry I can't seem to get her to play with the toys, but she has learned that when I turn the big lights around for pictures, she's probably going to get some food. I guess it's her Pavlovian conditioning, kind of like how she runs into the kitchen when she hears me pop open a can of tuna.
What do you think of this month's Pet Treater Cat Pack?