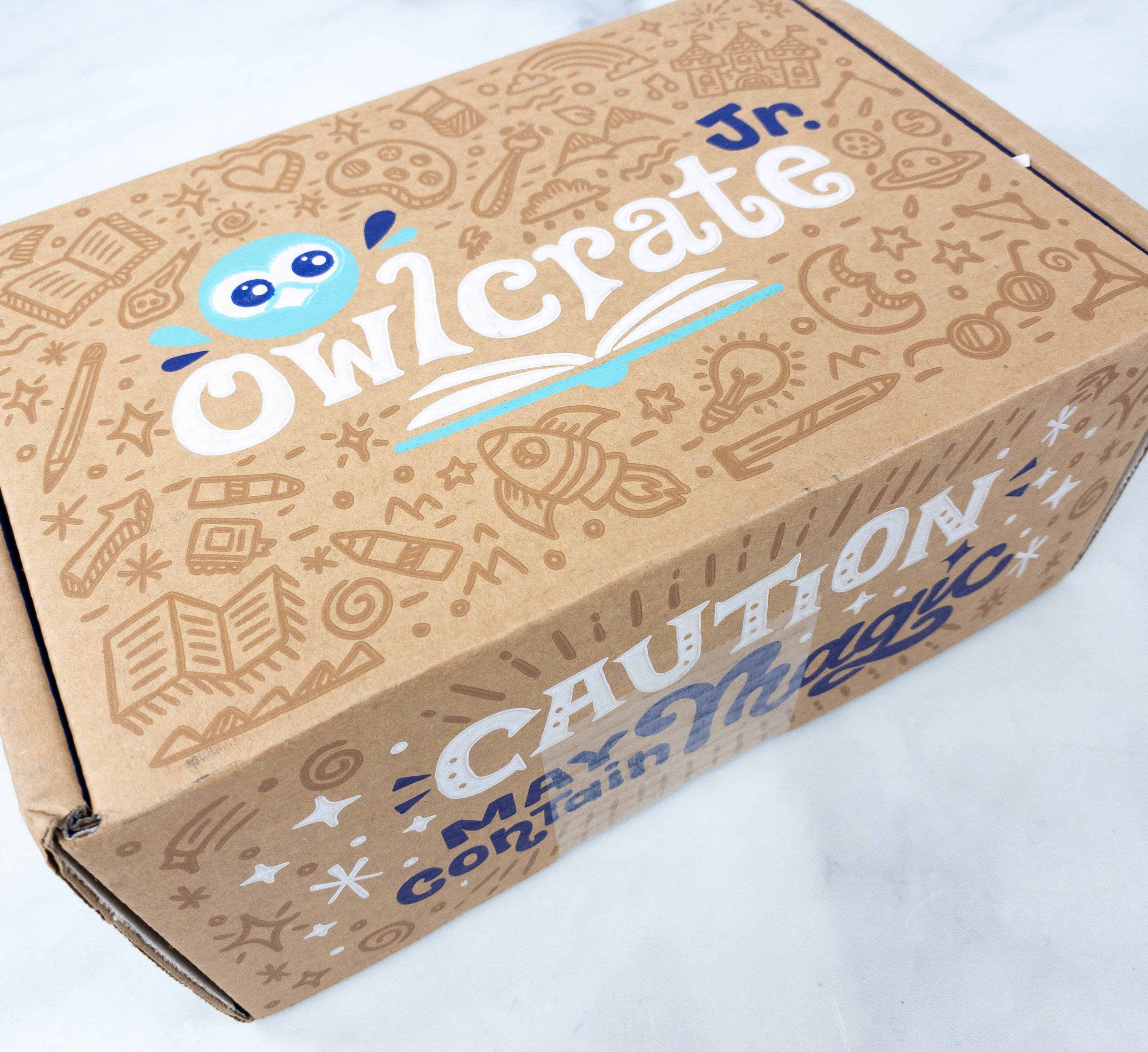 OwlCrate Jr. is a monthly book subscription box for young readers ages 8-12. Each box includes a brand new hardcover novel, an exclusive letter and signed bookplate from the author, fun and unique items based on a theme, a collectible monthly sticker and magazine, and a second book (or game/activity). It's from OwlCrate, a super popular YA (young adult) fiction subscription. They currently offer a Monthly Jr Plan ($29.99 per month), a 3-Month Jr Plan ($86.97 per 3-month period), and a 6-Month Jr Plan ($167.94 per 6-month). Shipping within the US is $8.99 per box. International shipping rates vary.
Owl Crate's middle grade readers box made our readers' choice list of best book boxes for kids!
DEAL: Save 15% on your first 1, 3, or 6-month subscription or gift with the promo code HELLO15 at checkout.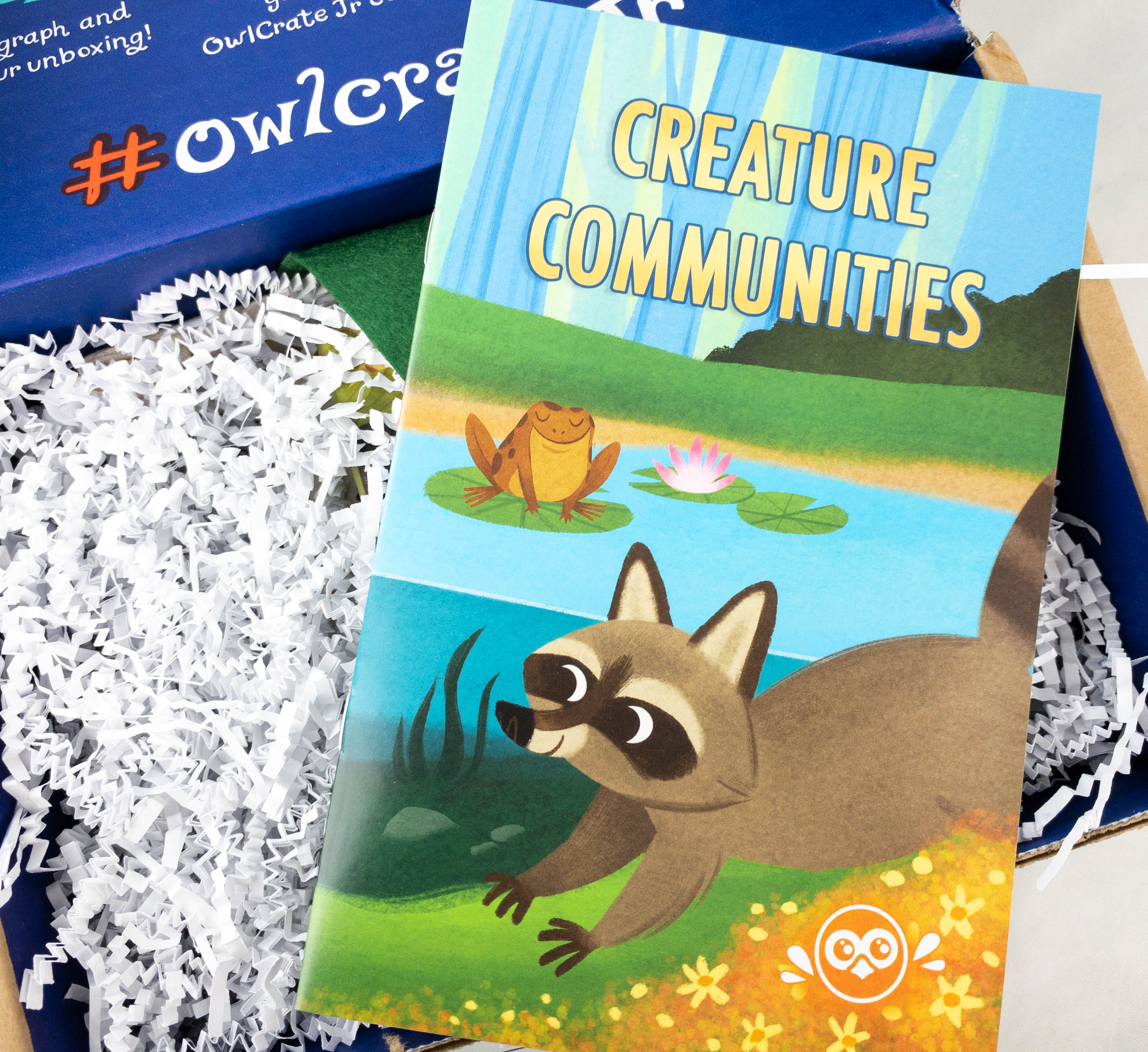 There's a mini booklet featuring the September 2021 OwlCrate Jr. theme, CREATURE COMMUNITIES!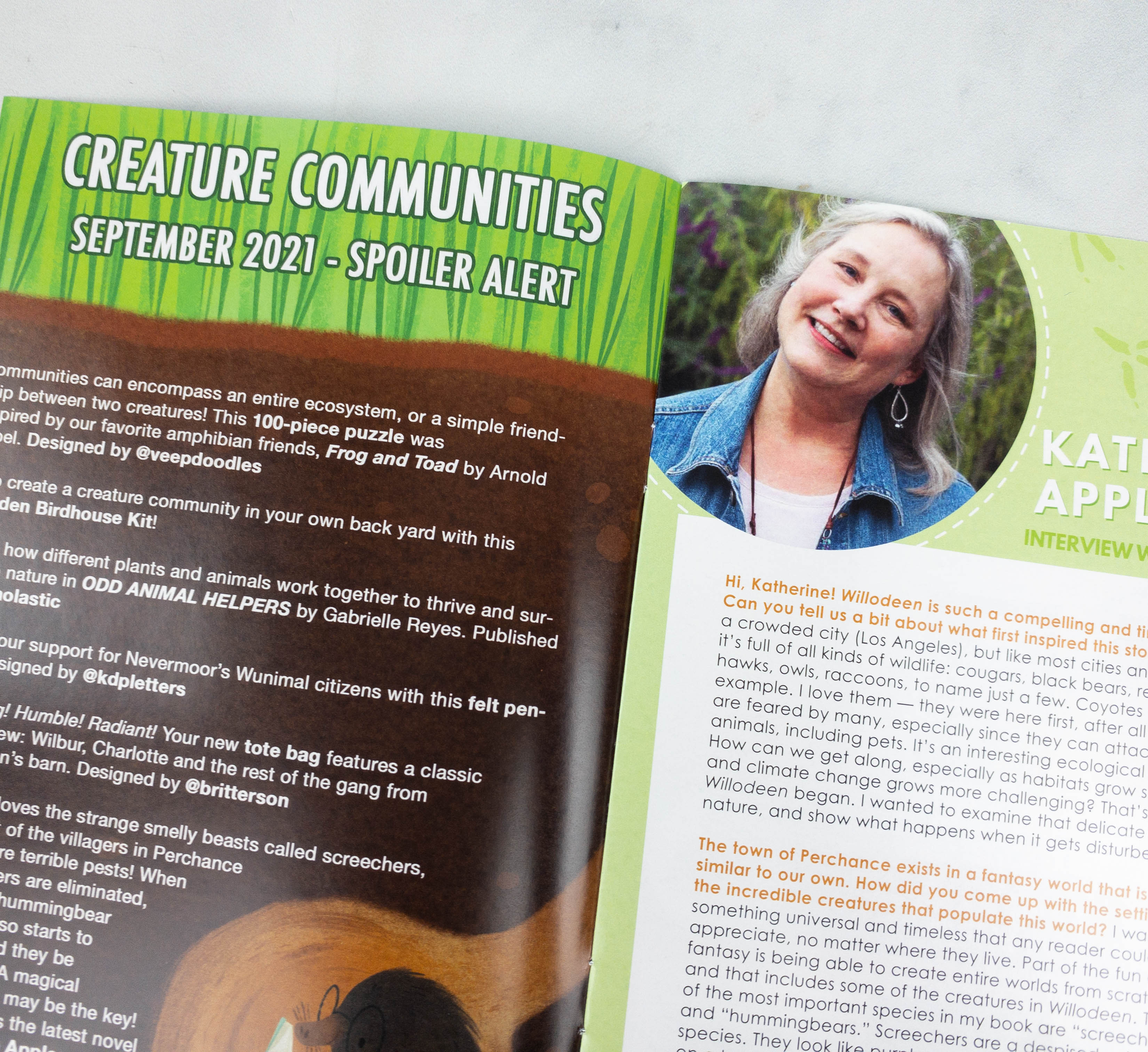 Inside is an interview with this month's featured author, Katherine Willodeen.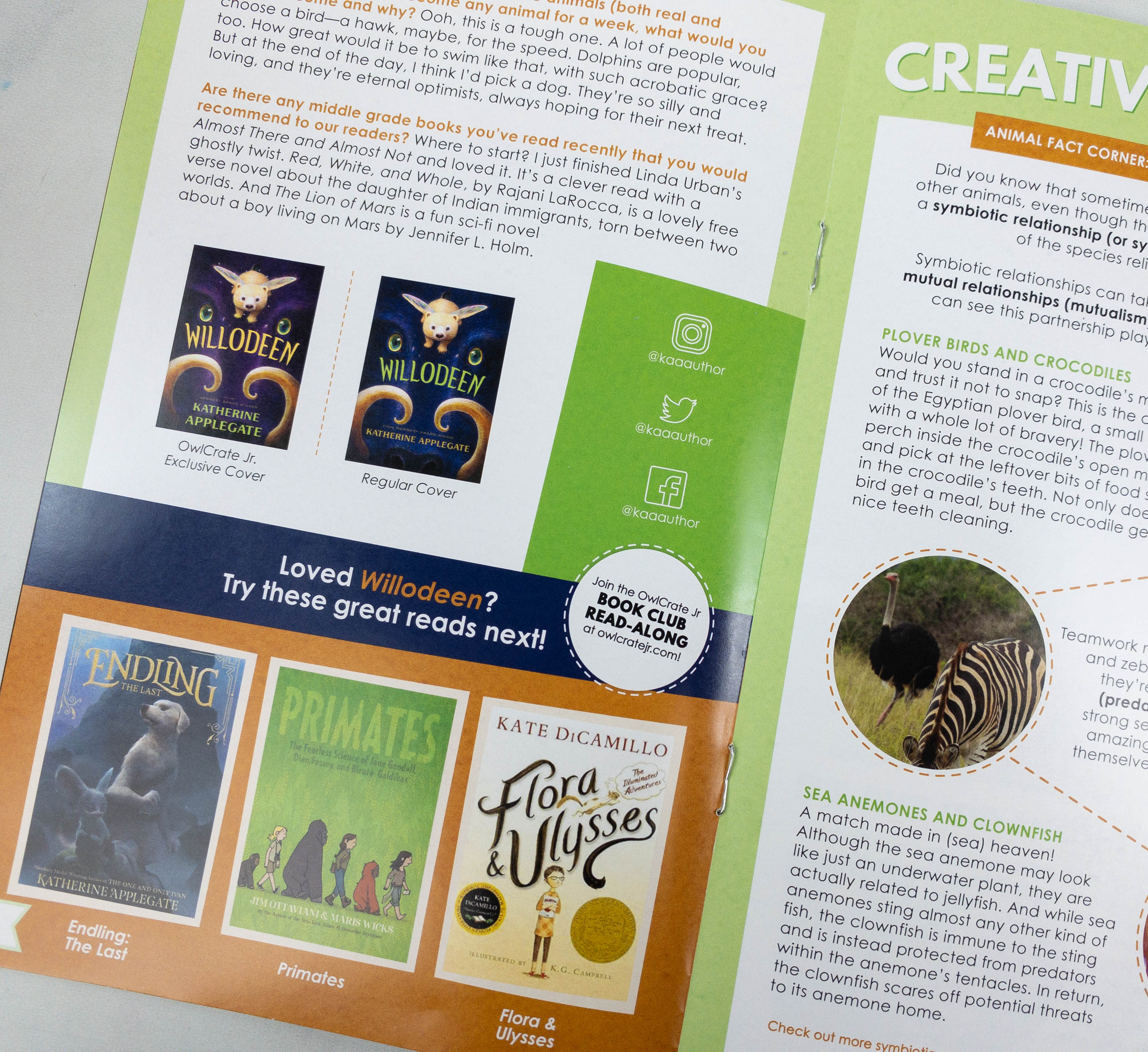 They also suggested some titles for further reading, especially if you love this month's book: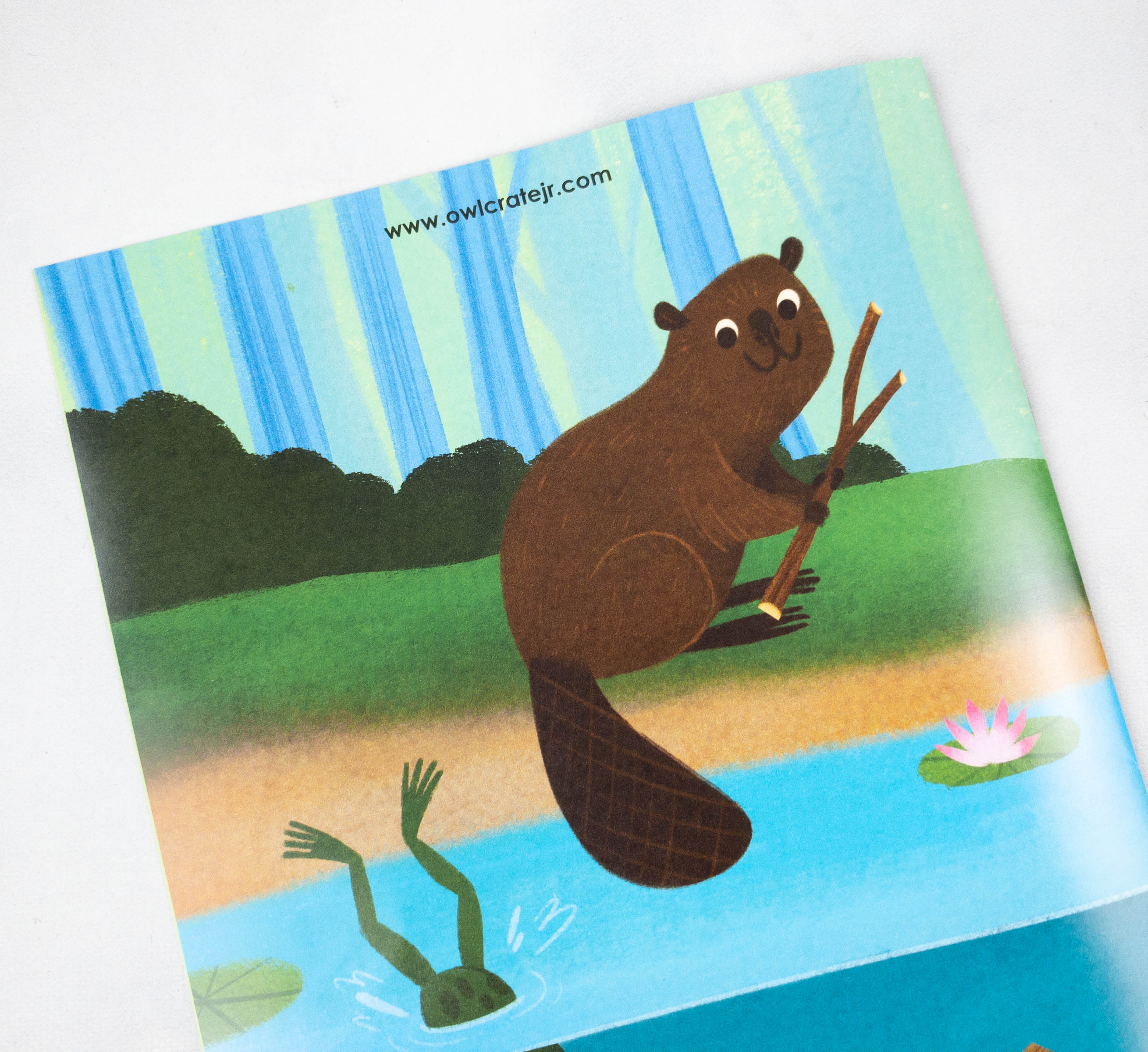 The booklet's design goes all the way to its back cover. How cute!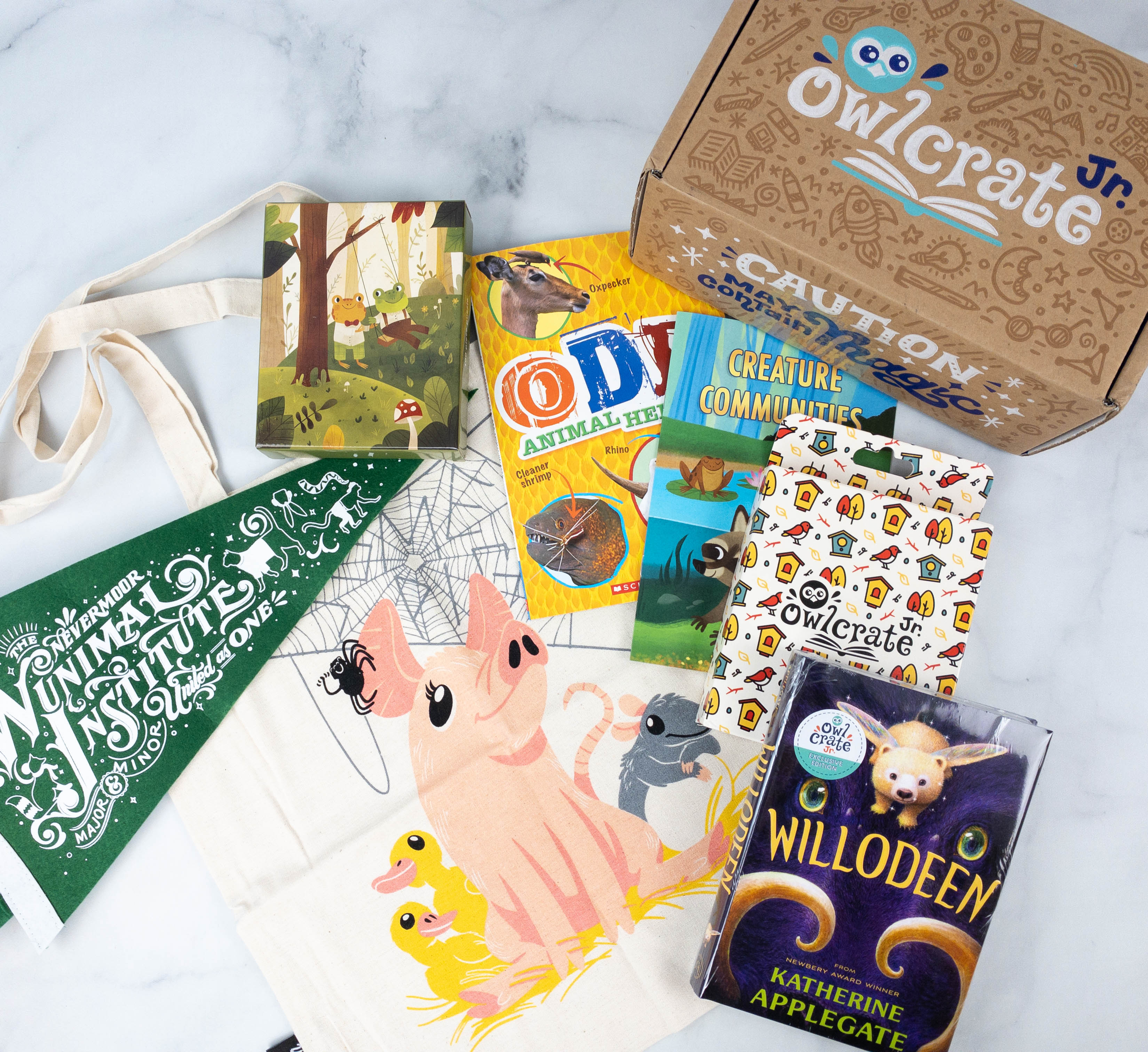 Everything in the September 2021 OwlCrate Jr. box! 
The featured book has a sticker indicating that it's an Owl Crate Jr. exclusive edition.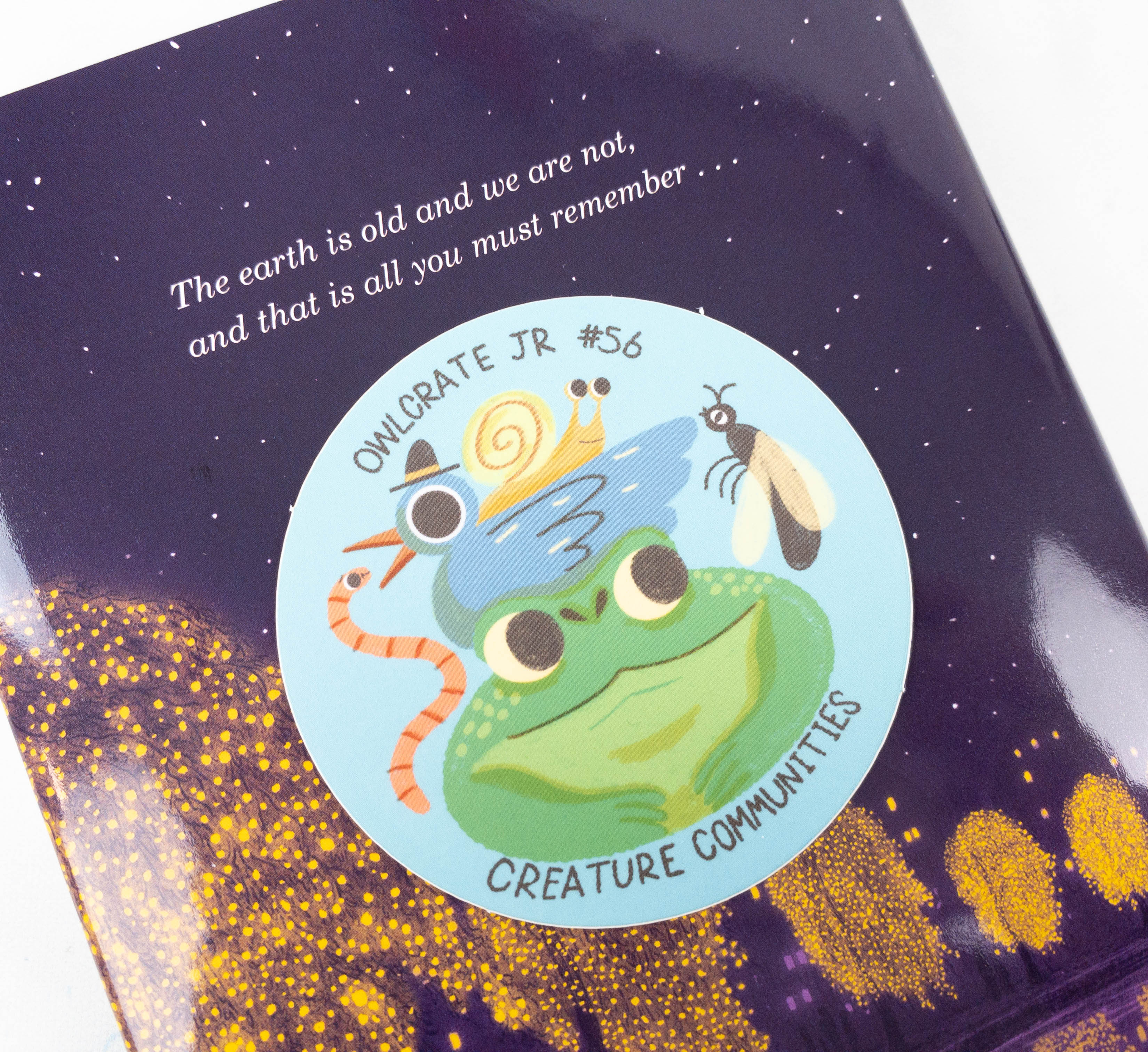 The earth is old and we are not, and that is all you must remember…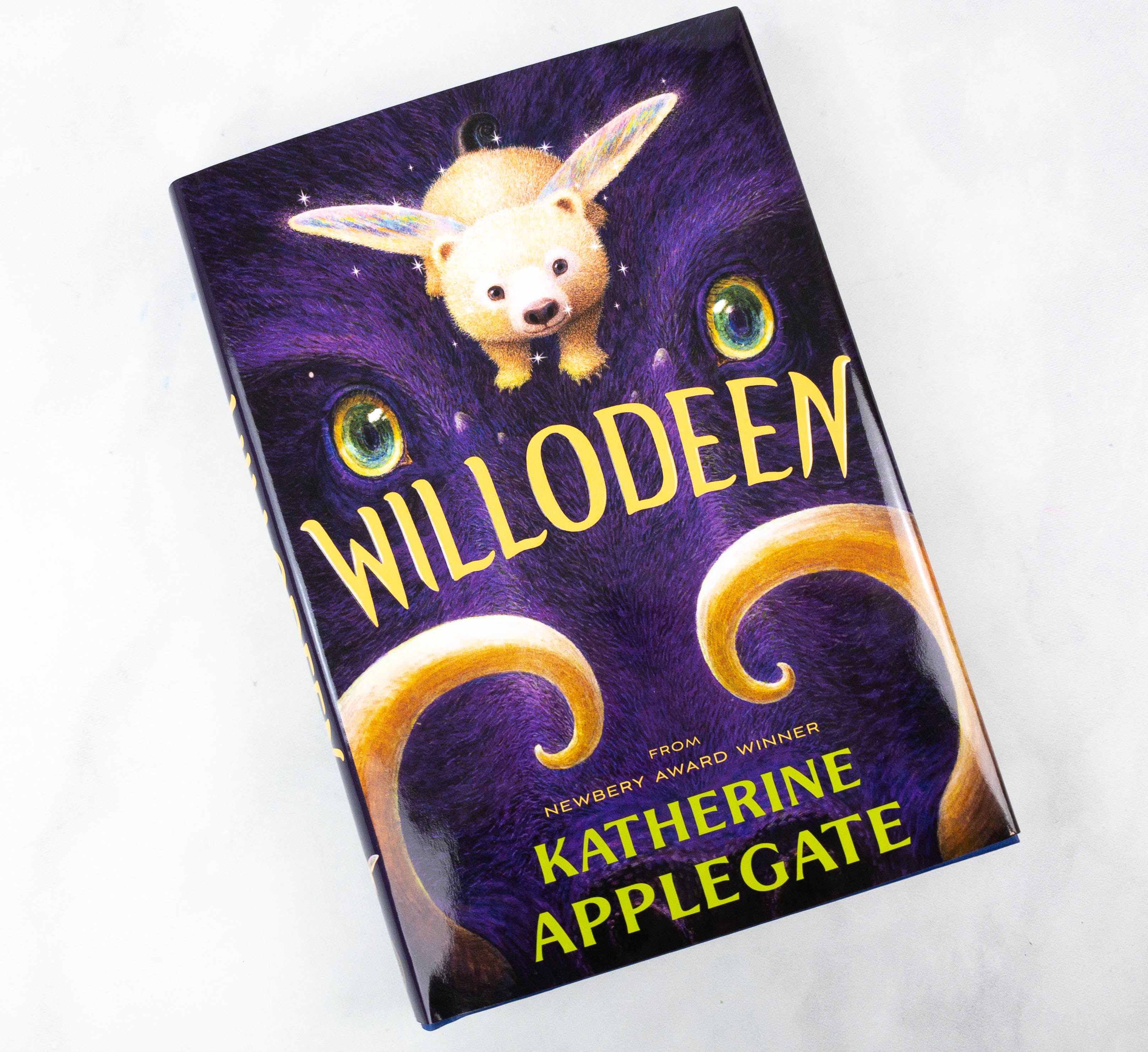 Willodeen by Katherine Applegate ($13.99)
From #1 New York Times bestseller Katherine Applegate, a singular middle-grade novel about a girl who risks everything to help a handmade creature who comes to life.

The earth is old and we are not, and that is all you must remember . . .

Eleven-year-old Willodeen adores creatures of all kinds, but her favorites are the most unlovable beasts in the land: strange beasts known as "screechers." The villagers of Perchance call them pests, even monsters, but Willodeen believes the animals serve a vital role in the complicated web of nature.

Lately, though, nature has seemed angry indeed. Perchance has been cursed with fires and mudslides, droughts and fevers, and even the annual migration of hummingbears, a source of local pride and income, has dwindled. For as long as anyone can remember, the tiny animals have overwintered in shimmering bubble nests perched atop blue willow trees, drawing tourists from far and wide. This year, however, not a single hummingbear has returned to Perchance, and no one knows why.

When a handmade birthday gift brings unexpected magic to Willodeen and her new friend, Connor, she's determined to speak up for the animals she loves, and perhaps even uncover the answer to the mystery of the missing hummingbears.

A timely and timeless tale about our fragile earth, and one girl's fierce determination to make a difference.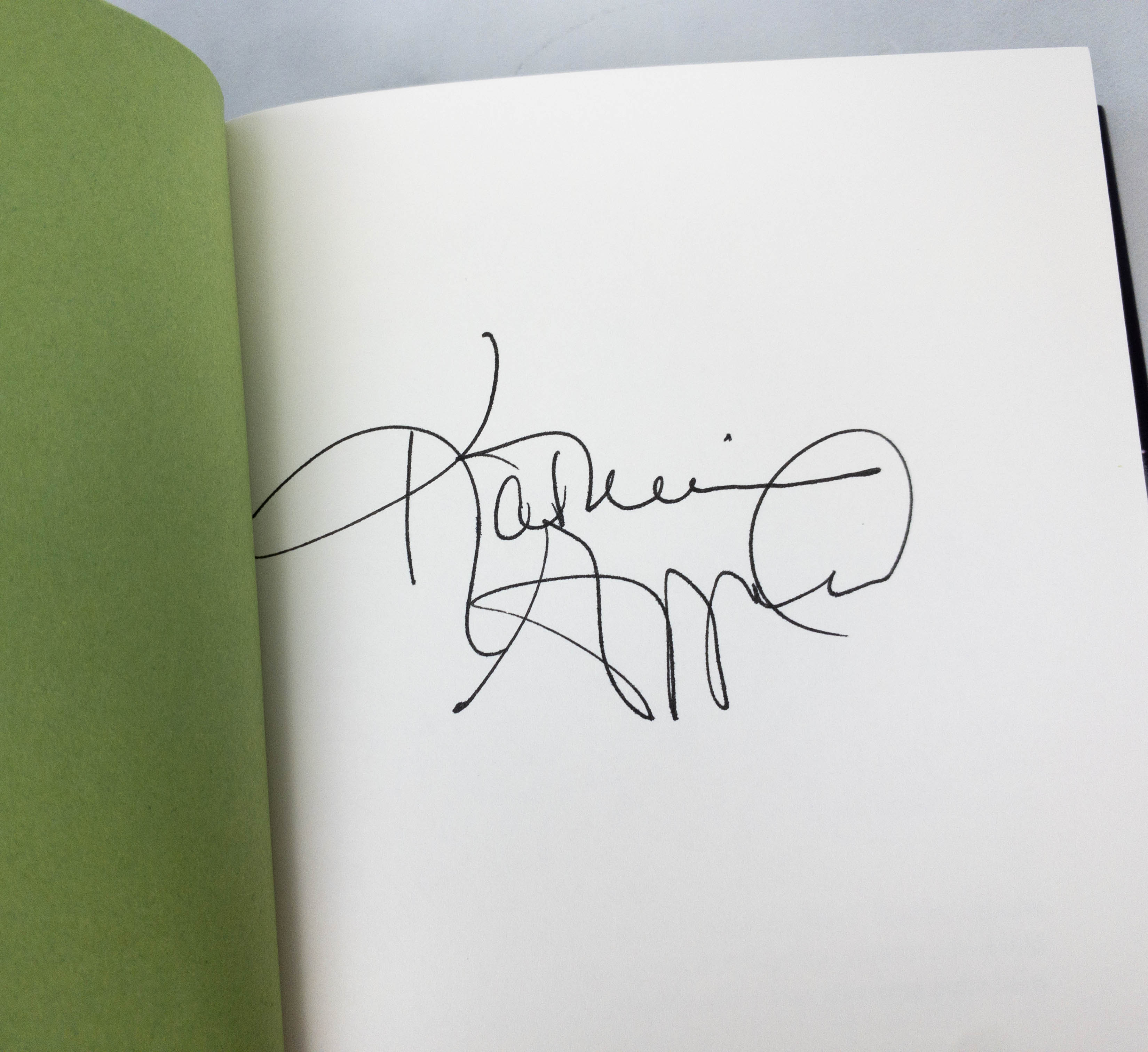 The author's signature is on the first page of the book.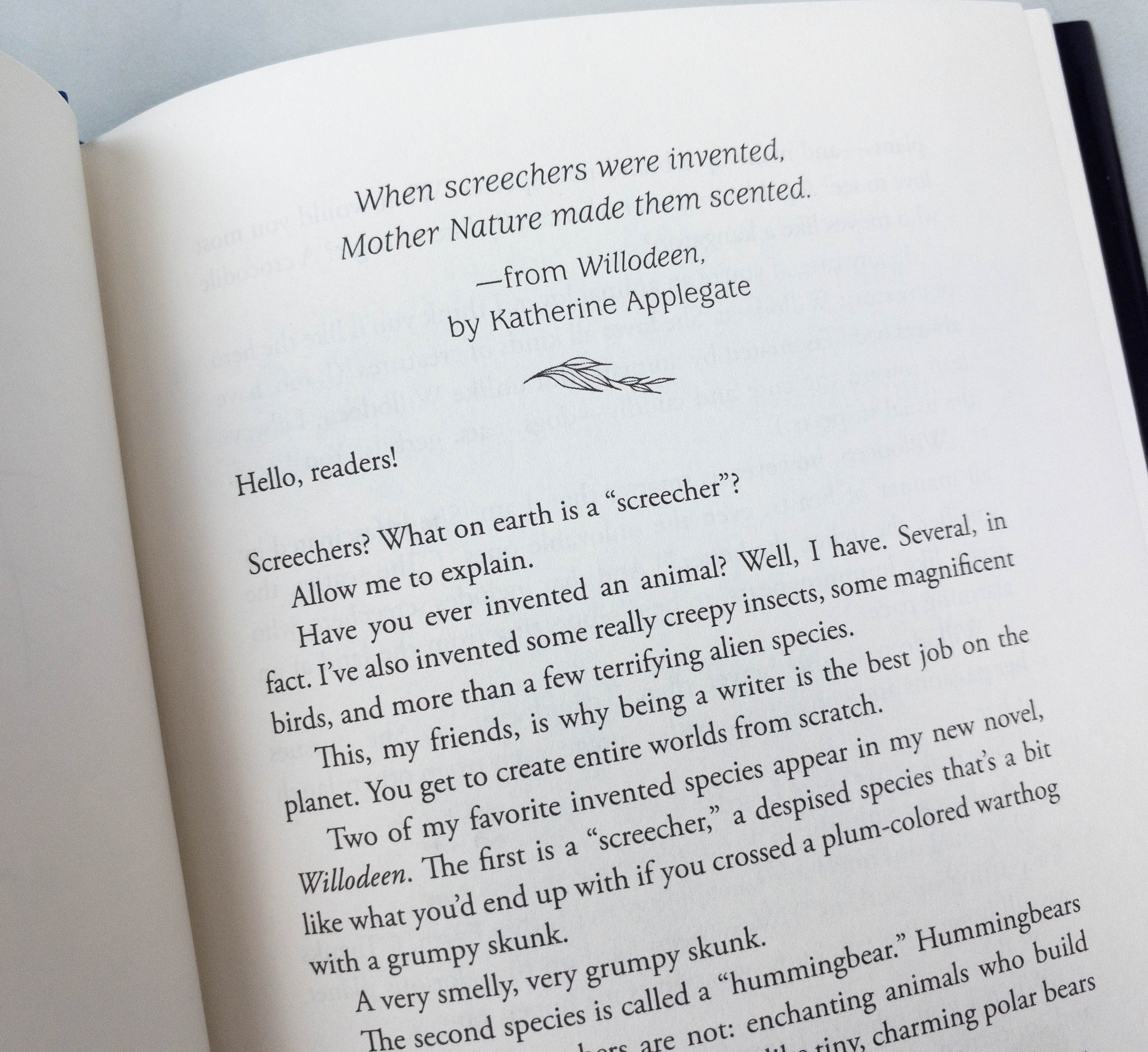 It also contains an introduction from the author.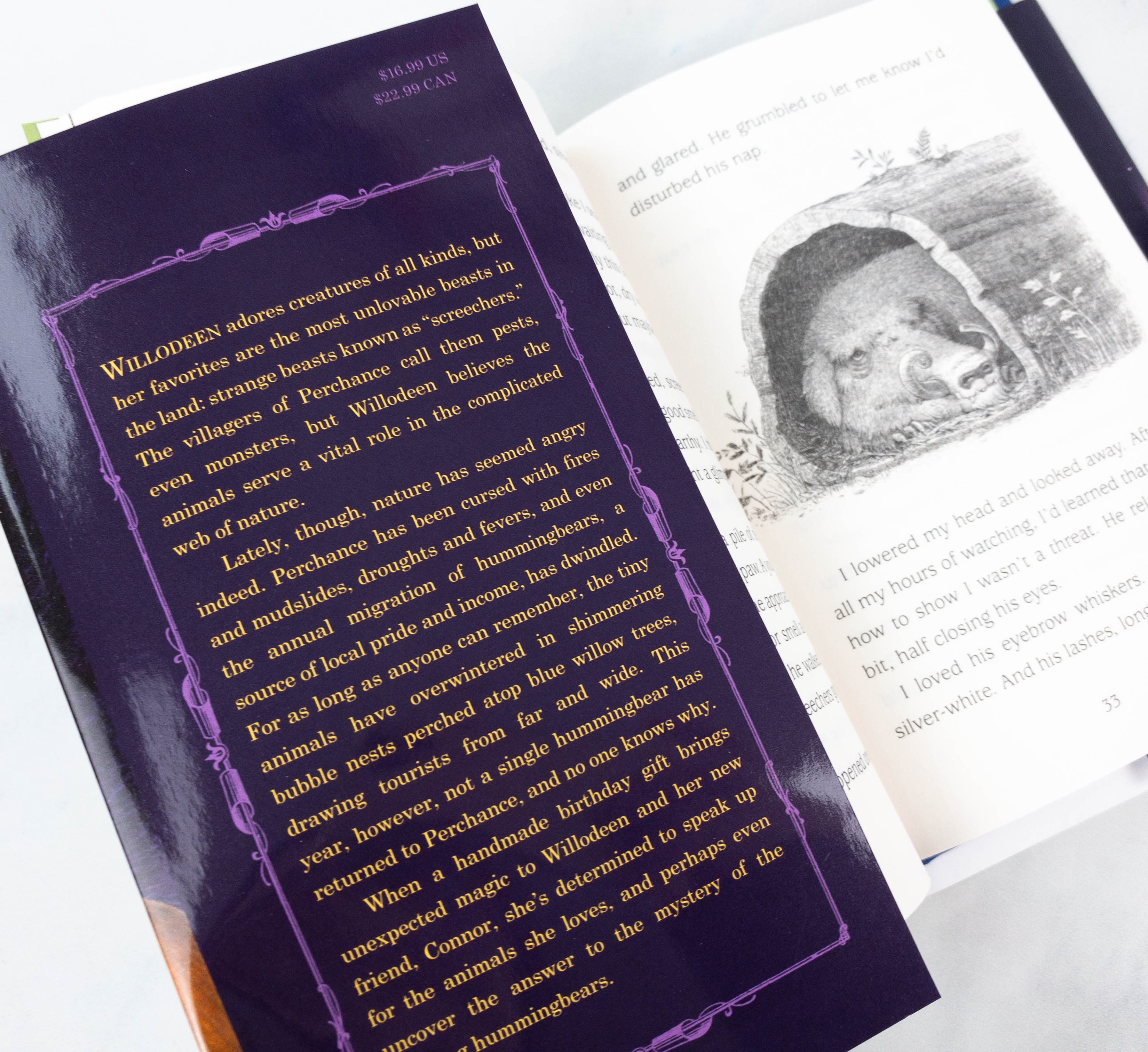 This book is about a timeless tale about our fragile earth, and Willodeen's love for creatures and fierce determination to make a difference. It's a great middle grade read, especially for fans of fantasy! It is, however, on the much younger end.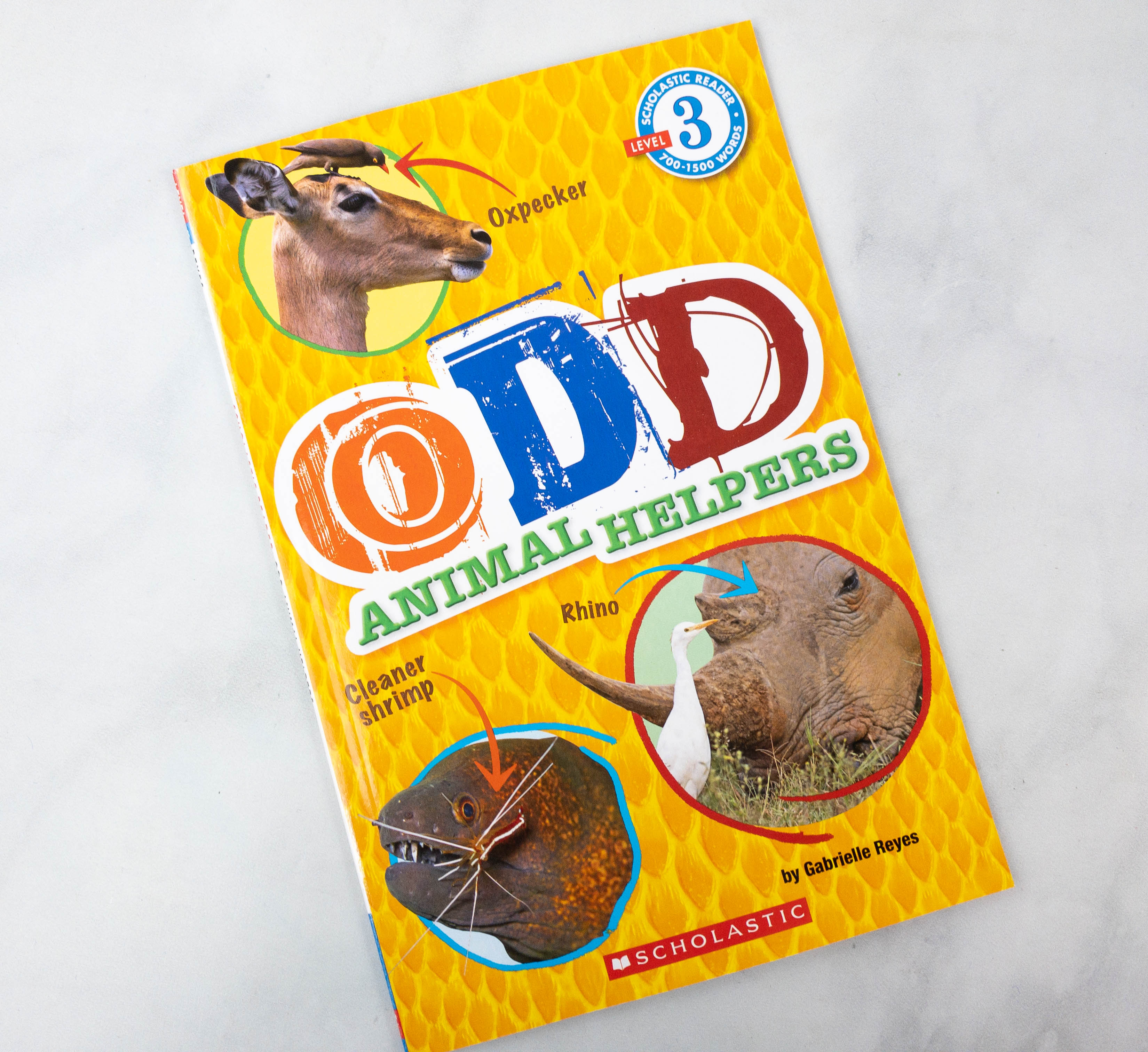 Odd Animal Helpers by Gabrielle Reyes ($3.99) So was this item. My newly minted 7 year old was happy to see this, but my 10 and 12 year olds? Nope.
See how the most unlikely animals work together!

Everyday, countless animals and plants work together in unique ways. Although some of these symbiotic relationships are unexpected, like a large rhinoceros needing the help of a small bird, all of them are essential for the animal's survival. This reader will provide a basic introduction to a variety of symbiotic relationships, including those in which only one side benefits.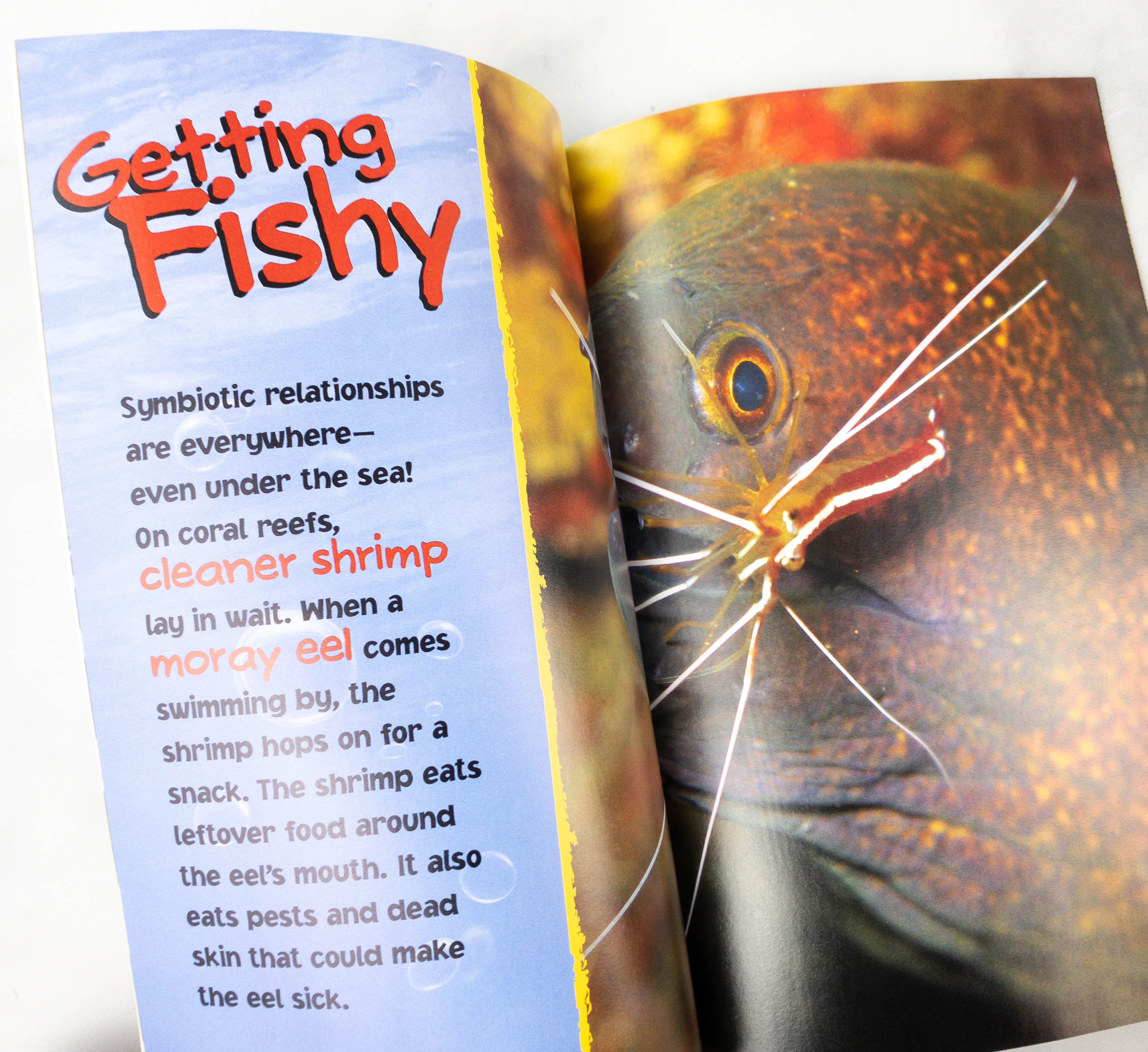 The box includes another interesting book, and it's all about plants and animals. The fun facts are  accompanied by captivating photos as well.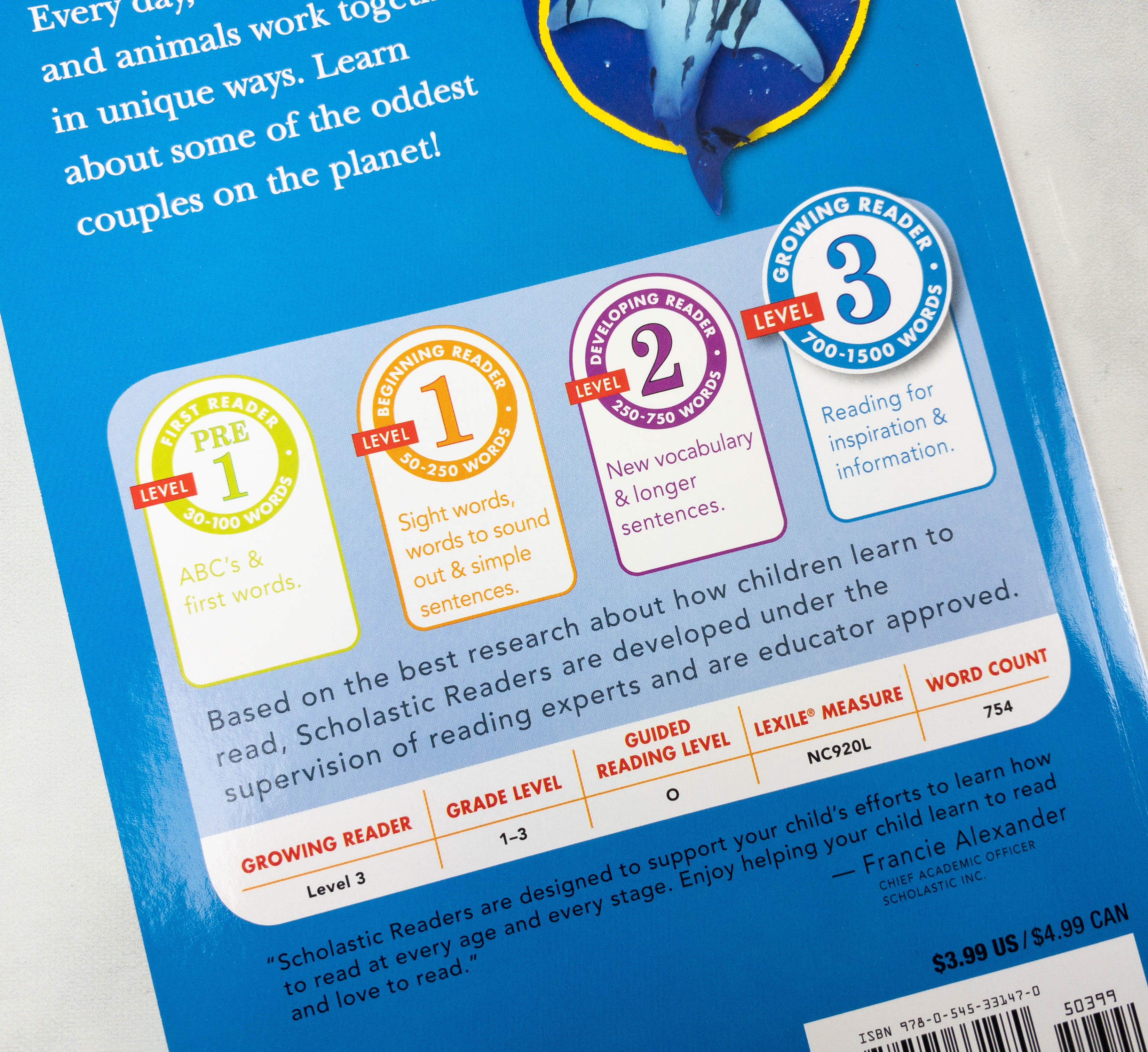 The book is made specifically for Scholastic Level 3 or Growing Reader, which covers reading for inspiration and information. This missed the mark for us.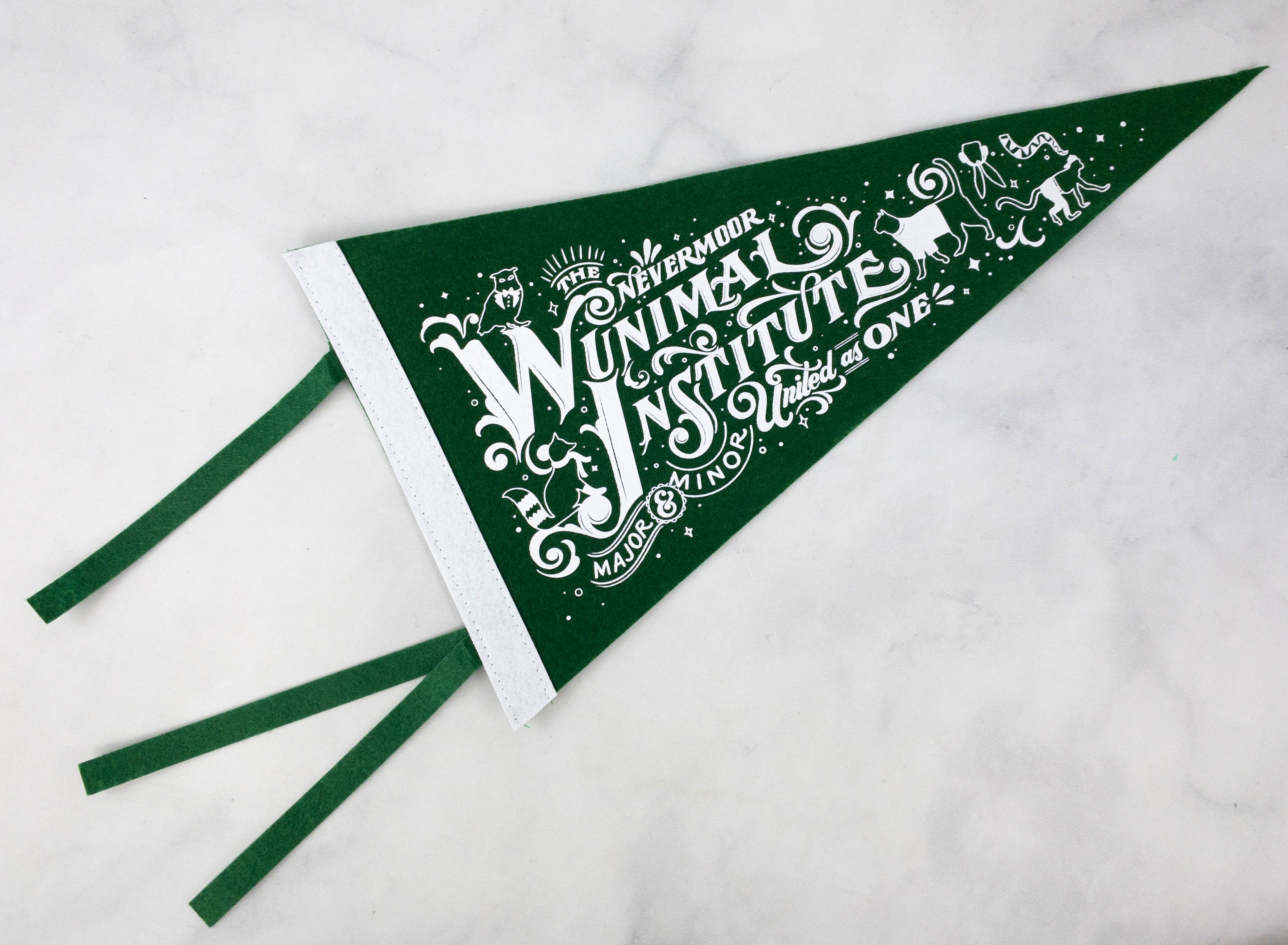 Banner. It's a felt pennant banner, inspired by Nevermoor! This is perfect for displaying in a bedroom or a reading nook.
Included in the design are animal images like owl, fox, cat, rabbit, monkey, and even a snake. I love the quality of the print and the pennant itself!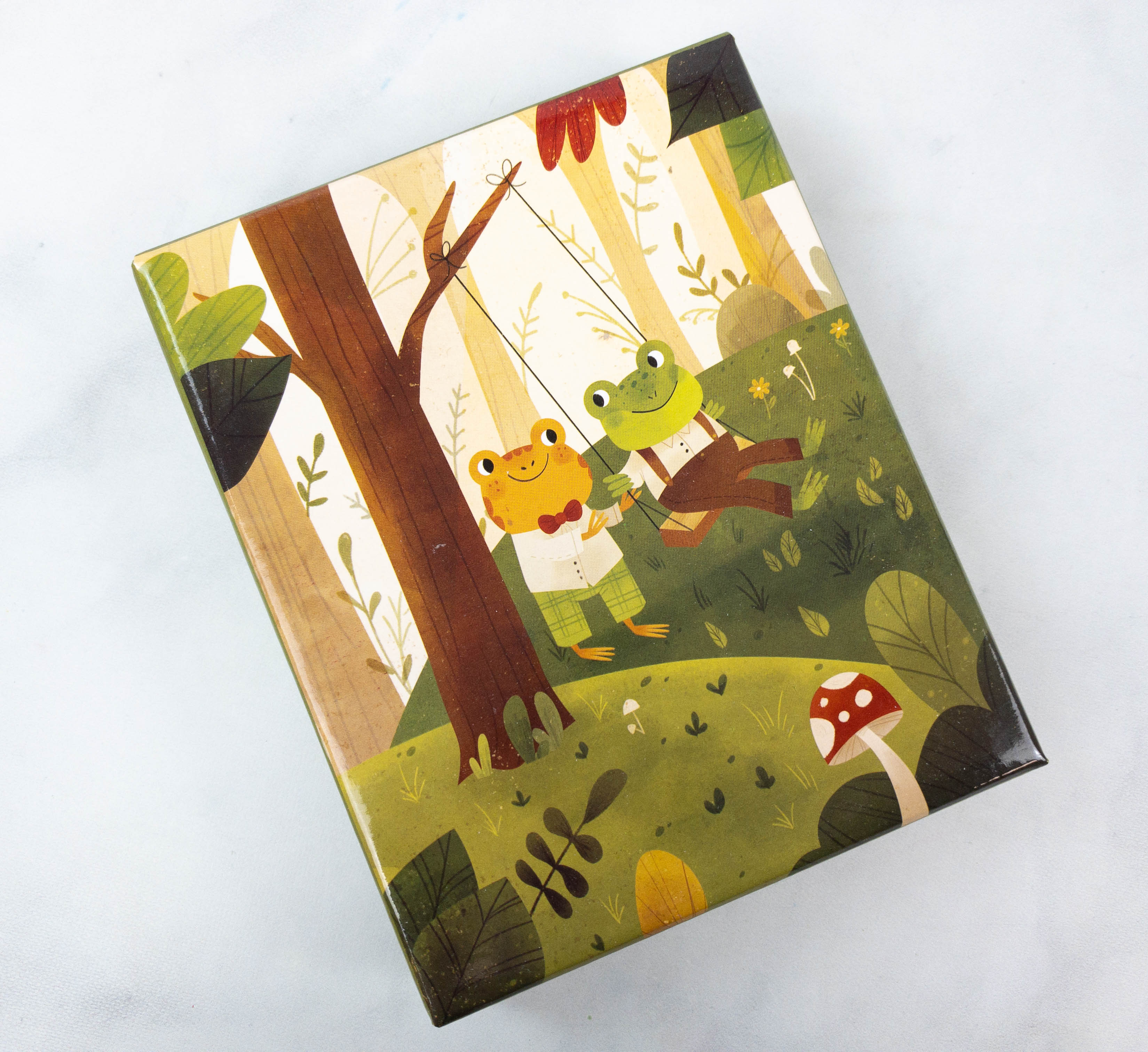 100-Piece Puzzle. There's also a cute puzzle for the kids and it features an illustration of a frog and a toad playing in the forest! It's a nice way to pass time and also a good brain exercise.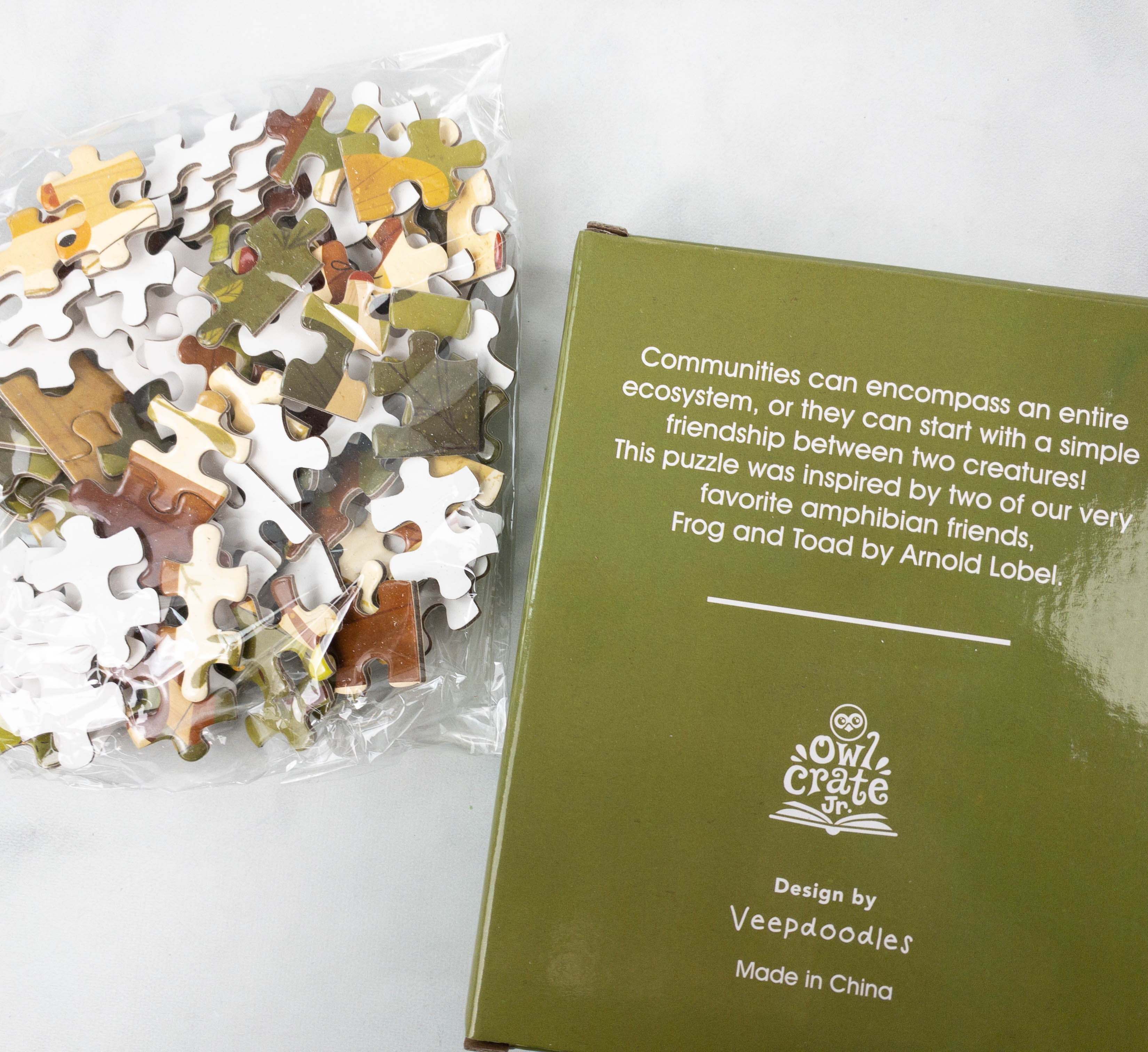 This is designed by Veepdoodles exclusively for Owl Crate Jr.
Communities can encompass an entire ecosystem, or they can start with a simple friendship between two creatures! This puzzle was inspired by two of our very favorite amphibian friends, Frog and Toad by Arnold Lobel.
My kids eagerly put this one together but we couldn't find one of the pieces. We think it might be under the TV stand.
Birdhouse Kit. Another fun inclusion in the box is this birdhouse kit, and it's packed in its own box with cute drawings all over.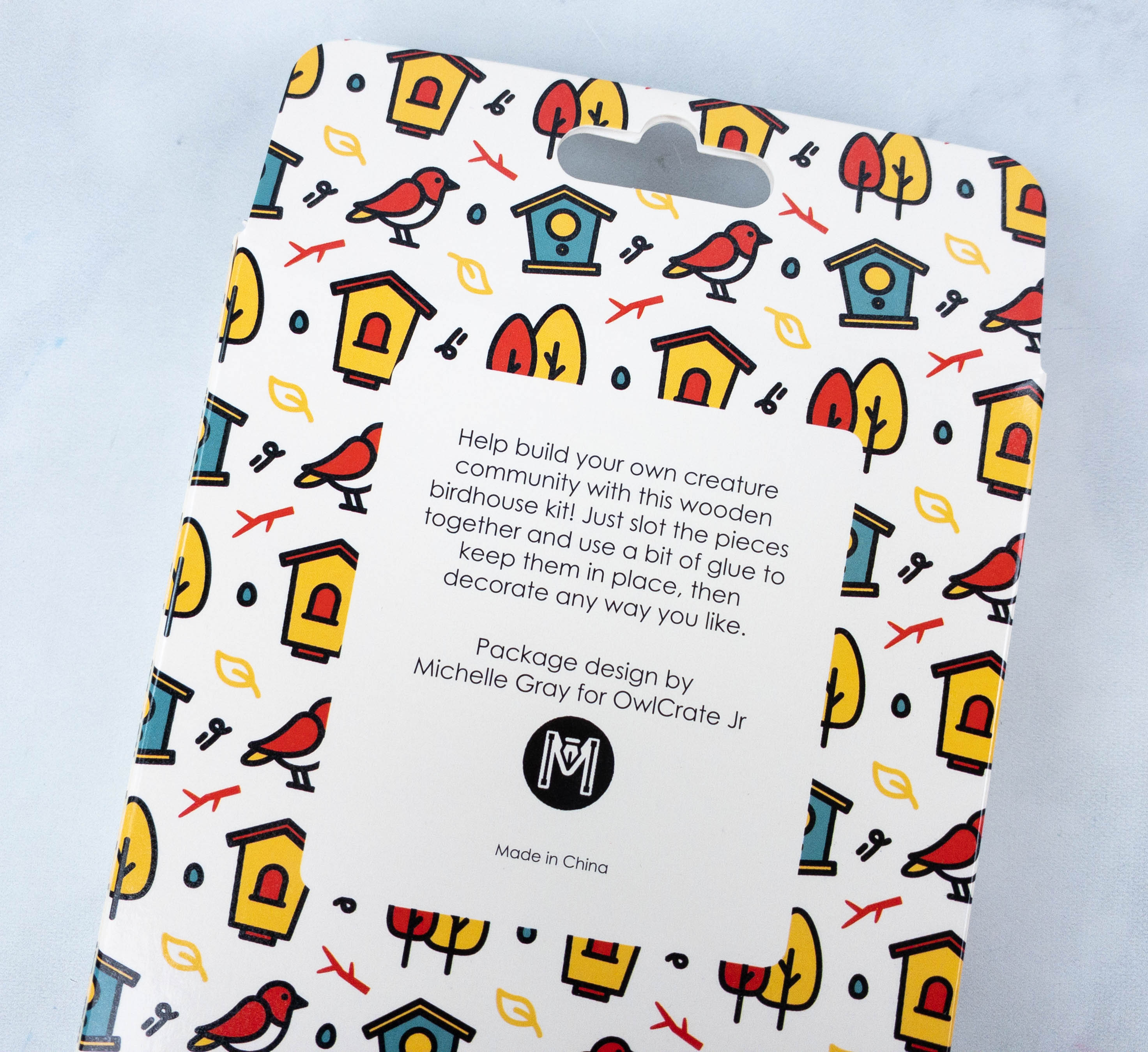 Help build your own creature community with this wooden birdhouse kit! Just slot the pieces together and use a bit of glue to keep them in place, then decorate any way you like.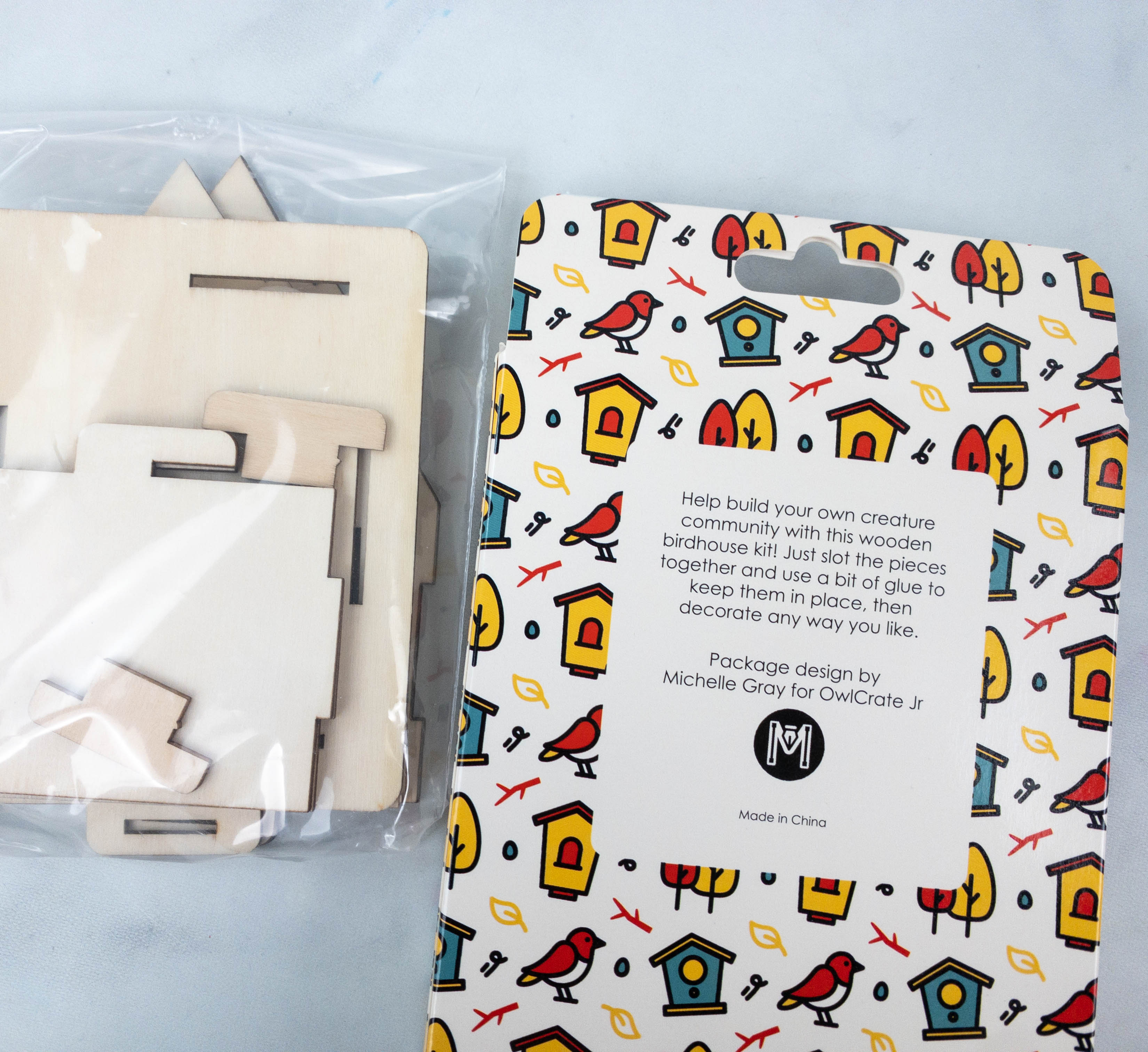 All the wooden pieces are packed inside a plastic bag.
Putting the pieces together is easy, my son had no problem assembling them (except for the roof, which wasn't quite right, I did that) and did not need glue to keep them in place. He's painted it and hung it outside. It really captured his imagination.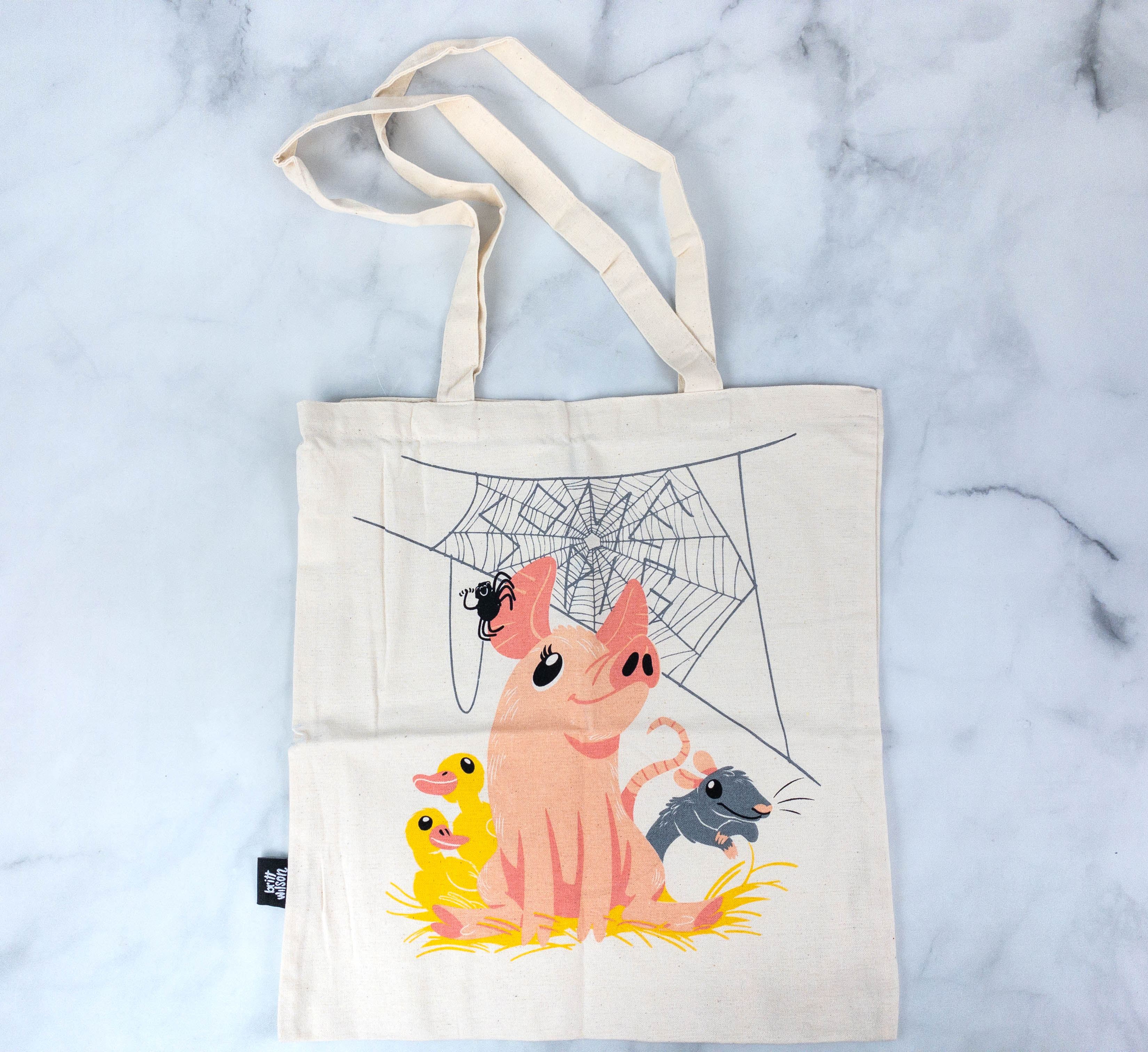 Tote Bag. Lastly, here's a Charlotte's Web themed tote bag! The print includes Charlotte, Wilbur, Templeton, and two of the seven goslings. It's a great bag for bringing a couple of books outdoors or even for stationery items.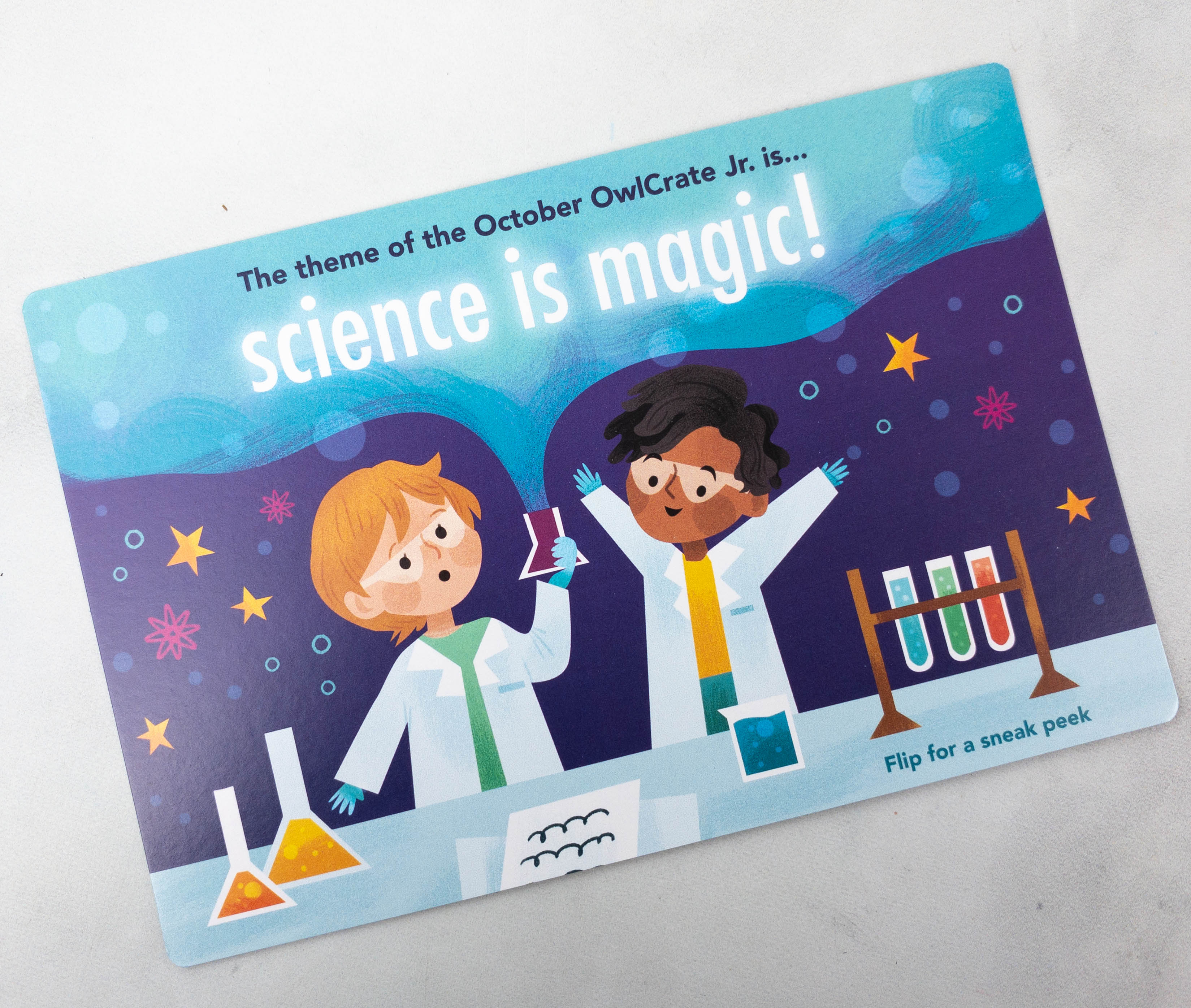 Here's the teaser for next month's box!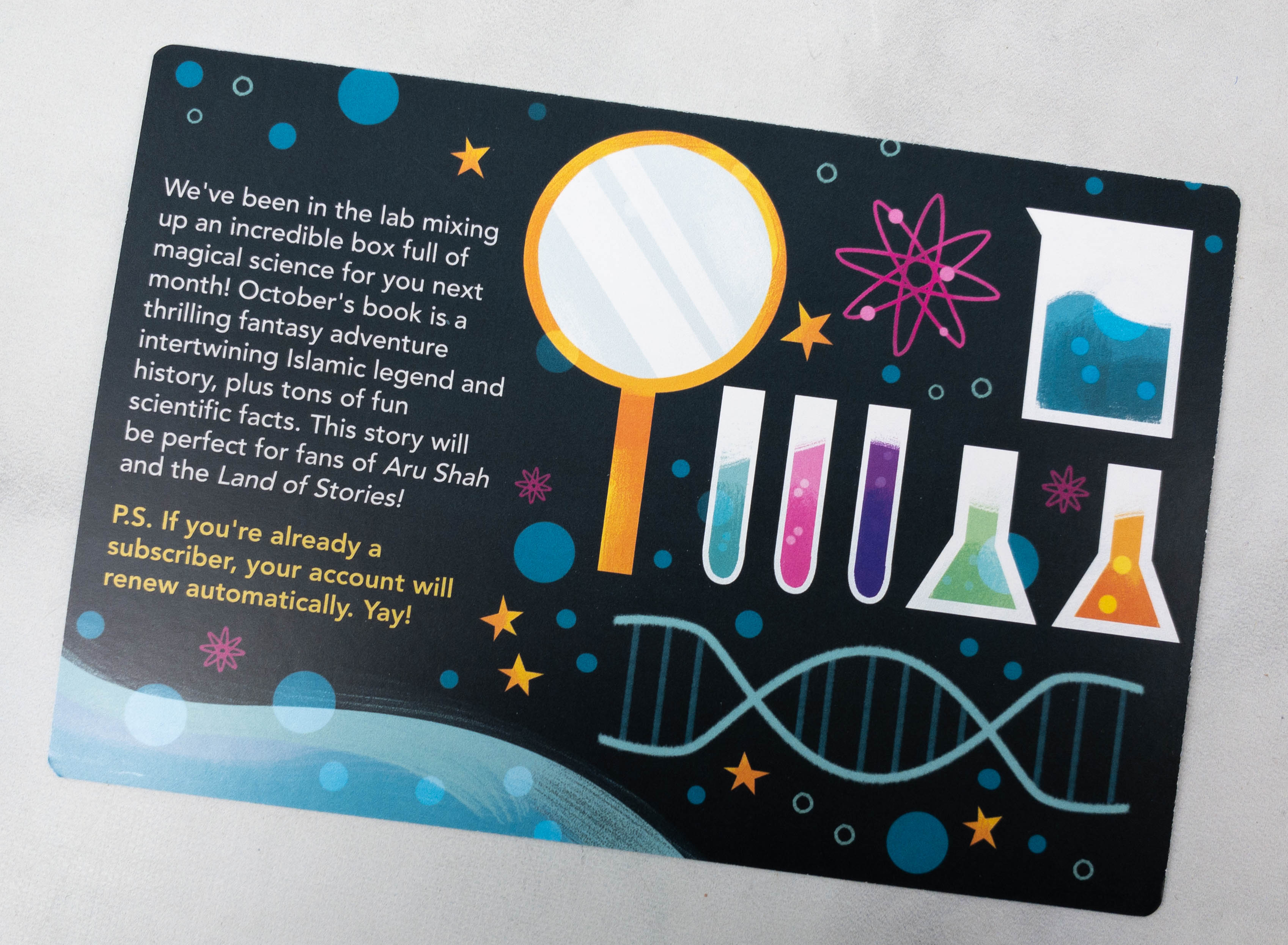 They say it's "a box full of magical science"!
My son loves OwlCrate Jr. and this month's curation was great – but seemed geared for the younger end (or even below) their target age range! The featured middle grade novel is filled with fantasy elements that he enjoyed, and there's even a second book featuring fun facts about symbiotic relationships between plants and animals that was appropriate for little kids, but not middle grade readers. The bookish goodies were also great, which includes a fun puzzle and birdhouse kit! Overall, this is a good subscription to encourage middle graders to read and this is perhaps the only box we've ever received from this subscription that I felt wasn't just perfect.
What did you think of the OwlCrate Jr. box this month?
Visit OwlCrate Jr. to subscribe or find out more!