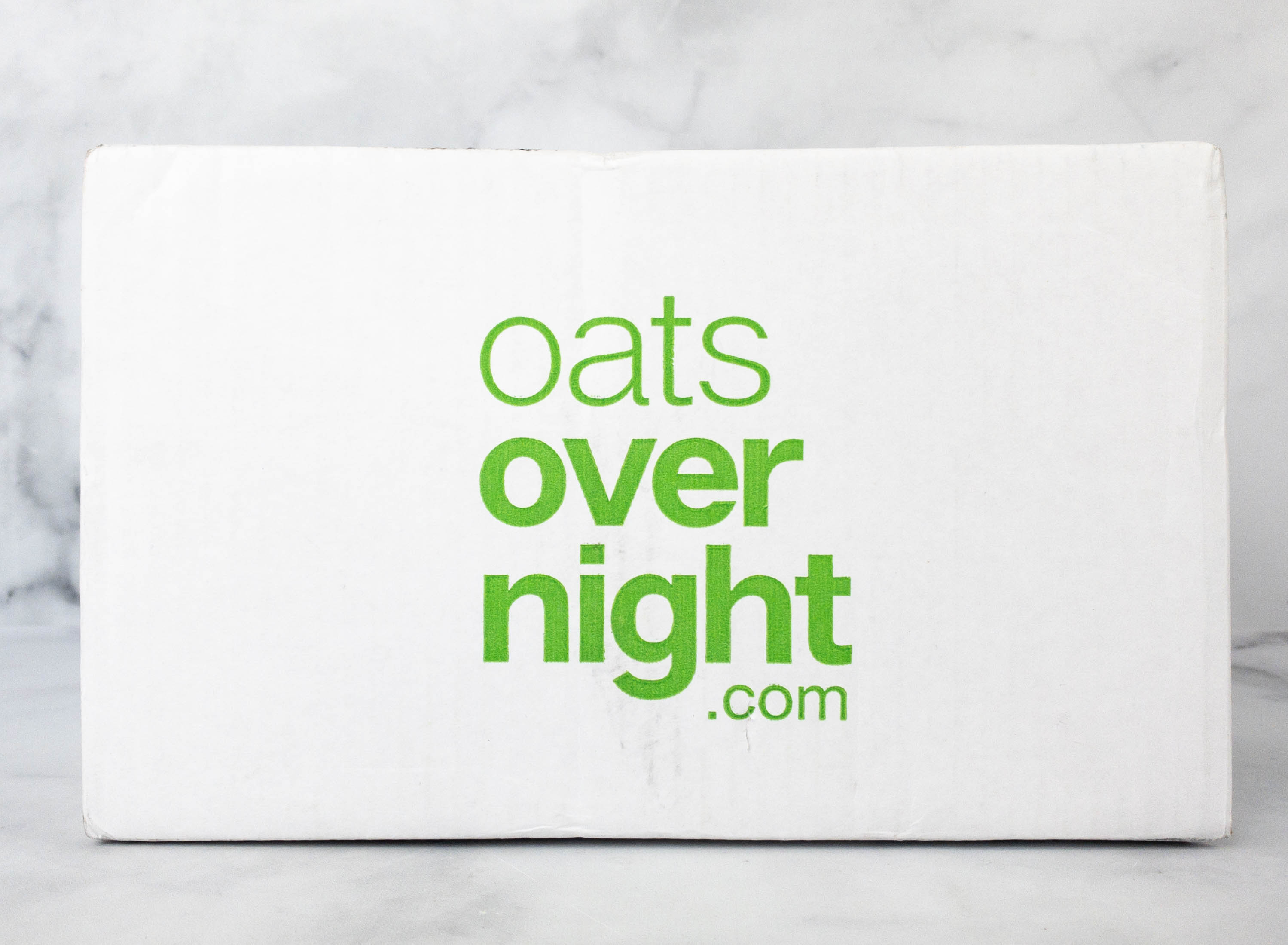 Oats Overnight offers pre-packaged overnight oats in a variety of flavors. Each serving has 20-22g of custom protein, designed to give you the fuel your body needs. Each serving comes loaded with superfoods, which may include chia seeds, flax, and maca powder, along with their custom protein. They have a flexible subscription plan, which allows you to customize the oatmeal flavors you will receive in each box, as well as the subscription quantities and delivery interval. Your first box will include a free blender bottle on your first order.
Currently, the available flavors are Chocolate Peanut Butter Banana, Strawberries & Cream, Peanut Butter Cookie Crunch, Mocha Dream (caffeinated), Maple Pancakes, Green Apple Cinnamon, Peach Upside Down Cake, Blueberry Cobbler, Mint Chocolate Chip Cookie, Chai Latte (caffeinated), and Birthday Cake. They have limited edition flavors that they're introducing all the time. You can also get them by packs: Party Pack and Classic Variety Pack. An 8-meal subscription is $26.10 and a 16-meal subscription is $49.50. The maximum order is the 24-meal subscription for $71.10.
This is the review of Oats Overnight Party Pack!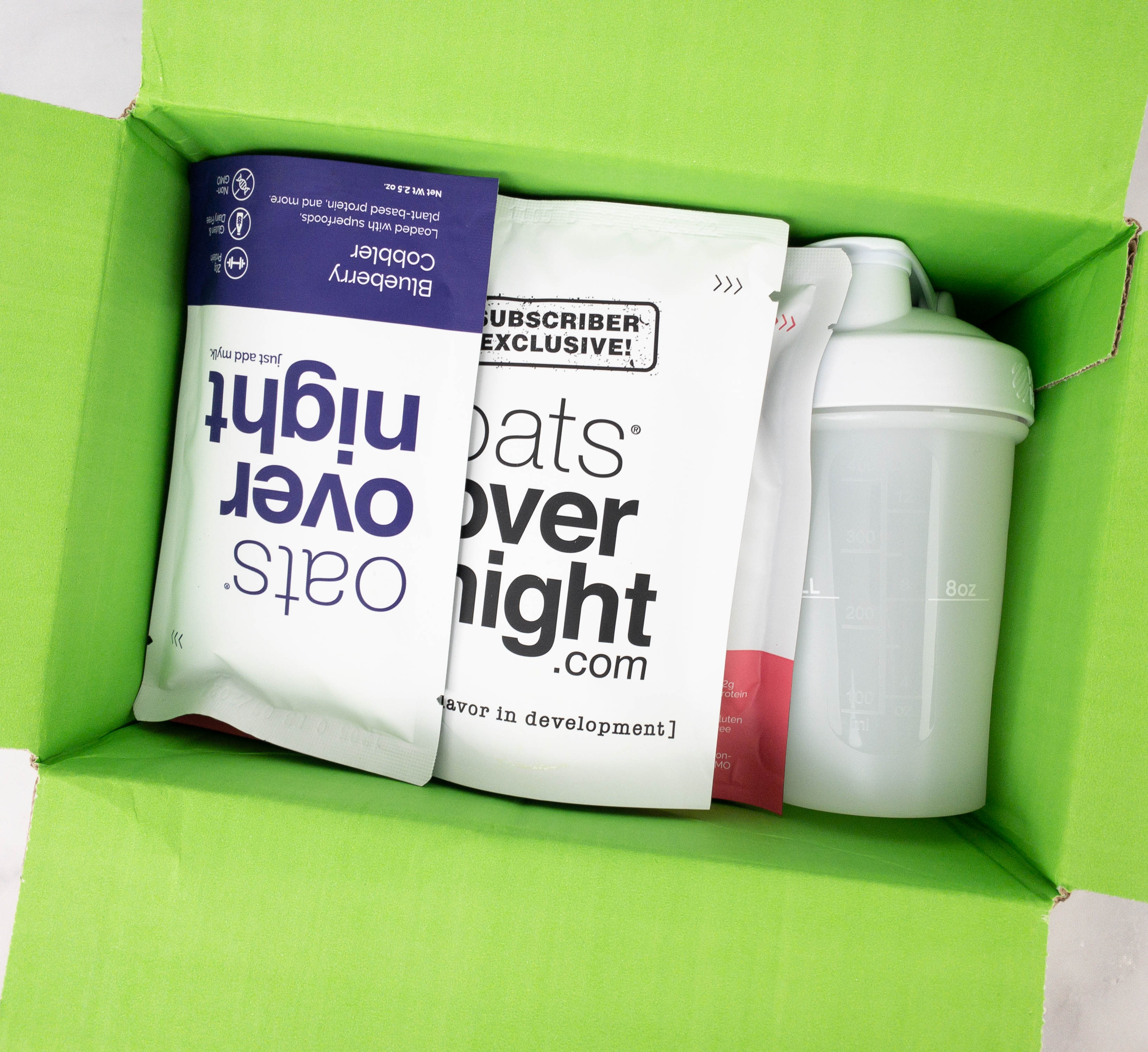 Oats Overnight uses gluten-free oats. They also have a strict no glyphosate (chemicals found in weed killers or herbicides) policy.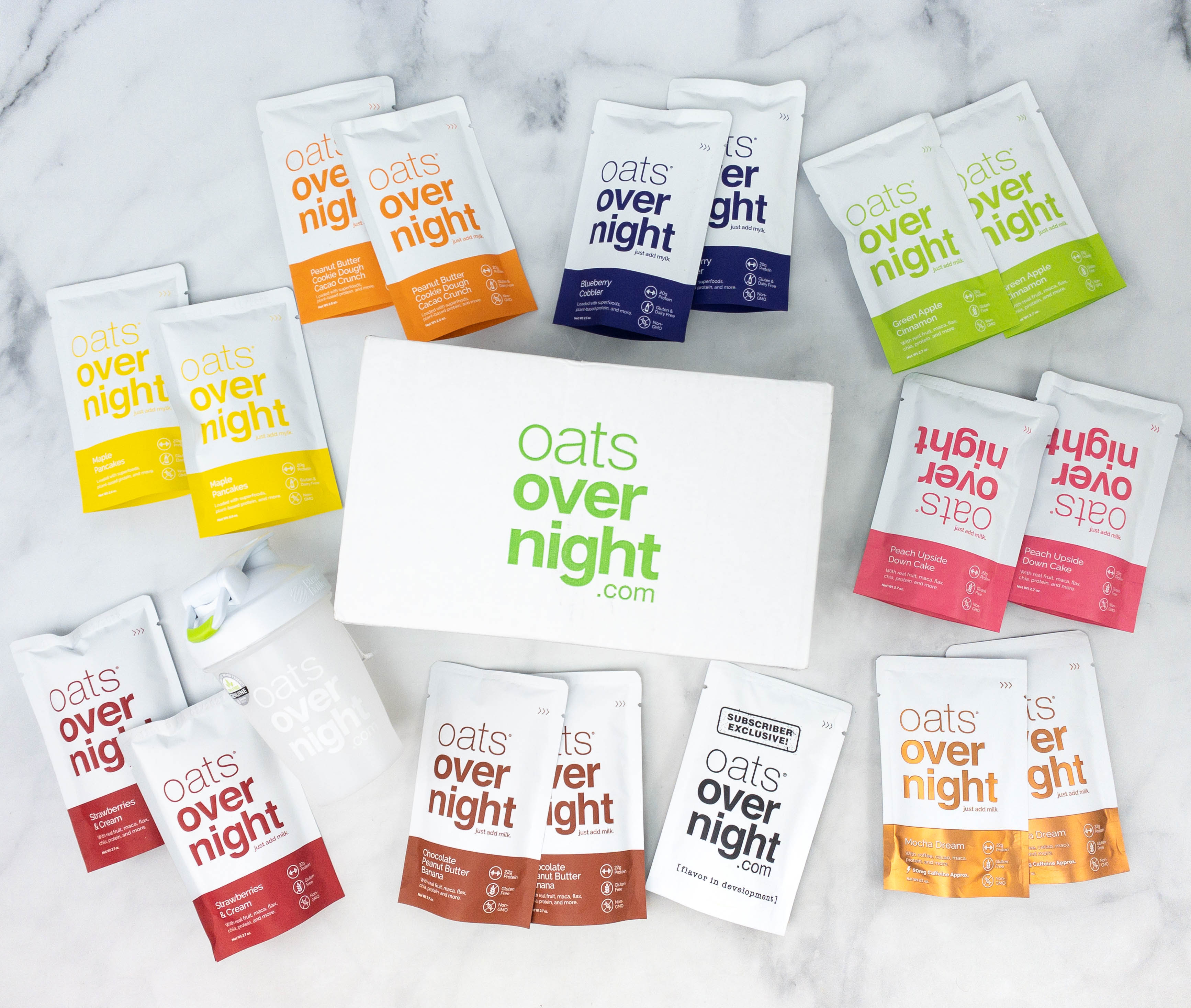 Everything in my box!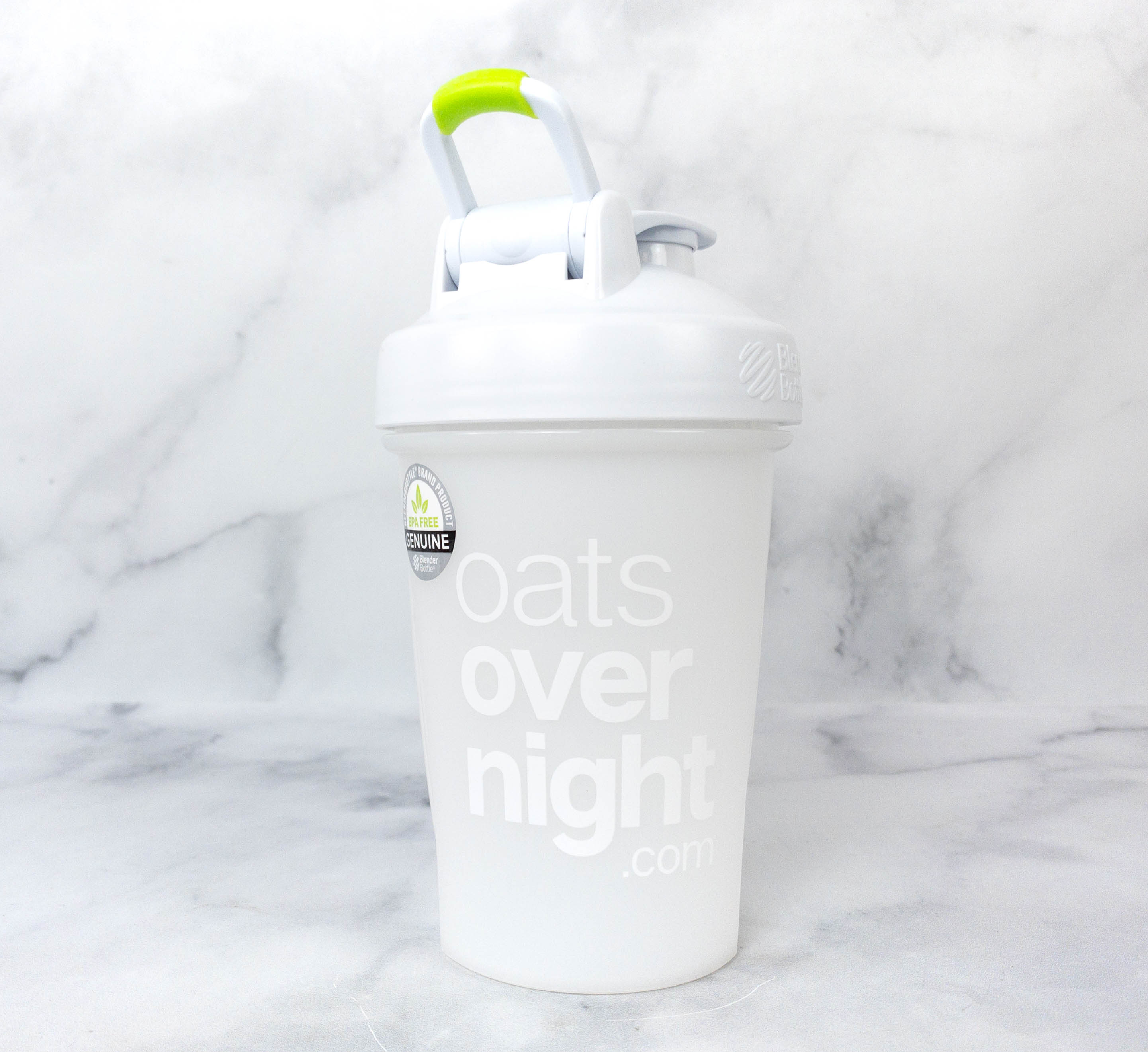 Blender Bottle ($9) Since this is my first box, I received a blender bottle that I can use for preparing the oats. It's lightweight and also easy to use and clean!
The size is also just right and it conveniently fits a cup holder so you can have it ready on you side even when driving. The powerful snap lid also helps make sure that the contents stay inside. The bottle is BPA free.
Oats Overnight is great for drinking, that's why they provided a blender bottle, but you can also enjoy it as an oatmeal in a bowl. Just use 4oz milk for the traditional consistency. You can also heat it up in the microwave if you wish. Still, compared to the oatmeal that you need to cook from scratch, this is a more convenient breakfast option!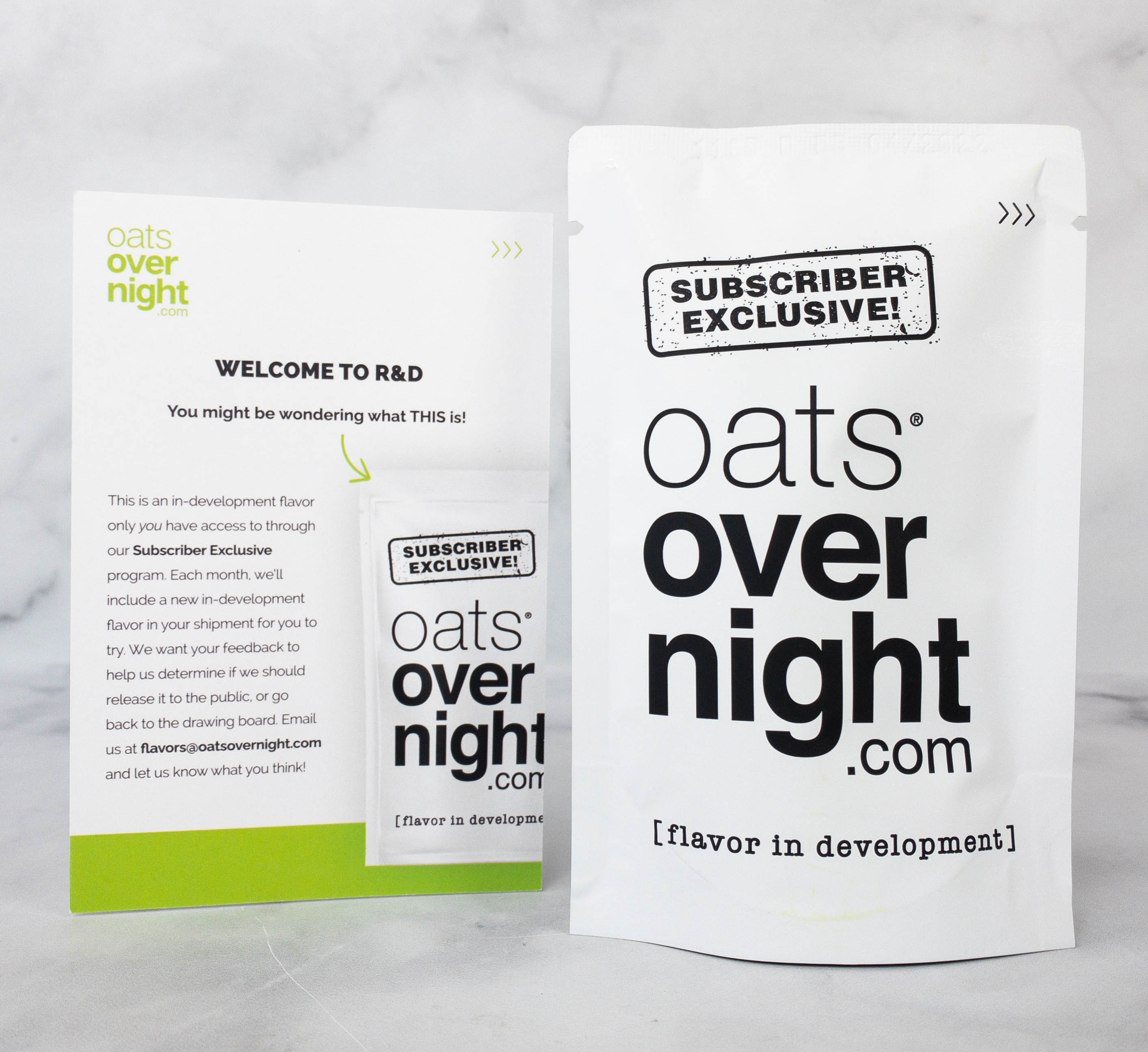 Here's their current Subscriber Exclusive flavor at the time we received this box! It's a flavor that's currently "still in development" but they send it to you anyway if you are in the Subscriber Exclusive Program. They do this so they can get your feedback to help them determine if they should release the new flavor or not.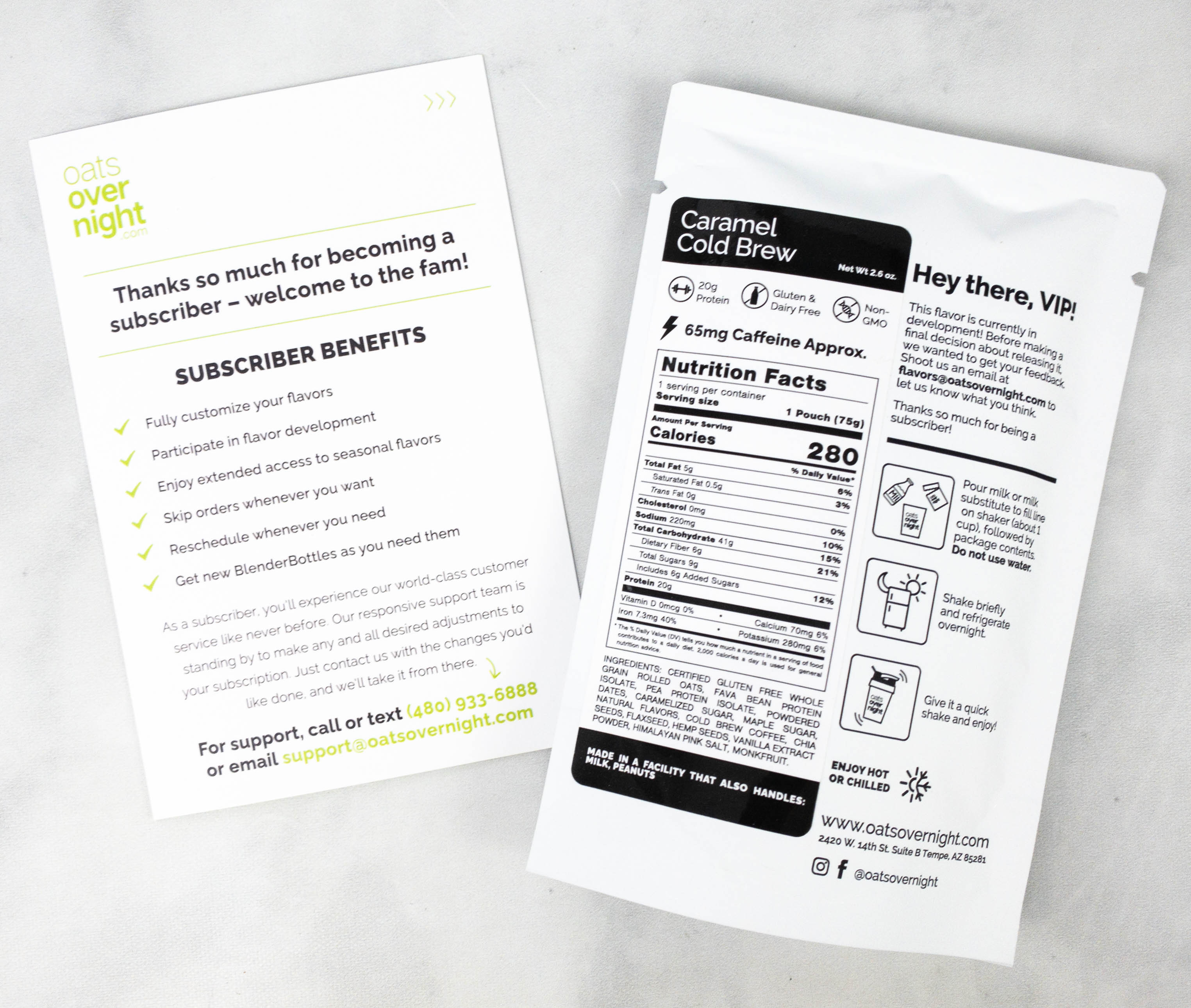 This is actually exciting and I can't wait to try it!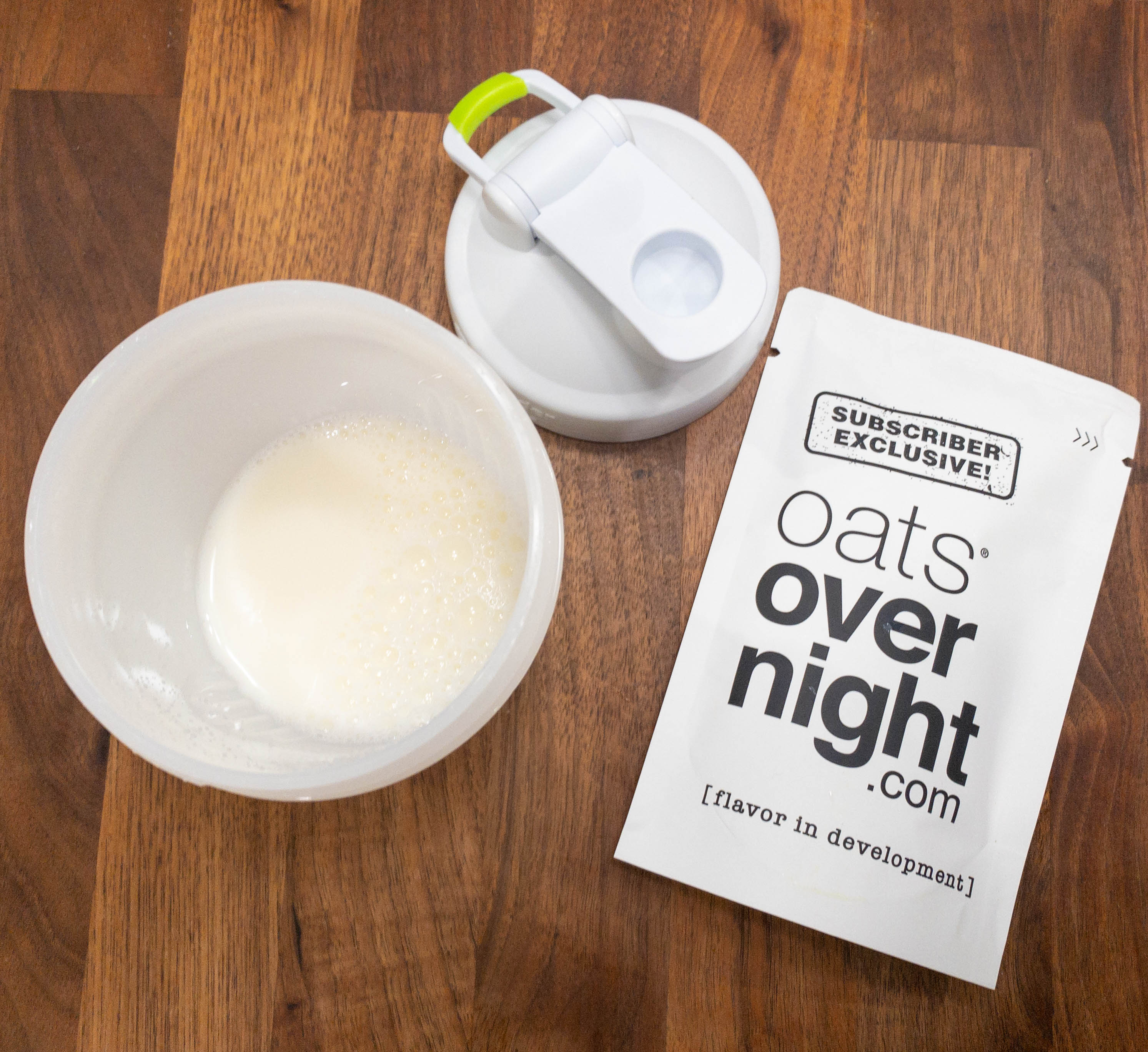 I added some milk in the blender bottle. There is a fill line so you will know how much you need. You can also use a milk alternative, but not water.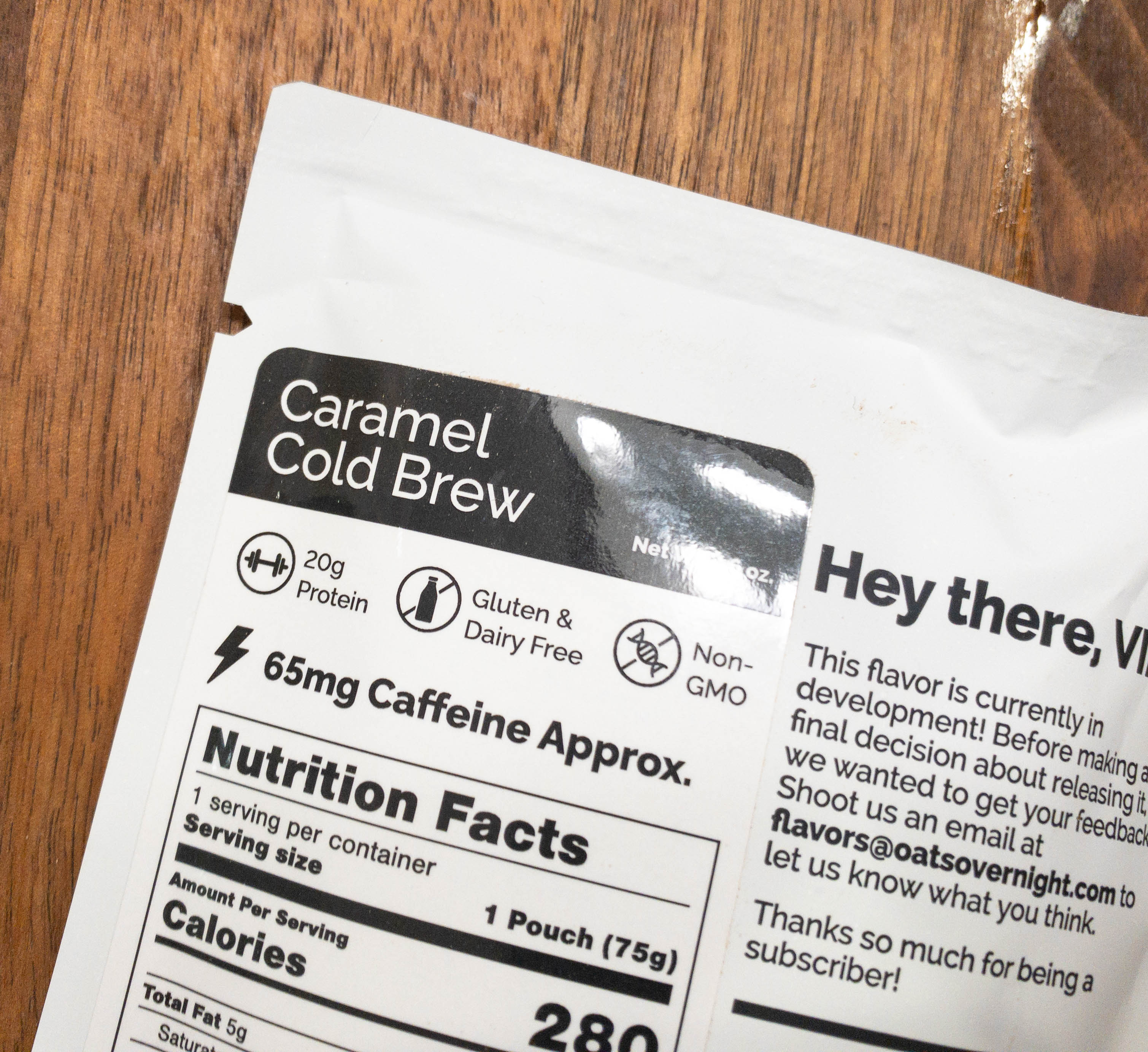 This unreleased flavor is called the Caramel Cold Brew.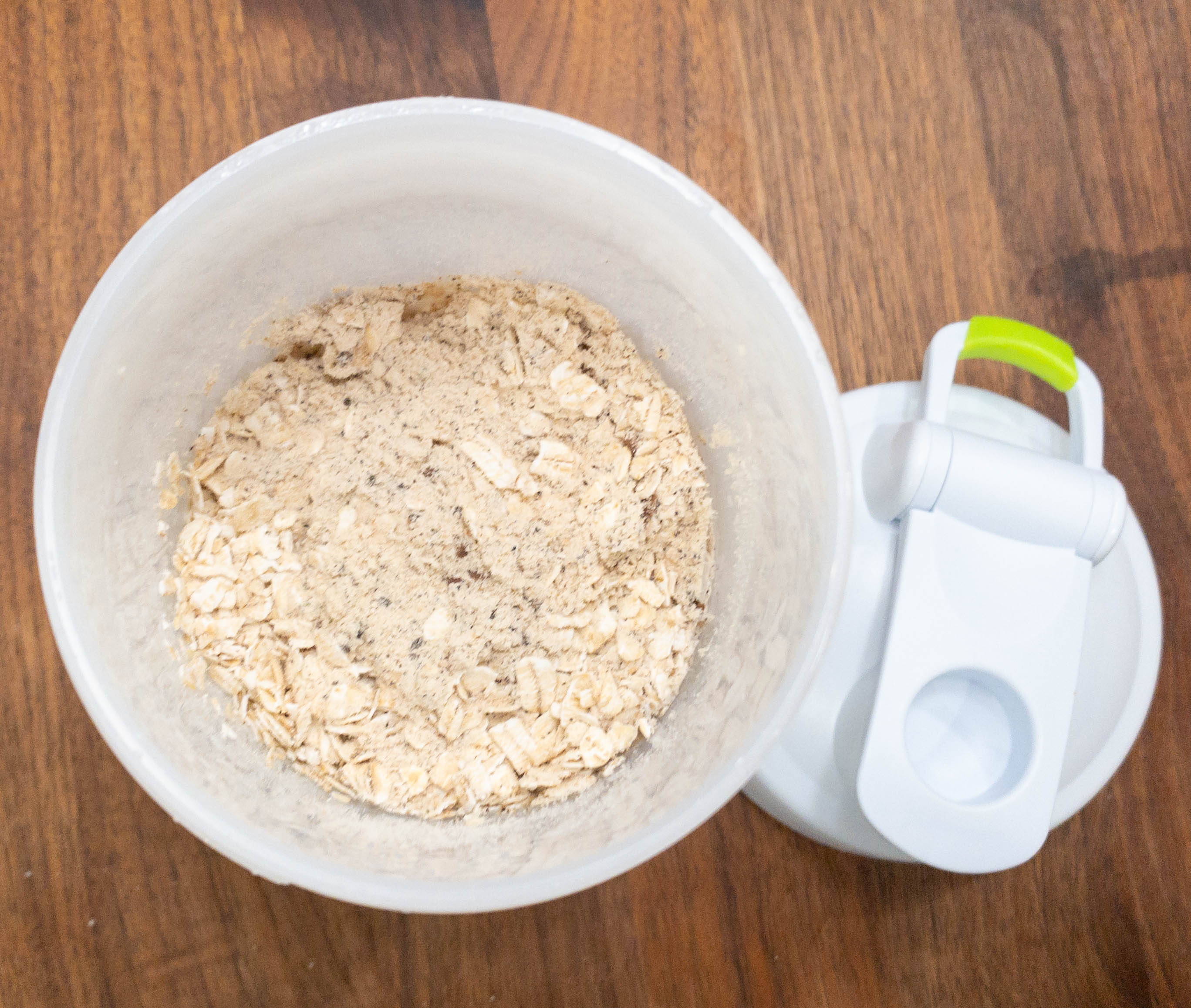 After putting the milk inside, I added the package contents and did a bit of a shake to mix everything.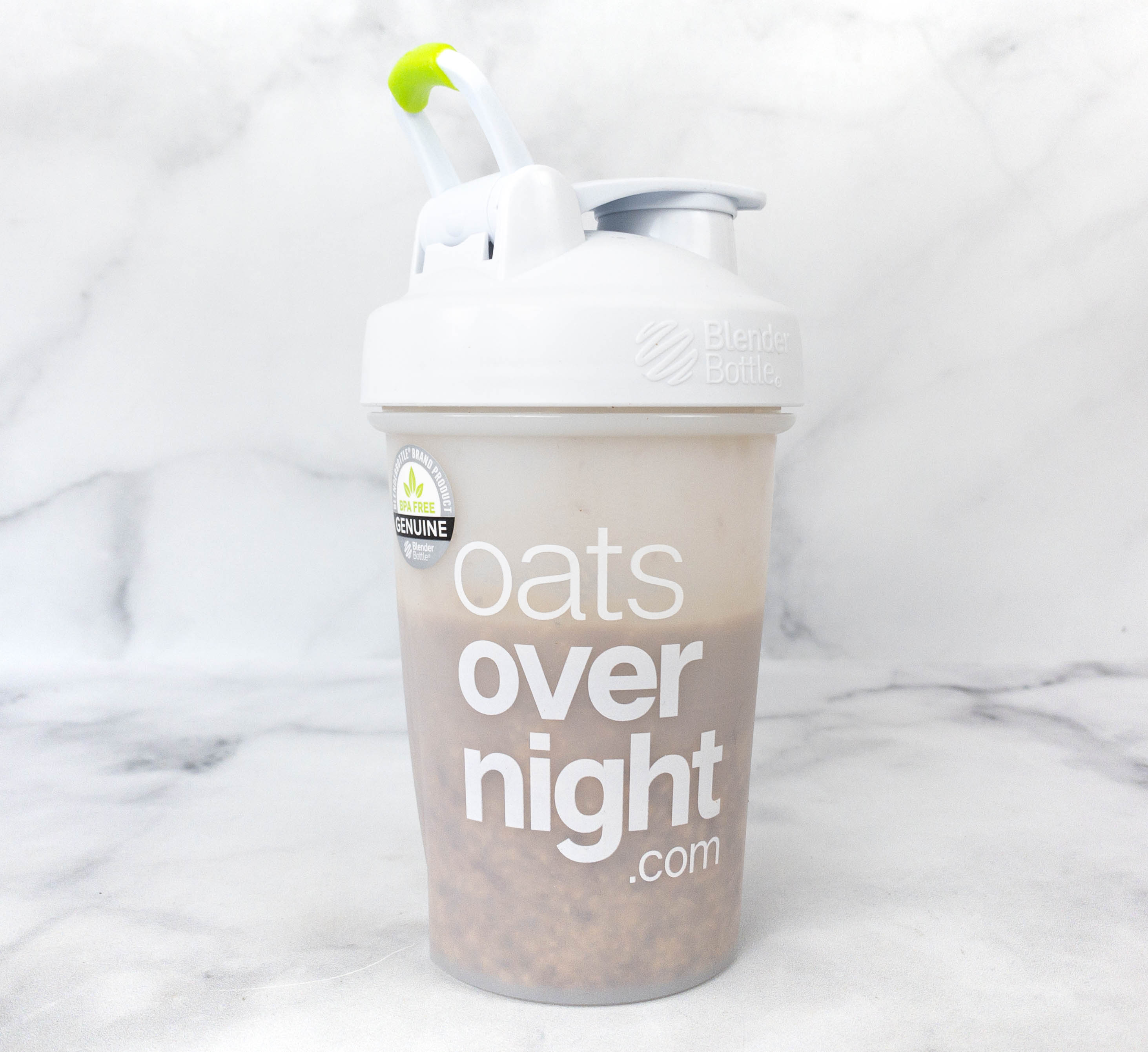 Now, it's time to refrigerate and keep it overnight!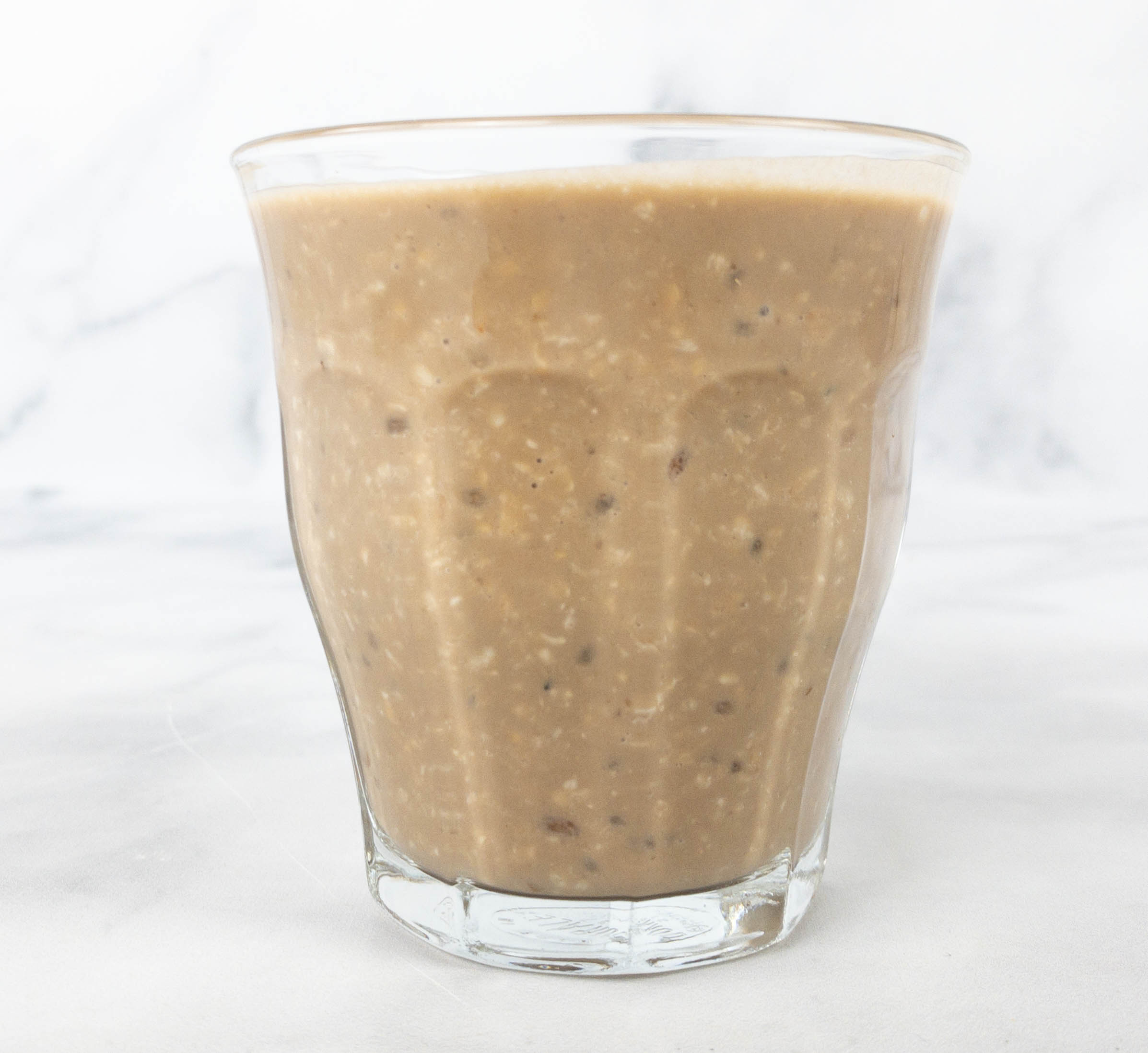 If you want to avoid the oats getting stuck at the bottom, just make sure you shake it again before serving.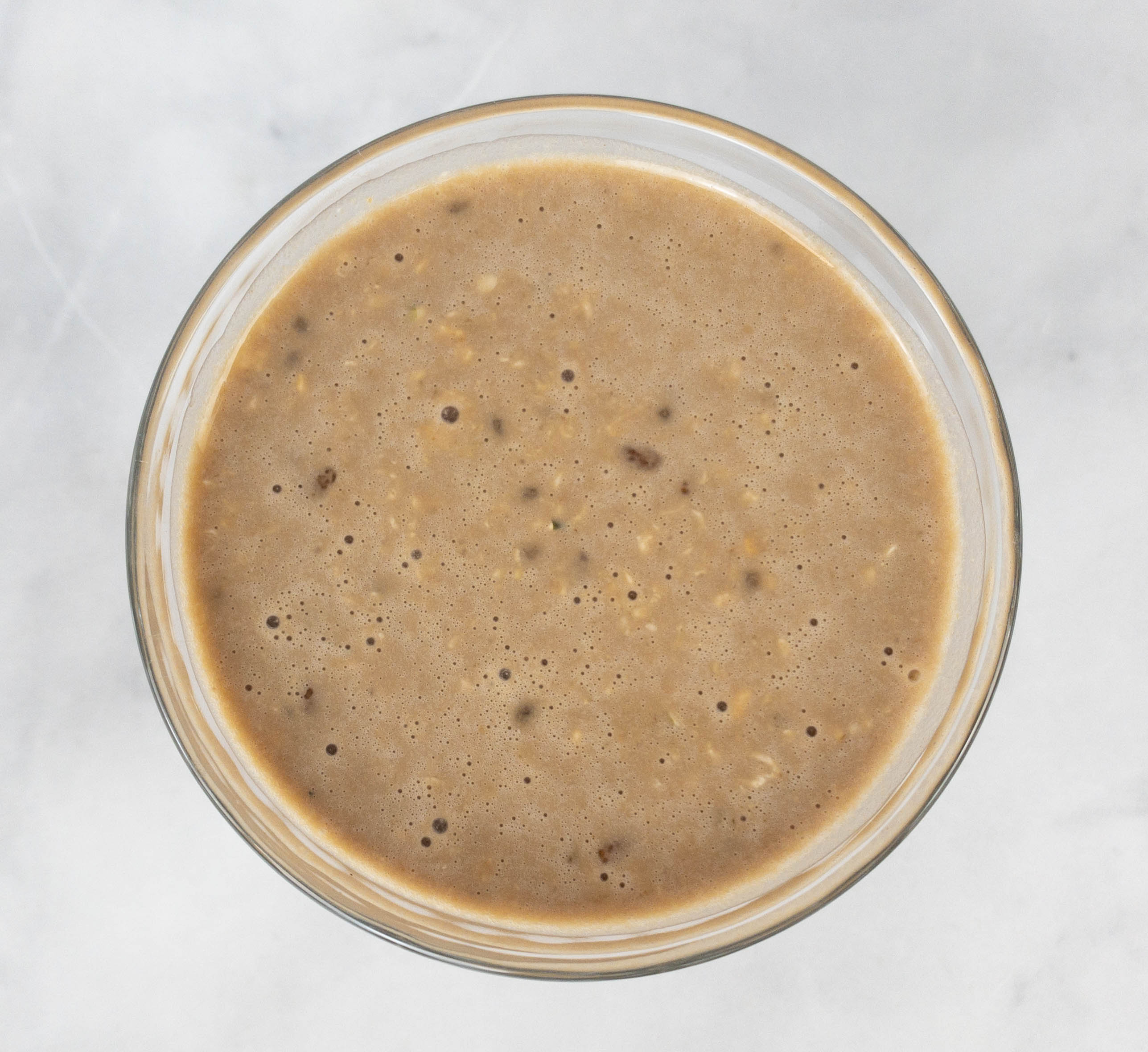 This is a good oatmeal flavor for coffee lovers. I'm not into coffee, but my husband likes it. It's on the sweet side, as it's also infused with caramel.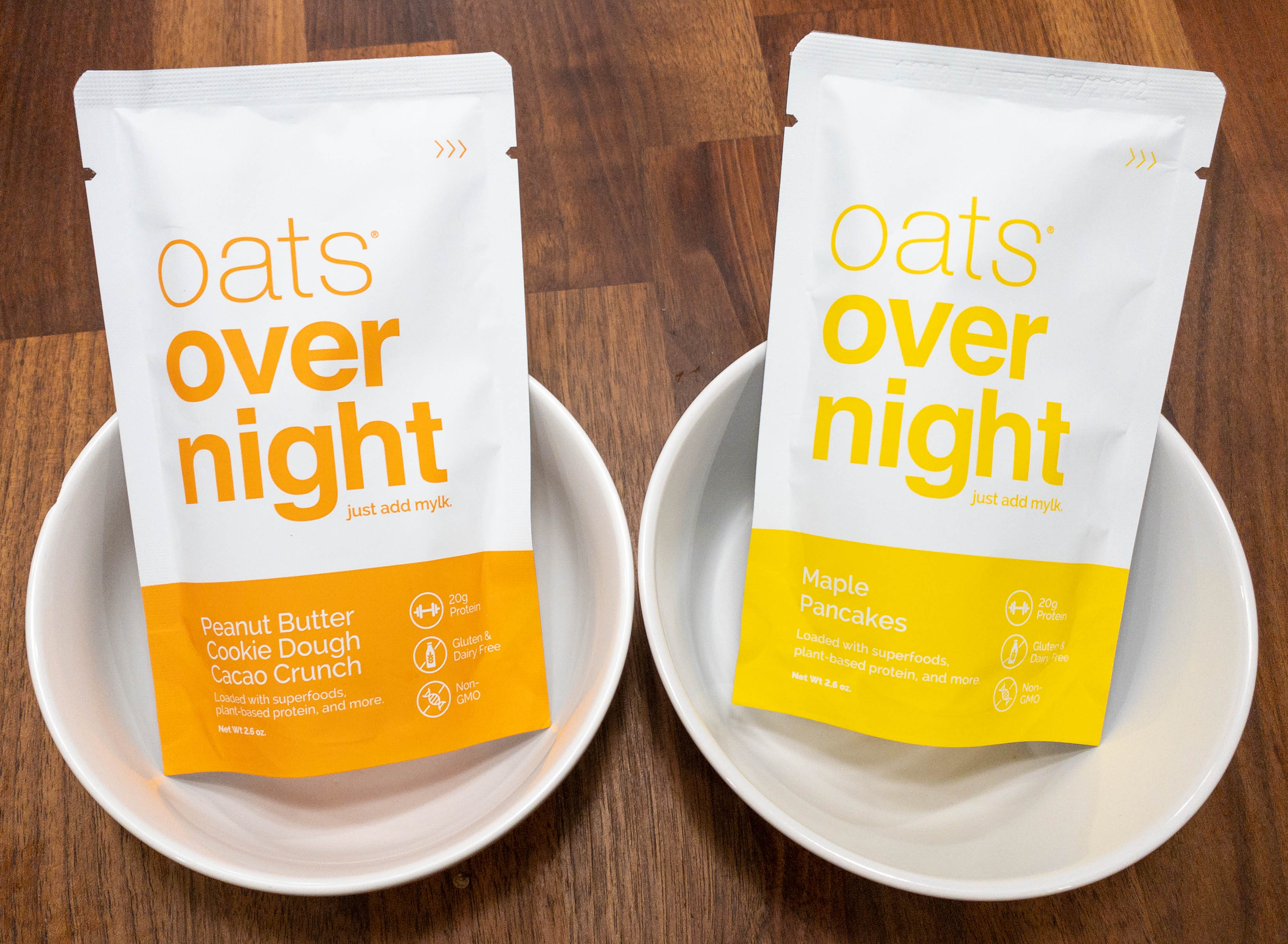 Next up are Peanut Butter Cookie Dough Cacao Crunch and Maple Pancakes!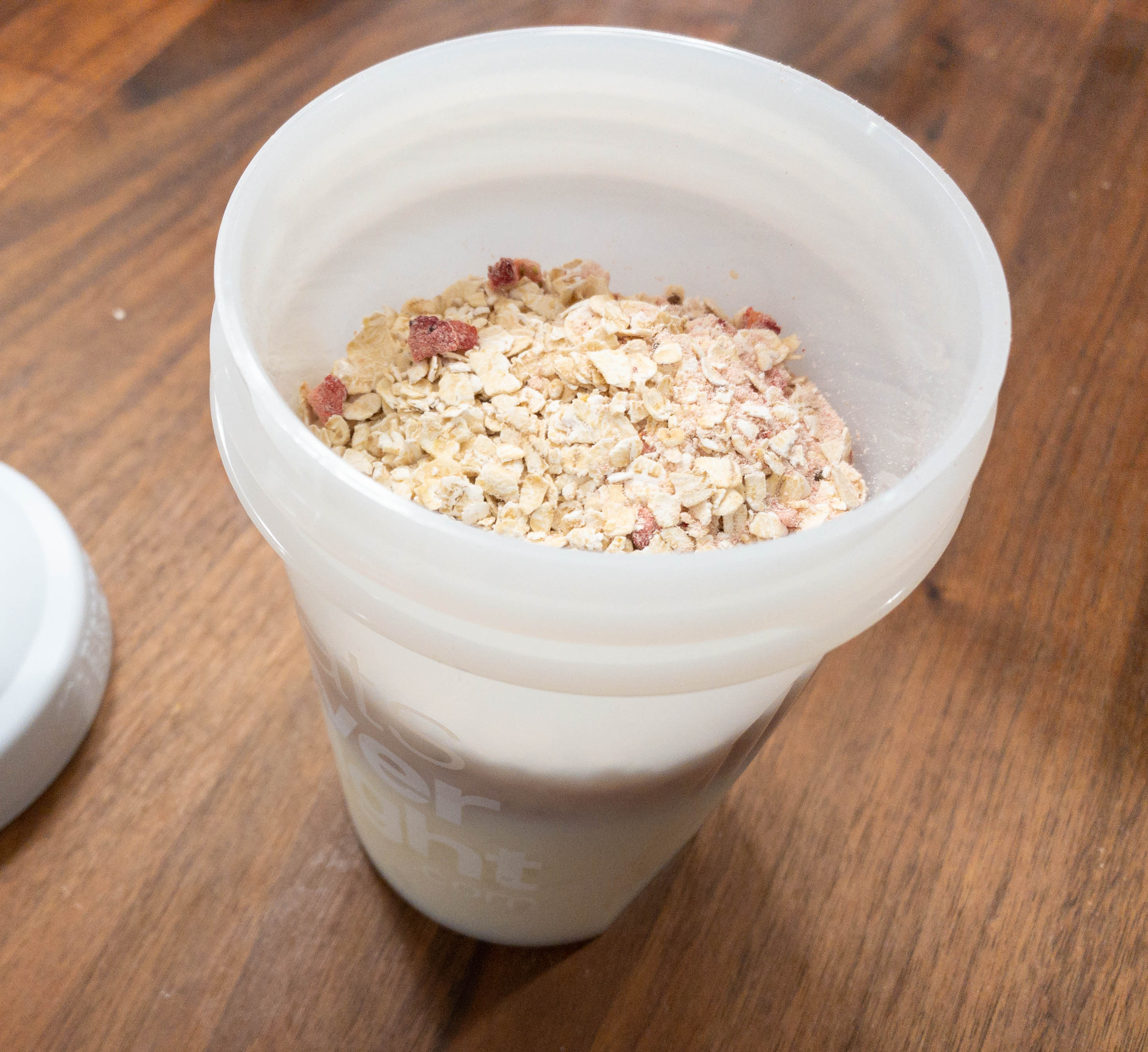 Preparation is super quick and easy, ideal even for busy people.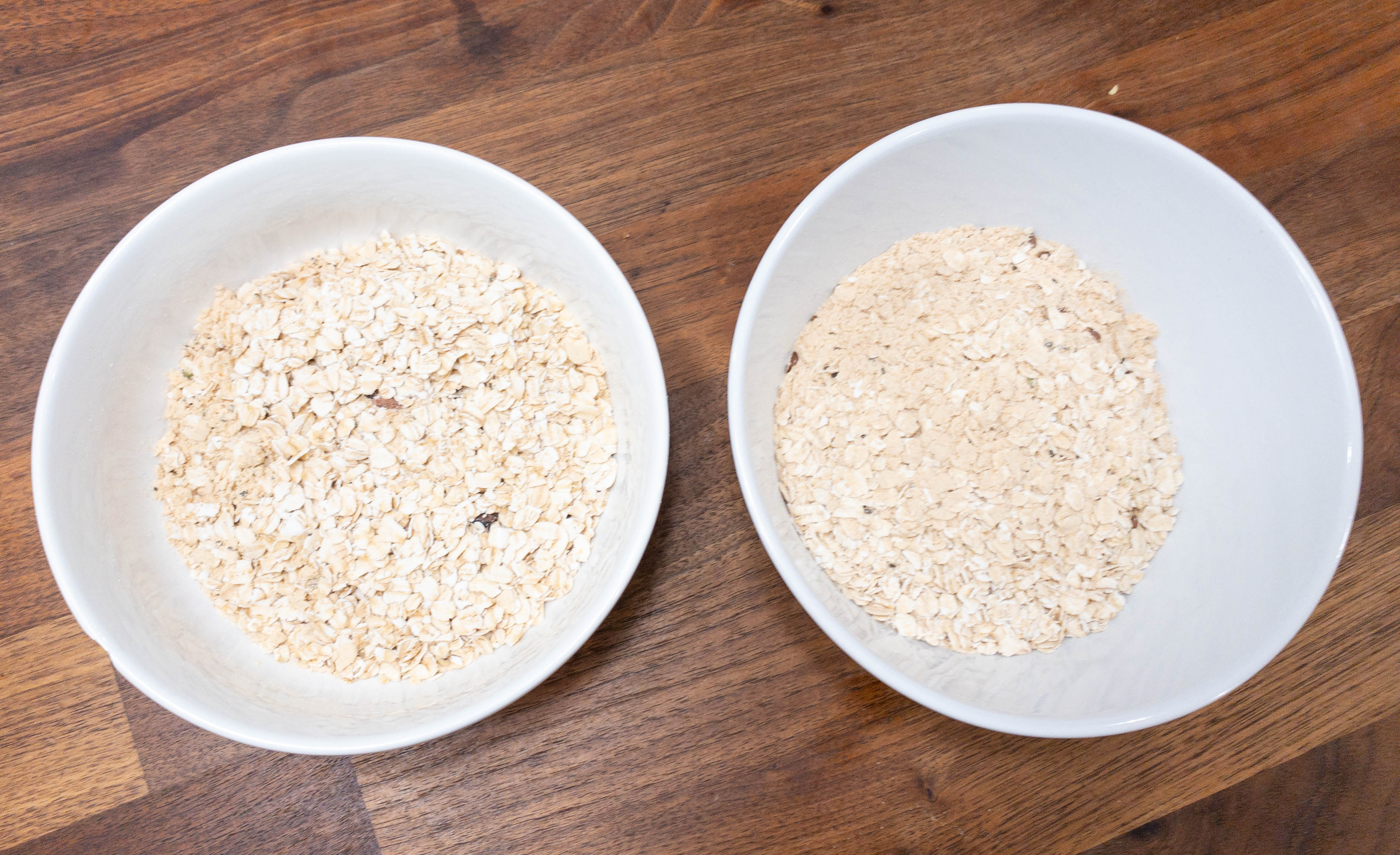 We tried preparing it in a bowl, instead of chilling it for drinking.
Here's what they looked like when I added the milk.
Peanut Butter Cookie Dough Cacao Crunch. This is one of their dairy-free options, which combines peanut butter, cookie dough, and cacao. Other ingredients are Vermont maple, chia seeds, Himalayan sea salt, and pea protein.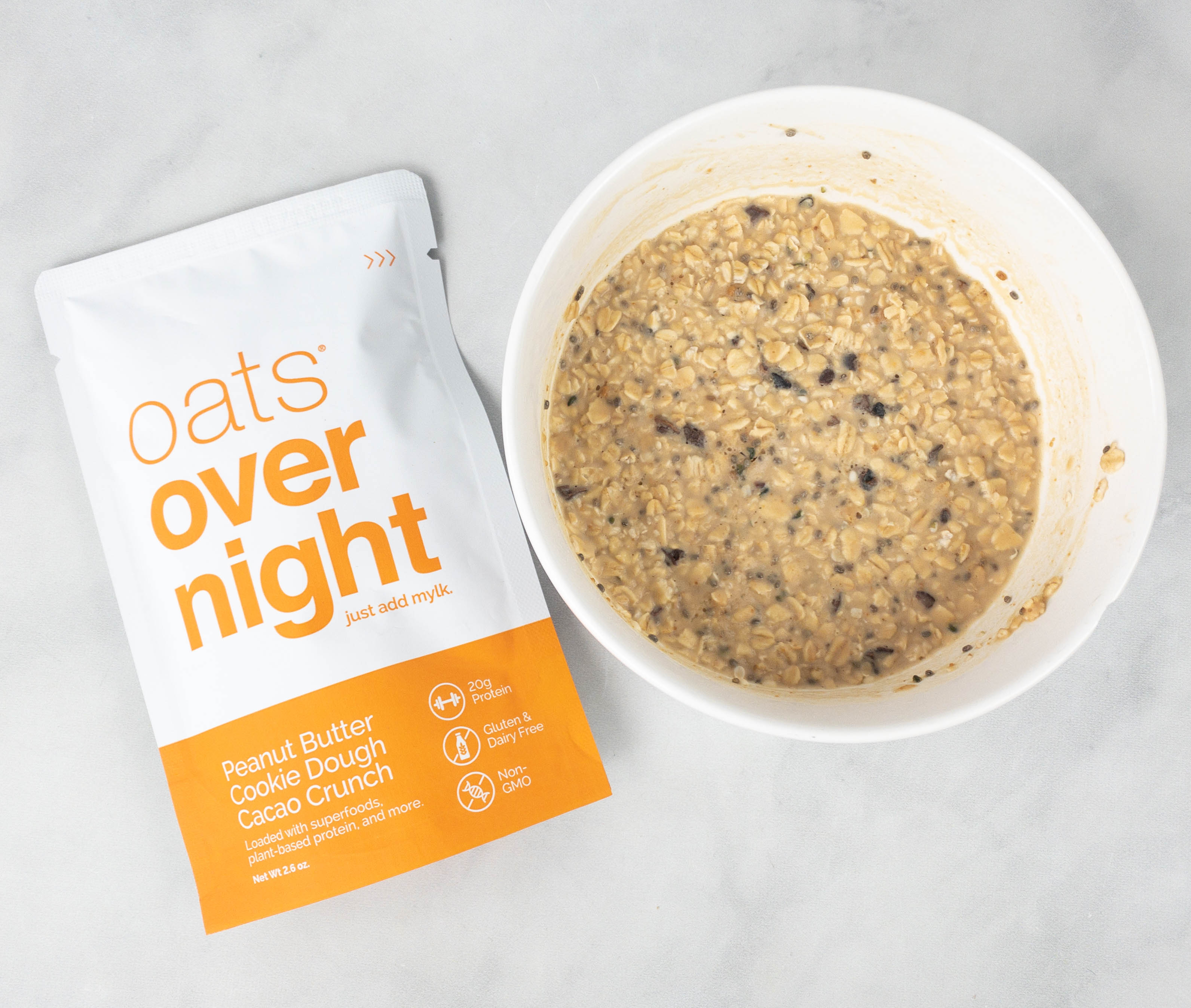 There's a generous amount of cacao nibs, because they are easily visible along with the oats.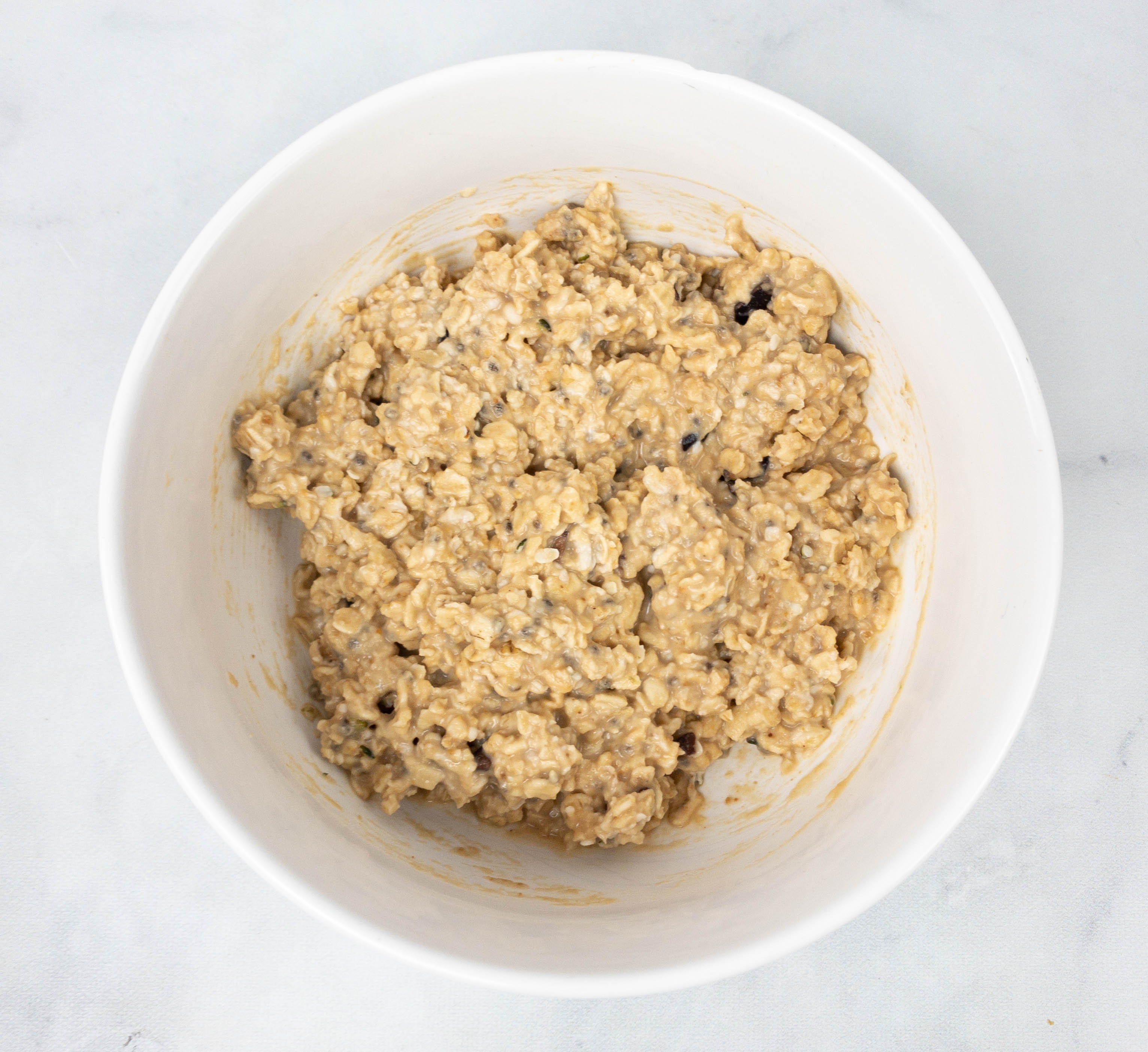 The peanut butter flavor here is really dominant but what I love about it is how the rich cocoa flavor cuts through and balances the sweetness. Yum!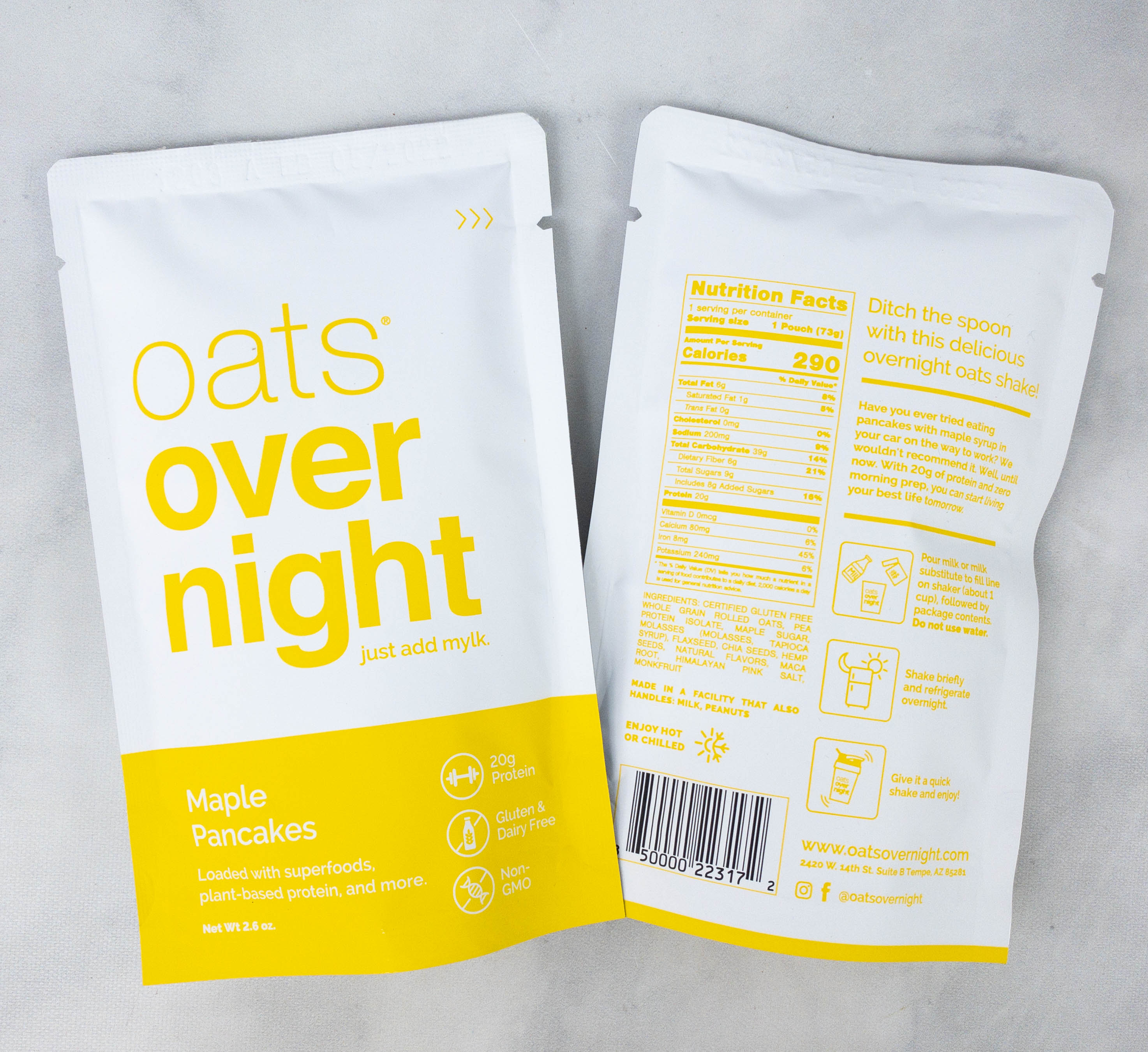 Maple Pancakes. This pancake flavored oat blend is perfect for breakfast and it's also dairy-free. Ingredients include Vermont maple, rich molasses, maca root, chia/flax seeds, raw hemp hearts, and pea protein.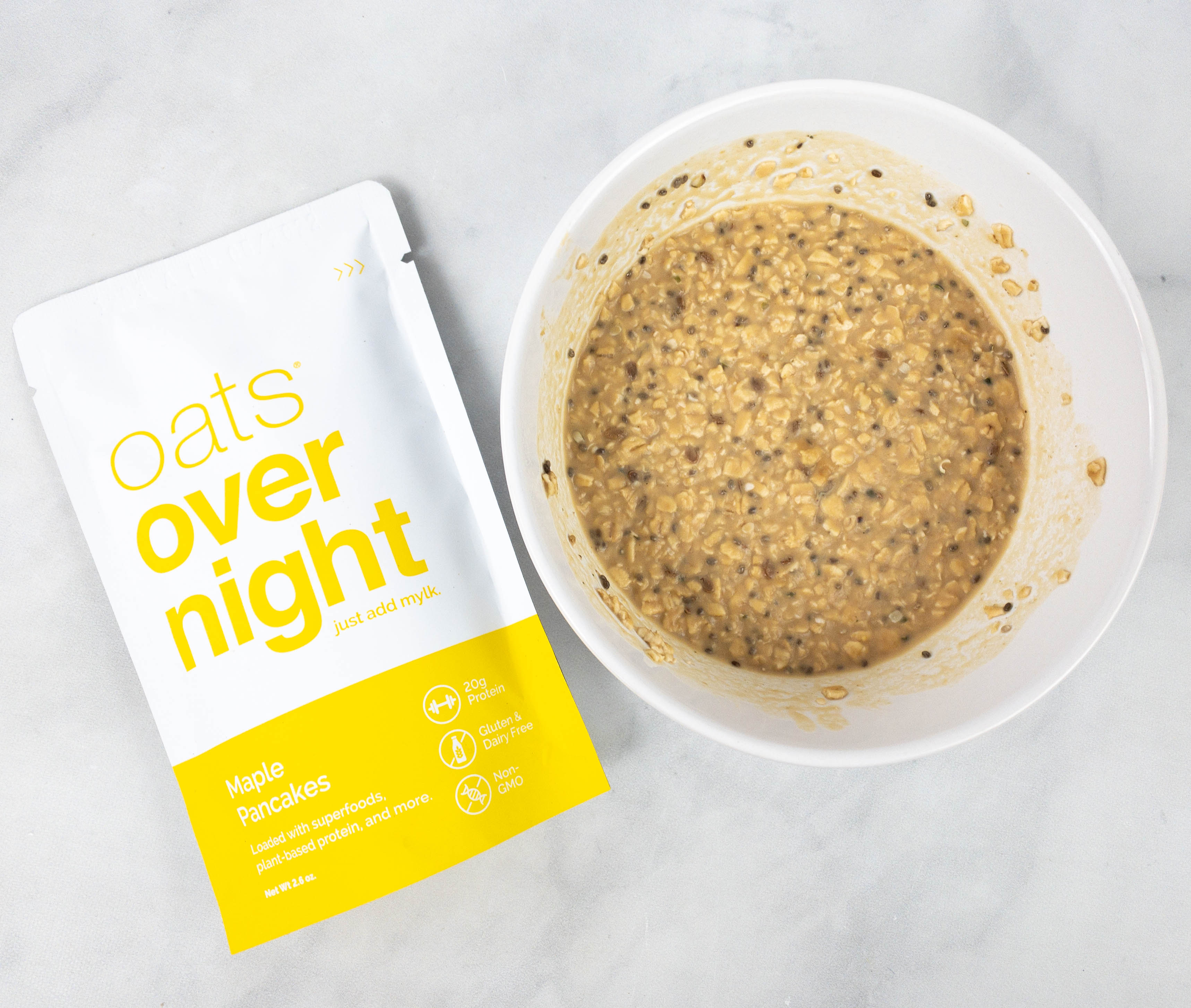 This smells a lot like pancakes with maple syrup!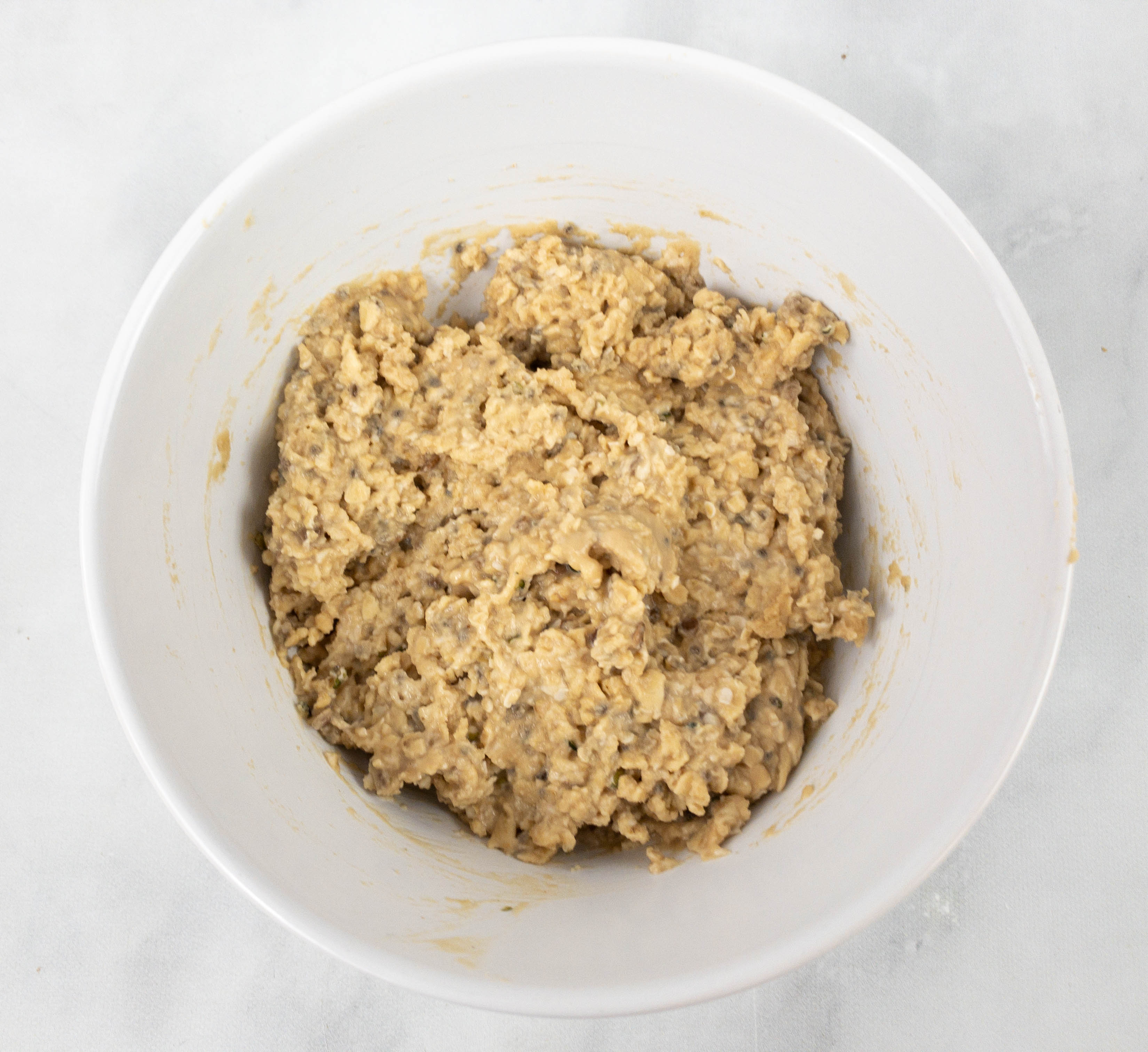 The taste didn't disappoint either. The sweetness is on point and finishing the whole serving  easily fueled me up in the morning.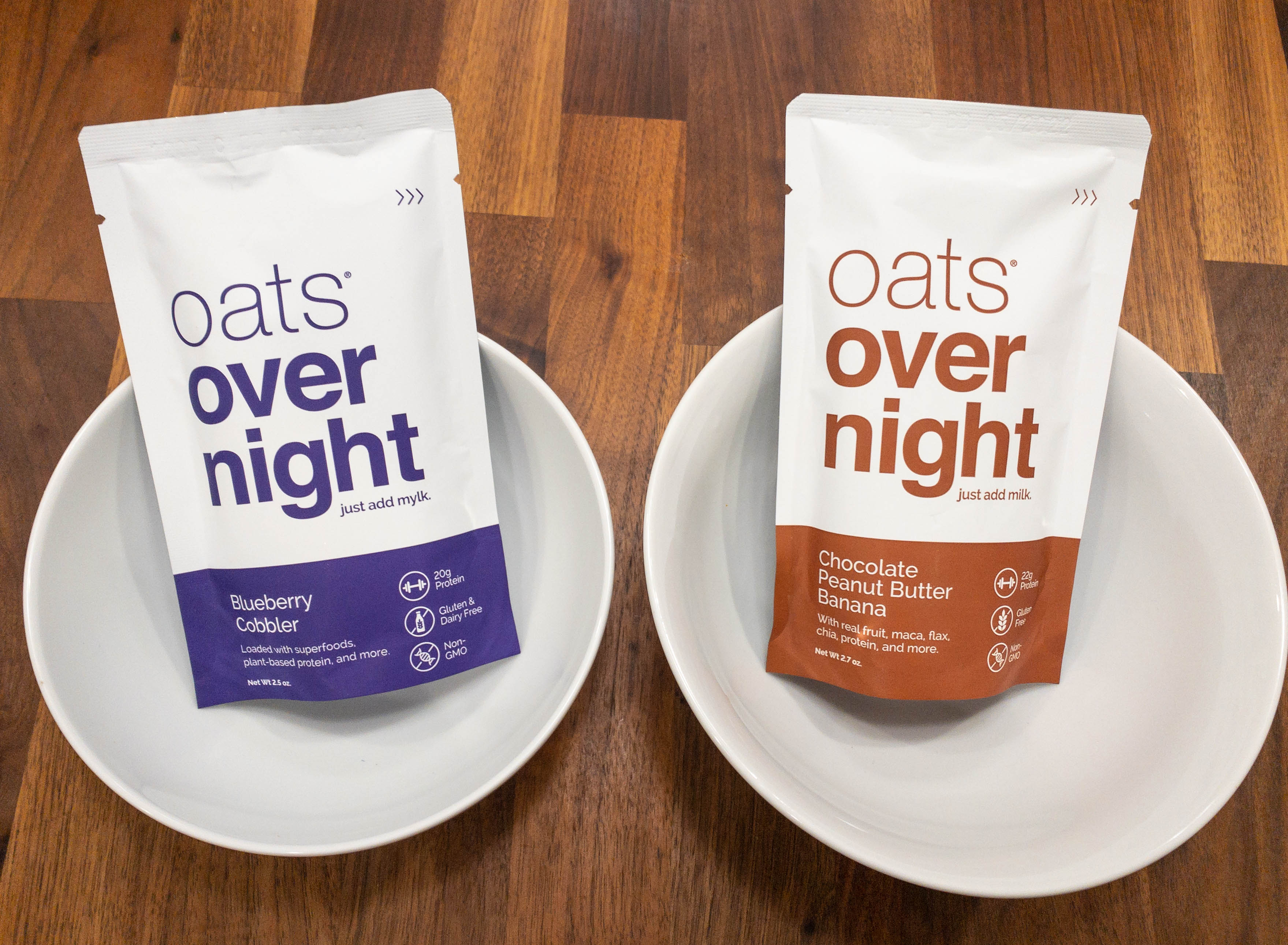 The next flavors include fruits! They are Blueberry Cobbler and Chocolate Peanut Butter Banana.
We enjoyed these in a bowl as well. The oatmeal shake is great for busy days, but oatmeal in a bowl is still a perfect breakfast option especially when you want to enjoy its texture.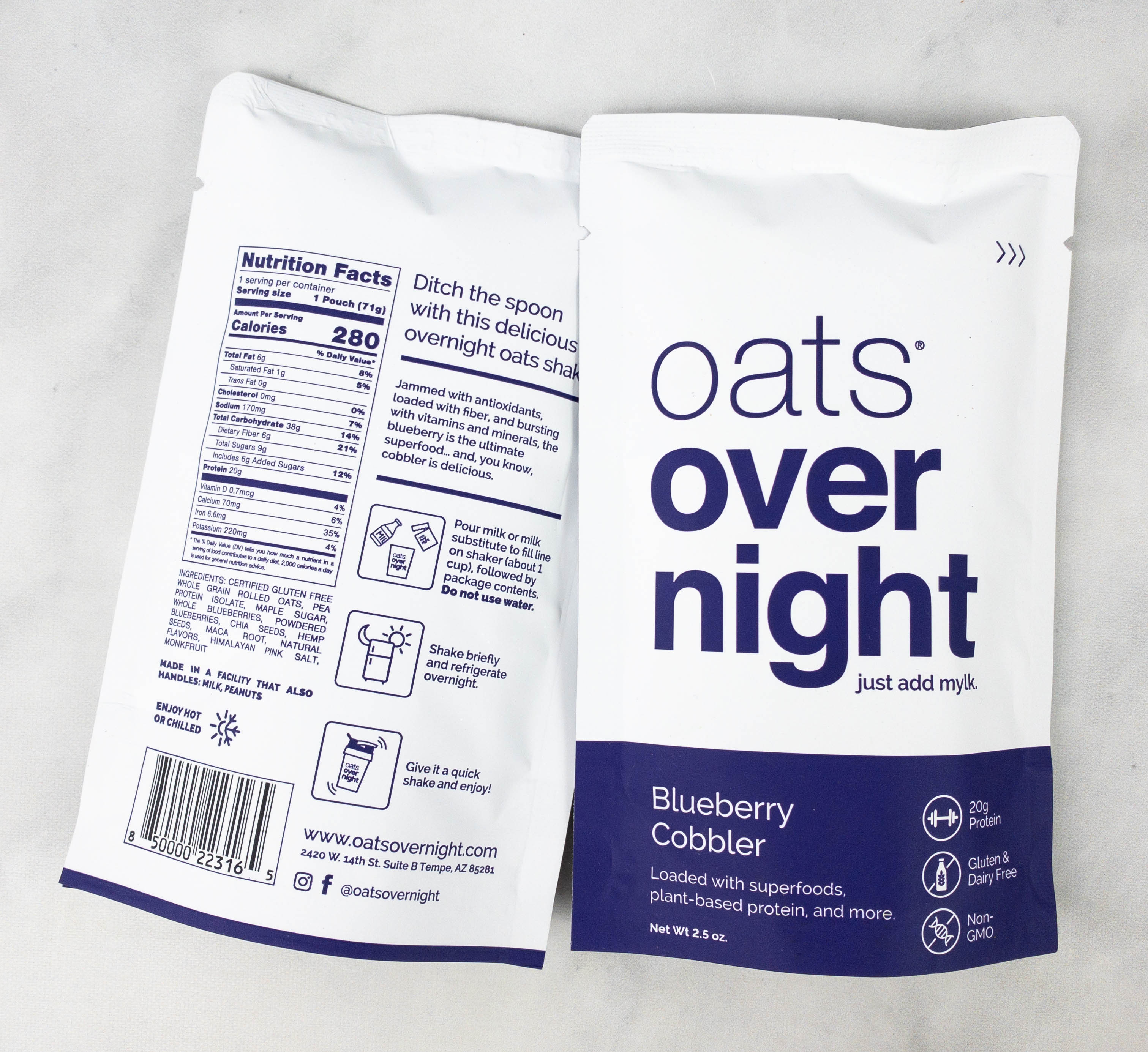 Blueberry Cobbler. Blueberries are rich in antioxidants and they go well with oats! Other ingredients for this blend are Vermont maple, chia seeds, raw hemp hearts, Himalayan pink salt, and pea protein. This is also a dairy-free flavor!
This has actual blueberry fruits in it, adding a nice texture and color to each bite.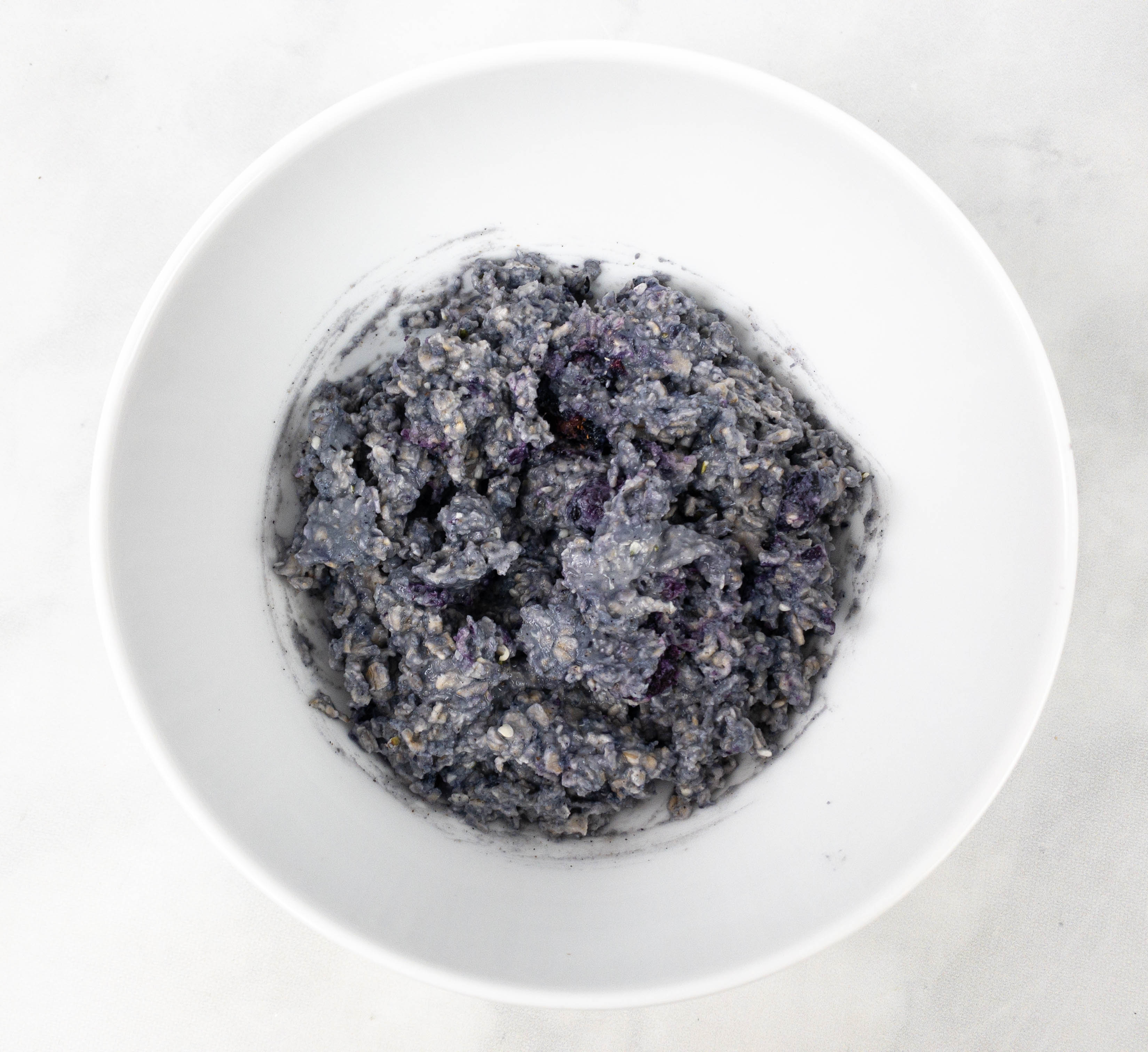 The blueberries were perfectly ripe, that's why they are perfectly sweet.
This does taste like a healthy version of a blueberry cobbler! Look at all that flavor!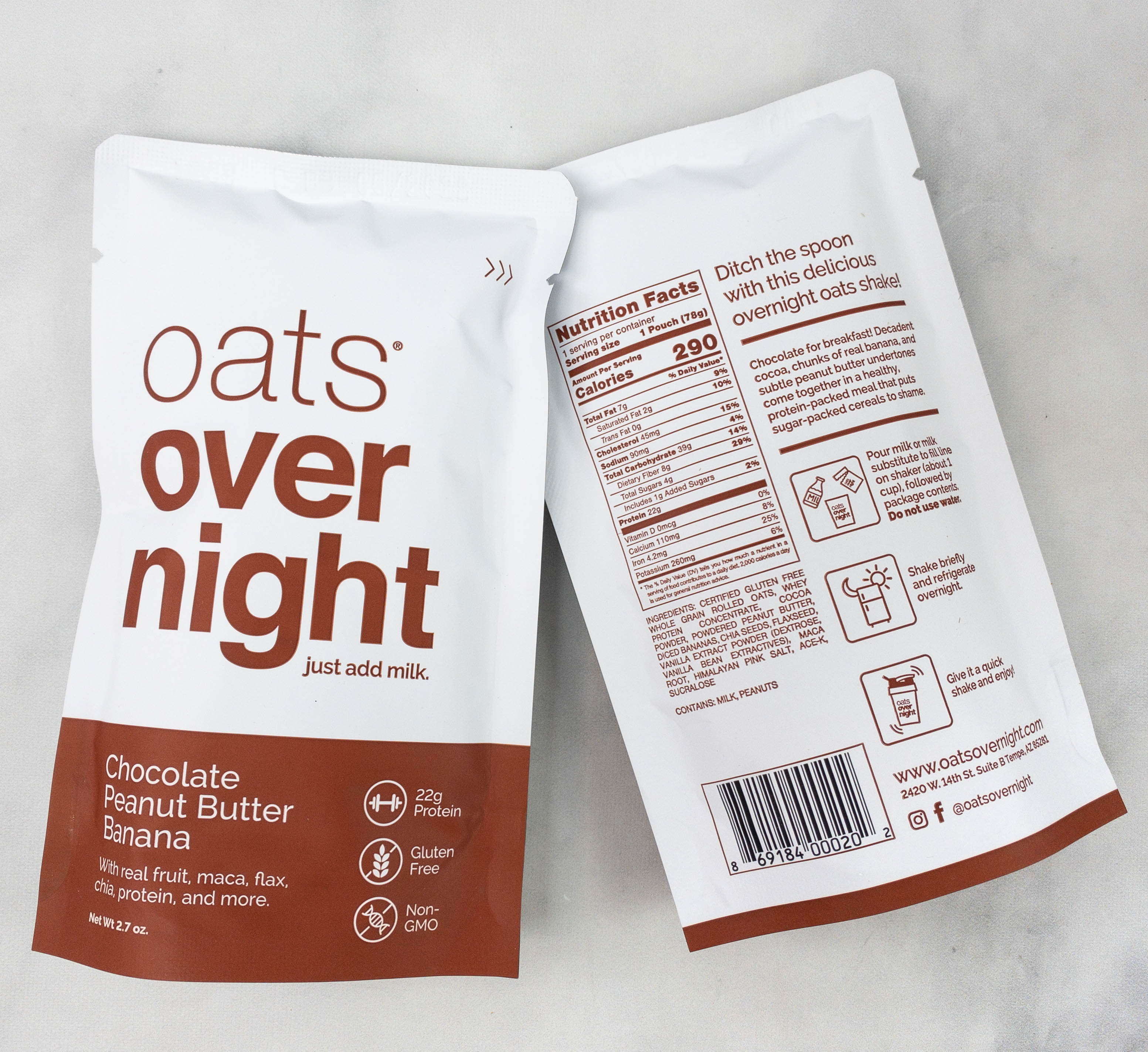 Chocolate Peanut Butter Banana. Here's another peanut butter flavored oatmeal mix, but this time it's paired with real bananas and Ghirardelli cocoa. Other ingredients are maca root, Himalayan pink salt, and whey protein.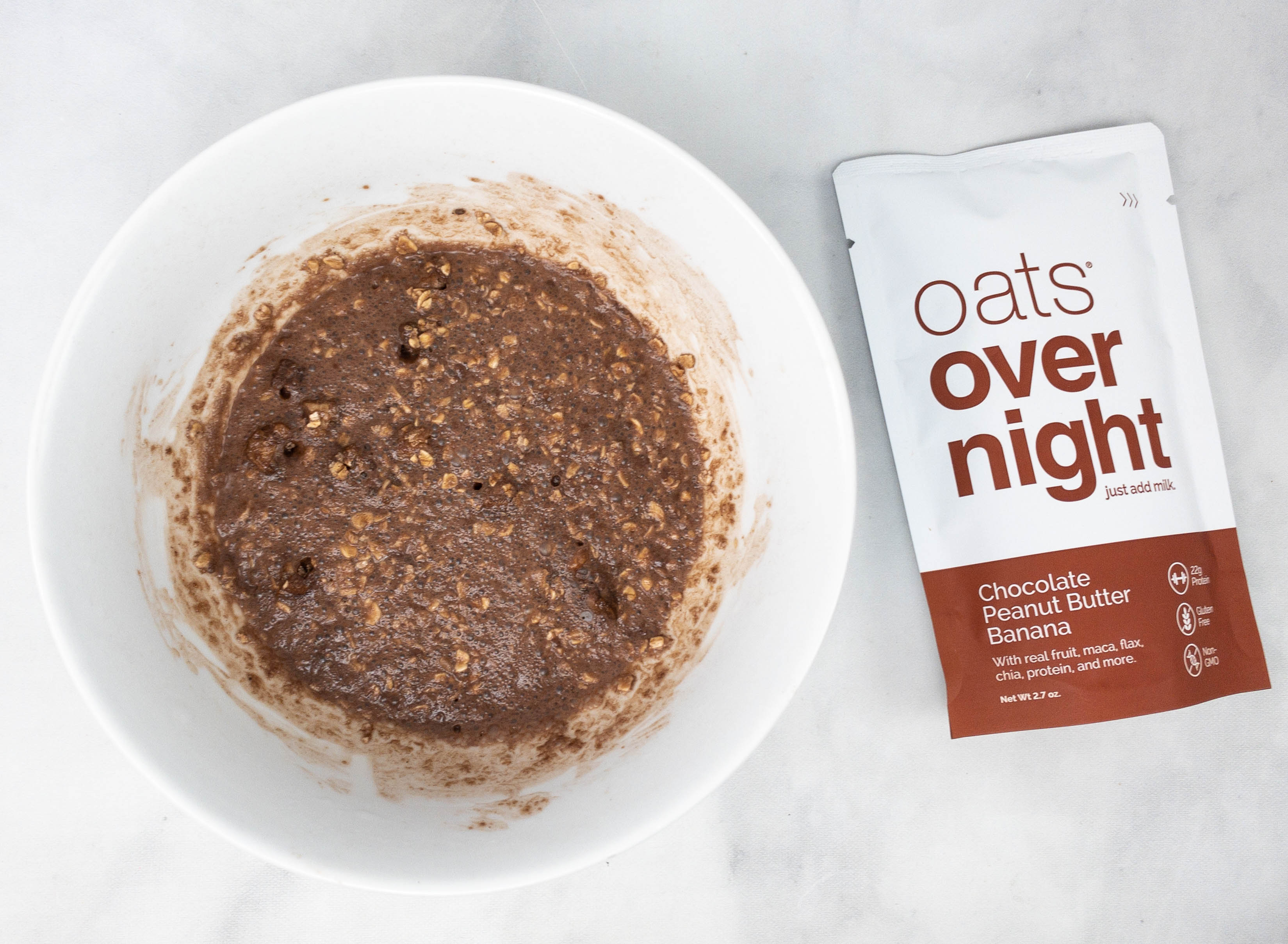 It smells delicious!
Rich and creamy, this flavor is one of my favorites and I think it's perfect to be enjoyed in a bowl! It's super chocolatey but it has just the right hint of peanut butter and banana.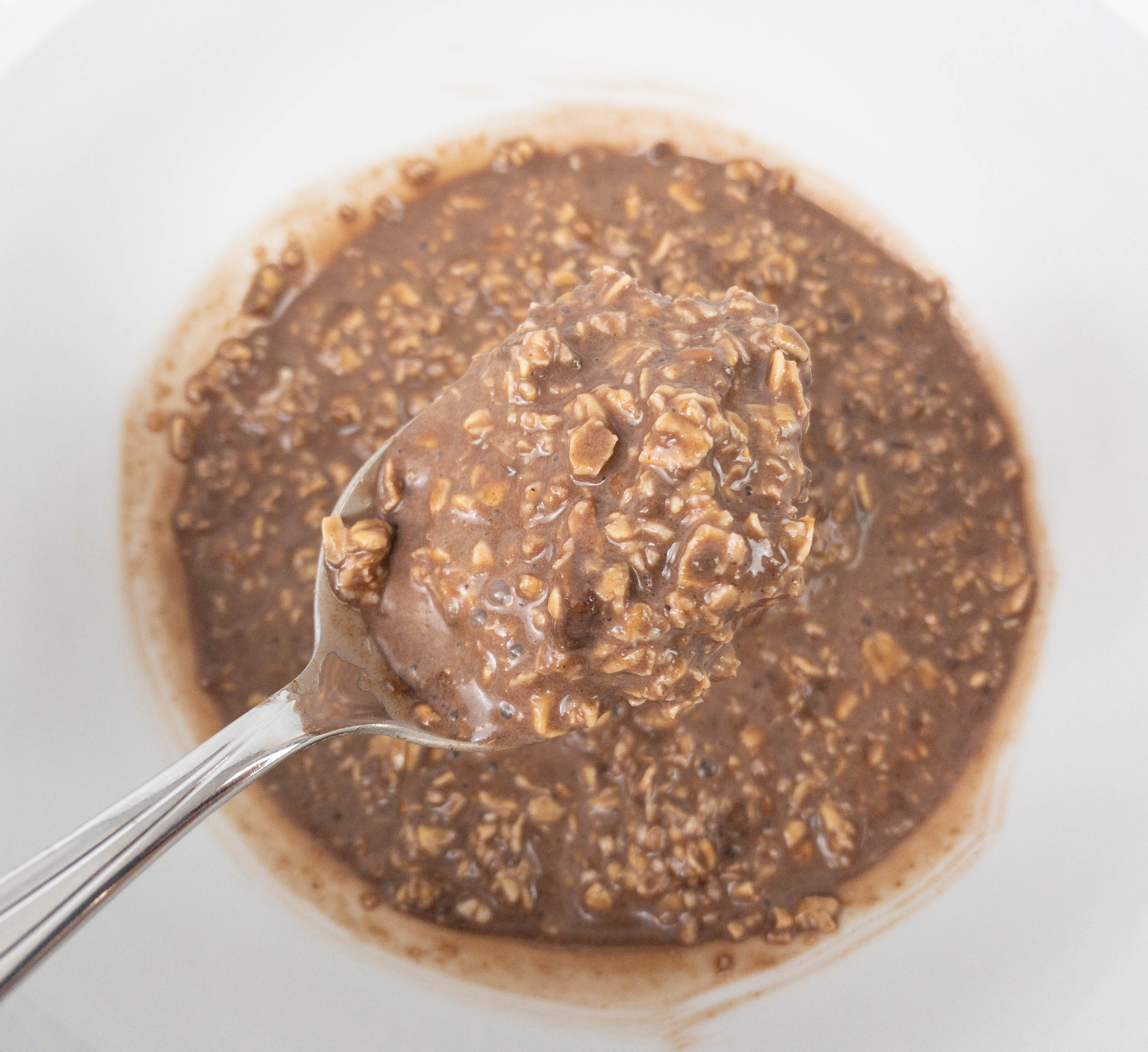 This makes me feel like I'm having dessert for my breakfast and I'm enjoying it!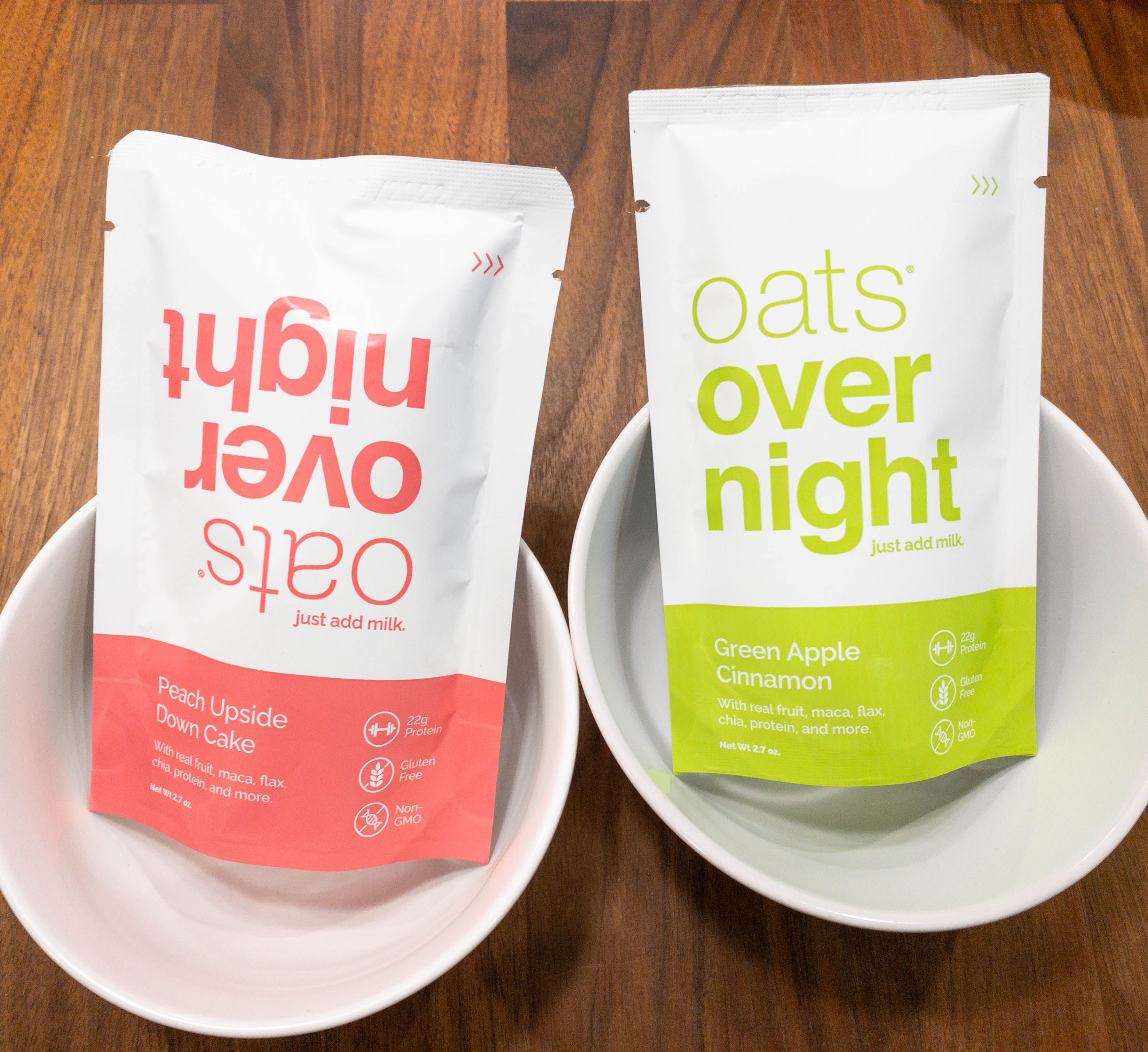 Here are two more fruit flavored oats: Peach Upside Down Cake and Green Apple Cinnamon.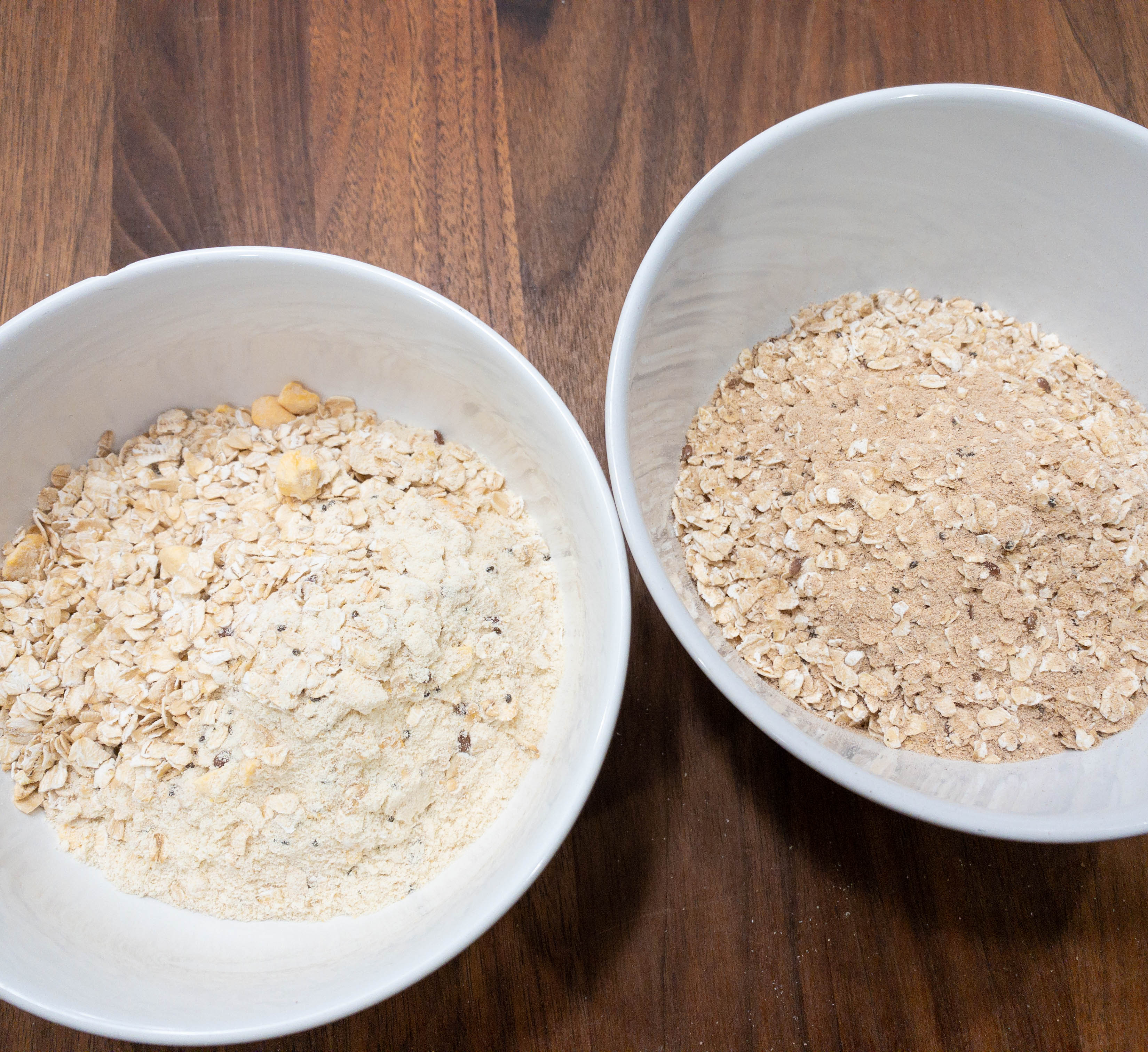 Here's what the packet contents look like.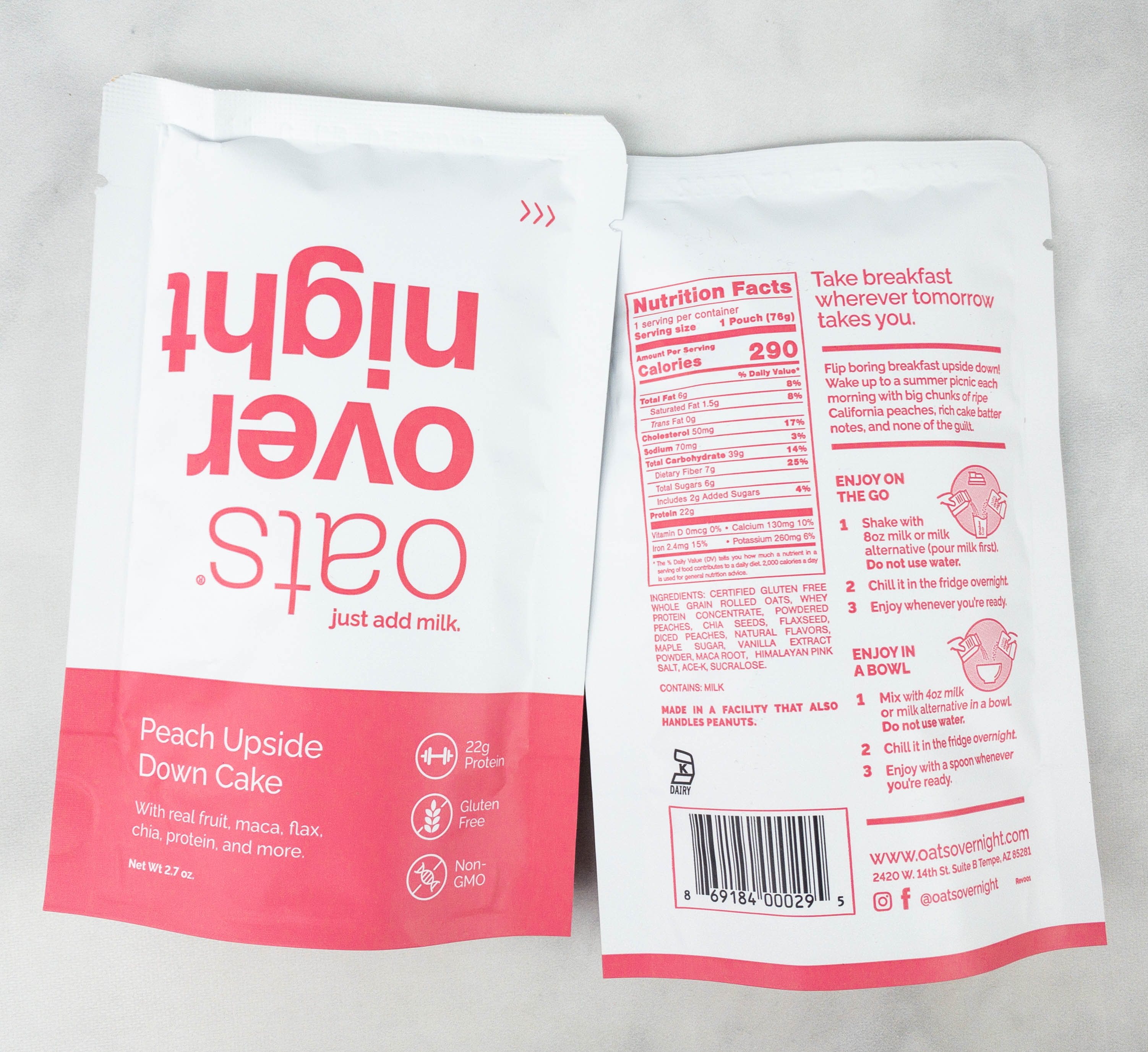 Peach Upside Down Cake. Peach is another summer fruit I like! This overnight oats flavor is inspired by the peach upside down cake. It also contains Vermont maple, maca root, chia/flax seeds, Himalayan pink salt, and whey protein.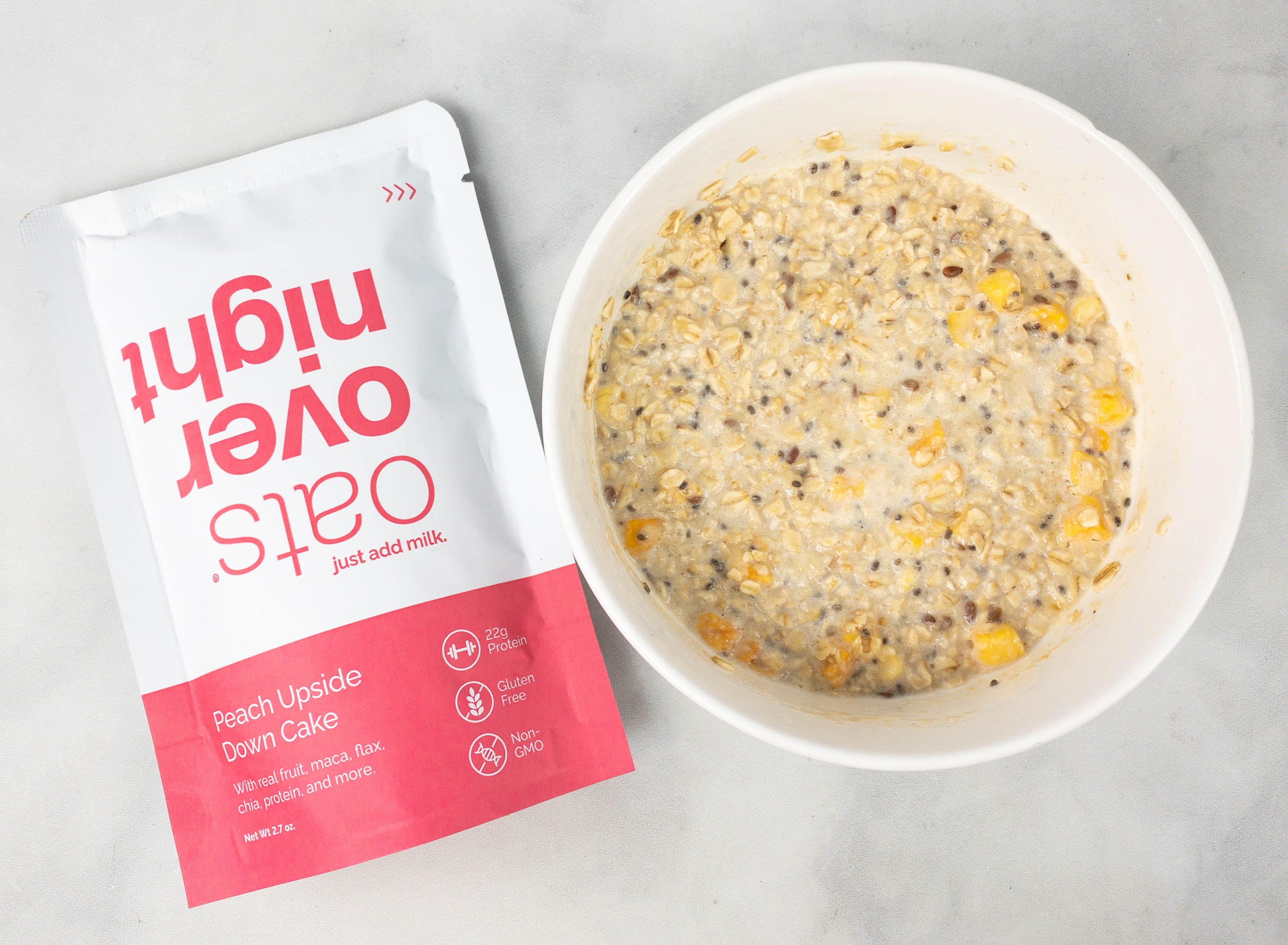 Oh, and I didn't miss that upside down brand label! It's cute how they matched it with the flavor.
Each bite is loaded with chunks of peaches, which are delicately sweet. Enjoying it with a spoon instead of drinking it was definitely a great idea.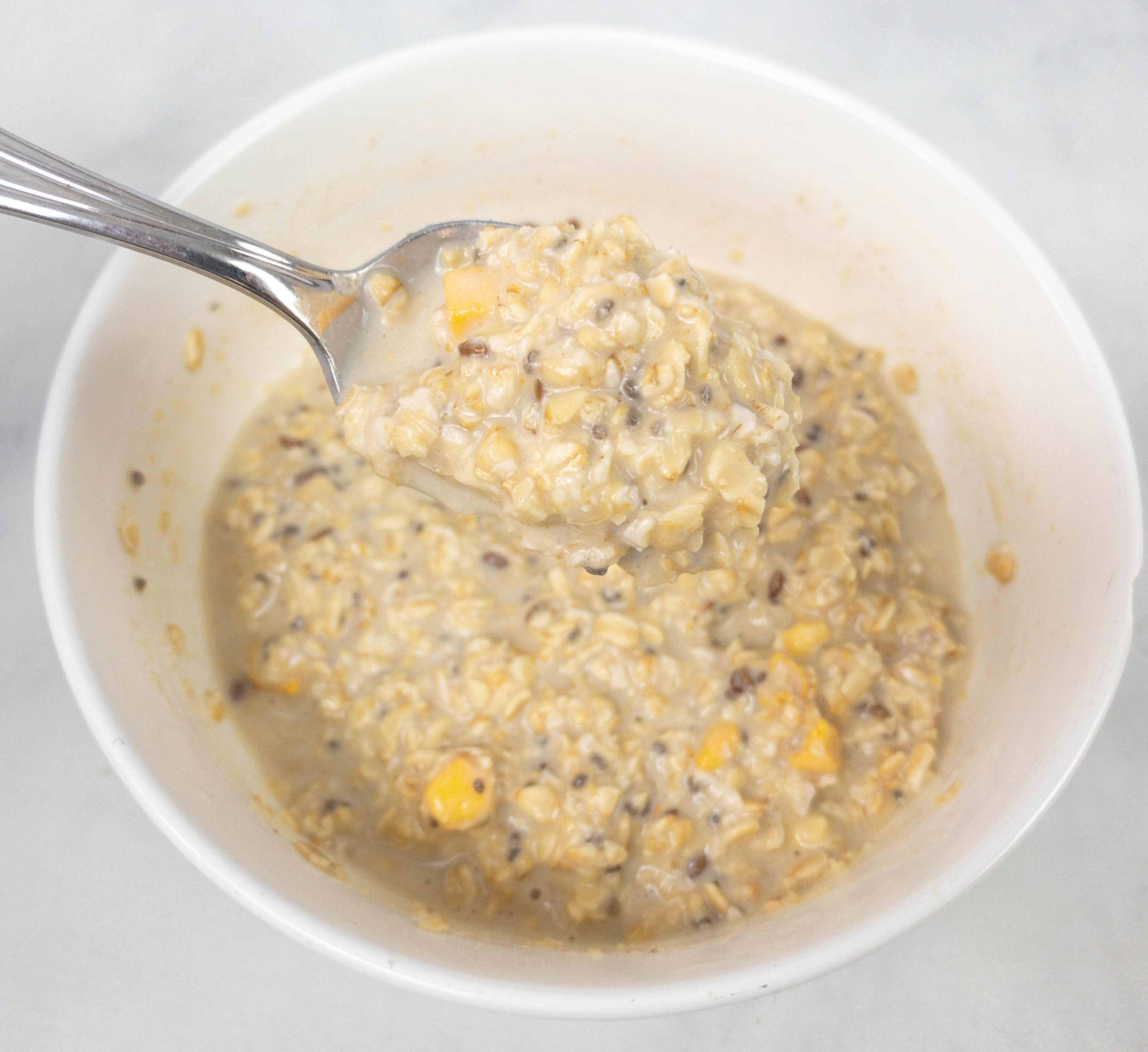 It also has notes of silky vanilla cake! Delicious!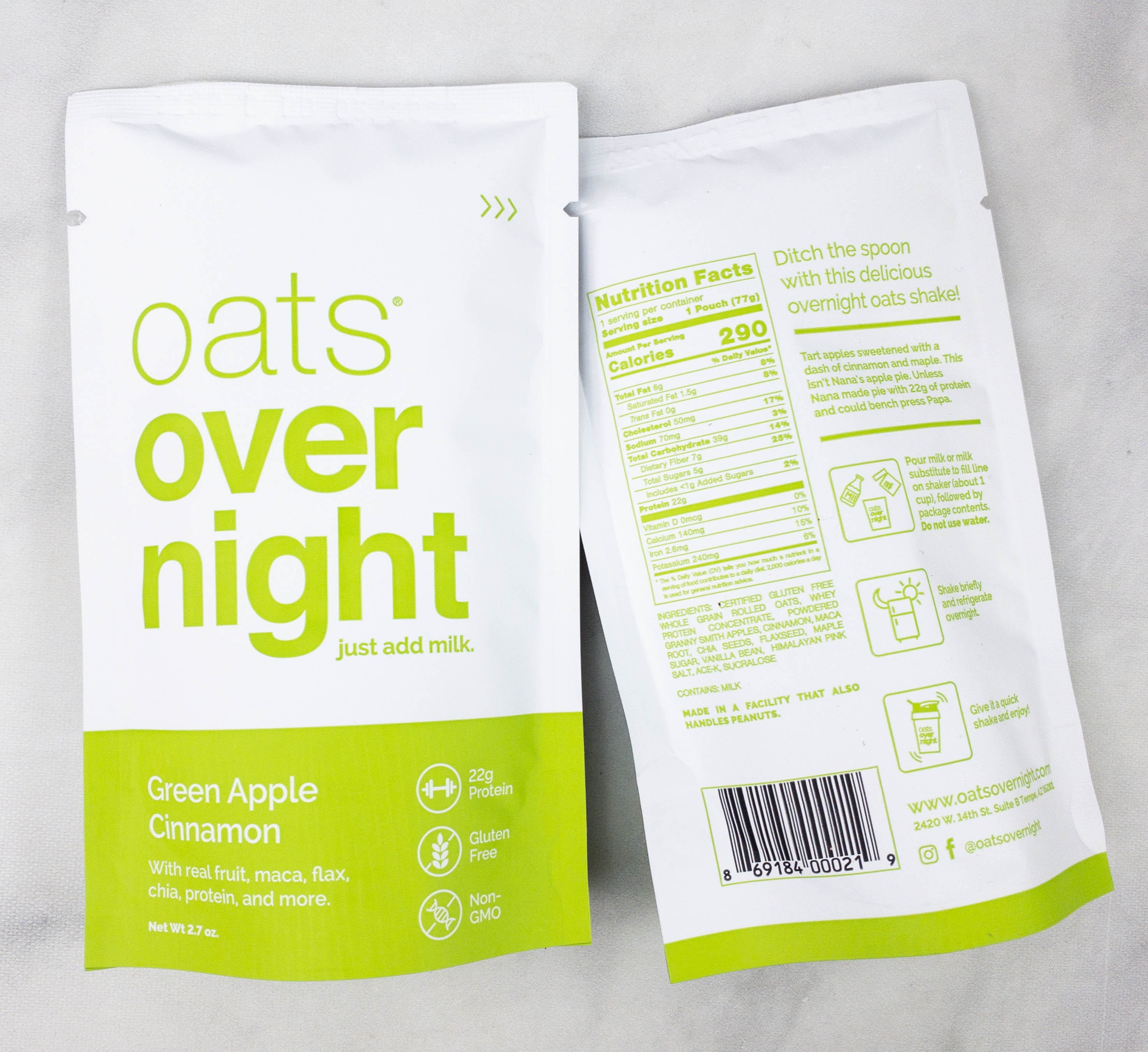 Green Apple Cinnamon. This one is a classic: a blend of Granny Smith apples and cinnamon! It also includes Vermont maple, maca root, chia/flax seeds, and whey protein.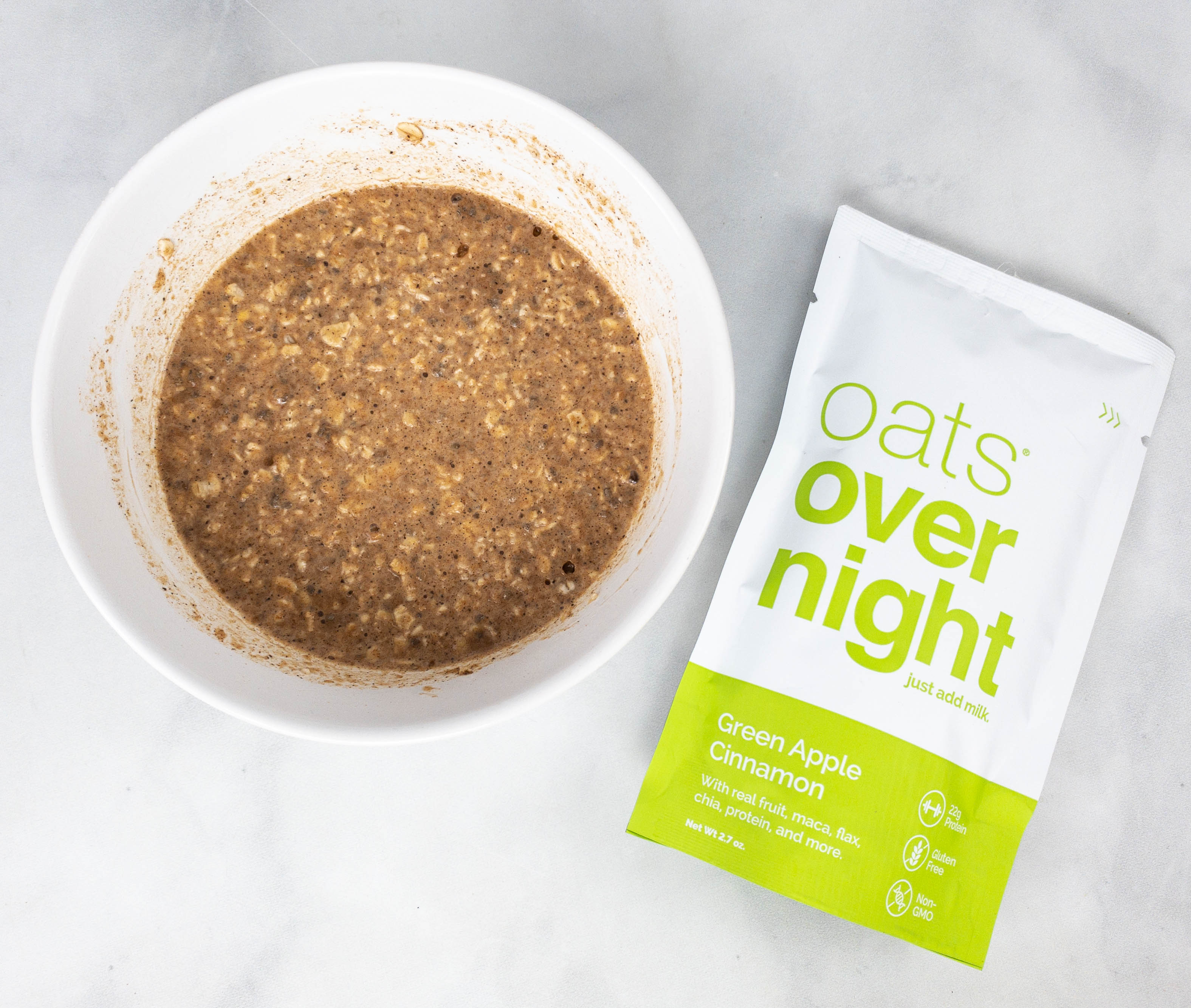 The flavor reminds me of apple pies, and it's so comforting when served warm.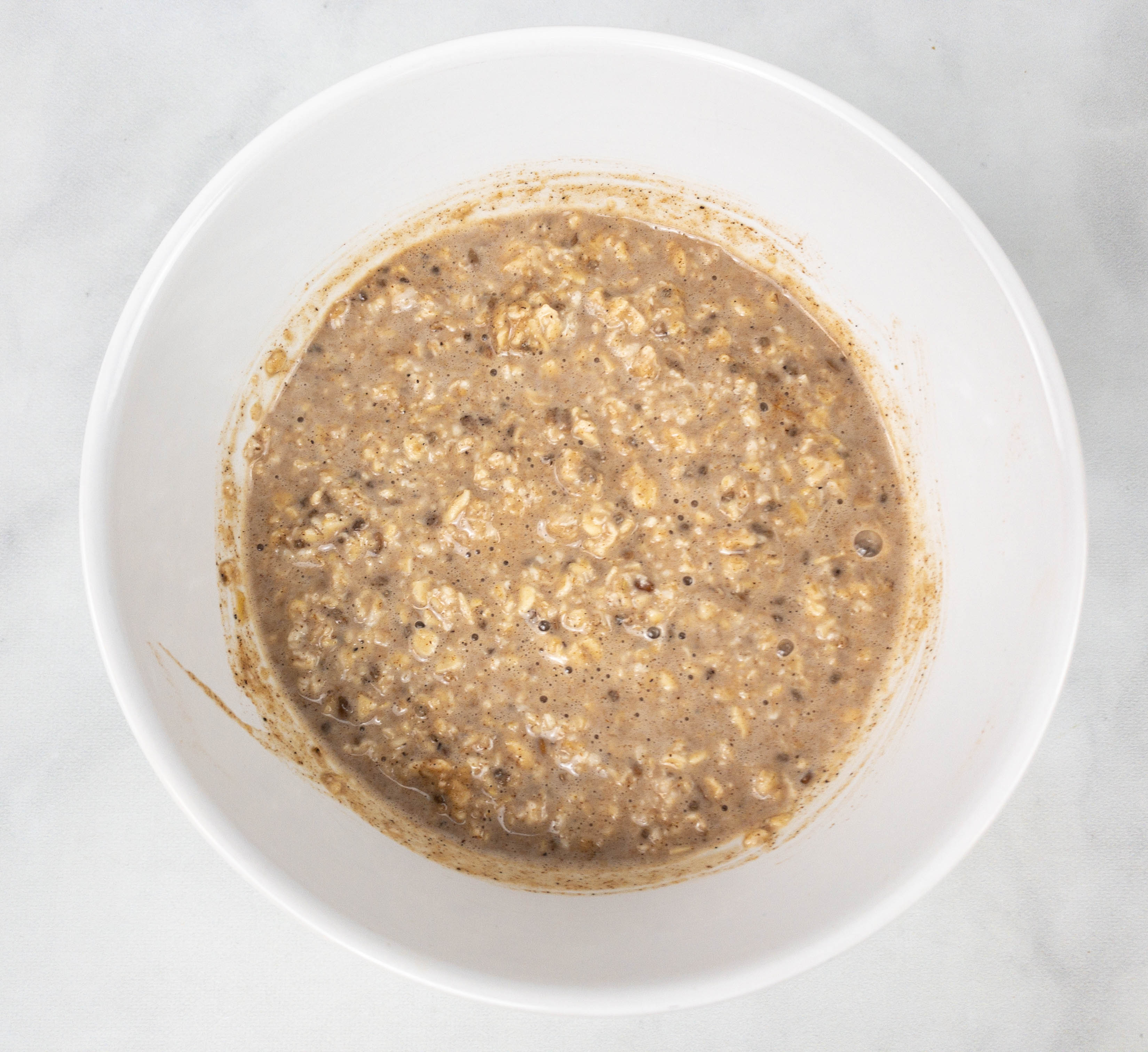 I can already smell the cinnamon!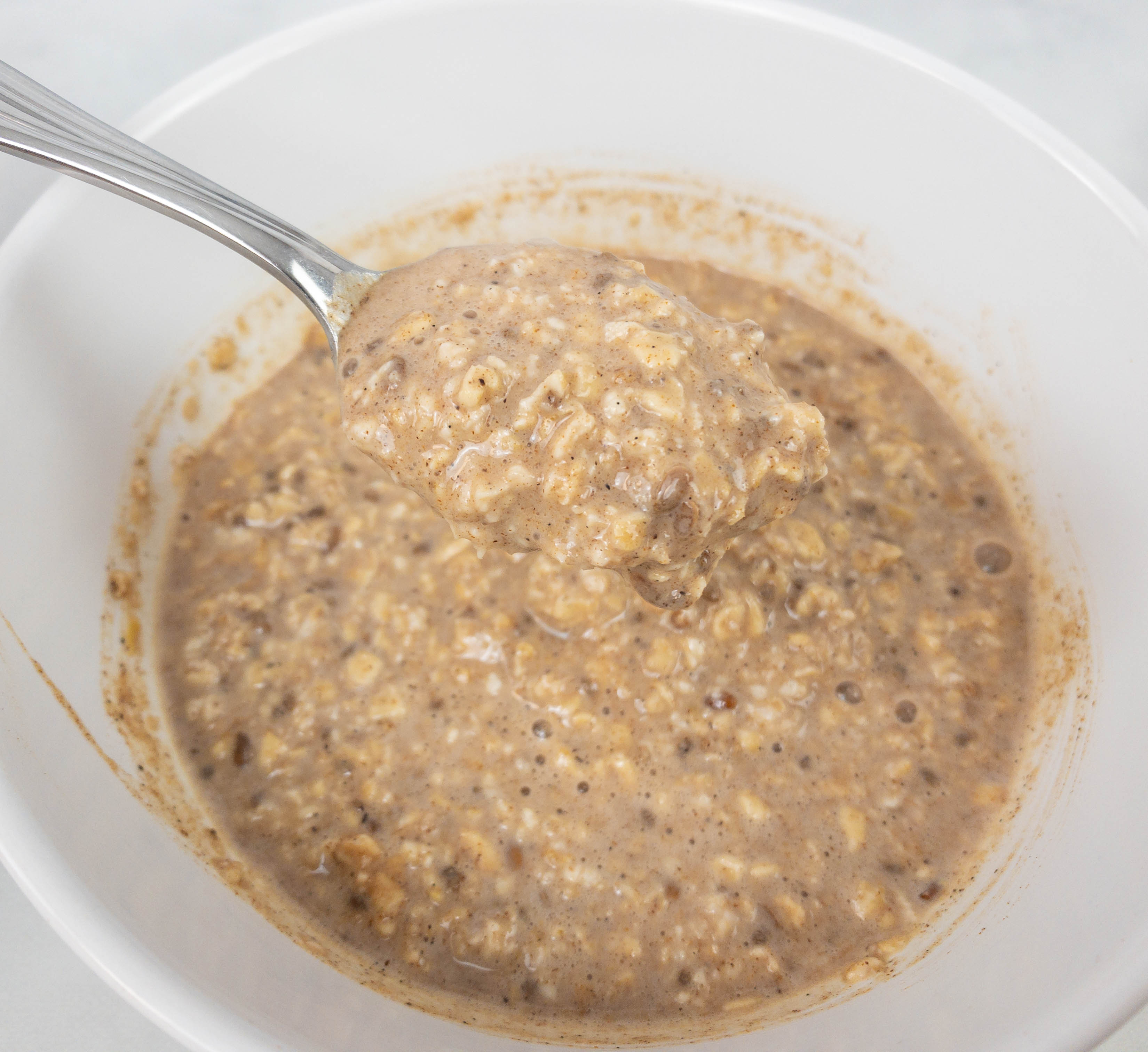 It has a well-balanced flavor profile! It doesn't have apple chunks which would've added to the texture. They used powdered apple, but it's still pretty great.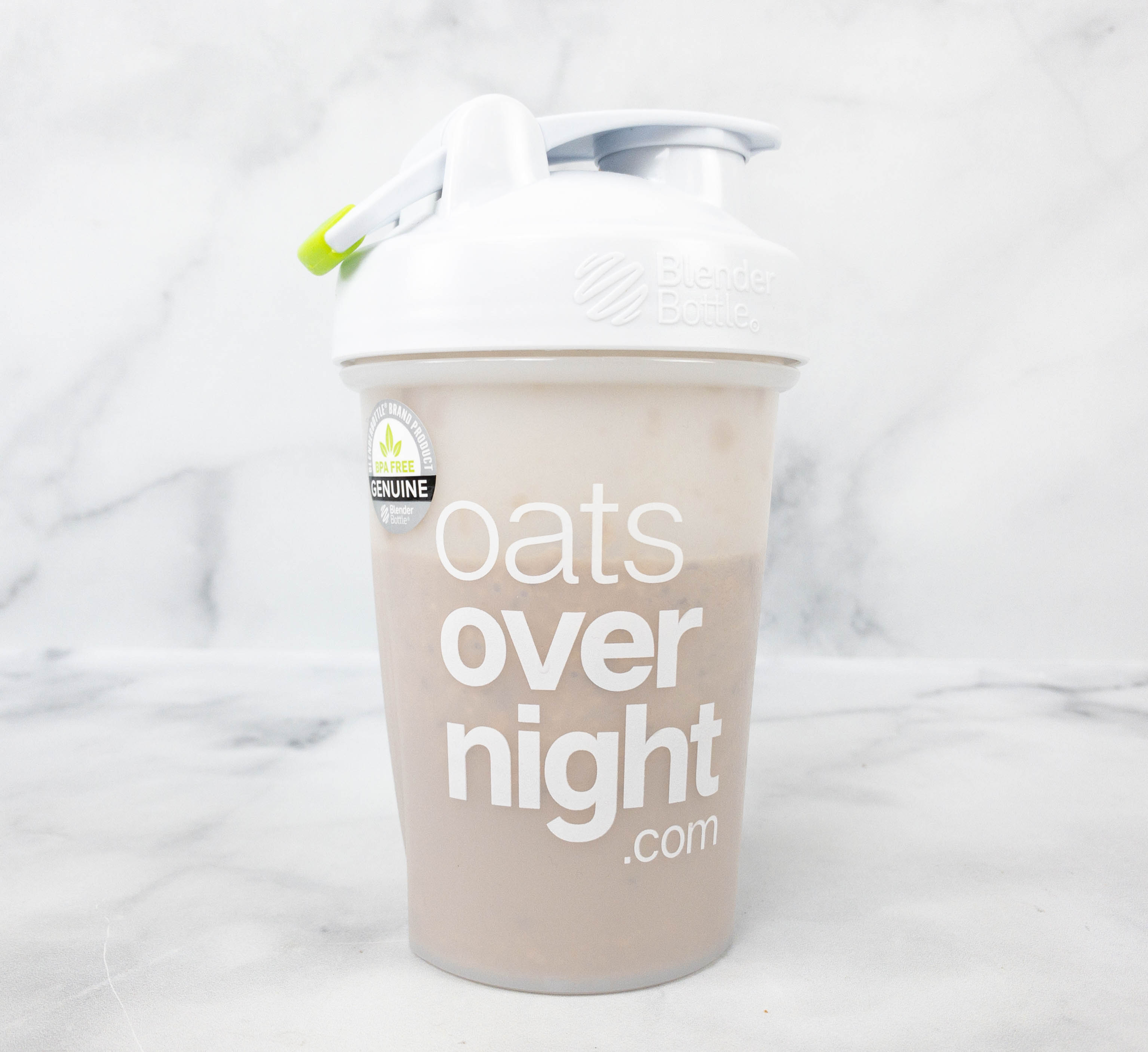 If you don't feel like eating your breakfast oats in a bowl or you need it on-the-go for work in the morning, you can put them in your blender bottle!
Mocha Dream. Here's another coffee-infused overnight oats flavor! Mocha Dream contains approximately 90 mg of caffeine. I's also enriched with raw cacao and packed with maca root, chia/flax seeds, Himalayan pink salt, and whey protein.
This has a unique, metallic packaging so it can easily be spotted from the rest.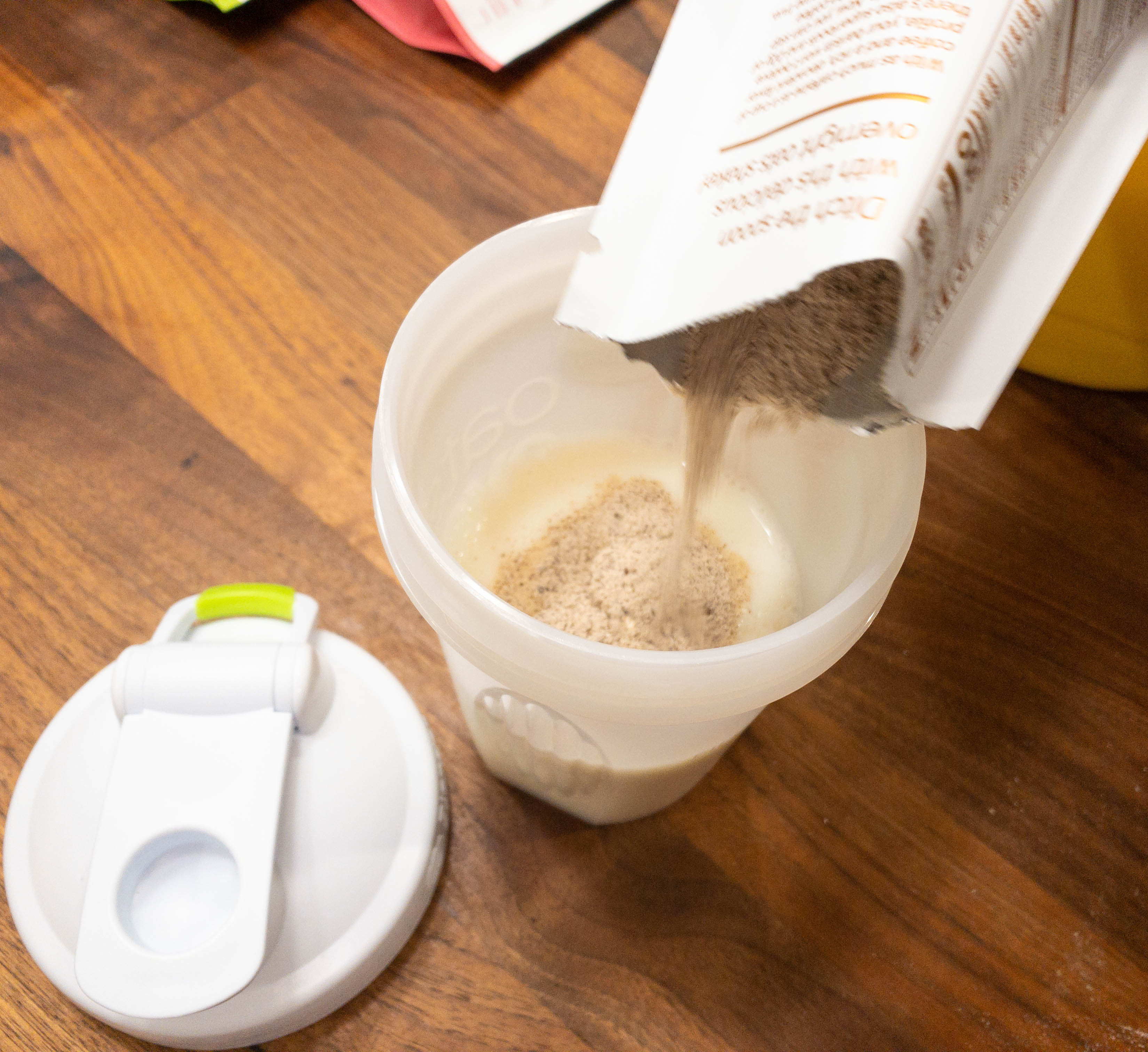 This is one of the two flavors that contain caffeine, which is great if you need that extra boost of energy in the morning.
Everything looks great! It's time to place the lid, shake, and leave it in the fridge overnight.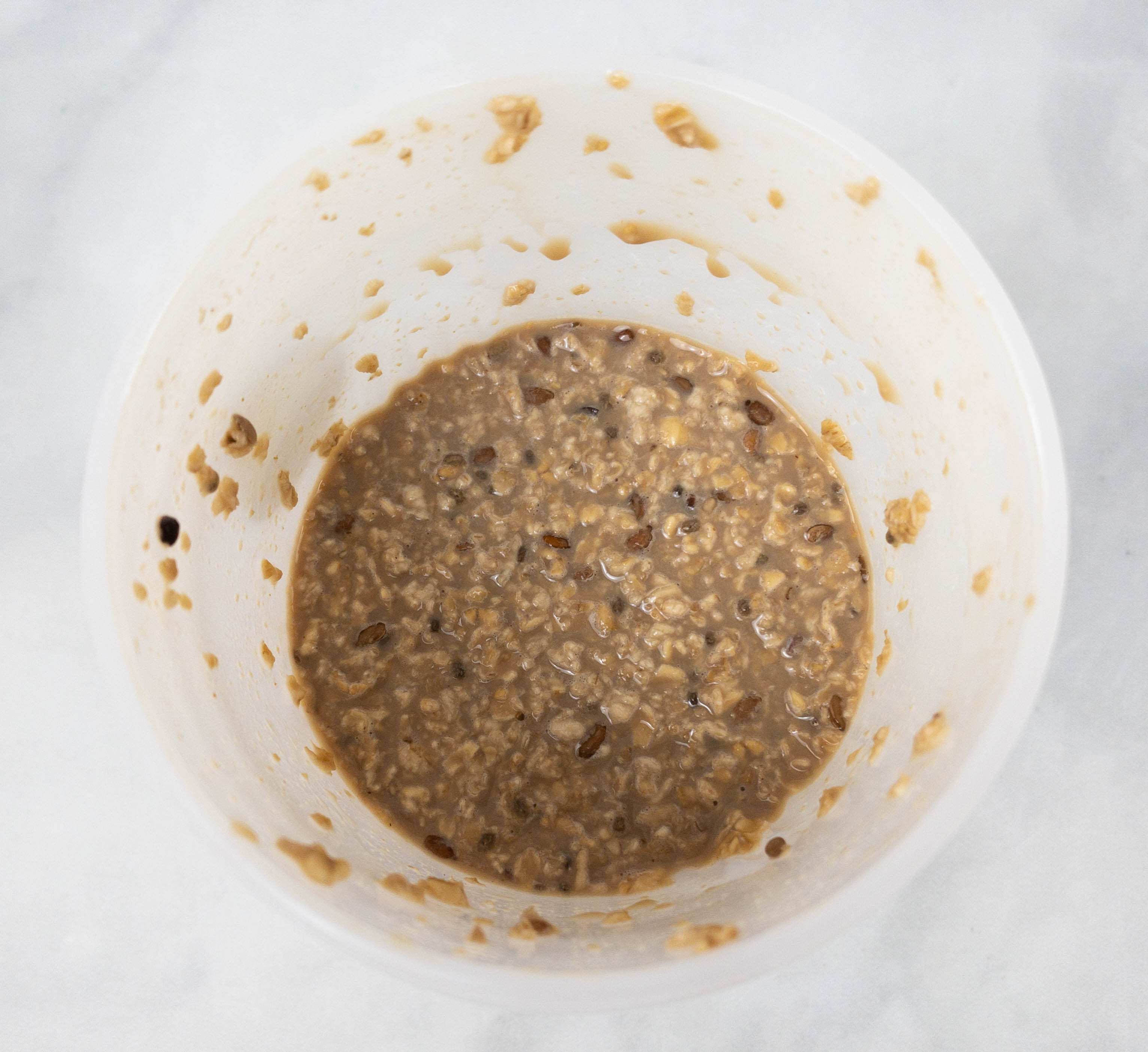 This is what it looks like the next morning. Upon opening, it really smelled like coffee!
I had to shake the blender bottle a bit before transferring to a clear glass so I could get a better photo.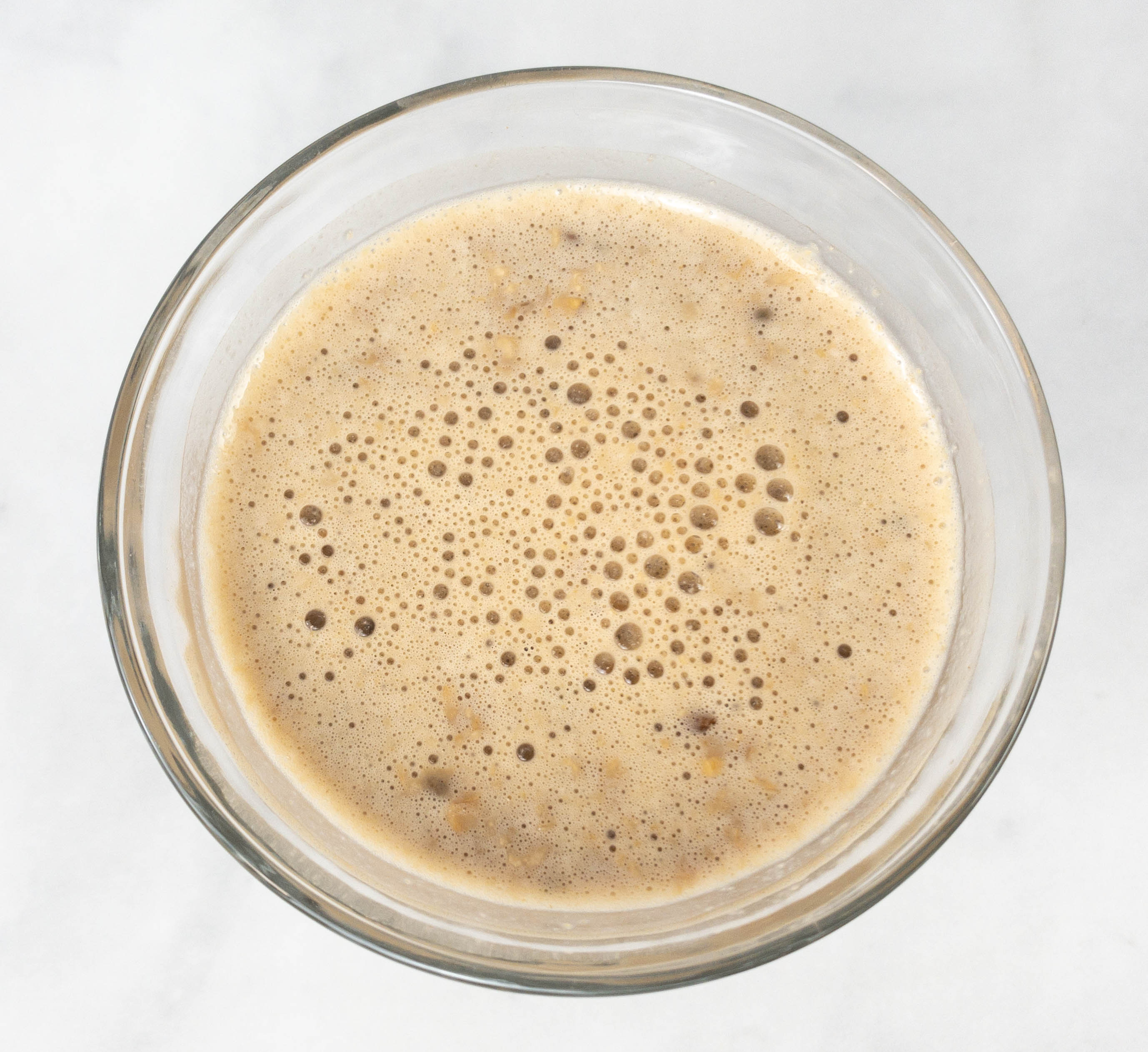 The taste of coffee is there but it is masked by the rich chocolate. This is a very enjoyable breakfast to go and my husband is happy because it contains the caffeine he needs to get his day started!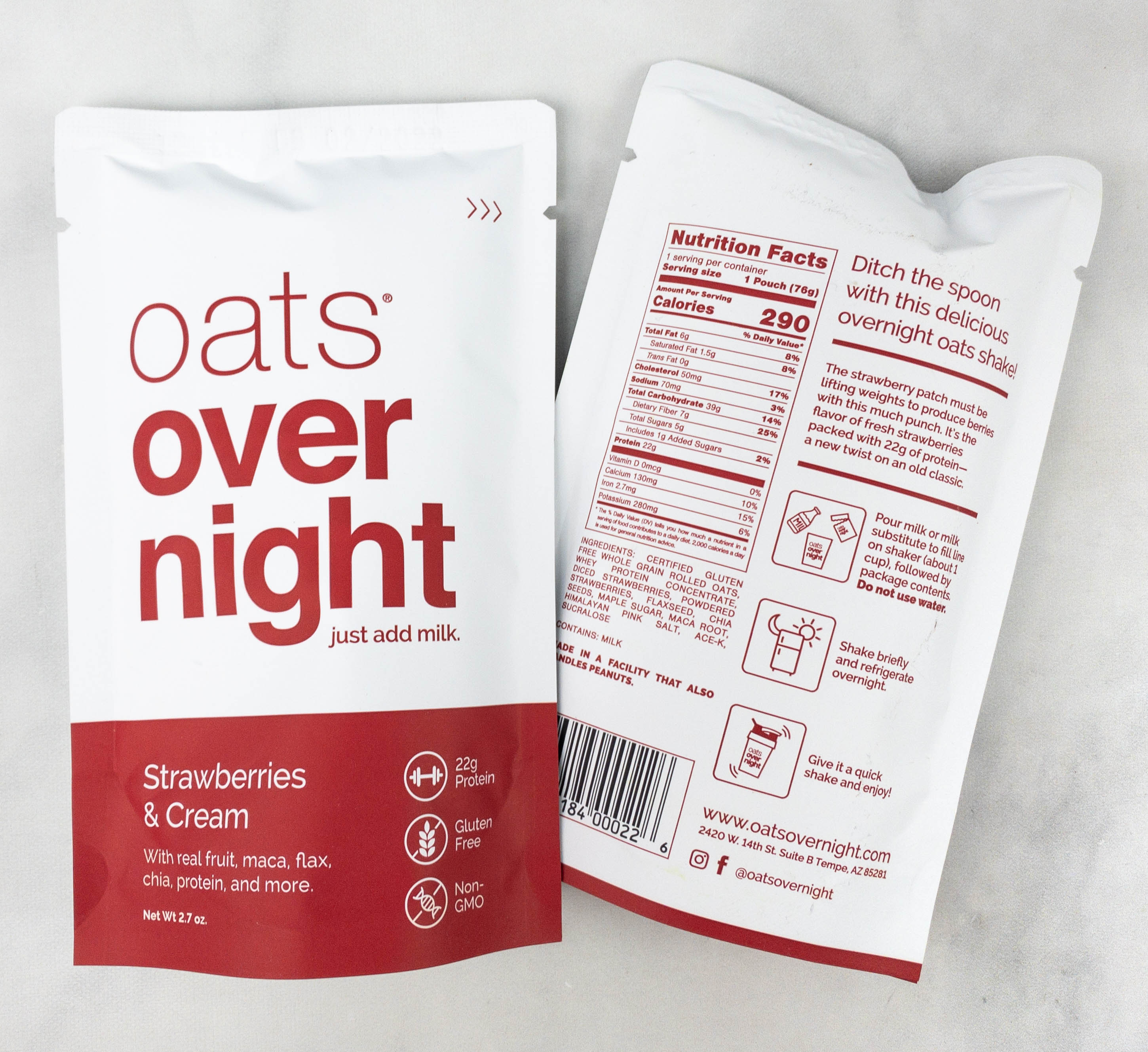 Strawberries & Cream. Strawberries and cream for breakfast? Sounds like a good idea! This flavor has real strawberries, mixed with vermont maple, maca root, chia/flax seeds, Himalayan pink salt, and whey protein.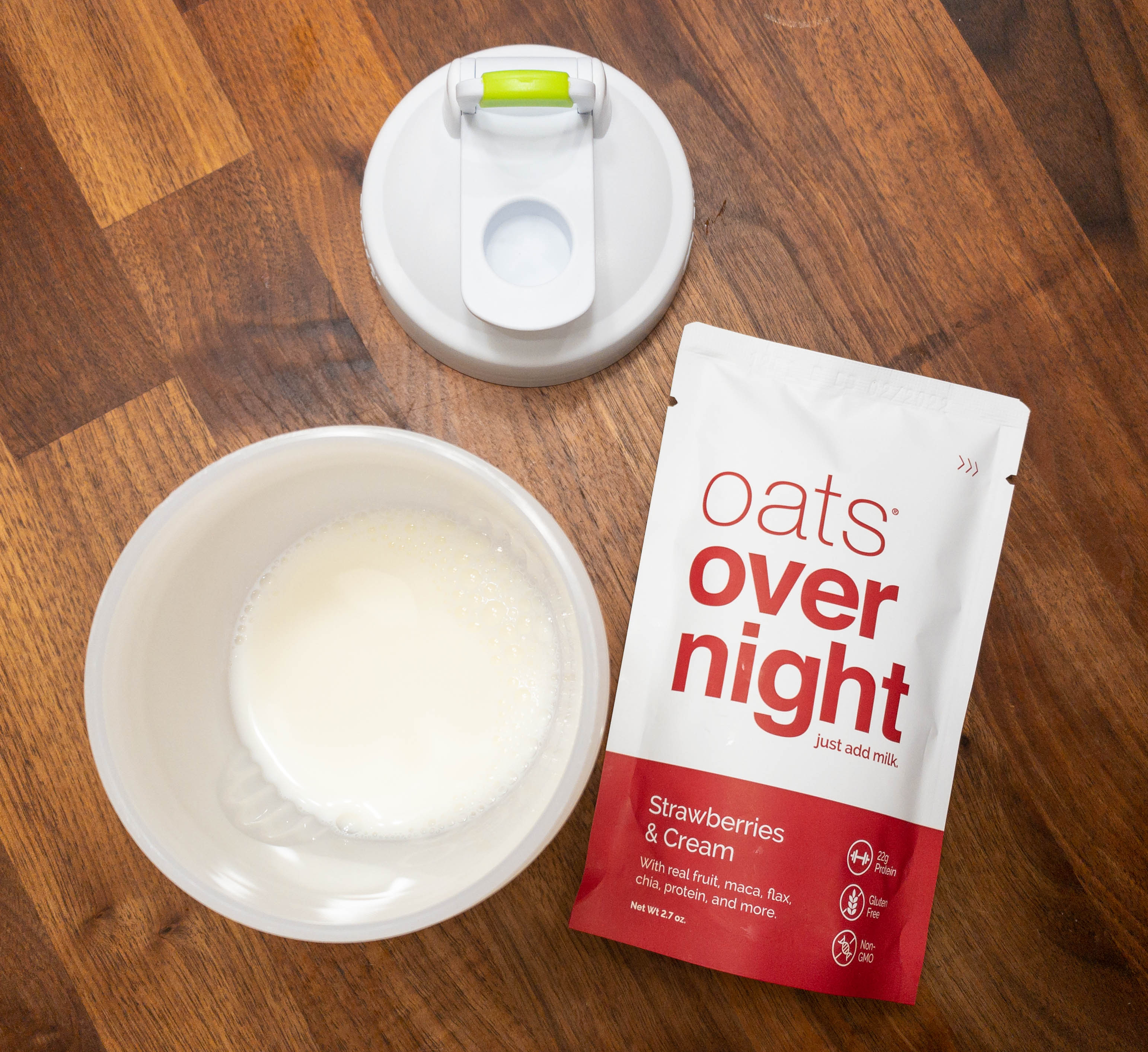 Just like the others, it's super easy to prepare!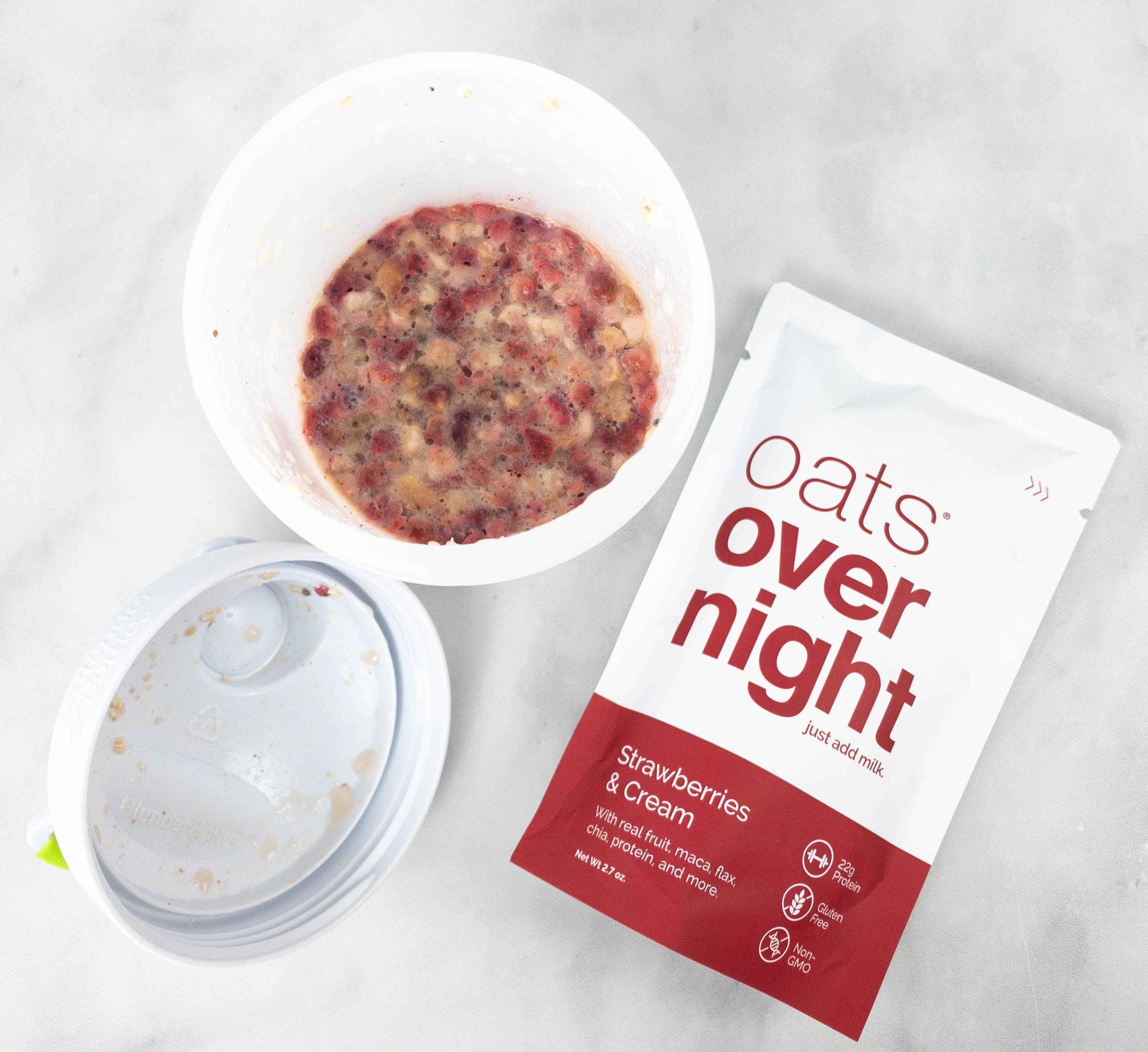 I love that they used actual strawberry bits for this one!
It has a light pink hue!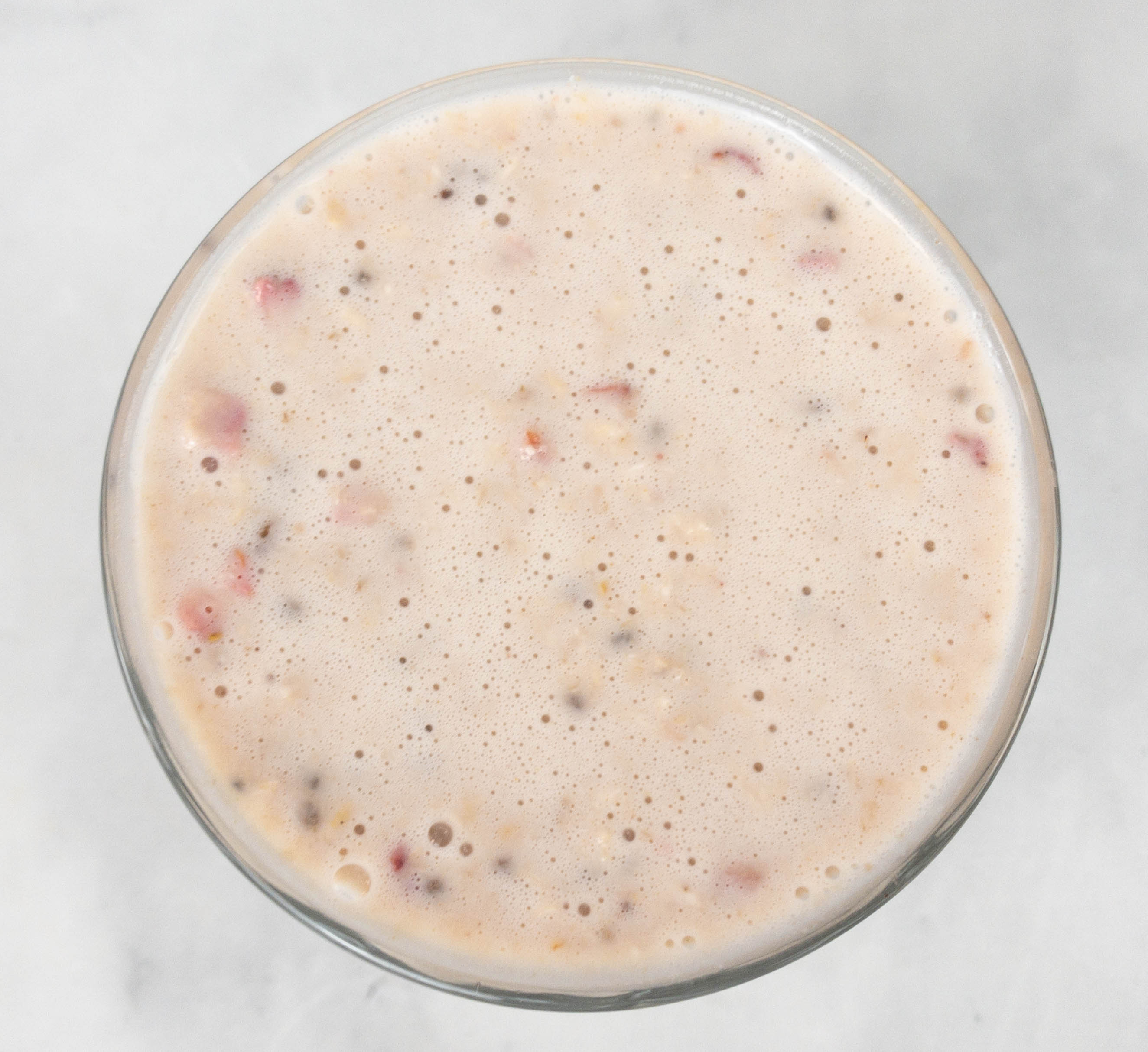 This flavor is a bit sweeter compared to the others.
I had this as a shake and it was smooth and creamy, I can't get enough of it!
Oats Overnight is a great breakfast choice for busy people. You can prepare them ahead at night, just add milk (or a milk alternative) before letting it sit overnight. In the morning, you'd have a delicious breakfast that you can either take on the go or enjoy in the comforts of home. It's also packed with protein so each serving is really filling. I enjoyed some as an oatmeal drink, but the others were great as oatmeal in a bowl as well. They really set the bar high for overnight oats with all these yummy and delicious flavors. I can't pick a favorite among the ones I tried because they were all so good! There's something for the chocolate lovers, for the fruit fans, and even for those who need their dose of caffeine in the morning. To keep things exciting, they even send an unreleased flavor in each box for those who are enrolled in their Subscriber Exclusive program. I received the Caramel Cold Brew in this box, which is another promising flavor for coffee lovers. These overnight oats are more expensive than regular oats but they are worth a try if you're looking for a quick, filling, and flavorful breakfast at least several days a week without having to stress about breakfast. I miss breakfast any time I don't have something easy and quick, so this resolved many of my early morning issues!
What do you think of the Oats Overnight box?