Now in Books is a book subscription that caters to fans of YA and fiction. They promise to send books that feature new authors, diverse stories and characters, and engaging narratives relating to social issues. There are currently 4 plans available. Two are book-only plans, while the other two offer an immersive experience through playlists, guides, and additional activities.
Young Adult ($16.99) – one newly released young adult novel each month
Books & Music: Young Adult ($19.99) – one gift-wrapped young adult novel, specially curated music playlist, book club guide, discussion questions, and a fun activity like recipes or puzzles each month
Fiction ($19.99) – one newly released fiction novel each month
Books & Music: Fiction ($24.99) – one gift-wrapped fiction novel, specially curated music playlist, book club guide, discussion questions, and a fun activity like recipes or puzzles every 3 months
DEAL: Get 10% off your first box when you sign up for 3-month+ subscription! Use this link and use the coupon code SAVEMORE.
This is the review of the Books & Music box!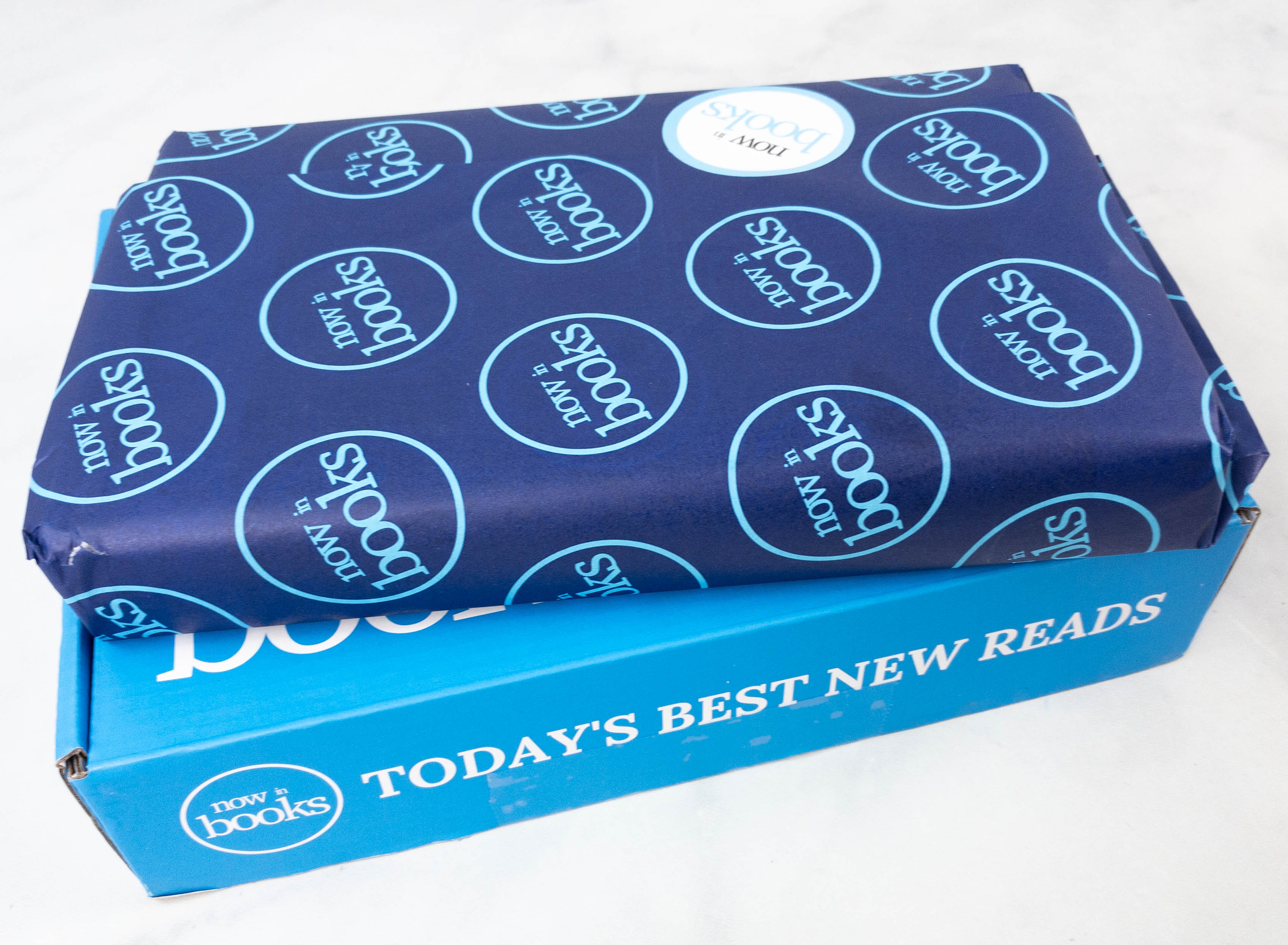 It was also wrapped in a blue printed paper, sealed with a Now in Books sticker.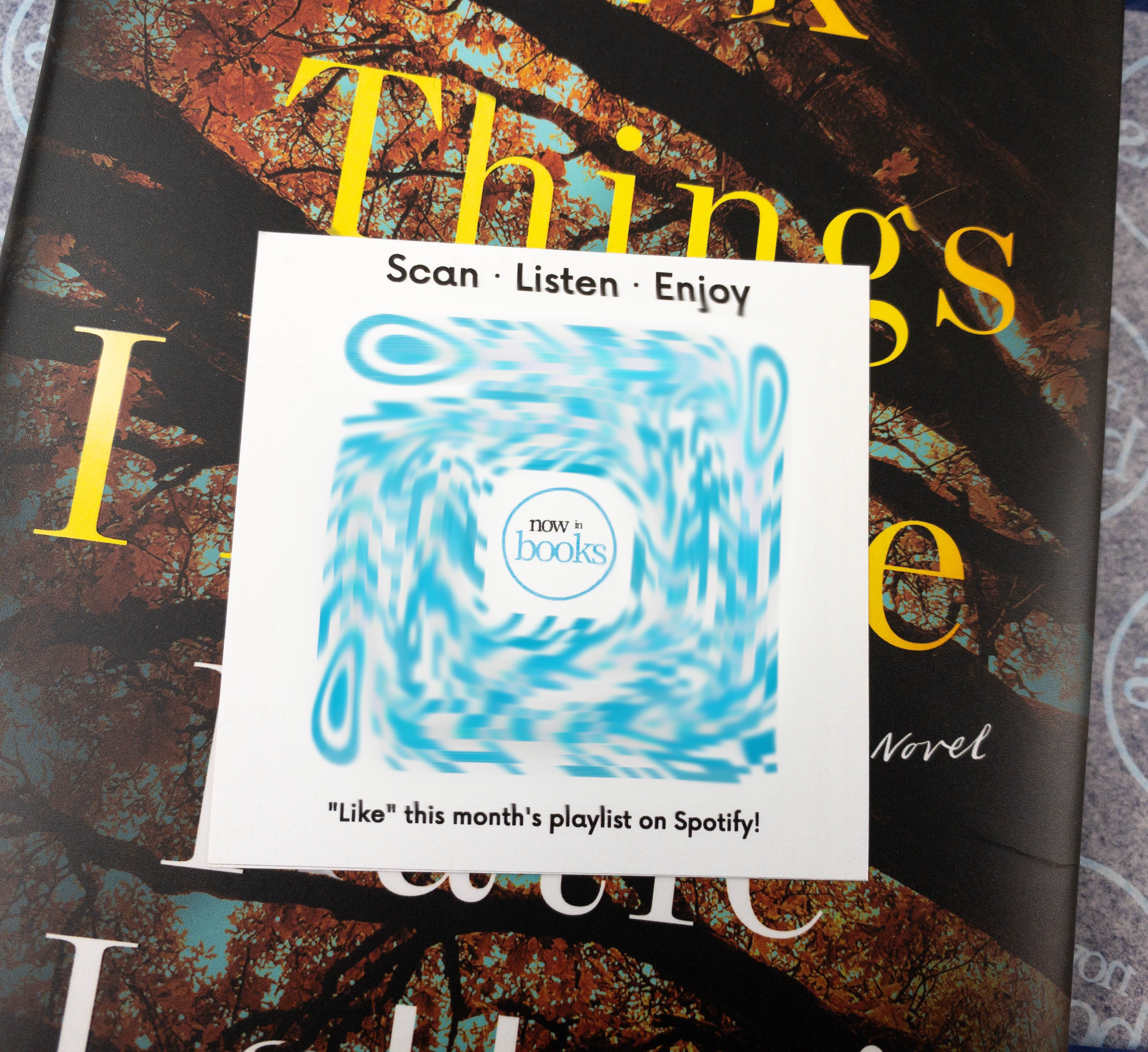 It also has a QR code for the curated Spotify playlist!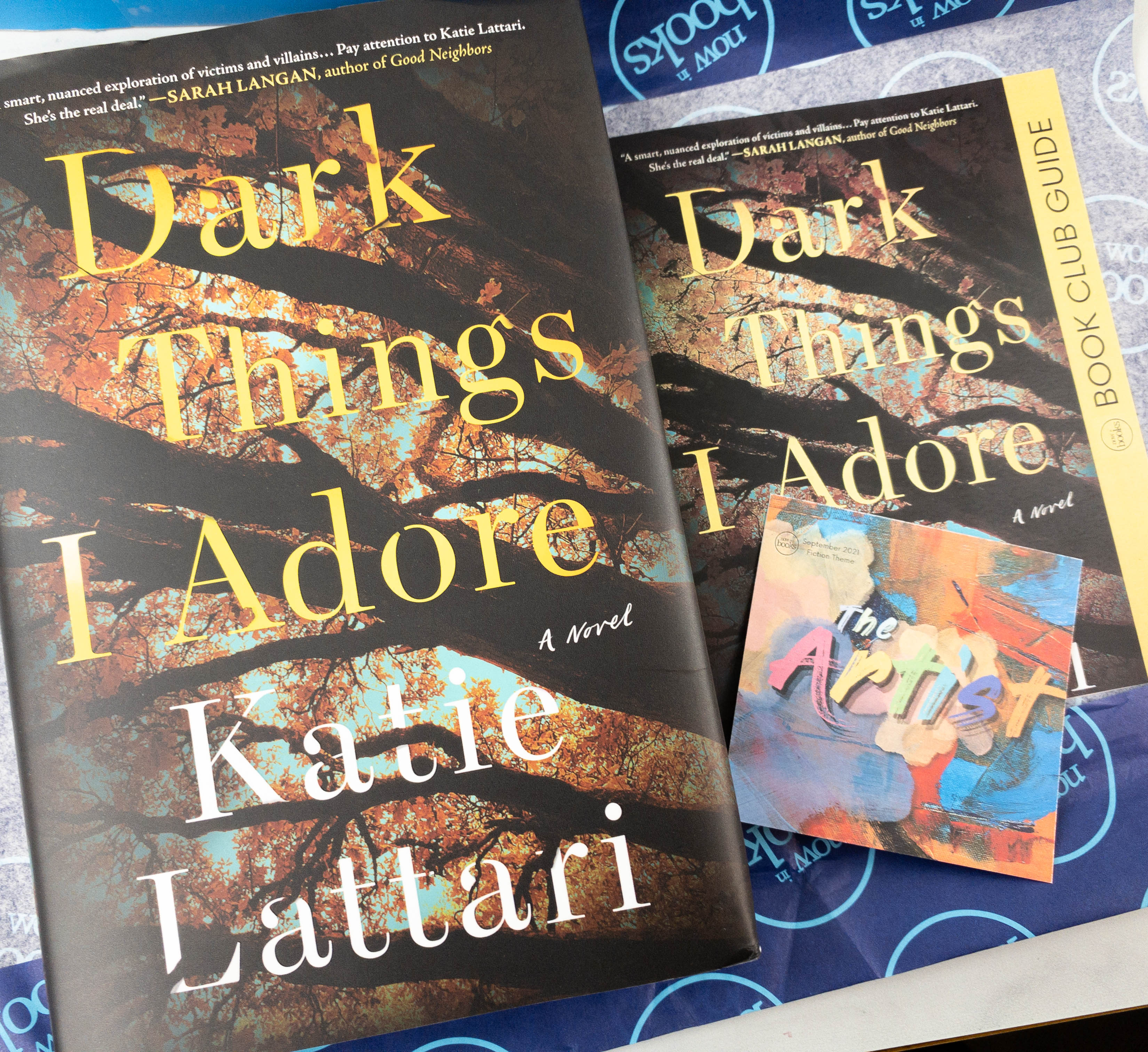 Everything in my box!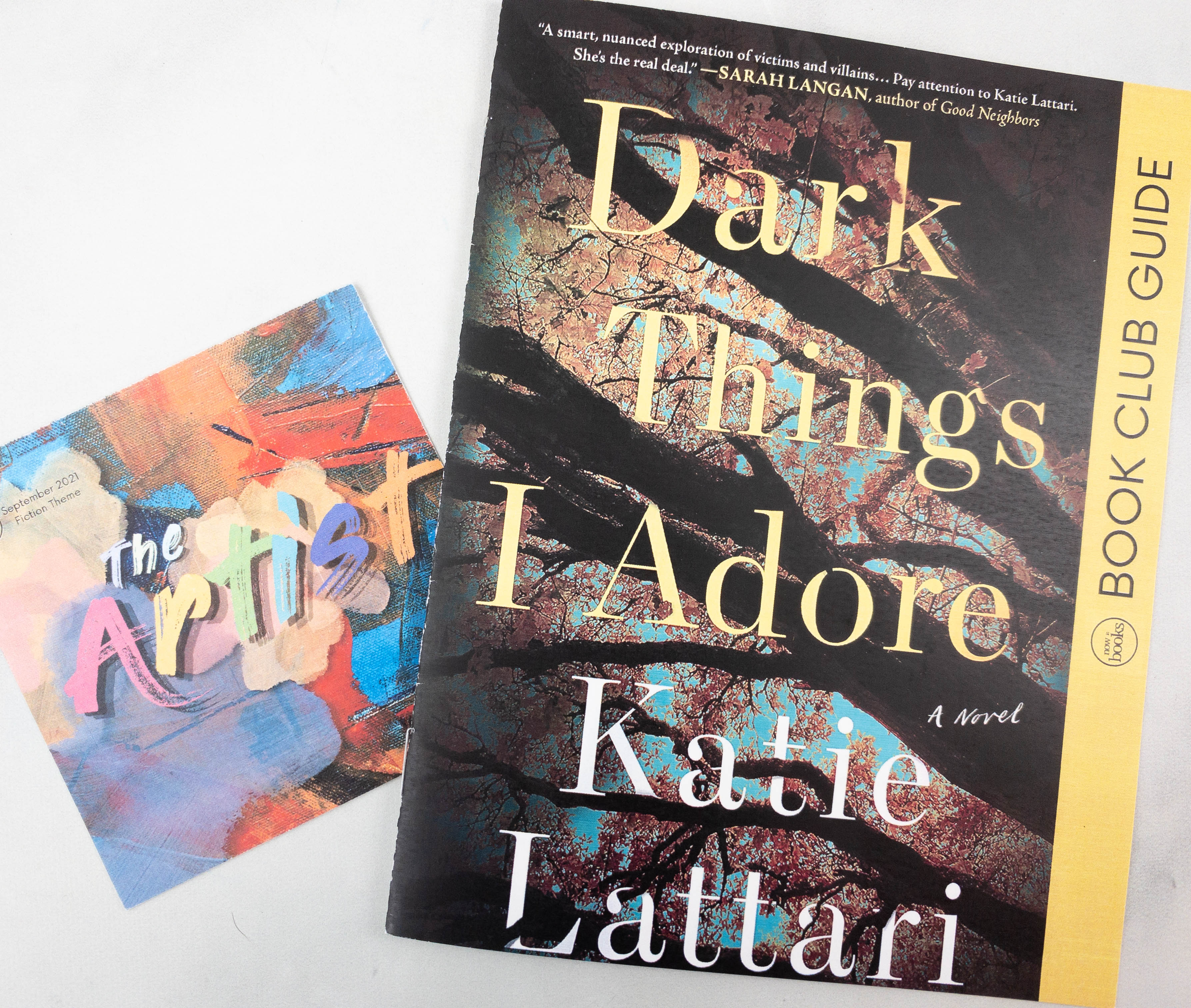 The September 2021 Fiction theme is The Artist.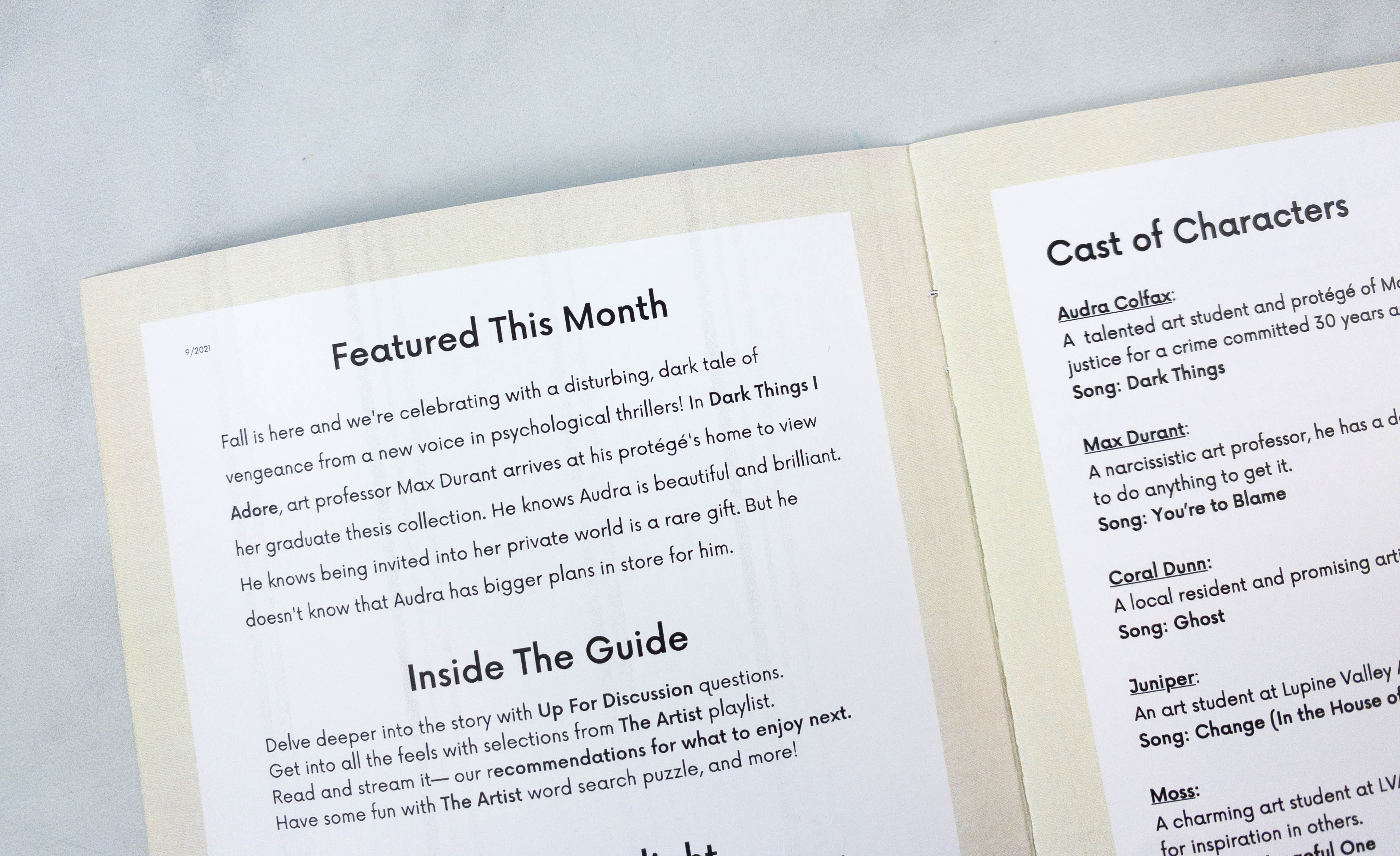 The featured author this month is Katie Lattari. On the next page, they also listed the characters in the book.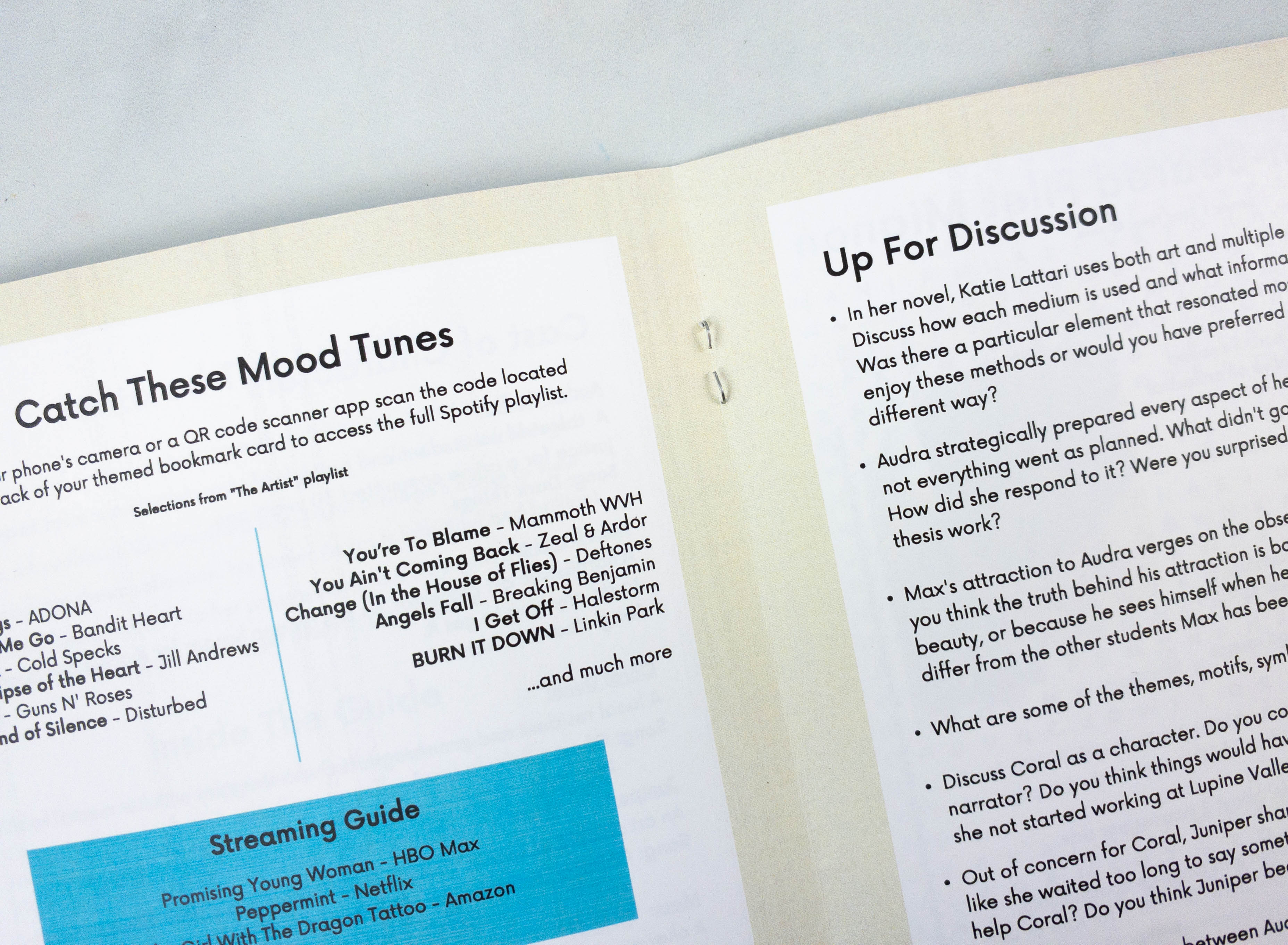 On this page is the mood tunes! It's the curated playlist that matches this month's book.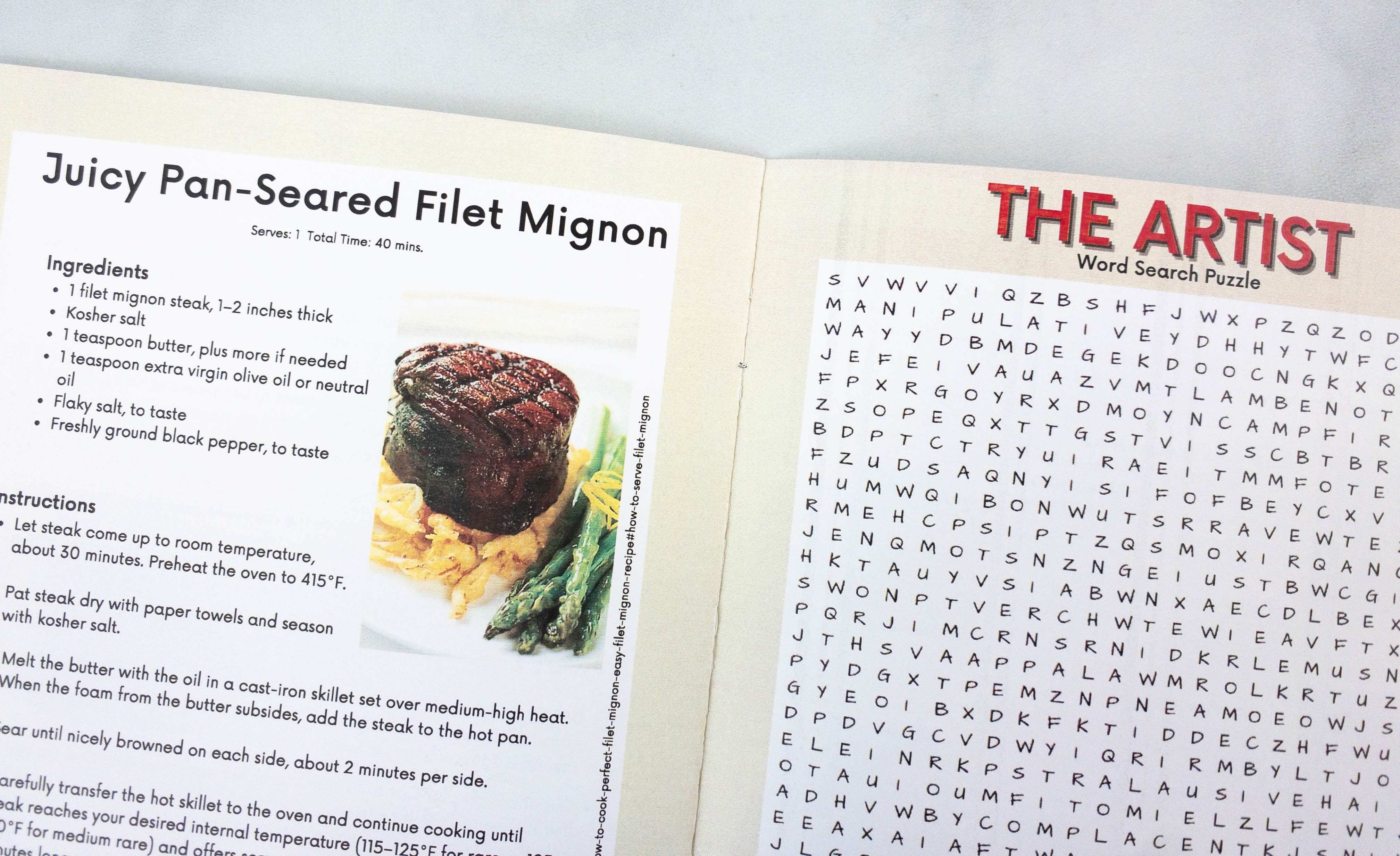 They also shared a recipe for Juicy Pan-Seared Filet Mignon, as well as a word search game!
Dark Things I Adore by Katie Lattari ($20.49)
A debut thriller for fans of Lucy Foley and Liz Moore, Dark Things I Adore is a stunning Gone Girl-esque tale of atonement that proves that in the grasp of manipulative men, women may momentarily fall. But in the hands of fierce women, men will be brought to their knees.

Three campfire secrets. Two witnesses. One dead in the trees. And the woman, thirty years later, bent on making the guilty finally pay.

1988. A group of outcasts gather at a small, prestigious arts camp nestled in the Maine woods. They're the painters: bright, hopeful, teeming with potential. But secrets and dark ambitions rise like smoke from a campfire, and the truths they tell will come back to haunt them in ways more deadly than they dreamed.

2018. Esteemed art professor Max Durant arrives at his protégé's remote home to view her graduate thesis collection. He knows Audra is beautiful and brilliant. He knows being invited into her private world is a rare gift. But he doesn't know that Audra has engineered every aspect of their weekend together. Every detail, every conversation. Audra has woven the perfect web.

Only Audra knows what happened that summer in 1988. Max's secret, and the dark things that followed. And even though it won't be easy, Audra knows someone must pay.

A searing psychological thriller of trauma, dark academia, complicity, and revenge, Dark Things I Adore unravels the realities behind campfire legends―the horrors that happen in the dark, the girls who become cautionary tales, and the guilty who go unpunished. Until now.
This is a great read for fans of psychological thrillers! It's written in 3 different POVs with 2 timelines, but it was so well-written that everything just came together and made sense. It's definitely a page-turner! The story being set in the prestigious world of artists also made it more interesting.
If you love poetry and art, you'll probably enjoy this book because there are lots of poetry and art descriptions in it as well!
This month's featured book from Now in Books is Dark Things I Adore and I really like how it represented women in a thriller story. The box also contains a playlist to help set the mood while reading! If you love reading and music, the Books and Music box is perfect for you. In case you don't prefer book guides, they also offer a book-only subscription. All in all, I love the diversity of their book choices and it makes me excited to get reading!
What do you think of the Now in Books box?