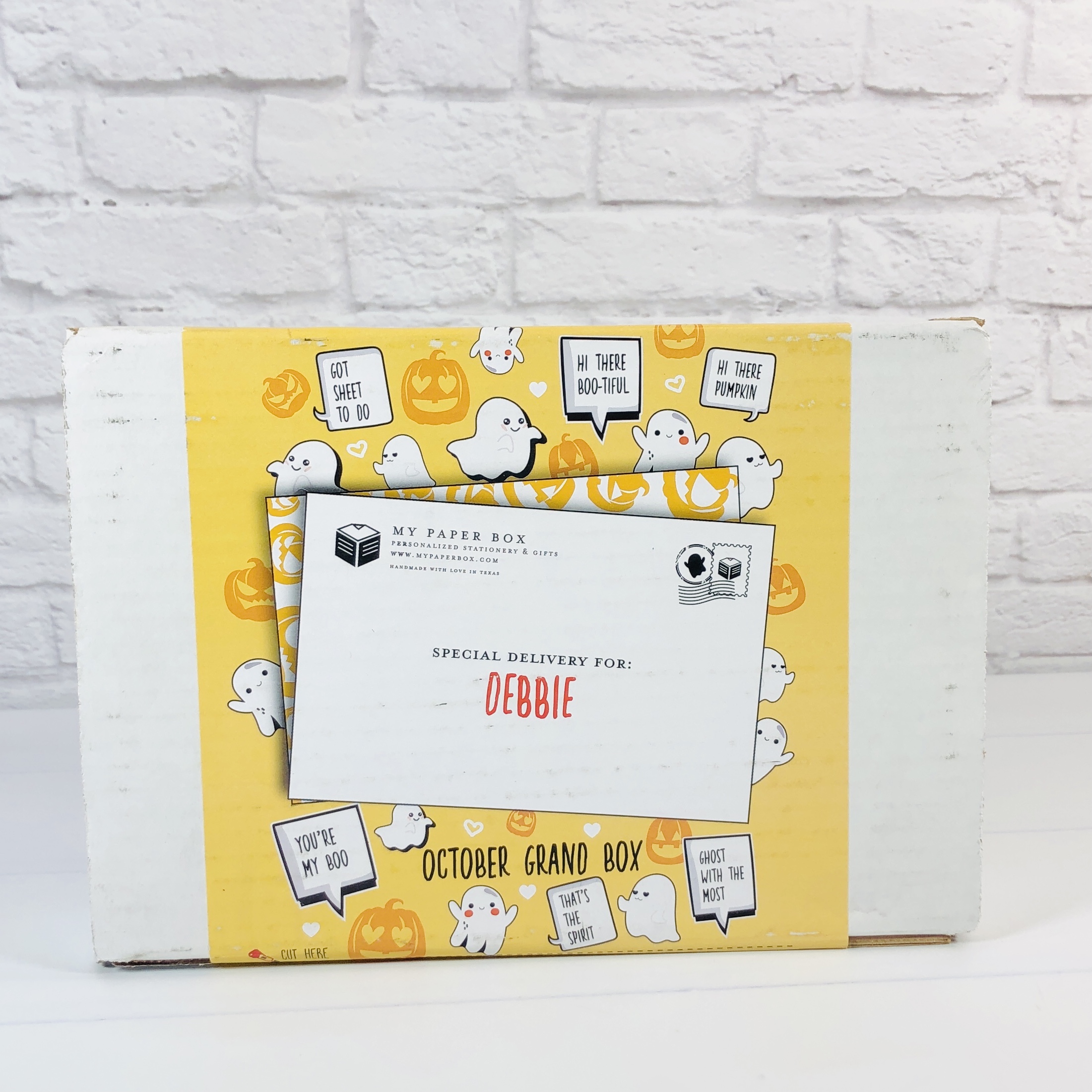 My Paper Box is a monthly personalized subscription box filled with personalized stationery! Imagine my surprise when I saw this cute, cheery box in the mail and it had my name on it! Each box will be curated to a theme and you can choose from two different levels and price points. The Mini Subscription is a collection of 3 personalized notepads and is $10 a month; The Grand Subscription comes with a Personalized Paper Box and a selection of items such as personalized notepads, cards, planners, and more and is $28 a month. Each month there will be a new theme and you receive the order for the Grand Subscription the month before so you will have everything ready to go when the calendar changes.
Make your notes a little more special with Personalized Stationery! One of a kind Stationery Subscription that puts YOU at the center of everything we do. Every box includes freshly designed, themed stationery products inscribed with your name. My Paper Box makes an excellent gift for stationery lovers. All guaranteed to bring a smile to your face.
DEAL: Get $5 off your first box. Use the coupon code 5OFFMYBOX.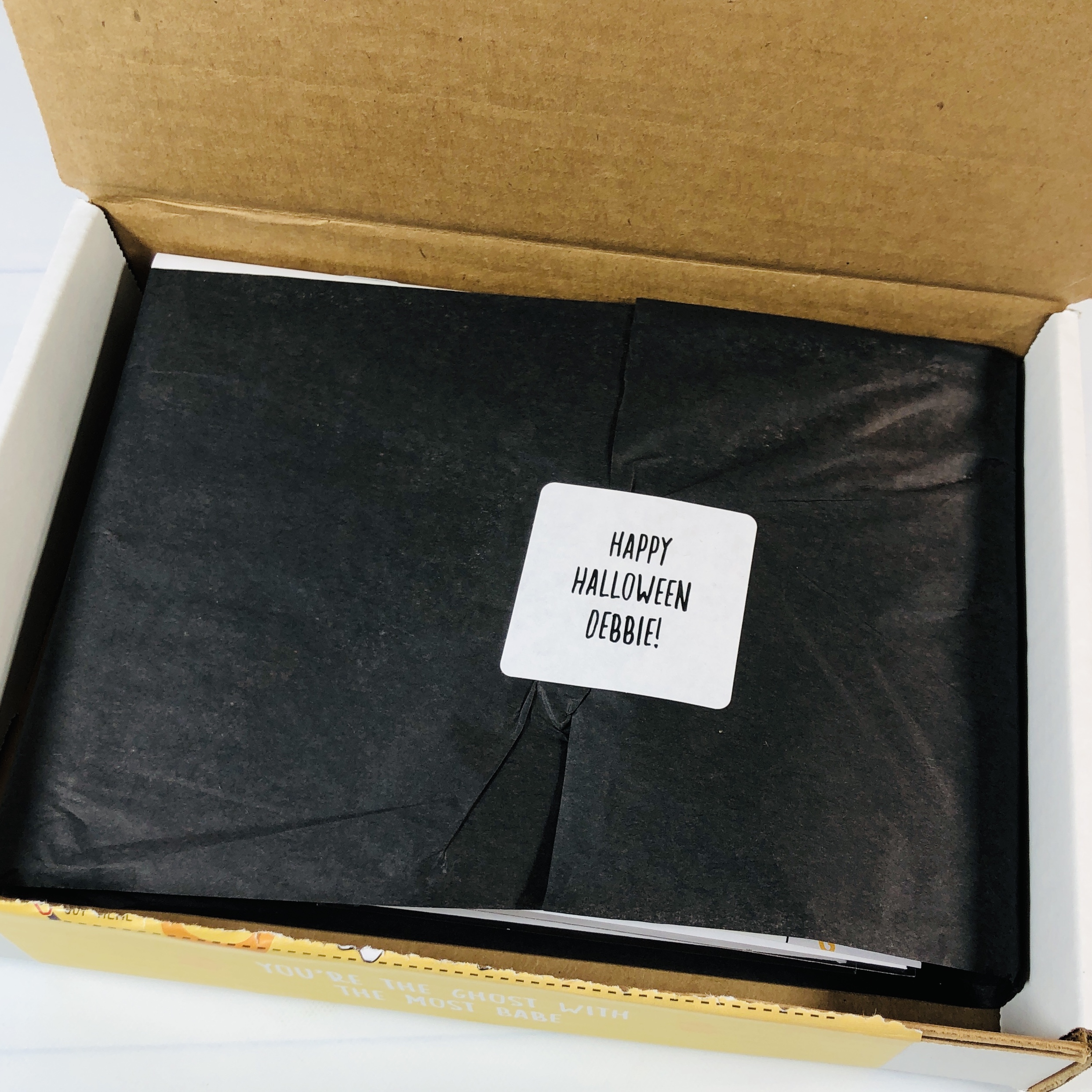 The presentation was cool, with the items wrapped in tissue paper that was sealed with a sticker. It's looking so spoopy this month! I am reviewing the Grand Subscription Box. You can personalize the boxes however you choose, and I prefer my first name alone, but maybe you want Ms. Smith or Mama April on the items instead, it's up to you.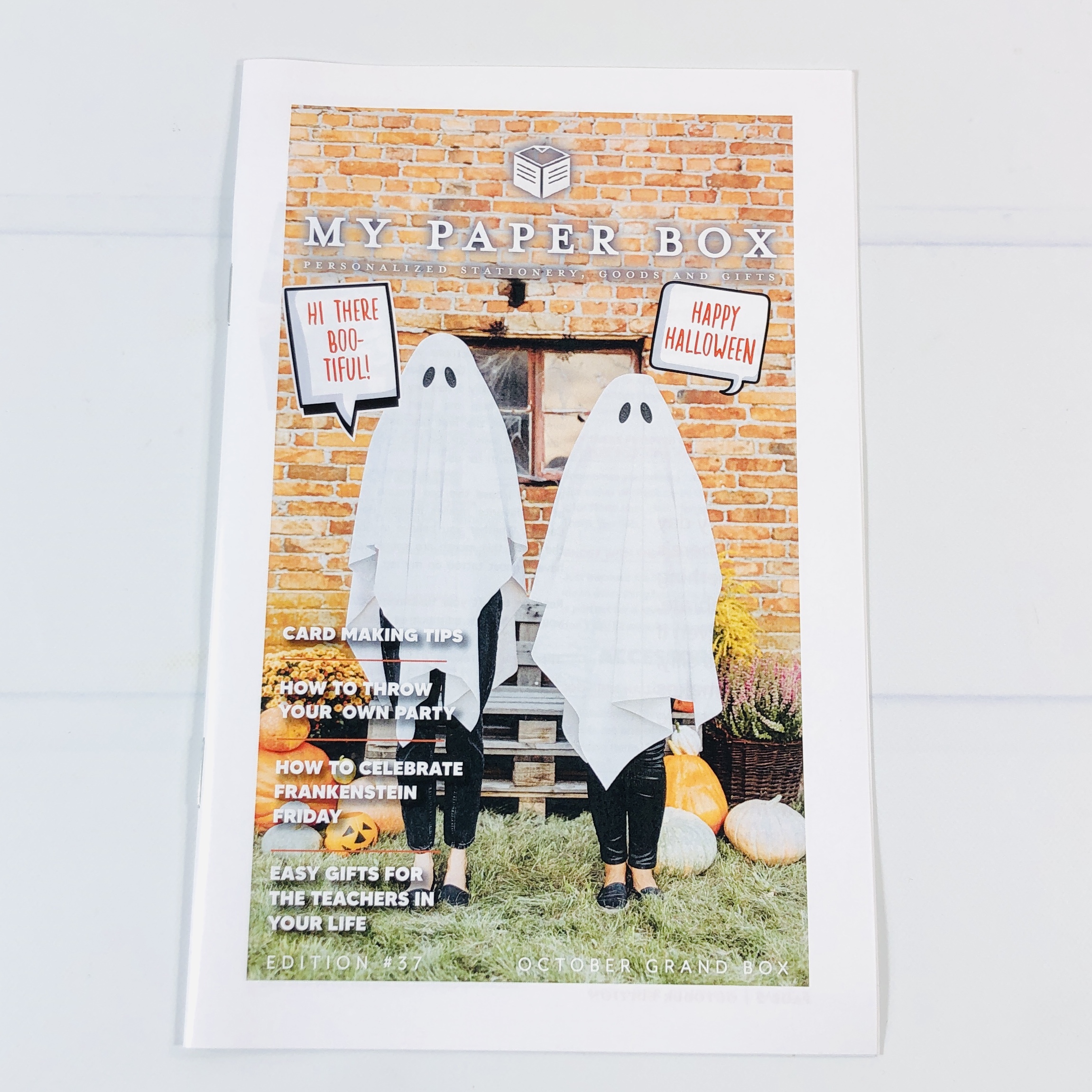 The booklet is very informative and has lots of unusual holidays inside.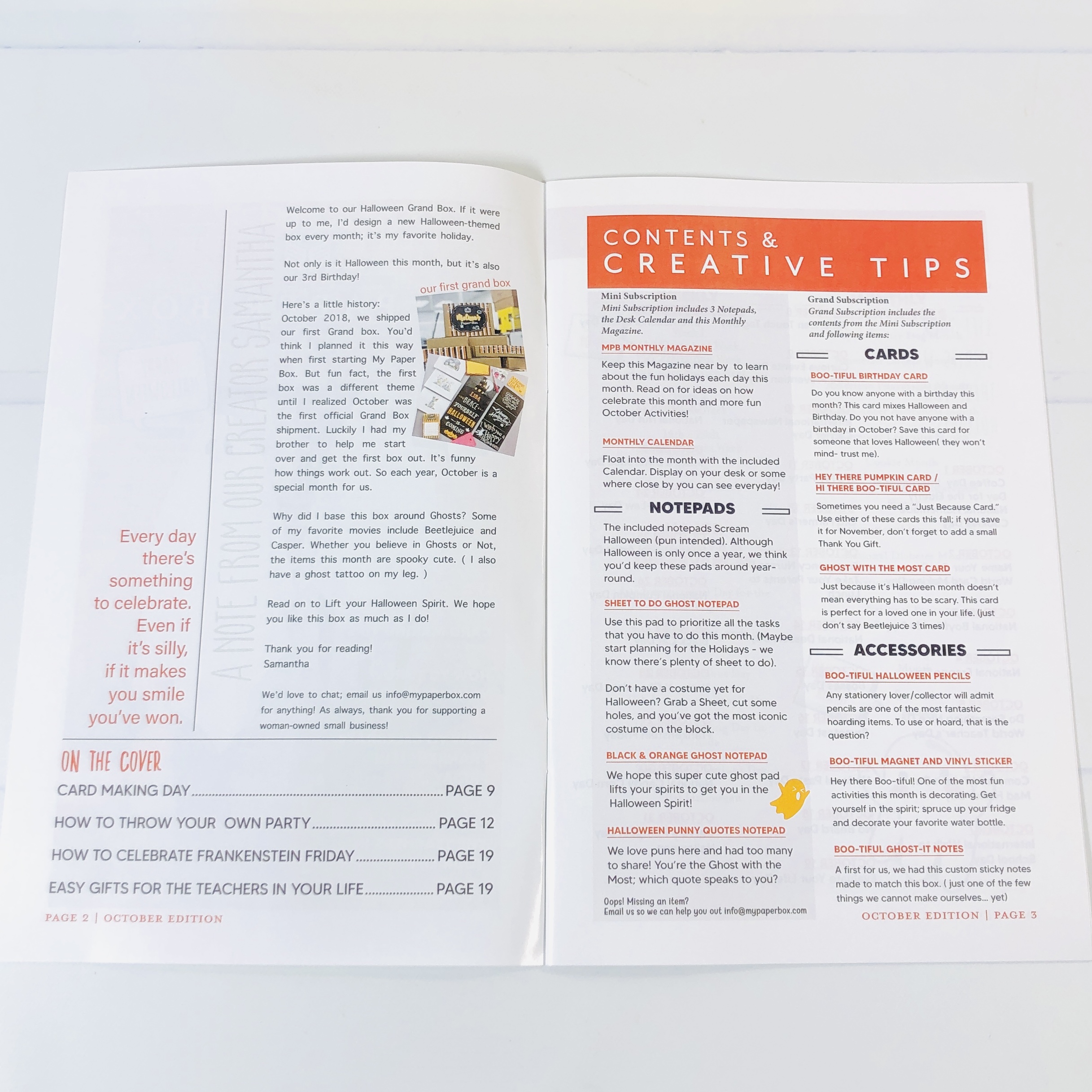 The inside described what I received in my box. It is broken down into what comes in the Mini Subscription listed first, and then the whole page is what you will find in the Grand Subscription.
There are tons of holidays I didn't even know existed. My birthday is this month and happens to fall on National Dessert Day!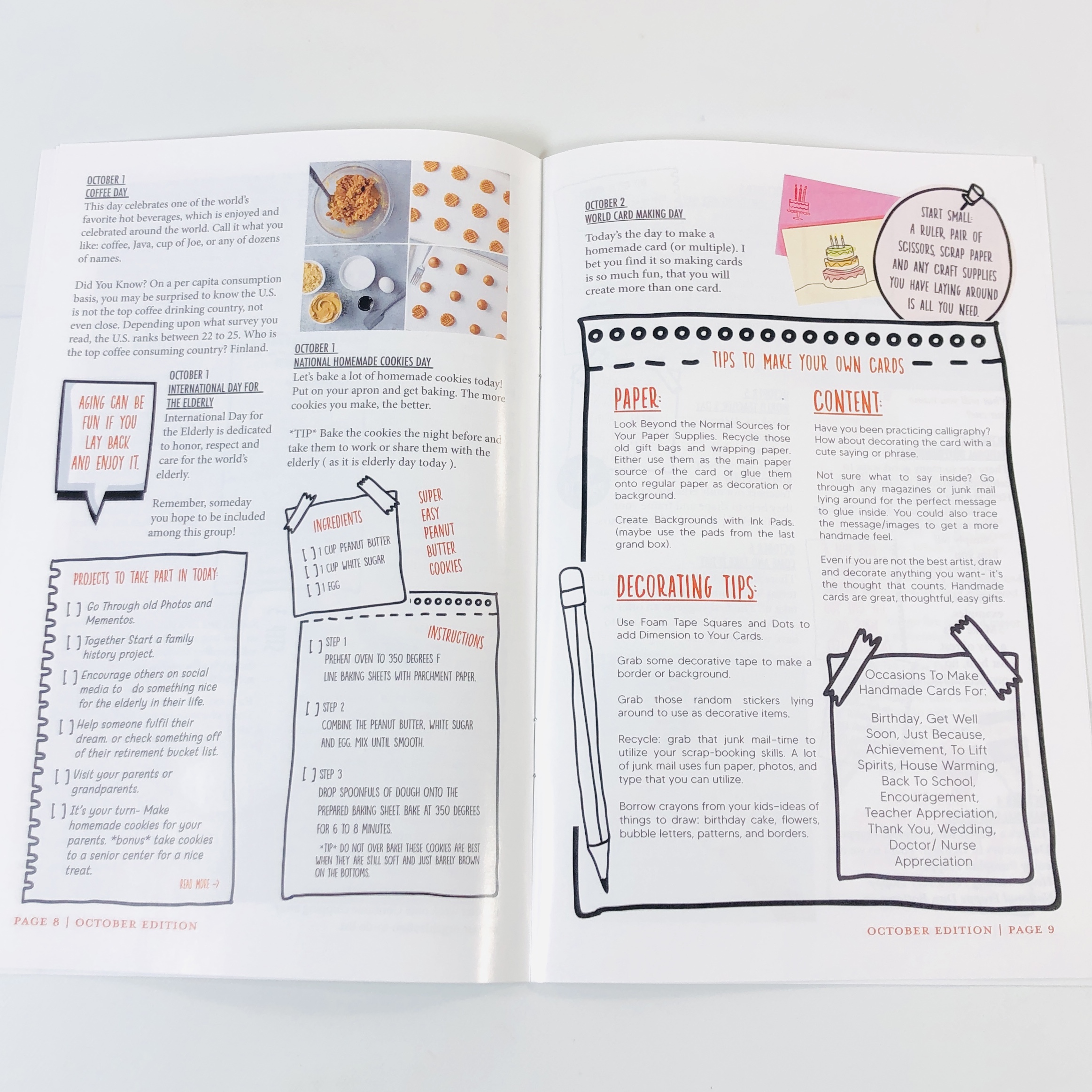 There were also ideas on how to celebrate those dates too! There are 20 pages in all in this booklet, and I even found a cookie recipe!
It's so boo-tiful!
Most items are wrapped in plastic for protection.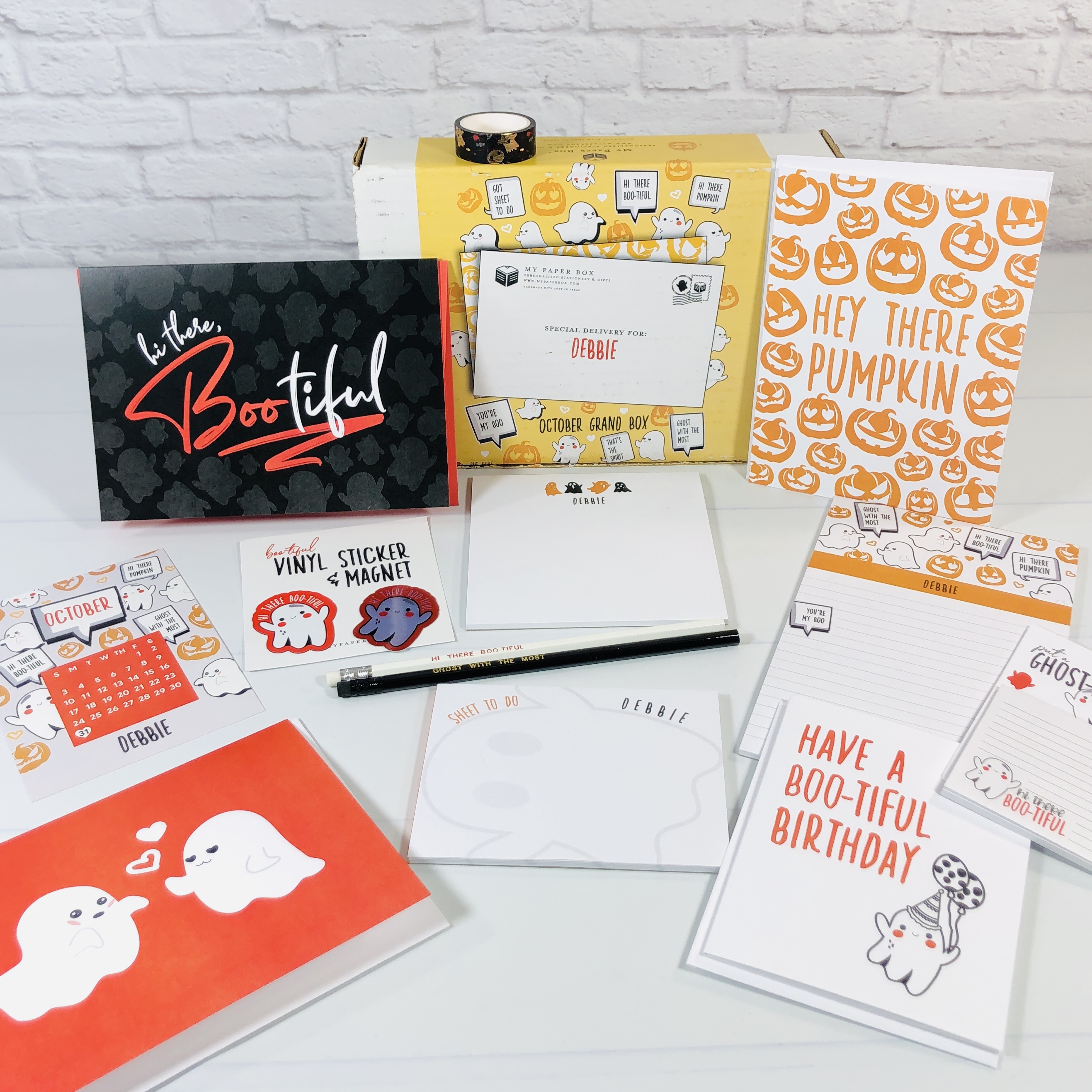 Everything in my box!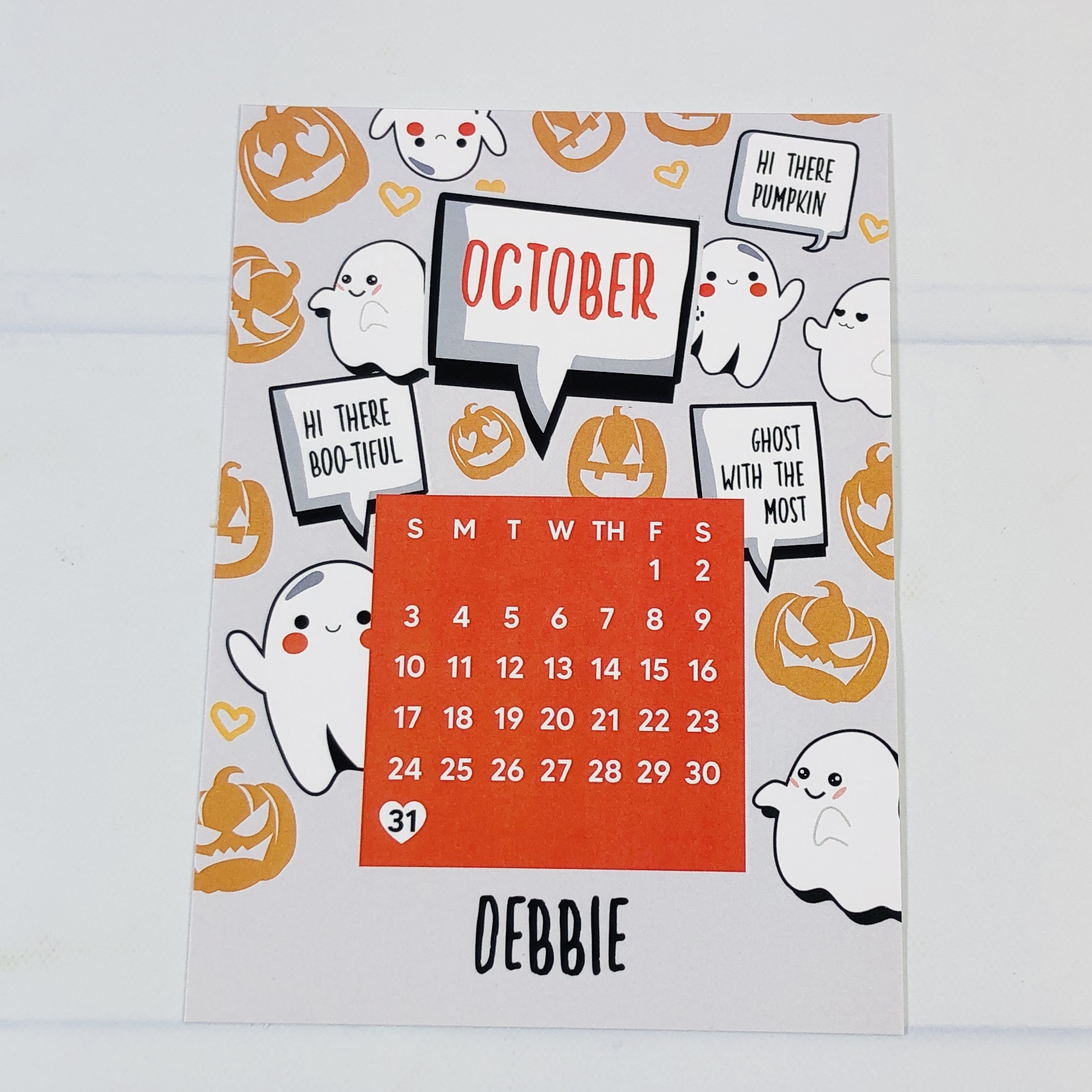 Monthly Calendar Here's the calendar for the month. Your very first box will come with a tabletop stand and you just stick this in the holder and can see a month at a glance.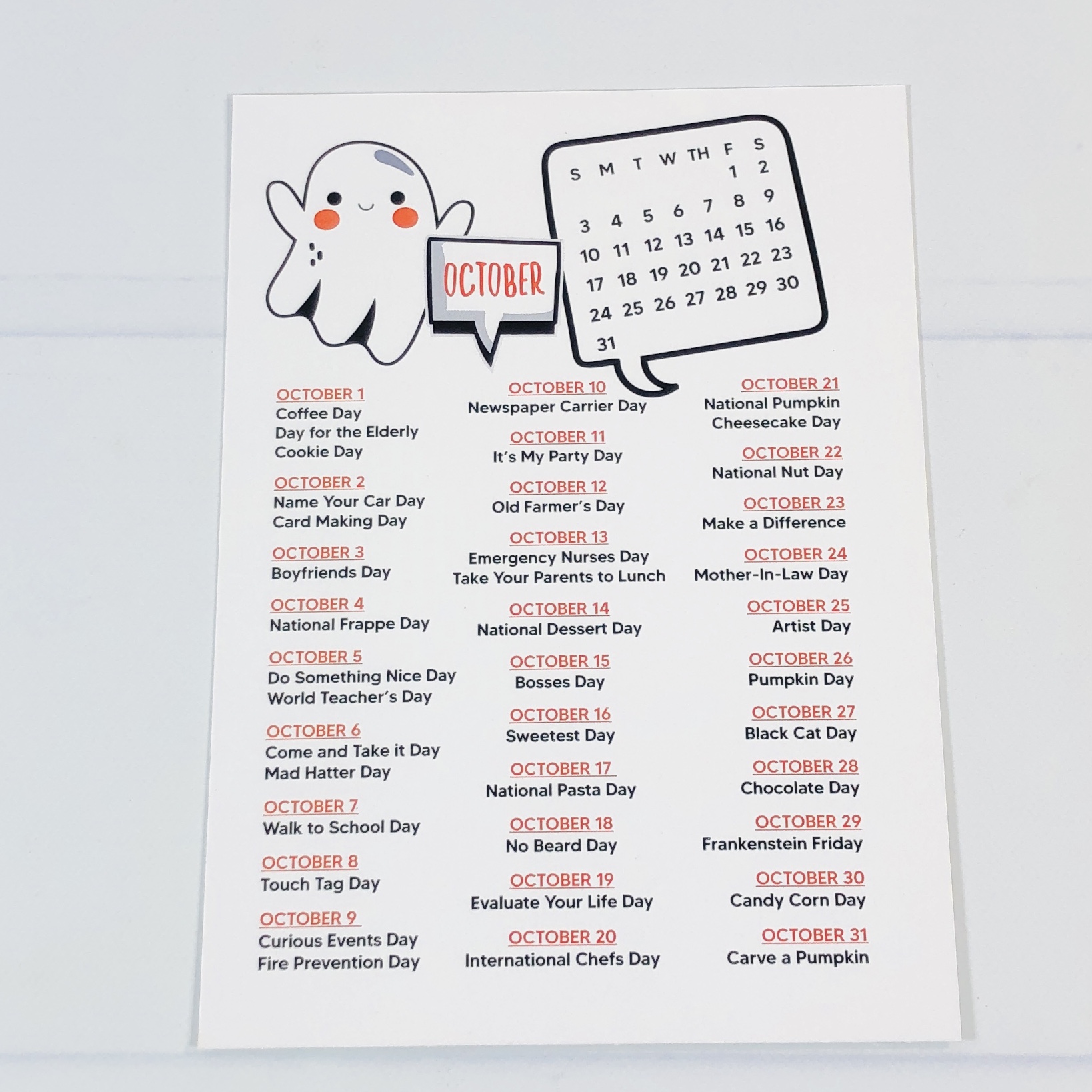 The back has a quick guide to those holidays.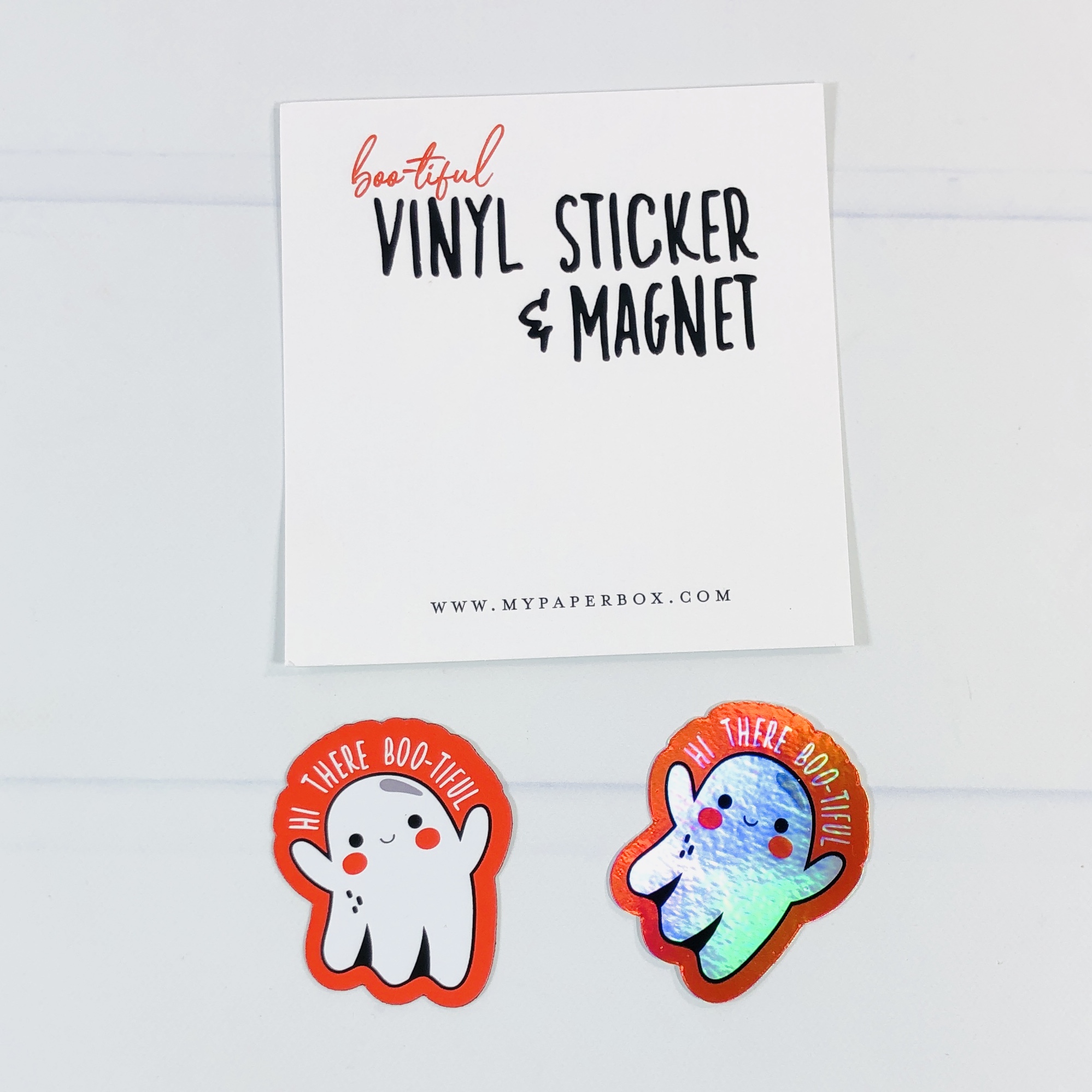 Boo-tiful Vinyl Sticker & Magnet These are adorable little pieces. They are just under 2″ tall.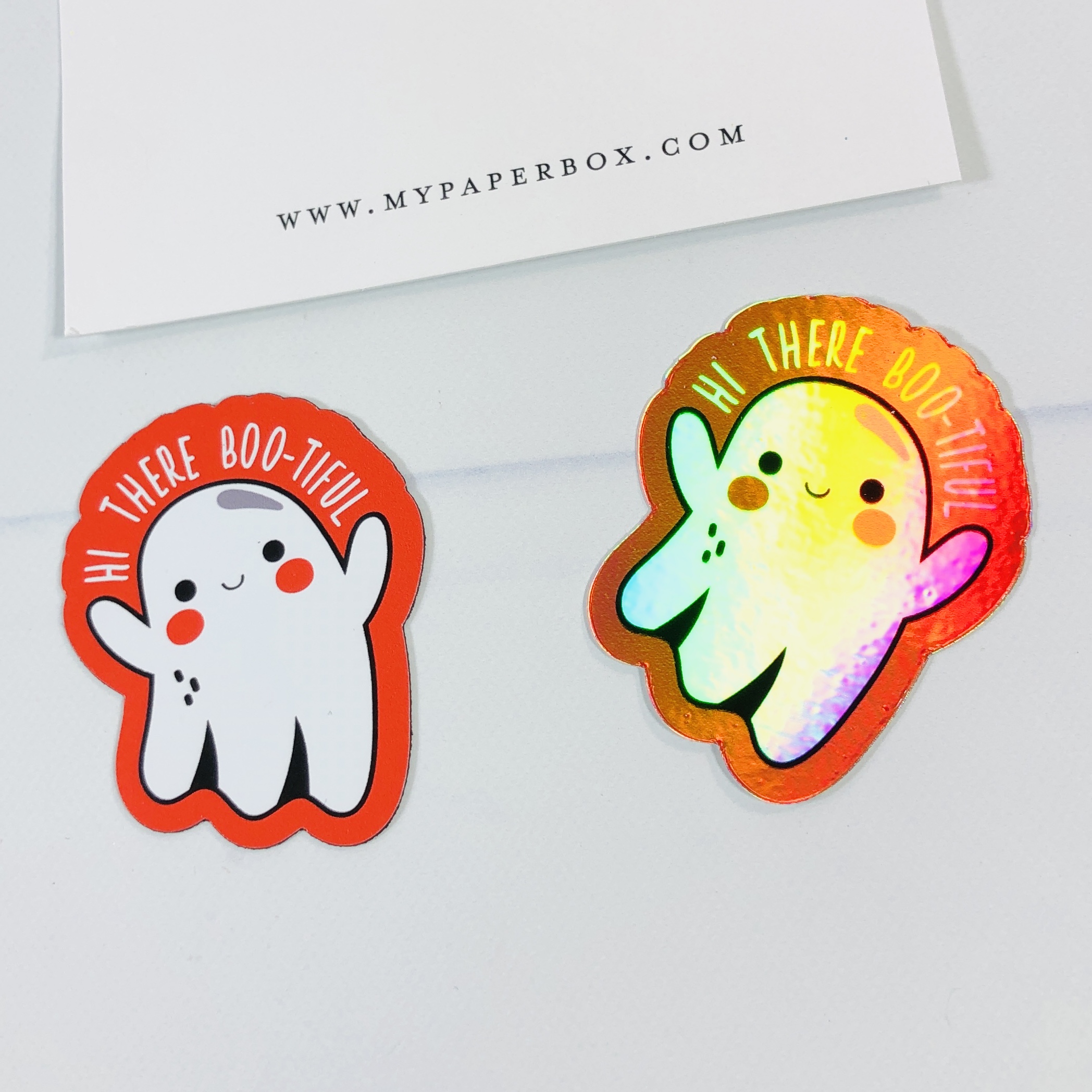 They have the same design, but the one on the left is a magnet, while the one on the right is a holographic sticker. Both are going to my daughter, she's away at college and I bet the magnet will look great on her mini fridge.
Washi Tape I didn't see washi tape listed in the booklet so maybe it was a bonus item.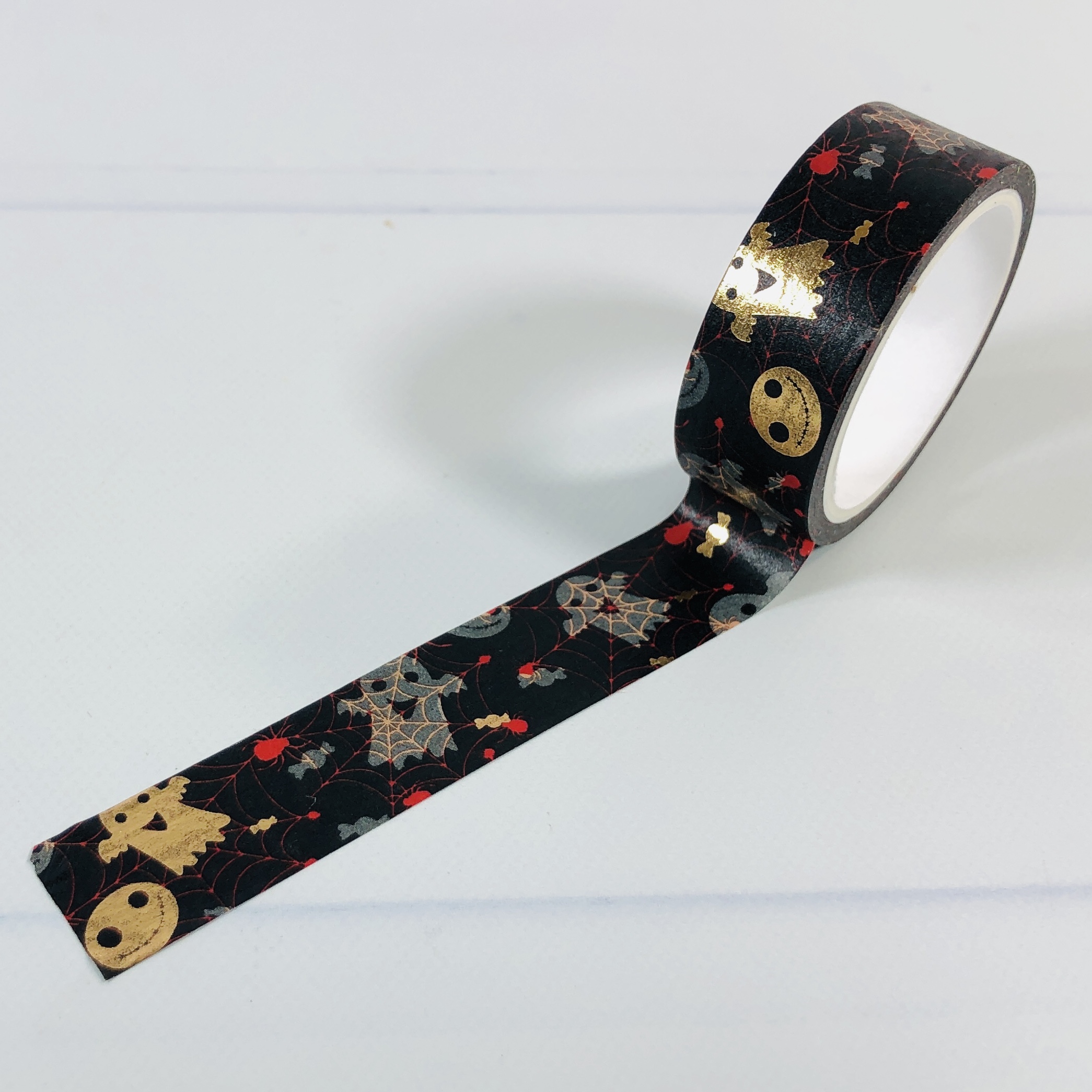 It's black tape with some gold metallic touches and of course ghosts, webs, candy, and grinning faces all over.
Boo-tiful Halloween Pencils Get in the Halloween spirit with these seasonal pencils.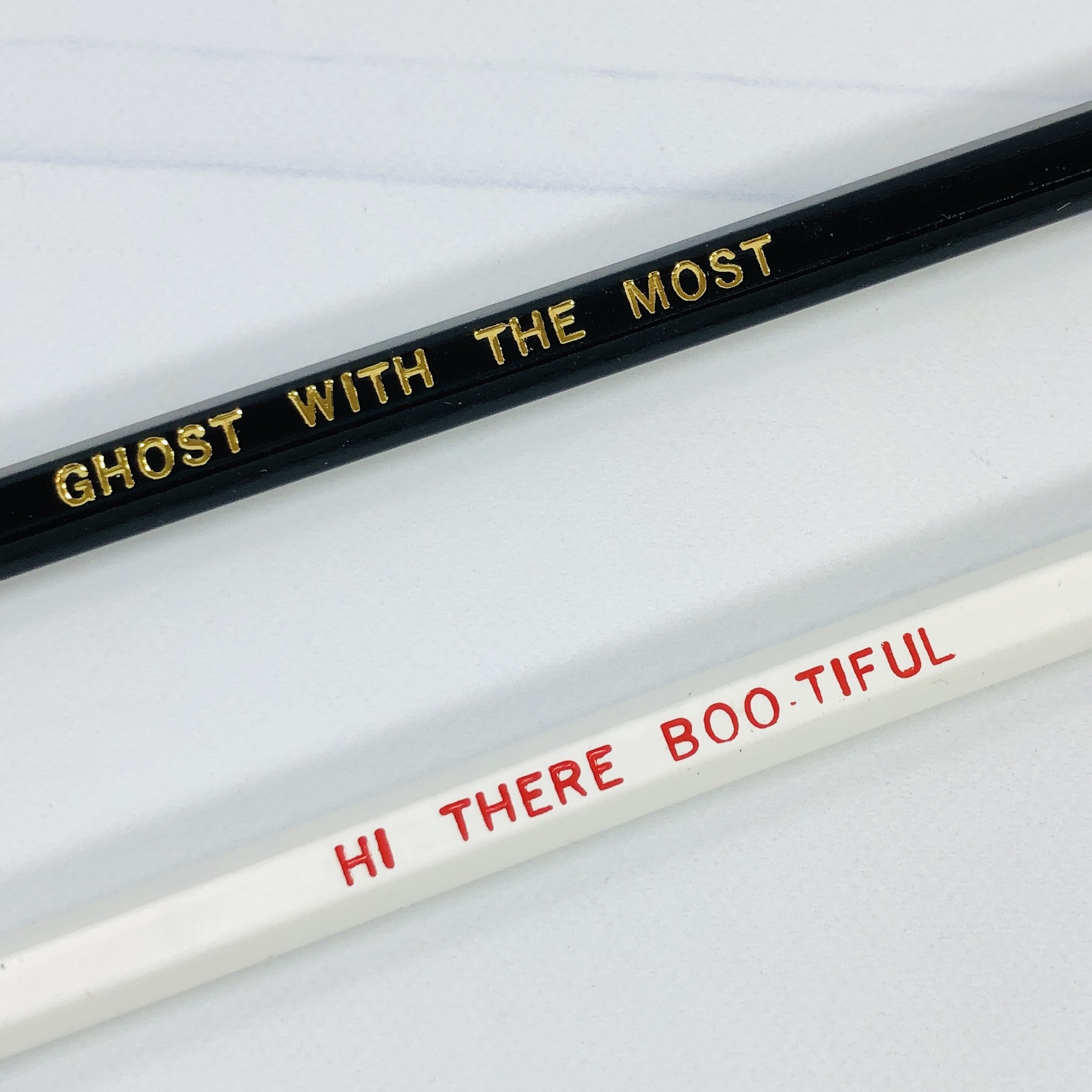 I love puns, the more the merrier!
Boo-tiful Ghost-It Notes While most of these items are made by My Paper Box, these sticky notes were made by another vendor since MPB says they aren't quite there yet with that particular product. The back says these are made on BIC paper and are 3″ square.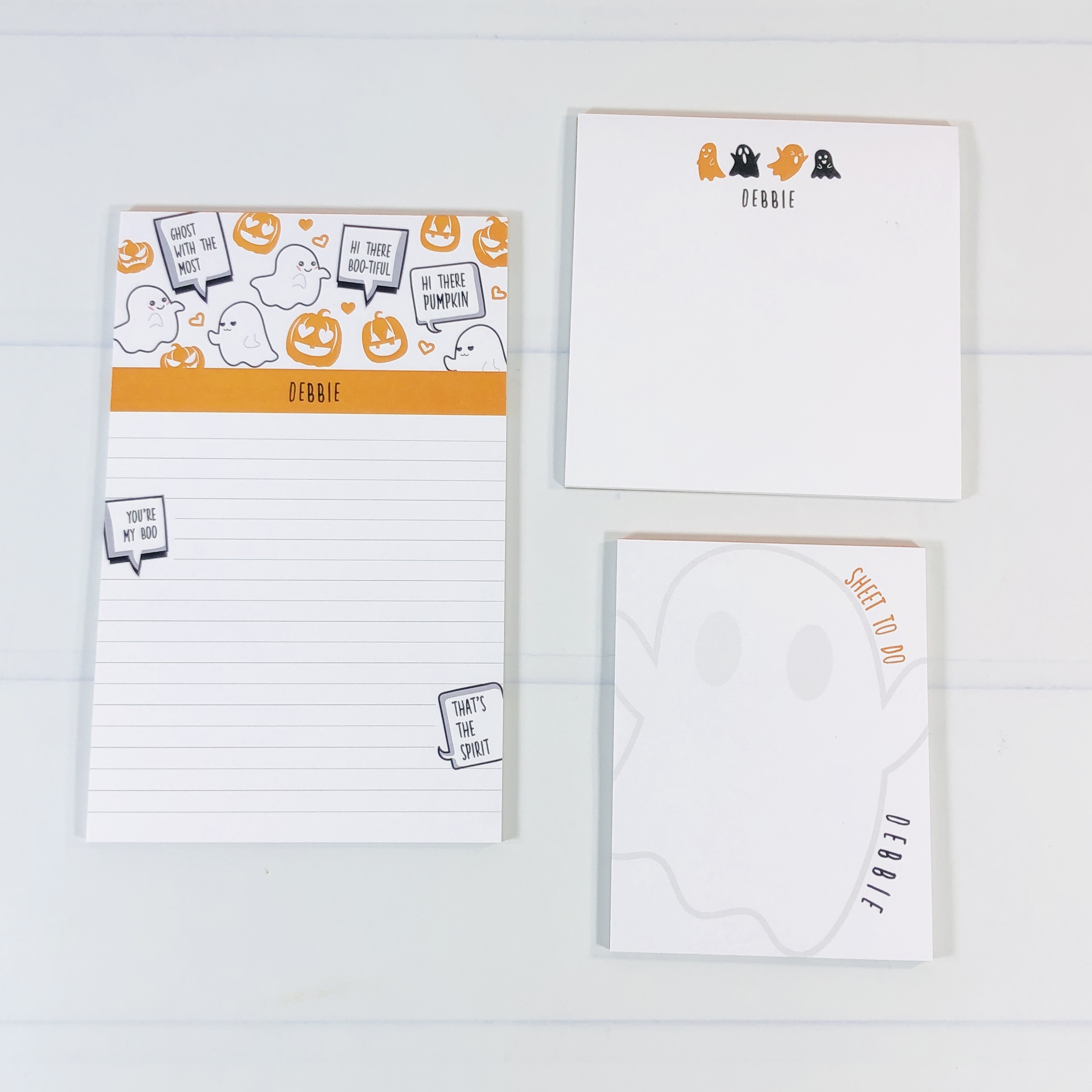 Customized Notepads A set of three different notepads means I can pick the size that fits my needs. Halloween Punny Quotes (left) is the largest at 8″ x 5″. I think I counted 25 sheets. Black & Orange Ghosts (top right) is 5″ x 5″ and I think this is 25 pages too. Sheet To Do (bottom right) is 5″ x 3.75″ and I think it has 30 pages. I want you to know that these are printed on nice quality paper. The binding glue at the top edge is orange!
Hey There Pumpkin Card Here come the cards! This one is 5″ x 7″ and comes with a white envelope. It is plain on the inside.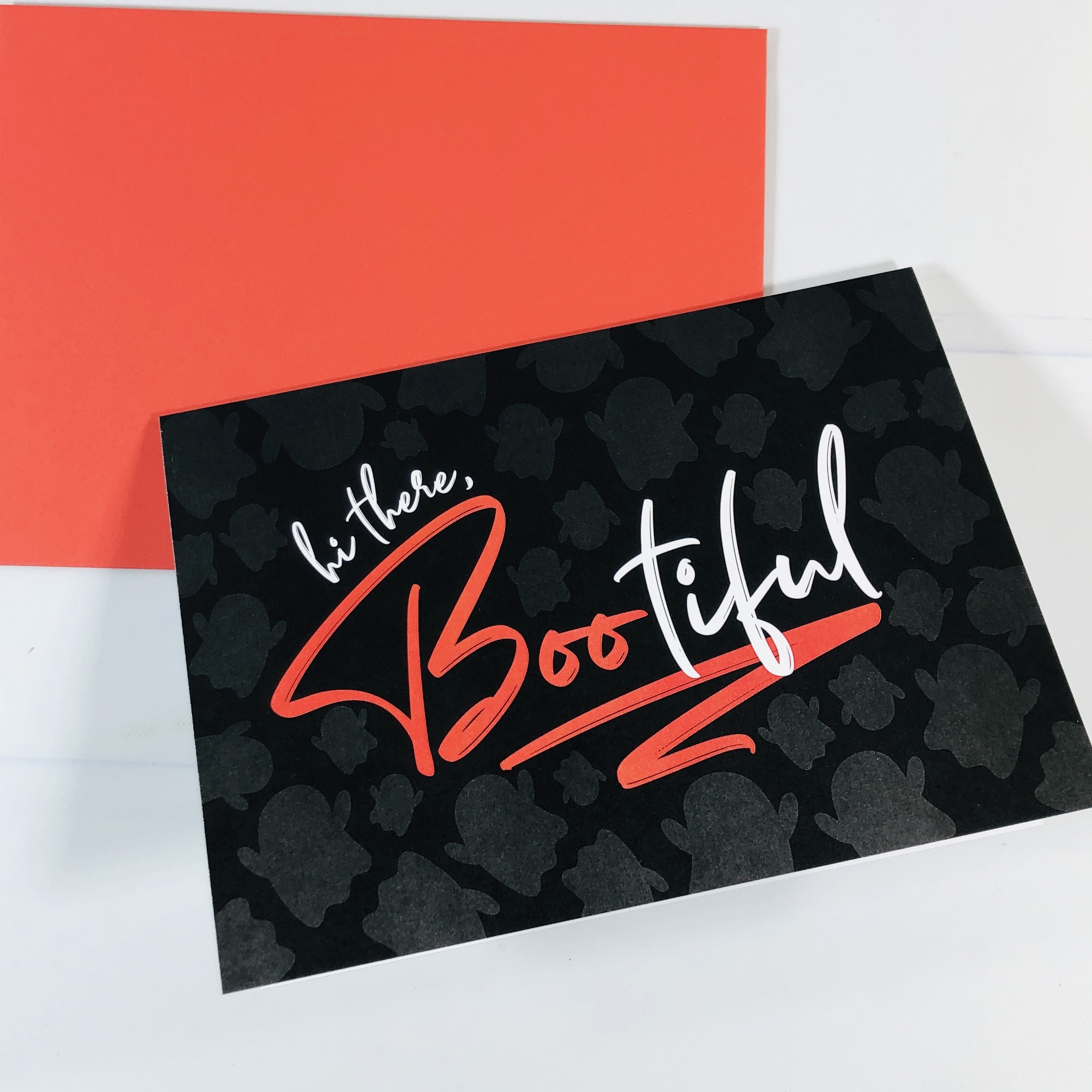 Hi There, Bootiful is also 5″ x 7″ and is blank on the inside. The envelope is bright red.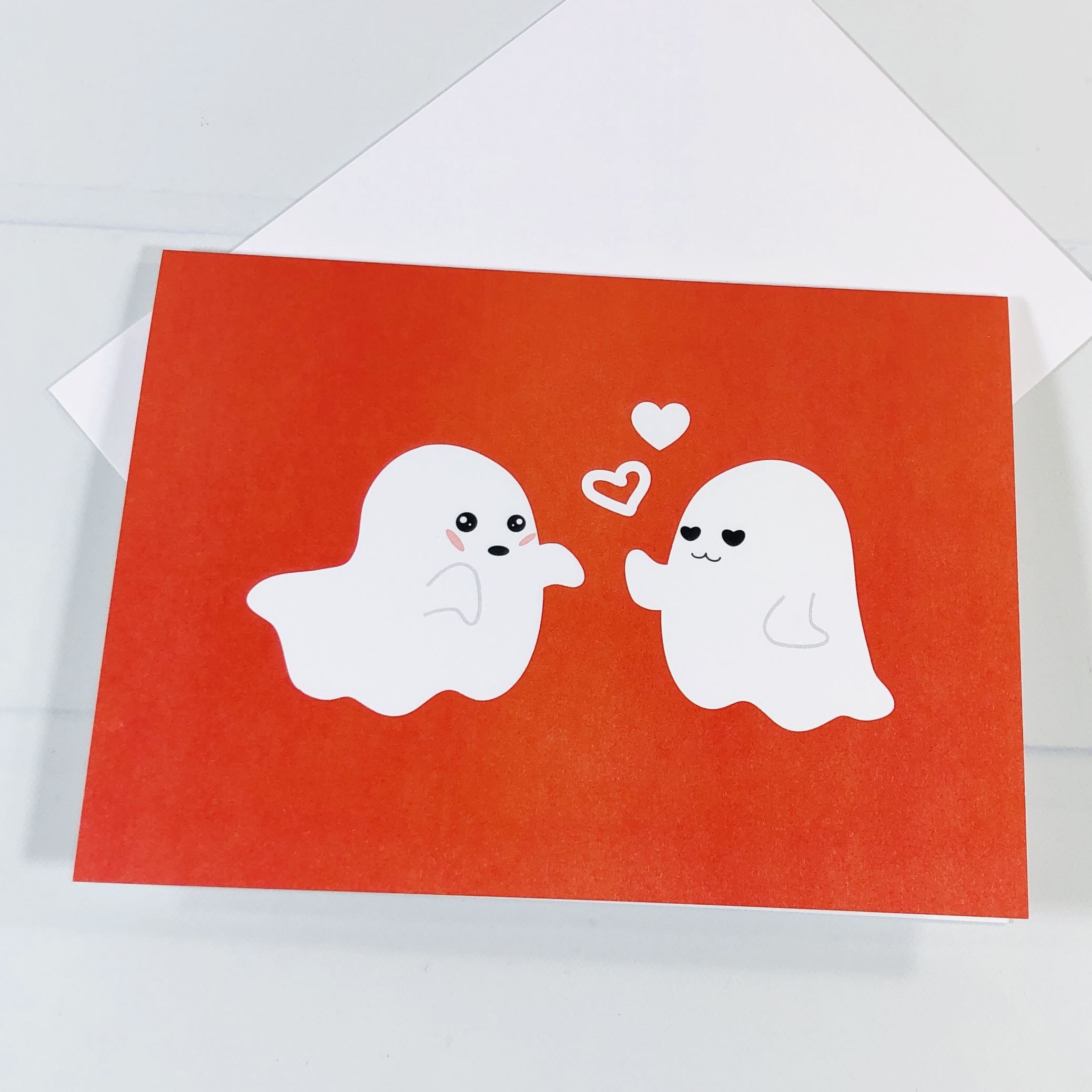 Ghost With The Most Card is 5″ x 7″ and comes with an envelope. The inside says "YOU'RE THE GHOST WITH THE MOST BABE," and then has my first name.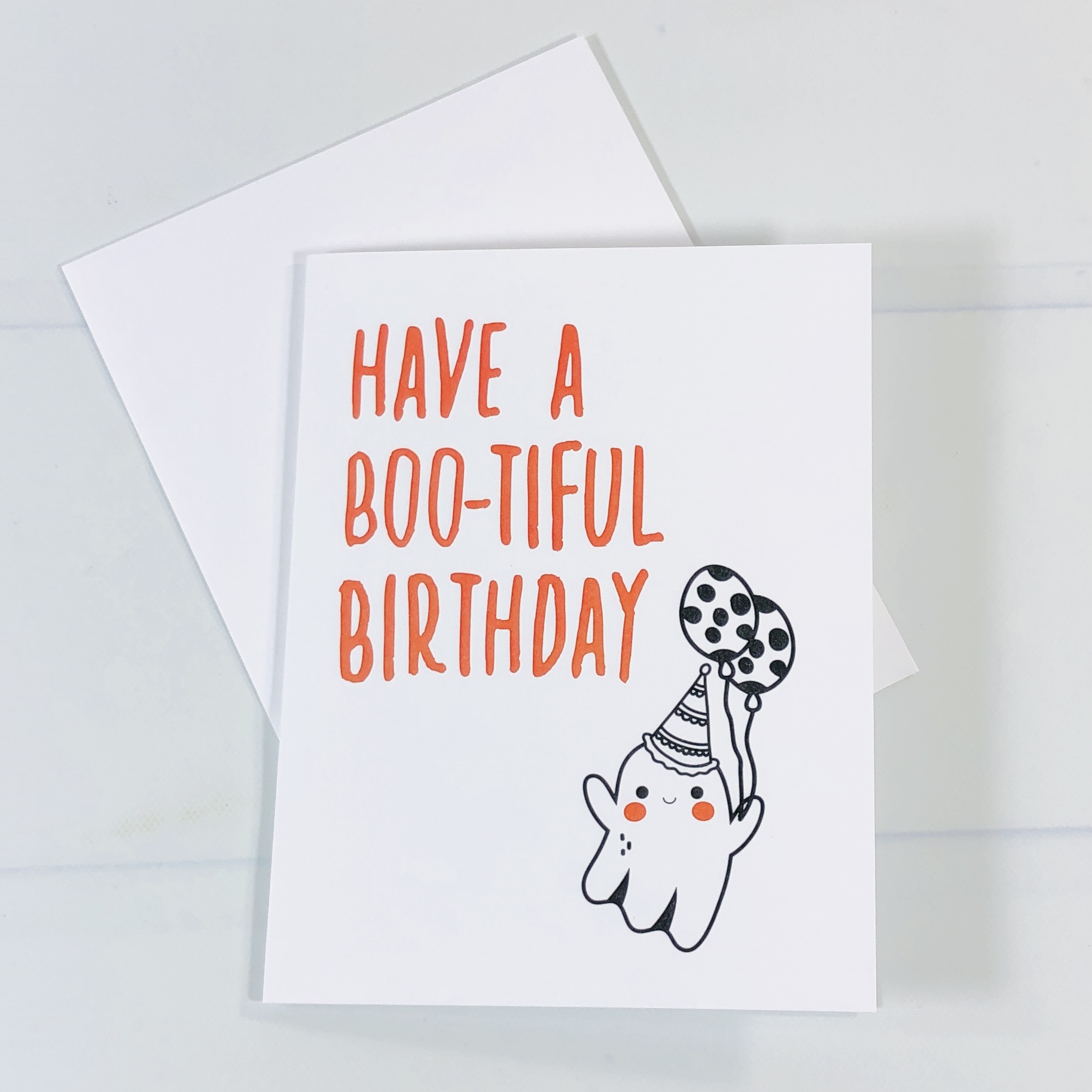 Have A Boo-tiful Birthday Card is 4″ x 5.5″ and blank on the inside. It comes with an envelope.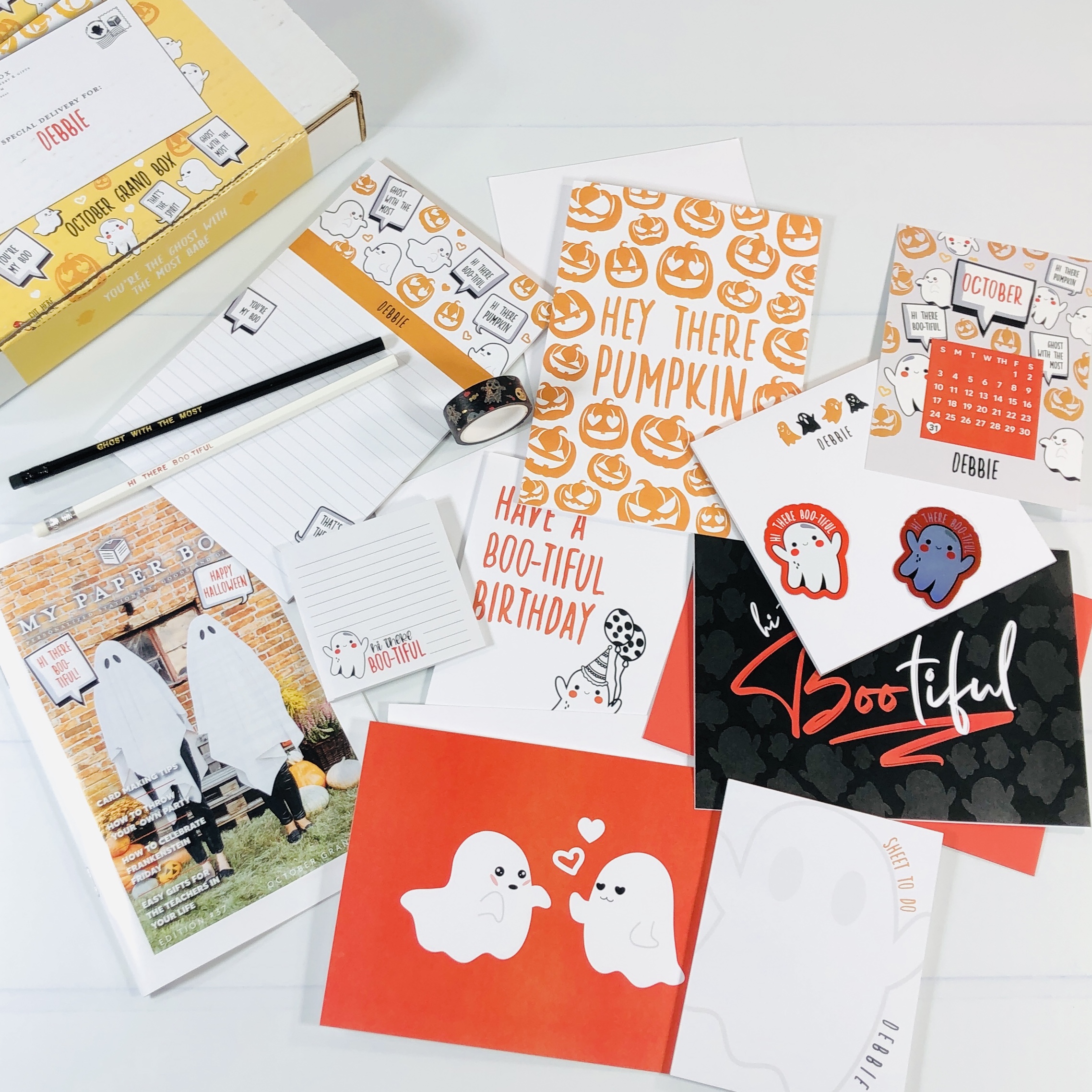 As a person who loves puns, great stationery, and holidays, I also love My Paper Box! This theme was adorable, and the box also marks My Paper Box's third birthday! These are not-too-scary, and in fact are quite charming, and I can't wait to send off the cards. The notepads are not only on my desk but I tend to keep them in other areas of my home so I can write down a reminder or list when the thought strikes. The calendar is already up on my desk so I can reference it quickly, and the rest of the items filled out the theme perfectly.
What do you think of this month's box?