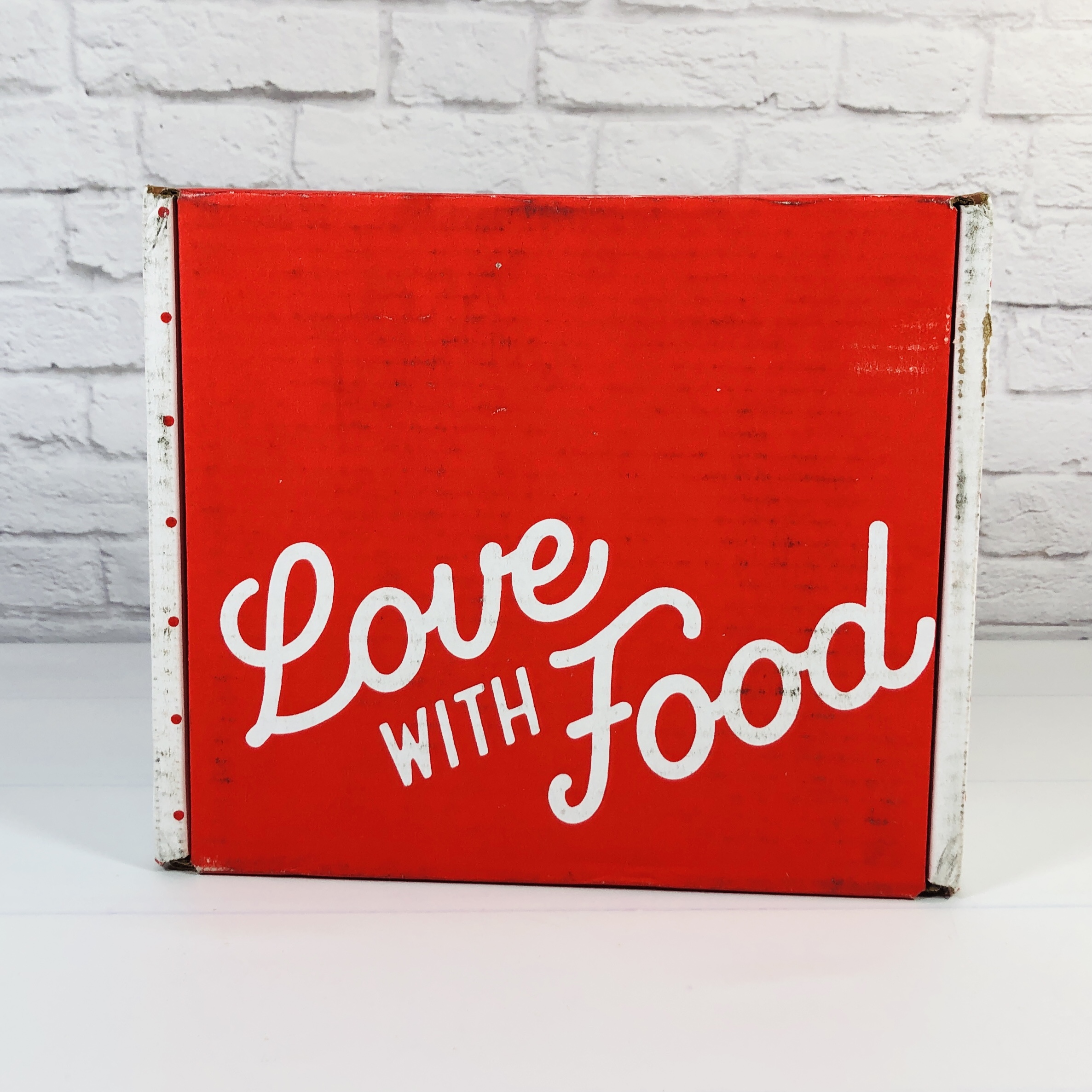 Love with Food Gluten-Friendly Box sends 10+ surprise snacks each month that are for those who are looking to eat snacks without gluten. I am wanting to cut back on white flour consumption so I thought I would give this box a try to see what it's about. This plan is $24.99 a month with free shipping to the U.S., and $3.99 for shipping elsewhere. The price drops with longer subscriptions. Please note that this box isn't meant for those who have celiac disease. Love With Food promises tasty and unique gluten-friendly snacks with no artificial flavoring, coloring, or msg, no trans fats and hydrogenated oils, and no high fructose corn syrup.

DEAL: Save 40% off your first Love With Food Box:
Or, save 25% off your first Gluten-Friendly Box: use this link to subscribe!
Packed to the top! You can find some of the items sampled each month on the Love With Food website.
I received a card that told me to get ready for some delicious snacks!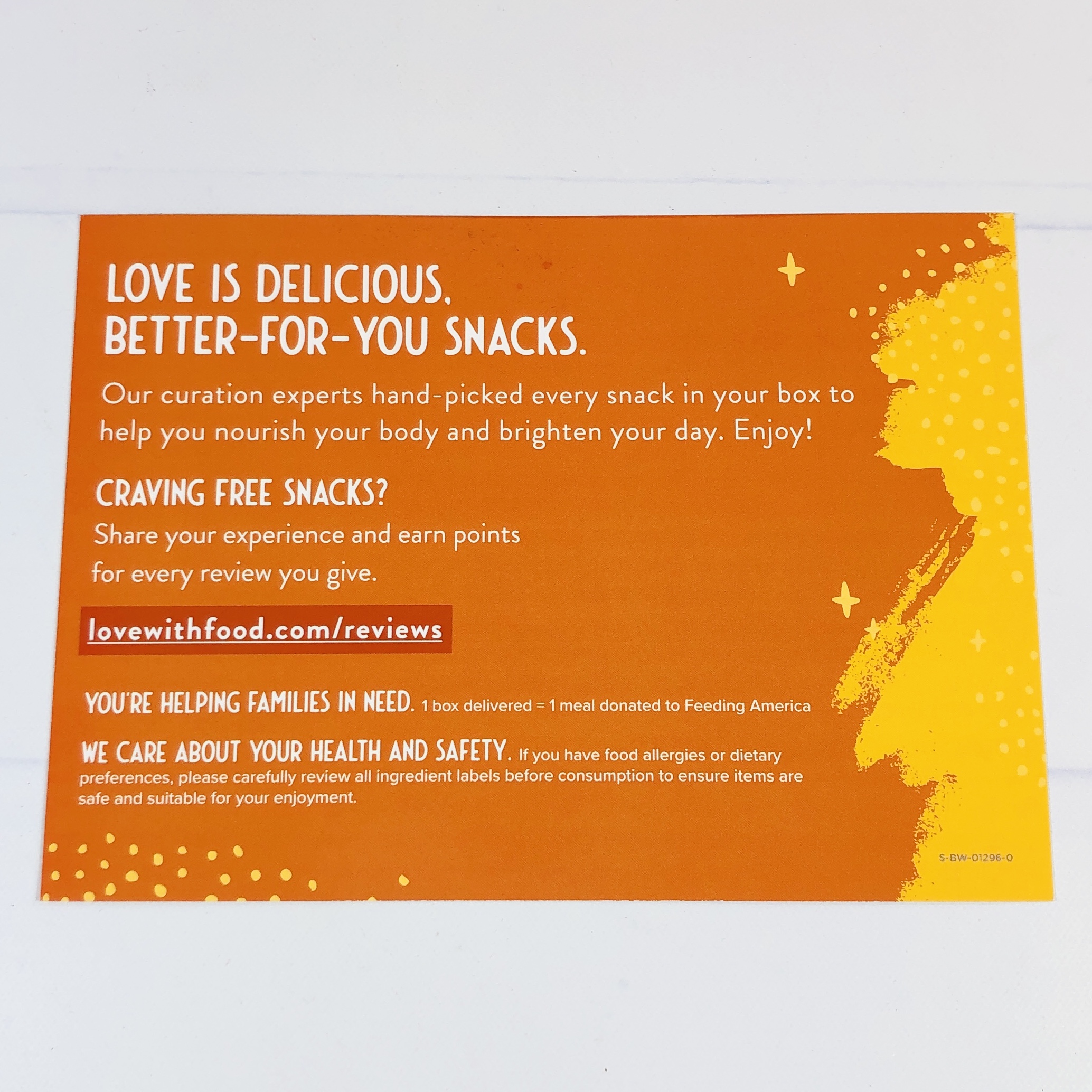 For every box sent to subscribers, Love With Food donates a meal to families in need. Don't forget to review your snacks so you can earn points for even more snacks!
As noted, this box isn't for those who suffer from celiac disease: "Love With Food is proud to offer our Gluten-Friendly box for those who are looking to reduce gluten in their diet. Love With Food does not recommend this box for consumers with Celiac disease. While the Gluten-Friendly box is filled with snacks that are Gluten Free, the snacks may be manufactured with the same utensils as non-Gluten Free products."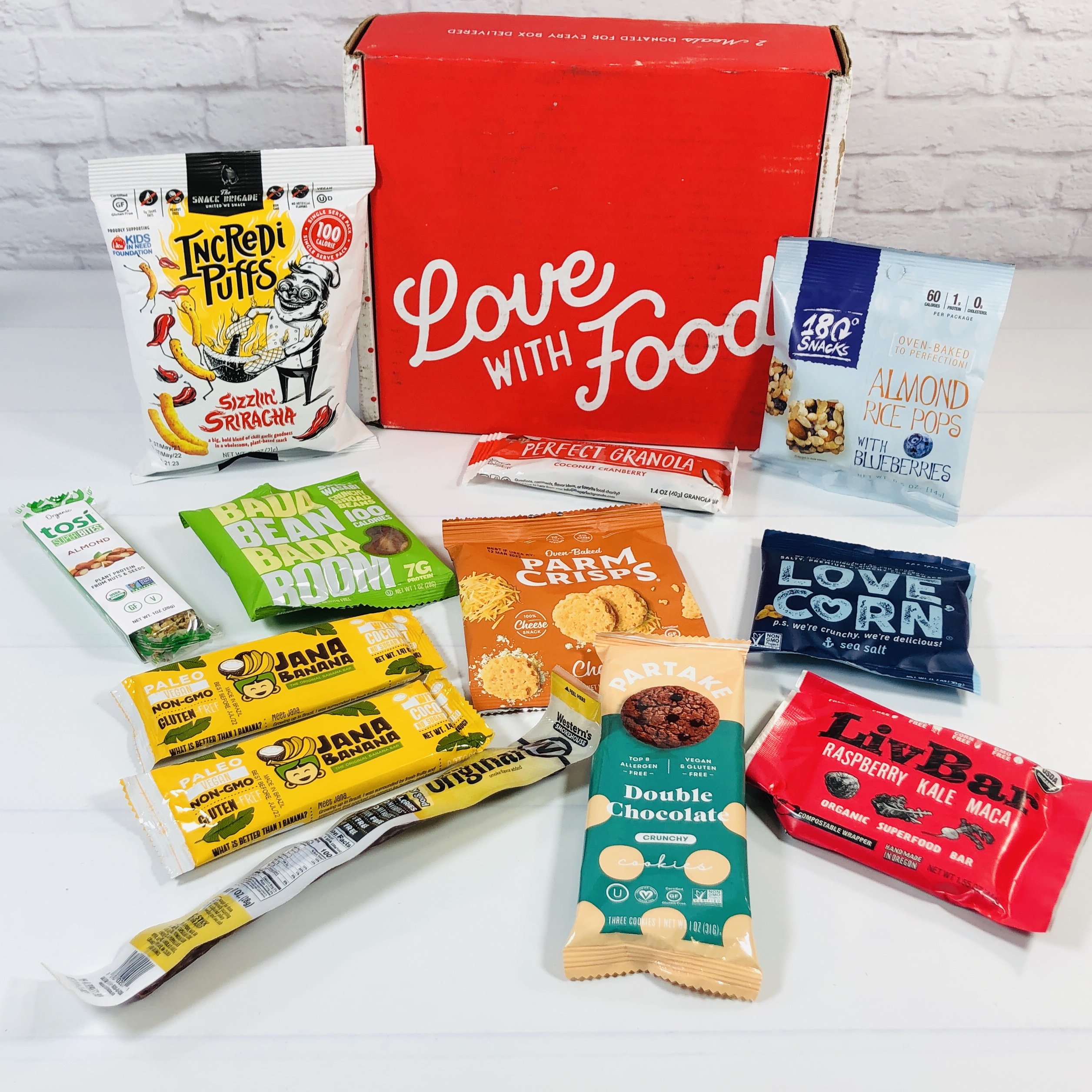 Everything in my box!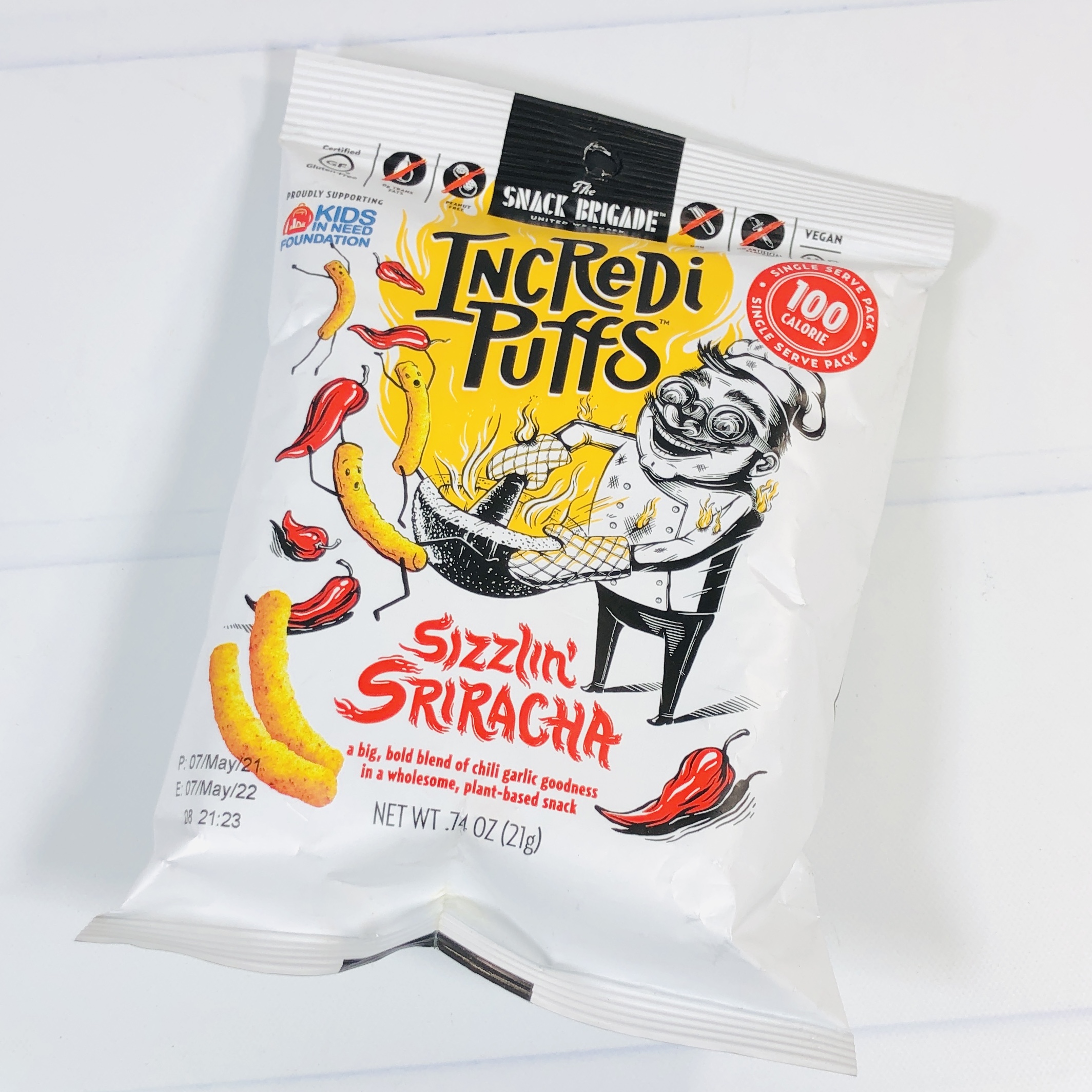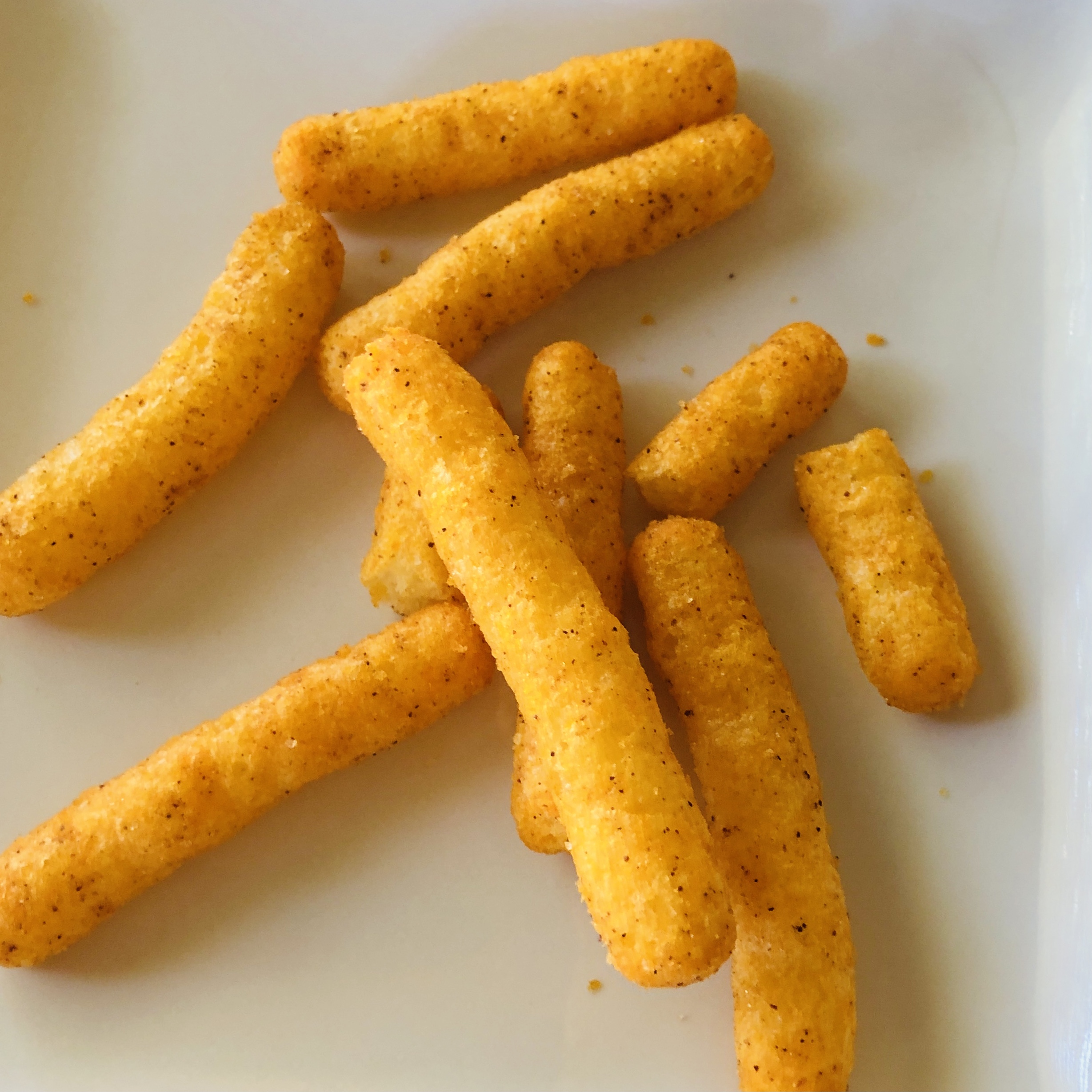 The Snack Brigade Incredi Puffs Sizzlin' Sriracha ($0.47) I love these yummy puffy snack chips, they have a bold flavor that wakes up my taste buds. Plus, they are vegan and yet sort of cheesy.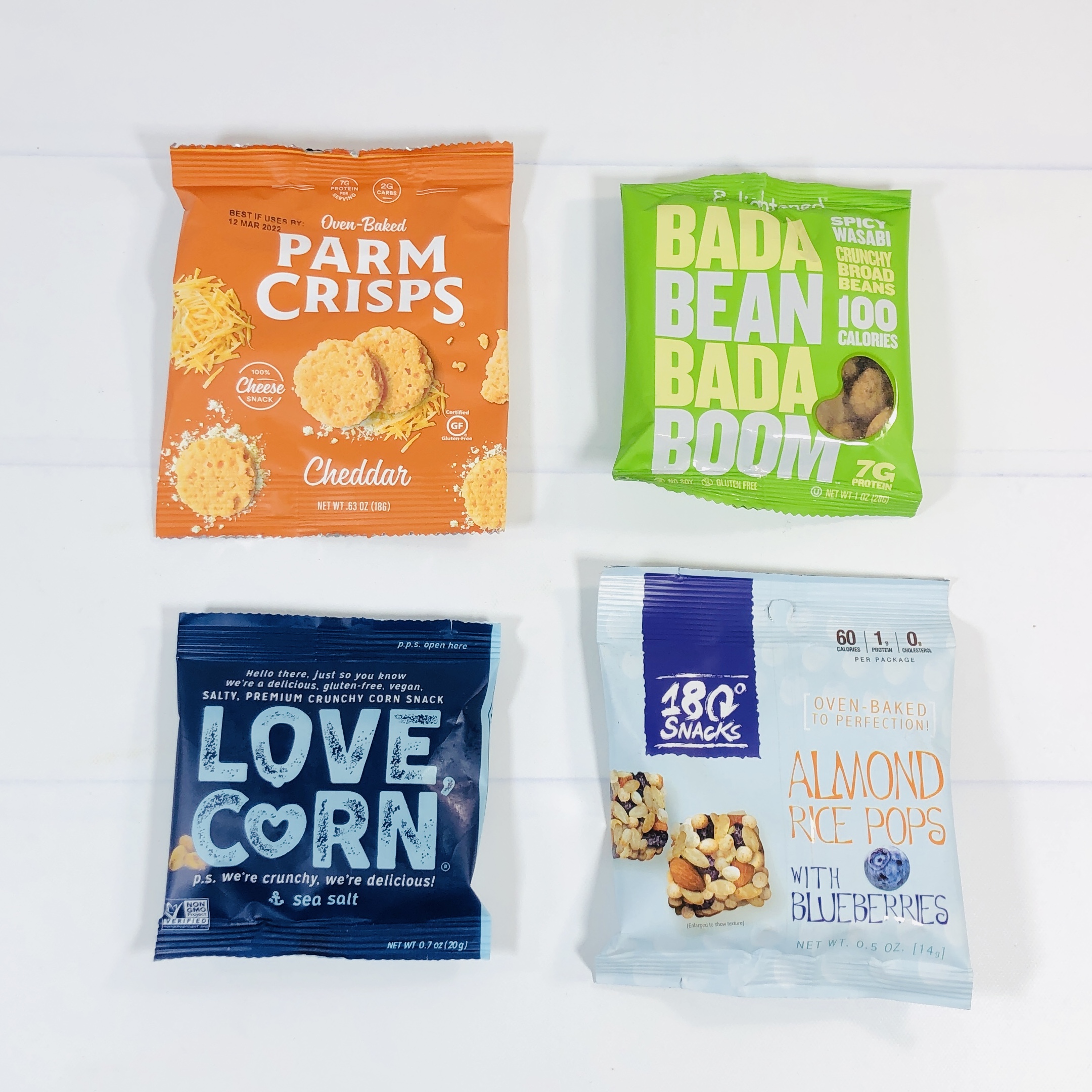 Parm Crisps Cheddar ($1.50) They carry this type of item in the refrigerated cheese aisle at my grocery store. I don't love the flavor or texture. You know when you're making something that's topped with cheese and the cheese leaks out and melts/burns to the bottom of the pan? They took that and put it in a bag. They smell a little like Cheez Its.
Bada Bean Bada Boom ($1.04) Finally, a Bada Bean product that isn't made with stevia! These are broad beans with a spicy coating that I thought was going to burn my brain (just like my favorite California roll condiment) but while it started to heat up my sinuses, it quickly faded away before it could punch. These beans are kind of hard to chew, but I liked the flavor. Edit — second mouthful made my nose water, third made me eat my words, and fourth did the whole brain wrinkling effect and so eat with caution!
Love Corn Sea Salt ($1) These are classic corn nuts but they are made with non-GMO corn. Mine smelled a little off, tasted a little bitter, but the expiration isn't until March so I'm not sure what's up.
180 Snacks Almond Rice Pops with Blueberries ($0.63) I might be a little crazy but I feel like these are in every single box I get from Love With Food, and I just don't love them. They are made with popped rice and have almonds and dried berry clusters but whatever they use to spray the bag smells rancid and my poor teeth can't really bite the hard berry bits anyways.
Jana Banana The Original Banana Bar with Coconut ($1.41) are moist, chewy bars with a base of sun ripe bananas, a hint of lime juice, and sprinkle of natural coconut, that's it! They are super tasty and are a good source of vitamin C and potassium.
Perfect Granola Coconut Cranberry ($2.70) I just had this exact same bar last month and my feelings on it are exactly the same: they are moist and chewy bars that are sweet and with a berry flavor plus oats, nuts, and seeds. They can be eaten for breakfast or as an afternoon treat (or of course whenever you want to eat them!).
This is the Jana Banana bar!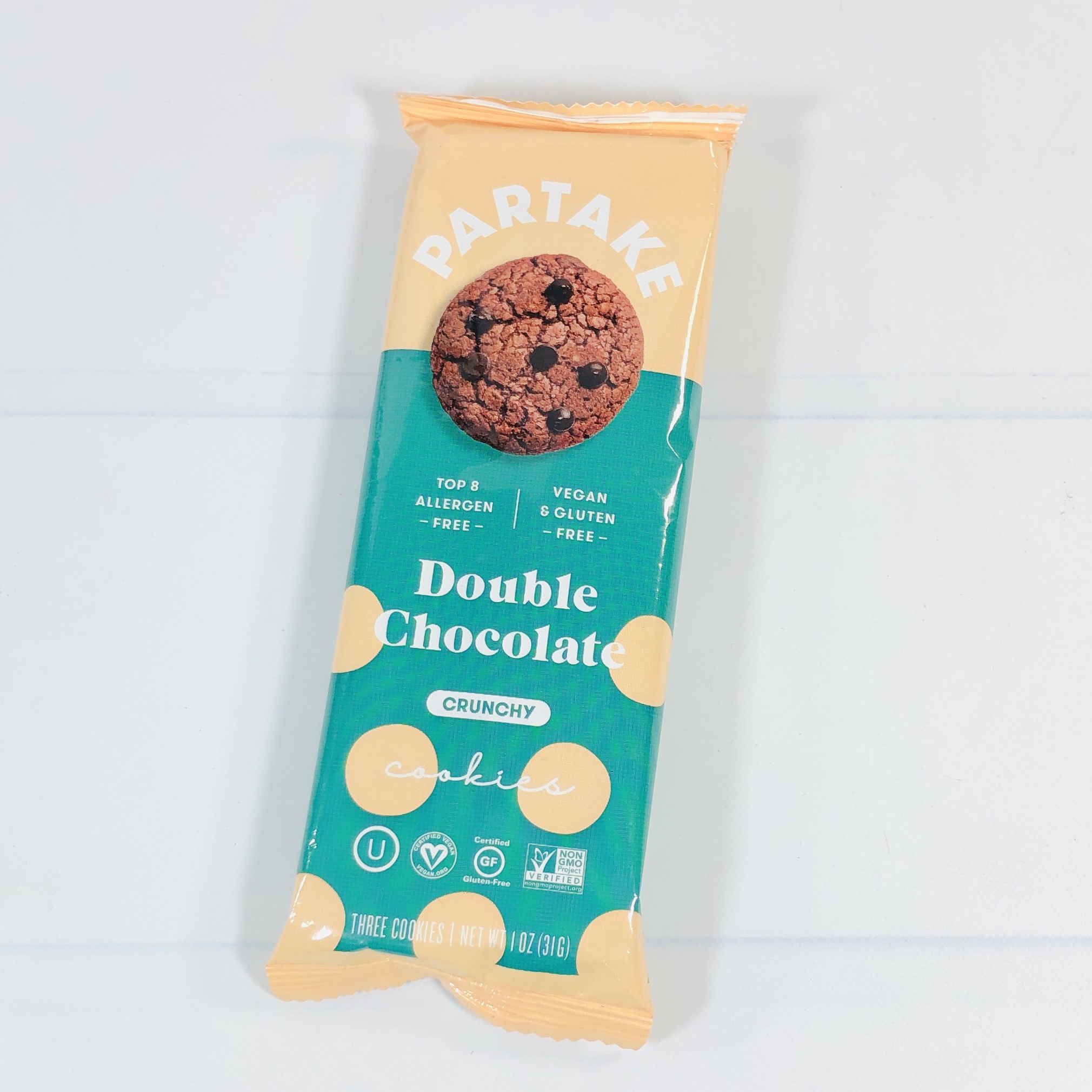 Partake Double Chocolate Crunchy Cookies ($0.91) These cookies have a gluten-free flour blend of buckwheat, cassava, and oats plus cocoa and chocolate chips. I wouldn't have known they weren't made with wheat flour, they have a wonderful texture and taste good.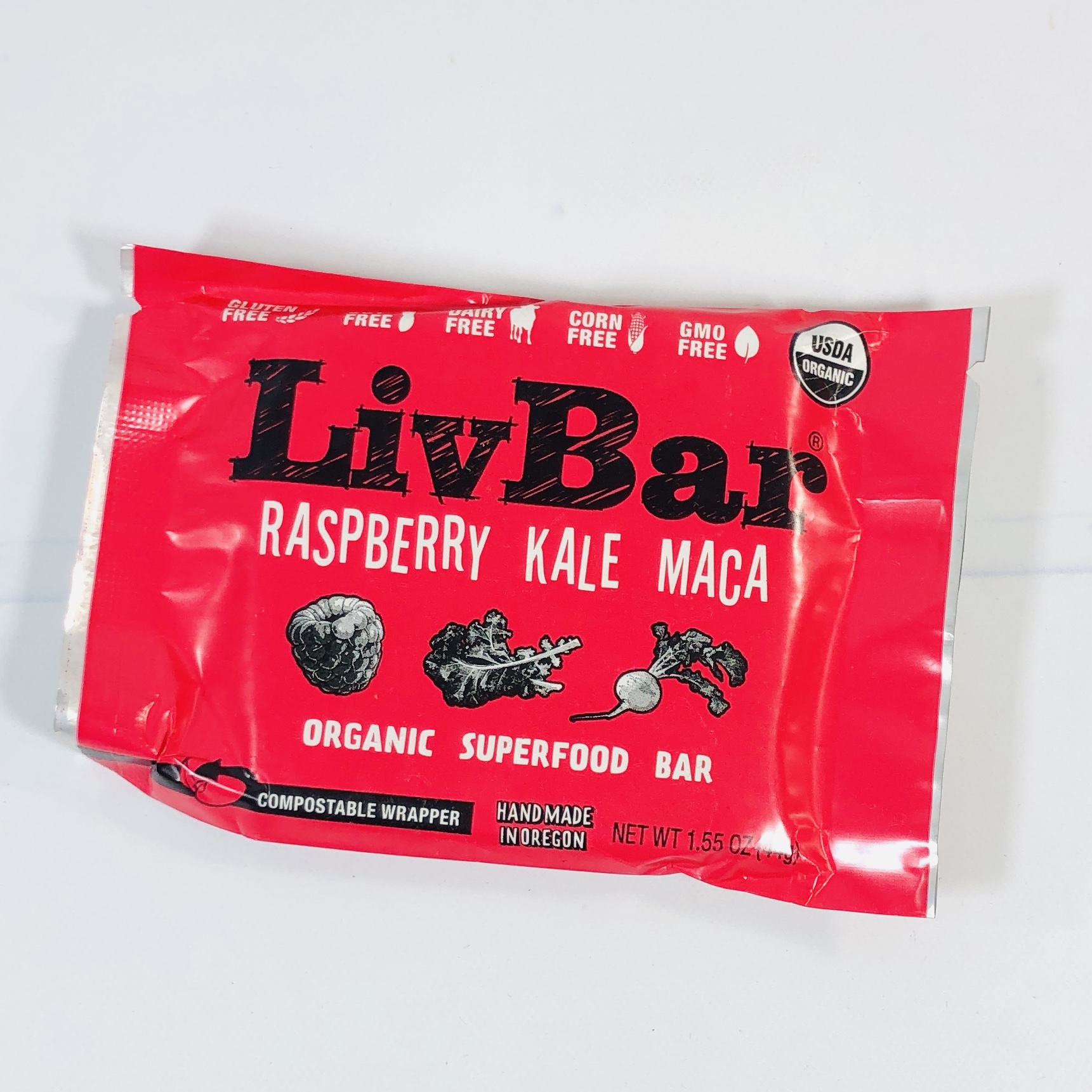 LivBar Raspberry Kale Maca Organic Superfood Bar ($2.75) I love to eat bars like this for breakfast, I tend to eat light in the morning and this isn't too heavy. It's made with seeds (pumpkin, sesame, sunflower, and hemp) plus crispy brown rice, flax, quinoa, and kale. There's even some raspberry and a hint of salt. It's not dense, it's like moist granola.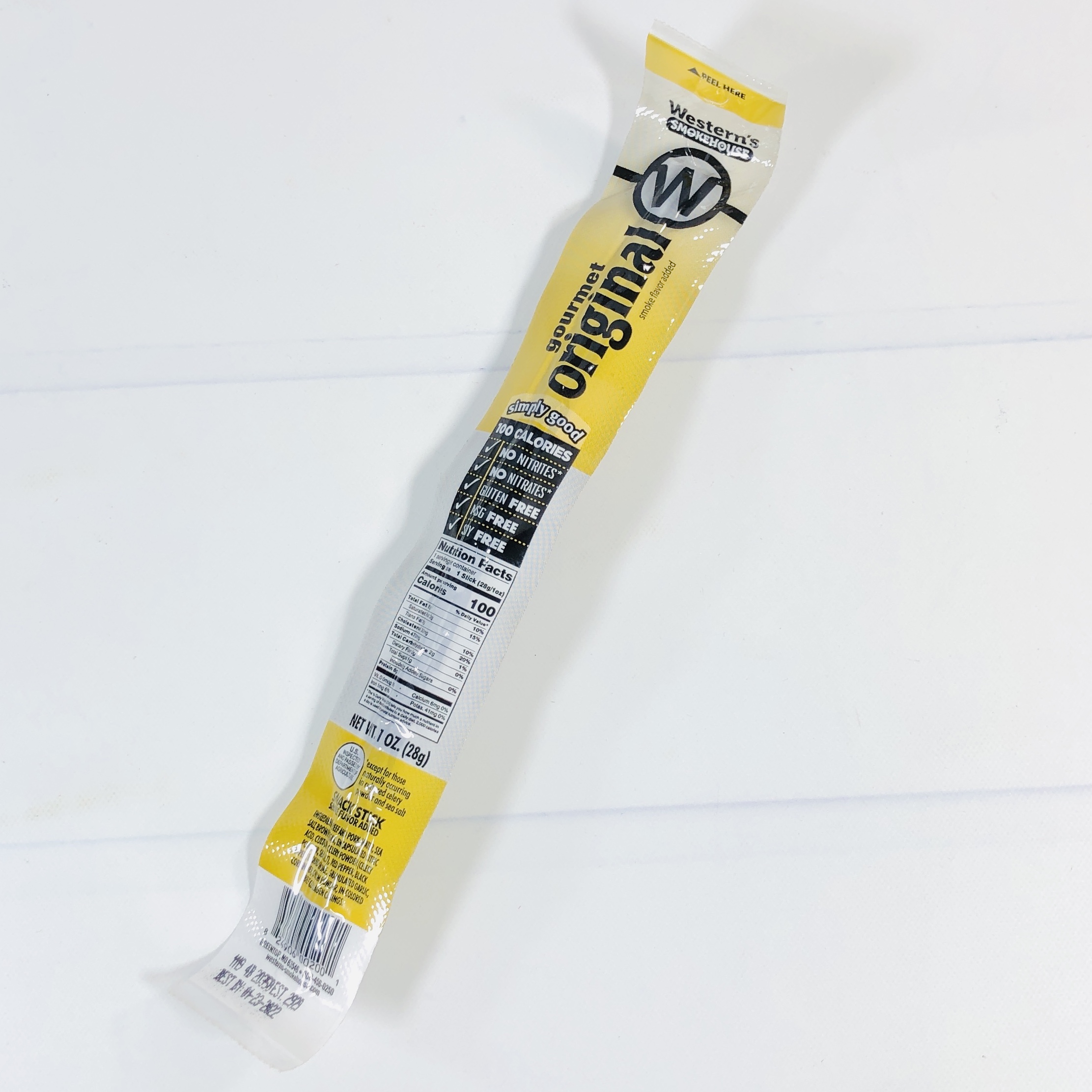 Western's Smokehouse Gourmet Original Stick are made with beef and pork and I was surprised by how spicy this flavor was. I think I would like these better if they didn't come in a casing but then again, I don't think I need to increase my consumption of salty dried meat either.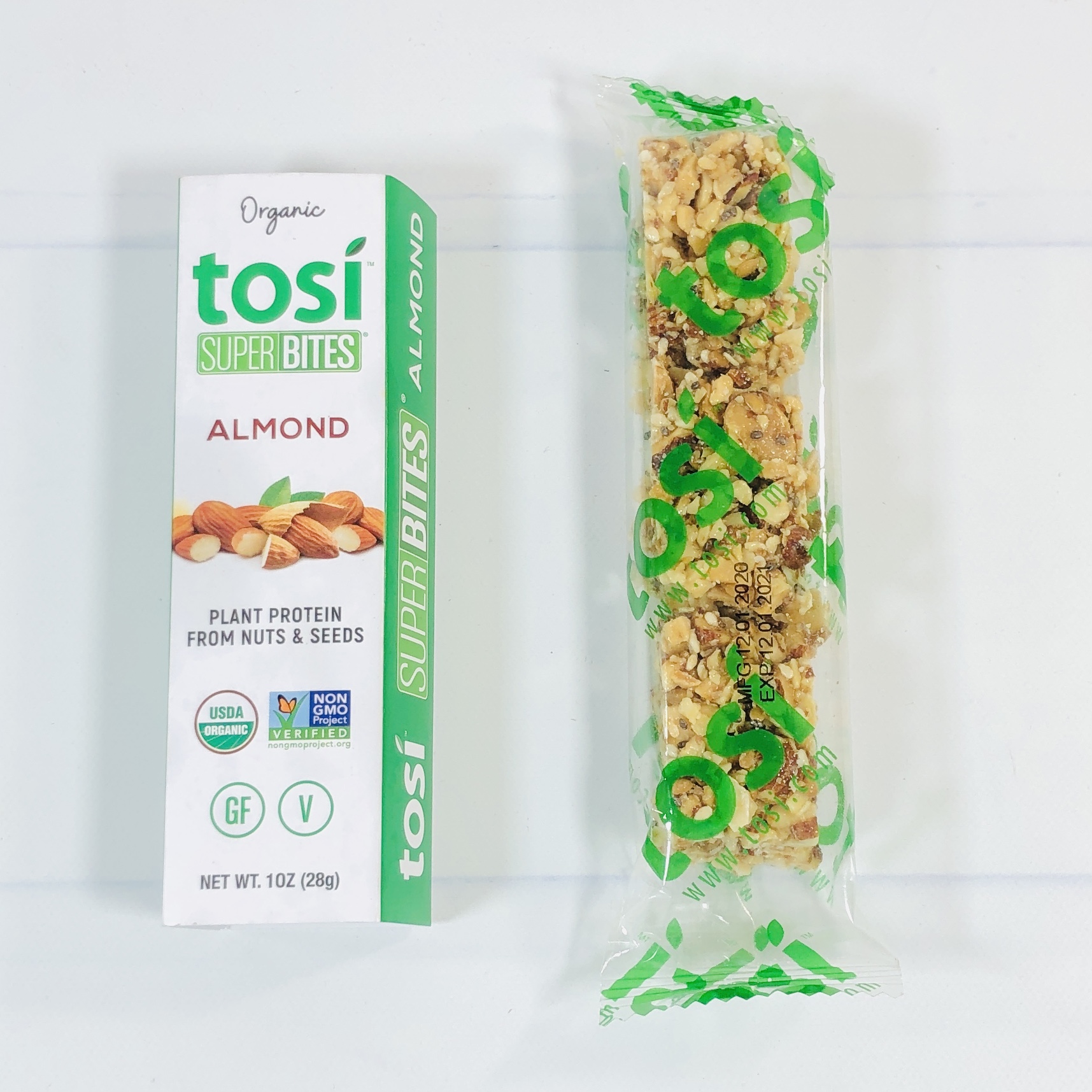 Organic Tosi Super Bites Almond ($1.75) My favorite flavor of this snack is cashew but these were tasty too. They have almonds, flaxseeds, sesame seeds, chia seeds, and cassava syrup plus some sea salt. They remind me of nut brittle but with less sugar.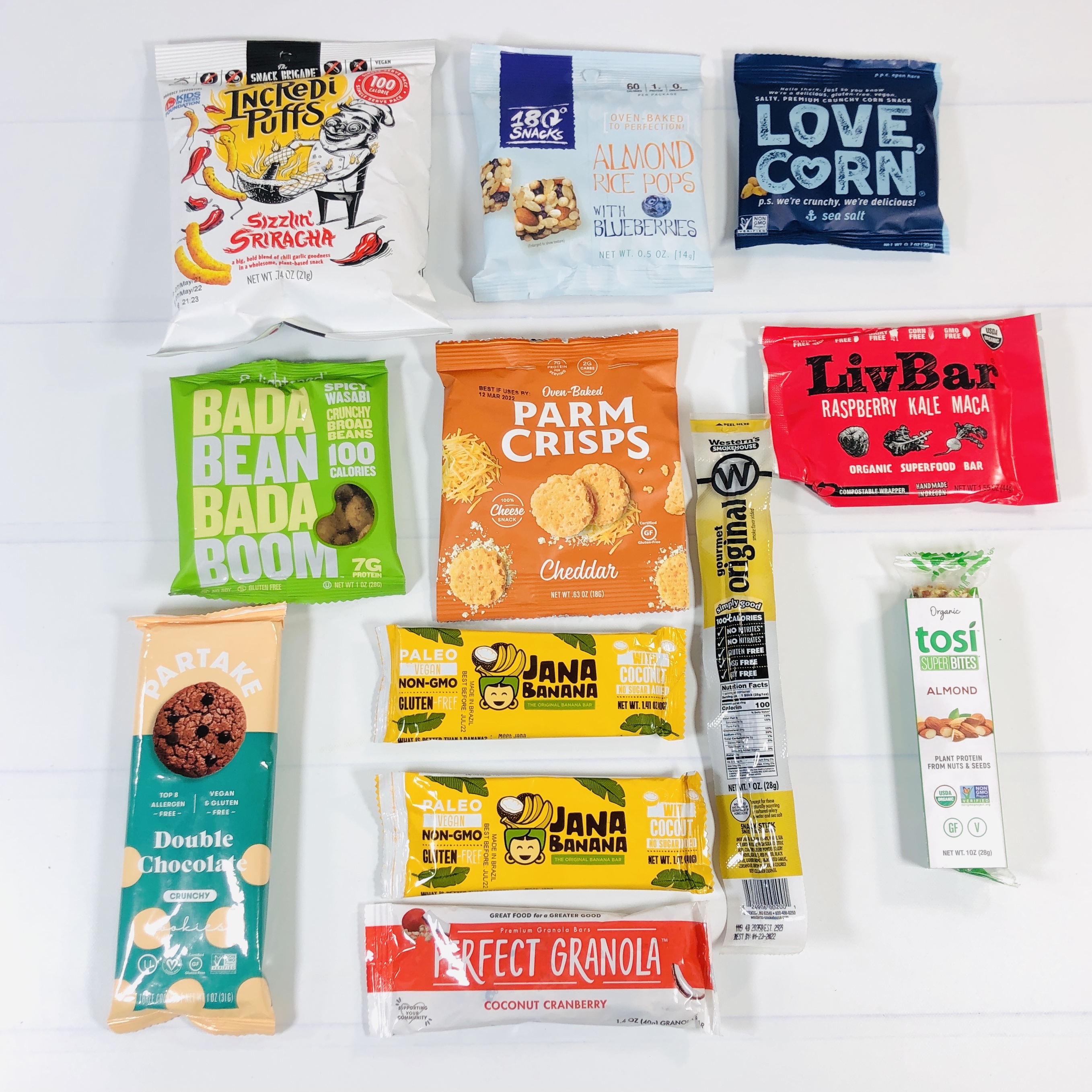 My Love With Food Gluten-Friendly box was a good assortment of past favorites and new-to-me snacks. They even sent a pretty nice assortment of sweet and salty plus chewy and crunchy options. I always love to get bars, they are easy to tote in my bag for when the urge to snack strikes between meals. My husband and I were both impressed with the Bada Bean wasabi snack, it really packed a punch!
What's your favorite snack from the Love With Food Gluten-Free Box this month?
Visit Love with Food Gluten-Free Box to subscribe or find out more!