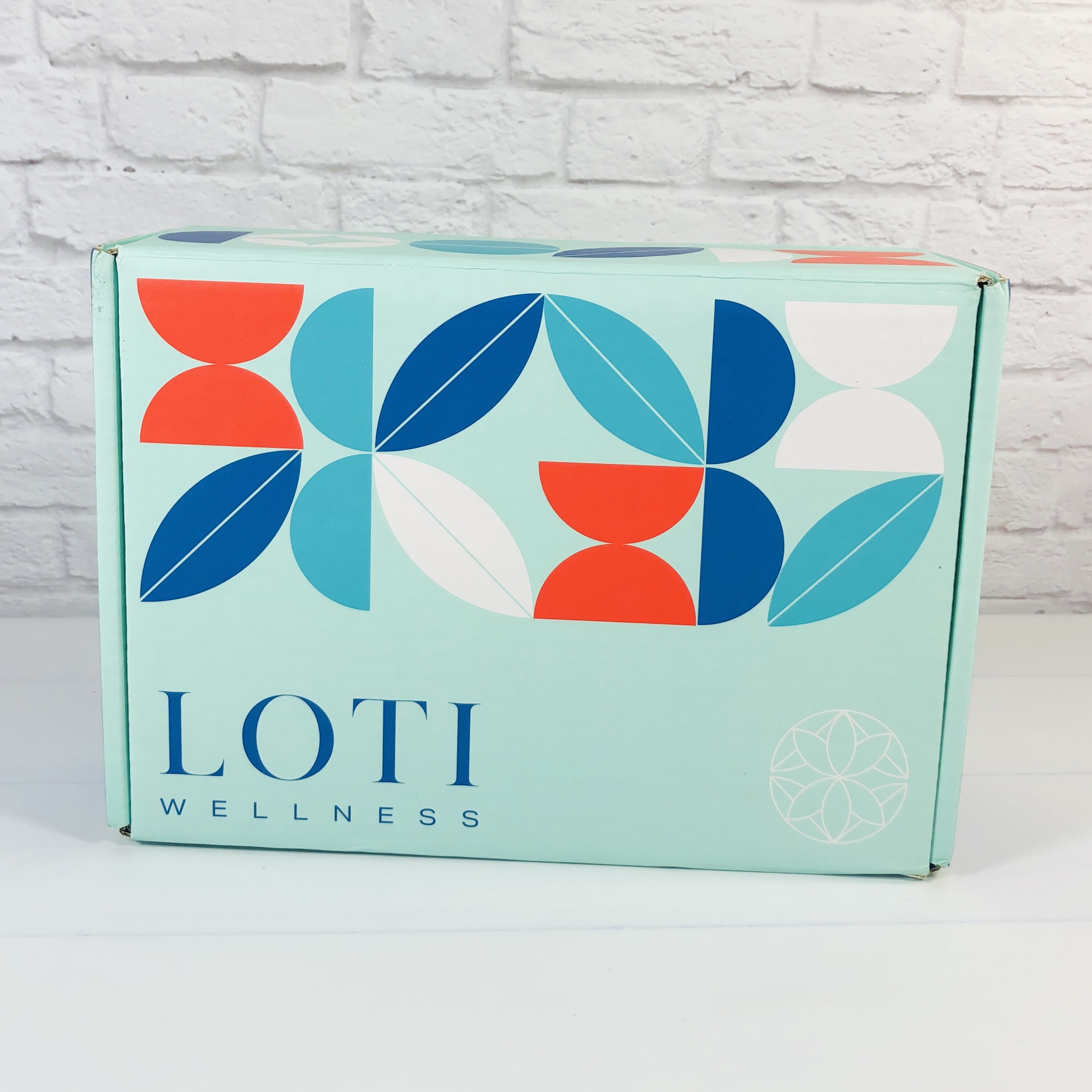 Loti Wellness is a subscription box with a focus on self-care. The box has a monthly theme curated by therapists to focus on items and rituals to promote positivity and improving one's self. Loti Wellness works with local brands and small businesses whenever they can, and choose cruelty-free and natural products. The box will have 5-8 products for self-care and wellness. The box is $44.95 USD with lower prices on multi-month subscriptions. Shipping is $10.98 USD. A portion of proceeds go to CanadaHelps COVID-19 Fund.
A lotus is a flower that blooms from the mud. It symbolizes overcoming adversity and achieving your greatest potential. The Loti Wellness Box offers practical skills and products to reduce stress and anxiety, and improve your overall wellbeing.

Each Loti Wellness Box delivers the tools and strategies you need to cope with life's challenges, using research based in psychology and psychotherapy. The monthly themes focus on topics like reducing anxiety, setting goals, and even boosting positive mindsets to help you discover self-care and self-love.
DEAL: Save 10% on your first box! Just use this link and coupon code SUBSCRIBE10.
My items arrived in a blue box and were wrapped in white tissue paper that was sealed with a sticker.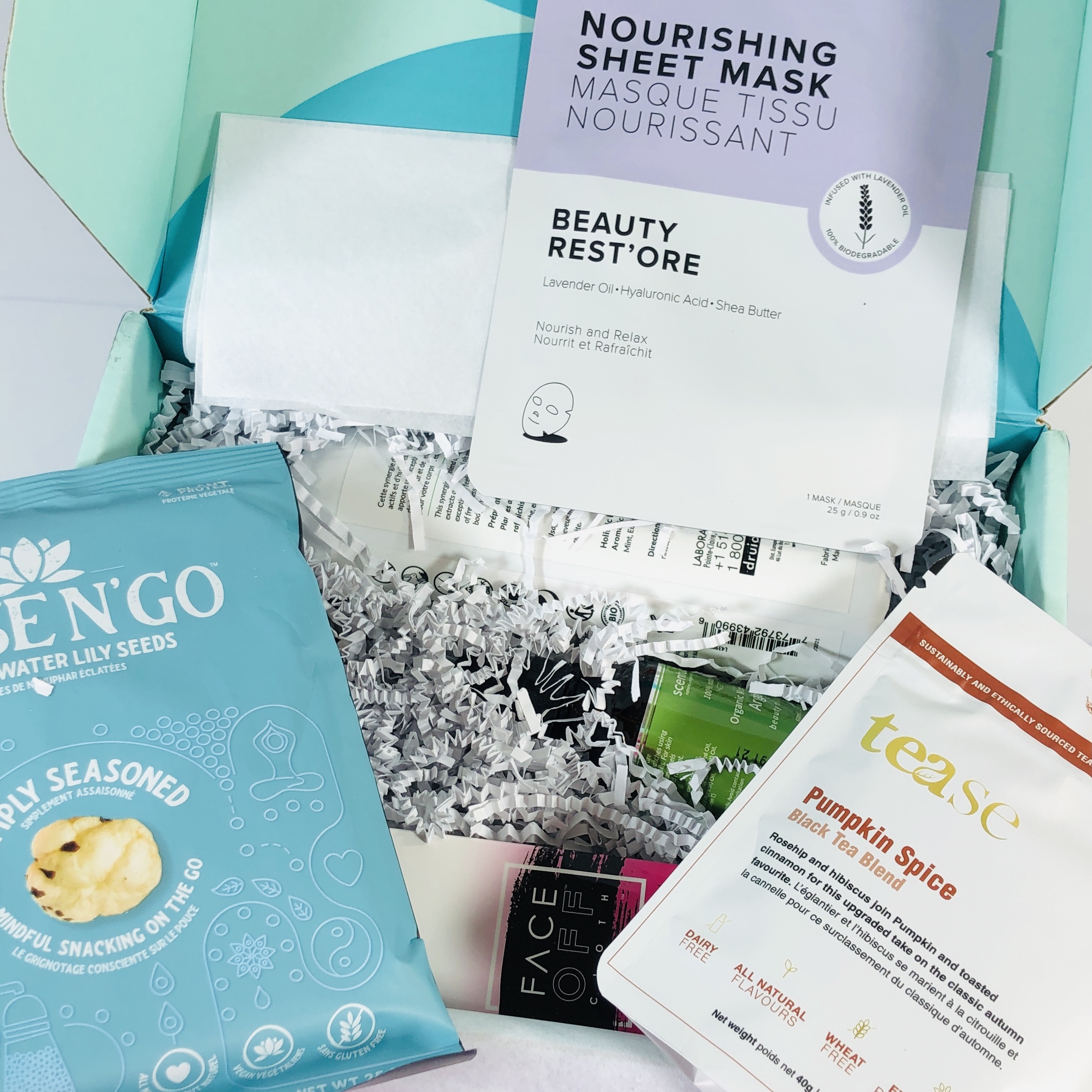 Loti sends interesting and helpful items each month.
I received a brochure with the theme for September: Balance! (Yes, it is the September box. This box ships late in the month.)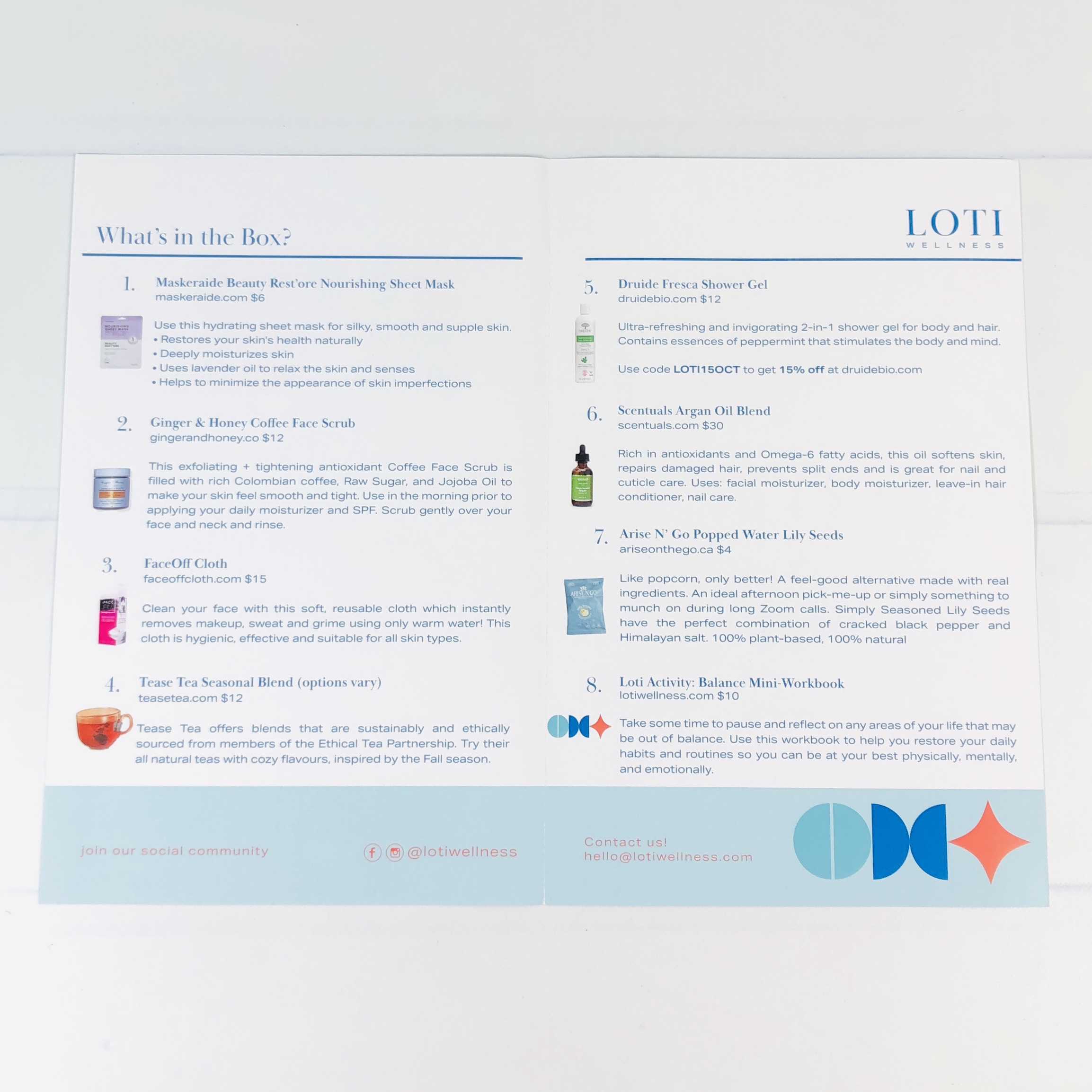 The inside of the brochure listed each item, MSRP, and website so you can stock up on more wonderful items from these brands. I believe all of these values are in Canadian dollars.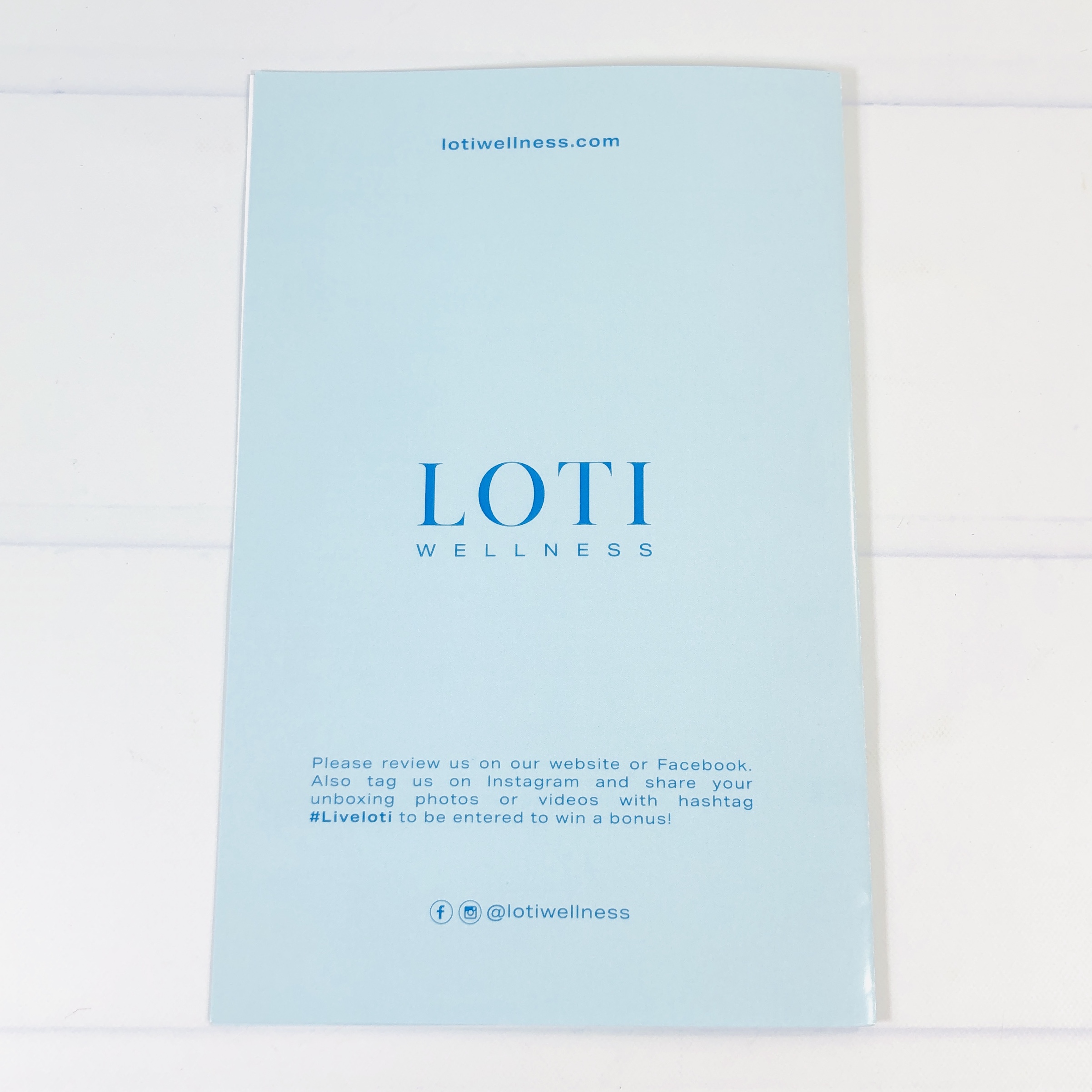 The back of the brochure showed on which social media sites Loti can be found.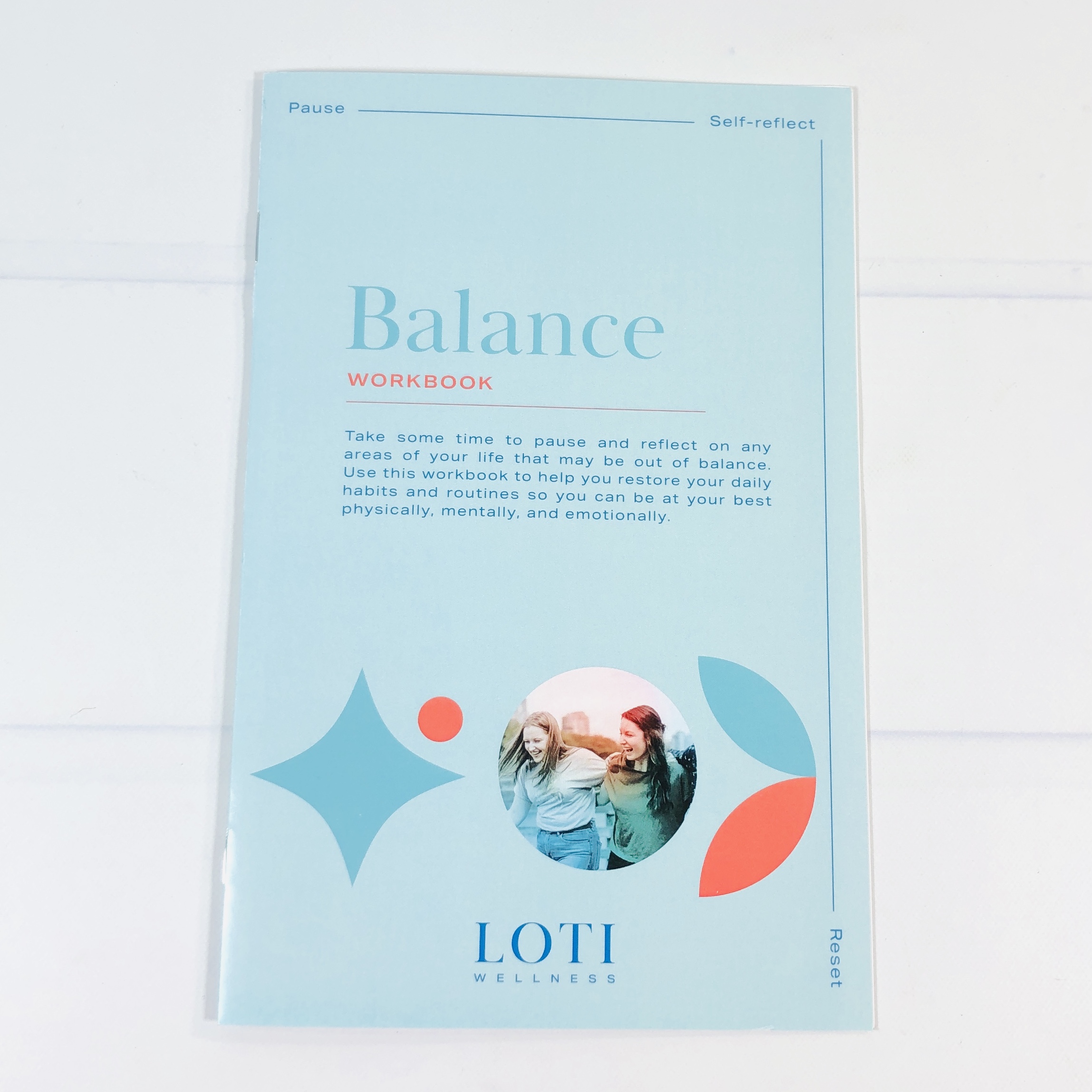 Next up was a BALANCE Workbook.
I received this box in October and Balance is the perfect theme, as Libras (like me, and others born between September 23 – October 23) love balance. Here we see 12 areas in life that need to be balanced.
There are checklists and tips to help achieve equilibrium. There were 10 pages total in this booklet.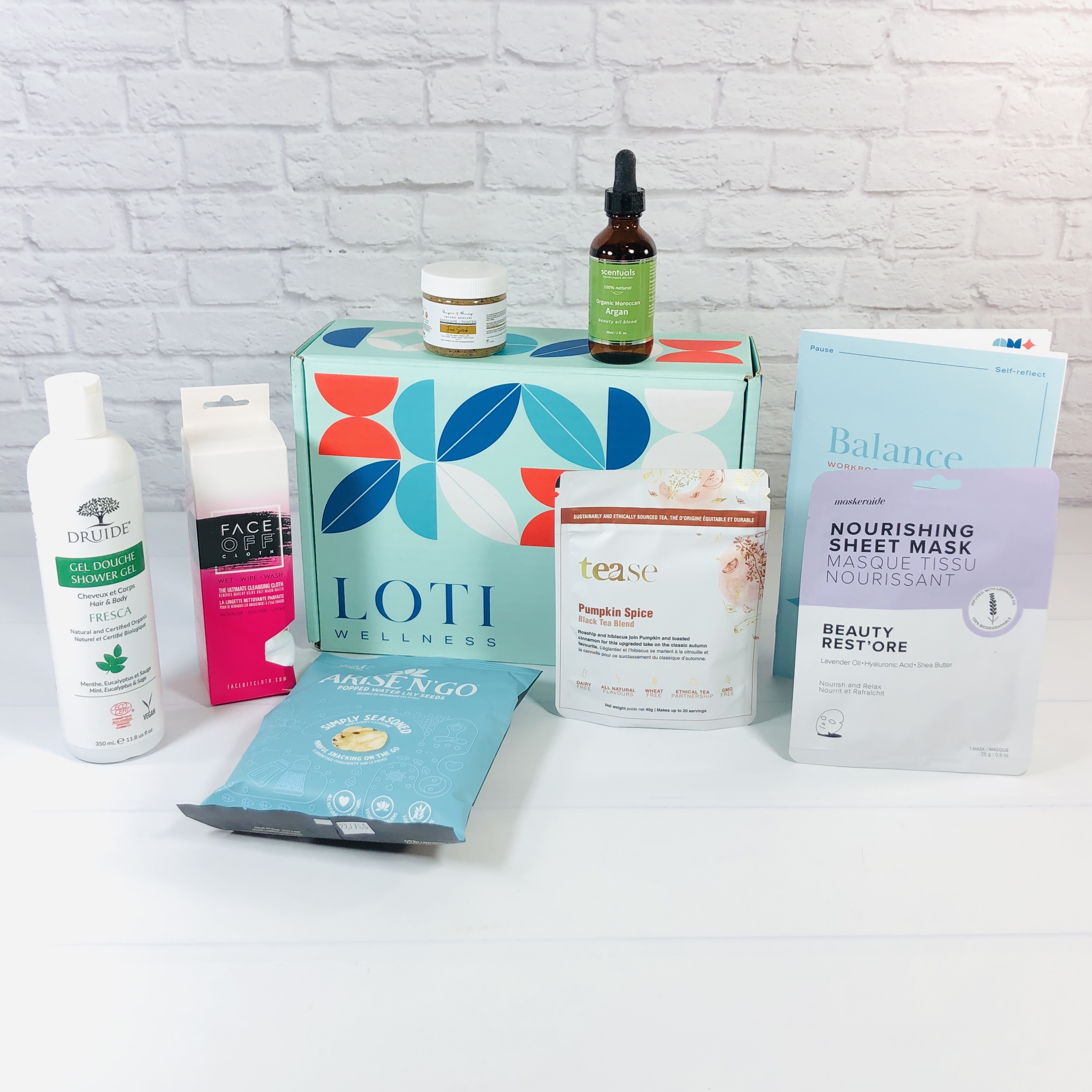 Everything in my box!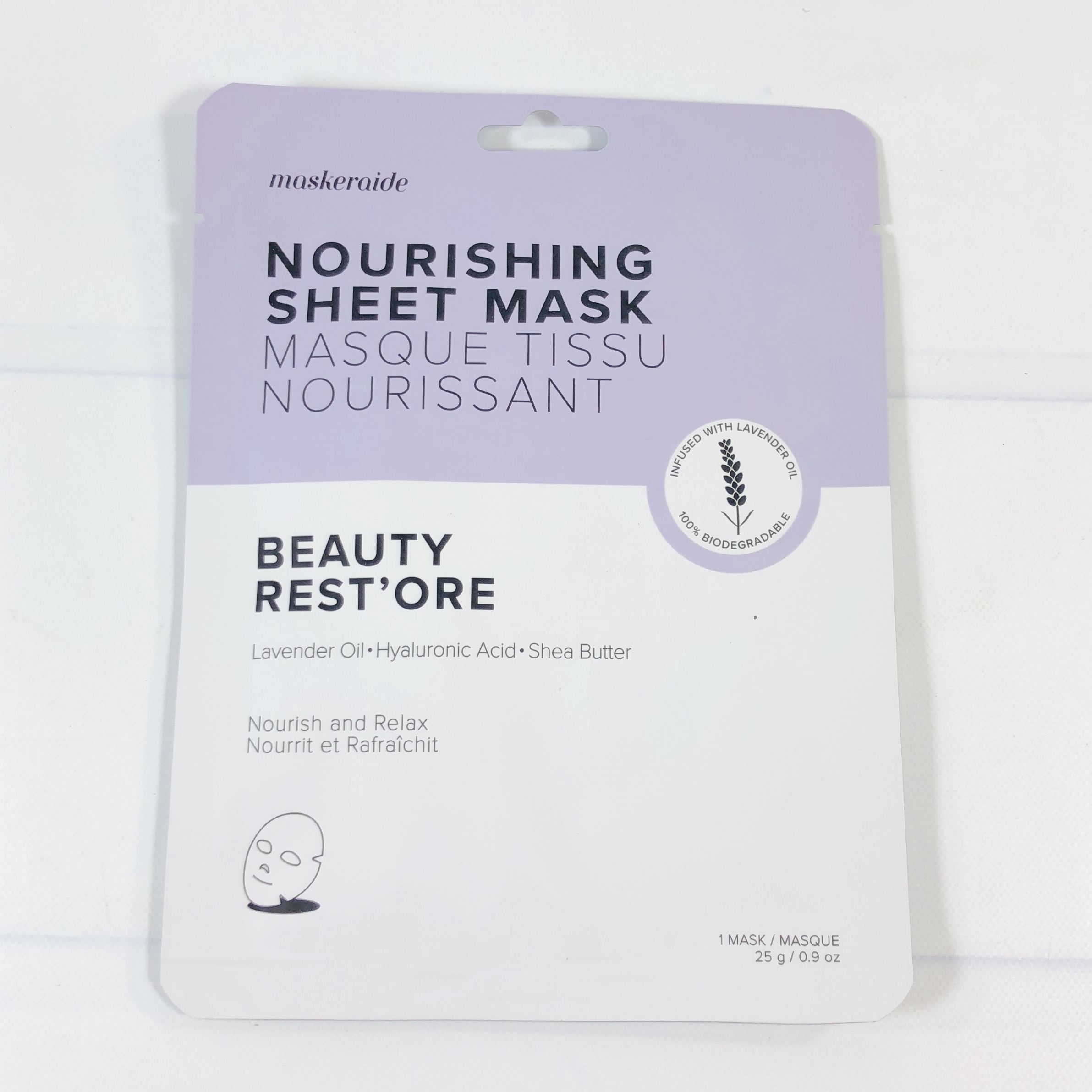 Maskeraide Beauty Rest'ore Nourishing Sheet Mask ($6 CAD, around $4.81 USD) According to this brand the mask is perfect for most skin types and can help restore balance to the skin at the end of a heavy week.
Some of the ingredients found in this moisturizing mask are sodium hyaluronate, glycerin, seaweed, shea butter, and argan oil. The mask is scented with relaxing lavender oil. Apply to clean skin and kick back for 10-20 minutes before massaging any remaining serum into the face.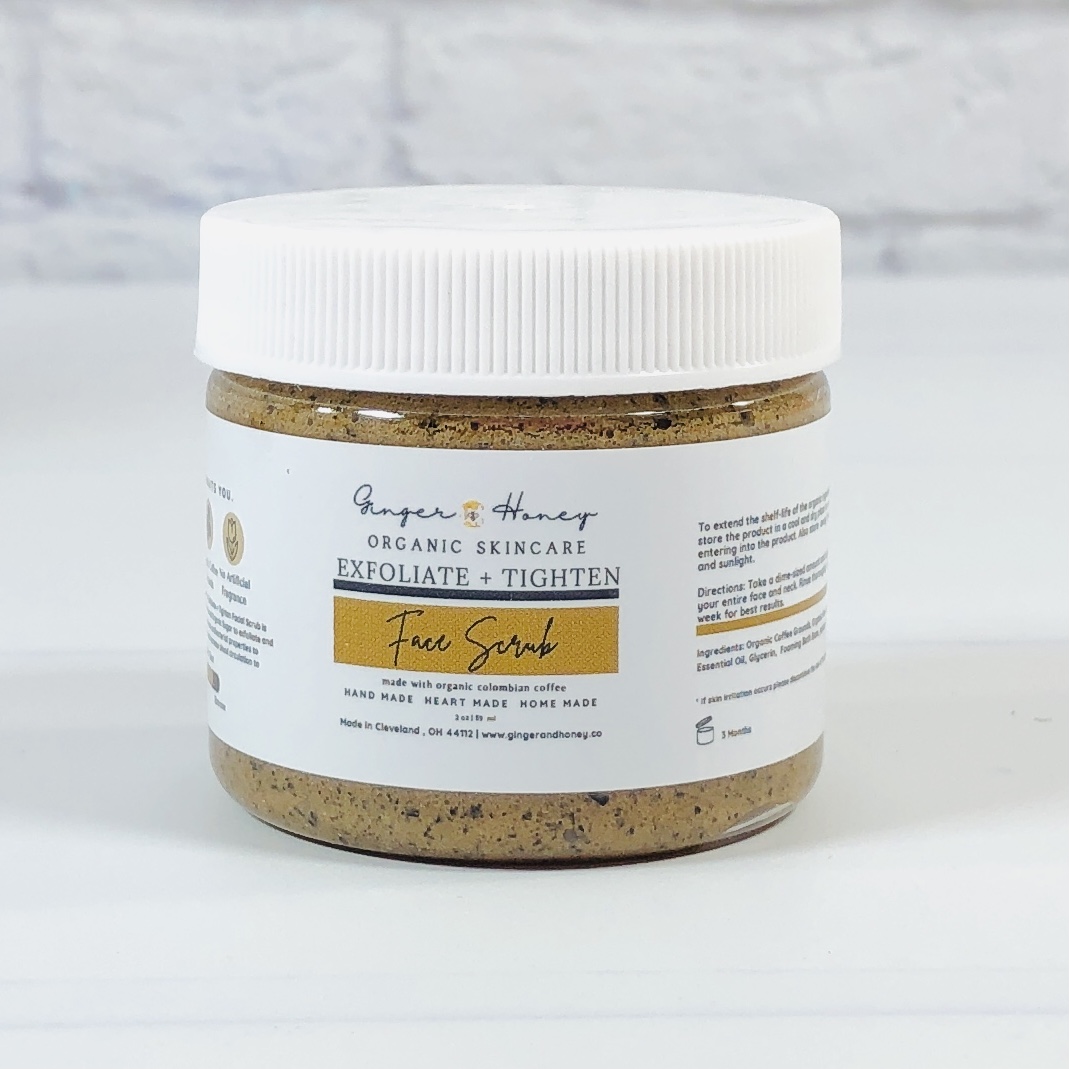 Ginger & Honey Coffee Face Scrub ($9 USD) This is a new-to-me brand and they were responsive when I reached out with a question.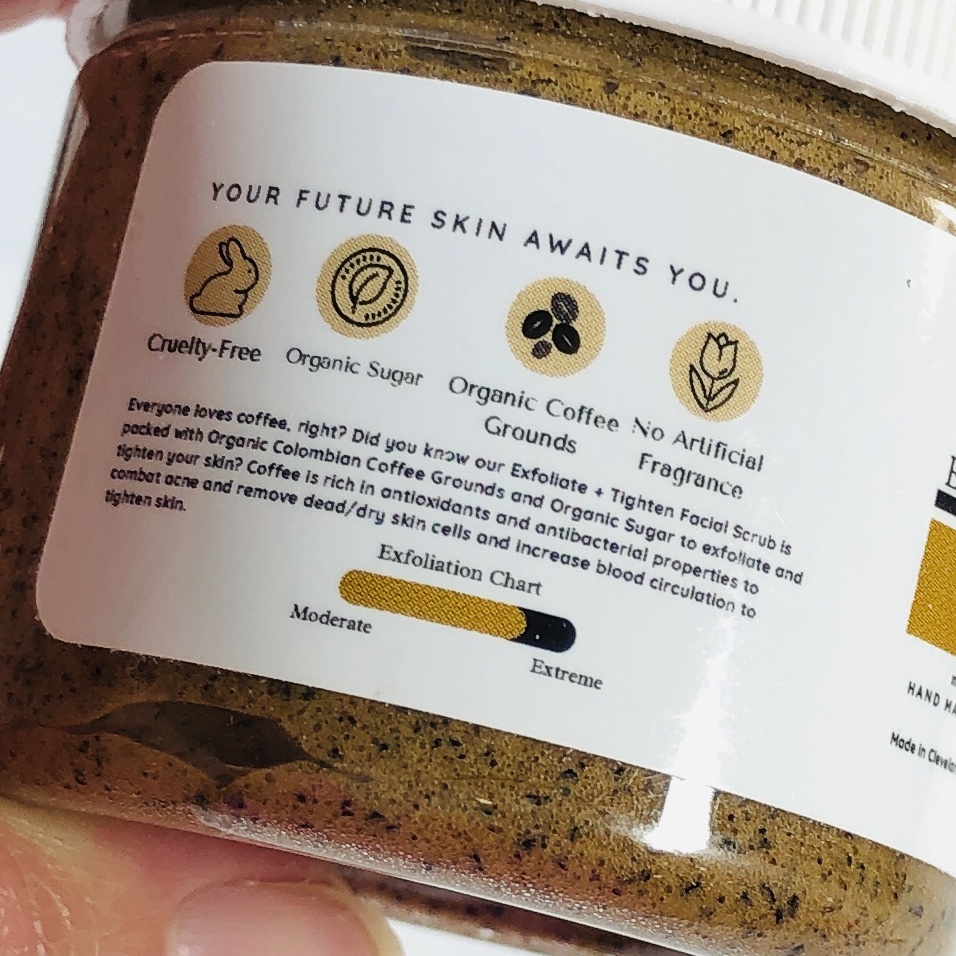 The writing is really tiny and I caught the wrong side of the jar but the ingredients include coffee grounds, sugar, vanilla essential oil, glycerin, jojoba oil, and "foaming bath base". I wasn't sure what was in that exactly and so that's why I reached out. Those ingredients are glycerin, water, sodium cocoyl isethionate, sorbitol, propylene glycol, disodium lauryl sulfosuccinate, stearic acid, sodium chloride, diazolidinyl urea, and iodopropynyl butylcarbamate.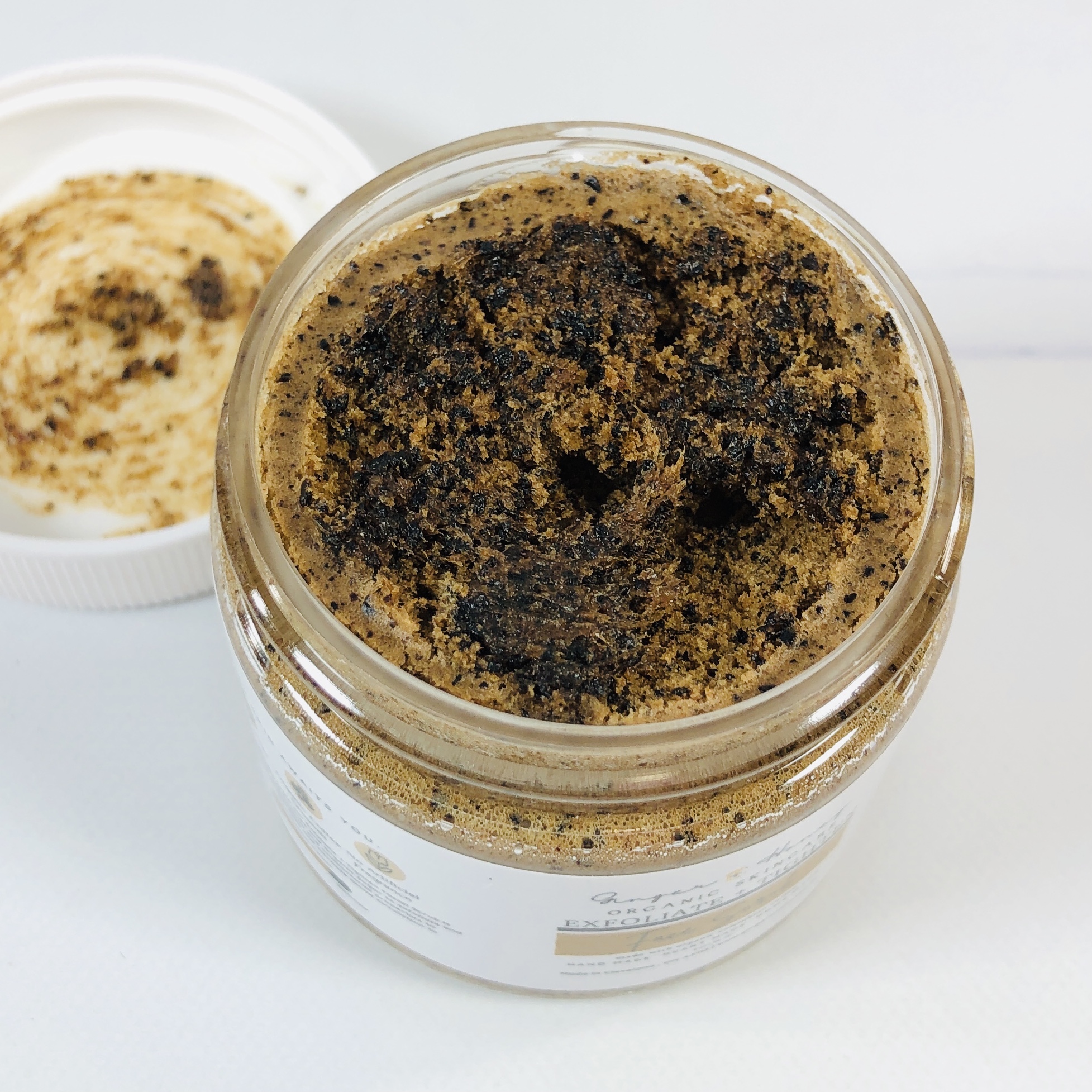 I'm not a fan of coffee ground scrubs for the face, they are too rough for my sensitive skin, and after trying this on my chin I decided it would be better for me to use it only on rough elbows and heels. The product is supposed to be free of artificial fragrance but it has a generic soapy scent to me underneath the coffee scent. The caffeine from the coffee is supposed to tighten skin.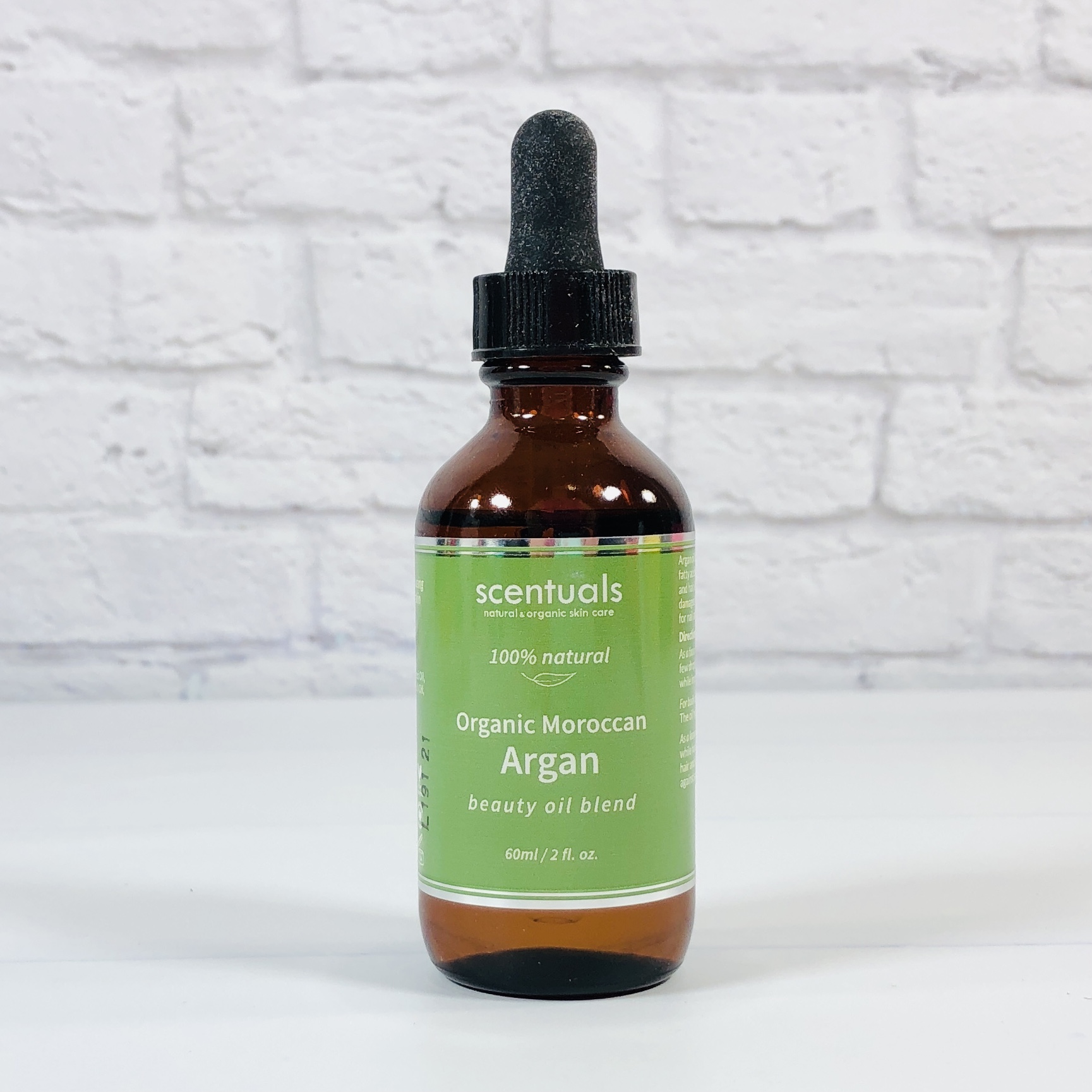 Scentuals Argan Oil Blend ($30 CAD, $26 USD) I like the Scentuals brand and have quite a few of their products in my collection.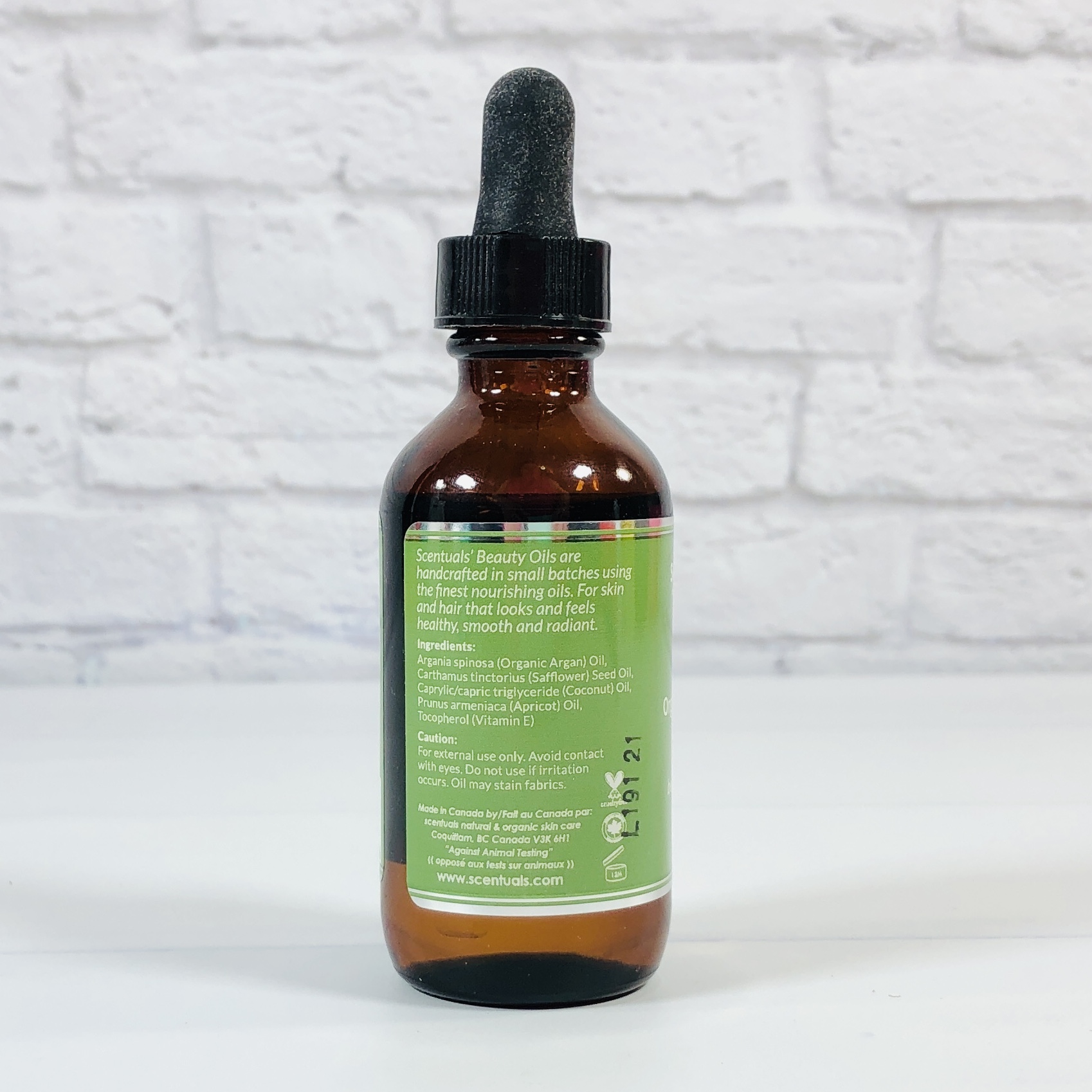 Argan oil is the main ingredient but it is blended with safflower, coconut, and apricot oils, plus it has vitamin E. FYI, the ingredients list is different from the list on the Scentuals website, which doesn't list safflower or apricot.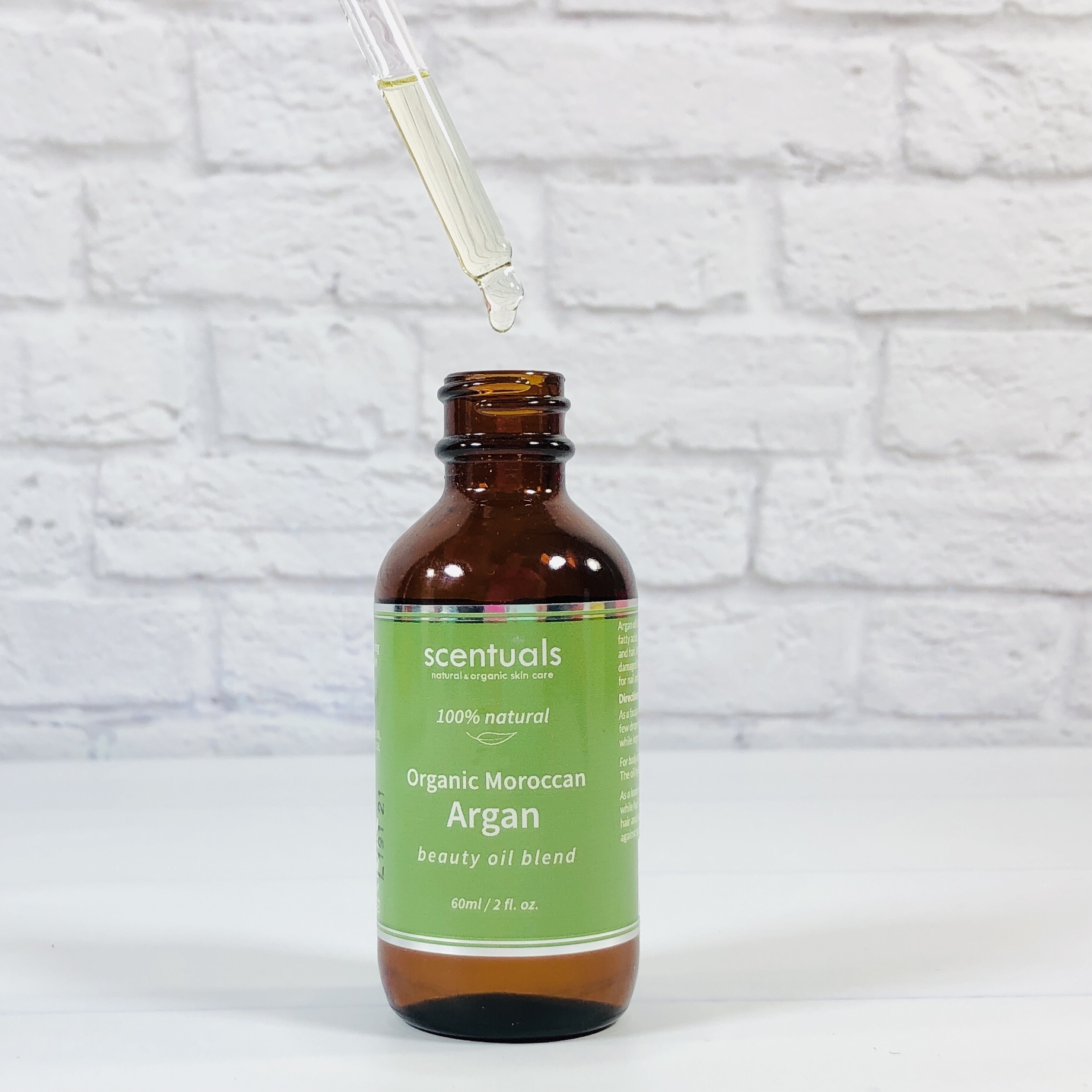 I applied this to my face but it can be used on the body, in hair, or on cuticles, very multi-purpose! It left my face smooth and I could easily apply my makeup over top. It doesn't have much scent at all, and in fact, I may add a few drops of essential oil and use it exclusively as a body oil.
FaceOff Cloth ($15, or $8.99 on Amazon) I have a lovely collection of supposedly no-cleanser-needed washcloths thanks to subscription boxes. They help remove my first layer of makeup and save my nice washcloths from getting discolored.
The promise is that these will remove makeup and sweat with nothing more than warm water and the cloth. In reality I always have to have a second go with makeup remover on pads for my eyes and a cleanser for my face, or even a second cleanser if the first one was oily.
It's pretty much the same size as my washcloths and they bear a remarkable resemblance to the microfiber clothes I bought to use in my kitchen. The box says to wash with soap and water and hang to dry and that bothers my inner germaphobe so I stick them in the washer with the towels, detergent, and bleach and then it's into the dryer.
Driude Fresca Shower Gel ($12) I love all things mint so this two-in-one was perfect for me! It can be used on the hair and body, although I only used it on my body due to scalp sensitivities.
There are lots of essential oils in here including spearmint, peppermint, and menthol. I put it on my shower sponge and it lathered well and rinsed away easily. I think it smells a lot like spearmint and it is a great way to start my day, I love the refreshing, uplifting scent!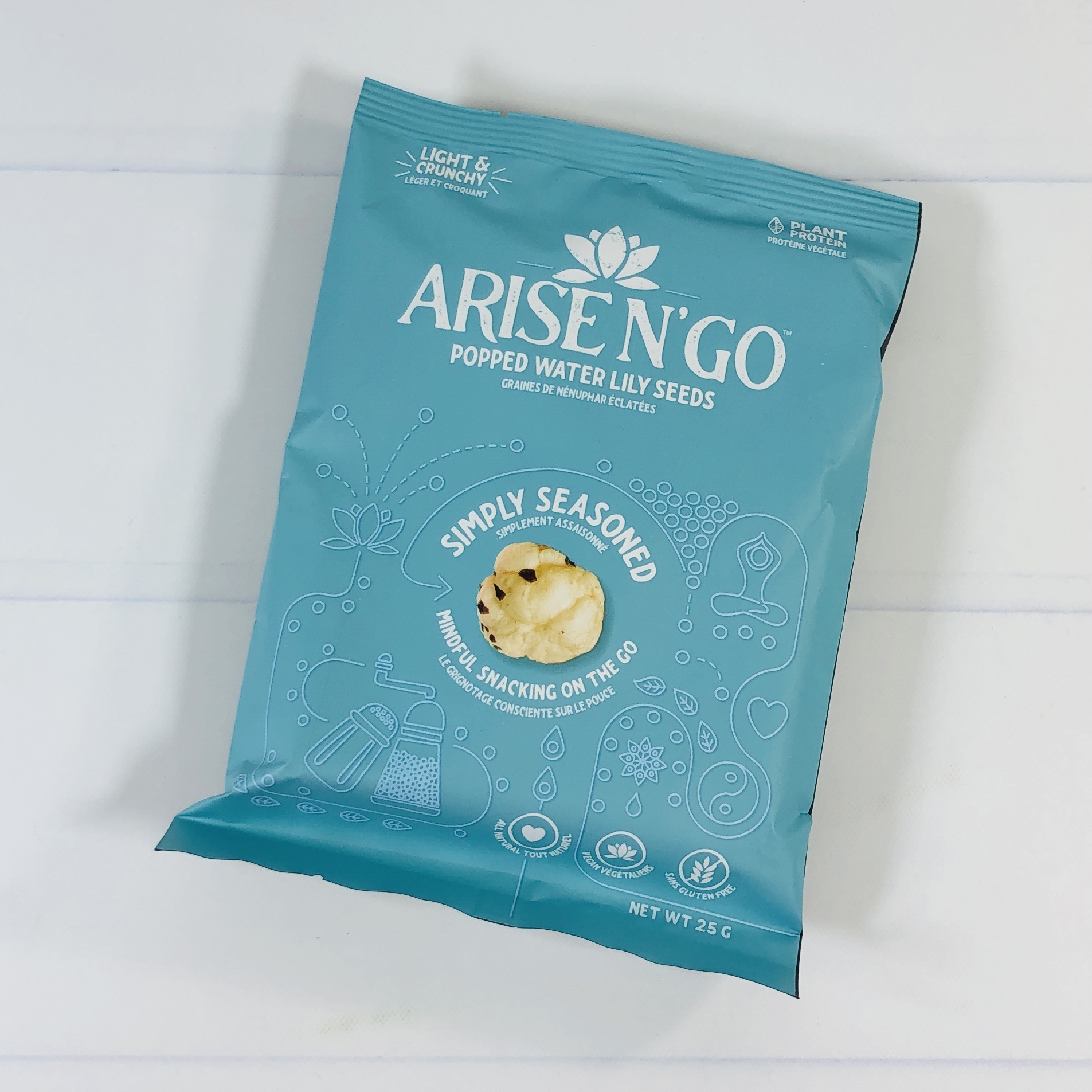 Arise N' Go Popped Water Lily Seeds ($4) These are also known as makhana, and they are made by popping water lily seeds! They are supposed to have antioxidant and anti-inflammatory properties.
These are simply seasoned, which I thought meant maybe a sprinkle of salt, but they have paprika, garlic powder, onion powder, turmeric, and possibly more. Even so, they didn't have much seasoning. Makhana always has an earthy taste and it's here too, and for some reason I picked up a hint of pork breakfast sausage. Makhana also have a hull (like popcorn) so watch out!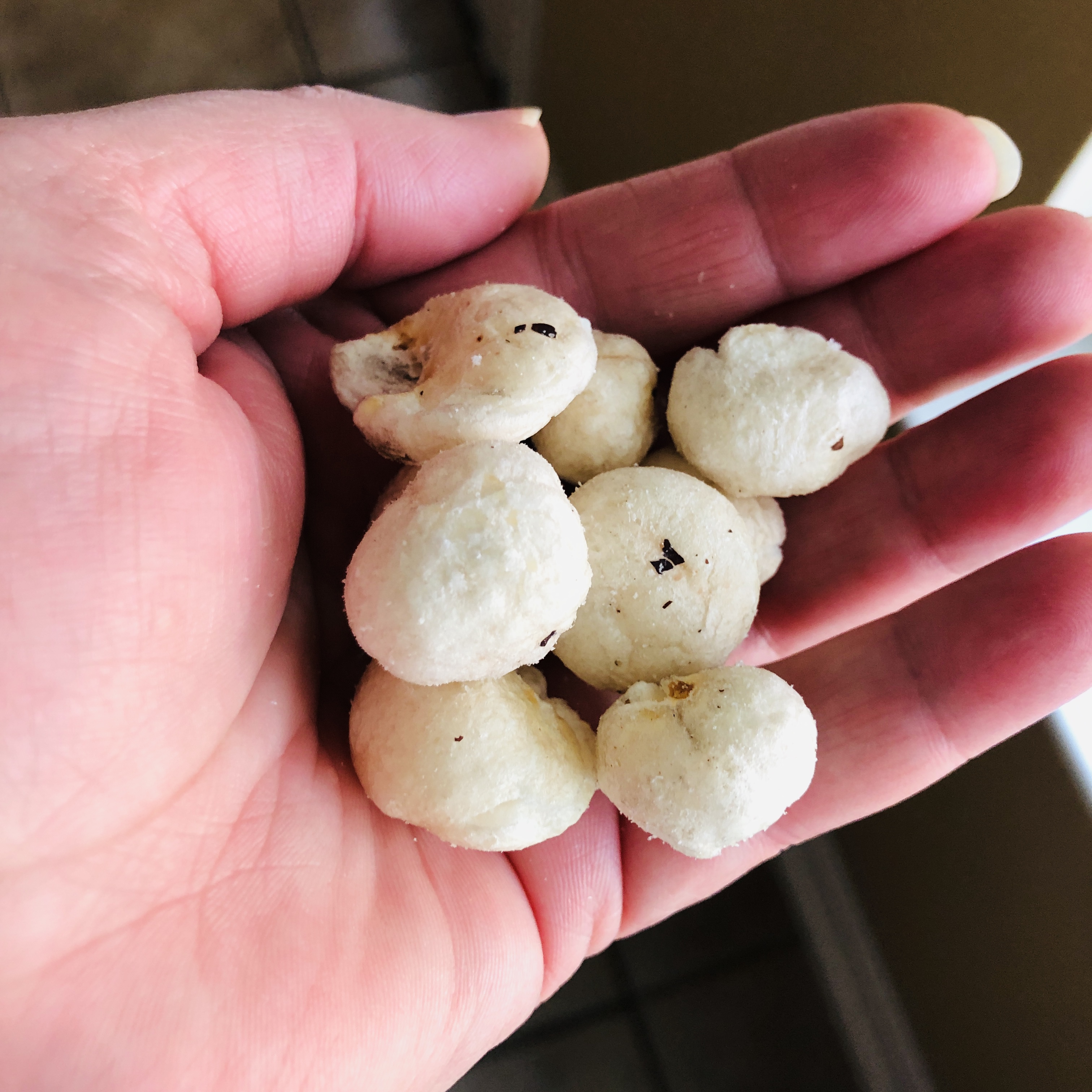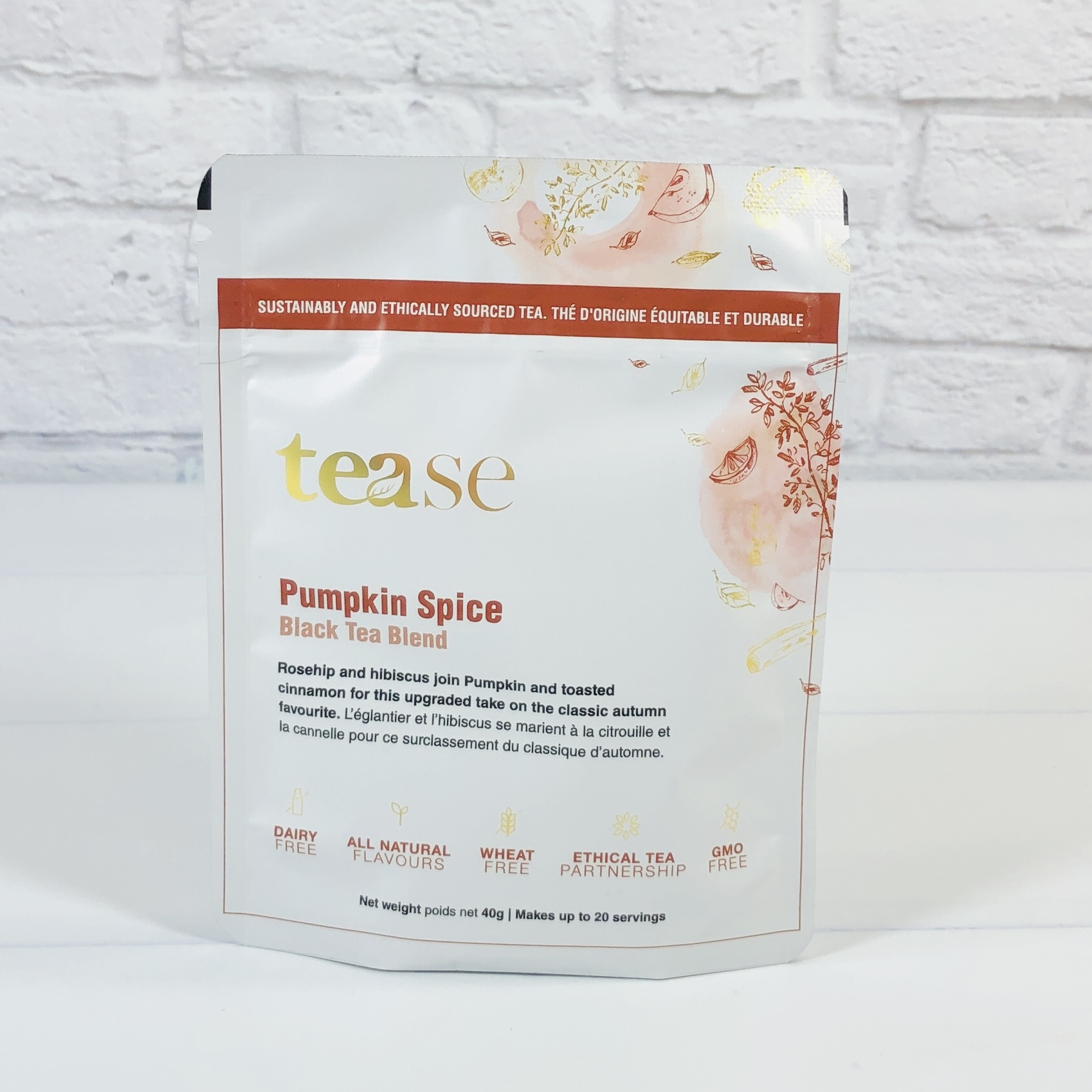 Tease Tea Seasonal Blend ($12 listed value) We linked to a similar product, however, it is in pyramid bags, while I received loose-leaf. Flavors may vary but will be seasonal.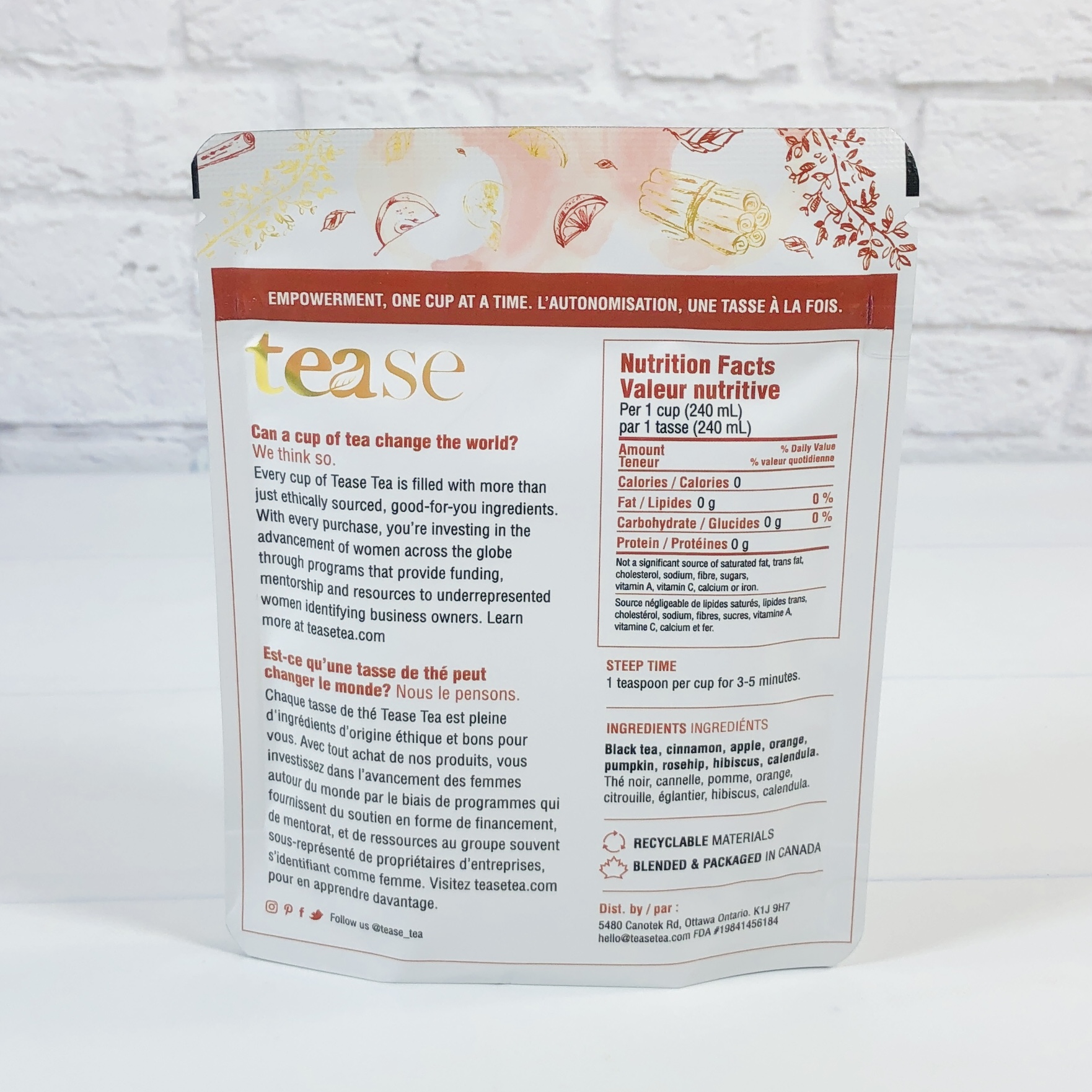 The ingredients in this black tea blend include cinnamon, apple, orange, pumpkin, rosehip, hibiscus, and calendula. I steeped a "perfect" teaspoon of tea (about 1.5 teaspoons) in 8 ounces of boiling hot water for 5 minutes.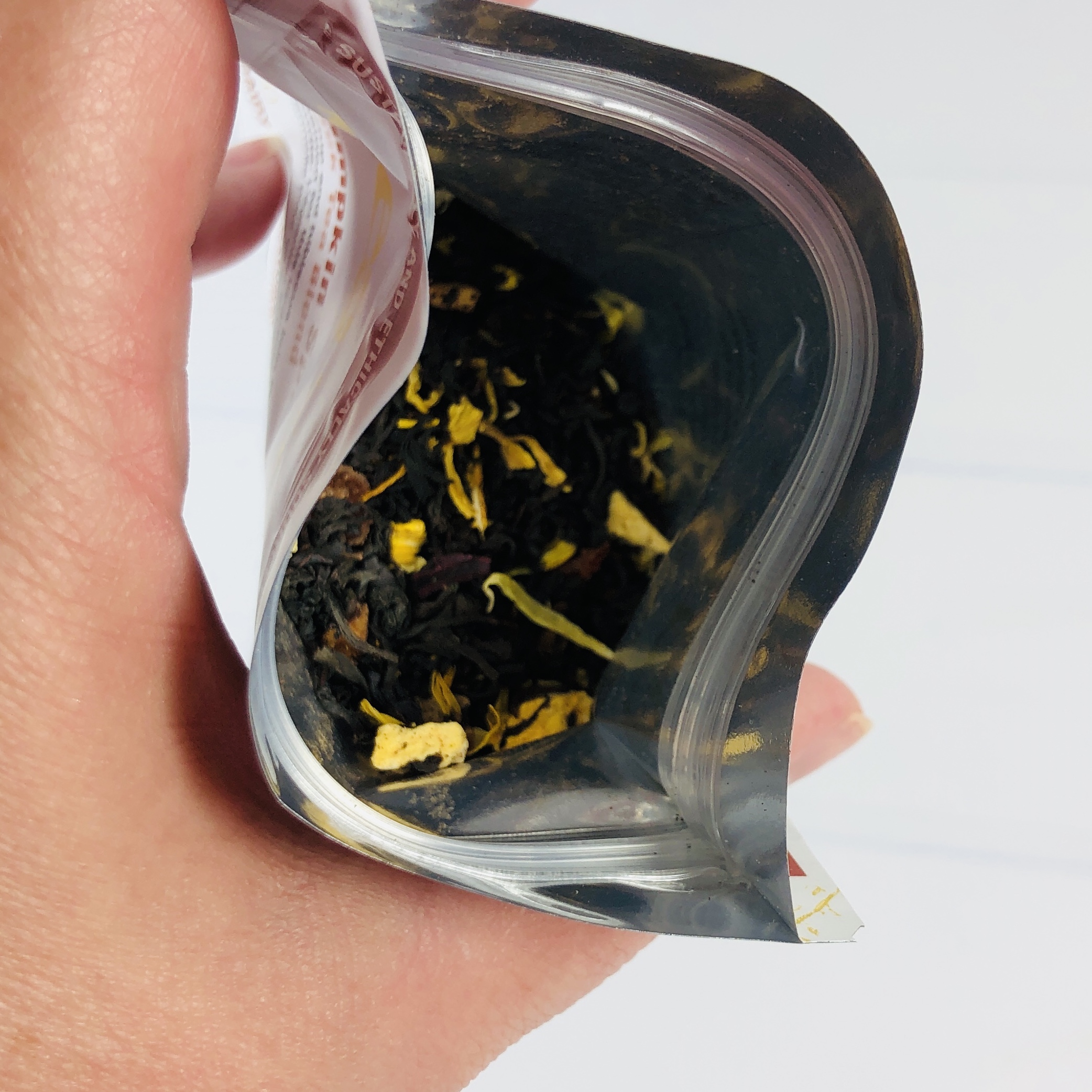 My tea wasn't very dark but I added a bit of sugar. I was hesitant to add milk, hibiscus tends to make it curdle, but as the tea wasn't sour I thought it might be ok and it was (however different batches may have different amounts of hibiscus so use carefully). I don't think this tasted anything at all like I was expecting. It was similar to a coffee shop drink (with my additions) but mainly it reminded me of a chocolate orange with a hint of cinnamon!
I was so pleased with the Balance box by Loti! I especially liked the shower gel, I use it a couple of times a week and it should last for a while, it's a huge bottle. I can't be mad about getting tea, I love tea, and Pumpkin Spice was a great flavor for fall. I am happy to add another makeup removing cloth to my collection and the face oil feels wonderful on my skin, it left it so soft and smooth, and I plan on using it as a body oil too. The scrub was too much for my face but I bet my elbows will love it. The mask and popped water lily seeds were lovely additions too, as is the workbook.
What do you think of this self-care subscription?