KiwiCo's Holiday Kits are available now for pre-order at the KiwiCo Holiday Shop!
Get into the spirit with STEAM Holiday craft kits! Look at all the STEAM projects available now or coming soon to kickstart your holiday season.
Here are some of the Holiday Kits:
THANKSGIVING TABLE TURKEYS Price: $14.95 Age: 3+
Sculpt 6 turkey bodies out of clay, complete with a pom-pom head, a pipe-cleaner wattle, a beak, and wiggle eyes. Then add cool customizable trimmings – colorful feathers, and personalized place cards. This funky feathered crate is a fun way to involve kids in the holiday prep, encourage them to express themselves through art and design, and make guests feel welcome at the table.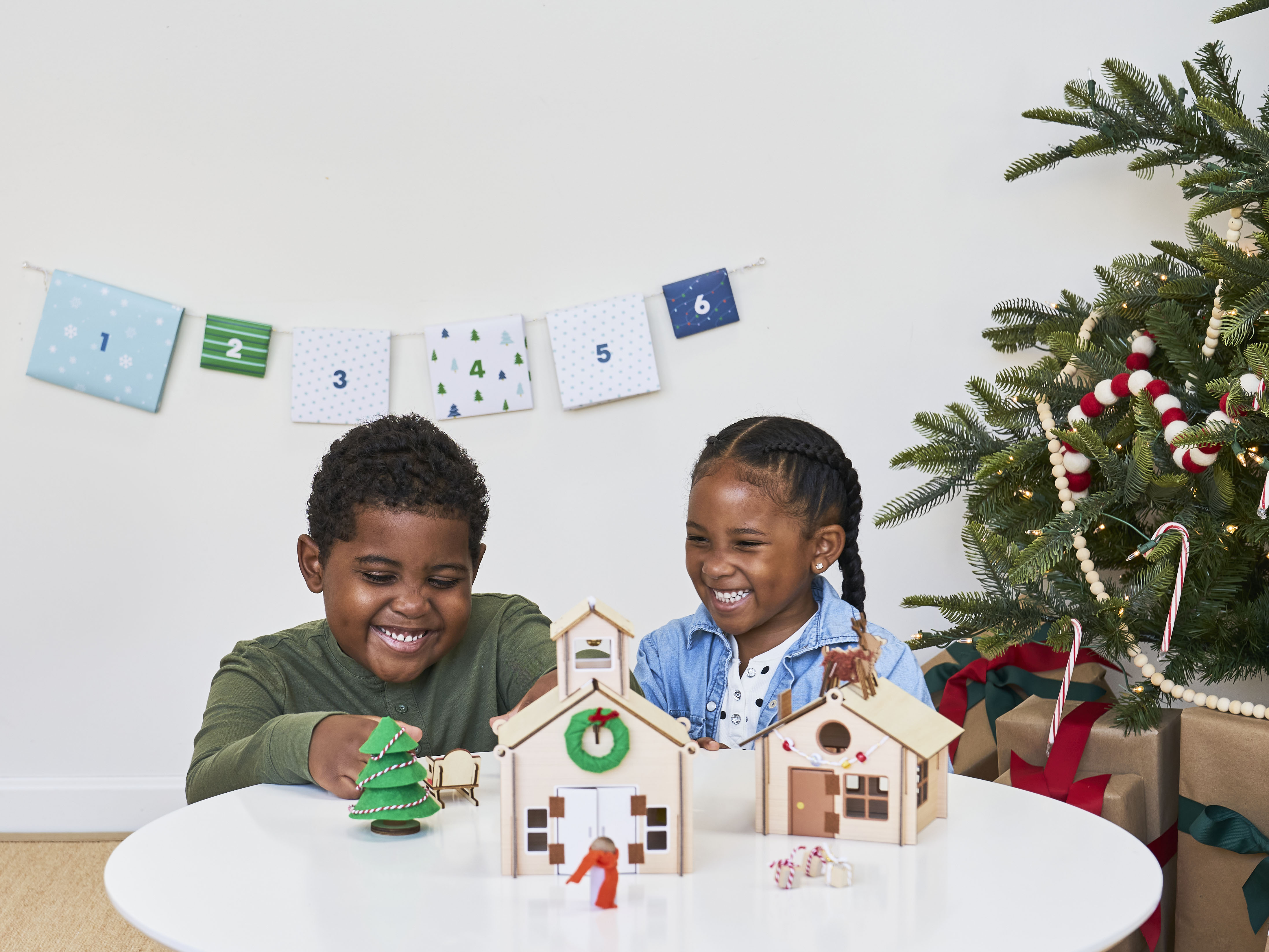 ADVENT VILLAGE Price: $49.95 Age: 5+
Countdown each day leading up to Christmas with 24 adorable projects! Discover a daily new surprise addition to your Christmas Village play set. By Christmas Eve, you'll find your bustling village filled with delight. Keep playing with your village and decorate to make it your own! The large pieces disassemble for storing in the box for next year.
SANTA'S LIGHT-UP WORKSHOP Price: $24.95 Age: 9+
Get ready for the holidays! Construct a wooden workshop for Santa and his little elves with this light-up, buildable workshop. Customize it with colorful beads and pipecleaners to create a unique look of your own.
CHRISTMAS CANDLE CAROUSEL Price: $24.95 Age: 5+
Get into the holiday spirit with STEAM! Harness the power of aerodynamics to build your very own spinning Christmas candle carousel. Explore how the candles in your carousel are for more than just show – they also heat up the air around them, causing it to rise in a gust of wind that spins the whole carousel around! Then discover the history, culture, and technology behind these de-light-ful decorations.
ICE SKATING RINK Price: $24.95 Age: 5+ 
Get into gear and engineer a miniature, mechanical ice-skating rink as powered by gears! Learn to tinker with gears and rig up a motor, then decorate a unique winter wonderland scene complete with festive characters. Turn the motor on to make the gears rotate, then watch your snowman, penguin, and gingerbread man spin around and "skate" on the ice!
SNOWMAN & SANTA WOBBLERS 2-Pack Price: $26.95 each Age: 3+
Who needs stocking stuffers when you can stuff your own wintry, wobbly snowman toy? Use felt and fluff to craft a soft and squishy snowman or Santa that tips over when you push it… then wobbles right back up again. A wonderful way to explore the science of weight and balance, all while DIYing your own cheery holiday decor!
Are you getting anything from KiwiCo?
Want to subscribe? Save 50% off your first box on KiwiCo Crate subscriptions – Kiwi Crate, Koala Crate, Doodle Crate, Tinker Crate, Panda Crate, Atlas Crate, Yummy Crate, Eureka Crate, or Maker Crate! Deal applies automatically, just click here!
Want to know more about which box is right for your child? This page lays out all the details on every KiwiCo box!