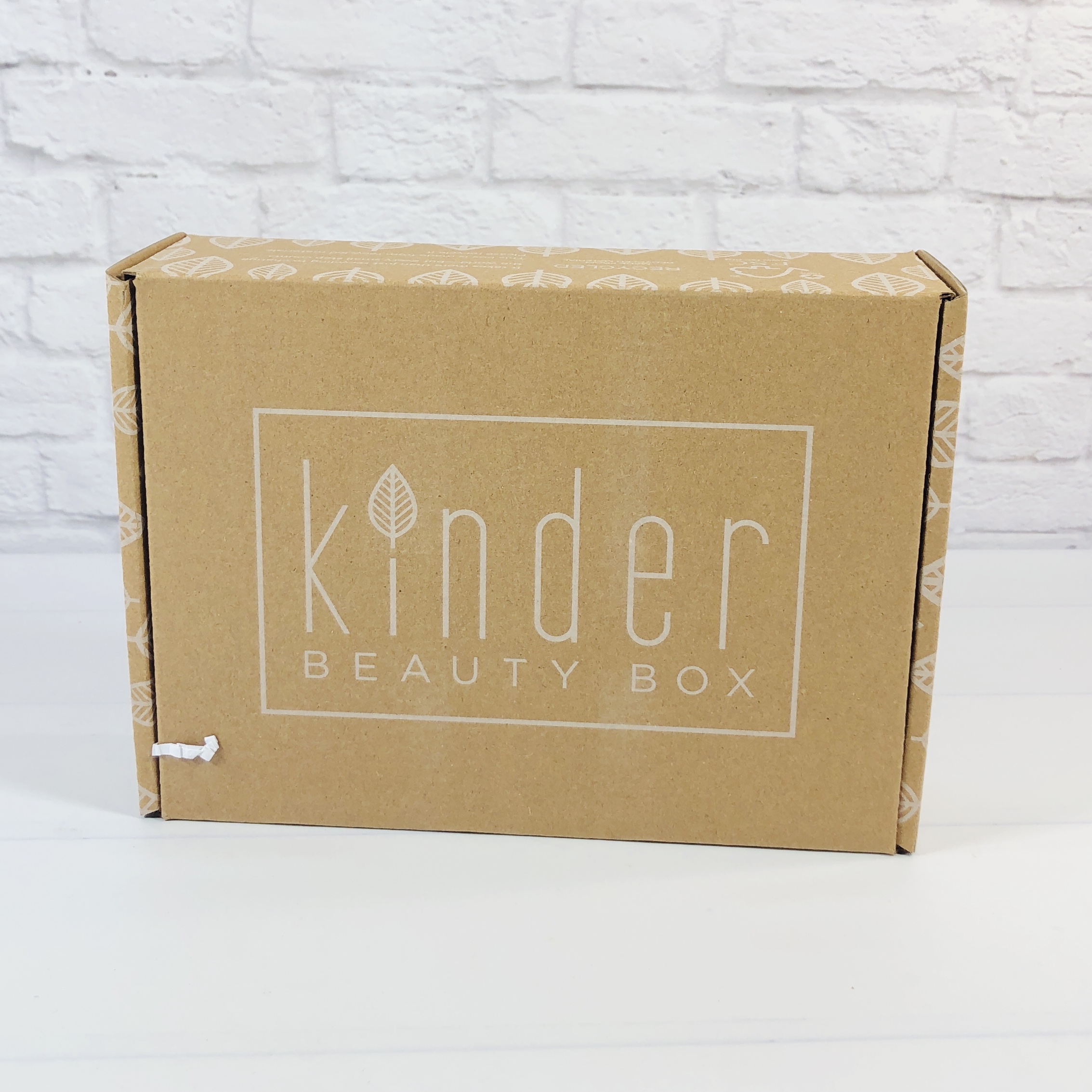 Kinder Beauty Box is a vegan and cruelty-free subscription box that sends skincare, hair care, makeup, and accessories. Each month you will receive more than $85 worth of products. The items are compassionately curated by Daniella Monet and Evanna Lynch. All Kinder Beauty Box products are guaranteed to be 100% vegan and cruelty-free. Kinder Beauty Box is $26 a month, with free shipping to the US, $5.95 elsewhere. Price drops to as low as $23 a box with a prepaid 6-month plan. Those who order a 3-month plan will receive a bonus box and those with a 6-month plan will receive a bonus box and be able to choose which box they prefer (after the first box). A portion of all sales will go towards benefiting the founders favorite animal rights and environmental causes.
Every product that goes into a Kinder Beauty box is 100% vegan, and every brand we work with is completely cruelty-free. This means the products and ingredients are never tested on animals, the products aren't sold in China or any other countries that mandate animal testing, and the brands aren't owned by any parent companies that test on animals.
DEAL: Use coupon code HELLO5 for $5 off your first order!
Kinder Beauty's subscription box made the list in our 2021 readers' choice picks of best skincare subscription boxes!
First look! Kinder Beauty Box sends out two box variations each month.
Each month, it will be a surprise which of the two boxes you'll be receiving, but you can rest assured knowing that they are always each going to be incredible in their own ways.

Wondering what happens if you really, really, really want one of the monthly collections in particular, but you receive the other? Got FOMO on your brain? We feel you.

No worries! At the end of the month, if we have any boxes remaining, we'll offer them to members only at a special price in our exclusive monthly Add-On Shop. This way, you won't miss out.
NOTE: Subscribers who have a 6-month pre-paid subscription can now choose their box by logging into their account and doing the following: manage subscriptions, edit, product, then choose the box you want. This is only available if it is your second or later box, because the first box is always the Kinder Favorites.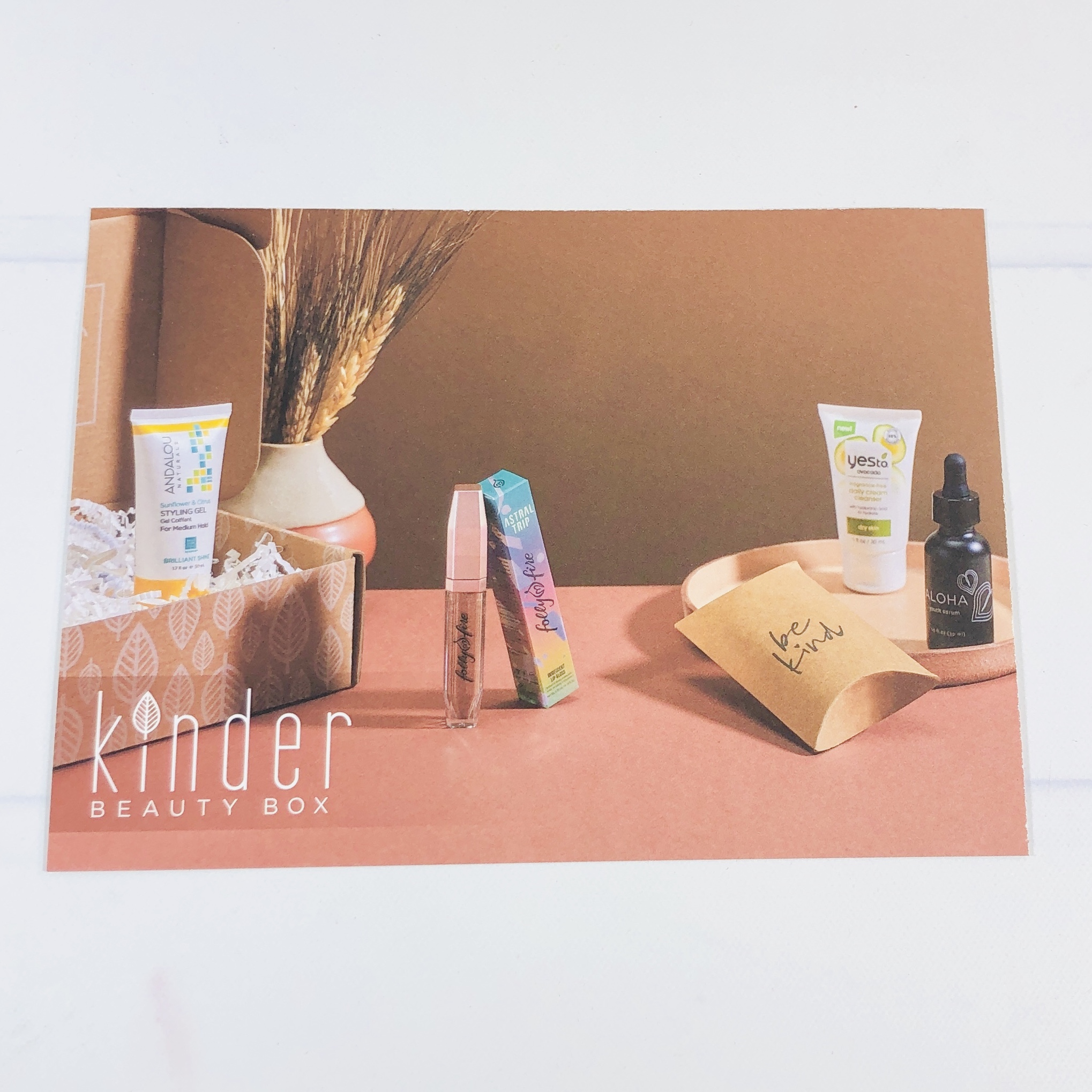 Here's the front of my information card.
The back of the card had all of the items in my box. The October collections were called the RETREAT BOX Collection OR the RESTORE BOX Collection. I received the RESTORE BOX Collection. It is important to know that when you sign up, your first box will be a Kinder Favorites box, which is shown on their main page and is different from what is in this review.
Out with the old, in with the natural. The brands in this box put a spin on the tired, artificial products of previous generations and introduce new, nature-approved ingredients to help you live out your Earth Goddess fantasies. This box contains a unique Hawaiian youth serum, a natural styling gel, a fall-themed bar soap, an avocado facial cleanser, and a gorgeous shimmer gloss.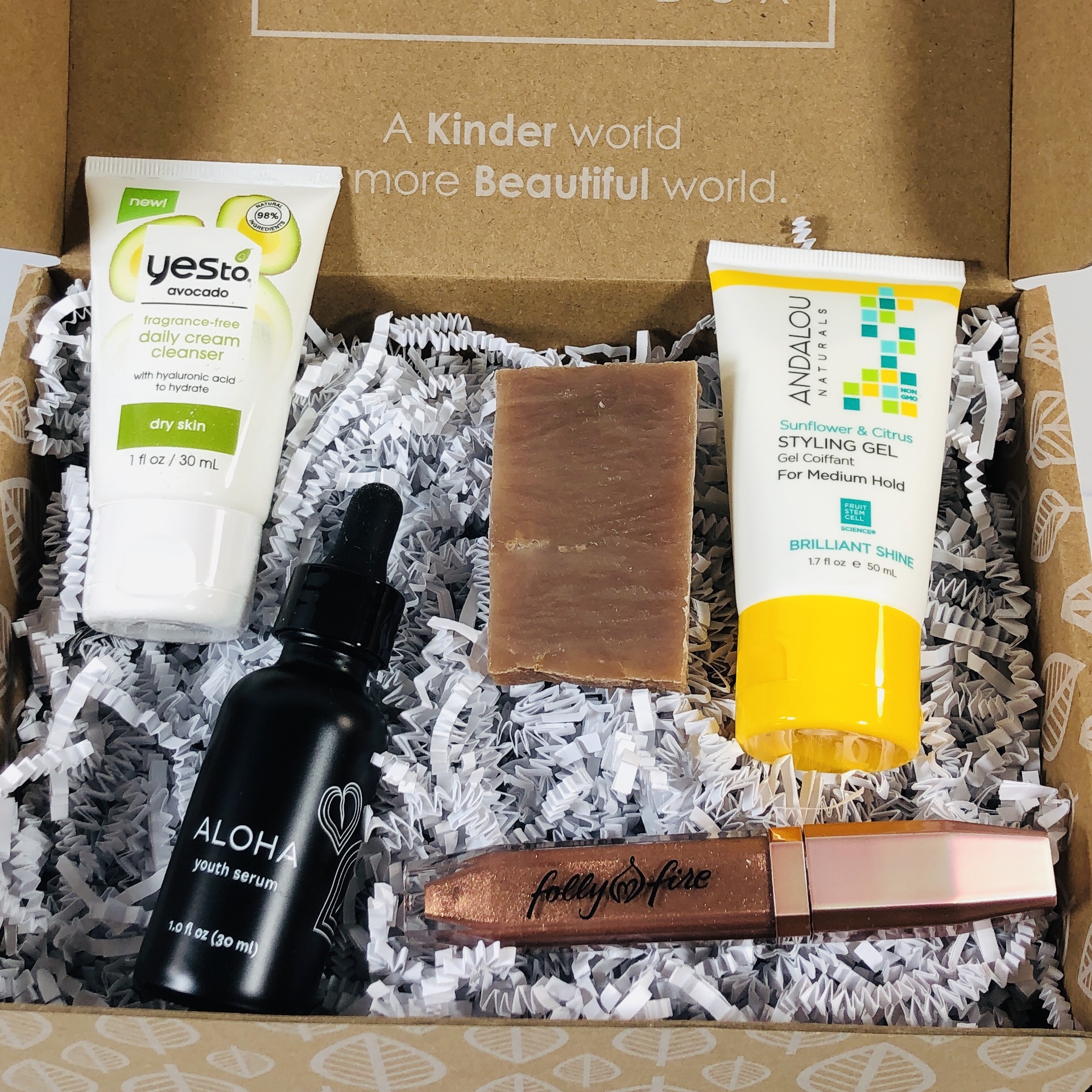 Looking good!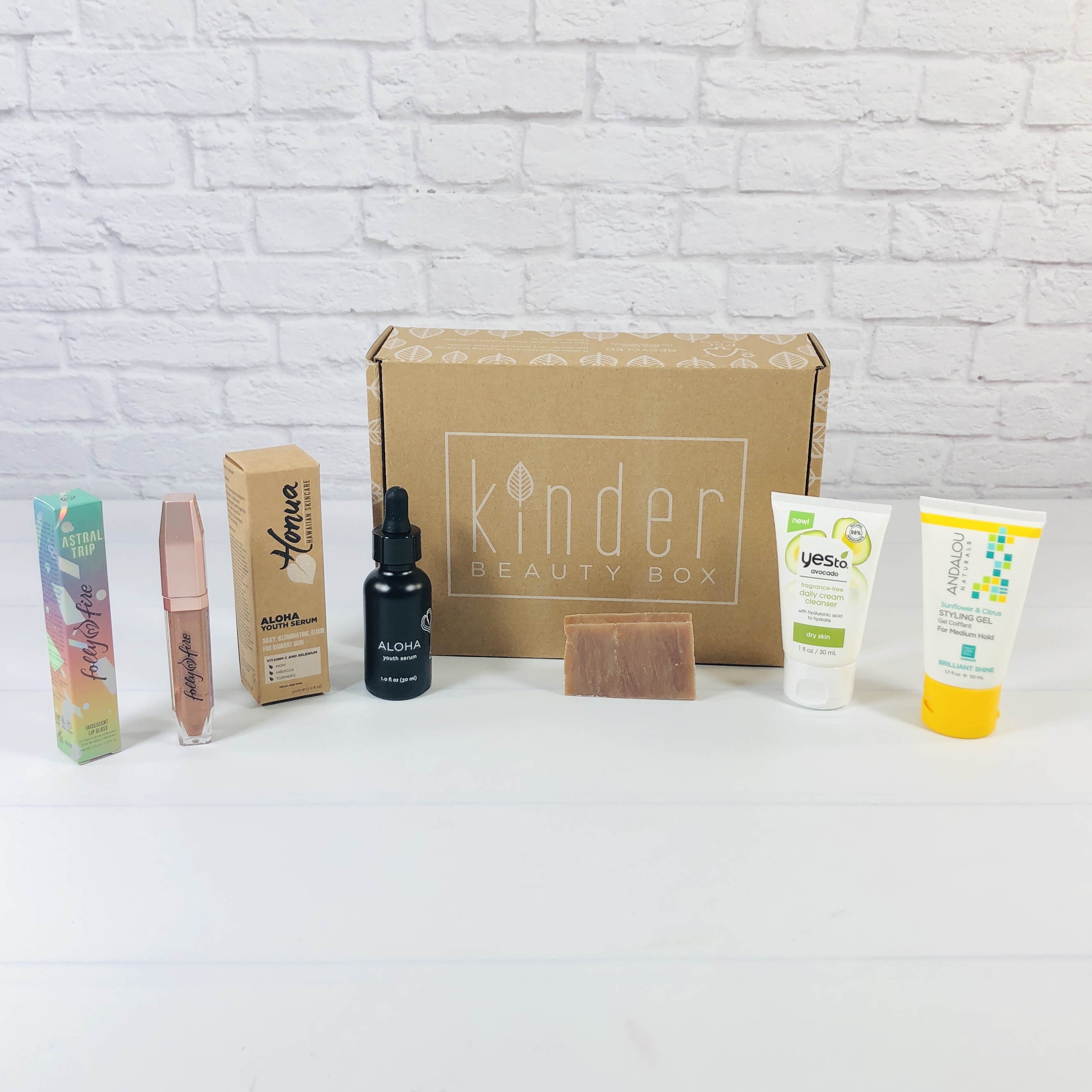 Everything in my October RESTORE BOX Collection! You can watch videos of Kellie, who looks like Emma Stone's twin, trying all of the products at the Kinder Beauty website.
Honua Skincare Aloha Youth Serum ($58) Honua products tend to smell really lovely, and this one has a bit of ylang ylang and something warm and smoky. The product is supposed to tighten skin, making those lines look less obvious. It is anti-inflammatory and may reduce redness.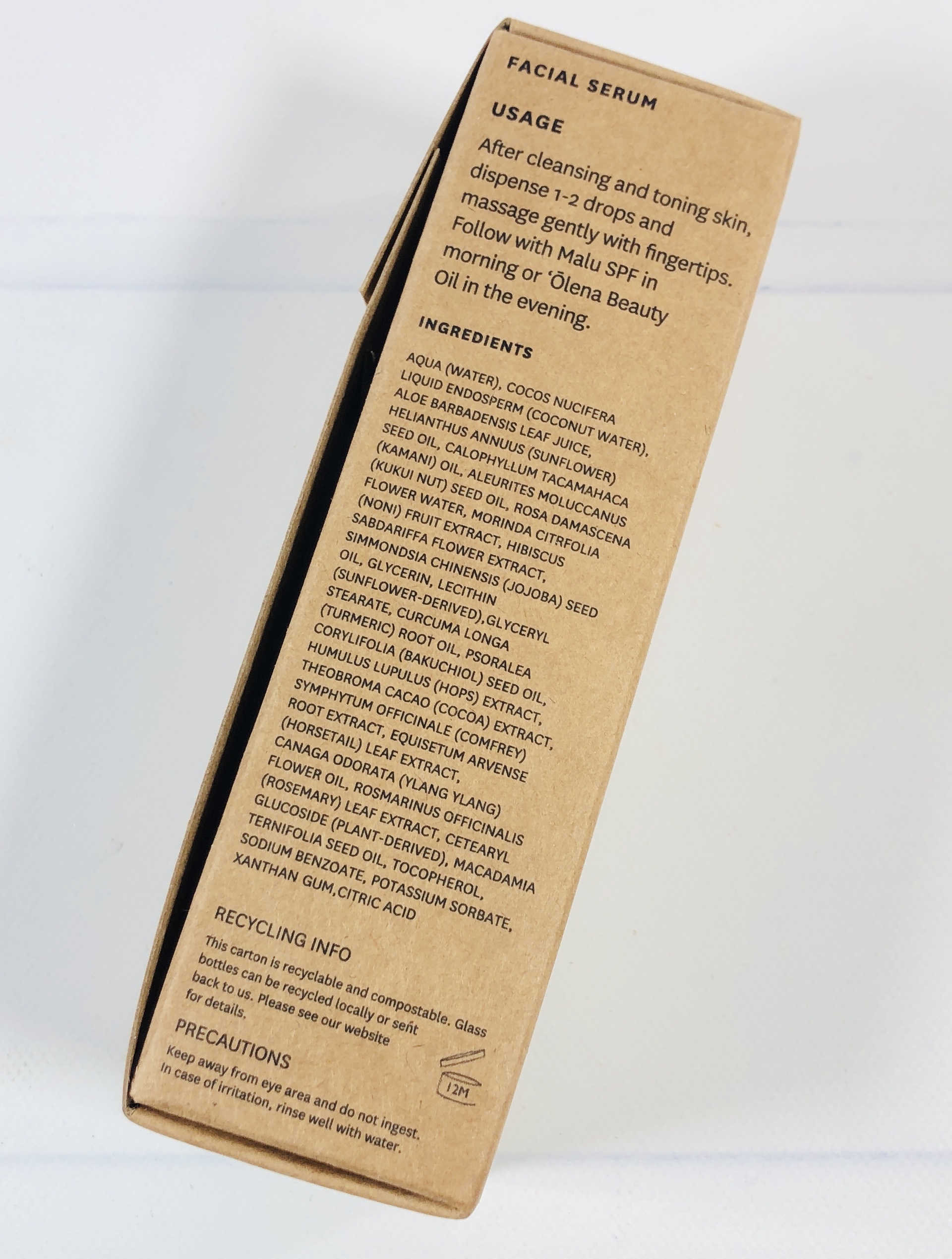 Some of the ingredients in here are coconut water, aloe, kukui oil, and turmeric. It has bakuchiol, which is supposed to be a less-irritating alternative to retinol.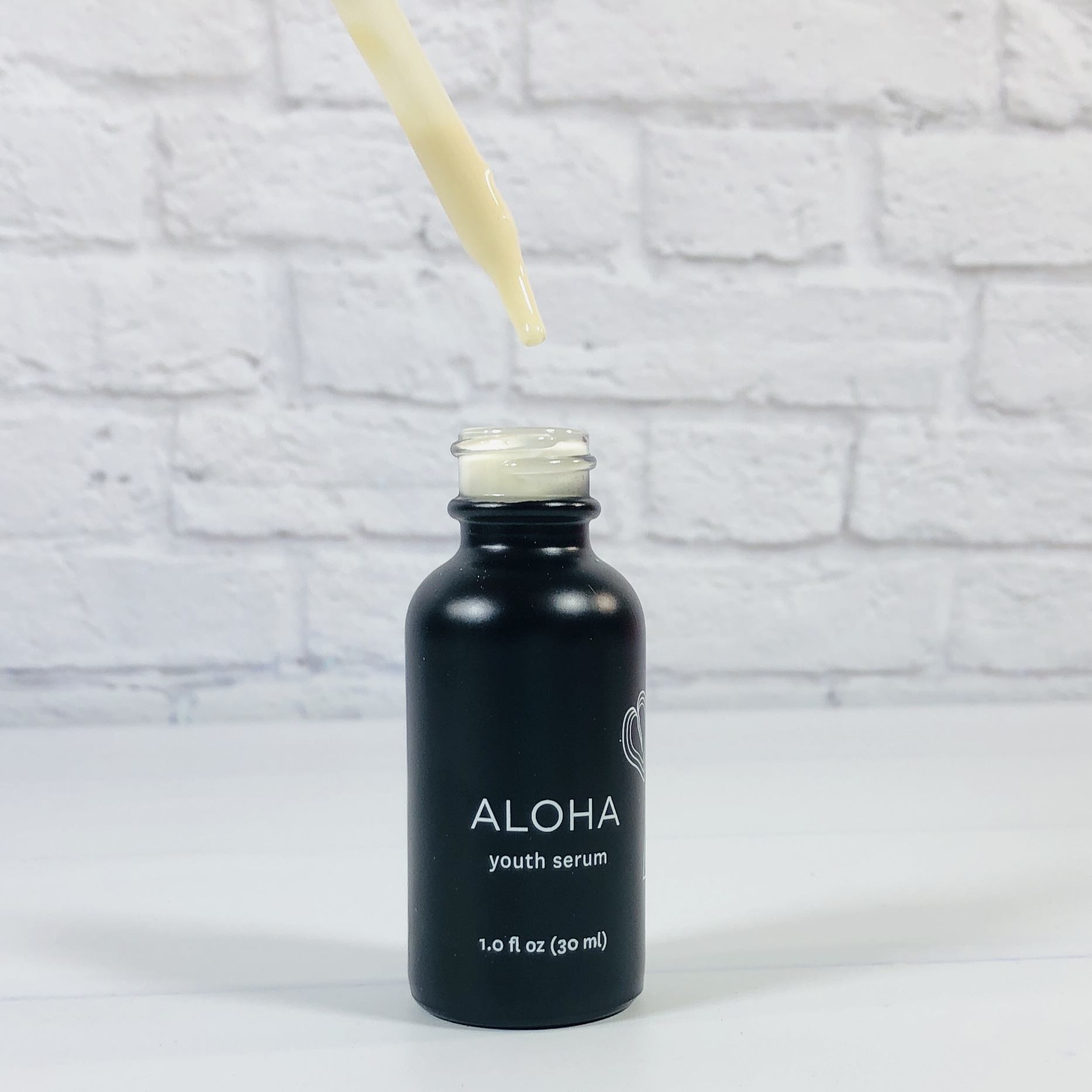 The serum was off-white and creamy rather than watery. It left behind an emollient feeling but didn't feel too greasy, just moist. It only takes about a pearl-sized amount each application, otherwise it might feel oily.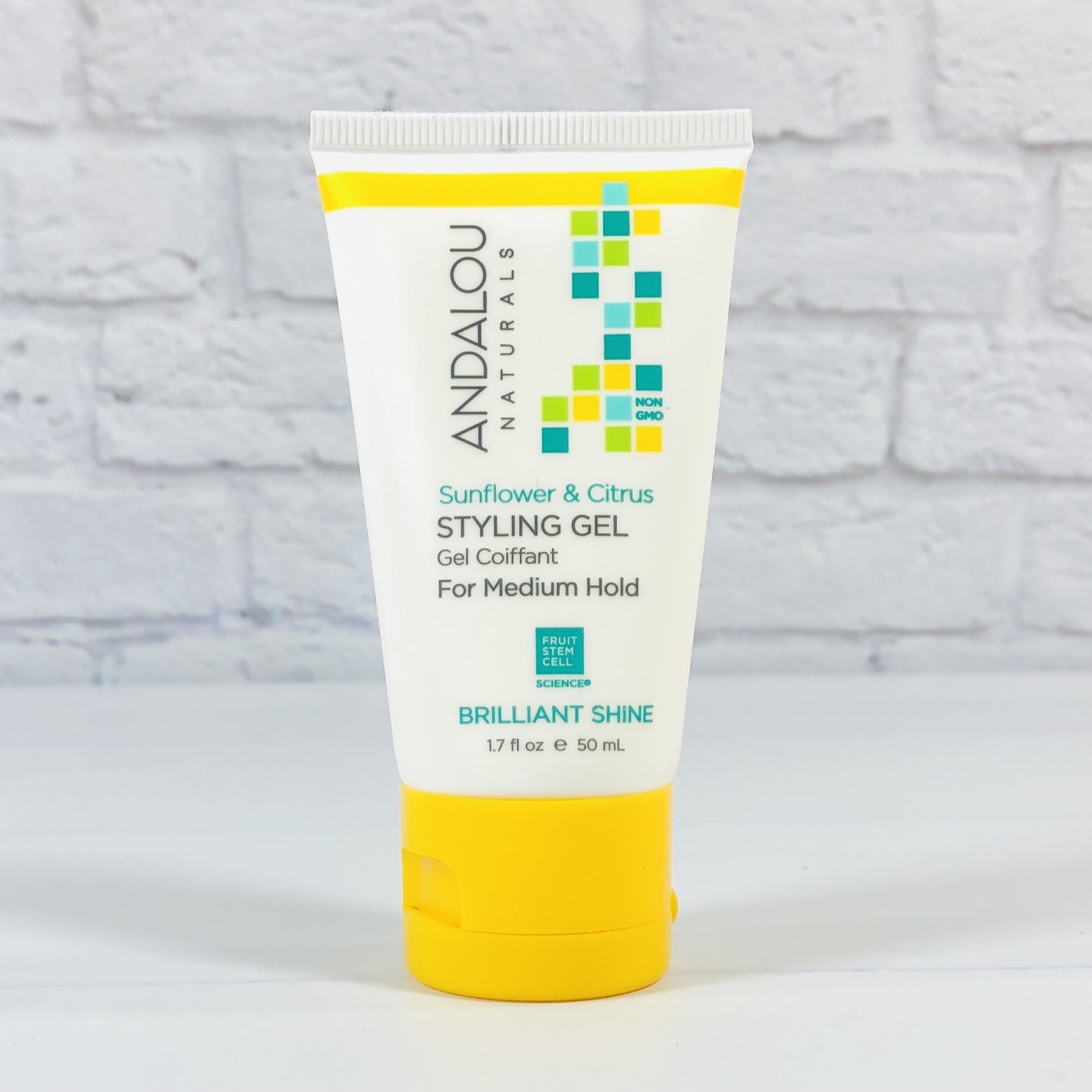 Andalou Naturals Sunflower & Citrus Brilliant Shine Styling Gel ($2.50) I have a super sensitive scalp but I didn't see any ingredients that I am currently avoiding so I gave this a try. I have fine hair and I felt like this was a good weight for my strands, it didn't weigh them down, and while I didn't achieve a lot of body I thought the slight curls that my curling iron provided held for longer than I was expecting.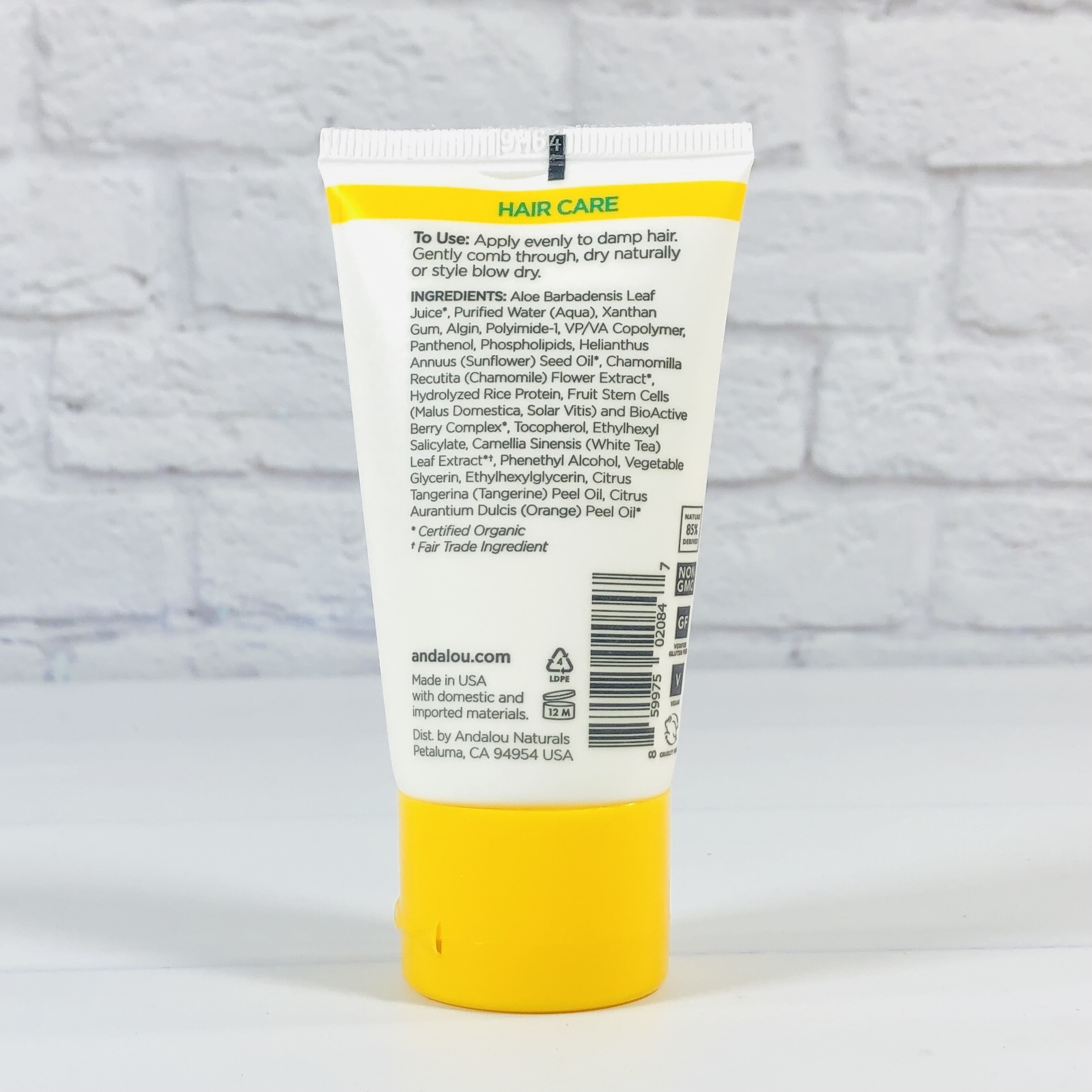 Aloe, sunflower seed oil, and white tea extracts are some of the ingredients, and I wish it didn't have those citrus essential oils since my hair is thin and I don't want my scalp to get burned! There wasn't much of a scent and I liked that it wasn't sticky, I could easily run my brush through my hair while styling.
YesTo Avocado Daily Cream Cleanser ($3) I was happy to see a product for dry skin and that is fragrance-free. I forgot to apply water before using and felt like it was a rich cream but when I added water it lathered lightly. I was also impressed that it didn't have much scent and it removed all of my face makeup (I didn't use on eyes). I think this would be the perfect product to use after using an oil-based cleanser.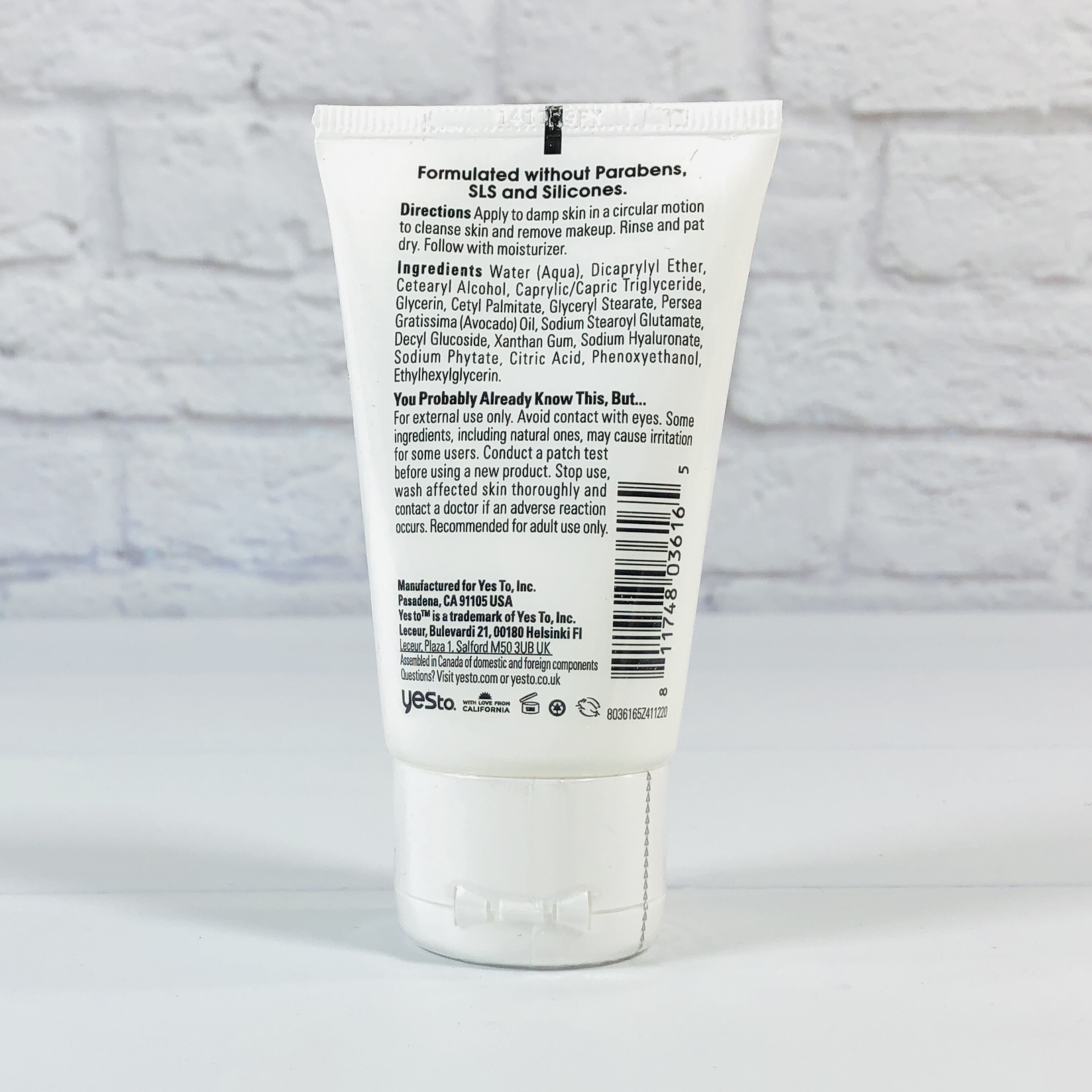 Some of the ingredients are avocado oil and sodium hyaluronate, which should draw water to the skin. I love that they cautioned that even natural ingredients can cause irritation — so many times it seems like natural is supposed to equal safer but that's not always the case. Luckily, I felt like this worked well for my sensitive skin.
The Kind Poppy London Fog Bar Soap ($8) I was surprised to see that this tiny hotel-sized bar of soap was $8 on the brand's website (there's no size listed), and what made me even more wary is that they had a bar underneath that said "hurry, only 8 left in stock" and after a minute there were supposedly only 2 bars left. I exited and then visited it again immediately and somehow it was up to 42 bars in stock. I think it's dishonest to try to create a sense of urgency to get people to buy, and this was repeated on each product that I clicked. Ok, enough about that. The card came with 20% off code.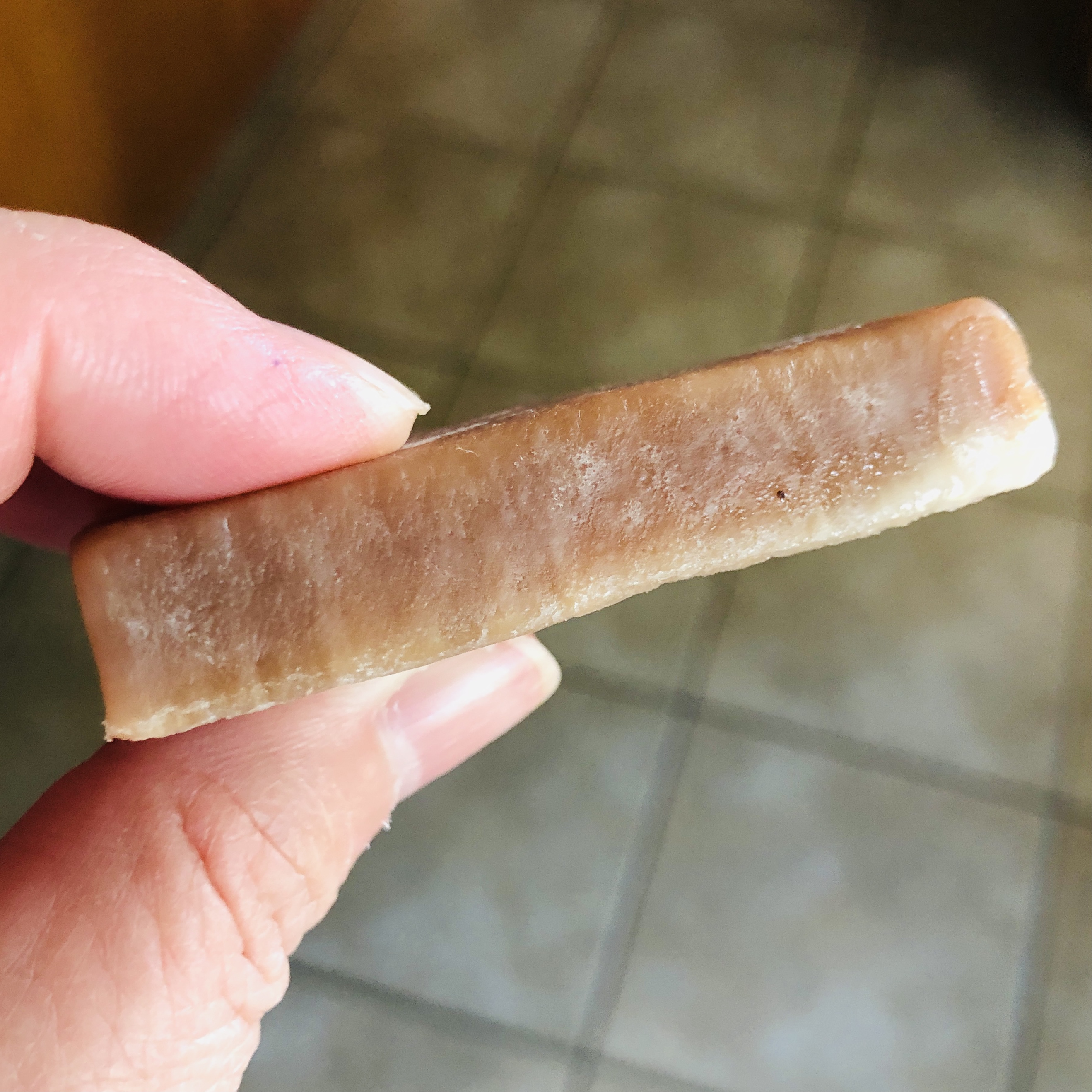 There was a card with the ingredients and while the scent lists essential oils, it smells a bit like manly cologne, and while I don't mind the scent, it lingered and I think it's more than essential oils yet I don't see parfum or fragrance listed. I didn't detect black tea, bergamot, or lavender, all components of a London Fog drink, but again, not a bad scent. I used this in the shower and while it lathered initially, it didn't work the way my usual soap does, and it left a coating on my skin, so I think this would be better near a guest bathroom sink.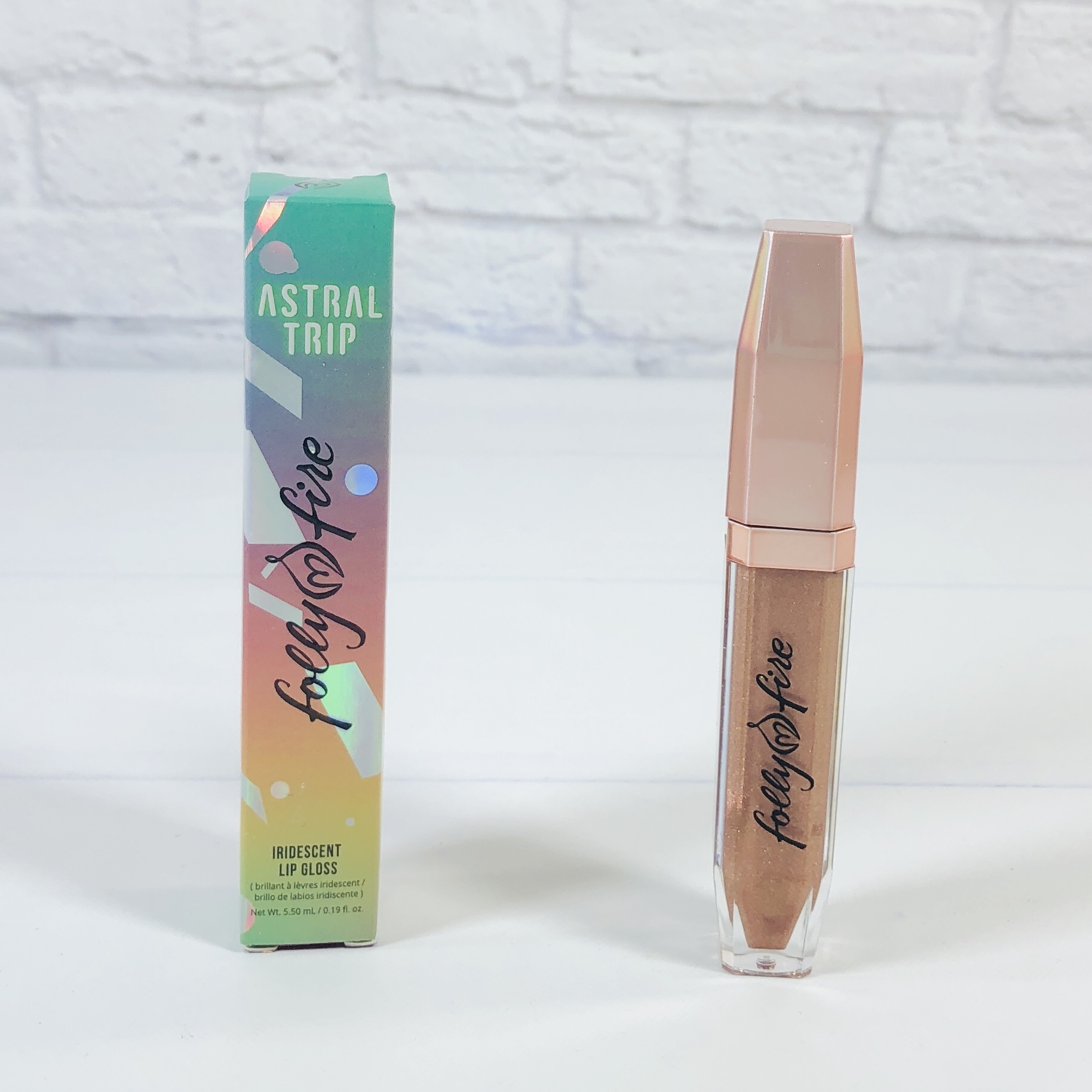 Folly Fire Astral Lip Gloss in Cosmic Energy ($17.99) This warm shade of lip gloss is perfect for fall looks, used either alone or layered over liner or lipstick.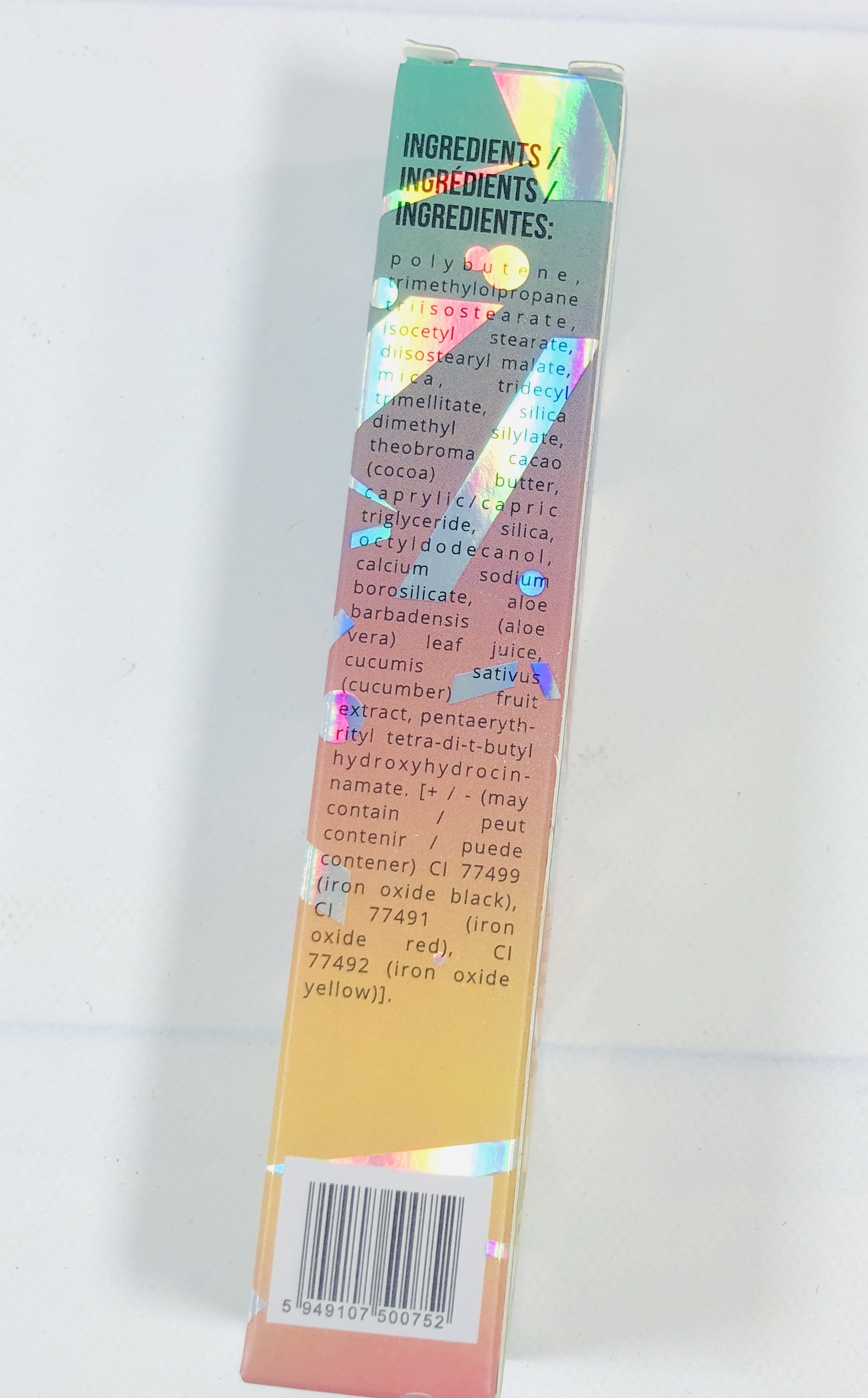 Here's those ingredients.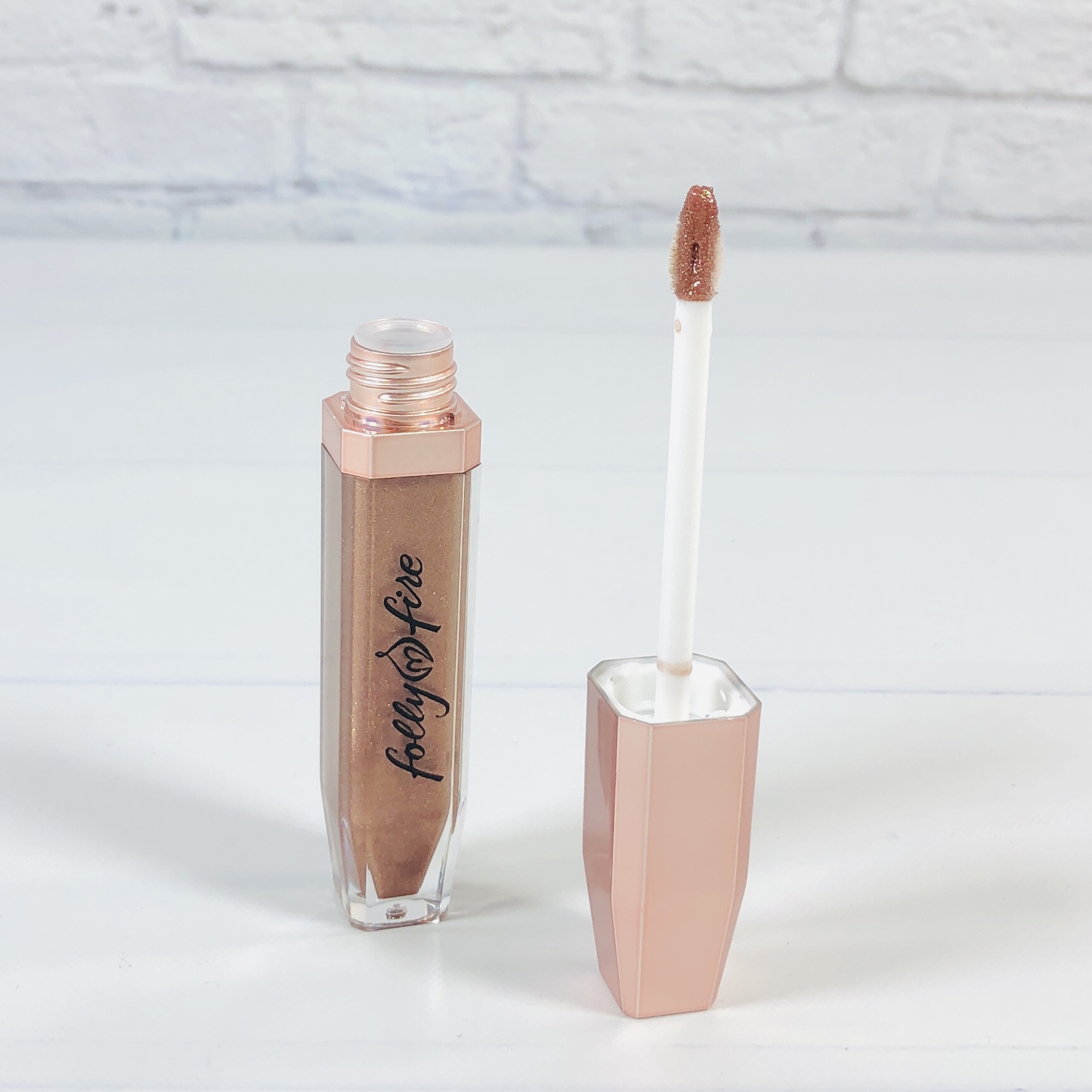 The shade is described as "a sheer brown base with purple and gold reflexes" and while it doesn't add a lot of color to my lips, it adds tons of shine. I feels like traditional gloss. I prefer wearing it over lip liner that I have smudged over my lips, but of course it looks great on its own.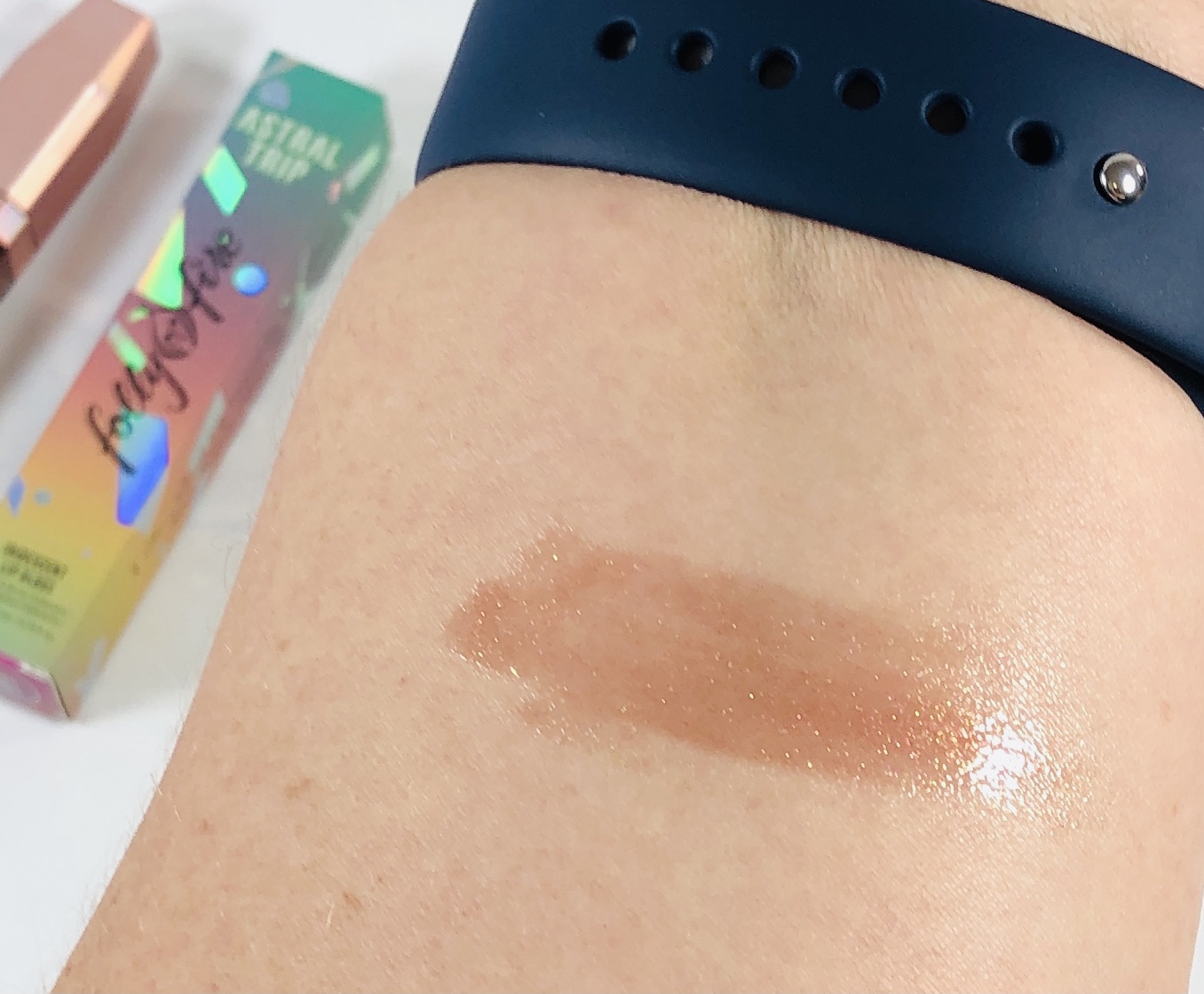 Here it is swatched. It's hard to swatch shimmers y'all!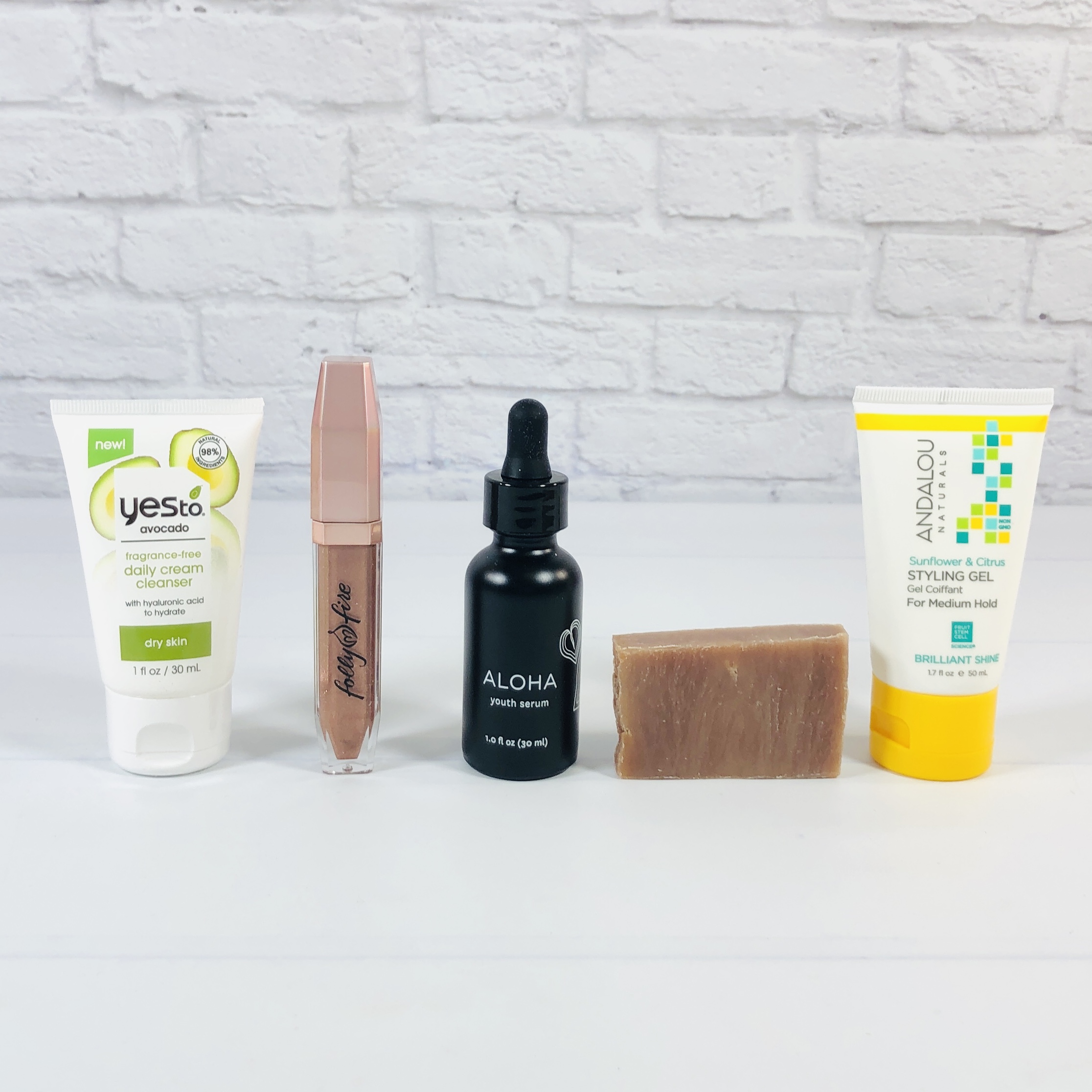 I liked the Restore Collection from Kinder Beauty Box! Most of these products were pretty natural and not overly perfumed, which my sensitive skin appreciates. The soap bar had the strongest scent, although it didn't smell of only essential oils, it's got a unisex-leaning-towards-masculine scent about it that lingers when I use it on my hands. The hair gel worked well and so far it hasn't irritated my scalp. The Aloha serum also had a strong scent but it was more of a natural scent and it left my skin moist without feeling greasy. The cleanser was creamy and rich and the lip gloss added a lovely sheen to top my lips, and I like that I can change the color and give it some color payoff just by using lip liner underneath. The value for my collection was around $90.
What do you think of Kinder Beauty Box?