Ipsy Glambag Plus is the upgraded version of the monthly Ipsy Glam Bag. For $25 a month, it contains 5 full-size products from brands you love, plus a deluxe makeup bag with every shipment. The promised value of each box is $120 worth of products. It will contain variations, but there are far fewer compared to the regular Ipsy Glam Bag. Be sure to continue to rate and review your bag to help personalize it to your needs. Check out our Ipsy Glam Bag Plus explainer to find out every detail of this subscription! Glam Bag Plus is definitely a Hello Subscription reader fave – it's in five different lists in our readers' selections for the best subscription boxes!
Ipsy Glambag Plus subscribers choose three items for their bag – Ipsy selects two!
FYI: Starting in October, membership prices will increase from $12 to $13 for the Glam Bag, and from $25 to $28 for the Glam Bag Plus.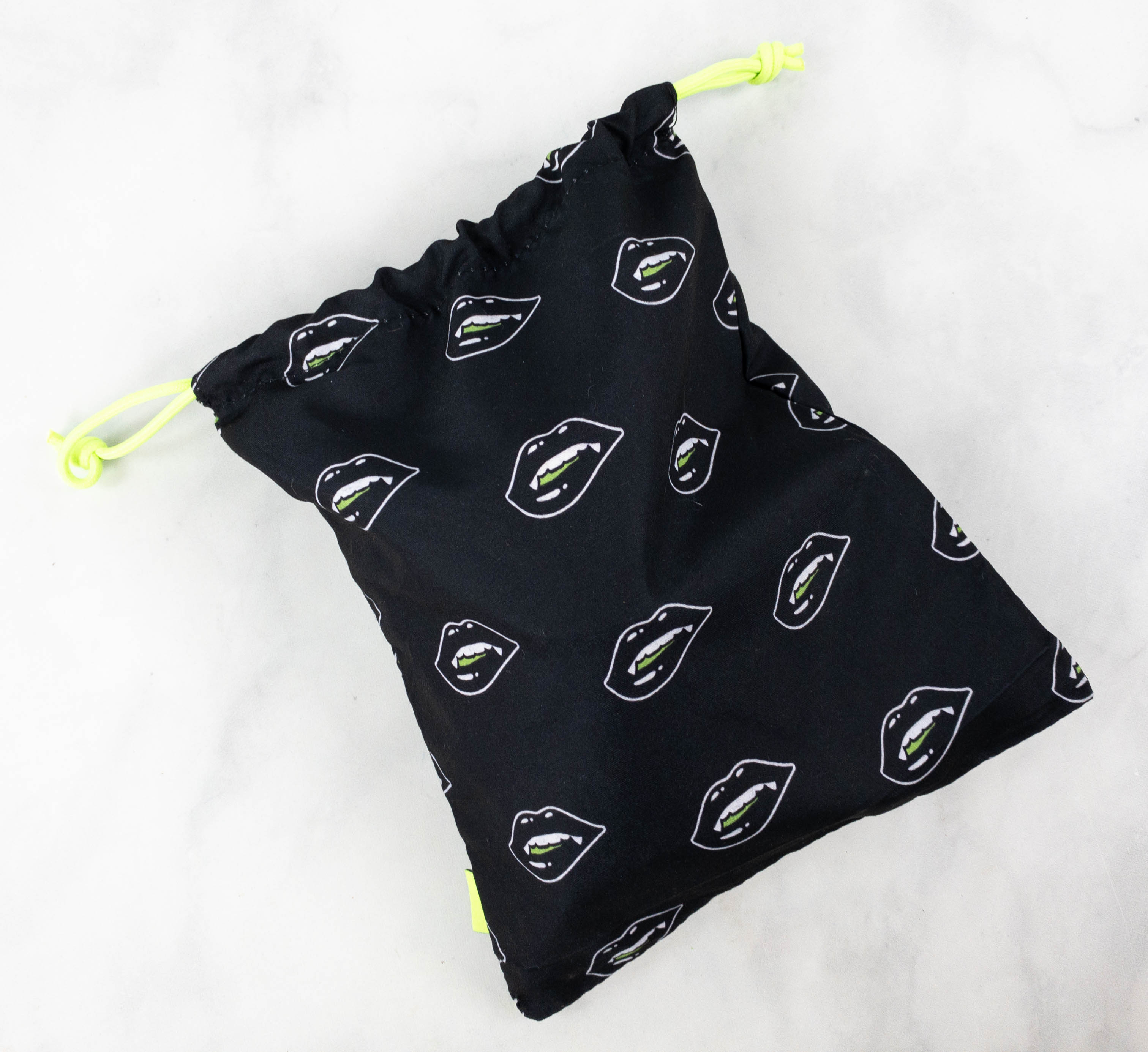 The items were packed in this cute vampy drawstring pouch. I love the sexy lips showing those vampire fangs!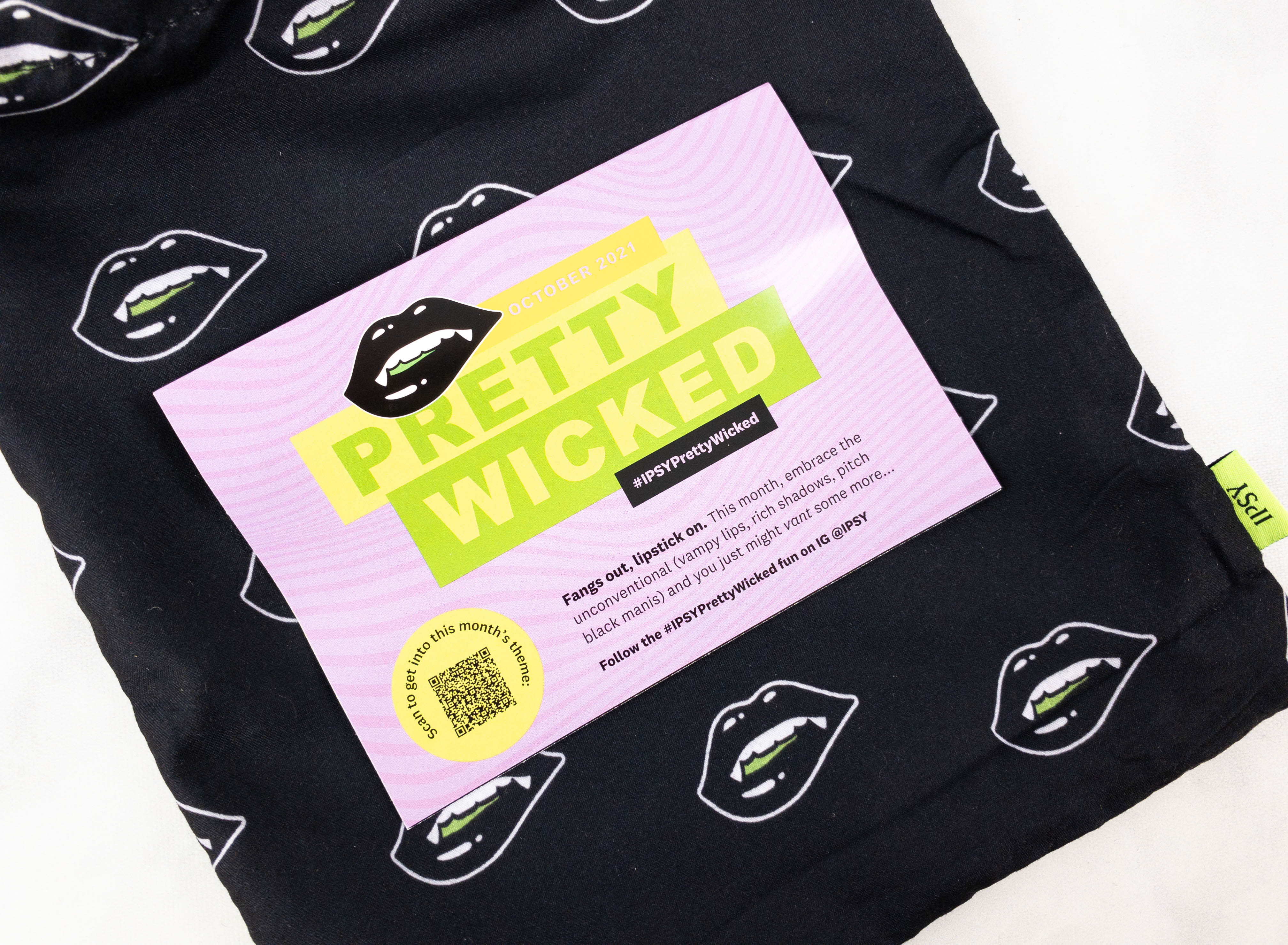 This month's theme is PRETTY WICKED.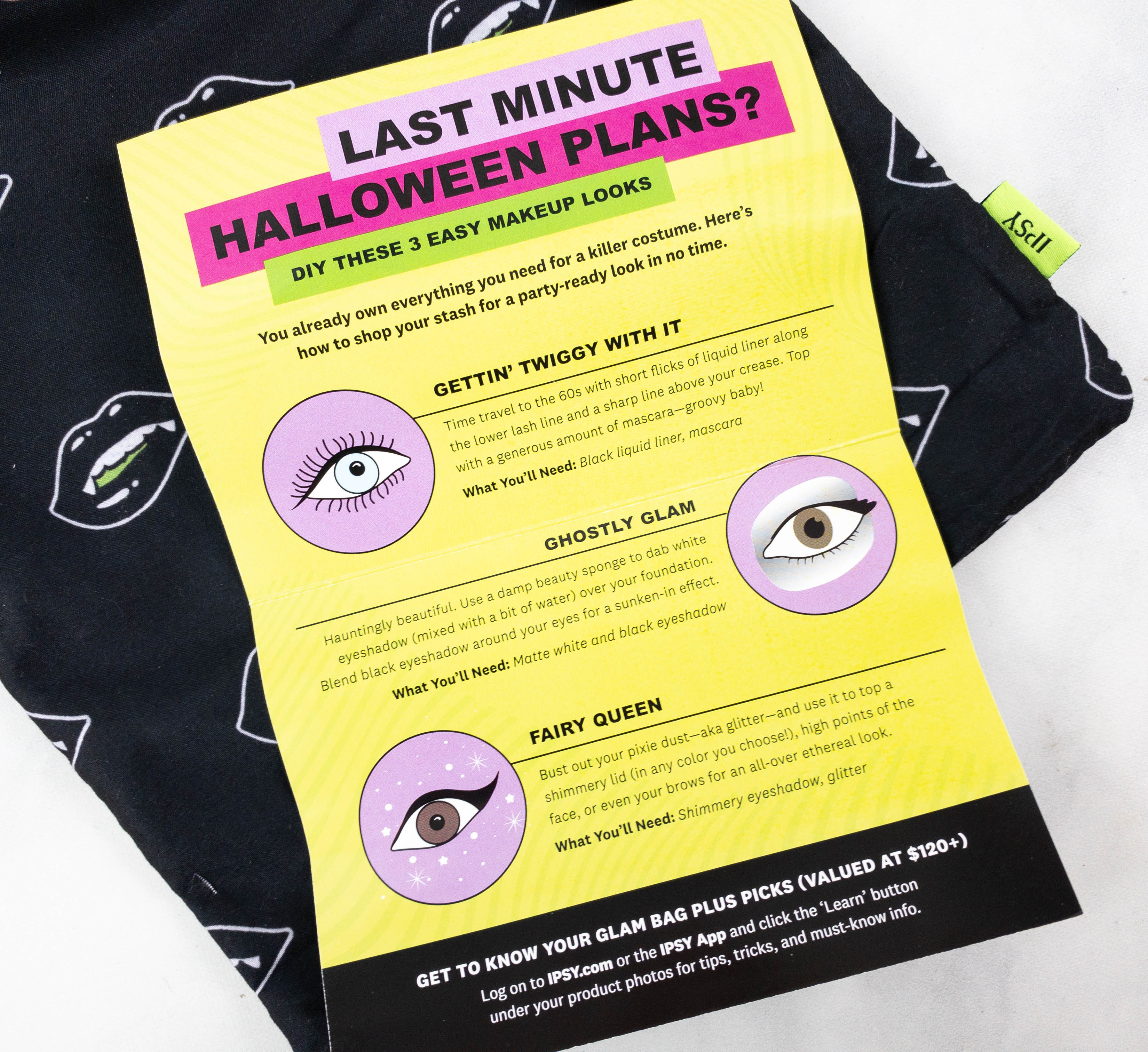 They even included 3 quick and easy makeup looks for your last minute Halloween plans!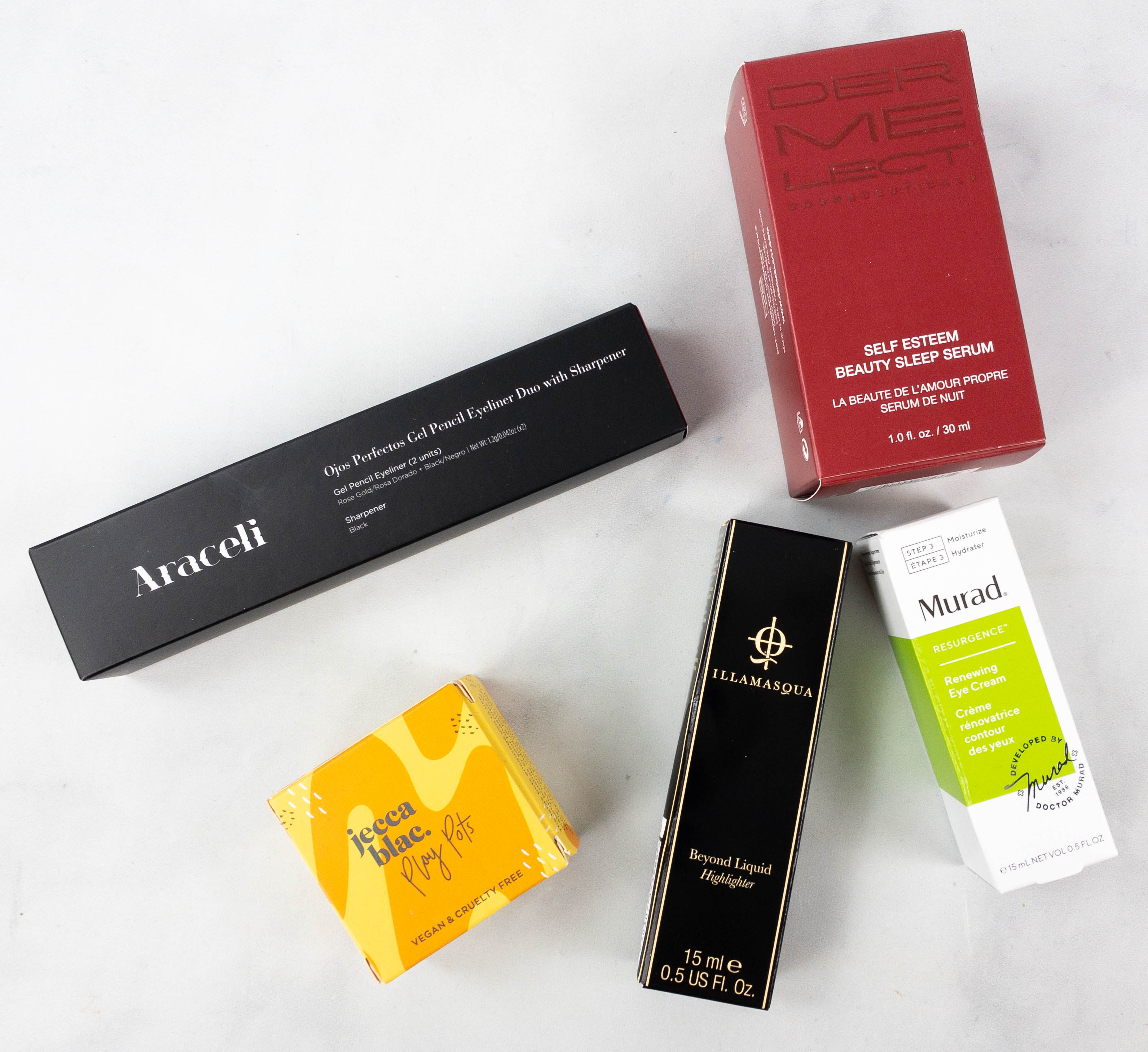 All the items came in their original packaging.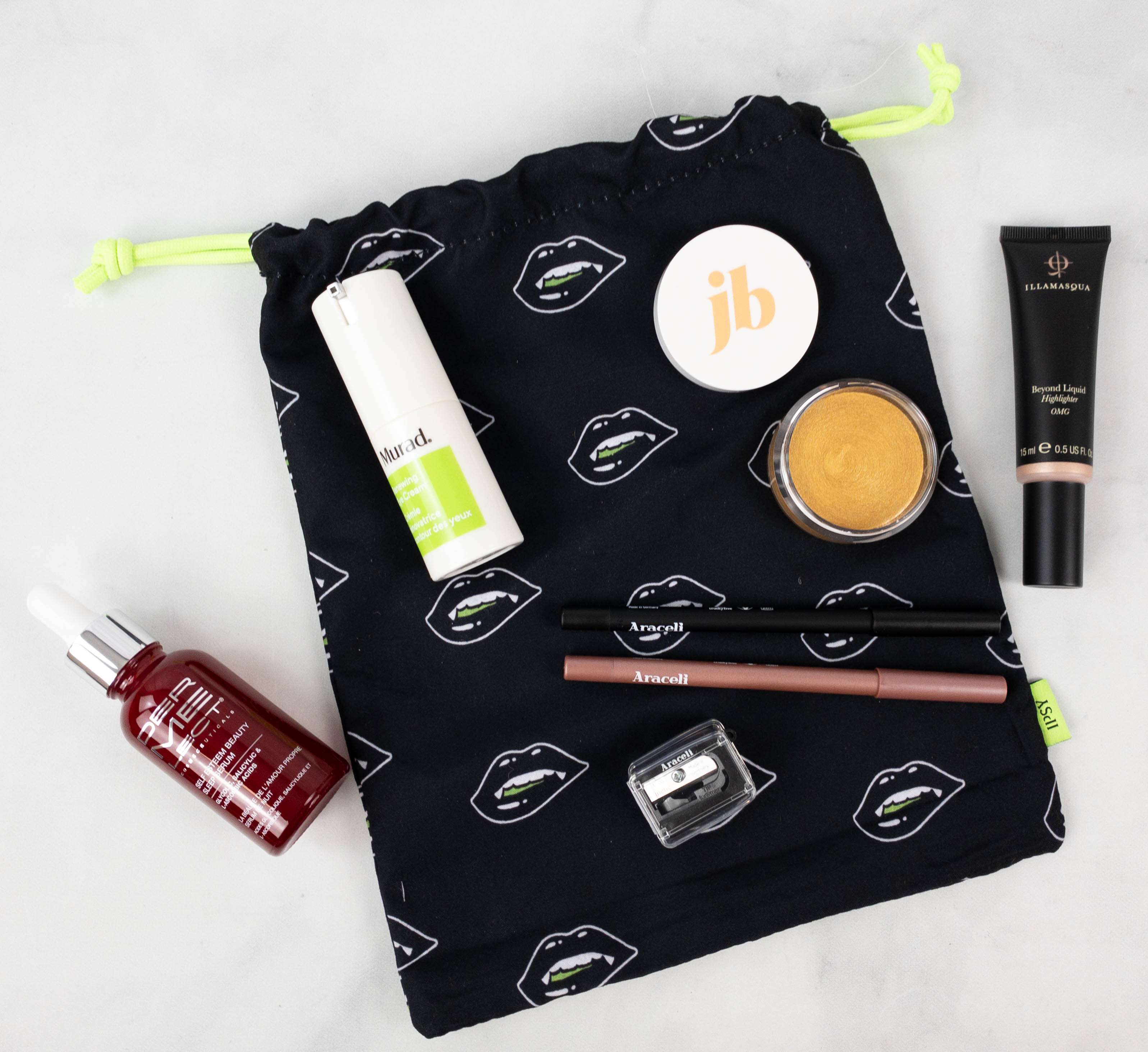 Everything in my bag this month!
Ipsy Picks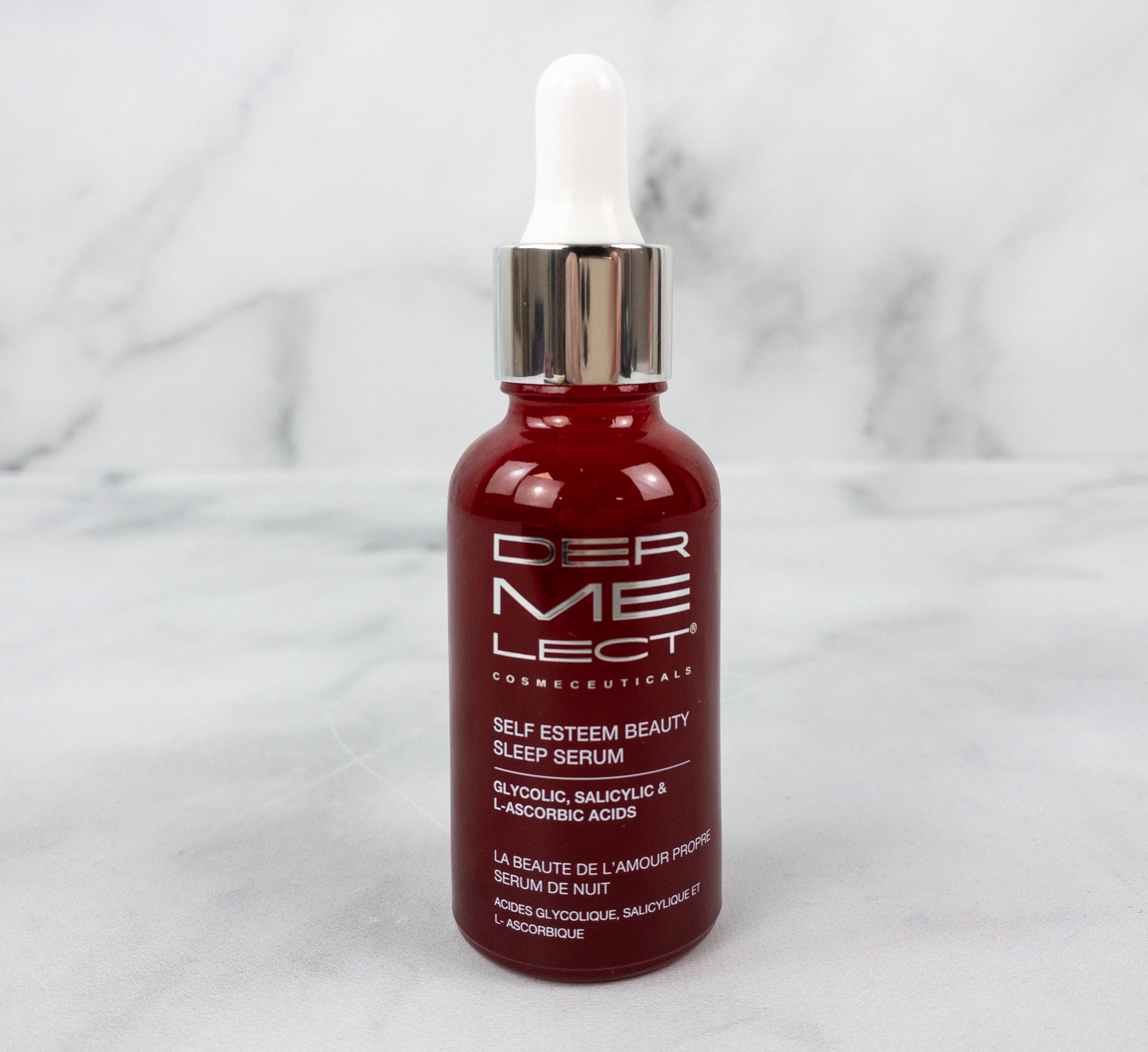 Dermelect Self-Esteem Beauty Sleep Serum ($42) This serum is formulated with glycolic, salicylic, and L-ascorbic acids, which help clear pores, exfoliate, and support the skin's natural collagen production. It's also highly moisturizing! This is recommended to be used at night, so you wake up to a more radiant and glowing skin the next day.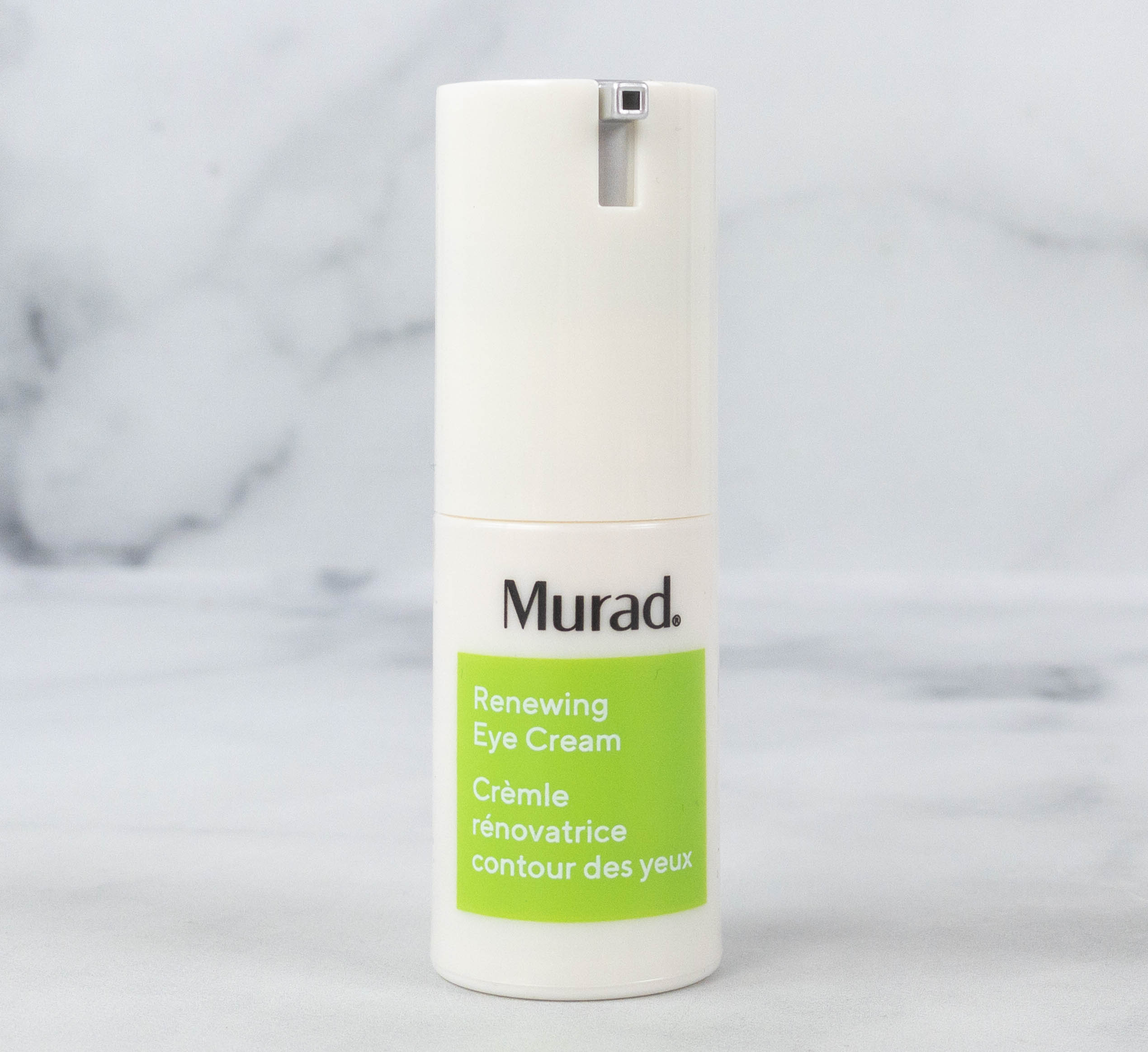 Murad Renewing Eye Cream ($82) I like how this eye cream can make my dull looking under eye area brighter! It contains phytoestrogens that help improve the skin's elasticity, plus peptides and retinol that supports the collagen production of the skin while providing anti-aging benefits. It brightens and de-puffs the under eye area, which improves your overall look as well!
My Choices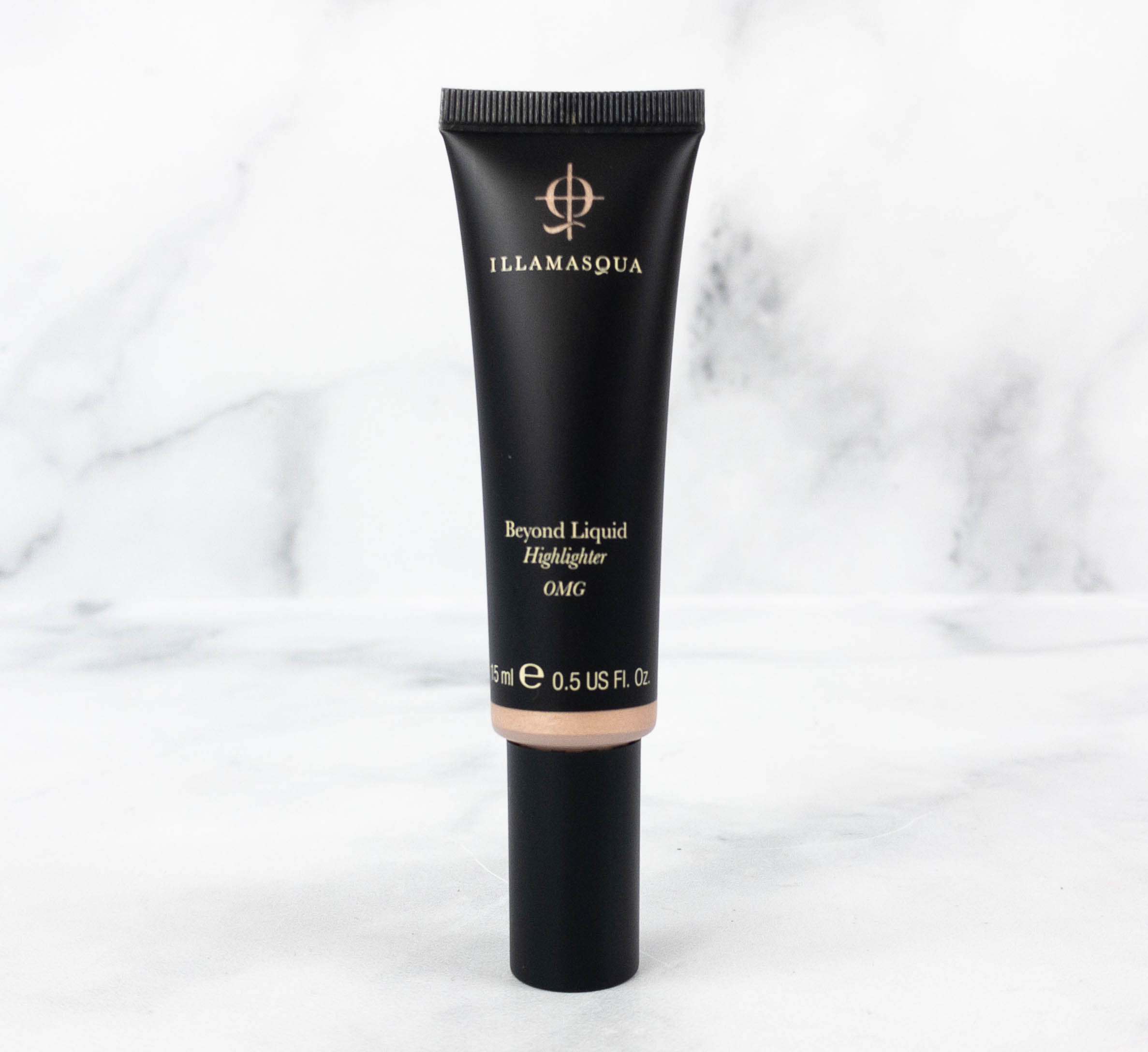 Illamasqua Beyond Liquid Highlighter in OMG ($31) Liquid highlighters are great because they're versatile. This one doesn't contain big shimmer and it actually looks natural when applied on the skin. You can use this on its own to highlight the high points of your face but you can also mix a tiny bit on your foundation (or even sunscreen/BB cream if you're going for a no makeup makeup look) to make it look a bit more dewy and you can effect that glowing, glass skin look!
Jecca Blac Play Pots in Gold Touch ($21.50) I love this cream pigment in Gold Touch! It's a stunning shade of gold that you can use as a highlighter, an eyeshadow, an eye liner, a bold lip, and more.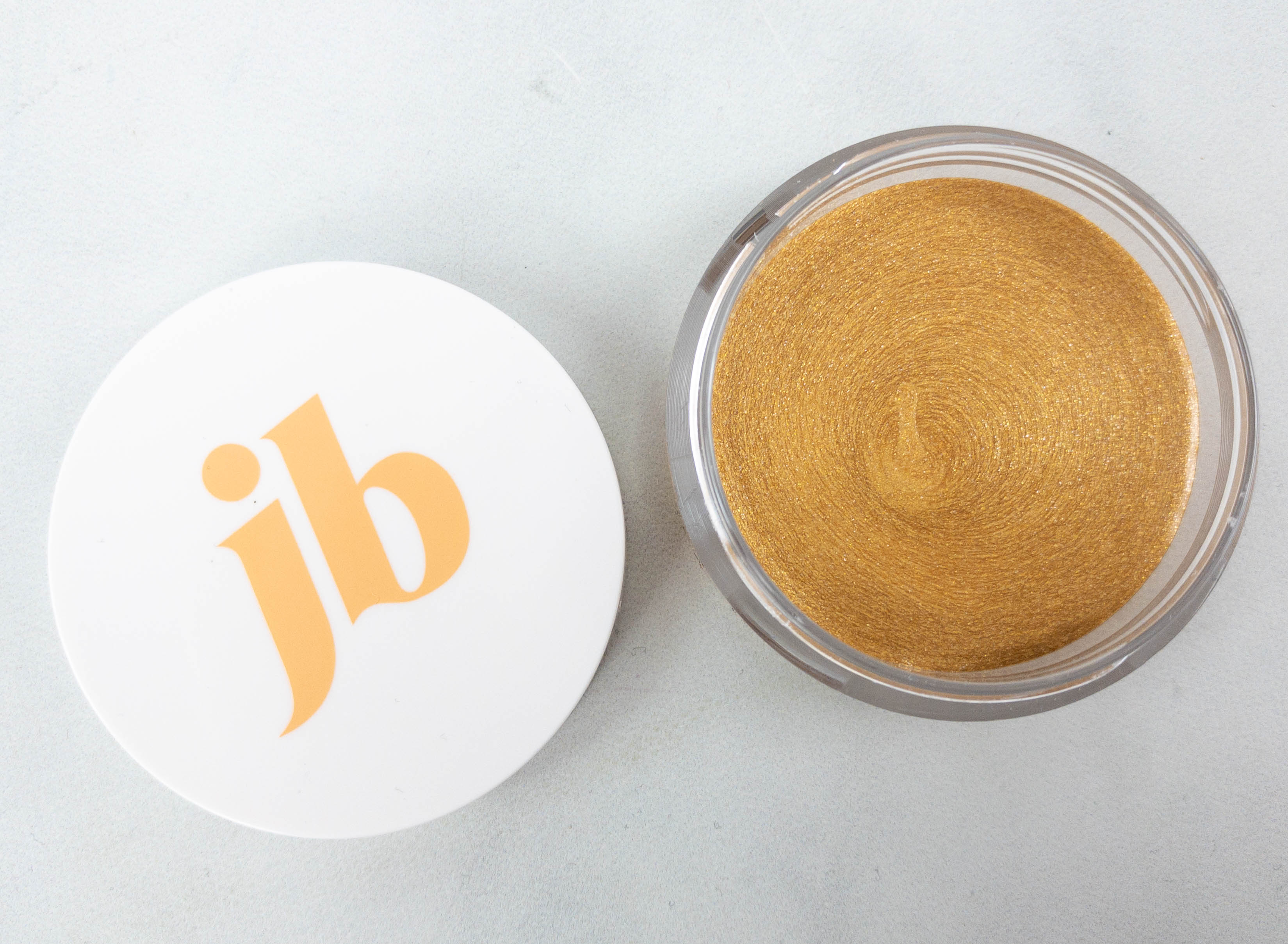 The formula is super nice and creamy so it's easy to play around with. It came in a small tub container which makes it easy to access whenever you need it.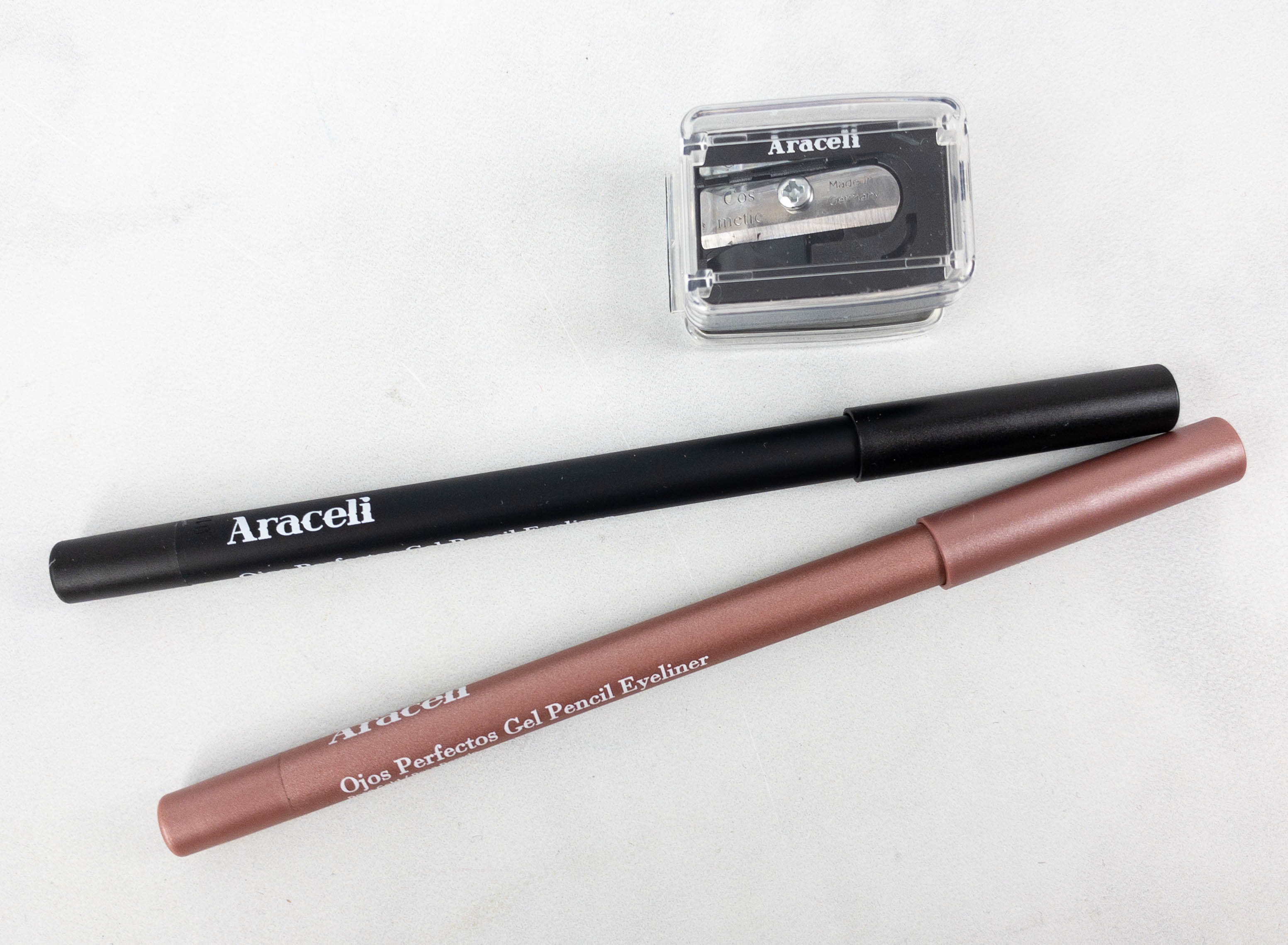 Araceli Beauty Ojos Perfectos Gel Pencil Eyeliner Dúo ($32) Lastly, here's a pencil eyeliner duo! They even came with a sharpener, which will make things easier for me when I'm on the go.
The duo includes a black gel pencil liner that's great for a night time look and a neutral shade gel pencil liner for everyday looks. They're well-pigmented and they're both water and smudge proof as well.
My IPSY Glambag Plus this month has an overall retail value of $208.50, and it includes great items from great brands. For the IPSY picks, I received a serum and an eye cream which can be used together in one routine. There are also 3 choice items and my favorite among them is the liquid highlighter! The formula is lightweight and it leaves a natural-looking glow. All in all, I received a good selection of makeup and skincare items in this month's box and lots of them can be used for glammed up Halloween looks! Despite the price increase, I can still say that this subscription is still a really great value proposition with a nice mix of brands!
What do you think of this month's Ipsy Glambag Plus?