Ipsy is a monthly beauty subscription. You get five makeup, beauty, skincare, and/or hair care items in a cute bag for $13 a month! It's the most popular subscription box and a great way to sample new colors and beauty brands that you may have never heard of, as well as some of the bigger names. Ipsy also offers a Glam Bag Plus for $28 a month. They recently launched Refreshments and in February they introduced the quarterly Glam Bag X.
There are many bag variations every month for Ipsy – log in to your account to check out how-to videos and tips for your products.
IPSY was founded on a singular mission: to inspire individuals around the world to express their unique beauty. Everything we do is to support you on your journey to self-discovery, so you'll feel confident letting your unique beauty shine every day.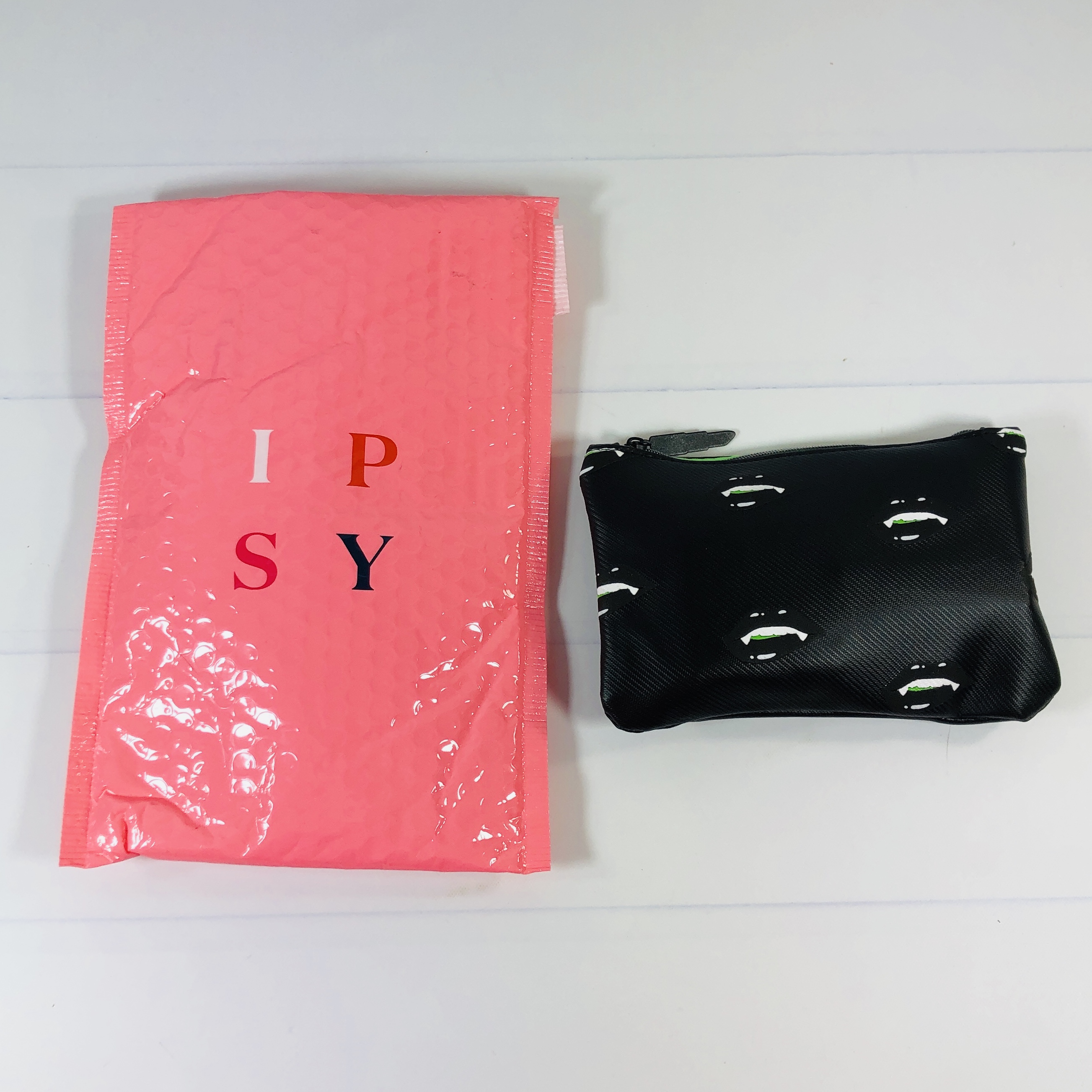 Most of my items were inside the cute makeup bag but make sure to double check the mailing bag, sometimes larger items (like makeup brushes) can be found there.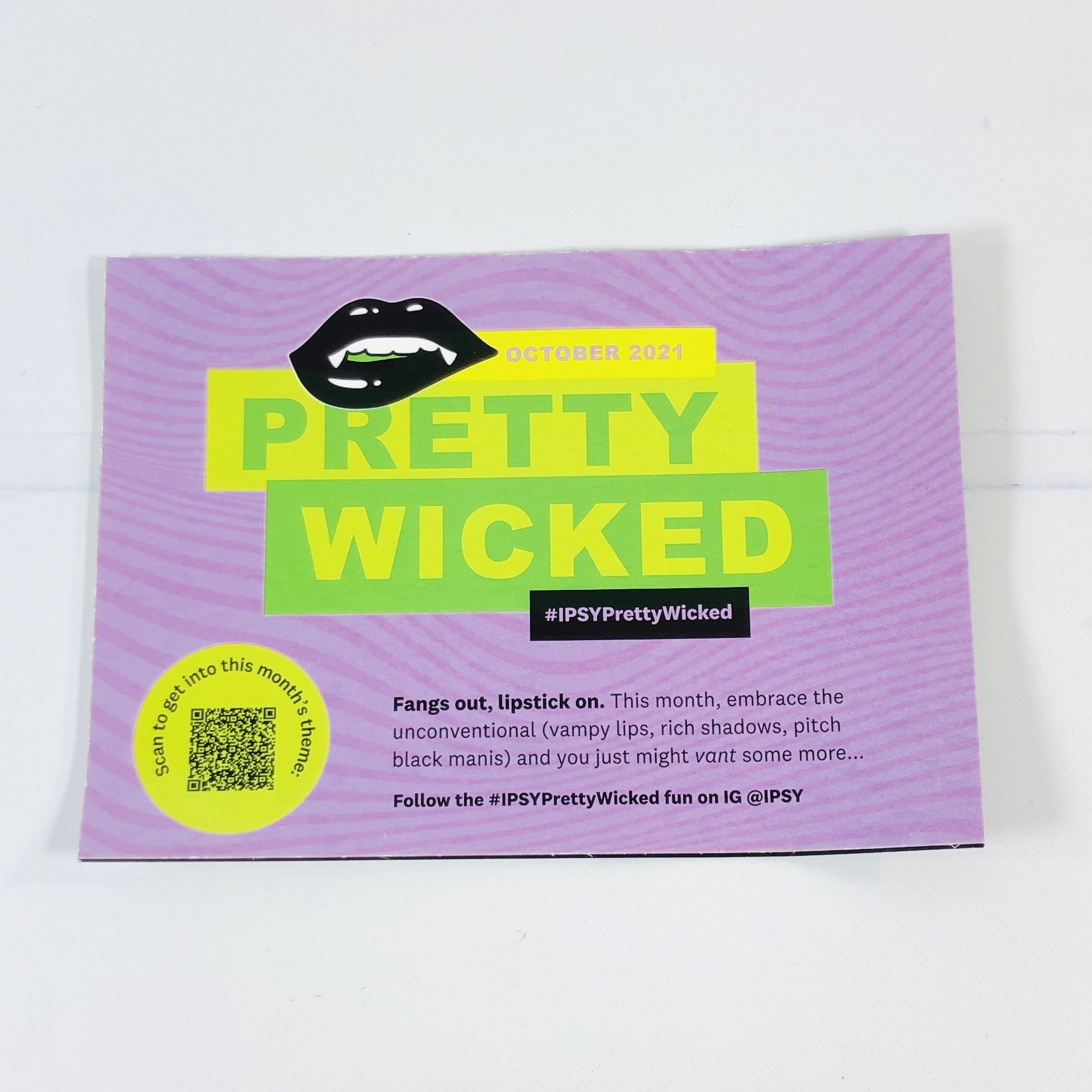 The theme for October is Pretty Wicked.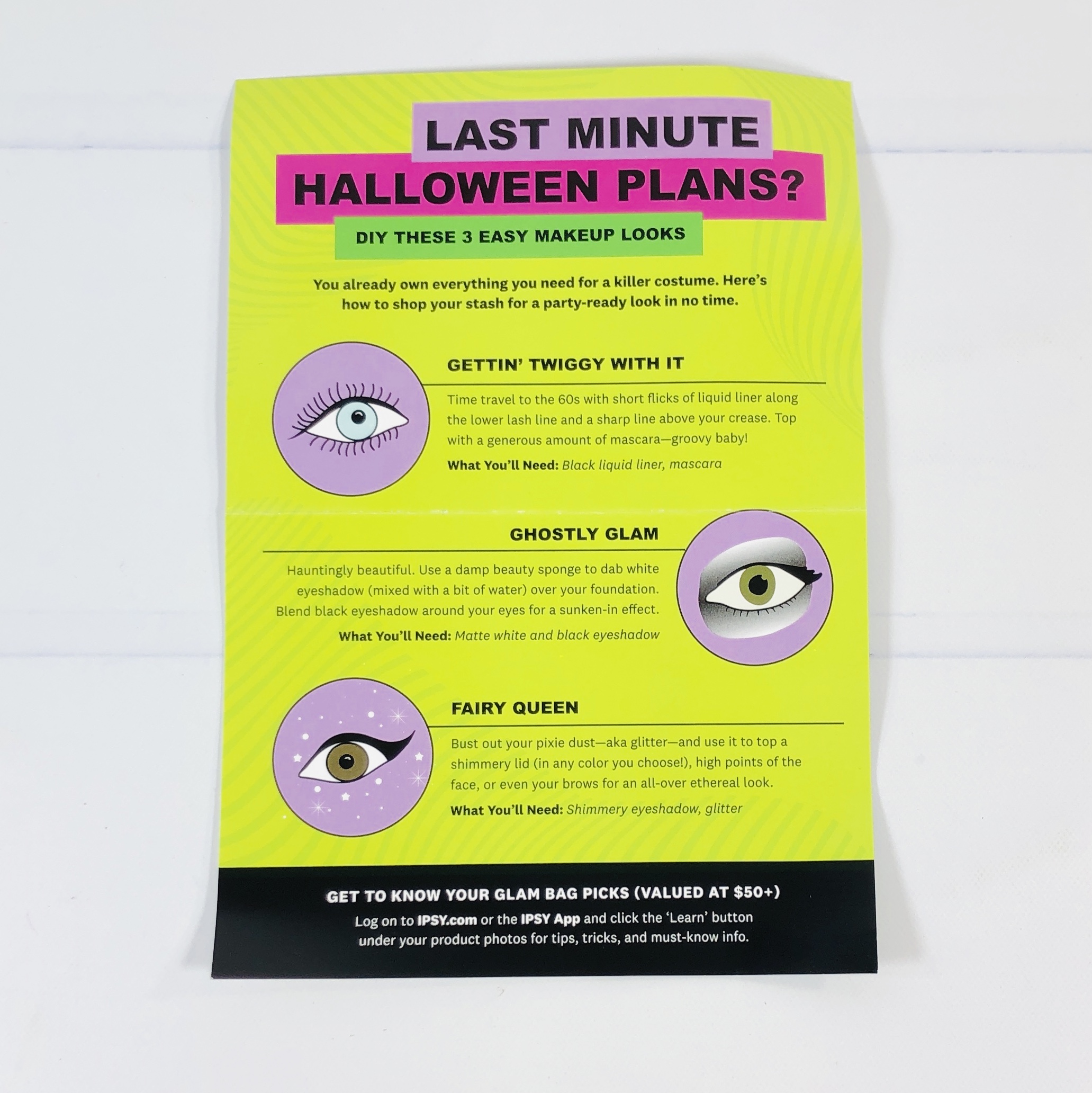 Inside Ipsy gave some tips on how to be hauntingly beautiful this month.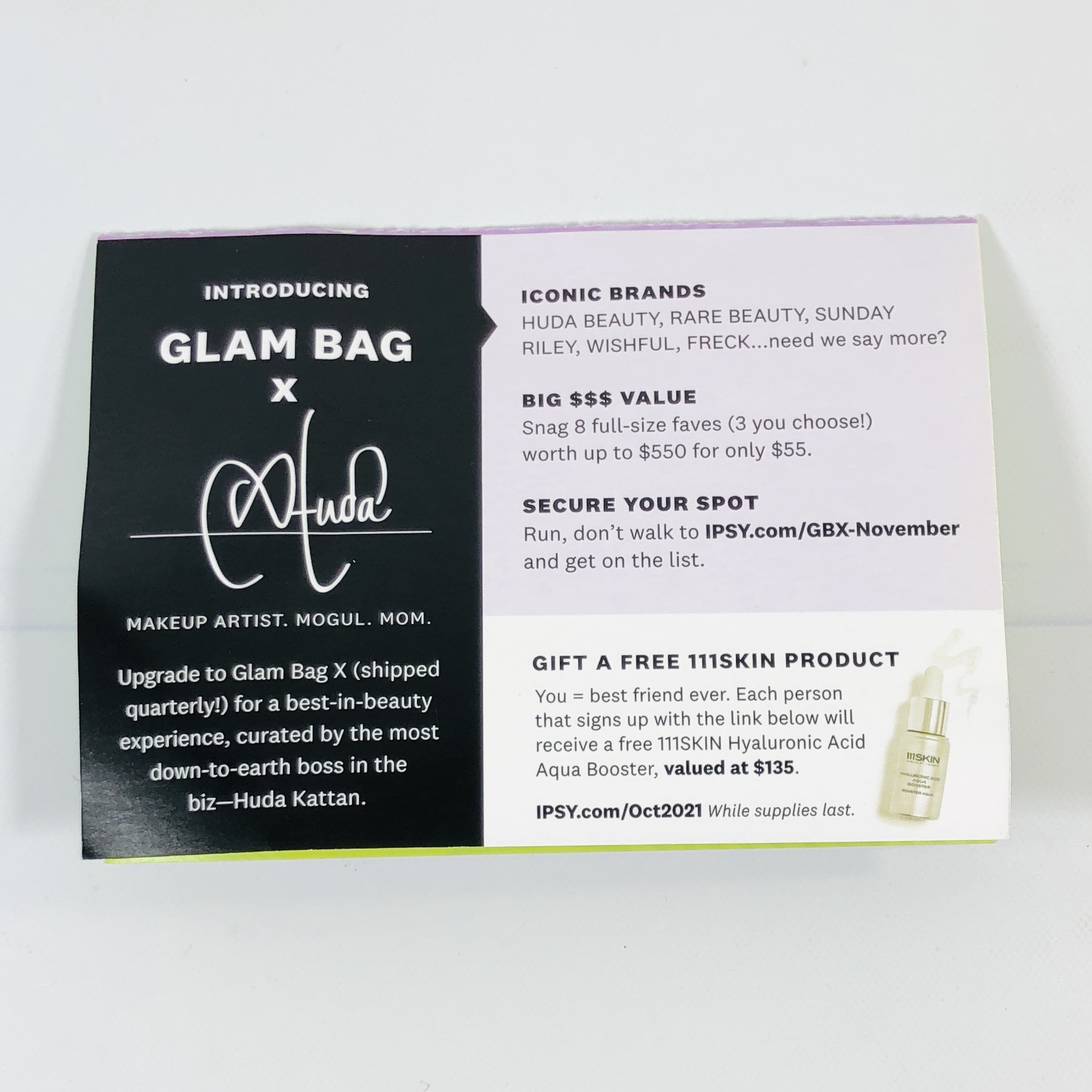 The back of the card says that Huda Kattan is curating the next Glam Bag X and told how to get a bonus product when a friend signs up.
Don't forget that you can rate your items and you earn bonus points when you do that, so you can get additional products in your bag. All subscribers now have the chance to pick a product for their next bag – just log in on choice day and pick one!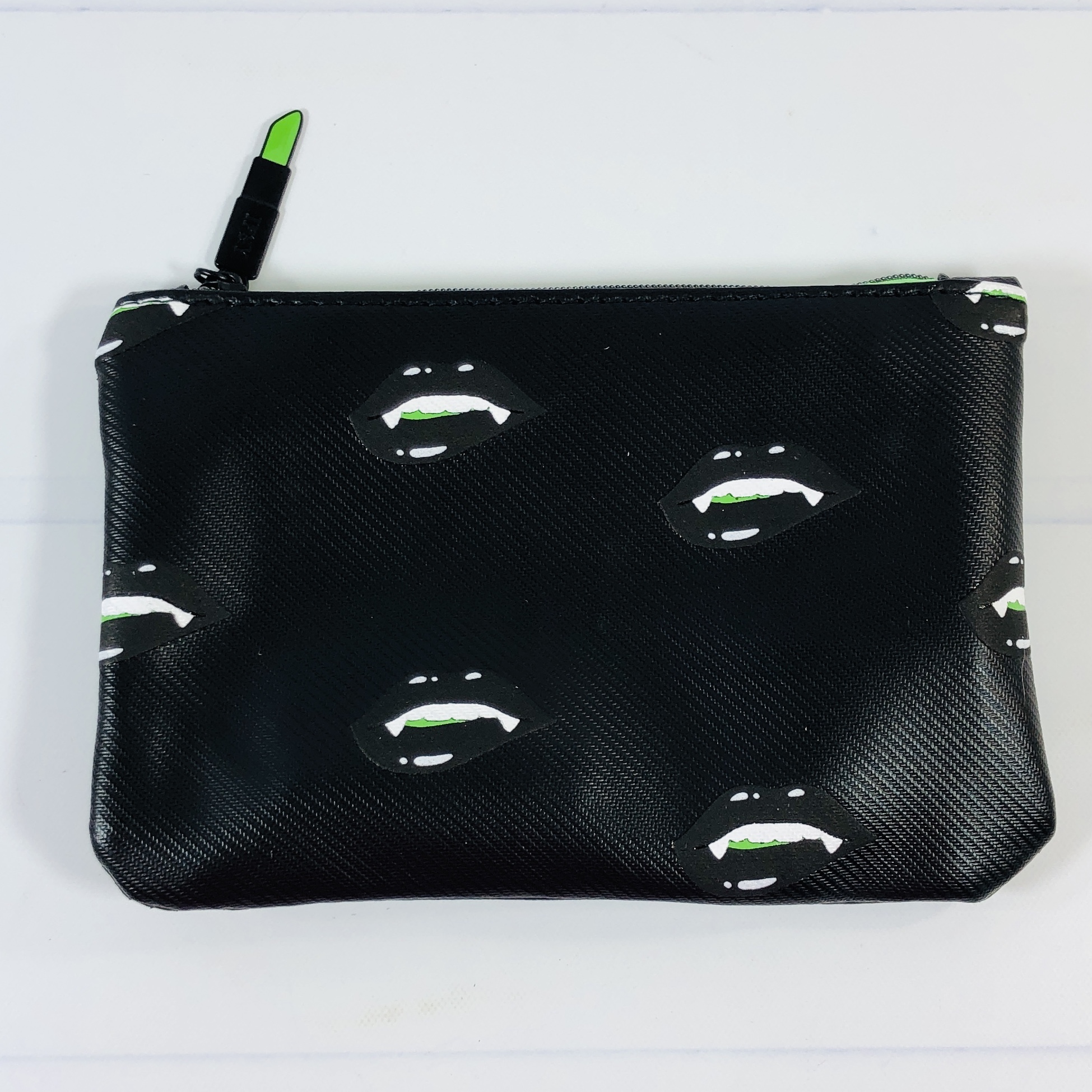 Ipsy Glam Bag The October bag is getting in on the Halloween theme that runs pretty much throughout October nowadays. The bag is black plastic with black lips and white teeth that look like they belong in Transylvania. Or maybe Forks.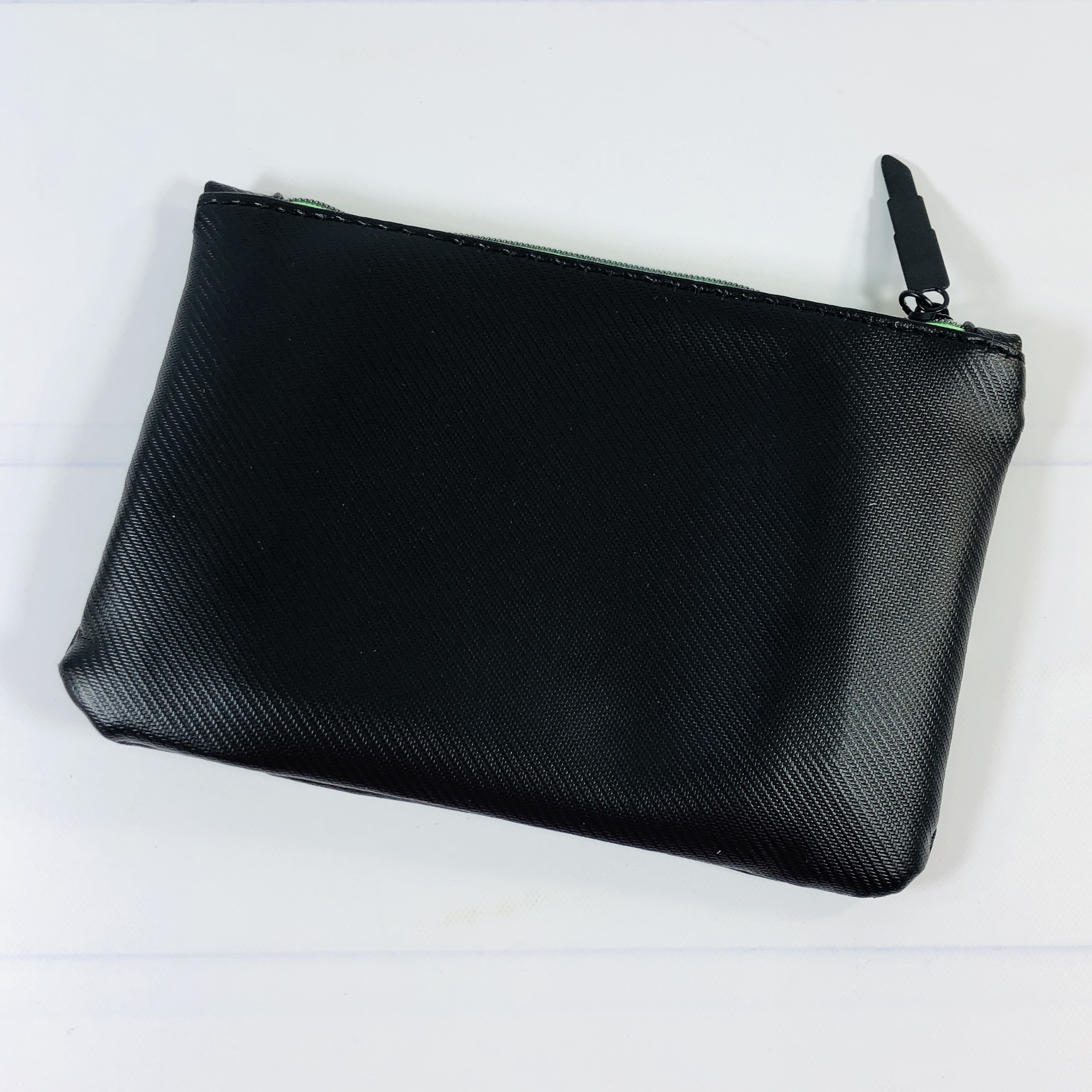 The back of the bag is just black.
The zipper pull looks like a tube of green lipstick!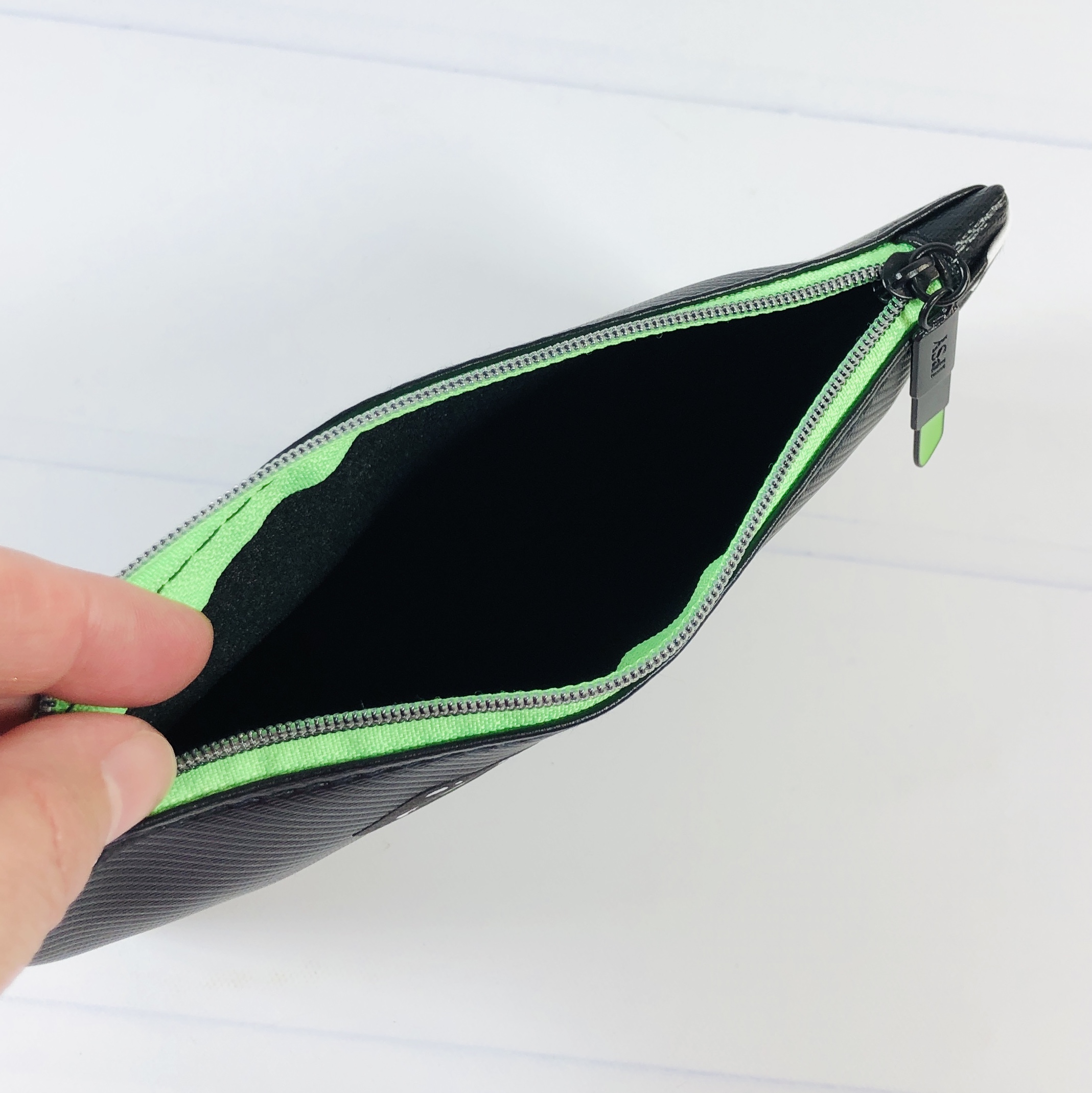 The inside is lined with black fabric and it needs to air out for a few days to get rid of that plastic scent.
The bag holds all of my new products!
Everything in my October Ipsy Glam Bag!
Pistaché Skincare Pistachio Oil Hydrating Hand Cream ($5.07) I have tried a lotion from this brand in the past and so when this showed up in my Choice options, I grabbed it! It's the perfect size for carrying in the Ipsy bag that is in my purse.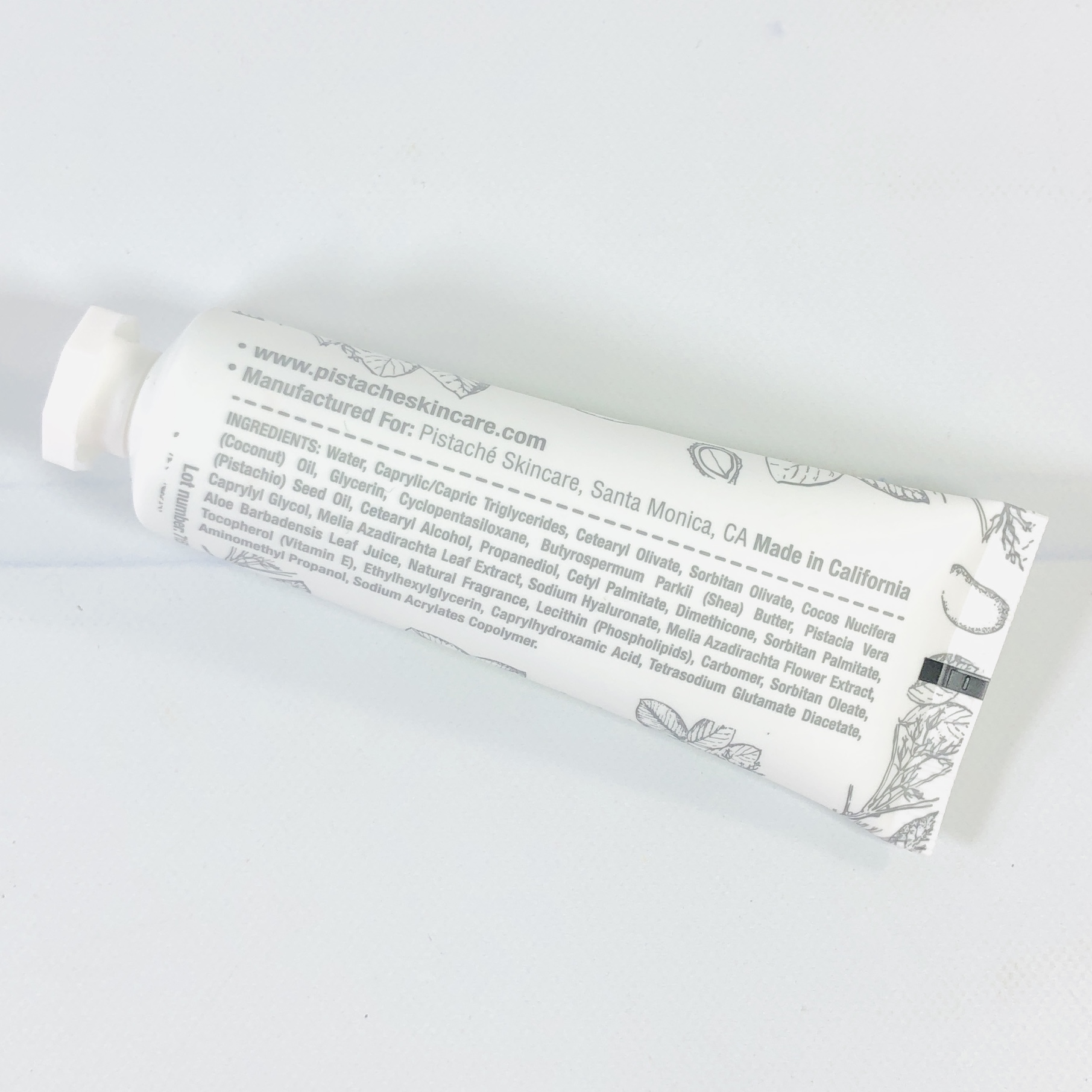 It has ingredients like shea butter, coconut oil, glycerin, pistachio oil, and sodium hyaluronate. It says the scent is natural and it bears a resemblance to Sol de Janeiro's Bum Bum cream. It's sweet and toasty, like candied nuts, and smells very much like perfume, plus, it's long lasting. It's also a green shade and yet color isn't listed on the ingredients, maybe we're supposed to believe it came from the pistachio oil? It didn't leave my hands greasy or oily, just soft and fragrant.
Pacifica Glimmer Shimmer Highlighter & Blush I couldn't find this on the Pacifica website, it may have been produced especially for Ipsy.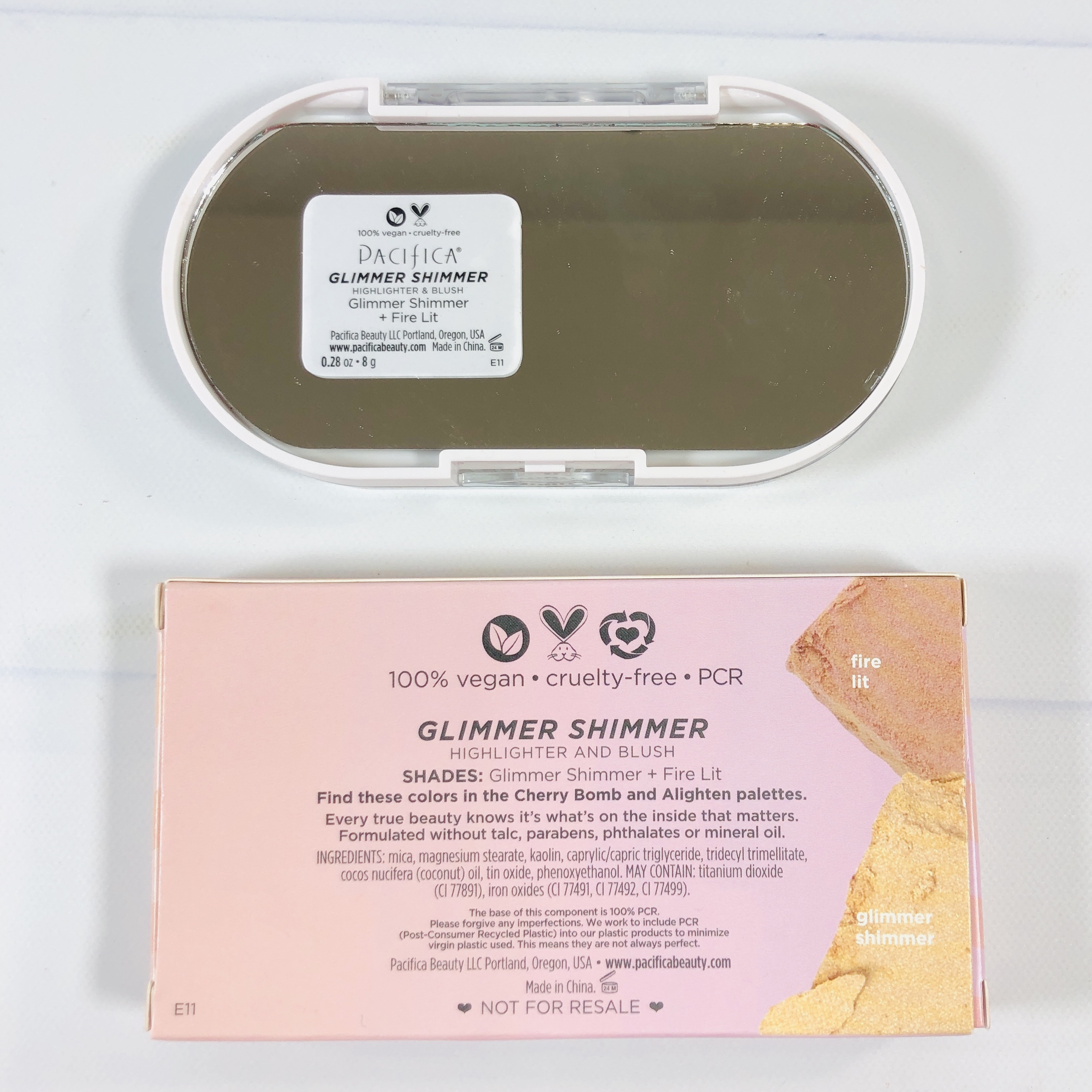 Here's the ingredients and I wanted you to know there is a mirror on the bottom of the compact.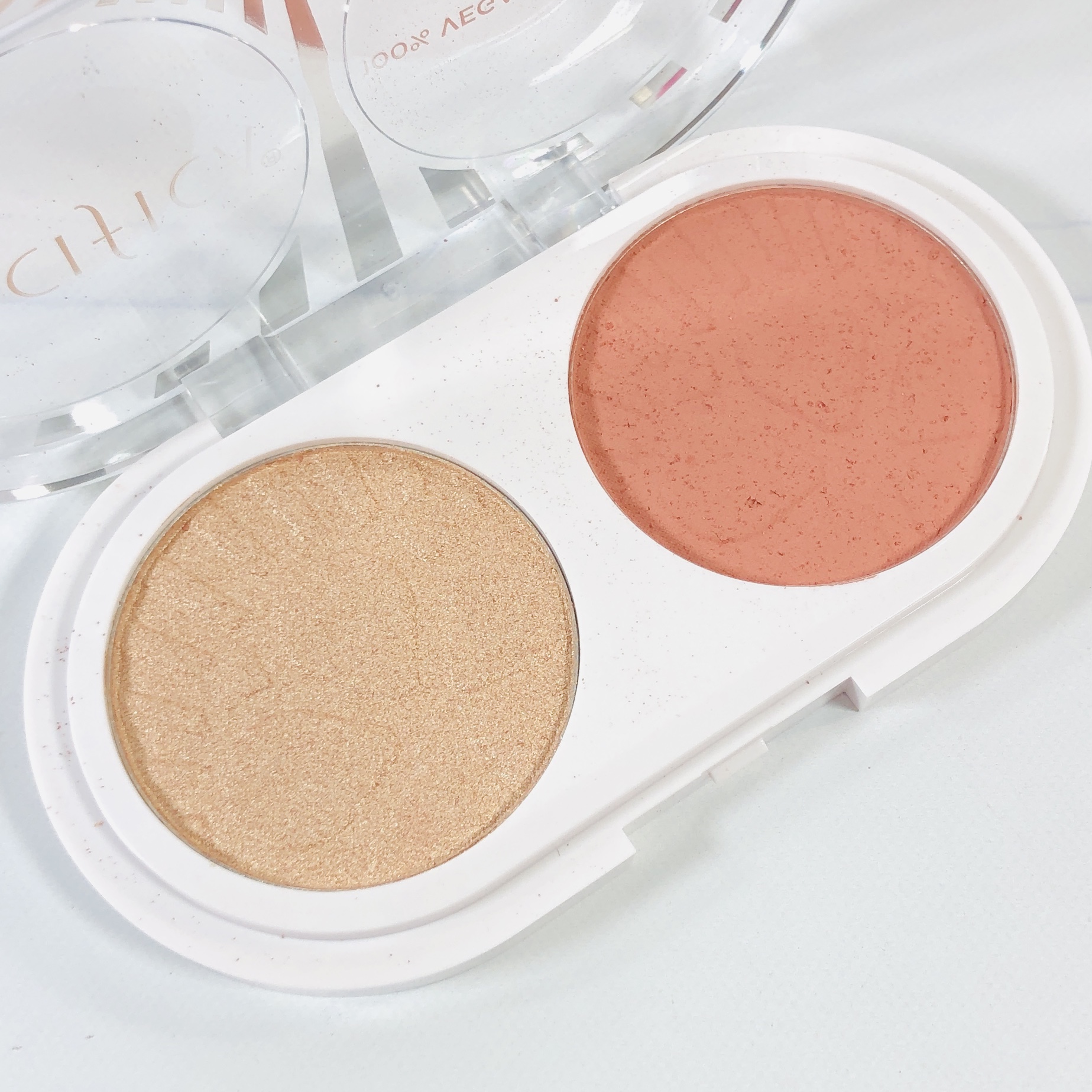 One the left we have Glimmer Shimmer, a highlighter, and on the right is Fire Lit, a blush. I liked both of these shades and it's convenient to only carry two products in one compact when I need to bring it with me. The blush was much brighter than I expected but I think it's because it was kind of loose on top but I haven't had any problems since that first application. I swiped the highlighter along my nose, forehead, and cheeks and it was brightening without being super glittery. Swatched below.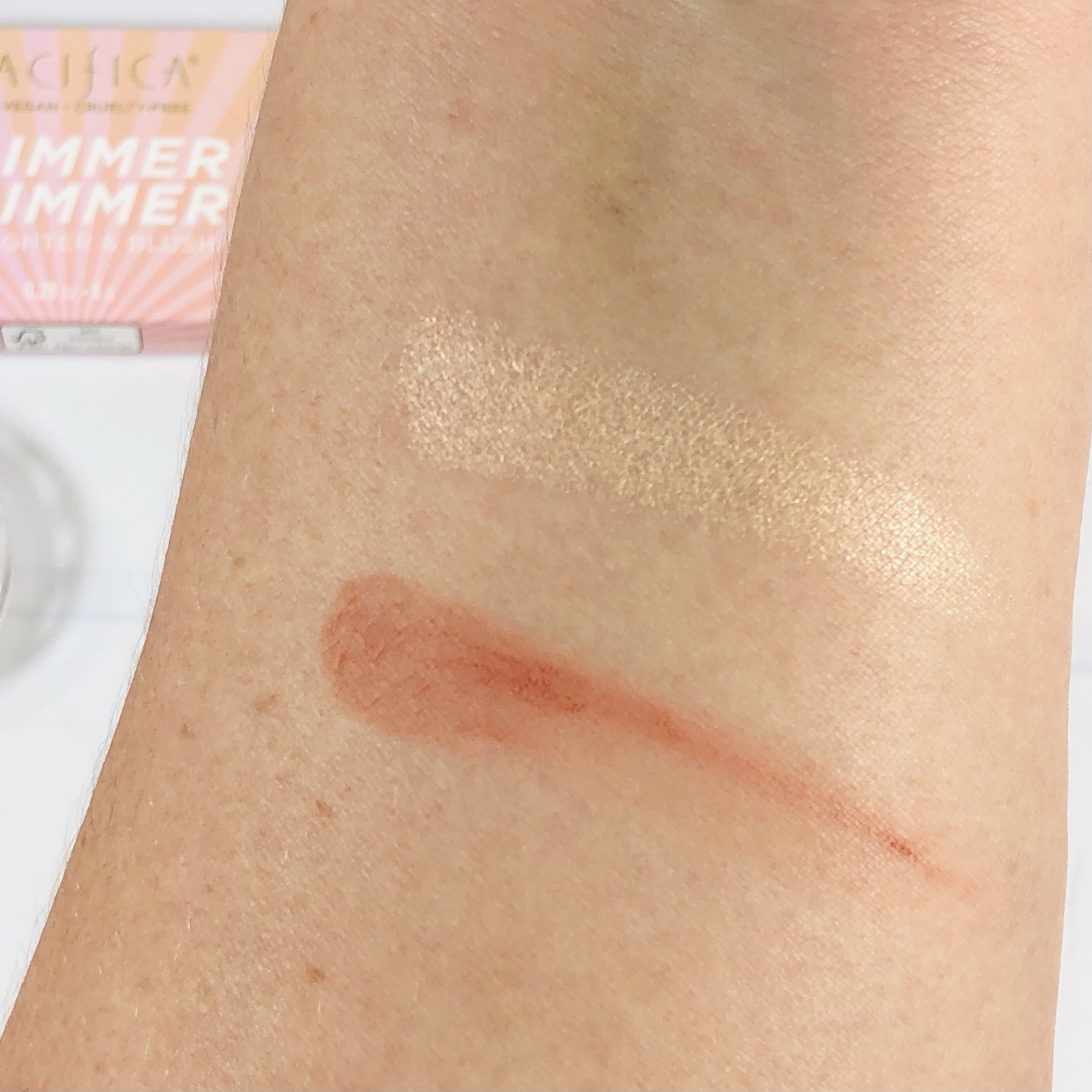 On top is the highlighter with the blush below.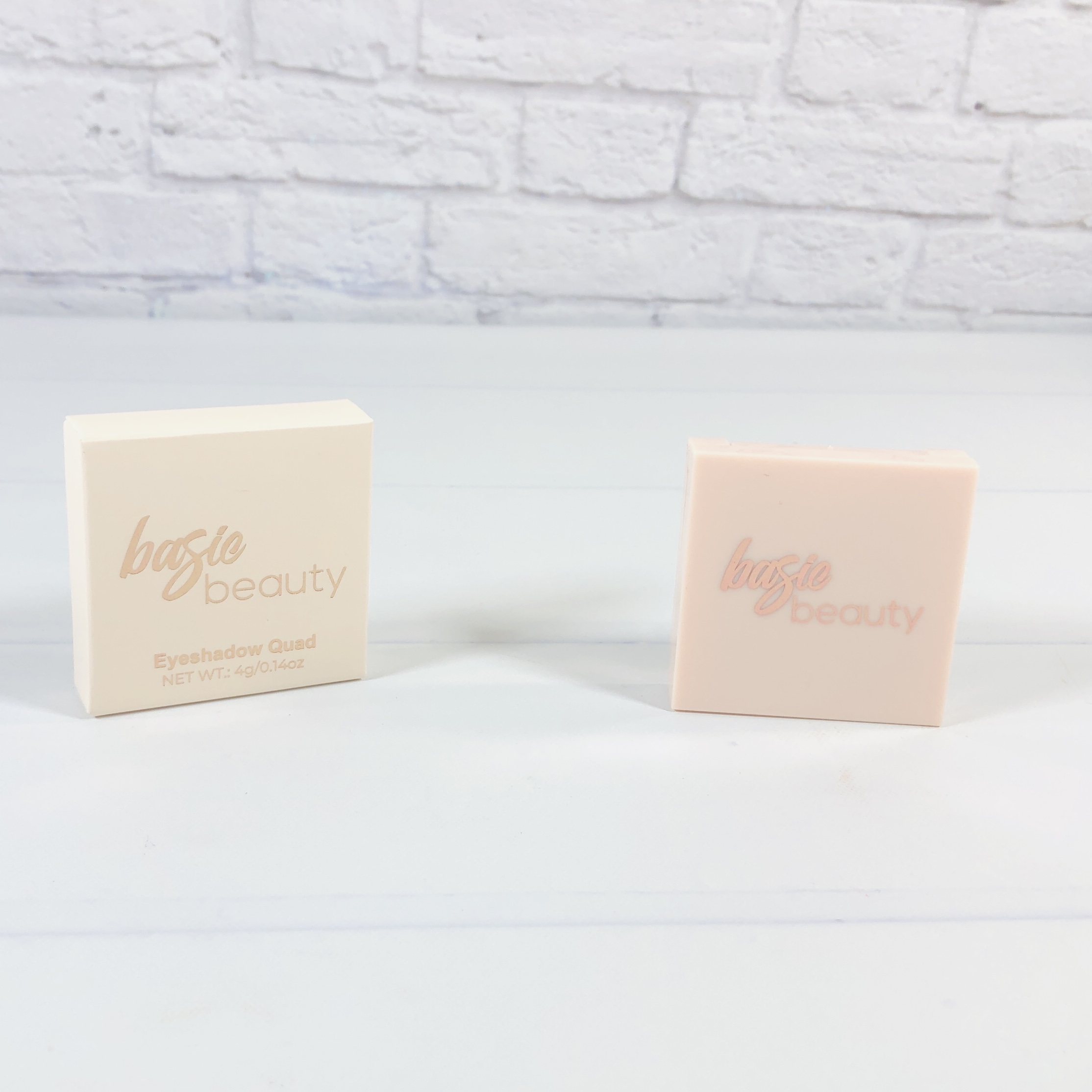 Basic Beauty Eyeshadow Quad in Hot Cocoa Bomb ($22) I'm not familiar with Basic Beauty as a brand but the compact is very basic and doesn't even have a mirror.
Here's the ingredients.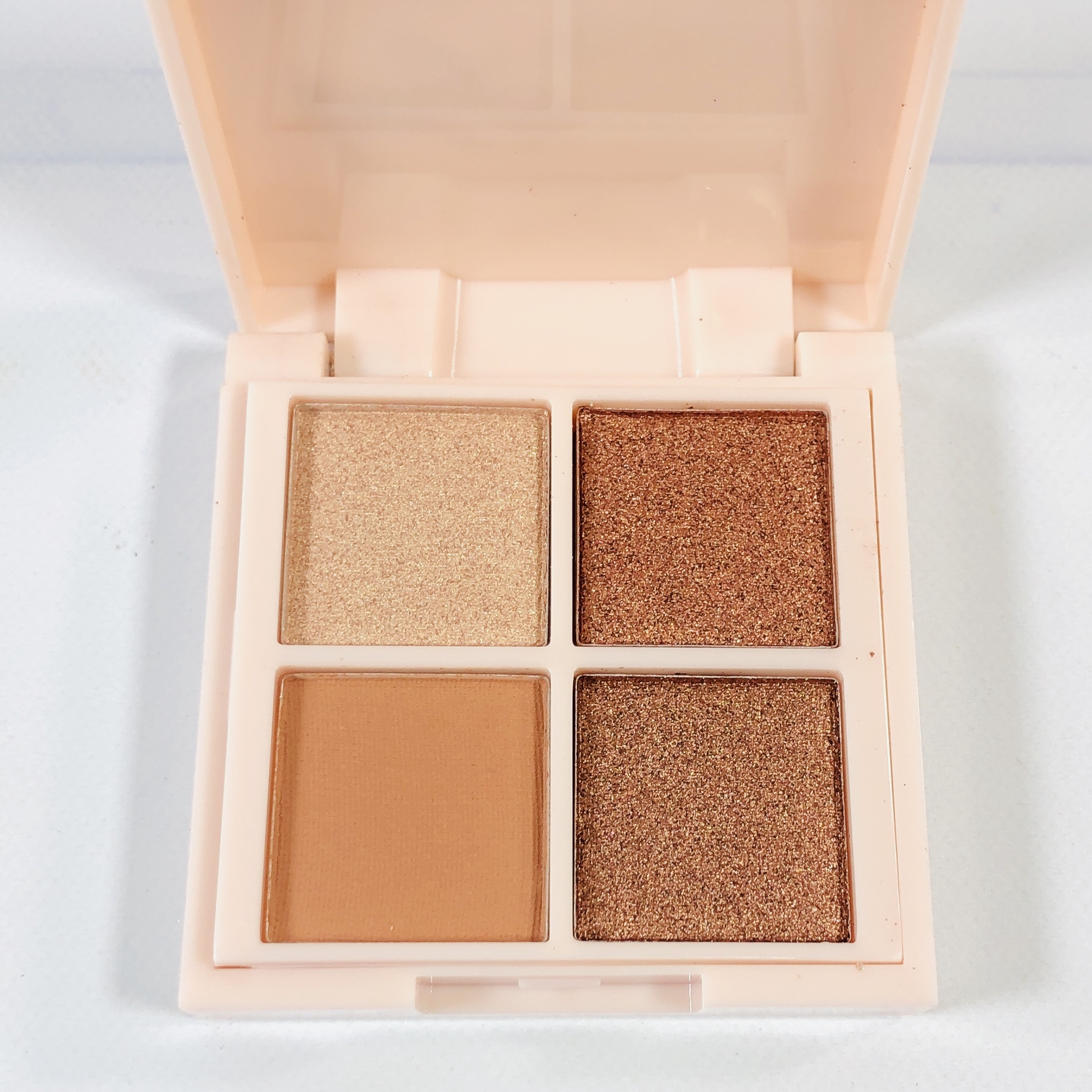 Three of the shades are shimmery while one is matte.
I used one of the shimmer shades on my lid and then tried to use a darker shimmer shade in the crease but it didn't really pop so I ended up using a darker matte from another palette instead. The shadow went on nicely whether I used a brush or my finger and I didn't experience a lot of fallout.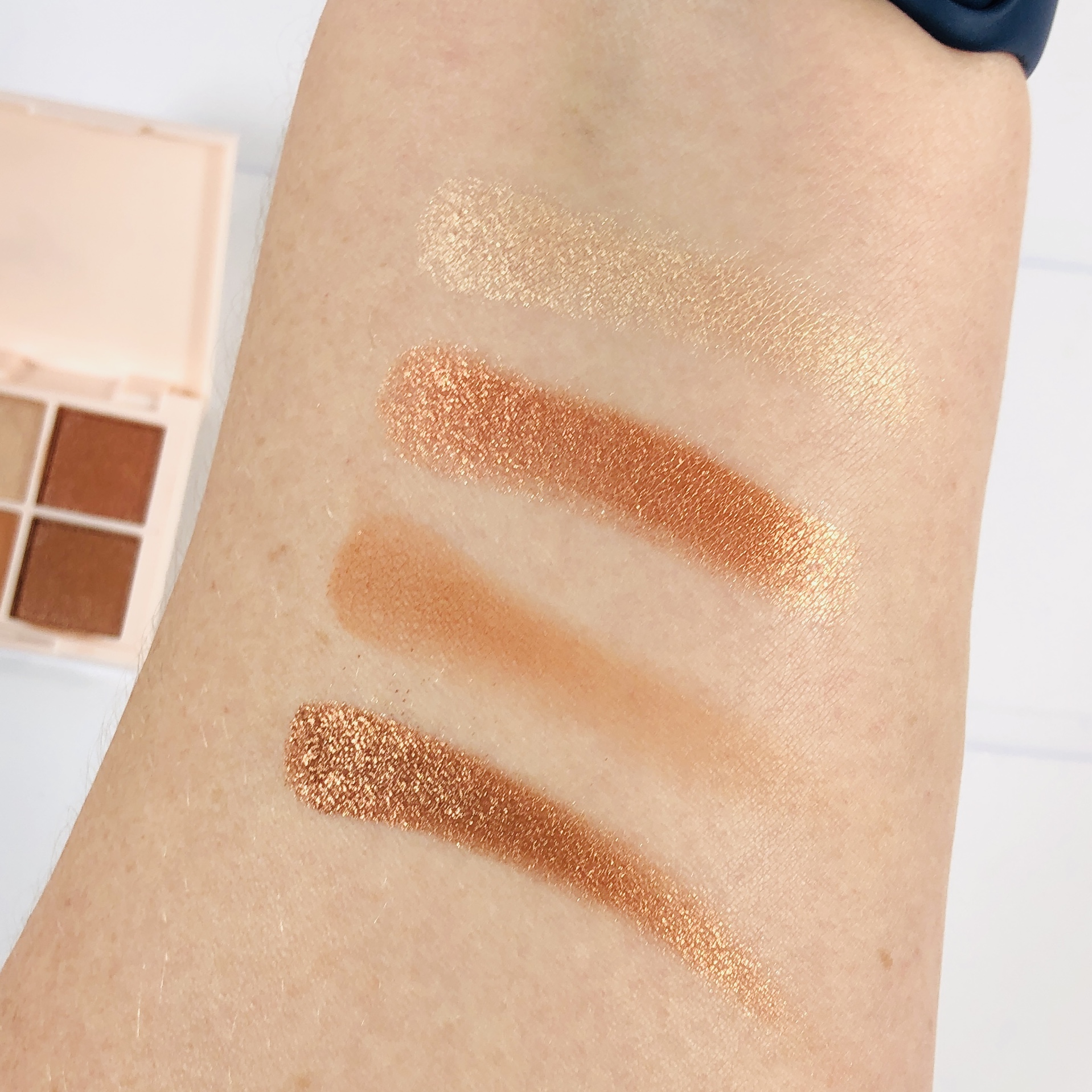 Here are those shadows swatched.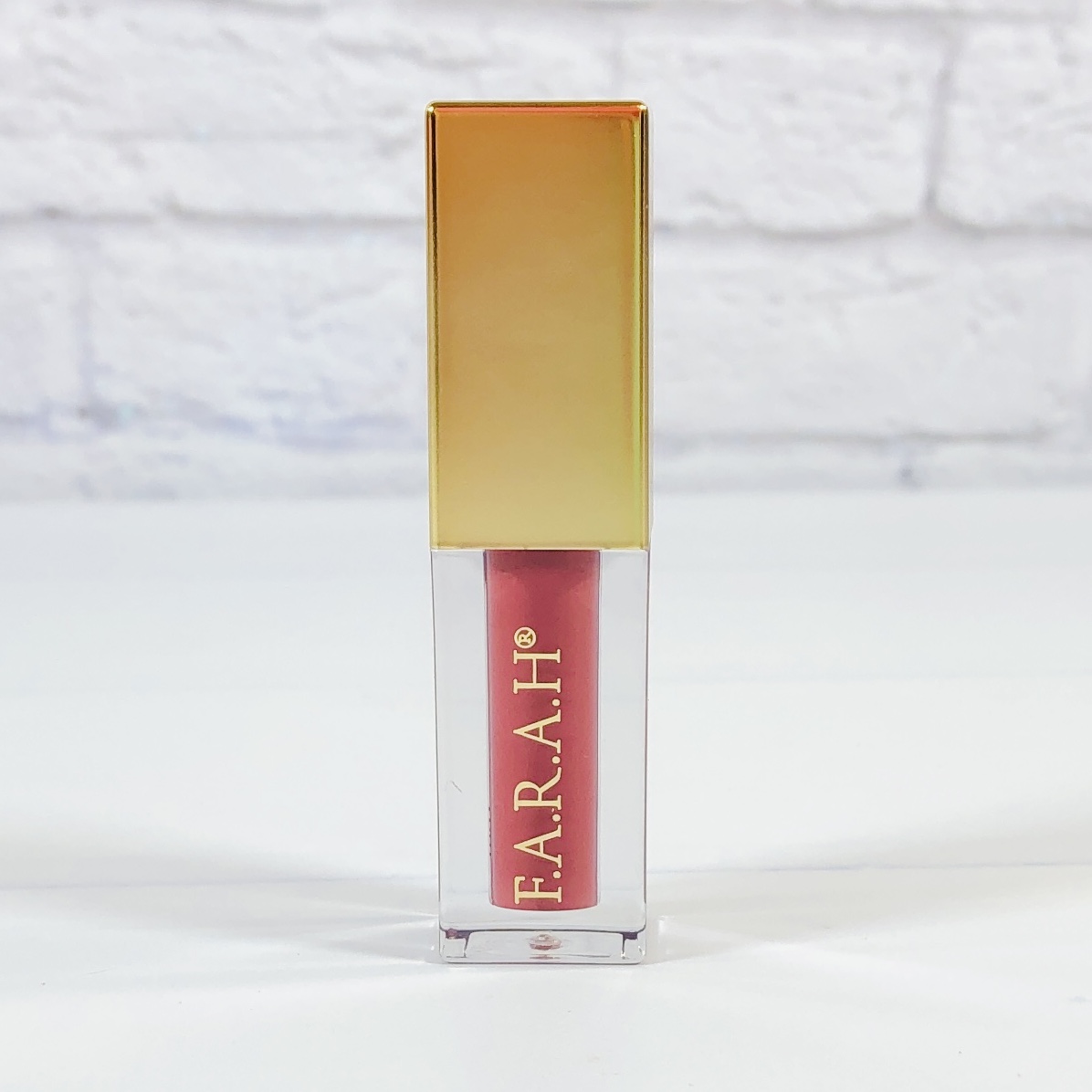 F.A.R.A.H. Lipstick in Tiffany After a bag full of warm colors I found this cool-toned liquid lippie.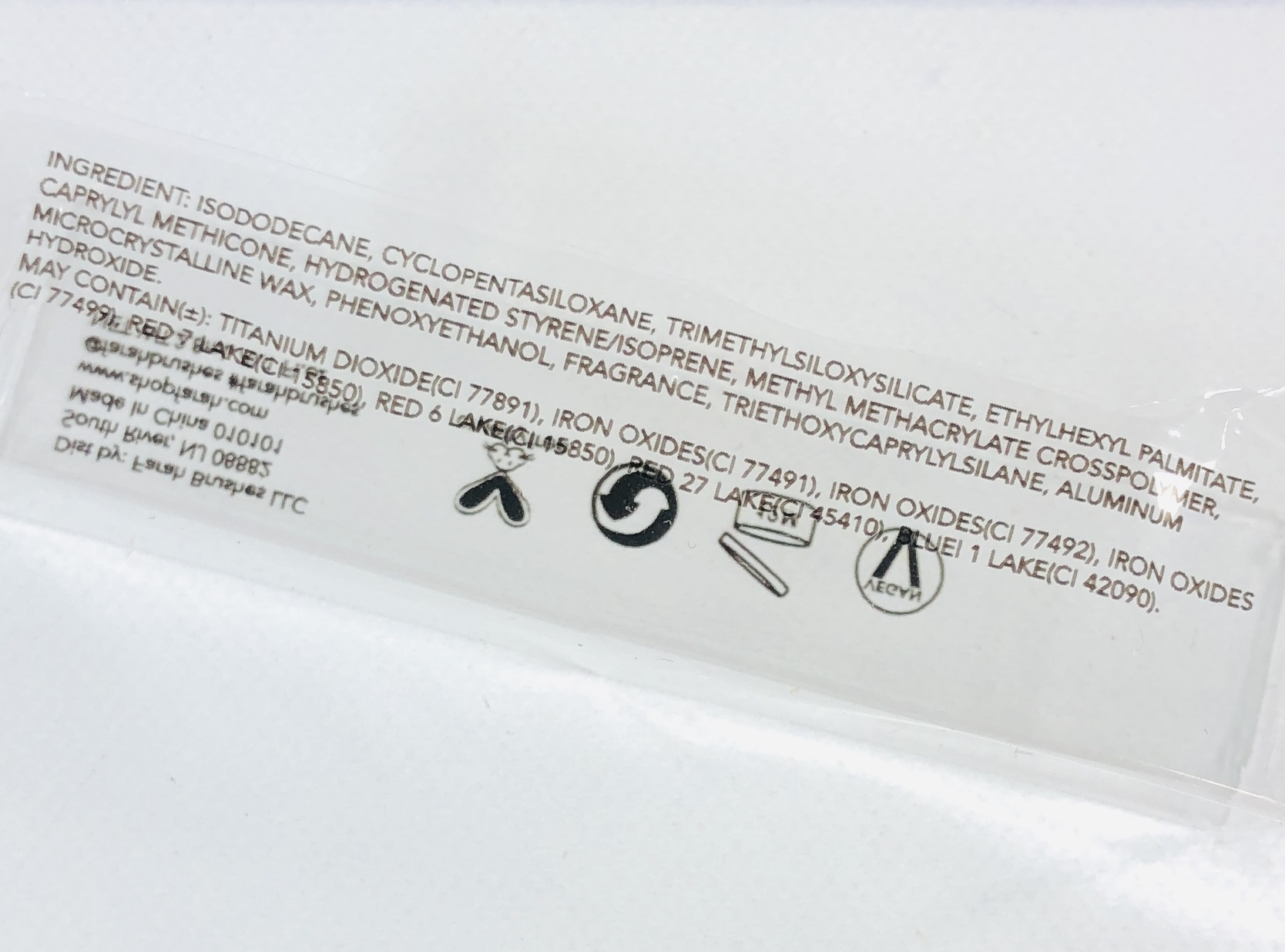 The ingredients were on a plastic wrapper that came off when I opened it up!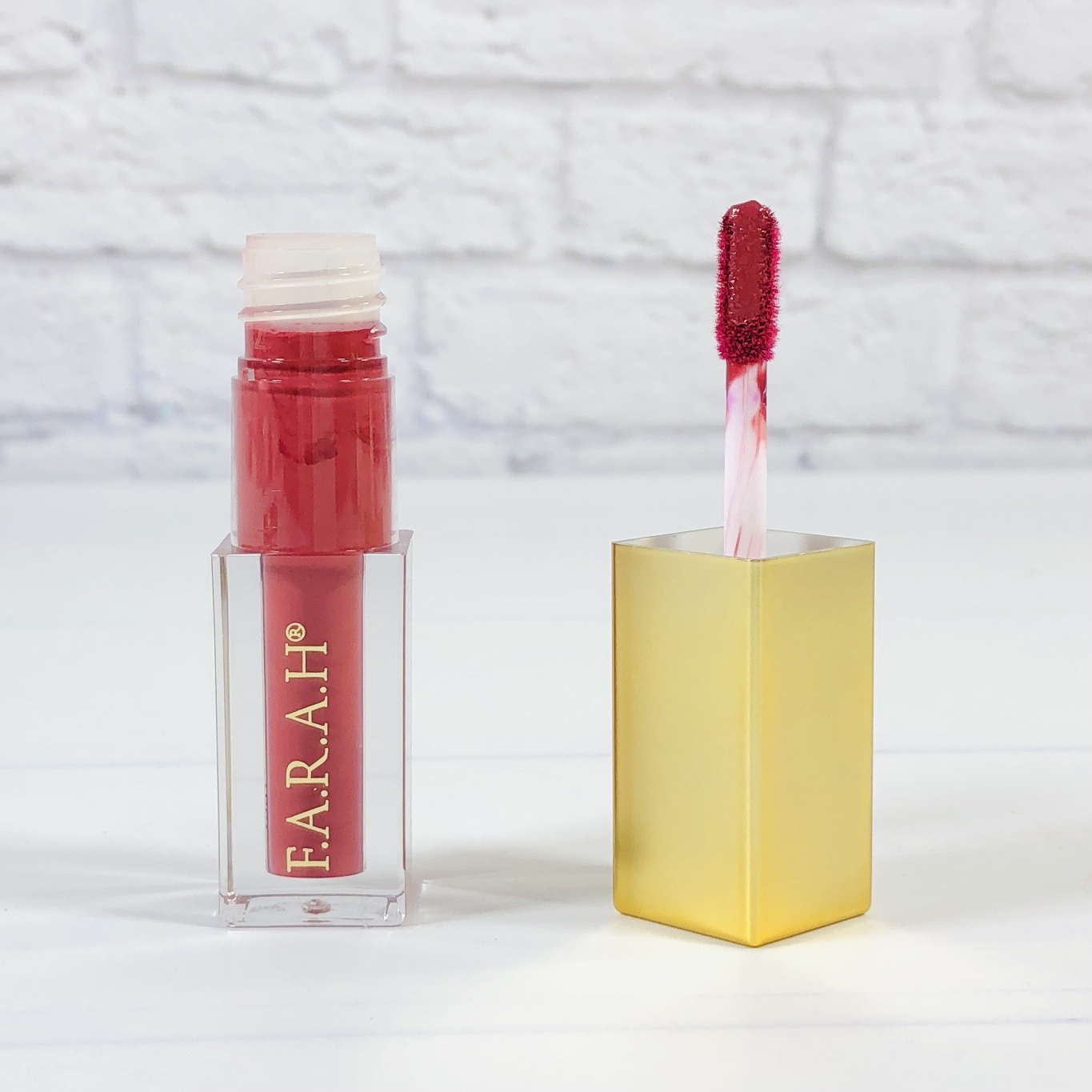 The shade Tiffany is described as deep mauve and I liked the color. It dried really quickly when I applied it to my lips, make sure to have a lip brush handy to get it in all the right places. It didn't taste very good. It dried down to a matte finish but didn't bother my lips. I wanted to tone it down a bit for this lovely sunny day so I swiped a bit of that highlighter from above with my finger and lightly dusted it across the lower middle of my lips and loved the pouty effect. Swatched below.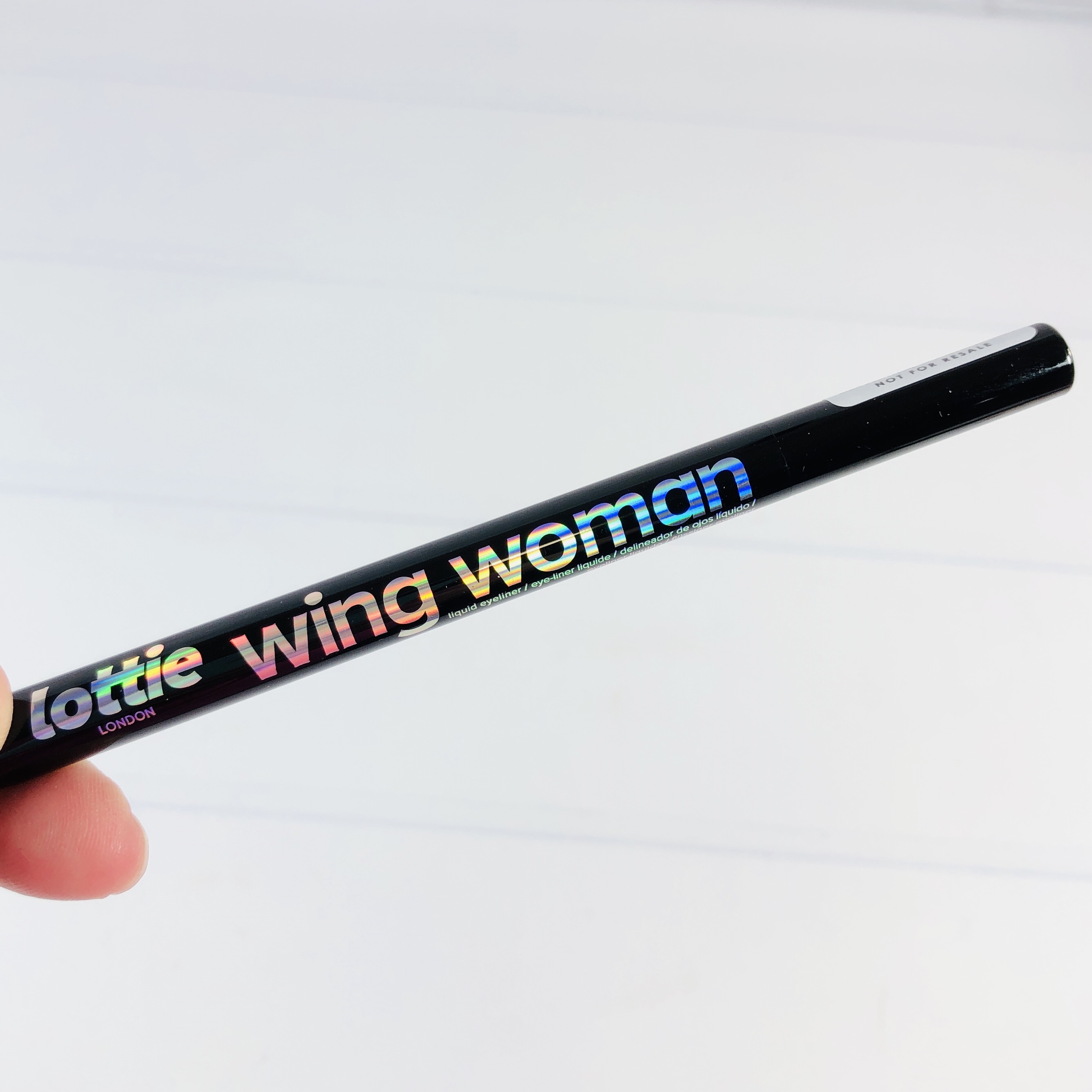 Lottie Wing Woman Eyeliner (£4.95, around $6.84 USD) Here's a basic black liquid eyeliner with cool holographic wording on the package.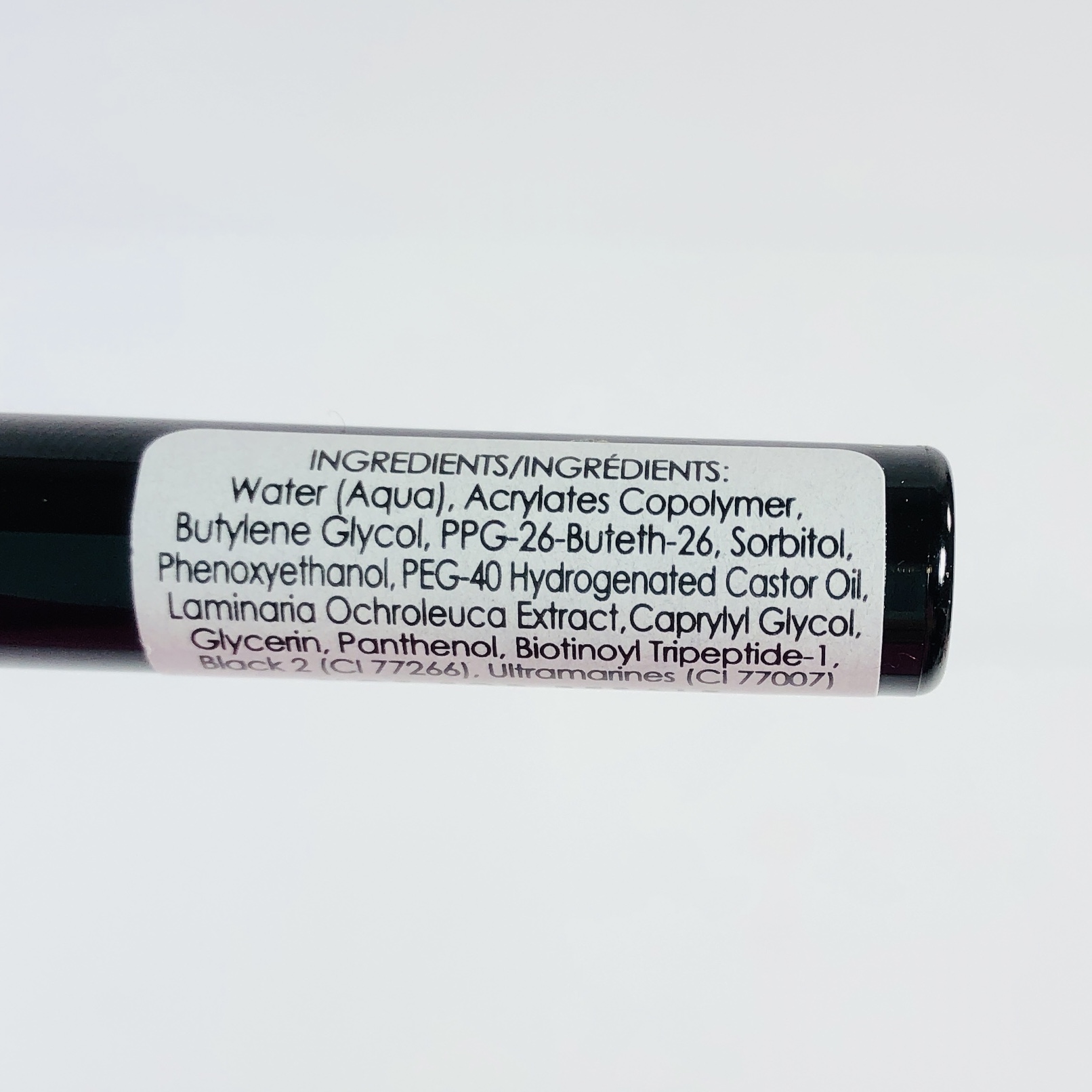 Here's those ingredients.
It has a fine tip and I will admit I'm horrible at applying liquid liner, I can never get it straight. I tried it anyways and I think it got inside my waterline but I didn't see any on my crease, sometimes I blink and it gets in there and looks weird. Luckily I didn't leave my house because at some point I looked in the mirror and it was smeared all over. By the time I went to bed it looked like I was practicing for a zombie Halloween look, it was frightfully awful. It took two pads to remove it before bed and there was still liner around my eyes when I got up so I had to use another remover-soaked pad in the morning. I am more motivated than ever to stick to pencil eyeliners. Swatched below.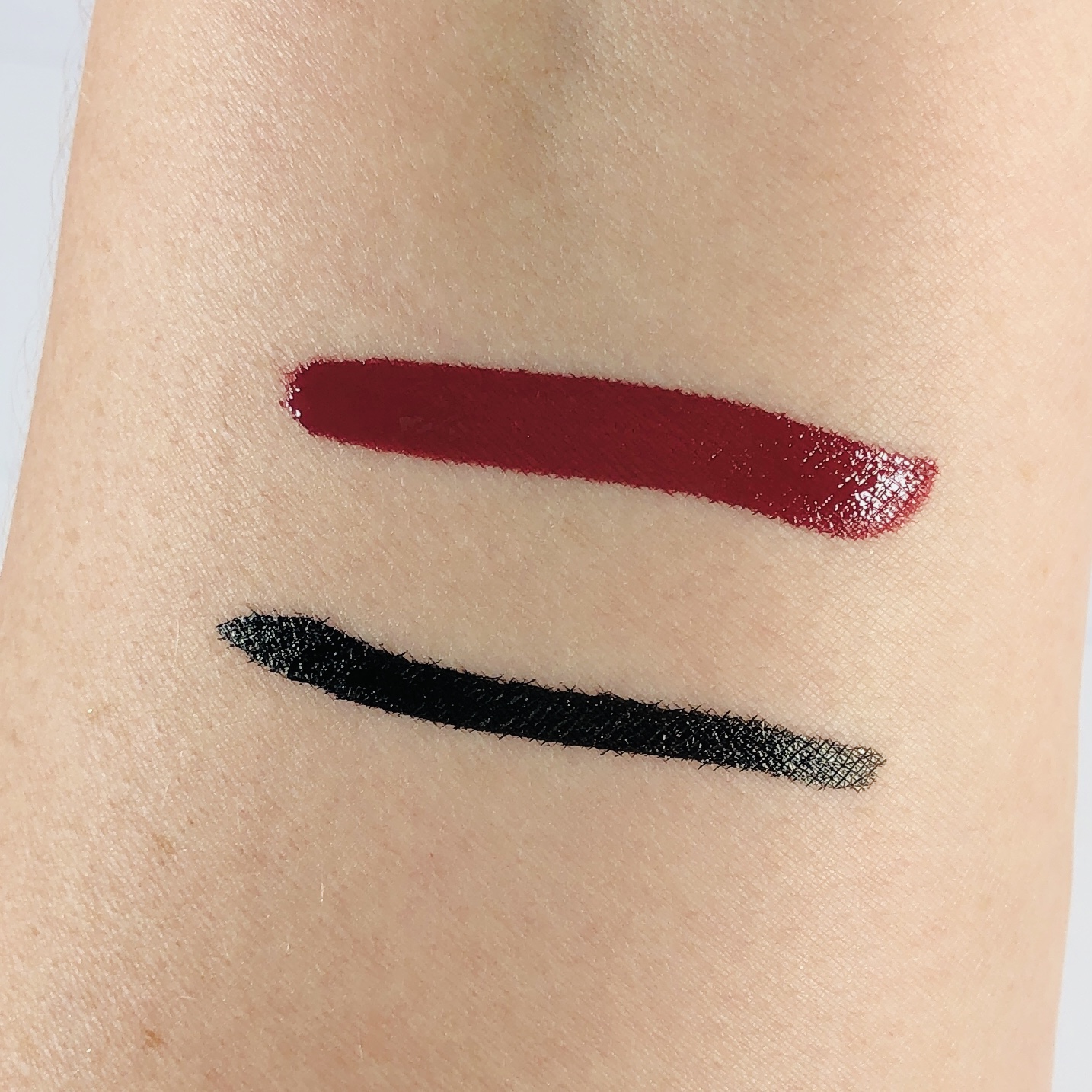 On top is the liquid lip and the liner is below.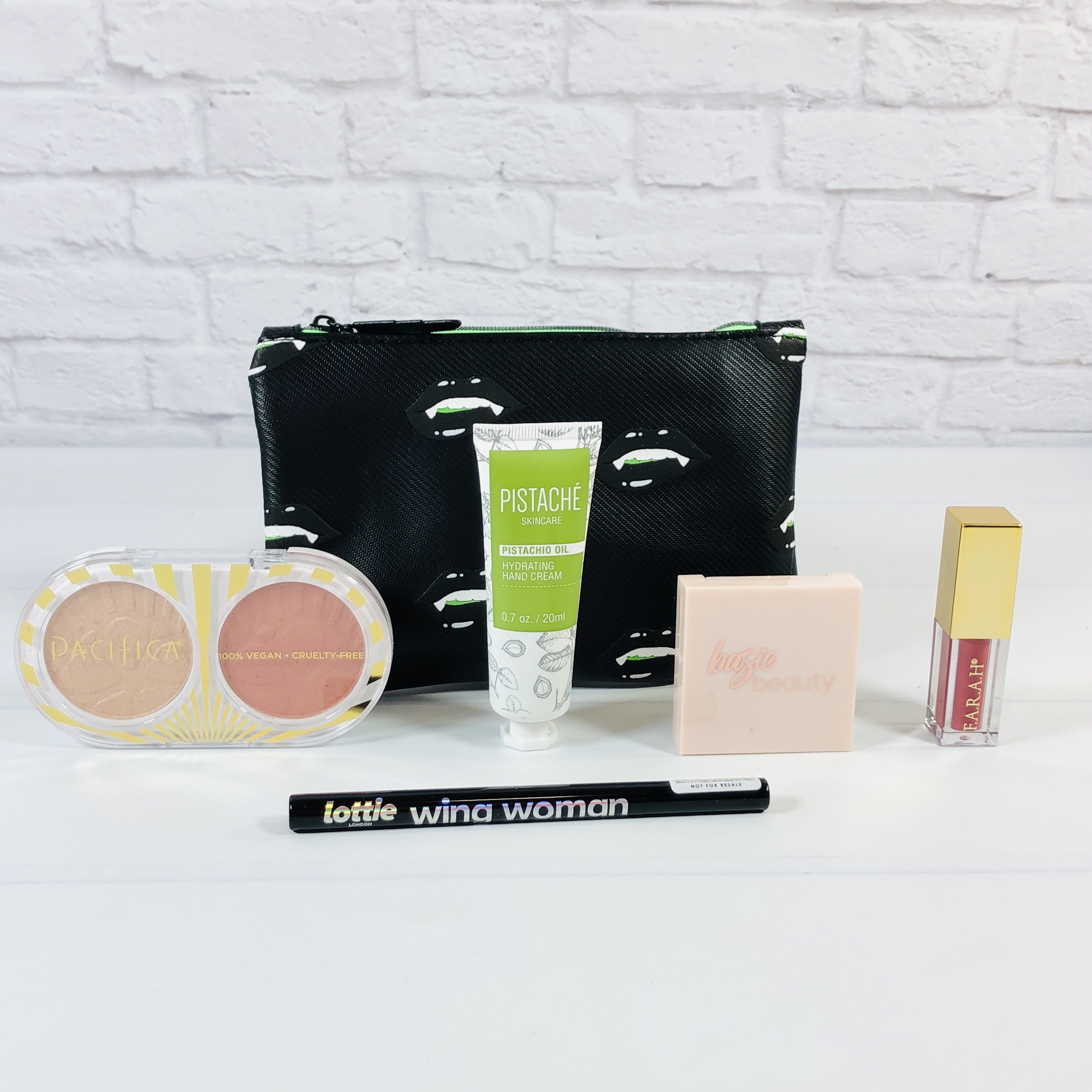 Overall I enjoyed my Ipsy October Glam Bag. I was happy with my mini hand lotion, I needed a small tube for my purse and this one smells really nice. The Pacifica blush and highlighter duo also worked well for me and I liked the colors. The lipstick was a pretty shade but tastes weird. The liner is not for me, but that goes for all liquid liners, I don't like looking like I've been crying by the end of the day, or worse, the middle of the day. The shadows also were nice, I like a shimmer on my lid and they went on easily enough. I'm not sure of the value of my bag because some of the items didn't have their full-sized counterparts weight listed online for comparison purposes, and I think the eye compact is overvalued as the casing is just plastic and there's not even a mirror.
What did you get in your Ipsy this month? Let me know!