Hygge Box is a monthly subscription box for those who want to surround themselves with comforting objects that contribute to a sense of coziness and general well being. You can choose from the Deluxe Hygge Box ($40 for 5-7 items) or the Standard Hygge Box ($29 for 4-5 items) and shipping is extra. Items sent may include candles, drink mixes, edibles, home decor, or wellness products.
Hygge is about preserving happiness everyday. It is slowing down, being humble, expressing gratitude, feeling safe and connecting with loved ones. Each curated box includes handpicked items like below from around the world to inspire and evoke hyggelig moments.
I love the presentation! My items were wrapped in tissue paper and snuggled into shredded paper squiggles.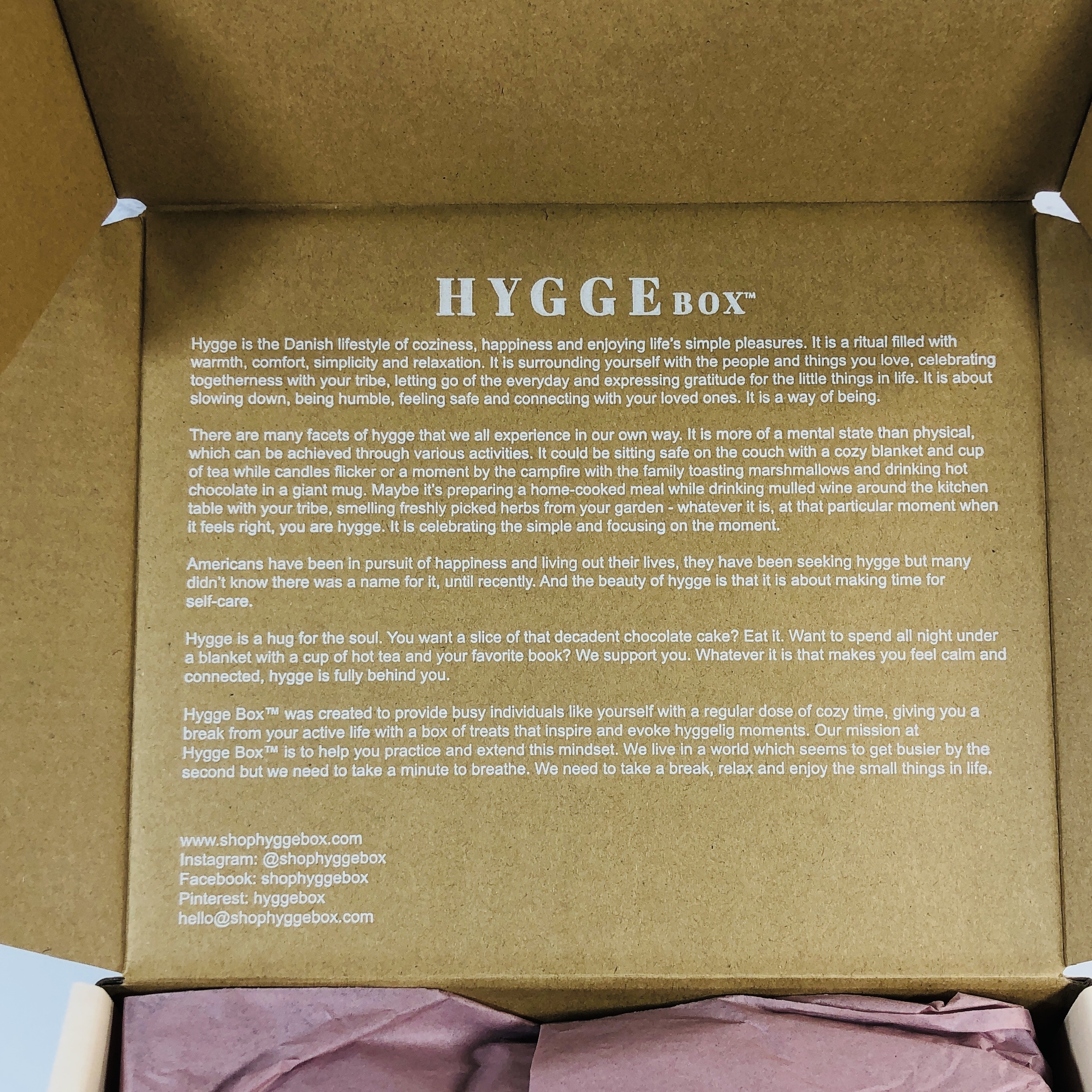 The definition of hygge was on the inside of the box lid.
I can't wait to see what's in here!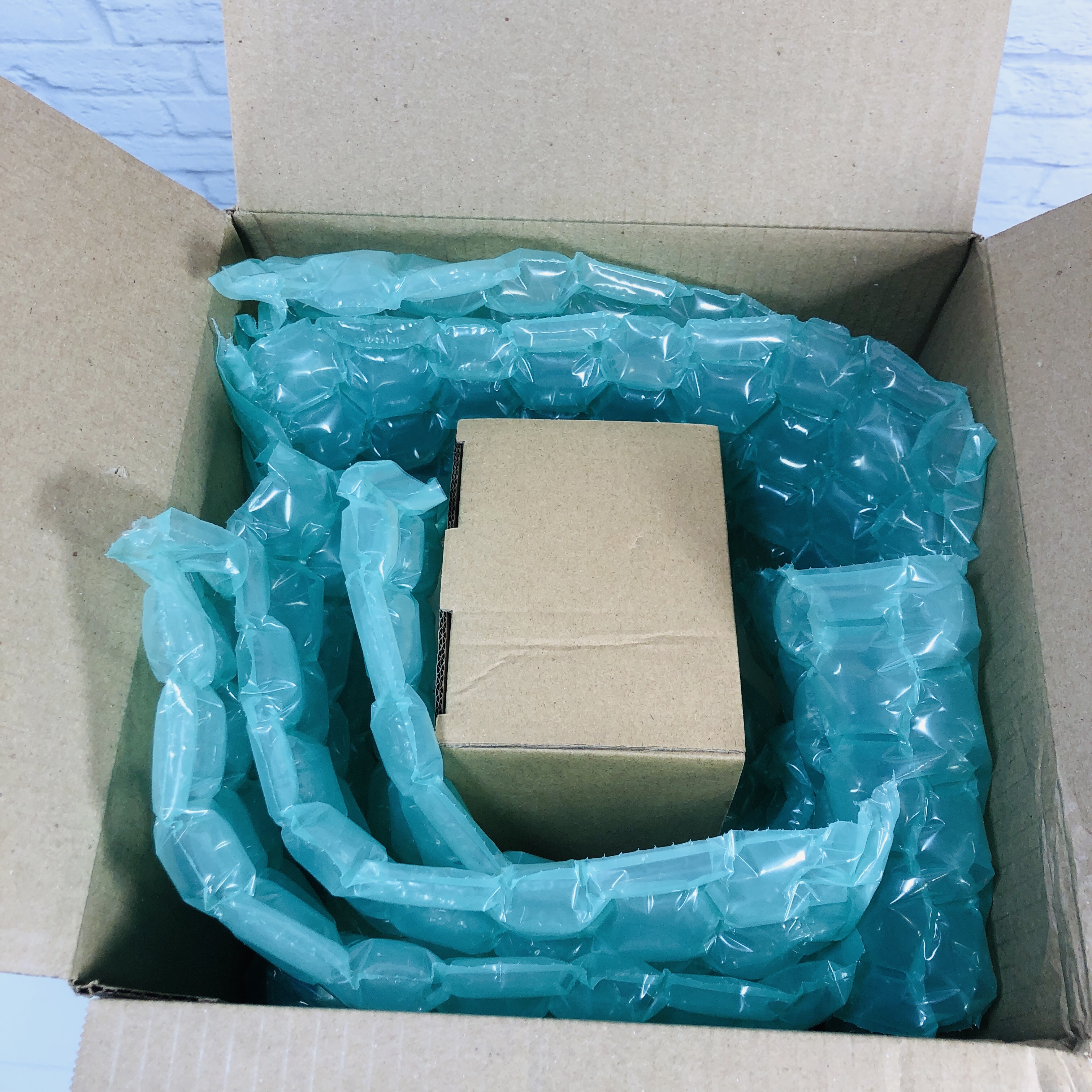 The deluxe item required some extra packing since it's breakable.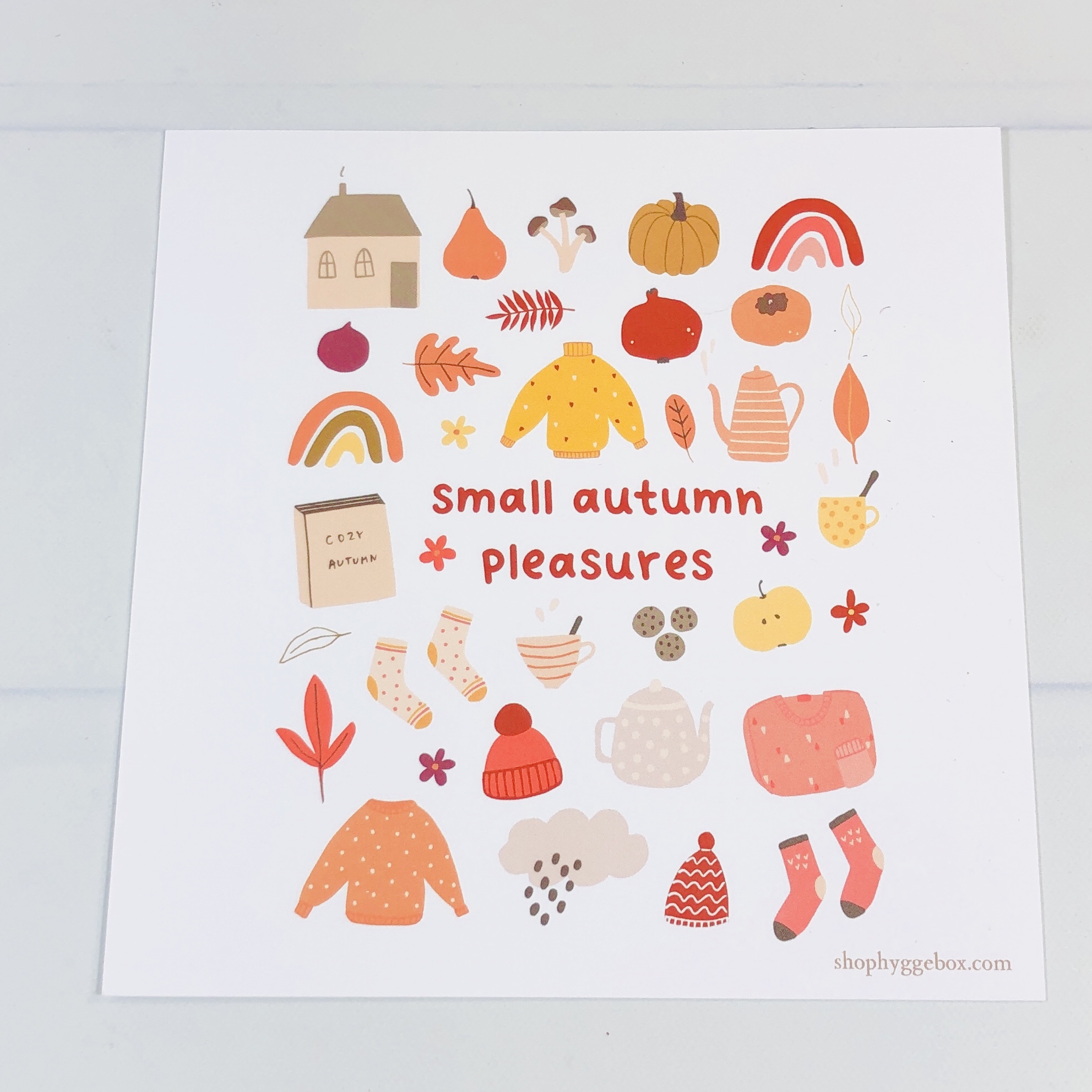 The theme for this box is Nest.
The back of the card described the thoughts behind this month's box. Each item from the box was mentioned. The bottom has the additional item that is in the Deluxe Box only.
The rest of the items were tucked into shredded paper squiggles.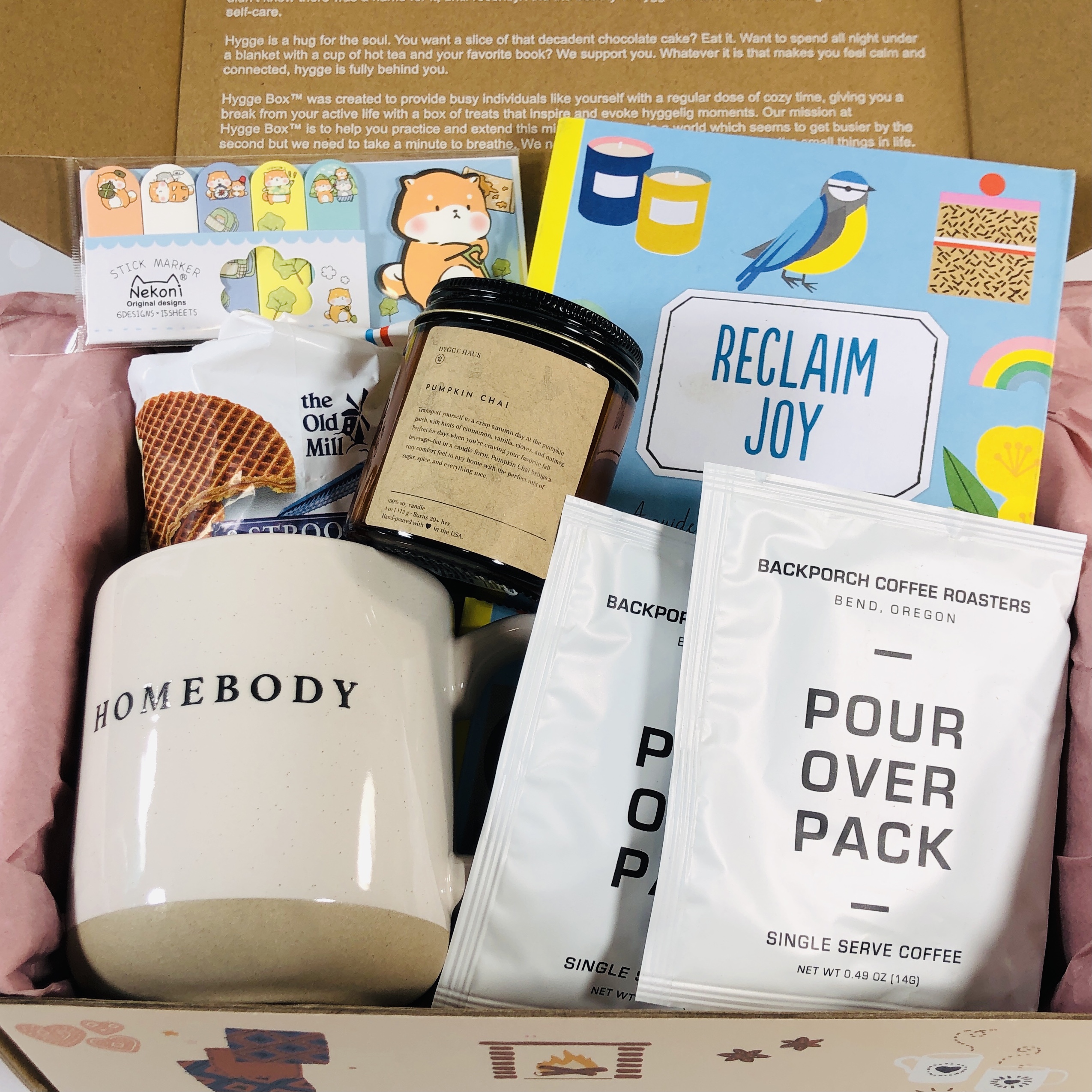 Looking good!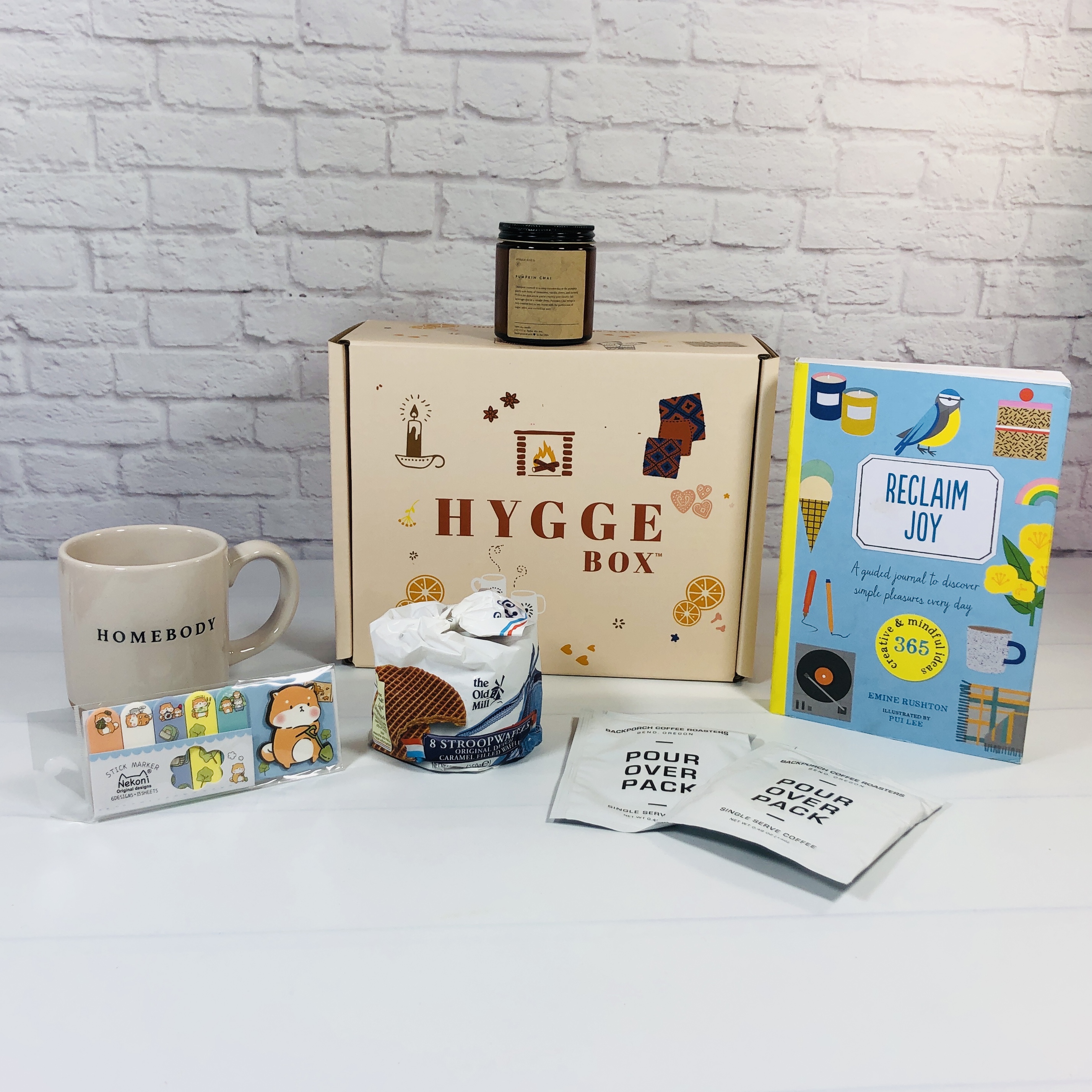 Everything in my box!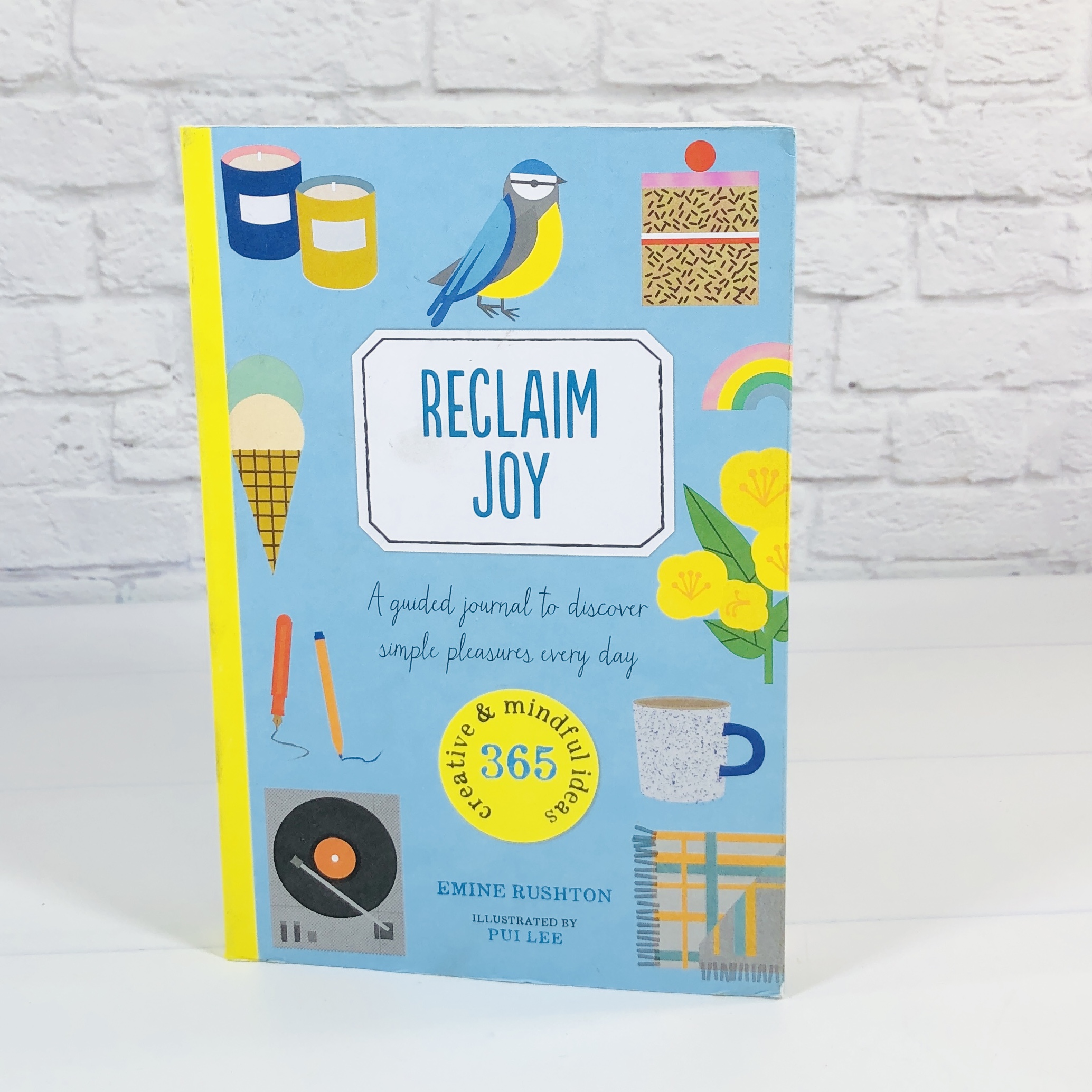 Reclaim Joy Journal ($16 list price, now $14.49) I was excited to see this journal, which was published in June so it's really recent. It can be started at any time, no need to wait for January 1st, the activities don't match the calendar. There are 365 actions to complete, some as easy as coloring in a cactus illustration, others are more in depth.
Embrace the extraordinary in the ordinary with this enlightening workbook featuring a mindful activity for each day of the year.

Who doesn't need more joy in their days? Simple can be delightful; free can mean rich; and nature can offer the most powerful, plentiful and bountiful treasures of all. Reclaim Joy: a year in my mindful life offers 365 experiential prompts and rituals, and plenty of space to write, draw, and find joy, teaching and inspiring you how to live a slower, back-to-the-earth, less cluttered and more peaceful life.

This book, lovingly created by editor of indie mindfulness magazine Oh and holistic therapist, Emine Rushton, will show you how to notice, find and experience the simple things that can bring happiness back into our everyday lives, including:

Harvesting foraged blackberries in a city park
Listening to the sound of the rain
Making petal paint
Tuning into birdsong
Creating your own morning motto
Appreciating the fragrant steam from a cup of tea
It is broken down into 12 sections, with themes such as Dawn Delight and Harvesting Happiness. Here's one page spread found in the Day Glow section.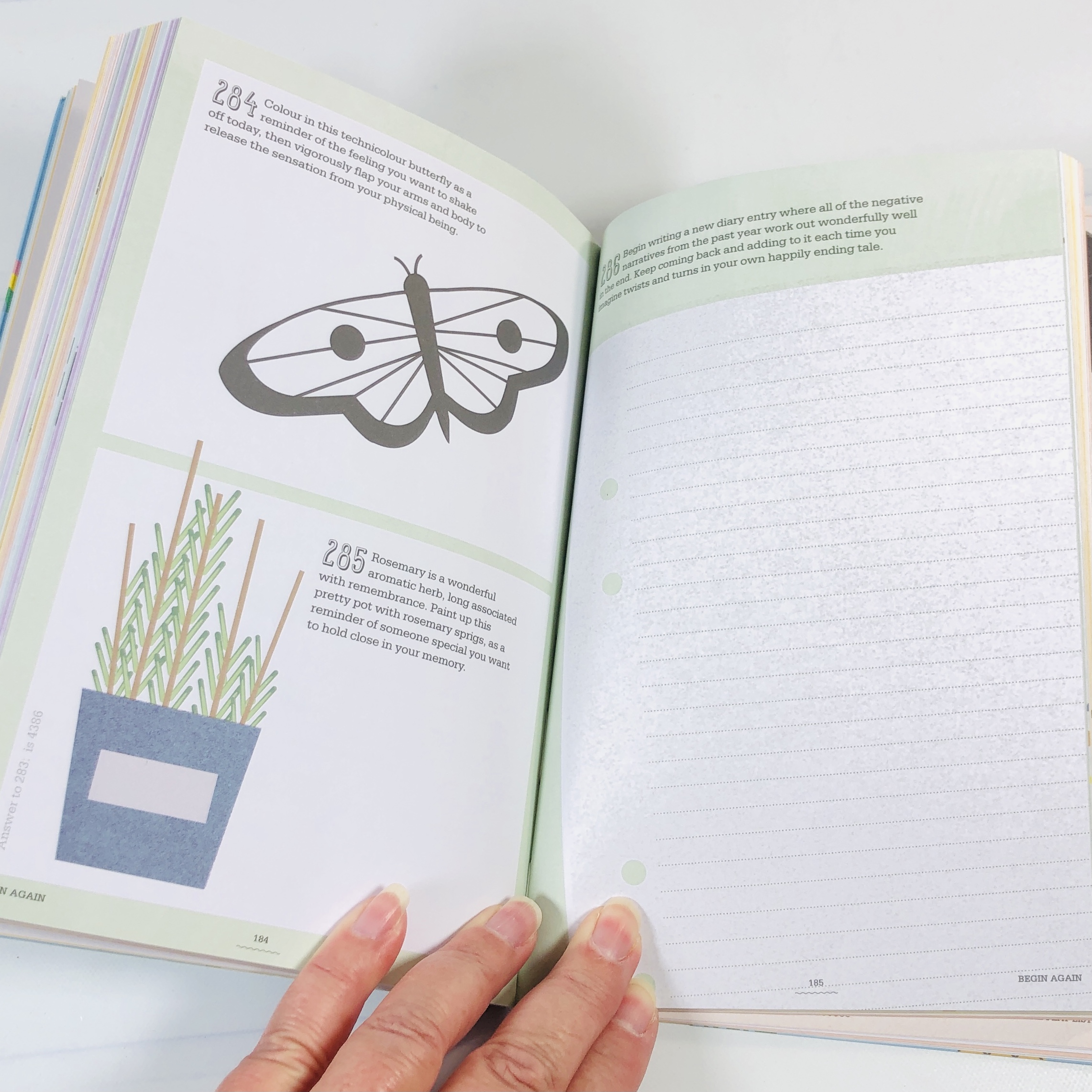 Here's some actions to take in the chapter titled Begin Again.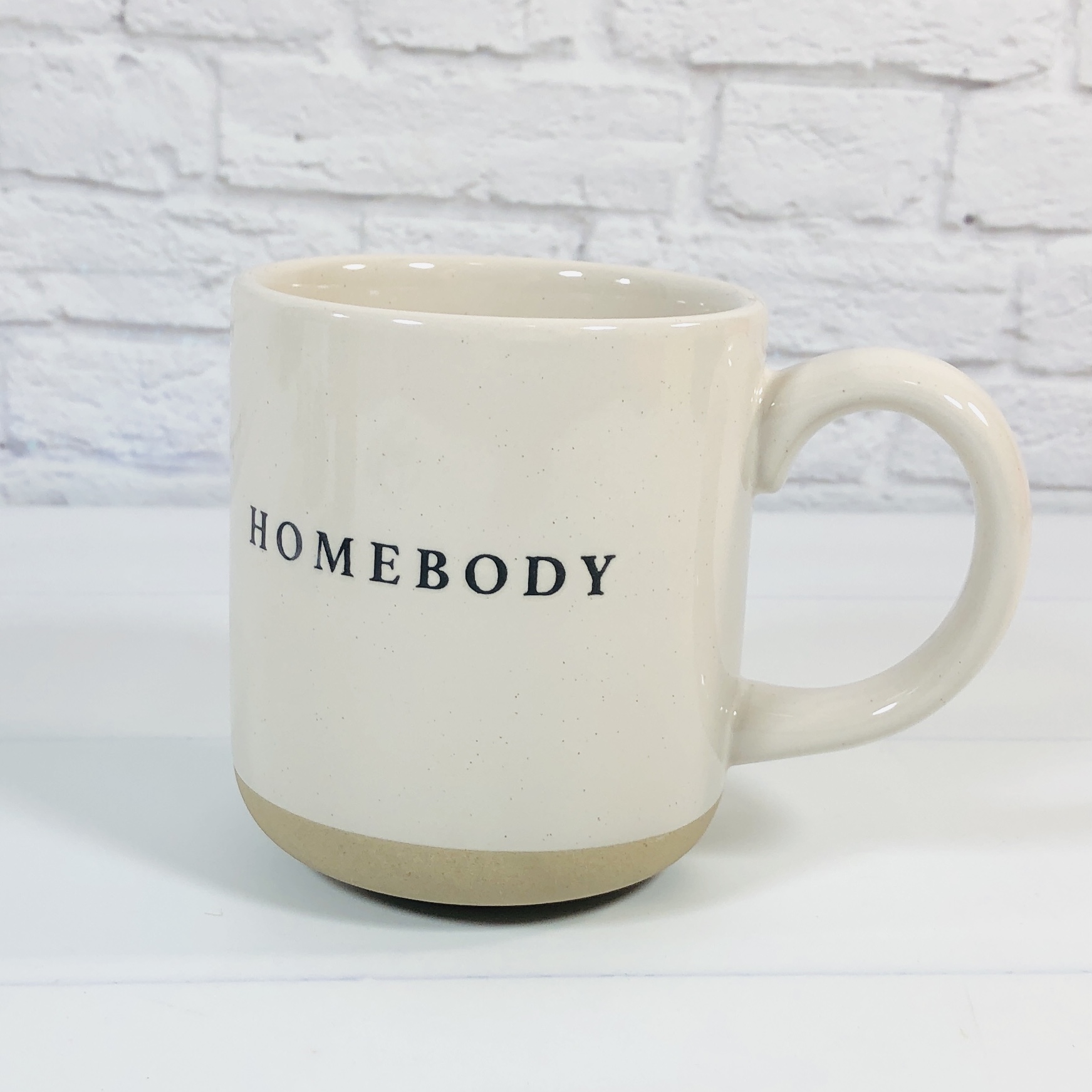 Sweet Water Decor Stoneware Style Mug ($18) This mug says it all — I am a homebody, and I like to sit around on my couch drinking tea and reading books or watching cozy murder shows from Scandinavia or the UK.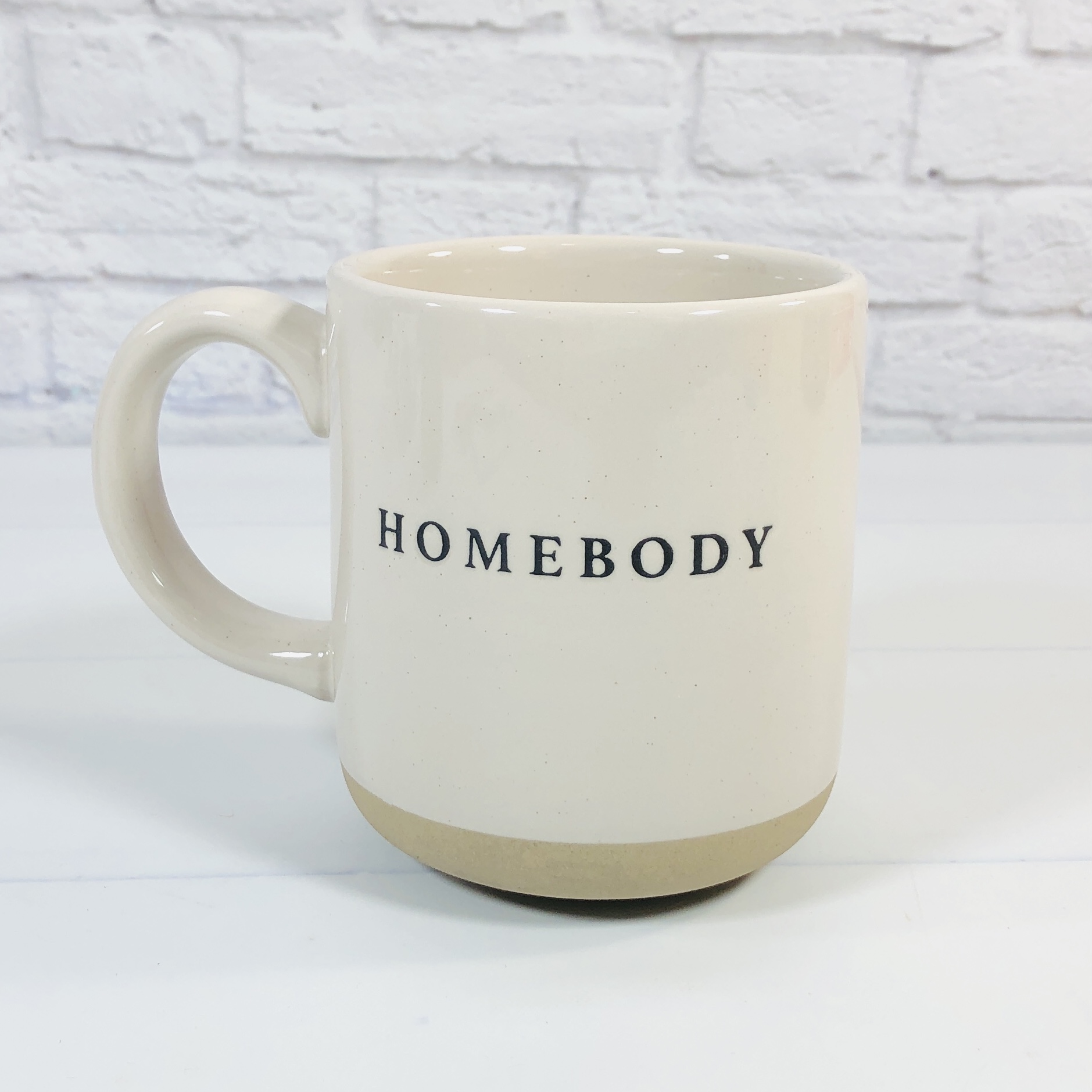 This mug has the same wording on both sides and holds 14 ounces. The top part of the mug is light beige with speckles and black hand-stamped lettering. The bottom of the mug is natural stoneware and has a rough texture.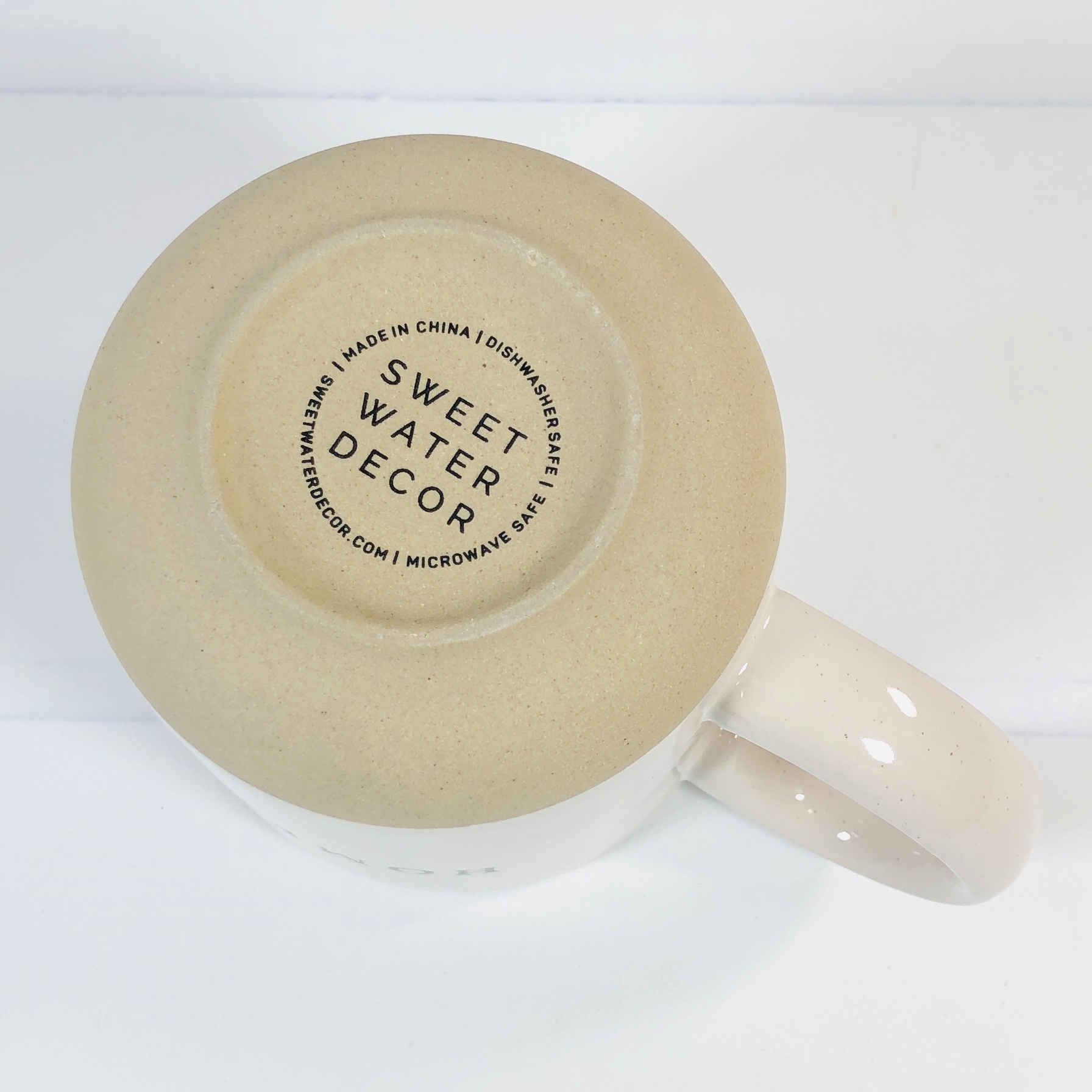 It is microwave safe and while it says it is dishwasher safe, it is recommended that you hand wash to preserve the design.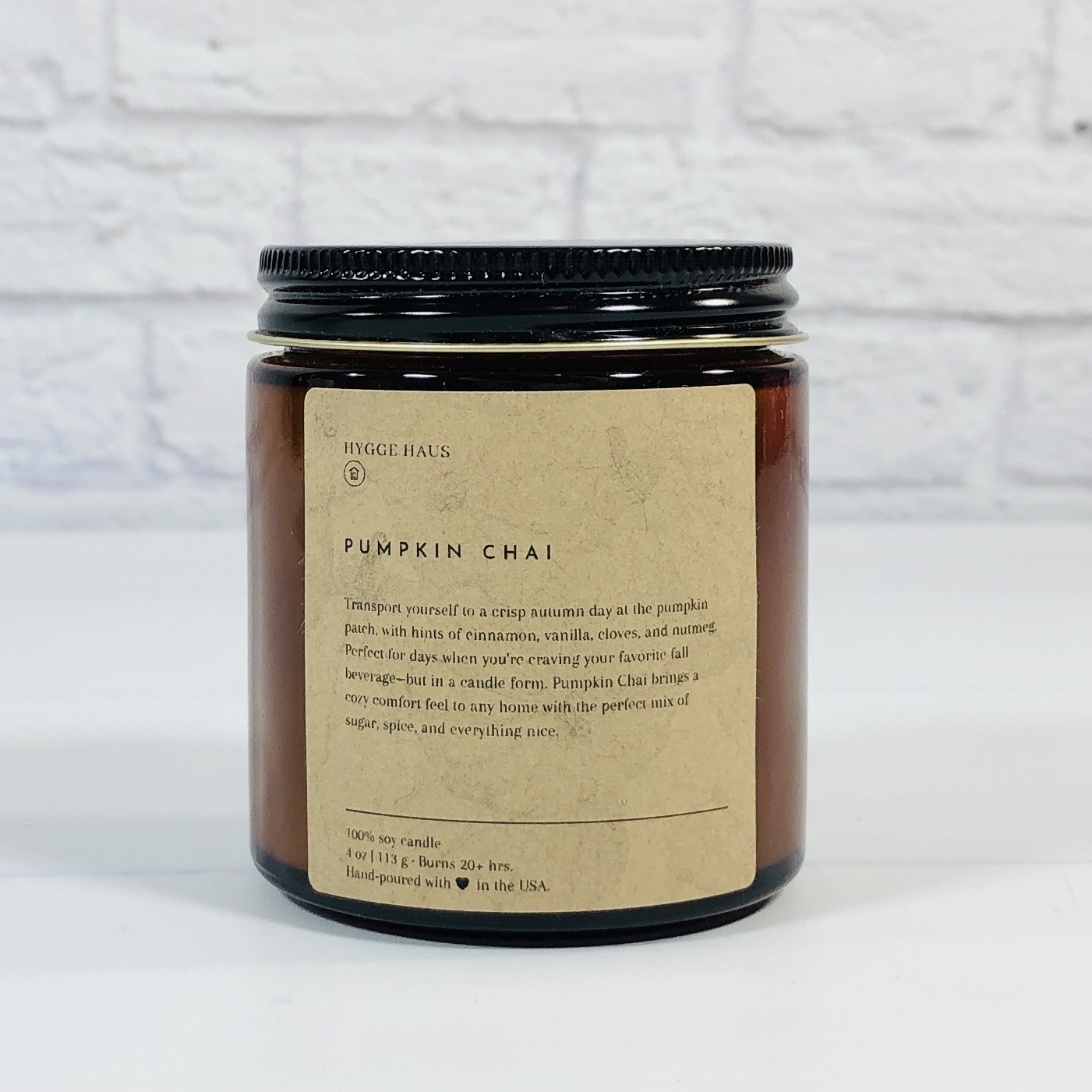 Hygge Haus Pumpkin Chai Scented Candle ($15 for similar) This candle comes directly from Hygge Box but I didn't see it in their online shop, it may be coming soon. It is 4 ounces and made of 100% soy wax and should burn for around 20+ hours.
Keep safe while burning!
The scent notes include pumpkin, vanilla, cloves, cinnamon, and nutmeg. It is everything one could want in a fall candle and the throw is amazing for this size candle. I could smell it from the next room!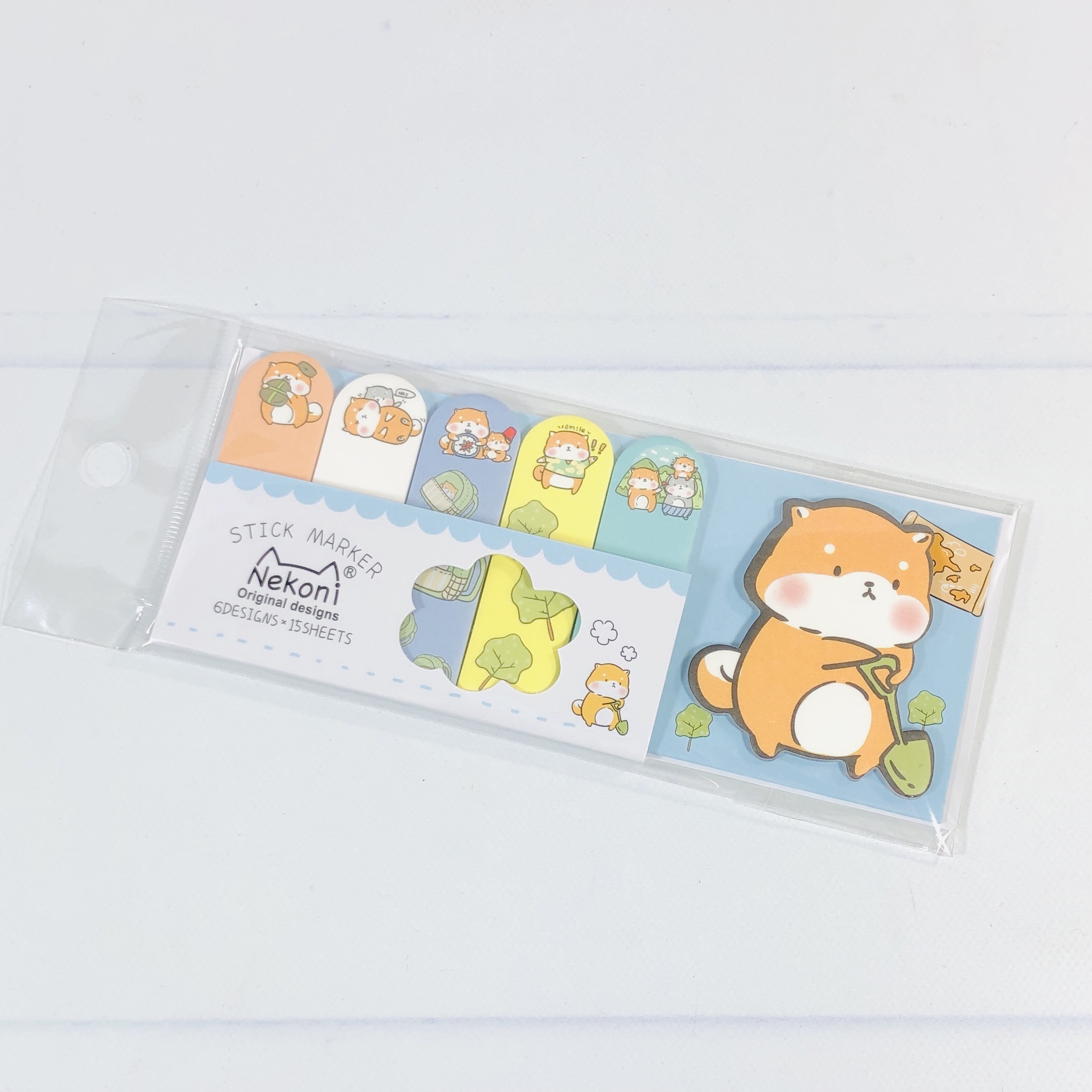 Nekoni Corgi Stick Markers ($2.25) I thought this little fella was a squirrel or some other woodland creature but it turns out it's a corgi!
The back tells me this is a set of sticky notes to mark pages in a book, and even shows how to tuck it into a book to keep the stickers handy.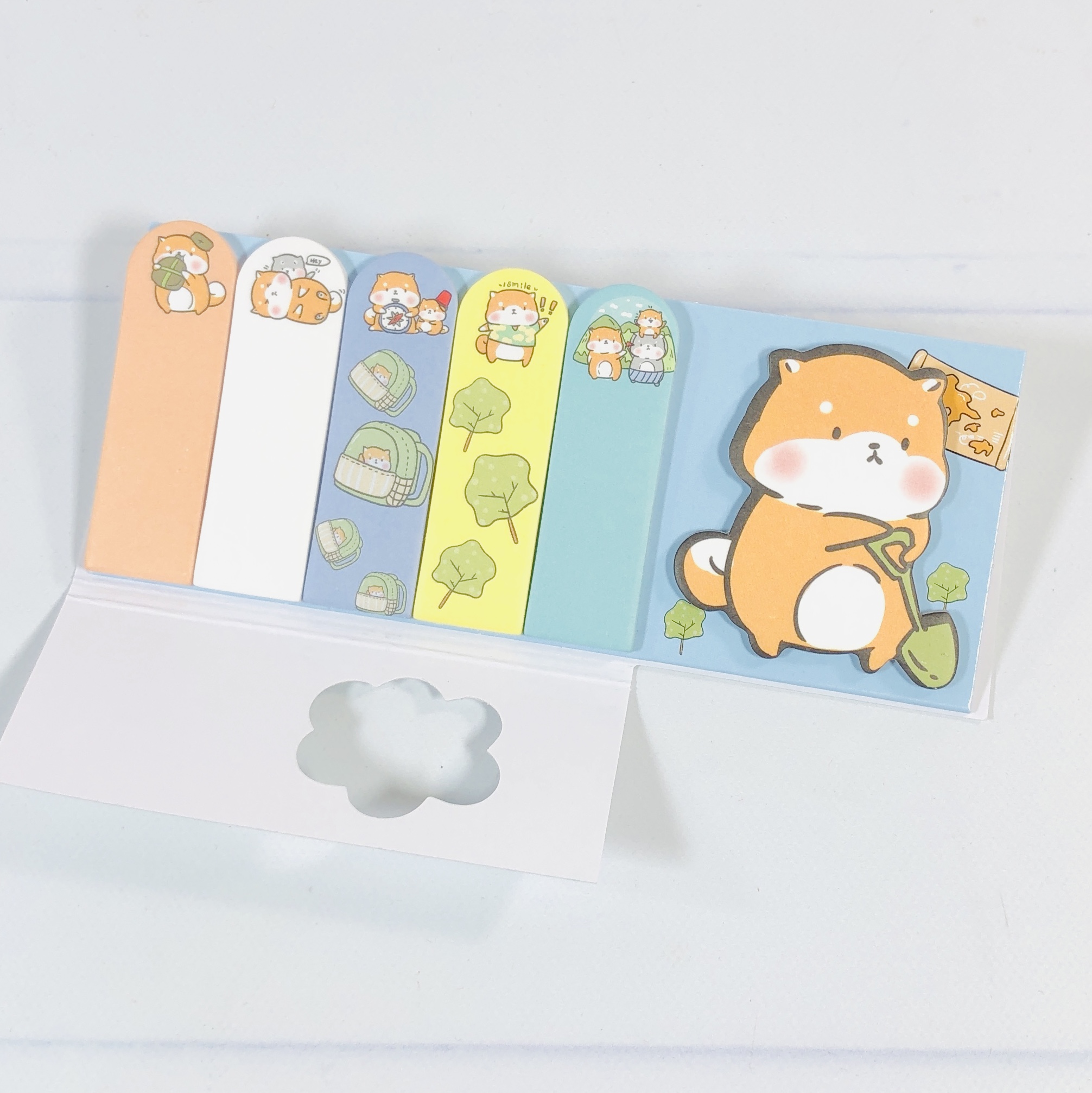 They are so cute and I use notes like this all the time, especially to save recipes I want to try in cookbooks. Of course, it can also be used in a planner or with the book that was included in this box!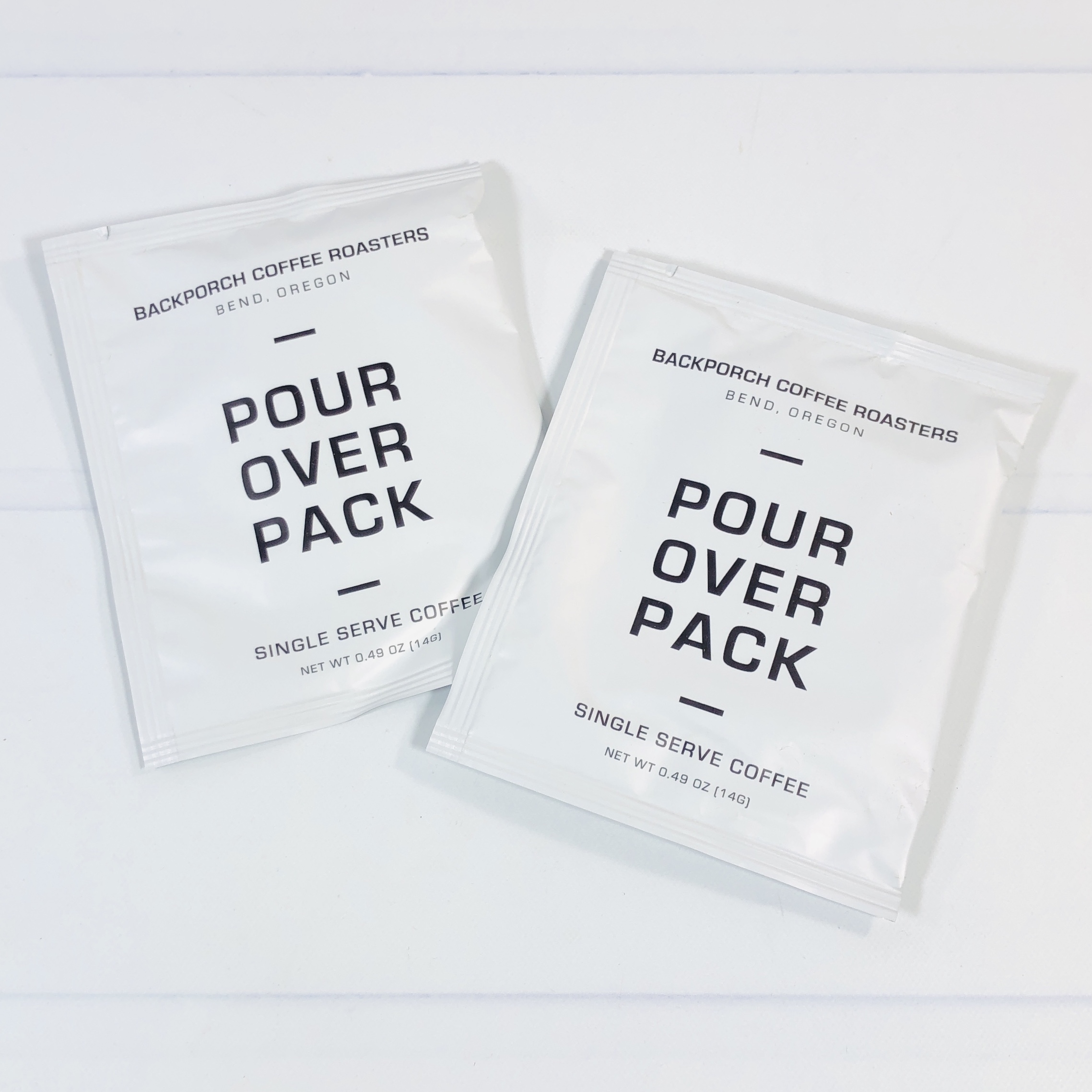 Backporch Coffee Roasters Pour Over Packs (Buy a pack of 5 for $12.50, $5 value) I'm not a coffee drinker so I will share this with my daughter and husband but I am aware that pour over packs fit over the top of a mug, then you pour hot water over the top and wait a few minutes before disposing of the pack and drinking the coffee.
This is a medium roast Colombian coffee with notes of cherry, toffee, and chocolate. It comes from a roaster in Oregon and you can see the instructions here. This is great for camping.
The Old Mill Stroopwafels ($14.99) I am familiar with stroopwafels, they often come in subscription boxes, especially the kind with snacks! They are two waffle cookies with a chewy caramel filling in the middle and these are made in Holland. The clip around the top tells me these expire in March 2022.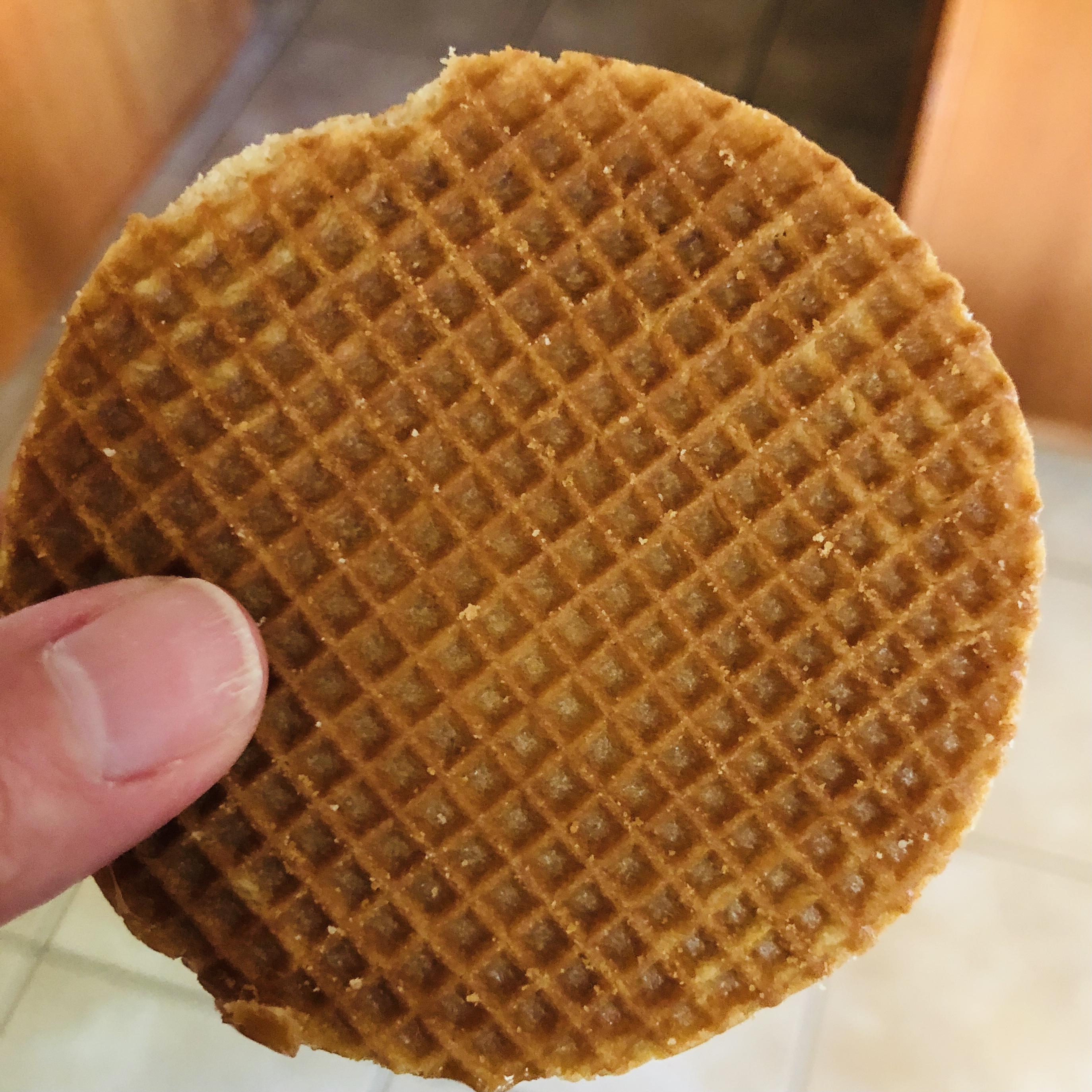 You can warm up the stroopwafel by placing it on top of a mug that is filled with a hot beverage to gently warm up the filling, or just eat it as is.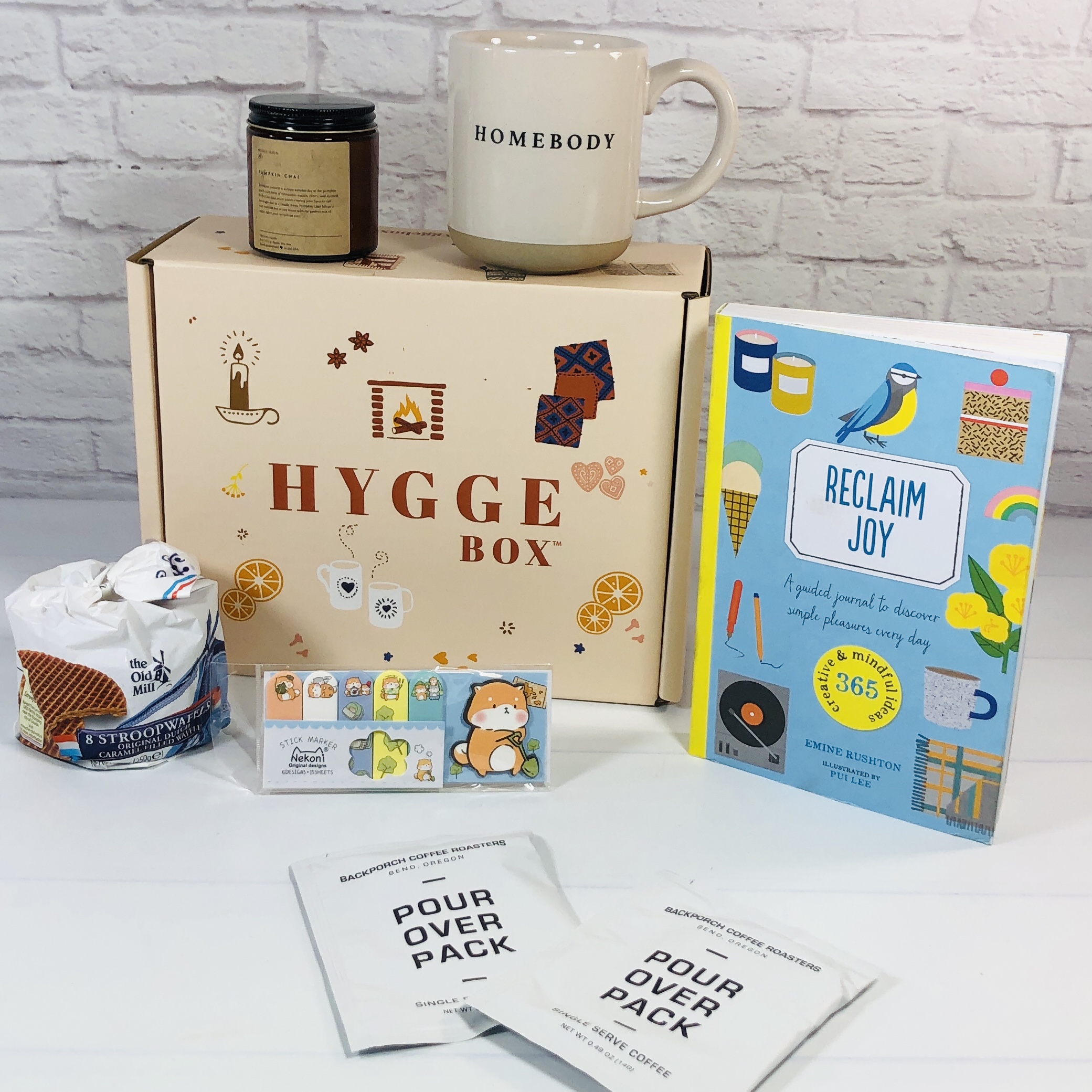 Hygge Box, you seem to get me every month! I love to feel cozy and this box sends items I didn't even know I needed, like the mug and journal. I understand that they can't send only coffee or only tea so this month's drink will go to my daughter, I know she will like it. The candle smells just like its name and not only does it have great throw when lit, but when I walk by the cold candle when the lid is off, I can smell it then too. The corgi page markers are kawaii, super cute, and I will may share those with my daughter too, she is wild about corgis. I still have 7 more stroopwafels and as they are substantial I may have to share them too! In other words, each item in this box is a keeper and nothing felt like filler, I will actually use these items and enjoy them too! Hygge Box is consistently one of my favorite boxes every month!
What do you think of the Hygge Box review?