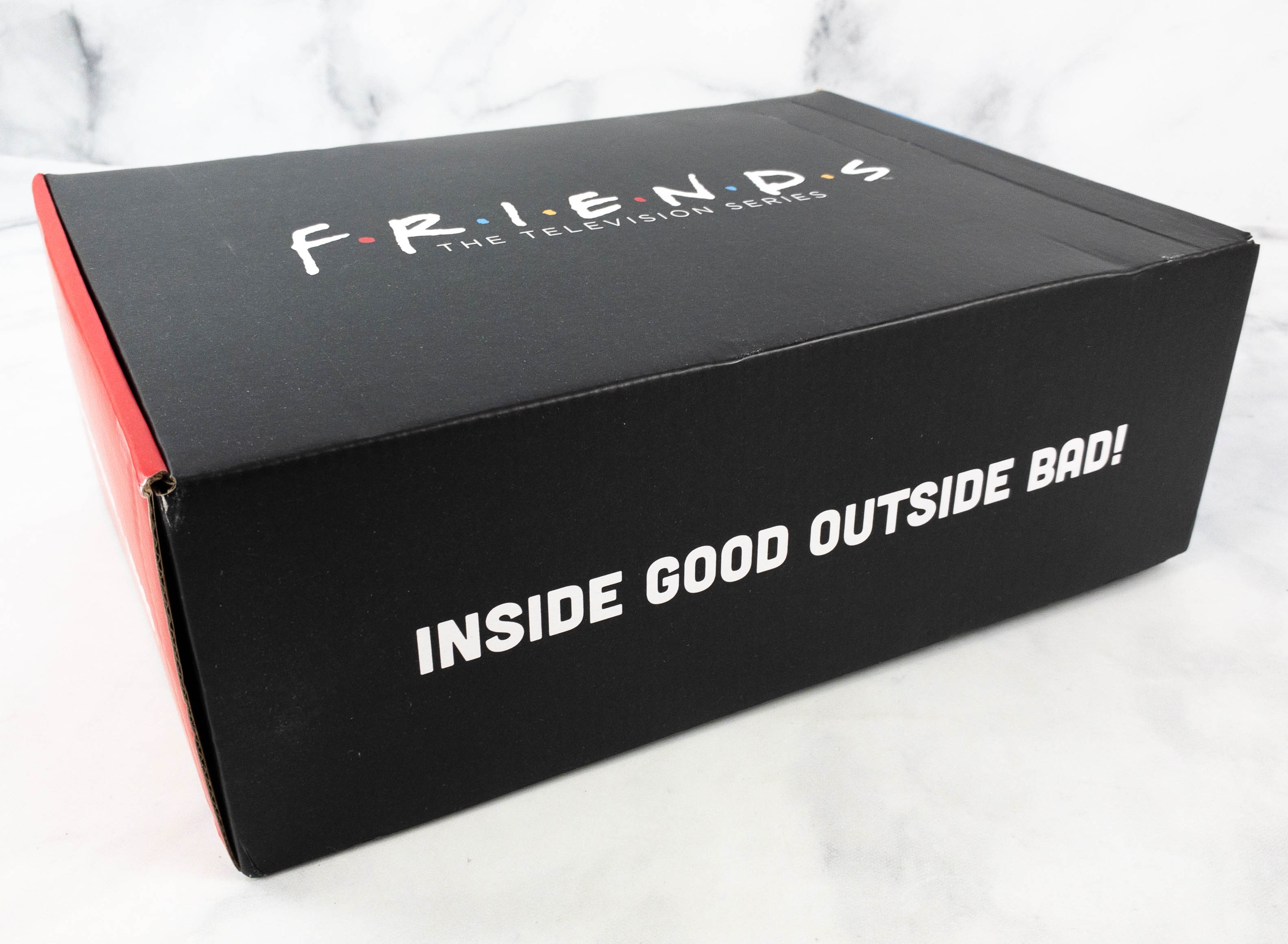 The FRIENDS subscription box is an official quarterly subscription made especially for F.R.I.E.N.D.S fans. Each box costs $39.99. It contains 6-8 exclusive items and may include officially licensed collectibles, apparel, and accessories based on your favorite F.R.I.E.N.D.S characters and episodes. Our readers voted this box one of the best pop culture subscription boxes!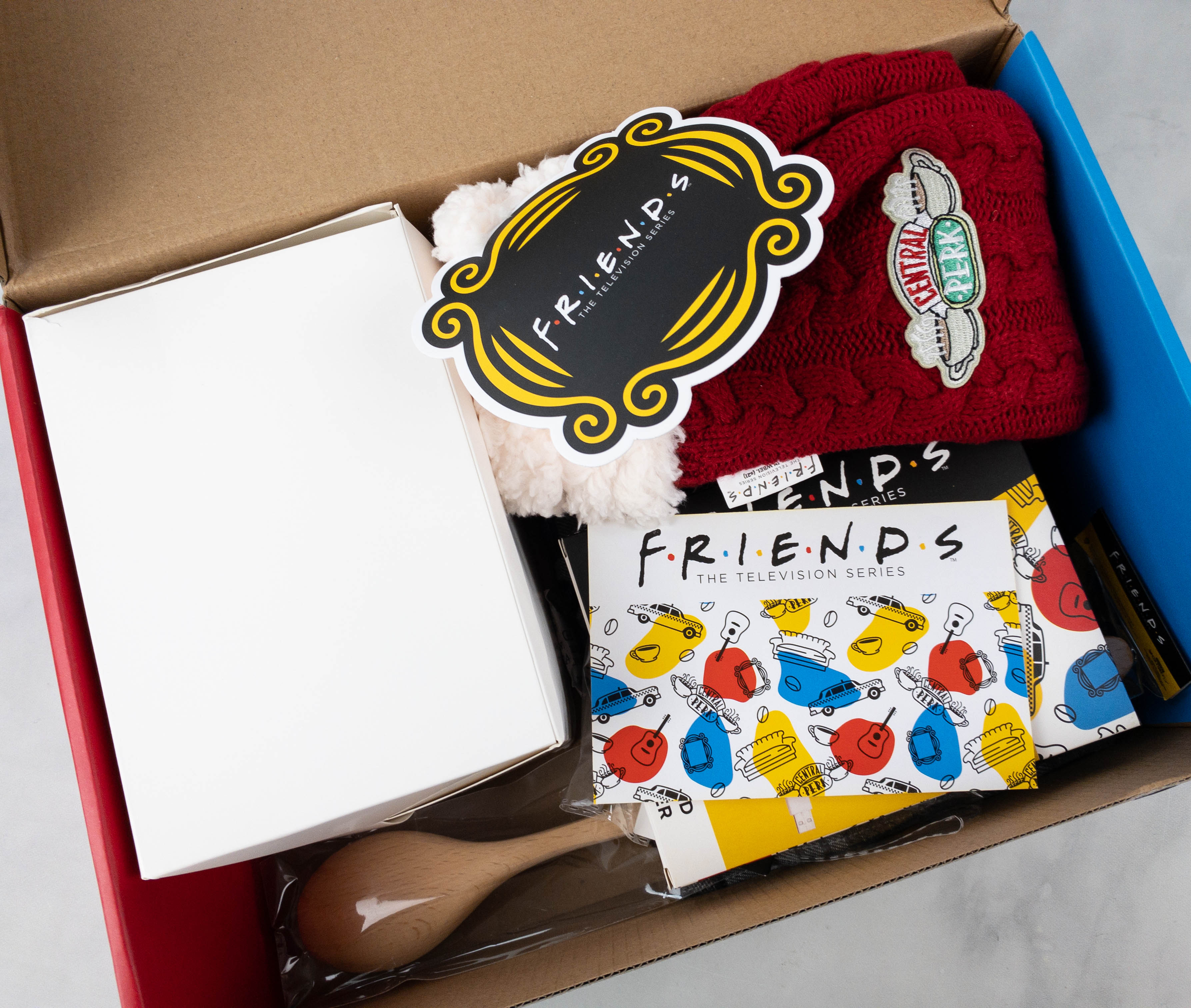 Some of the items came in their original packaging.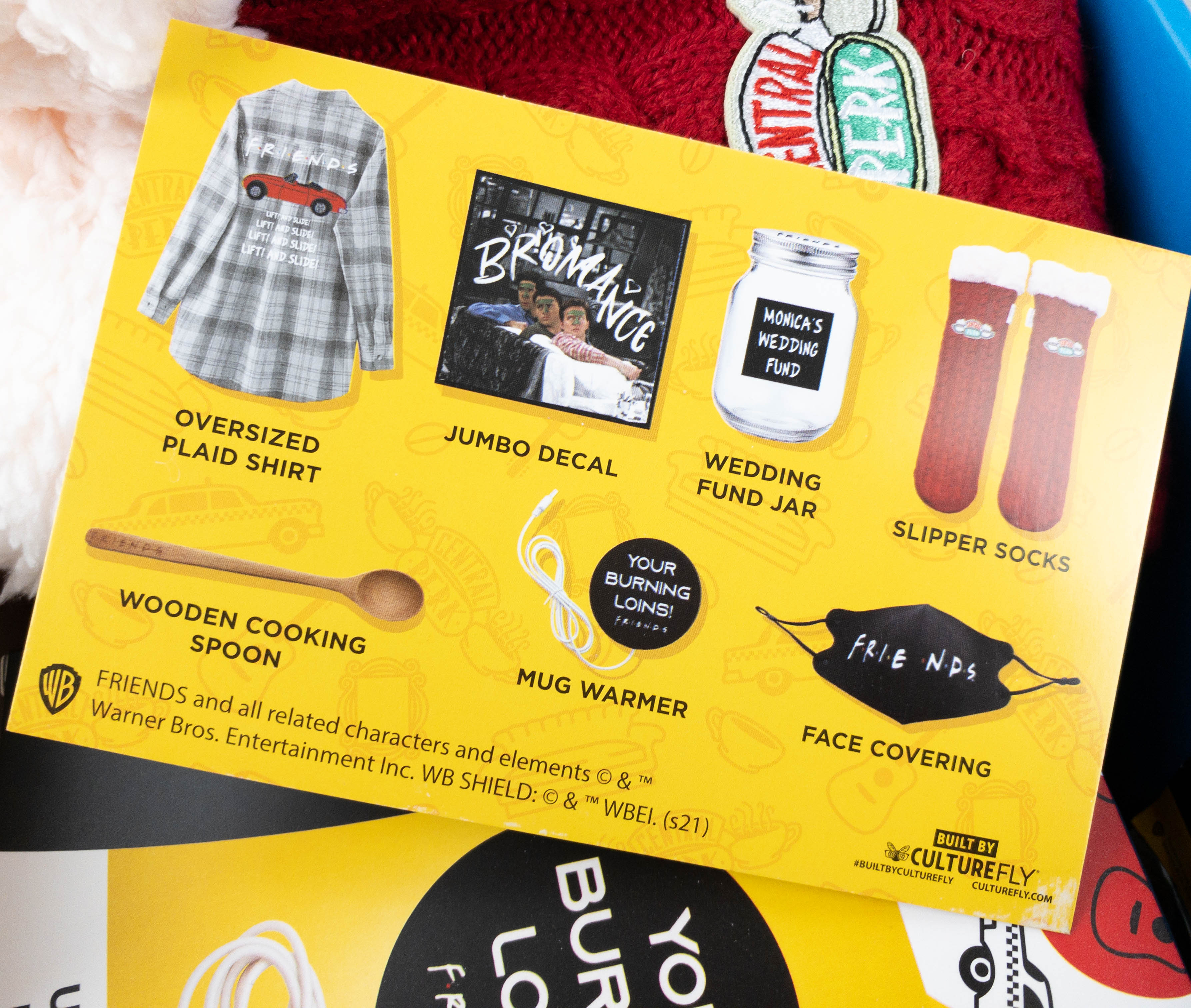 This card shows all the items included in the curation.
Everything in my Fall 2021 box!
Jumbo Decal. First up is a jumbo sized decal featuring the men of F.R.I.E.N.D.S!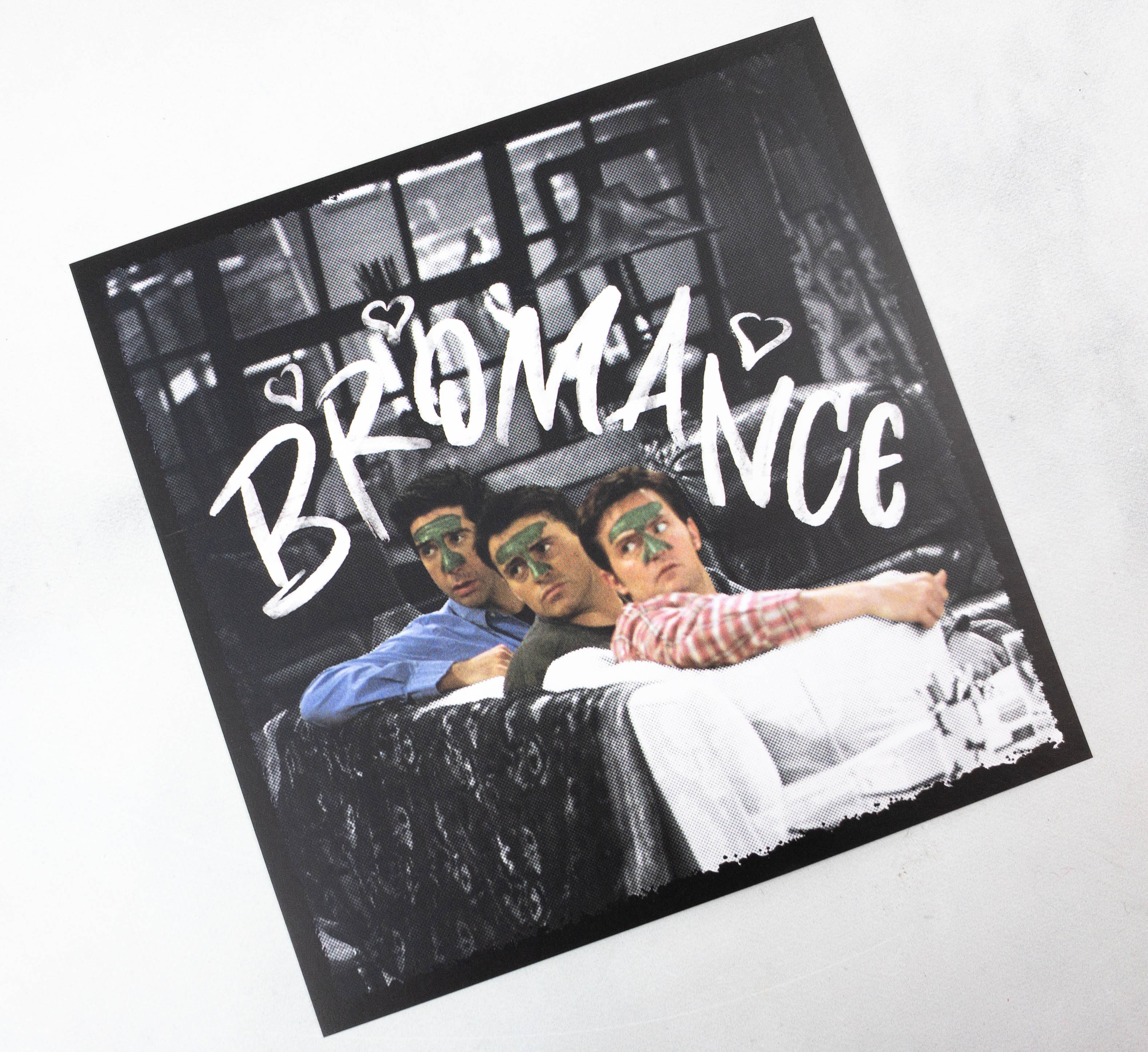 The decal highlights a scene where Chandler Bing, Joey Tribbiani, and Ross Geller seating on a couch with face masks on. There's also a text in white that says BROMANCE!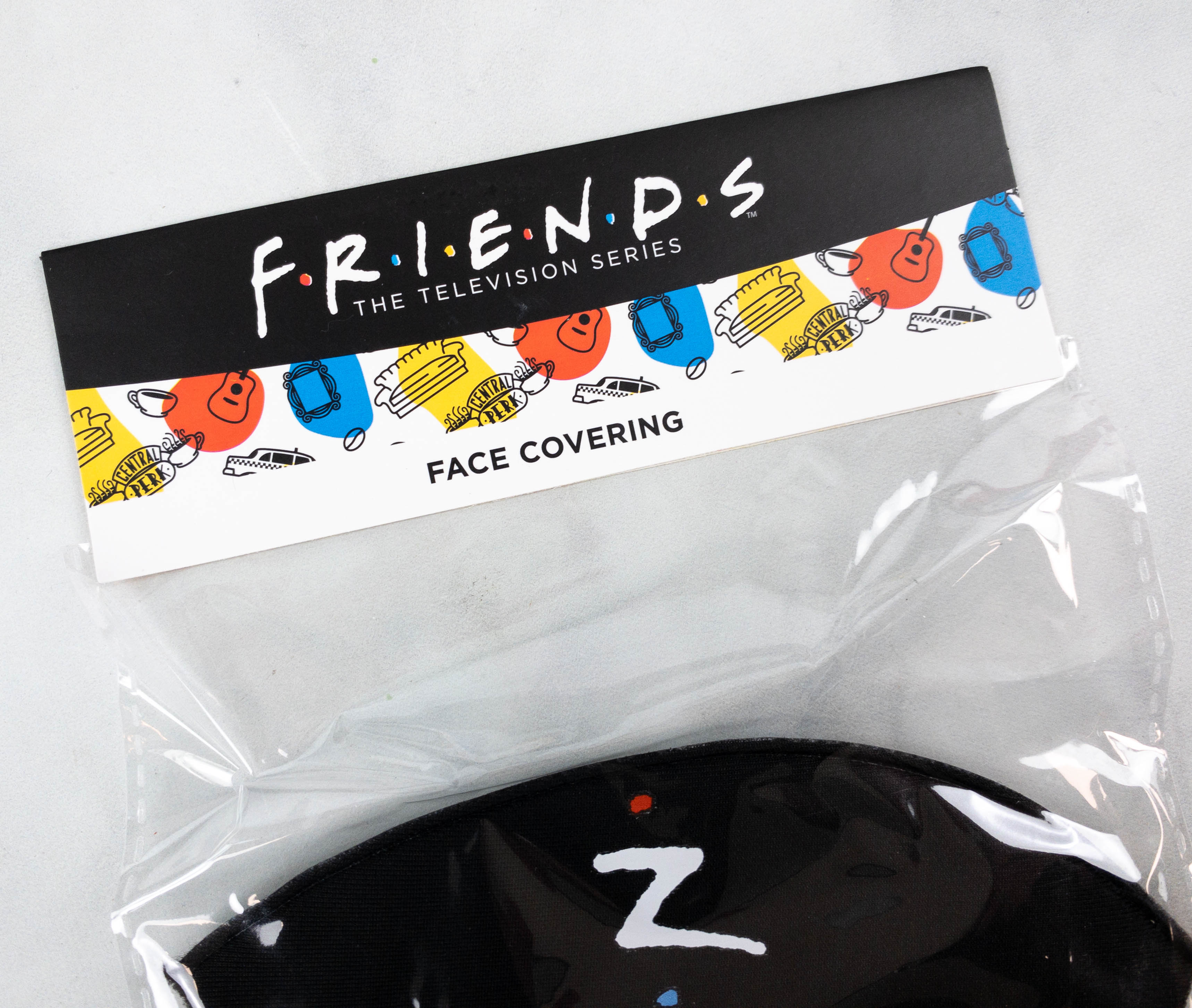 Face Covering. I also received a stylish F.R.I.E.N.D.S mask!
It's in black and printed on the mask's surface is the iconic F.R.I.E.N.D.S logo. This mask is light and it also has thin but sturdy straps.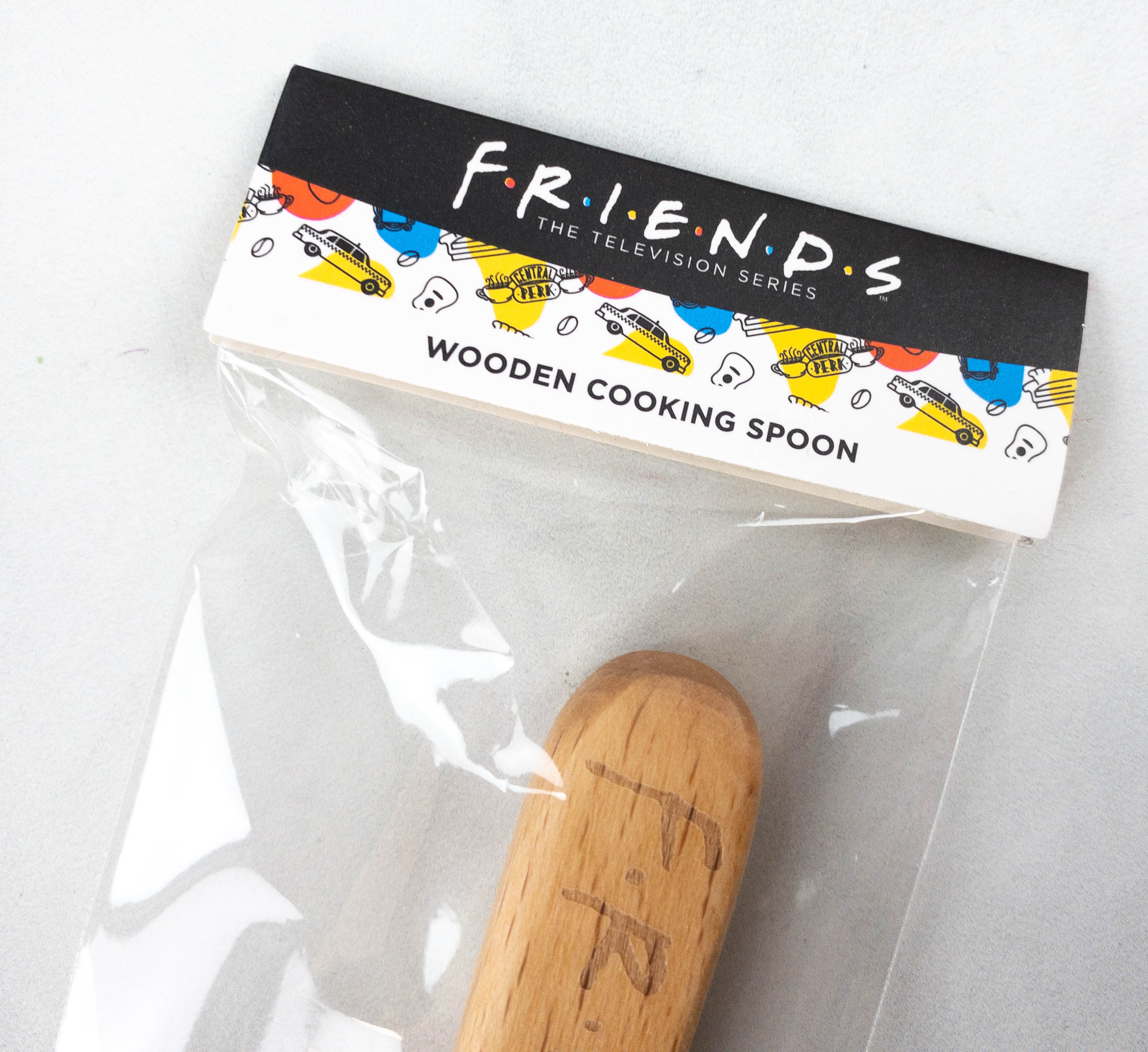 Wooden Cooking Spoon. They also included a cooking tool in this quarter's box!
It's a cooking spoon made with wood, and the F.R.I.E.N.D.S logo can be found at the handle. It's pretty long but it's easy to grip.
Lift & Slide Button Down. Here's a nice wearable, a gray checkered button down that's perfect to wear this fall!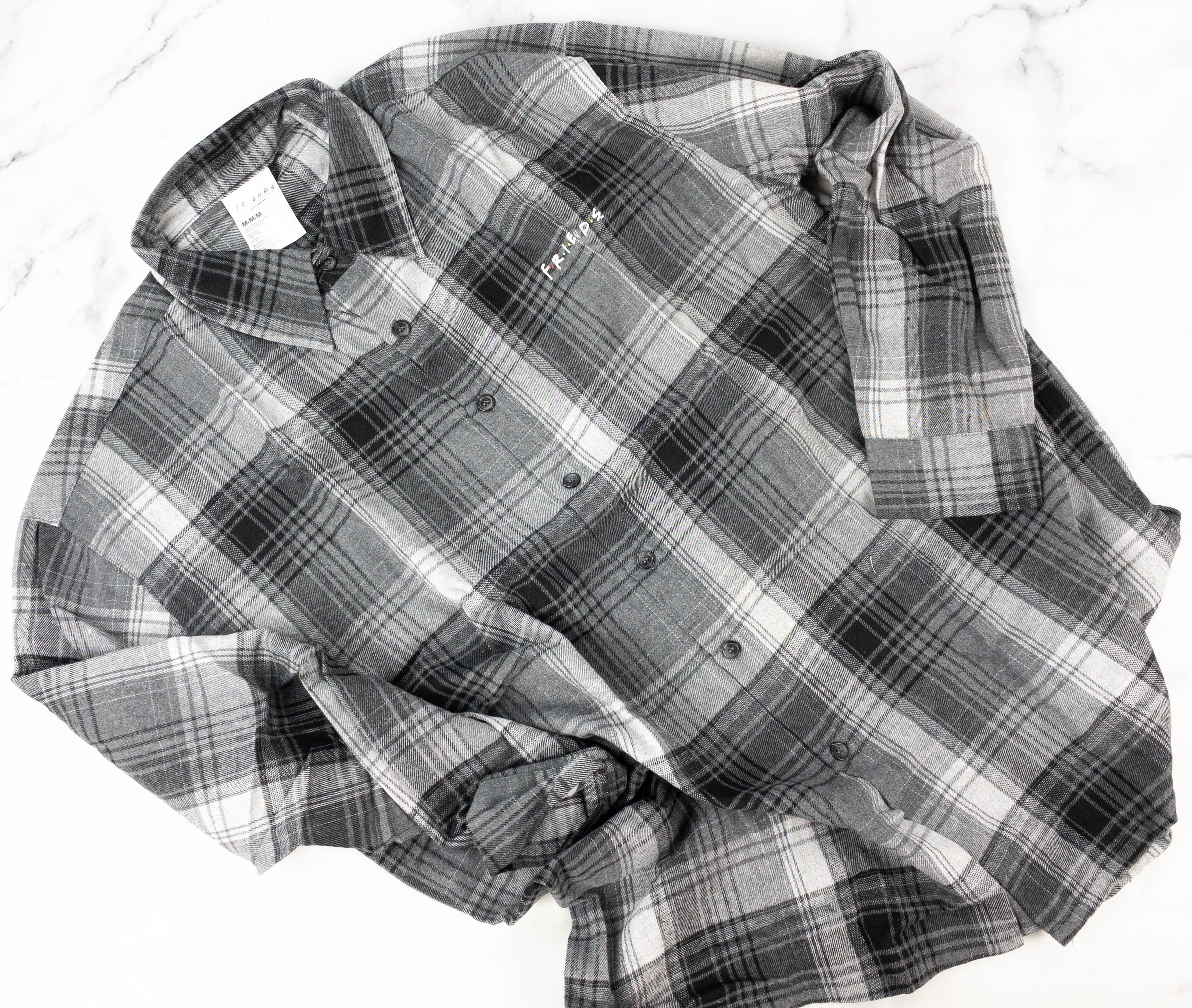 The fabric is also soft and breathable, making it a very comfortable top. Located at the left chest part is a small print of F.R.I.E.N.D.S logo.
Printed at the back is a convertible! This reminds me of an episode where the boys were stuck and had to lift and slide the car to get out from the parking slot.
Lift! And Slide!

Lift! And Slide!

Lift! And Slide!

Lift! And Slide!
Monica's Wedding Fund Jar. Another cool addition is this jar, which resembles the one intended for raising funds for Monica and Chandler's wedding.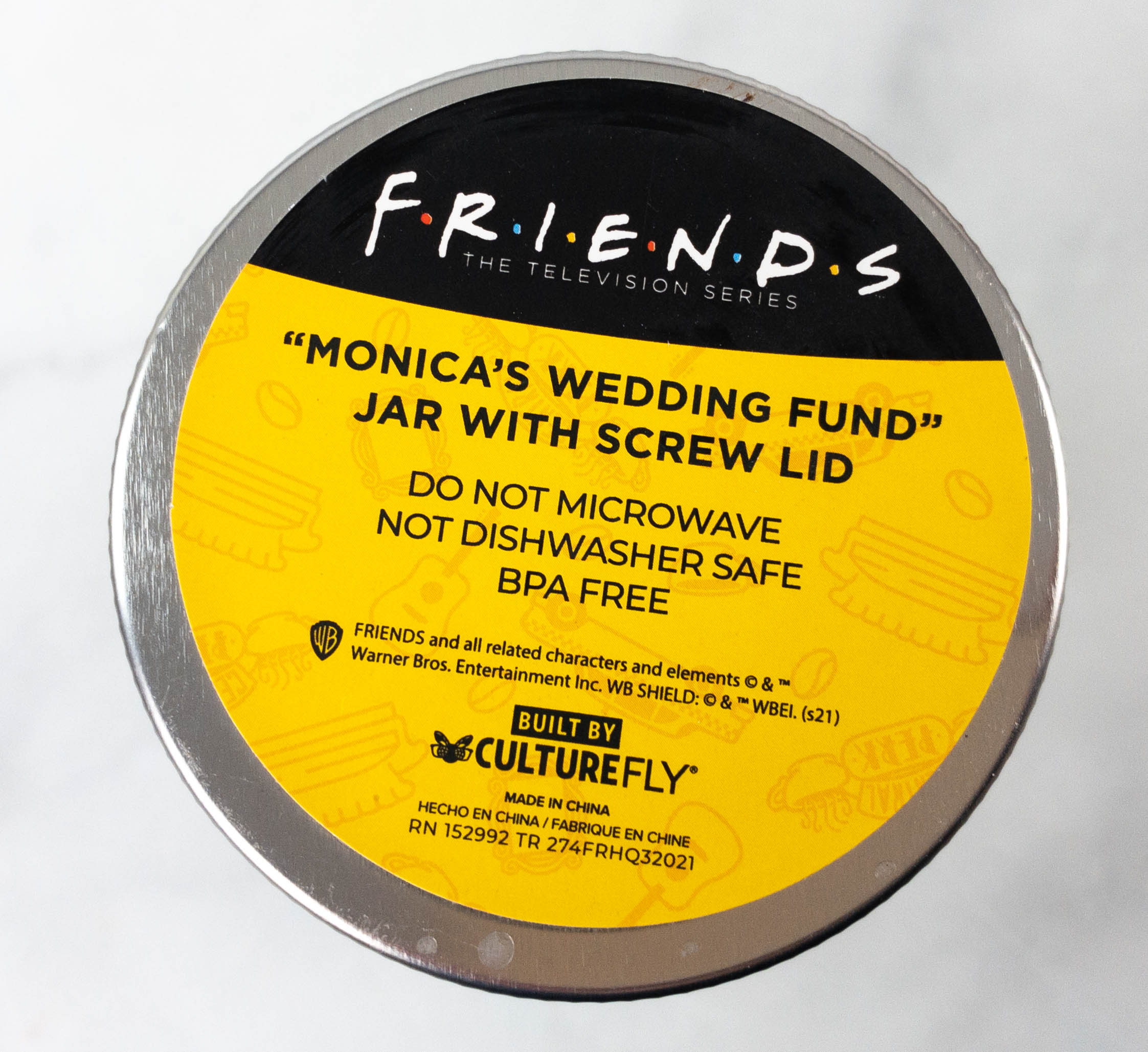 The jar also uses a screw type lid to make sure that anything you will put in it is safe and secured.
USB Powered Mug Warmer. To keep my favorite beverages hot, they also included a USB powered mug warmer.
This warmer reminded me of the scene when Ross asked Rachel if he can warm his coffee on her loins.
Your burning loins!
Listed at the back of the box are the instructions and features of the mug warmer. Apparently, it works on all Mac and PC USB ports. To use, just place your mug on the warmer and insert the USB cable into a working port of your chosen device. After a few minutes, it will warm up!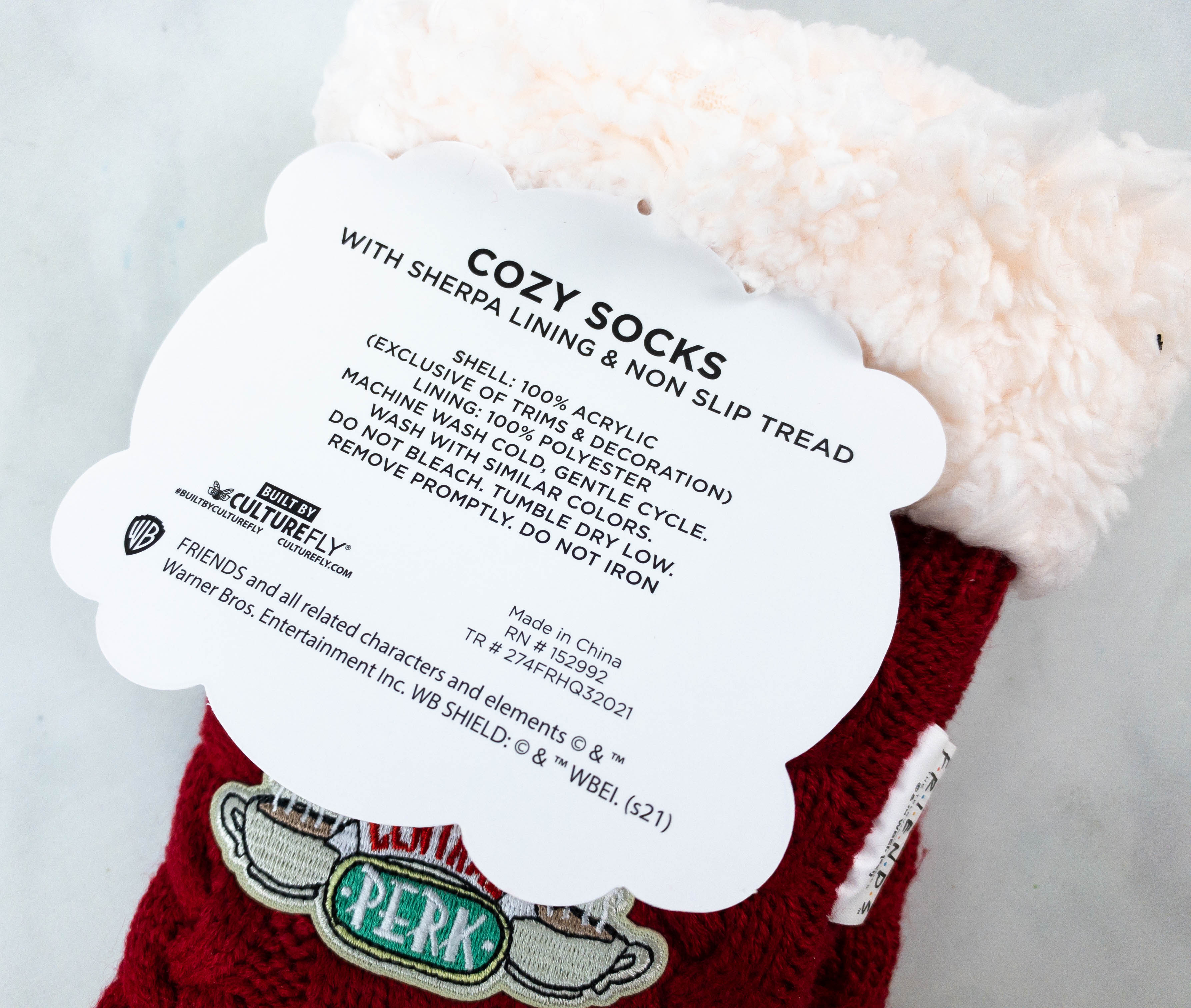 Central Perk Socks. To complete this quarter's curation, here's a cozy pair of Central Perk themed socks!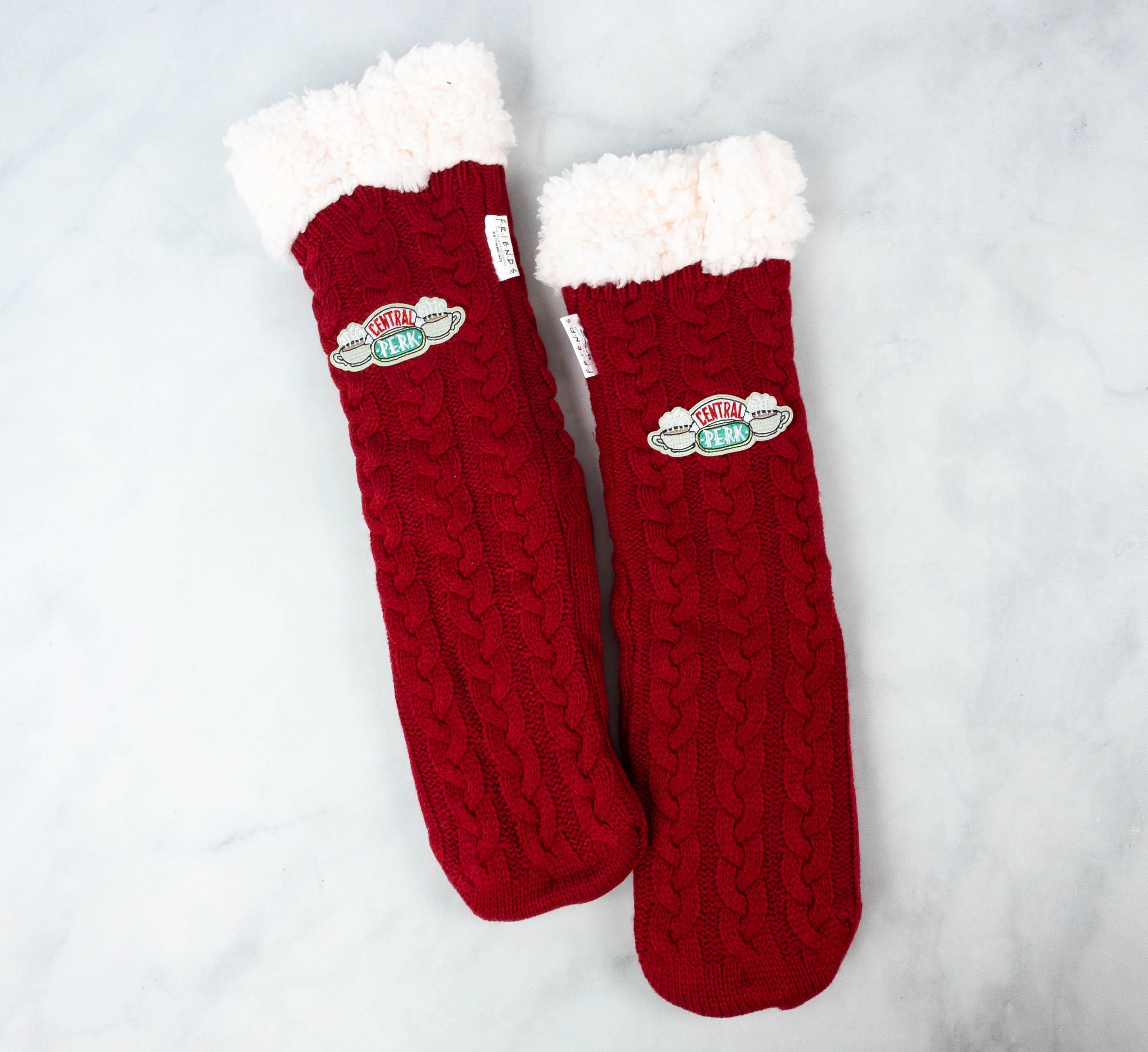 This pair looks so lovely in red with white cuffs! They are made with acrylic and a Sherpa lining which makes it warm to wear.
These socks are also non-skid!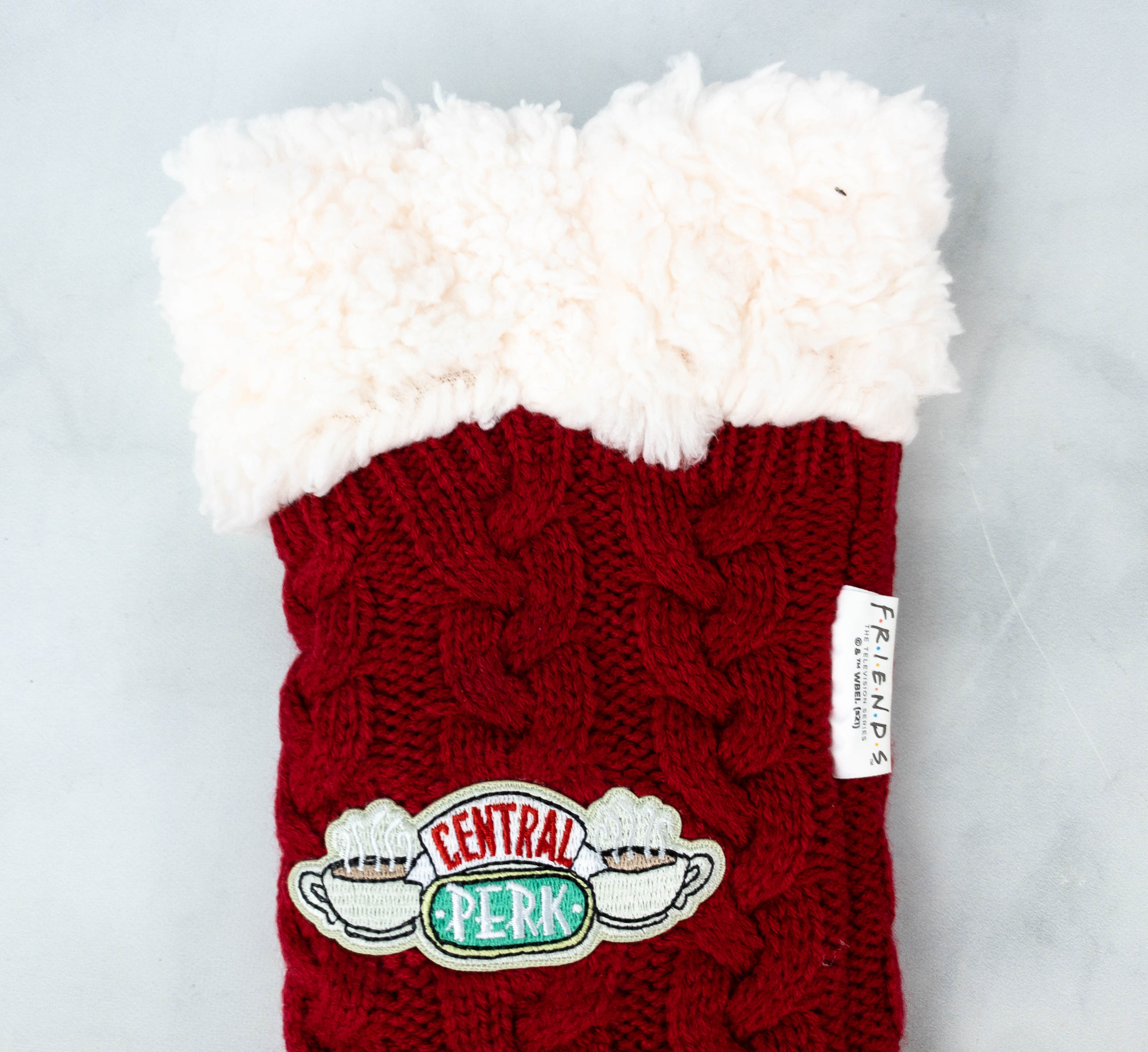 Embroidered just below the sock's cuffs is Central Perk's logo.
I really enjoyed this quarter's FRIENDS Subscription Box! It's filled with a lot of items that highlighted my favorite scenes from the show and many of them are appropriate for the season as well. Everything is made with high quality materials so all of these collectibles are definitely worth adding to my collection. My favorite is the USB powered mug warmer. I always want my drinks hot, especially now that the weather is getting colder, and this is exactly what I need right now! If you loved watching the show and you can't get enough of the characters, this box is a fun way to get exclusive F.R.I.E.N.D.S merch every quarter!
Are you getting the FRIENDS Subscription Box?