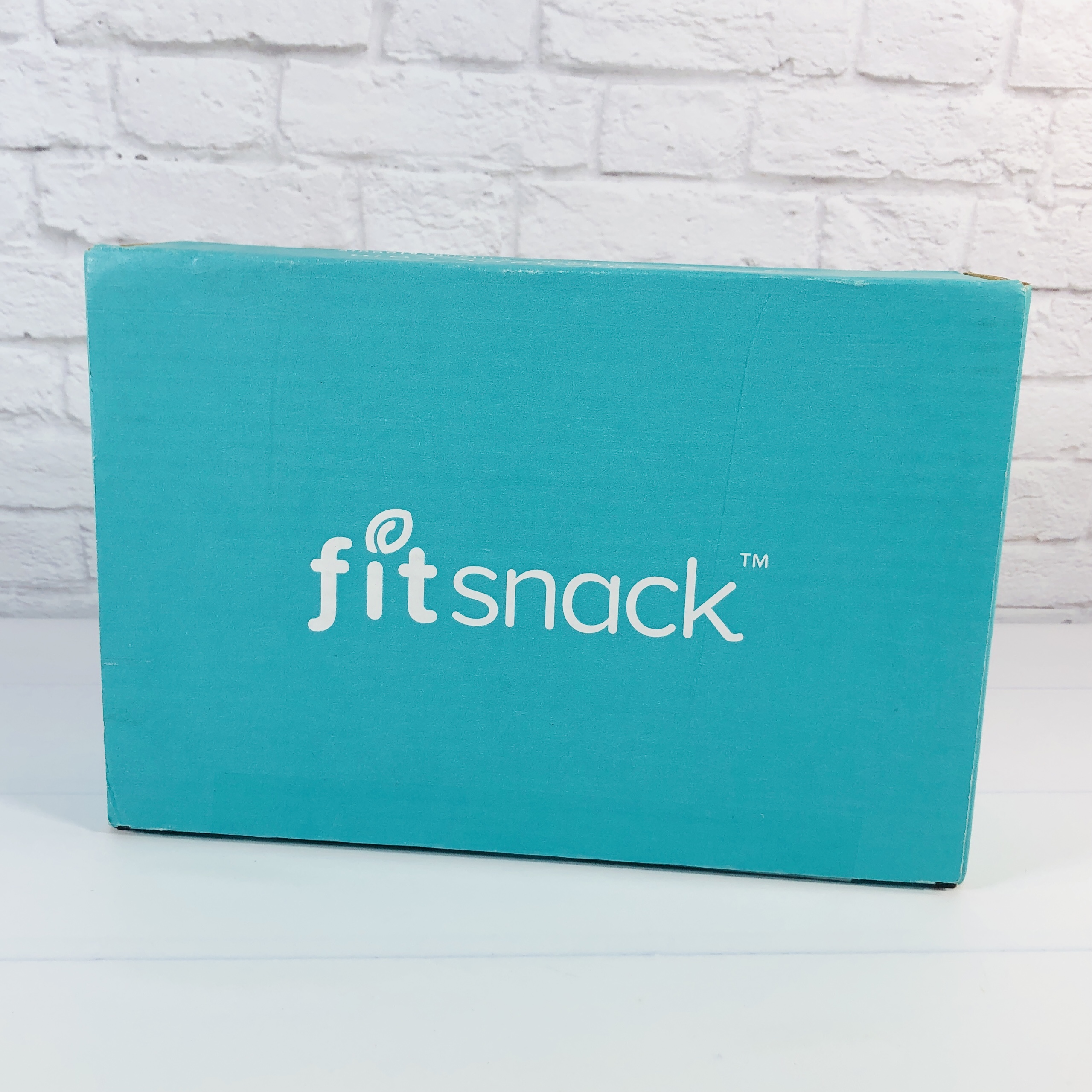 Fit Snack is a monthly subscription box delivering healthy nutritious snacks directly to your door. Each snack they send should at least fit two of these criteria: GMO-free, high in protein, low in sugar, gluten-free, organic, raw, vegan, and all-natural. They also add in bonus items such as energy boosters, nutritional supplements, or refreshing beverages. It's $29.90 per box on a month to month plan, $28.90 per box on a 3-month plan, $27.90 per box on a 6-month plan, and $26.90 per month on a 12-month plan. If you sign up for a 6 month or 1-year plan, you will also receive exclusive fitness inspired bonus items!
Our readers voted FitSnack as one of their favorite snack subscription boxes for 2021!
DEAL: Save $3 on your first box! No coupon code needed, just visit and subscribe.
First peek! Please note that this box ships late and I didn't receive it until October.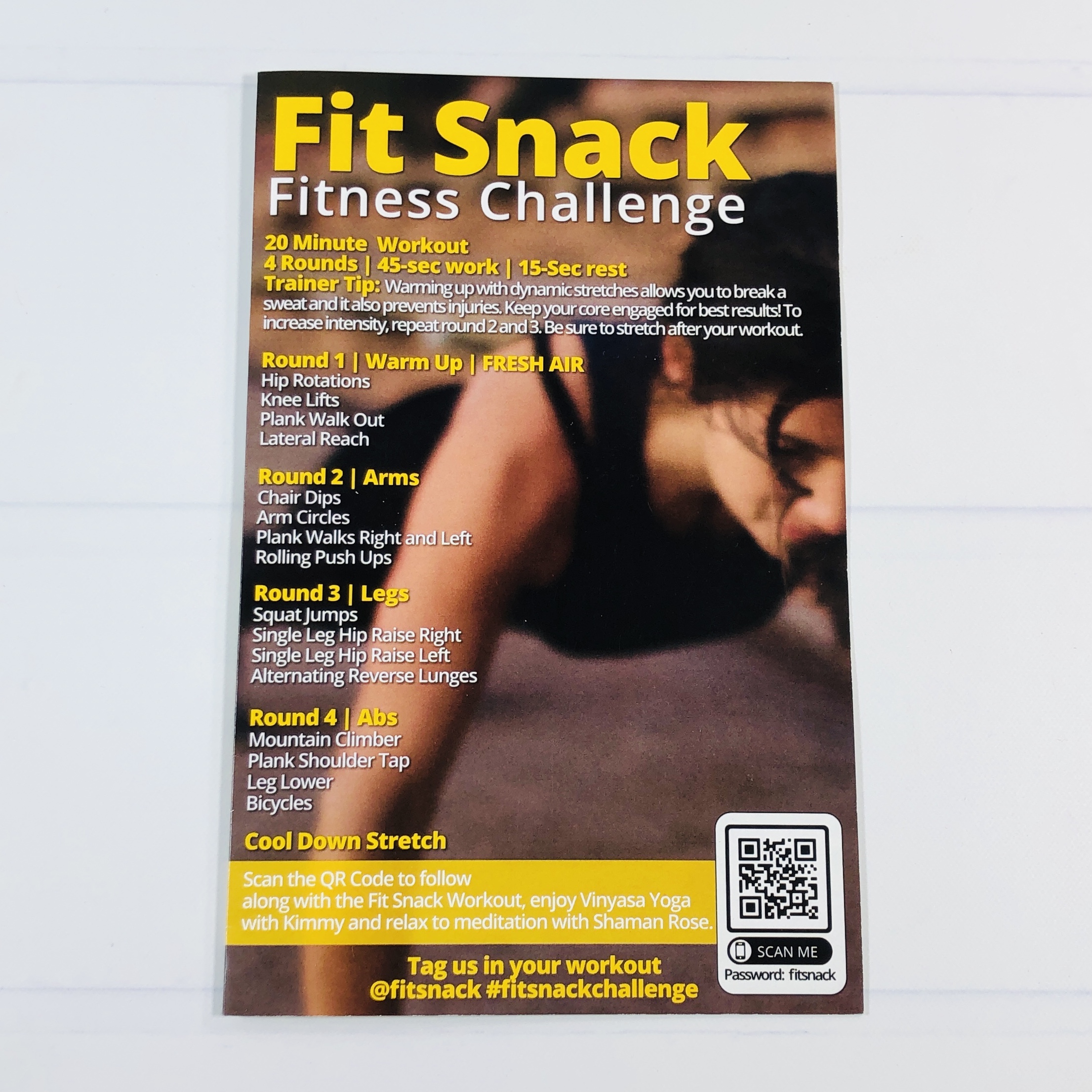 The information card tells me what's in the box. A quick scan of the QR code brings up the digital content. They gave nutrition tips, had a fitness challenge video, mindfulness tips, a yoga video, and some recipes using some of the foods in this box!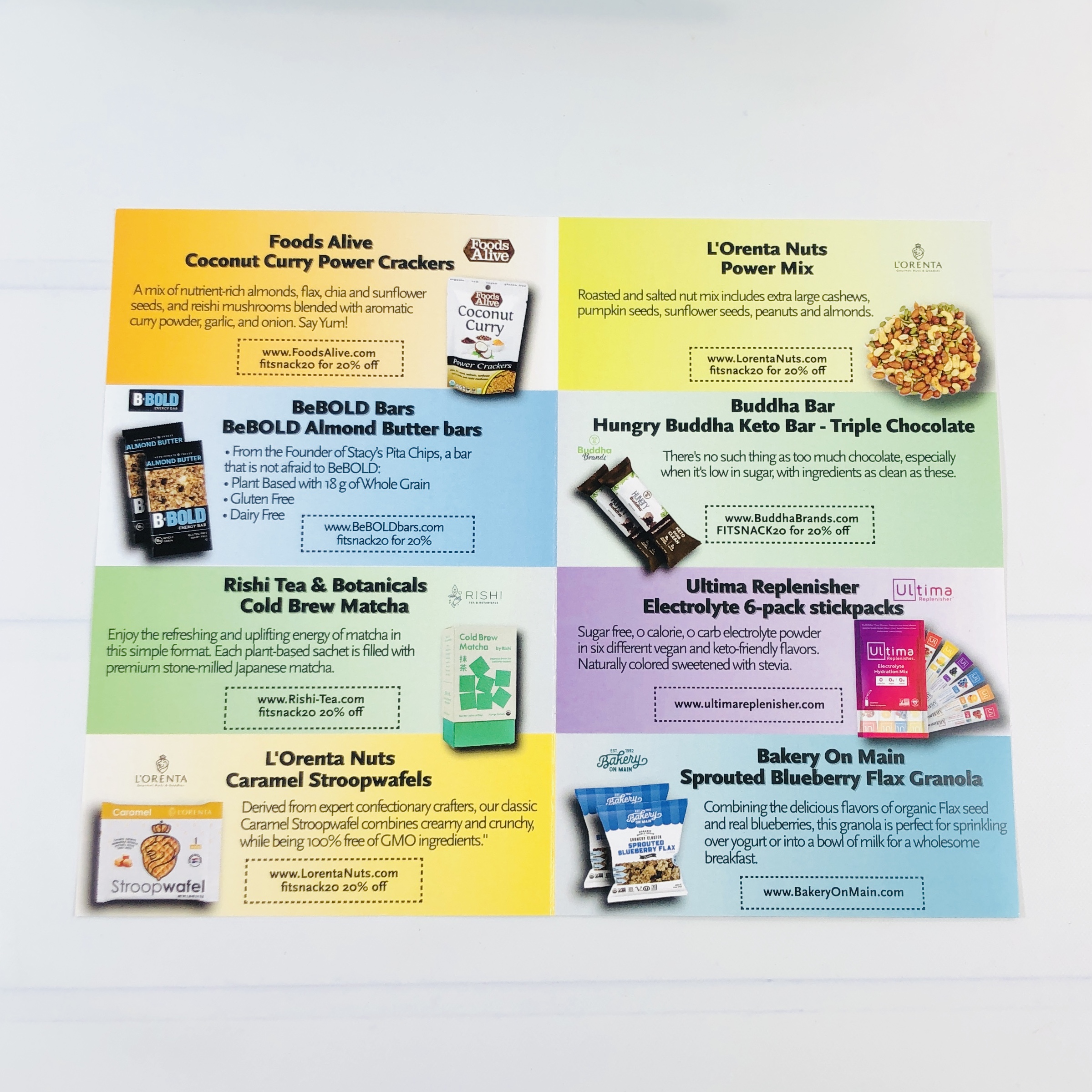 Inside the booklet, we have a list of all this month's snacks. FitSnack always sends doubles of some of the snacks.
Here's the back of the booklet.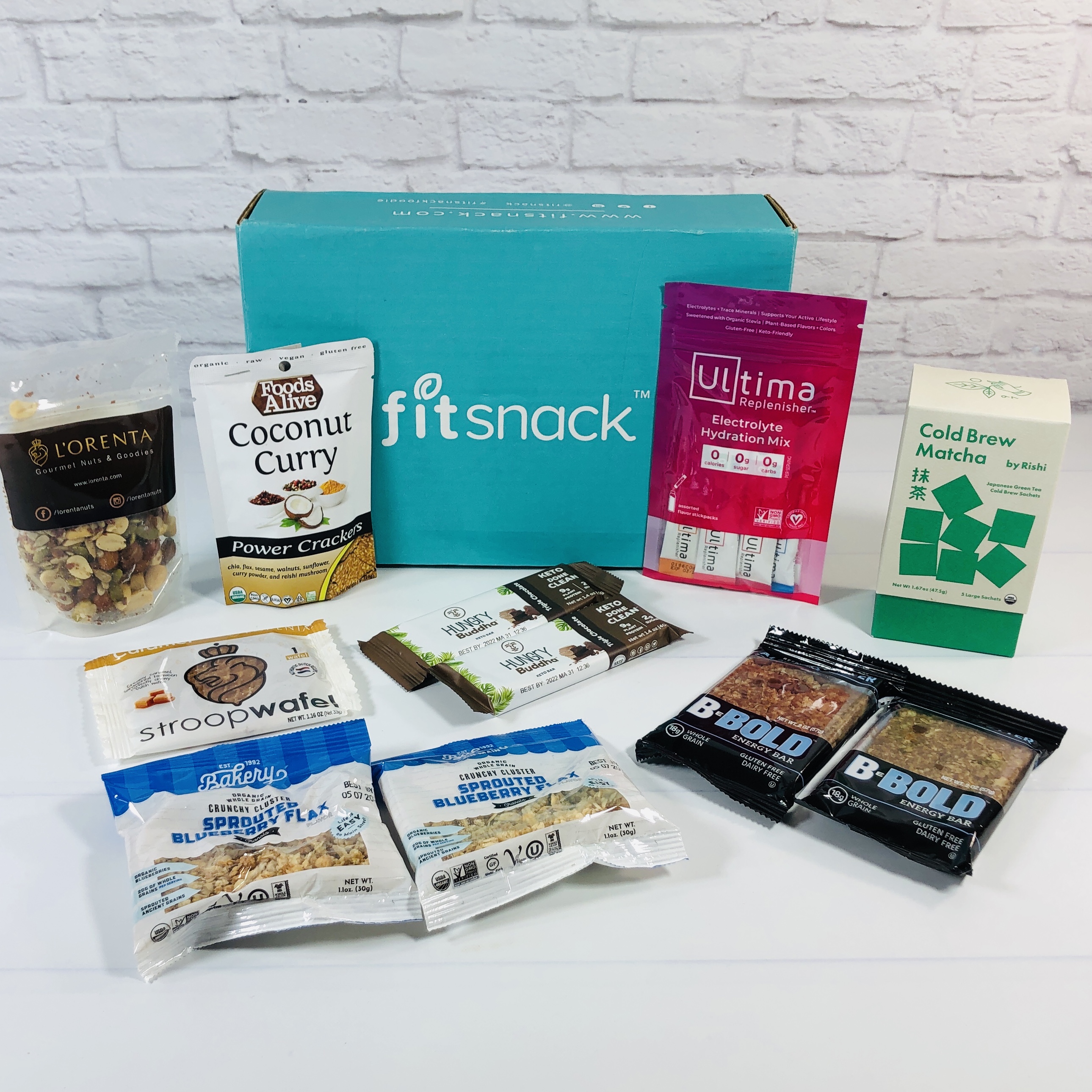 Everything in the box!
Cold Brew Matcha by Rishi ($15) I received a box of five jumbo sized green tea bags for making cold brew matcha.
It contains a variety of green teas, the kind used to make matcha, which is usually very finely ground, like in powdered form. I'm not a fan of matcha or its cousin, sencha, they are just too vegetal-tasting to me, but I still gave this a try. Green tea is full of antioxidants and so I know it's good for me, but the amount of sugar it takes to make it palatable probably negates any health-boosting effects!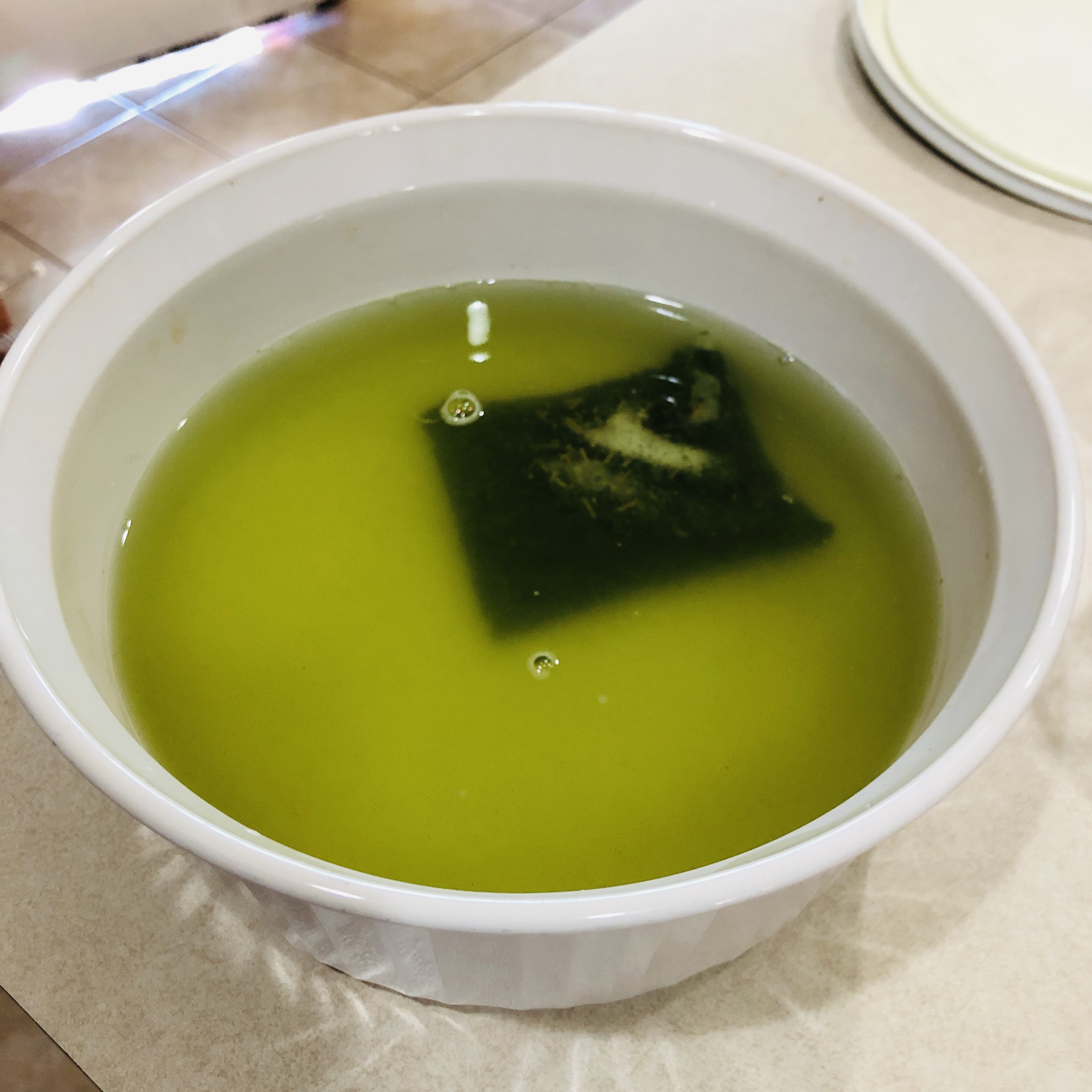 I didn't have a 1-quart size glass jar so I heated about 1 cup of water just below the boil and poured it in a huge pyrex dish with the tea bag. After 1 minute I added about 3 more cups of water, placed the lid on top, and let it steep for several hours. I then removed the bag, placed the container in the fridge, and let it chill overnight. It isn't as strong as other matchas that I've tried and I can't say whether it's good or not (none of it is good to me), but I think it could do with some sweetener. Maybe my husband will drink the rest, or maybe I'll make some simple syrup, I think I could finish it that way.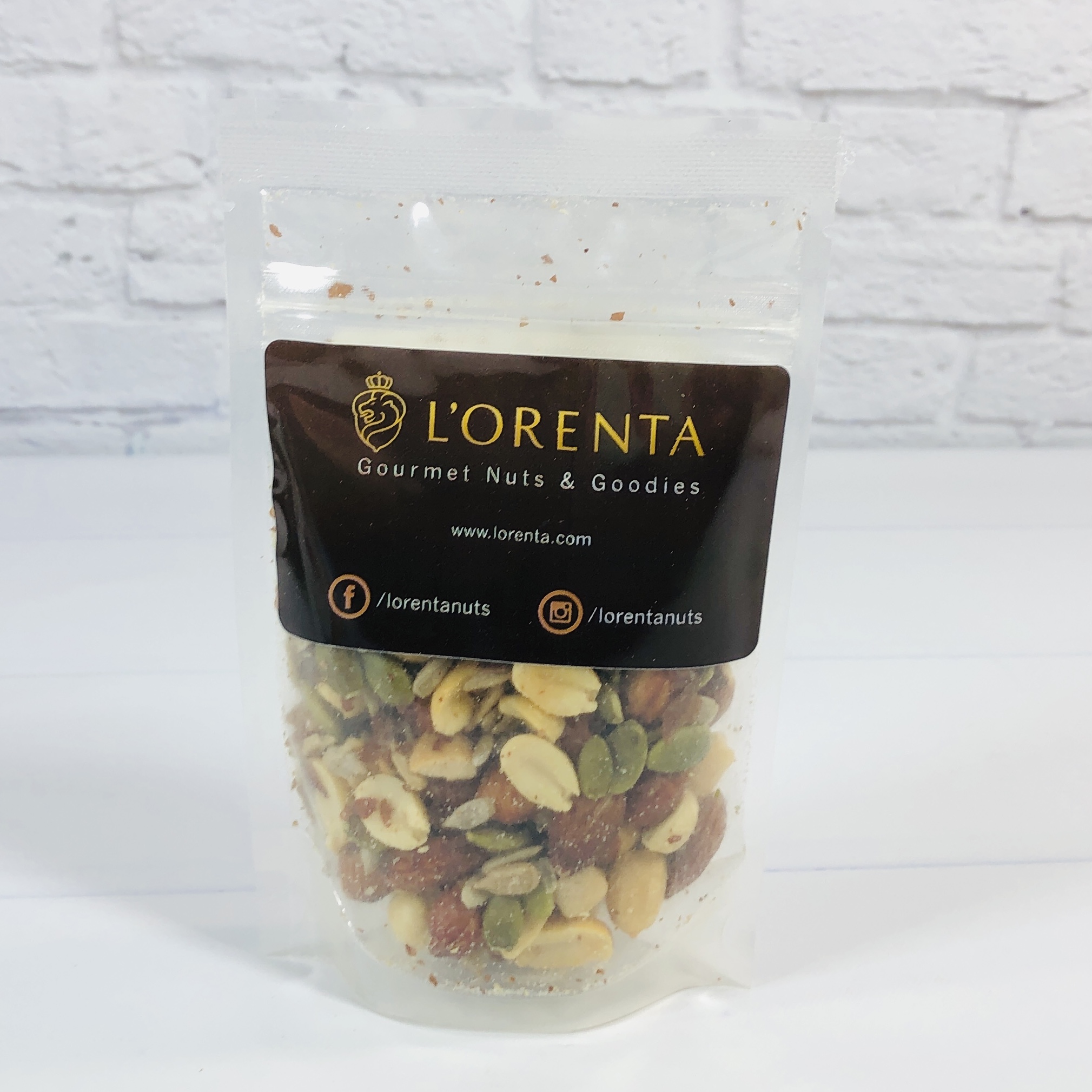 L'ORENTA Gourmet Nuts & Goodies Power Mix ($10.99 per pound, about $1 value) I love nut mixes and this one was one of the best I've tried. There's cashews, peanuts (skin on and off), almonds, pepitas, and sunflower seeds and everything is roasted and salted. Simple and delicious!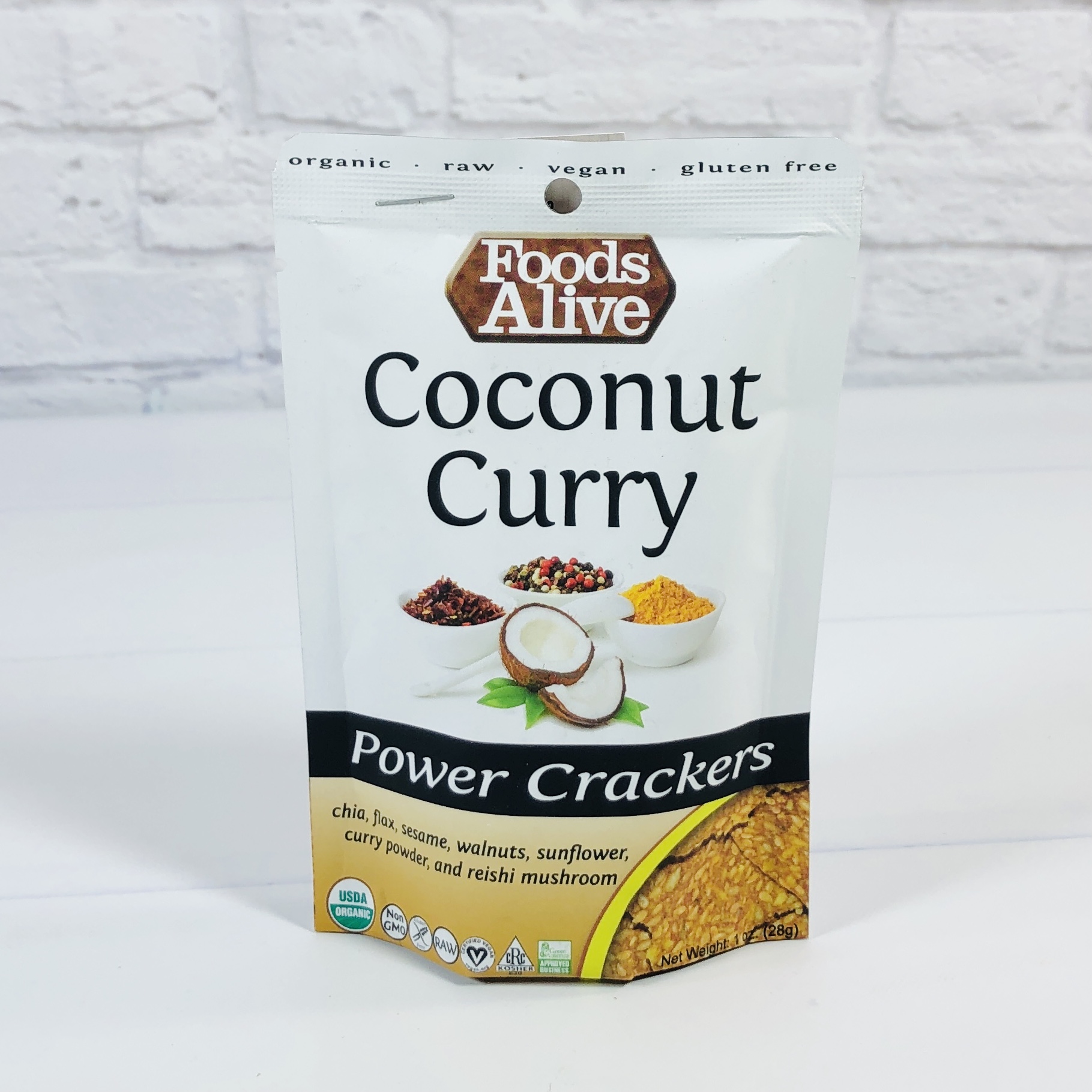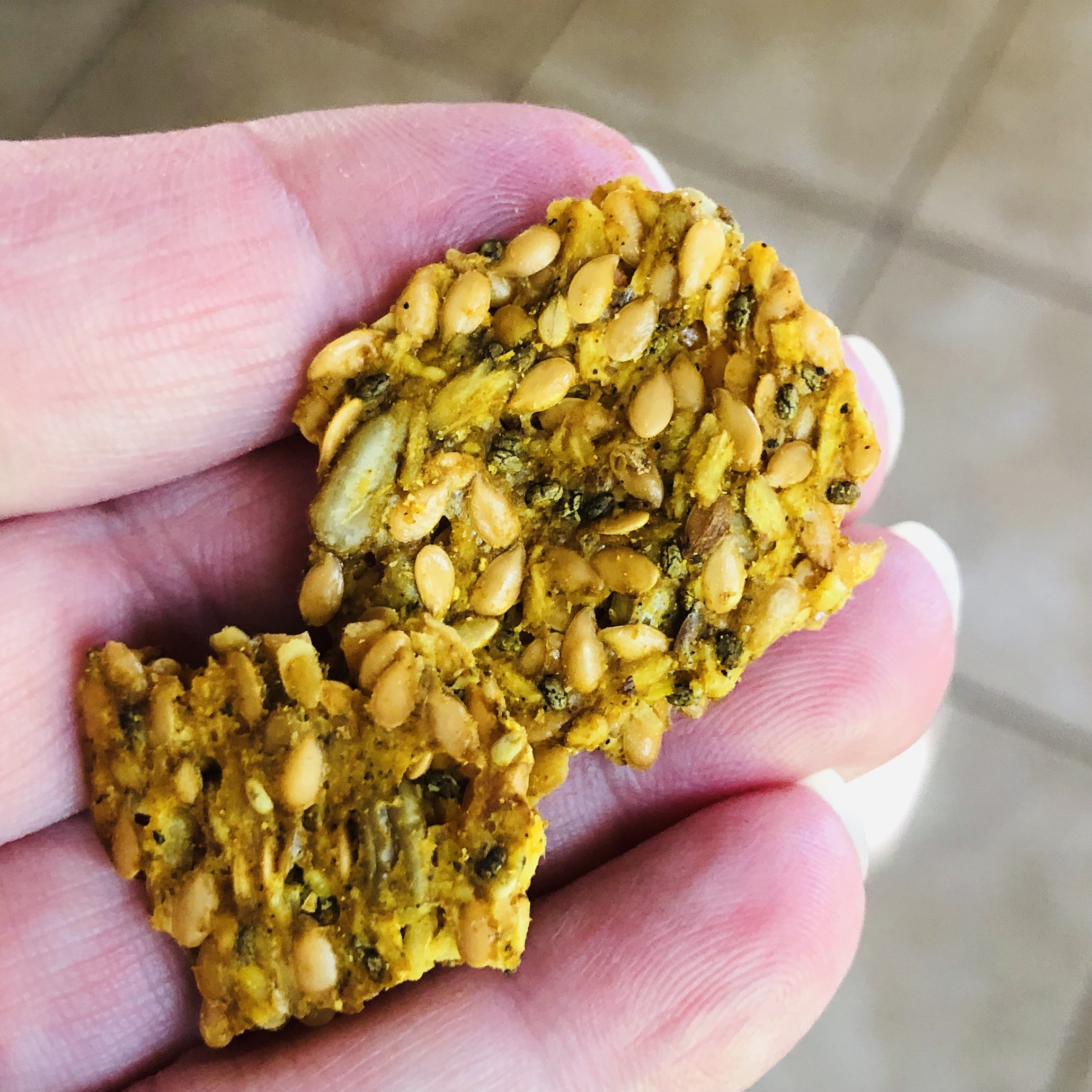 Foods Alive Coconut Curry Powder Crackers ($1.99) Apparently I like curry better than I thought I did, because these are very tasty! Also, you can supposedly plant these crackers and the flax seeds will grow because they are still alive. There's also flax, chia, and sesame seeds and they are crunchy and the flavor is stellar. They contain Omega 3/6/9 fats and 5 grams of fiber.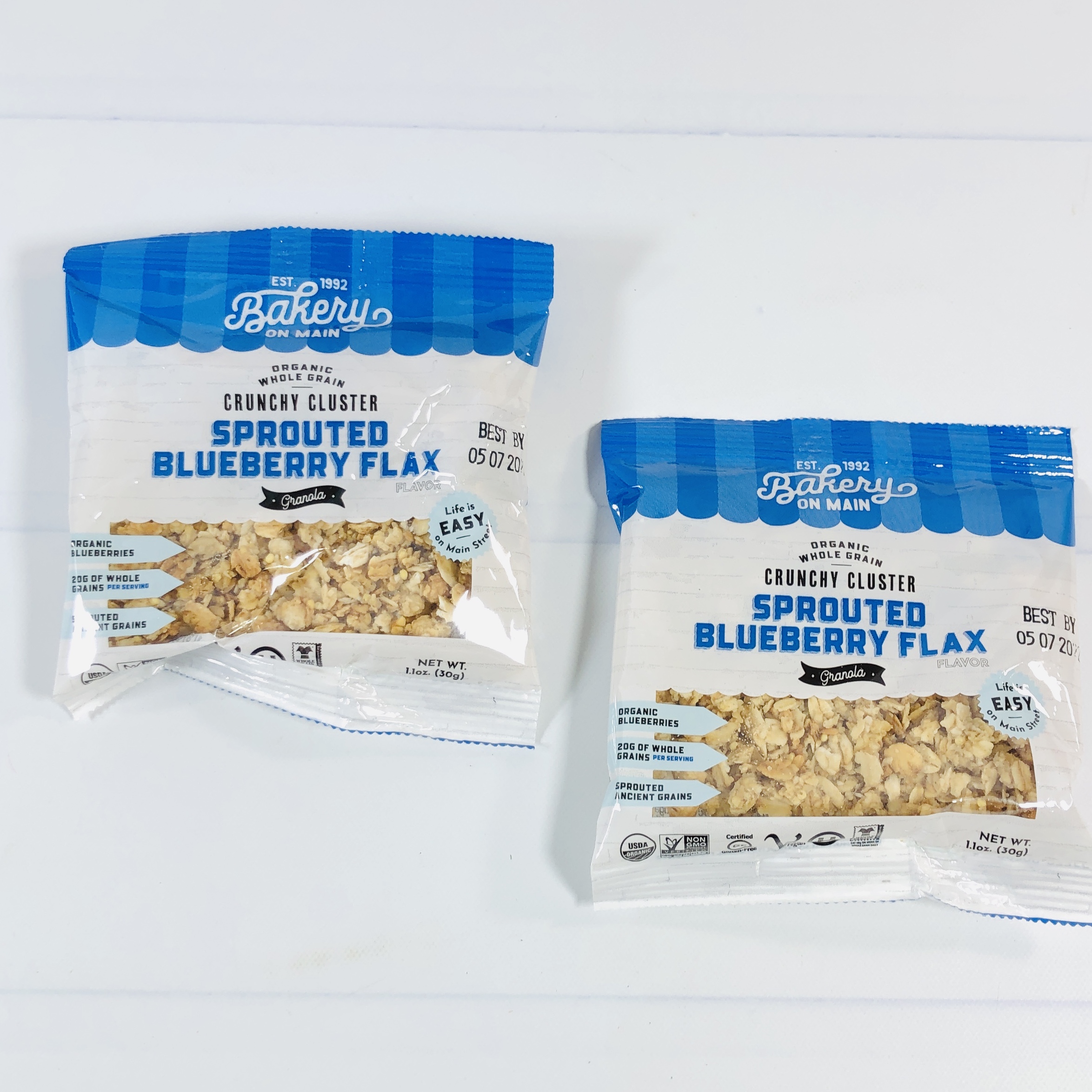 Bakery On Main Sprouted Blueberry Flax I have received this cereal from several subscription boxes so I don't think I will ever need to actually buy any! Each pack is a single serving, which doesn't seem very realistic but then I guess it can be paired with yogurt and fruit in a parfait or served with milk and fresh blueberries. I don't care for the blueberries in the cereal, there's maybe one or two in each bag and they are hard and chewy. There's also millet, oats, brown rice, flax seeds, quinoa, and three different sugars — invert cane, cane, and brown rice syrup.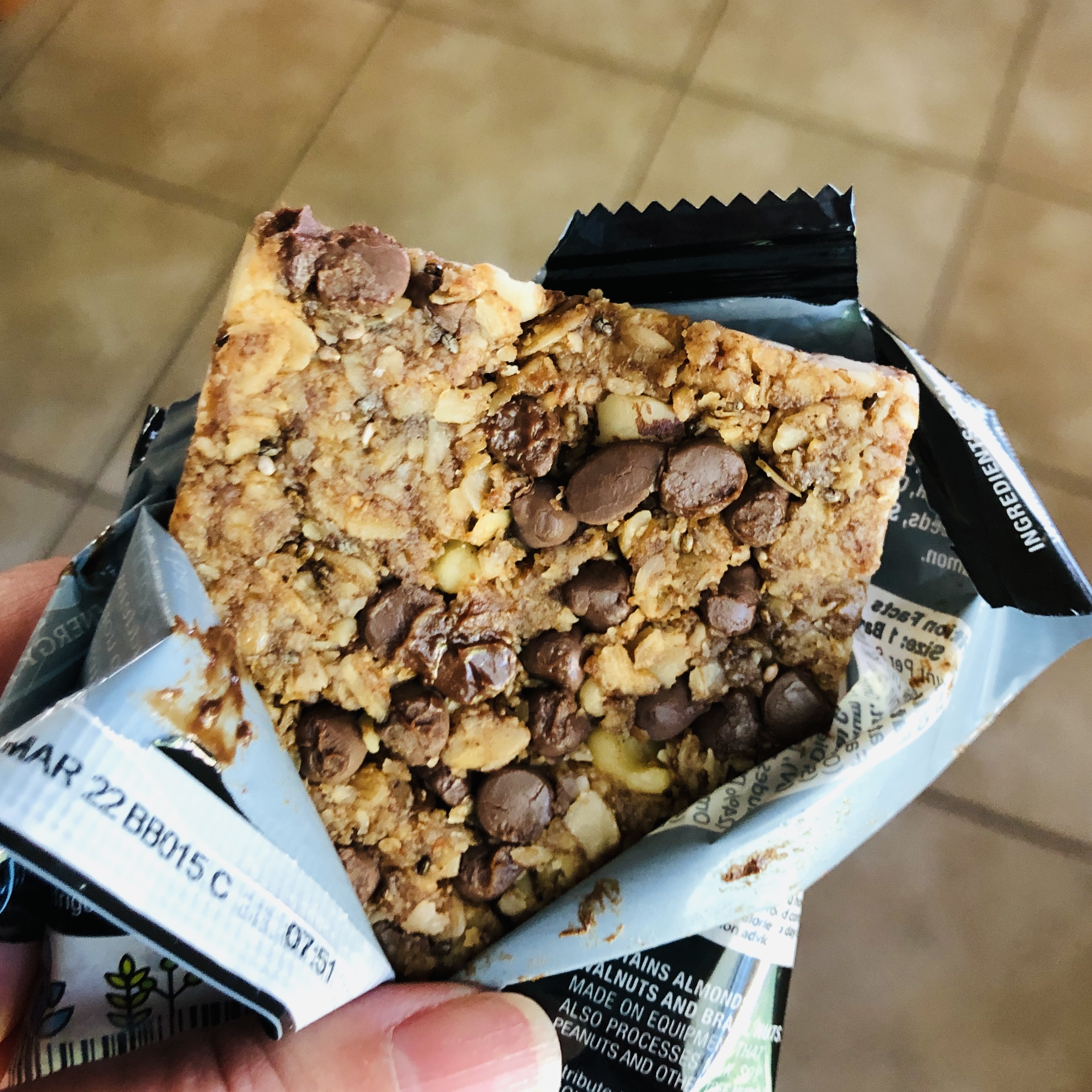 Be Bold Energy Bar ($3.50 per bar, $7 value) I've tried these bars before and they are super tasty and decadent. They are made with oats, honey, chocolate chips, Brazil nuts, and almond butter plus more but they kind of remind me of no-bake cookies. There are 260 calories in a bar so they are more like dessert than a meal replacement but they are moist and have a little bit of crunchiness thanks to the nuts. Store in the freezer if you don't plan on consuming right away.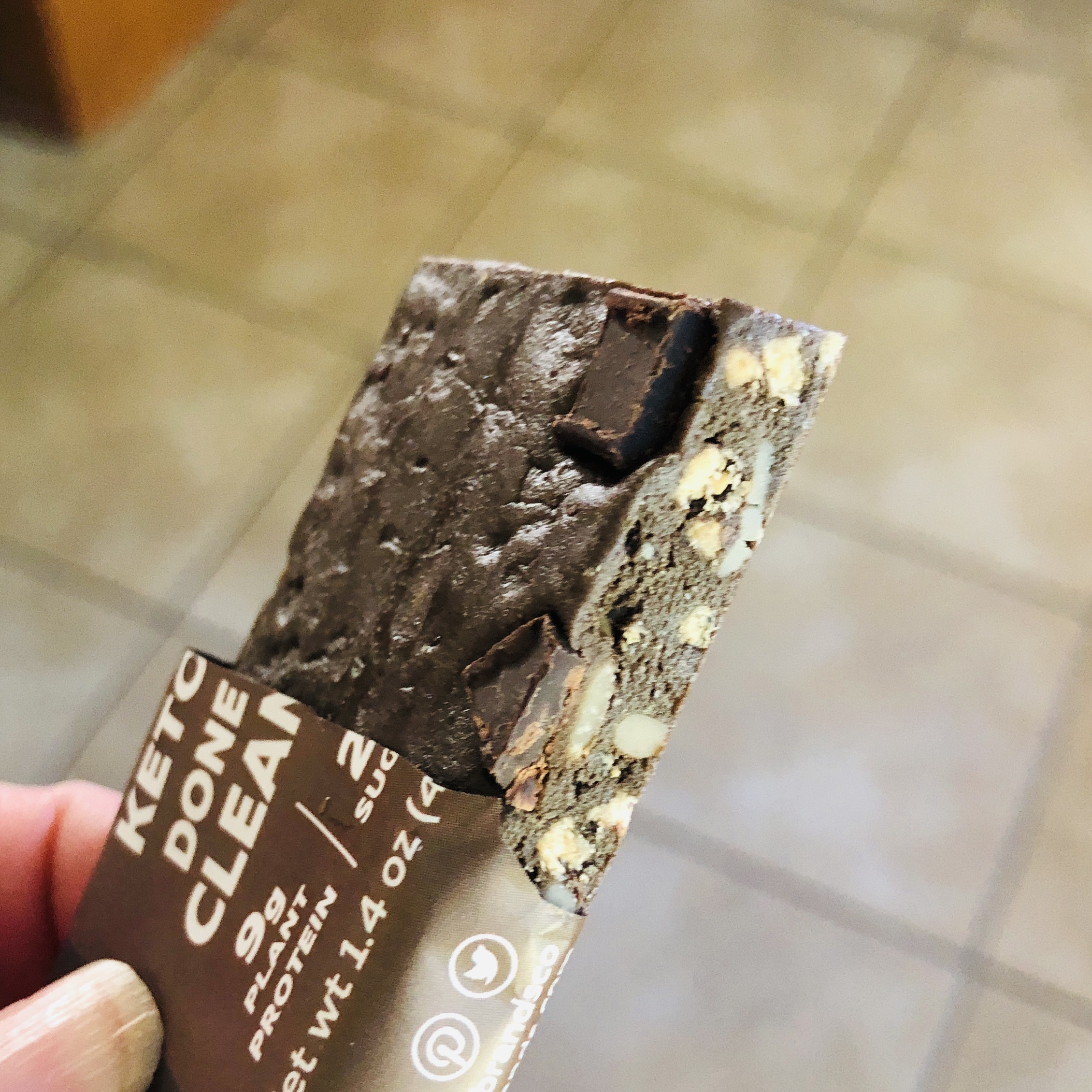 Hungry Buddha Triple Chocolate Keto Bar ($2.50 each) These are sweetened with monk fruit, which has a weird aftertaste, but overall they weren't bad, but maybe a little bland. There is a bit of sugar in the chocolate chips, but there were only maybe three on top of the bar. I liked the sunflower seeds, they gave it good texture, but the bar as a whole is kind of dense and chewy.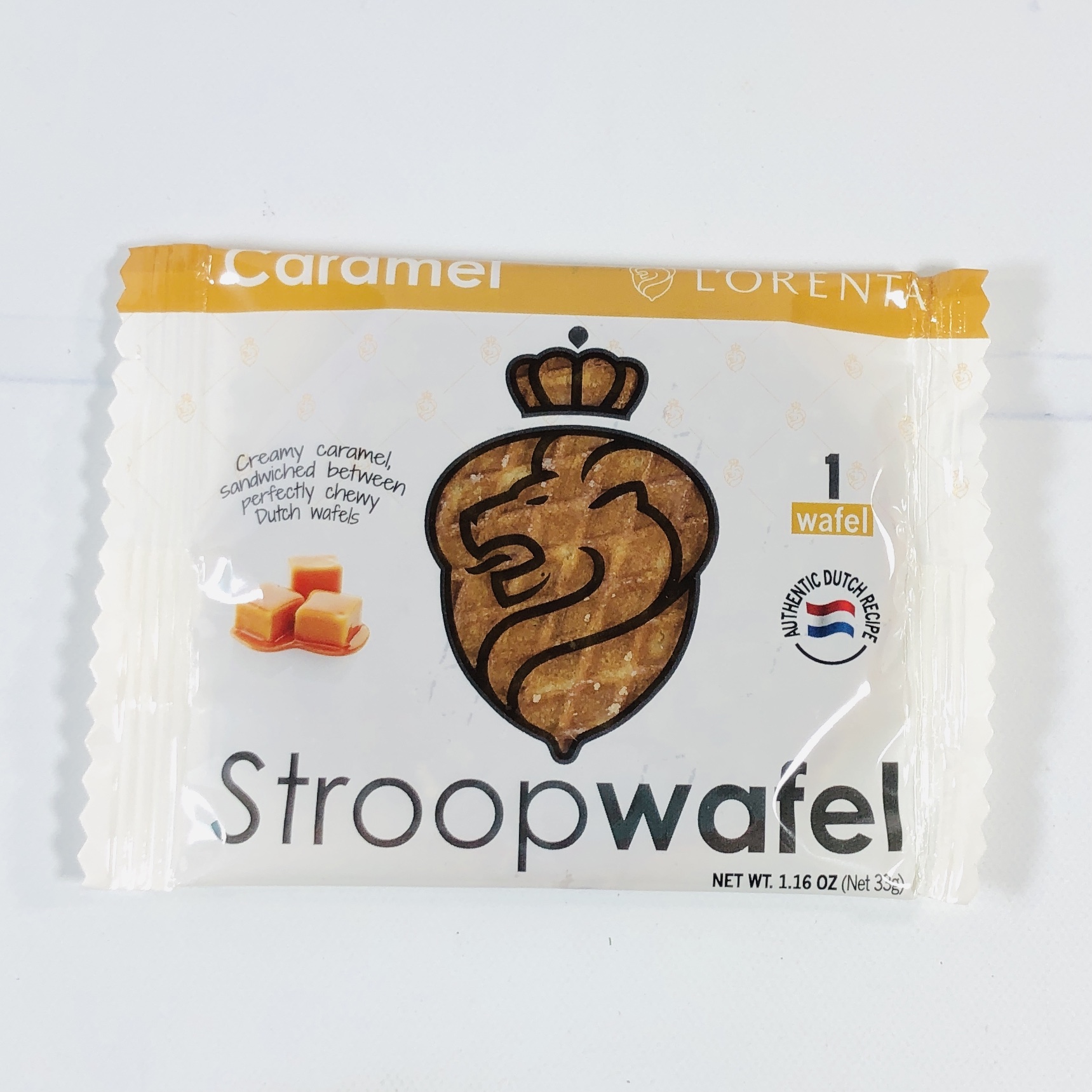 L'Orenta Stroopwafel Caramel ($0.93) I think this fits the FitSnack criteria by being made of non-GMO ingredients, because let's face it — it's a cookie! It's two thin waffle cookies with a layer of caramel in the middle and this was one of the best I've ever tried, although most pretty much taste the same, but I think this one has better caramel, and perhaps more of it than usual. Enjoy with tea or coffee, and if you like you can place it on top of that hot cup to gently heat the caramel.
Ultima Replenisher Electrolyte Hydration Mix This product is currently unavailable but keep reading and you may discover why. There is a 20-packet of various flavors available for $20.99, making this worth around $6.30.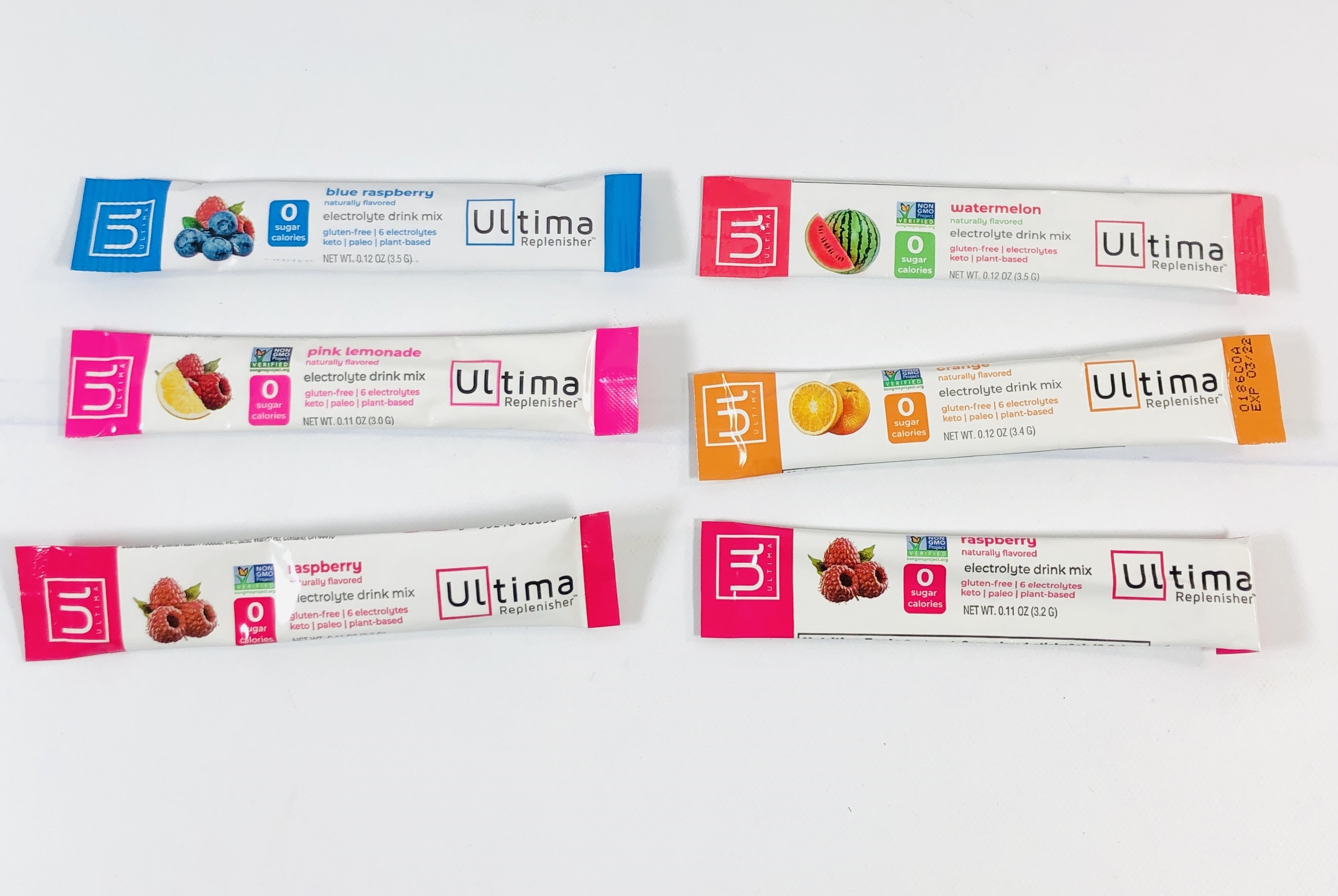 It's supposed to have 6 different flavors so you can pick your favorite and order more, although it looks like they gave me two Raspberry sticks and skipped Cherry Pomegranate. Check those expiration dates: one said 8/21, another said 9/21. The rest were fine and I'm sure the expired packs are too. Since it was a sealed packet there is no way FitSnack could have known. These are supposed to boost hydration and supply stuff like potassium, zinc, and vitamin C. They are sweetened with stevia. I tried the orange flavor and mixed it into 16 ounces of water. It immediately clumped, which looked pretty weird, but a coffee frother whip thingy made it smooth in no time. I liked the flavor, it was super sweet but not totally unpalatable, and it wasn't salty either. I will try the other flavors too, although there's really just Raspberry (x2) and Watermelon at this point.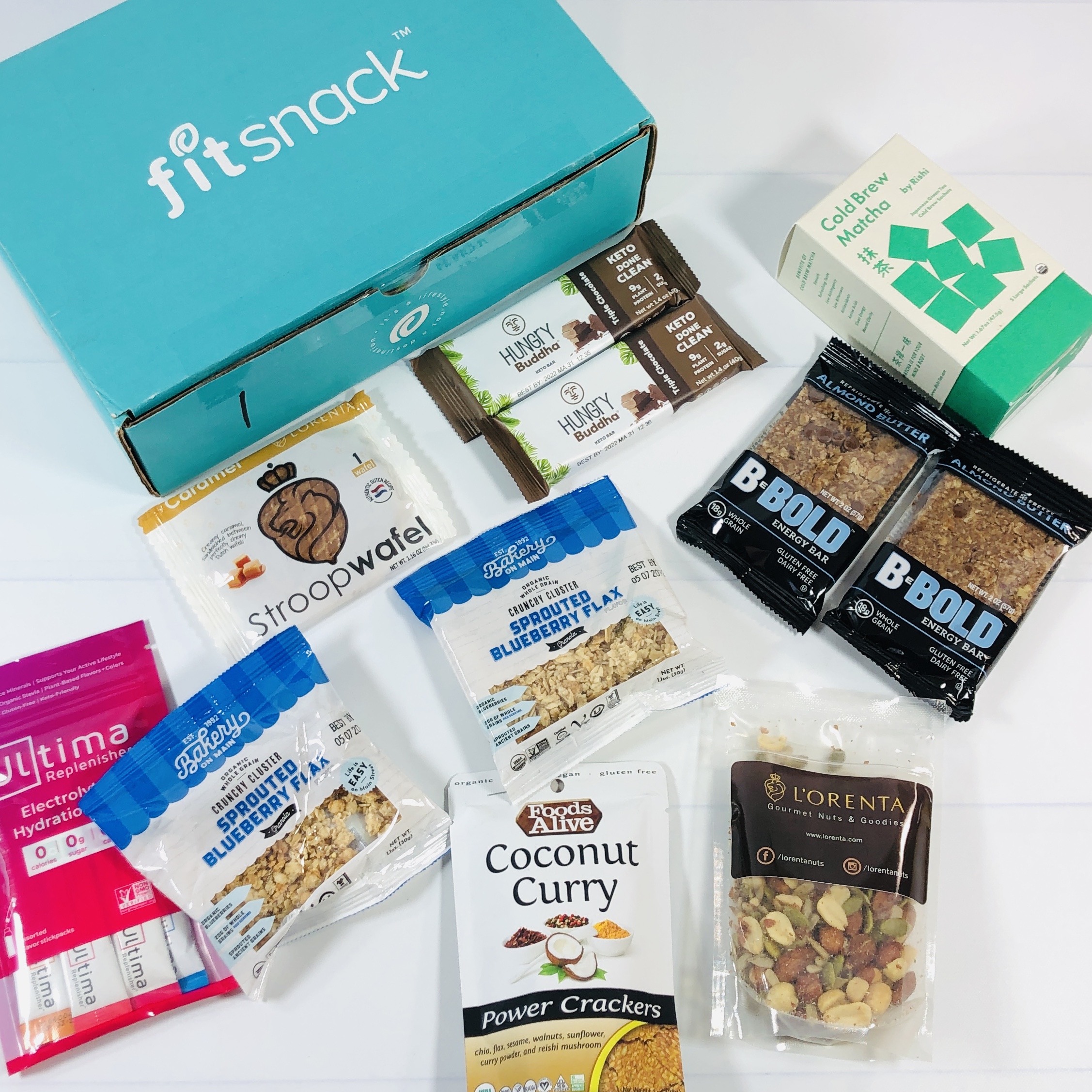 This was a good assortment from FitSnack! I liked most of the snacks, and the couple that I didn't care for were based on personal preferences, not on the actual products. The stroopwafel was better than any other brand that I've tried and I liked the curry crackers, nut mix, and B-Bold snacks the most, they were all super tasty. Don't forget to check out the extra digital content to get the most value from this subscription!
What do you think of this month's box?