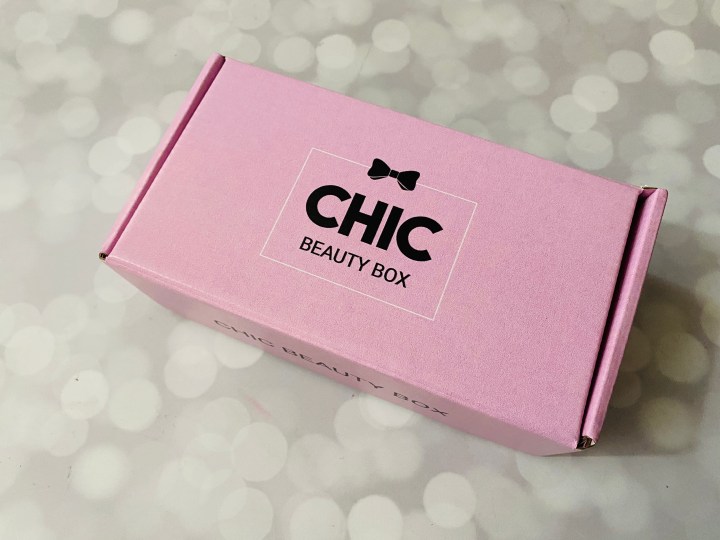 Chic Beauty Box is a bi-monthly subscription box that delivers high-end and low-end cosmetics to your door. They feature imagery of brands like NARS and MAC as well as Too Faced, Fenty Beauty, and Milani. The box is $34.99 CAD and you can also try a one-time box for $39.99.
DEAL: Get 10% off your first box! Use the coupon code HELLOSUB at checkout.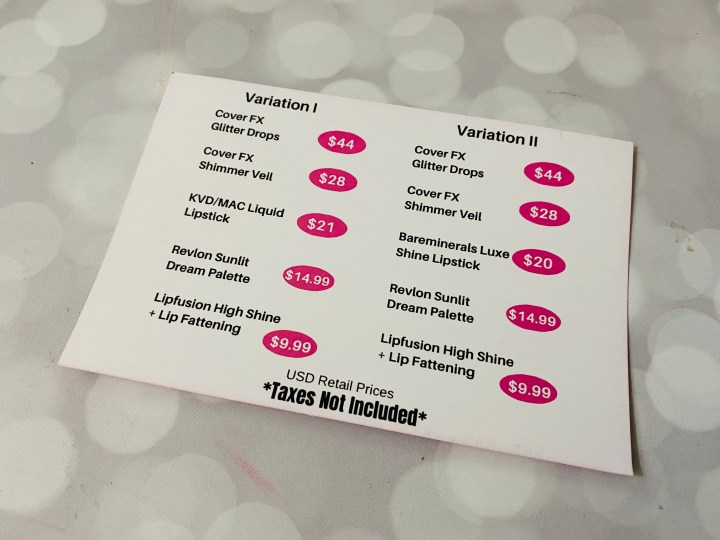 The information card breaks down the items you may find in your box – there are now different variations!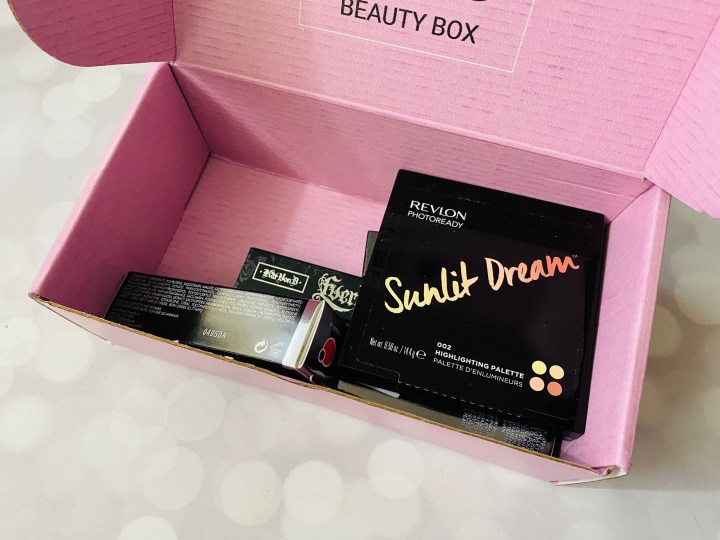 First peek inside the box!
Kat Von D Liquid Lipstick in Double Dare — KVD is cruelty-free, yay! This shade of her liquid lipstick (Double Dare) is discontinued and is a coral-leaning rosey colour. The formula is plush and smooth, and takes some serious rubbing to remove. I also LOVE the packaging on her products. I remember watching her on LA Ink years and years ago!
LipFusion InFATUation — LipFusion was a very popular lip plumper line once upon a time, though they aren't as popular anymore. This product is also discontinued but I'm glad to see the information card reflects this, only listing the value as $10. It is a very pretty pinky rose colour and is extremely glossy and shiny.
CoverFX Shimmer Veil ($28 USD) — CoverFX is known for their shimmery, sparkly, glittery highlighting products. They're a little bit too flashy for me but I appreciate that Chic Beauty Box was able to send us two full-size products. Shimmer Veil is a unique product that can be used on eyelids, cheeks, and lips. Moonstone is a shimmering topaz shade. I'm really torn on whether I will keep this for myself because it looks VERY sparkkly, so it's likely that I'll pass this on to my friend Brit who is a makeup artist.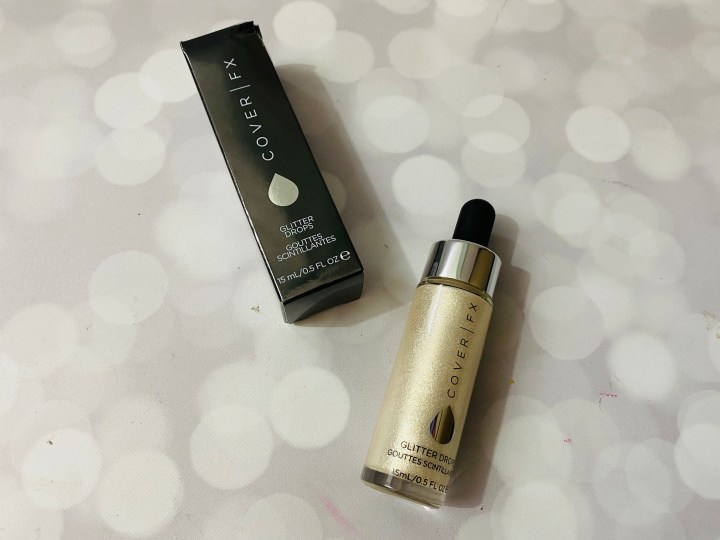 CoverFX Glitter Drops ($44 USD) — Glitter Drops are the most well-known CoverFX product I believe! Mirage is a champagne yellow that is absolutely gorgeous in the bottle. CoverFX products are all cruelty free which makes me really happy! Again, I'm probably not going to keep this for myself as it's not an everyday look for me.
Revlon Sunlit Dream Highlighter Palette ($15 USD) — Revlon has put together two highlighter quads, one with cool pastel tones and one with warmer sun tones. This is the former, and it offers four very pretty highlighter shades to give your skin a warmed glow.
They are very soft and smooth to apply, but since they're highlighters they aren't super pigmented and I had to layer them heavily to get the swatches to show up!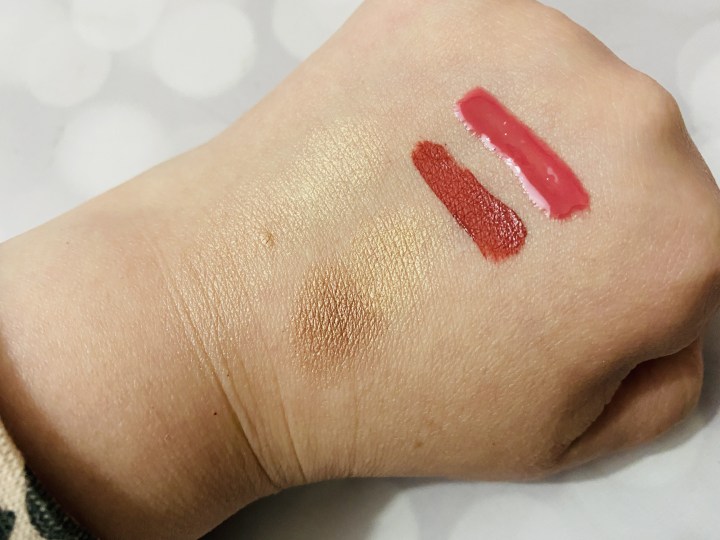 From left to right: Revlon highlighter quad, KVD liquid lipstick, LipFusion gloss.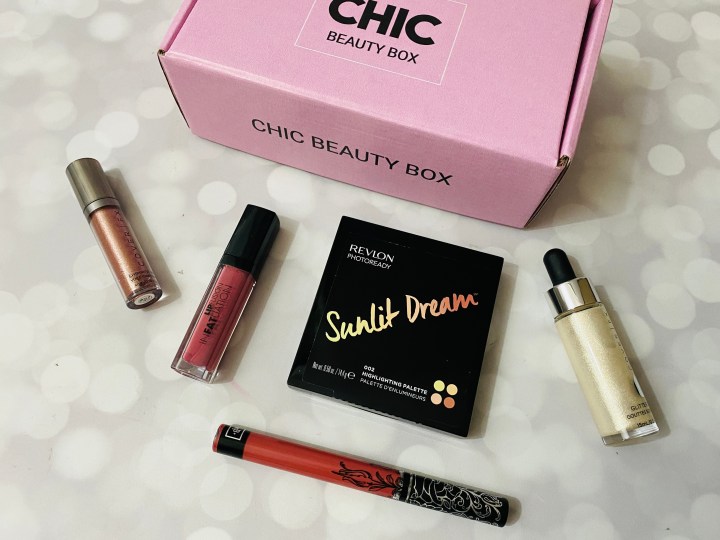 Chic Beauty Box sent five full-sized items, two of which are discontinued. I am thrilled with the CoverFX items being included, not so much for myself but because it adds so much value to the box including popular products in flattering shades! The box was heavy on the highlighters this time around but I think the lip products are great for fall and suit the season well.
What do you think of this month's Chic Beauty Box?