Vellabox is a monthly natural candle subscription box. The candles are always in seasonally inspired scents and are created by the finest American artisans. Each box features a different candle brand. The candles are from small businesses and are made of all-natural wax, cotton braided wicks, and premium fragrance oils. Vellabox also includes a surprise lifestyle gift in every box.
Our Vellabox Candle Curator handpicks the candles and guarantees that they are always all-natural, seasonally relevant and bound to bring warmth and joy to any space. The surprise gift in your box each month is chosen carefully to align with our team's health-centric values.
The Vellabox candle subscription box made the list in our 2021 readers' choice picks of best home and decor subscription boxes and as a favorite affordable subscription!
DEAL: Get $5 off any purchase! Use coupon code HELLOSUB5.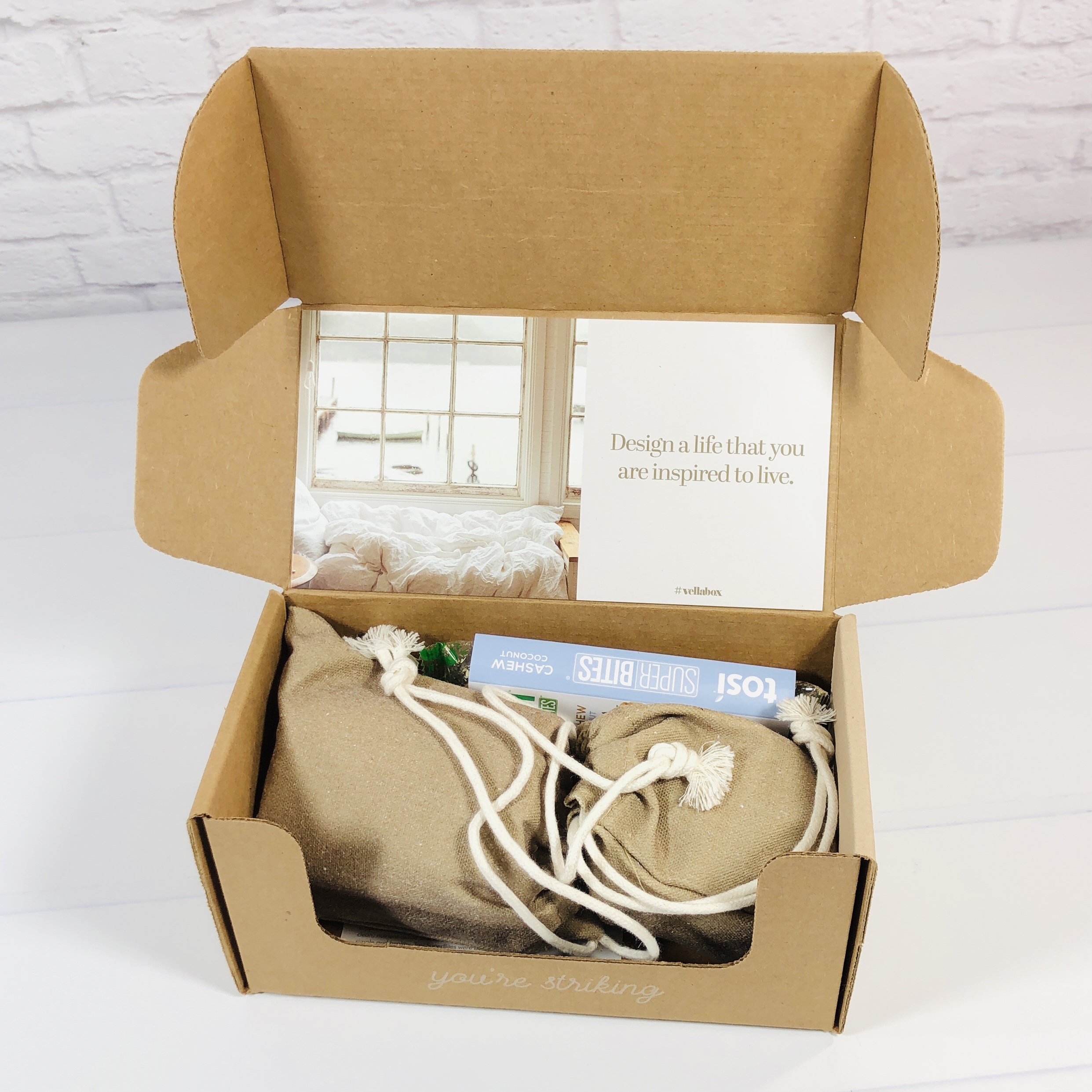 The first thing you need to do is decide which level you prefer. You can choose from The Lucerna Box ($10) which includes a 4 oz candle monthly, The Ignis Box ($20) with an 8 oz candle monthly, and The Vivere Box ($30) with an 8oz + a 4 oz candle monthly. Each level receives the bonus lifestyle gift. Shipping is $3 per month for Lucerna and Ignis to the US, and free for Vivere. Vellabox now ships to Canada for $8 per box. I am reviewing The Lucerna Box.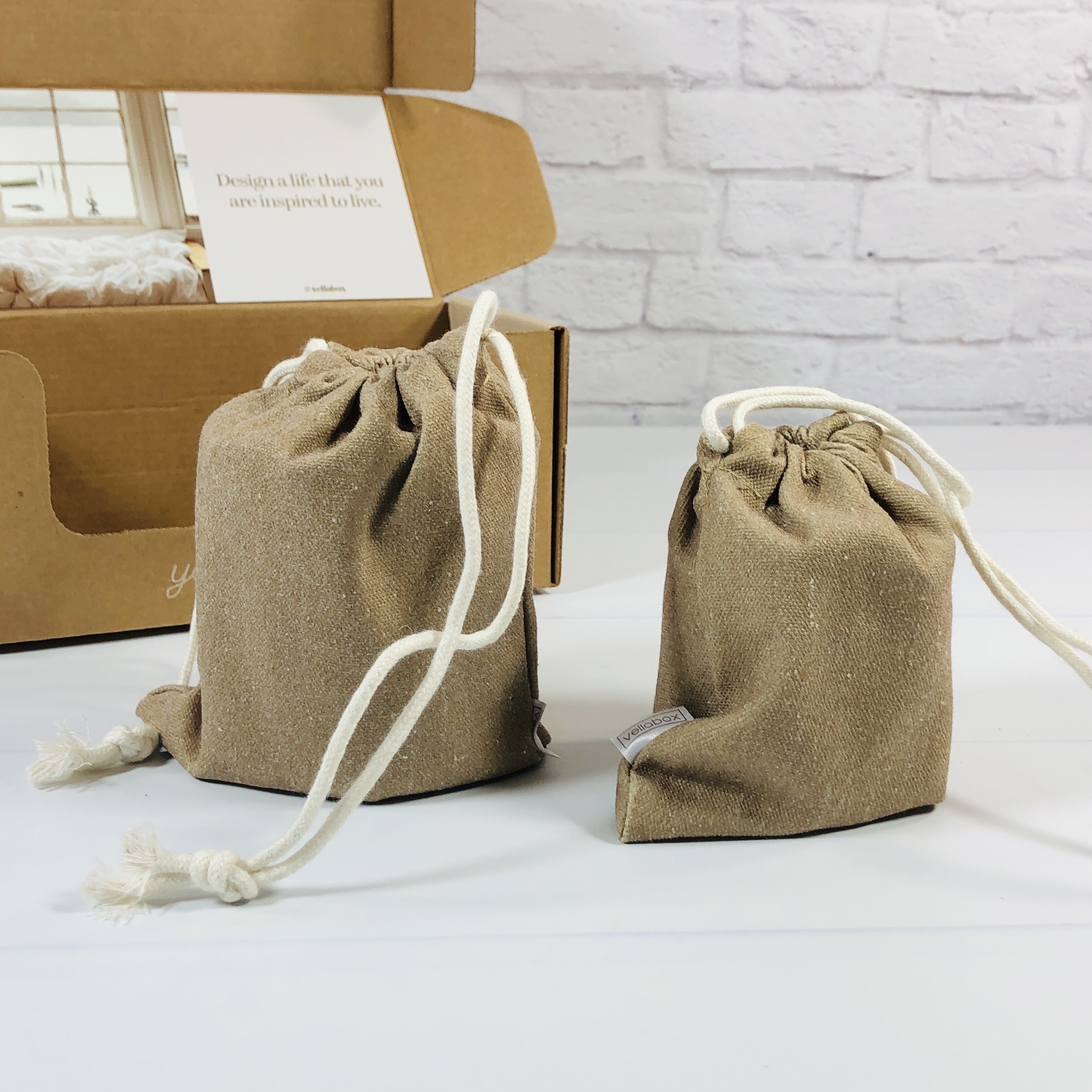 The candles were in reusable drawstring canvas bags. The bags can hold items like jewelry or other trinkets.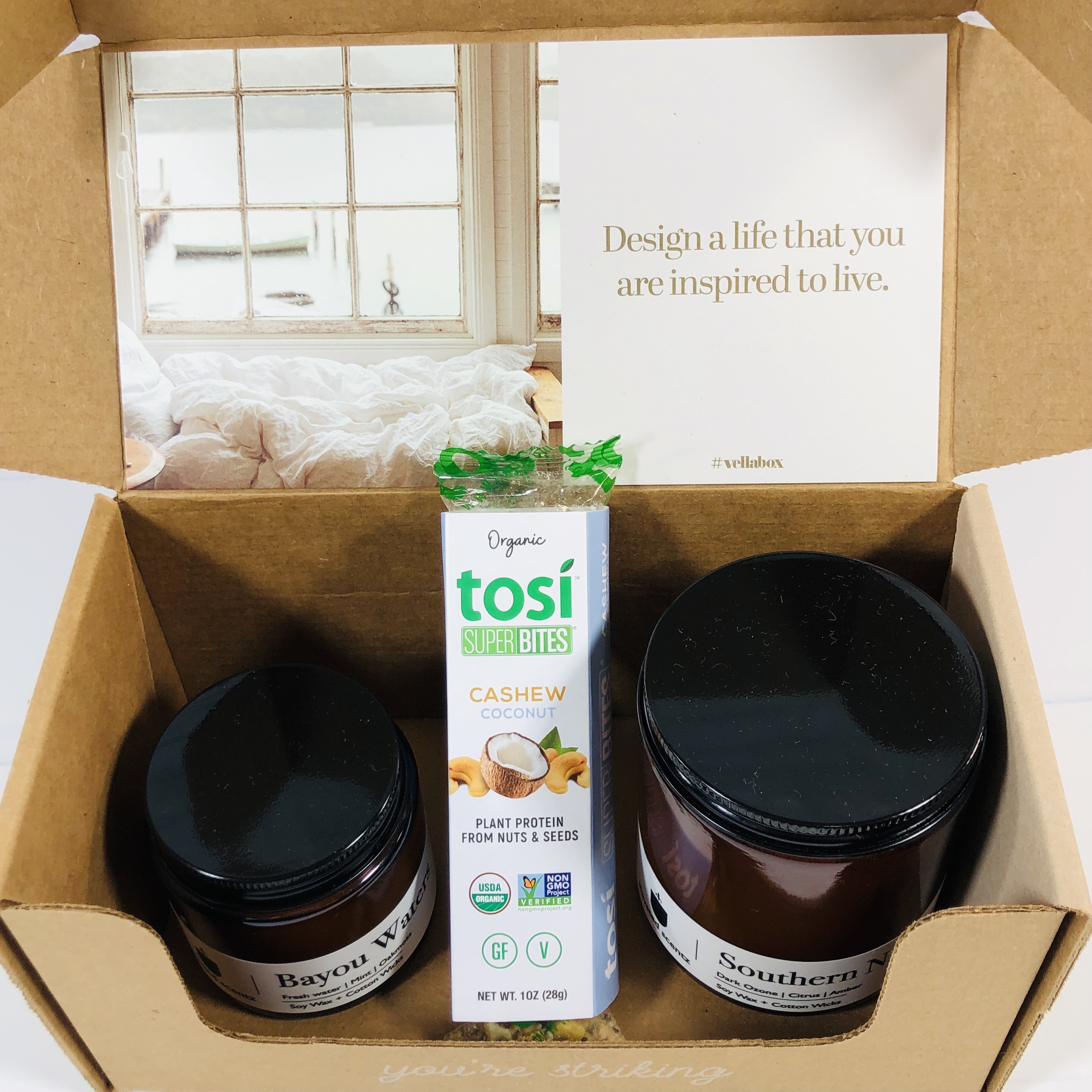 Looking good!
There was a card with info on the featured candle brand, Elevated Scentz. 
In my private home studio, creating an environment that is not only relaxing but welcoming was vital. I've always known scent was a strong sensory and I used it as a way to express my mood, change the energy in the room and set the tone for the day. Whether I needed a burst of citrus for energy on my early call time, a spitz of lavender to calm an anxious bride or a blanket of cashmere to make her feel warm and welcomed, Scentz always worked. As a result, my clients always complimented the aroma of the room, asked for the details of the scent and of course I shared! Then, my creative thoughts started running a mile a minute and I knew I could create signature scents for myself and my clients. Thus, Elevated Scentz was born!

I've spent almost a year carefully hand picking, formulating and testing each fragrance and essential oil blend for optimal results. I'm so proud to finally introduce my hand poured, 100% soy wax home perfume candles to you.

I hope you enjoy them as much as I do!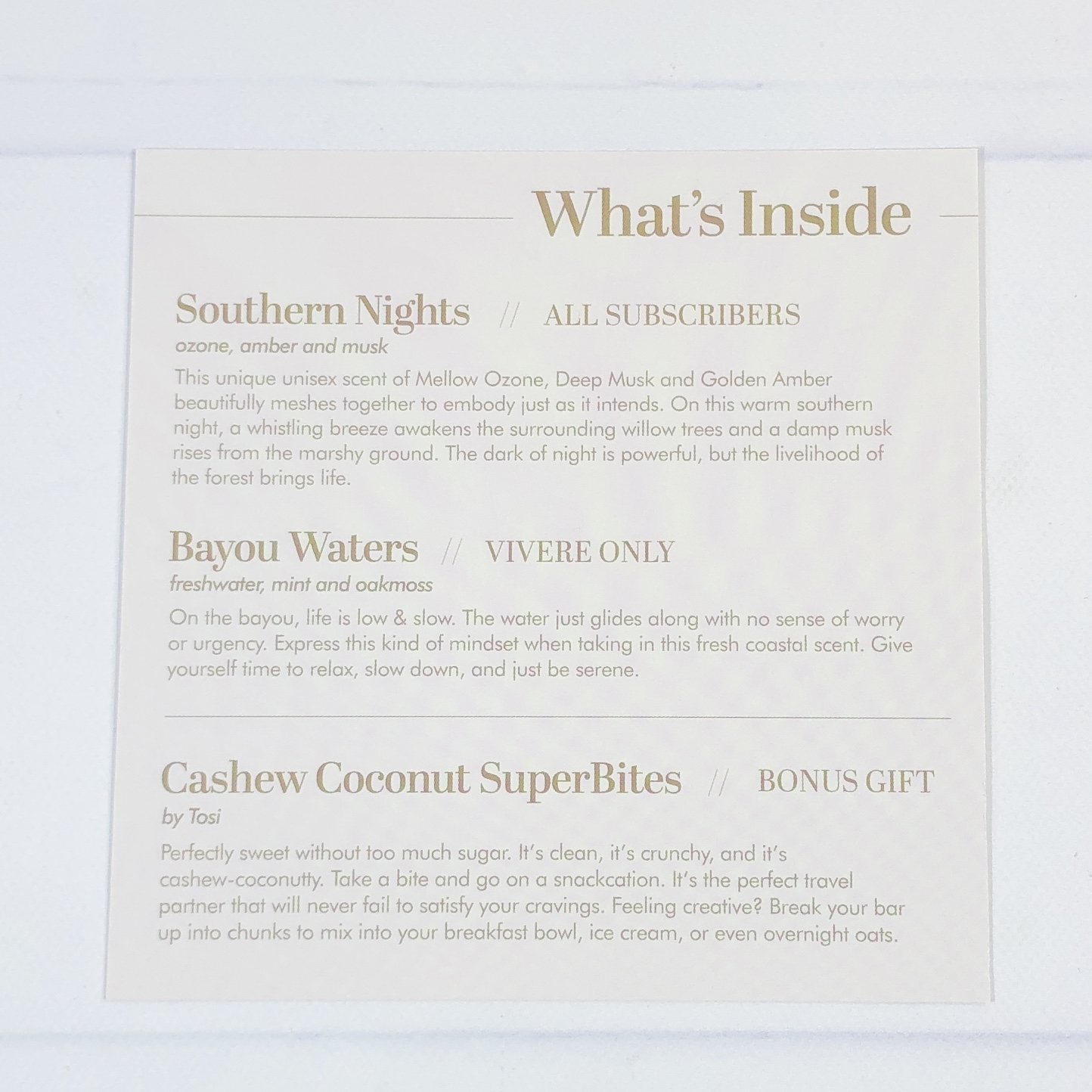 The back of the card listed the scent notes and description for the featured candles. It also listed the bonus item for the box.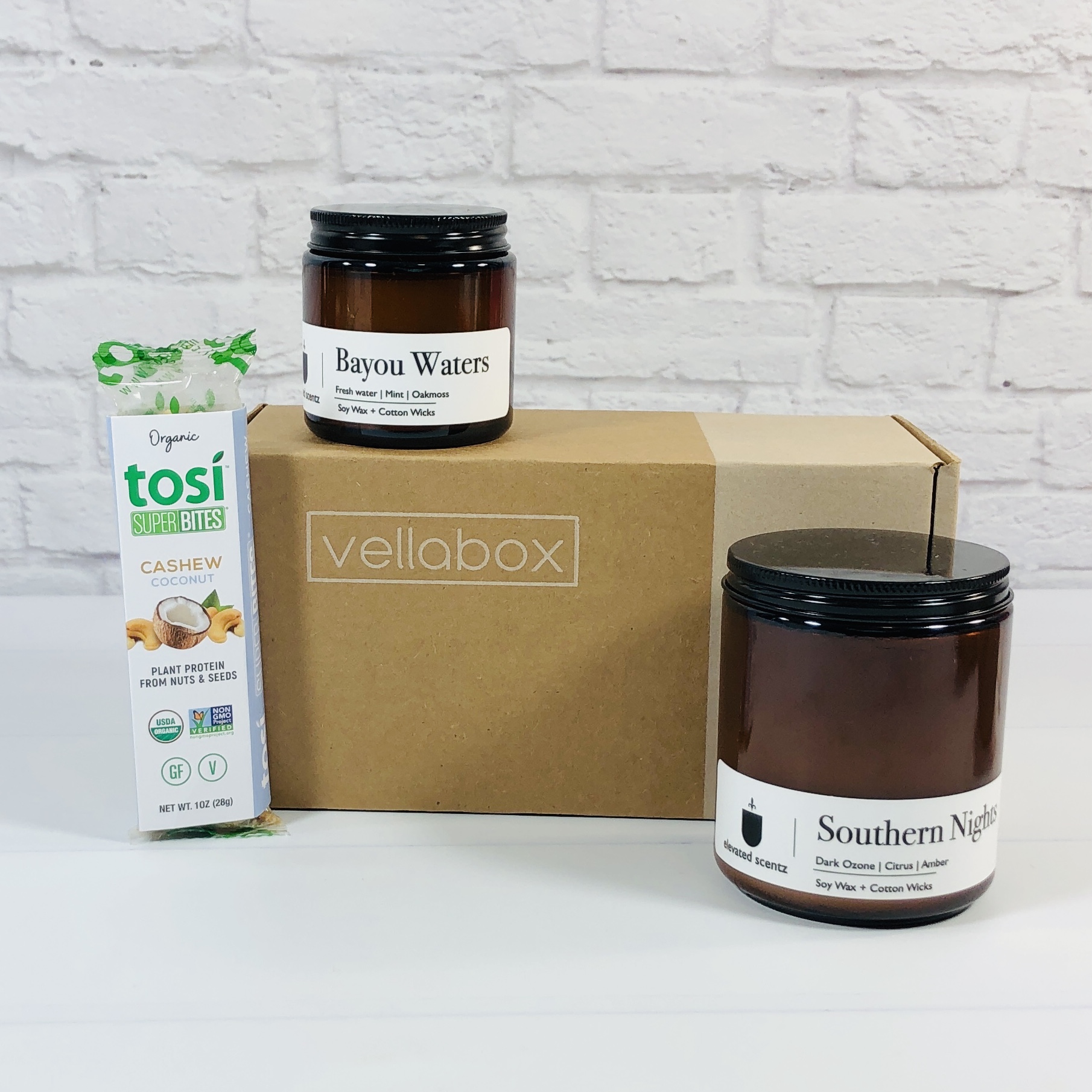 Here's everything in the box!
BONUS: Tosi Cashew Coconut SuperBites A delicious snack was included as the bonus item this month!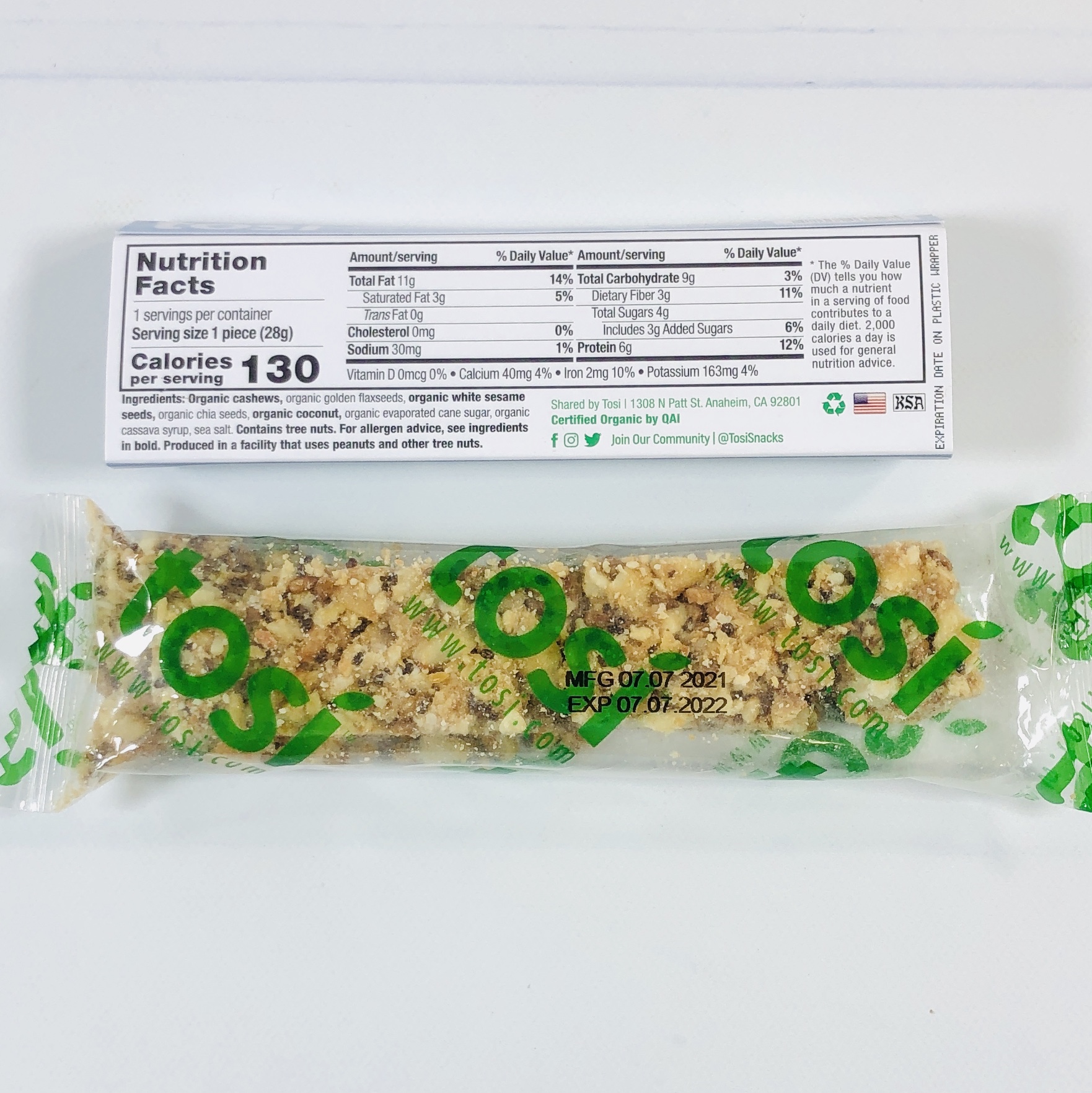 I've tried this before and was excited to see it in my box. It's kind of like a healthier take on nut brittle and is made with cashews, sesame seeds, chia seeds, flaxseeds, coconut, and sugar. I have to let it dissolve a bit in my mouth before chewing to protect my teeth but it is so good, I love the flavor, which is mostly that of toasted nuts and sesame.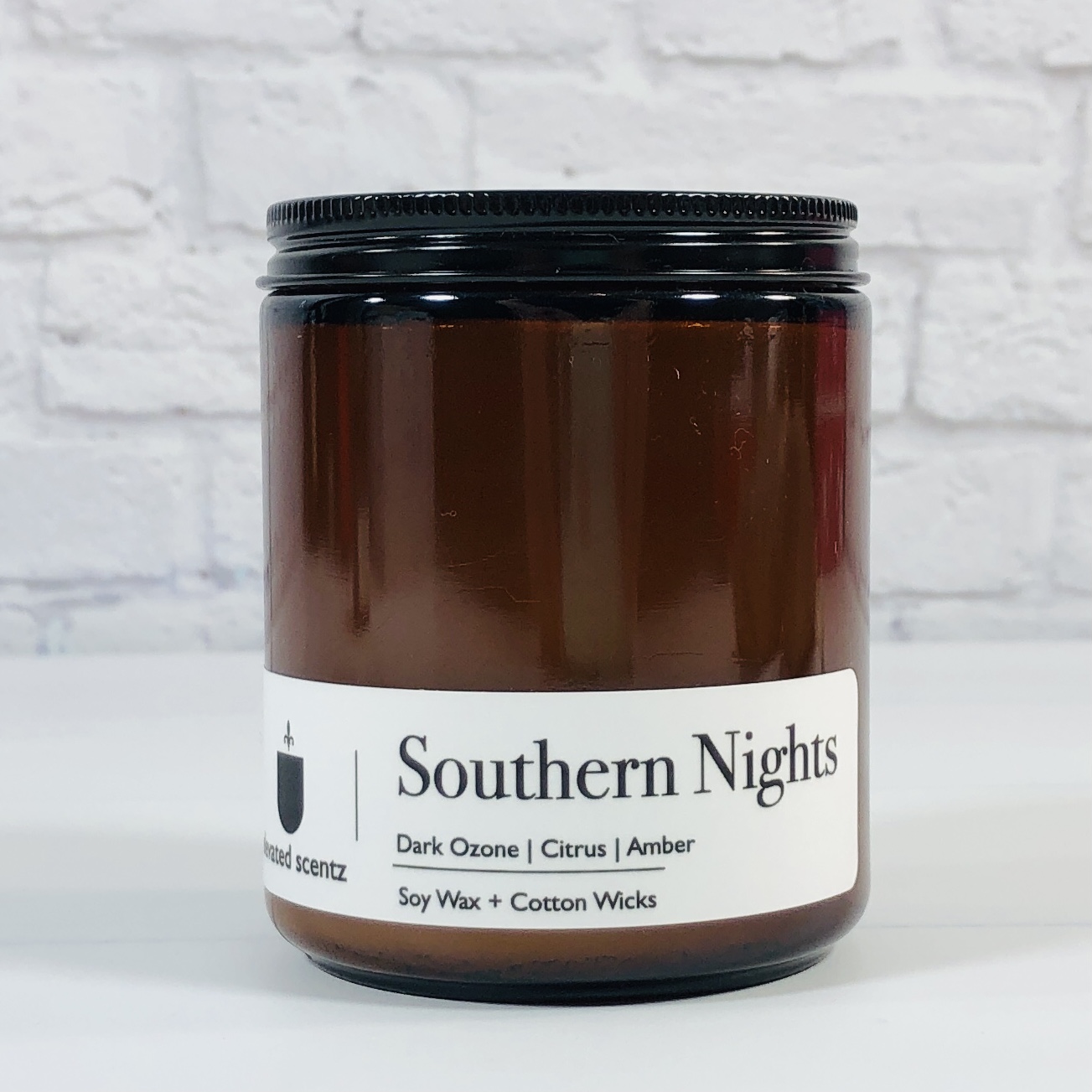 Elevated Scentz Southern Nights ($20 value, buy a 6 ounce candle for $15) I could tell as soon as I opened this jar that I would love this candle! The scent notes include ozone, citrus, and amber. What does ozone smell like, anyways? Does it smell like a nice men's cologne that was recently spritzed in a manly library that possibly had a lit match and maybe some bourbon or something like that? Because that's what this smells like.
Keep safe and make sure to watch over your candles while they burn.
Not only does this awesome candle have good cold throw, it was pretty decent at scenting my living room too! I noticed it while it was burning and again, even when cold, I can smell it every time I walk by my coffee table. This is a warm scent and perfect as the seasons begin to change.
Elevated Scentz Bayou Waters ($10 value; linked to large in-stock candle) Here is another lovely scent inspired by the south and it has notes of freshwater, mint, and oakmoss.
Once again, I could smell the scent while it was burning and my husband commented that he could smell cologne. I guess it kind of smells like a clean unisex fragrance with a hint of citrus, maybe some green apple, and warmth from the oakmoss. It smells greenish yellow. Can you smell colors?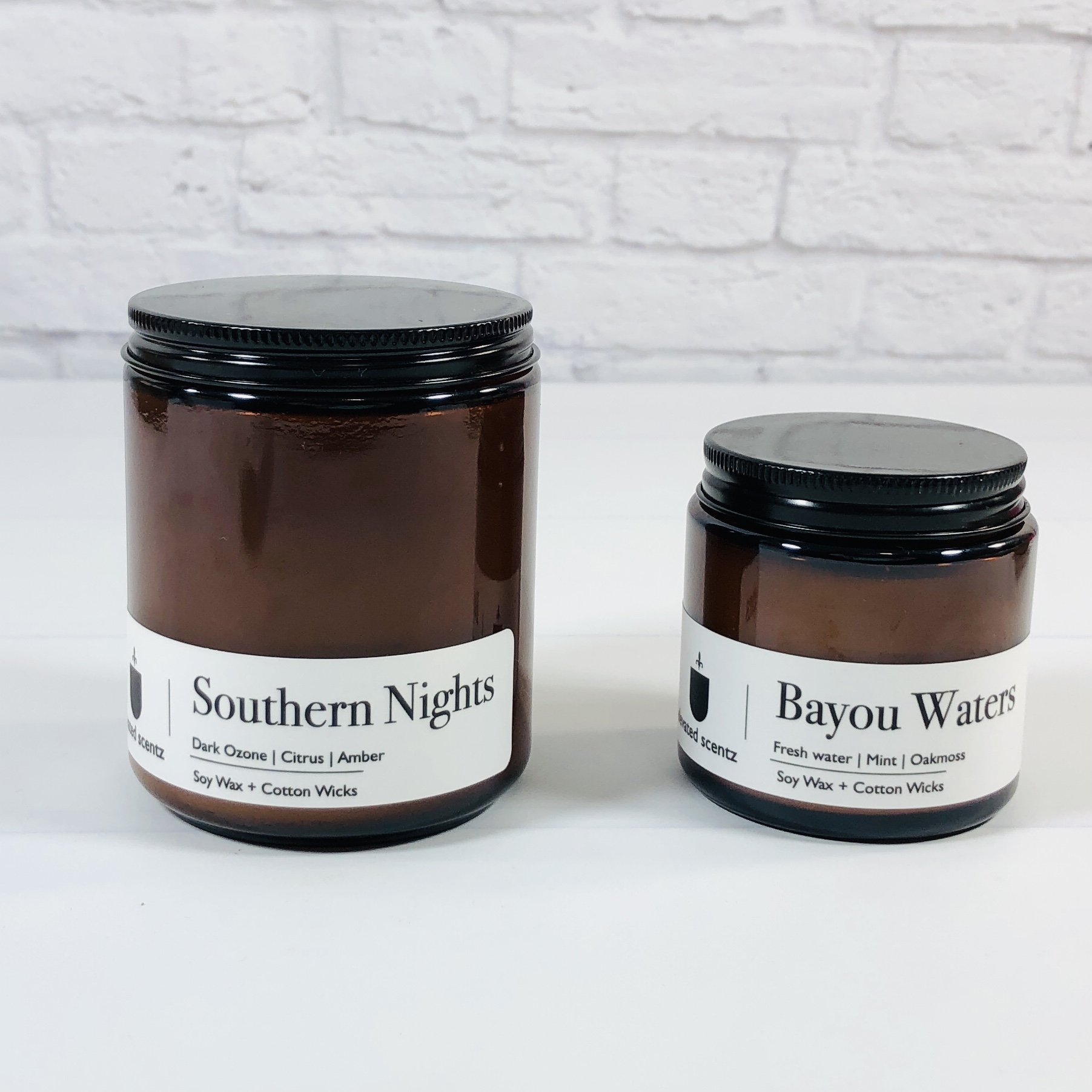 I was beyond thrilled with the candles in the September Vellabox! Not only do they look great, with their amber bottles, scent notes on the labels, and cream-colored wax, they also smelled amazing! The scent was wonderful whether the candle was cold or burning, and the throw was pretty good, my living room had hints of scent. I thought the fragrances were perfect for this time of year. The bonus item was delicious and overall this may have been my most favorite Vellabox yet!
What do you think of this box?