Raddish is a monthly kids' activity box centering around food and cooking! Designed for kids 4 to 14+, each themed box will include 3 illustrated recipe guides, 3 culinary skill cards, a creative kitchen project, kid-friendly tools and collectibles such as Table Talk cards, a culinary tool, and an iron-on Raddish patch. Themes range from Seasonal Spotlights to Global Cuisine and Creative Cookery to Holiday Celebrations. Although the ingredients are not included, they email you a shopping list for each month's recipes before your kit is shipped. Raddish made the list in our 2020 and 2021 readers' choice picks of best subscription boxes for kids!
DEALS:
Get $15 off when you sign up for a 6 month subscription! Just use this link and use the coupon code ATHOME at checkout.
Get $20 off when you sign up for a 12 month subscription! Just use this link and use the coupon code CHEF20 at checkout.
PLUS Get a FREE apron with your first box when you sign up for a 6+ month subscription!
This kids cooking club offers a monthly membership for $24/month, a 6-month membership for an upfront payment of $132 ($22/month), and a 12-month membership for an upfront payment of $240 ($20/month). For those who are getting the 6 and 12-month memberships, expect a free apron in your box.
This month's theme is FALL FAVORITES!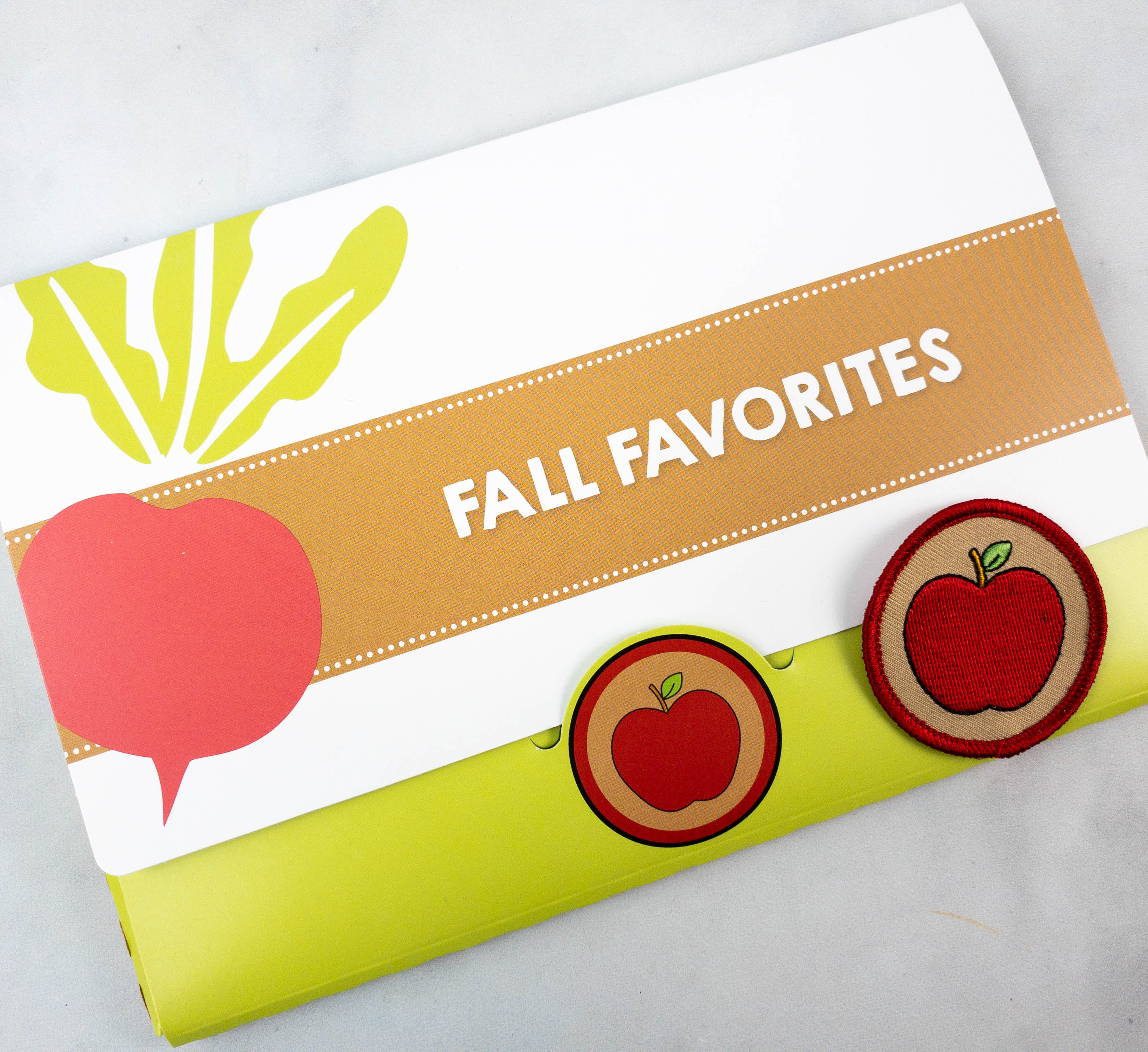 Inside the envelope are small cards containing some culinary skill lessons and guides with fun and exciting activities.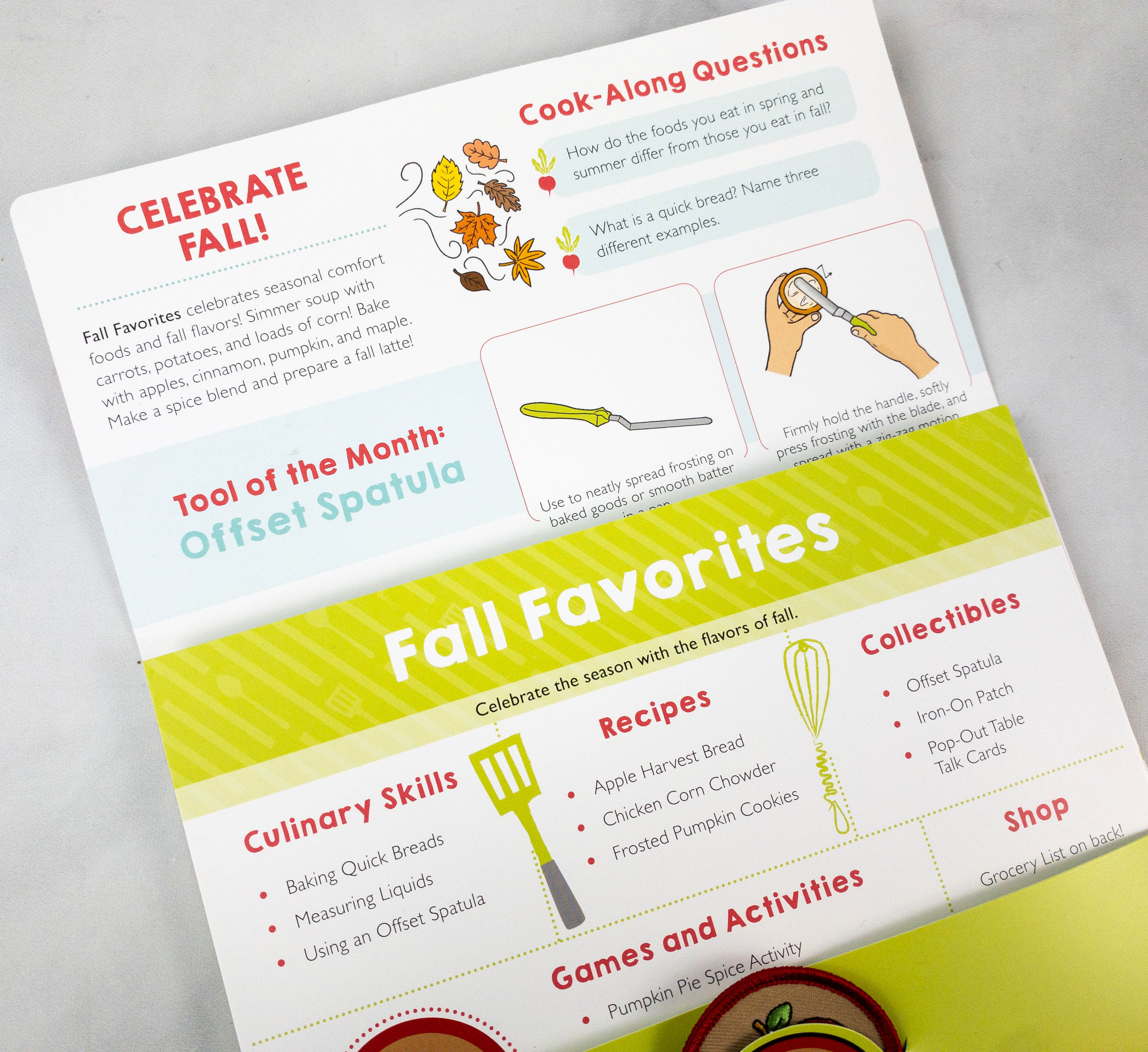 These cards contains all the information you need to know about this month's box.
They also have bonus content on their website, called Bonus Bites, which includes a Spotify playlist that the kids can listen to while cooking, dietary modifications for the recipes in the box, and even lesson plans to accompany the kit.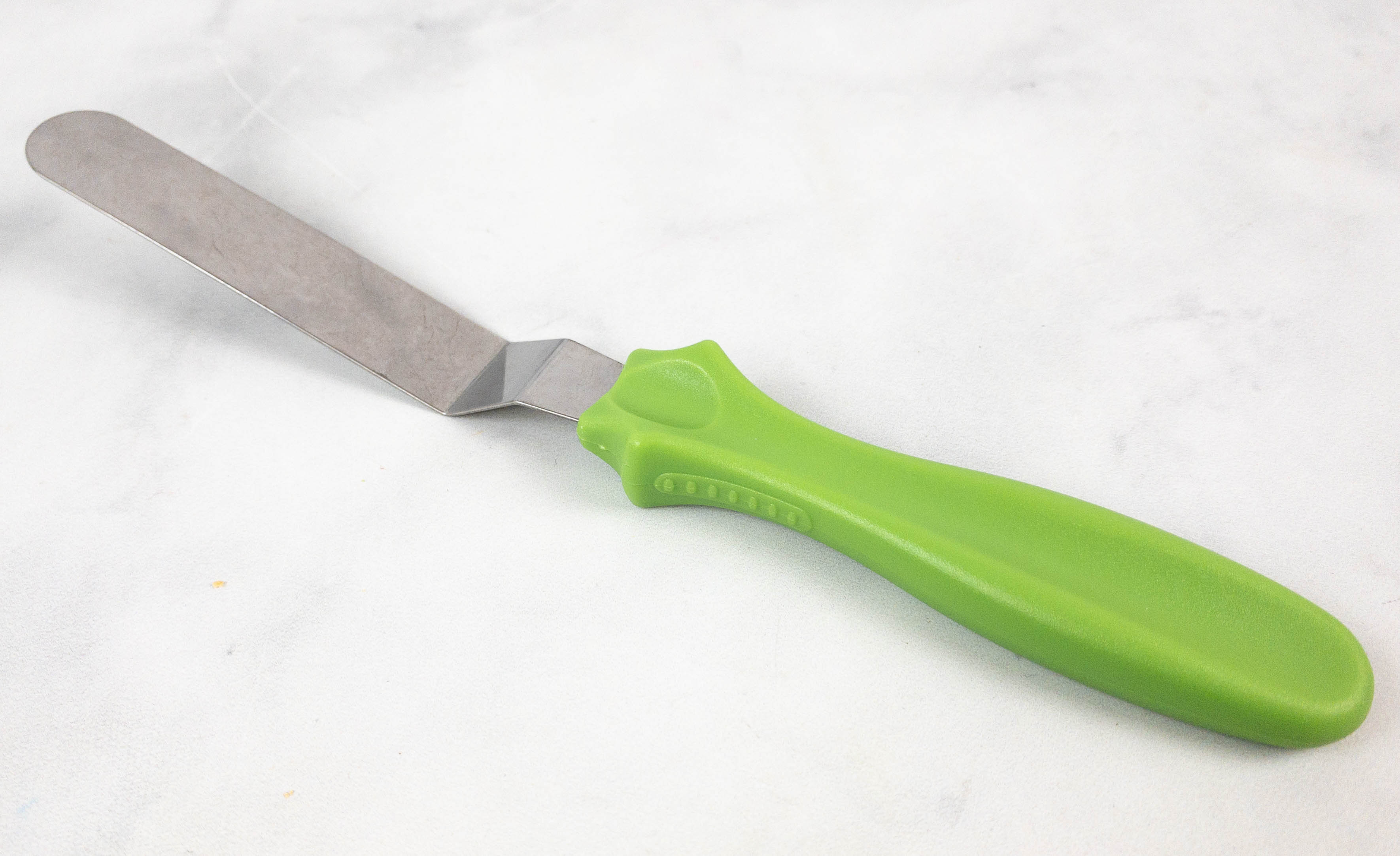 This month's featured tool is an offset s patula!
My kids had fun answering the activity sheets!
The back of the card provides a complete grocery list for all the featured recipes this month. The recipes are Apple Harvest Bread, Chicken Corn Chowder, and Frosted Pumpkin Cookies.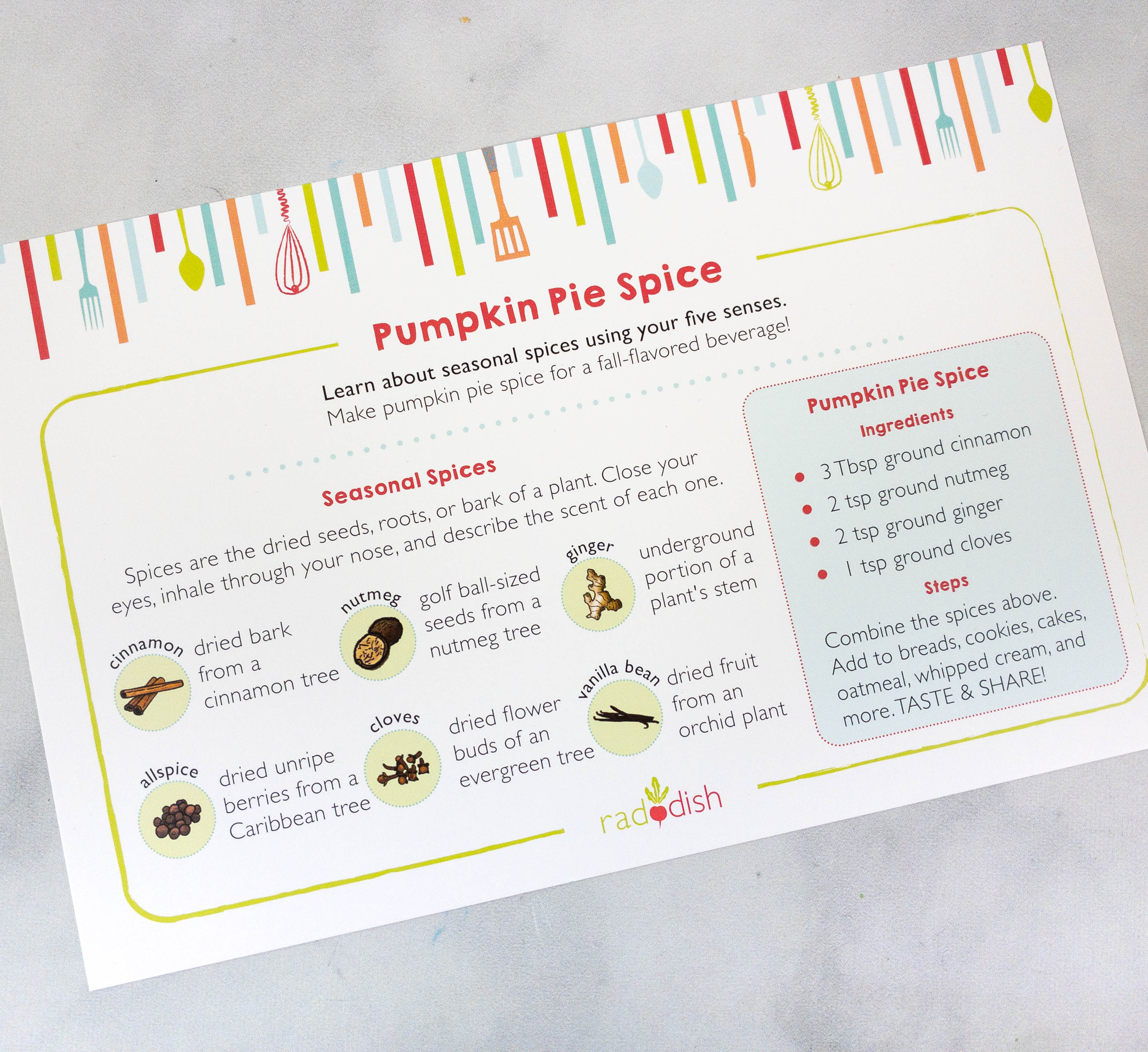 They even included a recipe for Pumpkin Pie Spice!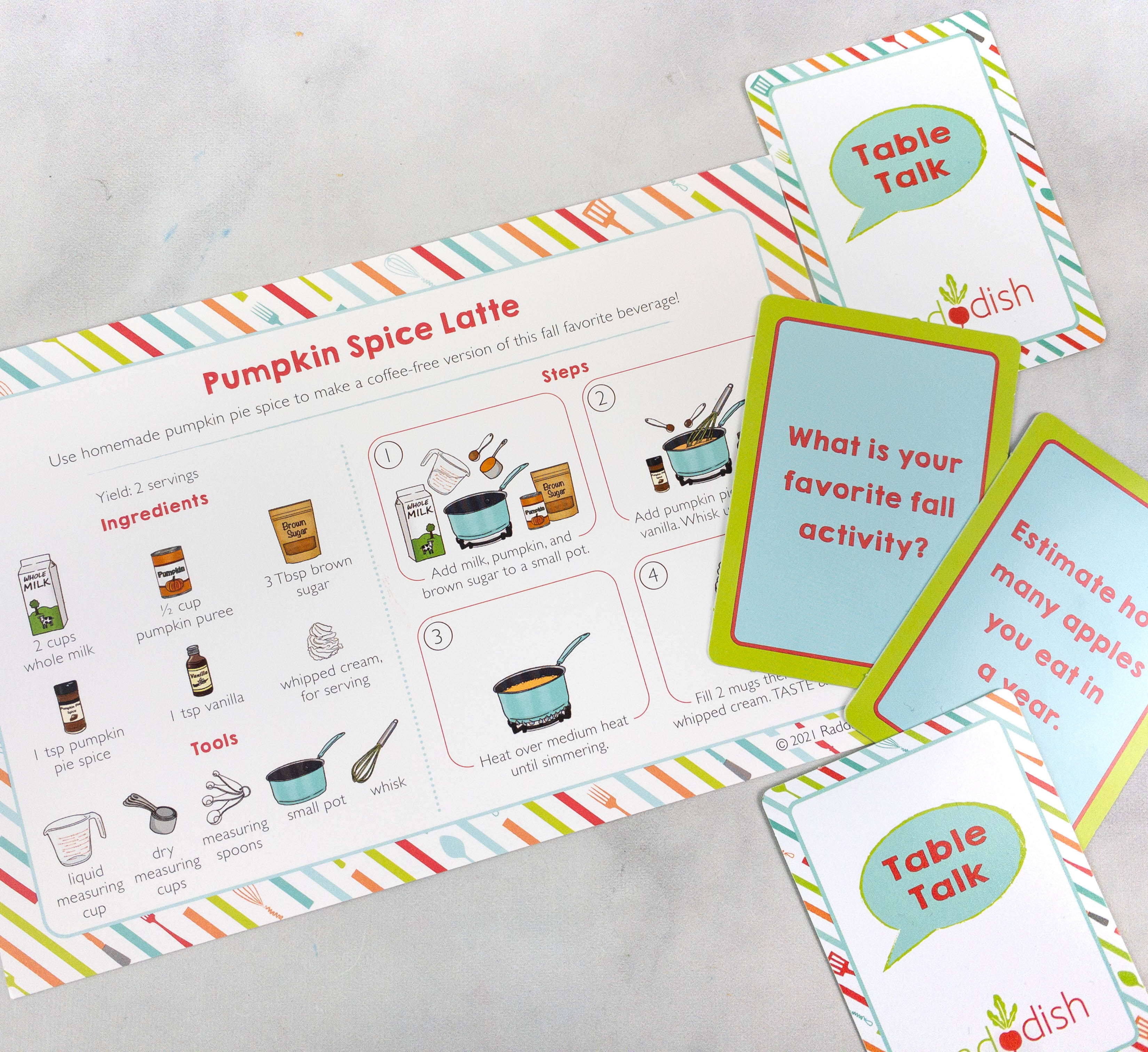 Each box also includes exclusive Table Talk conversation starter cards. The cards contain questions for a great table talk conversation. They come in a sheet and you can easily tear them down.
Everything in our September 2021 box!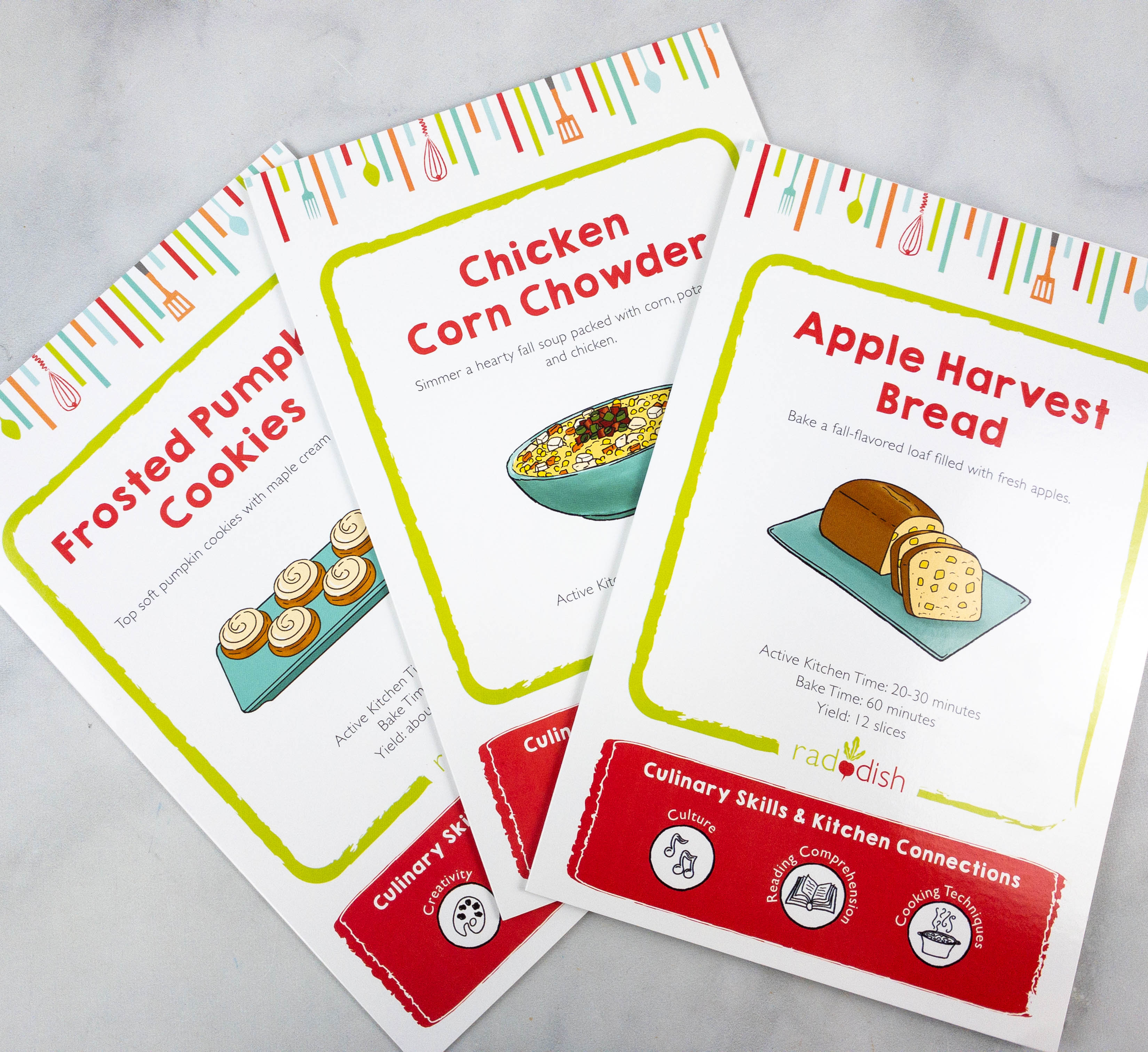 My kids are so excited to make these! The instructions are easy enough for kids to understand and to follow.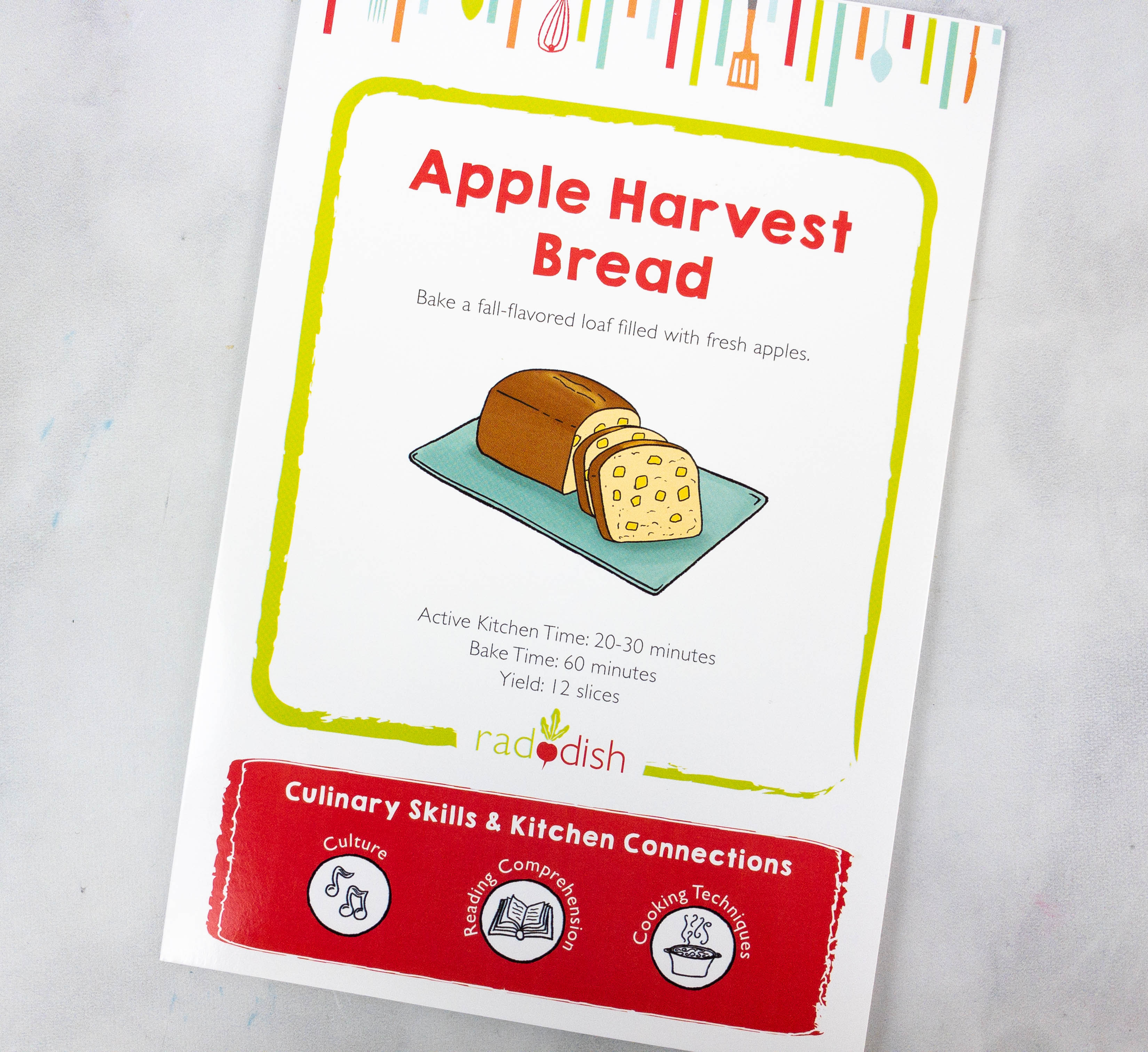 Apple Harvest Bread. We love bread, and this one is perfect for fall as it uses fresh apples. Yum!
Active Kitchen Time: 20-30 minutes

Bake Time: 60 minutes

Yield: 20 slices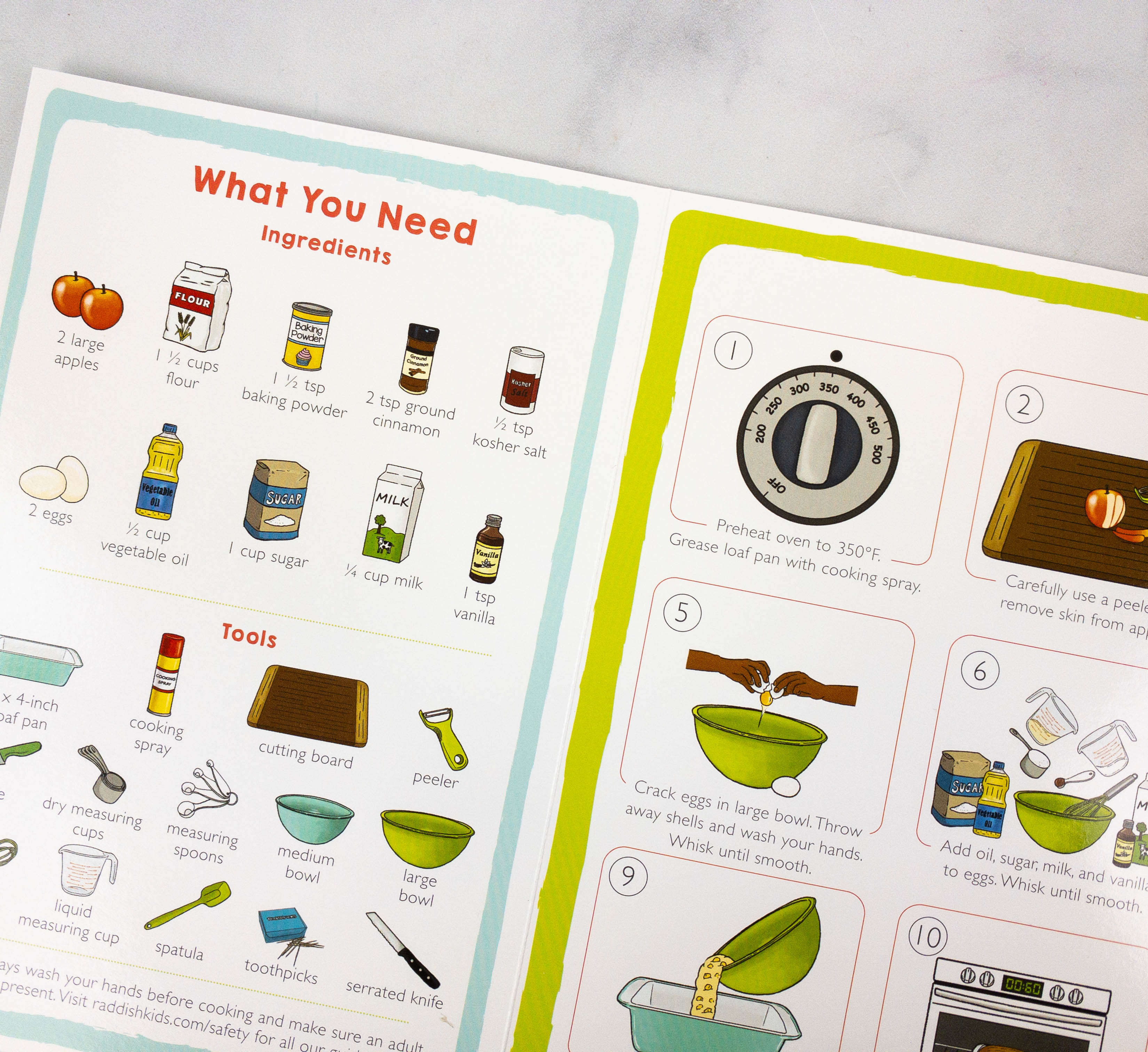 Inside the guide is a list of the ingredients along with the tools needed.
The ingredients for this recipe includes large apples, flour, baking powder, ground cinnamon, kosher salt, eggs, vegetable oil, sugar, milk, and vanilla.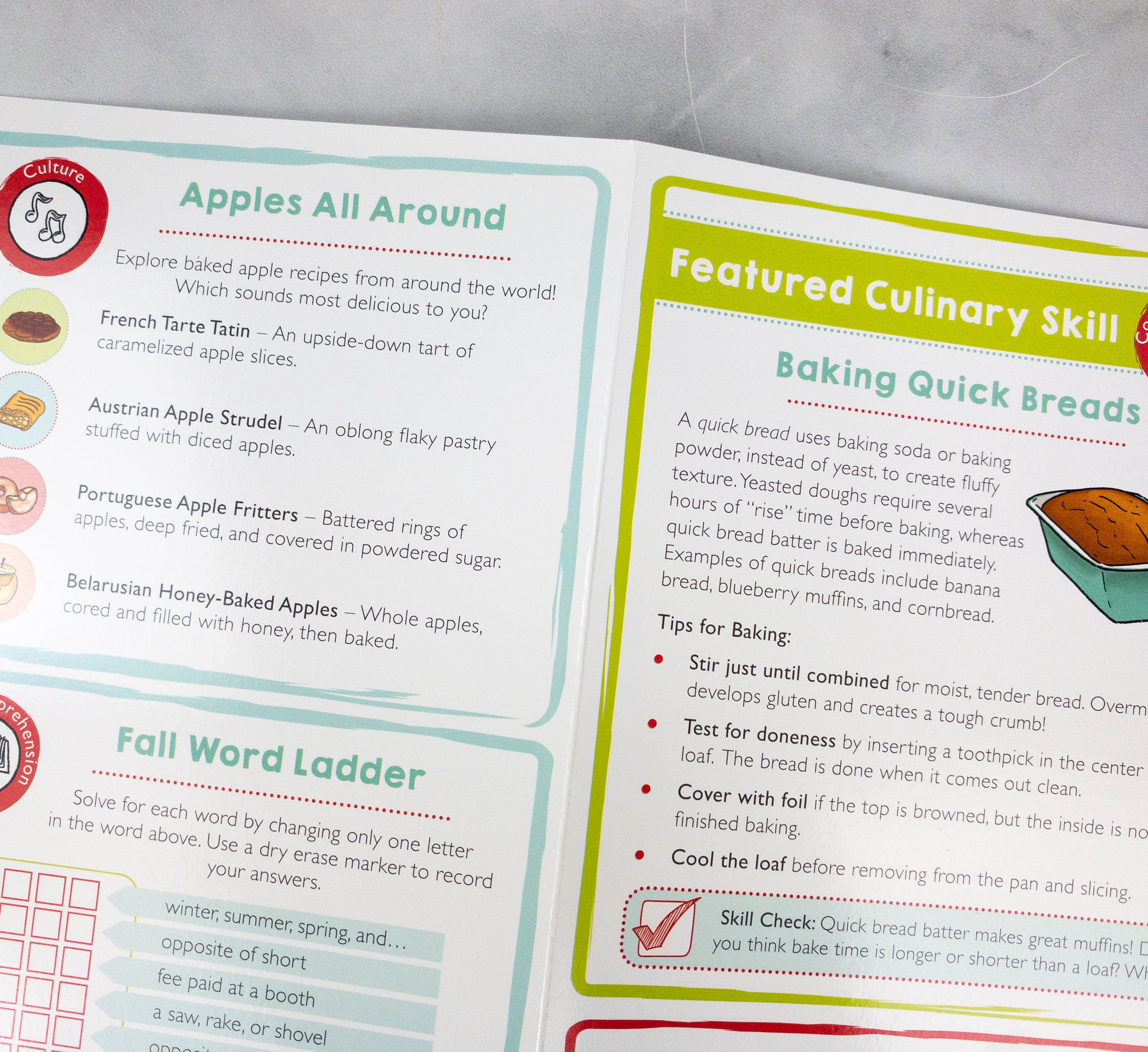 For this recipe, the featured culinary skill is Baking Quick Breads. There's also a list of other baked apple recipes from around the world plus a fall-themed word ladder activity.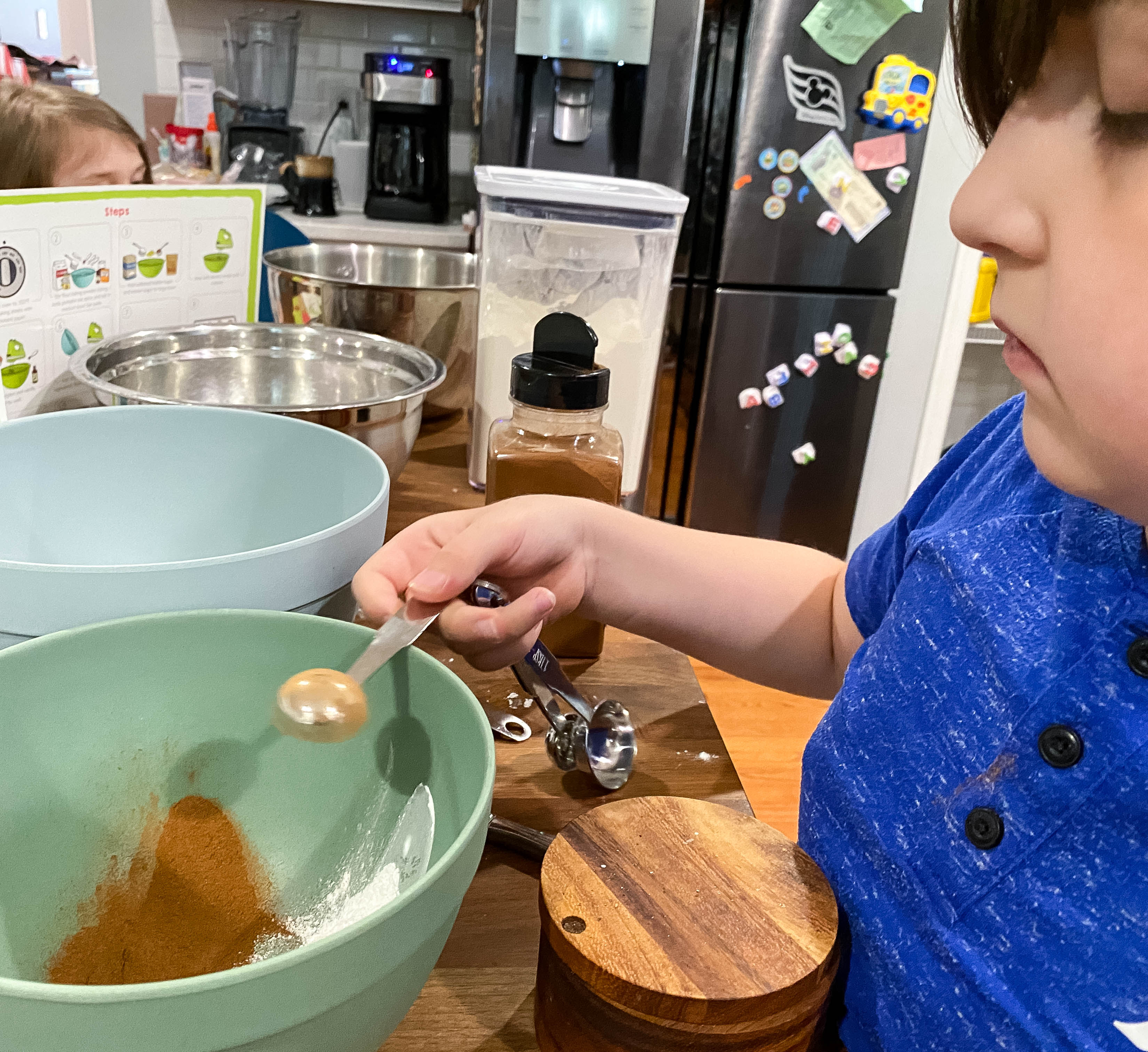 Baking requires exact measurement of ingredients! My son was able to practice his measurement skills using our measuring spoons from home.
My youngest also joined in on the fun!
After mixing the dry ingredients, it's time to combine them with the wet ingredients. My 10 year old was wowed by the result of pouring milk into oil (it makes "bubbles" of milk inside the oil!).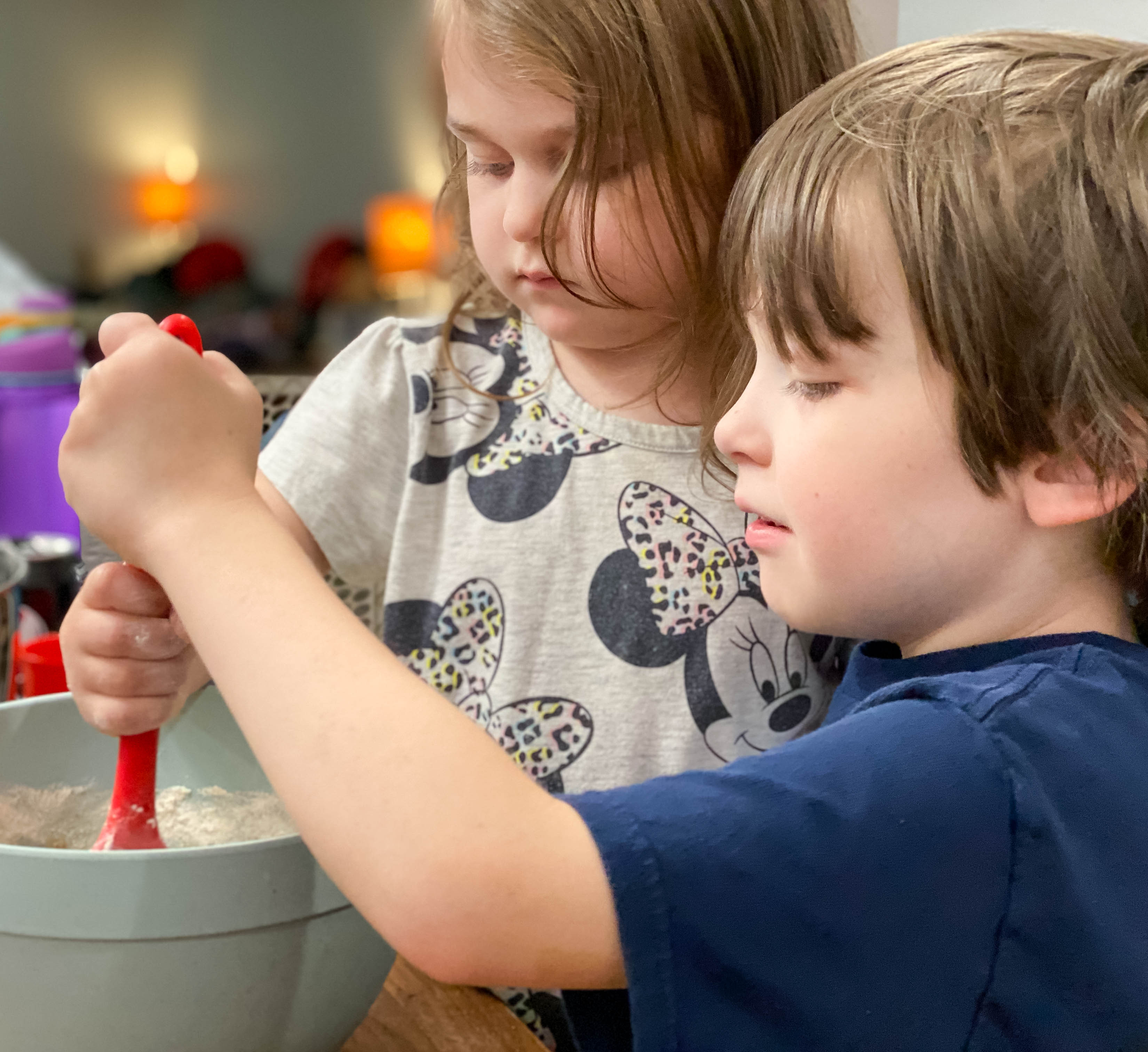 My kids followed the tips on the guide. They stirred the ingredients just until combined for the bread to come out moist and tender. The next step is to grease a baking pan before pouring the mixture in it. Then we put the pan in the preheated oven.
Here's how the bread looks like when it's cooked! My kids tested it for doneness by inserting a toothpick in the center of the loaf. It came out clean, which means the bread is done.
My kids also waited for the loaf to cool before removing it from the pan.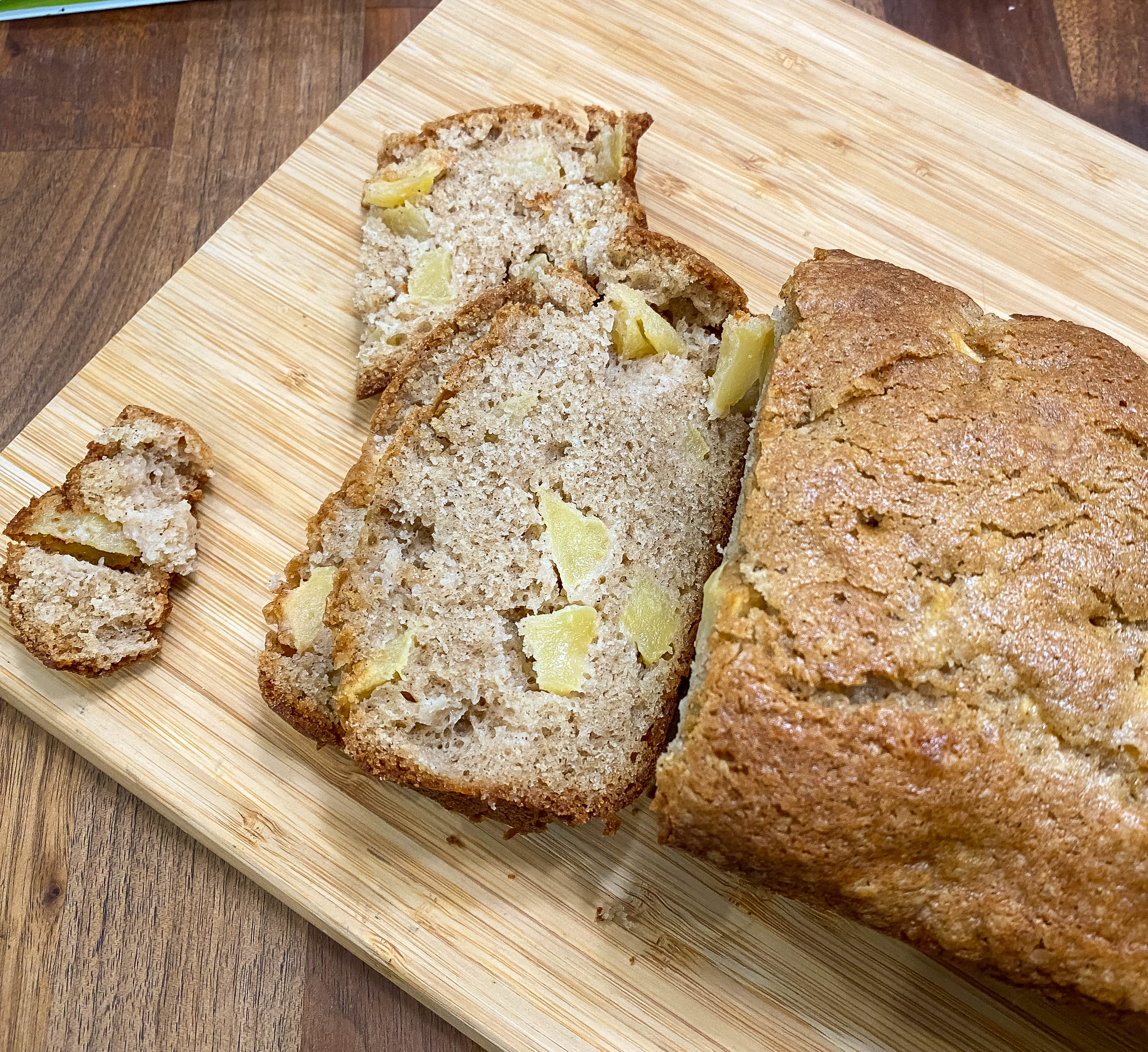 This tastes really good it wasn't overly sweet. It's very reminiscent of an apple pie, except that it's in bread form. It's a great snack for the whole family and it can be paired with a hot drink as well. My kids definitely have the coffee-free pumpkin spice latte recipe from the box on their to-do list!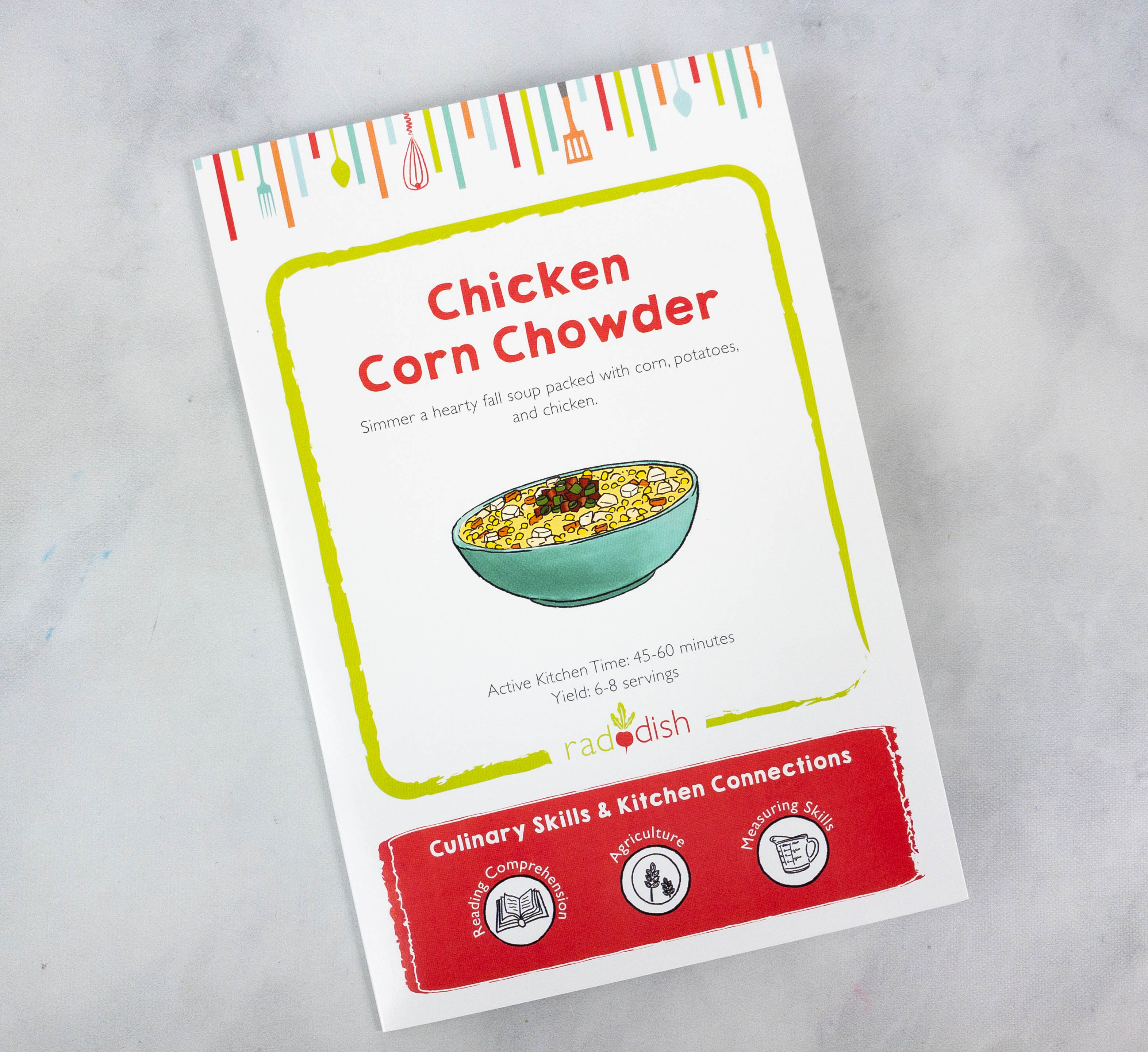 Chicken Corn Chowder. The colder weather in fall means it's time to enjoy a warm meal like this hearty soup that contains corn, potatoes, and chicken.
Active Kitchen Time: 45-60 minutes

Yield: 6-8 servings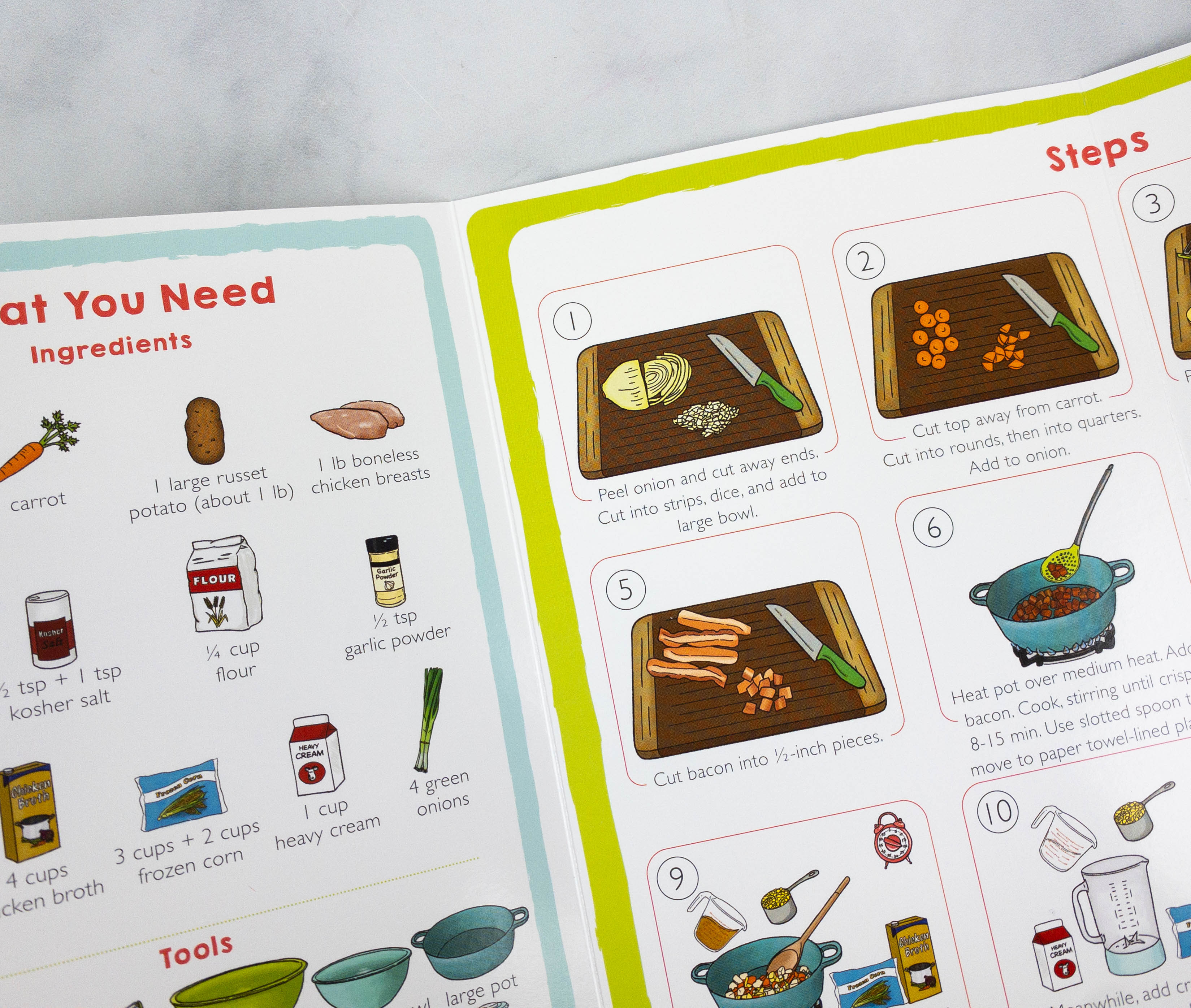 As always, there's a list of the ingredients as well as the necessary tools. For this recipe, we used onions, carrots, potatoes, boneless chicken breast, kosher salt, flour, garlic powder, chicken broth, frozen corn, heavy cream, and green onions!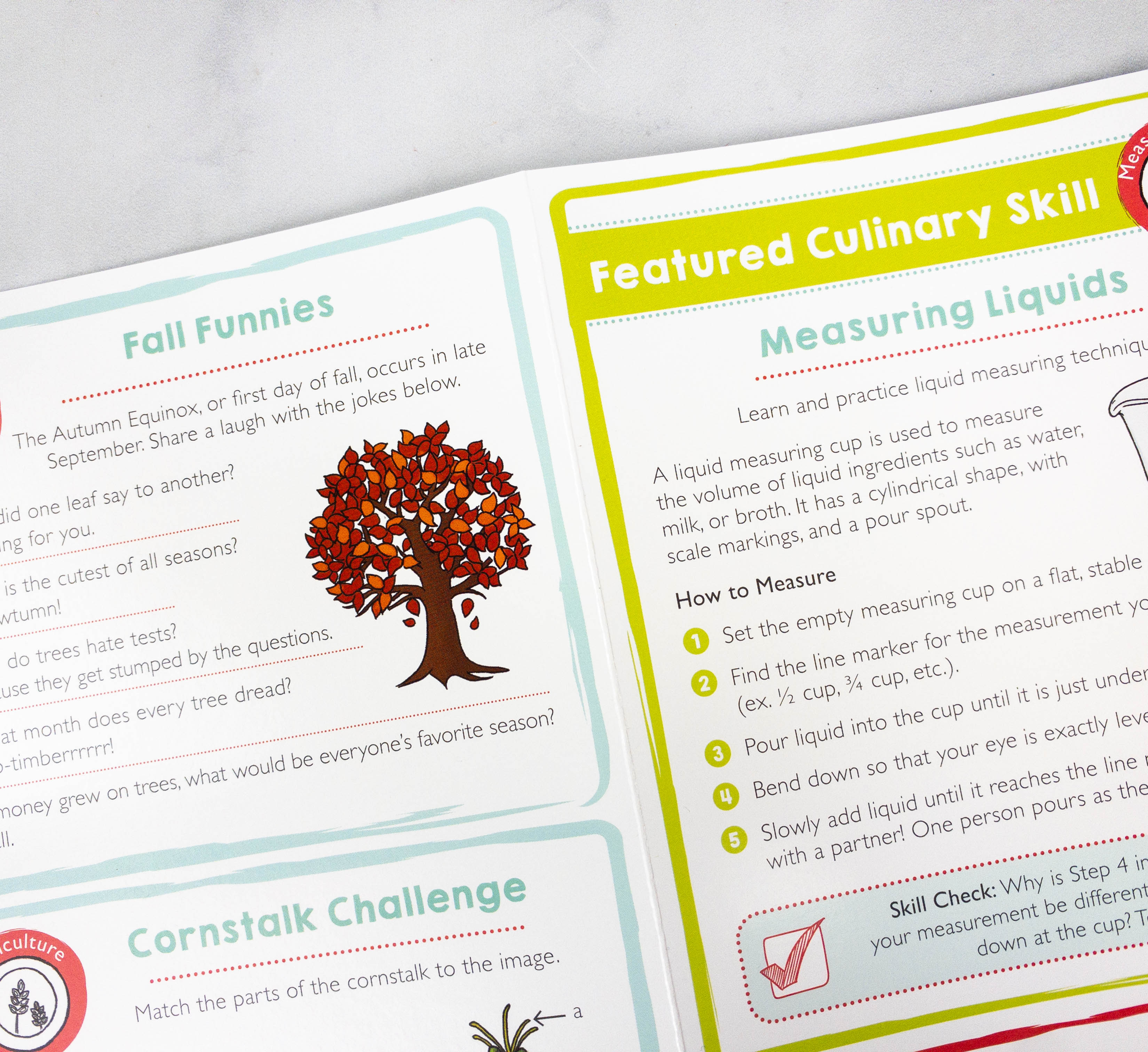 After practicing their dry measurement skills in the first recipe, it's time to learn about measuring liquids.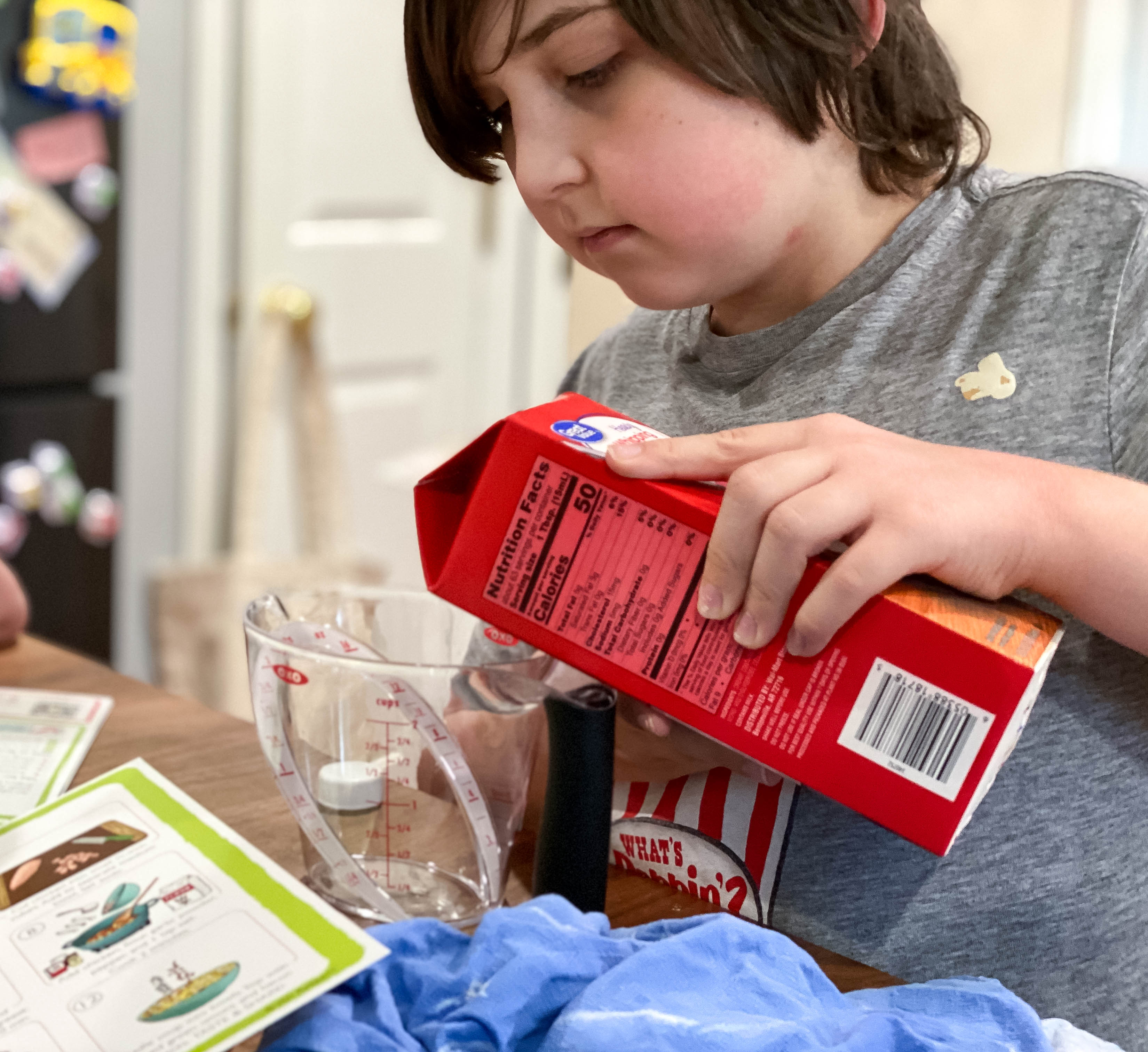 Using a measuring cup, my son carefully poured some heavy whipping cream to get just the right amount that we need for this recipe.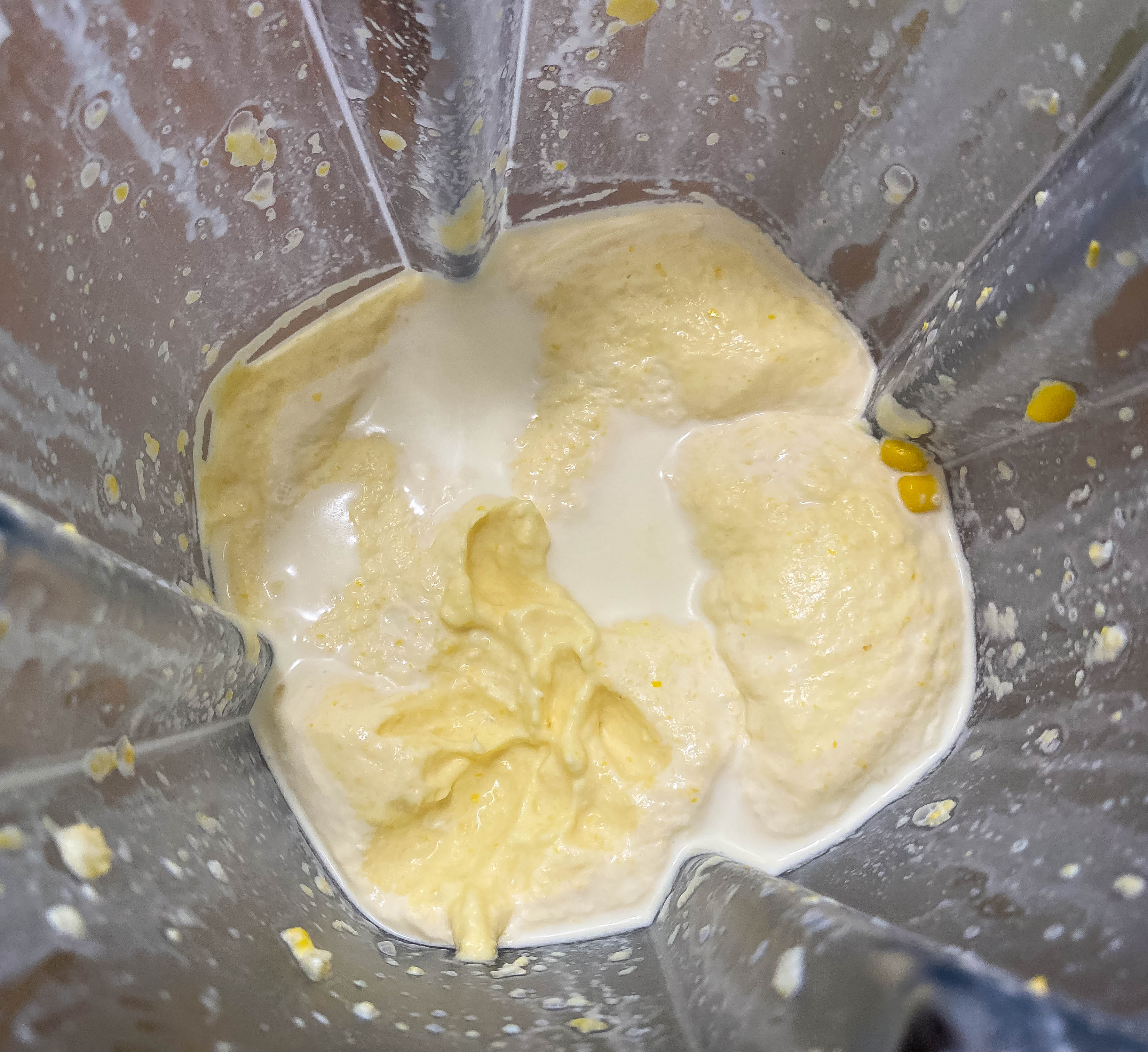 Then, he put the cream and the corn in a blender and blended them until smooth. This will help with the soup's texture once we add it in later. We also inadvertently made corn whipped cream, which was pretty amazing.
This recipe also requires cutting and chopping some of the ingredients so my kids were also able to practice their knife skills with my supervision. Then, they cooked the chopped onions, carrots, and chicken breast in a pot before adding the rest of the ingredients and bringing it into a simmer.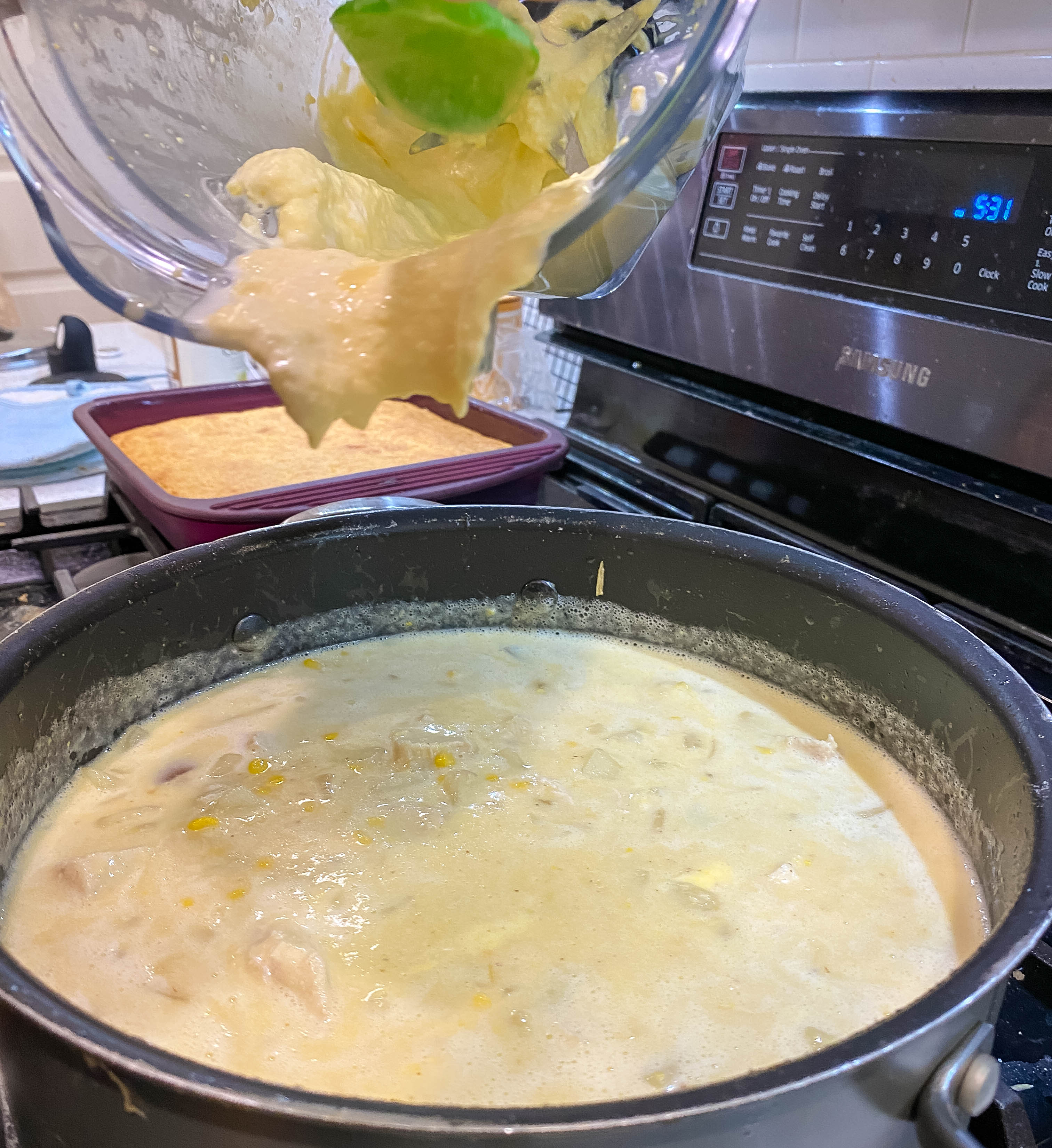 Once it simmers, it's now time to add the mixture we made in the blender to thicken up the soup! Then, we let it simmer again.
It's ready! After transferring the soup in a bowl, my kids put crispy bacon bits on top. This is also a perfect opportunity to teach kids how to cook perfectly crispy bacon.
This is such a delicious soup and it's quite filling as well! My kids loved the combination of flavors because it's savory but it also has the right amount of sweetness, thanks to the corn. The chicken was also cooked well and the addition of the bacon bits added crunch!
Frosted Pumpkin Cookies. For a fall-themed dessert, we made soft pumpkin cookies with maple cream cheese frosting!
Active Kitchen Time: 30-45 minutes

Bake Time: 15 minutes

Yield: about 2 dozen cupcakes
As always, the instructions are accompanied by illustrations, making them easier to follow.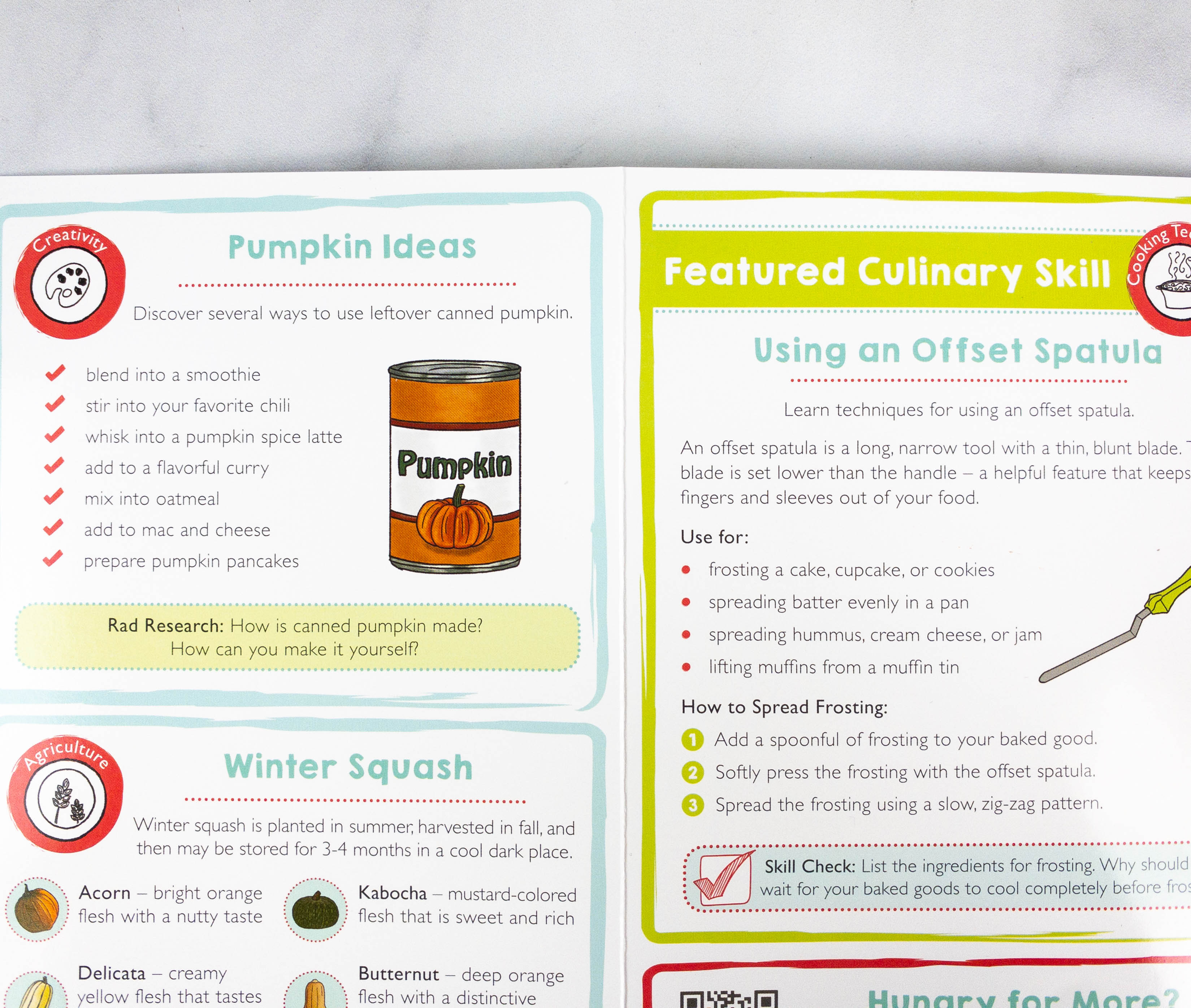 For this recipe, my kids used the featured item in the box which is the offset spatula! The guide also provided a list of ways to use leftover canned pumpkin, plus a feature about winter squash.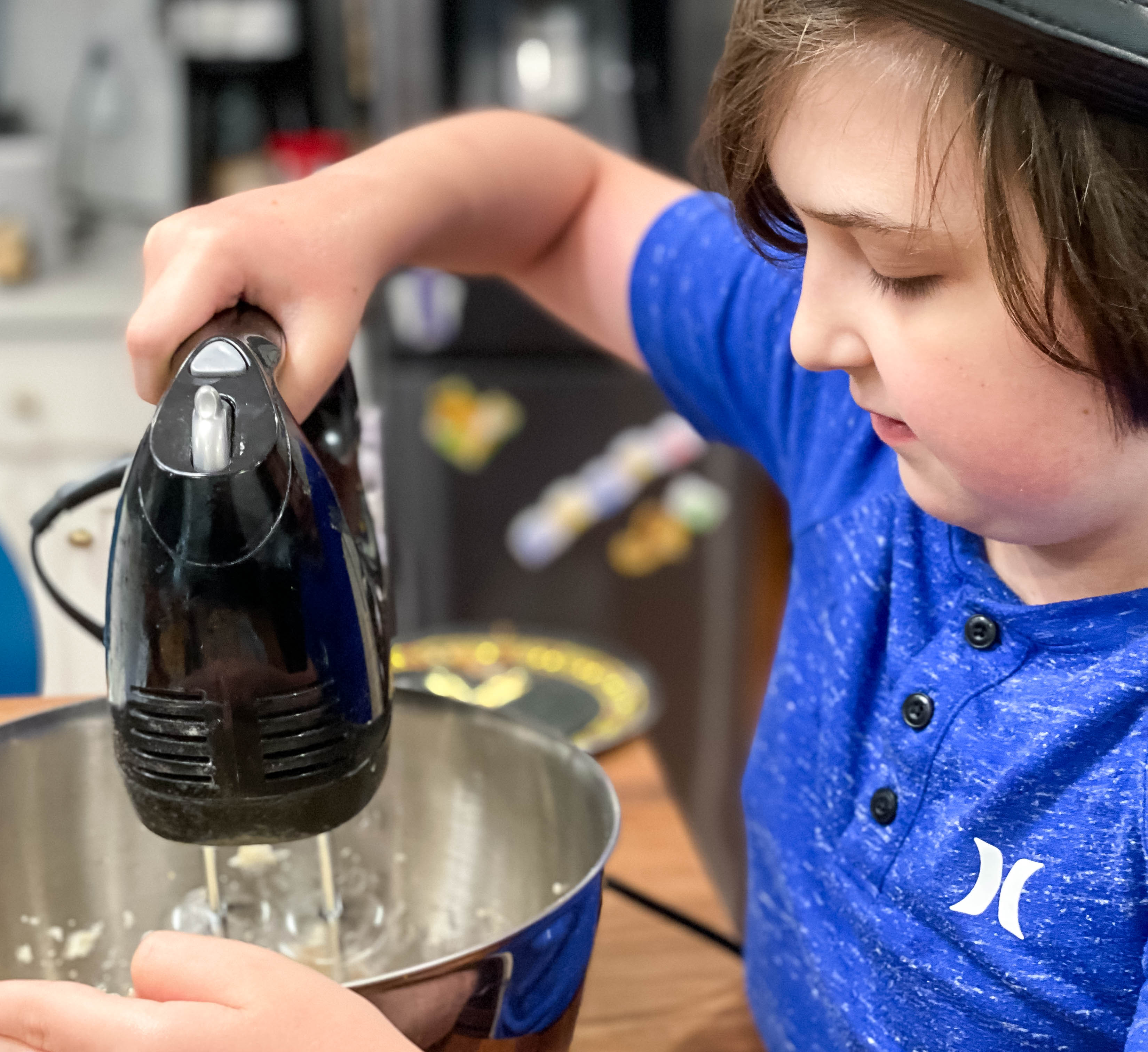 Once again, my kids were able to use the measuring skills they learned, for both wet and dry ingredients. They also used our electric mixer to combine everything. This is pretty easy for them since there were also recipes in the past the required it. Once everything is fully combined, my kids used a spoon to place dollops of the mixture in a lined baking sheet.
After baking the cookies, we set them out in a cooling rack in the counter to cool for a little bit while preparing the frosting.
Here's what the finished product looks like. They turned out really delicious!
Using the offset spatula, my daughter got a decent amount of the frosting and placed it on top of the cookies. She also used the spatula to spread the frosting heartily on the cookies! We ended up experimenting with 3 or 4 different kinds of spatulas.
To kickstart the fall season, this month's Raddish Kids box includes 3 fall-themed recipes. There's the apple harvest bread and the chicken corn chowder which can be enjoyed together, plus pumpkin cookies for dessert! My kids had a great time making them, and they were also happy to learn new culinary skills like measuring liquids and using an offset spatula. The instructions are easy to follow, plus there are extra activities to enjoy as well. This box also makes a great family bonding opportunity! This was one of our favorites from Raddish so far and it was really perfect for the changing season. We had nearly all the ingredients already, my kids wanted to make and loved each recipe, and they're excited to make them again!
What do you think of this month's Raddish Kids box?